Fall is a great time of year! The weather is getting cooler, there are so many fun holidays to celebrate. It's a wonderful time! Fall Word Scramble is the perfect activity to do on those crisp autumn days.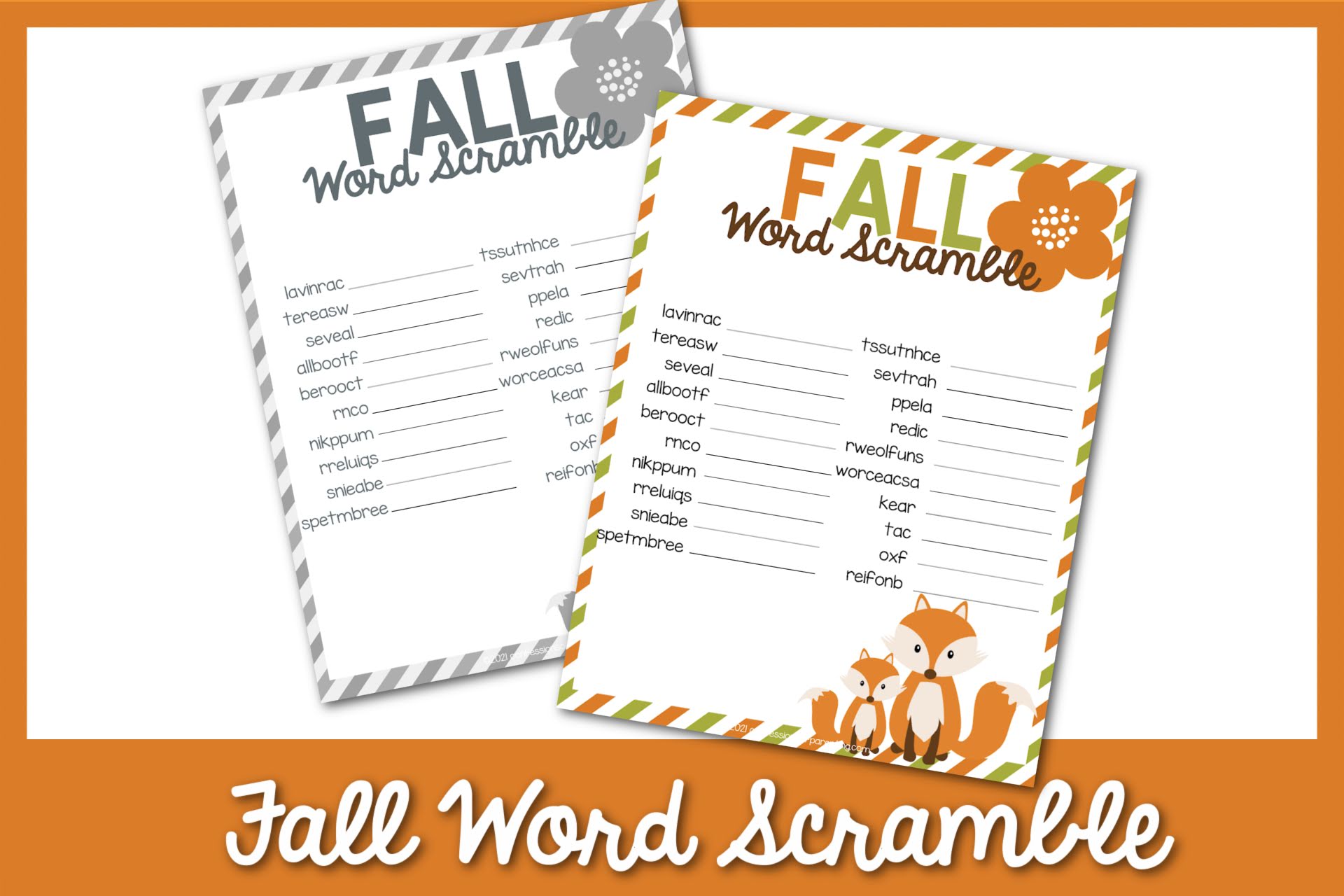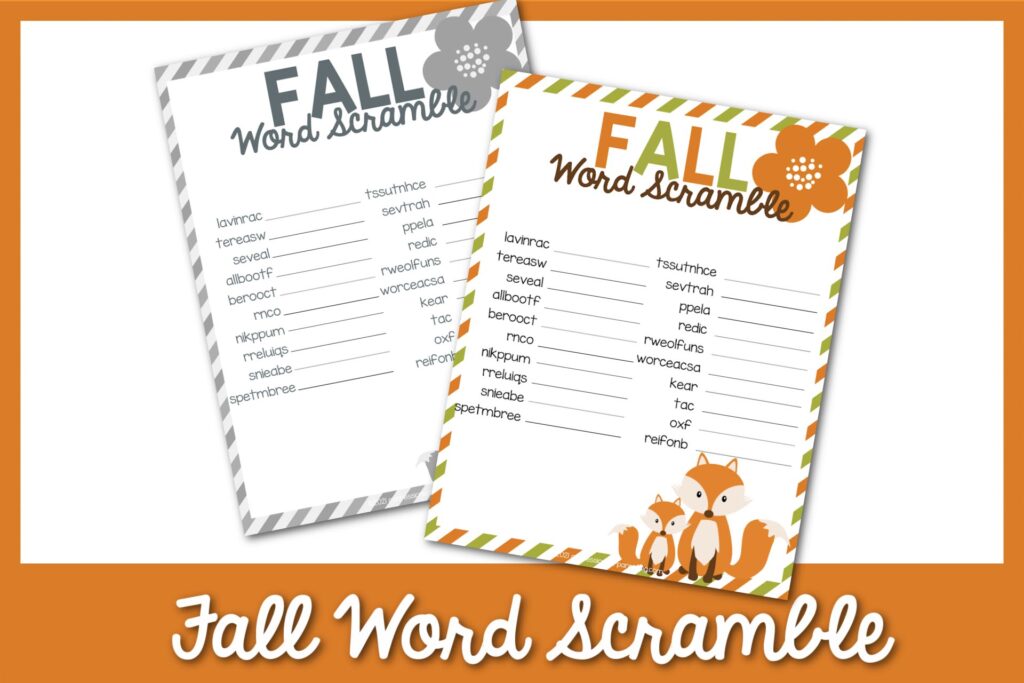 Fall Word Scramble
With the weather getting cooler outside, there are going to be some particularly chilly days! What better way to spend your time inside than by exercising your brain in a fun way! This Fall Word Scramble page can get you excited for fall! 
This word scramble is great for the classroom and home! Pair this with our superhero word scramble for even more fun!
There are 20 fall themed words that are completely mixed around on this sheet. Your little ones will have a blast trying to figure out what each jumbled mess is trying to say!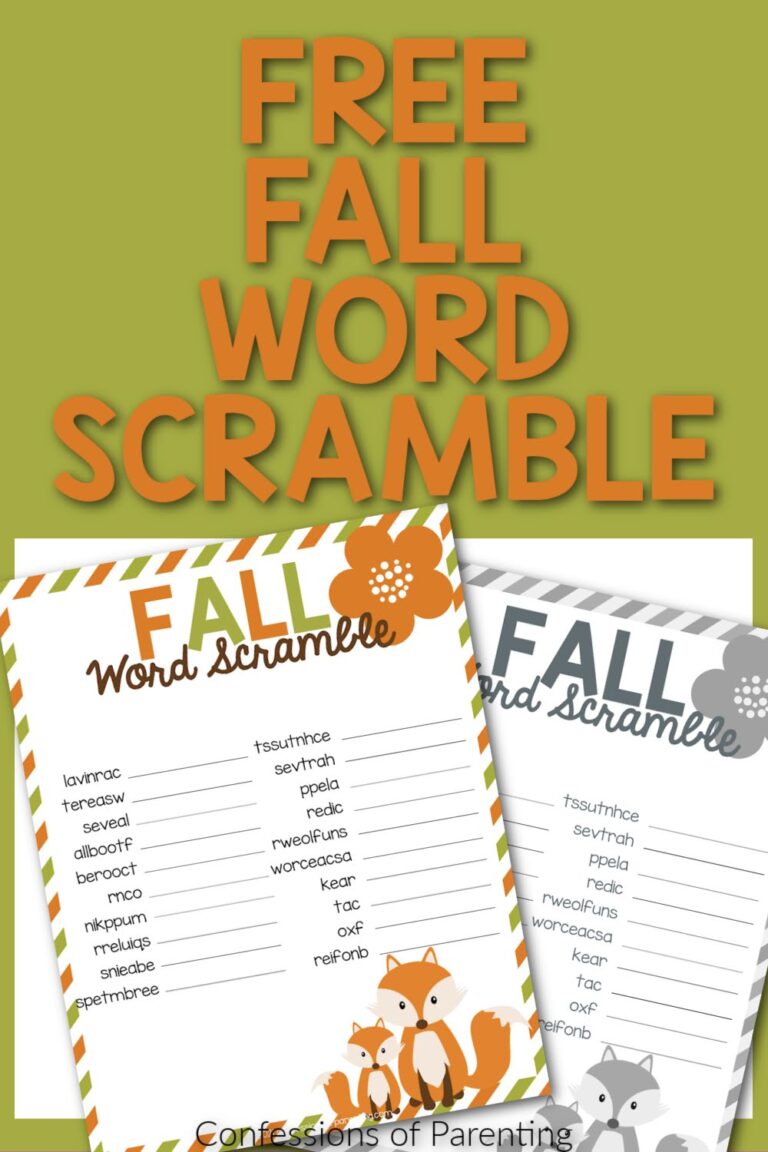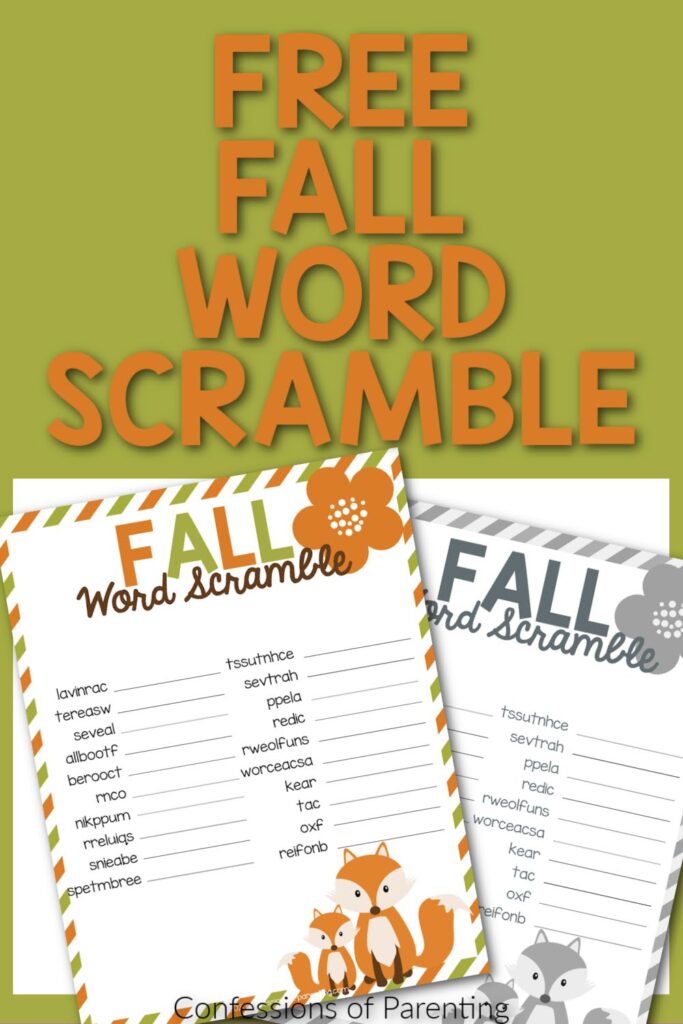 Check Out These Other Word Scrambles!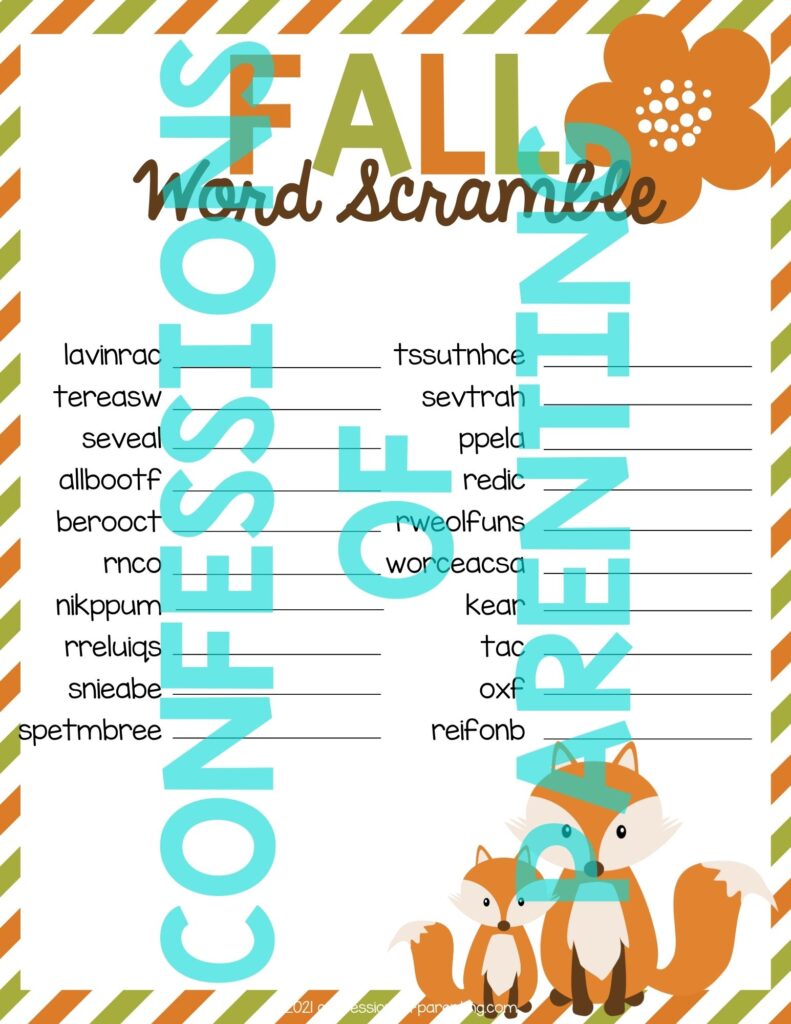 How to Play Fall Word Scramble
Word Scramble is such a great family game and so easy to learn too! Pretty much, you're going to get a list of 20 jumbled-up words. Some of the words are easier than others, but they are all scrambled. It's your job to try and figure out what the letters are trying to spell. Because this is Fall themed, that narrows down the possible word options. 
This is a great game to play with the family because of the varying levels of difficulty. You can get everyone working together to find the answers!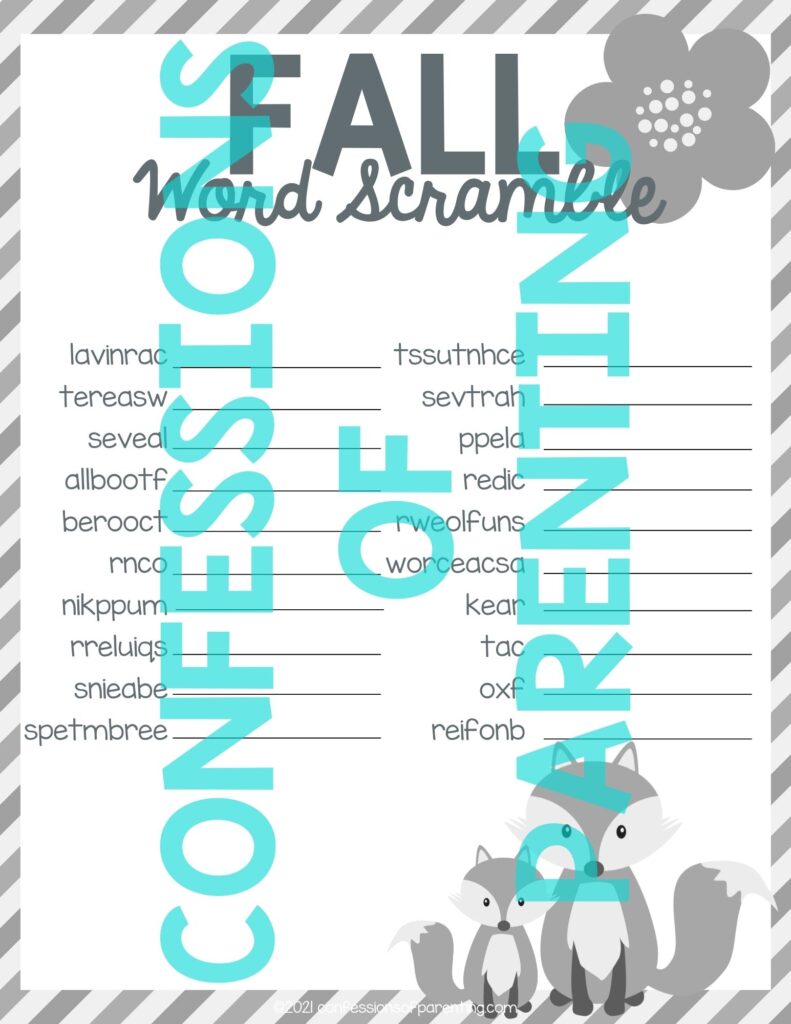 Benefits of Word Scrambles
Word Scrambles are much more than just fun! They are a fantastic way for people of all ages to stretch their minds! That's one of the reasons I love this Fall Word Scramble page is because there are words on there for kindergarteners to seniors in high school! Some of the major benefits of playing this game are:
You gain problem-solving skills
Practice spelling
Enlarge your vocabulary
Learn patience
Fall Activities
This fall it is so easy to spend time with your kids and your family with our fun fall activities. We have so many fun activities to choose from, and they are so easy! All you have to do is download, print, prep (less than a couple of minutes), and start playing!
Simple family time is the best time and creates long-lasting family memories that you and your kids will remember forever!
Fall Scramble Words Plus Answer Key
lavinrac
tereasw
sebeal
allbootf
berooct
rnco
nikppum
rreluiqs
snieabe
spetmbree
tssutnhce
sevtrah
ppela
redic
rweolfuns
worceacsa
kear
tac
oxf
reifonb
Answer Key
carnival
sweater
leaves
football
October
corn
pumpkin
squirrel
beanies
September
chestnuts
harvest
apple
cider
sunflower
scarecrow
rake
cat
fox
bonfire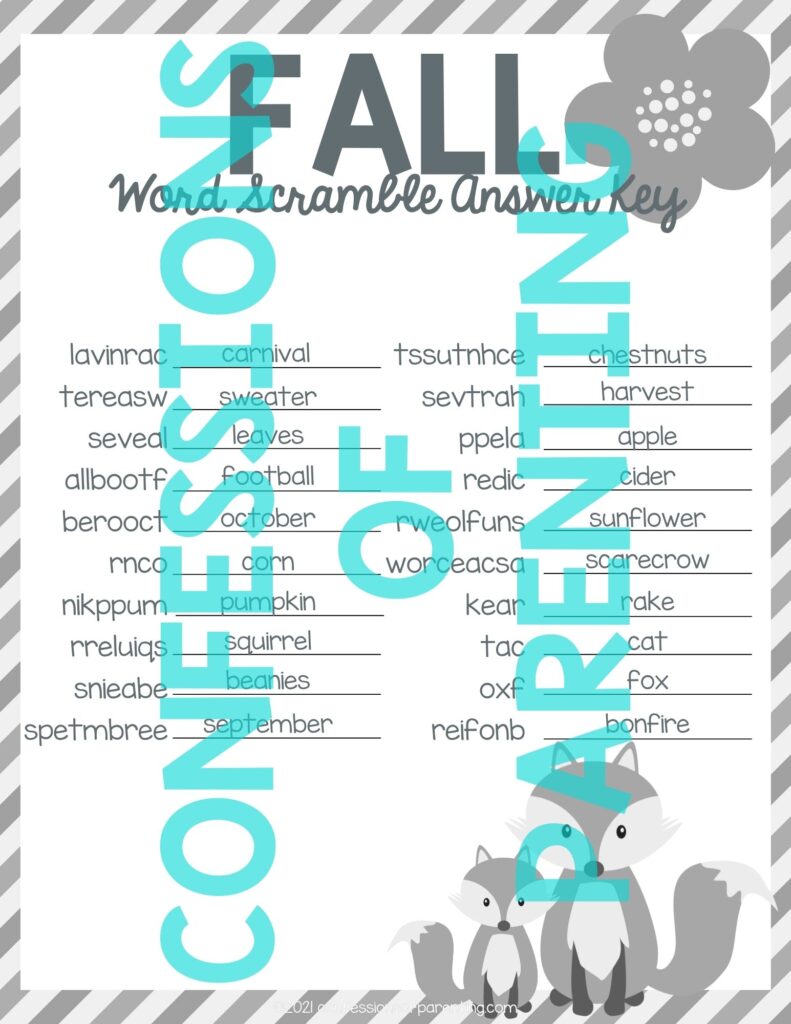 You Can Never Have Too Many Word Scramble! Grab our whole Collection!
Love what you see? Leave a comment and don't forget to rate it below! We always love knowing how your recipe turns out! Don't forget to tag me on Instagram @micheletripple to show me your finished product!