The Fall is a fun time of change. The weather gets cooler, the leaves change, and the Holidays are just around the corner. This Fall Scavenger Hunt is perfect for kids of all ages to search high and low for the things that make Fall such a fantastic season.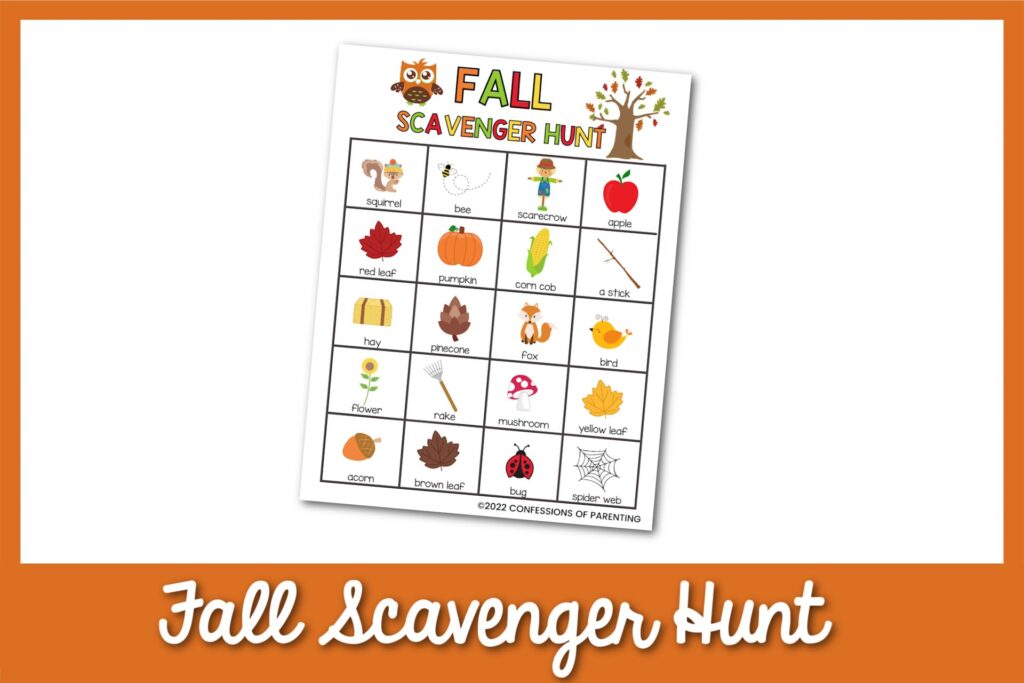 Fall Scavenger Hunt for Kids and Adults
I love a good treasure hunt or scavenger hunt. Seeing who can be the first to find all the items is fun. I love to win! This fall scavenger hunt is a great way to get the kids outside and enjoy the wonderful weather. All you need to do is download, print, and get finding.
For more scavenger hunt fun, check out our  Outdoor Scavenger Hunt and Zoo Scavenger Hunt.
Don't let the fun stop there, have fun with our other fall activities like our Fall Charades, Fall Bingo, and Festive Fall This or That Questions.
Fall Scavenger Hunt
Doing a family fall scavenger hunt is a great way to celebrate the changing of the leaves. Scavenger hunts are an ideal way for kids to practice their social skills, build their self-esteem and explore their environment, making discoveries.
Scavenger hunts are fun, but they are also educational too!
You can divide into teams and allow the kids to put their heads together, working to figure out where they need to go. This can create a sense of teamwork and collaboration. It helps them to practice problem-solving in a natural way.
Scavenger hunts are great because they get kids outside, thinking, learning, moving, and having fun.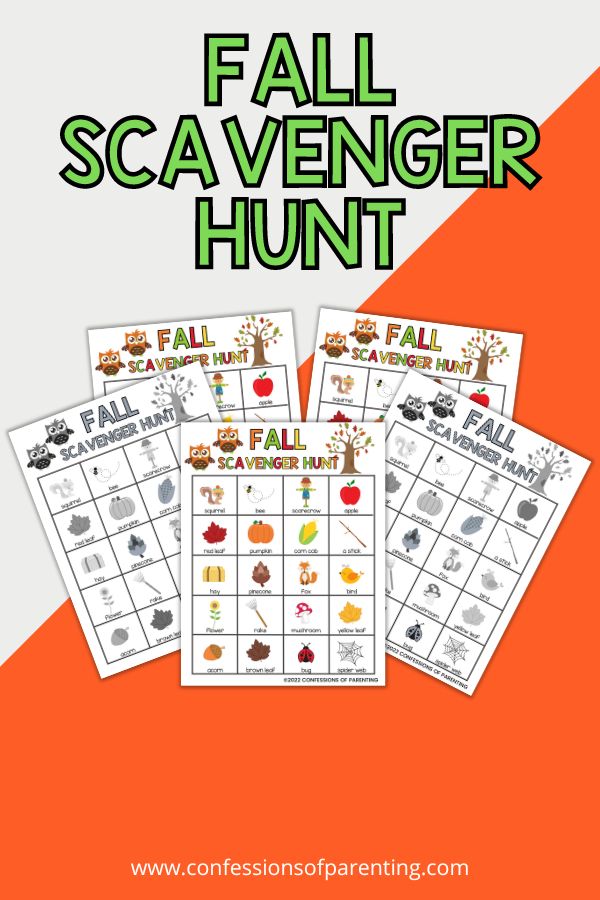 How To Do A Fall Scavenger Hunt
Scavenger Hunts can easily be incorporated into any family outing. It is really easy and takes just a few minutes to prepare.
All you have to do is print out the free Fall Scavenger Hunt printable sheet. You can laminate the fall scavenger hunt so you can use it again and again. If you go this route, you can use dry-erase pens or crayons and easily wipe clean. Toddlers will love to be able to mark off the things they find themselves with a crayon because they are acting like a grown-up.
You can split your family into groups or let individuals work independently.
Give each group a copy of our printable and see who can get the most items in the allotted time. You can also make it into a race and see who can do it the fastest!
Have each group mark off the items as they find them with a pencil or crayon. You could even give a set of fall stickers to mark each item.
Make sure you establish any rules, such as boundaries or if there will be a time limit before you start.
Adjusting Scavenger Hunts For Different Ages
Doing scavenger hunts allows for all types of adjustments or flexibility. The goal is to have fun and make memories.
Young toddlers are the best because of their love of exploring and energy. But they may need some help moving in the right direction, checking off items, and reading the list. They will need an older partner or two, but they will love to take the lead. When it is safe, they will also love exploring on their own.
Teenagers can be hesitant to get involved, but the best way to get them involved is to join in as well. If they see your engagement, they will engage too.
A couple of ways you can get teenagers involved is to make them to 'team captains' or have them be the judge. If they don't want to hunt, they can even help think of a prize! They will probably want to have fun if they know the prize.  
Great Scavenger Hunt Ideas to Try
Free Fall Scavenger Hunt PDF
Grab your free fall scavenger hunt PDF by joining our email list below. If you aren't quite ready to join our list, you can grab it right here.
Squirrel
Bee
Scarecrow
Apple
Red Leaf
Pumpkin
Corn Cob
A stick
Hay
Pinecone
Fox
Bird
Flower
Rake
Mushroom
Yellow leaf
Acorn
Brown leaf
Bug
Spider web
Great Scavenger Hunt Ideas to Try
How Do I Access My Free Printables?
Fill in the form above. You will receive an email in your inbox. If you don't see it, check your spam folder! You will then click to confirm your subscription. Once confirmed, you will be taken to Airtable (a different website) where all our free printables will be waiting for you! It is free to sign up for Air Table!
How Do I Print A PDF?
You'll need a program that supports PDFs. Adobe Acrobat is a great option. Open the program, click File, then print. Select your printer and the number of copies you want to print. Be sure you click double-sided if you want it to print on both sides.
Can I Resell These?
You may not resell any printable found on our website or in our resource library. You may use them for class parties, at church, at home, or in the classroom. You may get these printed at an office supply store or copy center at your own expense.
This printable is all ready for you to use! There's no cutting or preparation necessary, so all you need to do is download and print the copies that you need.