These New Years Riddles will have you thinking hard and catching your head trying to figure them out this New Years. Can you get them all right? Scroll down to find out!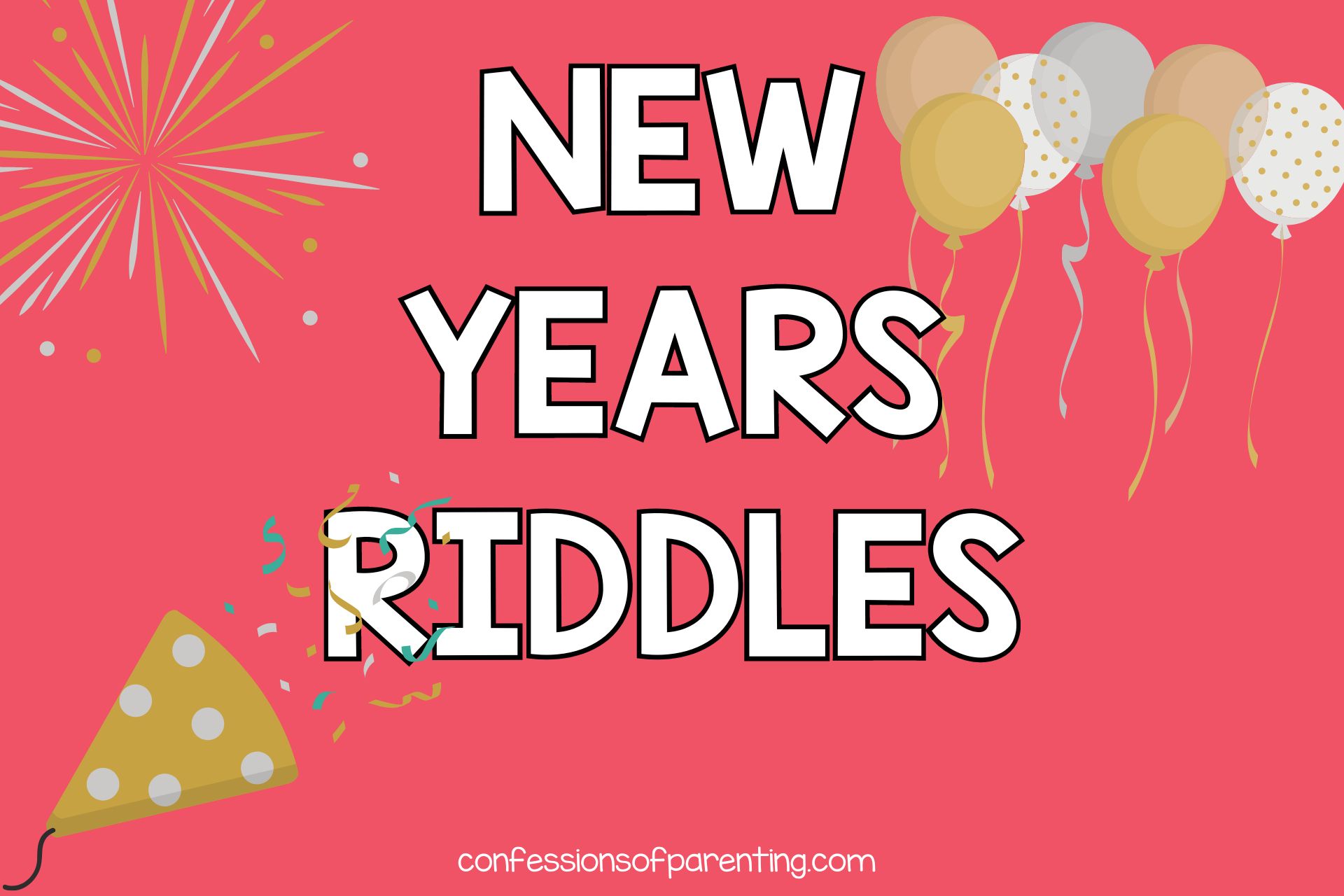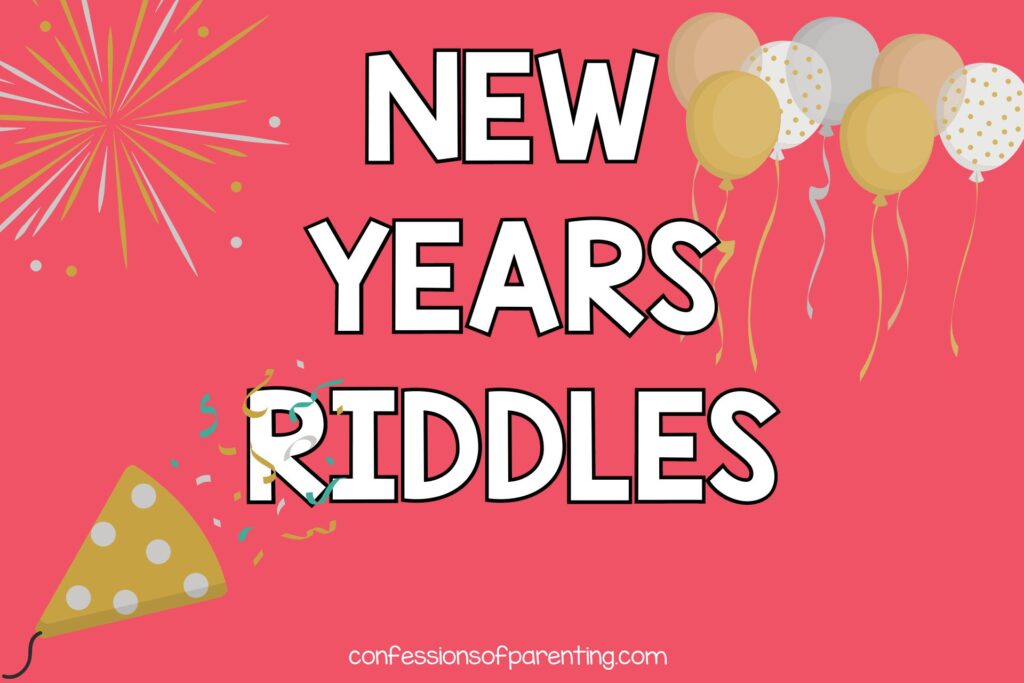 If your family loves riddles like mine does, then you are going to want to try your hand at these New Years Riddles. They are perfect for kids and adults and this list includes some easy New Years Riddles as well as some more challenging ones so everyone can have fun trying to solve them.
Share these riddles with your friends and family as you sit around the table, as icebreakers, in the car, or while you are hanging out! Pair these with our New Years Jokes for even more laughter and fun this New Years.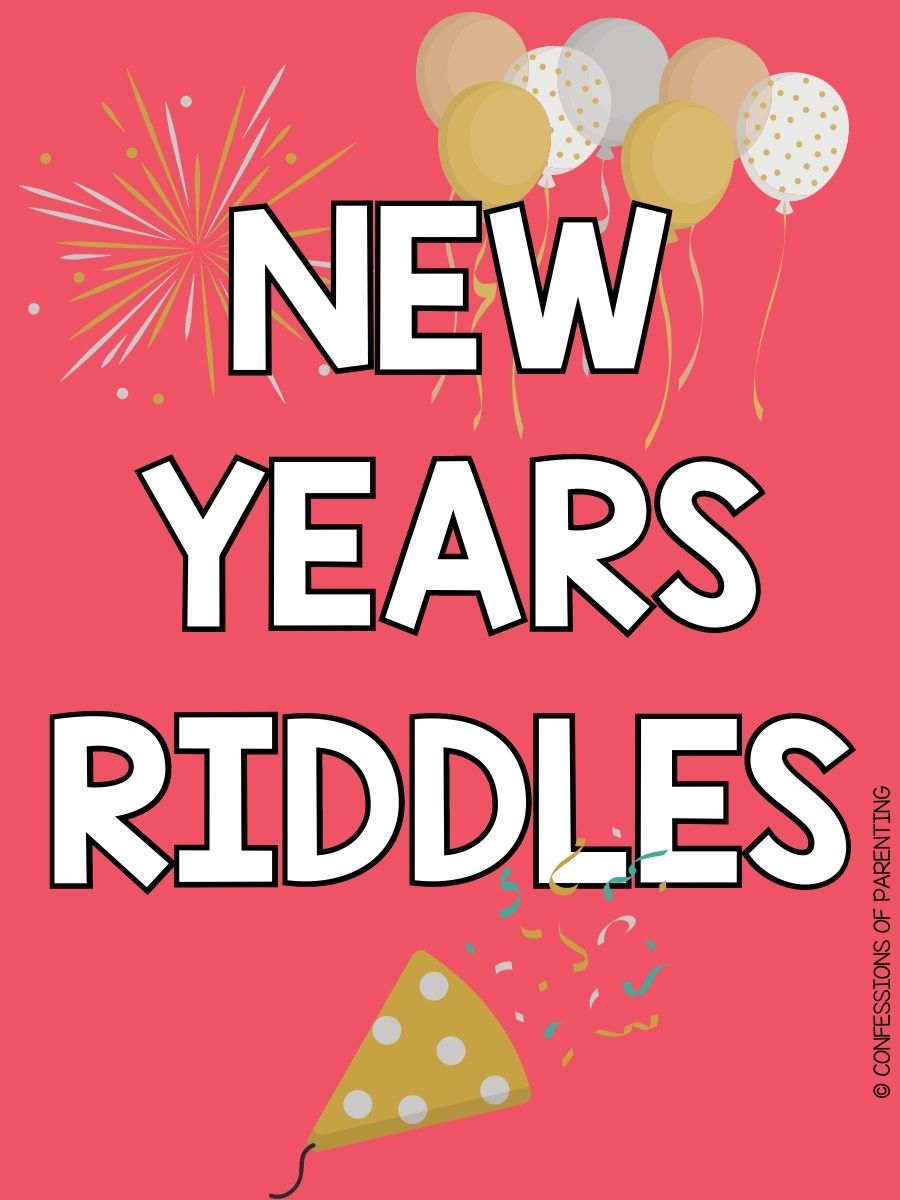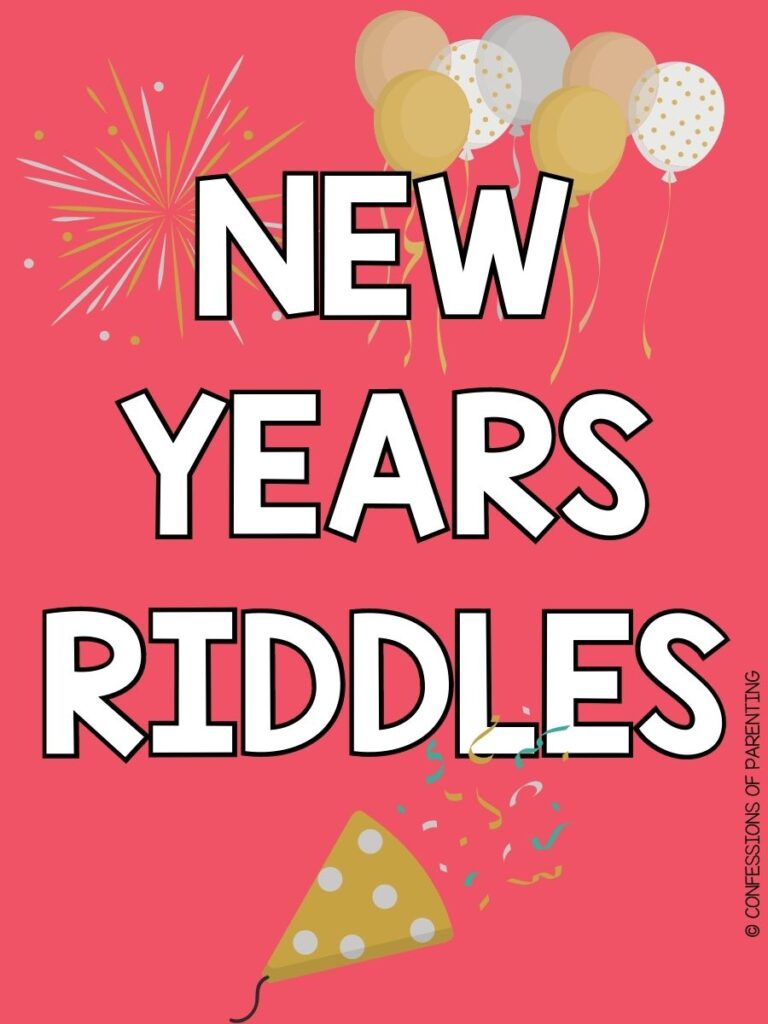 The Best New Years riddles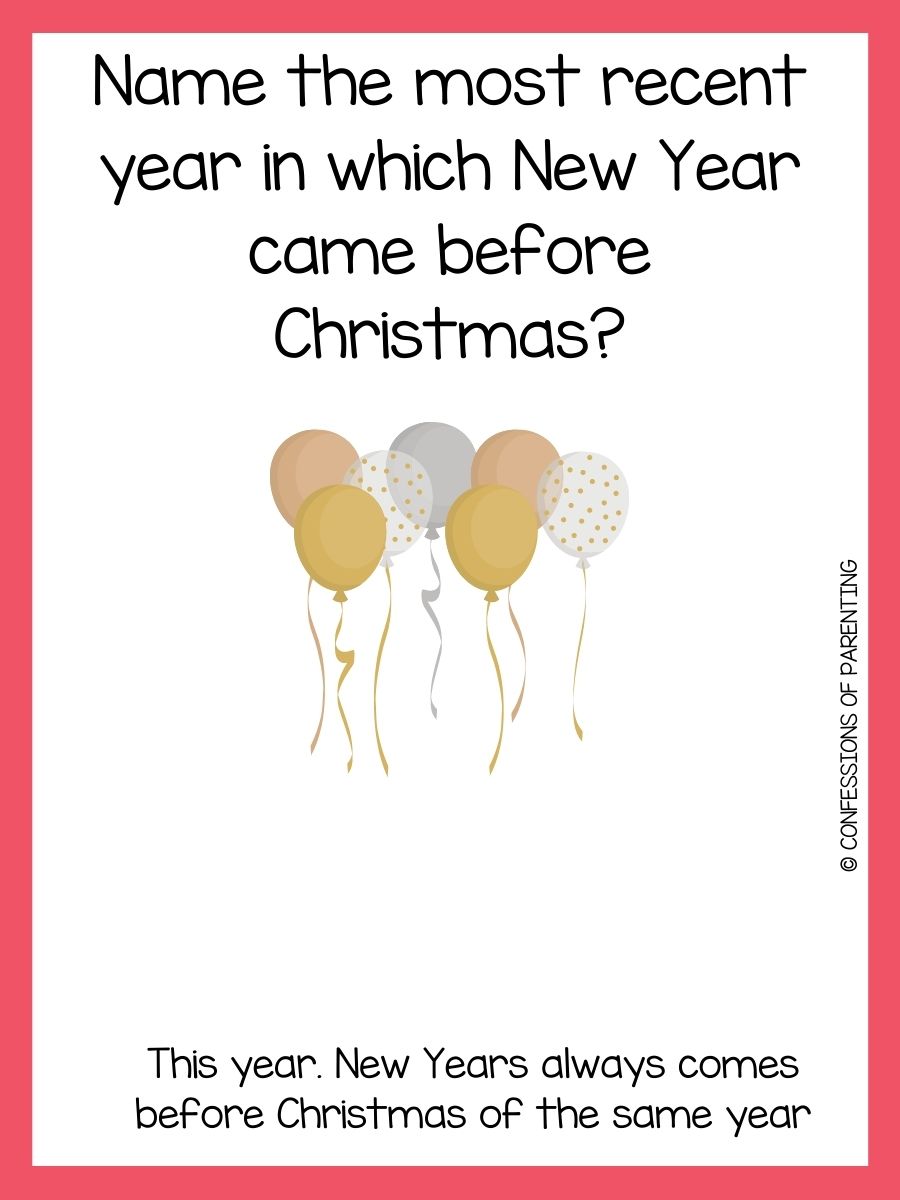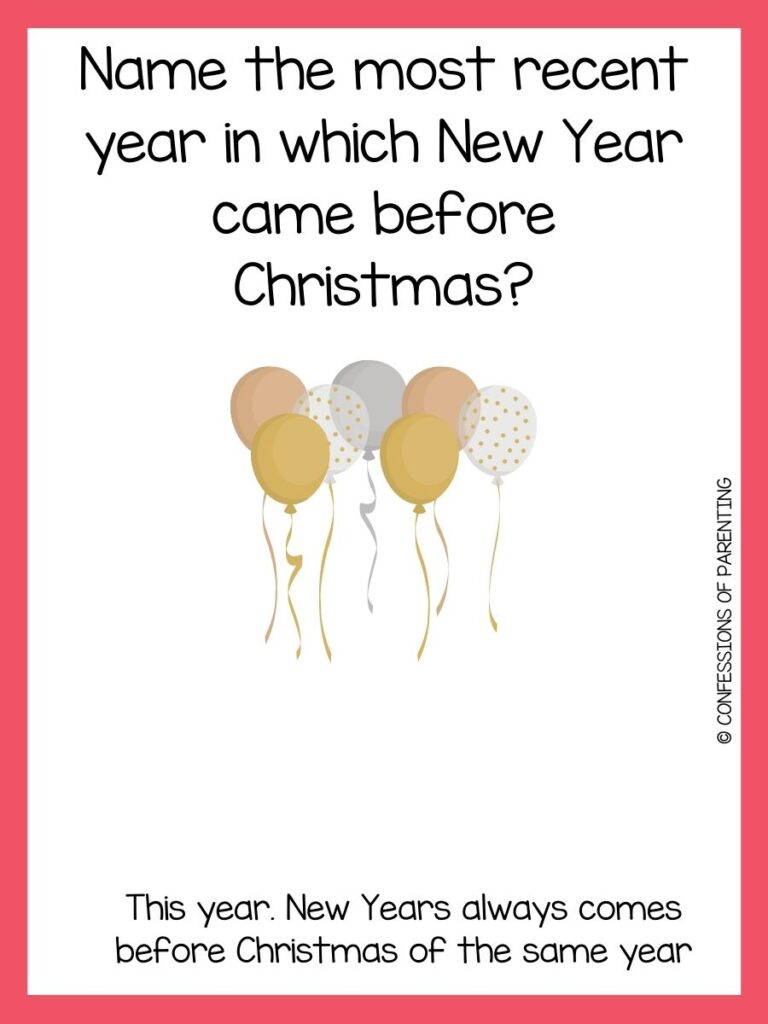 Q: Name the most recent year in which New Year came before Christmas?

A: This year. New Years always comes before Christmas of the same year
Q: At Chinese New Year celebrations
I breathe fire, dance and run amuck
With a few men to guide my steps
My presence brings good fortune and luck
What am I?

A: Dragon
Q: The year of the rat, the dog or the boar
On this holiday you'll find dragons, lanterns, and so much more!
What is it?

A: Chinese New Year
Q: What is a cow's favorite holiday?

A: Moo Years Day!!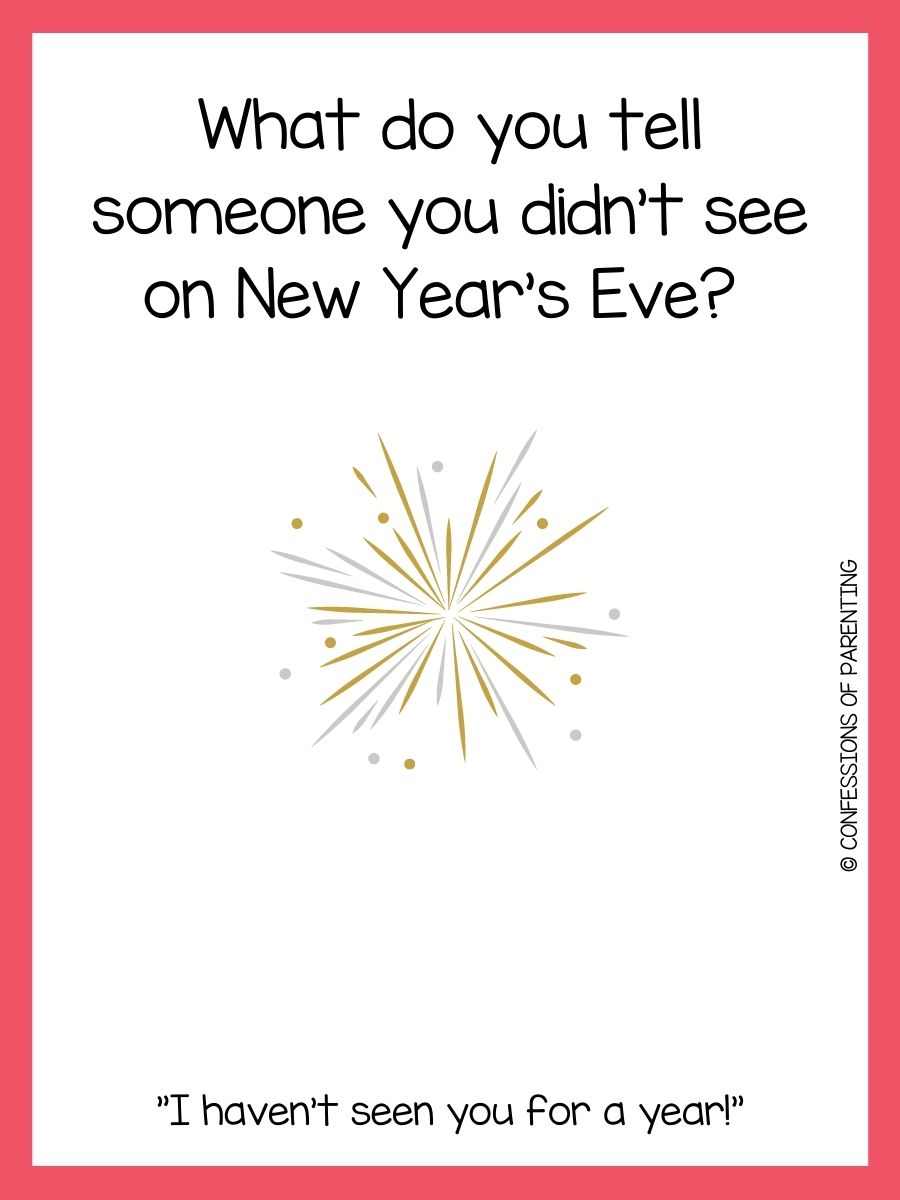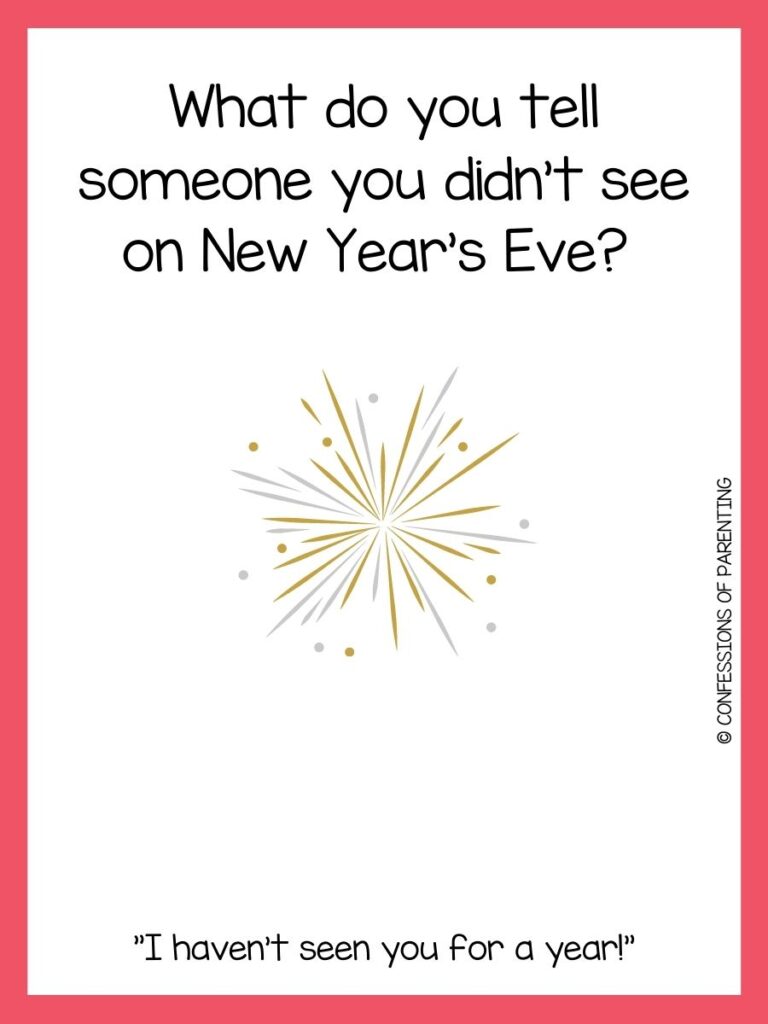 Q: What do you tell someone you didn't see on New Year's Eve?

A: "I haven't seen you for a year!"
Did you hear about the New Year's Eve kidnapping?

Don't worry, she woke up.
Q: What do you tell someone you didn't talk to on New Year's Eve?

A: I haven't talked to you since last year!
Q: What happened to the man who pondered all the reasons to give up drinking in the New Year?

A: He gave up thinking, as his resolution.
Q: Why did the police go to the daycare center on New Year's Eve?

A: It was naptime and someone was resisting a rest.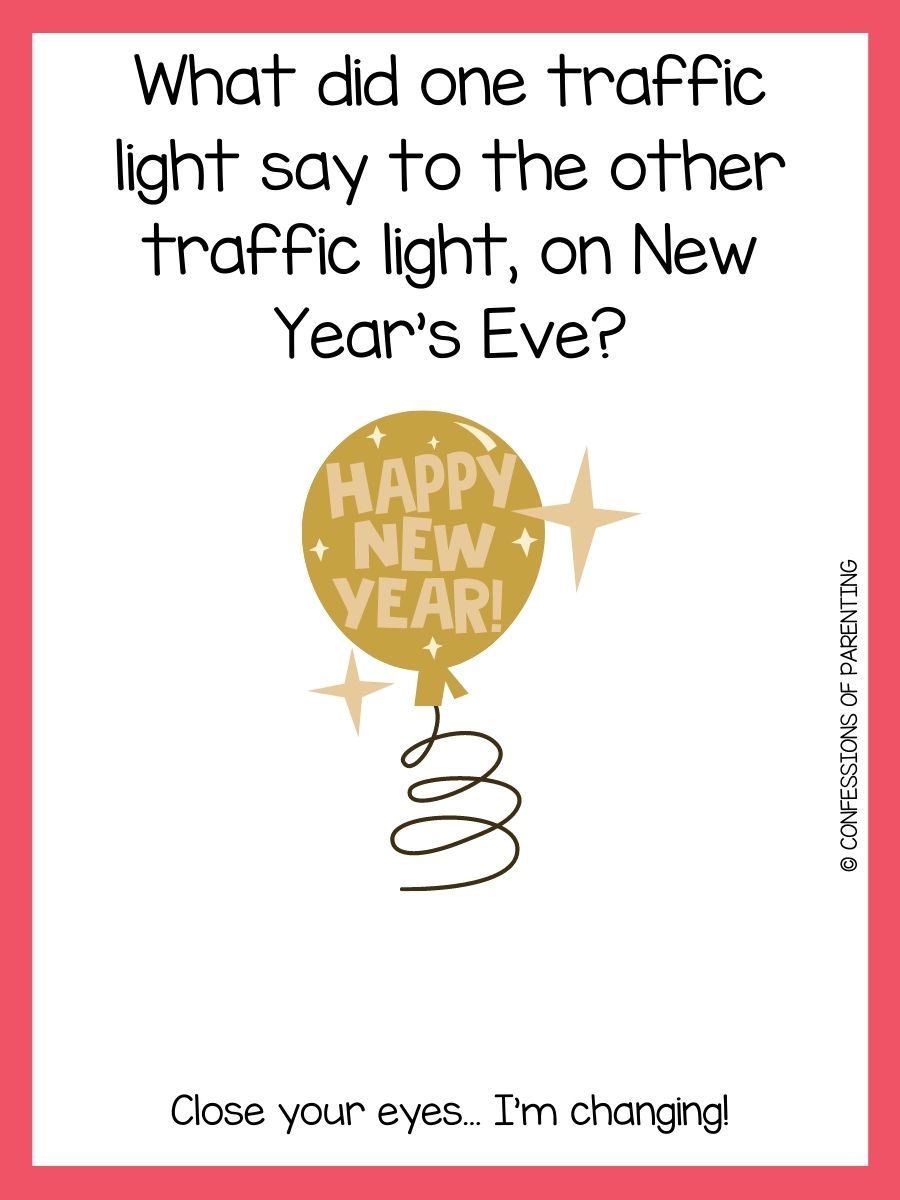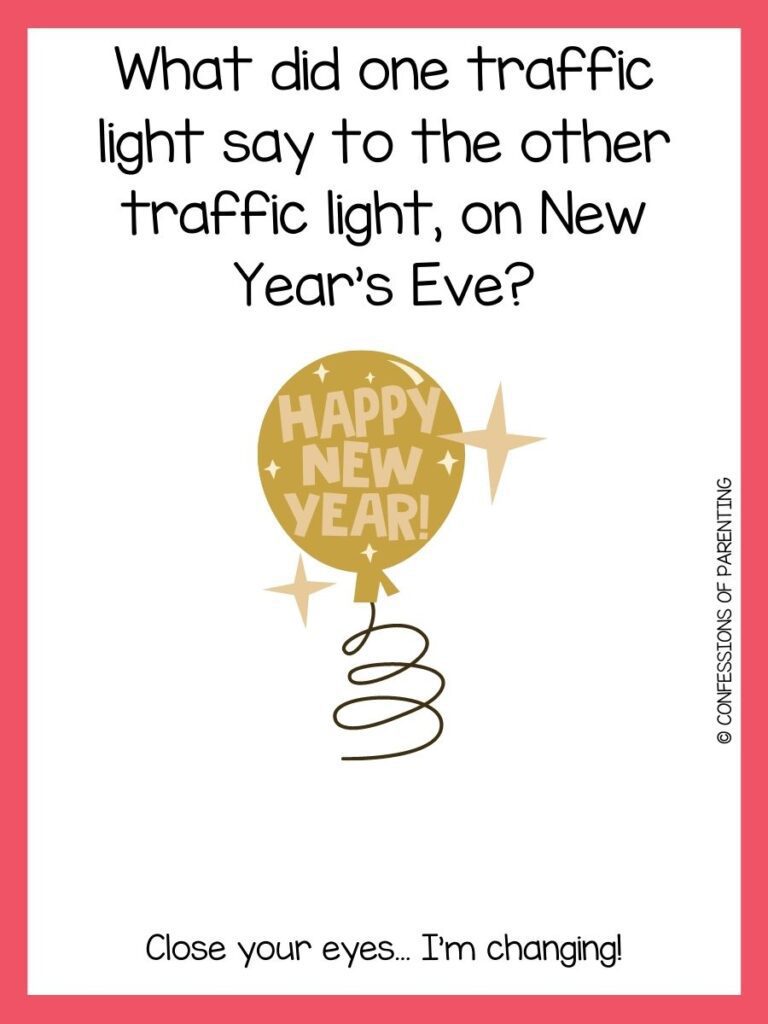 Q: What did one traffic light say to the other traffic light, on New Year's Eve?

A: Close your eyes… I'm changing!
Q: It was New Year's Eve. Why did the girl sprinkle sugar on her pillow?

A: She wanted to have a sweet dream!
Q: In the Middle Ages most European countries observed New Year's Day on March 25th. What is the significance of this date?

A: March 25th is recognized as Annunciation Day, celebrating when Mary learns from the Archangel Gabriel that she will give birth to the Son of God.
Q: Champagne is the traditional toasting drink of New Year's. Where is it made?

A: Authentic champagne is a light sparkling wine which can only originate in the Champagne region of Northeastern France. It can only be made from Pinot Noir, Pinot Meunier or Chardonnay grapes from that region.
Q: Can you name a food that is considered unlucky to eat for the New Year?

A: Unlucky foods to avoid are lobster, because they move backwards, not forward into the New Year. Likewise chicken is discouraged because the bird scratches in a backward direction. Another superstition is to not eat fowl because they could cause good luck to fly away.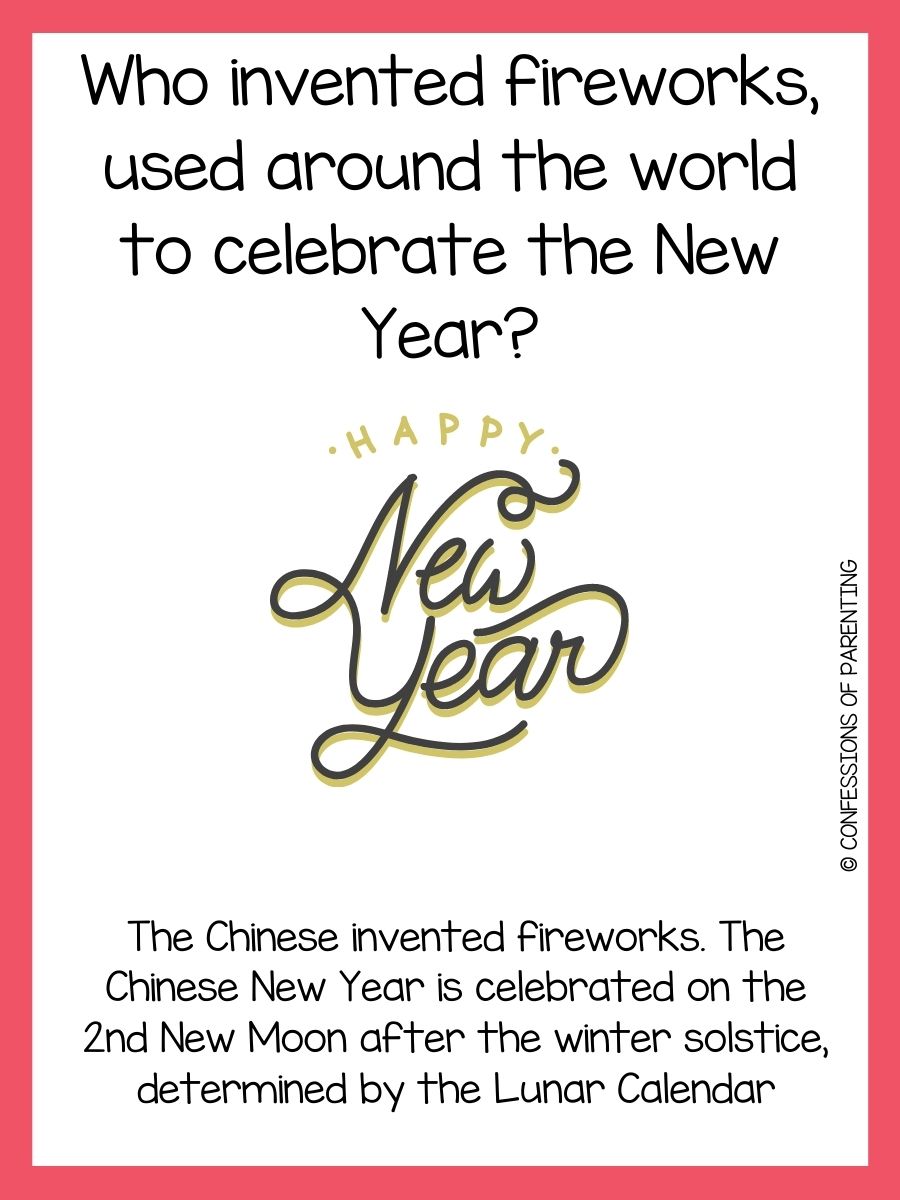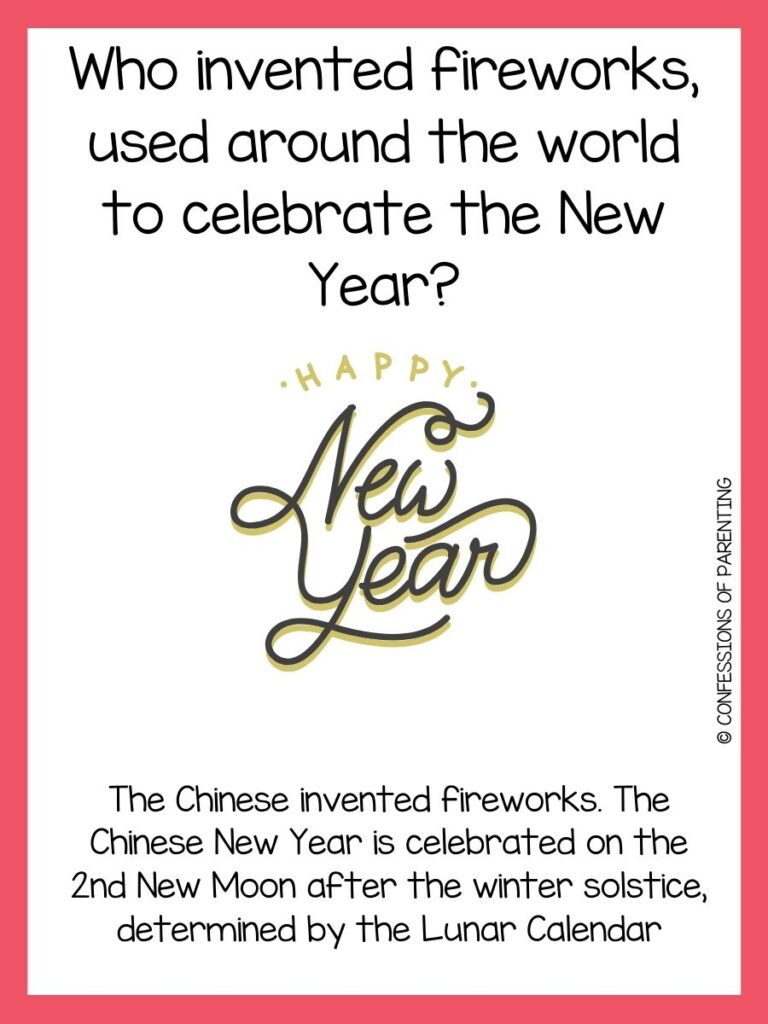 Q: Who invented fireworks, used around the world to celebrate the New Year?

A: The Chinese invented fireworks. The Chinese New Year is celebrated on the 2nd New Moon after the winter solstice, determined by the Lunar Calendar
Q: Who established January 1 as the start of the New Year?

A: Julius Caesar declared January 1 the start of the new year when he established the Julian Calendar. January was named for Janus, the two-faced god who looked both ahead to the new year and back to the previous year.
Q: In America the ball drops in Times Square to countdown to the New Year. In London how is the New Year rung in?

A: In London Big Ben chimes in the New Year.
Q: Why do people in Spain eat 12 grapes at midnight on New Year's Eve?

A: In Spain 12 grapes are eaten at midnight to secure 12 happy months in the coming year – one for each stroke of the clock. Each grape individually represents a different month.
Q: Who were the first people in history to celebrate the New Year and to make New Year's resolutions?

A: Around 4000 years ago the Babylonians were the first to celebrate New Year's. Their most common resolution was to resolve to return borrowed farm equipment in the New Year.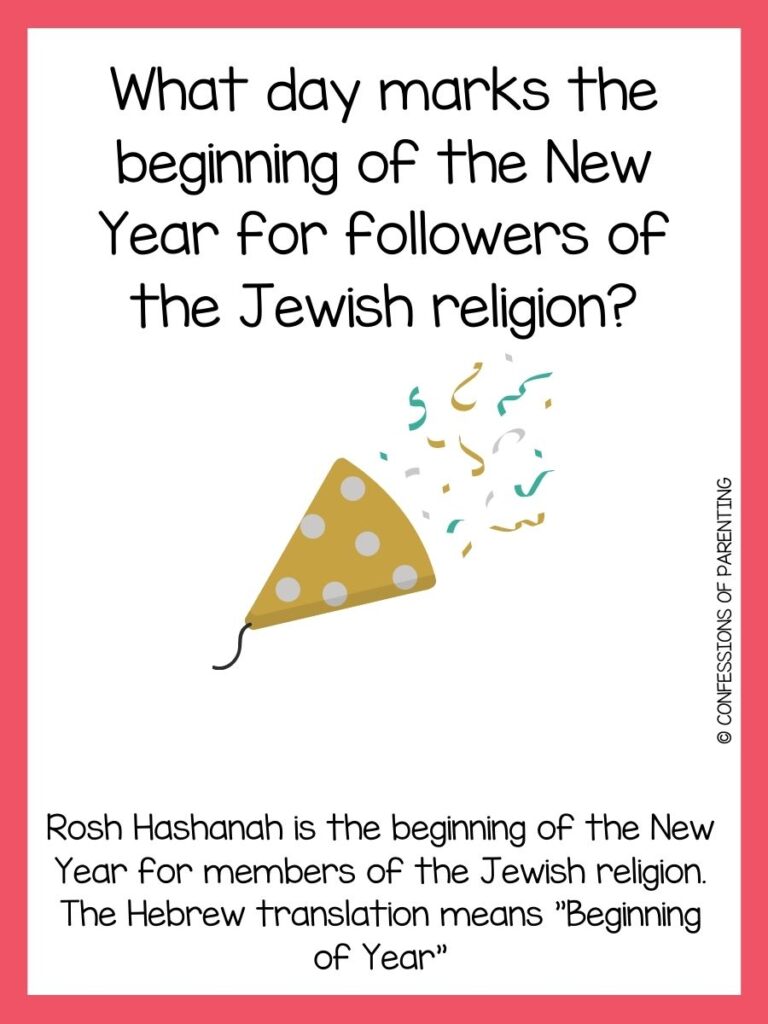 Q: What day marks the beginning of the New Year for followers of the Jewish religion?

A: Rosh Hashanah is the beginning of the New Year for members of the Jewish religion. The Hebrew translation means "Beginning of Year"
Q: What parade is held each year on New Year's Day?

A: The Tournament of Roses Parade, also known as the Rose Bowl Parade, occurs each New Year's Day in Pasadena, California.
Q: Everyone knows that both Christmas Day and New Year's Day always fall on the same day of the week. However, in 1939, the year of the outbreak of World War II, Christmas fell on a Monday and New Year's fell on a Sunday. Why?

A: In any given year Christmas Day and New Year's Day fall on different days of the week. Christmas occurs around 51 weeks later in the year than New Years Day. 1939 was no different.
Q: What is a phrase that's formed of 4 letters, but consists of 3, sometimes is written with 9, never with 5, and occasionally is made up of 12.

A: 'HNY everyone'
Q: Bidding farewell, Macy said to her friend that she would "see her next year" even though they had a lunch date scheduled for the following day? How is this possible?

A: It was December, 31st and their lunch date was on January 1st which is after New Years, the 'next year'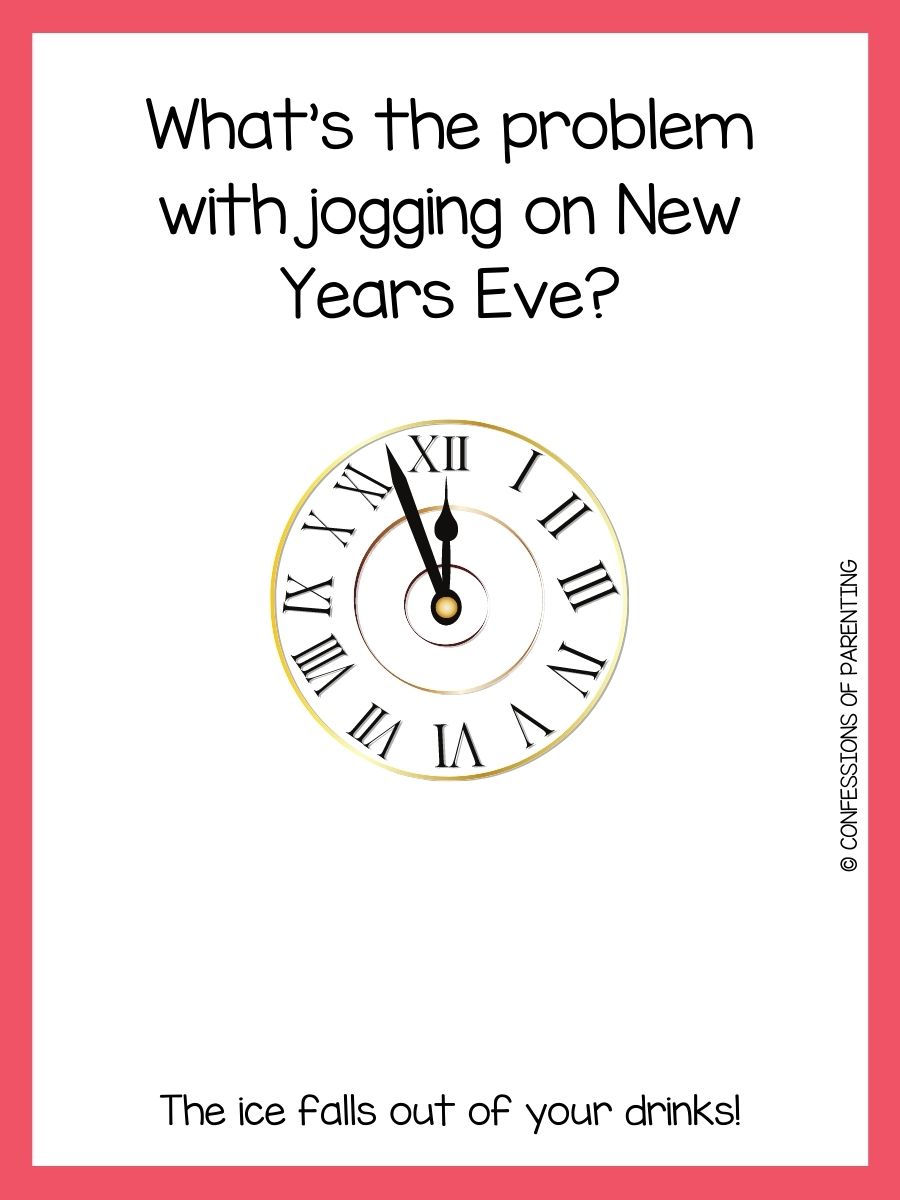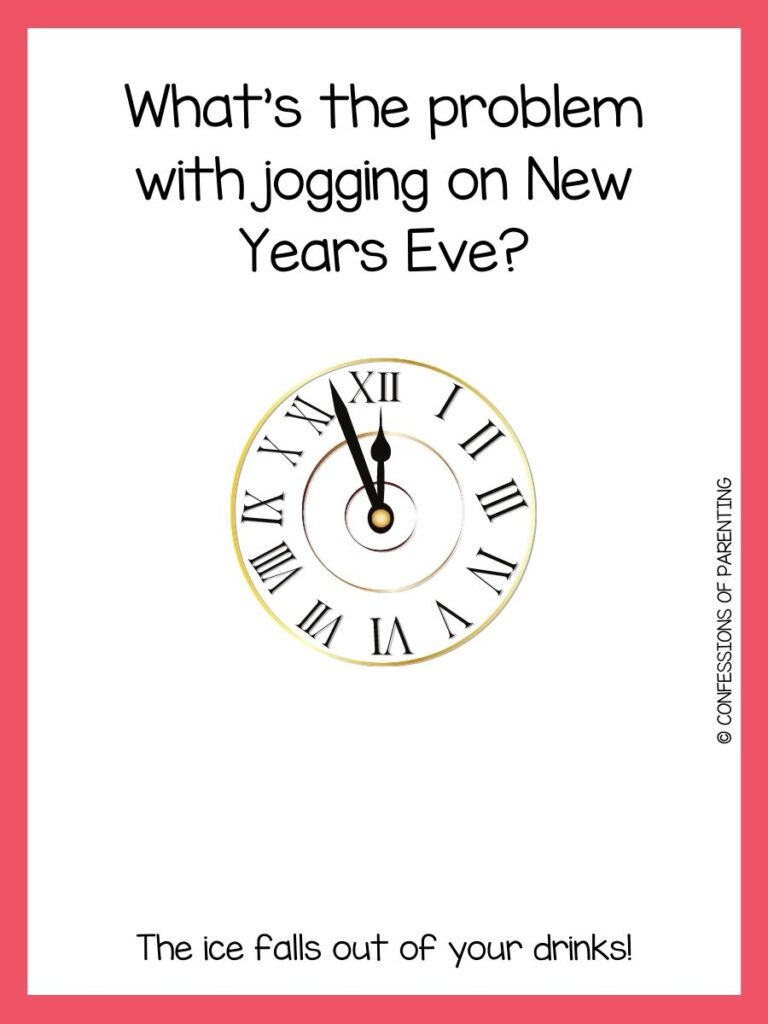 Q: What's the problem with jogging on New Years Eve?

A: The ice falls out of your drinks!
Q: A mother gave birth to twin boys, but they were born in different years and on different days. And no, they are not part of 2 sets. How is this possible?

A: One was born on Dec. 31 at 11:59pm and the other was born on Jan. 1st at 12:00am!
Q: When does New Year's Day come before Christmas Day?

A: Every year!
Q: Where can you go to practice math on New Year's Eve?

A: Time Square
Q: What's the one group that hates New Year's Day?

A: The New Year's Even clean-up crew.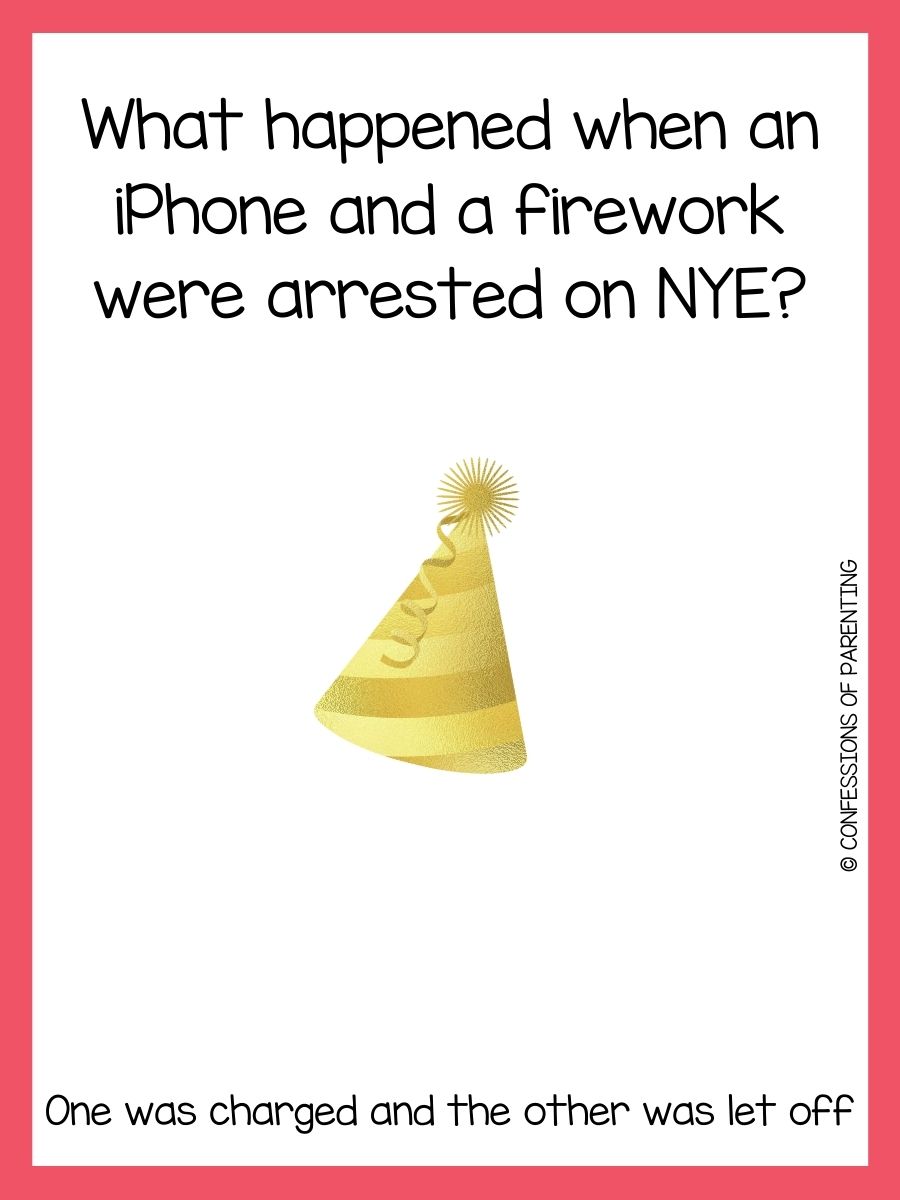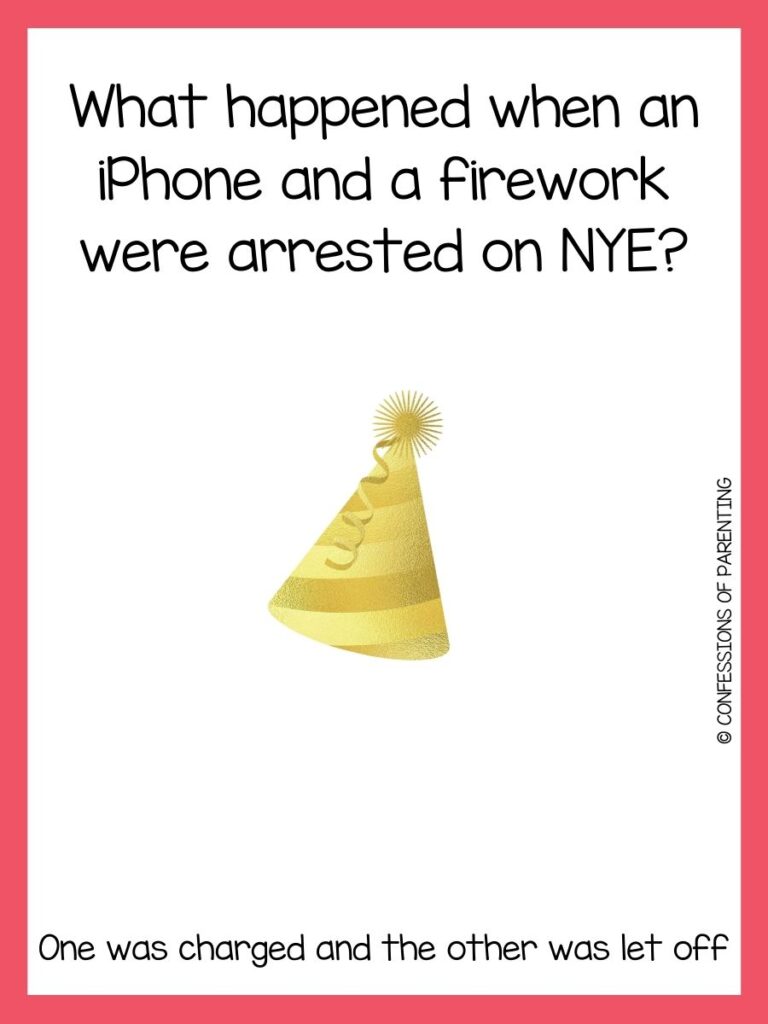 Q: What happened when an iPhone and a firework were arrested on NYE?

A: One was charged and the other was let off
Q: What's the best thing about New Year's Eve?

A: No more Christmas Carollers!
Q: When does Mickey Mouse put up his new calendar?

A: On New Ears Day!
Q: Two girls have the same parents and were born at the same hour of the same day of the same month, but they are not twins. How can this be possible?

A: They were not born in the same year.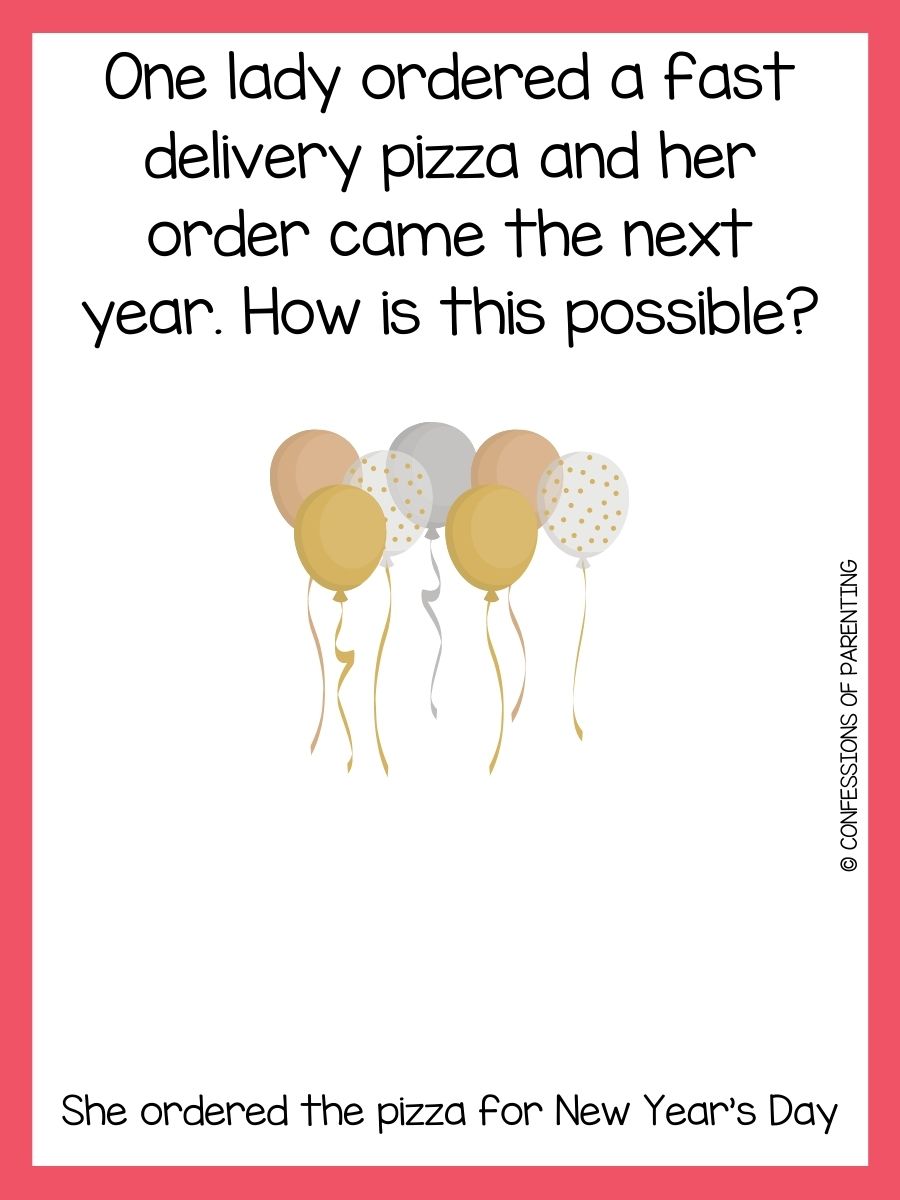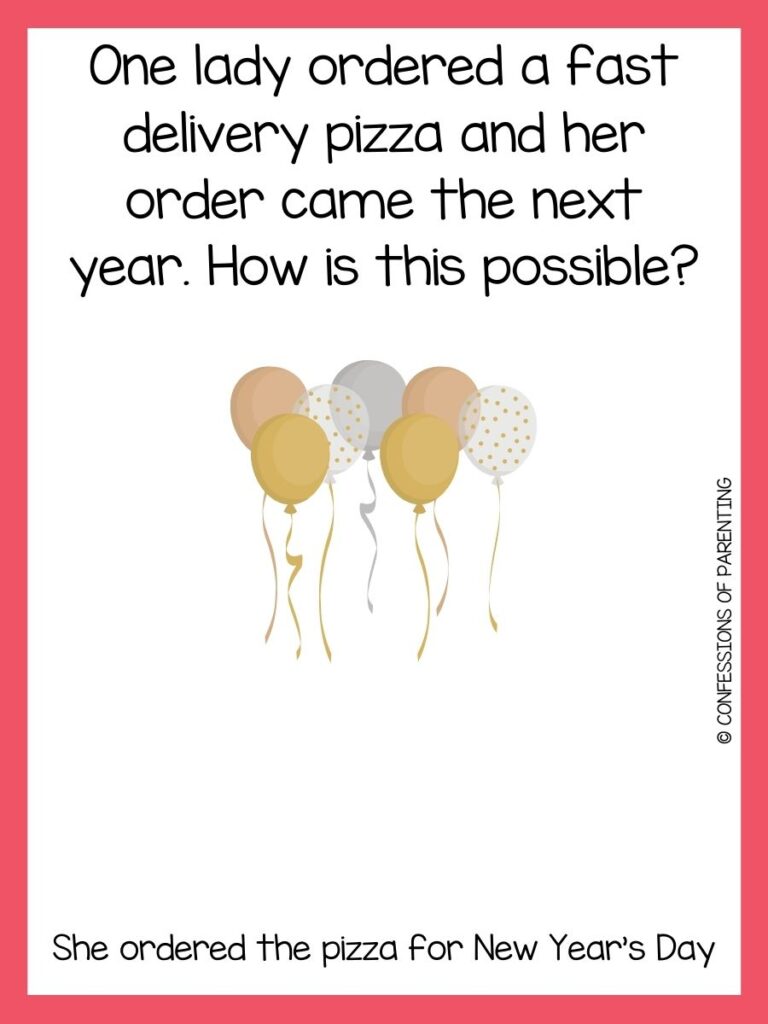 Q: One lady ordered a fast delivery pizza and her order came the next year. How is this possible?

A: She ordered the pizza for New Year's Day
Q: Joe is turning 17 this year, yet he turned 16 yesterday. How is this possible?

A: Joe's birthday is on December 31, the last day of the year. The current day was January 1st of the next year.
Q: The day before yesterday, Chris was 7 years old. Next year, she'll turn 10. How is this possible?

A: Today is Jan. 1st. Yesterday, December 31, was Chris's 8th birthday. On December 30, she was still 7. This year she will turn 9, and next year, she'll turn 10.
Q: In what year did Christmas Day and New Year's Day fall in the same year?

A: It happens every year.
Q: I am a holiday, of course, celebrated in December, I am celebrated until New Year, People who celebrate me are considered Evil by many Religions.

What am I?

A: I am Yule!
Q: When I asked her how old she was, she smiled and said cryptically: "The day before yesterday I was 22, but next year I'll be 25." What is her birthday and when was the date of our conversation?

A: We conversed on January 1 and her birthday was on December 31. So, the day before yesterday on Dec. 30th she was 22 and he turned 23 on Dec. 31. So her next birthday, when she turns 24, would be Dec. 31 of the same year the question was asked. However, next years birthday would be the following year on Dec. 31, when she would be 25.
Q: What is significant about 3661 seconds past midnight on 1st January 2001?

A: The time and date will be 01:01:01 on 01/01/01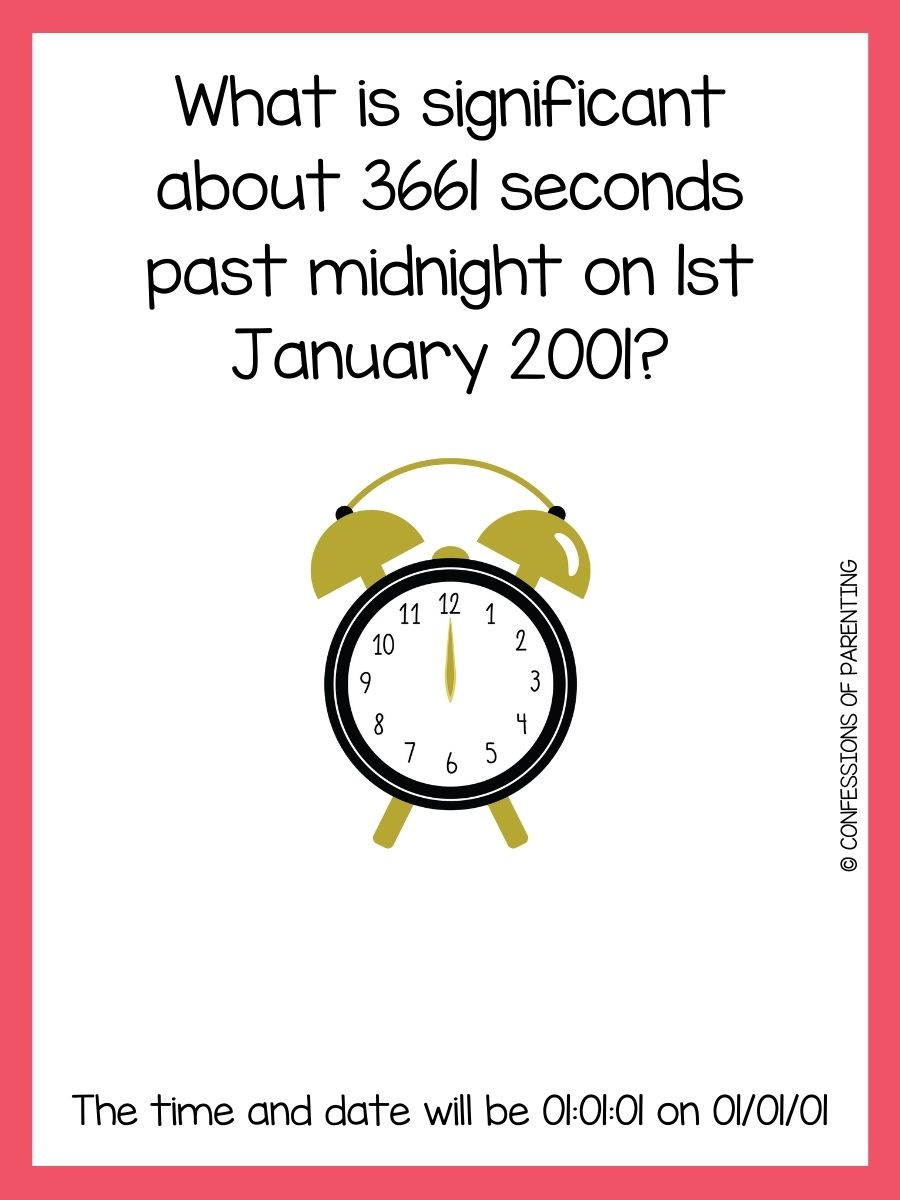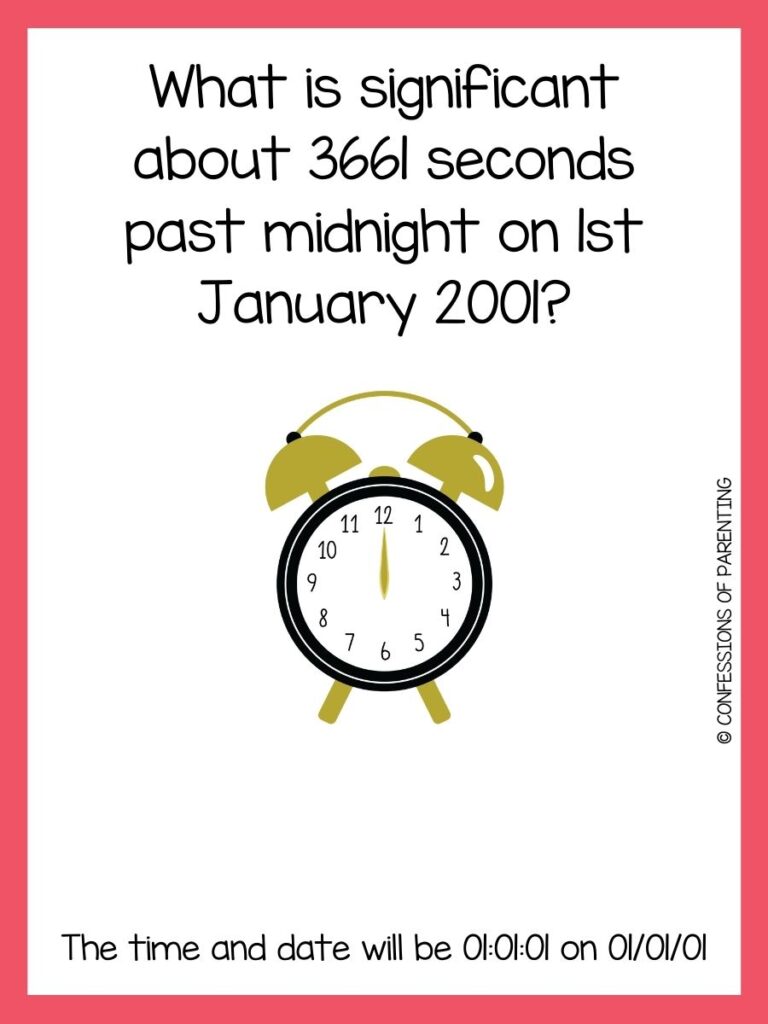 Do you have some favorite New Years Riddles? Share them in the comments so we can try and solve them!
You can Never Have Too Many Riddles! Complete List of Mind-Blowing Riddles!
How Do I Access My Free Printables?
Fill in the form above. You will receive an email in your inbox. If you don't see it, check your spam folder! You will then click to confirm your subscription. Once confirmed, you will be emailed your joke cards.
How Do I Print A PDF?
You'll need a program that supports PDFs. Adobe Acrobat is a great option. Open the program, click file then print. Select your printer and the number of copies you want to print. Be sure you click double-sided if you want it to print on both sides.
Can I Resell These?
You may not resell any printable that you find on our website or in our resource library. You may use them for class parties, at church, at home, or in the classroom. You may get these printed at an office supply store or copy center at your own expense.