Valentine's Day is the perfect time to send your college student a surprise I love you present! Grab one of our budget-friendly Valentine Gifts for College students ideas or splurge for something they will really love! You are guaranteed to make your kids who aren't at home anymore really feel loved with these college student gift ideas!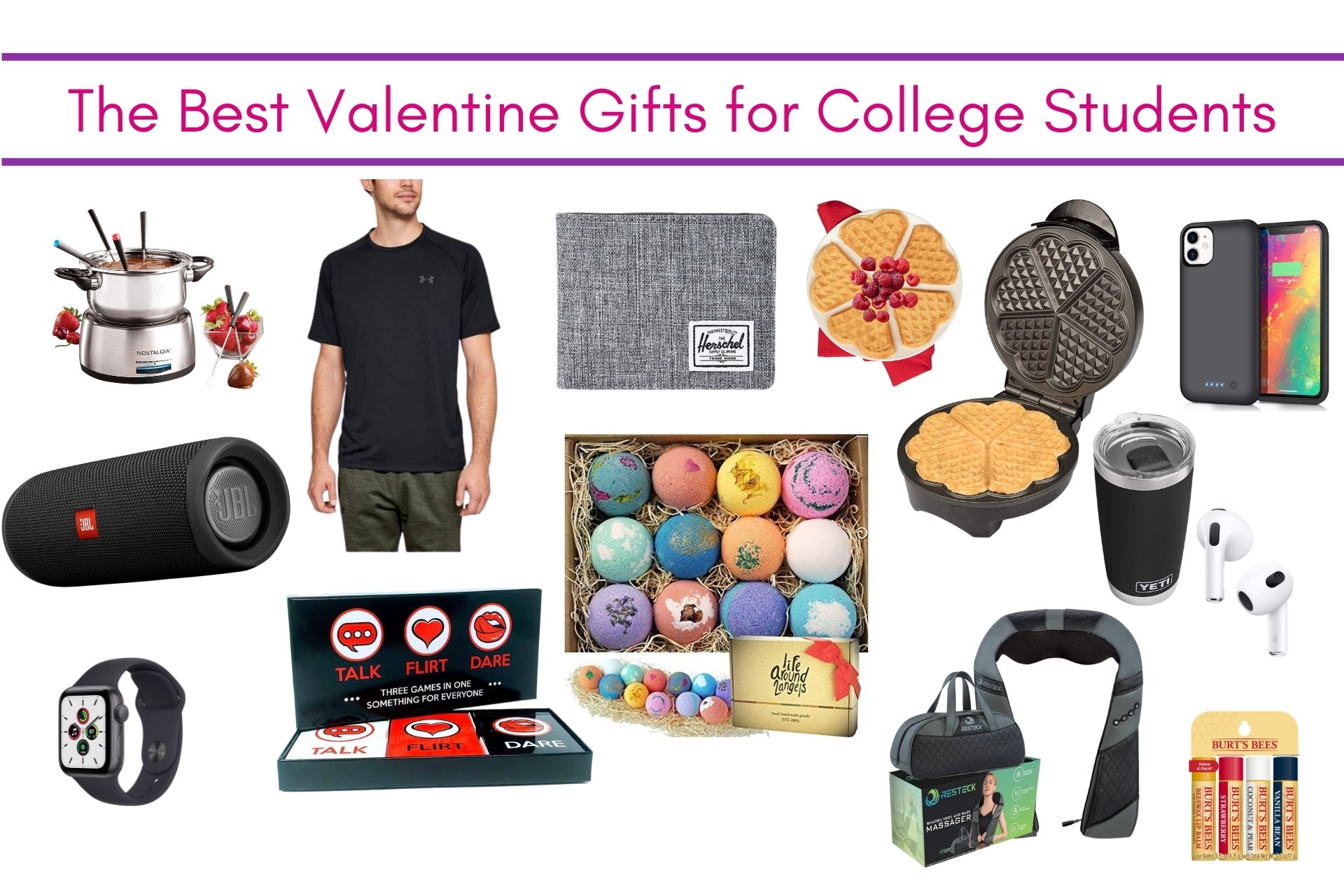 When your kids go off to college, especially their first year, it can be a little hard on your kids and a lot hard on you! You are no longer seeing or hearing from them every day so you may be constantly looking for a special way for them to know you care! Sending Valentine's Day gifts is a great place to start when you are thinking of what you can do around February 14th. Good news! We have taken a lot of work off your plate to create a list of things that includes traditional gifts, small gestures, expensive gifts, and budget-friendly gifts so you find the perfect gift to send or hand-deliver!
What should I send my college student for Valentine's Day?
No matter what you decide to give your college student this Valentine's Day they are sure to love it! We have super affordable ideas all the way to big splurges that will make their life more comfortable and enjoyable! Hopefully this Valentines' Day gift list will help you find some unique gifts just right for your older kids!
Best Gifts for College Students:
Best Quality Time Gift- Invite them home to take them on a shopping trip. If they live too far away, then write a letter telling them how much you love them and how proud of them. This is the perfect way to show them how much you love them and they can refer to it on those days when they are really missing home.
Best Splurge Gift- Retro Fridge
Best Gift to always Remember you back home- Lokai Bracelets
Best Budget Friendly Gift- Heart Pasta and Heart Waffle Maker
Valentines Gifts for College Students
If your college student is living on their own or in the dorms then, Recipes Every College Student Should Know is the perfect gift to send this Valentine's Day. It is the perfect gift to help your kids learn to make healthy snacks as well as other tasty treats. 
If you have a son this is a must, especially if he wants to make a girl a delicious home-cooked meal.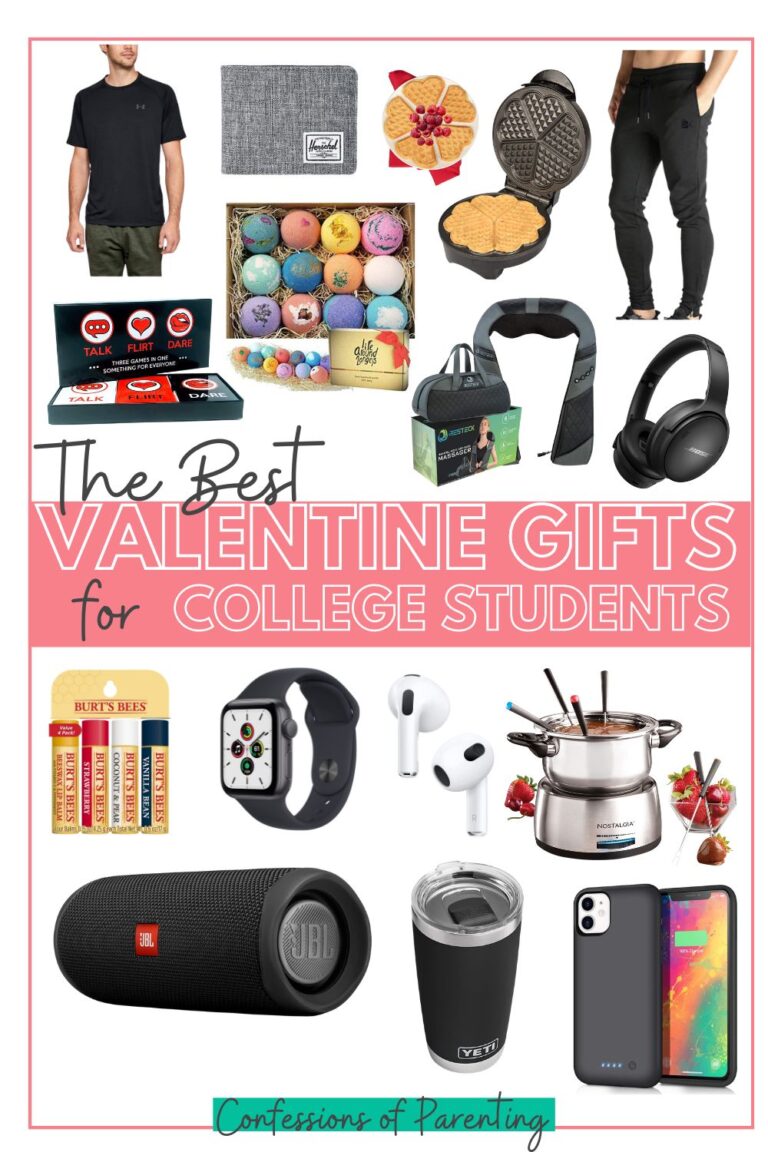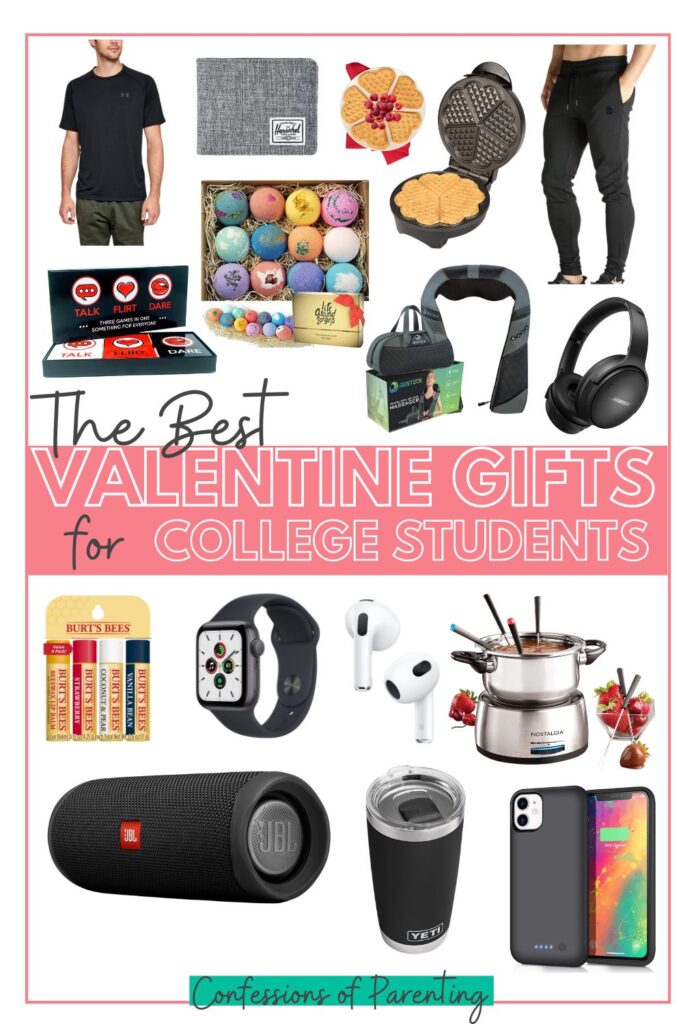 Most young adults are rushing out the door on the way to the class and the Nutribullet is the perfect addition to any dorm room. It is compact, makes individual servings and helps your student stay a little healthier rather than eating in the cafeteria each meal. 
Want to get the best Valentine's Day gift for college students? They will go crazy over this small retro fridge! I mean who wouldn't love this awesome classic to keep their drinks and snacks cool as they study! This is the best way to enjoy keeping things cool in a small space like a dorm room.
College Care Package
A great gift idea that offers a personal touch is creating a valentine's day care package! Include their favorite snacks, face masks, a gift card to the movies to go see a good movie near the college, and other fun ideas and activities that they can enjoy this time of year. This is a fun way to really personalize a gift just for them.
When sending this gift, don't forget to send extra for the roommates and their best friend as well.
If you want to send a fun Valentine gift idea for your college student then grab this hot chocolate on a stick! They will love watching it melt into a delicious drink while studying into the wee hours of the night. 
If you want to send your college student thoughtful gifts that they can wear at all times these lokai bracelets are a perfect option that they can wear to anything while they can always remember you back at home when they look at their wrist throughout the day.
If you need the perfect gift to have your college student happily walking to class while listening to their favorite songs you need to get them these noise-cancelling Bose headphones. With these headphones, they will get perfect audio quality and they'll be looking forward to any free time they can have to listen to their favorite songs or maybe they'll even look forward to watching a lecture. 
Whether your college kid is a fitness guru or just likes modern-day technology they will love an Apple Watch. This watch will make sure they are never late for a lecture again. It can remind them when they have classes, show them their texts, track their fitness stats, or even make the rare phone call back home. 
One thing you can never have too much of as a college student is college gear to represent your college whether you're going to the sports game or just walking around campus you can never have enough of a selection in your closet with your clothes always going missing.
If your college student needs a new wallet we have found the perfect one in a herschel wallet. This is a good-looking wallet for an even better budget-friendly price that your kid is definitely going to love.
If your kid is always out and about there is a big chance they never have time to charge their phone on that busy college schedule which would make these charging cases the perfect gift for them so they can always be safe and have their phone ready to go while on the go.
Boy or girl one thing guarantee that nobody likes is chapped lips. If you are looking for a very budget-friendly item to get your college student chapstick they are always in need of how often you lose them and even if they don't lose them they can never have too many lip balm flavors.
In college one thing that you always need in your dorm is a Bluetooth speaker and with this JBL speaker we found it is the perfect speaker for that dorm life that you won't have to worry about with the durable waterproof design and long battery life.
College students always have a lot of electronics that they need for college but in a dorm, you can never seem to find enough outlets and often times that leads to having dead devices that aren't ready to go in the morning when you wake up, but you could fix that solution through a 3 in 1 charging dock where you can charge your AirPods, phone, and apple watch all at the same time.
Clothes
College kids always are trying to find the perfect outfit to wear out so they can find and impress that potential future husband or wife. In order to do that you need to have the clothes to do it. Some of the clothes that are popular for anyone are some of the ones you might have seen when you were their age in the vintage graphic tees coming back into style.
One of the first things that come to mind when you think of Valentine's Day is chocolates so why not make it a wonderful tasting Valentine's Day for your loved ones this year and send them a box of heart-shaped chocolates. So, if your kids have a sweet tooth, then a box of chocolates is the perfect option.
If your son or daughter was lucky enough to get a date on Valentine's Day they're going to need to look nice and one thing that never goes unnoticed is how their hair looks, so if you want to help your kid out to be able to get that second date they need their hair to be looking nice and for that, they need hair care.
I think every college kid craves eating fondue but it can get expensive to go out and eat it all the time we found this dorm-friendly electric fondue pot so your kid can make their favorite fondue dishes whenever they would like in their dorm
Get your kid in the valentines day spirit by allowing them to cook up 5 heart-shaped waffles at once to start out valentines day with a little bit more excitement to get them in that valentines spirit. 
If your kid had their heart broken this valentines day and is spending it alone you could help them out and send them some heart-shaped pasta that hopefully won't break while shipping to them to brighten up their valentines day. They could even use these to invite someone over for a first date on Valentine's Day! How is that for romantic!
In college, that room could get a little stinky and with candles not being allowed in most college rooms wax warmers are a great alternative so they can keep their room smelling fresh while staying within their housing agreement
If you really don't know what to get for your college student, get them a gift that is personalized to them and get them a subscription box that fits what they love so they can get a variety of stuff for valentines day.
If your kids miss mom's homemade cookies why not give them the next best thing and send them some baked goods in a pound of cookies right to their doorstep so they can give them that thing that can make it feel a little bit more like home. 
While in college the food court can get old after a while so let your kid have the feel of a home-cooked meal and buy them a cookware set so they can hit the refresh button on the college food every once in a while
Whether your kid wants to just be comfortable around their dorm or get a good workout in on campus you can make their valentines day just a little bit better by sending them some new workout clothes to add into their clothing rotation
With all the sitting around studying in college your kid's neck could get a little sore so one thing we can guarantee you they would love is a neck massager to really relieve those kinks you get in your neck while studying through the heat and rolling balls in the massager
One thing that your college kid will love is a scalp massager. Not only will it feel good as it massages your scalp but it also can do other things like exfoliating dandruff, deep cleaning your scalp, relieving itchiness, and even helping hair growth.
If you want your kid to be the life of the dorm on valentines day you need to get them this fun valentines game to play with all of their friends and neighbors in their dorm to really make their valentines night a little more fun to end the day and add a little spice in their lives.
One thing that your kid always need is a new phone accessory whether it be a new case to protect their phone, a phone stand, a ring light, or just a new charging cord with how often you just leave charging cords everywhere you can never have enough of them lying around there is always a need for phone accessories.
One of the best feelings you can get is getting a fresh new blanket right out of the box and I think every person feels that exact way about getting a new blanket so help your kid out and get them that new blanket that they need this valentines day so they can stay warm this winter.
One thing that can always be improved on in college dorms is room decor. Even just a rug can change the whole look of your room in college and it makes a big difference in how much better your room can look and how much more like home your dorm can feel with something as small as just adding more decor to make your room a little more like you.
Something that could spice up your kids' room in college just a little bit more is some throw pillows to match their room. These can go on their bed to change the whole look of the room with the addition of just a few throw pillows.
One thing I think every college kid needs is a hammock. These are so portable and they allow your kid to take them everywhere with them so they can find their favorite spot on campus and hang up their hammock in minutes to allow them to relax and study anywhere.
While in college you are always on the go so you need to get your kid a yeti tumbler whether they need to keep their coffee warm for the early morning class or they need to keep their water cold while going to the next sporting event on campus your kids will love their tumbler for all of their daily needs
With the constant need for outlets around a college campus, this charging tower is the perfect solution for your kid's problems of never having places to plug things in so they aren't having to constantly unplug all of their things to get a charge in. This charging tower turns 1 outlet into 14 potential charging spots for your college student so they never have to unplug anything again.
An easy way to spice up your kids' college dorm is with LED lights, they are very easy to install and they completely change the look of your dorm in an easy way. Your kid's dorm needs these LED's to be put around the room, bed, tv and even more to make your dorm room look just to create a little more of a modern look.
Being a college student you can never have too many snacks lying around so this valentines day you need to be sending your kid a snack box so they can restock on their snacks for the late nights or get the little bite to eat on the way to class. With a snack box, they will have a large variety of some of the most popular snacks around which is a need for your kids this valentines day.
While in college you spend a lot of time walking to class and all around campus but one thing that can make that walk a little bit better is listening to your favorite things whether it may be podcasts, audiobooks, or just your favorite artist these AirPods will do the job and they will do it very good and with their small size they can just throw them into their pocket or backpack when they get to class. Your kids would love these AirPods this valentines day.
Your college student is always on the go and they need these hydro flasks in their life to keep their drinks cold or even hot. Whether your kids are going to class and need to keep their favorite drink cold or going to the gym and need something durable your college kid will love their hydro flask and will always have it with them.
On Cloud shoes are becoming the next best thing on college campuses all around the world. I think the name of the shoes explains them well enough. These shoes will make you feel like you are walking on clouds which will make walking around campus so much more delightful for your kid in their new favorite pair of shoes. These on cloud shoes come in all kinds of styles and different colors so you are almost guaranteed to find the perfect one for your college student that they are going to love. 
One I believe every college student needs is a nice pair of sandals and Birkenstock they give you just that they have perfected the perfect sandals to give your college student the perfect balance between style and comfort allowing them to be stylish while walking around their college campus in the comfortability of their sandals.
If your college student is always on the go it is very likely that they don't have time to make their morning cup of coffee or their favorite hot drink before heading to class. This likely means they are going to that class grumpy with no energy or they are using your credit card to buy that $6 coffee at Starbucks on the way to their class and that's why they need this Keurig that can make their favorite drink in seconds with just the addition of their favorite flavor pod that they can get anywhere.
When microwaving your microwavable movie theater popcorn it never actually turns out as good as they make it at the movie theater but you can change this for your college kid this valentine's day with this popcorn popper that they can just throw their kernels in and put the butter on the top and watch your kernels pop into popcorn before your eyes to give their popcorn that perfect movie theater taste that everyone desires.
I think one thing all boys have in common is their love for jerky and you could contribute to that by buying them a jerky basket to satisfy their jerky needs of jerky so they can find their new favorite flavor.
Valentine Gifts for Daughter in College
If it gets cold where your daughter goes to school, the perfect Valentine's gift for your daughter is a nice warm pair of boots we have found the perfect ones with a wide variety of styles and colors in these warm sorel boots.
As a college girl, one thing you can never have too much of is a jewelry and with Kendra Scott you can find exactly what you are looking for whether it be bracelets, earrings or necklaces all at a great price. 
College girls can never have enough nail polish to take their style just one more level up. Nail Polish could just be that one extra thing that can take your outfit up one more level and that is why we found this 24 pack to give them just about every color they will ever need.
Being a college girl I think one thing you can never get enough of is the satisfying view of watching a bath bomb disintegrate in your hand as the bath is filling up, and that is why you need to get your daughter some this valentines day.
Leggings are the perfect gift for any college girl for valentines day. There are so many colors and styles to choose from you are almost guaranteed to find one that your daughter will love. Leggings are so versatile you are able to wear them anywhere, around the dorm, walking around campus, working out, or they can even put them on and make a pretty nice outfit while being able to be in the comfort of their leggings.
There you have it! The ultimate list of gift ideas for your college student this Valentine's Day! Be sure to leave a note in the comments of some other great ideas that you have so that we can add them to the list!
For More Ideas for Teens / Young Adults Be sure to check out these posts!