Celebrate the founding of America with this fun and free 4th of July bingo printable! This free printable is the best way to have fun as a family and teach your family about some of the unique and fun things that come with the 4th of July!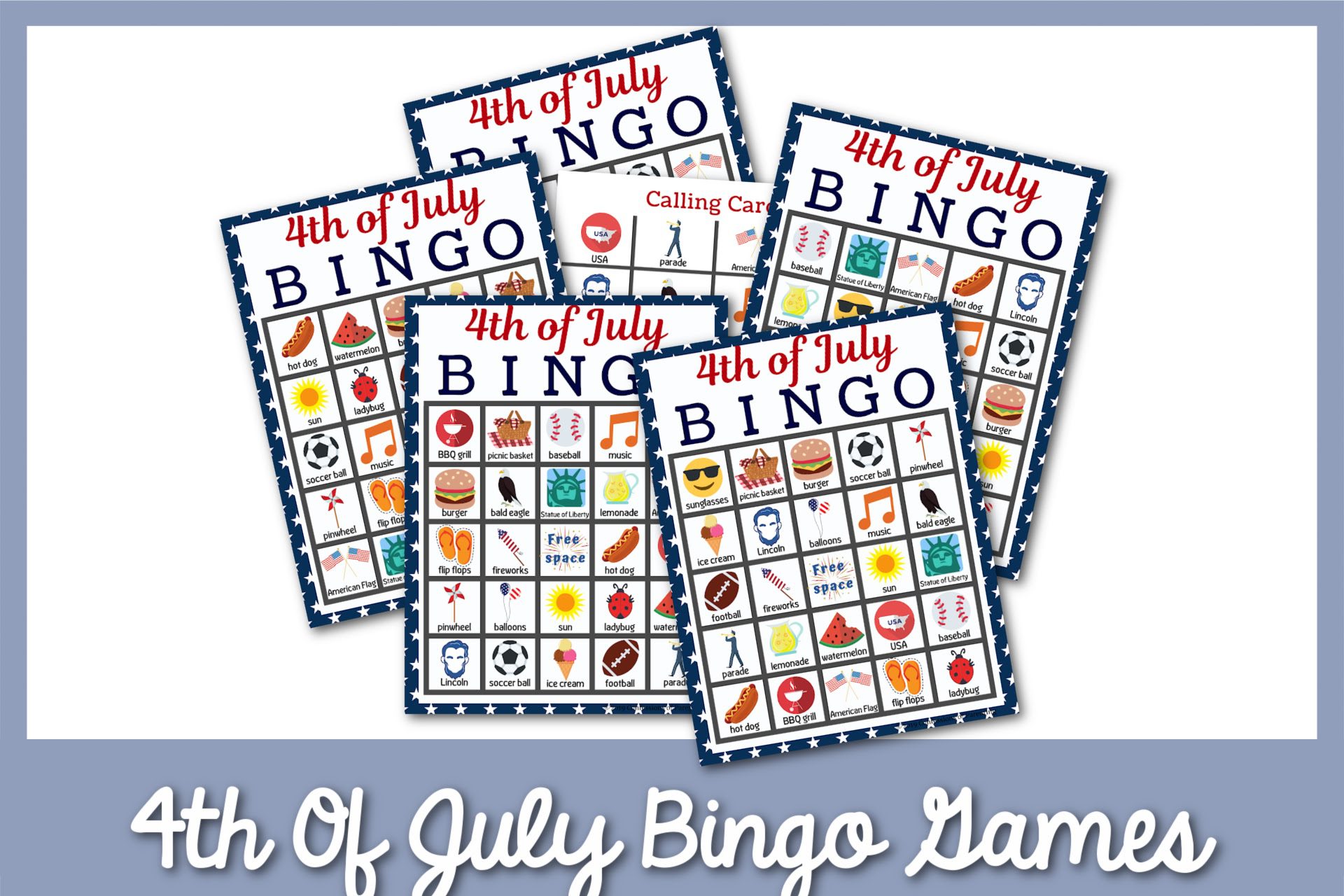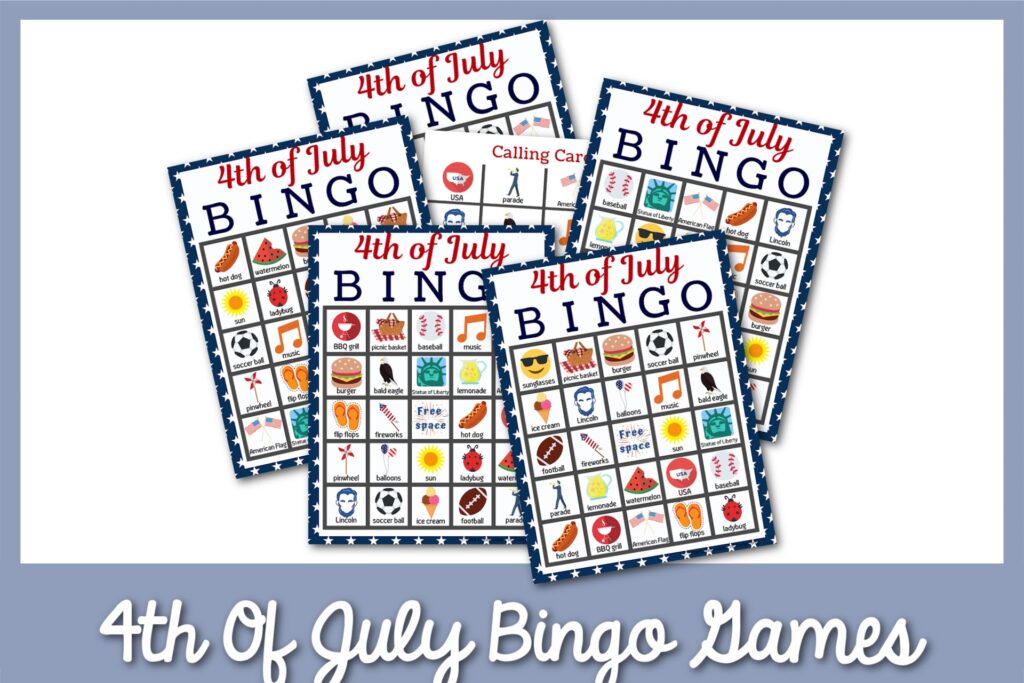 4th of July Bingo Free Printable
The 4th of July is my favorite holiday! I find it so much fun to spend the day eating BBQ, watching parades, having picnics, and watching fireworks! It's all so exciting!
But between the fun big events, sometimes you need small events to fill the time. This 4th of July bingo free printable is the perfect filler activity. Plus, if you need a moment without your kids, you can teach them bingo and then have a moment for yourself. We are so excited to be adding this to our growing list of bingo games for kids along with Thanksgiving Bingo, Fall Bingo, Easter Bingo, and more! Check out all our other bingo games for kids!
How to Play 4th of July Bingo
One of the best parts of 4th of July bingo is that it can be fun for everyone, regardless of age! It's easy to learn, easy to play, and entertaining for all! The instructions are short and easy to follow.
First, give everyone a 4th of July Bingo card. There are 6 different cards included in this free printable. Make sure those sitting next to each other have different cards.
The last page of your free printable is titled "calling cards." These have all the pictures from the bingo sheets. You will cut out all the calling cards, shuffle them, and set them in a pile upside-down or place them in a bowl or a basket.
After everyone has their 4th of July bingo card, give them something to cover their squares with. You could use a variety of things. Try using candy, bits of confetti, chips, small toys, etc.
Be sure to put a marker on your "Free Space!"
Then, use the calling card pile to draw one card at a time. After a calling card is drawn everyone must find where the corresponding picture is on their 4th of July bingo cards and cover it up with a marker.
Once you fill up a row of 5 horizontally, vertically, or diagonally, yell out "BINGO!" The first person to yell bingo wins!
Helpful Tools We Love When Downloading Printables
Printer– I love my HP+ printer that uses Instant Ink. I love it because we can use as much color ink as you want for one low cost starting at $.99/ month for ink. Try it out for free here!
Cardstock- I always recommend printing on cardstock. This makes it way more durable so you don't have to worry about printing it time and time again.
Laminator / Laminating Sheets- Again, for added durability, grab a laminator and laminating sheets so that you can use this again and again!
Scissors (I seriously love these ones)
Dry Erase Pens- Use dry erase pens so that you can wipe your laminated printable clean over and over again for endless use!
Fun Tips for 4th of July Bingo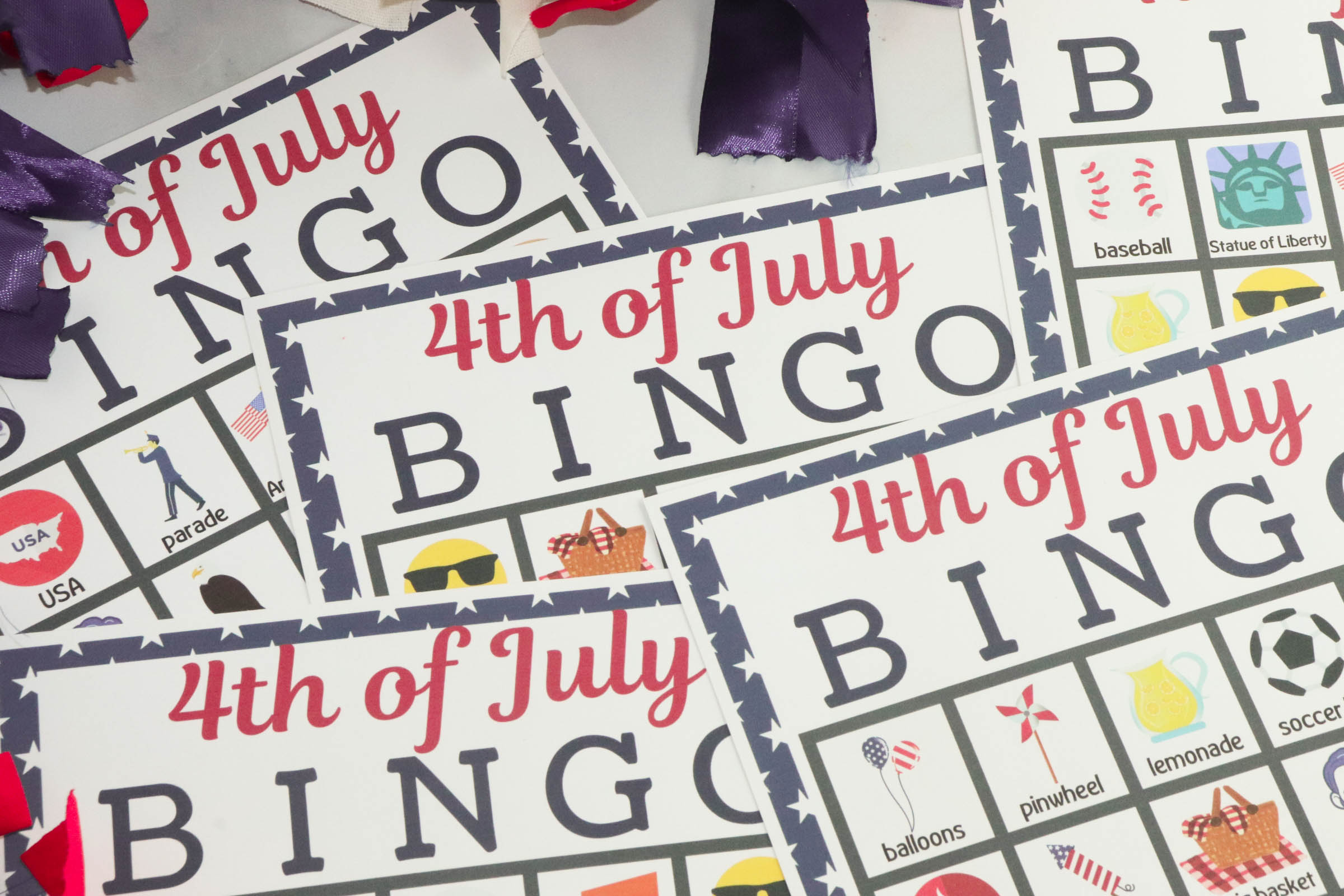 I love 4th of July bingo because its a game you can play in a variety of situations and with a variety of people! You can play this at the family BBQ, you can give it to your kids to play as you try to stay out of the heat for a little bit, or you can play it at a party with kids and adults alike!
With such a wide range of people to keep happy, there are bound to be problems. Avoid problems by following a few of our best tips and tricks! These tips and tricks will help you continue to play for hours to come.
Use cardstock or Laminate
If you are going to play multiple rounds with different people, I suggest that you print your 4th of July bingo on cardstock! If you want to keep your 4th of July Bingo for years to come or for multiple groups of kiddos, you could laminate.
Get different placeholders!
One of the things that makes 4th of July bingo fun is the different placeholders that you can use to cover up the pictures. This is where you can get really creative. You can use confetti, candy, cookies, sticky notes, or even little rocks.
When you play 4th of July bingo you can make things even more fun by explaining the meanings behind each picture and how they relate to the 4th of July holiday. This is especially beneficial for younger children. You could even give a mini history lesson of sorts with this bingo set!
This is a great way to invite some friendly competition to your game. You can play boys vs. girls, in partnerships, or kids vs. adults to see what team can all get bingo first.
This is another great way to make your games more fun! It helps everyone stay excited and involved! You can give the winner anything from a cookie to a trophy. I really like these 4th of July temporary tattoos to give to everyone who participates and a Moon Boat Headband to the winner!
After each round of 4th of July bingo go ahead and switch the cards up between participants! This is another great way to keep things interesting because you have to look for the pictures in a new place each time.
4th of July Bingo Cards Free Printable
How Do I access my free printables?
Fill in the form above. You will receive an email in your inbox. If you don't see it, check your spam folder! You will then click to confirm your subscription. Once confirmed, you will be sent an email with your free printable.
How Do I Print a PDF?
You'll need a program that supports PDFs. Adobe Acrobat is a great option. Open the program, click File, then print. Select your printer and the number of copies you want to print. Be sure you click double-sided if you want it to print on both sides.
Can I resell these?
You may not resell any printable found on our website or in our resource library. You may use them for class parties, at church, at home, or in the classroom. You may get these printed at an office supply store or copy center at your own expense.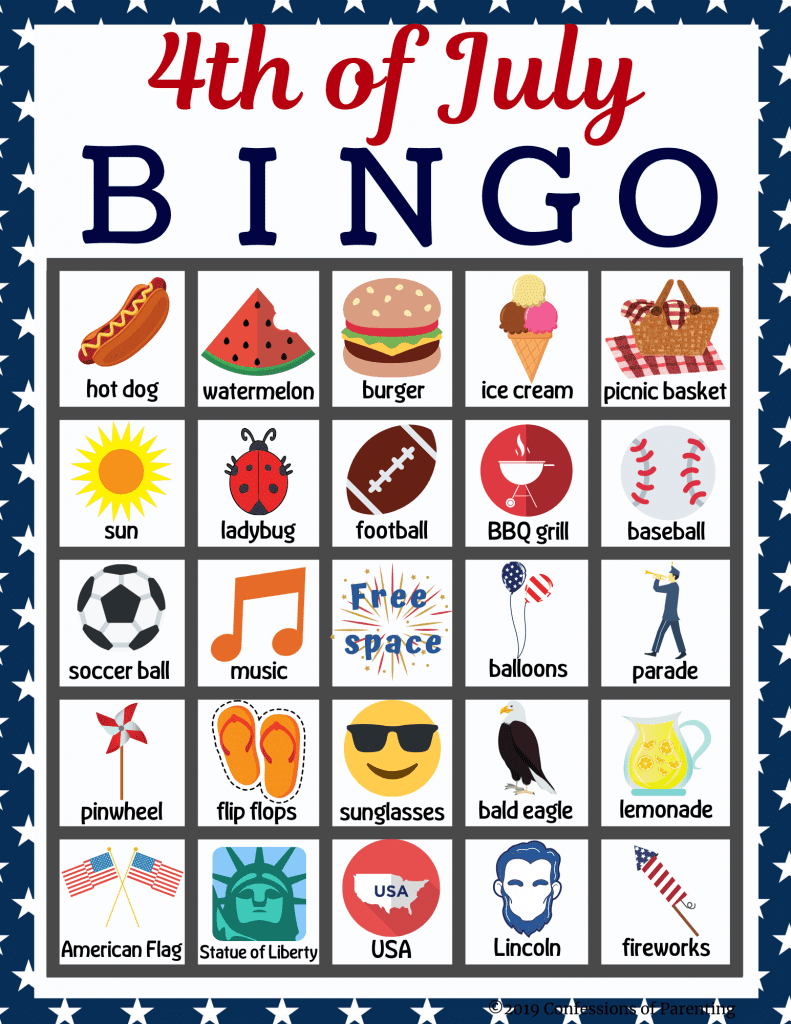 I hope you have a fun and safe 4th of July holiday and that these bingo cards are as much fun for you and your family as they are for me and mine!
Love Bingo Games? Don't forget to grab these too!