Choosing to build trust in marriage is an important aspect of your relationship. Here are six ways to build trust in marriage.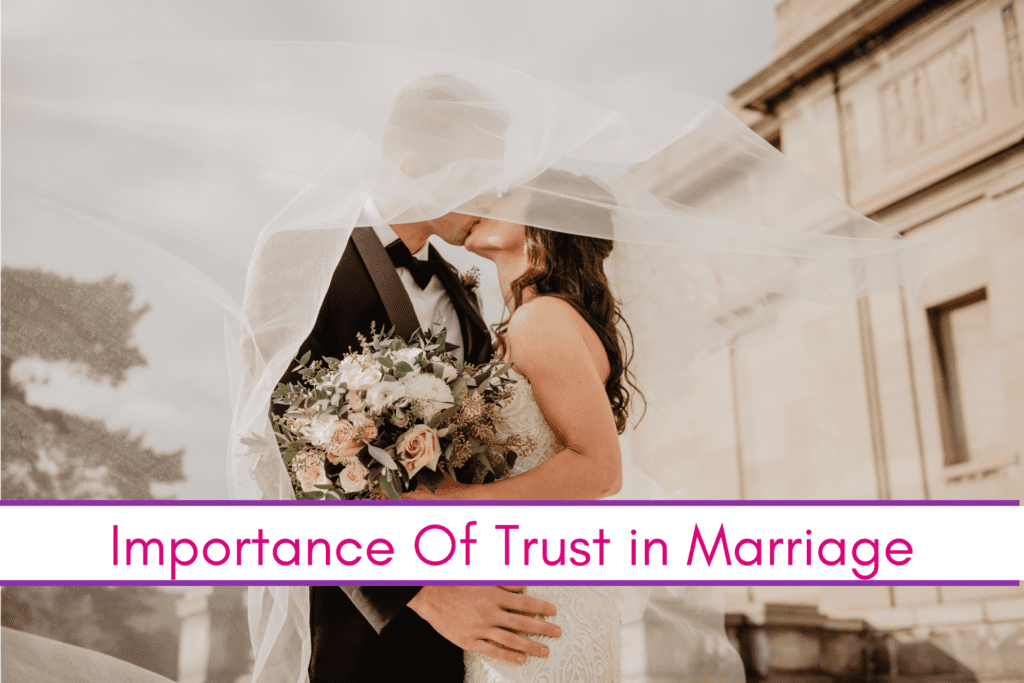 Importance of Trust in Marriage
Trust is an important part of marriage. Without it, it is difficult to have a healthy relationship with your spouse. This often leads to insecurities and unhappiness. When trust is present, there is a feeling of security, a feeling of safety, a degree of comfort, and you have the freedom to express yourself. Here are six ways you can build trust in marriage.
7 Ways to Build Trust in Your Marriage
Understand and Define Trust
Building a healthy, strong, and loving relationship is important to understand and define what trust is. Talk with your spouse about what trust means to both of you. What does trust look like in your relationship? What are some ways we can work to develop and build trust together? As you begin to understand what trust looks like, you can build trust on a solid foundation together!
Do What You Say
You should do what you say. Your actions should match your words. For example, if you tell your spouse you will take the garbage out then you should follow through with what you said you would do. When your actions match the words you speak, your spouse will believe you. Doing what you say allows trust in you to grow. Telling your spouse "I love you" and then spending little time with them or treating them poorly does not match what you are telling them. Trust in your diminishes. While it is important to tell your spouse you love them, it is even more important to show them by doing what you say.
Be Honest
Be truthful in all your dealings with your spouse. Be honest. Lies can destroy a marriage. Being honest is one way to build trust in your marriage. This includes what you spend money on, where you are going and what you are doing. Be honest about the time you are spending on the internet and the activities you do there. The more honest you are about your activities, the more your loved one will trust you.
Be Humble
What does being humble mean? The definition of humble is being modest, not having pride. If you have wronged your spouse in some way, be humble and ask for forgiveness. It isn't always easy to admit when you are wrong, but a little humility will go a long way in regaining trust in your marriage. Be humble and apologize for what you have done, and then let your actions show that you have made a change. As do what you say, your spouse will grow to trust you again.
Be Forgiving
Forgive your spouse if they have done something wrong. No one is perfect. Be quick to forgive your spouse. Recognize your spouse probably doesn't do things to make life harder for you. Give your spouse the benefit of the doubt. Sometimes they just make mistakes. I mean we all make mistakes, right? Be willing to forgive them for the things they do wrong. When you forgive, be sure to put past hurts behind you and prepare yourself to trust your spouse.
Keep Their Secrets
Keep what your spouse shares with you in confidence. Don't share personal stories and information about your spouse without his or her permission—even if you share everything with your mother or best friend. Did you know the number one reason why husbands don't tell their wives everything is because they know they will tell their best friend? What your spouse shares with you should always stay between the two of you.
Be Open
If we want our spouse to be willing to share things with us, we need to be willing to share ourselves with them as well. When I'm feeling like my husband isn't understanding me or if I feel closed off from what may be happening in his life, I try to take a step back to see if I have been willing to share with him what has been going on in my life. Does your spouse know the happiest thing that happened to you today? Do they know the hardest thing that happened? Being open is so important in building trust in marriage!
Just like love, trust in marriage needs to be nurtured and protected. It should never be taken for granted. By following these 7 steps you can be sure you will be successful in building a strong, healthy trusting relationship with your spouse in no time!
LOOKING FOR MORE WAYS TO STRENGTHEN YOUR MARRIAGE?
You can also FOLLOW ME on FACEBOOK, TWITTER, INSTAGRAM, and PINTEREST to find more great ideas on raising kids, spicing up your marriage, and having fun as a family!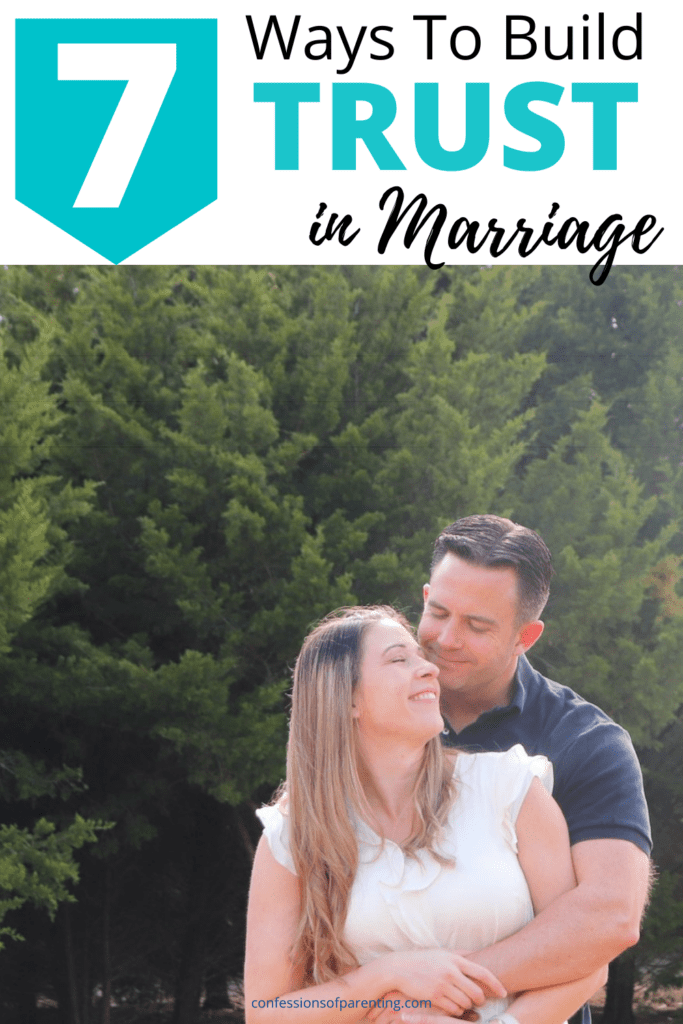 Was this helpful on how to build trust in your marriage? Pin it for others on Pinterest!
SaveSave