If you're looking for a new unique soup recipe this is it! This instant pot Asparagus Soup is delicious, healthy, and sure to be a family favorite.

Instant Pot Asparagus Soup Recipe
~We are a participant in the Amazon Services LLC Associates Program. As an Amazon Associate, I earn from qualifying purchases.
Healthy soup is so perfect for chilly winter weather, and this asparagus soup recipe will not disappoint! I love making soup in my Instant Pot. Have you jumped on the Instant Pot bandwagon yet? It's seriously my most favorite kitchen appliance and it makes cooking dinner a breeze.
Some other favorite Instant Pot recipes are Copycat Panera Bread Broccoli Cheddar Soup and Instant Pot Creme Brulee Cheesecake. You can do dinner and dessert in it. Isn't that super cool?
I also love to cook my boiled eggs in my Instant Pot. It makes them so easy to peel!
Back to the asparagus soup…this soup is super simple to make with very few ingredients but tons of flavor. Your family will love it!
Asparagus Soup Recipe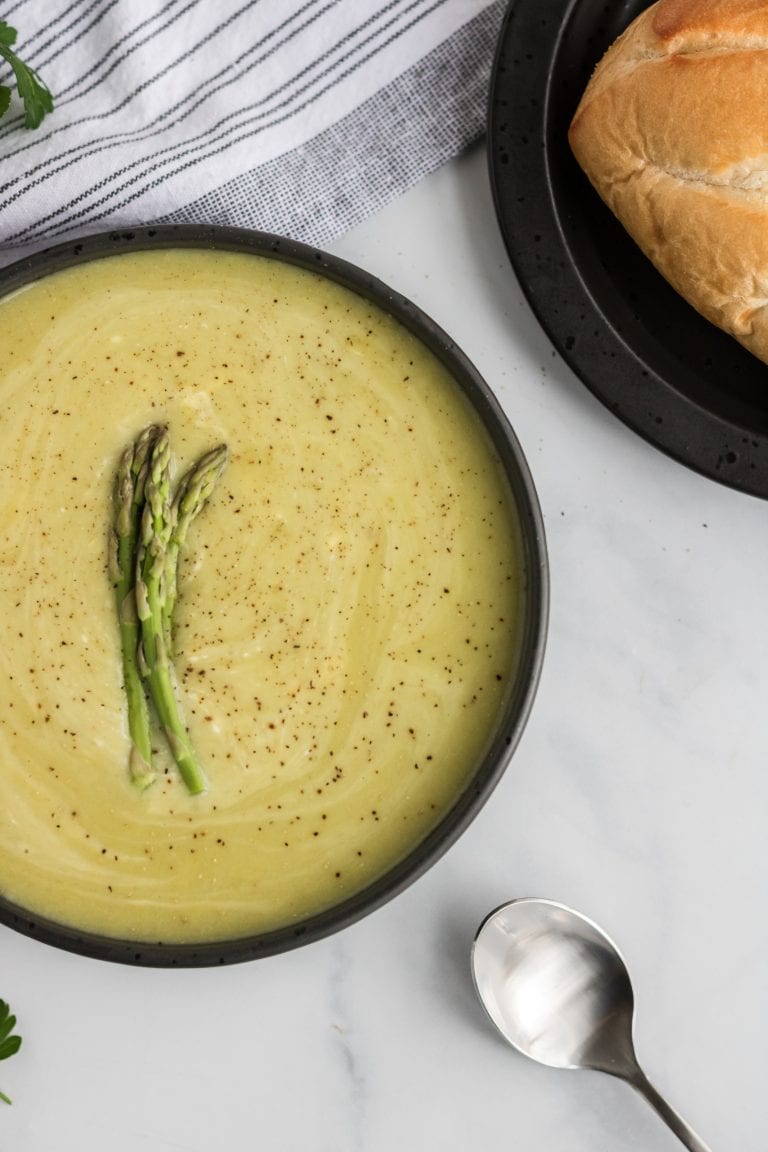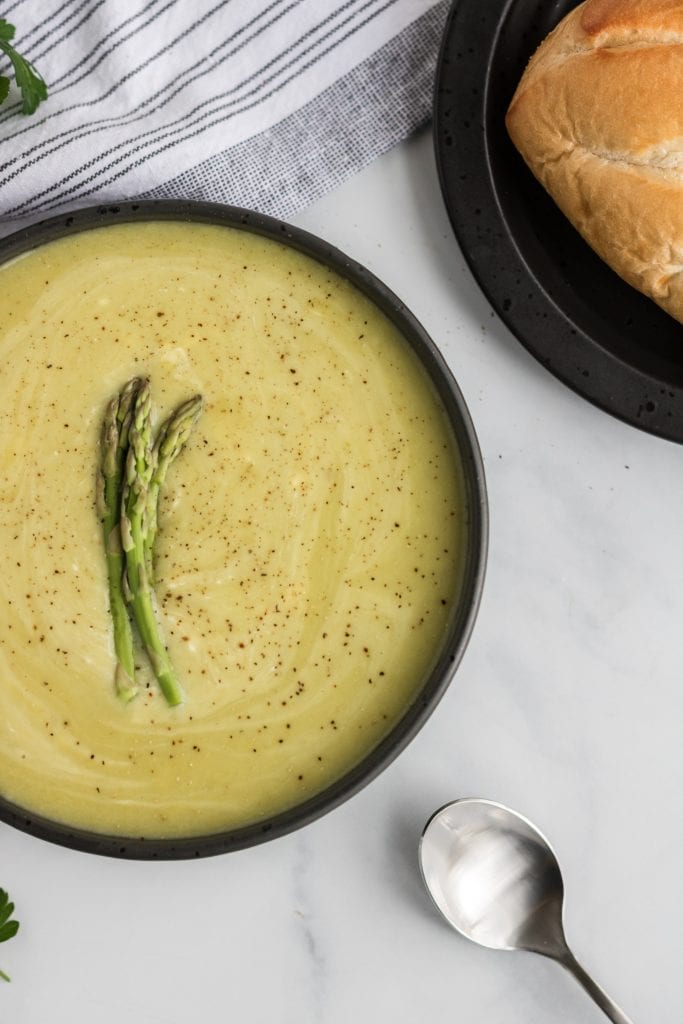 Serves: 4
Prep time: 10 minutes
Cook time: 20 minutes
Total time: 30 minutes
Ingredients for Asparagus Soup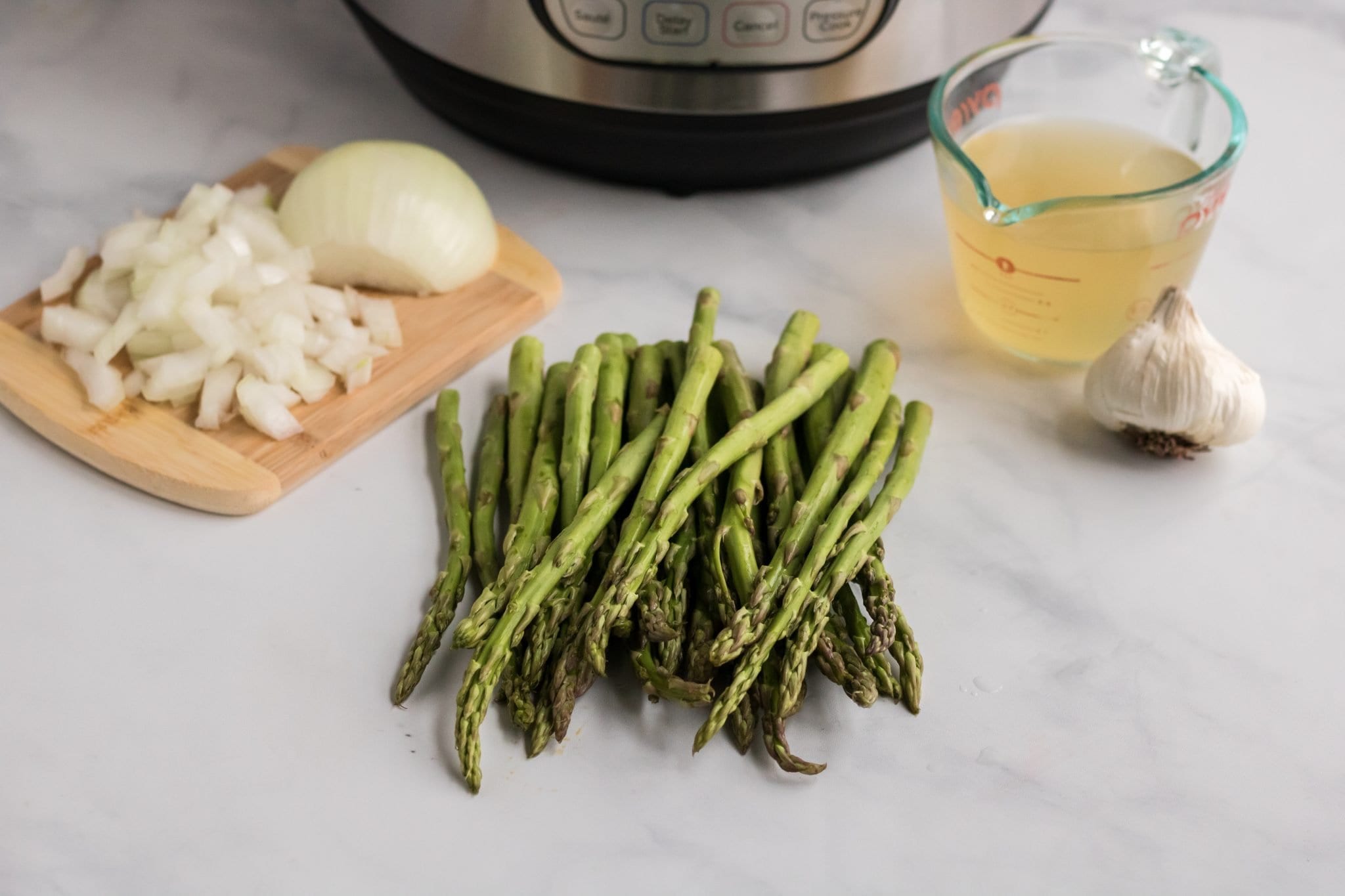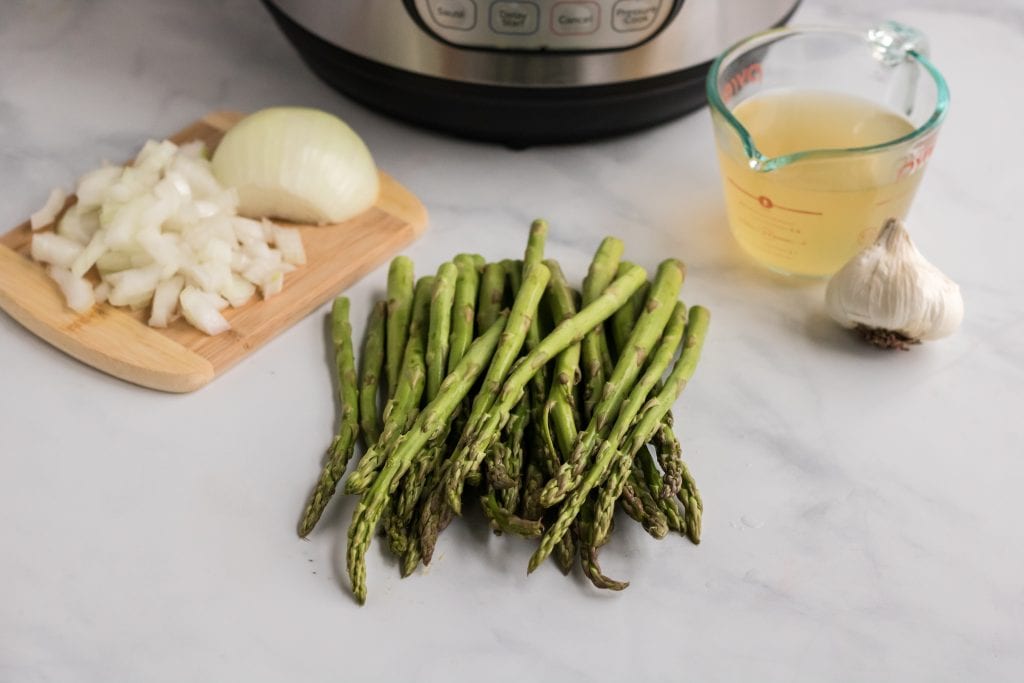 2 lb asparagus
2 Tablespoons butter
1 small onion, chopped
2 cloves garlic, minced
3 cups chicken broth
1 teaspoon salt
¼ teaspoon pepper
1 cup milk
¼ cup flour
1 lemon, zested and juiced
Optional: sour cream for topping
How to Make this Asparagus Soup Recipe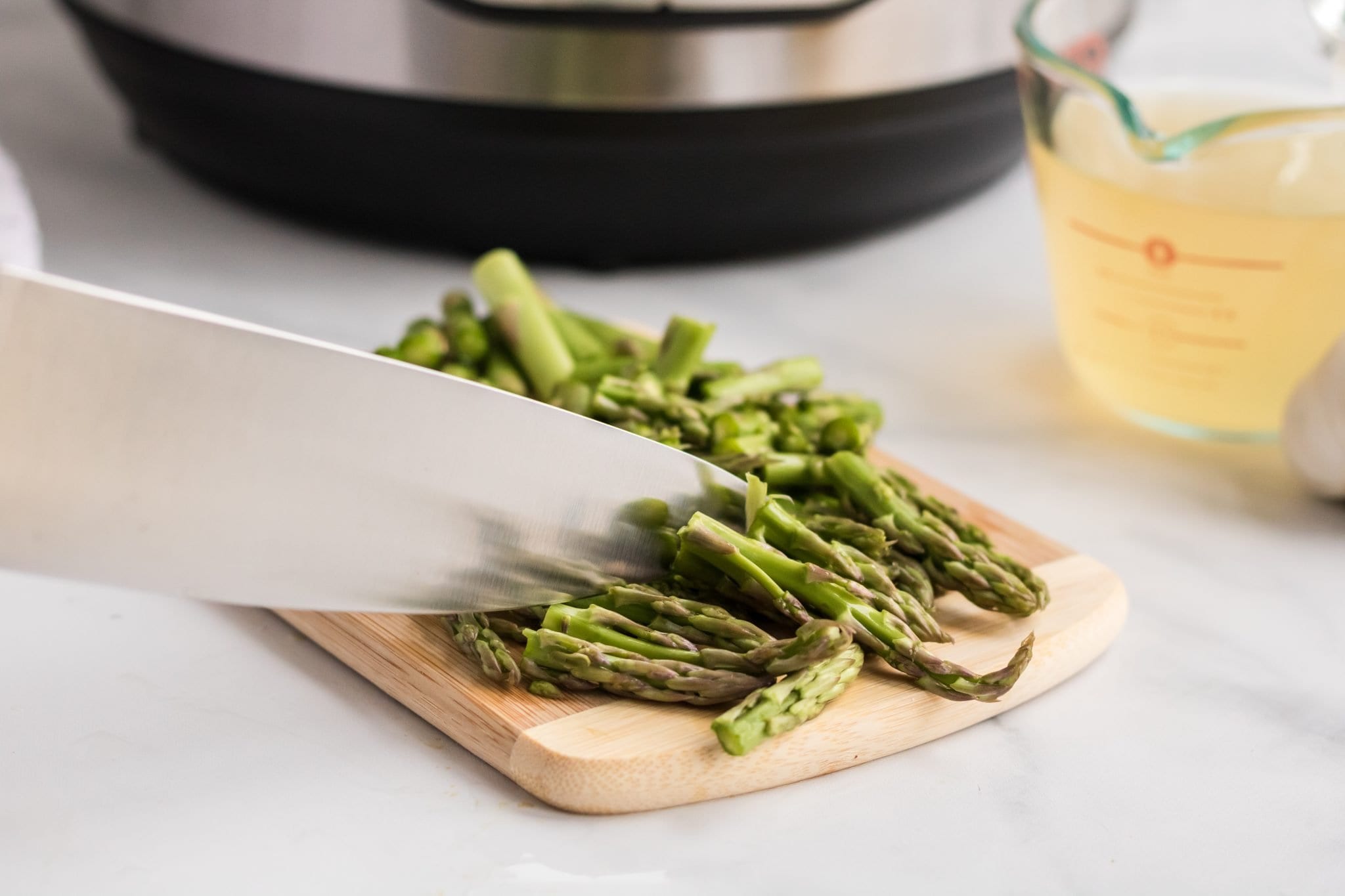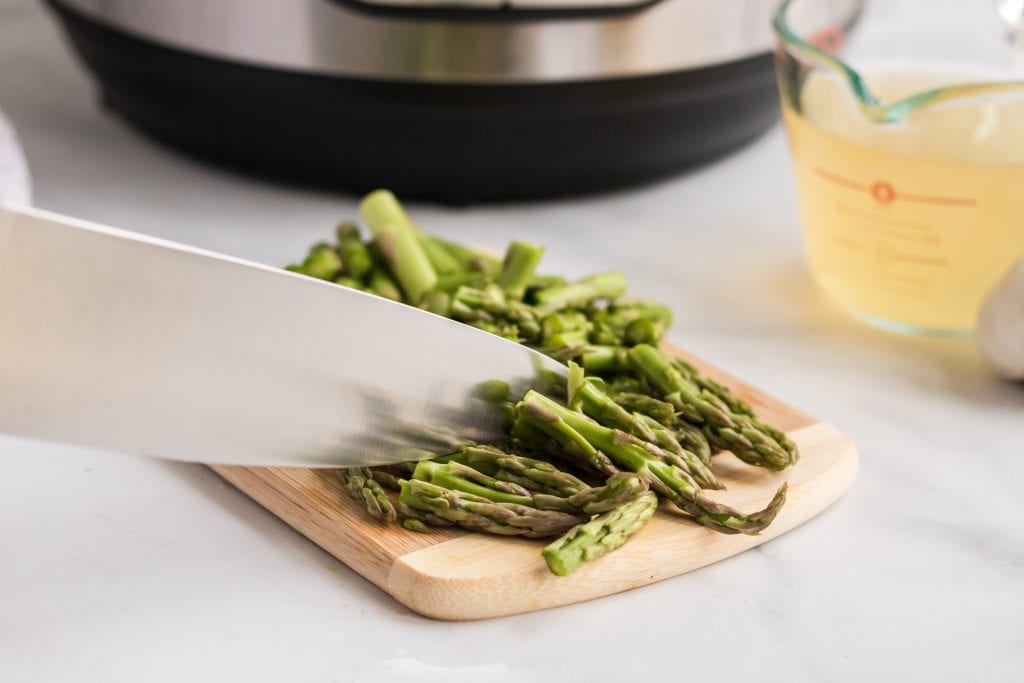 Start by prepping your asparagus. After washing, remove the thick stalky end and cut the remainder into one-inch pieces. You'll also want to chop up your onion and garlic to have it ready.
Use the saute setting on your instant pot to melt the butter. Add your onion and asparagus and stir until the onion is soft and translucent. Stir in the garlic and let saute for another minute.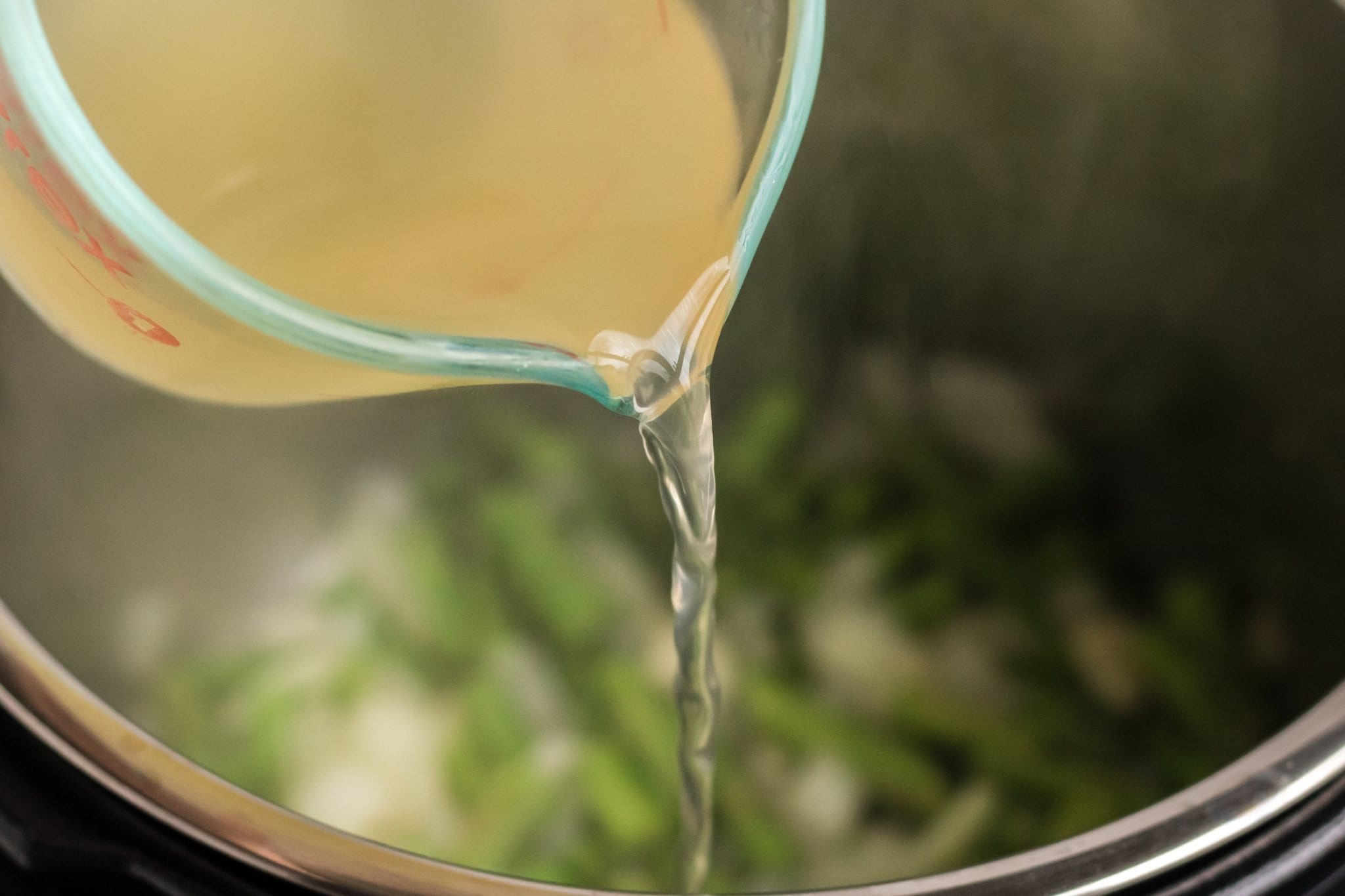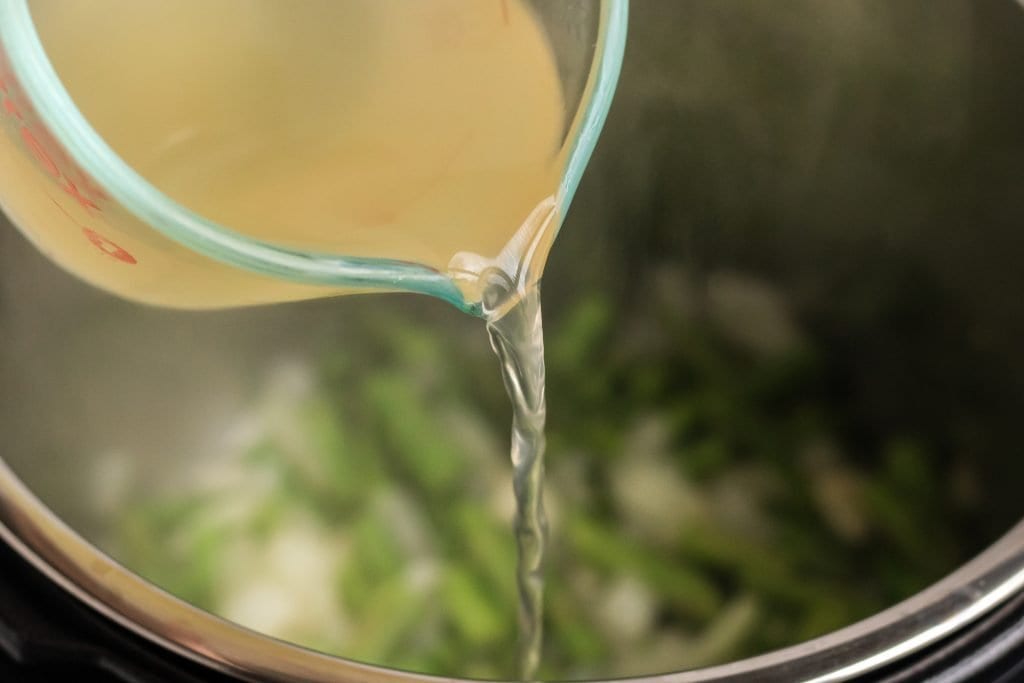 Add to your instant pot the chicken broth, salt, and pepper and stir.
Now you can put the lid on your instant pot. Make sure the cover valve is set to "seal" and cook on high pressure for five minutes.
When the timer goes off, release the pressure and allow the soup to cool for about 15 minutes. Once cool enough to handle, add the mixture to a blender and blend until smooth.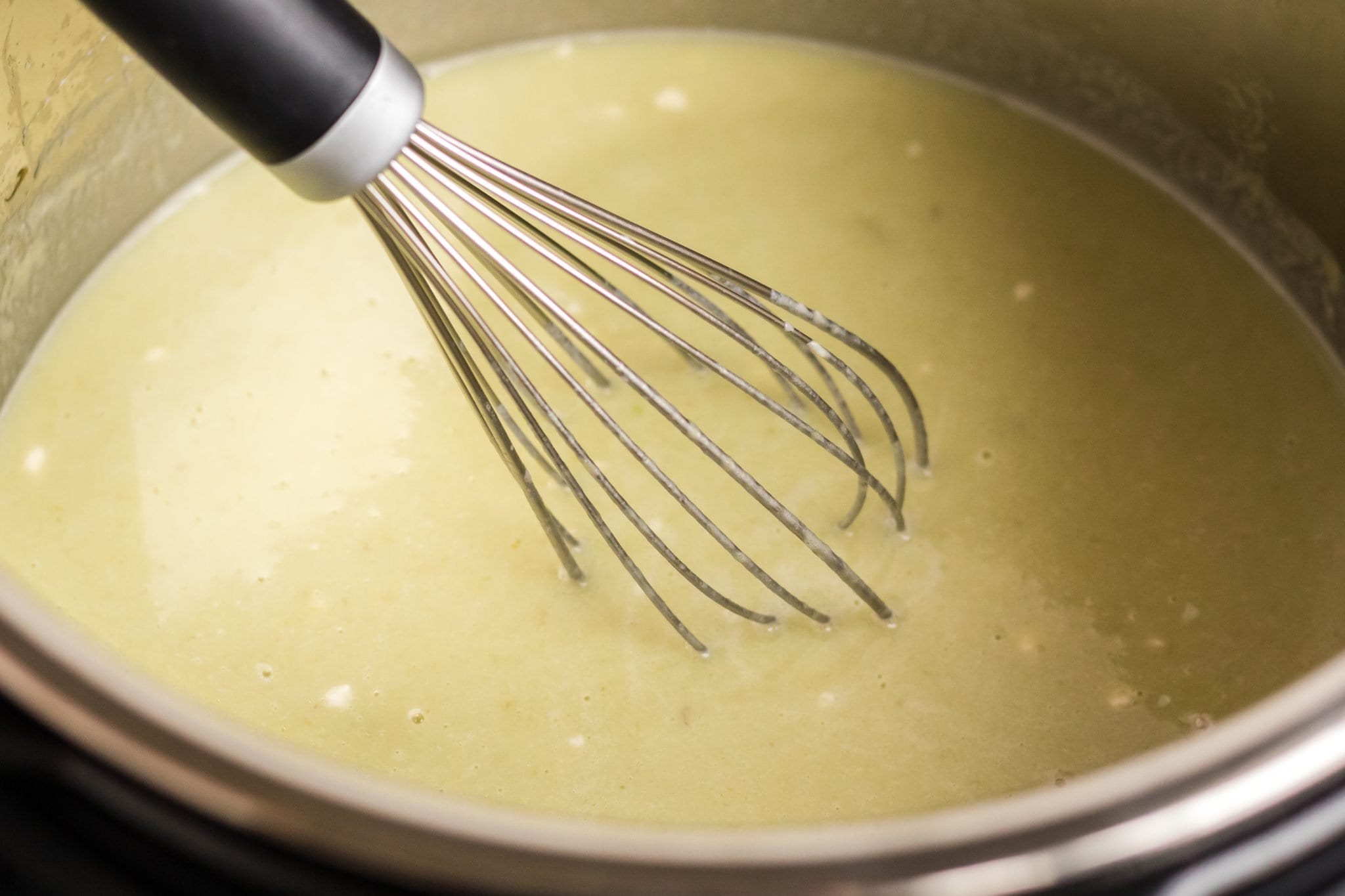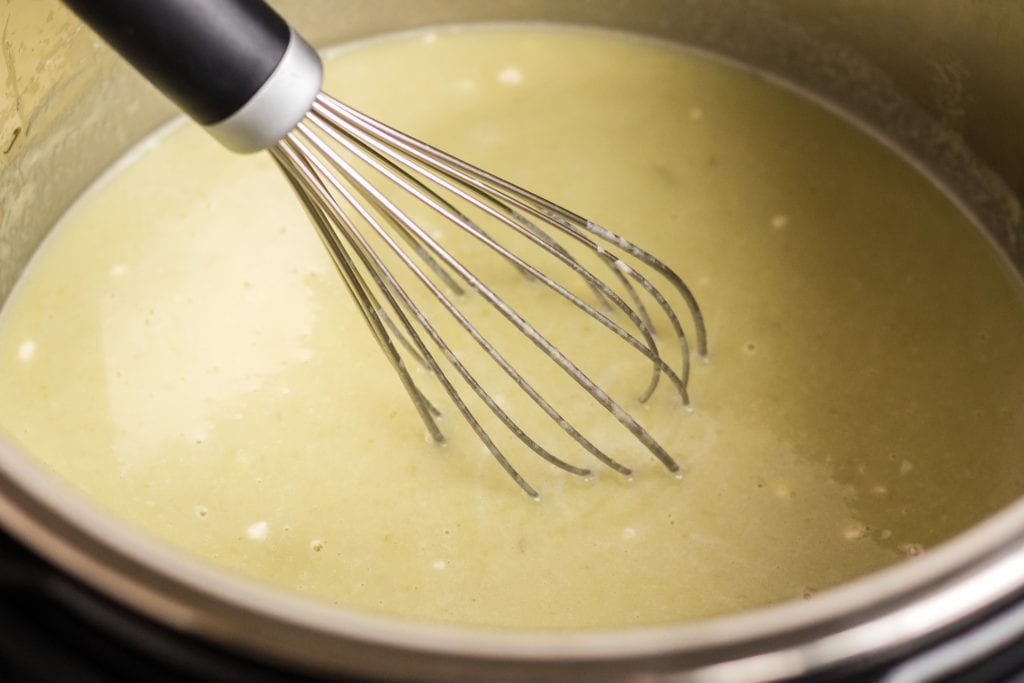 Pour the soup back into the instant pot and return to the saute setting. Whisk together the milk and flour and mix it into the soup.
Keep stirring the soup for about five minutes as it cooks and thickens.
Add lemon juice and zest to taste right before serving. You can also add sour cream to make it a bit more creamy!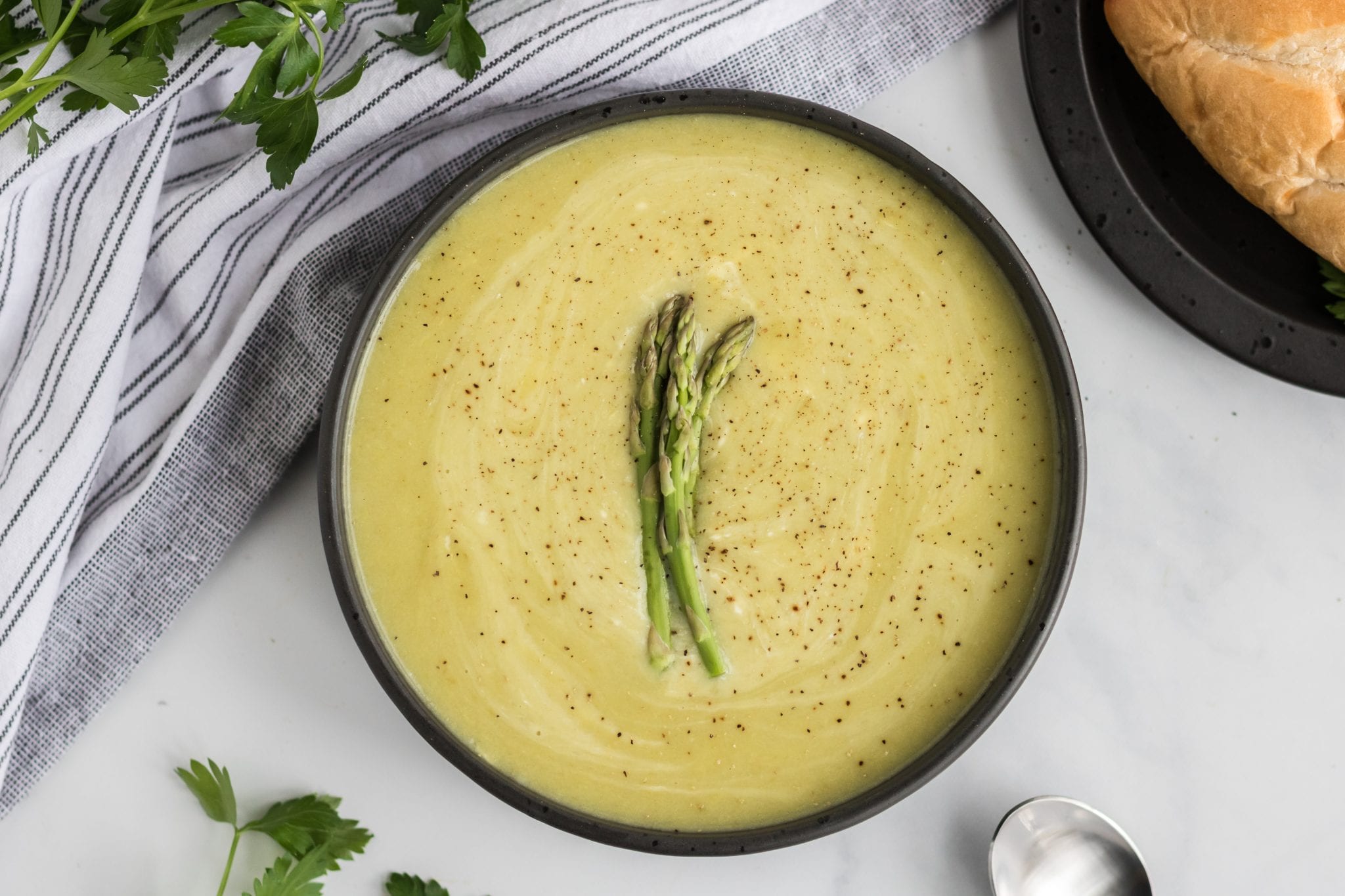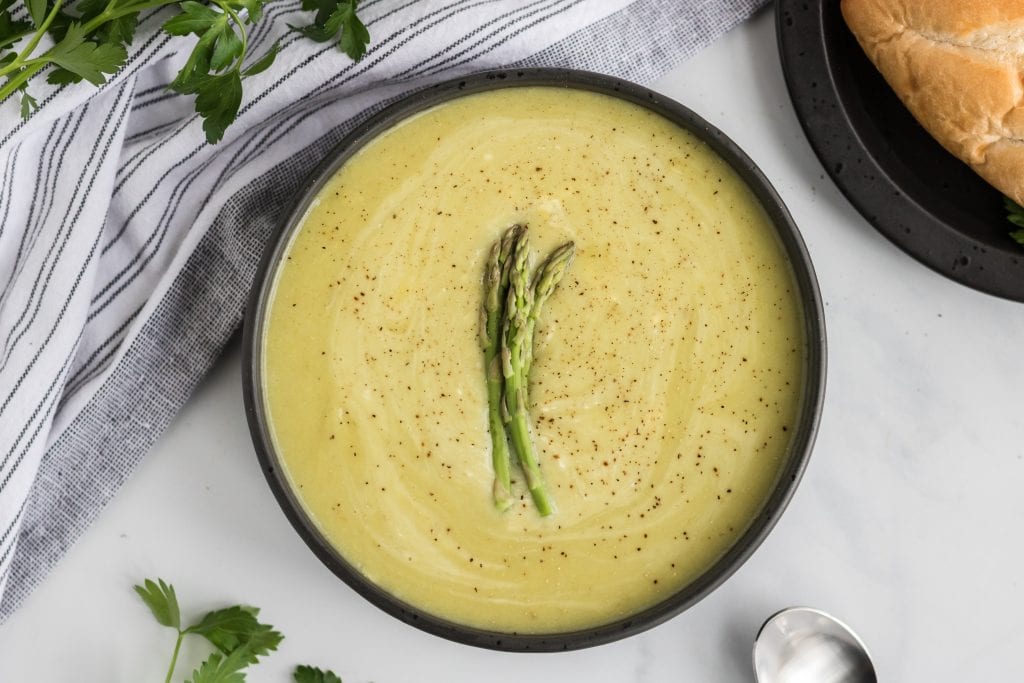 Tips and Tricks for Asparagus Soup
Asparagus can be a bit stringy in its raw form. You shouldn't have to worry about that after cooking, but if you are worried about it make sure it's nice and soft when you put your mixture in the blender. You can also give it an extra blend to make sure it's perfectly smooth.

There is no need to peel the asparagus for this recipe. In fact, the whole piece of asparagus is edible, but the stalky edge is only removed because it can be tough. But if you have some extra-large asparagus with a thick edge, feel free to peel it away!

If your family likes their soup on the creamy side, add in some sour cream at the end of the cooking process. It'll add the perfect boost of delicious flavor to your soup and give you the creamy soup you are looking for.

Save your pieces of asparagus that you break off! You can use these as a base for a healthy vegetable stalk later on.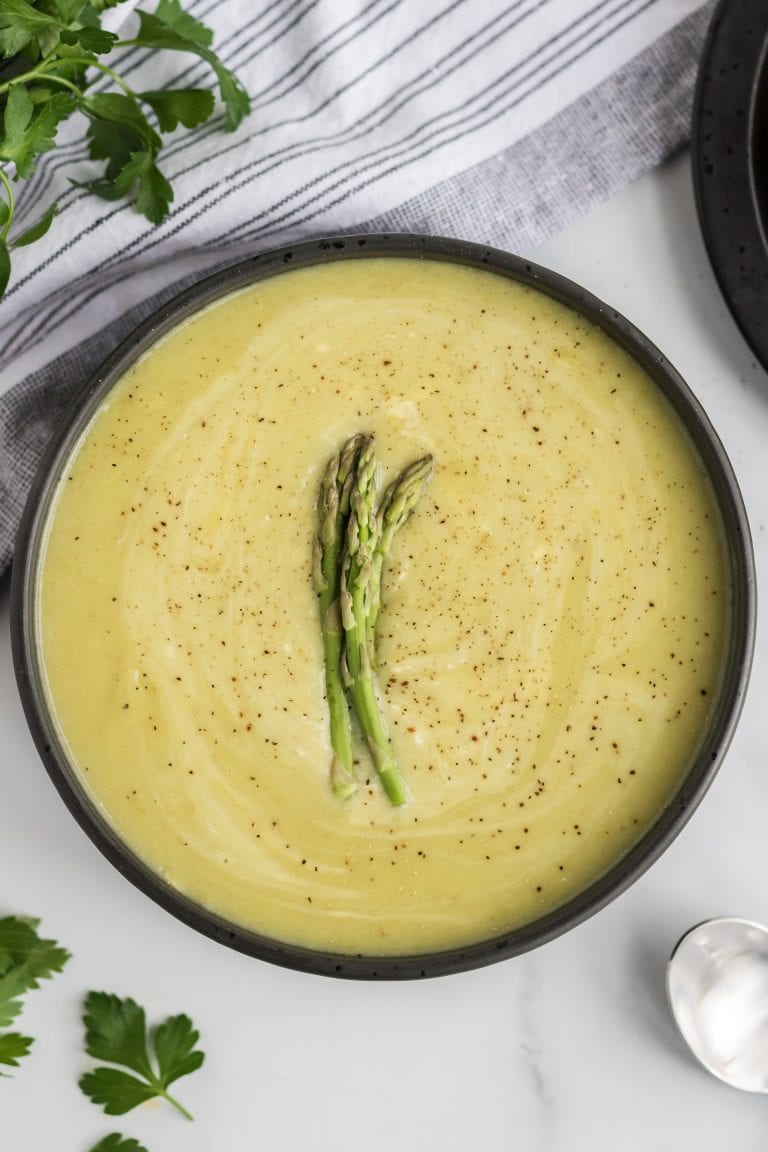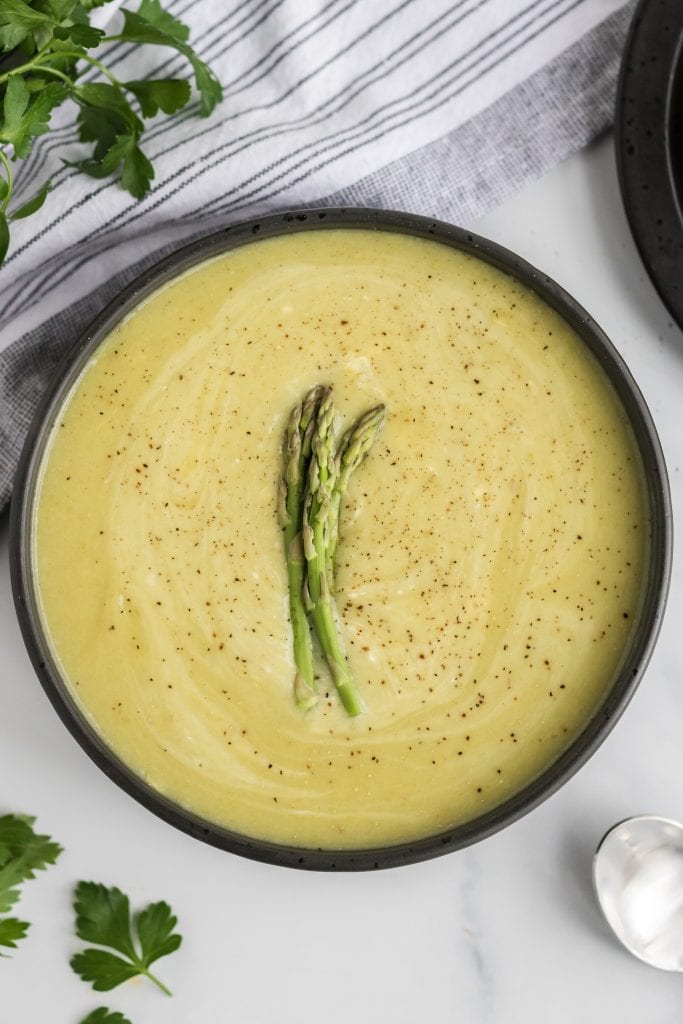 Can this soup be frozen?
If you leave out the sour cream, this soup should be able to freeze just fine!
Place your finished soup in a freezer-safe bag or container and it will be ready to pull out and thaw when you need it. Make sure you reheat it completely to keep it safe from bacteria!
If you like the sour cream in the soup, you can add it in after the soup is reheated.
Why is asparagus healthy? 
You've probably heard that asparagus is really good for you! Here's why.
First of all, asparagus is a very low-calorie food! It won't add too much to your calorie count but it is still packed with nutrients.
It's a great source of fiber, folate, and vitamin A, C & K. It's a great food to include in your diet.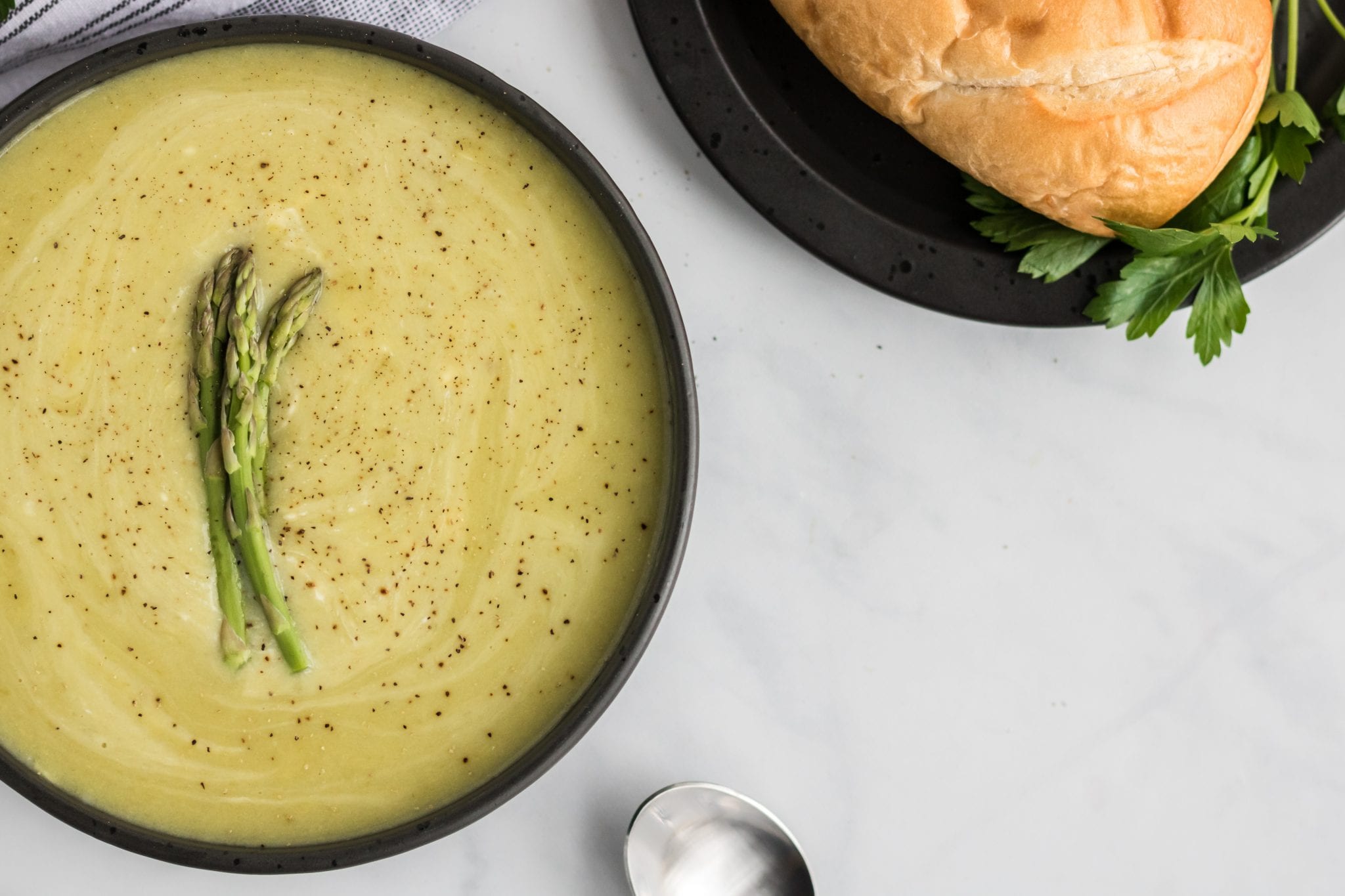 How do I know where to snap my asparagus to remove the stalky section?
Just snap and let nature do the rest!
This is one great thing about asparagus. When you snap it, it will naturally snap right where it needs to remove the stalky end.
Of course, you can use your knife if you prefer. You will just have to feel around the spear to see where that woody end stops. It's honestly much easier to just use your hands!
What part of asparagus is edible?
The whole asparagus spear is edible both cooked and raw. But that doesn't necessarily mean that every bite is going to be equally delicious.
Since it's such a fibrous vegetable, it can be a little bit stringy and tough to eat raw. The texture is much better cooked. You can eat the whole stalk cooked if you choose, but you may want to remove the woody end to make it more tender.
What should you serve with Asparagus Soup?
This warm soup would be great served with a variety of foods.
The classic pairing with a soup like this is bread. A delicious slice of garlic bread would be a great compliment, as would some focaccia.
You could even grab some bread bowls to serve this soup in for some added flair in your presentation.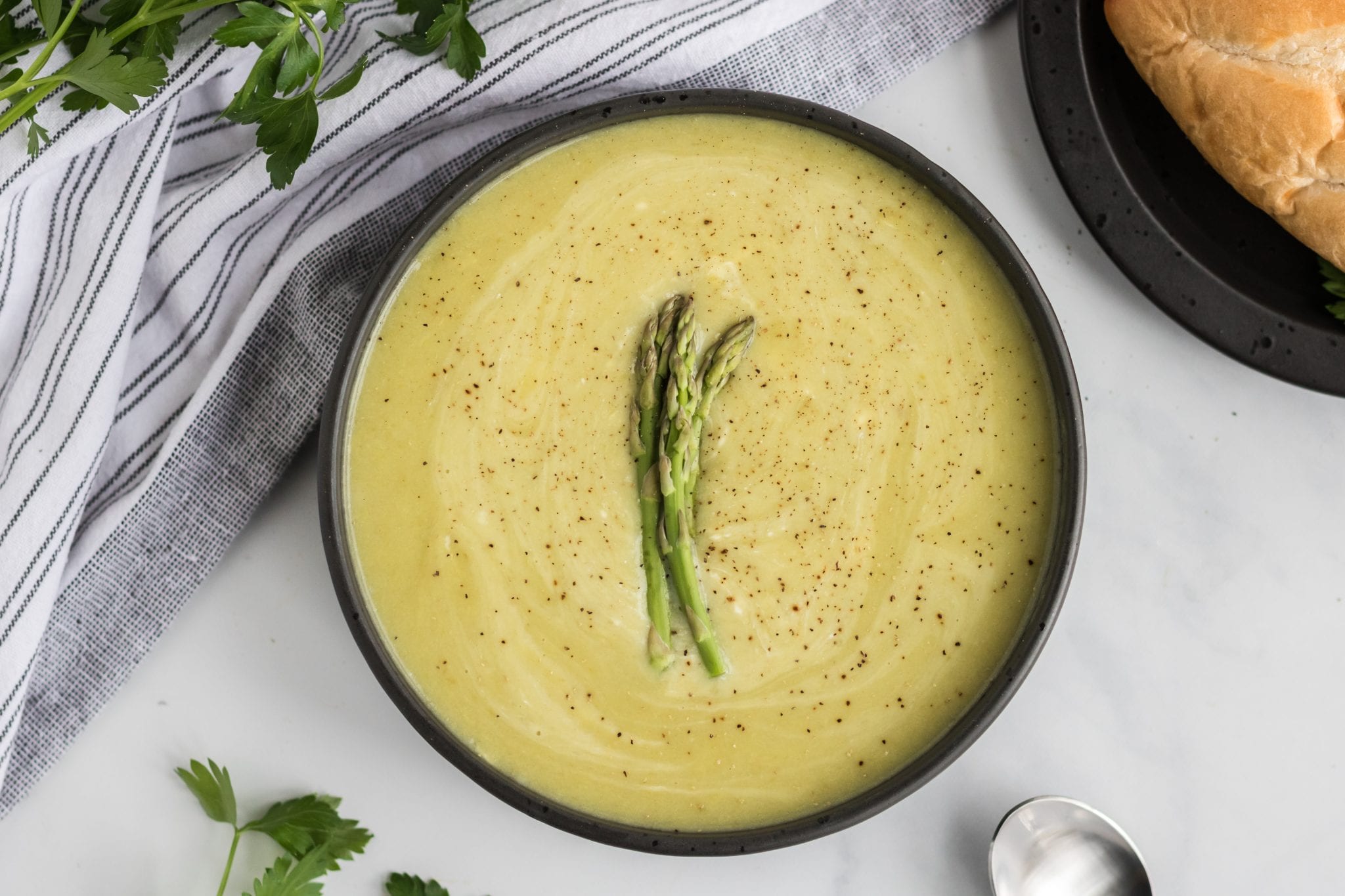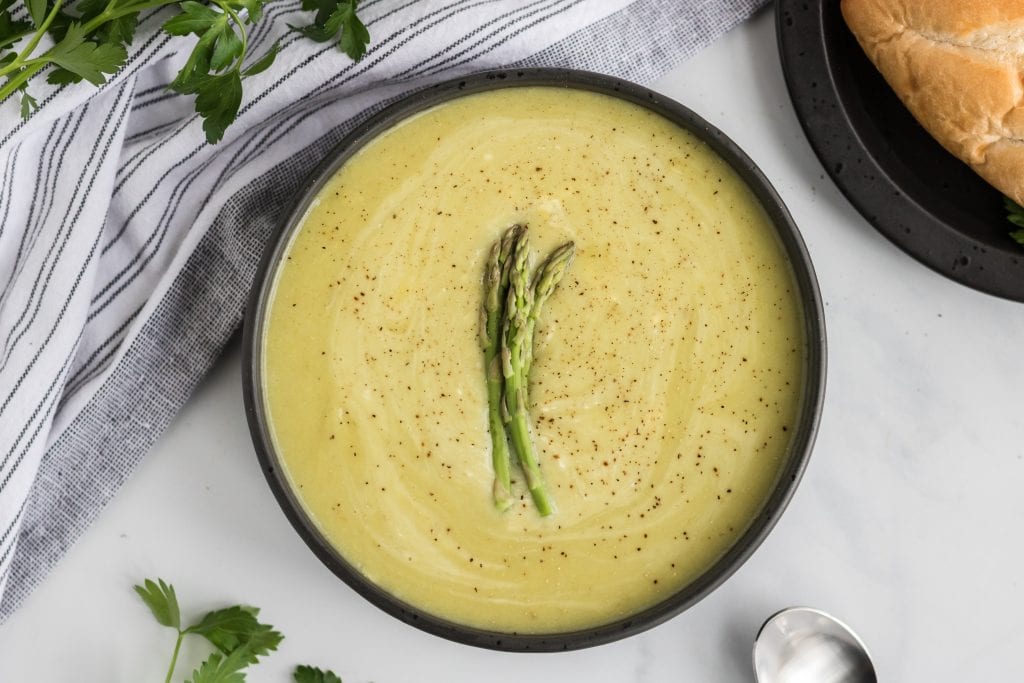 Share with us in the comments how your Asparagus Soup turns out! And tag us on
Instagram
with a picture of your recipe! We would love to see it!
Check out these other great soup recipes!
Yield: 4 servings
Asparagus Soup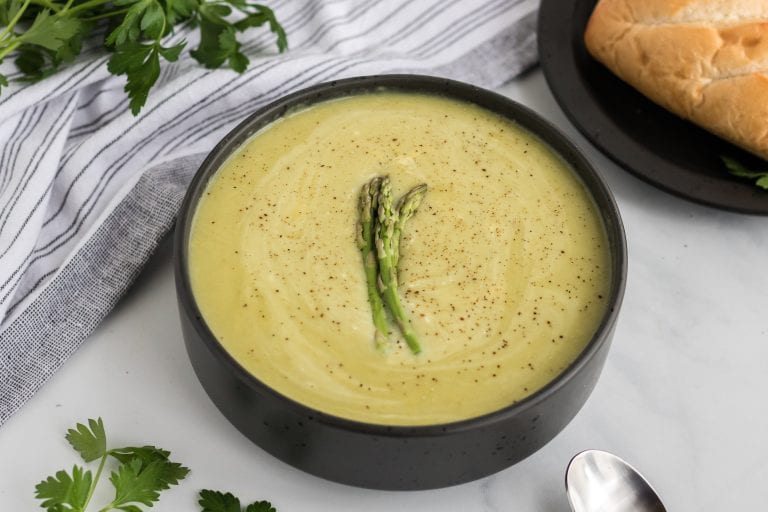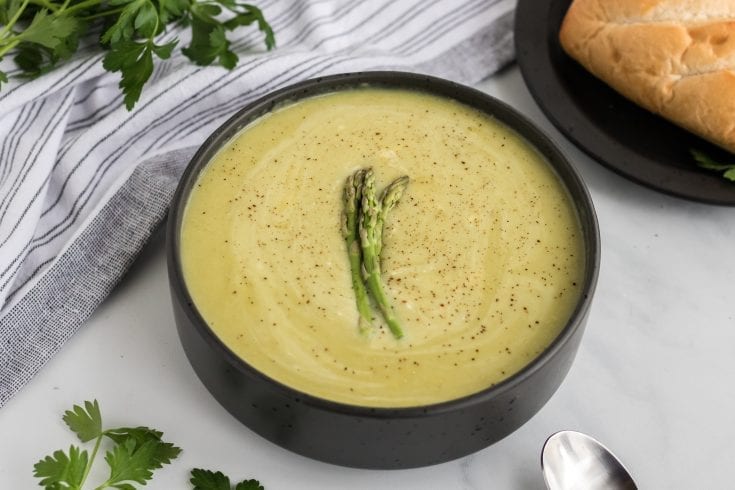 Ingredients
2 lb asparagus
2 Tablespoons butter
1 small onion, chopped
2 cloves garlic, minced
3 cups chicken broth
1 teaspoon salt
¼ teaspoon pepper
1 cup milk
¼ cup flour
1 lemon, zested and juiced
Optional: Sour cream for topping
Instructions
Prepare asparagus for cooking by washing thoroughly, removing the stalky thick ends and chop into one-inch pieces.
In your Instant Pot, use the Saute setting to melt the butter, then add the onion and asparagus. Cook until the onion is translucent and tender. Add the garlic and cook for one additional minute.
Pour in the chicken broth, salt, and pepper.
Place the lid on your instant pot and lock it into place. Make sure the cover valve is set to "Seal". Manually select the Pressure Cook button and select "High" for 5 minutes.
When the timer goes off, turn the cover valve to release the pressure. When the steam has settled, remove the lid and allow the soup to cool off a bit.
Pour soup in a blender, and pulse until it is pureed or has reached the desired texture.
Return the soup to the instant pot and select the Saute button again.
In a small bowl, whisk together the milk and flour, then pour into the soup. Whisk together until thoroughly combined.
Allow the soup to simmer and thicken for about 5 minutes.
Just before serving, add ½ teaspoon of lemon zest and juice to your personal taste. Stir in sour cream and serve immediately.
Don't forget to save this Asparagus Soup Recipe on Pinterest so you can find it next time you get a soup craving!