This fall charades game is the perfect addition to your next family game night or classroom party! Just download, print, cut, and get playing with your friends or family! It's the perfect game to play at a moment's notice to add to your printable game collection.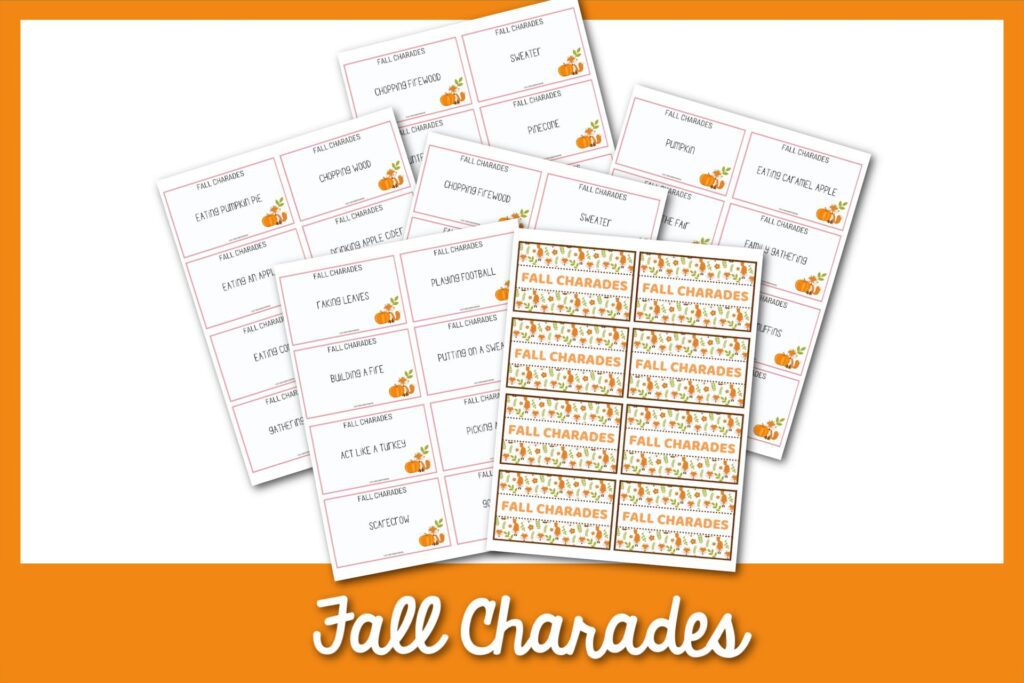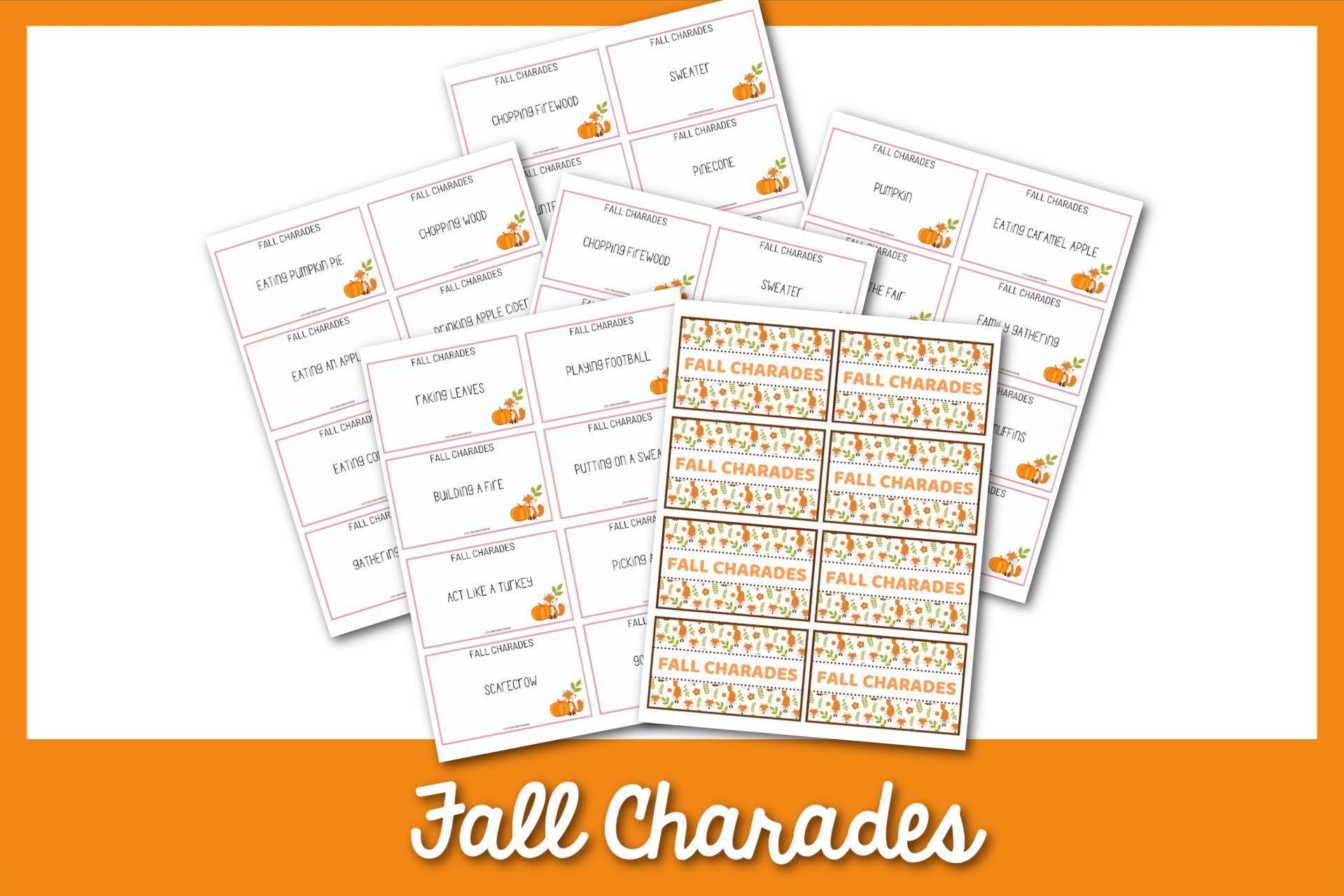 Fall Charades Printable
Charades is a fun game to play no matter what time of year it is. Whenever I ask the kids what they want to do, it is always some version of charades! Lately, they have been absolutely loving Space charades and, of course, our animal charades. We always have so much fun acting things out and giggling at the things we come up with!
These fun fall charades ideas will get everyone in the perfect mood to welcome fall after a fun summer. My kids and I like to pop some popcorn in our instant pot and then spend a fun and relaxing evening laughing and playing games.
Every fall feels so busy at our house! With school starting and our schedules filling up, life seems so much more hectic. It's so nice to have a family game night, where we can reconnect and spend some time together. Fall charades is just the right game for our family at the end of a busy week!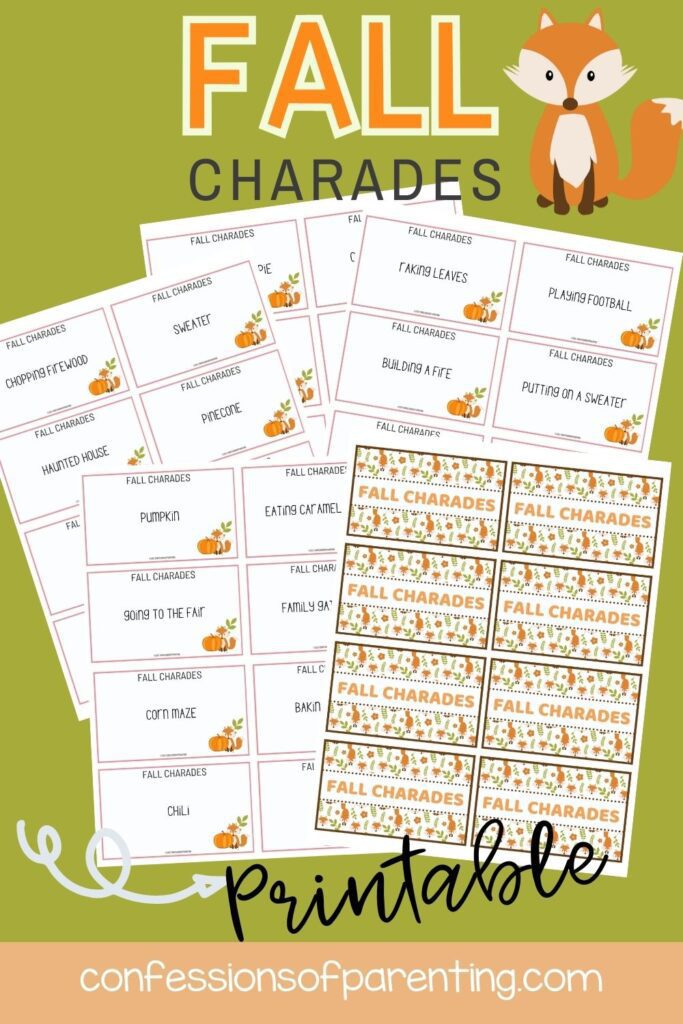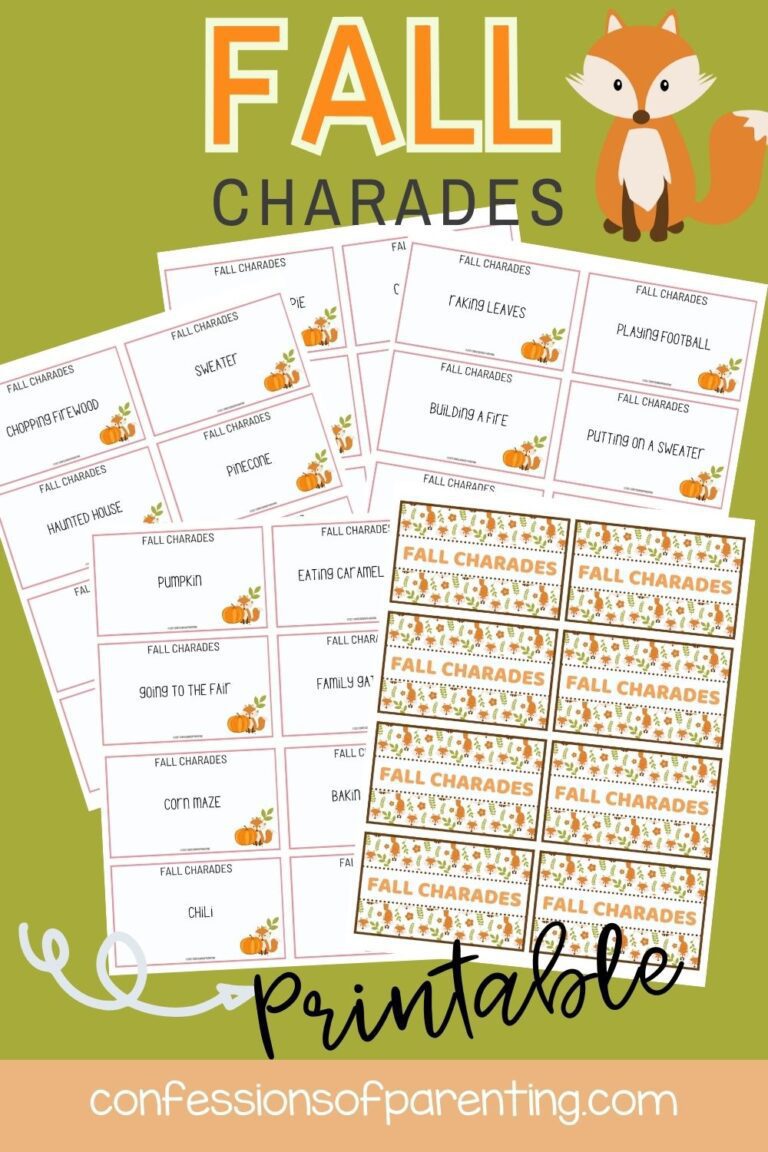 Why We Love Fall Charades
There are so many reasons why we love fall charades! It is so easy! There is essentially zero setup, and you can pretty much play at a moment's notice. All you need are our fall charades cards and a group of people. Once you've printed your cards, you are ready to play!
We also love the fact that kids and adults of all ages can play together! No matter if they are 2 or 92, they can laugh with everyone else.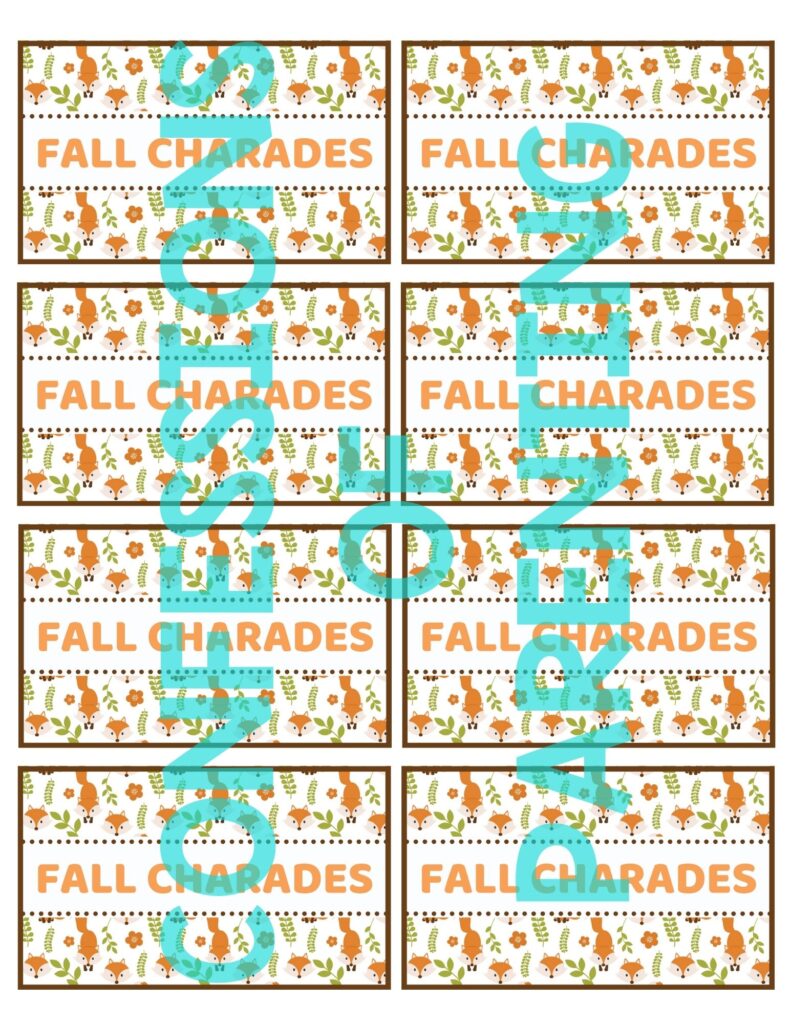 How to Play Charades
Start by dividing your group into at least two teams. If you have a very large group, you might want to create more teams.
Next, you will want to choose someone to be the scorekeeper to keep track of each team's score. You will also want to choose someone to be the timekeeper, who will use a timer to keep track of how long each team gets to guess during each turn. Decide how long each team will get to guess; usually, 1-2 minutes is just right.
You can decide which team goes first however you want! We like to flip a coin, play rock-paper-scissors, or roll a die. Now that you've determined which team will go first, you are ready to play!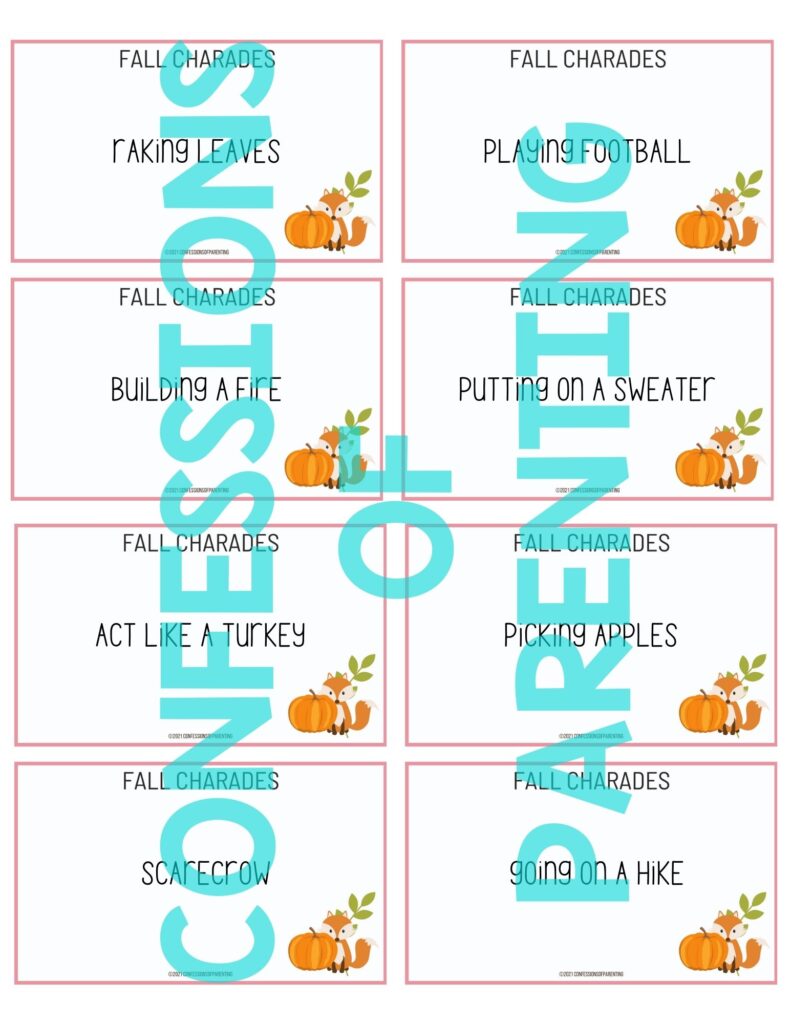 On each team's turn, one person (the actor) draws a card. Without speaking, making sounds, or even moving their lips, he or she acts out what is on that card. Actors are allowed to use their hands to tell their team how many words to guess. The actor's teammates must try to guess the answer within the time limit. If they guess the right answer in time, they get a point, but if their time runs out, they get no points.
If your team does not guess it in the set amount of time, then the other team gets one guess to try and guess it! This is the first word that they shout out, so be careful to not get so excited and shout it out without discussing it with your team first.
Alternate turns between each team, and play enough rounds that everyone has a chance to be the actor. If you have more cards, or more time, you can keep going as long as you want! At the end of the game, add up the scores. The team with the highest score wins!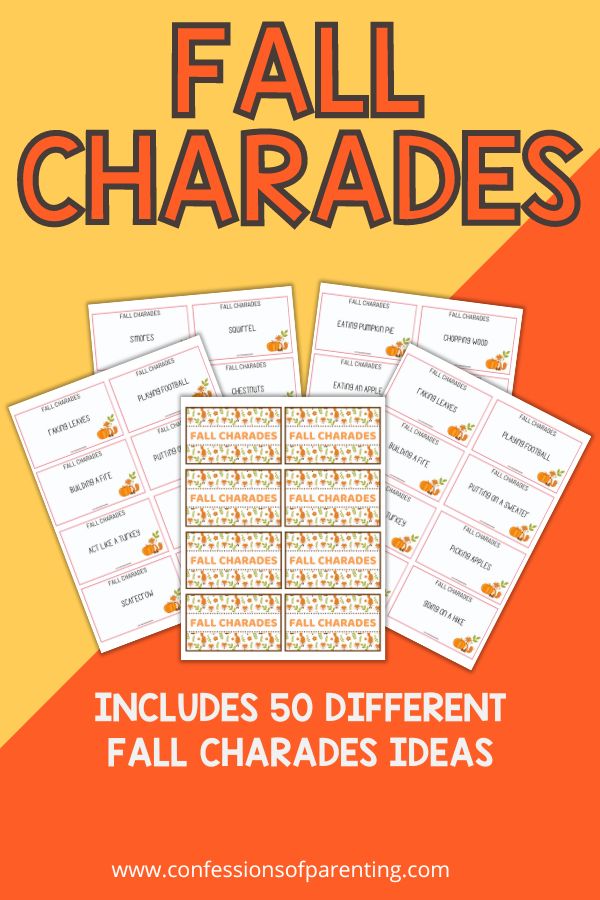 Fall Activities
This fall is so easy to spend time with your kids and your family with our fun fall activities. We have so many fun activities to choose from; they are so easy! All you have to do is download, print, prep (less than a couple of minutes), and start playing!
Simple family time is the best time and creates long-lasting family memories that you and your kids will remember forever!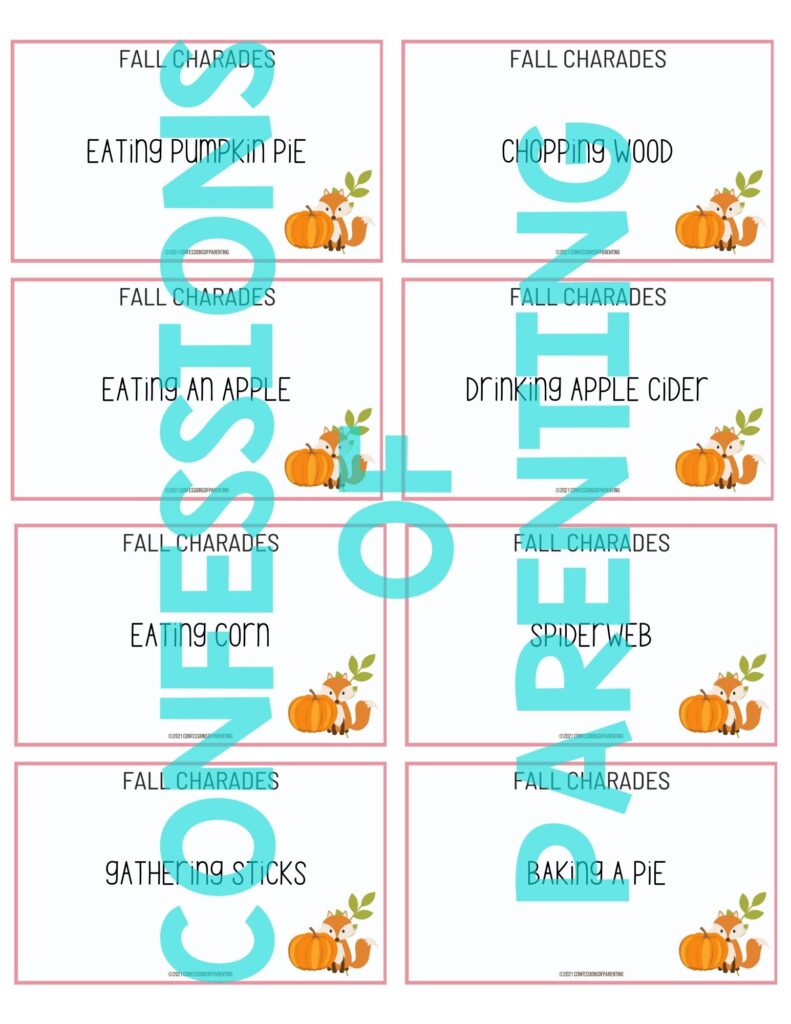 Grab Your Fall Charades Cards
Included in these fall charades word cards are 50 fall inspired words, but we provided you some blank cards as well if you want to add even more words to your collection!
Helpful Tools We Love When Downloading Printables
Printer– I love my HP+ printer that uses Instant Ink. I love it because we can use as much color ink as you want for one low cost starting at $.99/ month for ink. Try it out for free here!
Cardstock- I always recommend printing on cardstock. This makes it way more durable so you don't have to worry about printing it time and time again.
Laminator / Laminating Sheets- Again, for added durability, grab a laminator and laminating sheets so that you can use this again and again!
Scissors (I seriously love these ones)
Dry Erase Pens- Use dry erase pens so that you can wipe your laminated printable clean over and over again for endless use!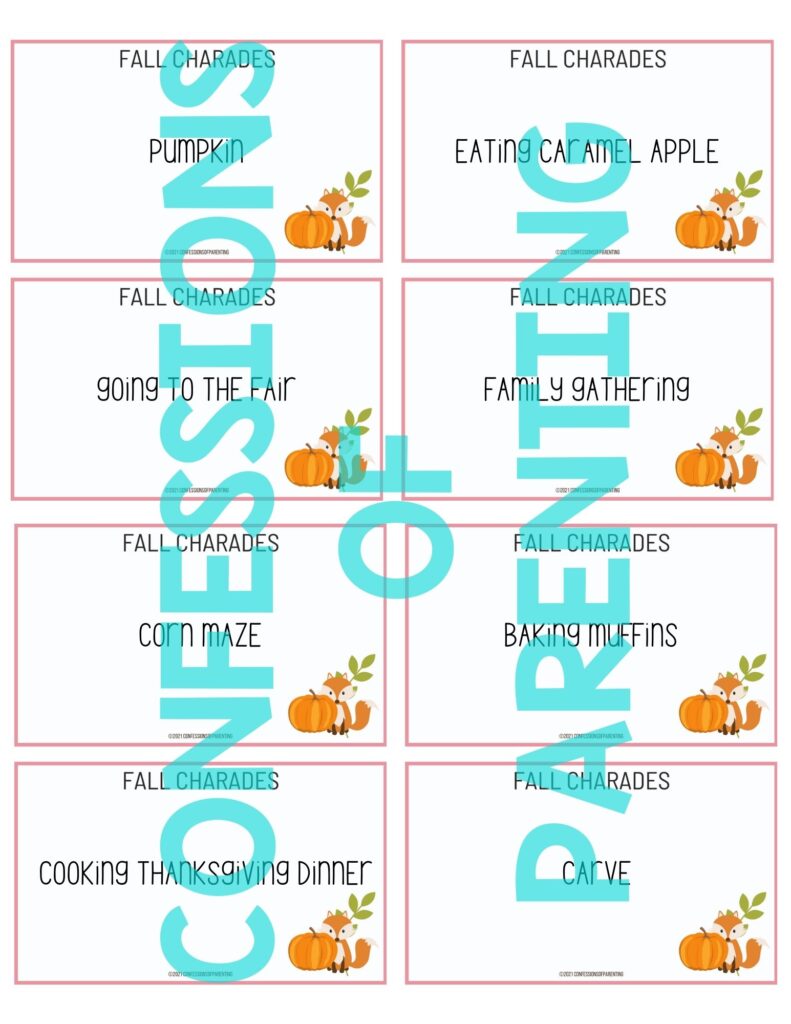 Fall Charades Words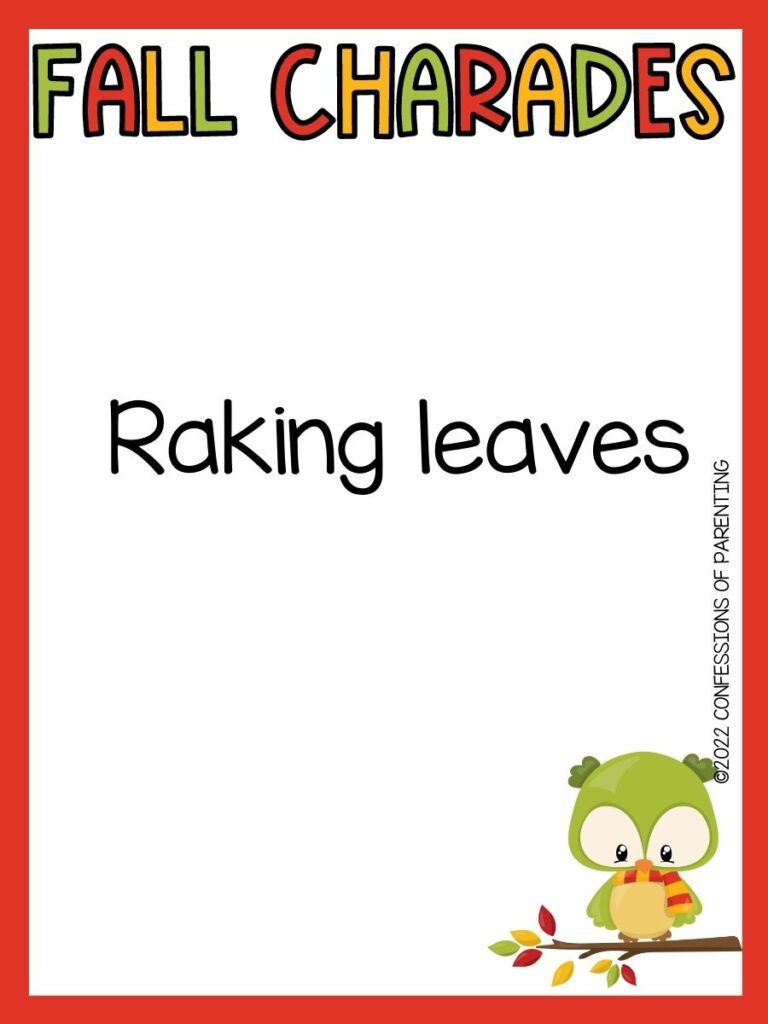 Raking leaves
Playing football
Building a fire
Putting on a sweater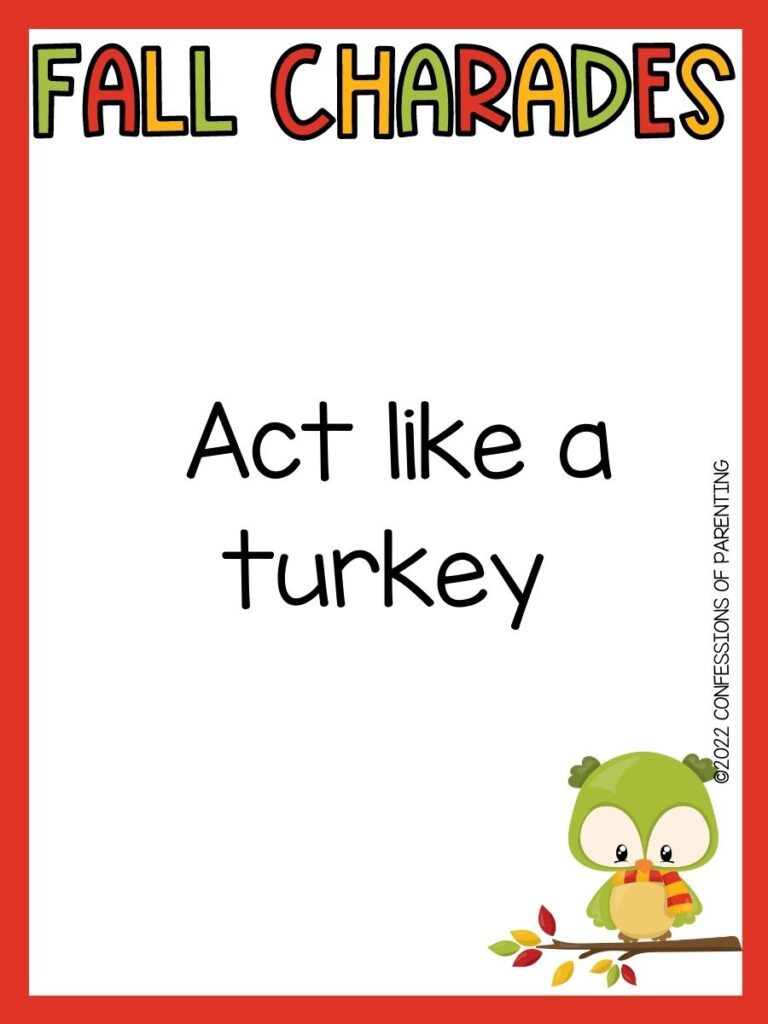 Act like a turkey
Picking apples
Scarecrow
Going on a hike
Eating pumpkin pie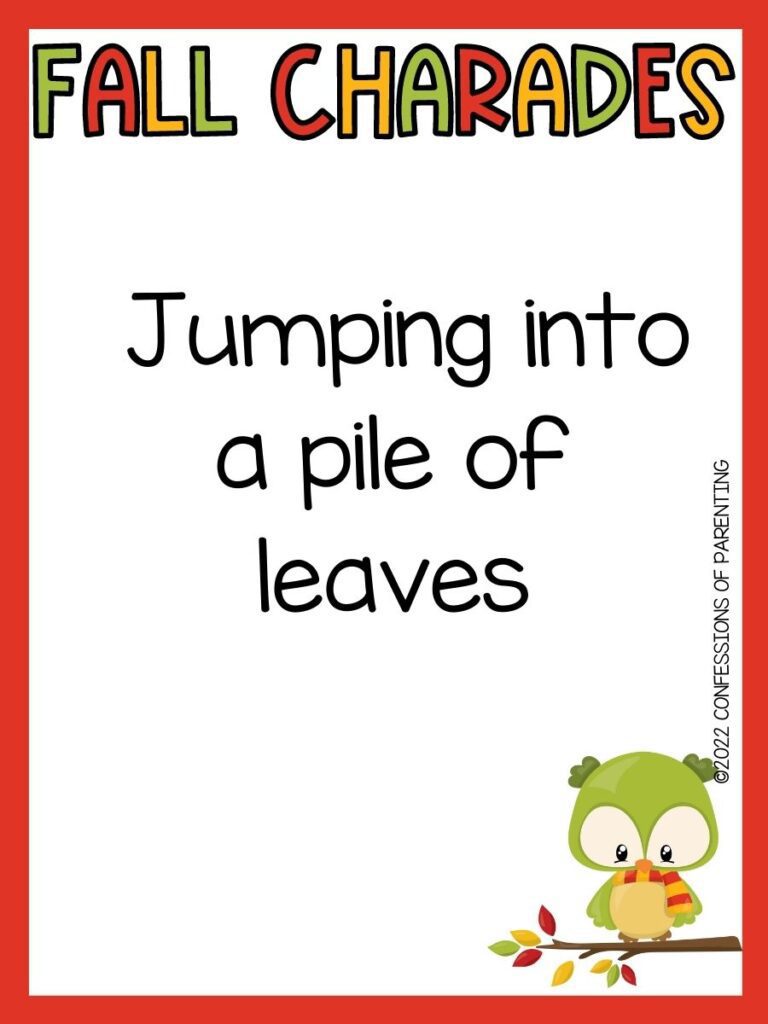 Jumping into a pile of leaves
Eating an apple
Drinking apple cider
Eating corn
Spiderweb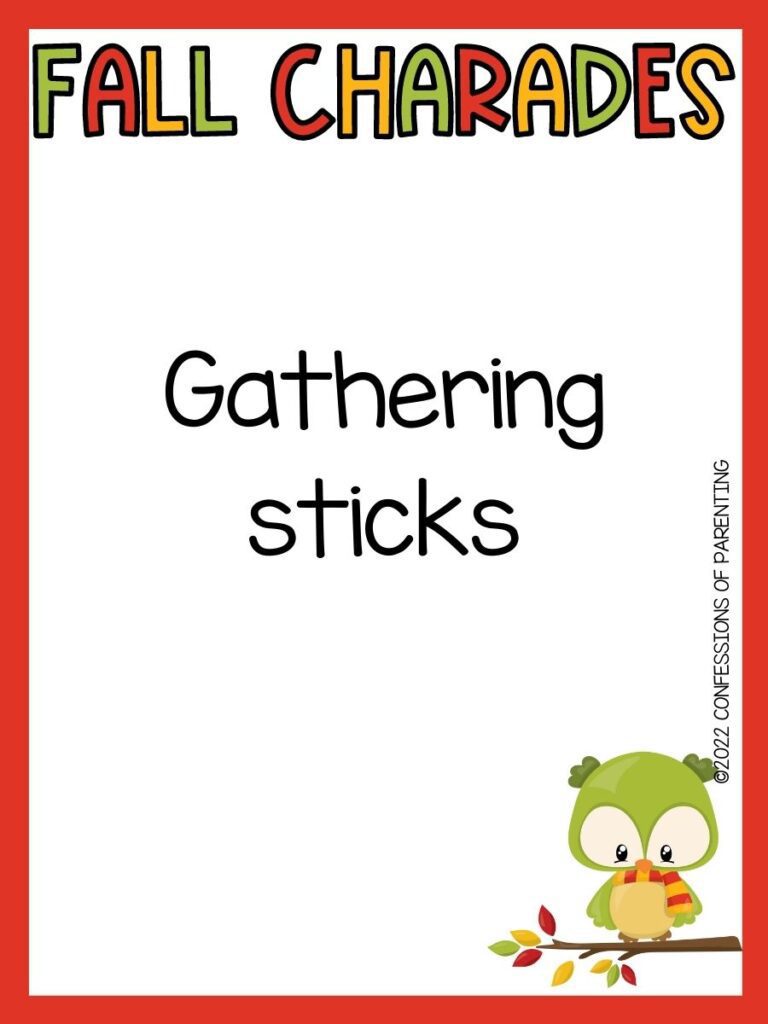 Gathering sticks
Baking a pie
Chopping firewood
Sweater
Haunted house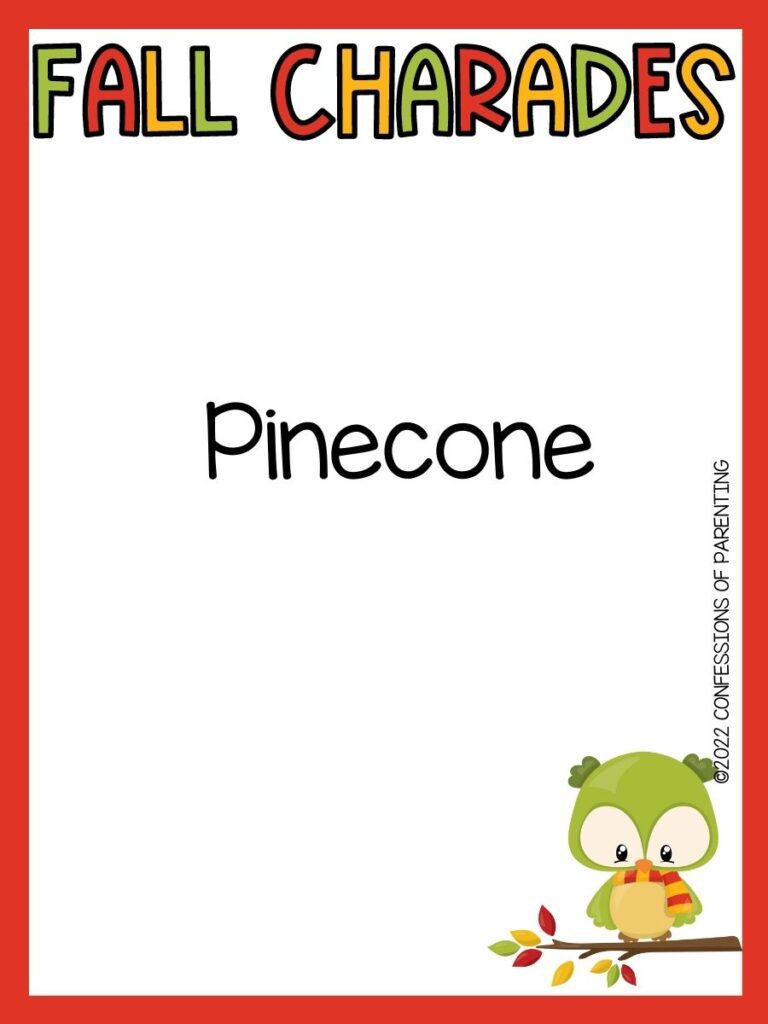 Pinecone
Turkey
Rake
Cooking Thanksgiving Dinner

Carve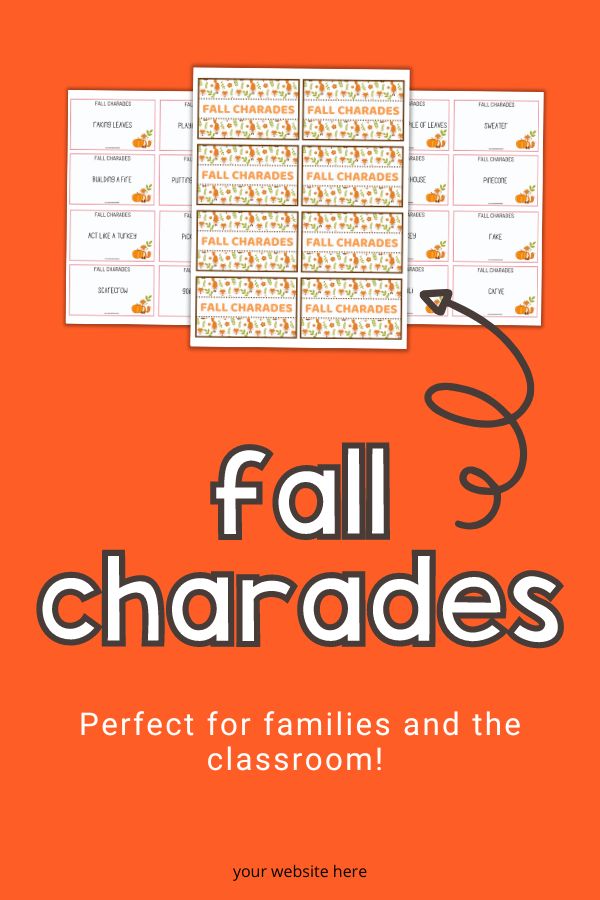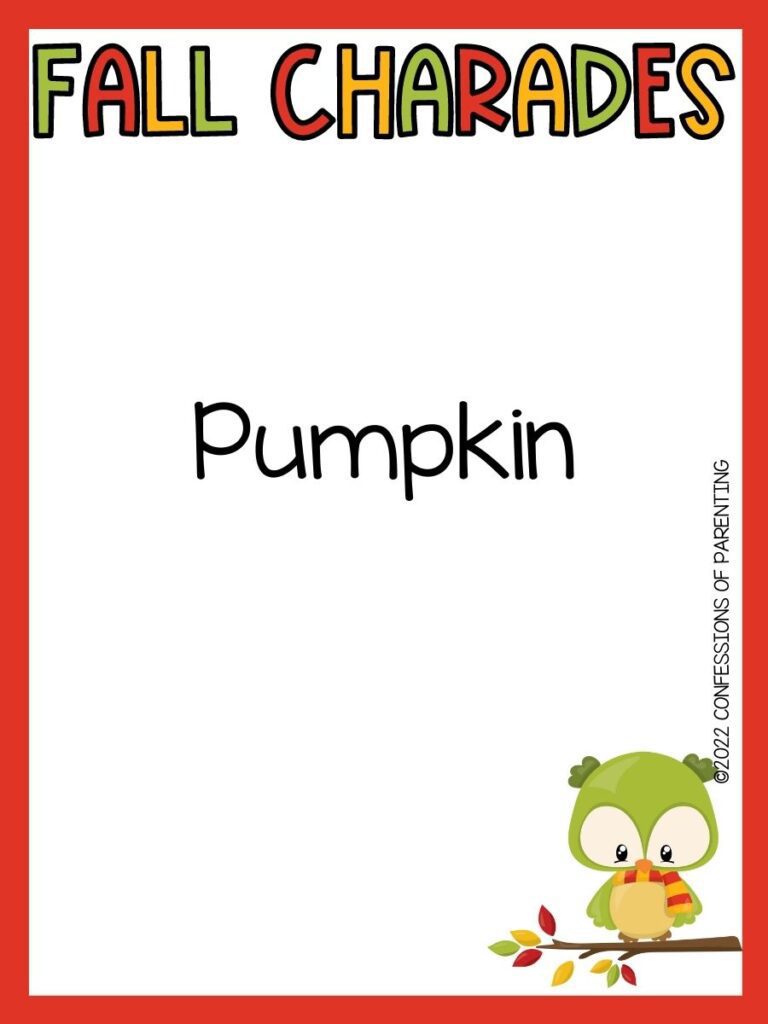 Pumpkin
Eating caramel apple
Going to the fair
Family gathering
Corn maze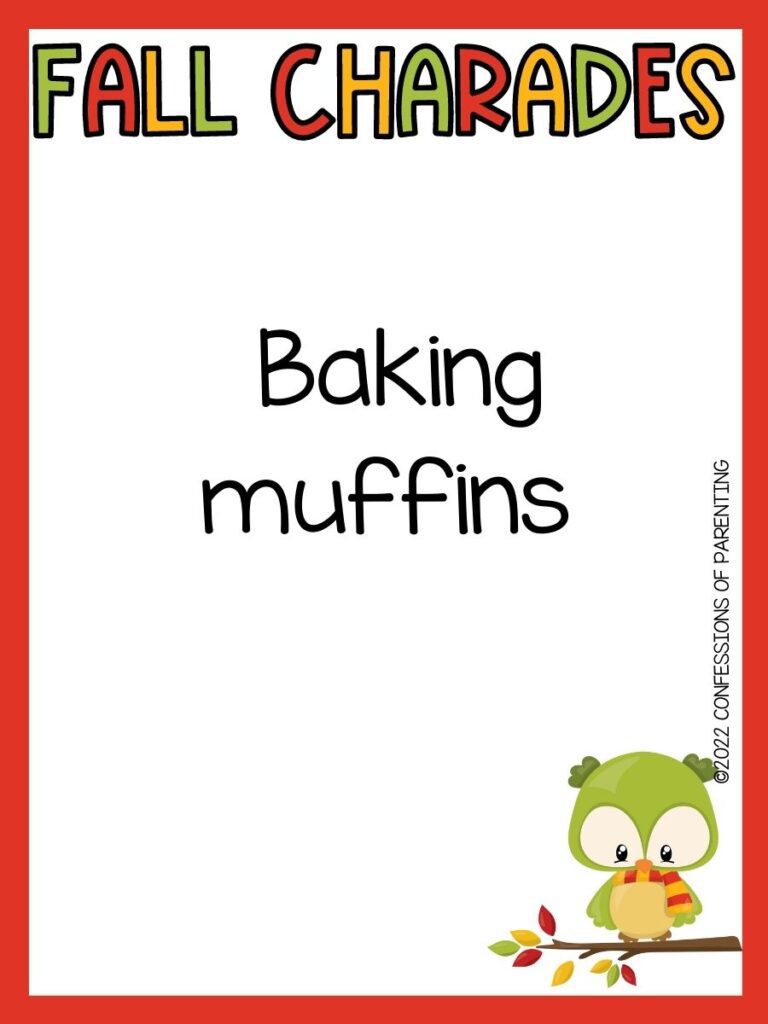 Baking muffins
Chili
Carve
S'mores
Squirrel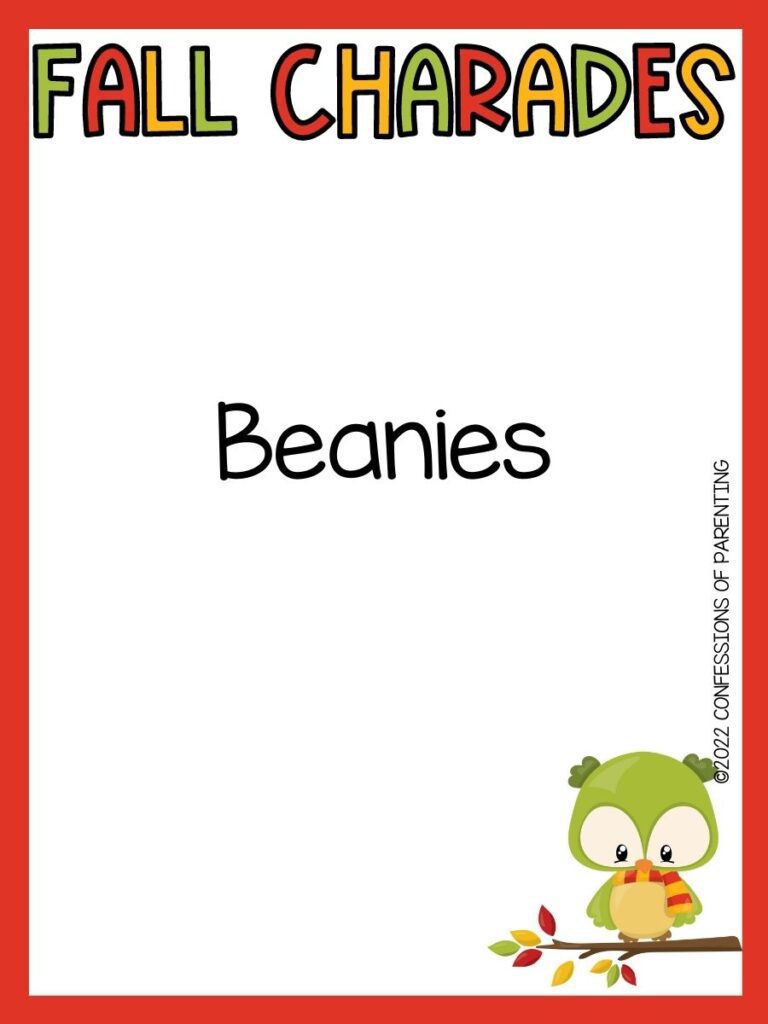 Beanies
Chestnuts
Harvest
Sunflower
Bonfire
Cat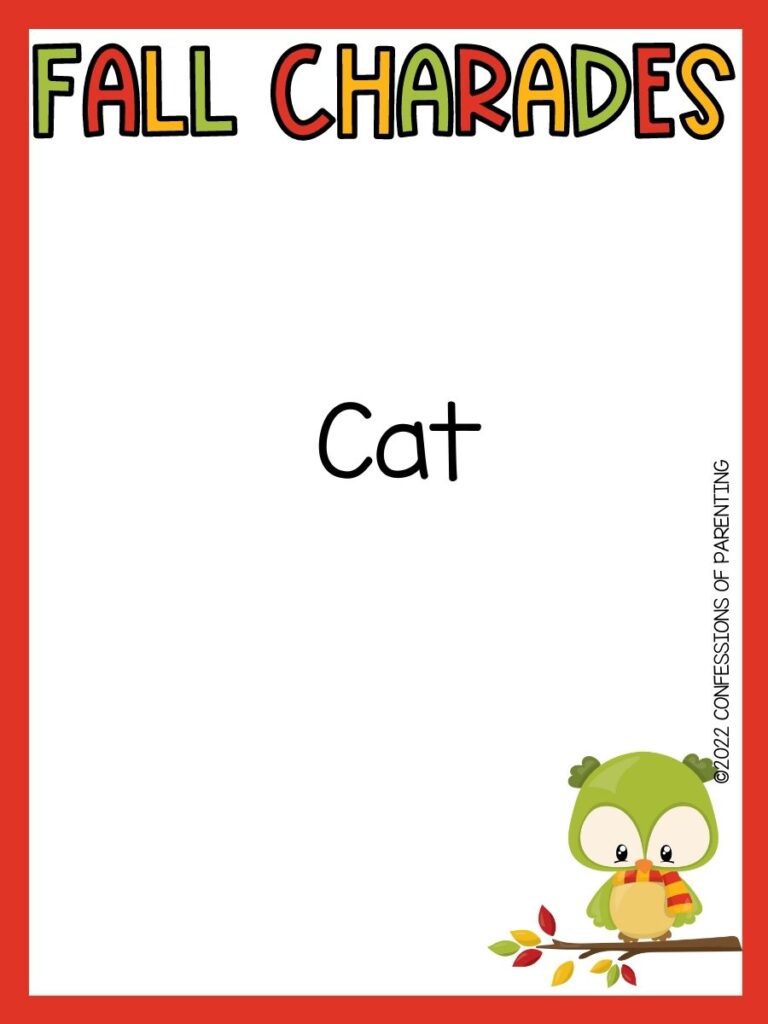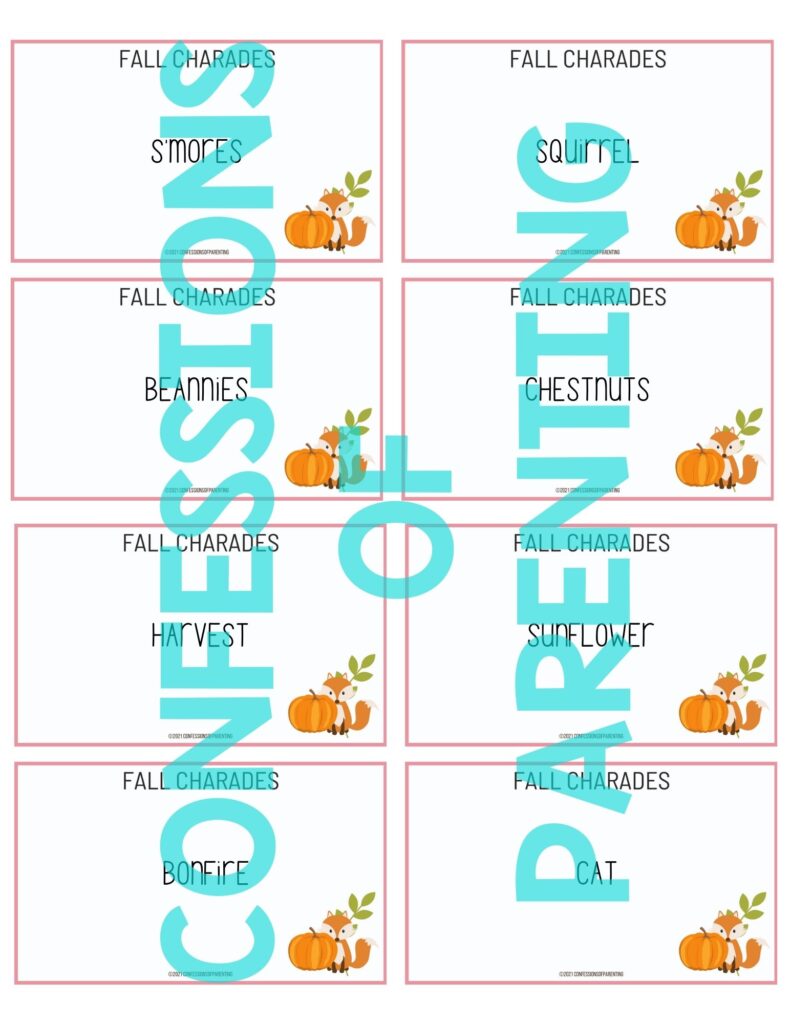 Love Charades? Try these other great charade games!
How Do I access my free printables?
Fill in the form above. You will receive an email in your inbox. If you don't see it check your spam folder! You will then click to confirm your subscription.You will then be redirected to your free download.
How Do I Print a PDF?
You'll need a program that supports PDFs. Adobe Acrobat is a great option. Open the program, click file then print. Select your printer and the number of copies you want to print. Be sure you click double-sided if you want it to print on both sides.
Can I resell these?
You may not resell any printable that you find on our website or in our resource library. You may use them for class parties, at church, at home, or in the classroom. You may get these printed at an office supply store or copy center at your own expense.