These Fish puns are sure to spark a lot of laughs and a whaley good time! So swim right up for the very best fish puns and one-liners that will reel in a good time and make you laugh for the halibut.
Jokes and puns are a staple in our home, and for good reason! They are a great ice breaker, perfect for changing someone's mood when feeling sad and blue and when we just feel like laughing.
Of course, with all jokes and puns, there may be some that have a cring-worthy punchline, but good news, these fish puns won't make you flounder because they are clean (unlike fish guts) and perfect for kids and adults of all ages!
If you love jokes, puns, and riddles, you will surely want to check out our lemon jokes, our graduation jokes, and our camp jokes.
So good news, the bait is over because it is time to dive into the best fish puns and one-liners.
Do your kids love jokes? Grab these fun joke cards for them to laugh at all the time! These are perfect for lunch box jokes, joke cards series, bedtime laughs, and more! Grab them now!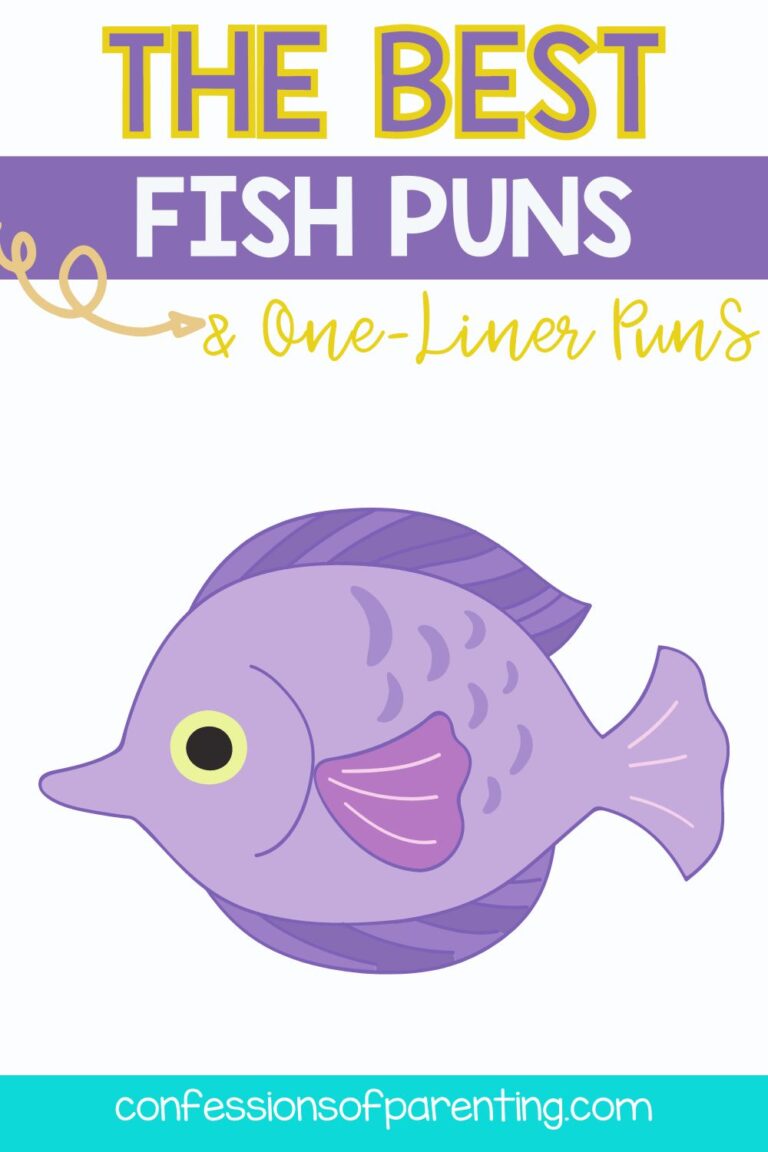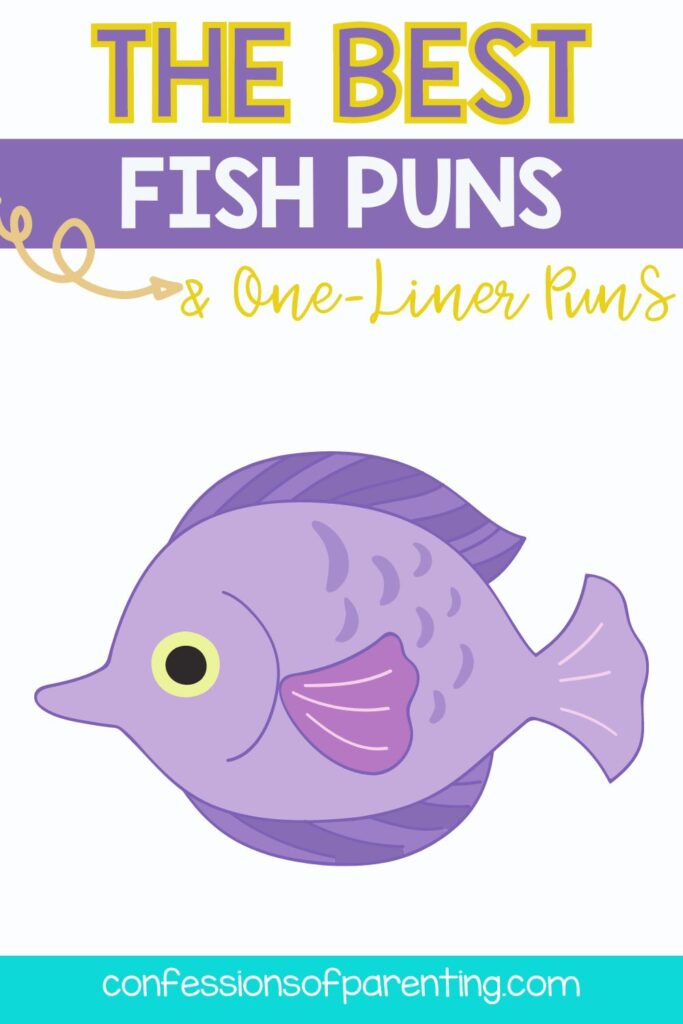 The Best Fish Puns
Q: Why did the two fish have to "take it outside"?

A: They were about to have a roe.
Q: How does a fish know when the party's over?

A: Well, it's obvious when it's fin-ished.
Q: Why did the fisherman stop playing violin?

A: Because he was all out of tuna.
Q: What's the best way for a fish to get to Canada?

A: Follow the "northern pike."
Q: When you need a handyman, which fish do you call?

A: The mantis shrimp because he has his own hammer and he's always happy to use it.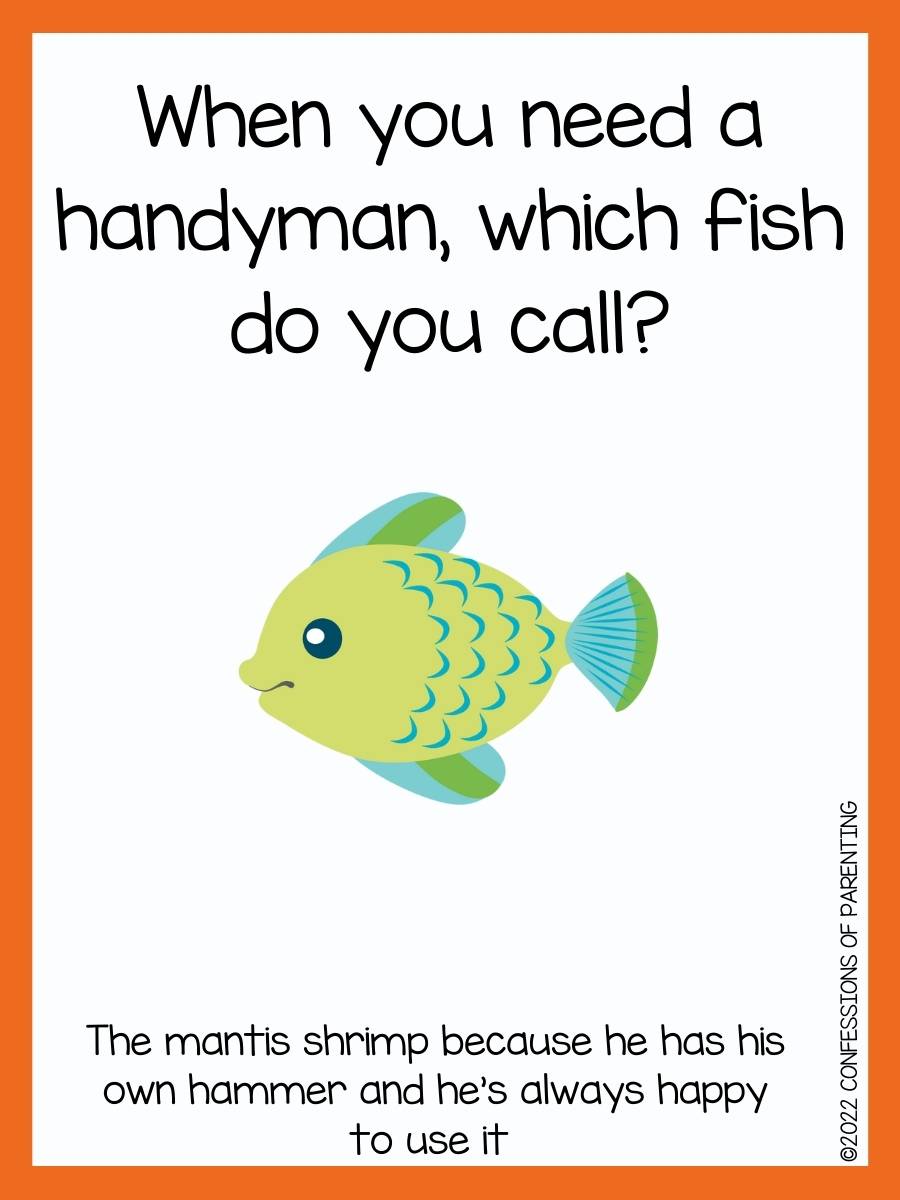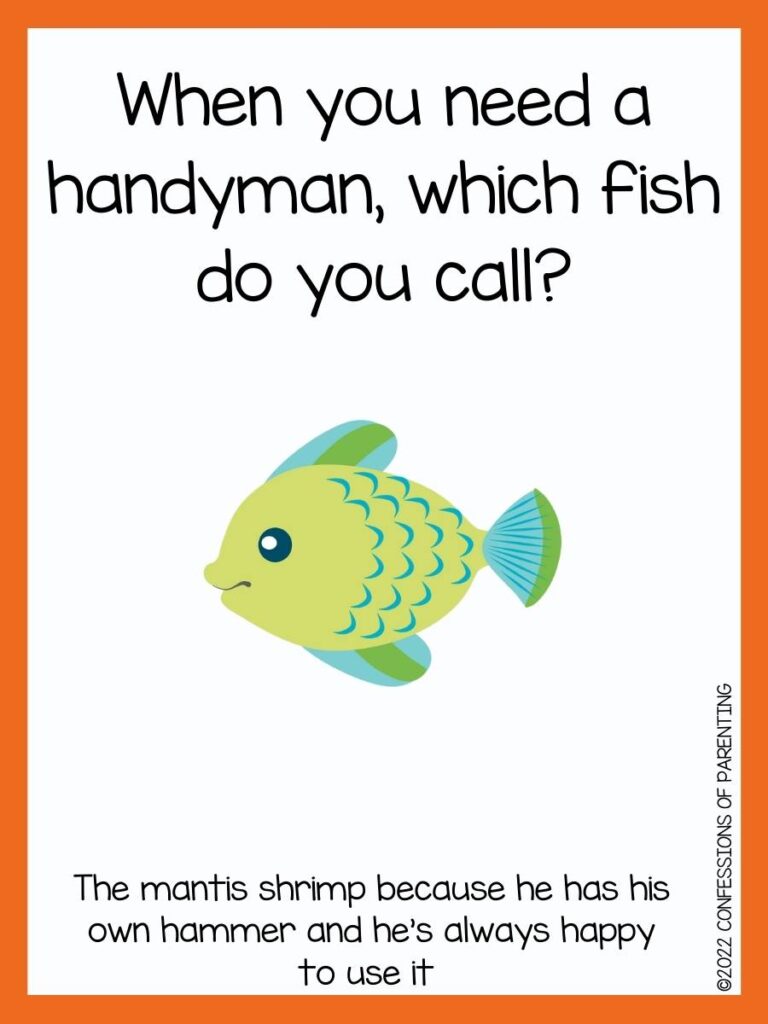 Q: Where can you find the down-and-out calamari?

A: On squid row.
Q: What's the one fish that 40 percent of all Americans are afraid of?

A: Clownfish.
Q: Why did one fish slap the other?

A: To snapper out of it.
Q: Which fish has the worst haircut?

A: The mullet.
Q: Why do most people dislike anchovies?

A: Because they're a little fishy.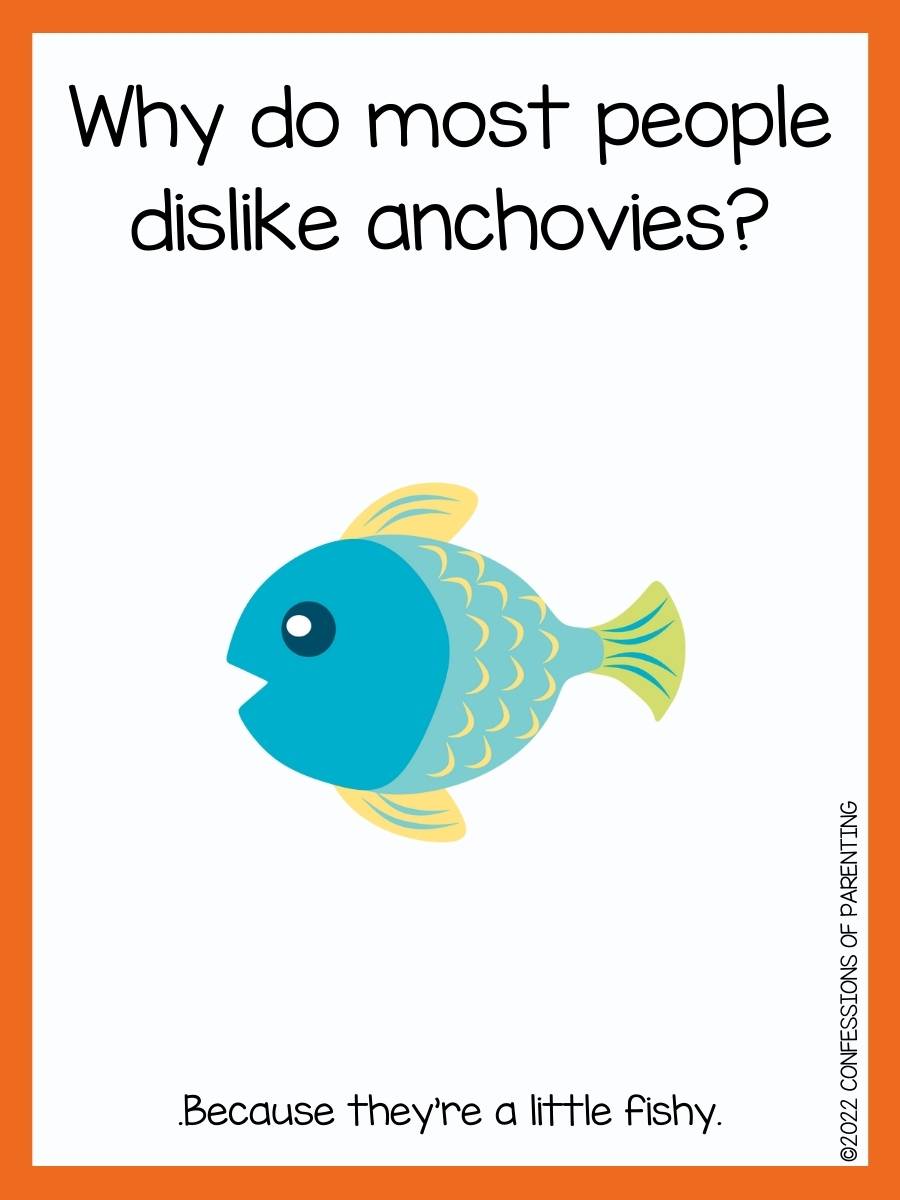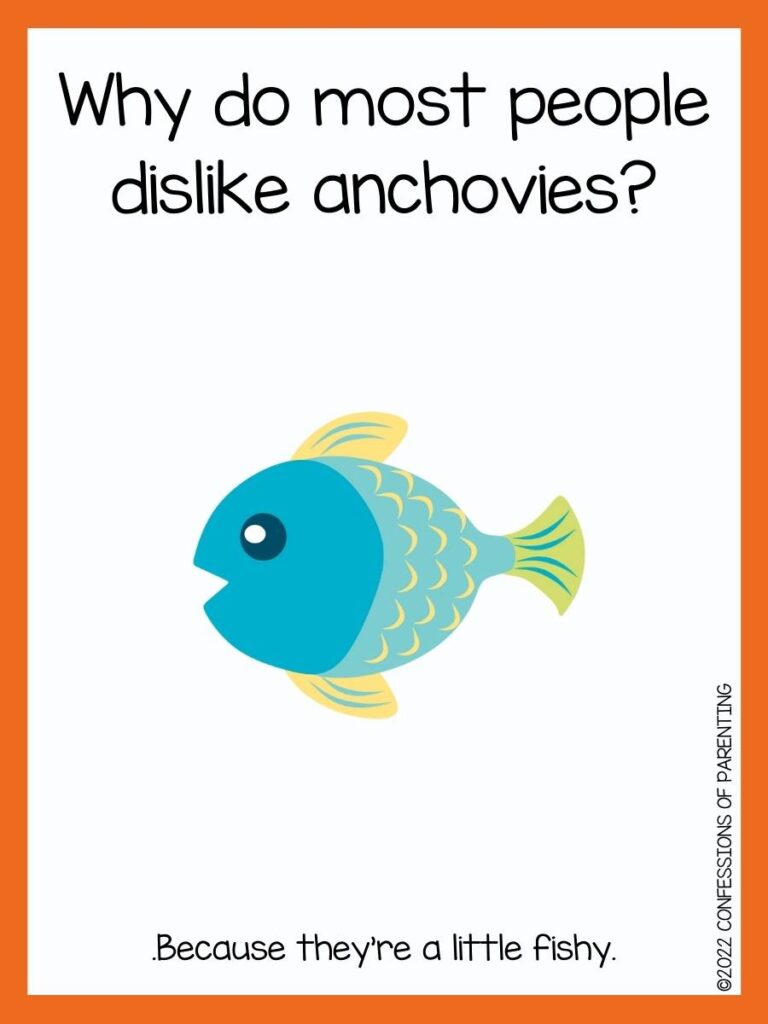 Q: How many tuna does it take to screw in a light bulb?

A: They don't. They call an electric eel.
Q: Where do you put an argumentative fighting fish?

A: It's in de-beta-bowl.
Q: What does the salmon always say at closing time?

A: Time to lox up.
Q: What's the only right answer when a salmon asks you for a light?

A: I didn't know you smoked, salmon.
Q: What country can every fish trace their roots back to?

A: Finland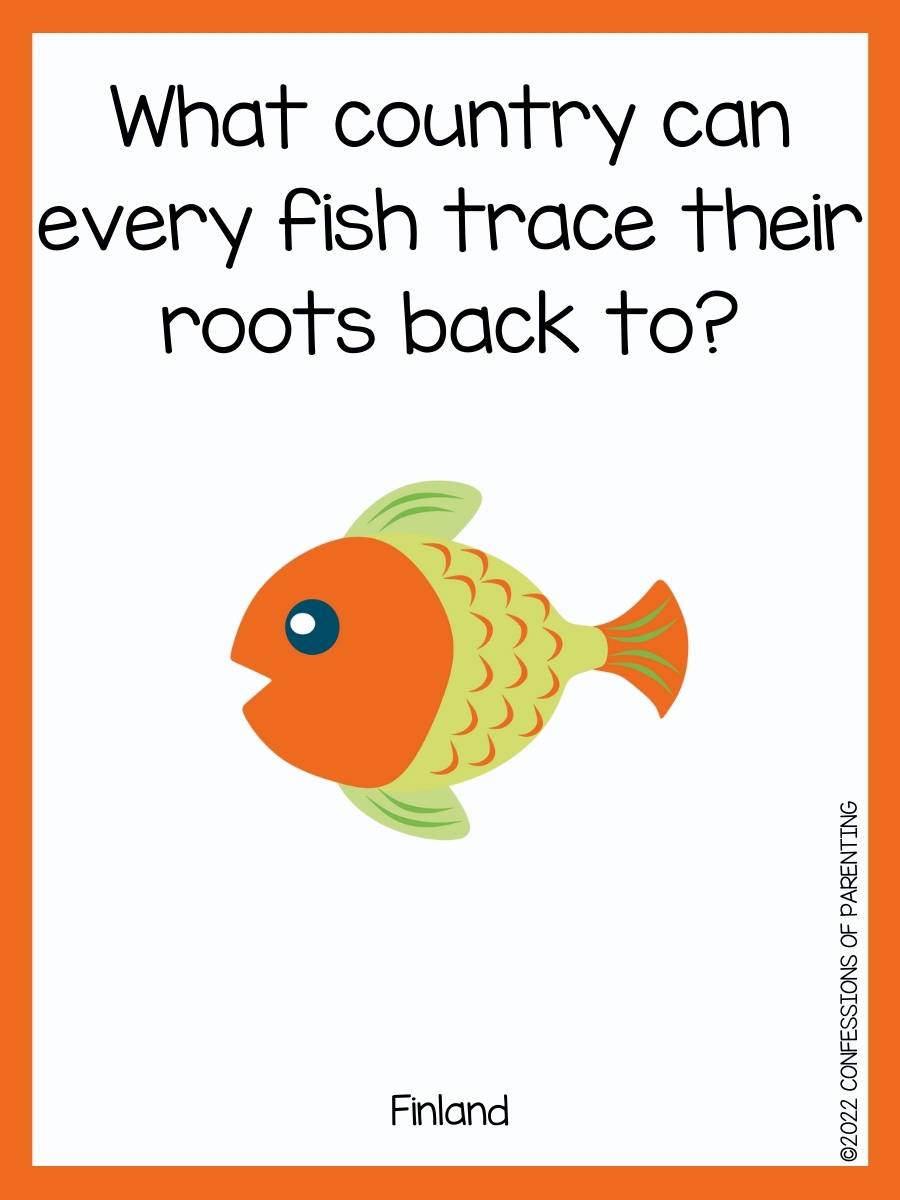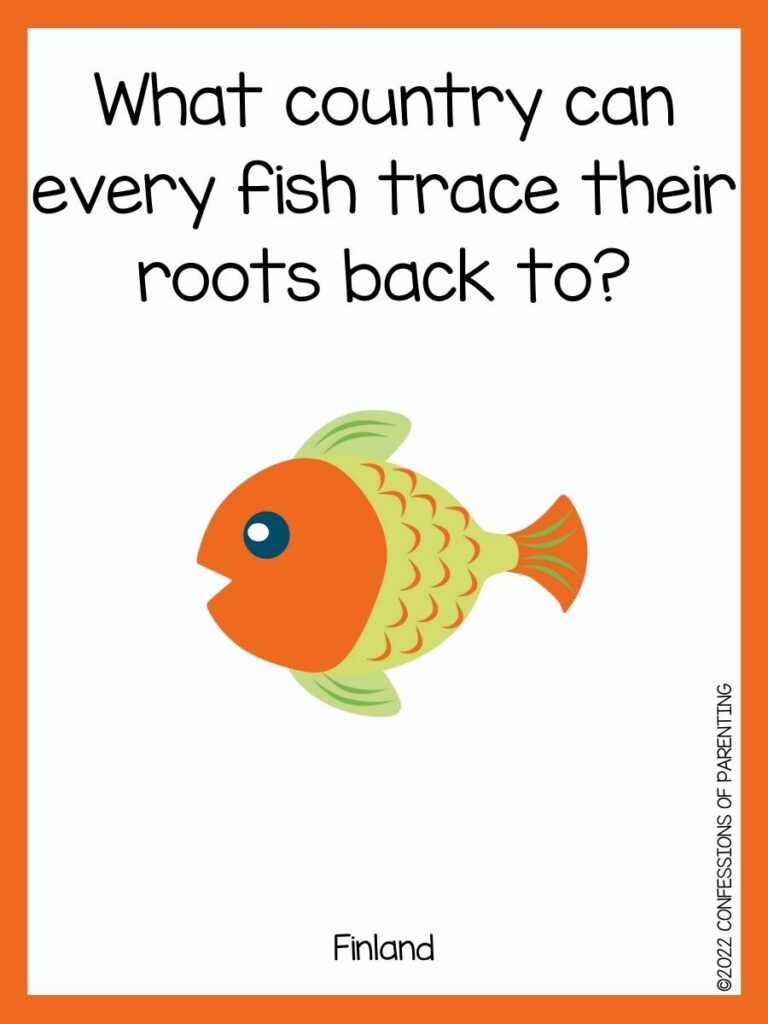 Q: If Marcia Brady were a fish, what would her most famous line be?

A: Oh! Minnows!
Q: What's the clownfish's biggest fear?

A: That he's not really all that finny.
Q: Why isn't the bachelor fish married?

A: Because he has fin-timacy issues.
Q: What did the freshwater eel say to the salmon?

A: I don't sea your point.
Q: What did the introverted snail wish for more than anything?

A: That he could one day come out of his shell.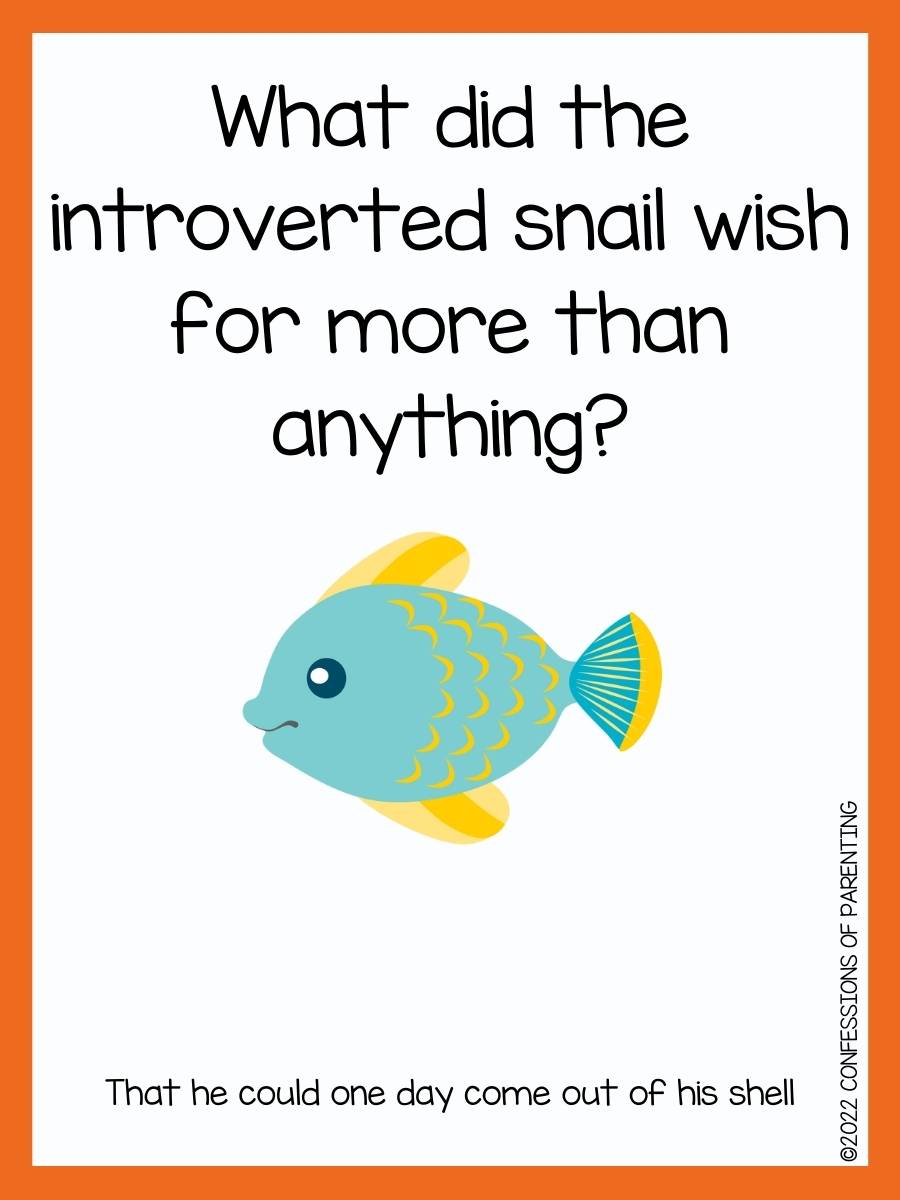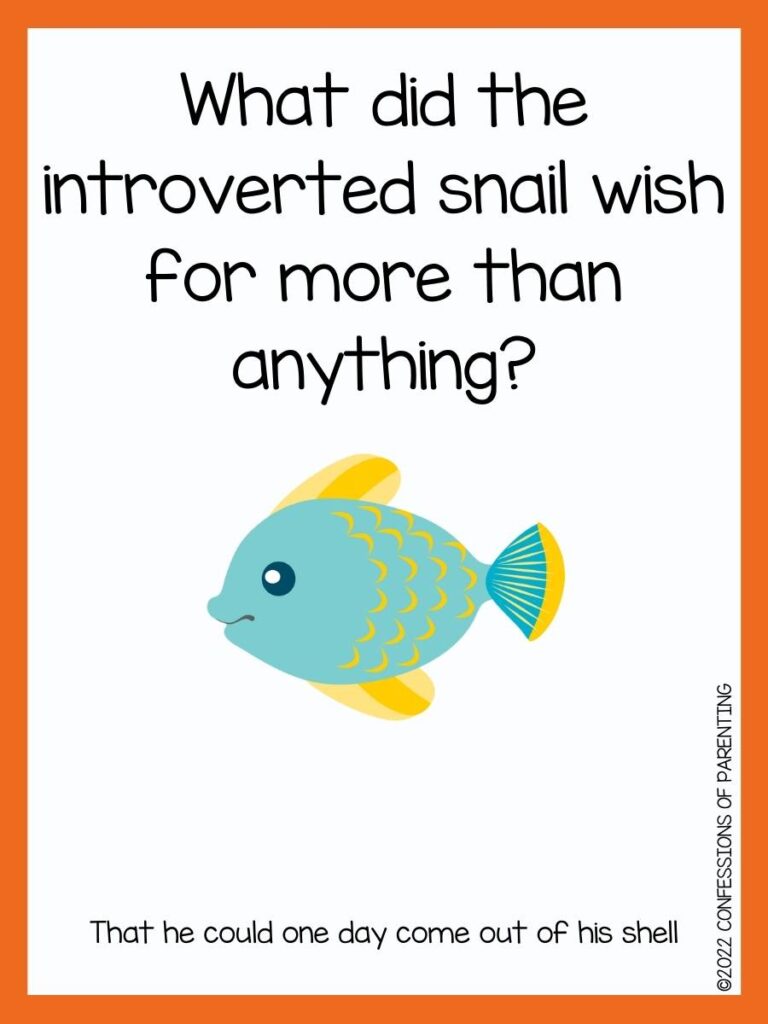 Q: What did the tuna say after the job interview?

A: Thanks for the oppor-tuna-ty.
Q: How do you know when something is fishy in the state of Denmark?

A: When Hamlet's giving a speech that begins, "Tuna or not tuna, that is the question."
Q: What does the walleye say to let you know he didn't appreciate your last remark?

A: Walleye never been so insulted in my life.
Q: What does the bass say when the tilefish seems confused?

A: You've got that completely bass ackwards.
Q: When you visit your fish friends, what should you bring as a hospitality gift?

A: Anything but crabs.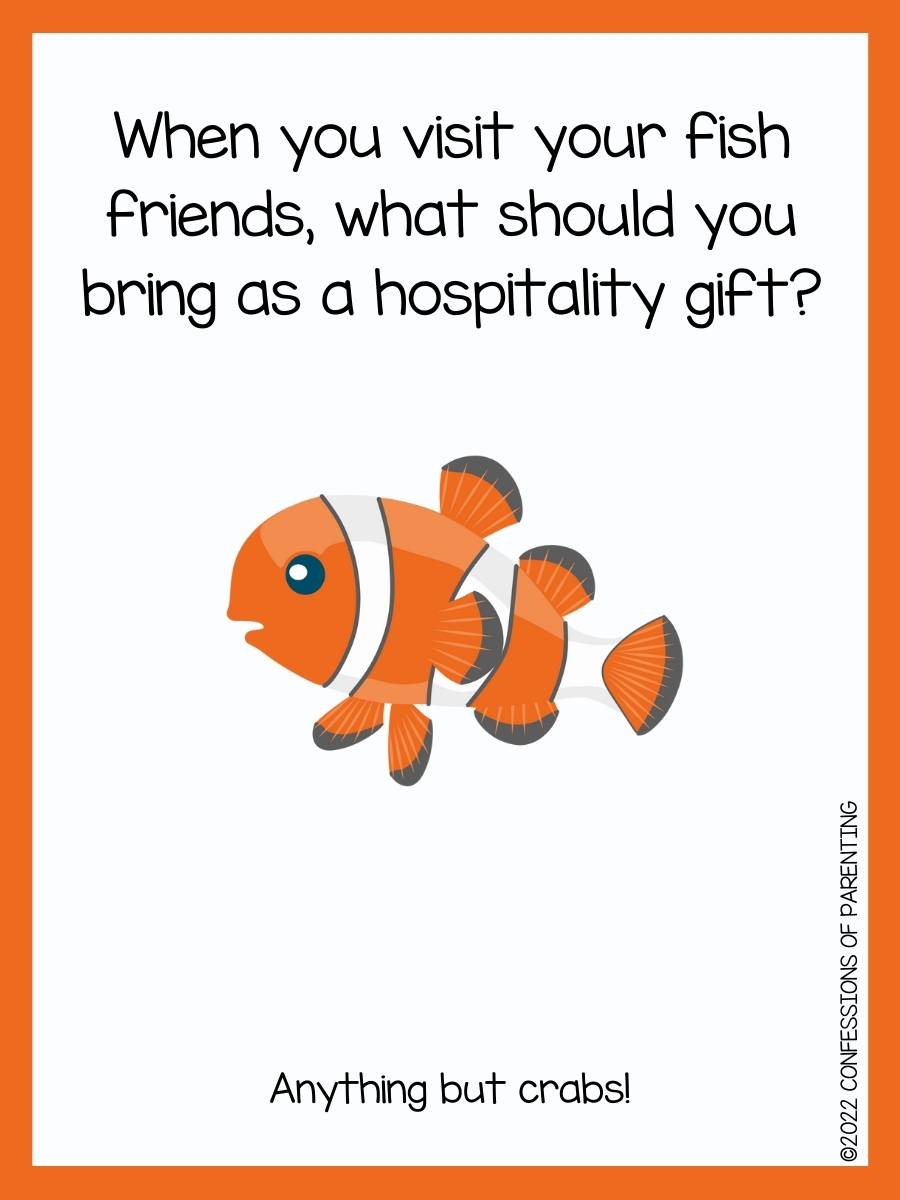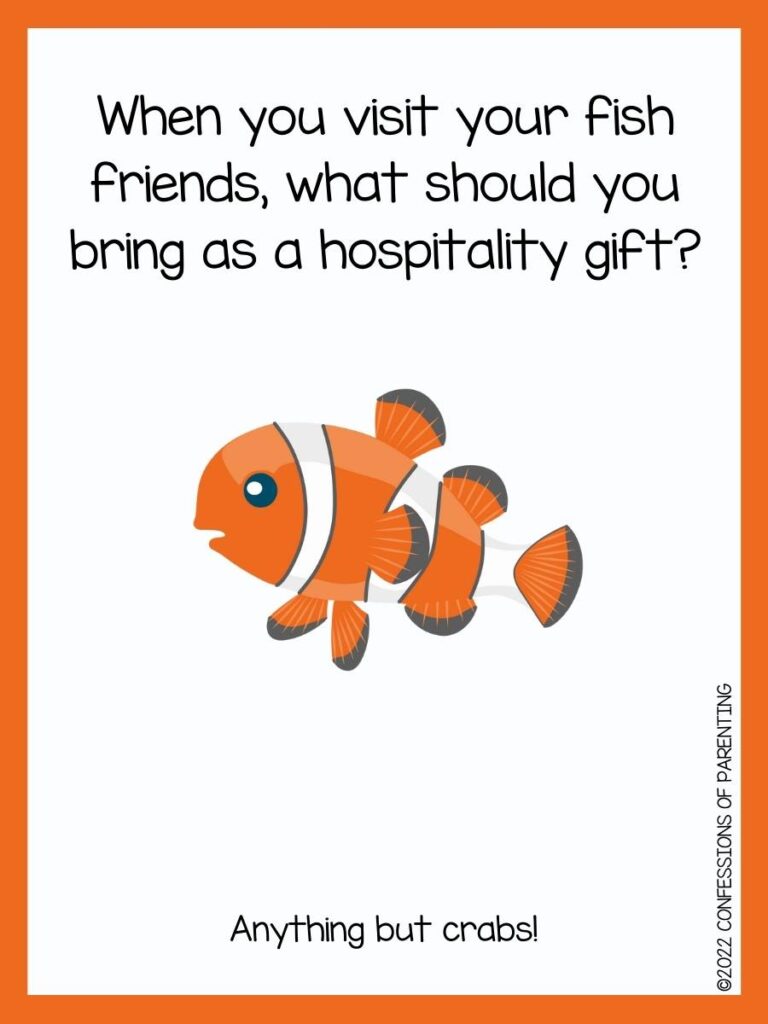 Q: How do shellfish take photos?

A: With a clam-era.
Q: How can you tell the blowfish has been working out?

A: He gets to looking extremely puff.
Q: Why is the cost of living so affordable for a bay scallop?

A: They're small, so they're fine with living in an e-fish-ency.
Q: When do fish stage an intervention for a friend?

A: When they've hit rockfish bottom.
Q: When is it time for a fish to go to an eye doctor?

A: When they're having trouble sea-ing.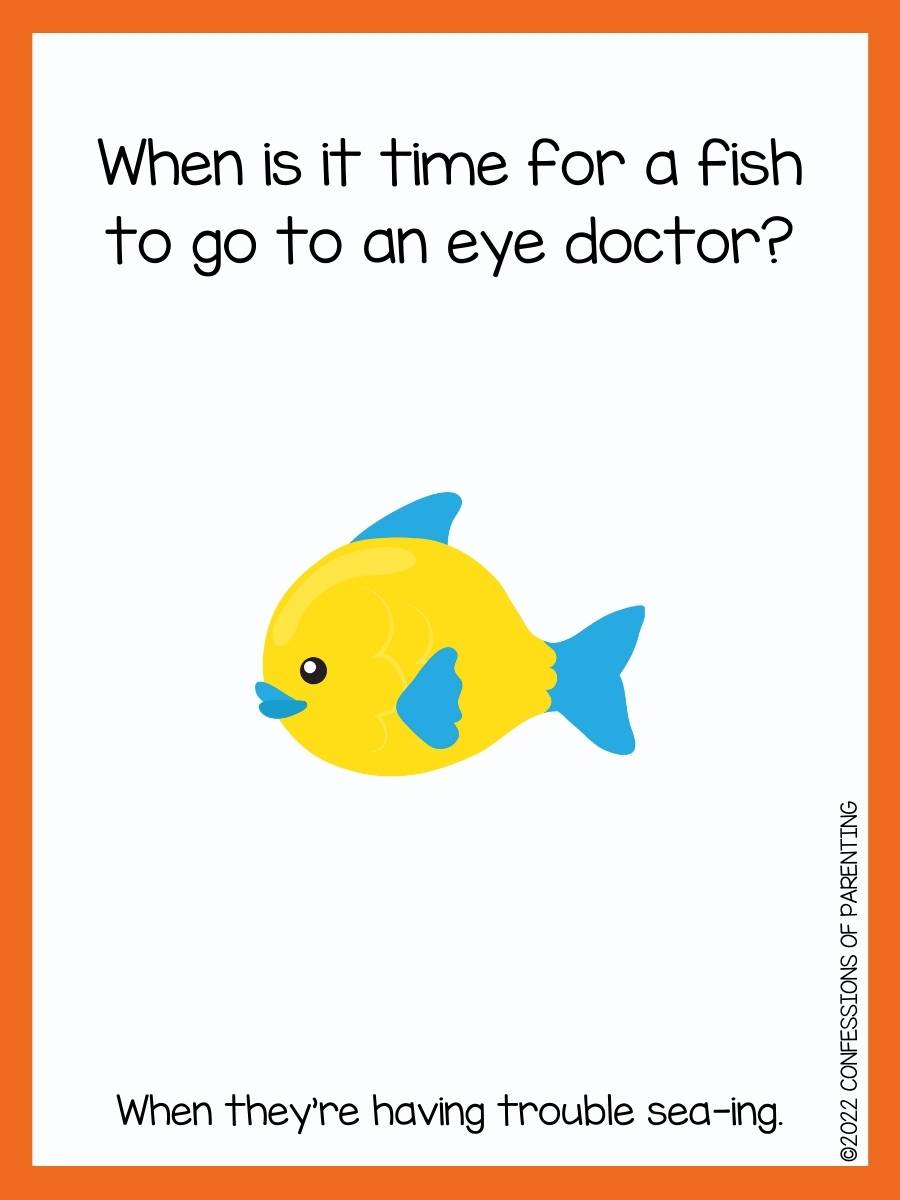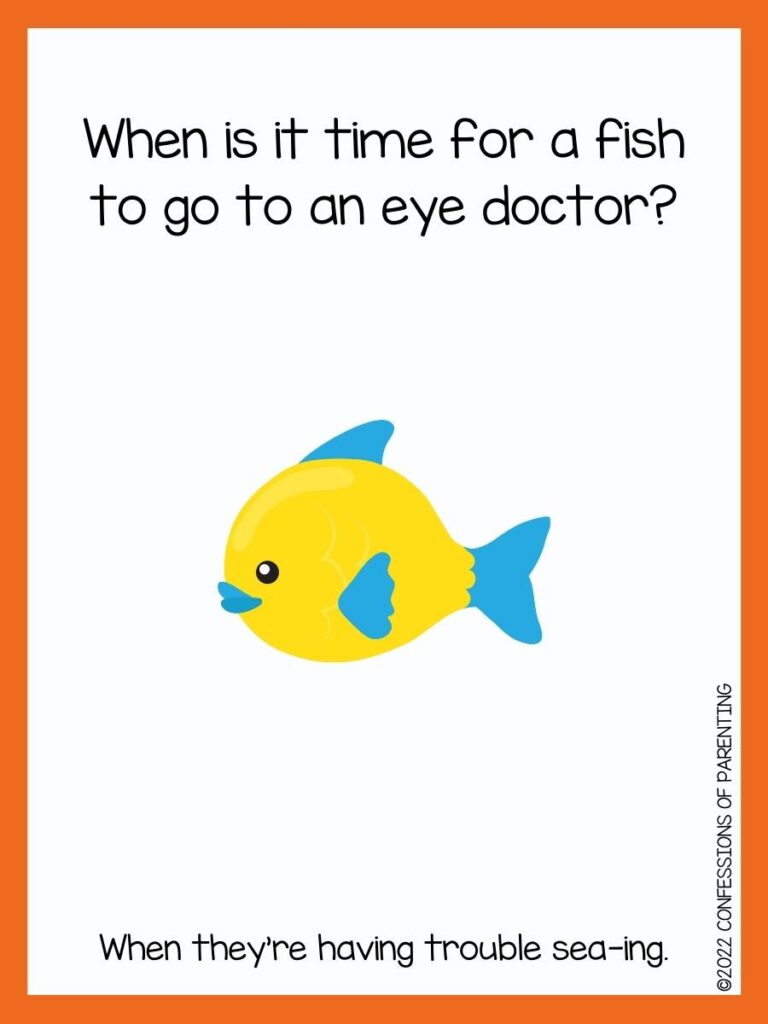 Q: Who is the most famous fish spy?

A: James Pond.
Q: What did the waiter say when the man complained his fish tasted funny?

A: Sir, did you or did you not order the clownfish?
Q: What did the fish husband say to the fish wife when she asked him how she looked.

A: You look fin honey, now stop fishing.
Q: Where do fish sleep?

A: In the riverbed.
Q: What's it called when a fish can't carry a tune?

A: They're tuna-deaf.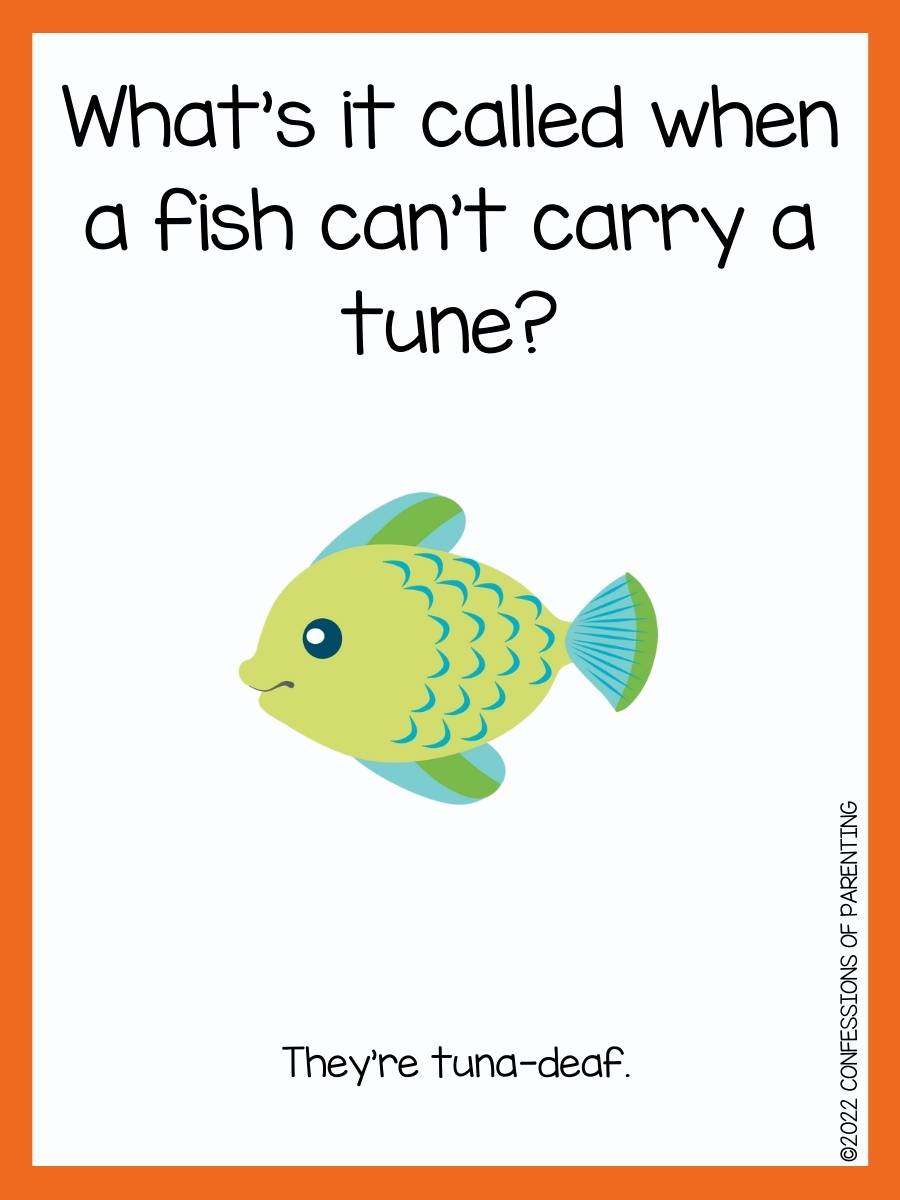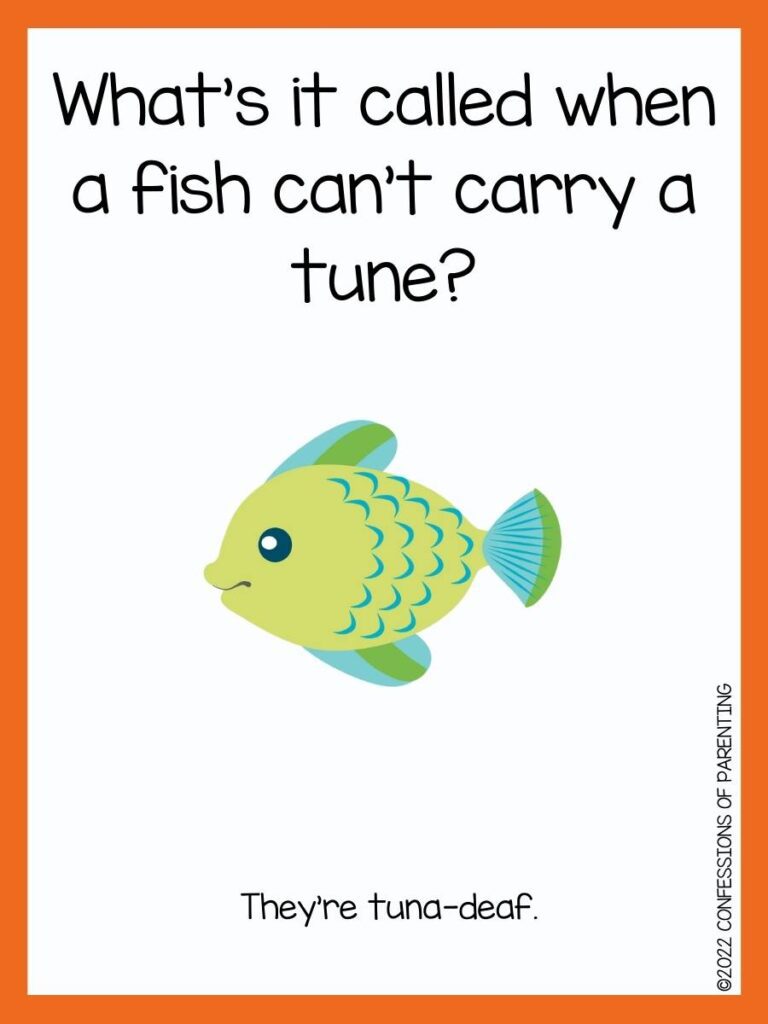 Q: How can you tell the puffer-fish had too much salt at dinner?

A: He's looking blow-ted.
Q: What happens when a fish spends too much time on his computer?

A: There's a risk of carp-al tunnel.
Q: How do you get an octopus to giggle?

A: Ten-tickles.
Q: What did one fish lawyer say to the other?

A: My client's going to need a minute to mullet over.
Q: Where do shrimp go for cash in a pinch?

A: To the prawn shop.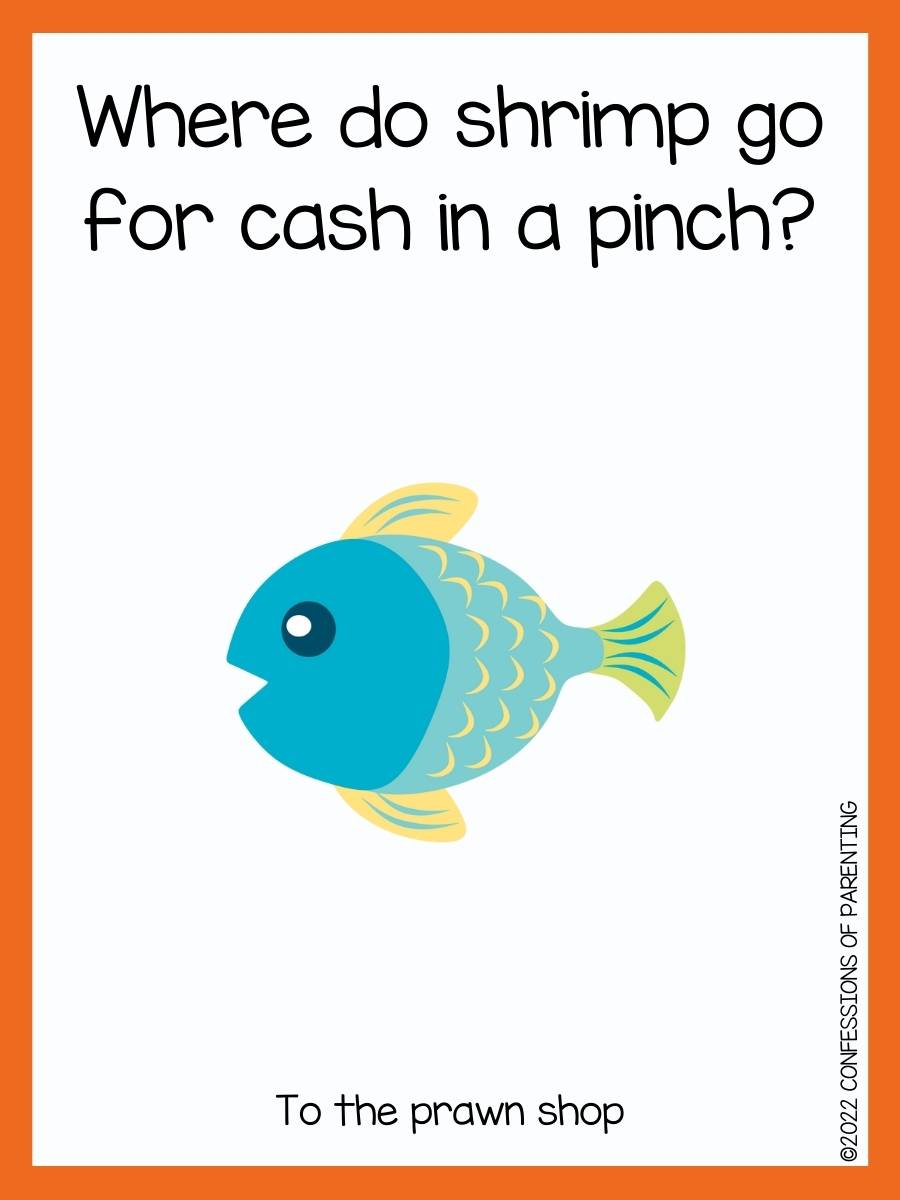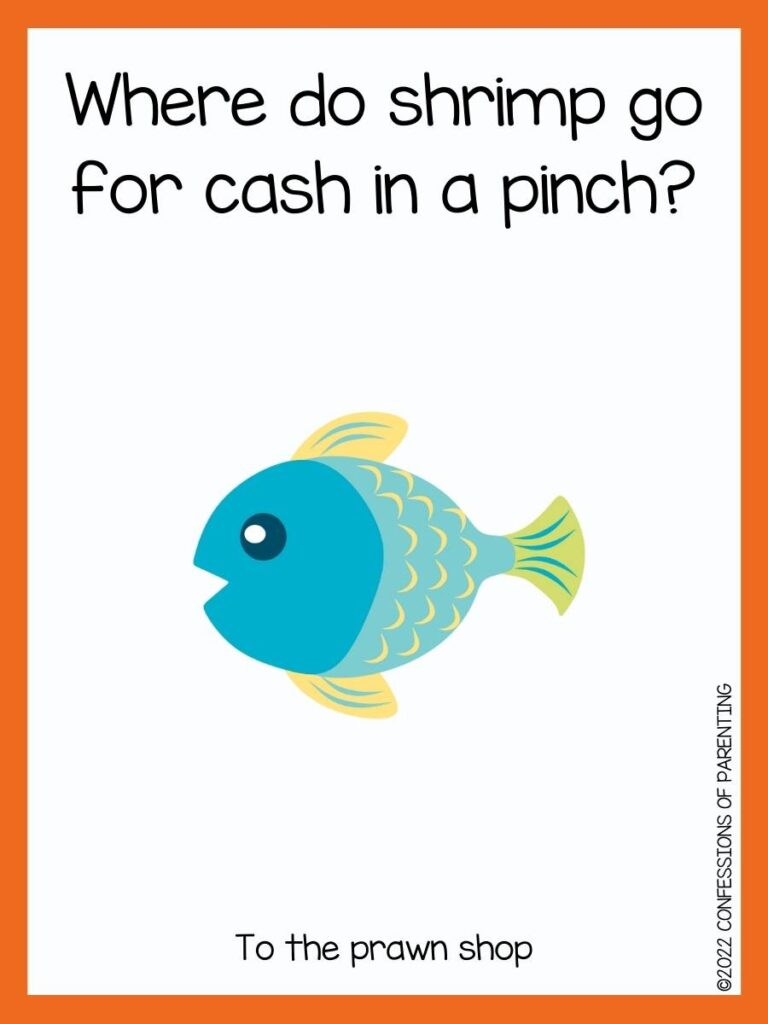 Q: What did the dentist say to the super-anxious shark?

A: Jaws relax.
Q: What does telephone solicitor fish say when the person they're calling picks up the phone?

A: Cod I have a moment of your time?
Q: Why do fish try to stay on the good side of their monarch?

A: Well, otherwise they'd be royally scrod.
Q: What did one fatty tuna say to the other?

A: We're in this together, toro and toro.
Q: What does the fish say when it's had it "up to here"?

A: hat's the last craw.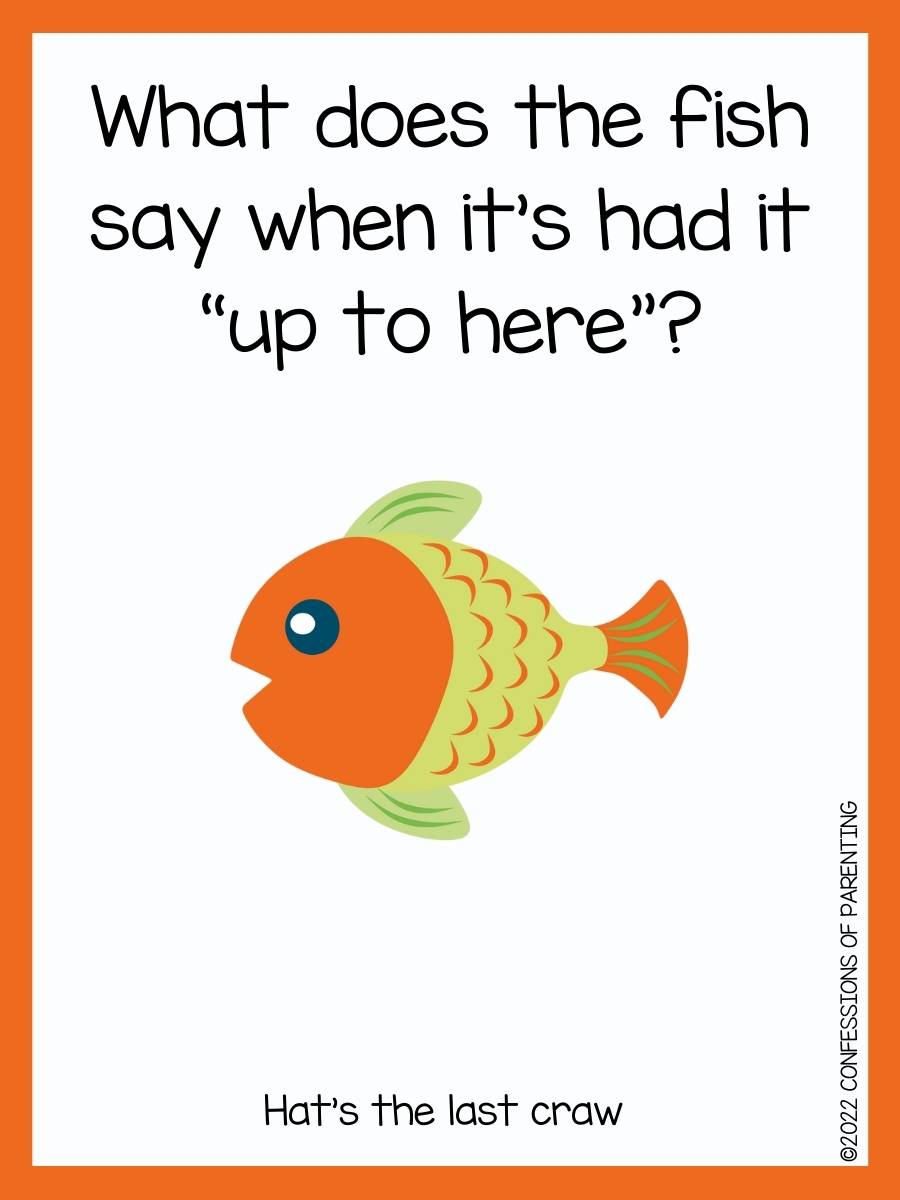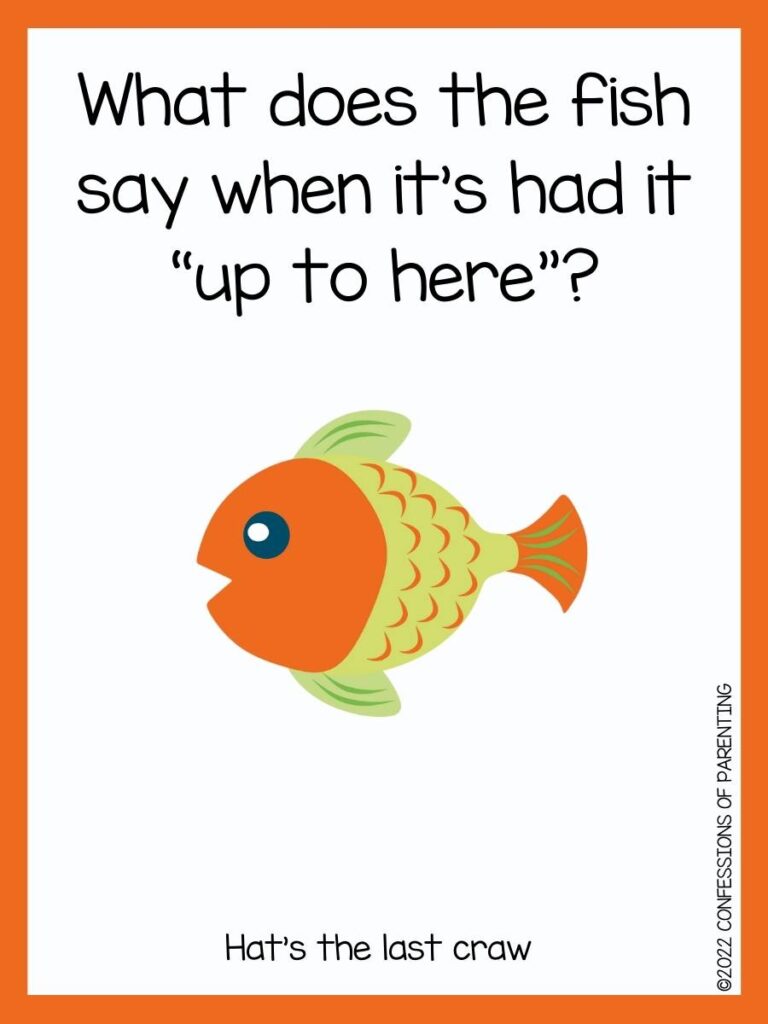 Q: Why does it seem like there are never any job openings at the fish company?

A: They're scaling back.
Q: For fish astronauts, what's the final frontier?

A: Trouter space.
Q: How much money does Gill Gates have?

A: A gillion dollars.
Q: What does the great white shark wear under his kill-t?

A: Nothing because once he's an adult, he's no longer focused on the bottom.
One-Liner Fish Puns
Well, it's oh-fish-ial.
Just like the tunafish sandwich said, I've got a feeling we're not in cans-us anymore.
Hey, would you mind letting minnow what you think about this one?
Sure, but fishing for compliments is never becoming.
Tuna in next time for the funniest animal memes.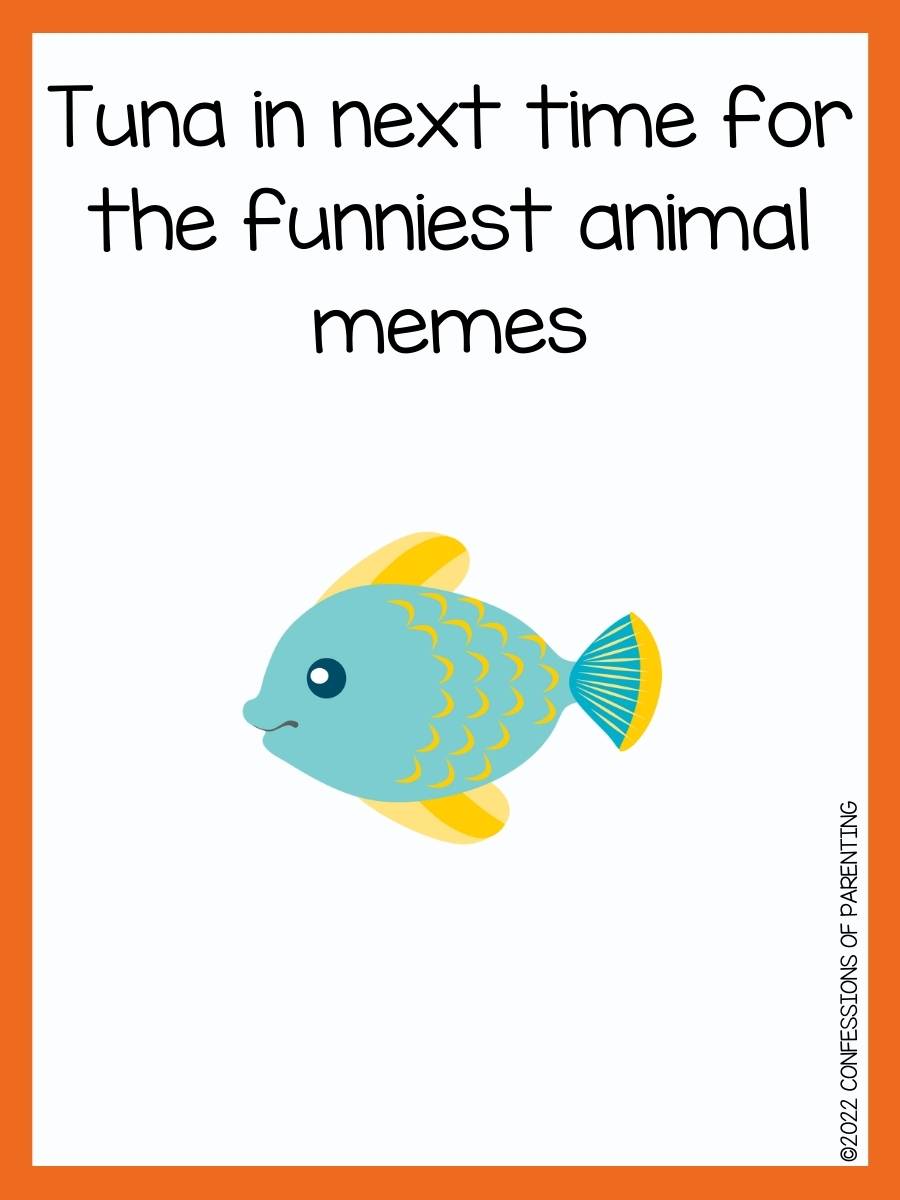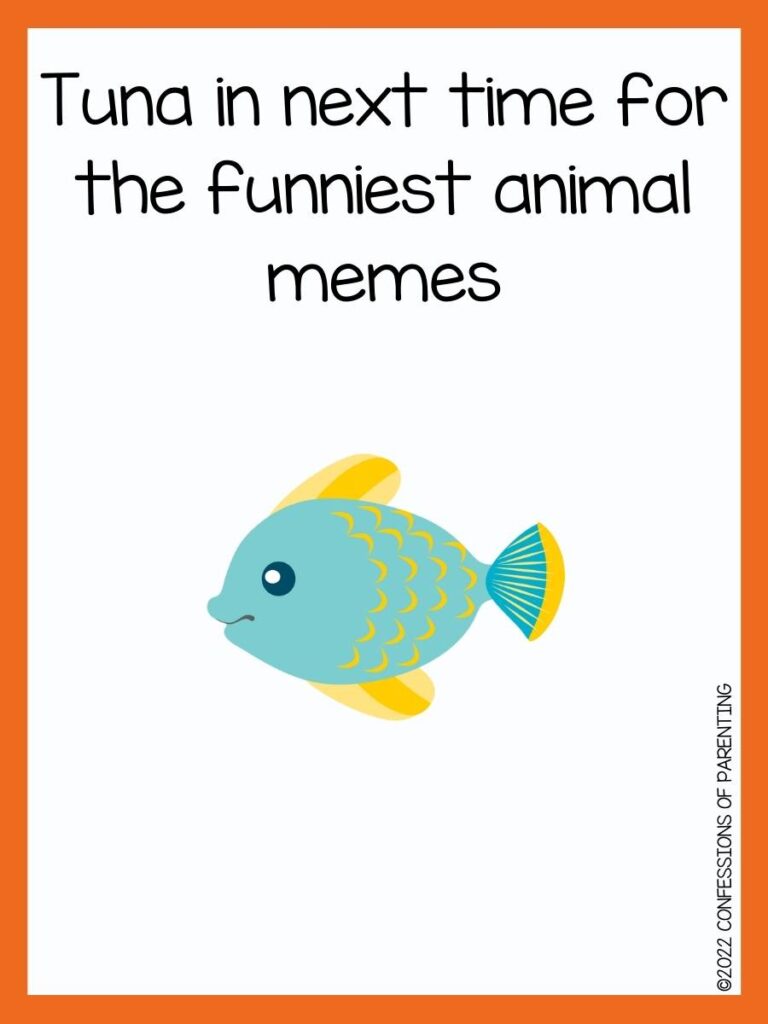 Oh, for heavens hake!
If you're going for roe-mance, then you'll want to consider the caviar.
That fish is so classy, it's like he's so-fish-ticated.
Paci-fish-ts don't believe in the notion of man o' war.
Cod this be any punnier?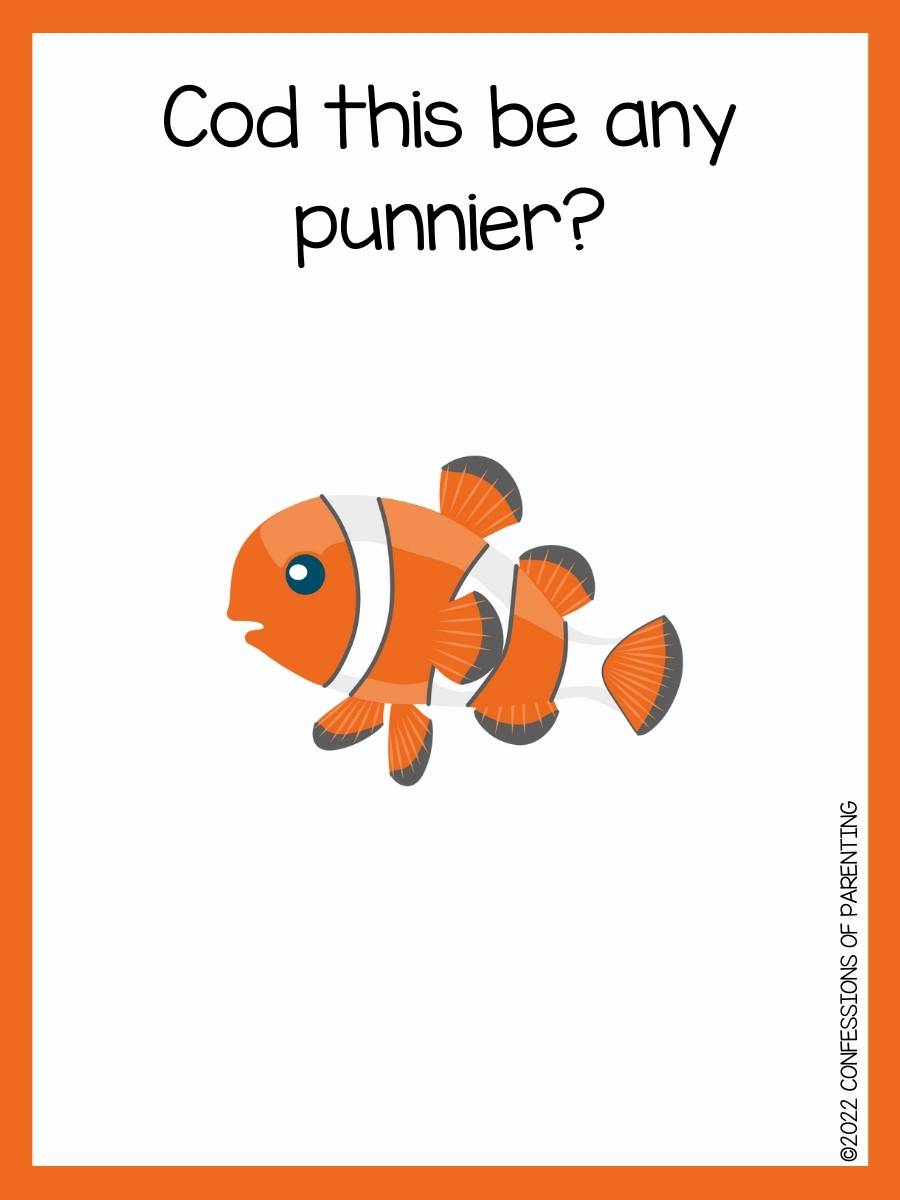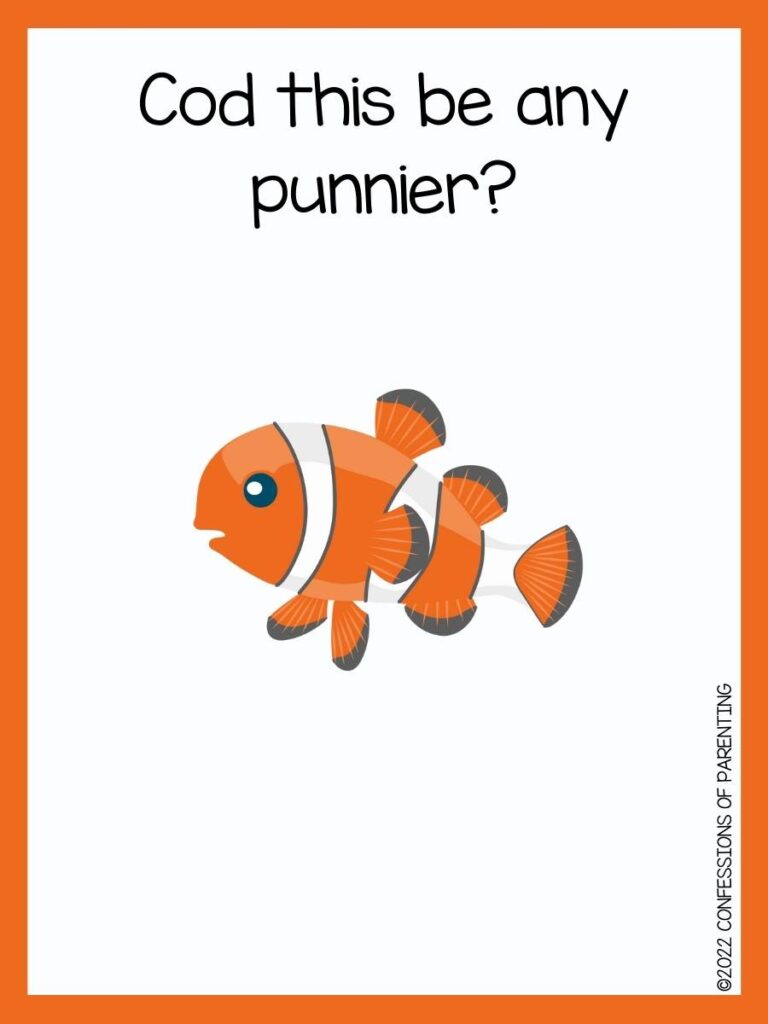 I would make him walk the plankton for that.
When belugas have a lot on their mind, they're said to be beluga-ed.
When jellyfish act catty, it's only because they're jelly.
Speaking of being jelly, tunas were really miffed about the whole salmon-ella thing.
Perch-ance, is this seat taken?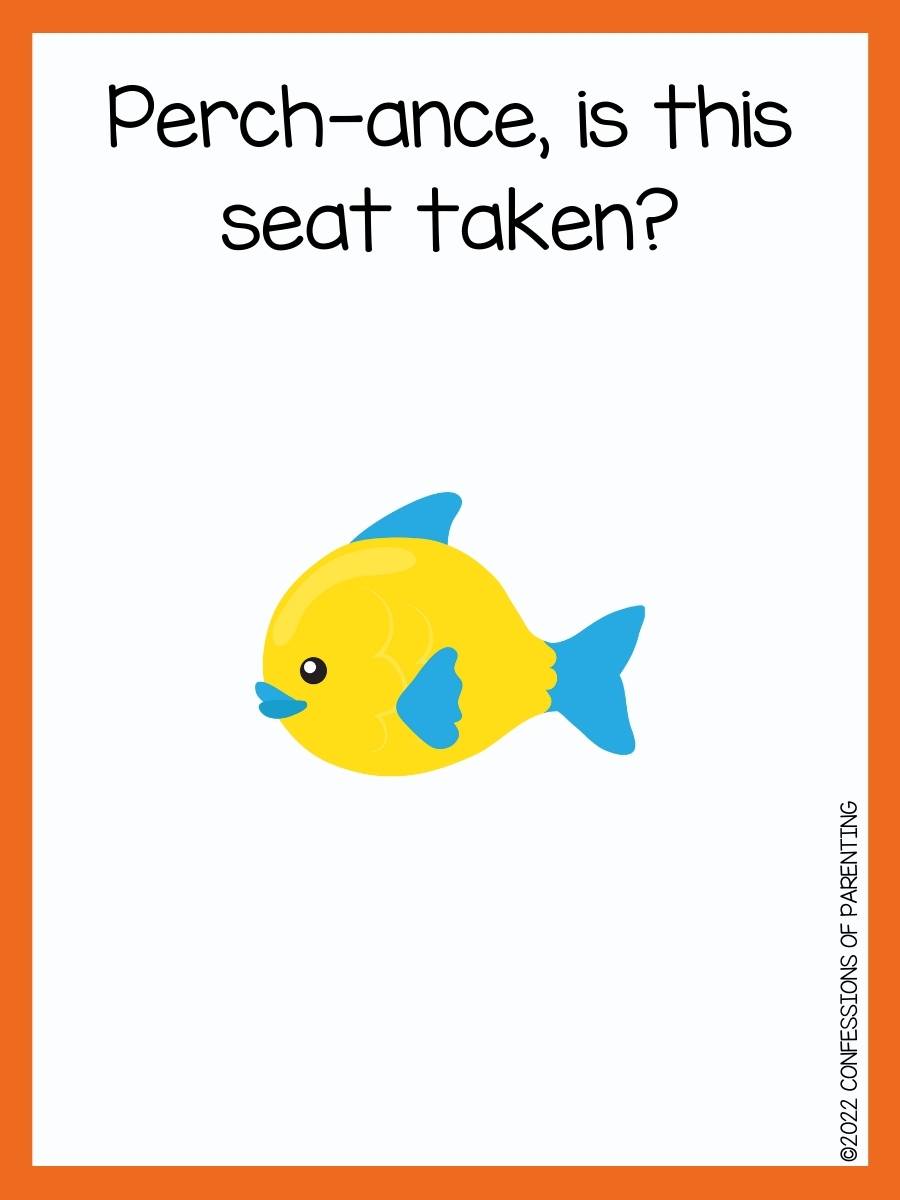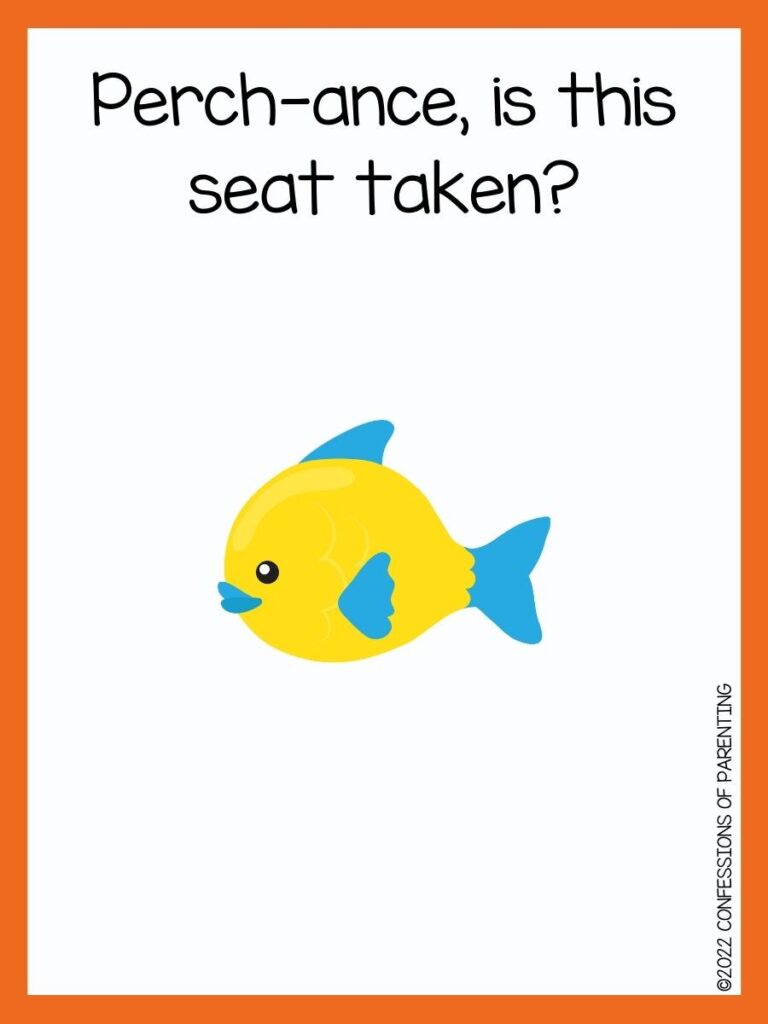 How's the calamari? Why, it's ex-squid-sit, thank you.
When I grow up, I want to a bass-tro-physicist.
You can't expect a squid to answer a tough question without inking about it first.
That's the thing about squids…they ink too much.
That fish is rich and famous, but she's still Jenny from the had-dock.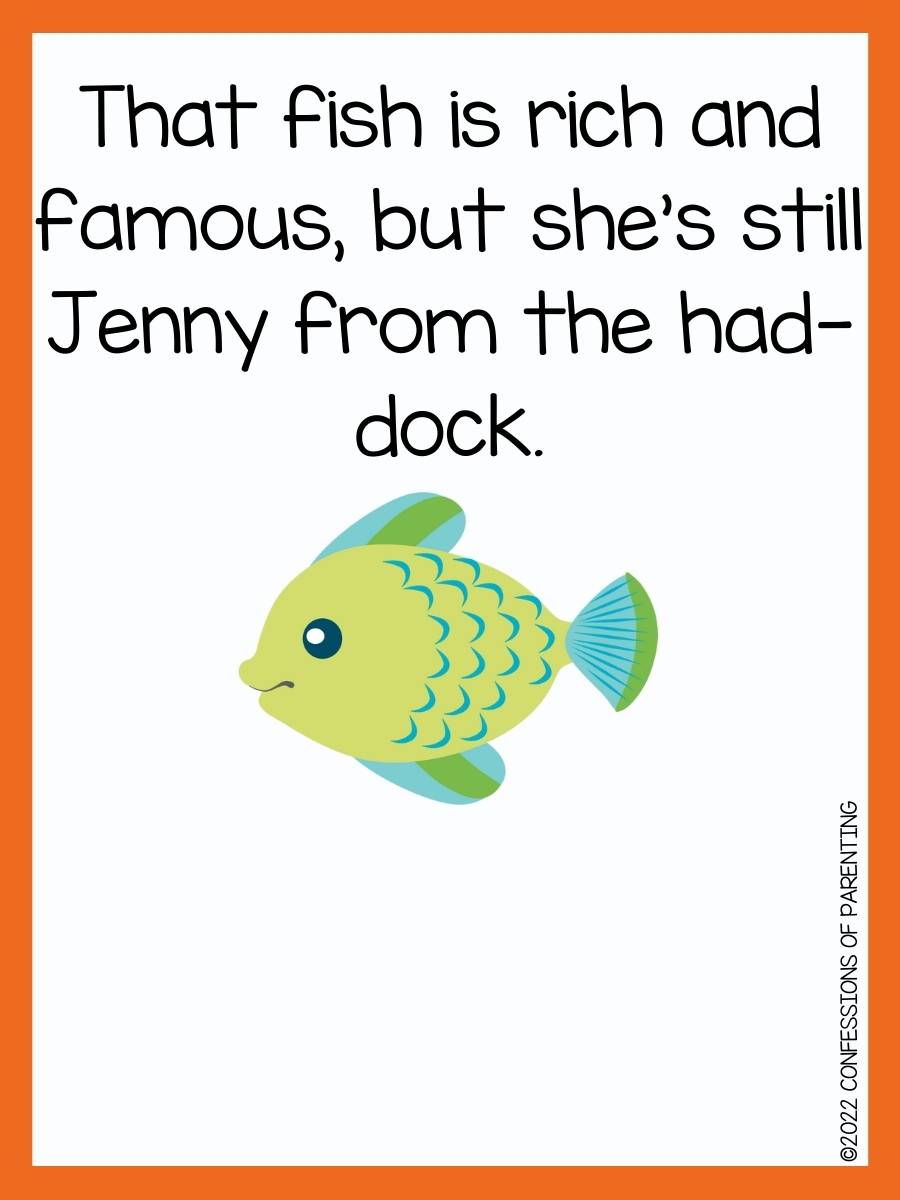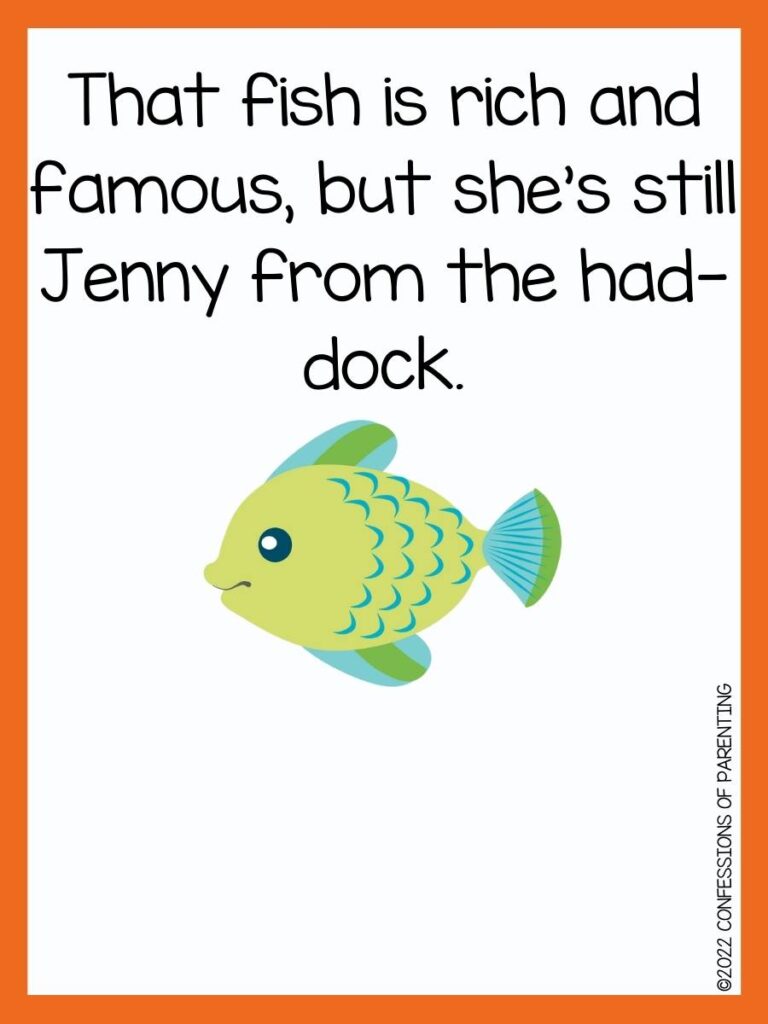 Never fall in love with a blowfish. You'll always get re-puffed.
When your fish boss is watching, you'd better look e-fish-ent.
The thing about calamari is you can never tell when it's just squidding.
You're blushing like a catfish that's just seen the bottom of the ocean.
When a fish meets the love of their life, they say they've "met the gill of my dreams."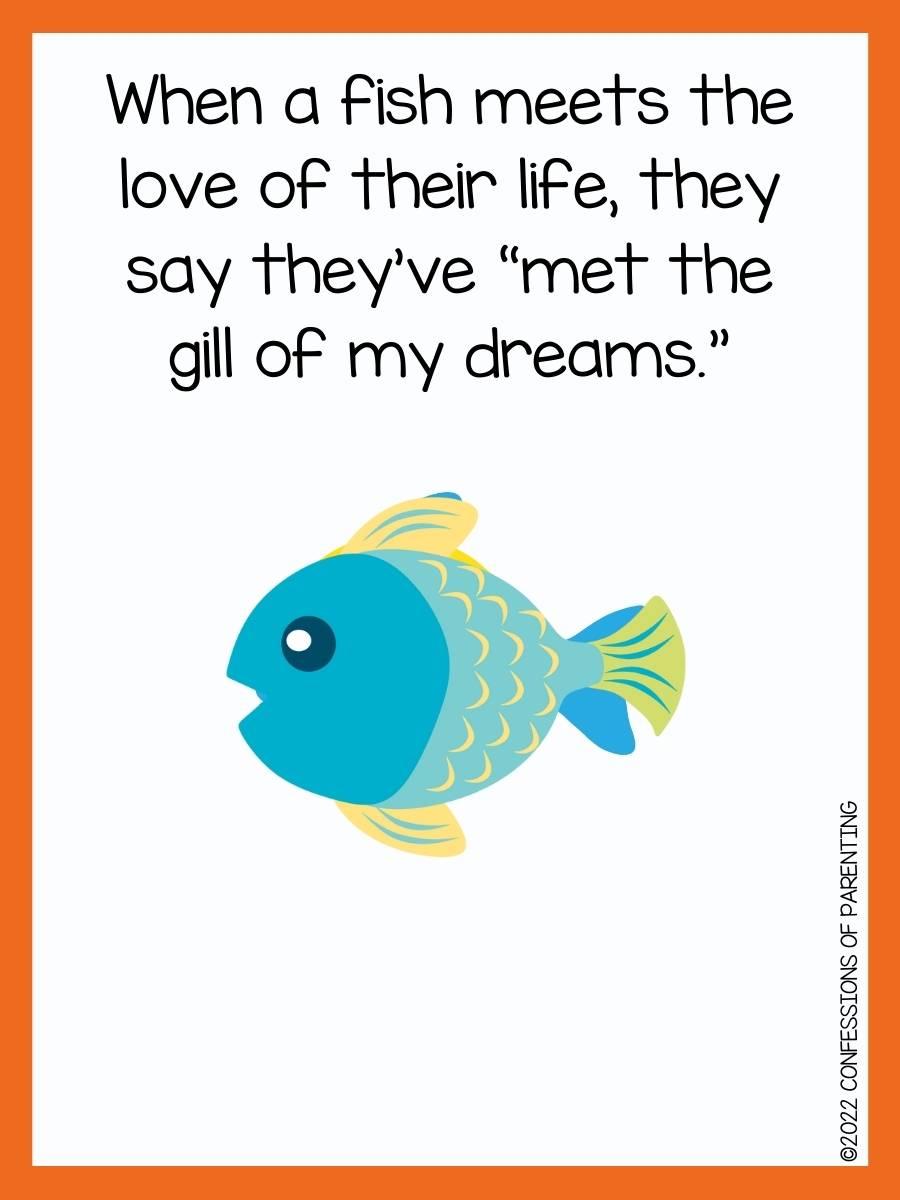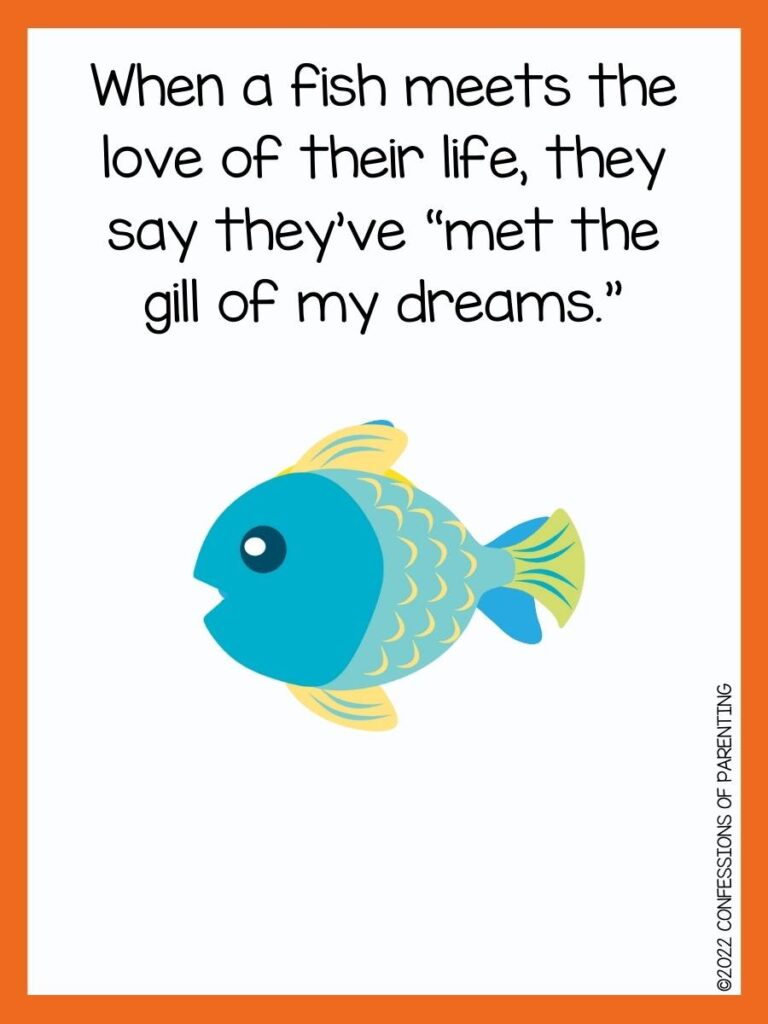 When another fish tries to make you think you're cray-zy, tell them to stop bass-lighting.
Crayfish were offended by the publication of Eat Cray Love because they felt the lack of punctuation might send the wrong message.
The first book of the fish bible is called Craytion.
Surfing the net is great, unless, of course, you're a fish.
Isn't it a bit misleading to call thinly sliced raw beef carp-accio?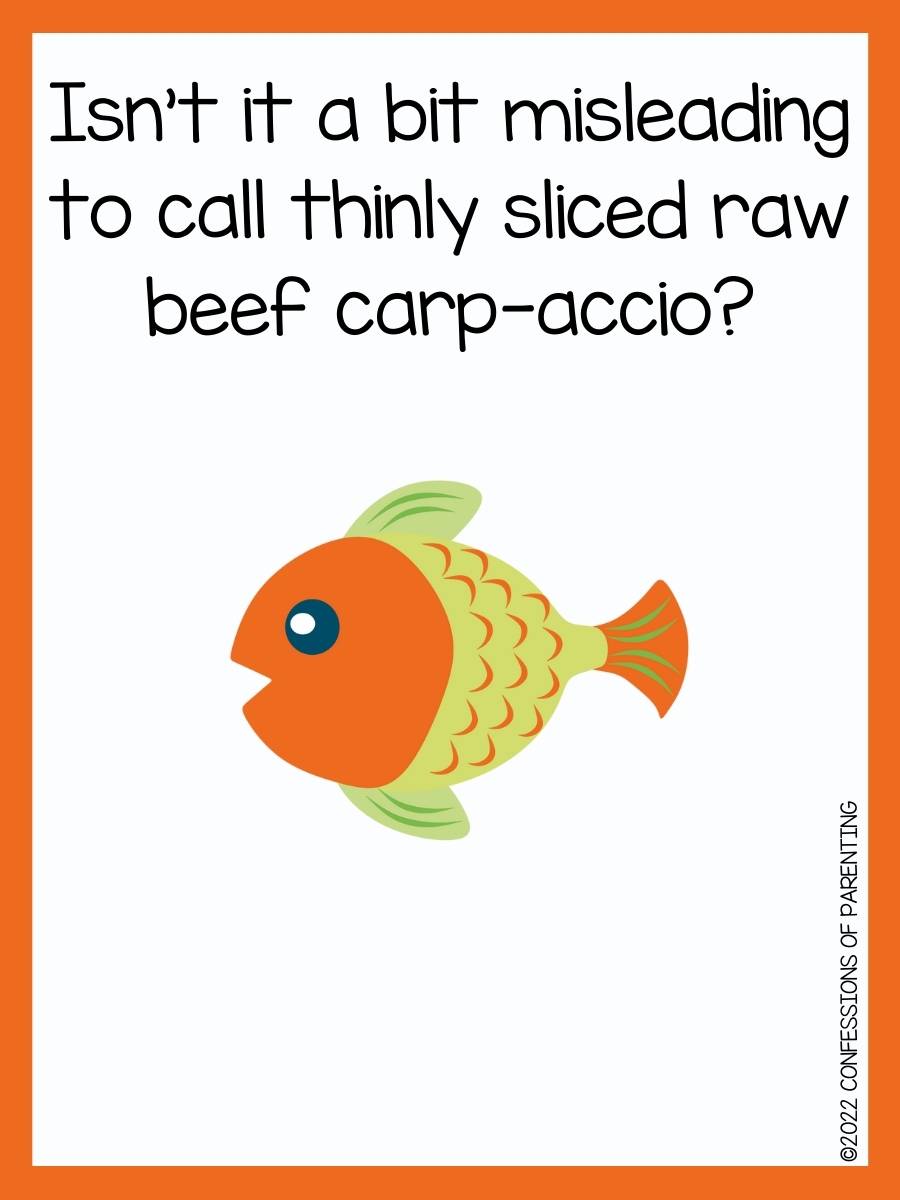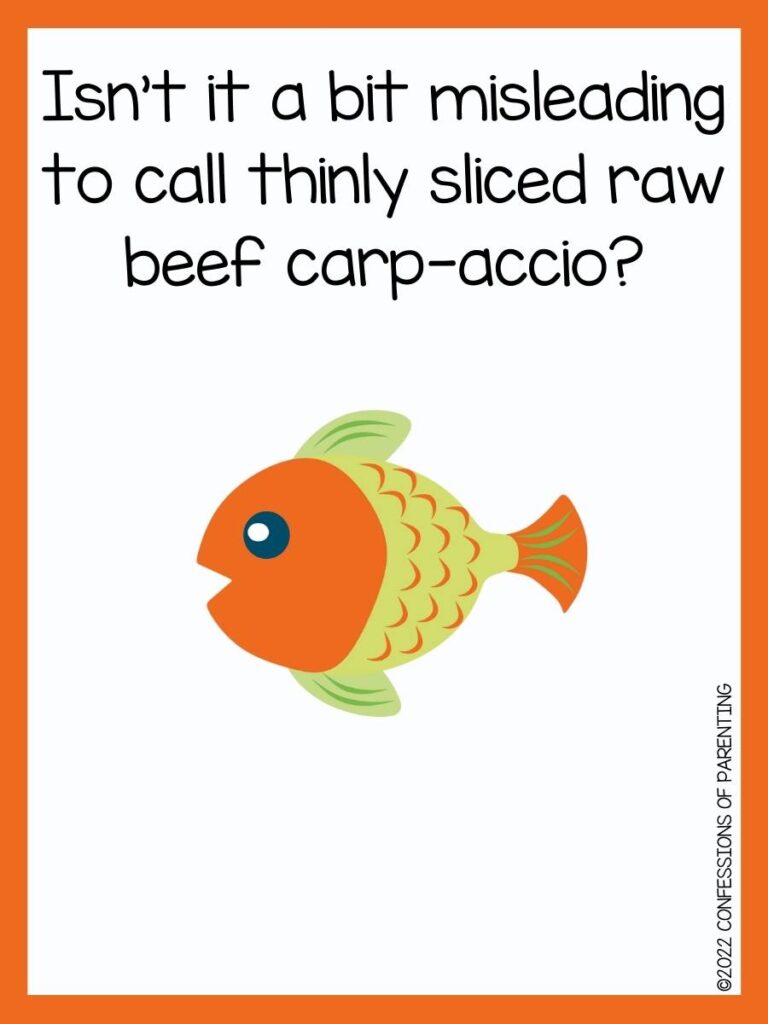 Lobsters would get along a lot better with the other shellfish if they weren't always trying to lobster things up.
It's funny how fish never seem to know what you're talking aboat.
The thing salmons don't like about tunas is everything's a big sea-cret.
Never try to talk to a fish before they've caf-fin-ated.
What did you think of the series fin-ale? Well, it wasn't the bass-ed.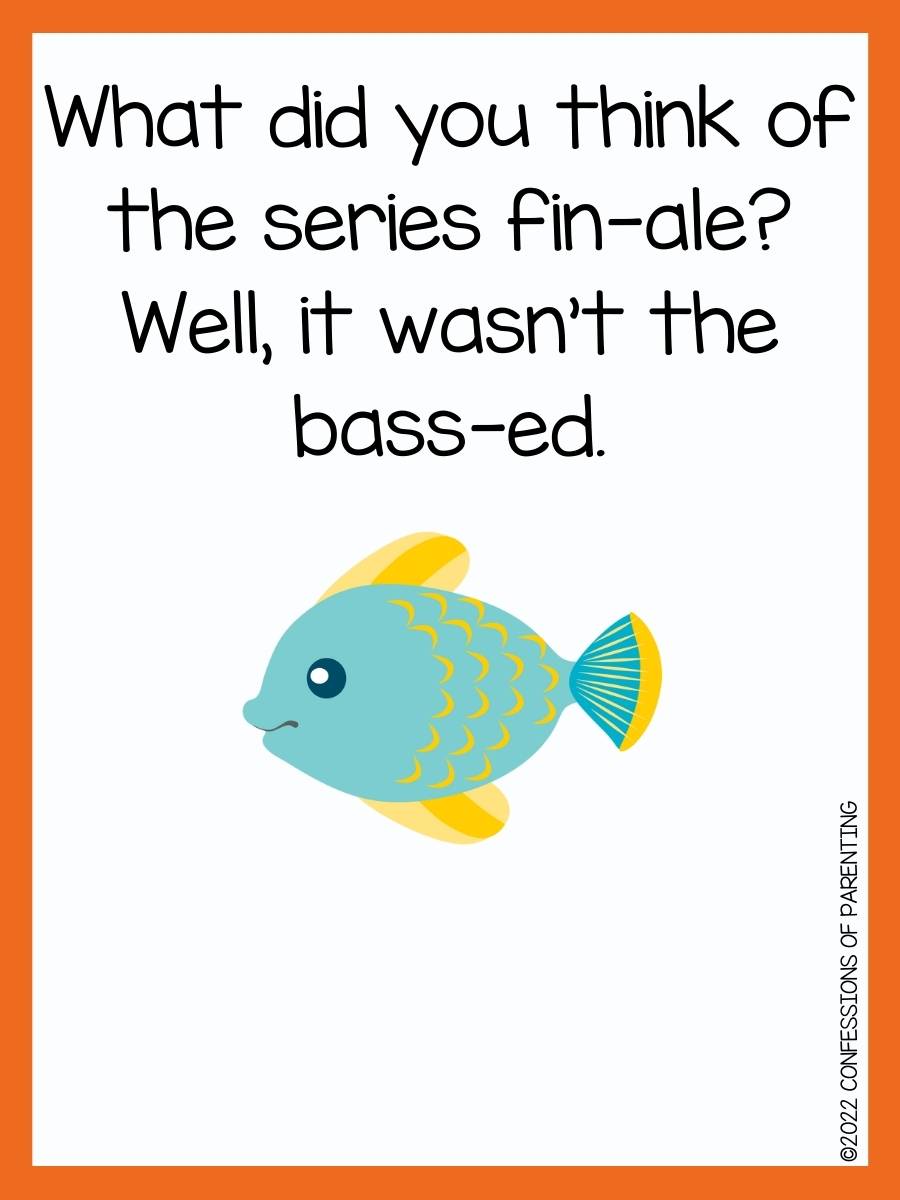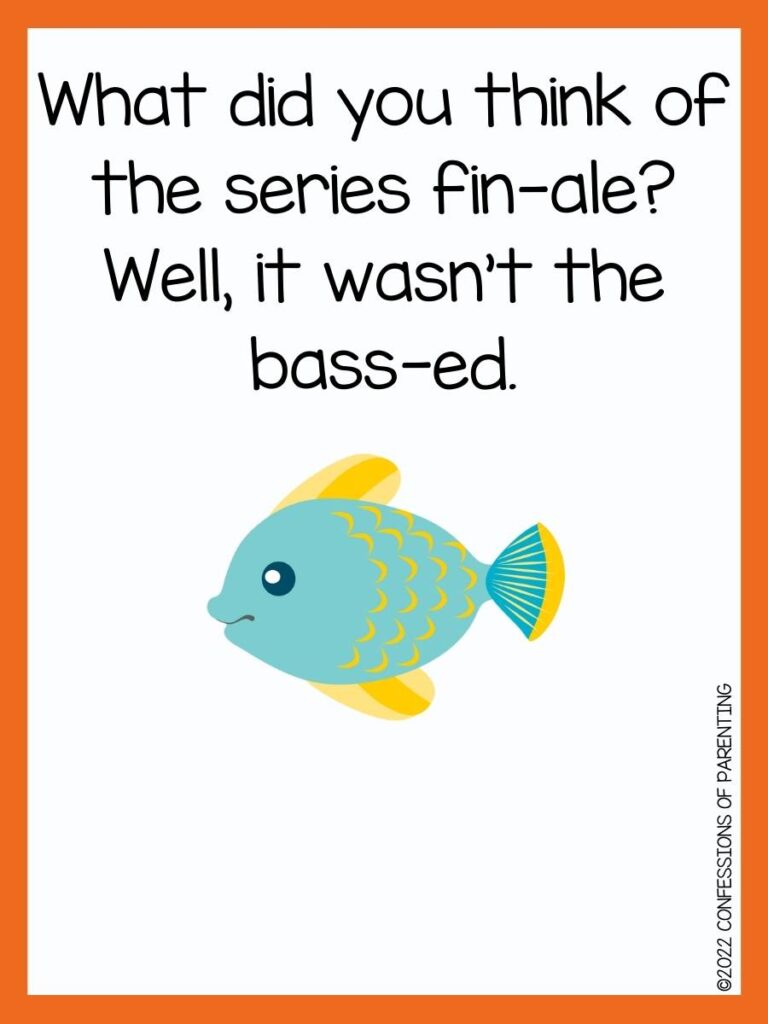 Fish children should piscine and not heard.
Have you heard the fisherman's anthem? Osetra can you sea by the dolphin fish bite…
These days they let pretty much anyone o-fish-iate at weddings, as long as they have a certificate from the net.
If you think of a betta pun, be sure to drop us a line.
Seems a bit fishy to me.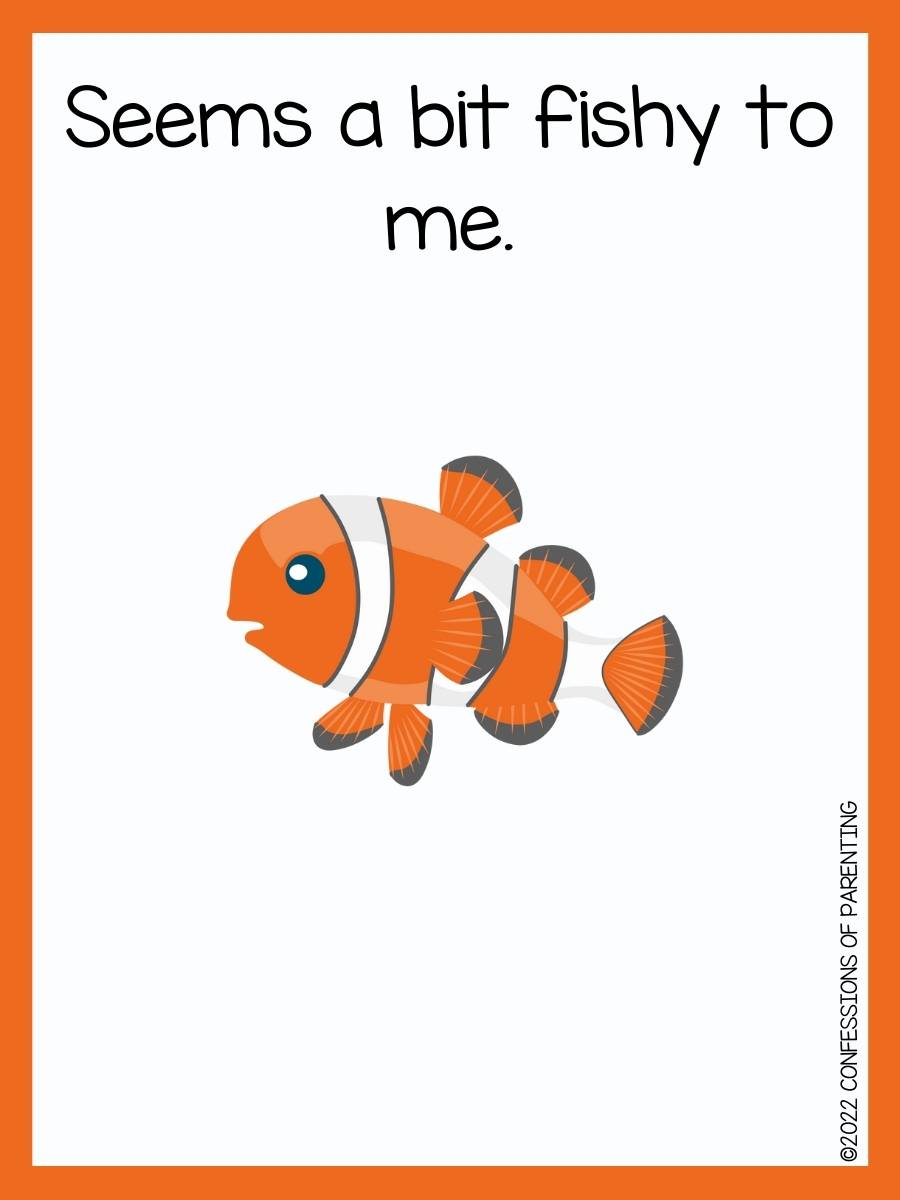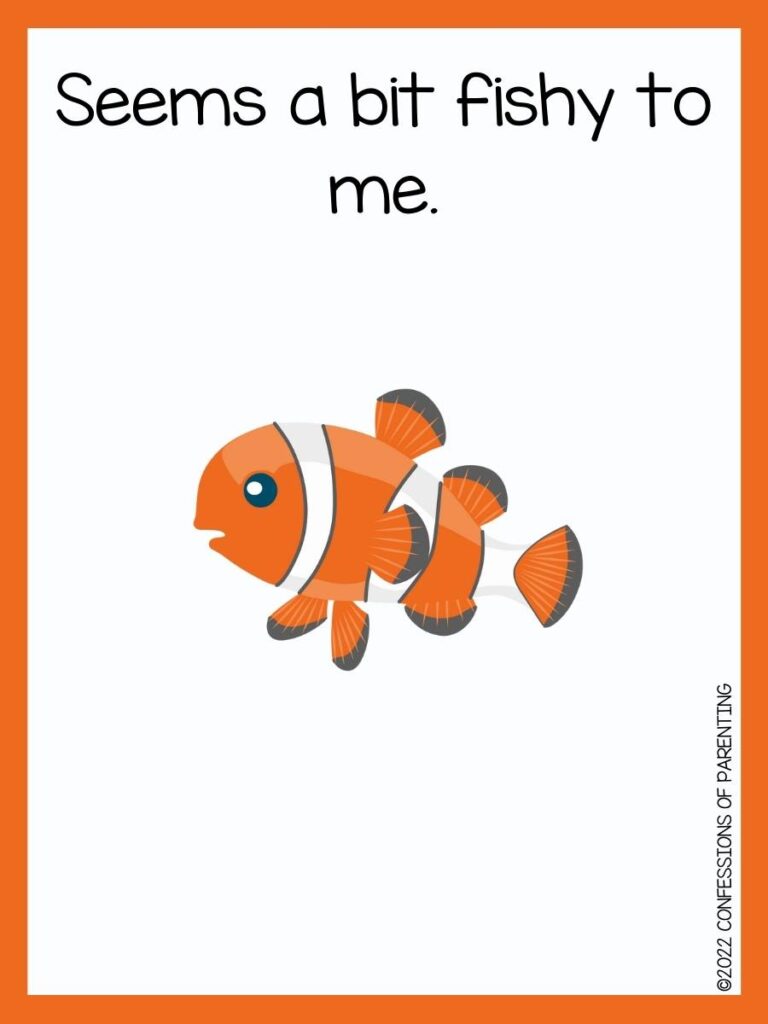 Dear Cod, I laughed so hard!
He really schooled you then.
Not bad, cod do better…
We should dolphinitely scale back on the fish puns.
Any fin is possible, just don't trout yourself!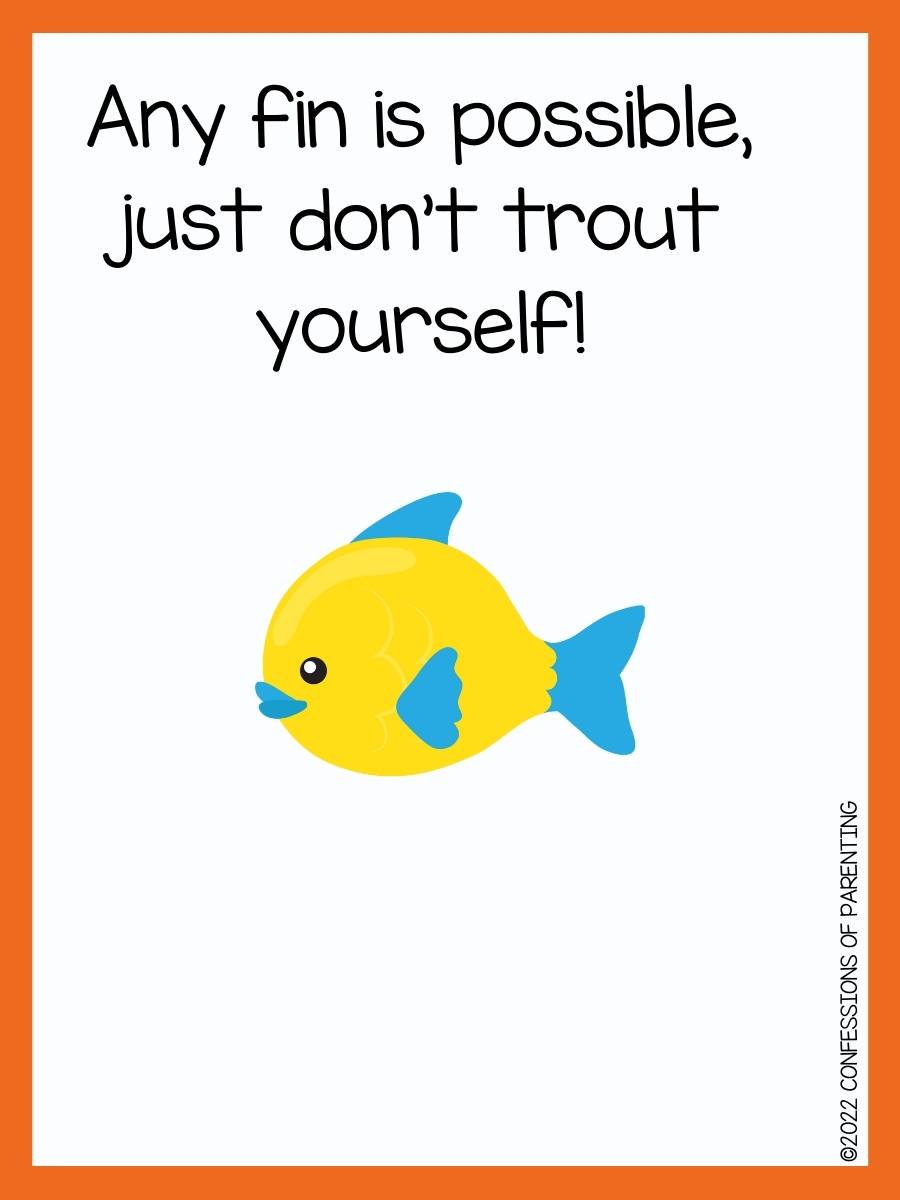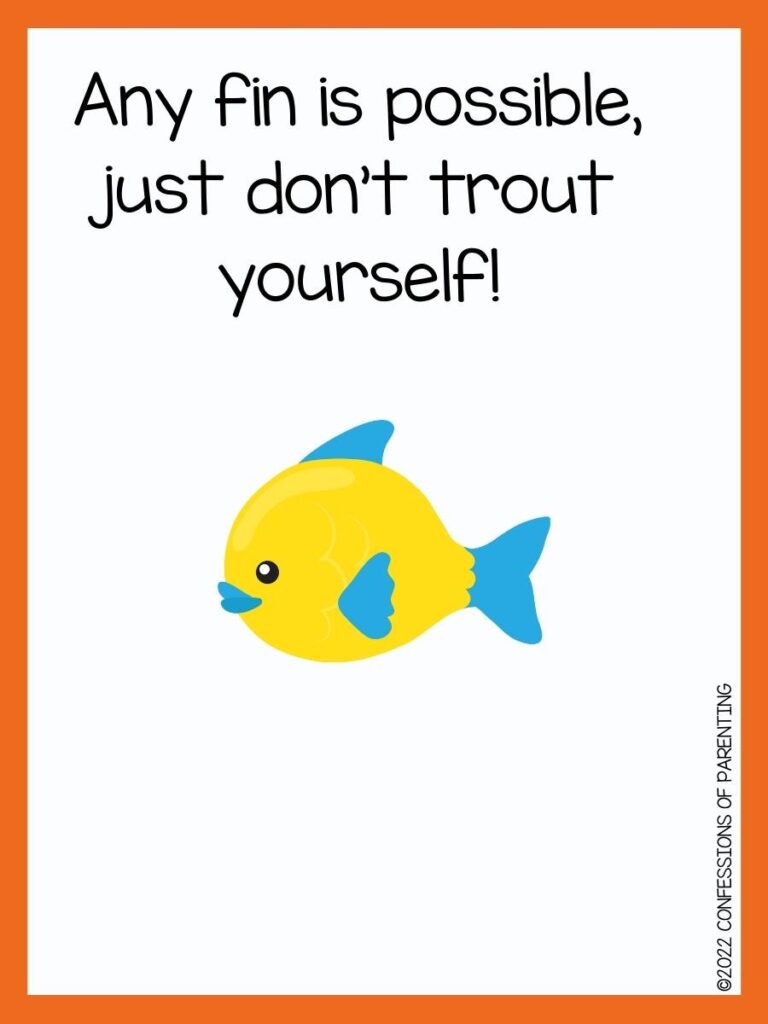 Ahh guys, you're krilling me now!
We, the jury, find this site gill-ty of too many fish puns!
Oh for Gods hake, not another fish pun.
What's this fish pun website you've been herring all about?
It's a great oppor-tuna-ty!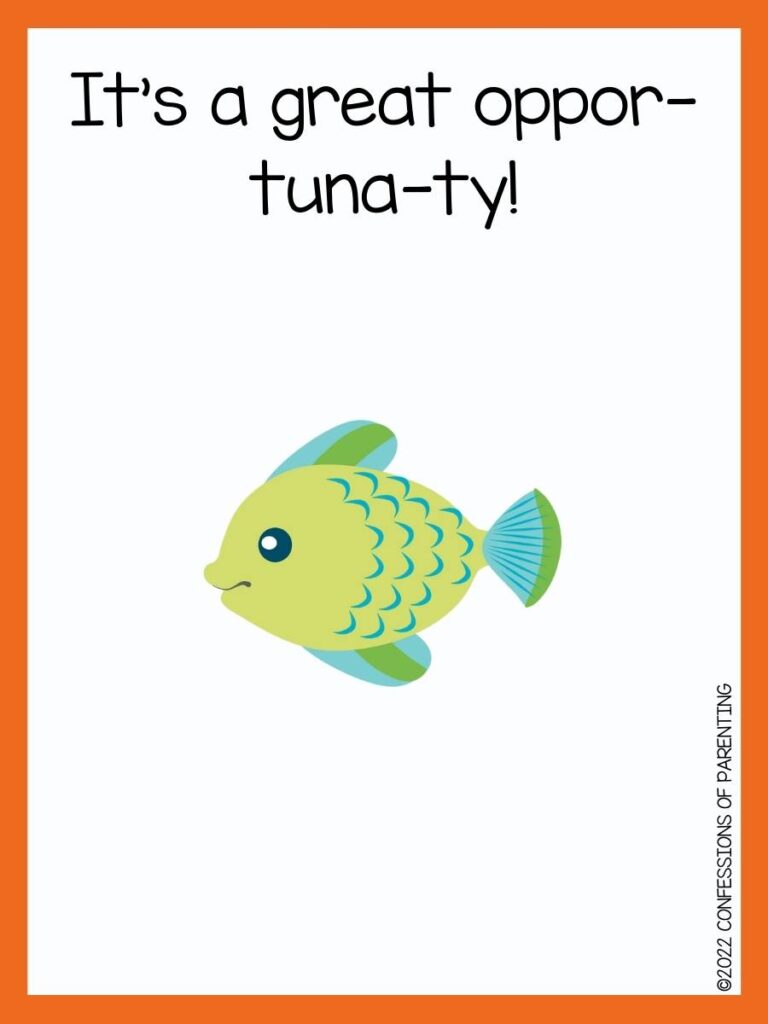 Never trust unlicensed puns – always check they're o-fish-al.
I feel great every day of the week, barramundi.
Have you thought of a fish pun yet, or do you need some time to mullet over?
You don't have to be a brain sturgeon to come up with a fish pun.
What a load of pollocks!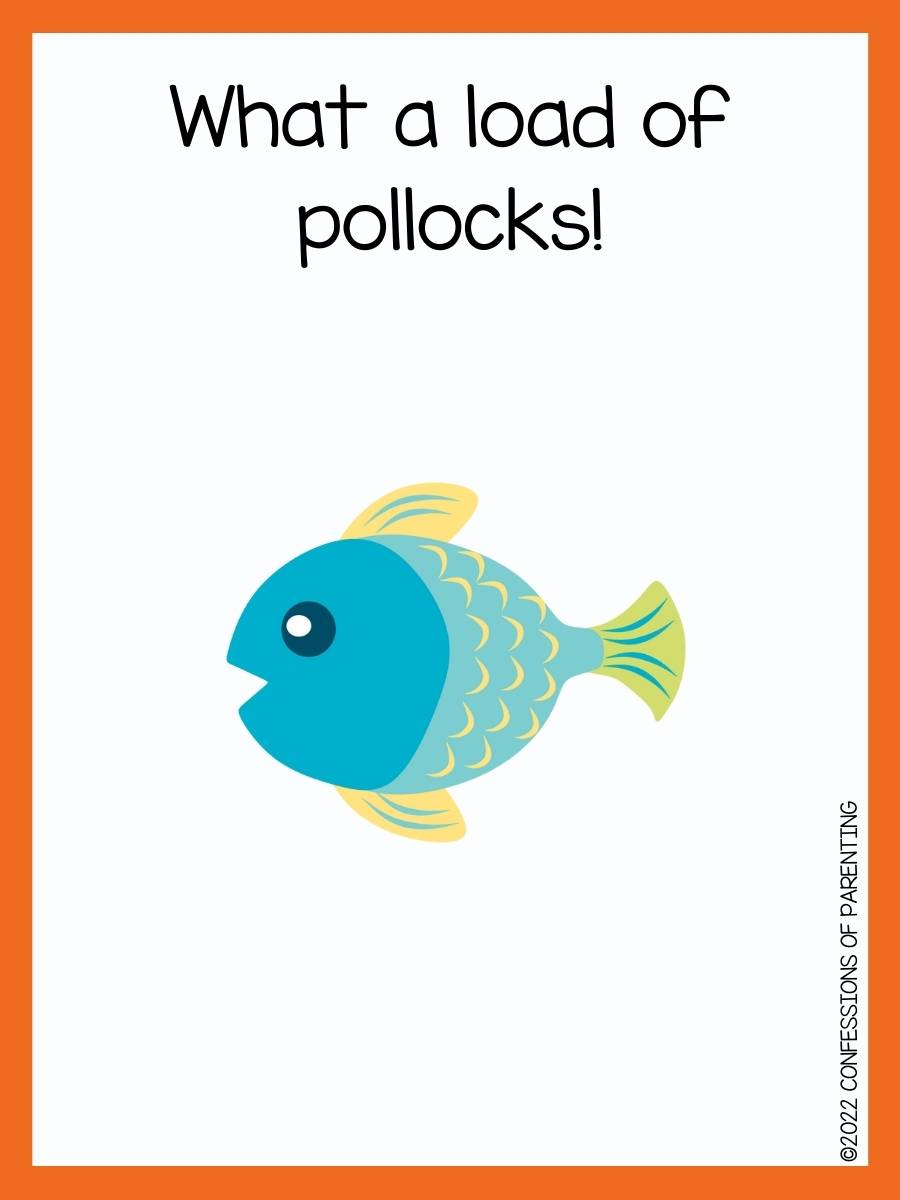 Hoping to avoid turtle disaster.
Create your own fish pun, don't leave it to salmon else.
Can you do any betta than this?
Are you trying to gill-t me into thinking of a better pun?
This is going to get a-trout-cious real quick!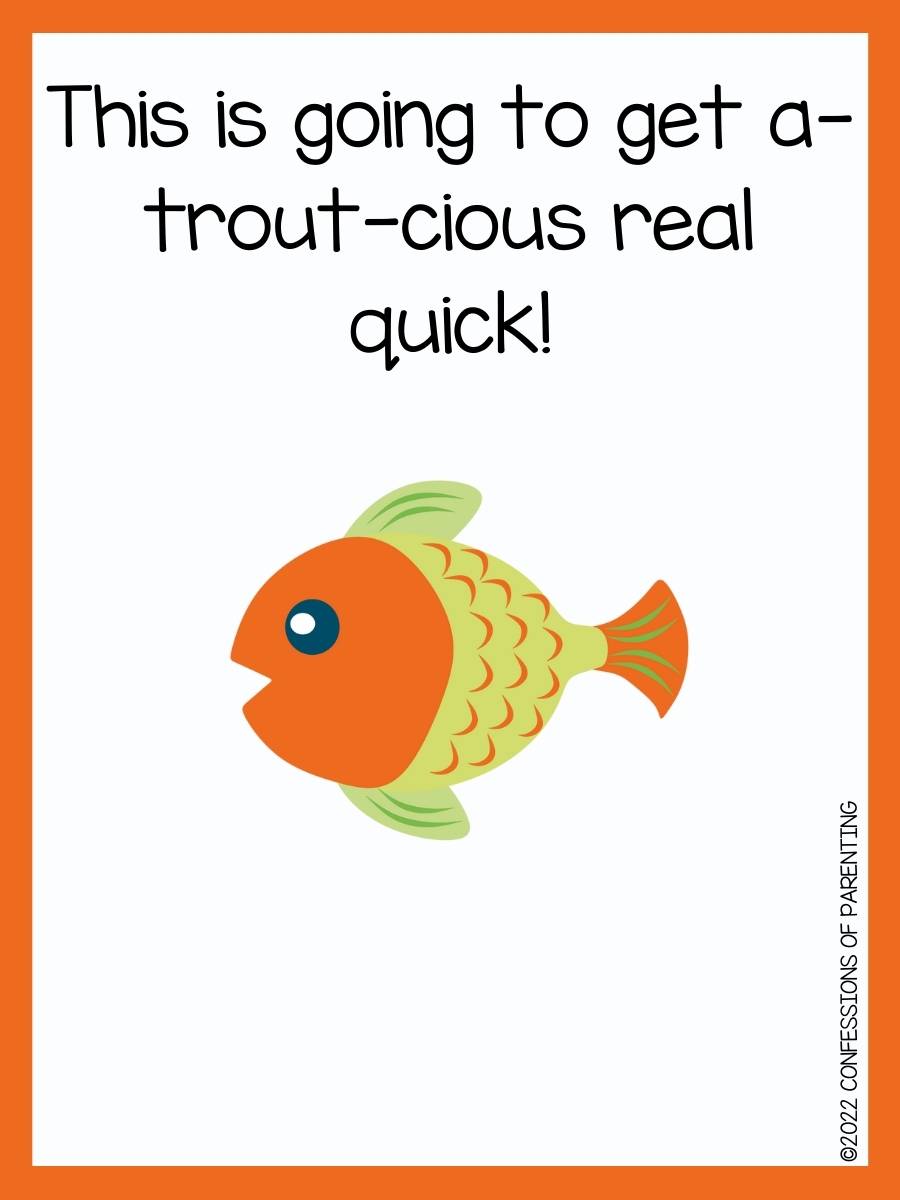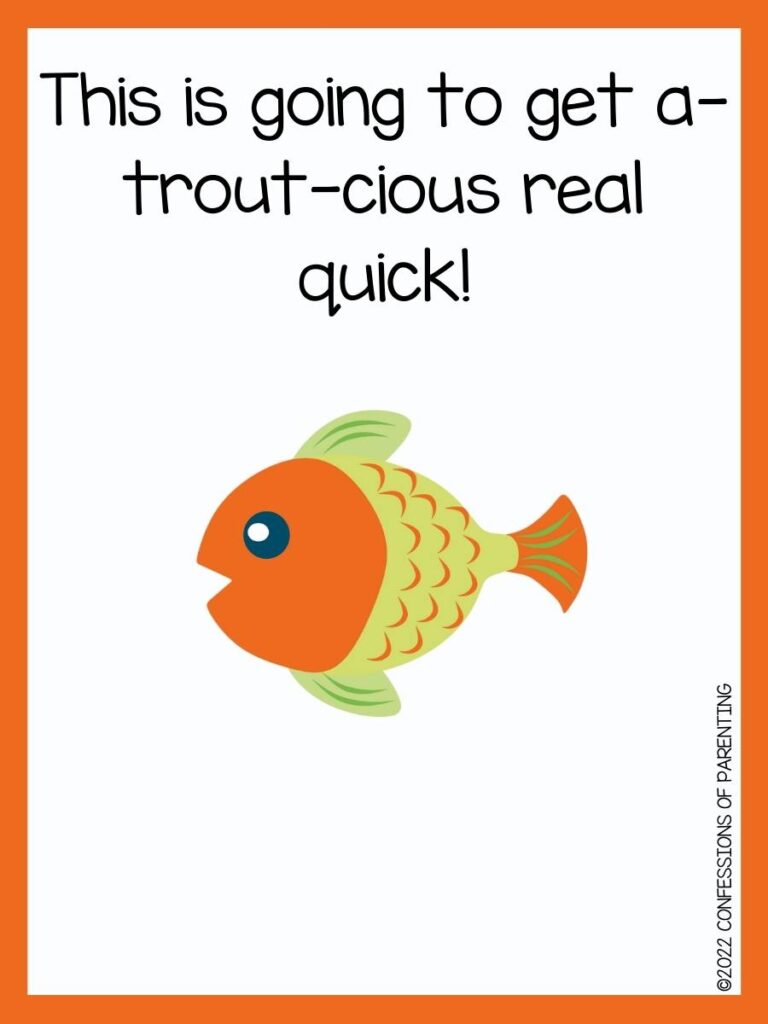 This is neither the time, nor the plaice for this.
My dad was a fisherman, but he quit because his net income wasn't enough.
Stop carping on; you're giving me a haddock.
Sorry, my attempt at a joke was a pile of carp.
I'm hooked!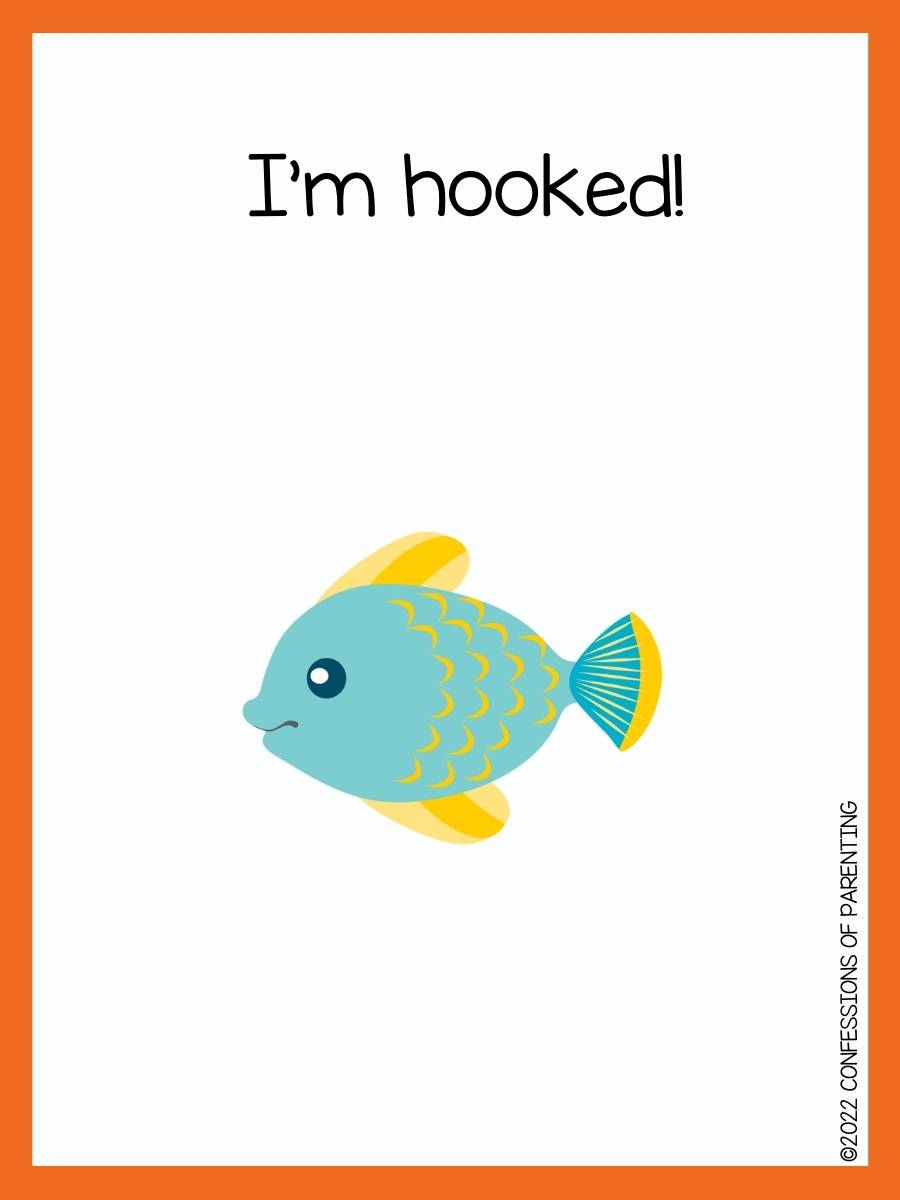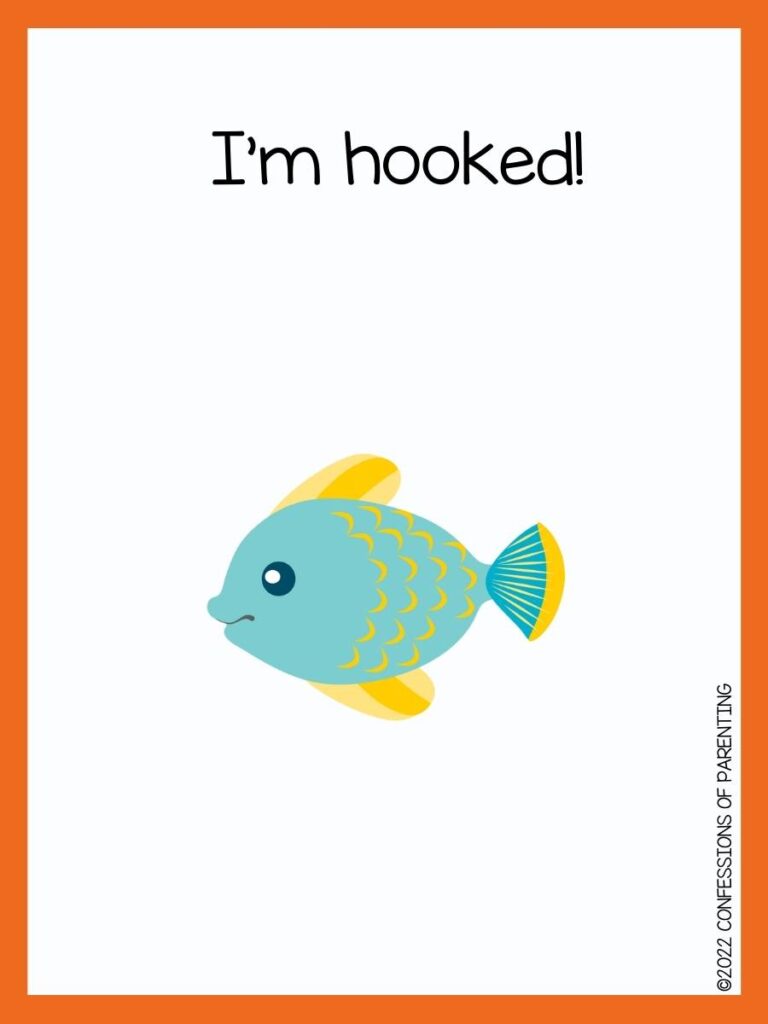 You're not quite up to scale.
I won't be cod dead participating in this.
I'm waiting for someone else to mussel in on this now.
Who will be the sole survivor?
I really believe that to the bottom of my sole.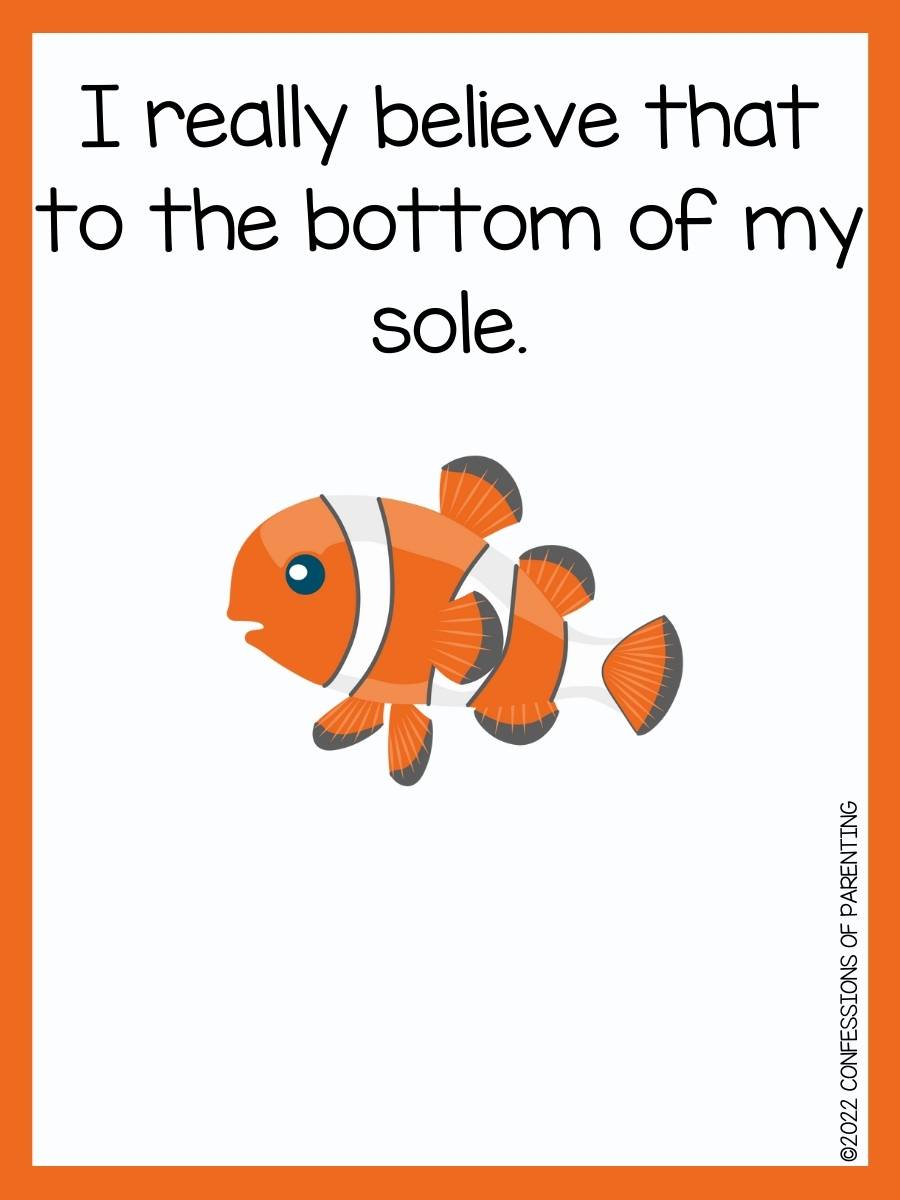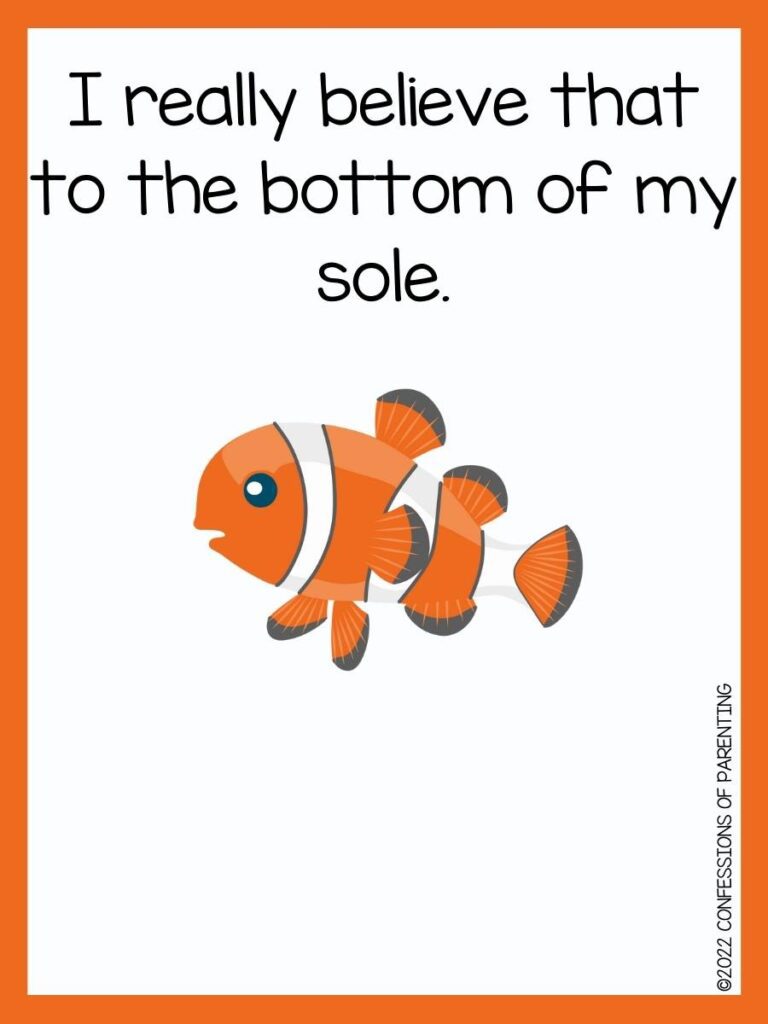 Salmon had to say it.
This is a big issue a-monk fishermen.
You Betta believe it.
Fishcious rumors.
I think you're fintastic.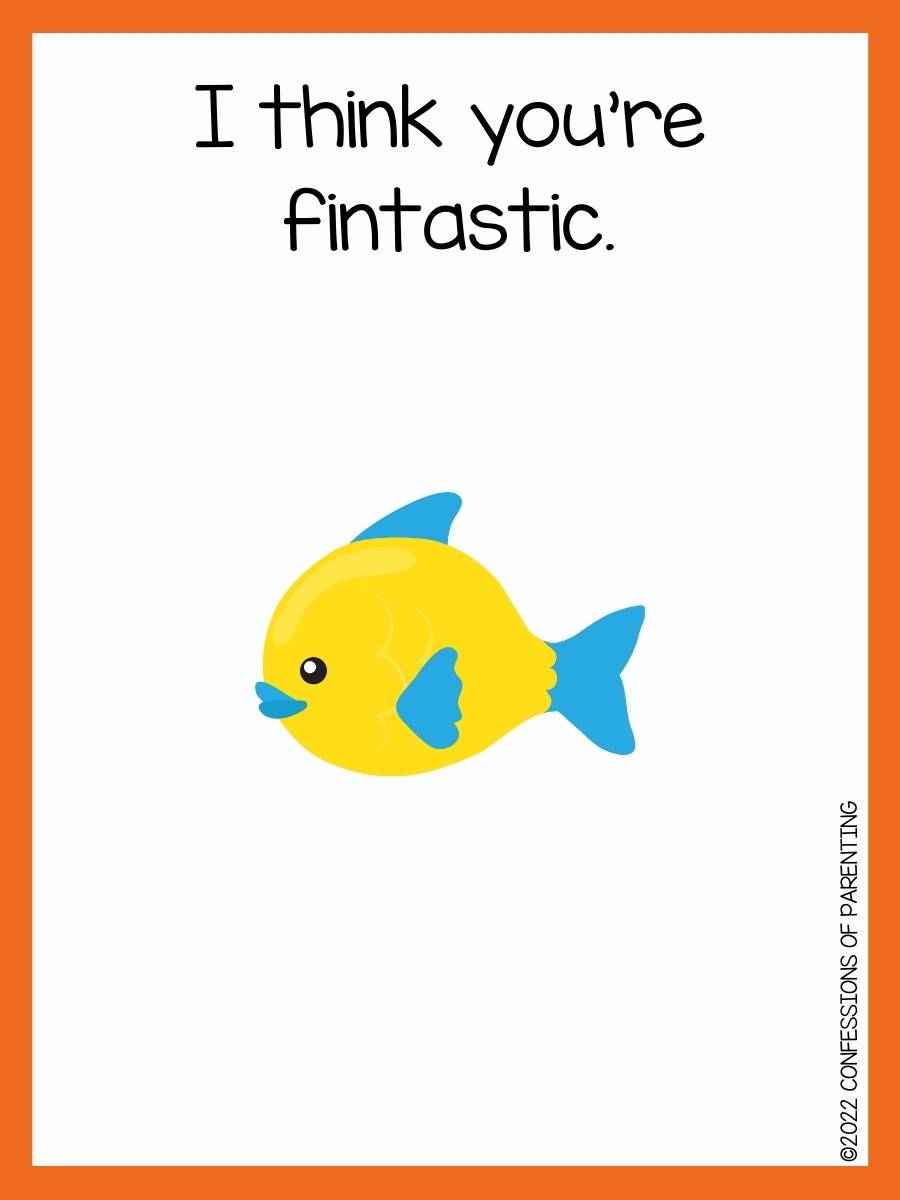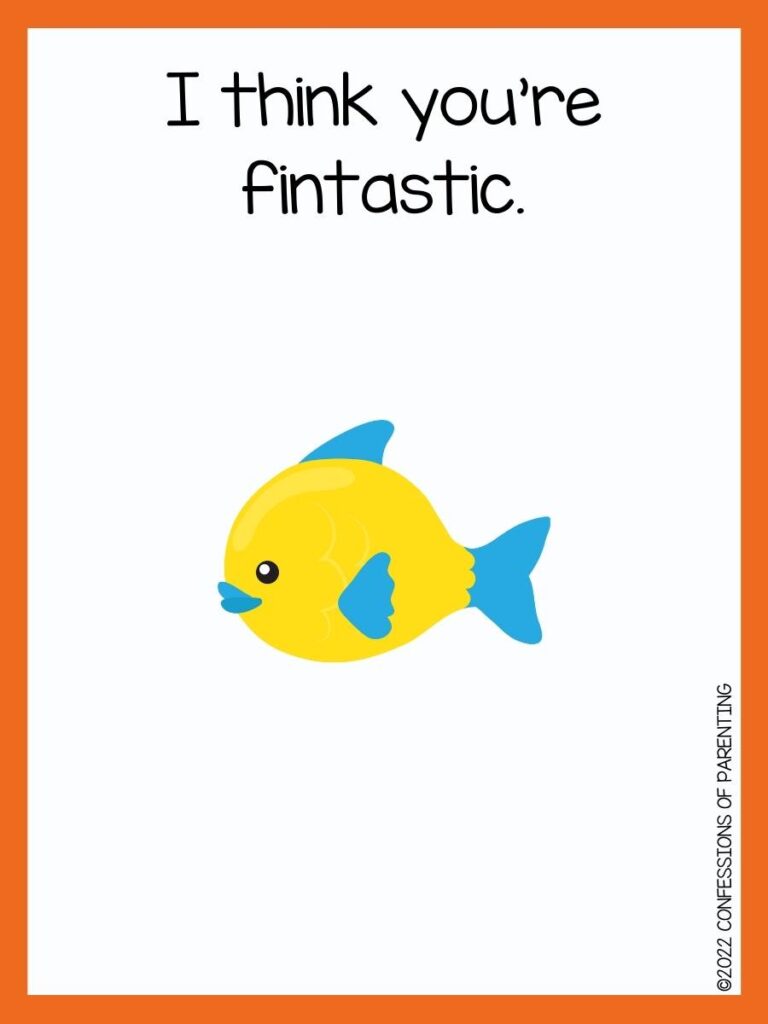 DJ's aren't allowed to work at fish markets because they're always dropping the bass.
Cod you pass me the salt?
Most fish will tell you they like their food cold, and their bait a little worm.
Some people don't like fish puns, but they are kraken me up!
We're swimming along nicely.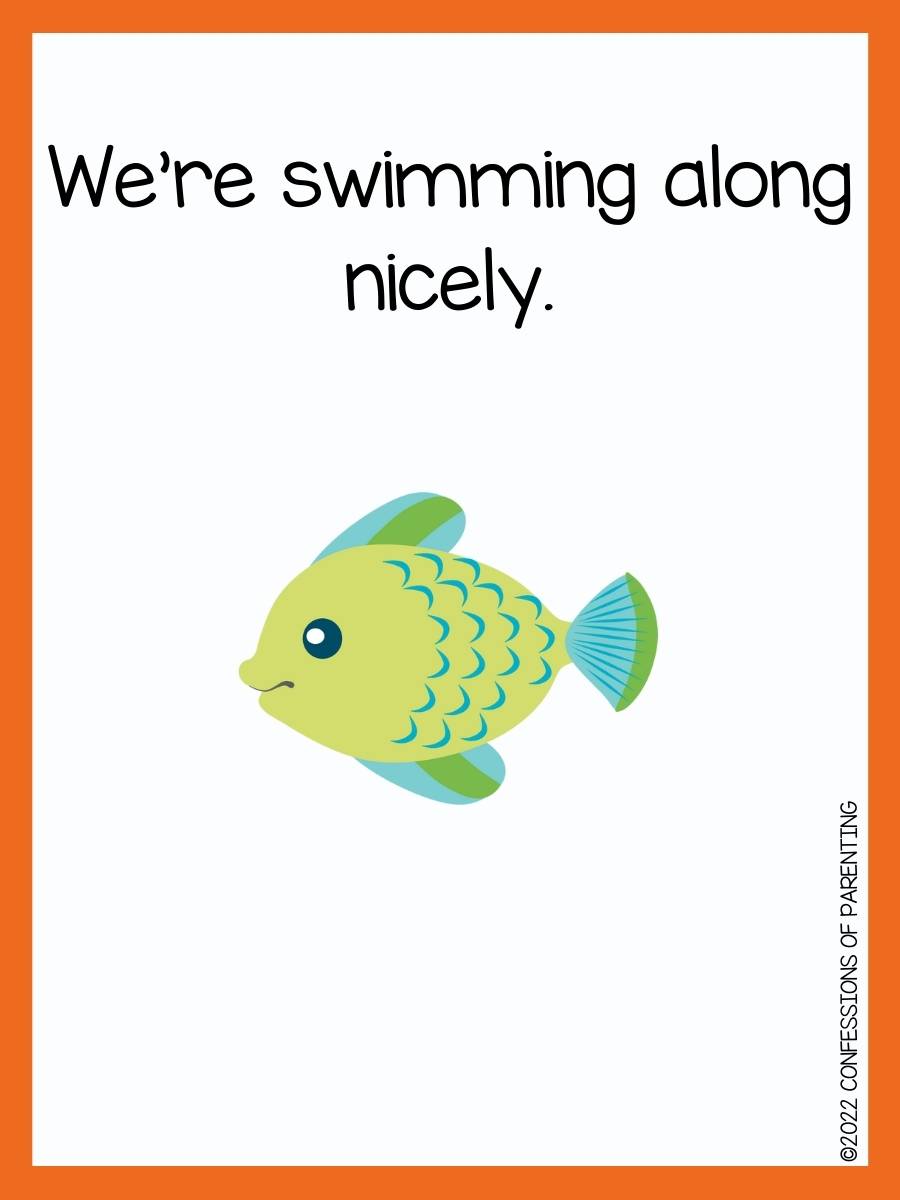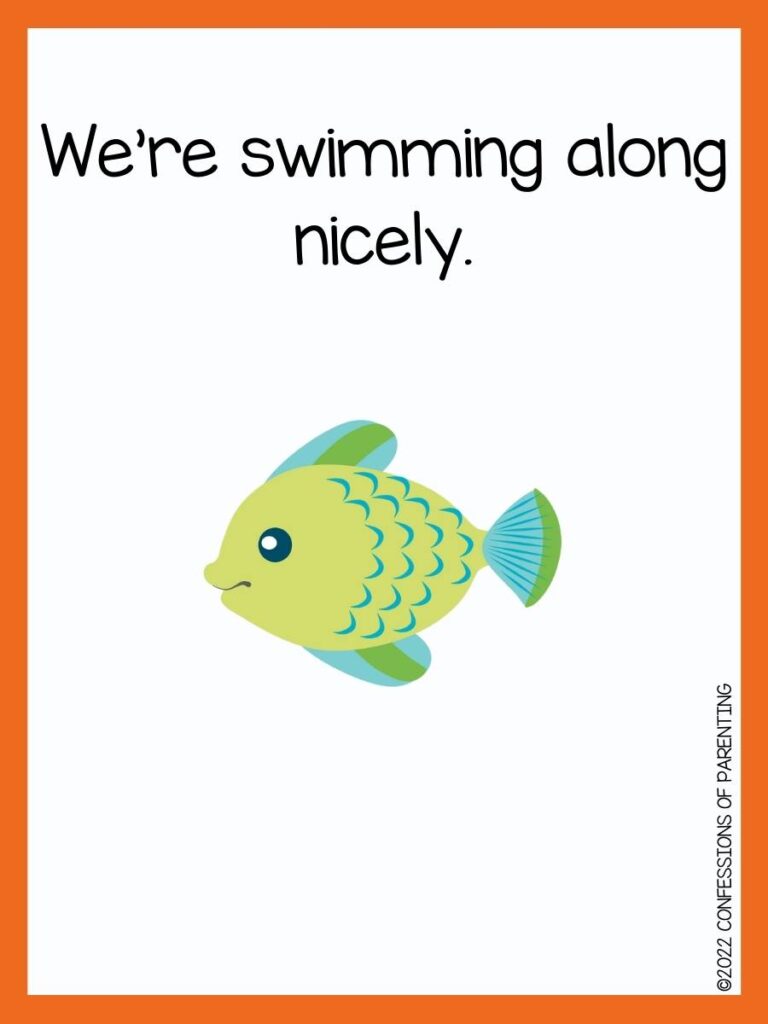 Cod that was bad, eely bad!
Cod I borrow you for a few minutes?
I'll bait these puns can't go on for much longer.
All I sea are bass-icaly cod awful puns!
I'm stuck between a rock and a hard plaice now!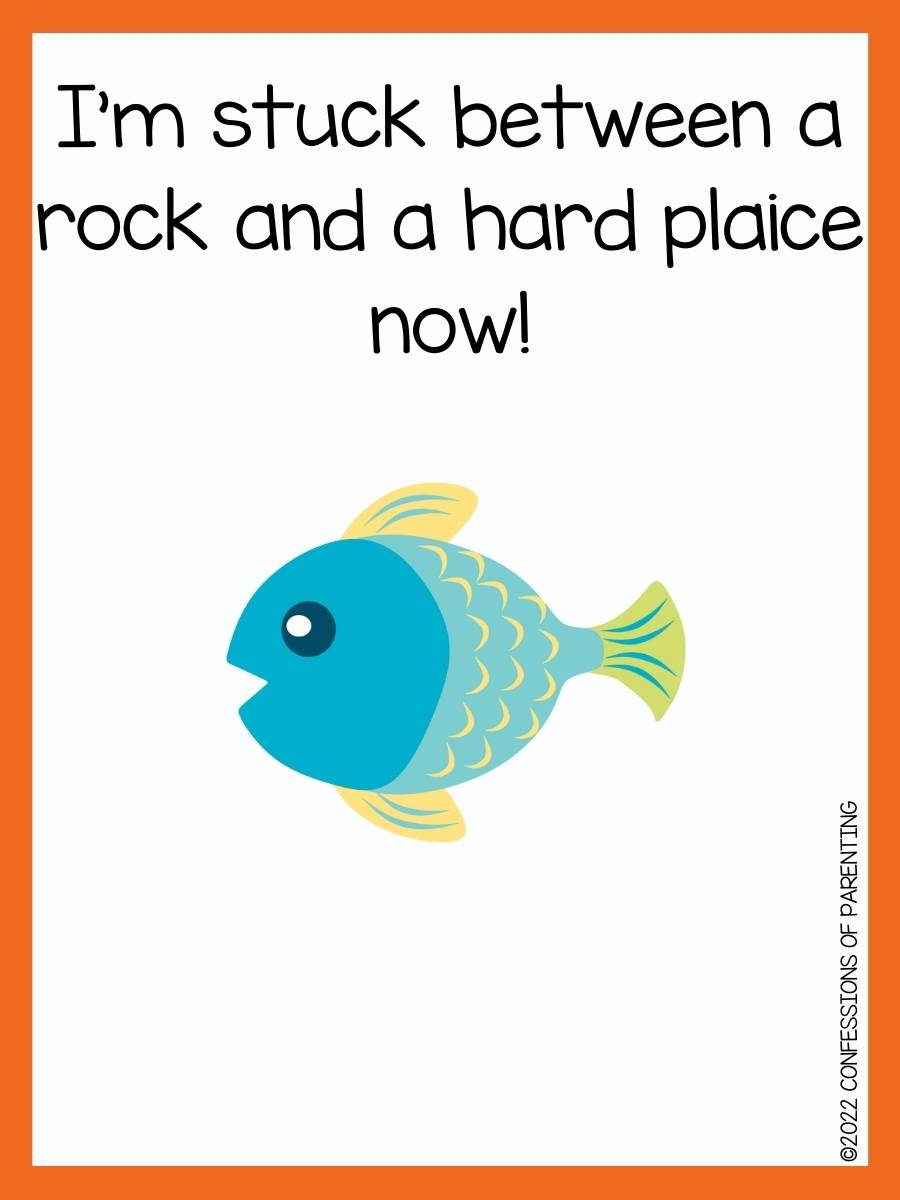 You've met your nemo-sis.
You're clearly a Dab hand at this.
Anyone else want to rise to the bait?
You better not, or you'll feel my wrasse!
Don't listen to them, I think you're fin-tastic!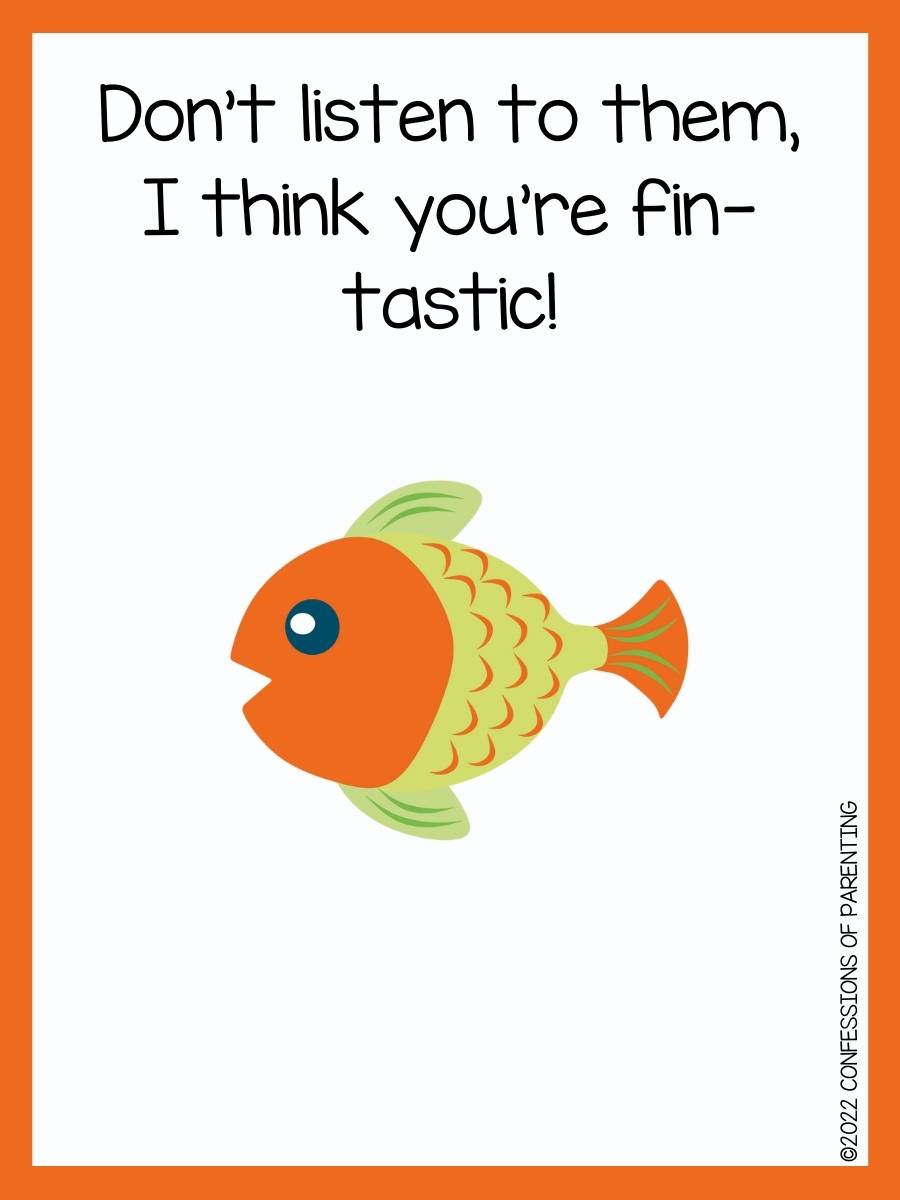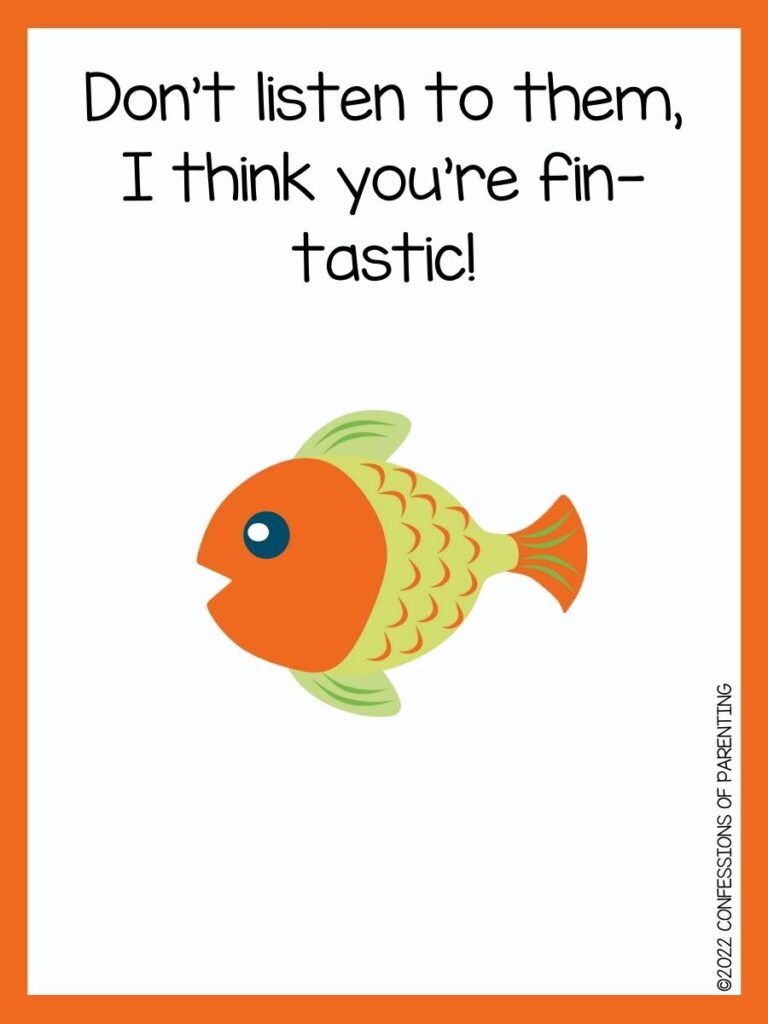 We all just need to clam down now; I'm a bit shell shocked.
Keep your friends close and your anemones closer.
We whaley need to stop now!
Or you're so sofishticated!
If you keep pestering me I'm going to get a haddock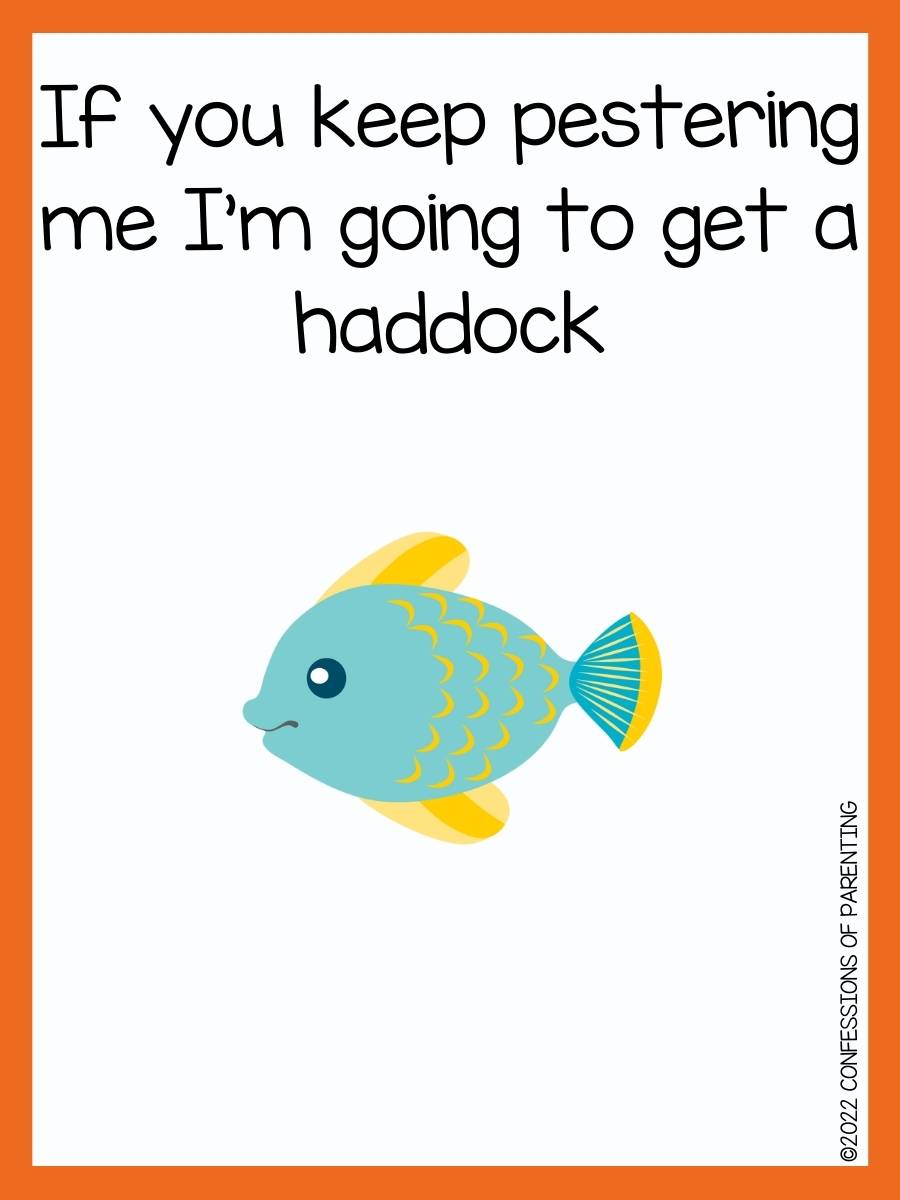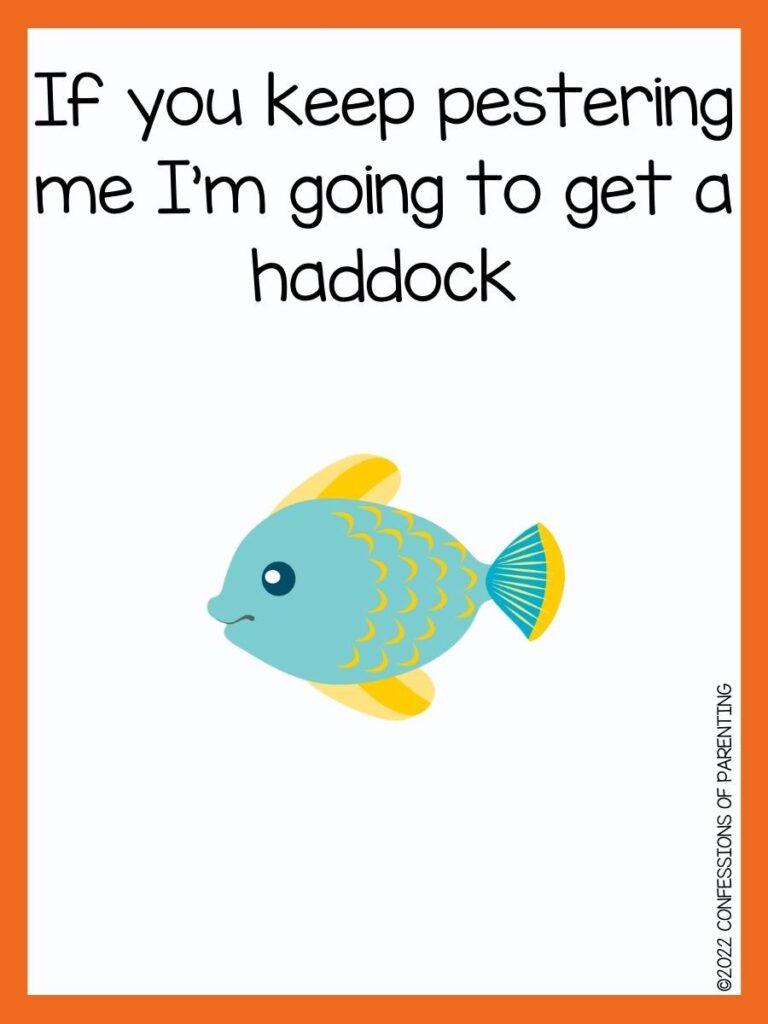 Let minnow if you have any suggestions
This is the first time I'm herring about the issue
This isn't a consensus a-monk the group
That scientist is gilliant!
I will love you for a krill-ion years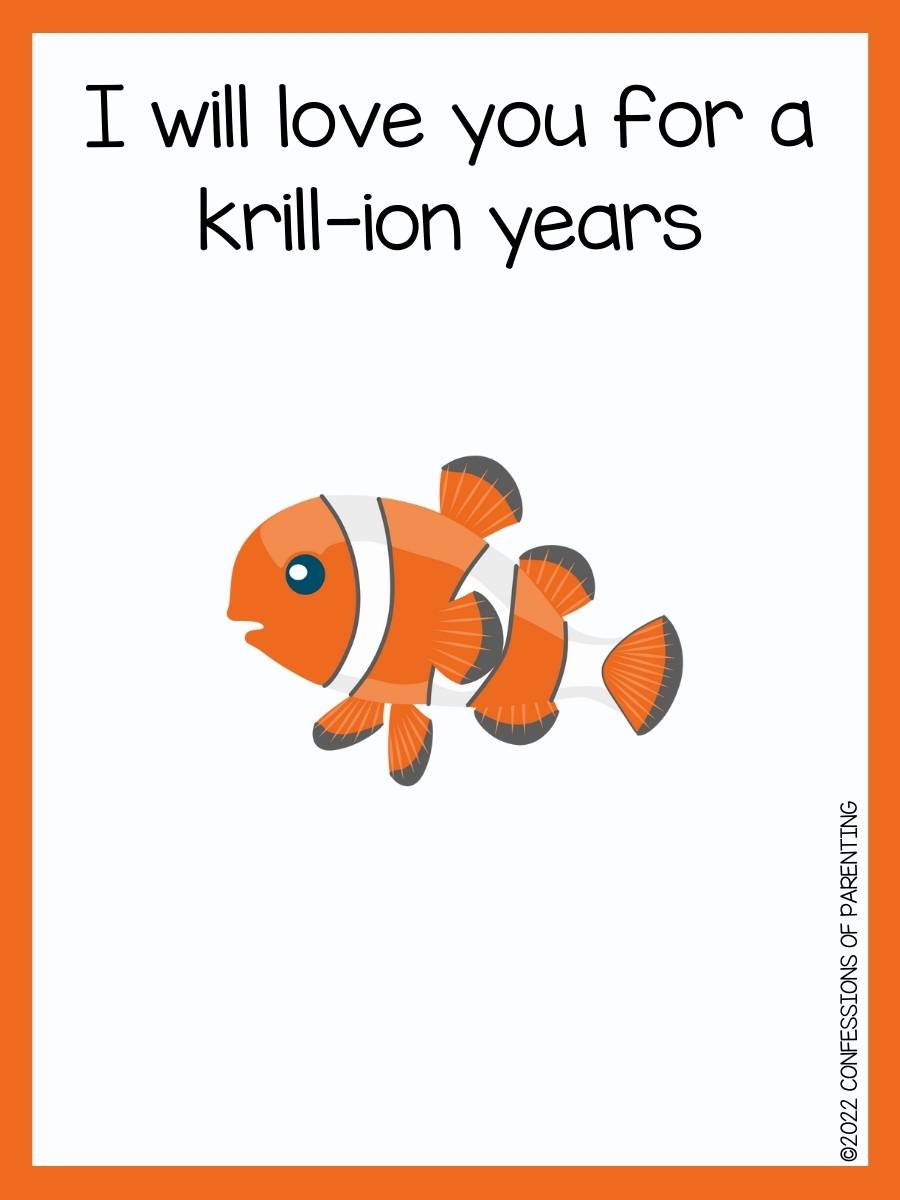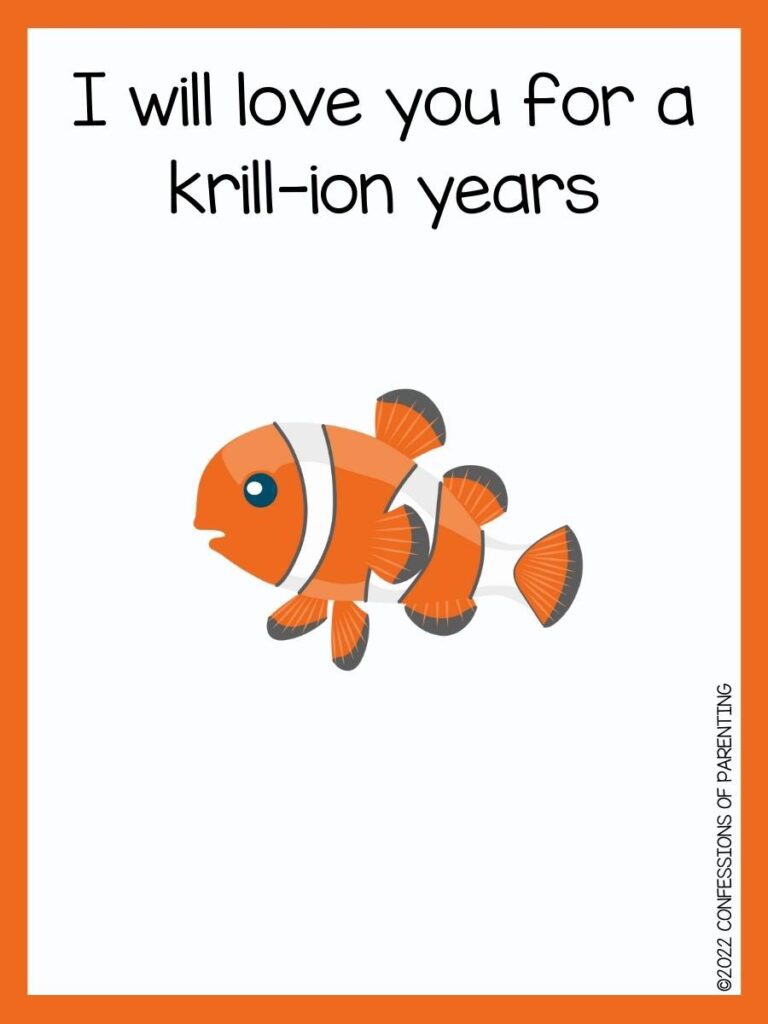 I wouldn't be cod dead wearing that
Salmon, call a doctor!
Stop spreading those fishcious rumors
Holy carp we're only halfway through the week
Stop being so koi about it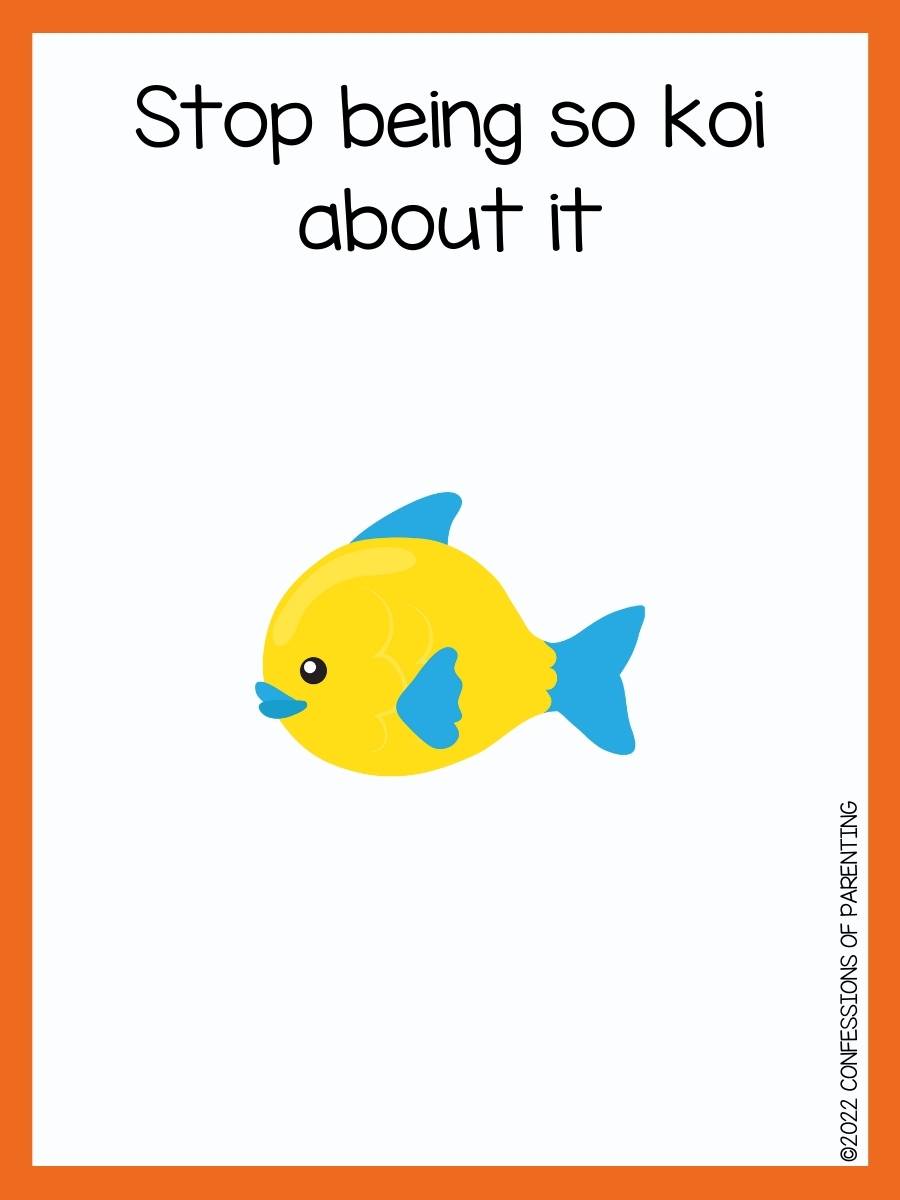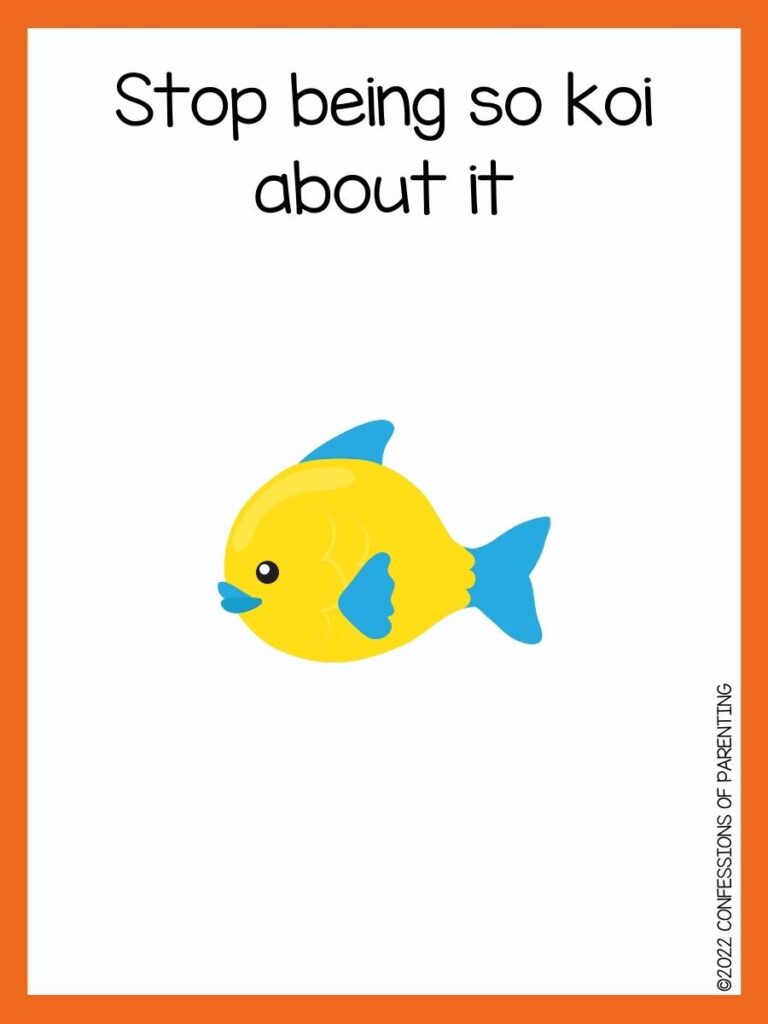 Carp-e diem!
It looks like we're piranha roll now!
Cod you pass me the pepper?
I've haddock with these shenanigans!
I'll bait that fish can't swim on for much longer!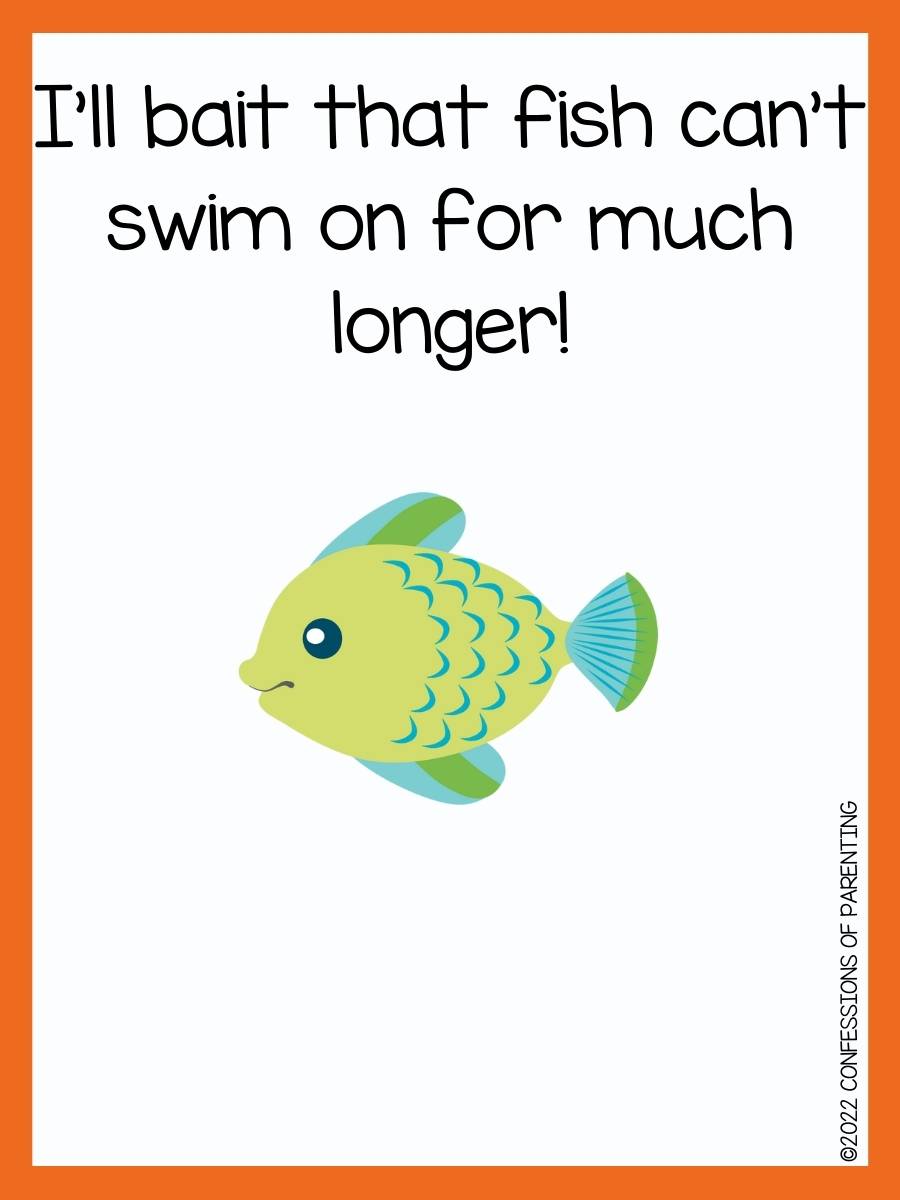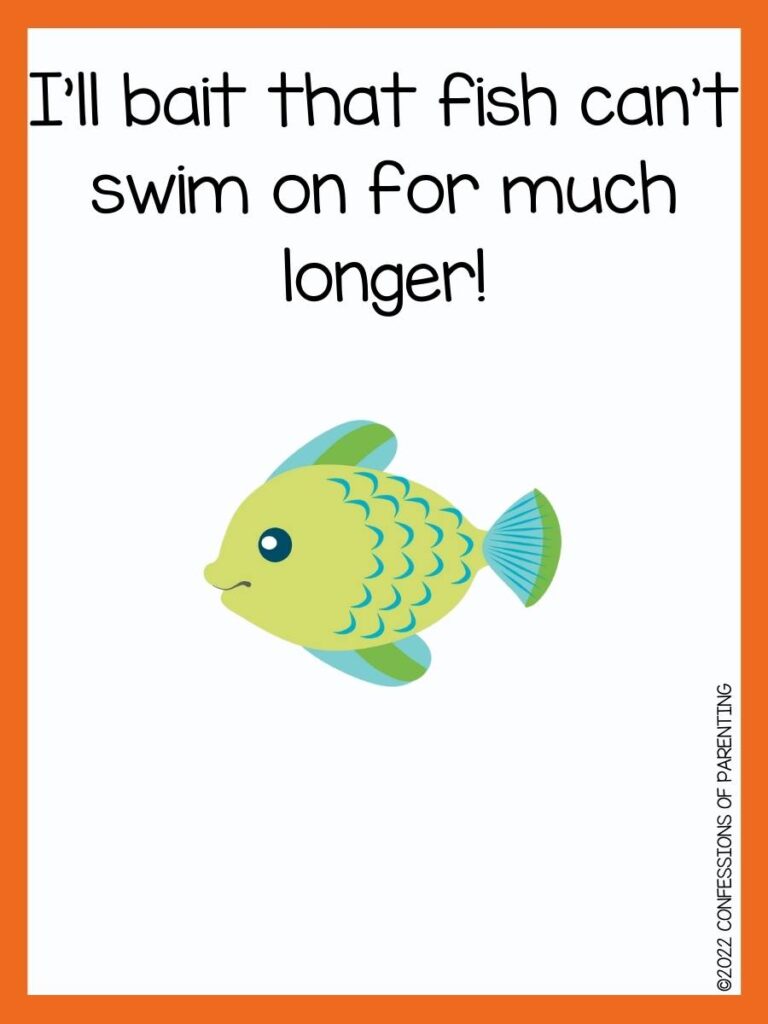 Nope, I never said any fin!
This is a big issue a-monk fishermen.
OMC- Oh my cod!
Oh for cod's hake, leave me alone!
Salmon, call 911!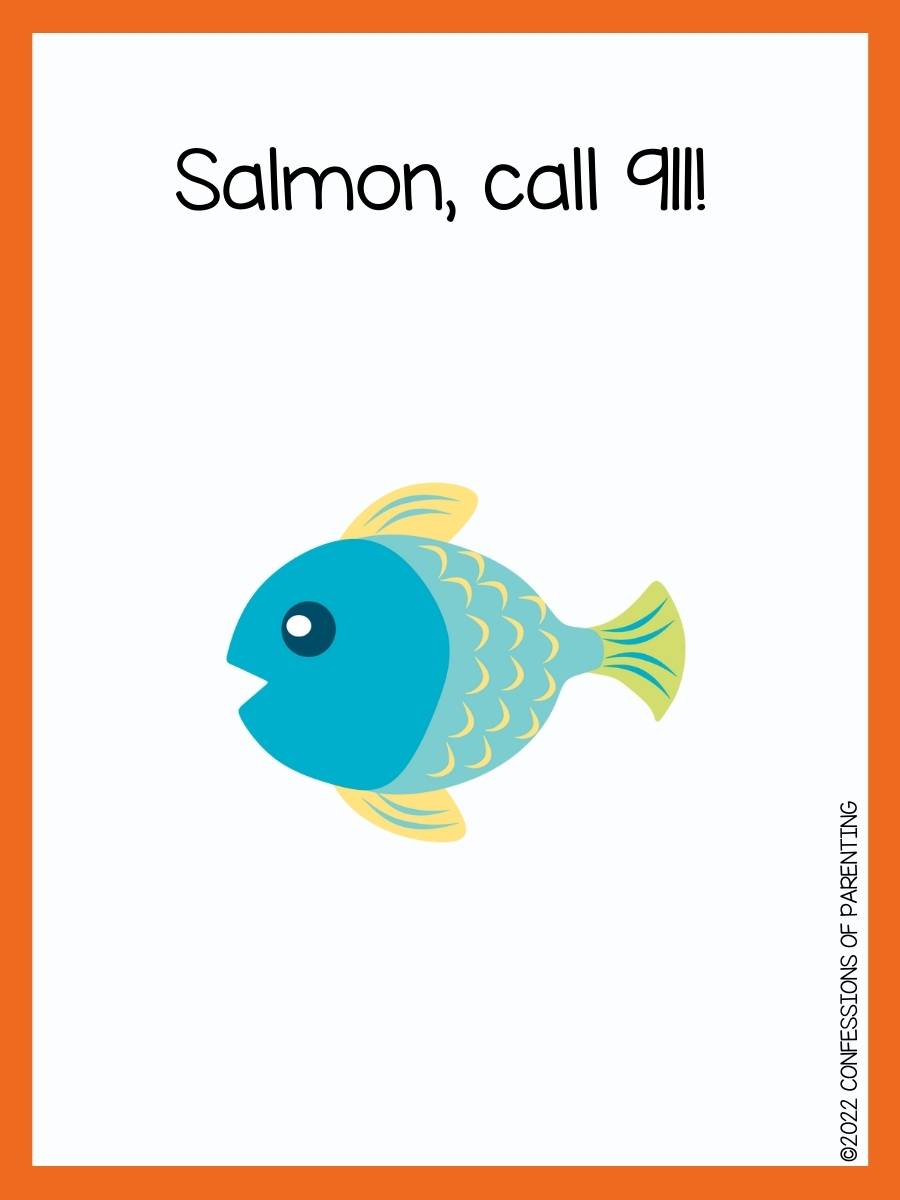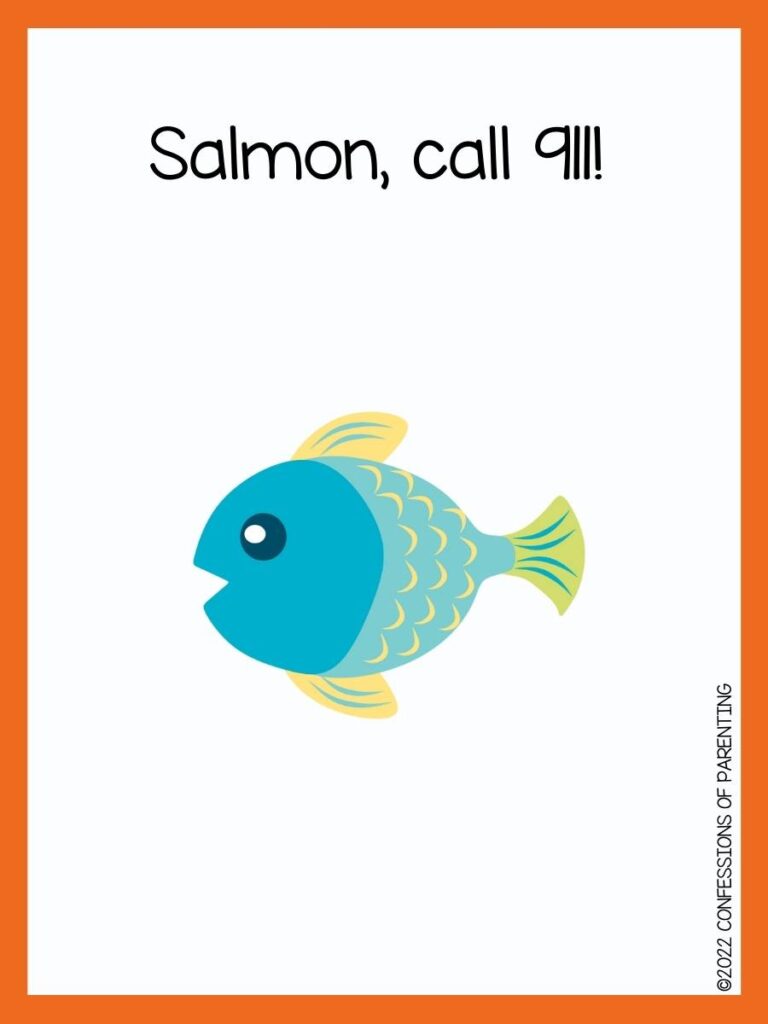 Please, stop with those fishcious rumors.
Cod you pass me the sugar, please?
Best fishes on your anniversary!
This is fin-teresting topic.
Get trout of here.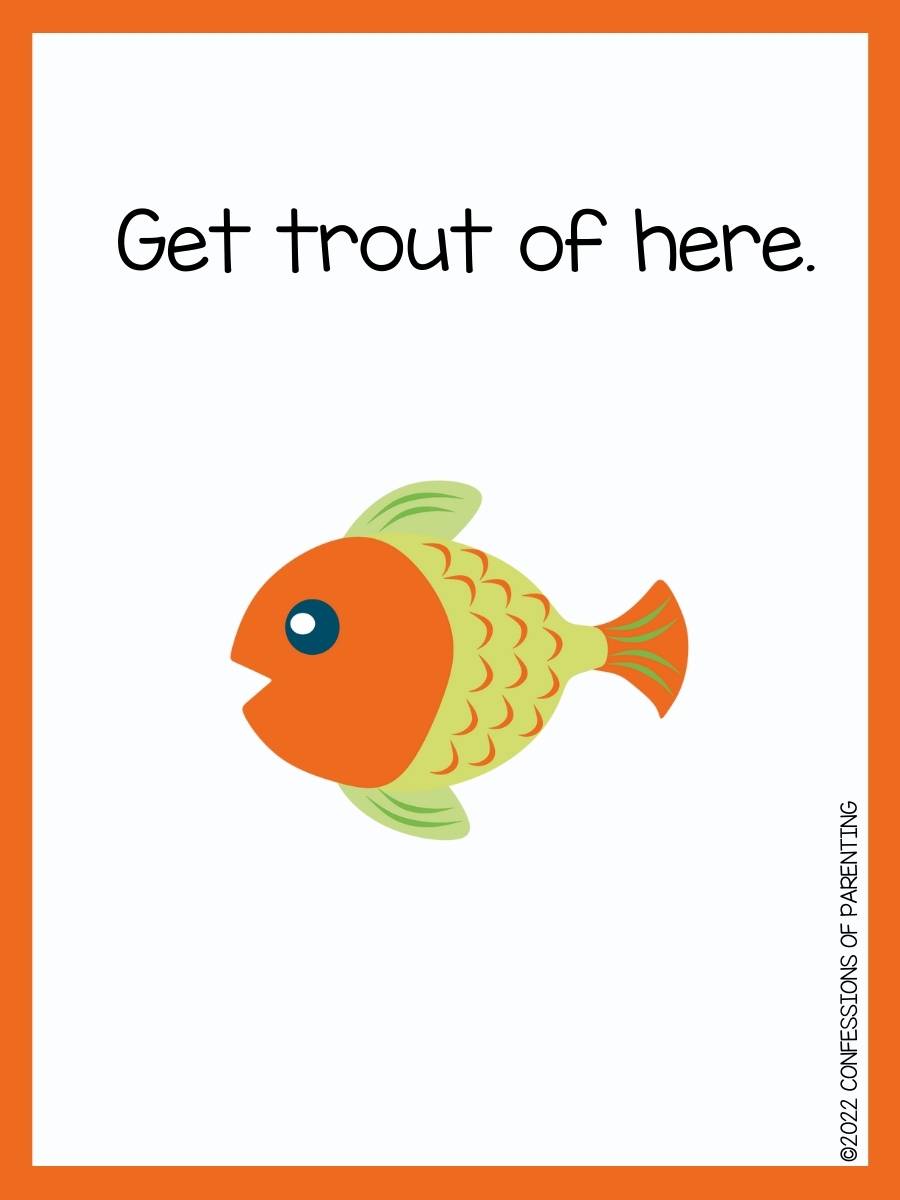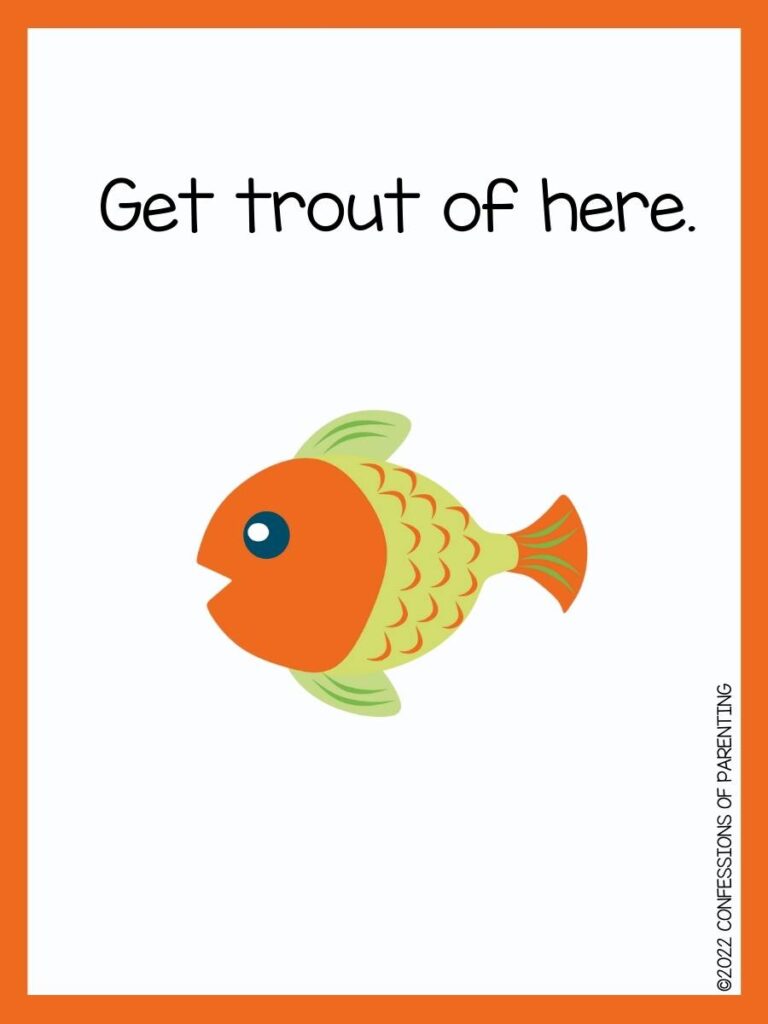 I had so much fin while scuba diving!
He's skating on fin ice.
I'm in love with salmon else.
DJs know how to drop that bass.
Cod, that was eely, eely bad!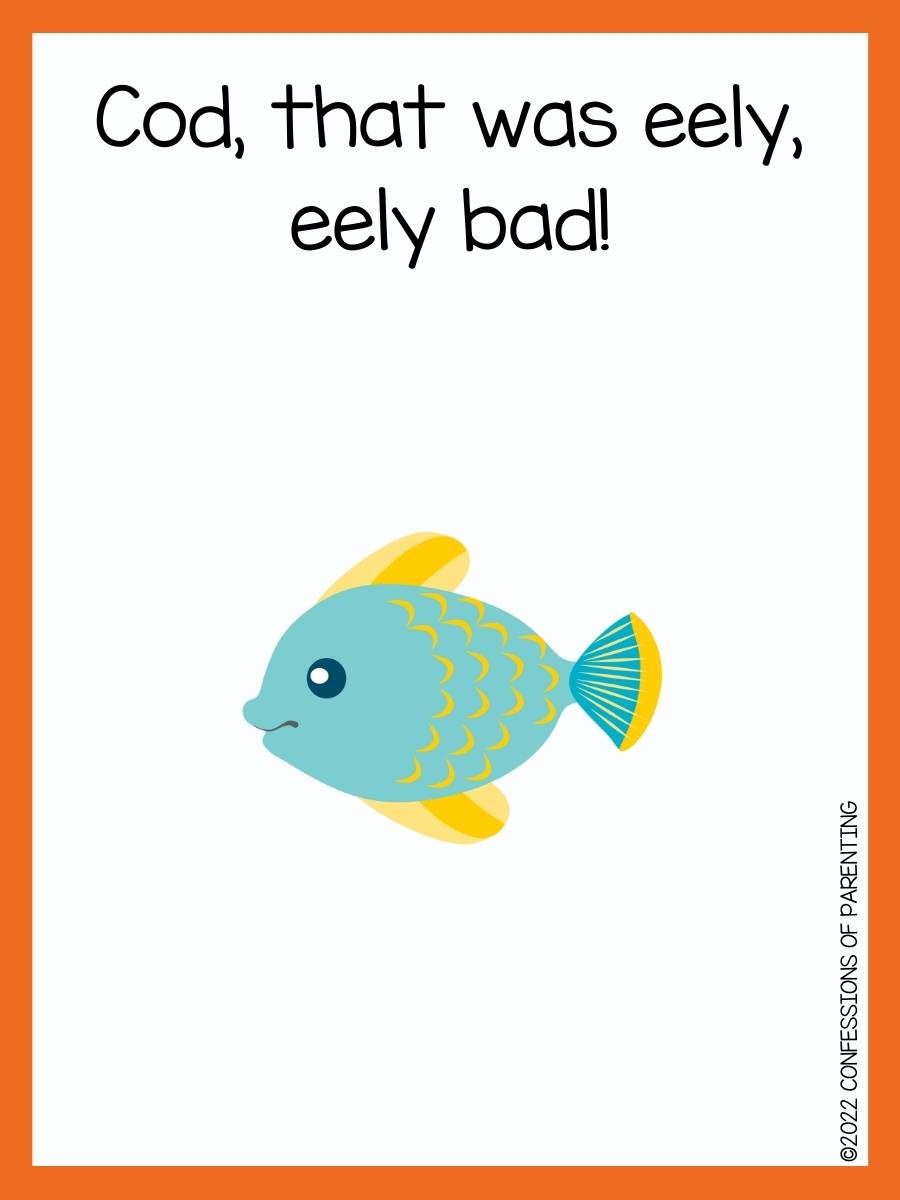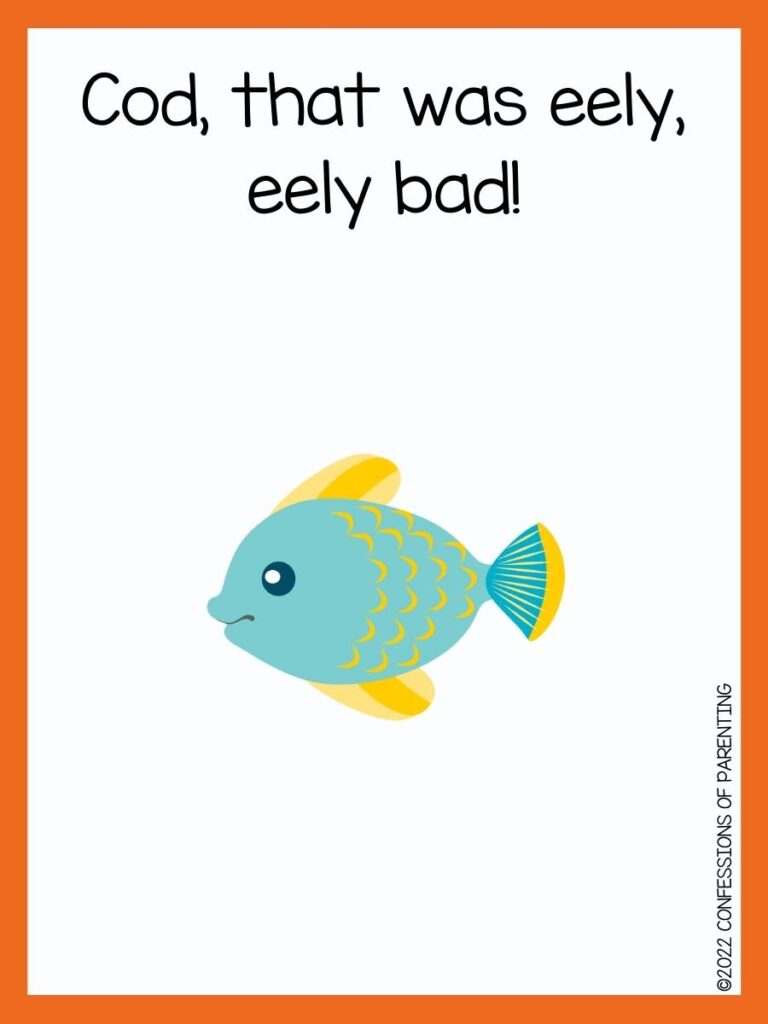 Stop sharking your responsibilities and get the job done.
Let's make this o-Fish-all!
Damn, you're so so-Fish-ticated!
I'm in a hard Plaice.
You Betta believe it!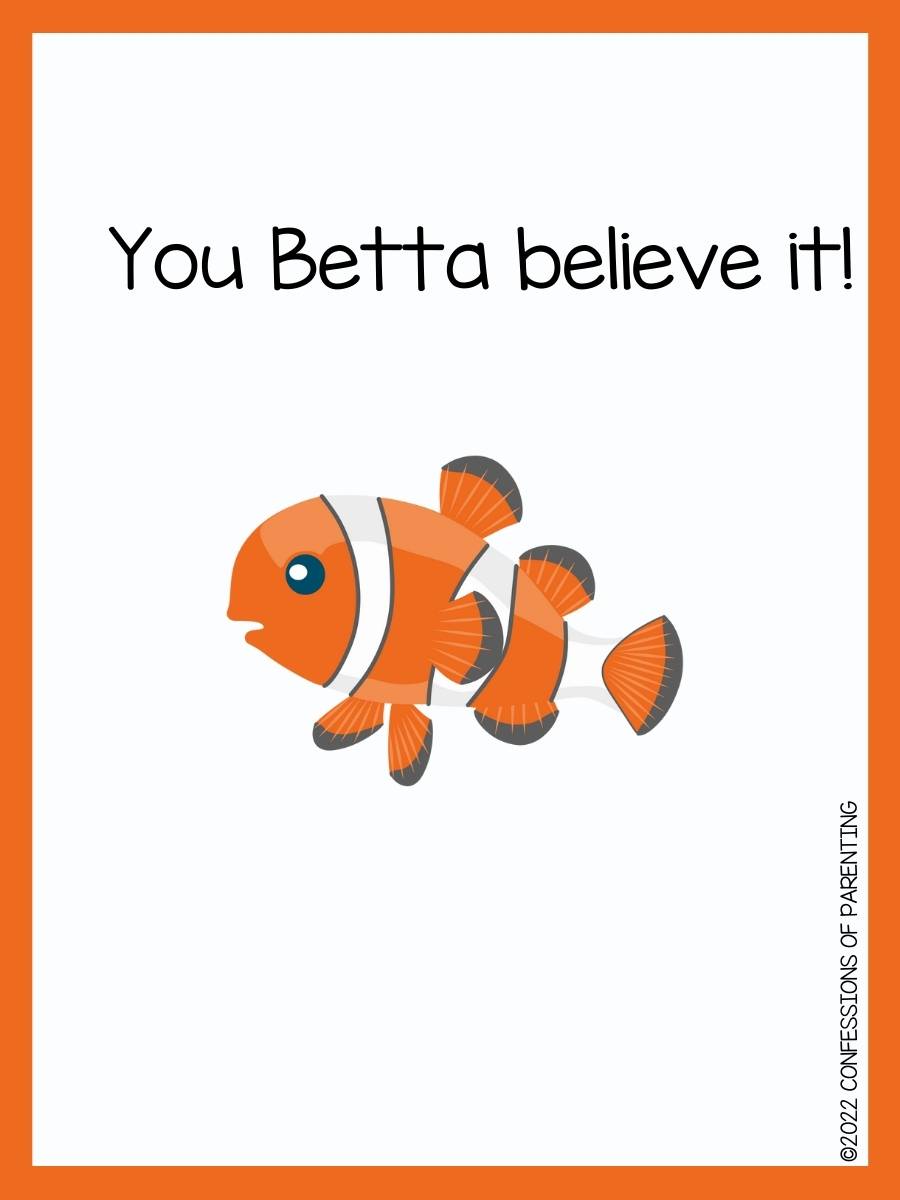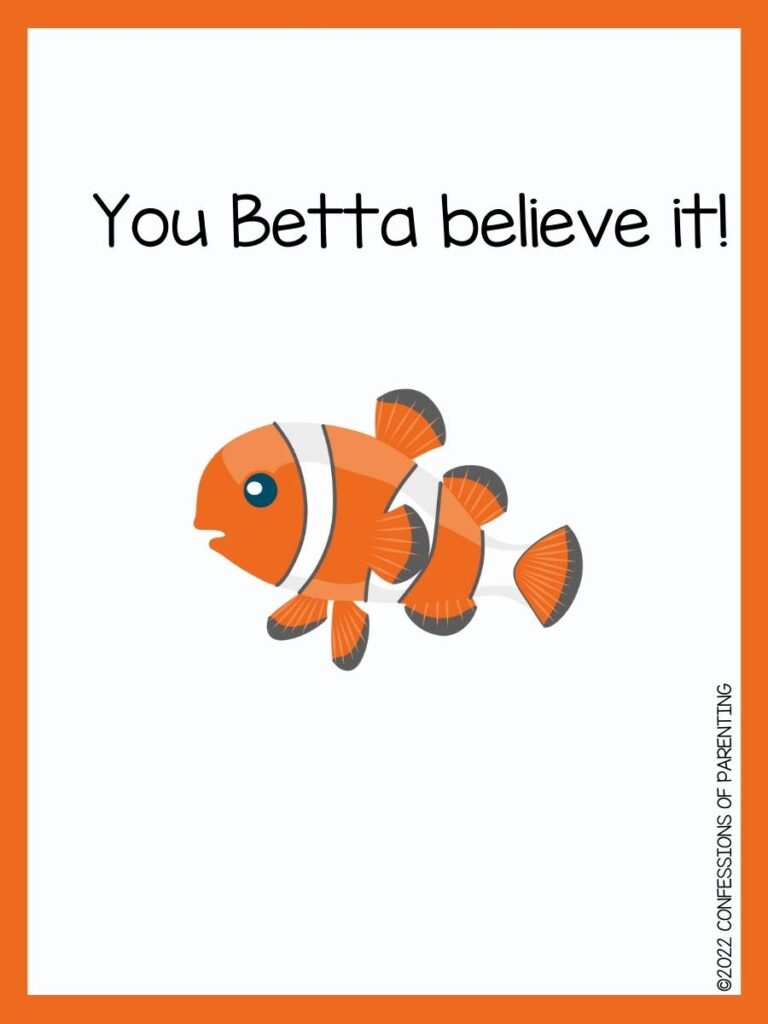 Codn't you hear me?
I am a pacifisht, I don't believe in war.
Can't believe I met you. I'm your biggest fin!
Is this boat turbot-charged?
This is sardinely an excellent job. Congratulations!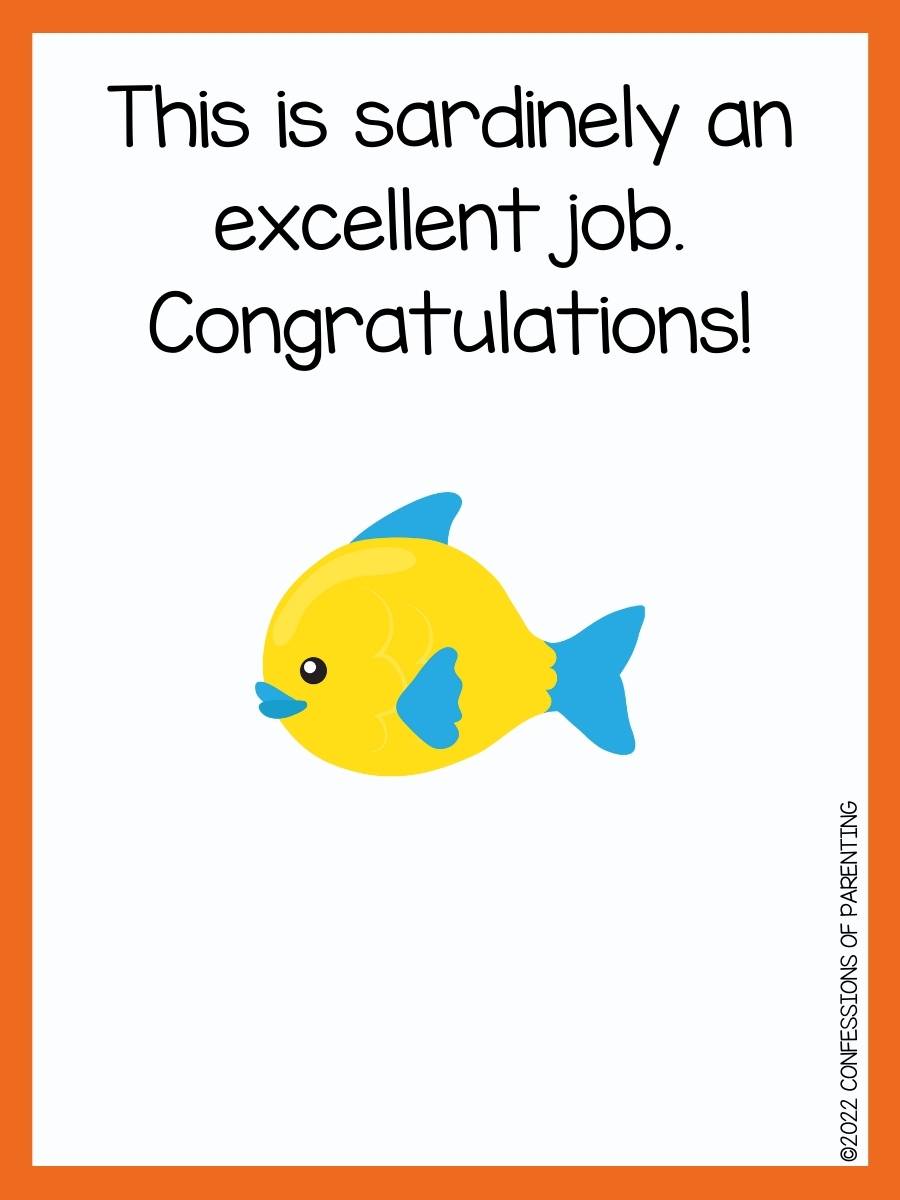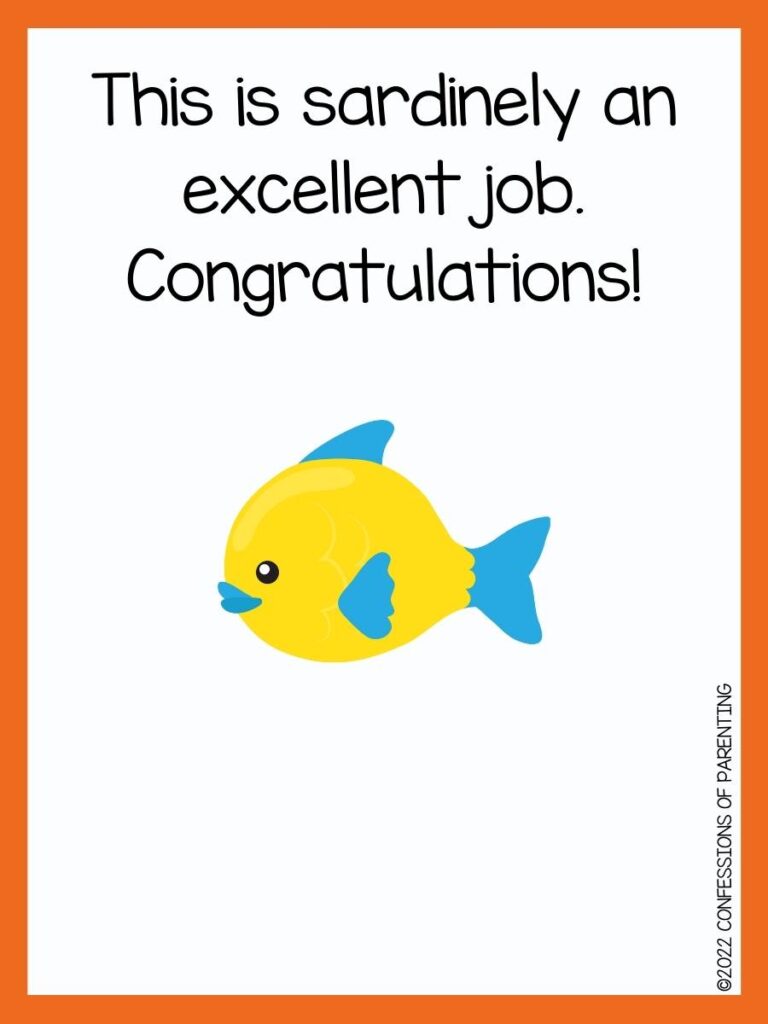 I've got a bad eeling about this…
A friendly wrassetle is always good fun.
Fish better have my money!
That joke was a bit koi.
Everyone just clam down now.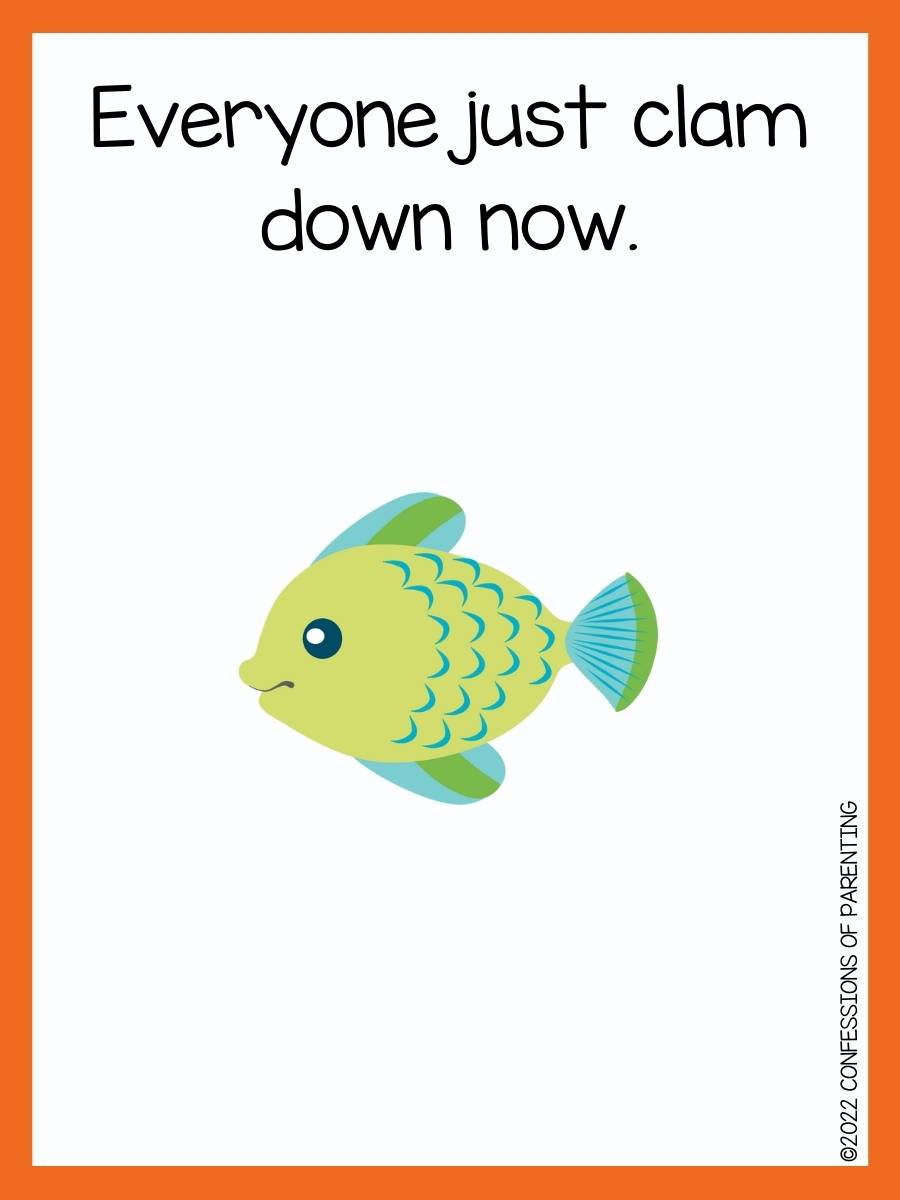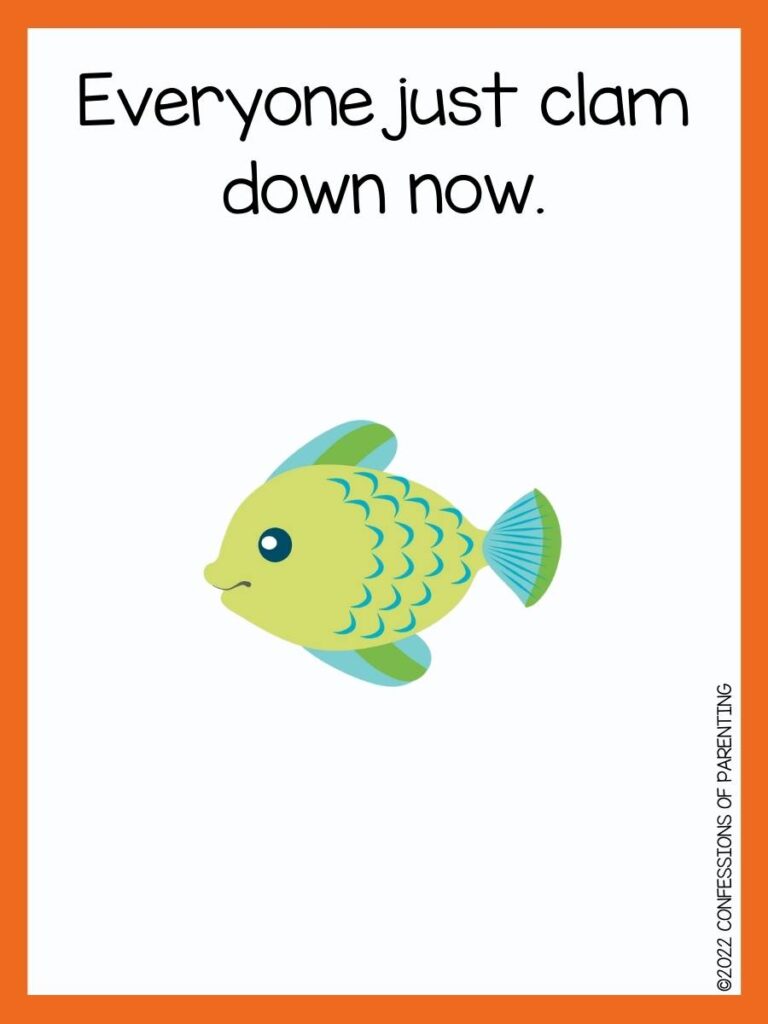 I really believe that to the bottom of my sole.
I fish upon a star.
We fish you a Merry Christmas!
The names Pond. James Pond.
Betta stop with the jokes before I krill myself with laughter!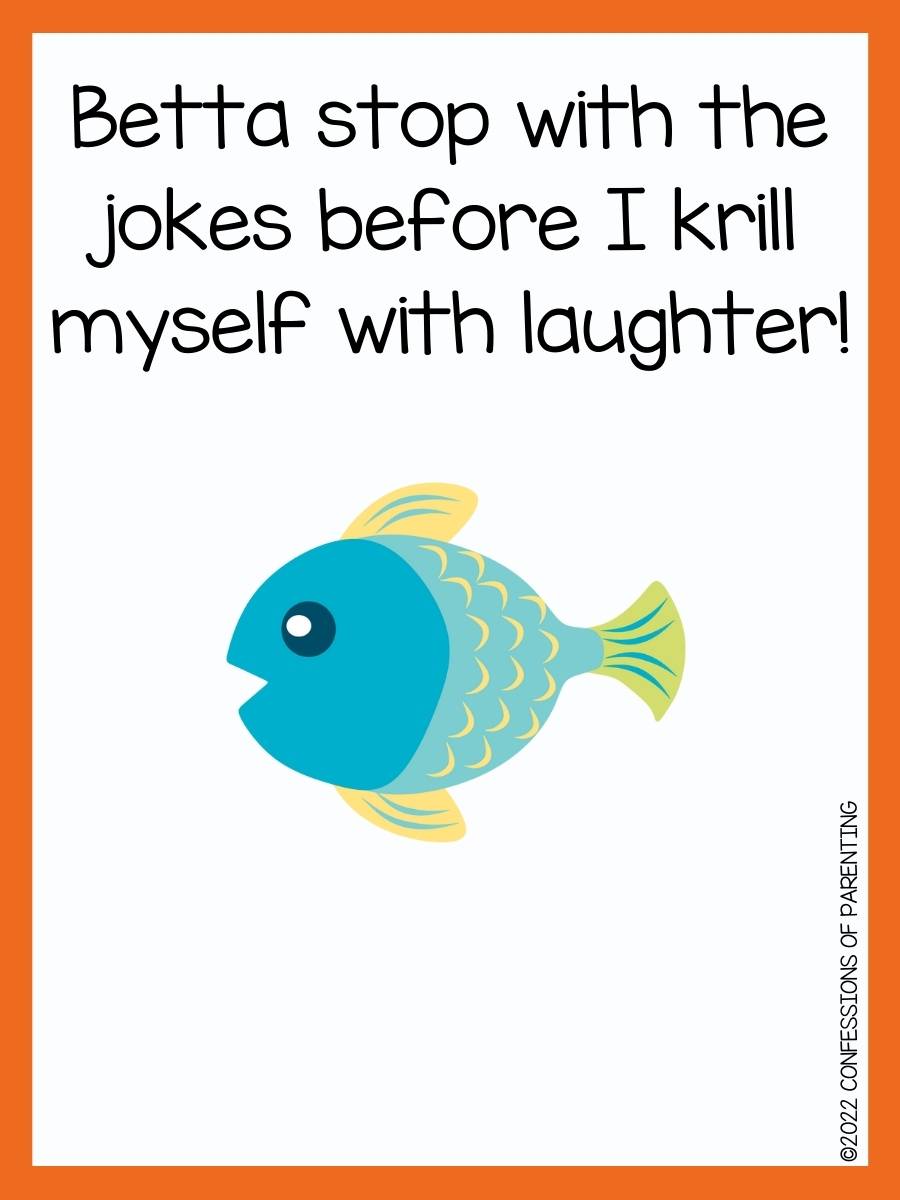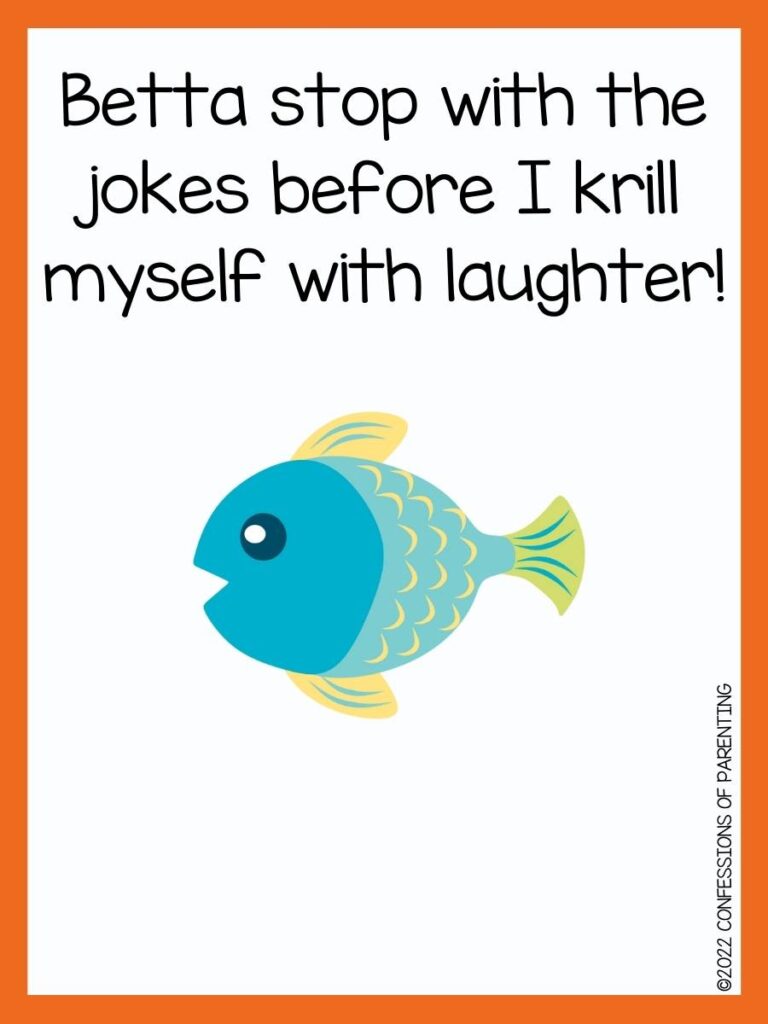 I could krill for some fish bites right now.
Any fin goes around those parts of the ocean
What is the bait that I can come up with more fish puns than you?
Caviar is so roe-mantic
Roe, roe, roe your boat.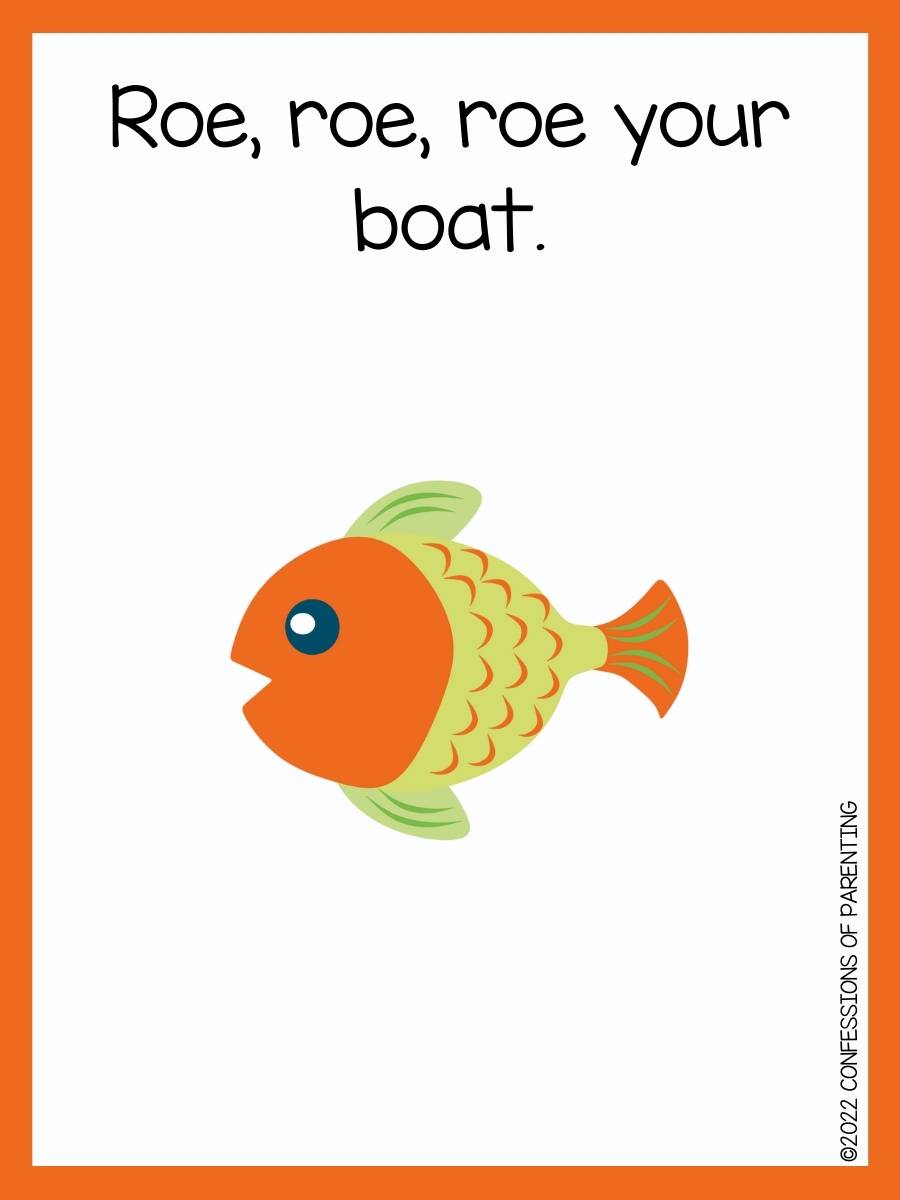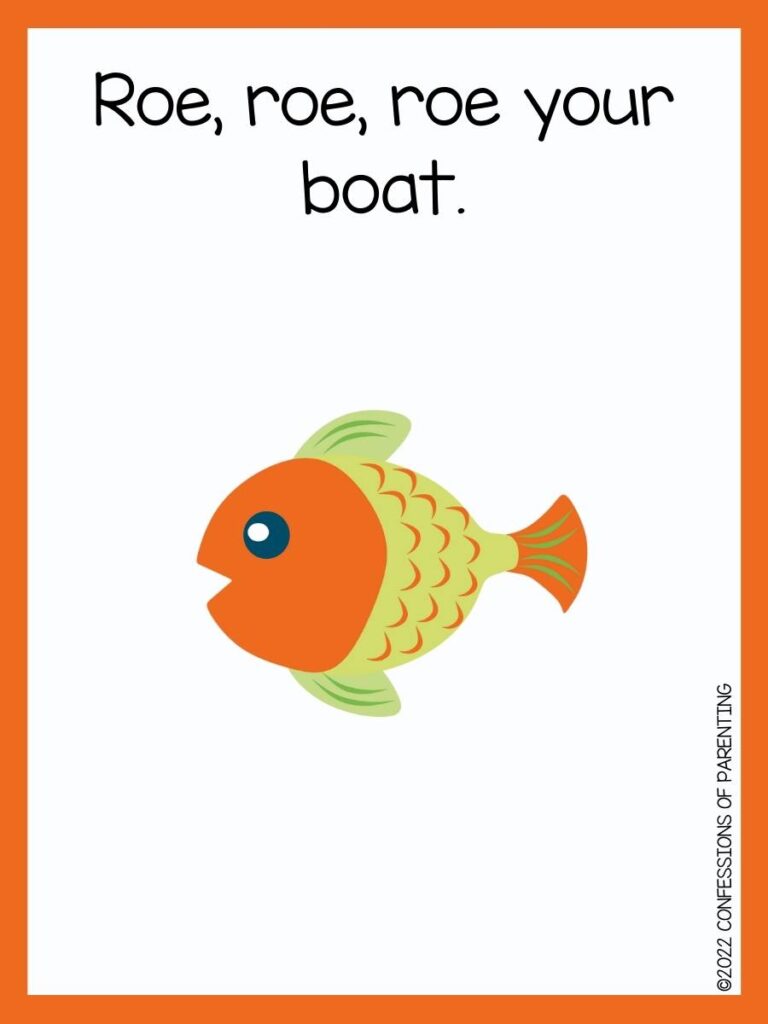 Tanks for coming.
Thank cod. I thought he would never stop talking about fish.
KELP. I need kelp. Salmon please kelp me.
Crab we talk it over?
Bass-ic Fish.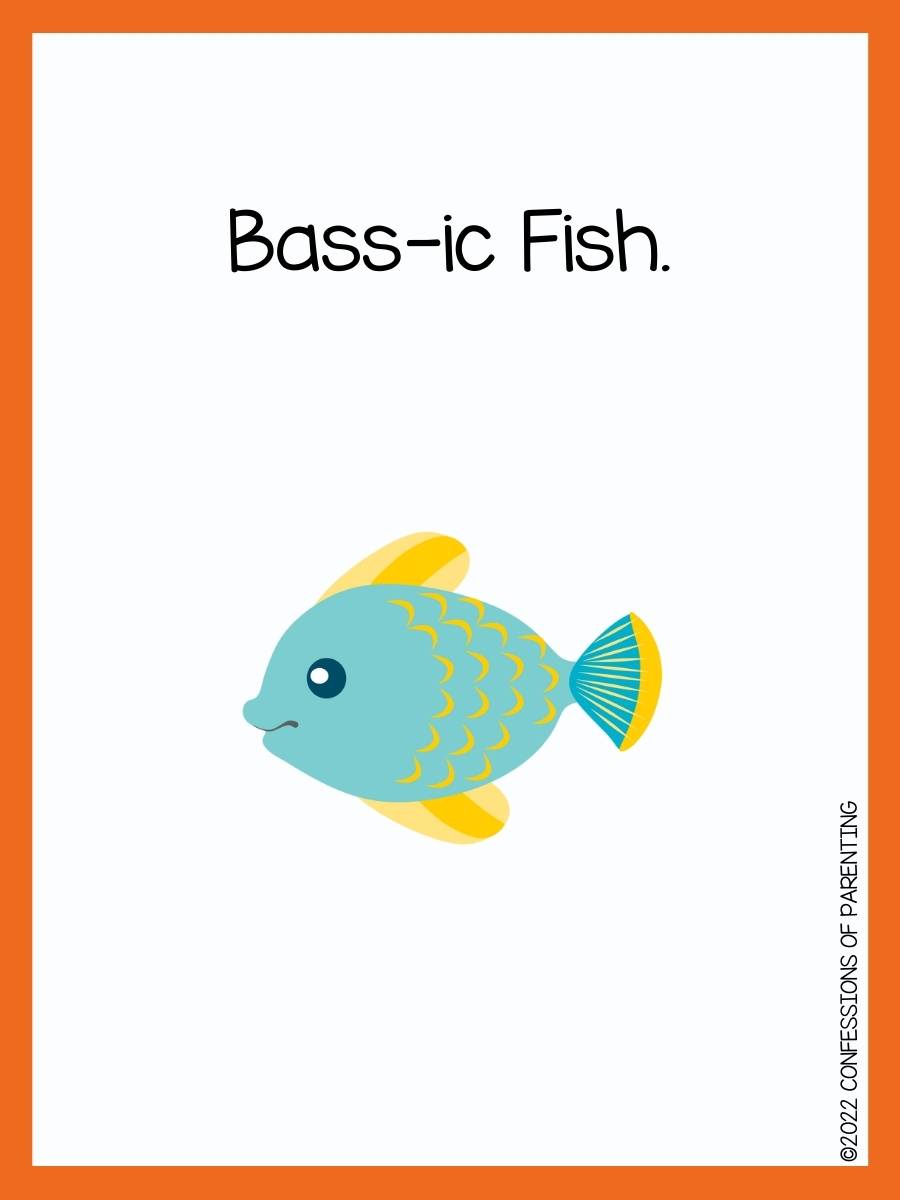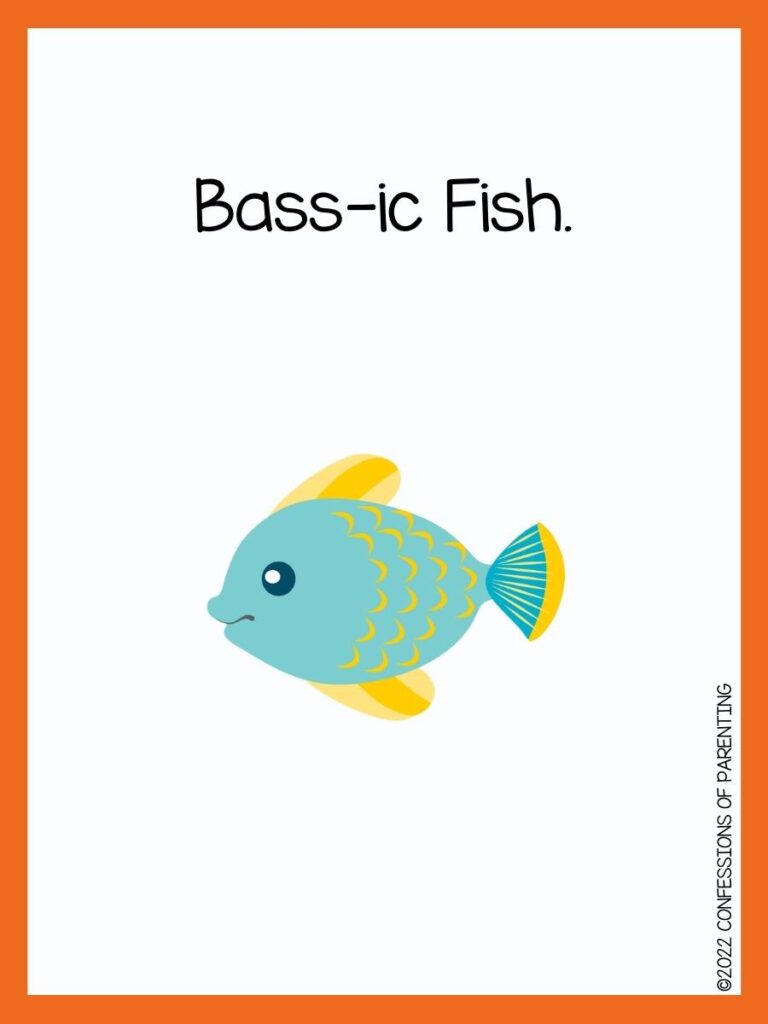 Good g-reef.
Let minnow if you have any suggestions for more fish puns.
You are the fin to my yang
Quick. Now is your oppur-tuna-ty, cod for it.
Cod only knows why I am so good at these puns.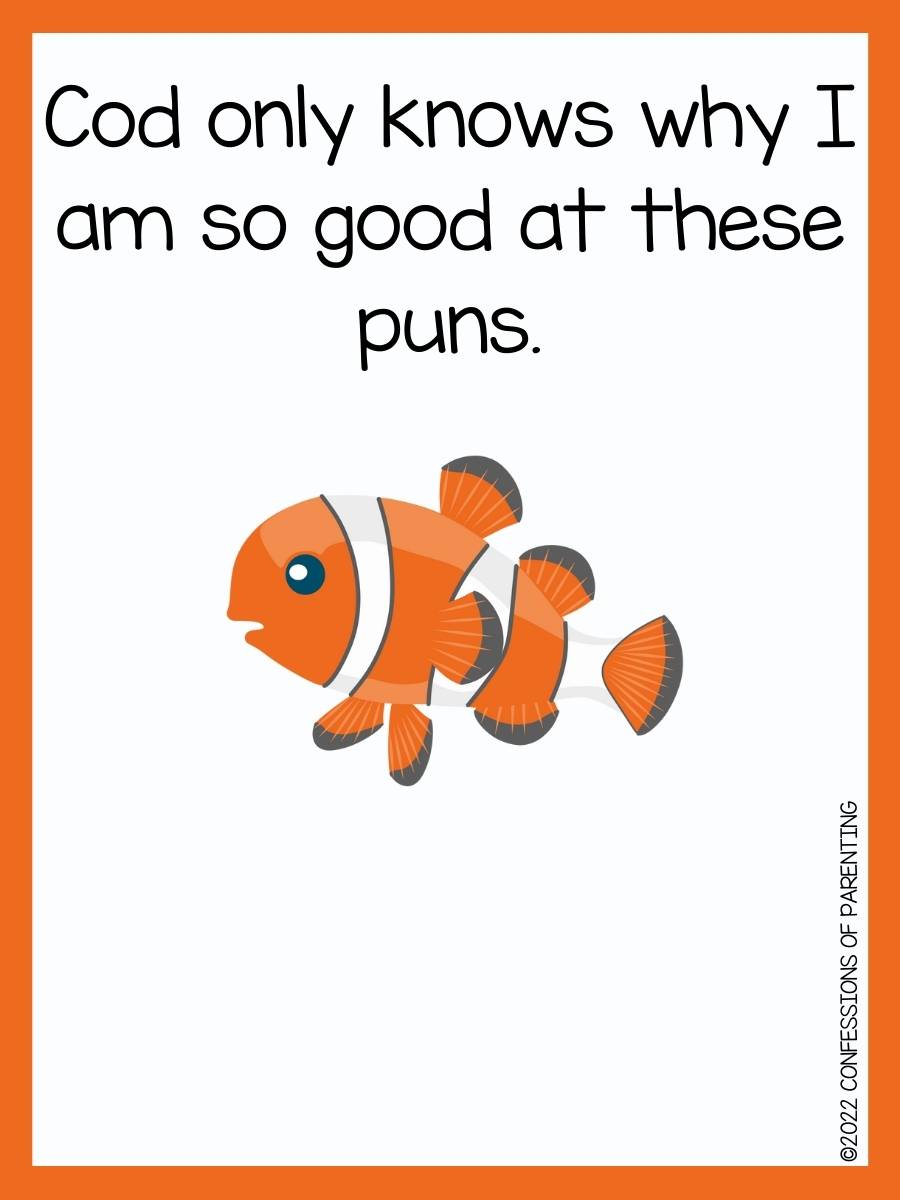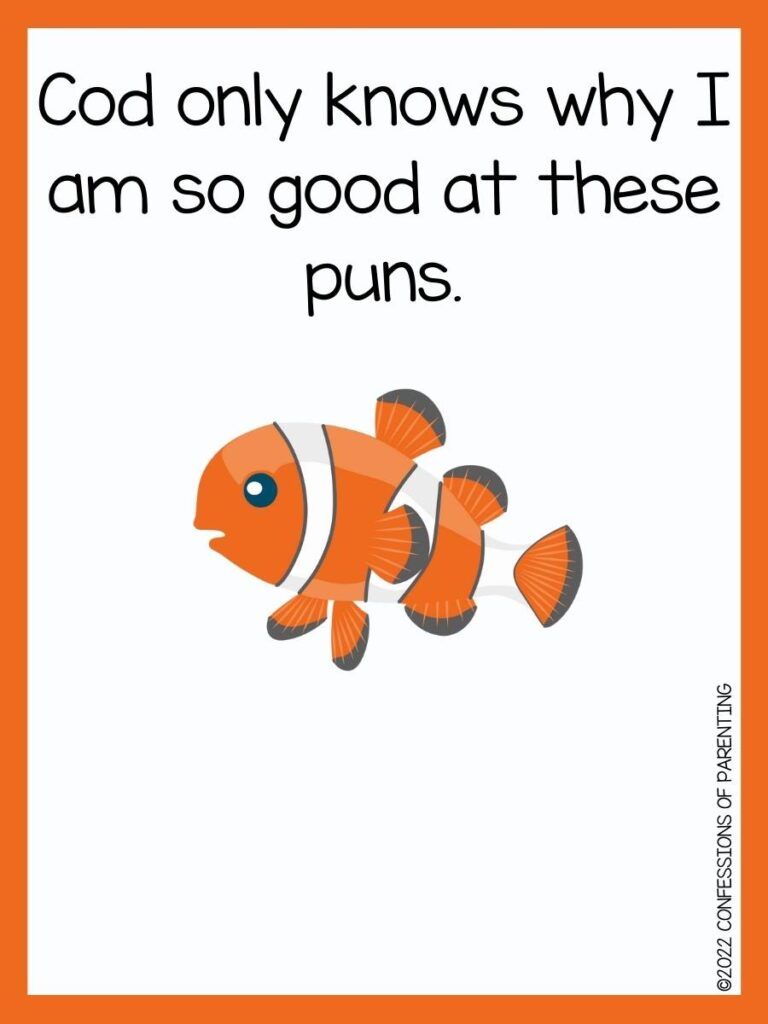 That is turtley cool.
Fin-land has the best fish jokes. I sea they are really trying.
Anchovy Hopkins
To in-fin-ity and beyond.
You are shrimpley the best.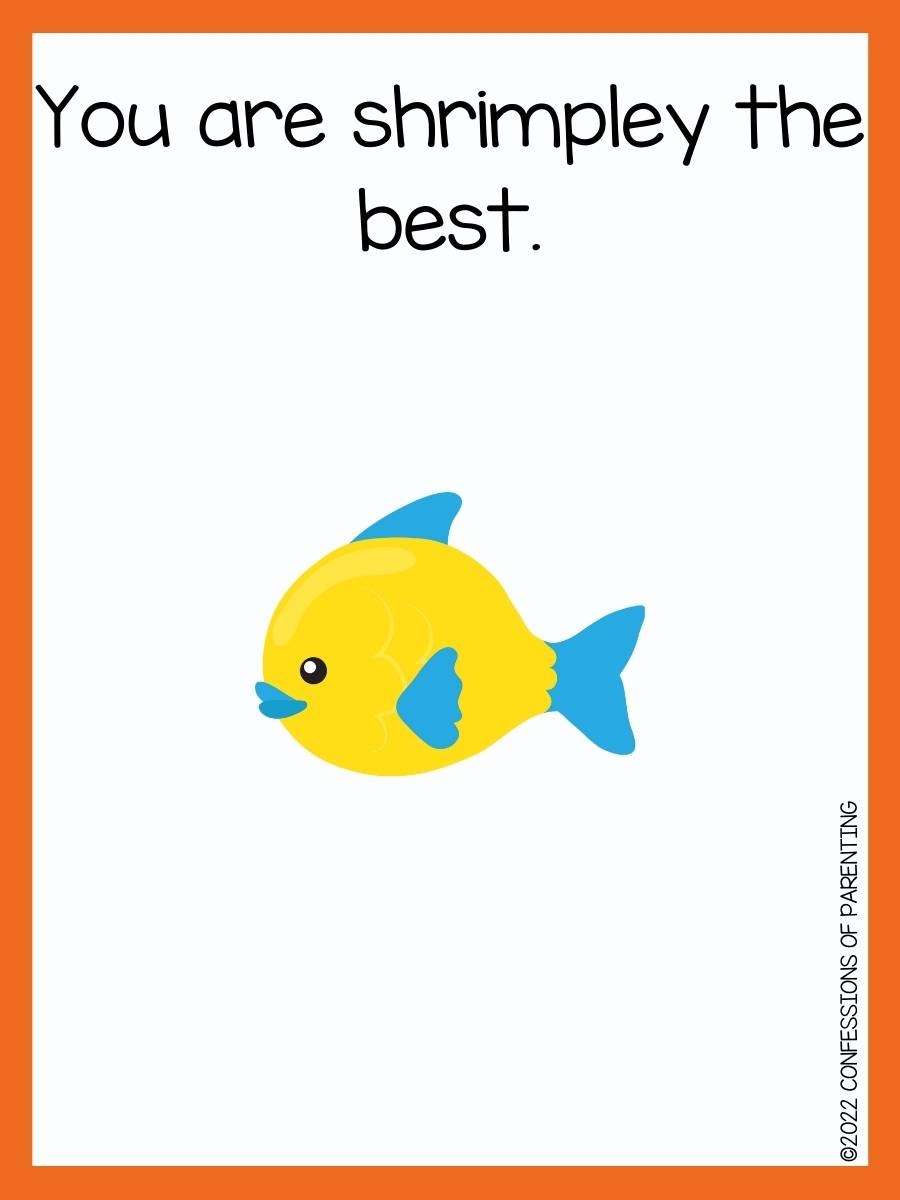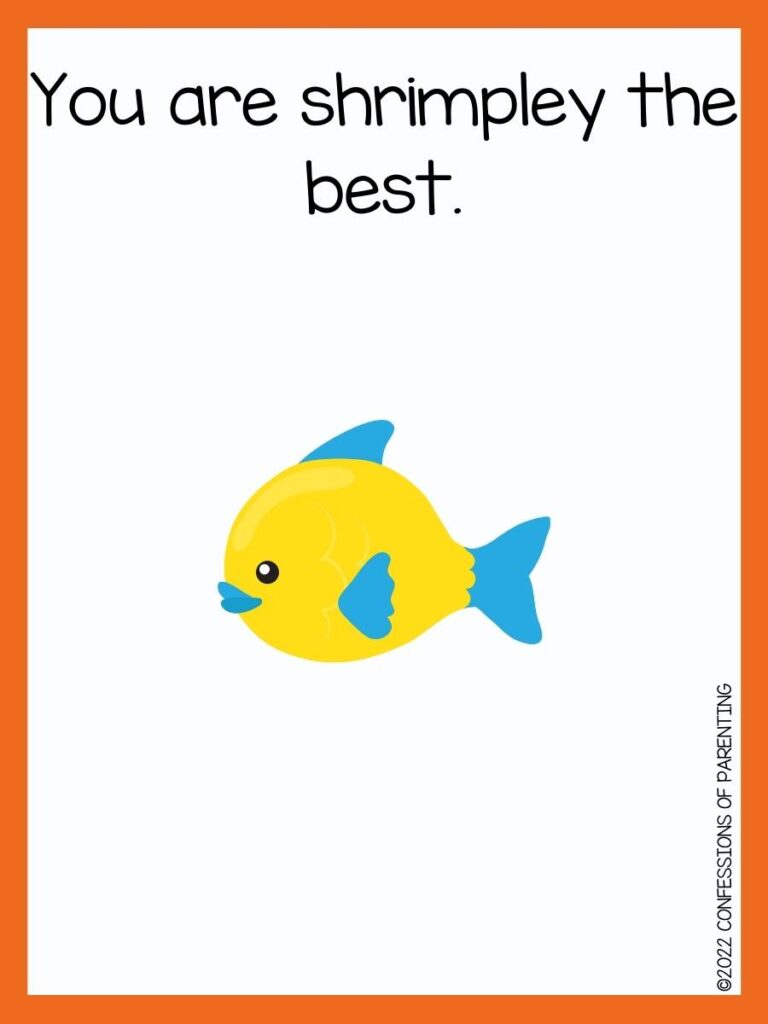 Hey sister, Shoal sister.
This is sardinely a great day for puns.
The Codfather.
How did I get so good at puns? Well, I have been working on my a-gil-ity.
Sardinely sir, I will get onto some more puns right away.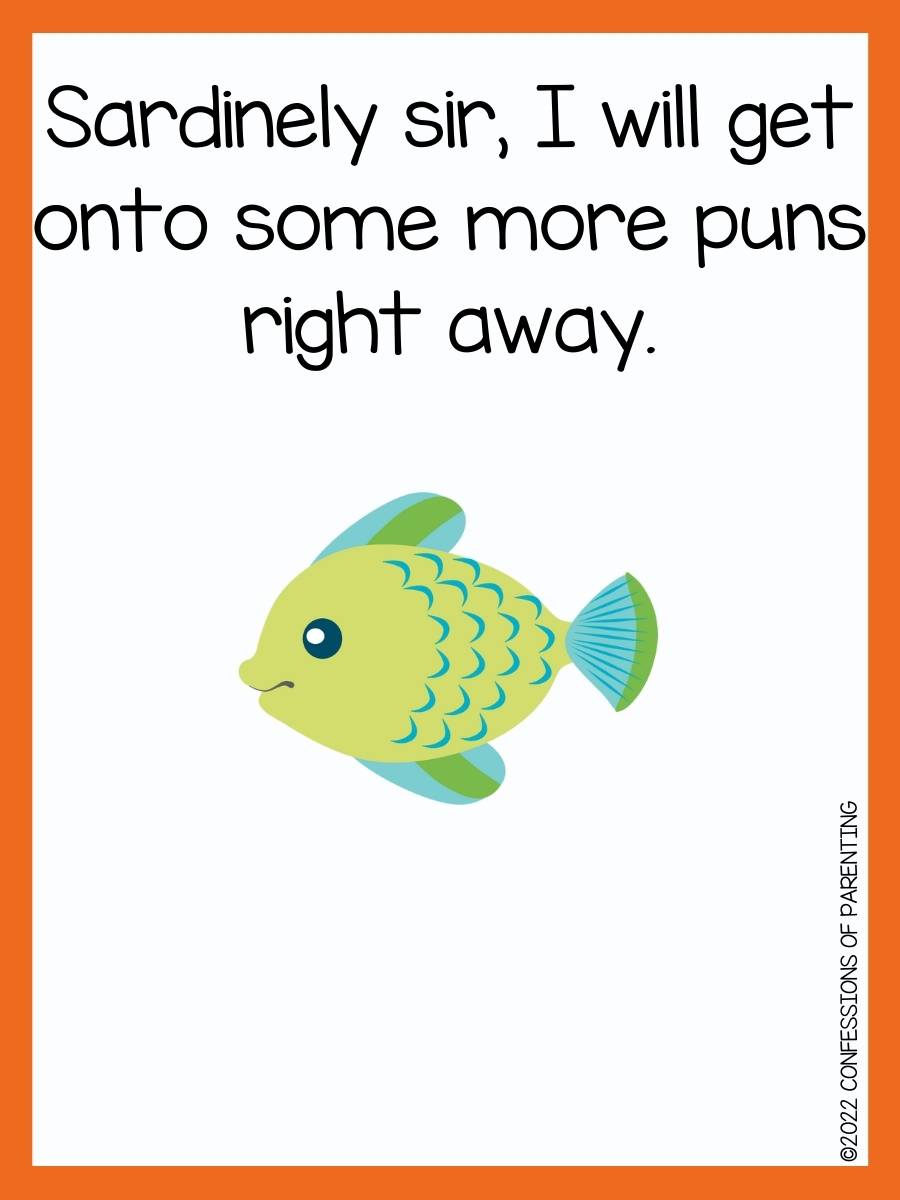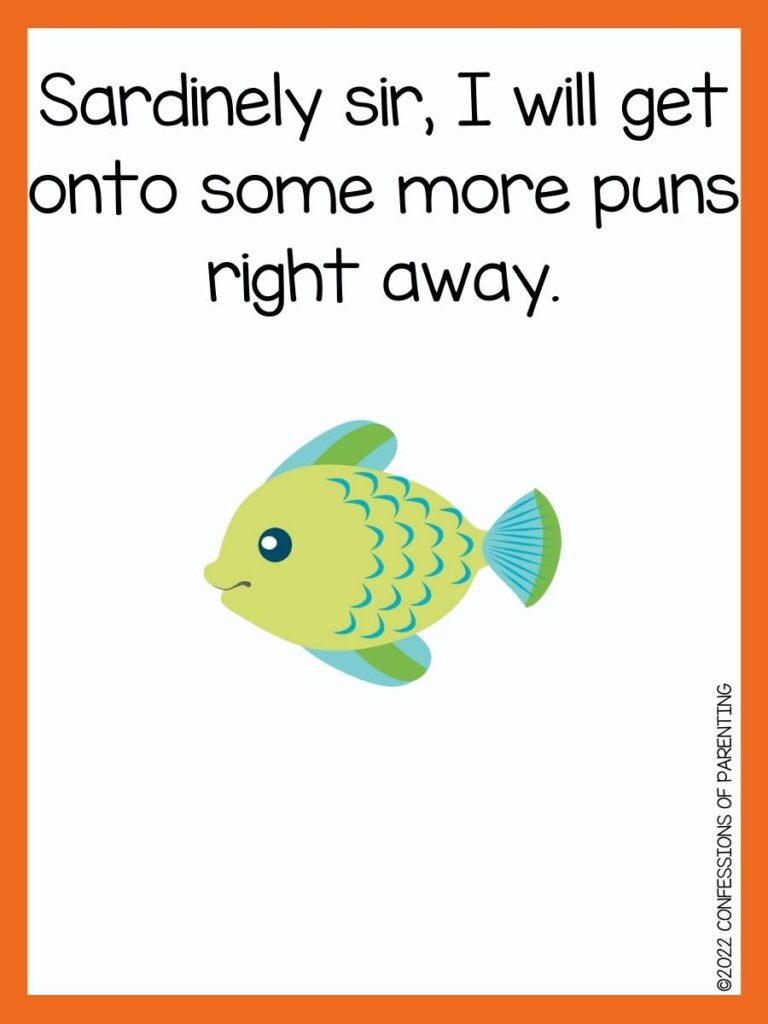 Gill Clinton.
Abra-cod-abra.
Whale we meet again?
These fish puns are hilarious and I am not squidding.
He is so romantic and I am hooked.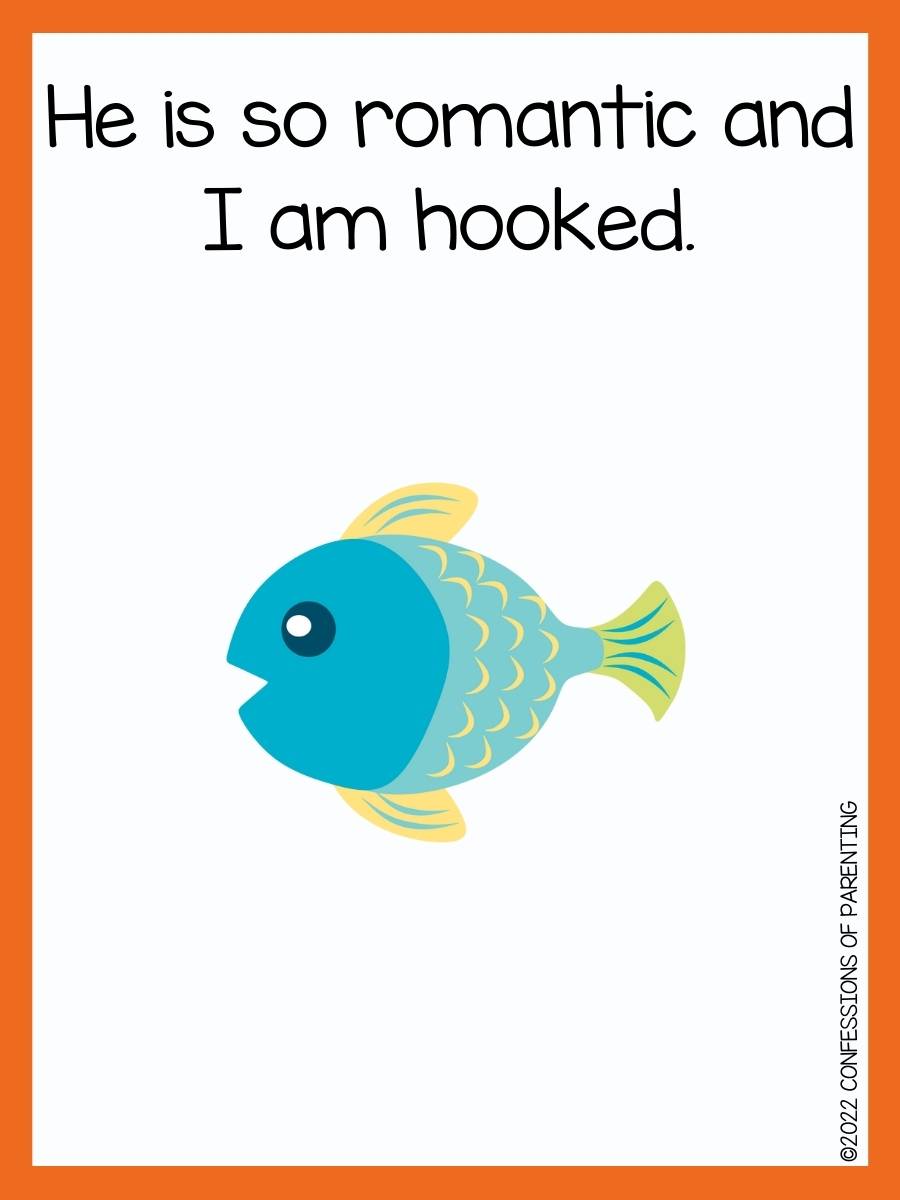 Fish love every day of the week barrmundi and fry day.
Holy Mackerel.
Fish the shoes fits.
I would clam every mountain to be by your side.
That is enough fish puns, you need to tuna it down.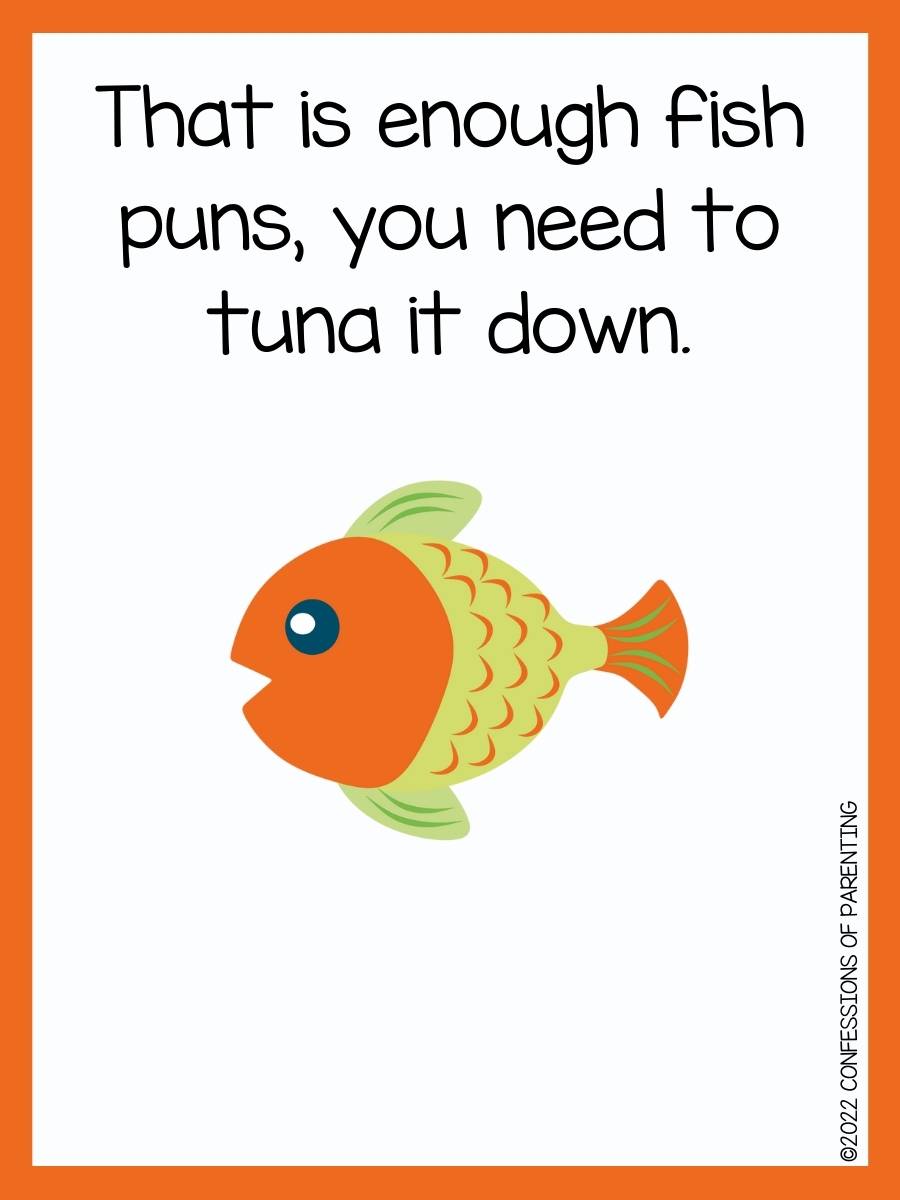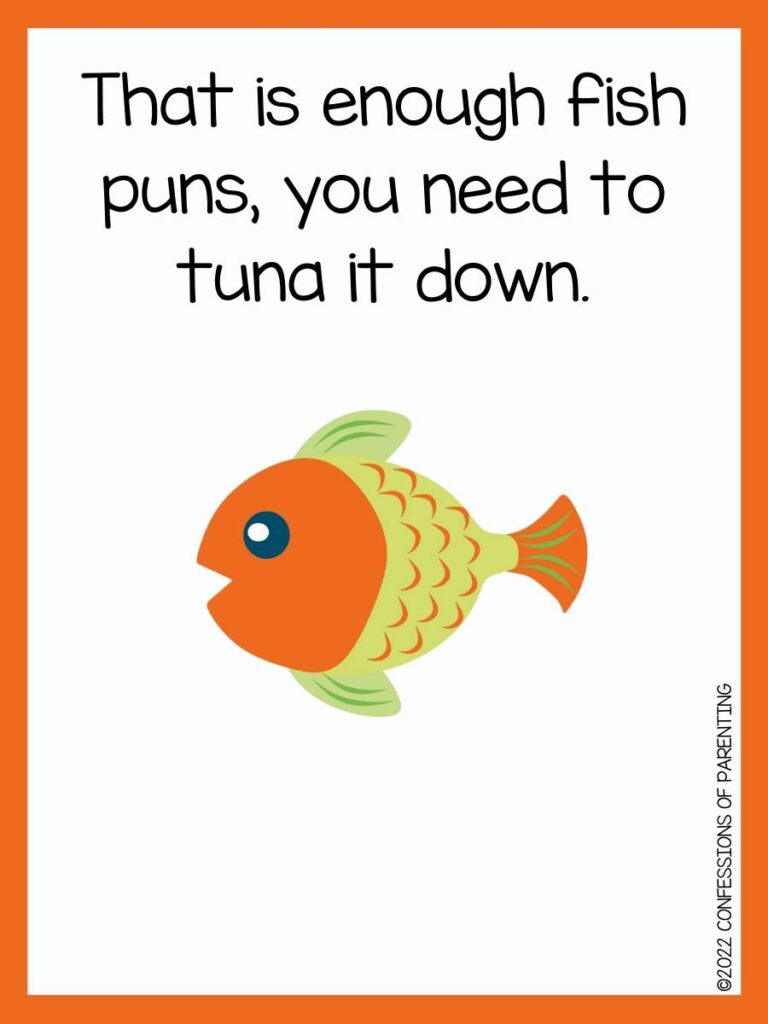 I just saw two fish get into a fight but I didn't want to get fin-volved!
Caviar been here before?
Salmon betta come up with some better fish jokes.
Things are about to get fin-teresting.
Guppie Goldberg.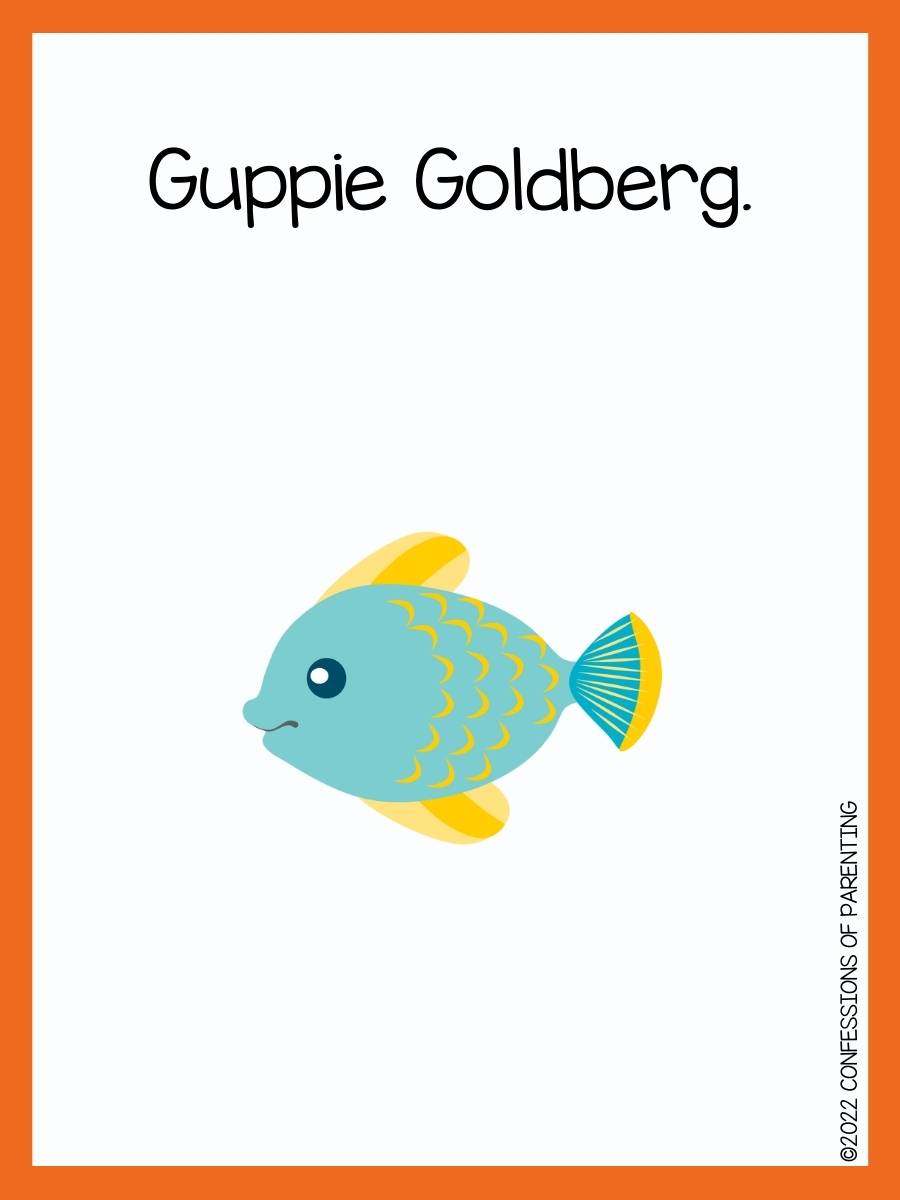 Cod that was so bad, eely, eely bad.
Ooh, water animal you are.
Life does not get any Betta than this.
Holy carp. I can not believe these puns are so good!
Let's just say a few fish puns for the halibut.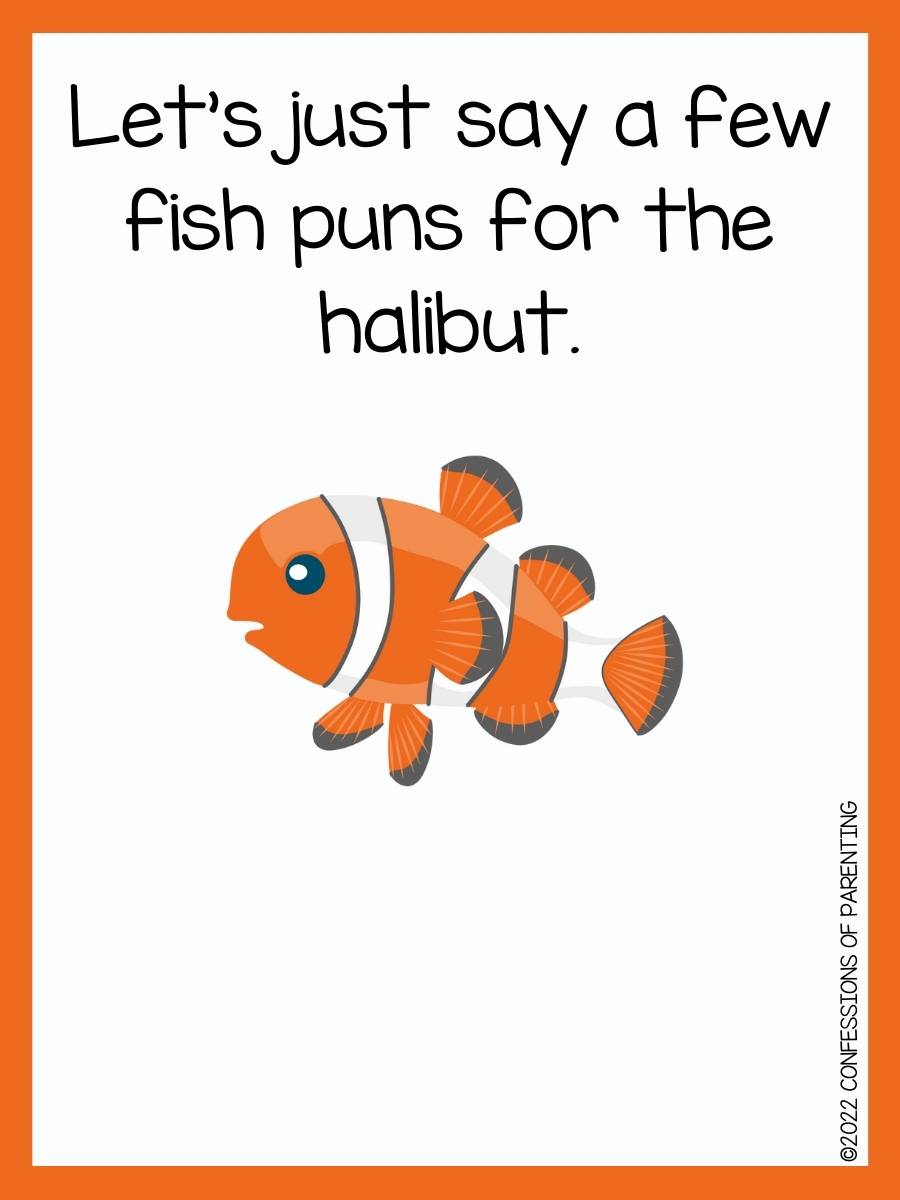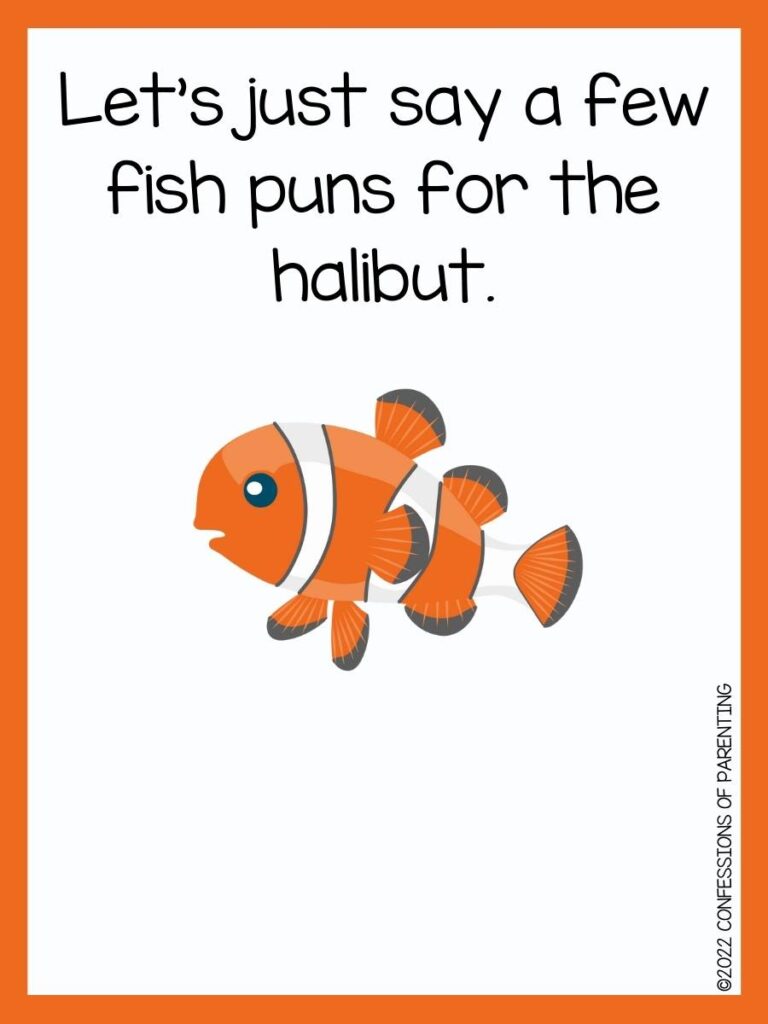 I can not wait to trout my new outfit!
You should try use a different type of bait. It may just be more e-fish-cient.
I have haddock with all of these fish puns!
Stop being so shellfish. I want some fish too.
We will have to keep this fish in for lob-servation.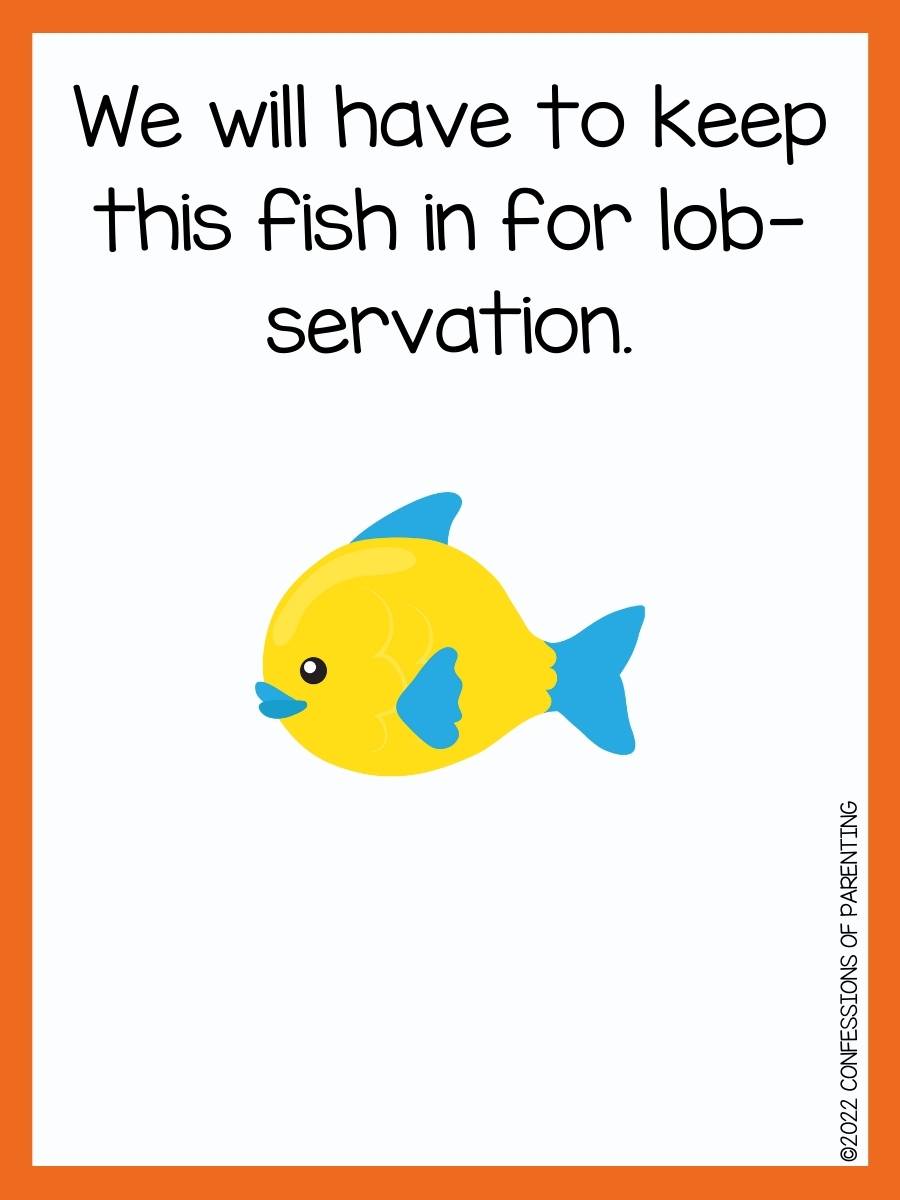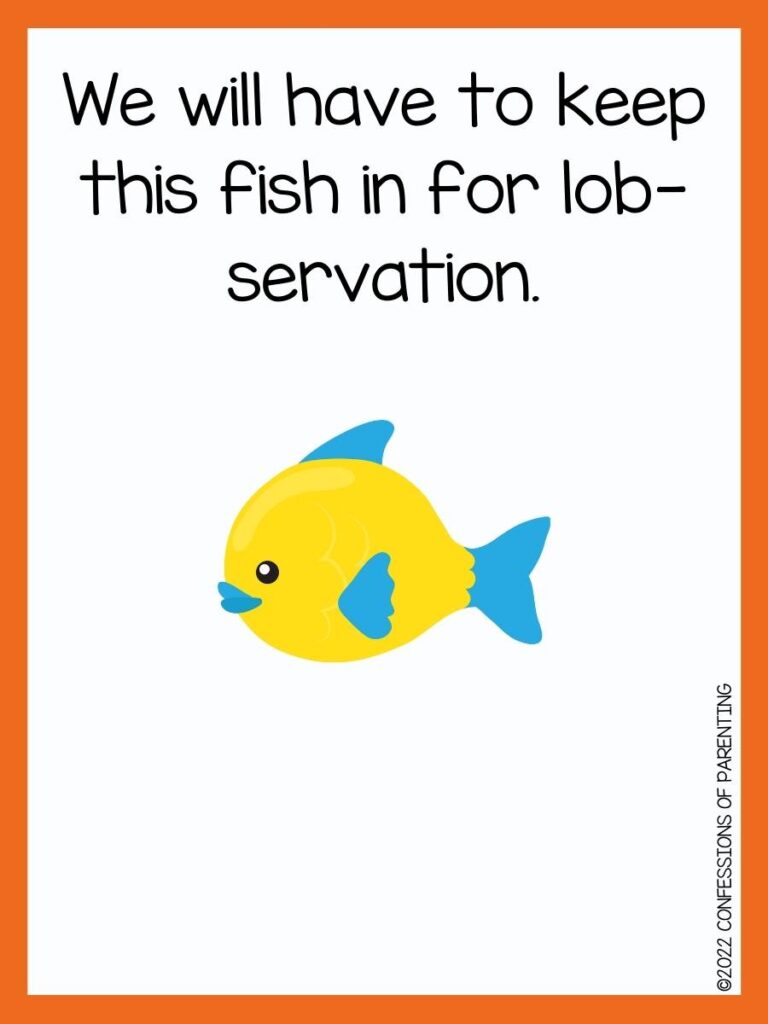 Good things come to those who bait.
There is some-fin special about you – I just can't put my fin-ger on it
Fishing you the best birthday filled with lots of fin and joy.
Marlin, marlin on the wall, who is the greatest of them all?
Try a little harder with these fish puns next time, hoki?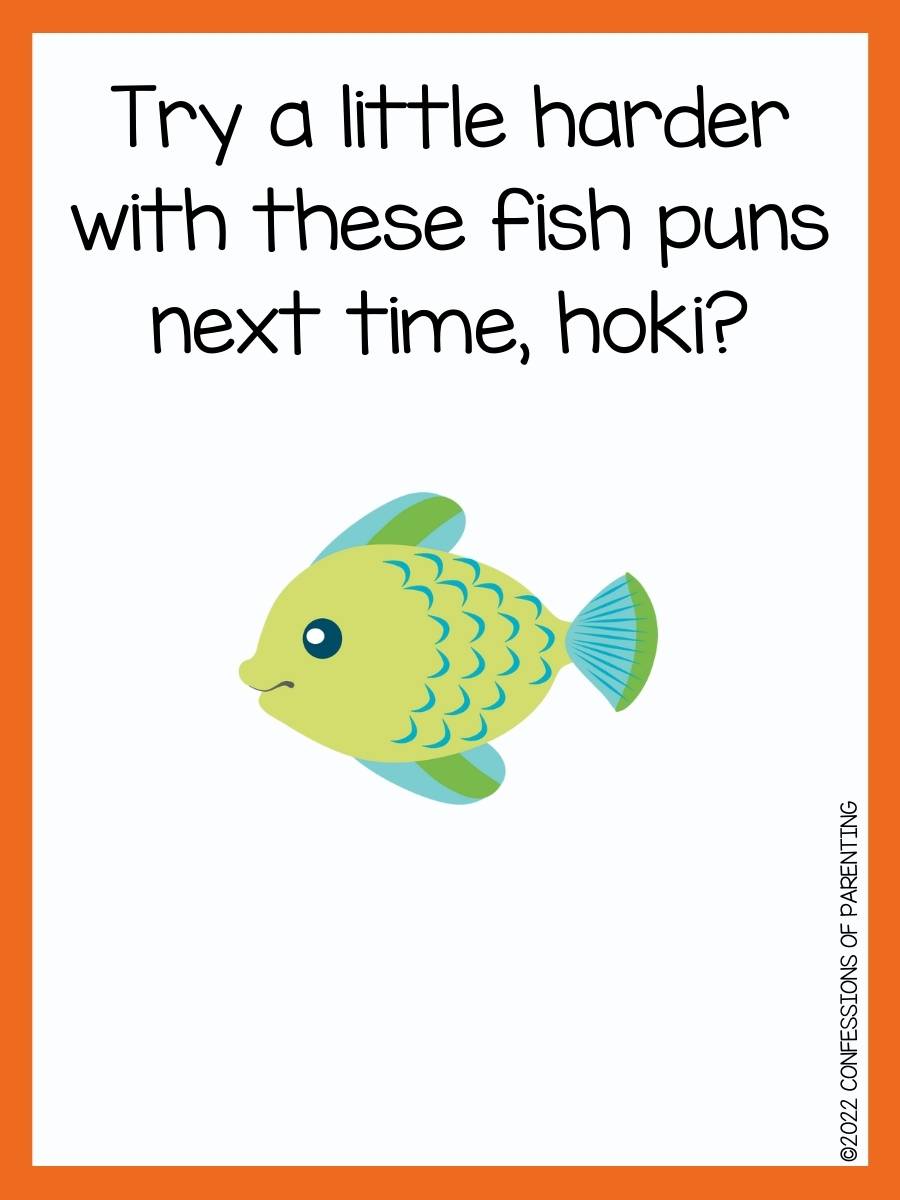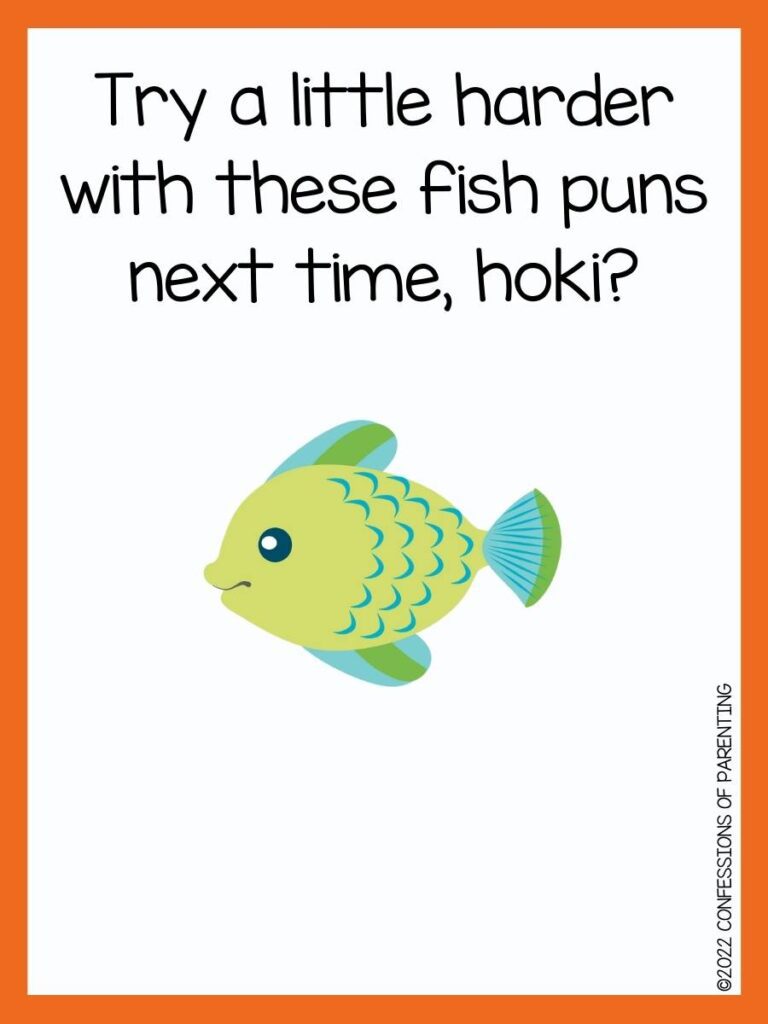 Fish you were here.
Water you doing tonight?
Sea-riously these puns are terrible!
When you fish upon a star, cod will make your dreams come true.
This is the first time I am herring so many fish puns at once.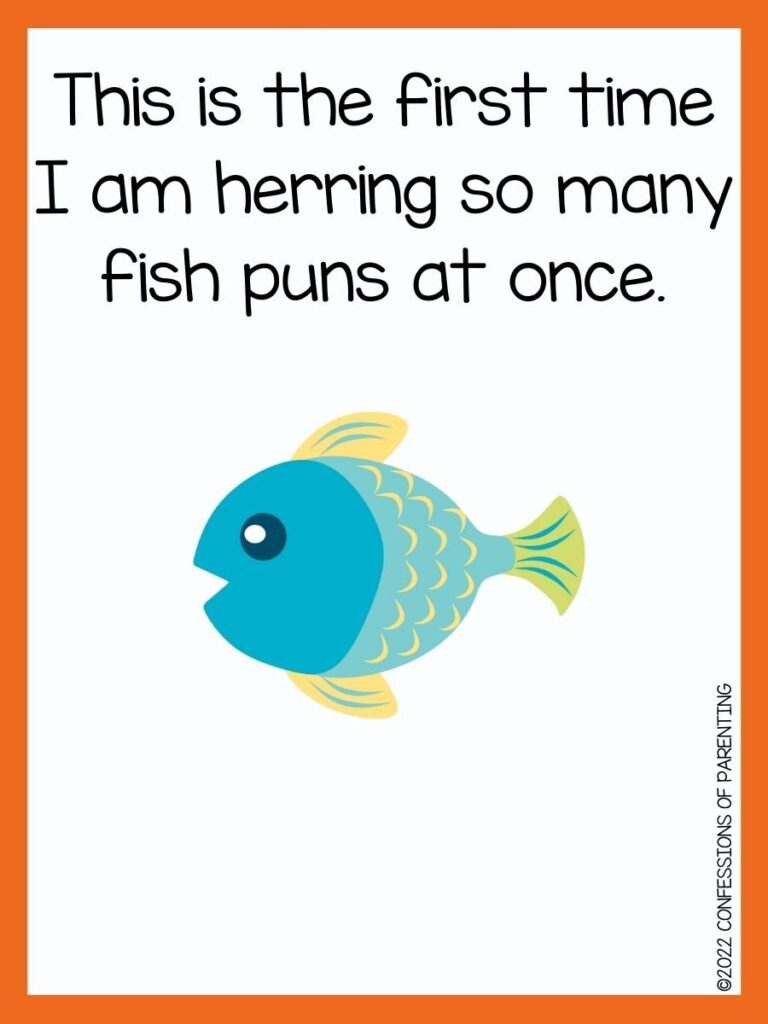 Hey, hey, hey, swimmer down, there's no need to turn this into a fight. It's just a fish pun battle.
Keepin' it reel.
Cod I please offer you a fish pun or two?
Snapper out of it.
License to Krill.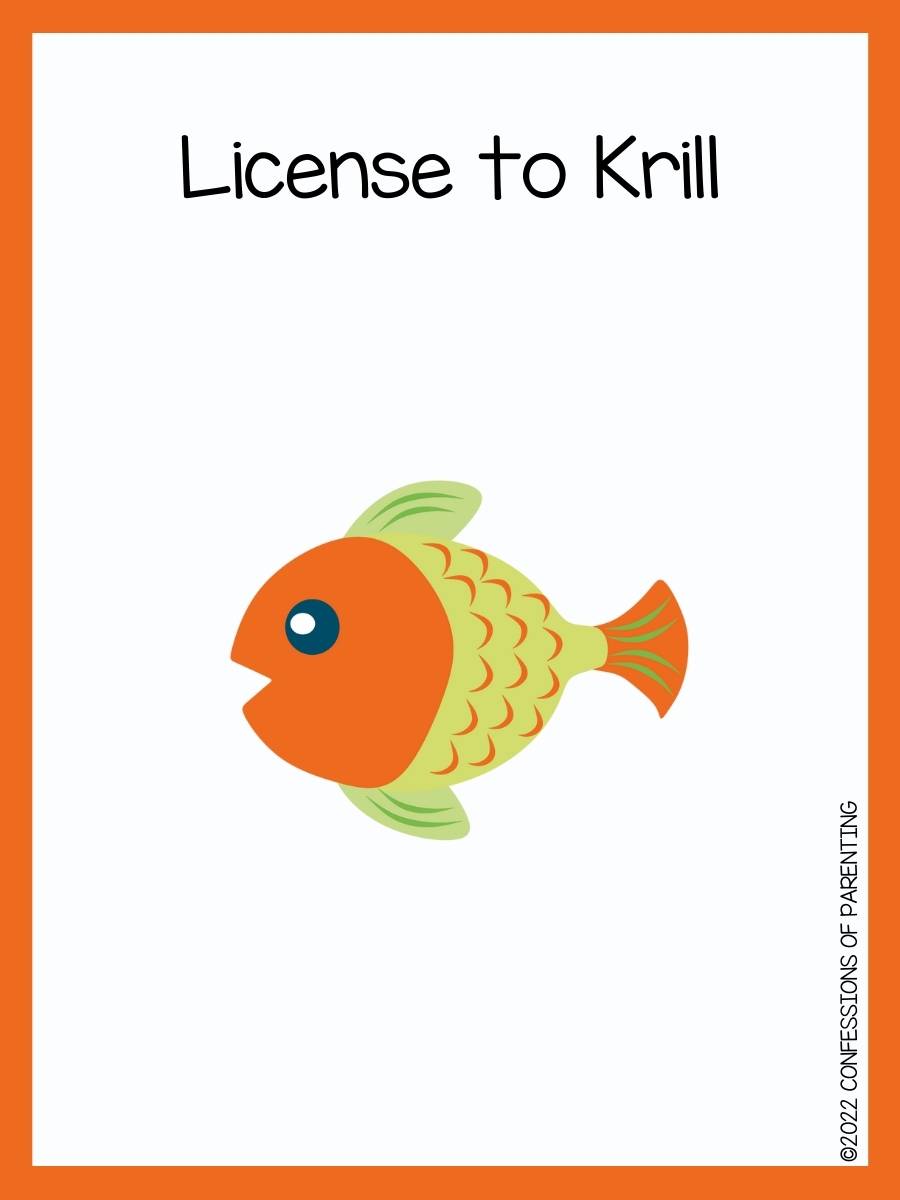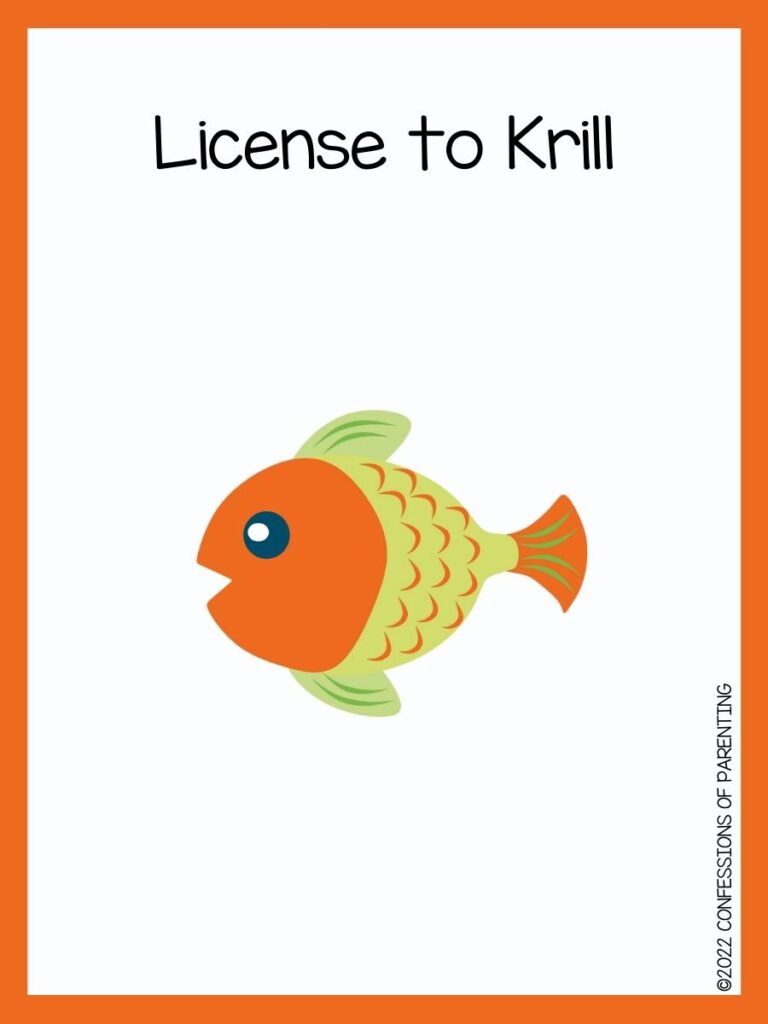 This is most sardinely the best fish pun list ever.
Daddy's little fincess.
Everyone deserves salmon special.
Shh, remember these puns are a sea-cret.
You do not want to be my arch nemo-sis – I eat fish like you for lunch.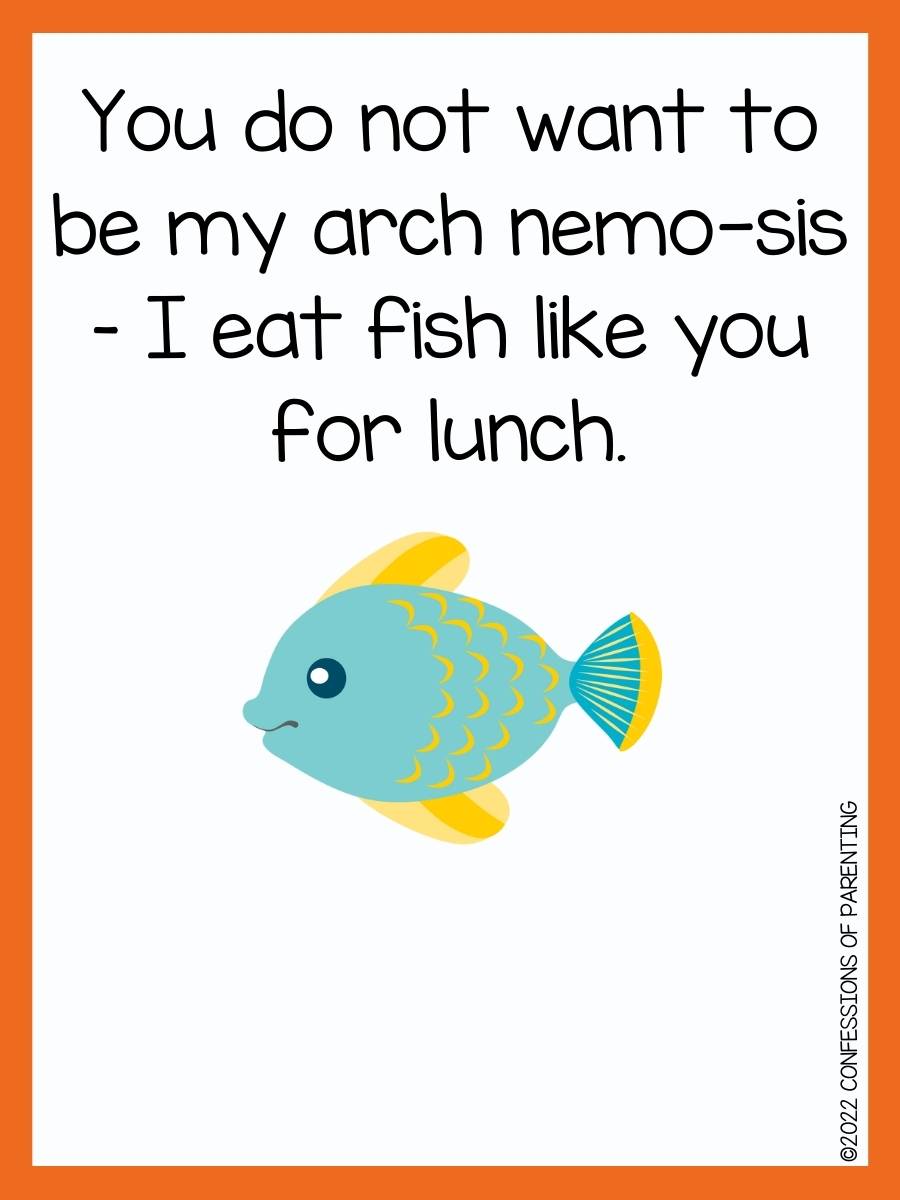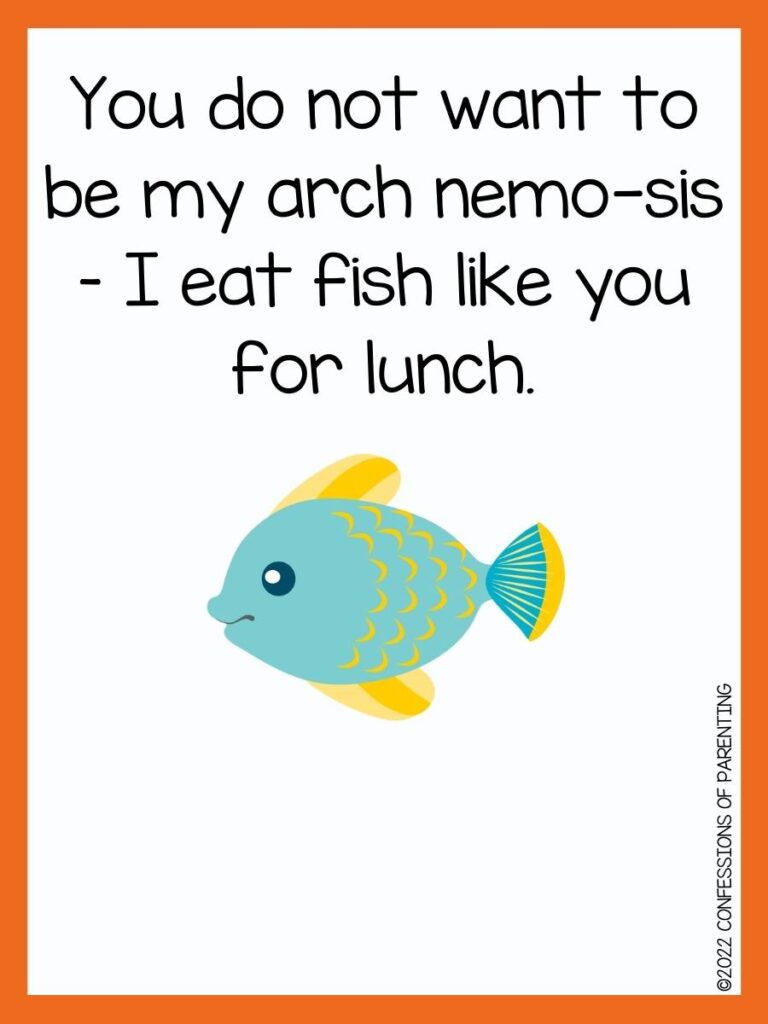 We really need to shellfish if we are going to make a profit today.
You are a reel legend.
Salmon says come up with fish puns.
He should walk the plankton for a bad fish pun like that.
Extra seannamon please.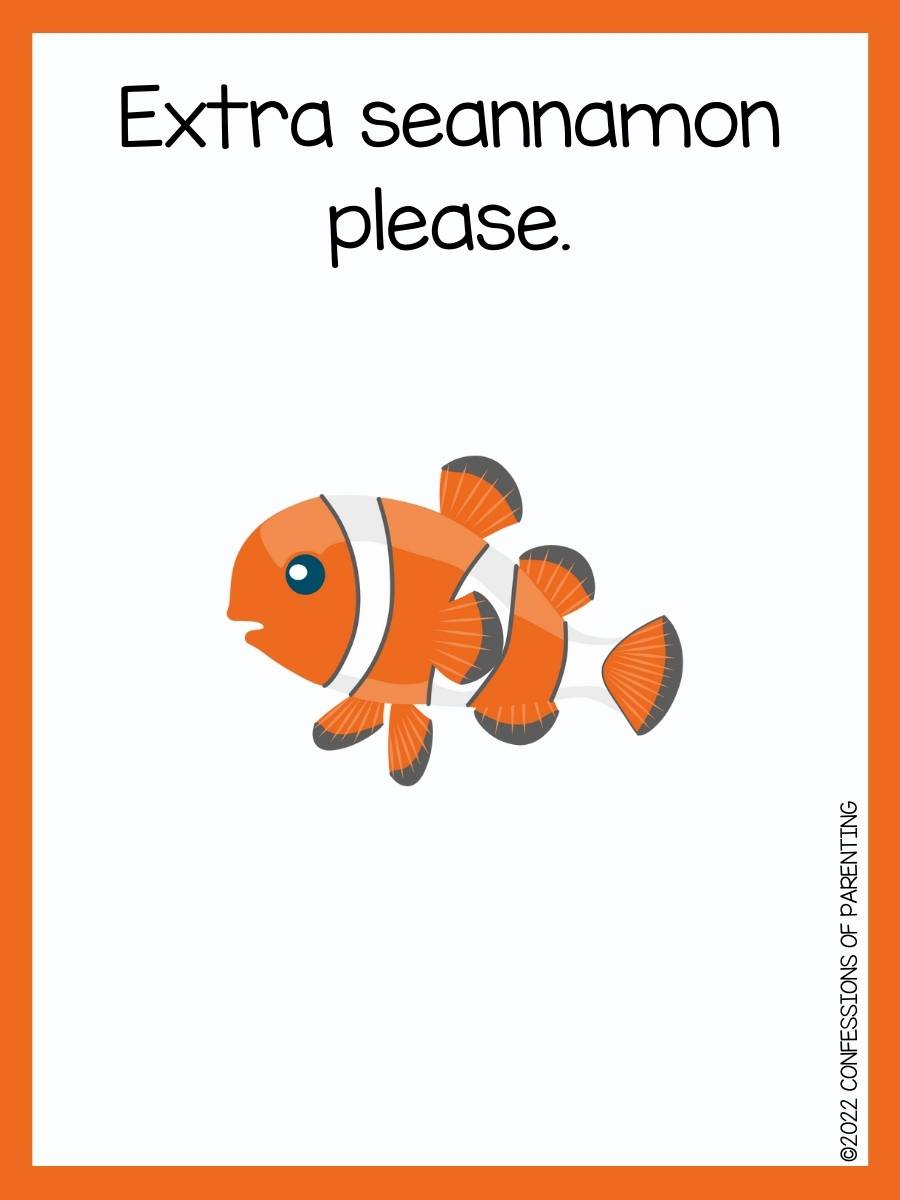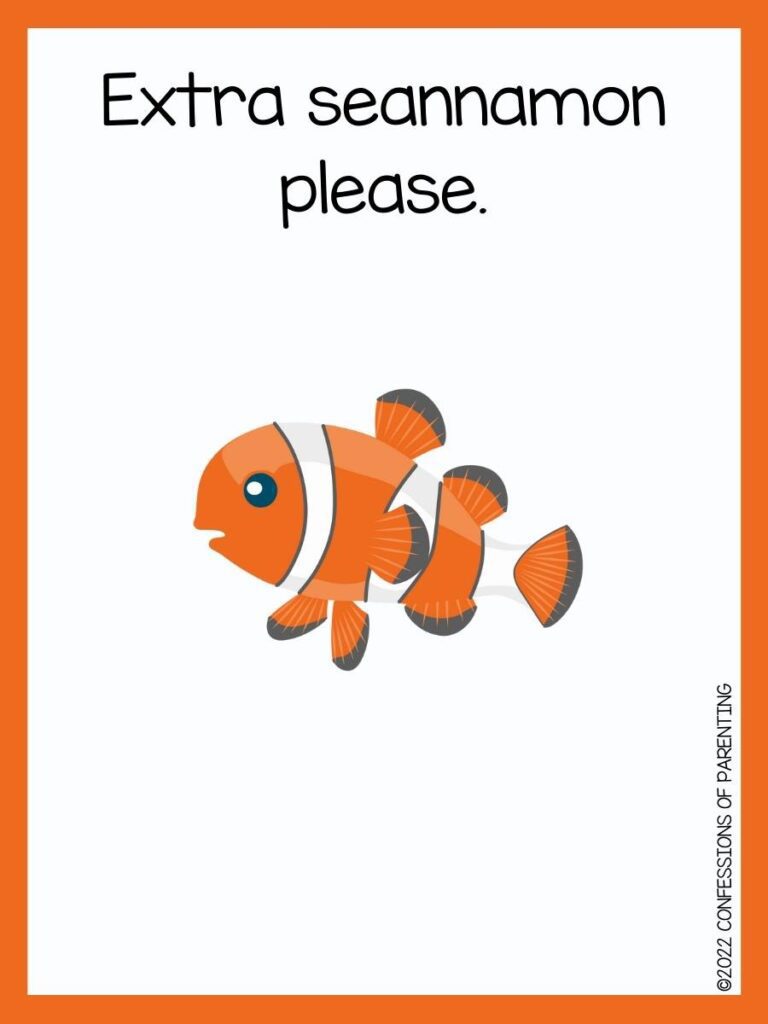 Salmon call a doctor.
Can't believe you have the tena-sea-ty to keep these puns going.
I love you more than any other fish in the sea, or any fish in the entire tunaverse.
I think you are jawsome.
The Rodfather.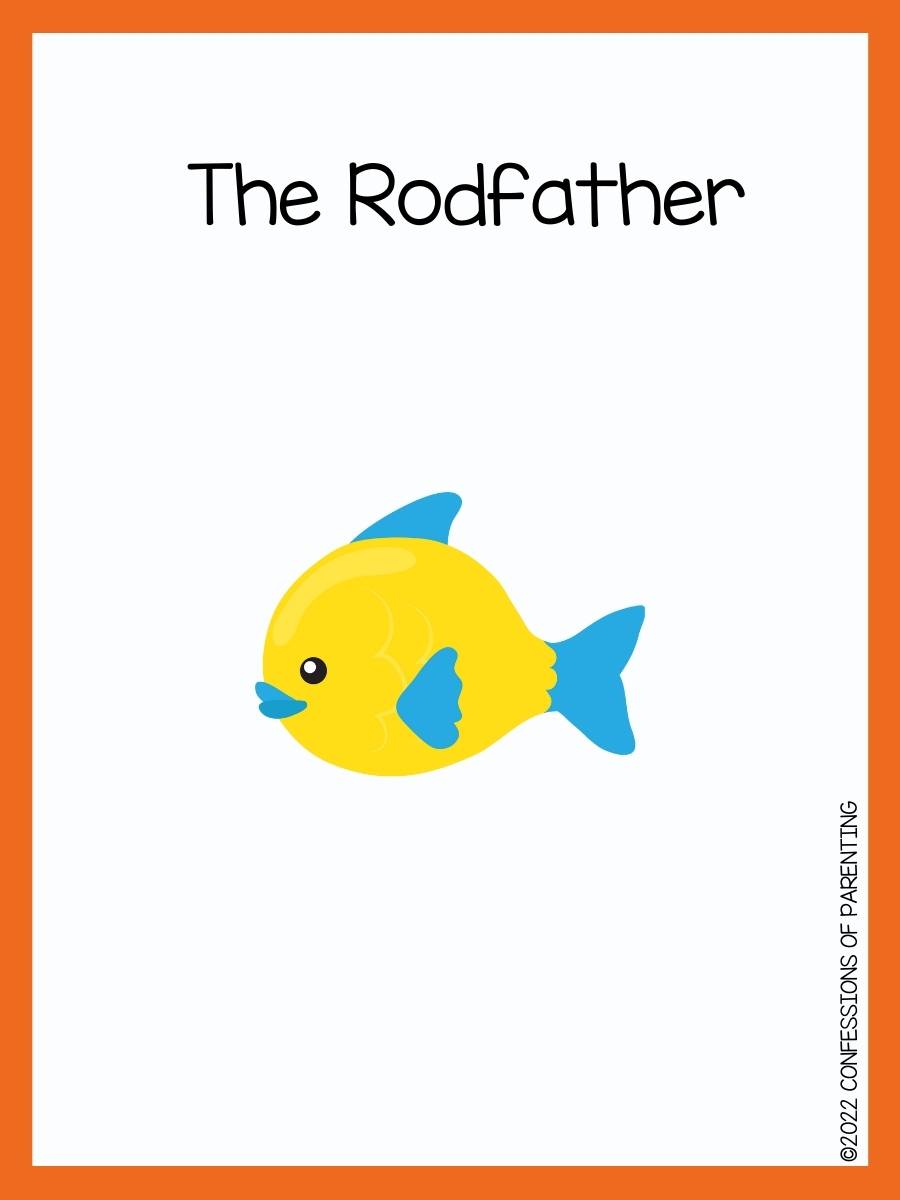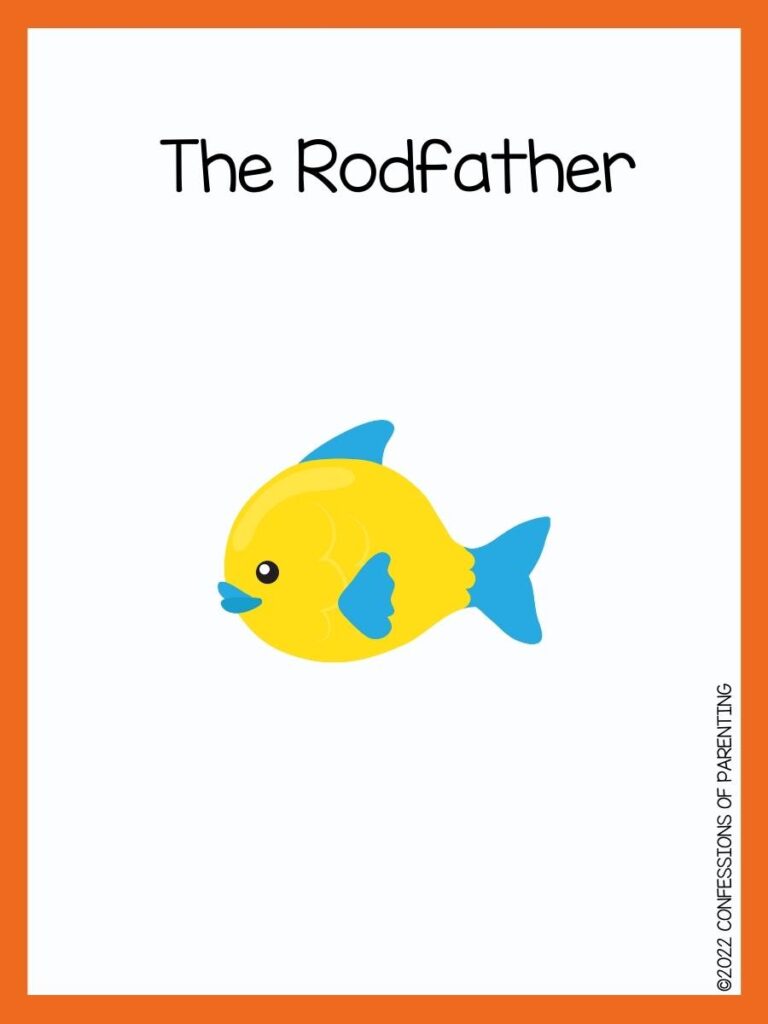 Do you have some other favorite fish puns and jokes? Share them in the comments so we can add them to the list!
You can Never Have Too Many Jokes! Complete List of Awesome Jokes!
Kid Jokes
Adult Jokes
How Do I Access My Free Printables?
Fill in the form above. You will receive an email in your inbox. If you don't see it check your spam folder! You will then click to confirm your subscription. Once confirmed you will be taken to Airtable (a different website) where all our free printables will be waiting for you! It is free to sign up for Air Table!
How Do I Print A PDF?
You'll need a program that supports PDFs. Adobe Acrobat is a great option. Open the program, click file then print. Select your printer and the number of copies you want to print. Be sure you click double-sided if you want it to print on both sides.
Can I Resell These?
You may not resell any printable that you find on our website or in our resource library. You may use them for class parties, at church, at home, or in the classroom. You may get these printed at an office supply store or copy center at your own expense.