Random acts of kindness don't just have to happen once in a while with these simple random acts of kindness you can spread joy throughout the whole year! 
Random Acts of Kindness
Do you ever wish you could do more for the people around you but don't really know what to do? You are not alone. We have all felt like this at times! We have put together an awesome list of ideas of easy random acts of kindness that don't take much effort at all but that can turn someone's whole day around!
Simple Random Acts of Kindness
Bring in a neighbor's trash bins
Sometimes these simple little random acts of kindness go a long way! Bringing in a neighbor's trash bin is so simple and easy but it lets your neighbor know you are thinking of them and are willing to help!
Write a letter to a family member or close friend
Writing a letter really doesn't take long and it means so much! It means so much to know that someone actually made the extra effort to write a letter. The hardest part about this random act of kindness is finding a stamp!
Little ones color a picture or draw one!
Box up 5 toys that are in good condition for donation
I'm sure I'm not alone when I say my kids have too many toys! They have toys that are in great condition, but they don't really play with them anymore. So pick a few toys and let the kids help and donate them to a local donation center. This is a great random act of kindness that just makes you feel good inside.
If your kids are struggling with giving toys away, teach them how to get rid of toys and feel good about it!
Bake cookies for the police and fire department
Our local police and firemen sacrifice so much to keep our community safe! So for this random act of kindness bake up some treats and deliver them to let them know how much you appreciate them!
Leave your change in the vending machine
These seemingly small random acts of kindness are sometimes the most meaningful to someone!
Leave some change in the vending machine for the next person. This is sure to brighten their day! If you have some extra time, you could tape a note with the change letting them know that they are important!
Make holiday cards and tuck them under the windshield wipers of cars
The holiday season is full of excitement and a whole lot of rushing around trying to get things ready! Have you ever stopped to think about how someone around you might be struggling at this time of year? Or maybe that person is you?
We never know what battles people are facing all around us. That's why this random act of kindness is such a special one!
Make heartfelt Christmas cards with words of love and encouragement and tuck them under the windshield wipers of cars. You just never know who might need some extra Christmas cheer!
Pay for the order behind you at a drive-through
When you go through a fast food drive-through, tell the cashier that you want to pay for the car behind you. Just picture how that person's day will become so much better as they pull up and are told that someone else paid for their meal! Who knows maybe they will pay for the car's order behind them?
Tell silly jokes to make someone laugh
This random act of kindness is a super easy one to do. Sometimes we think of doing random acts of kindness as something we should do for neighbors or for strangers, but it is a great idea to do random acts of kindness for our family members too! When I notice my kids are having a hard day, I have noticed that they will brighten up a little bit when I tell them some super cheesy jokes!
Make a coupon for someone
There are so many things you could add to a coupon for someone to help lighten their load a little bit. It could be anything as simple as a coupon for a free hug, or something a little bigger like a coupon to wash their car.
This is another great random act of kindness to do for your kids too! If you want some ideas for coupons for kids, check out our post with a coupon book printable for kids!
Do a chore for someone in your family
This would be a great random act of kindness to get your kids involved with! Help them do a chore for one of their siblings and leave an anonymous note saying that they are loved!
Give a compliment to someone you see
Sometimes I will catch myself thinking that I like that person's shirt or hair, or whatever it might be!
How much more good would it do if we said those compliments out loud instead of just thinking them in our heads?!
Next time you think something good about a random person, try sharing that compliment with them!
Smile at everyone you see
Something as simple as a smile can help someone's day turn around! Today, try smiling at everyone you see and see how many people smile back!
Offer to shovel snow for a neighbor
Do you have an older neighbor that maybe can't shovel their driveway quite as easily? Or maybe you have a neighbor that has such a busy schedule that they never have the time.
Take the time to shovel their driveway for them and lighten their load a little bit!
Give a homeless person a gift certificate for food
There are so many people who don't even have enough money for food. Grab a gift card to a restaurant nearby and give it to a homeless person so they can have a nice meal or pack them a blessing bag with winter supplies!
Offer to take someones grocery cart and put it away
As a mom with kids, it always is so helpful to me when someone offers to put my grocery cart away for me! Look for someone who could use a little extra help and offer to take their cart for them!
Give blood
Donating blood would be a great random act of kindness if you have some extra time and are willing!
Even though you'll never see the people who you'll be helping, you can know that you are making a difference!
Overtip the waitress with a note
After you pay your bill at the restaurant, leave an extra-generous tip with a note thanking your waiter or waitress for all their hard work! This will especially make their day!
There you have it! Random acts of kindness you can do this holiday season! Don't forget to download this random acts of kindness Christmas Countdown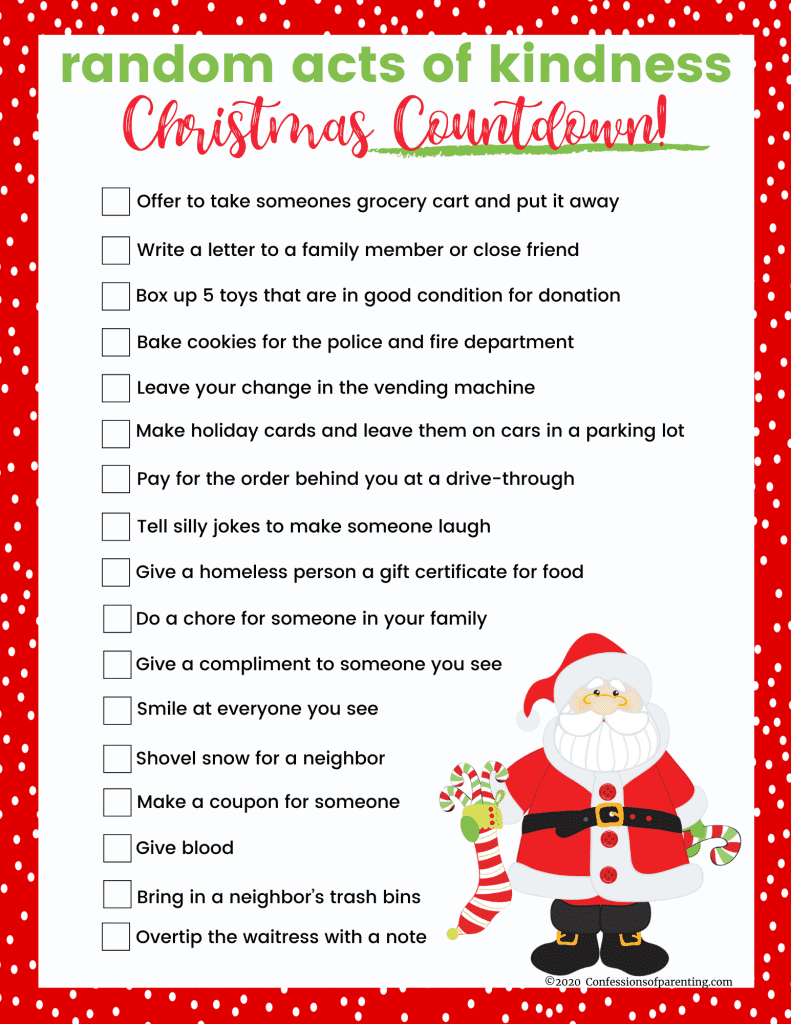 What are your favorite random acts of kindness? Share in the comments!
Love Christmastime? Check out these other posts!
Be sure to share your Random acts of kindness in your stories on Instagram and tag us @micheletripple! We love seeing what you are up to! While you are at it, be sure to follow us to see what else we are working on to make your life easier!
Save these Simple Acts of kindness on Pinterest so you can find them easily!