The end of the school year is an exciting time for kids and parents. Kick off the end of your school year with this fun and free School is Out Bingo Printable!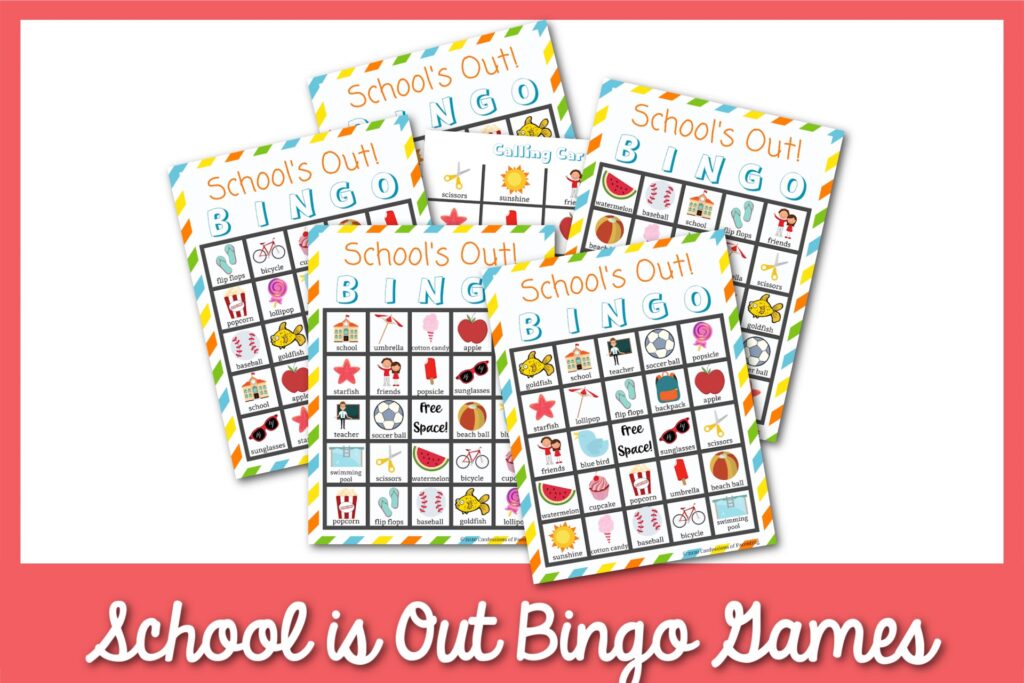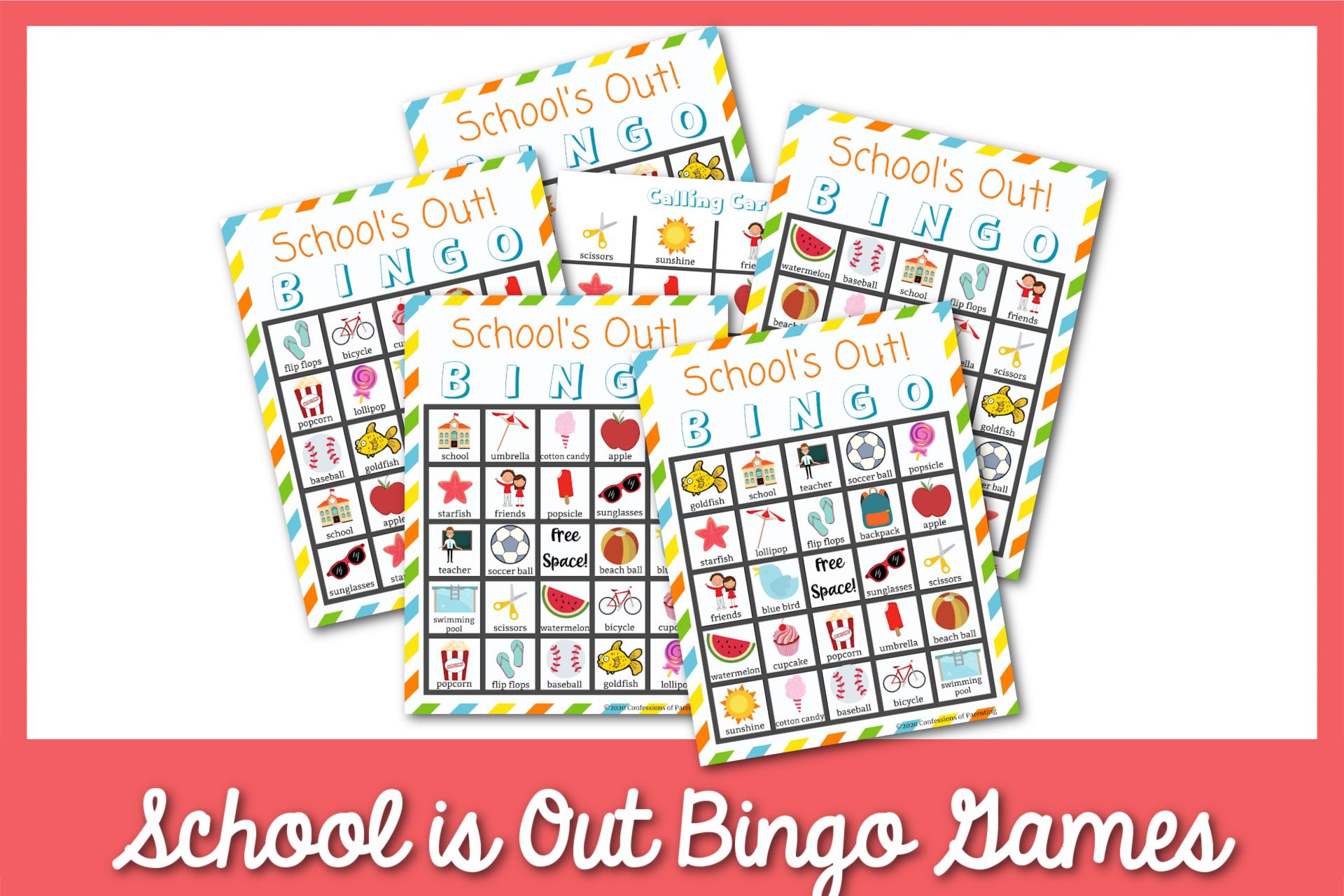 School is Out Free Bingo Printable
The end of the school year is an exciting time for parents, teachers, and children. However, with the lack of homework and other activities, it can be hard to figure out what to do with your children.
This free School is Out Bingo Printable is the perfect way for you and your children to celebrate the end of the school year. Bingo is such a great game to play because it is easy to pick up, it's great for building excitement, and you can teach children new things as they play! And if you are looking for an educational spin on it, grab our multiplication bingo cards too!
Another thing that I really love about bingo is that it can be played in a large group or with just two people. It's versatile and addictive! Your kids will be asking to play this bingo game again and again!
Finding this and it's not summer? No problem play it anyways or grab one of our other fun bingo games like our Fall bingo, Winter Bingo, or Spring Bingo! And if you are heading camping this weekend, grab our camping bingo as well! Check out all our other bingo games for kids!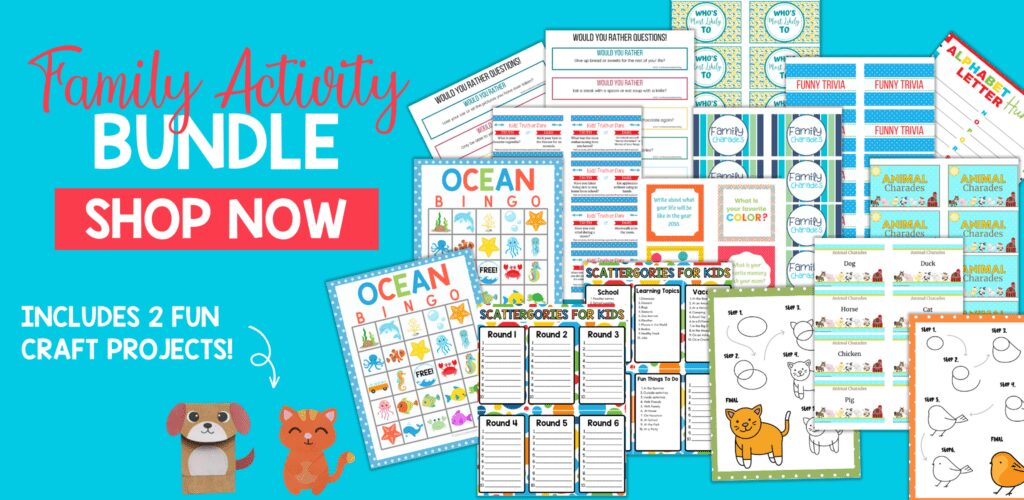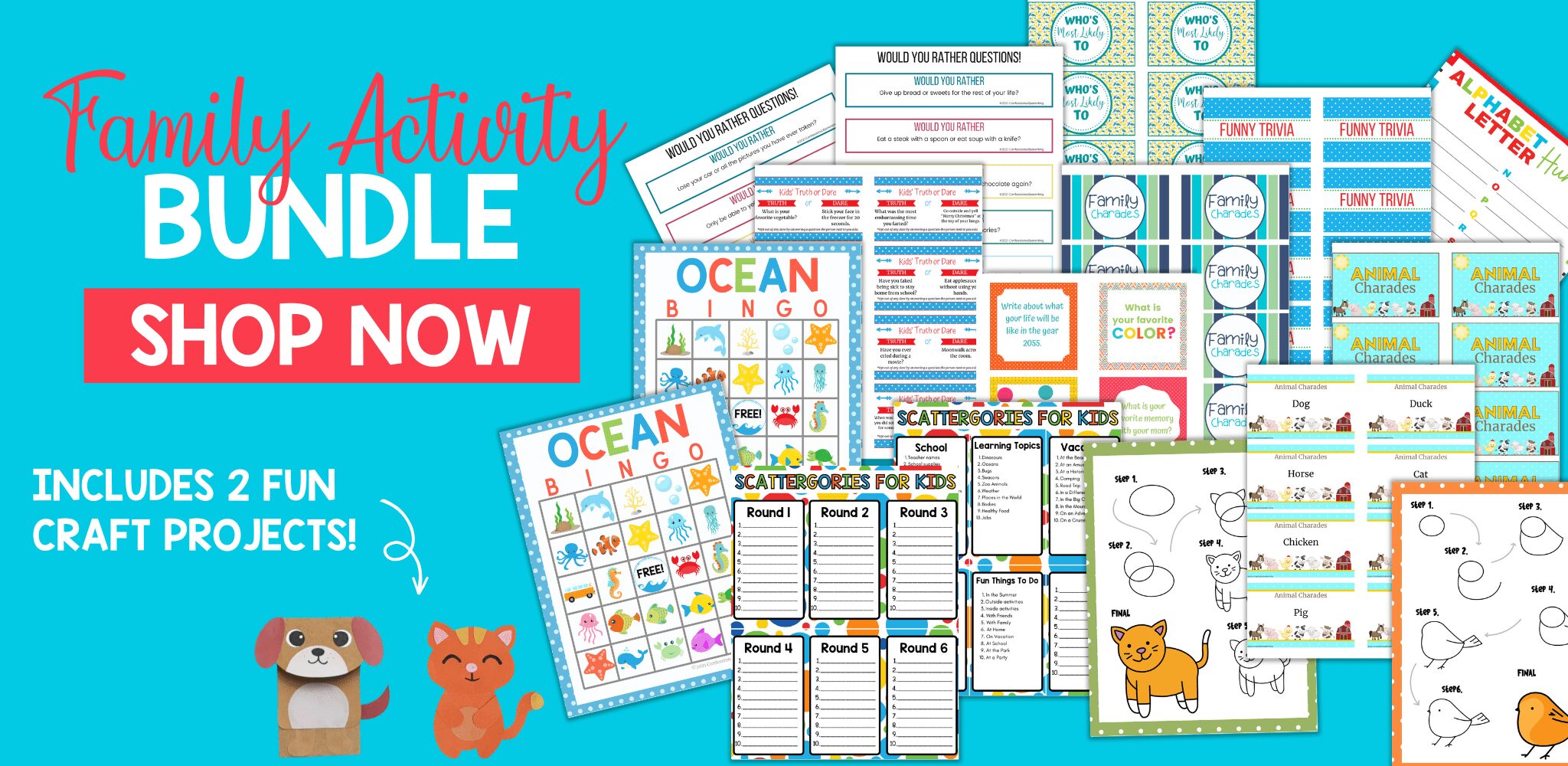 How to Play School is Out Bingo
Like I said before, bingo is an easy game to pick up. Learning to play this game is easy, it's suitable for kids ages 3 and up.
Note: if you are going to play with children as young as 3 make sure you are there to help and supervise.
Setting Up the Game
To start, you will want to print off enough bingo cards for each child. There are 6 different cards included, make sure you shuffle these up so everyone gets something different from their neighbor!
Keep one bingo card for yourself, this will be the master bingo card.
You only need to print off one copy of the calling cards. Cut these cards up and put them in a bowl or a hat, somewhere where you can easily pullout a card one at a time.
Lastly, when setting up the game, make sure each student has place markers nearby to mark off the bingo square after it has been called out.
Playing the Game
After each child has a game card and place markers (if you're using candy be sure to tell them not to eat them all before the game is over!), pull out a calling card from the bowl or hat where they are being held.
Each child should find that corresponding item on their bingo sheet and cover it with a place marker. Be sure to mark it on the master bingo sheet as well.
Once everyone has their place marked, draw another card and continue the process.
This process will continue until someone fills out a row. (must be 5 squares diagonally, vertically, or horizontally) When they have a row filled out they must call out "BINGO!"
After the child calls out "BINGO!" be sure to check their sheet with your master bingo sheet. If they have a row filled out with the items you called out, then they win!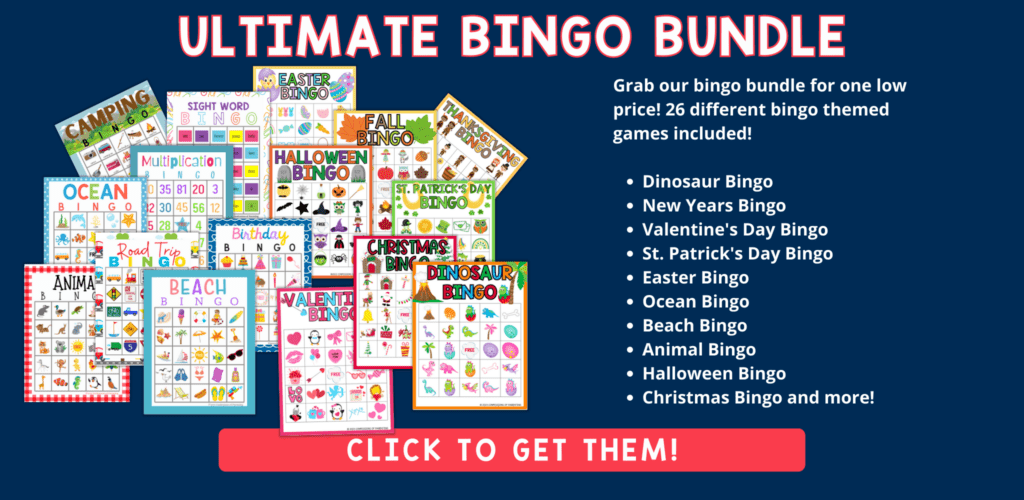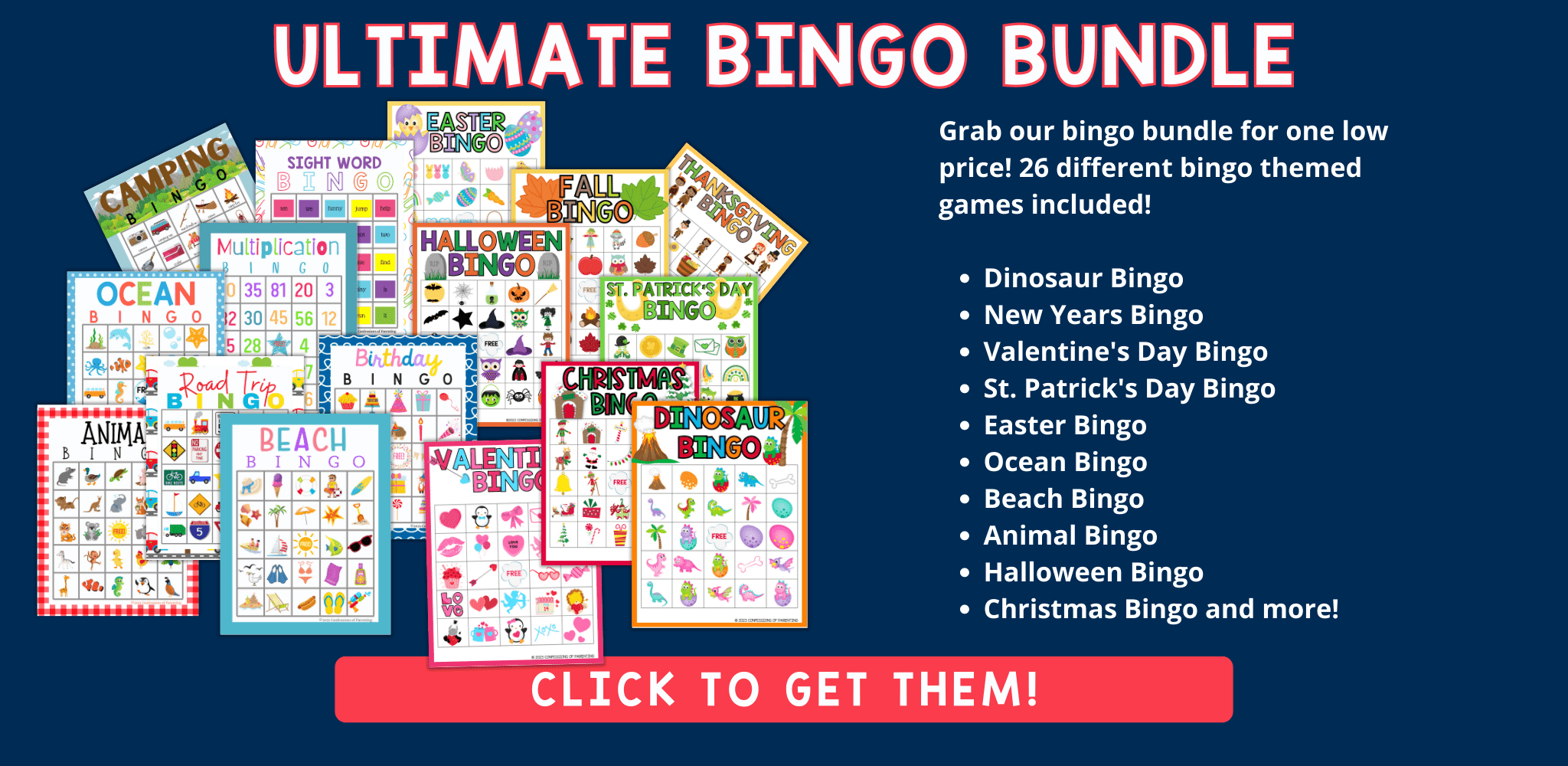 Helpful Tools We Love When Downloading Printables
Printer– I love my HP+ printer that uses Instant Ink. I love it because we can use as much color ink as you want for one low cost starting at $.99/ month for ink. Try it out for free here!
Cardstock- I always recommend printing on cardstock. This makes it way more durable so you don't have to worry about printing it time and time again.
Laminator / Laminating Sheets- Again, for added durability, grab a laminator and laminating sheets so that you can use this again and again!
Scissors (I seriously love these ones)
Dry Erase Pens- Use dry erase pens so that you can wipe your laminated printable clean over and over again for endless use!
Tips and Tricks for School's Out Bingo!
Bingo is such a versatile game and can be fun for all ages! If you want to spice your game up a little bit, here are a few tips and tricks you can try.
Print on heavy paper and laminate
If you are using this bingo for a school activity or with younger kids, I definitely recommend laminating or printing on cardstock. This helps the game cards last for a long time and they're not as easily ripped or ruined.
Use different place markers
Something that makes bingo extra fun is the different place markers that you can use. If you are doing this as a school activity you can use paperclips, sticky notes, pieces of scrap paper, or some yummy candy!
Some other suggestions that you can use for place markers include pebbles, Jolly Ranchers, chocolate chips, marshmallows, or any other candy or other small toys that you can find!
Switch the cards
If you are playing a large group, after each bingo you can have the children find someone else and trade cards. This keeps the game interesting because you have to look for the same pictures in different places.
Play Bingo Blackout
If the children you're playing with are quick with the game and you realize it's going to fast, you can play bingo blackout. This just means instead of playing to hit one row, you have to cover every single block.
However, if the children you're playing with are really attentive and quick, they will all get bingo at the same time! So to avoid this, you can make it double bingo (fill out two rows of bingo), diagonal-only bingo (they have to get a diagonal row), or top and bottom bingo (they have to get double bingo in two places that are opposite each other).
Give the winner a prize!
I remember playing bingo with my class in elementary school and something that always made the game even more fun was when the winner would get a prize! You don't have to go all out to make the prize exciting. Children mostly just want the recognition that they won.
Possible prizes could include a dozen cookies, pencils or pens, a nice notebook, a beach ball, a bag of candy, an eraser, 5 extra minutes of recess (or you can stay up 5 minutes past bedtime), ice cream, a coupon to skip out on one chore, or a new book!

School is Out Bingo Printable
Grab your free School is Out Bingo printable today by joining our email list below! Just download, print, and play!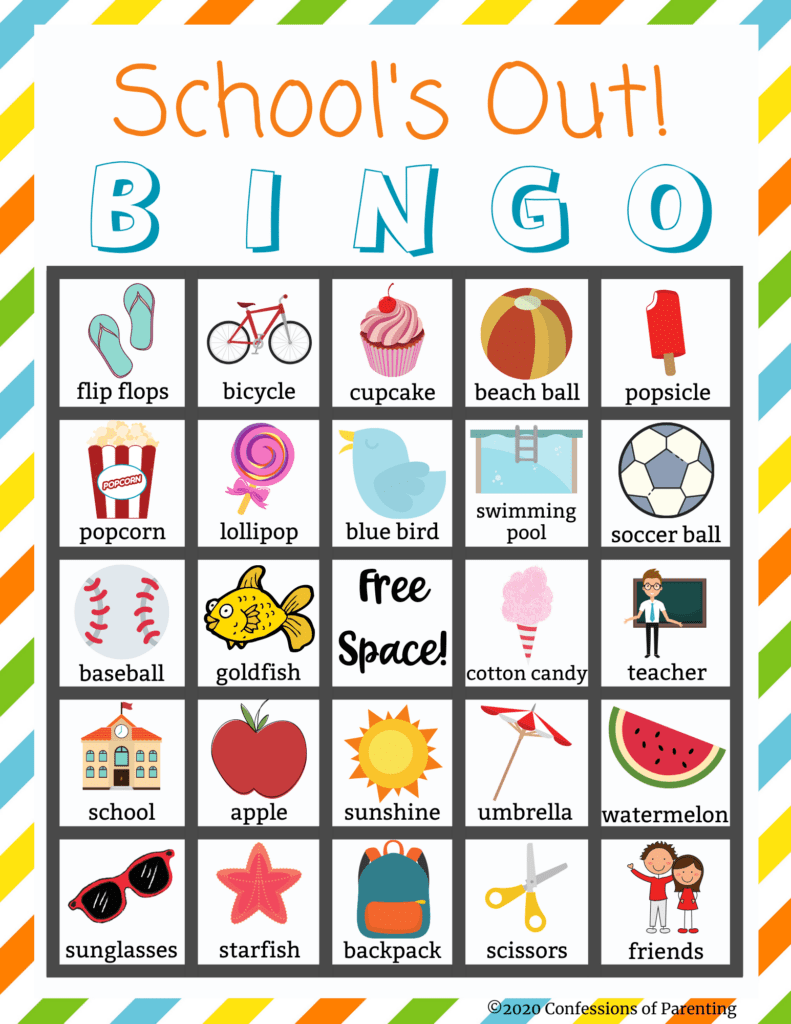 We hope you and those you play with really enjoy this fun, easy, and free School is Out Bingo Printable!
Love Bingo Games? Don't forget to grab these too!
How Do I access my free printables?
Fill in the form above. You will receive an email in your inbox. If you don't see it, check your spam folder! You will then click to confirm your subscription. Once confirmed, you will be sent an email with your free printable.
How Do I Print a PDF?
You'll need a program that supports PDFs. Adobe Acrobat is a great option. Open the program, click File, then print. Select your printer and the number of copies you want to print. Be sure you click double-sided if you want it to print on both sides.
Can I resell these?
You may not resell any printable found on our website or in our resource library. You may use them for class parties, at church, at home, or in the classroom. You may get these printed at an office supply store or copy center at your own expense.