School's out, and you're ready for some fun, so why not try our Summer Charades game? We promise you'll have the best time playing and giggling together with this exciting game! Be sure to grab these printable charades cards for hours of fun!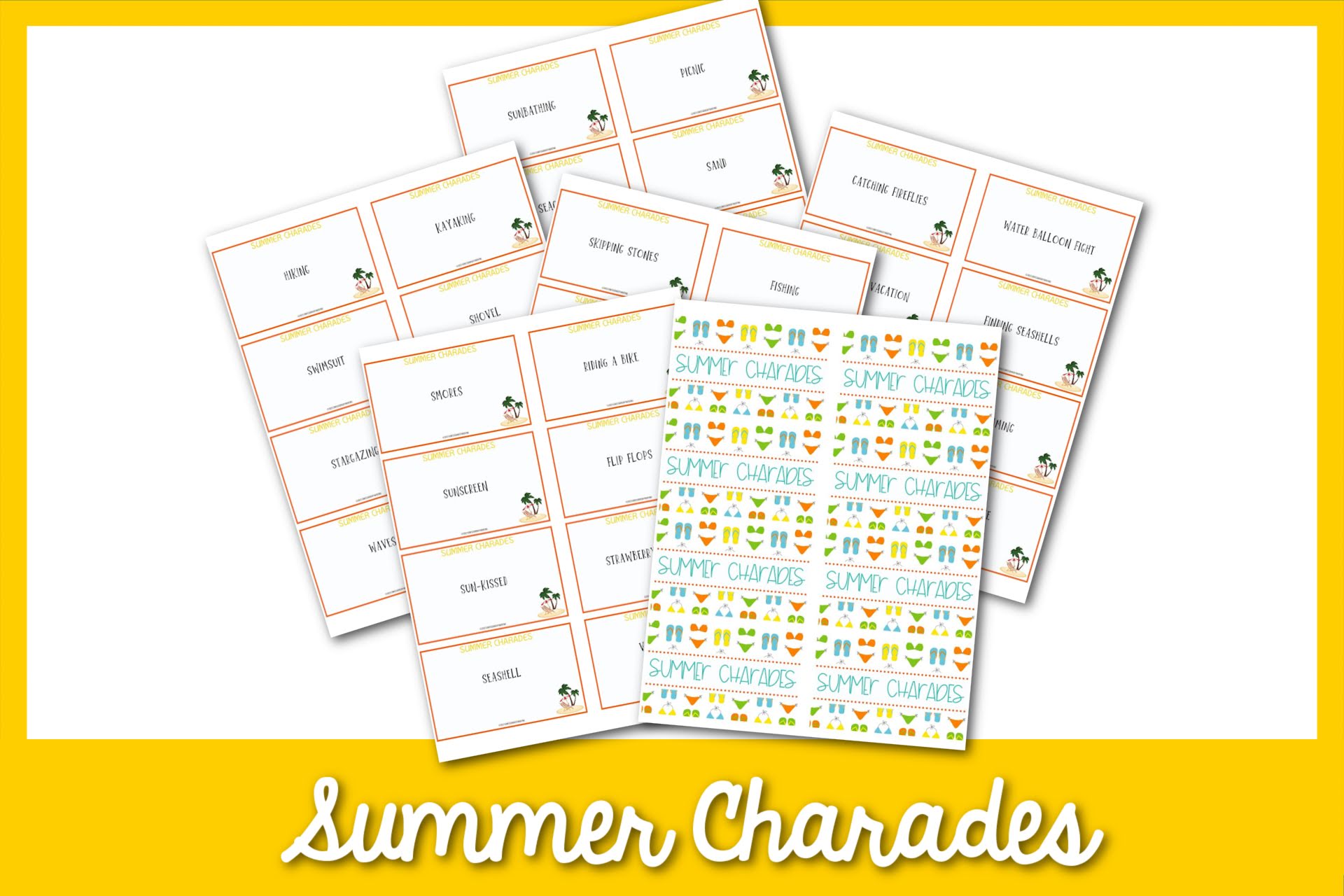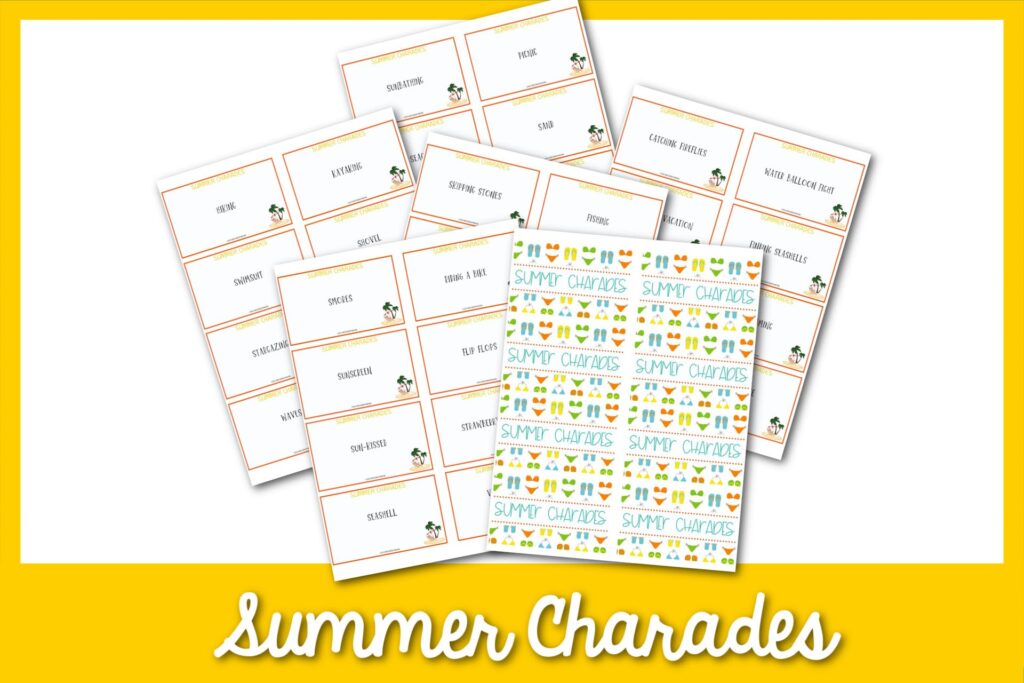 Summer Charades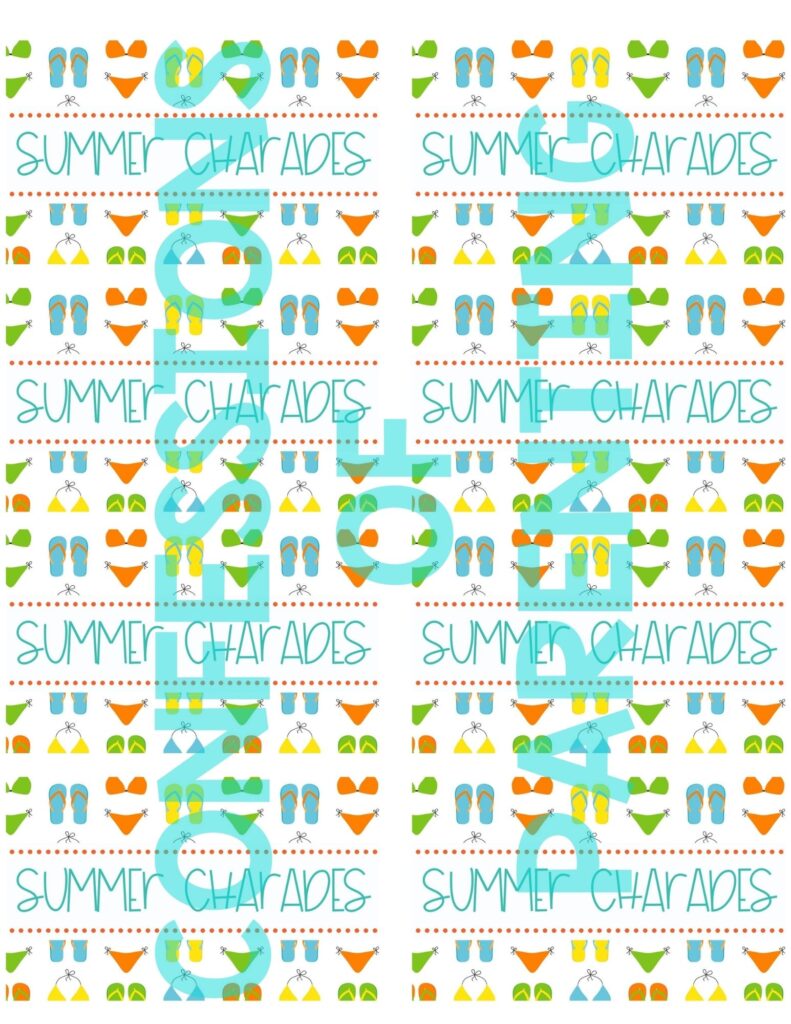 If you are like me, you look forward to summer every year!
It's so nice to have a break from school and have fun out in the sun together!
With pool parties, days at the beach, camping, or cookouts, what's not to love?
Whether you are enjoying your summer, or just looking forward to summer, your family will love playing Summer Charades! Pair it with our summer this or that or summer would you rather for even more fun!
Each card has all of your favorite things about summer, and you'll have so much fun giggling and acting out each card for each other!
Charades is a great way to relax and cool off while having fun together! Some of my favorite memories are from family game nights spent laughing and being silly, and charades is just right for any family, no matter the age or size!
You won't want to miss out on this game, so be sure to download these printable Summer Charades today!
For more summer fun, pair them with our 4th of July Charades, Camping Charades, Disney Charades, and our picture charade cards!
Ultimate Charades Bundle!
Do you want to Grab the Ultimate Charades Bundle with over 23 themed charades games? Grab it now before the price increases!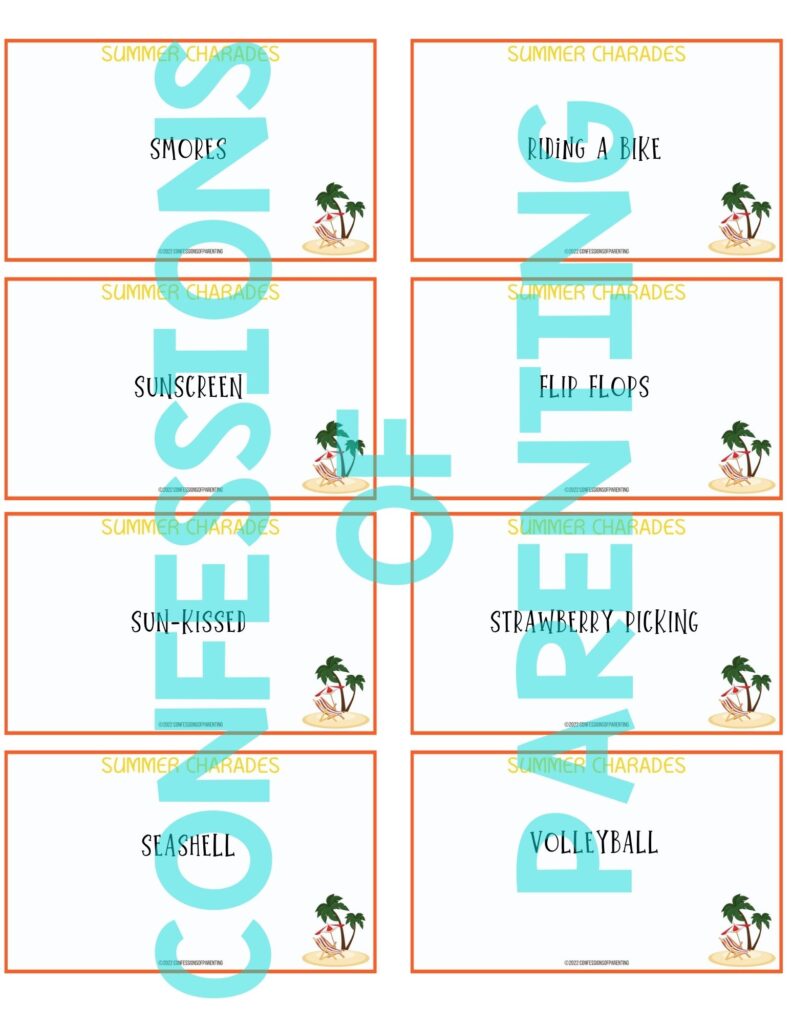 Why I Love Charades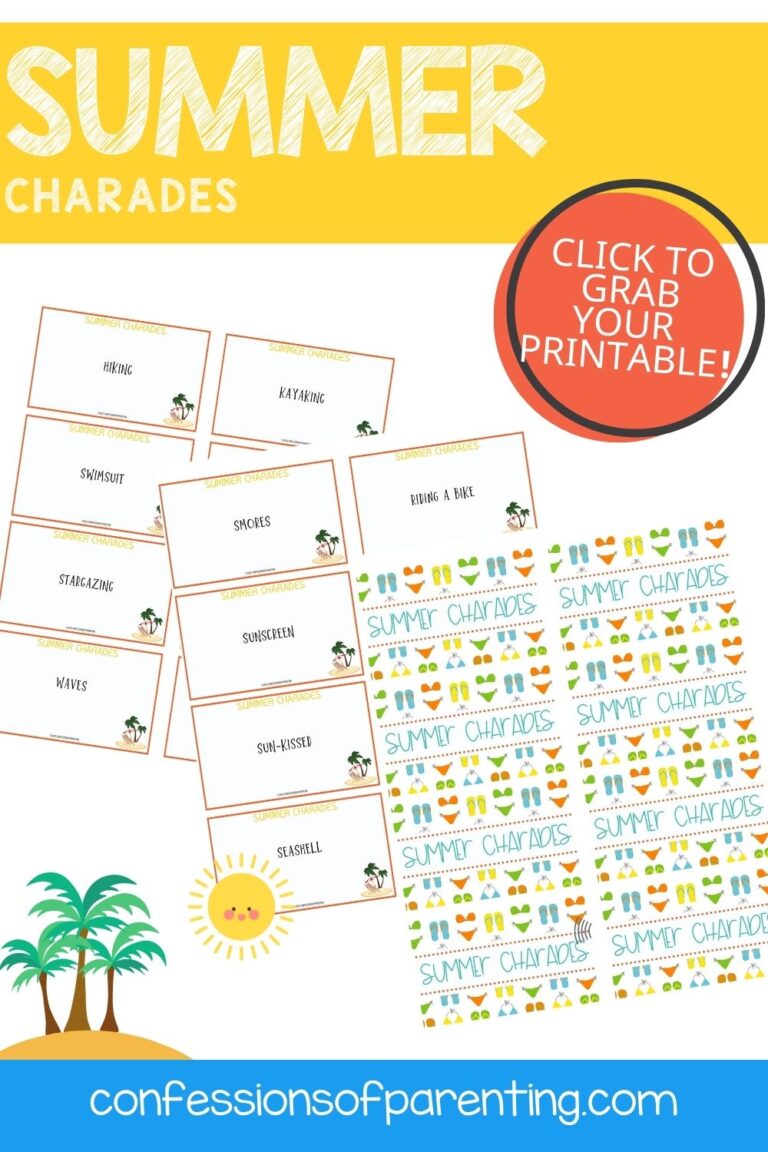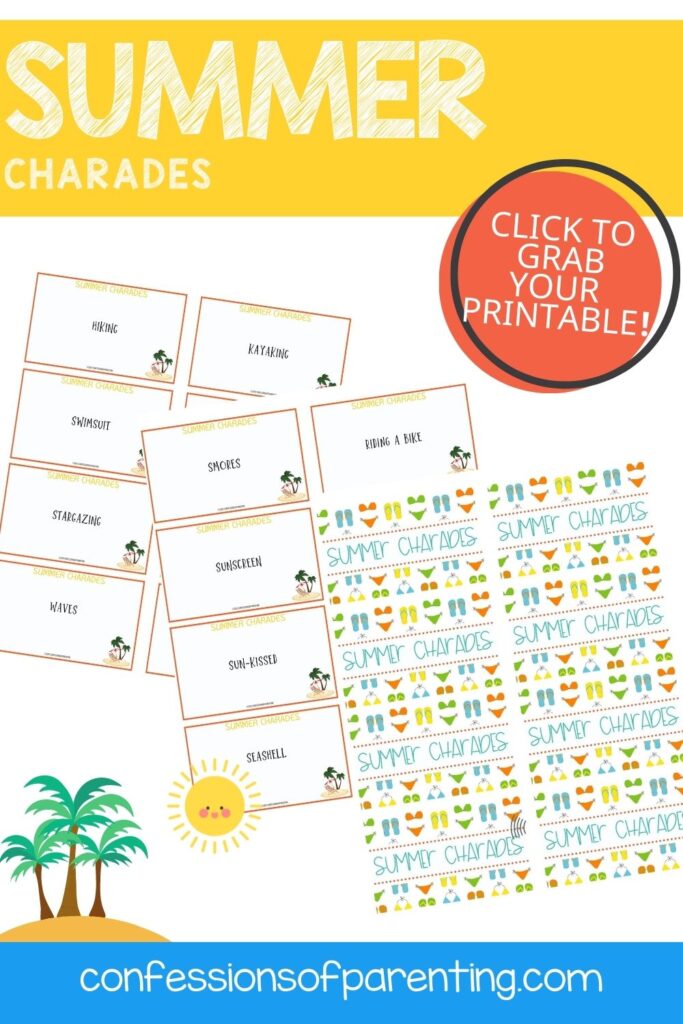 Charades is an ideal family game because it has simple rules that can easily be played by everyone, whether they are preschoolers, teens, or adults.
I get so excited when I find a game that the whole family can enjoy, and charades is a classic that everyone loves!
Charades is so easy to set up and play, so it's great for those times when you want to get right to having fun!
All you need is a group of people and these printable Summer Charades cards, and you are all set for an exciting game night! It's perfect for an easy, no-fuss family game night!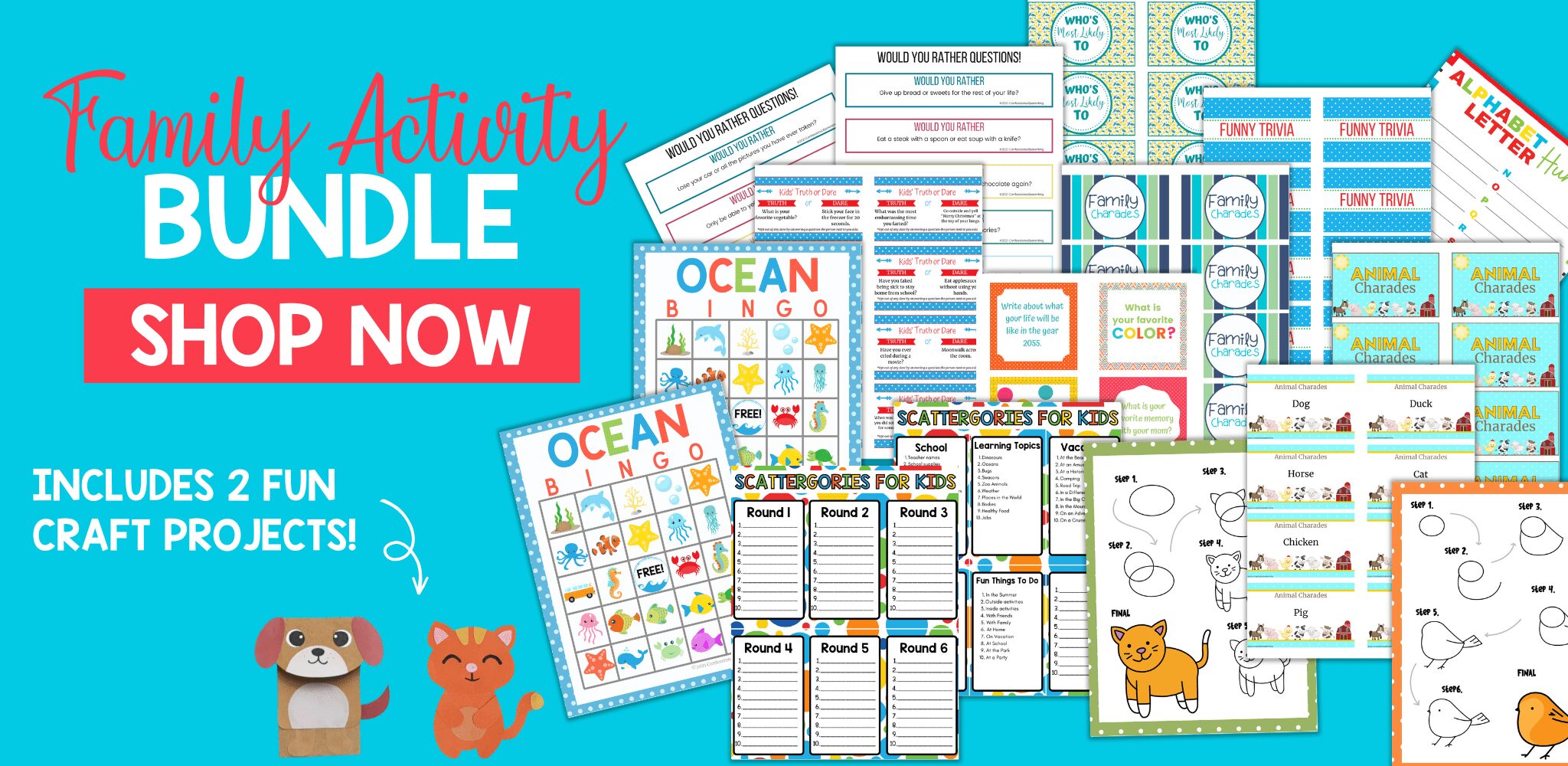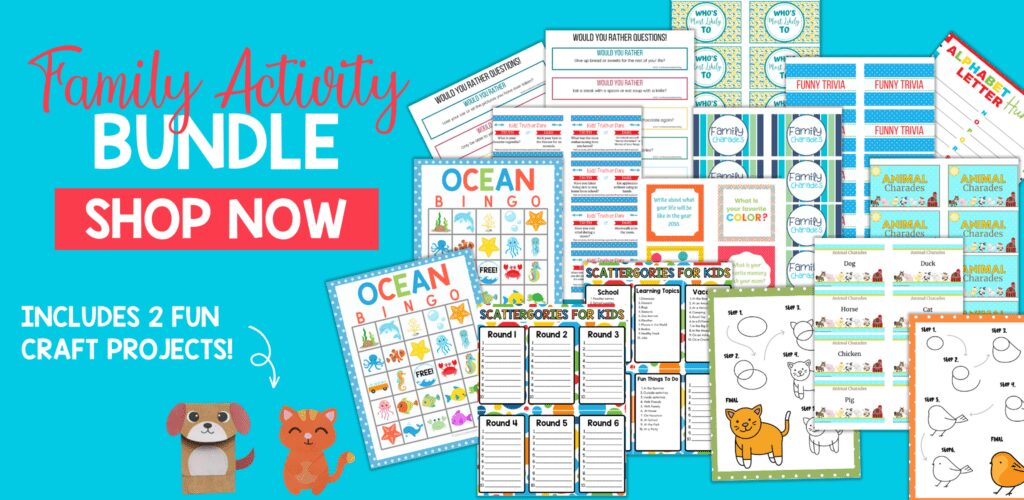 How to Play Summer Charades
First, you will need to download your Summer Charades printable cards.
Cut your cards, put them in a bowl or hat, and you are ready to play!
Next, round up your family members or friends, and divide them into at least two teams. If you have a large group, it's a good idea to form multiple teams for easier play.
Determine who will go first. You can do this by rolling a die, playing paper-rock-scissors, having a staring contest, or any other fun way you can think of. The choice is yours!
An actor from the first team chooses a card, and then acts out that card for their team. Remember, you can not use your mouth to speak, make sounds, or mouth the words! The team has one minute to guess the answer. If they guess correctly, they win a point!
If they don't guess correctly, the other team has one chance to guess and steal that point. They only get one guess, so make it count!
The game ends when everyone's had a turn, when you've run out of cards, or when a team has reached a certain amount of points. The team with the most points wins!
More Summer Games And Activities
If you want even more fun summer games and activities for kids, grab these as well! These have been a huge lifesaver this summer because my kids always have something fun to do! These are easy too! Just download, print, and play! Perfect for every busy family!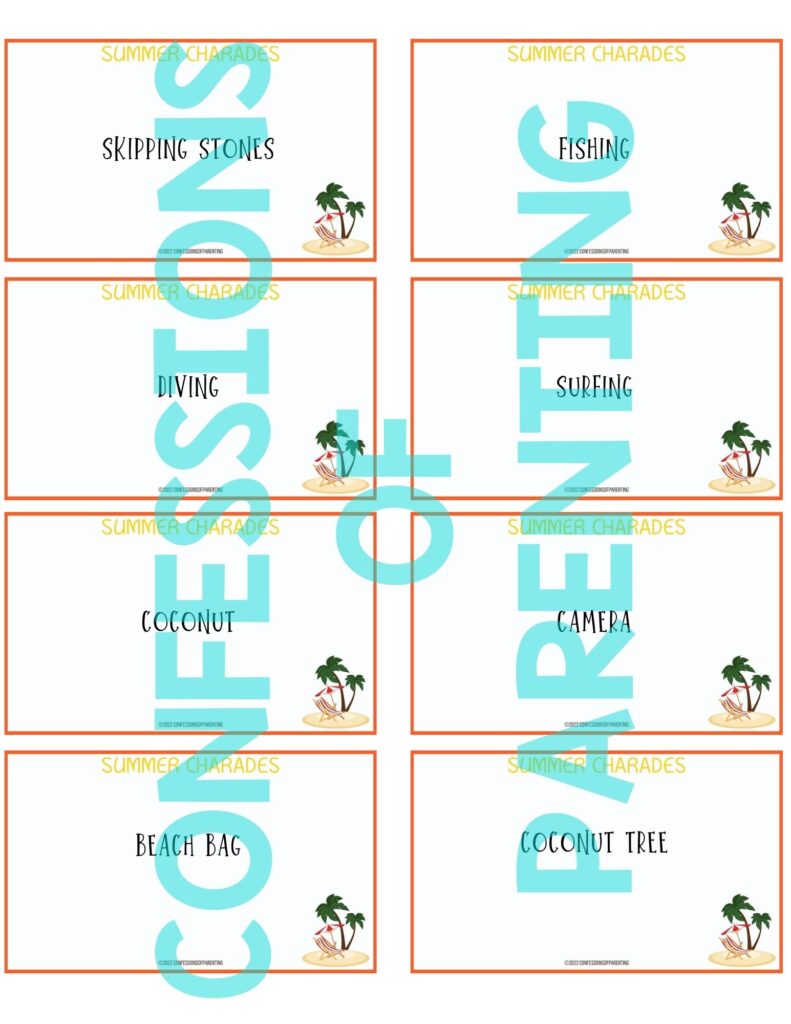 Tips for Playing Summer Charades
It's always a good idea to review the rules of the game beforehand to make sure everyone understands them. This can help avoid any confusion or frustration during the game.
Don't forget that actors can use their hands to indicate how many words their team should guess.
Let loose and be silly when it's your turn to act! This is what makes it extra fun, and it just might help your team guess the right answer!
We are sure your family will want to play this over and over again, so it's a good idea to laminate your charades cards to make them last!
Make things extra exciting and fun with some prizes for the winners! I like to give out some favorite treats or small toys.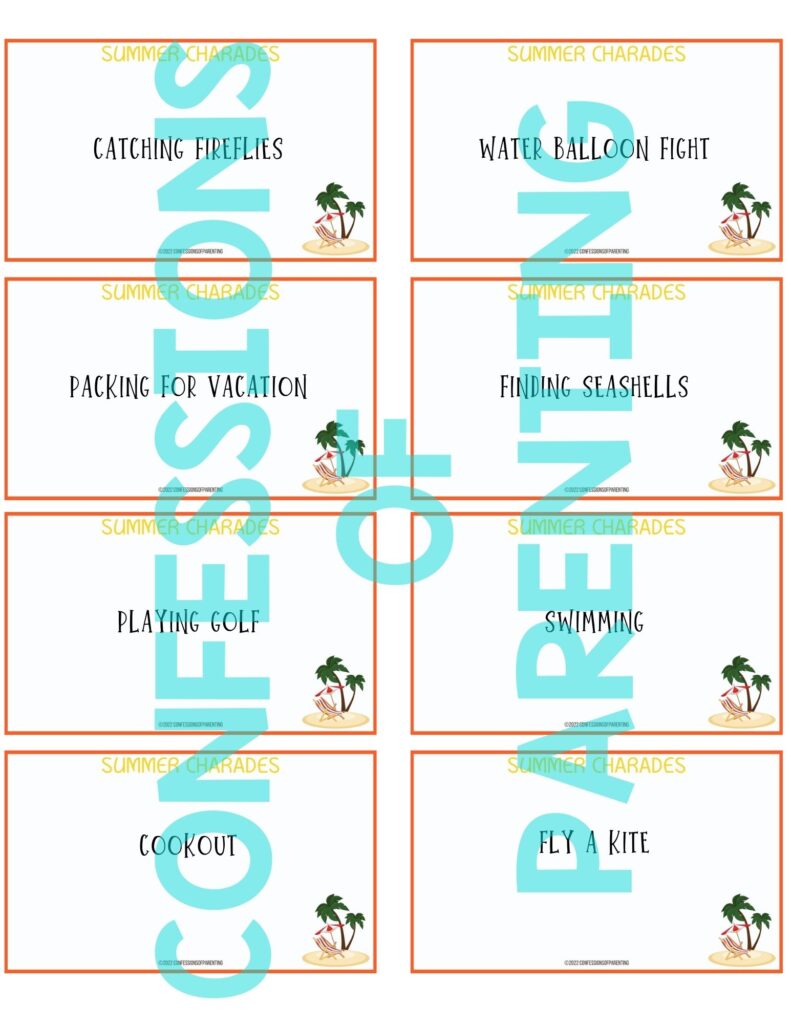 Helpful Tools We Love When Downloading Printables
Printer– I love my HP+ printer that uses Instant Ink. I love it because we can use as much color ink as you want for one low cost starting at $.99/ month for ink. Try it out for free here!
Cardstock- I always recommend printing on cardstock. This makes it way more durable so you don't have to worry about printing it time and time again.
Laminator / Laminating Sheets- Again, for added durability, grab a laminator and laminating sheets so that you can use this again and again!
Scissors (I seriously love these ones)
Dry Erase Pens- Use dry erase pens so that you can wipe your laminated printable clean over and over again for endless use!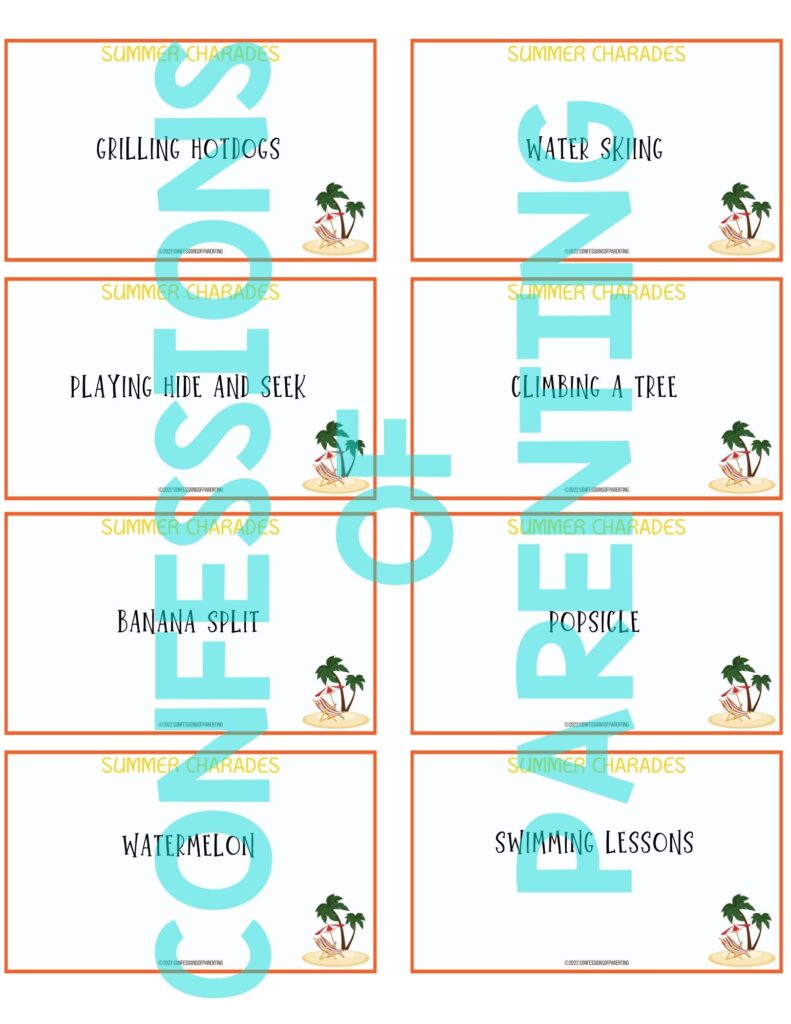 Summer Charades Ideas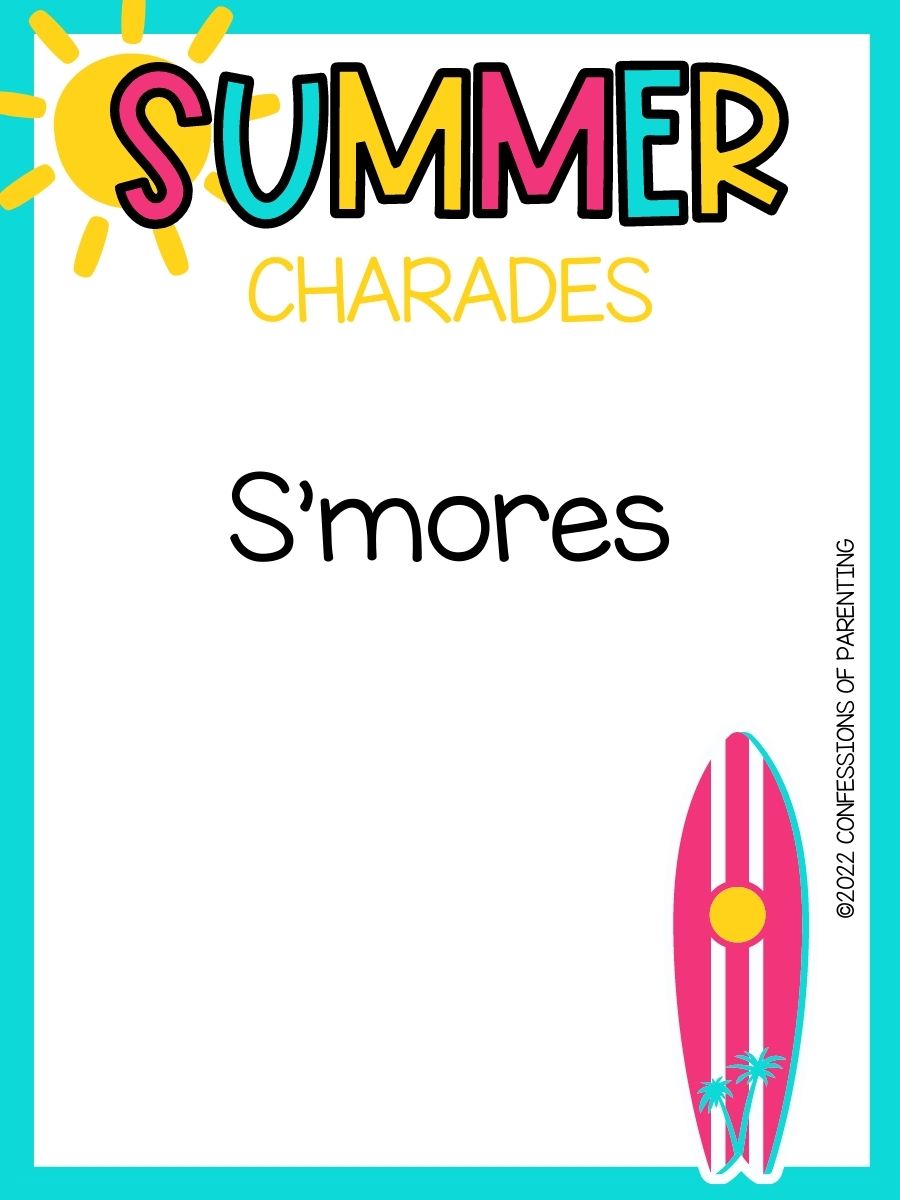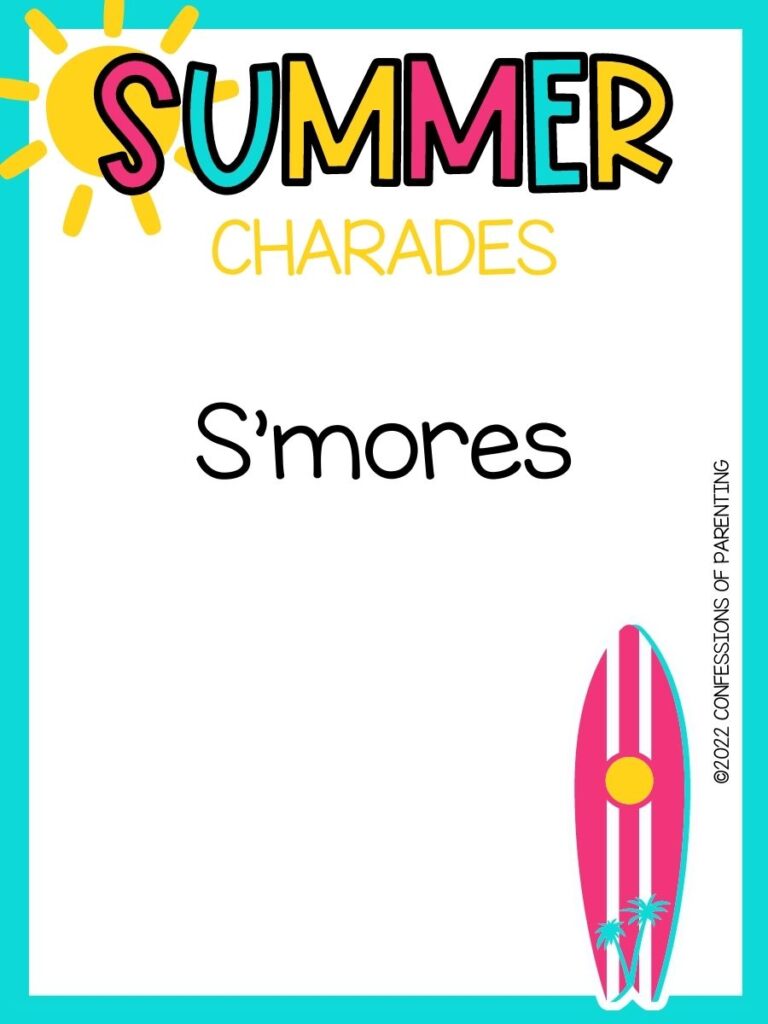 S'mores
Riding a bike
Sunscreen
Flip flops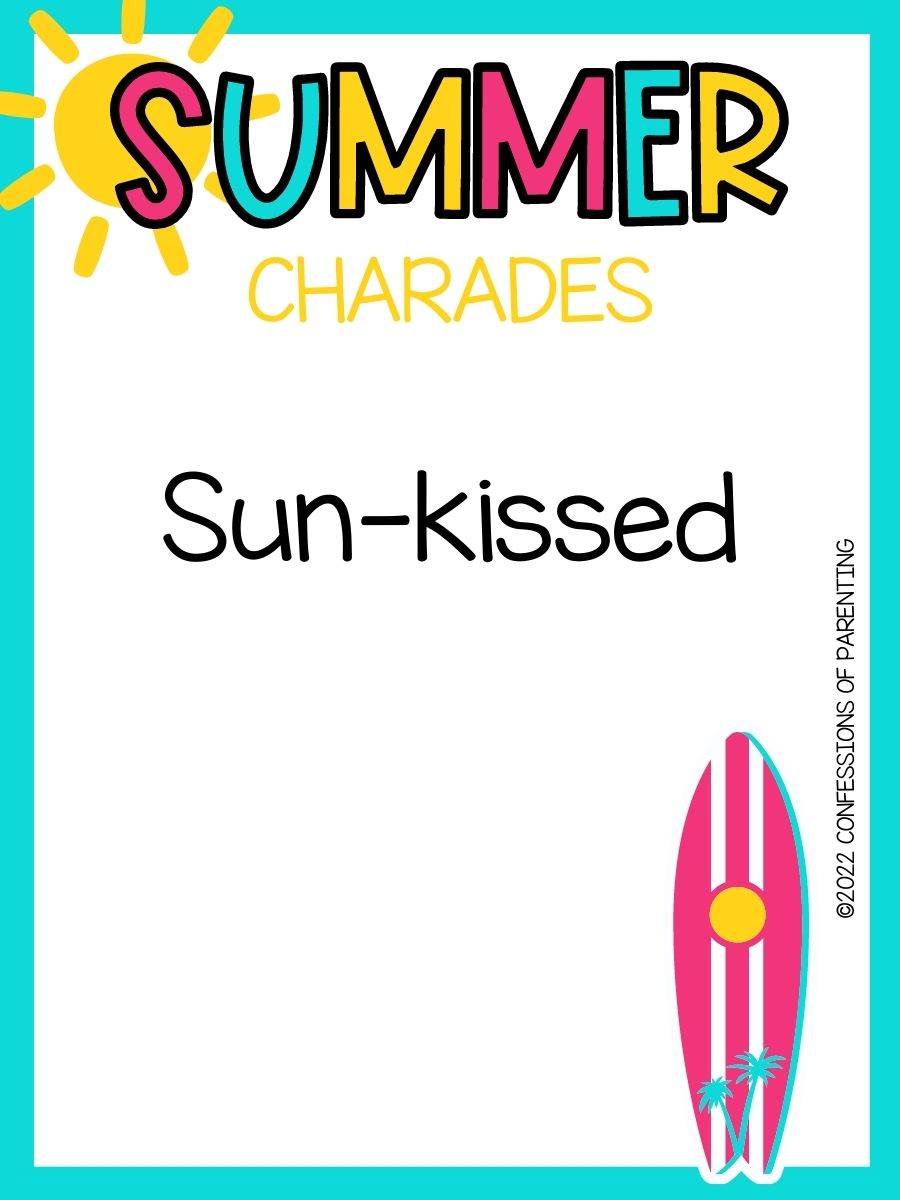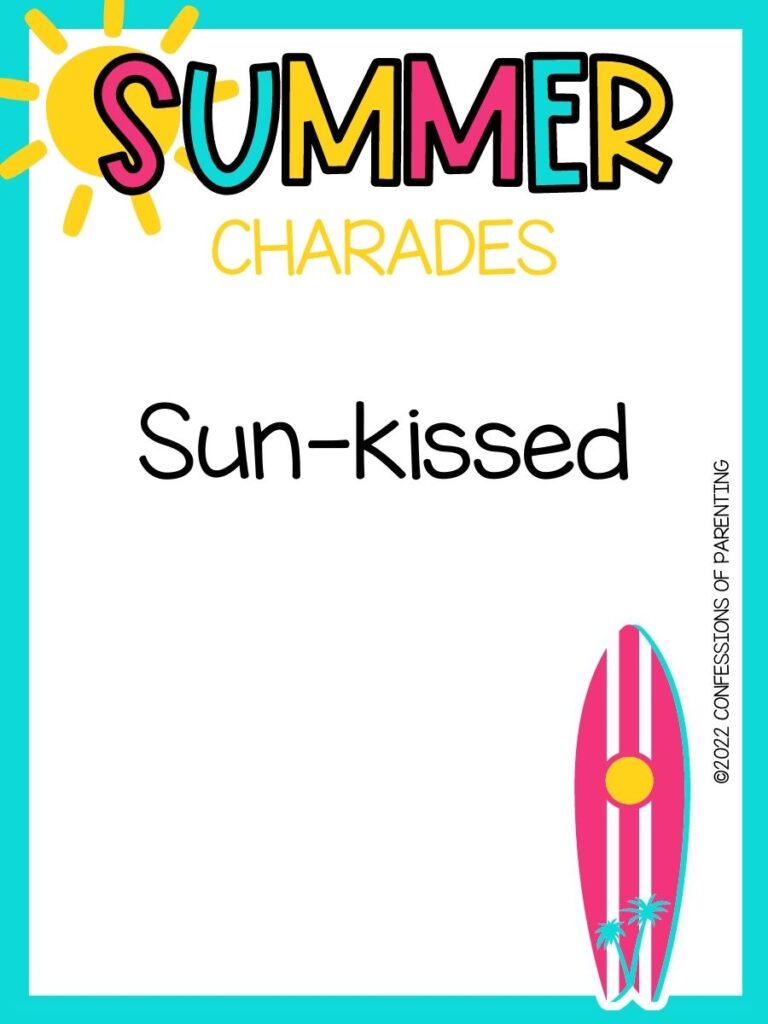 Sun-kissed
Strawberry picking
Seashell
Volleyball
Hiking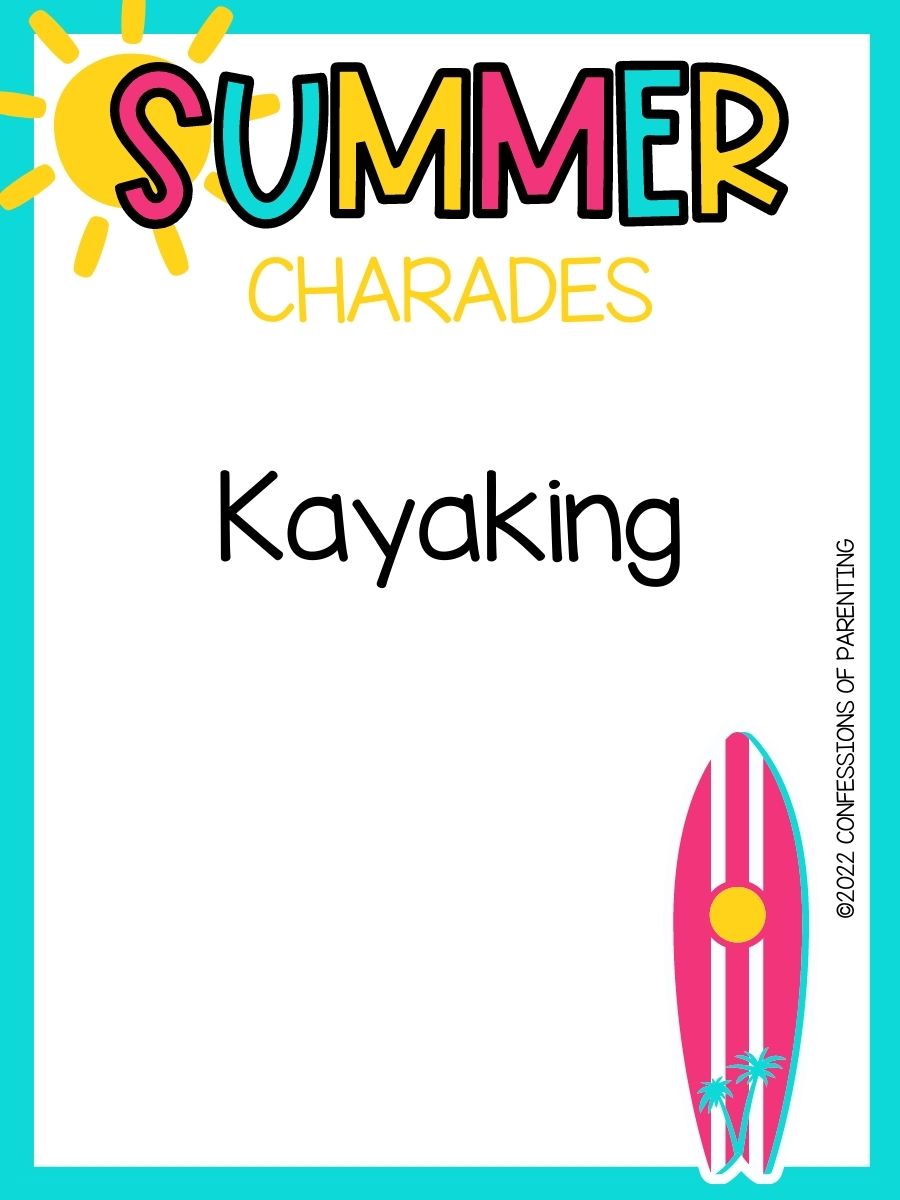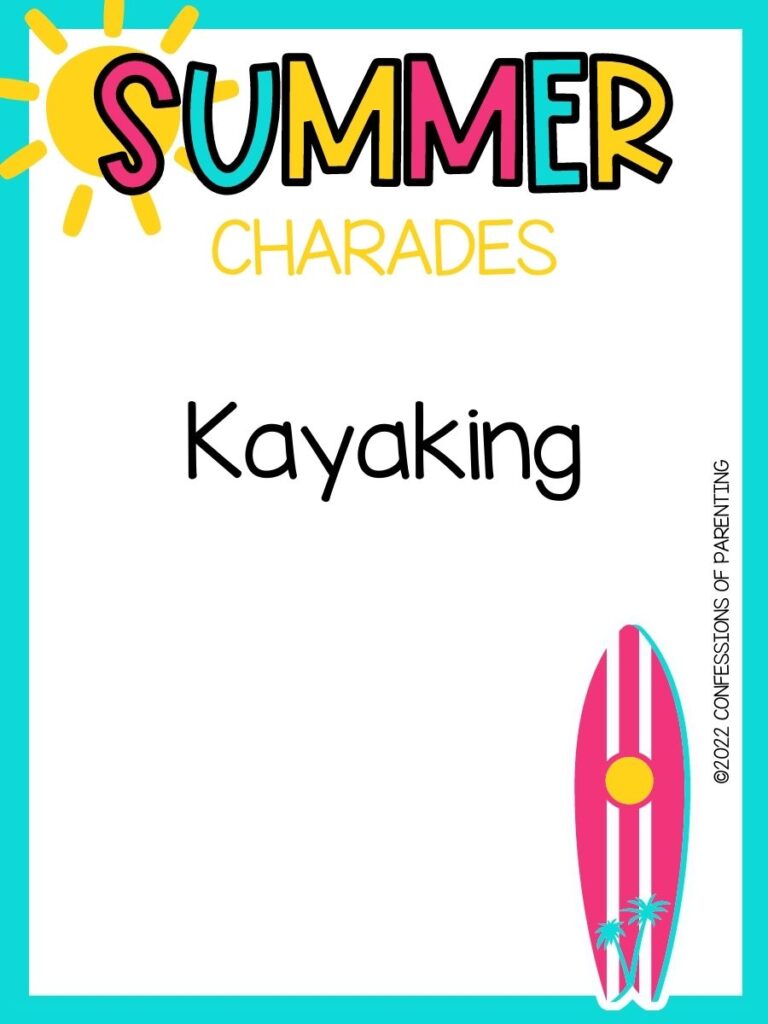 Kayaking
Swimsuit
Shovel
Stargazing
Homemade ice cream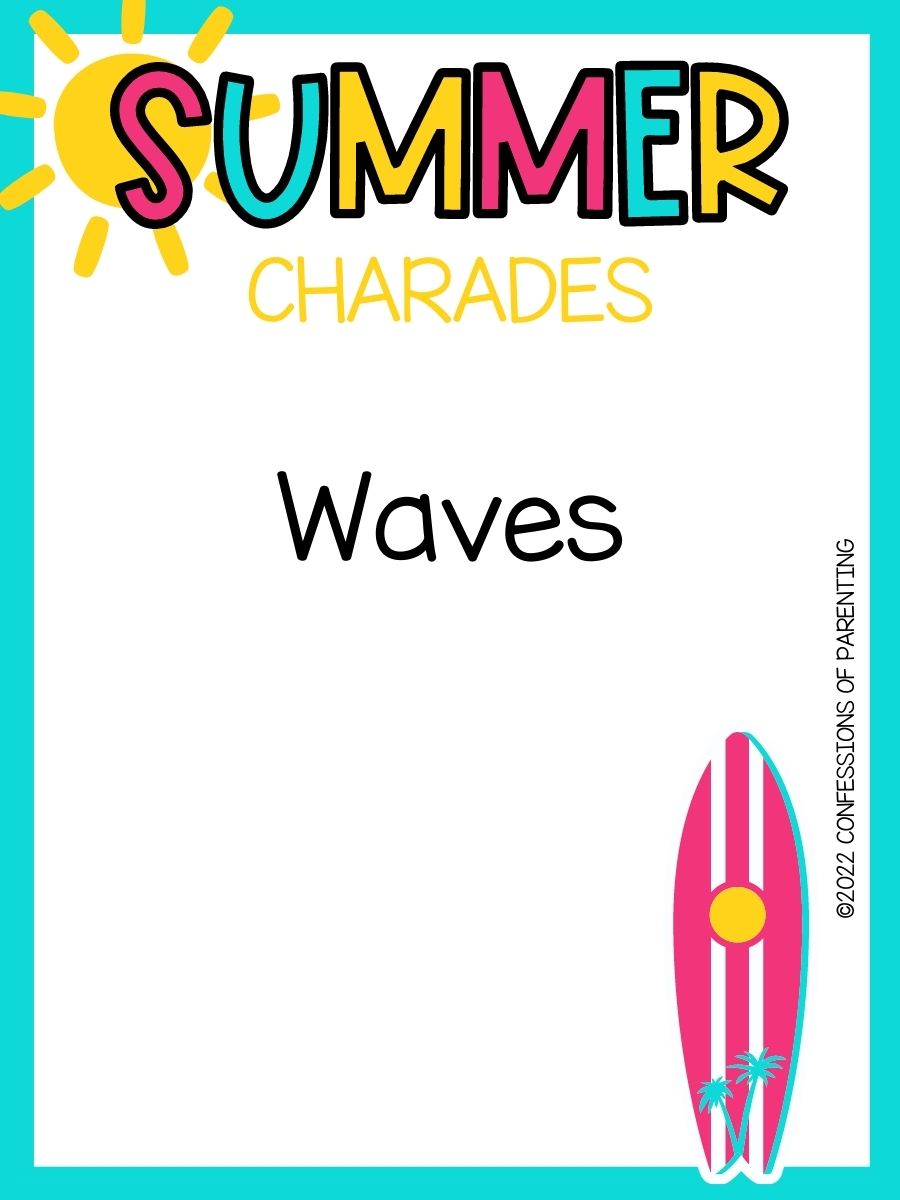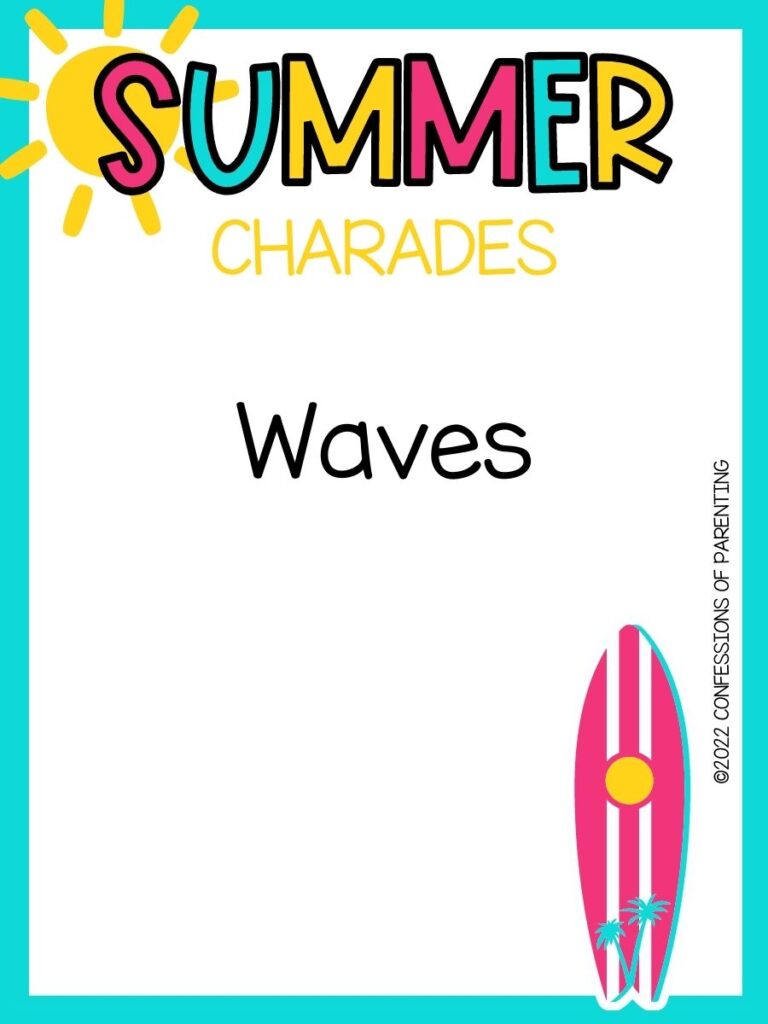 Waves
Water park
Skipping stones
Fishing
Diving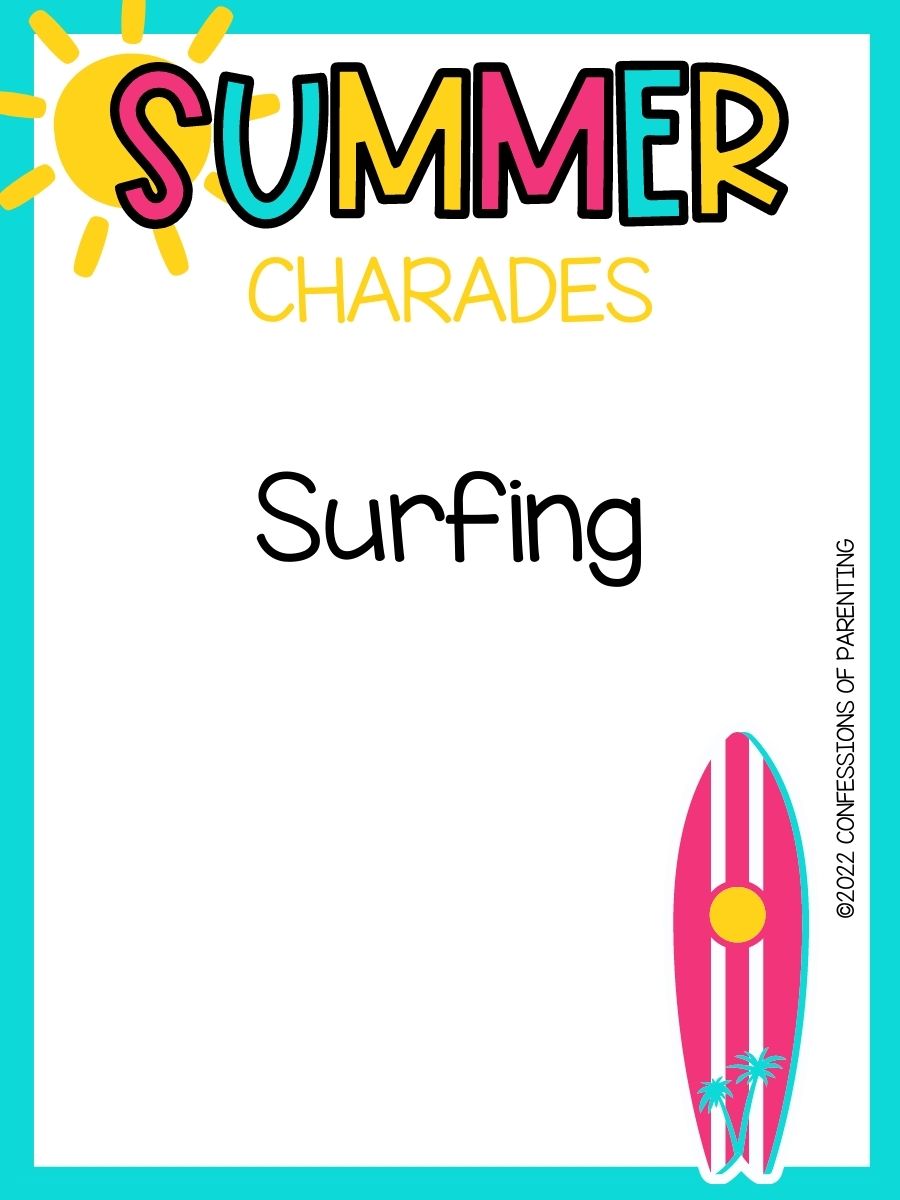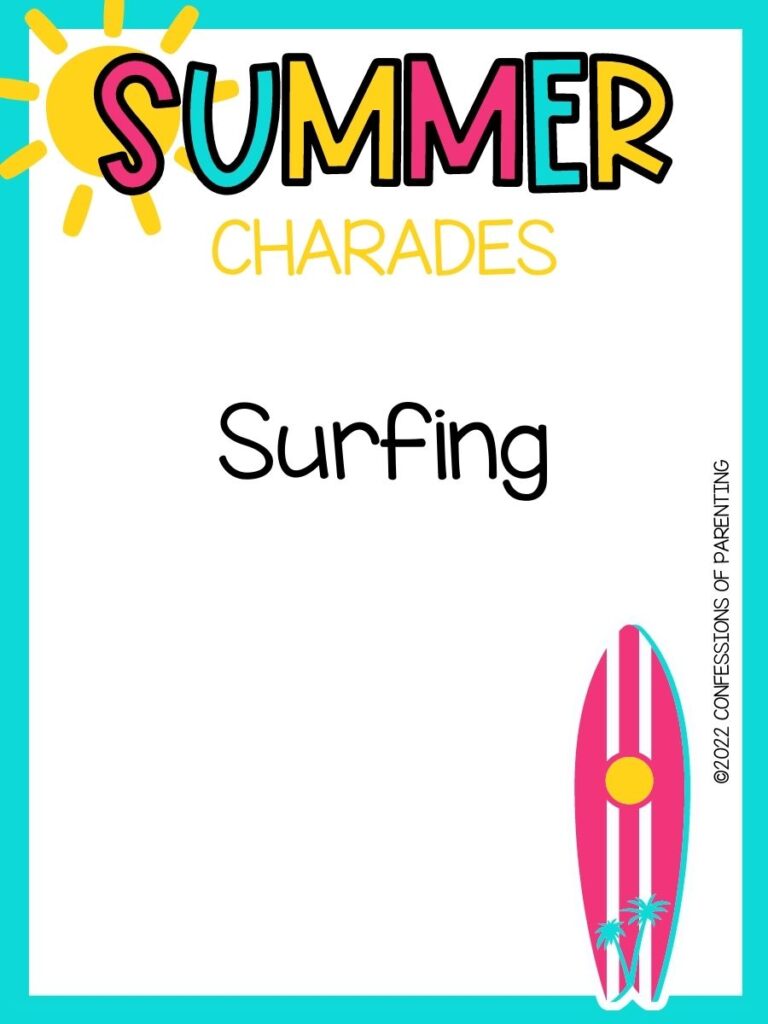 Surfing
Coconut
Camera
Beach bag
Coconut tree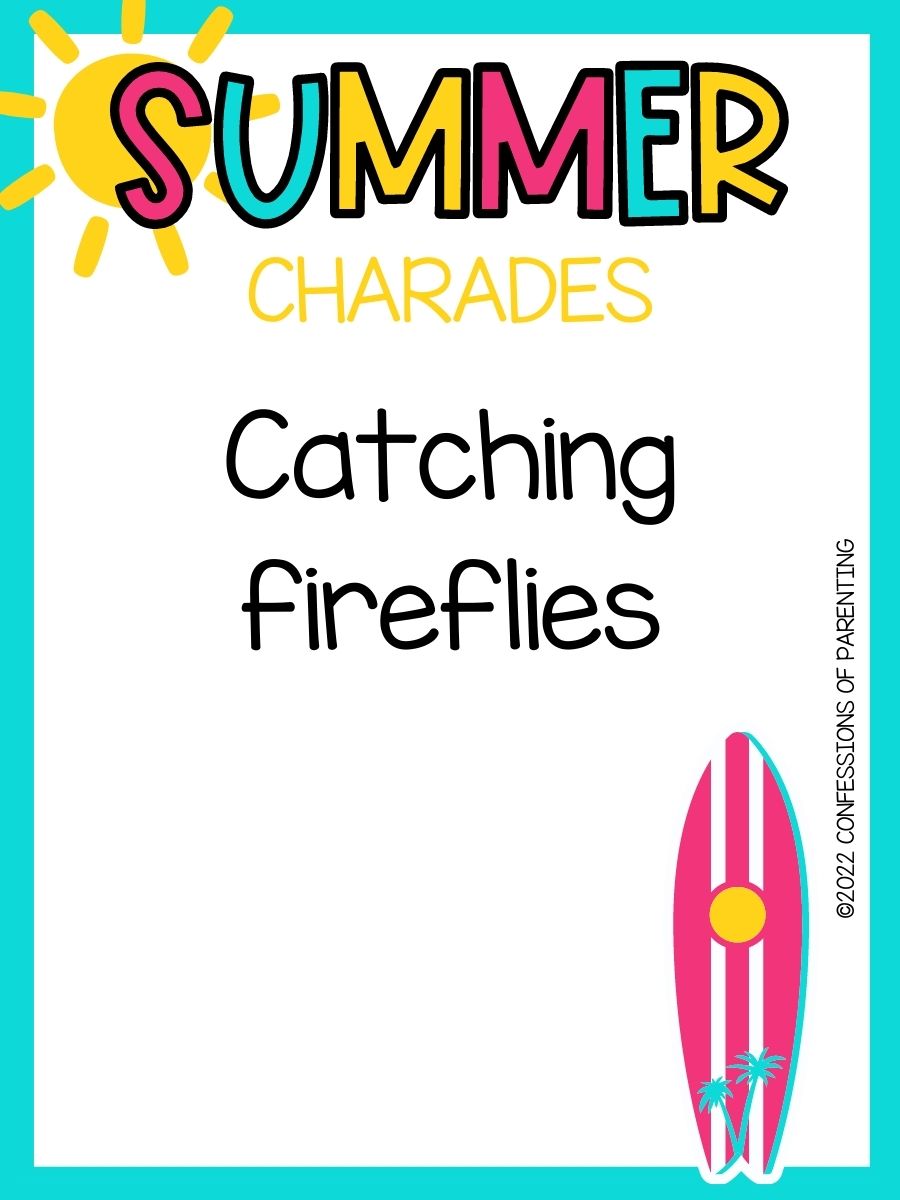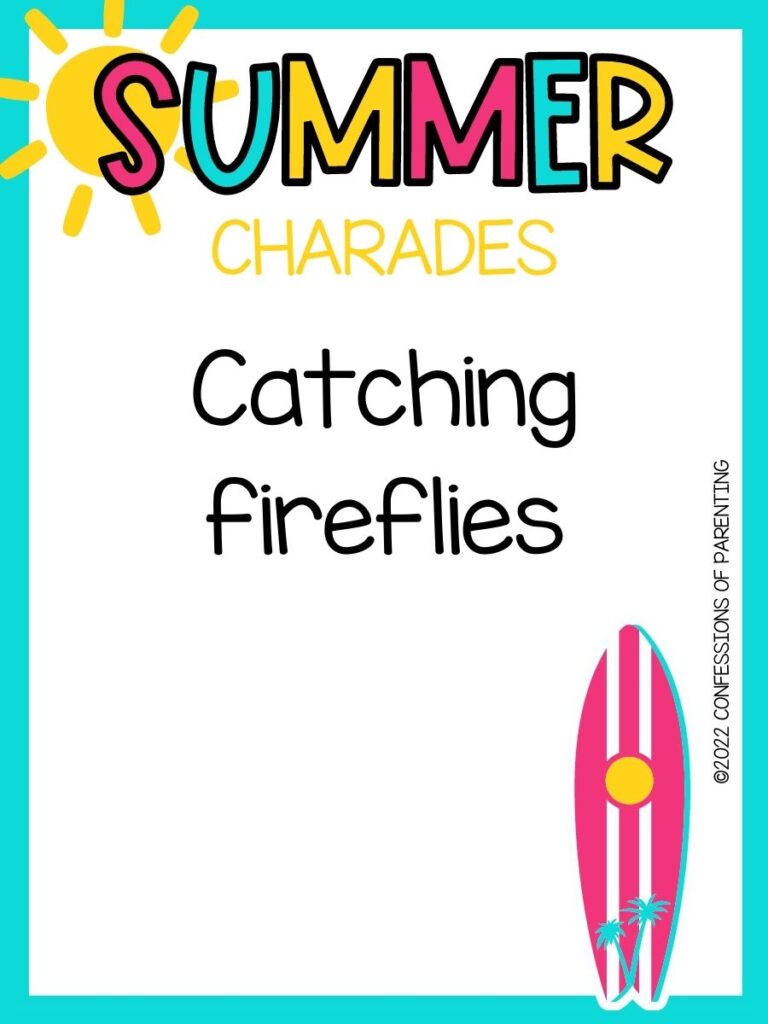 Catching fireflies
Water balloon fight
Packing for vacation
Finding seashells
Playing golf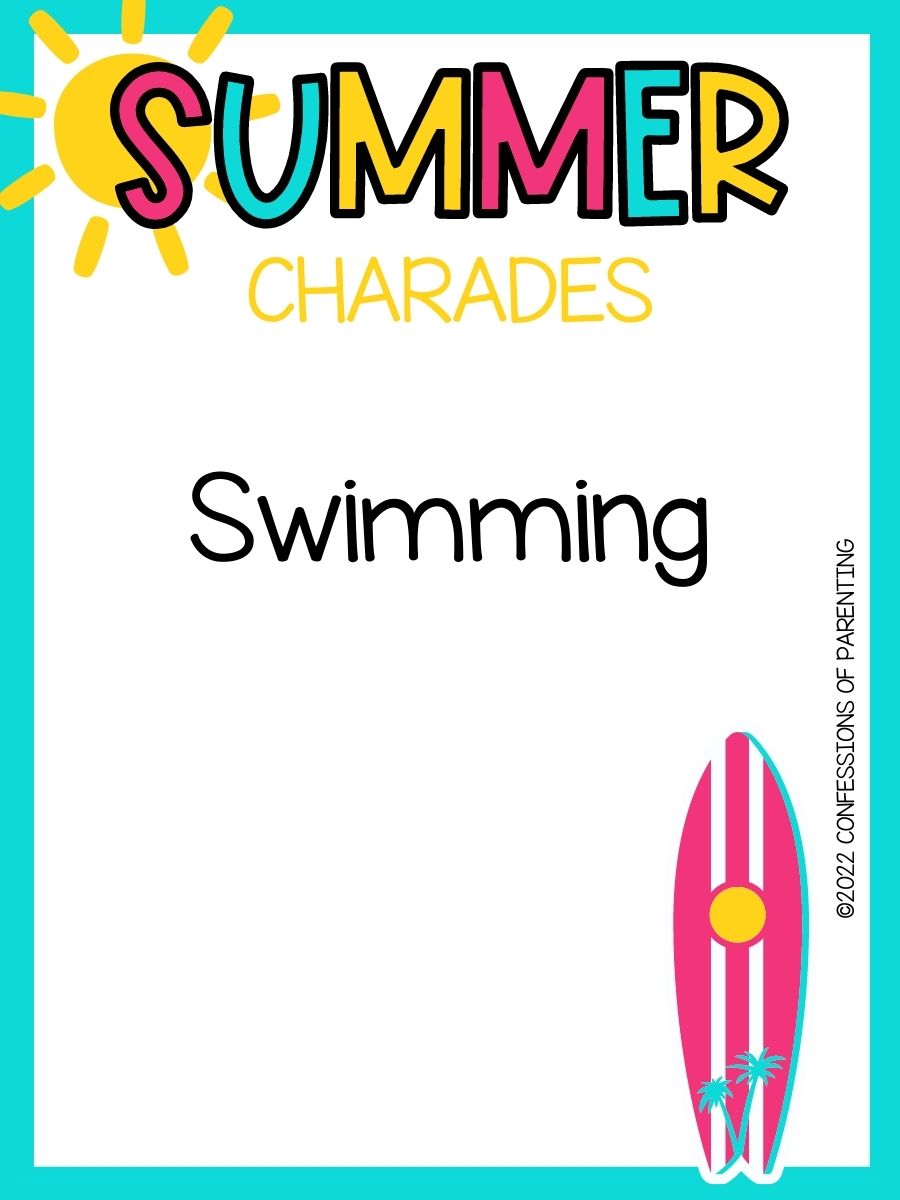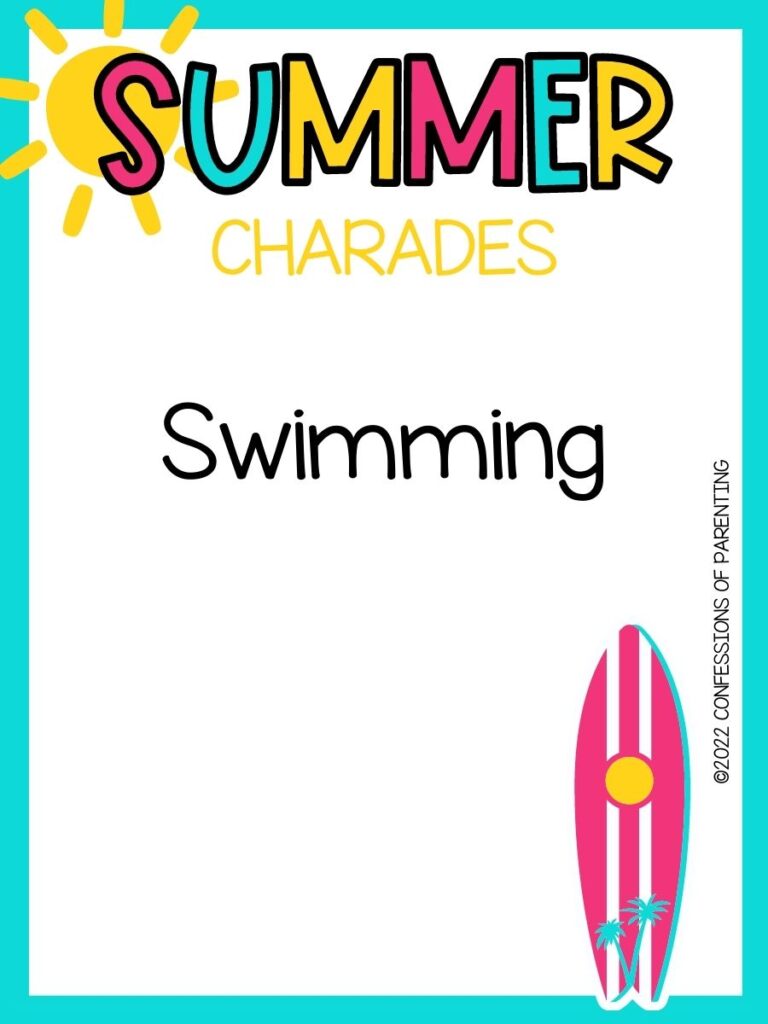 Swimming
Cookout
Fly a kite
Grilling hotdogs
Water skiing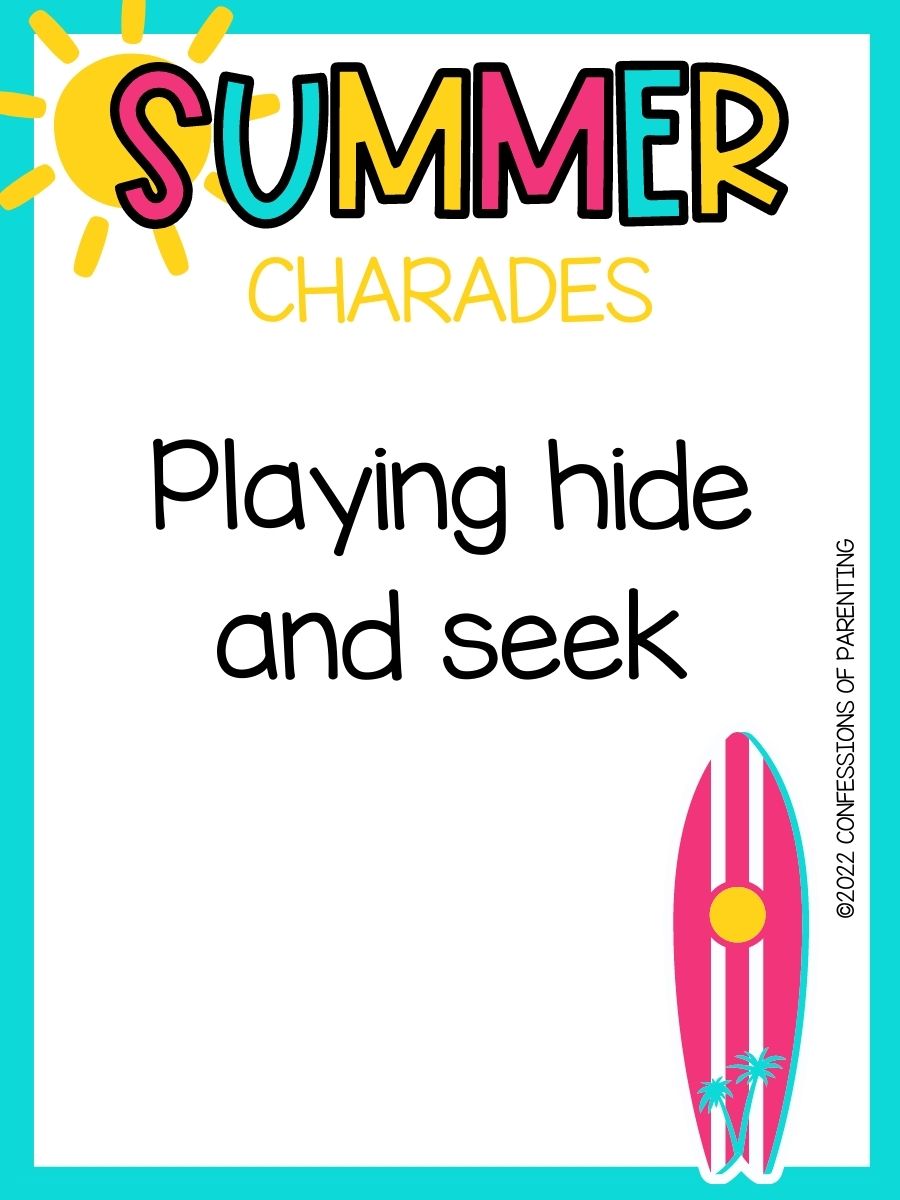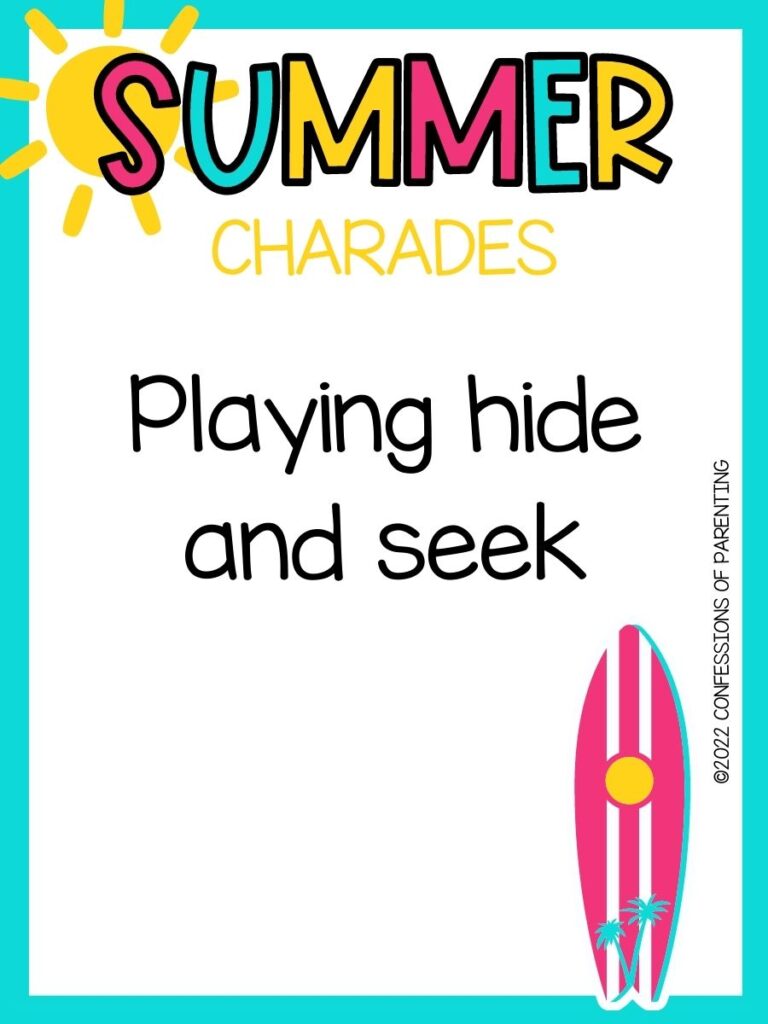 Playing hide and seek
Climbing a tree
Banana split
Popsicle
Watermelon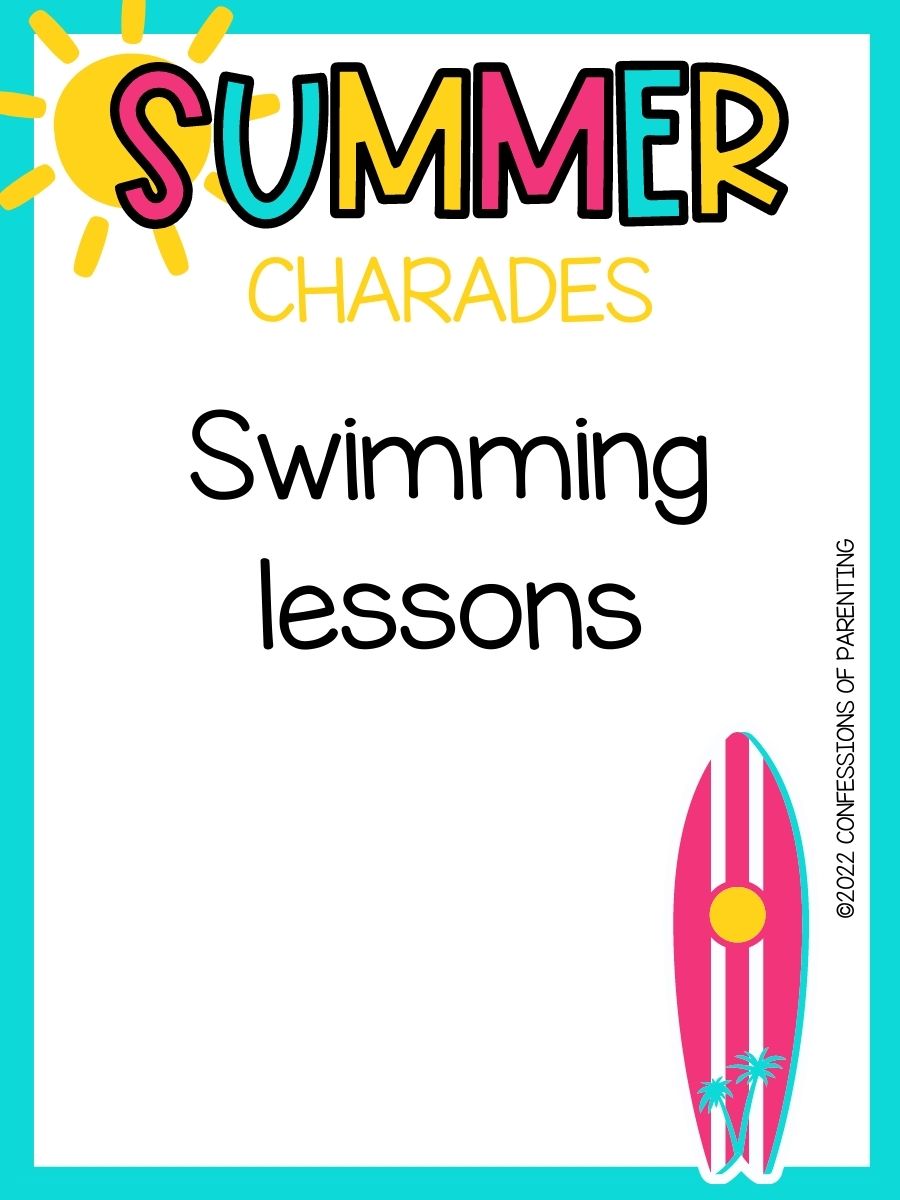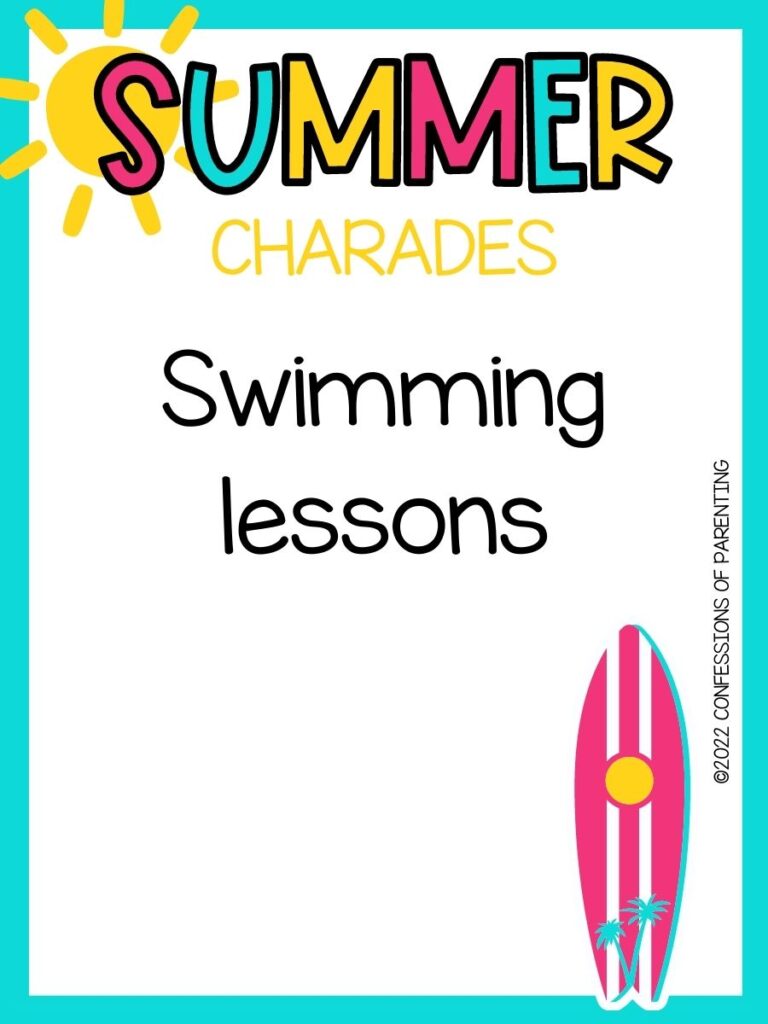 Swimming lessons
Sunbathing
Picnic
Seagull
Sand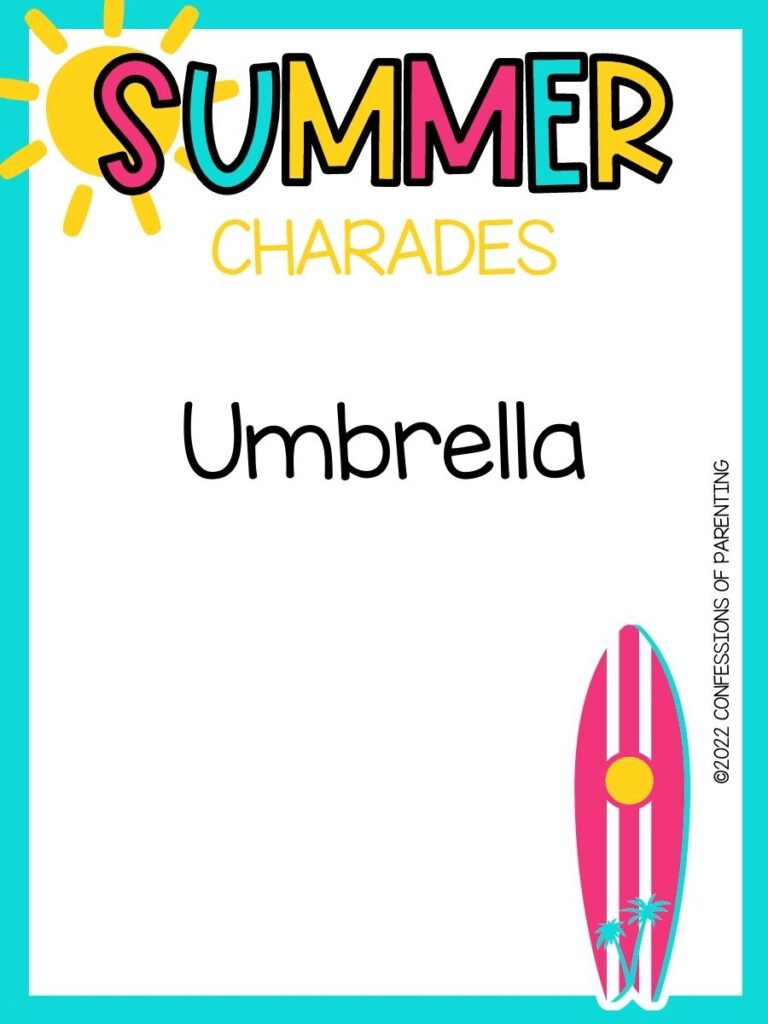 Umbrella
Sand bucket
Water gun
Goggles
Sunglasses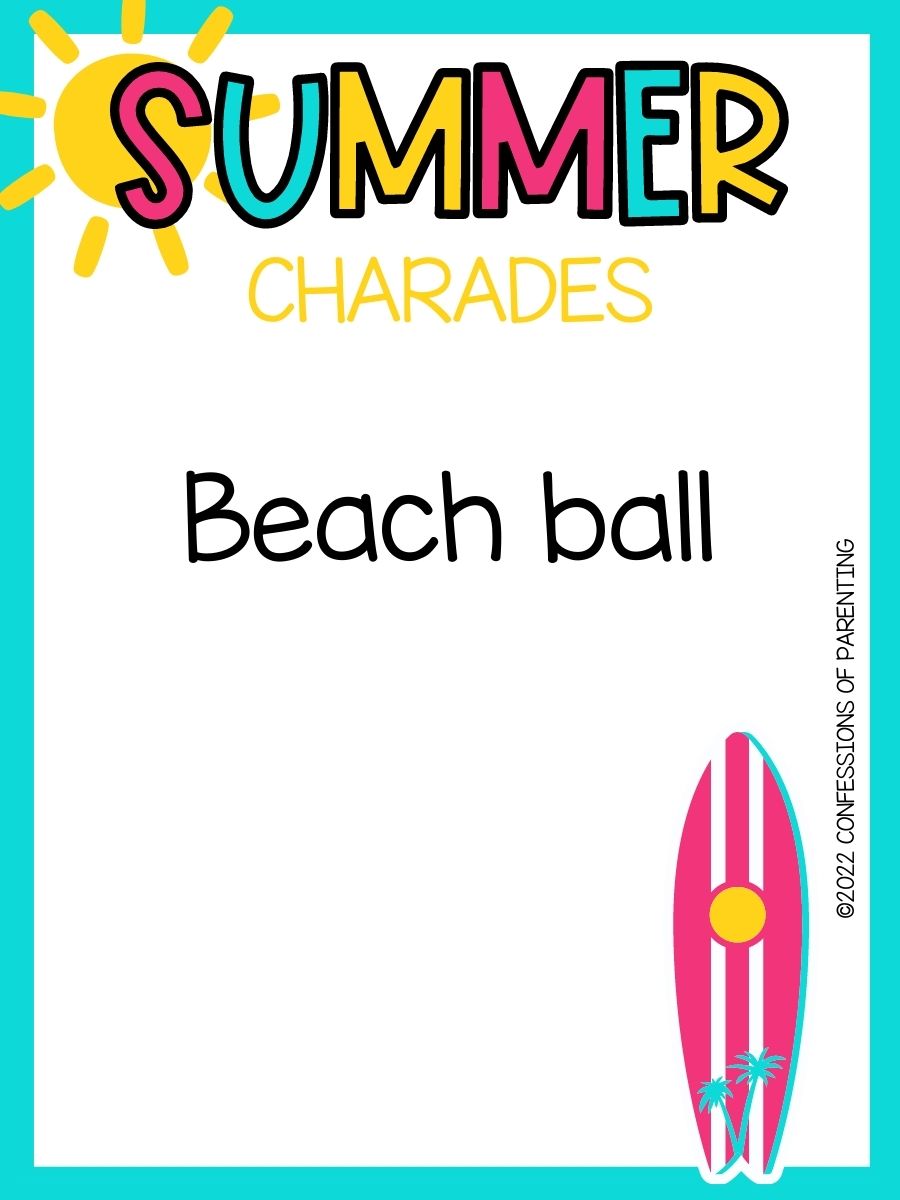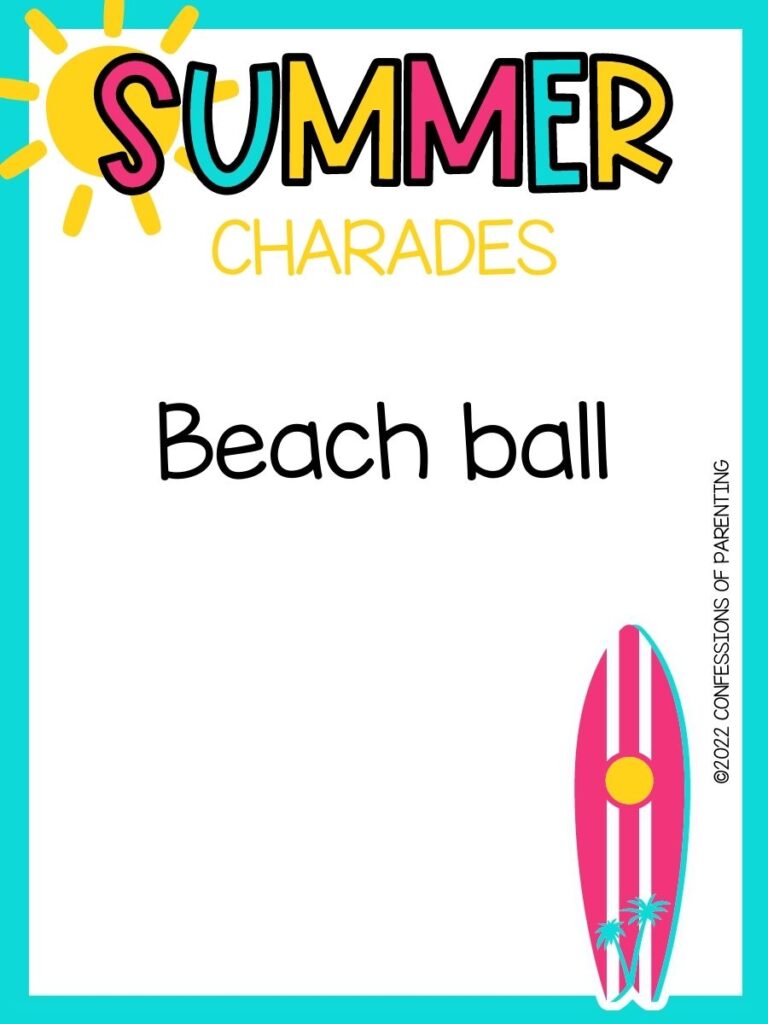 Beach ball
Surfboard
Summer camp
Ice cream sundae
Sandcastle
Paddleboarding
Frisbee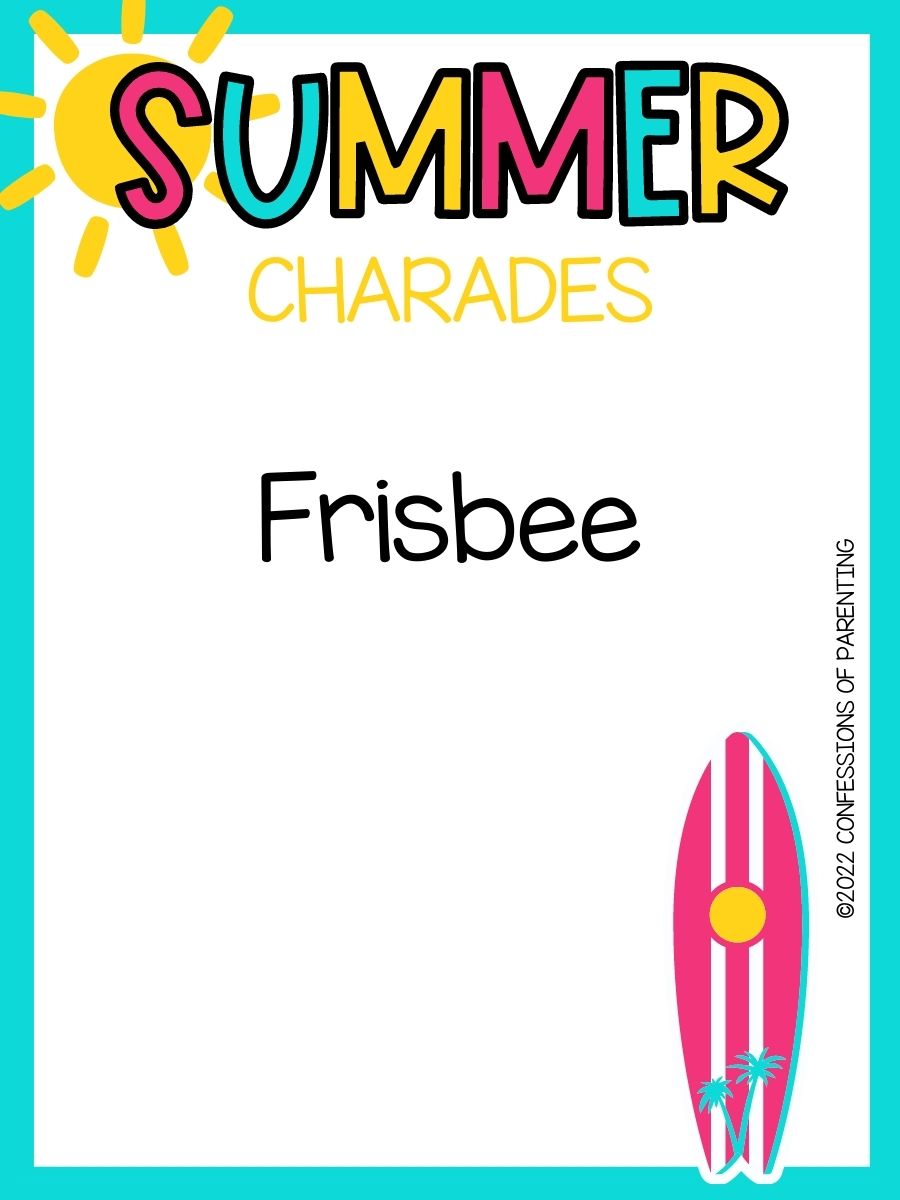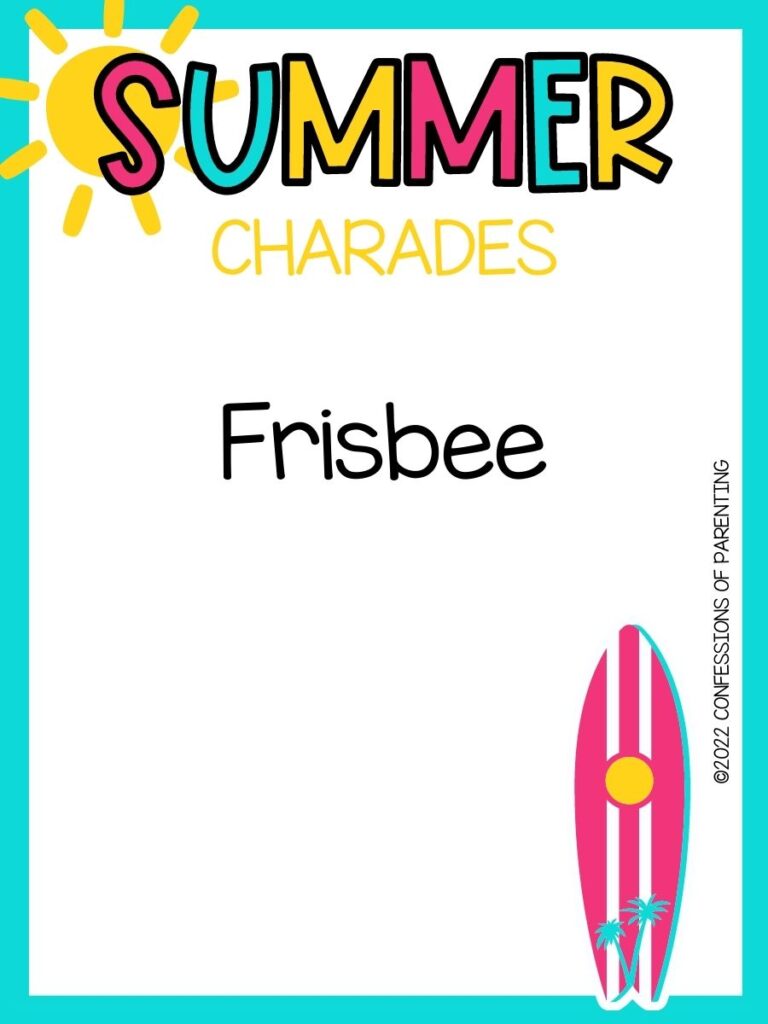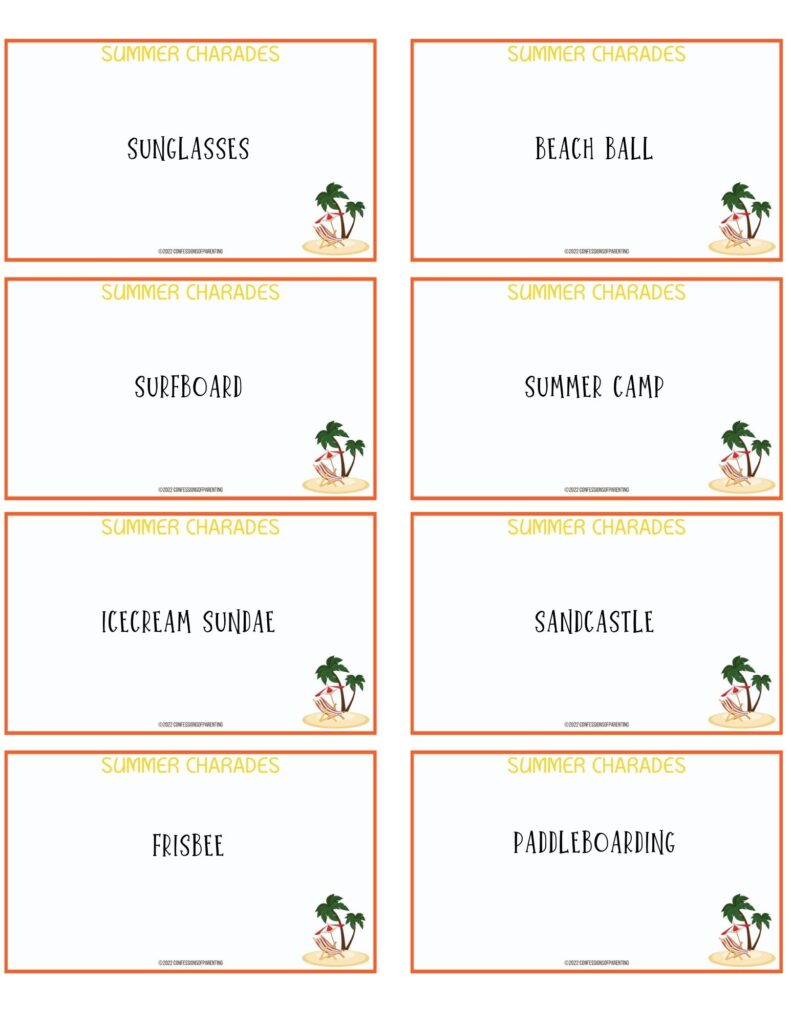 Love Charades? Try these other great charade games!
How Do I access my free printables?
Fill in the form above. You will receive an email in your inbox. If you don't see it check your spam folder! You will then click to confirm your subscription.You will then be redirected to your free download.
How Do I Print a PDF?
You'll need a program that supports PDFs. Adobe Acrobat is a great option. Open the program, click file then print. Select your printer and the number of copies you want to print. Be sure you click double-sided if you want it to print on both sides.
Can I resell these?
You may not resell any printable that you find on our website or in our resource library. You may use them for class parties, at church, at home, or in the classroom. You may get these printed at an office supply store or copy center at your own expense.