Ready for these fun Valentine's Day Charades? You will have a blast playing with your friends, family or the one you love with these Valentine's Charade cards!
Printable Valentine's Day Charades for Kids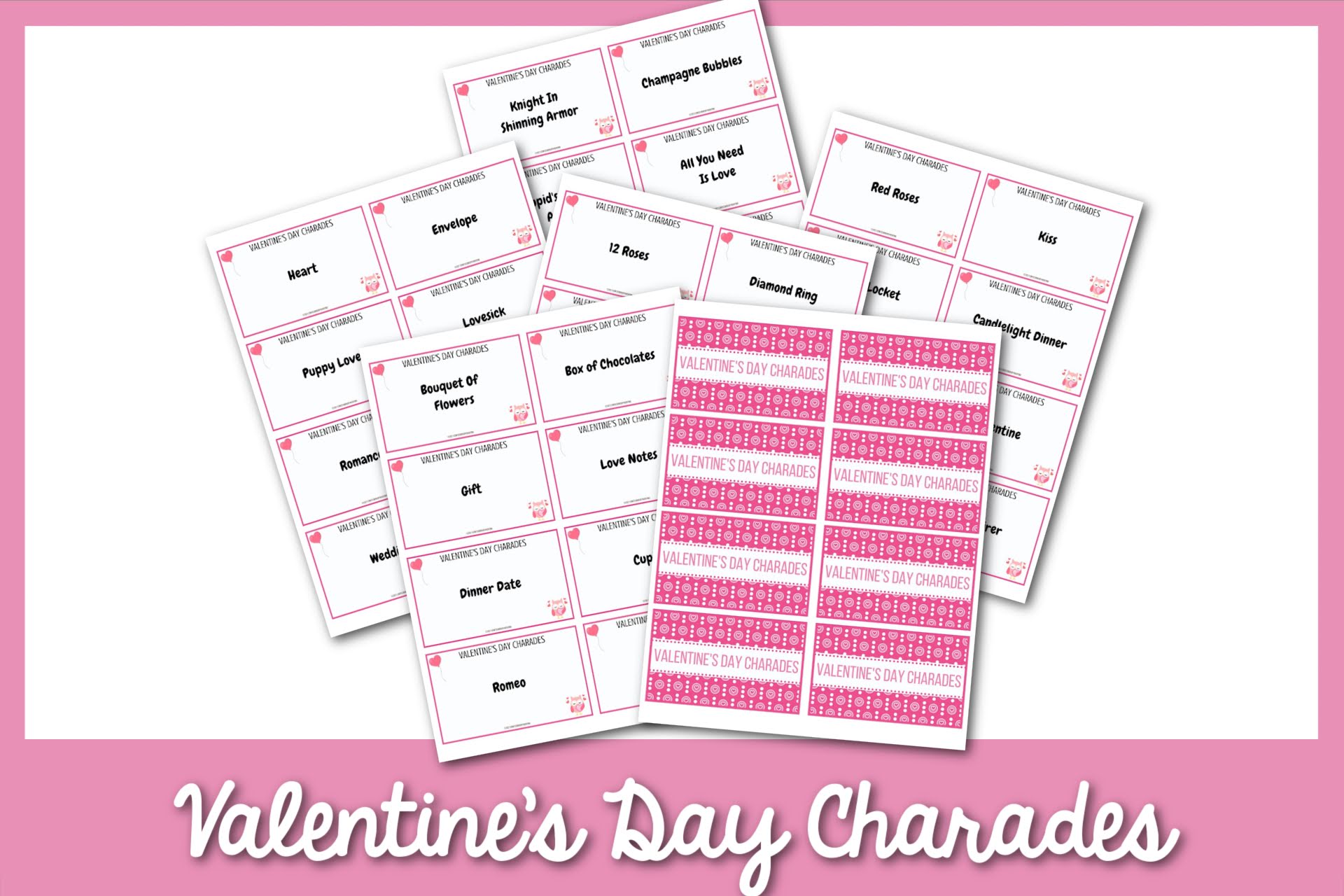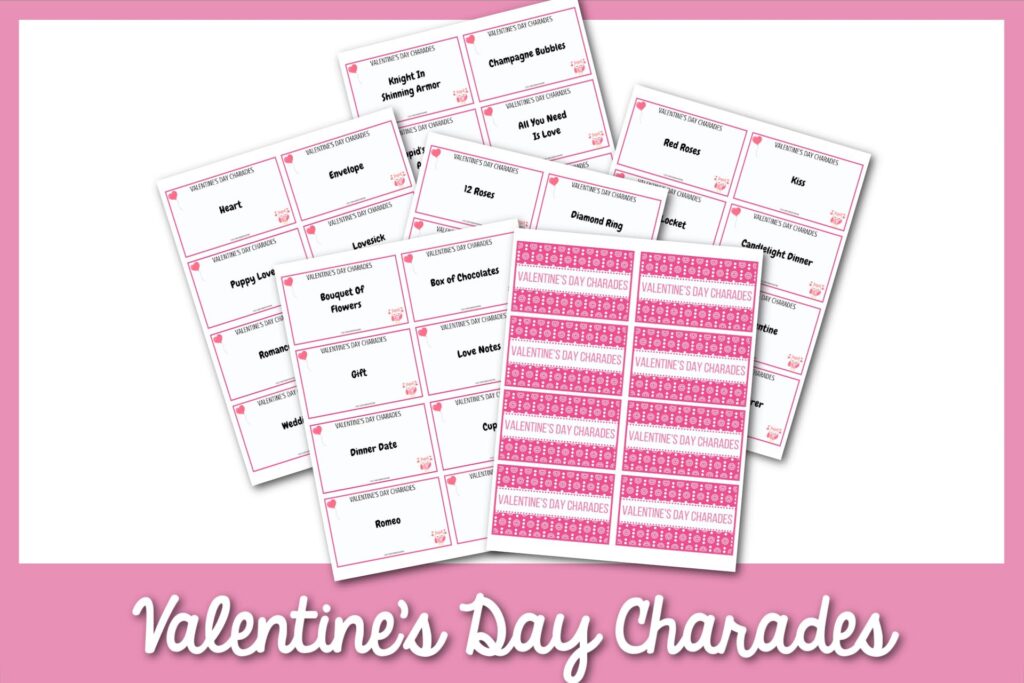 We absolutely love playing charades in our house! There is something about acting out different things and guessing what they are that really bonds us as a family. We have created so many different themed charades games that our family enjoys. Some of our favorites have to be Space Charades, Christmas Charades, Halloween Charades, oh and we can't forget Bible Charades when we want to help our kids learn more about the Bible. So with Valentine's Day just around the corner, we thought it would be fun to compile a Valentine's Day Charades word list that is perfect for the whole family to be able to play together!
Who Can Play Valentine's Day Charades?
These Valentine's Day charades for kids are perfect for everyone! use them in the classroom, for family game night, get together with friends, or a date night in with your partner.
What do I need to play Valentine's Day Charades?
There is not much you need to play charades! You will want to print the Valentine's Day Charades word list or the printable cards and then cut them up and place them in a bowl. That is pretty much all you need to get the game started!
How Do you play Valentine's Day Charades?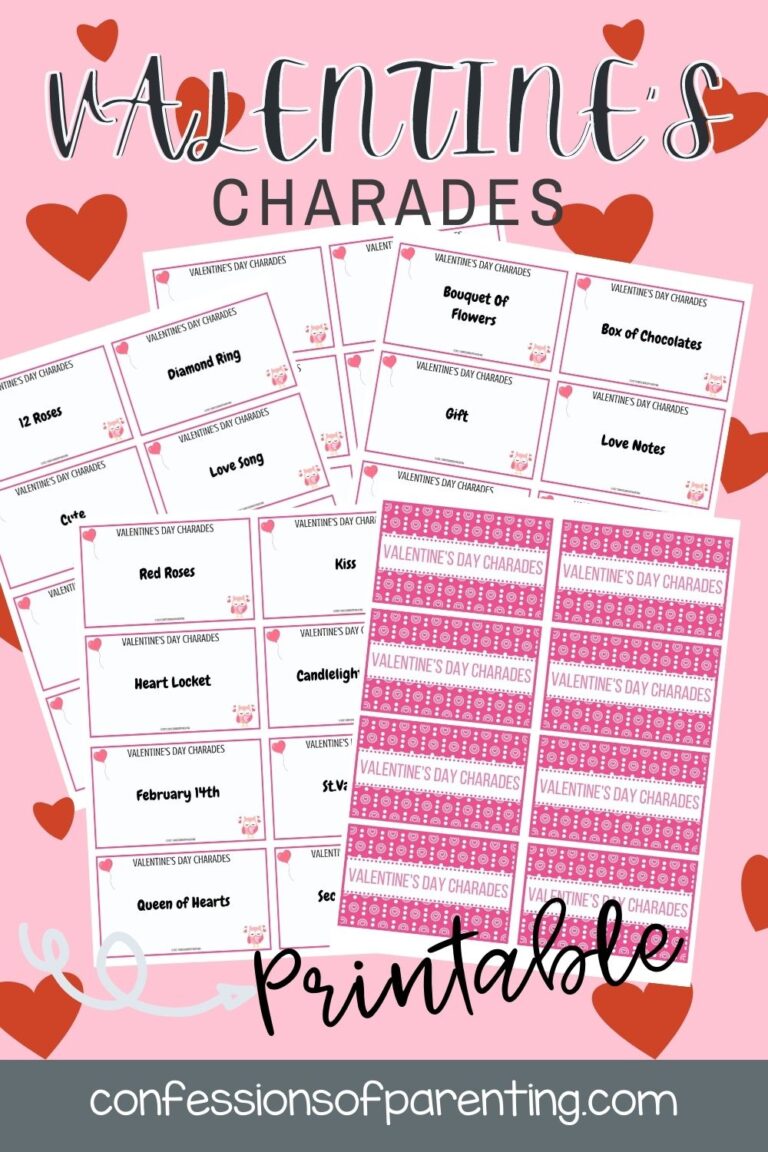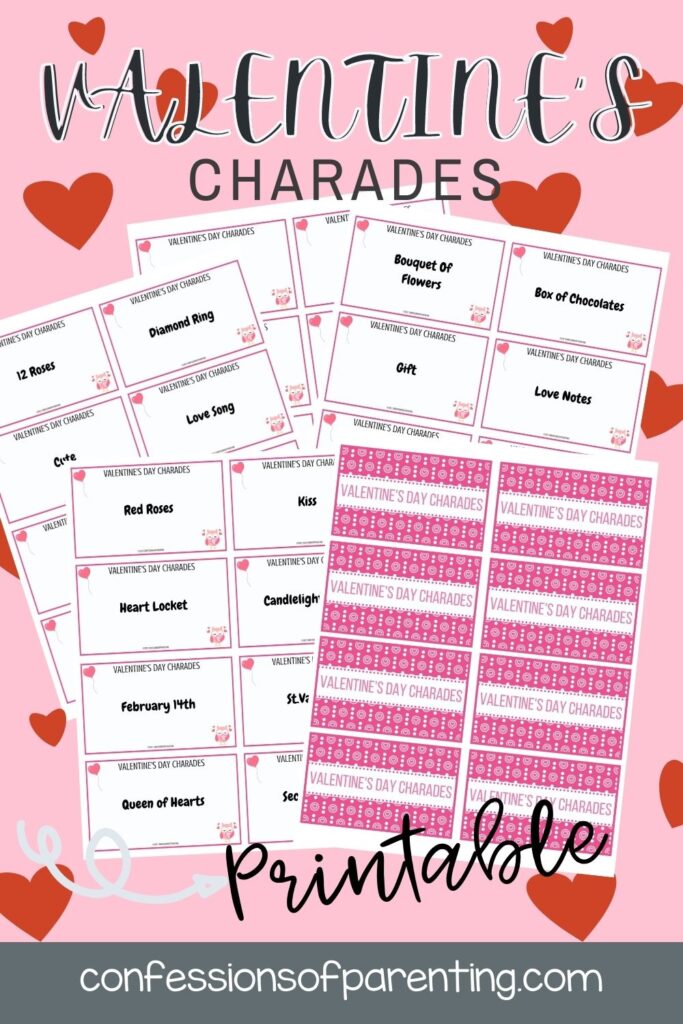 The rules for charades are simple. You will want to divide into two equal teams. Once the teams are set you decide who will go first. The first team will draw a card and look at it. Then have a scorekeeper will set a timer (usually 1 minute) or flip over the timer and the team begins acting.
They will try to get their team to guess the word before the time runs out. If they do they will get a point. If they don't the other team has 1 guess, the first word that is said aloud to try and steal. If they get it right then they get the point. The first team to the set number of points wins!
Helpful Tools We Love When Downloading Printables
Ultimate Charades Bundle!
Want to Grab the Ultimate Charades Bundle with over 23 themed charades games included? Grab it now before the price increases! Each time we add a new game to the bundle we send it to you as well, so your charades collections just keep growing for one low price!
Charade Hint Clues
Charade clues are a great way to give your team a little bit of help since the actor cannot talk. An actor can use these clues, but be careful because they can quickly eat up the time you need for acting.
Number of words- If there are multiple words in your Valentine's Day Charade you are acting hold up that number of fingers then point to the finger of the word you will begin to act out first. For example for the phrase "queen of hearts" you will hold up three fingers and if you are going to act out hearts then you will point to the third finger.
Rhyming word- if you are going to give a rhyming word tap your ear for "sounds like"
Song- Pretend to sing or wave your hand like you are leading music.
Movie- Place one hand in a circle over your eye and then crank your other hand around in a circle like an old-school movie camera.
Book- Pretend you are holding a pretend book with your palms closed and then open it.
Show- If it is a TV show draw your hands in a square to show that it is a TV show.
Quotes / well-known saying- make air quotes to show that it is either a quote or a well-known saying.
Valentine's Day Charades List
bouquet of flowers
box of chocolates
gift
love notes
dinner date
cupid
Romeo
Juliet
heart
envelope
puppy love
lovesick
romance
heartthrob
wedding
I love you
12 roses
diamond ring
cute
love song
hug
love birds
love story
stuffed teddy bear
red roses
kiss
heart locket
candlelight dinner
February 14th
St. Valentine
Queen of hearts
secret admirer
knight in shining armor
champagne bubbles
cupid's bow and arrow
all you need is love
crazy little thing called love
friends forever
roses are red
balloon bouquet
crush
stop! In the name of love
funny valentine
sweets
lover
wedding
in love
someday my prince will come
blowing kisses
kissing a frog
We know that your class, friends, and family are going to love playing this game together! If you are looking for other Valentine's Day Games be sure to grab
Love Charades? Try these other great charade games!
How Do I access my free printables?
Fill in the form above. You will receive an email in your inbox. If you don't see it check your spam folder! You will then click to confirm your subscription. Once confirmed you will be taken to Airtable (a different website) where all our free printables will be waiting for you! It is free to sign up for Air Table!
How Do I Print a PDF?
You'll need a program that supports PDFs. Adobe Acrobat is a great option. Open the program, click file then print. Select your printer and the number of copies you want to print. Be sure you click double-sided if you want it to print on both sides.
Can I resell these?
You may not resell any printable that you find on our website or in our resource library. You may use them for class parties, at church, at home, or in the classroom. You may get these printed at an office supply store or copy center at your own expense.