Ready for some festive Christmas fun? These Christmas song charades ideas is the ticket to getting in the spirit of the season in no time! Just download, print, and start playing in minutes.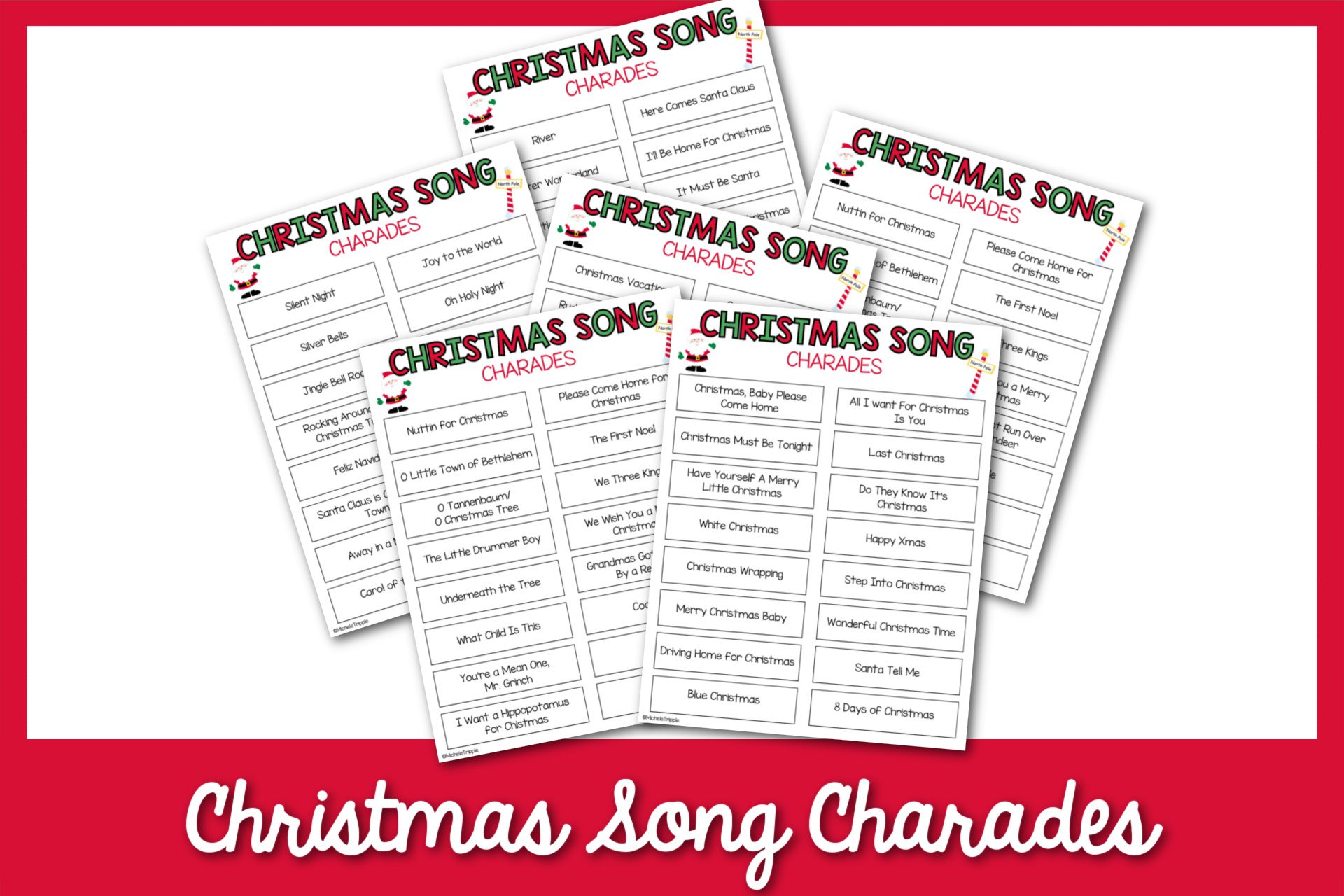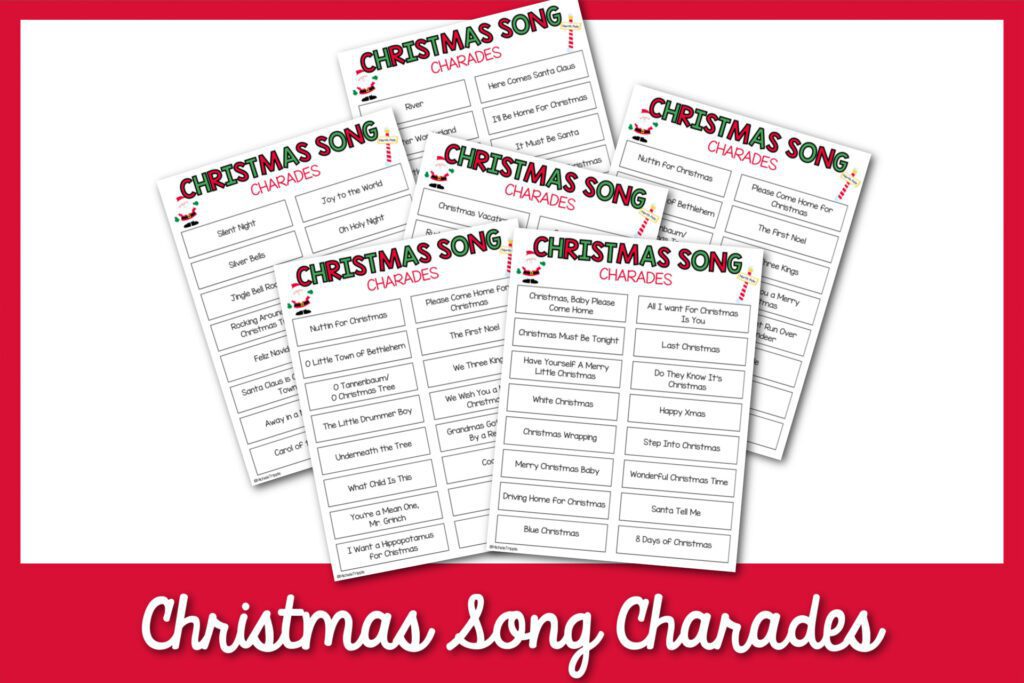 You always know when it's the holidays because you can hear Christmas songs on the radio and at the store. Christmas songs are a major part of the holidays, whether you are singing or listening to them they are the perfect way to get in the holiday spirit.
My family loves Christmas songs and often breaks into song at the drop of a hat. Music helps you feel festive and brings the spirit of Christmas into the season. I can't imagine Christmas without the classics like Rudolph the Red-Nosed Reindeer and You're a Mean One, Mr. Grinch. We also love the more traditional songs like Silent Night or The First Noel. My oldest loves Pentatonix's version of Mary, Did You Know?
Christmas songs came in all styles of music. These Christmas Song Charades have a little of everything from old traditional songs, silly kids' favorites to more recent songs.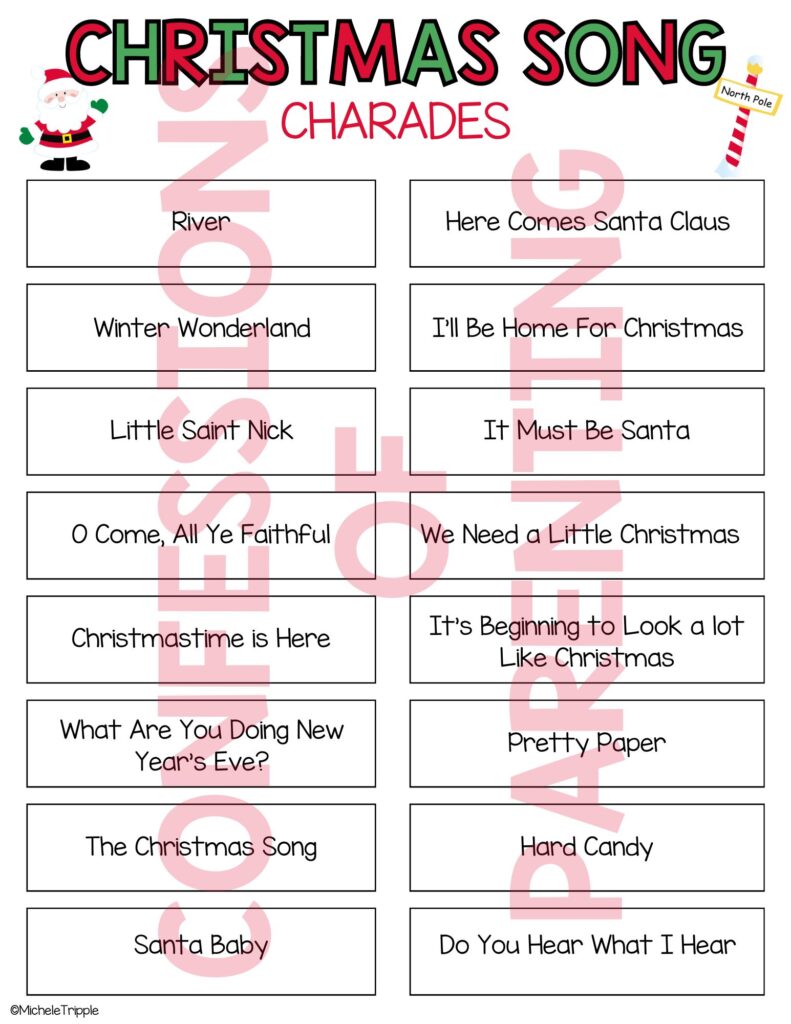 Christmas Song Charades
Charades is a great way to entertain kids of ages. It's perfect for holiday parties, classroom, and family game nights. These Christmas Charades are sure to have one of your favorite Christmas songs.
Holidays are such a busy time with so much to do. But we can help with that! These Christmas Charades are already done and take very little time to prepare. Just download, print, and you are ready to play in minutes.
For more fun charades ideas, be sure to try our Winter Charades, Famous People Charades, or Disney Charades.
For even more quick Christmas activities your family will love be sure to try our Christmas Movie Trivia, Christmas Would You Rather, and Christmas Scattergoires. They are perfect for family game nights or all your holiday gatherings this year.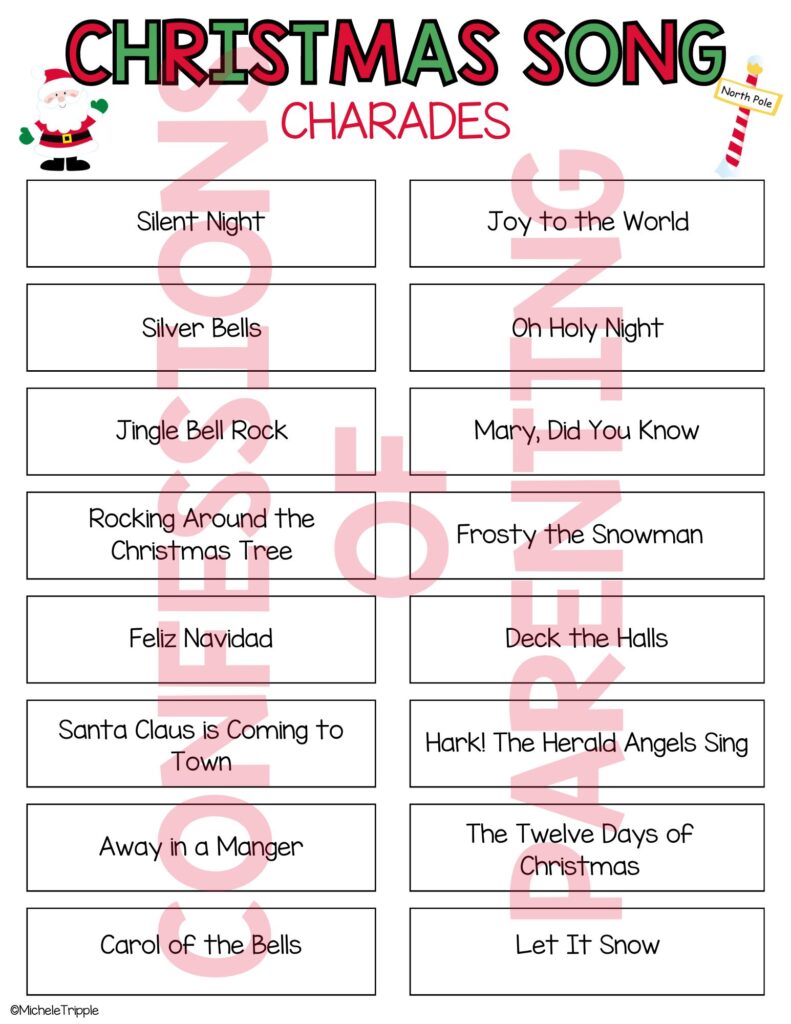 Why I love Charades
Charades is a perfect game for families and crowds because the rules are simple and can be played easily by all ages.
I love seeing my children and friends act out these songs. It's always fun, silly, and memorable.
The setup for the game is easy, and you can move right into having fun! You just need the players and the printable Christmas Song cards, and you are set. No fuss, simple, and lots of instant entertainment.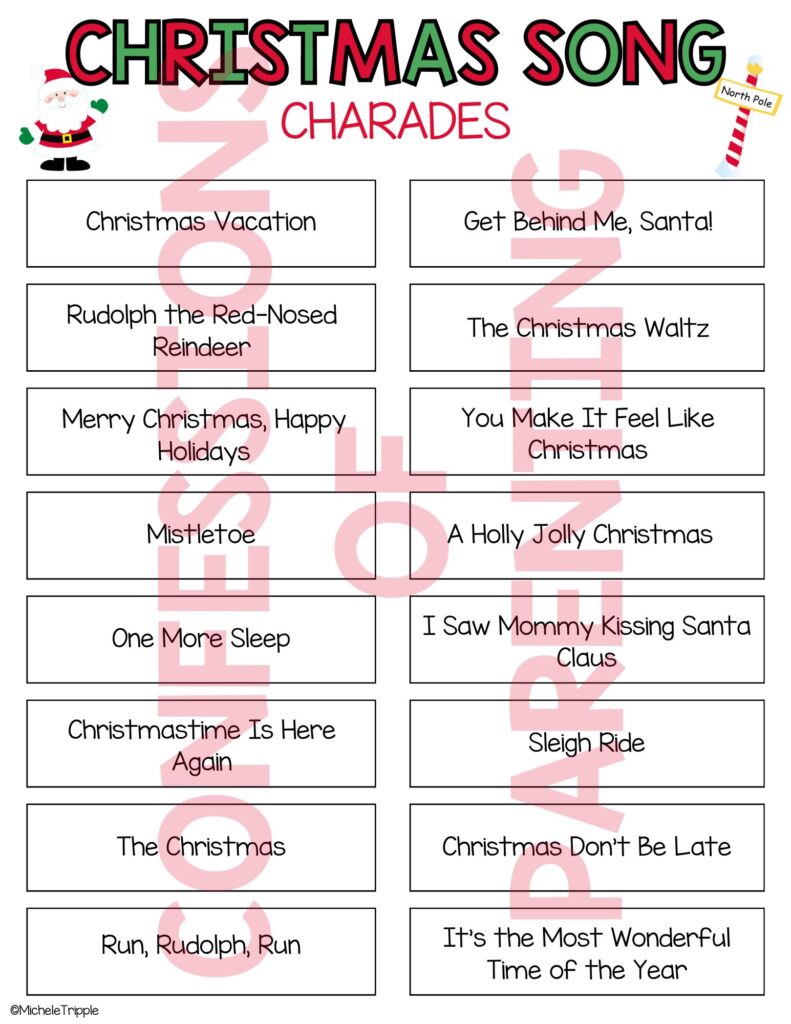 How to Play Christmas Charades
First, download your Christmas song printable cards.
Cut your cards, place them in a bowl or hat (a Santa hat would be perfect), and you are set to play!
Next, you must gather your players (friends, family, kids) and divide them into teams. You need at least two teams.
Decide which team will be first to act out the charades. My family likes to play paper-rock-scissor to see who goes first, but you can roll a die, have a staring contest, draw straws, or decide in any various ways.
An actor from the first team picks a card out of the Santa hat and then acts out that card to their teammates.

Important Rule: You CANNOT use your mouth to speak, make sounds, or mouth the words!

Each team has one minute to guess the answer. If they get it correctly, then they get a point. If not, the other teams get one guess as to what it is to get the point!
The game is finished when everyone has had a turn, when you have played all the cards, or a team has reached the predetermined winning points. The team with the highest points wins.
Have fun!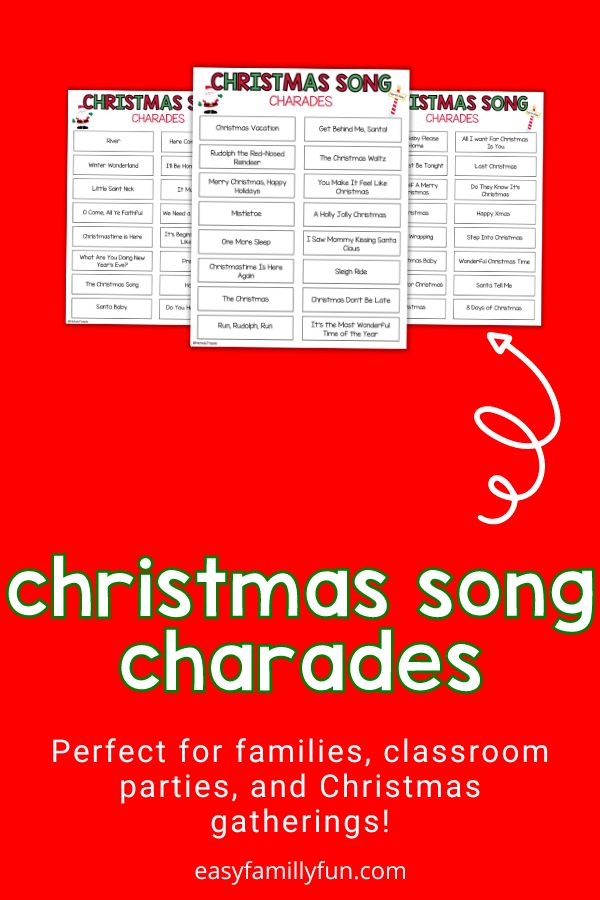 Tips for Playing Christmas Song Charades
Make sure everyone knows the rules, how the game will be played and how the winning team will be determined. This helps avoid any confusion or frustration that can come up.
Use your finger to indicate how many words they will act out.
Have fun! Be relaxed and silly when it's your town to act!
You can even laminate the Christmas Song Charade cards to help them last so you can play with them again and again.
A Christmas-theme prize would be fun extra fun.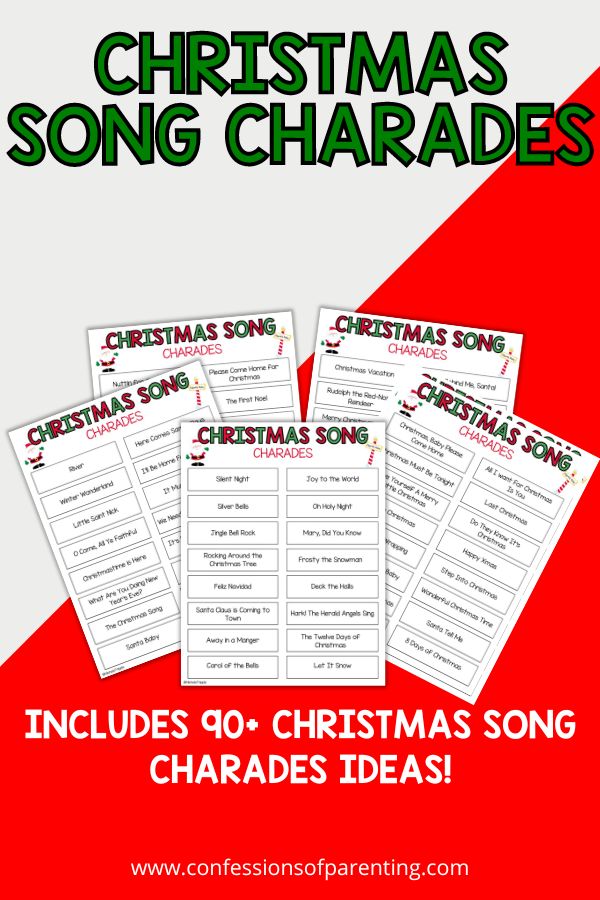 More Christmas Games and Activities
We have so many fun activities and games available for you. Grab any that will fit what you want. They are great for the classroom, parties, and family game nights. They are easy to have at hand for when an activity is needed instantly.
Gear up for the Holidays with this Mega Christmas Game Collection!
Helpful Tools We Love When Downloading Printables
Printer– I love my HP+ printer that uses Instant Ink. I love it because we can use as much color ink as you want for one low cost starting at $.99/ month for ink. Try it out for free here!
Cardstock- I always recommend printing on cardstock. This makes it way more durable so you don't have to worry about printing it time and time again.
Laminator / Laminating Sheets- Again, for added durability, grab a laminator and laminating sheets so that you can use this again and again!
Scissors (I seriously love these ones)
Dry Erase Pens- Use dry erase pens so that you can wipe your laminated printable clean over and over again for endless use!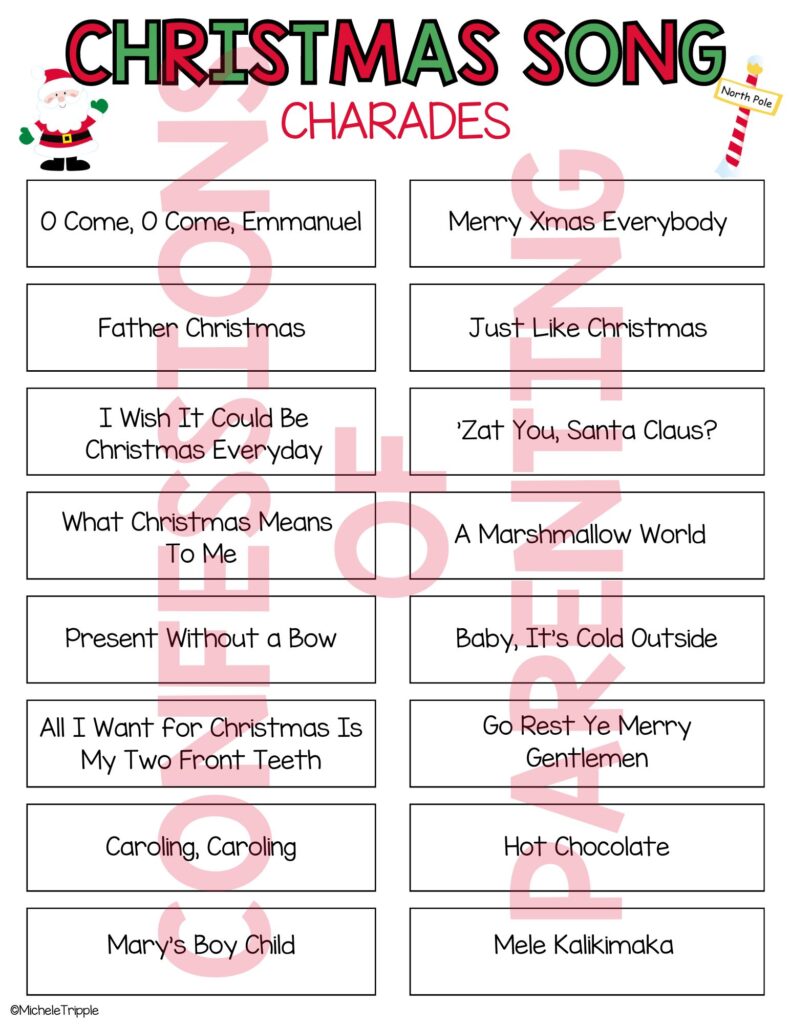 Christmas Song Charades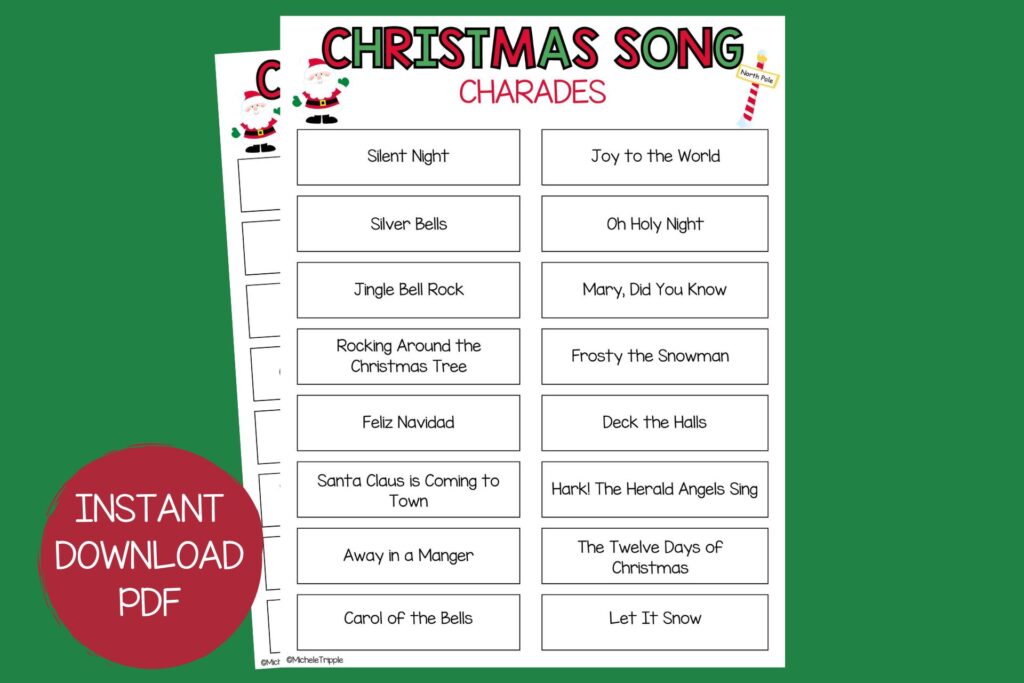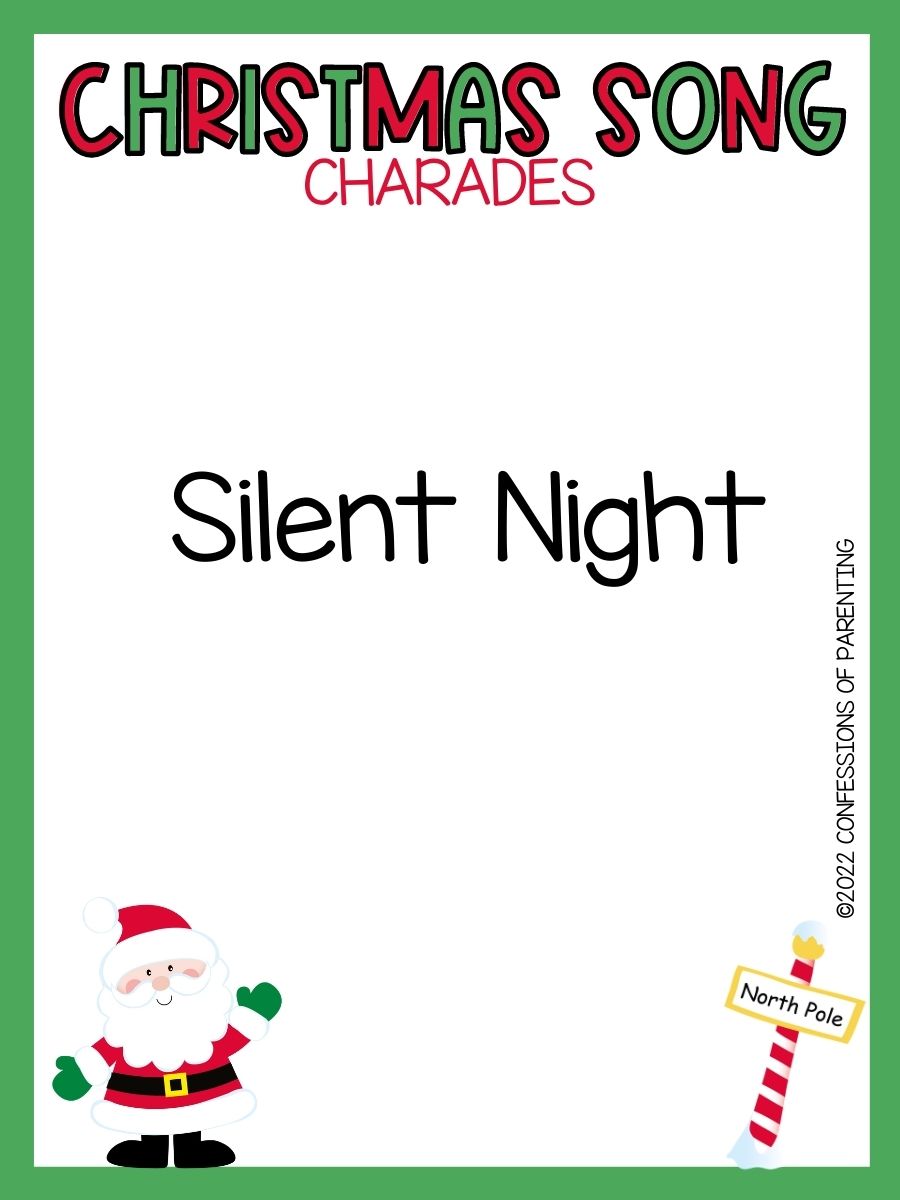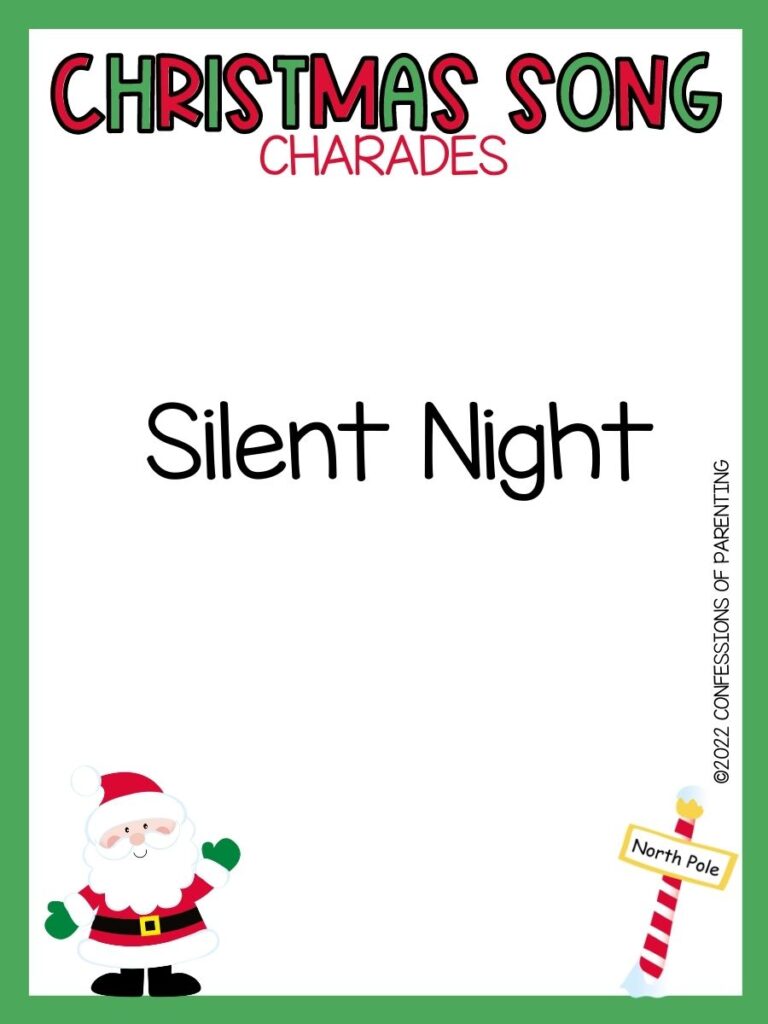 Silent Night
Joy to the World
Silver Bells
Jingle Bell Rock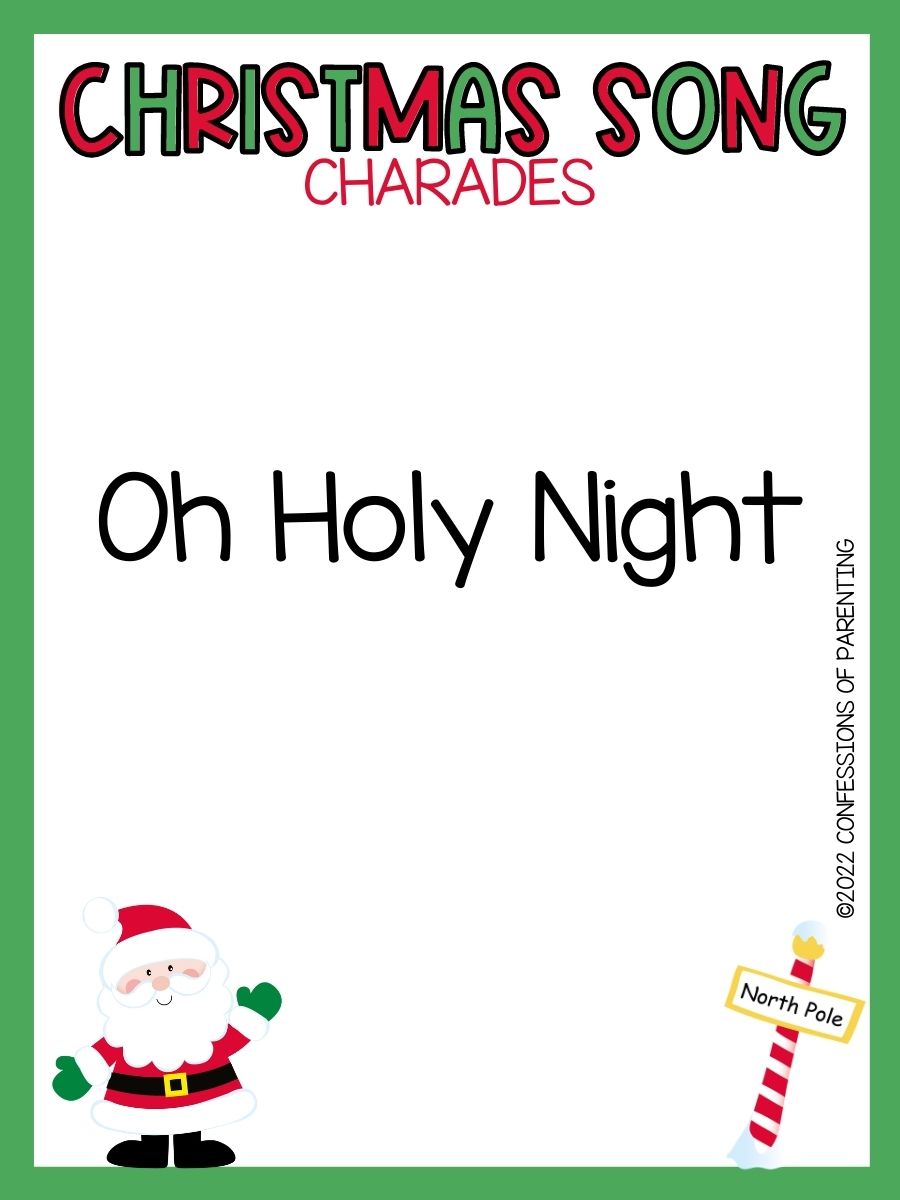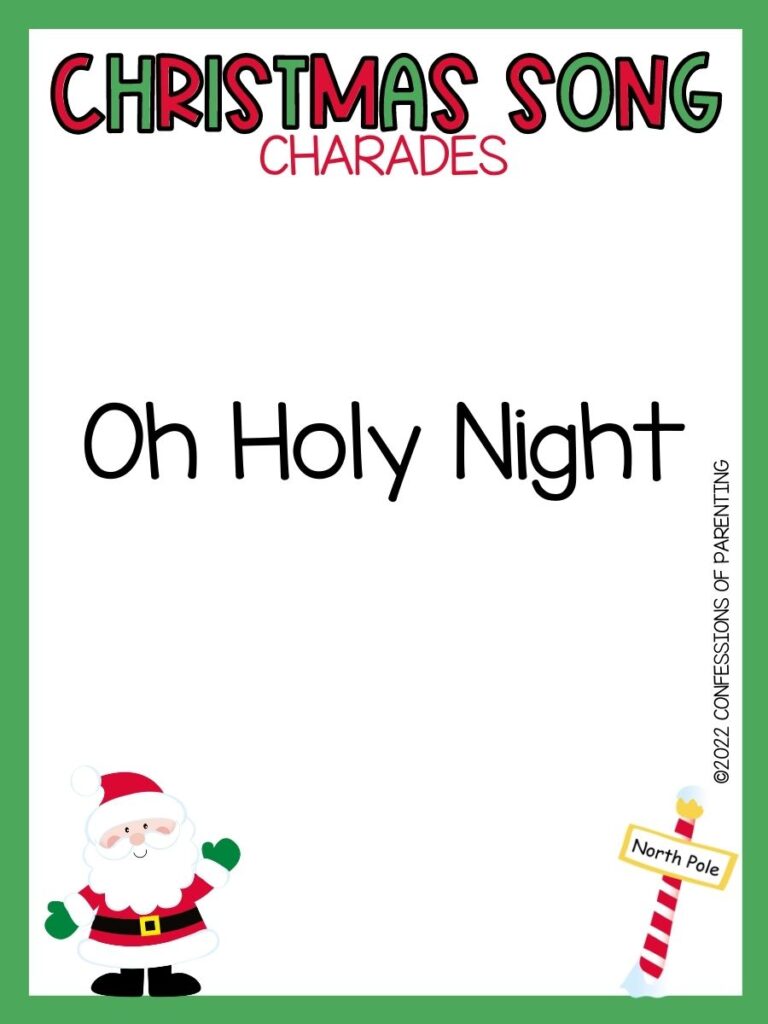 Oh Holy Night
Rocking Around the Christmas Tree
Feliz Navidad
Mary Did You Know
Frosty the Snowman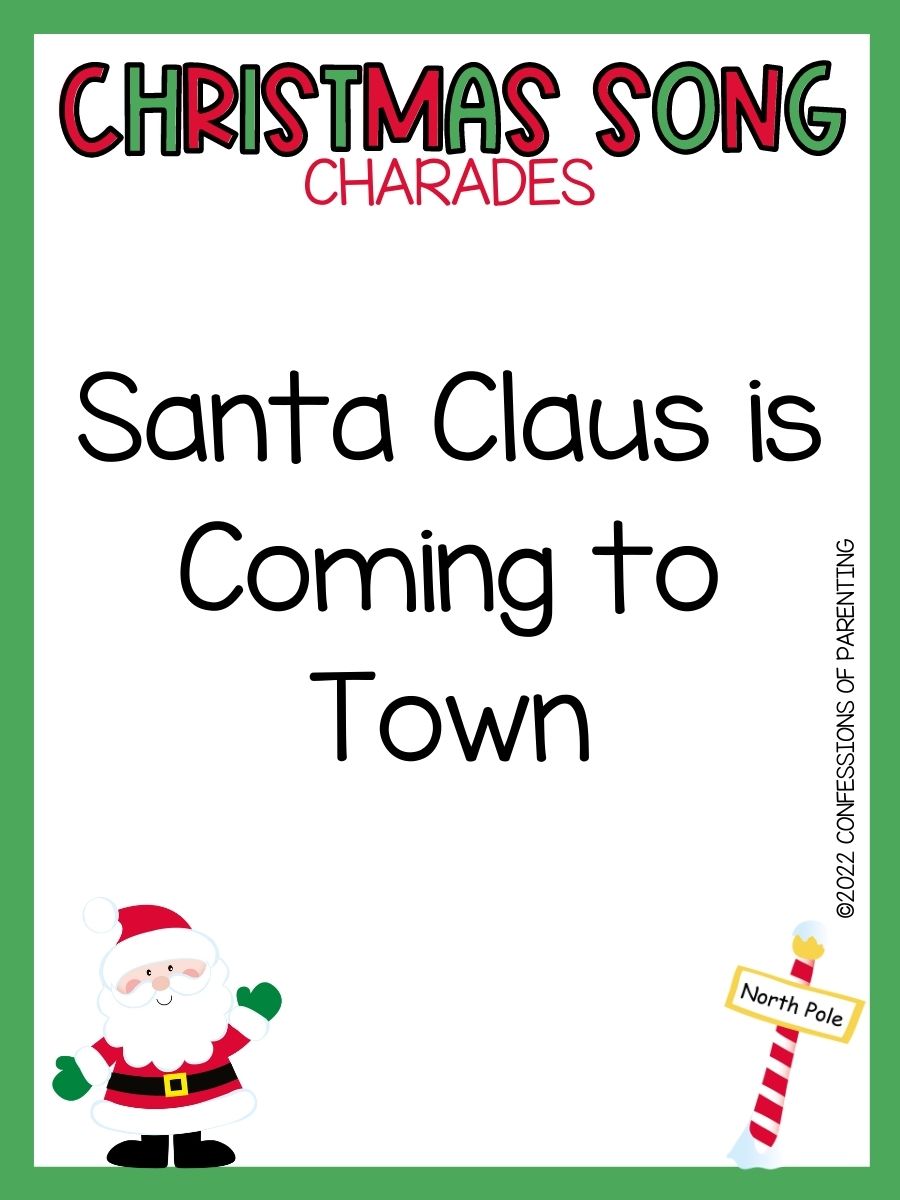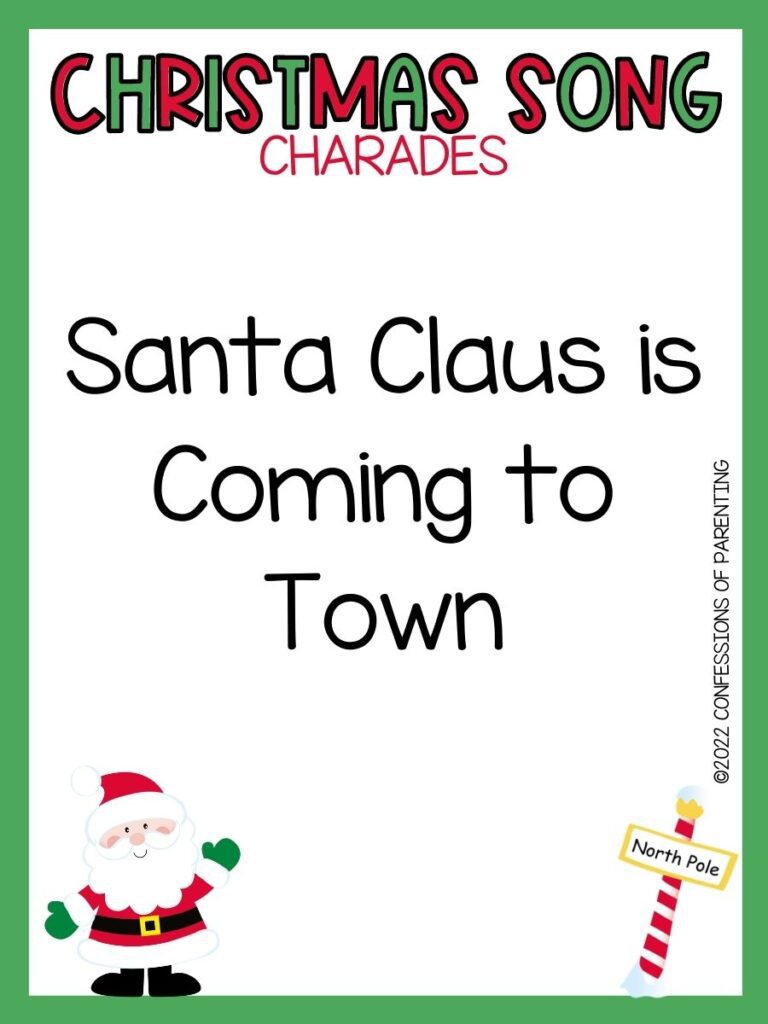 Santa Claus is Coming to Town
Deck the Halls
Away in a Manger
Carol of the Bells
Hark! The Herald Angels Sing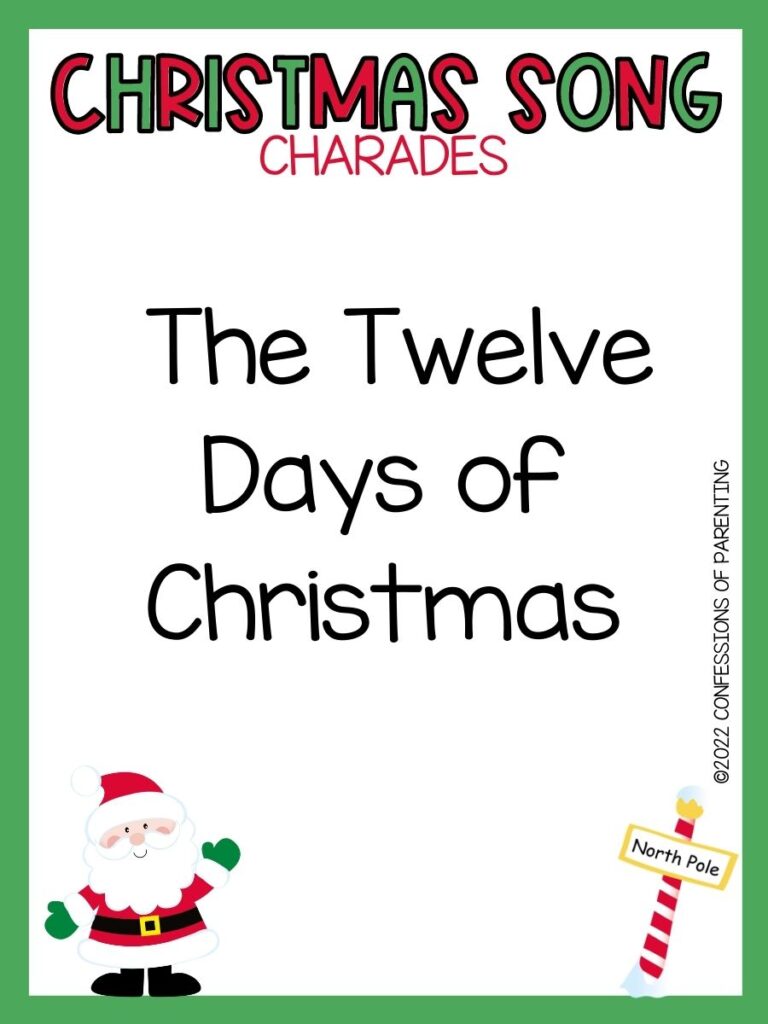 The Twelve Days of Christmas
Let It Snow
River
Winter Wonderland
Little Saint Nick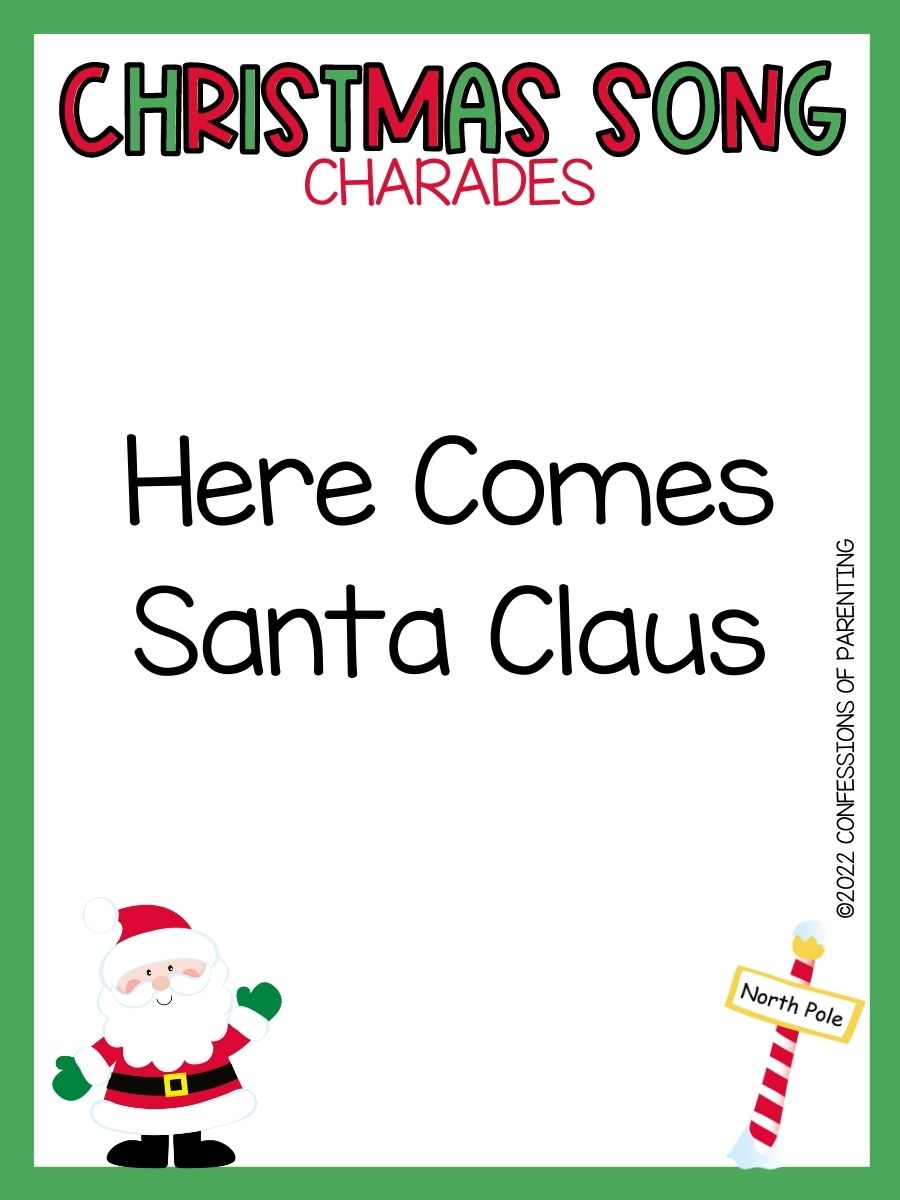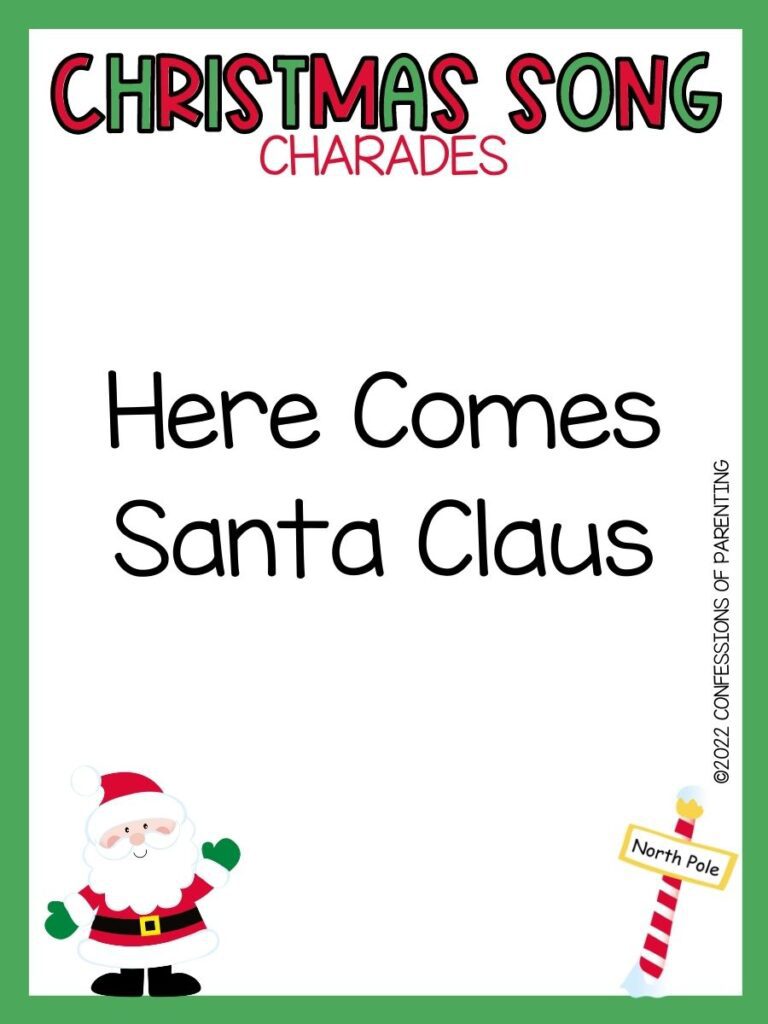 Here Comes Santa Claus
I'll Be Home For Christmas
O Come, All Ye Faithful
Christmastime Is Here
It Must Be Santa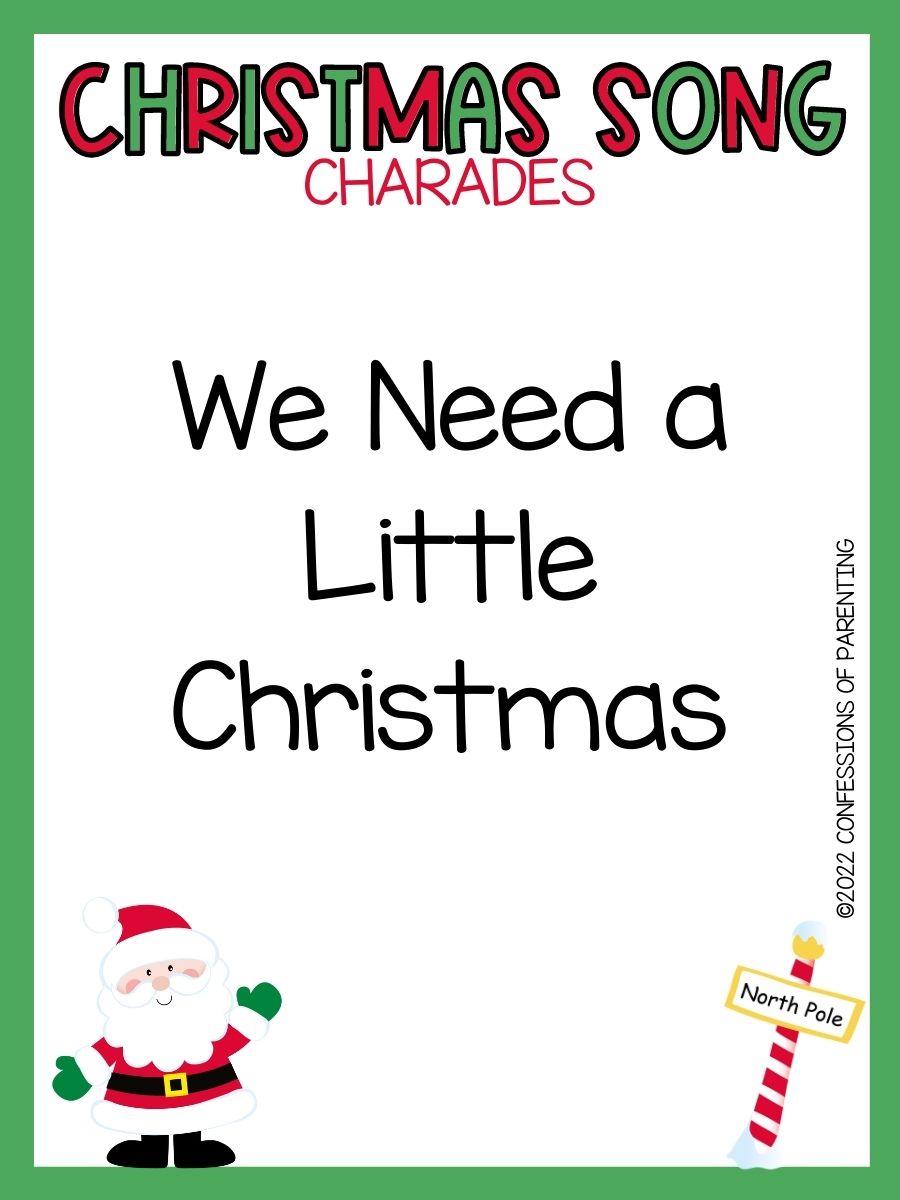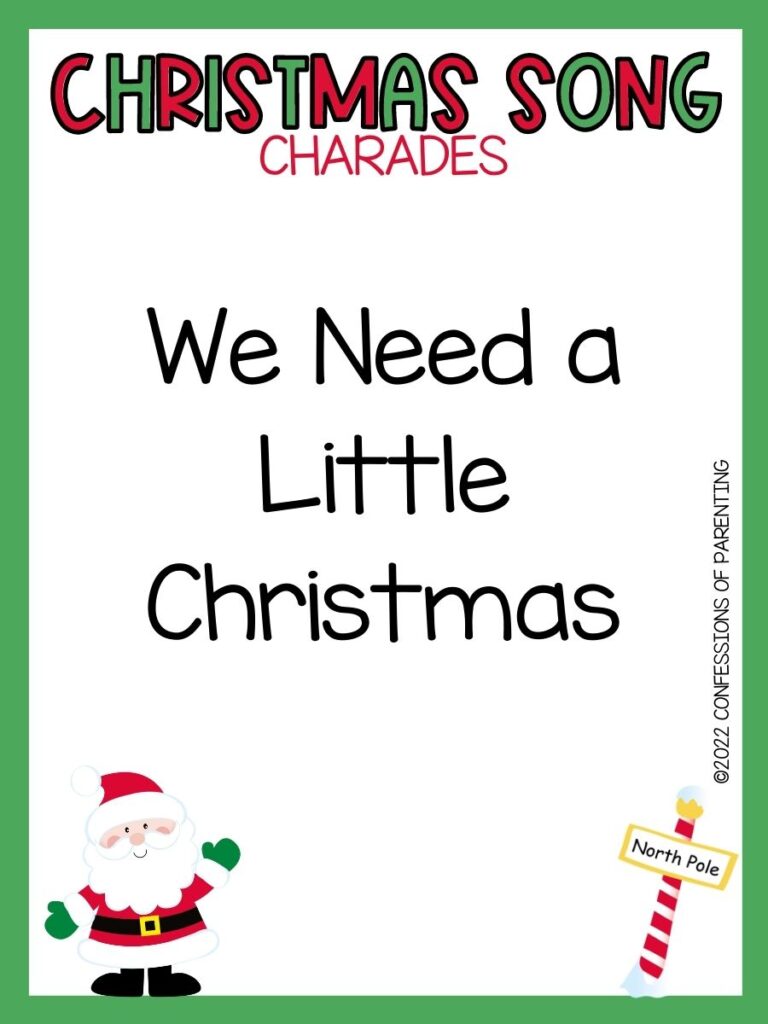 We Need a Little Christmas
What Are You Doing New Year's Eve?
It's Beginning to Look a Lot Like Christmas
The Christmas Song (Nat King Cole)
Santa Baby (Eartha Kitt)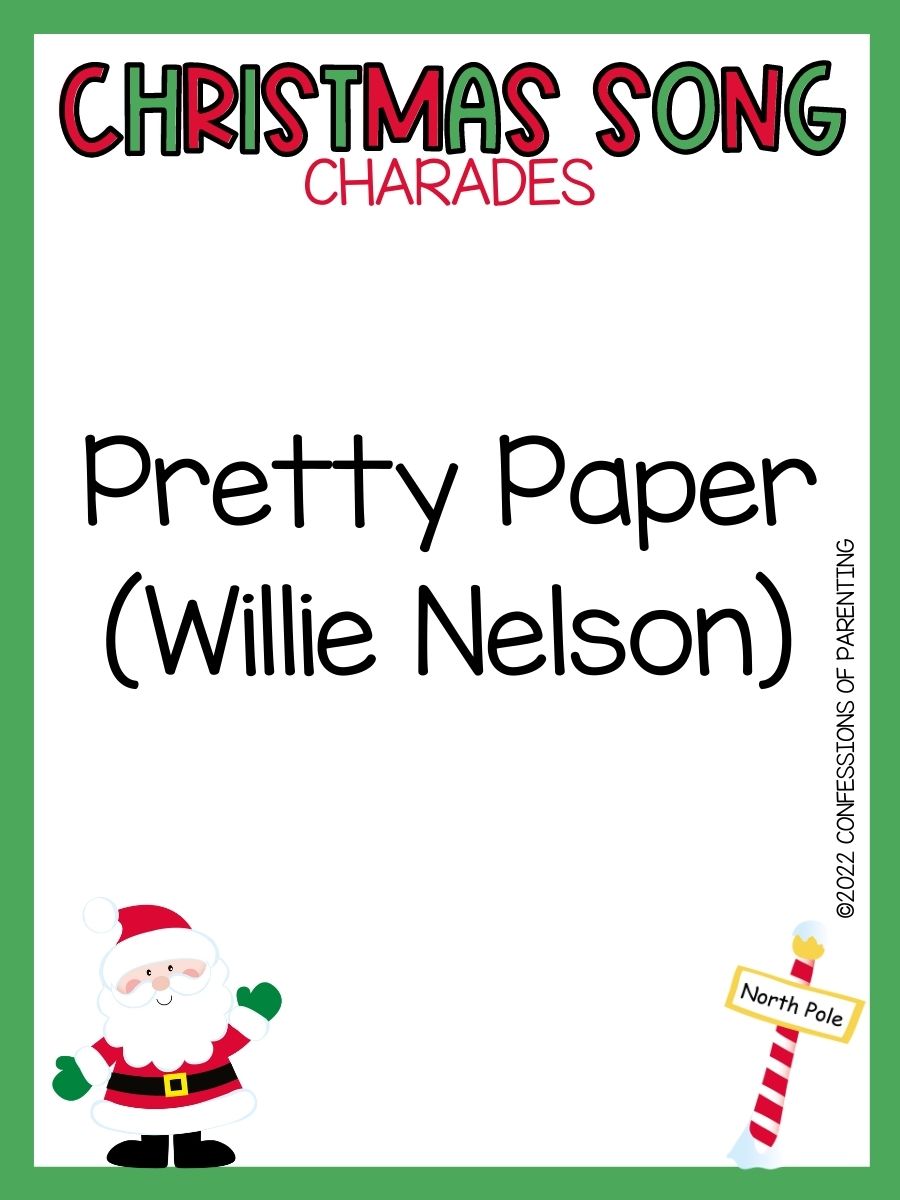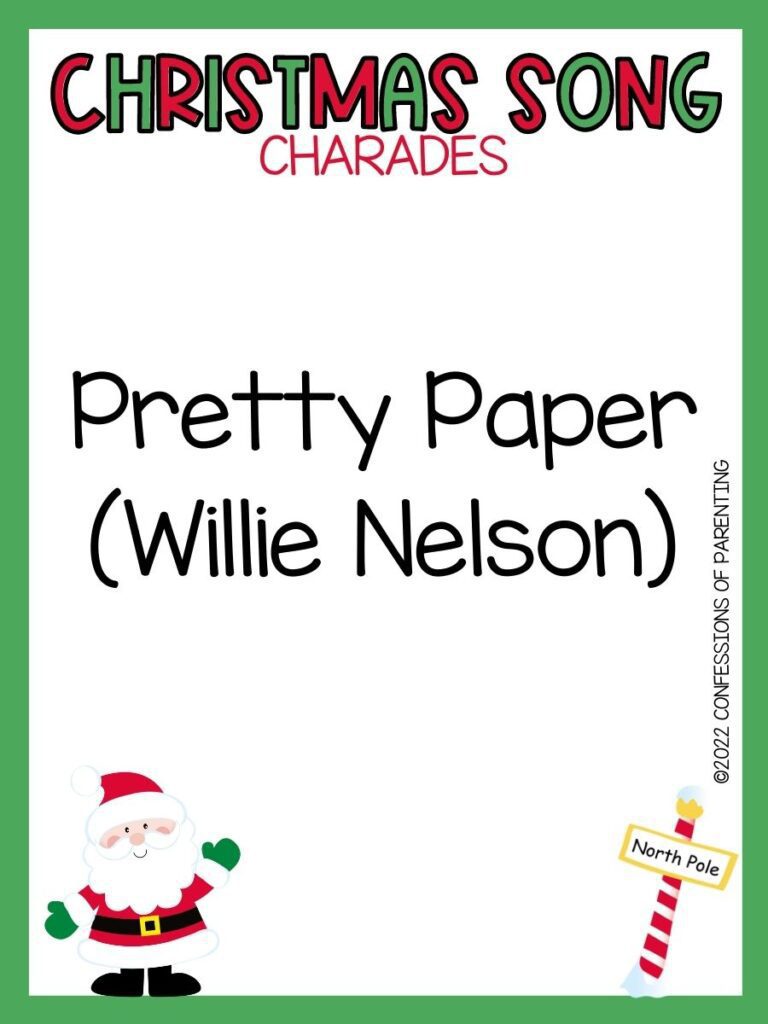 Pretty Paper (Willie Nelson)
Hard Candy Christmas (Dolly Parton)
Do You Hear What I Hear (Whitney Houston)
Christmas Vacation (Lindsey Buckingham)
Rudolph the Red-Nosed Reindeer (Harry Connick, Jr.)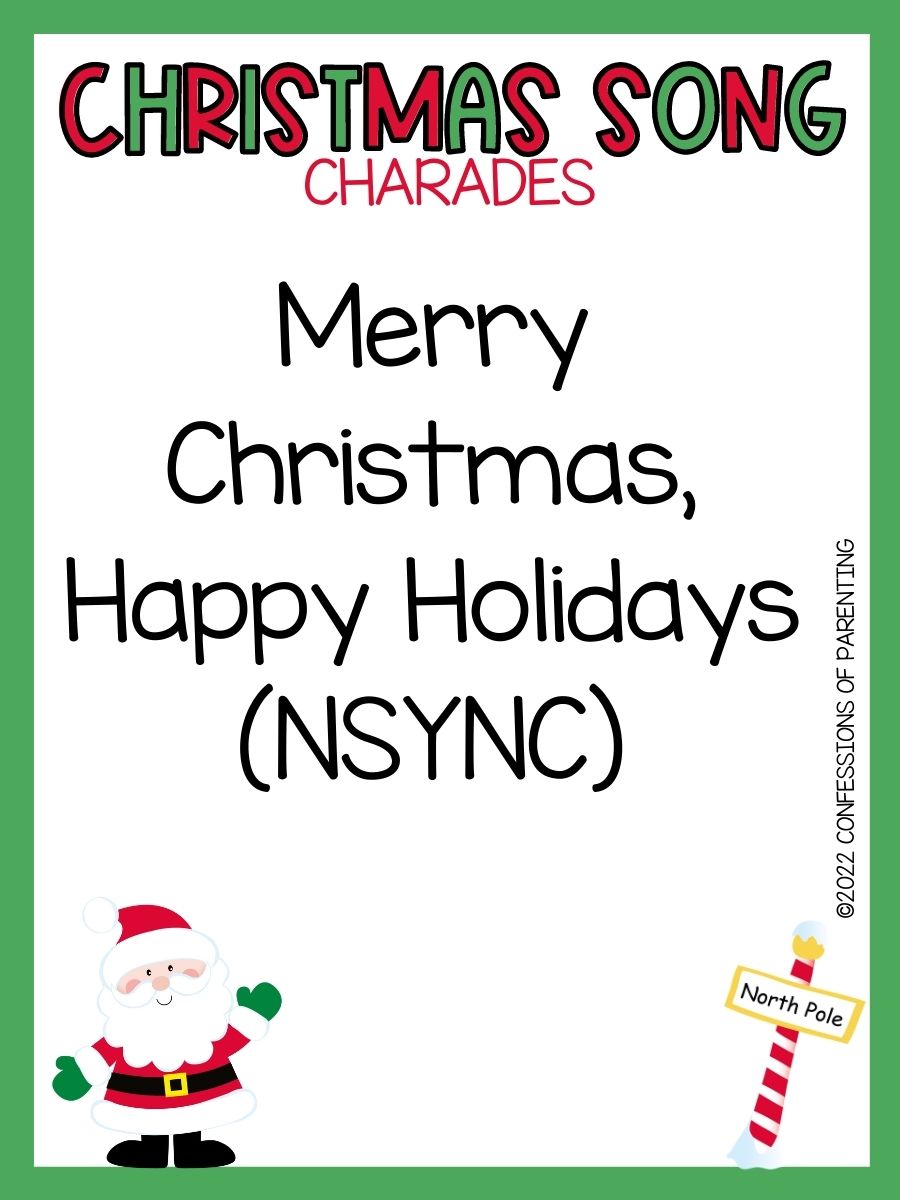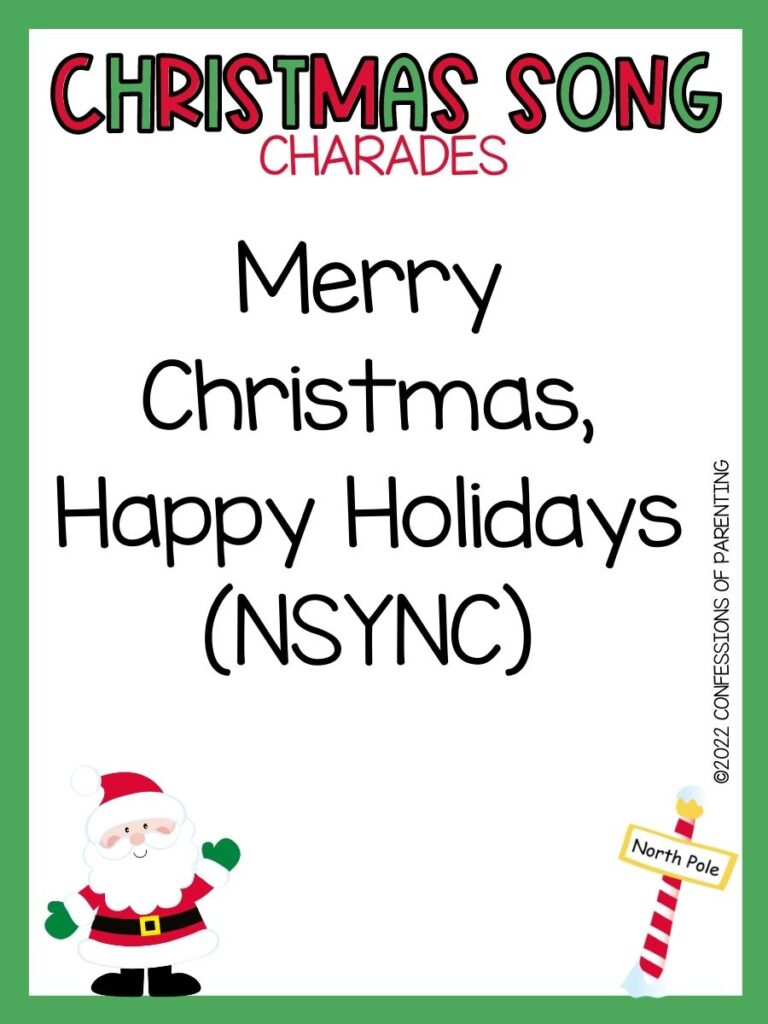 Merry Christmas, Happy Holidays (NSYNC)
Get Behind Me, Santa! (Sufjan Stevens)
The Christmas Waltz (Zooey Deschanel and M. Ward)
Mistletoe (Justin Bieber)
You Make It Feel Like Christmas (Gwen Stefani)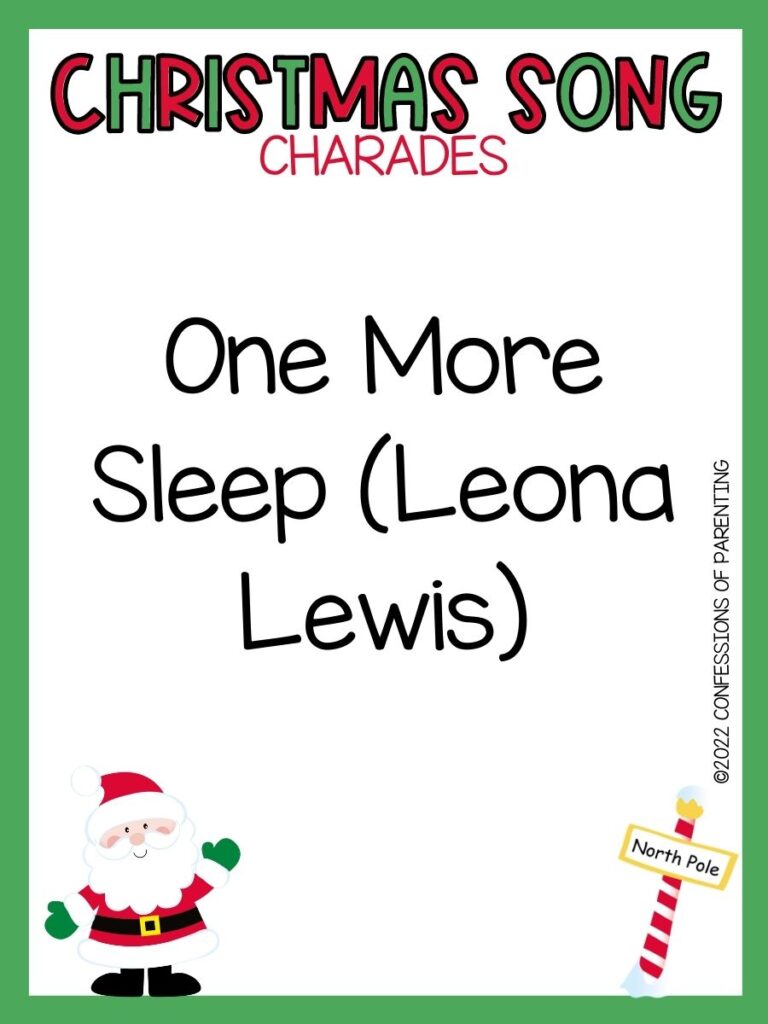 One More Sleep (Leona Lewis)
A Holly Jolly Christmas (Johnny Marks)
Christmastime Is Here Again (The Flirtations)
I Saw Mommy Kissing Santa Claus (Jackson 5)
This Christmas (Donny Hathaway)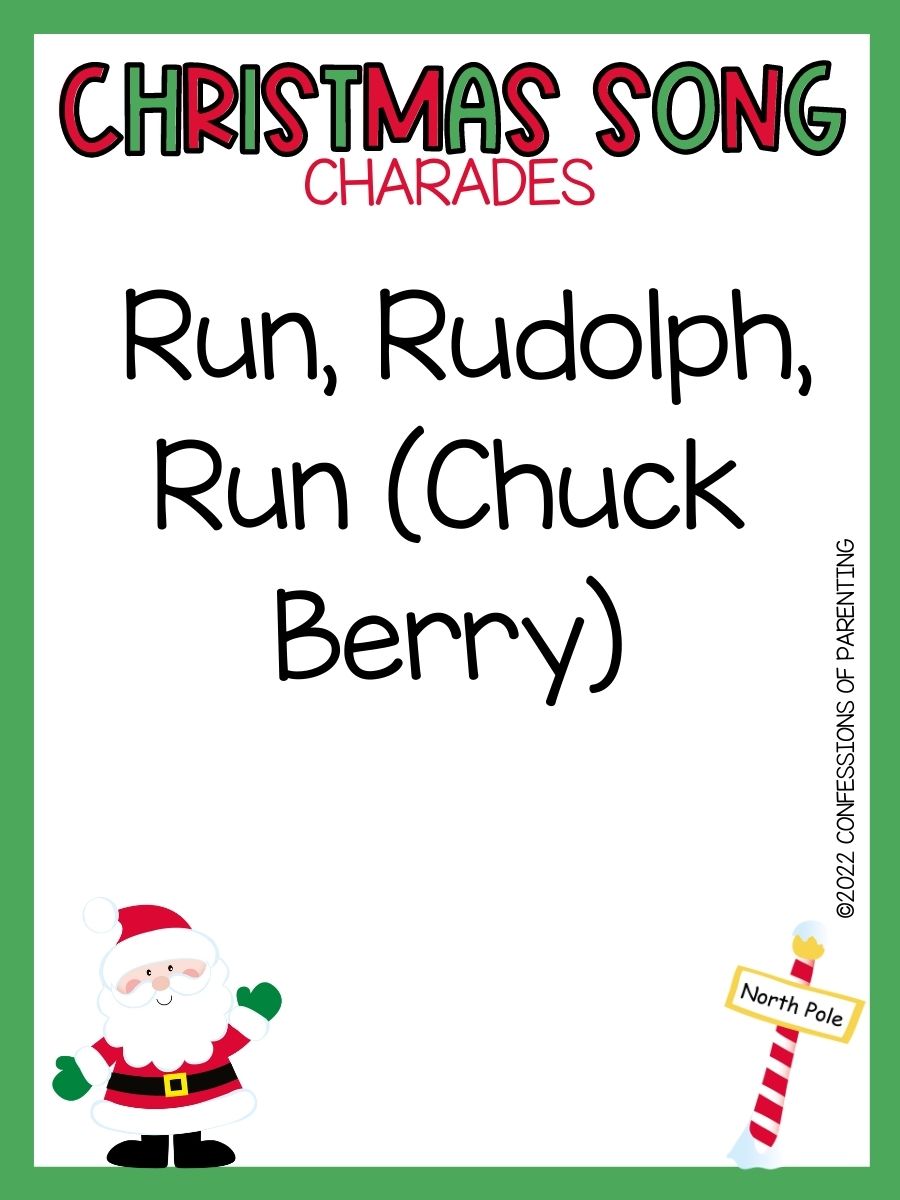 Run, Rudolph, Run (Chuck Berry)
Sleigh Ride (Johnny Mathis)
Christmas Don't Be Late (The Chipmunk Song)
It's the Most Wonderful Time of the Year (Andy Williams)
Christmas, Baby Please Come Home (Darlene Love)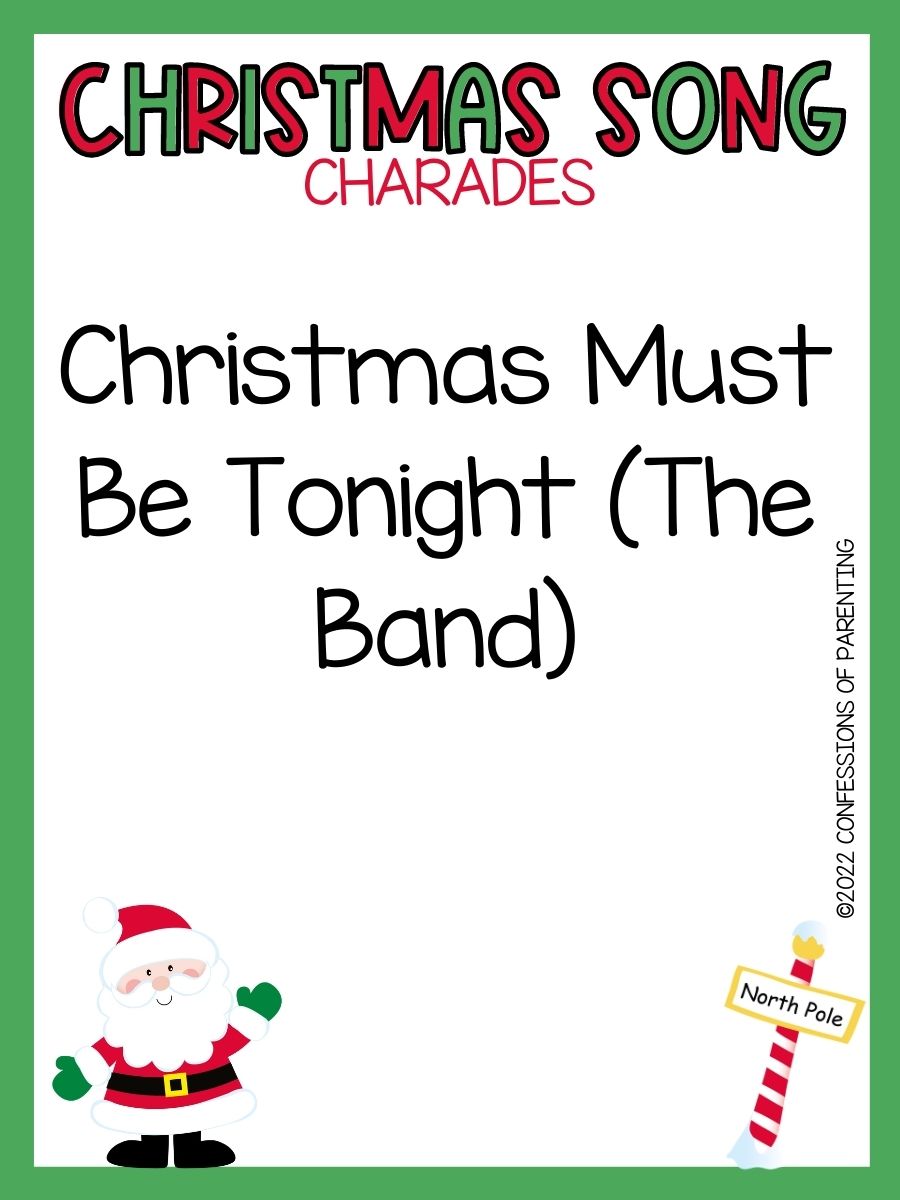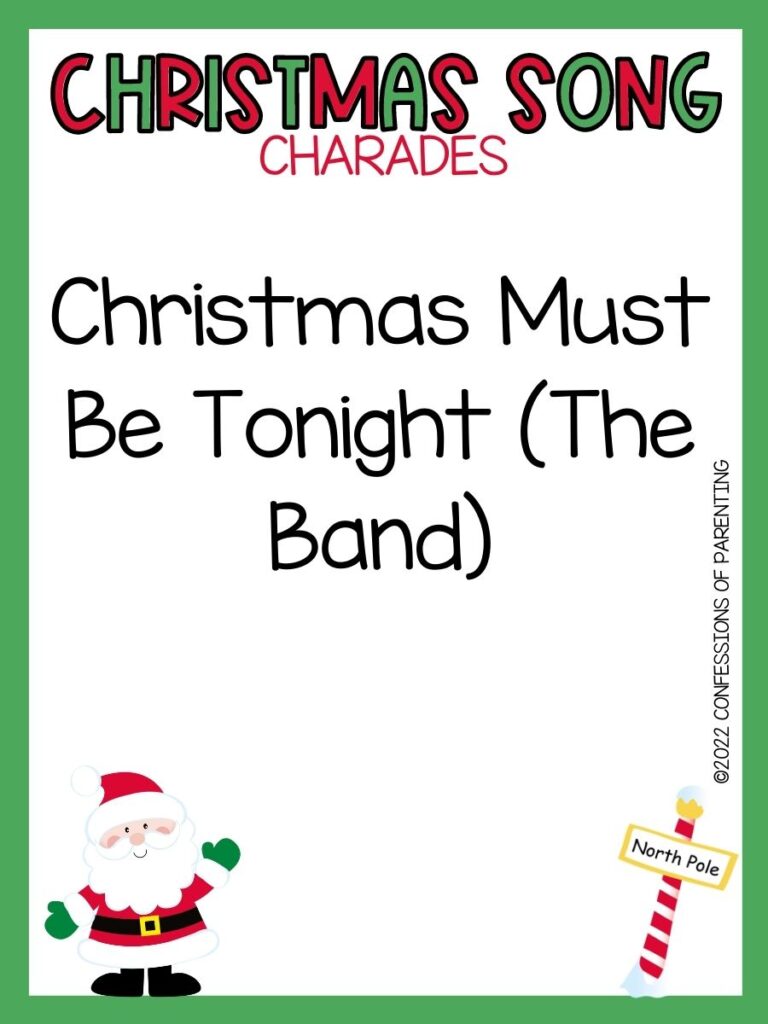 Christmas Must Be Tonight (The Band)
Have Yourself A Merry Little Christmas (Judy Garland)
All I Want For Christmas Is You (Mariah Carey)
Last Christmas (Wham!)
White Christmas (Bing Crosby)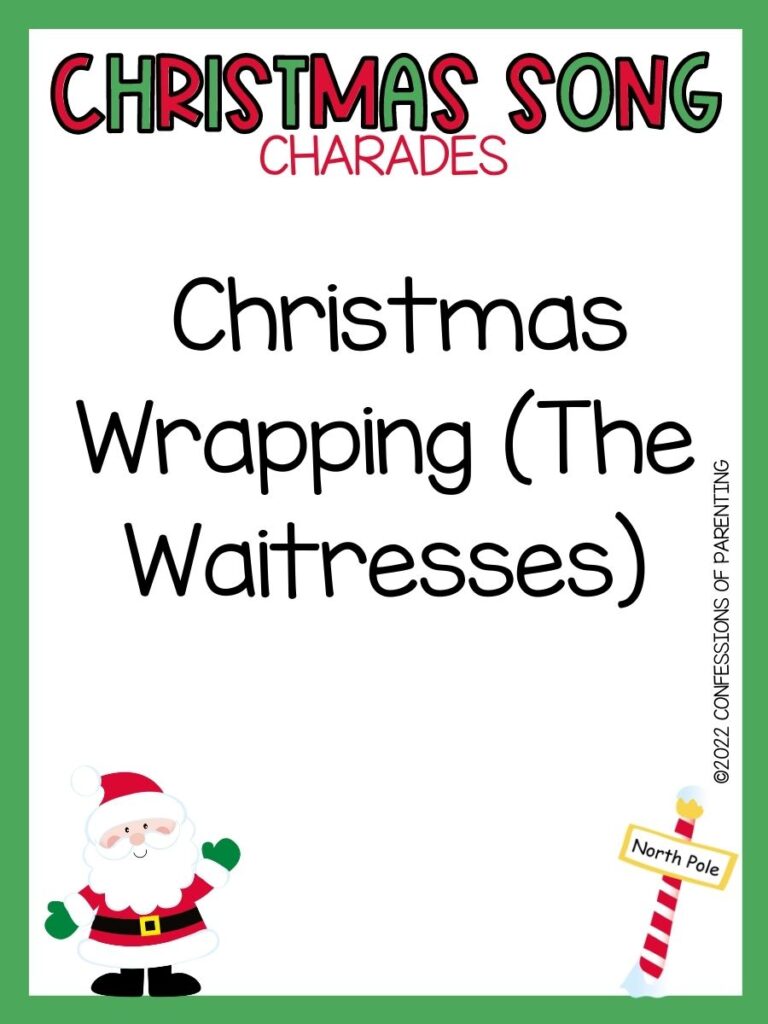 Christmas Wrapping (The Waitresses)
Do They Know It's Christmas? (Band Aid)
Happy Xmas (John Lennon & Yoko Ono)
Merry Christmas Baby (Ike and Tina Turner)
Step Into Christmas (Elton John)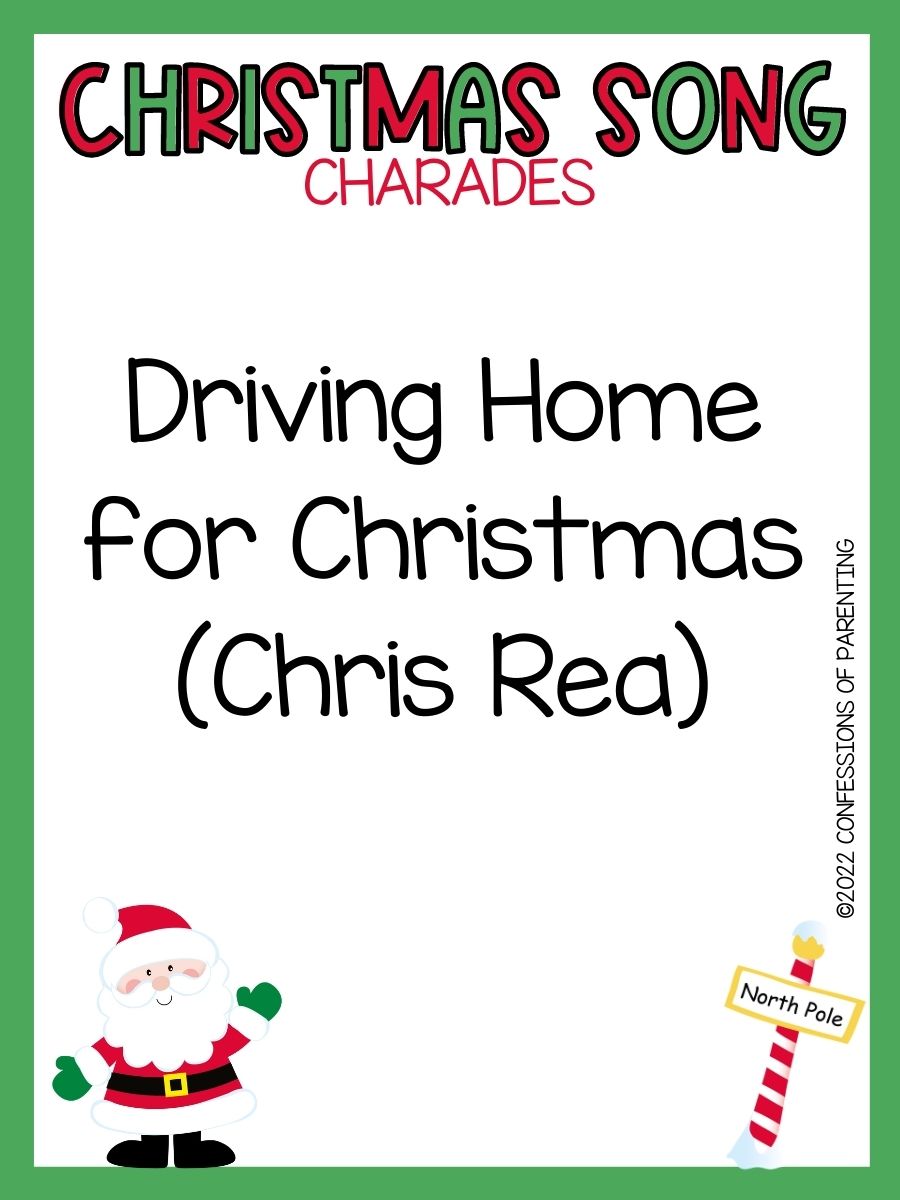 Driving Home for Christmas (Chris Rea)
Blue Christmas (Elvis Presley)
Wonderful Christmas Time (Paul McCartney)
Santa Tell Me (Ariana Grande)
8 Days of Christmas (Destiny's Child)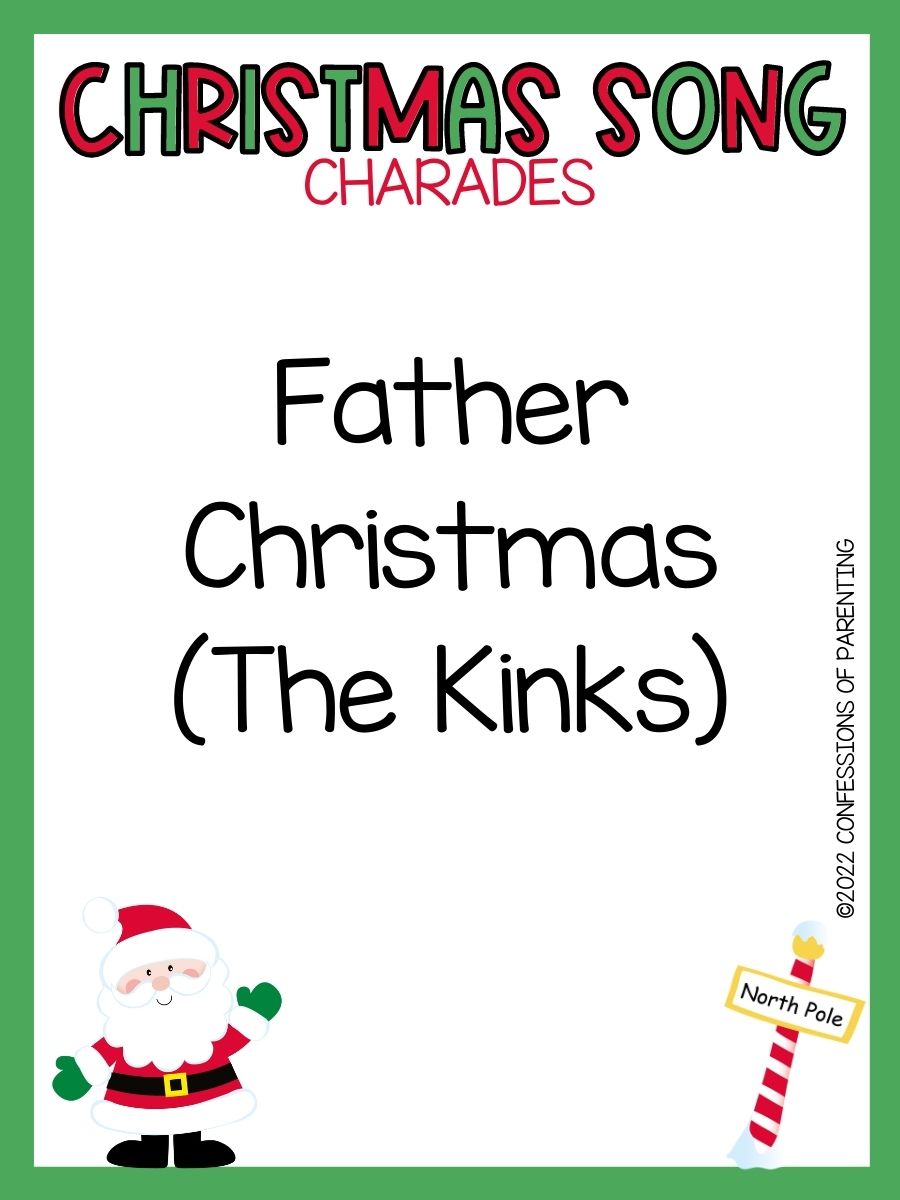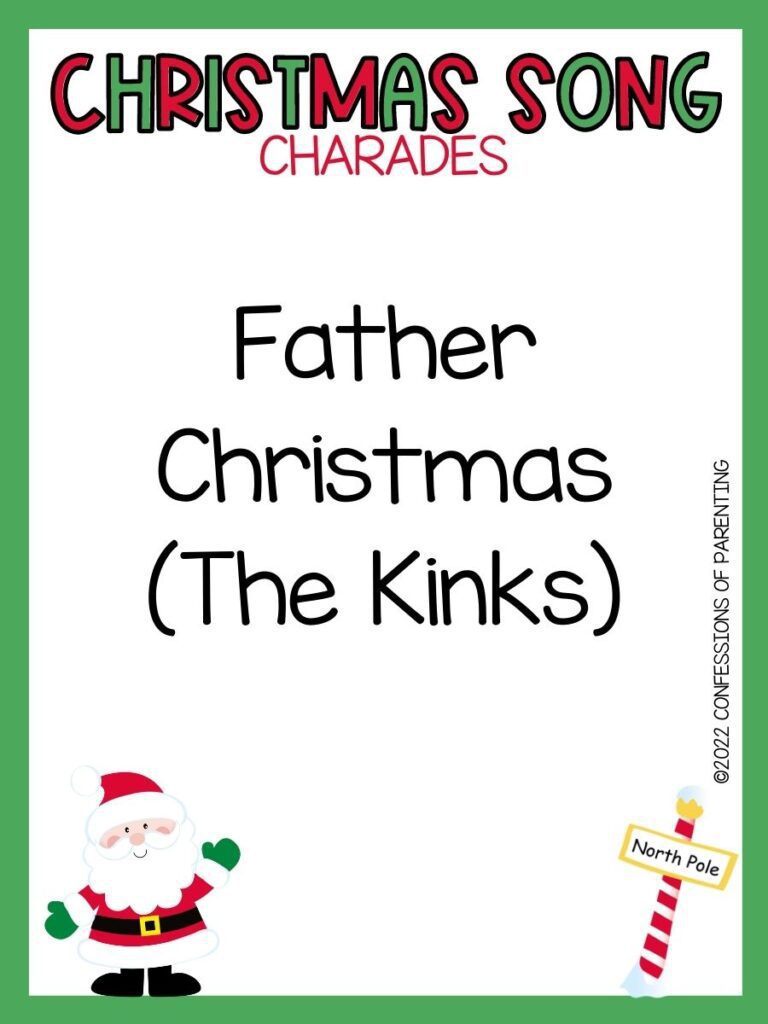 Father Christmas (The Kinks)
O Come, O Come, Emmanuel (Sufjan Stevens)
I Wish It Could Be Christmas Everyday (Wizzard)
Merry Xmas Everybody (Slade)
What Christmas Means to Me (John Legend)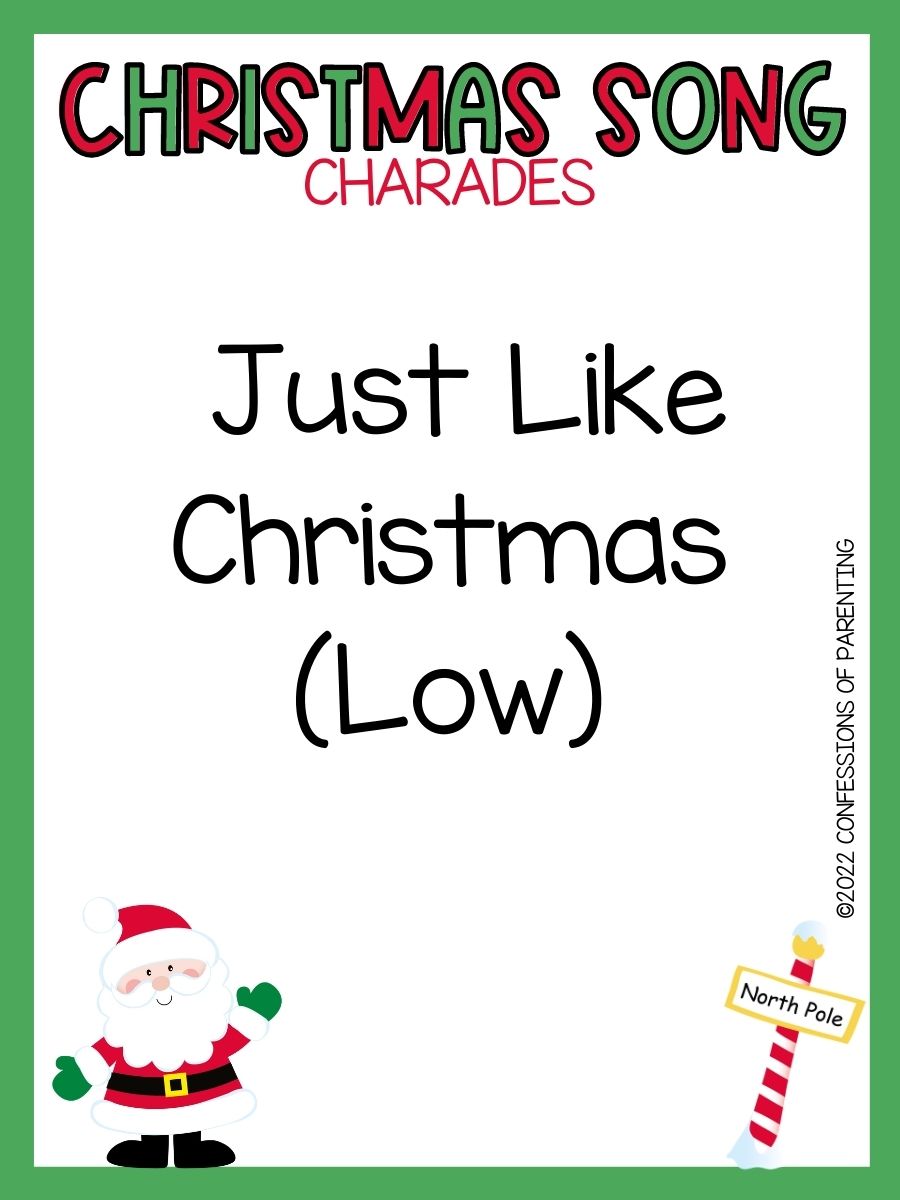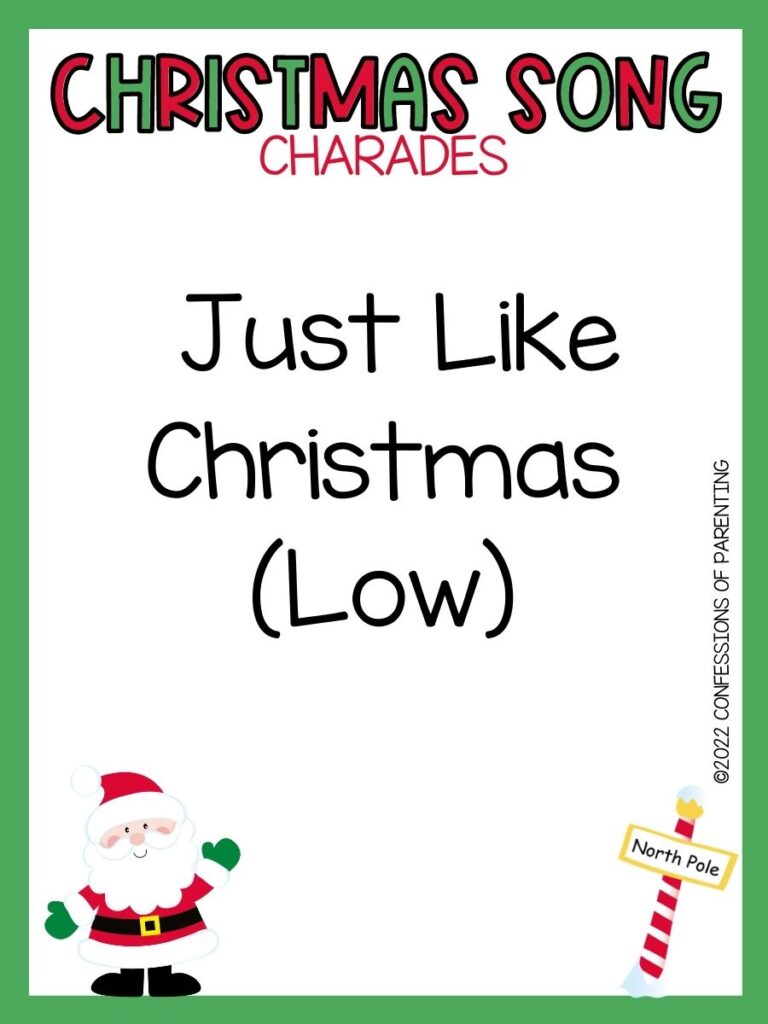 Just Like Christmas (Low)
Present Without a Bow (Kacey Musgraves)
'Zat You, Santa Claus? (Louis Armstrong)
A Marshmallow World (Dean Martin)
All I want for Christmas is my Two Front Teeth (Alvin and the Chipmunks)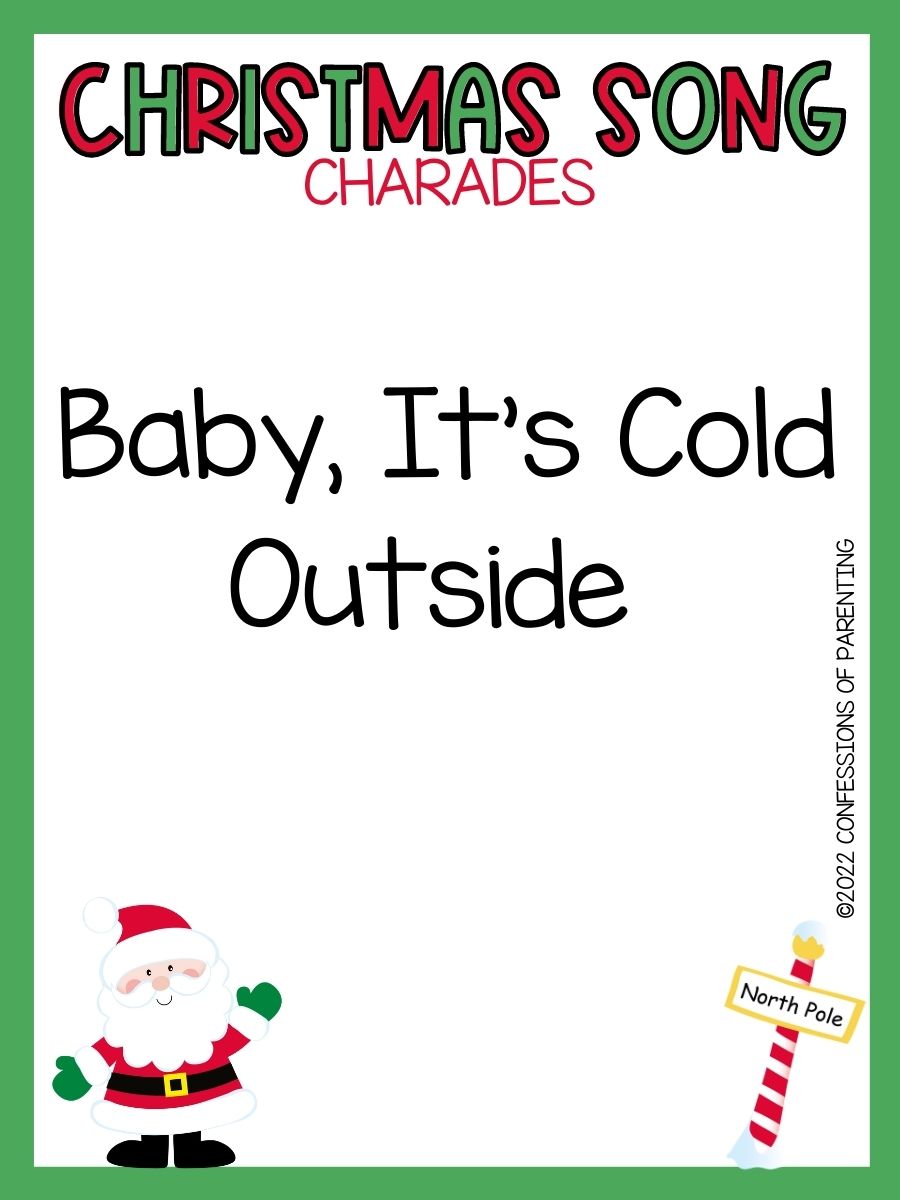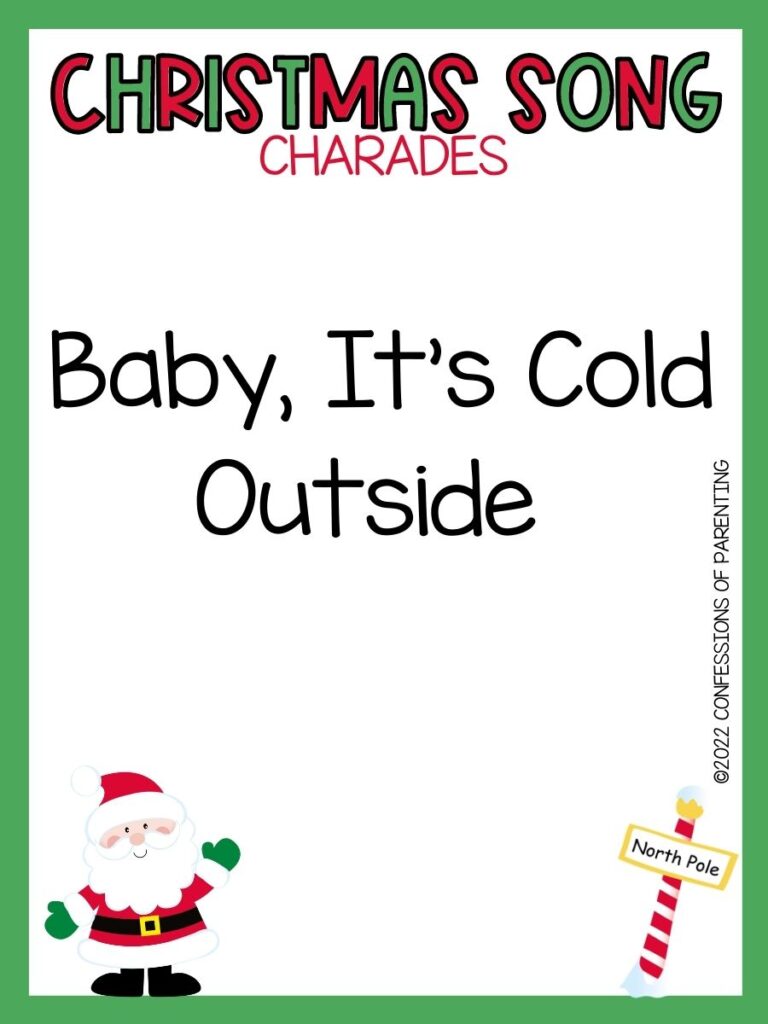 Baby, It's Cold Outside
Caroling, Caroling (Nat King Cole)
God Rest Ye Merry Gentlemen
Hot Chocolate (Tom Hanks)
Mele Kalikimaka (Bing Crosby, The Andrew Sisters)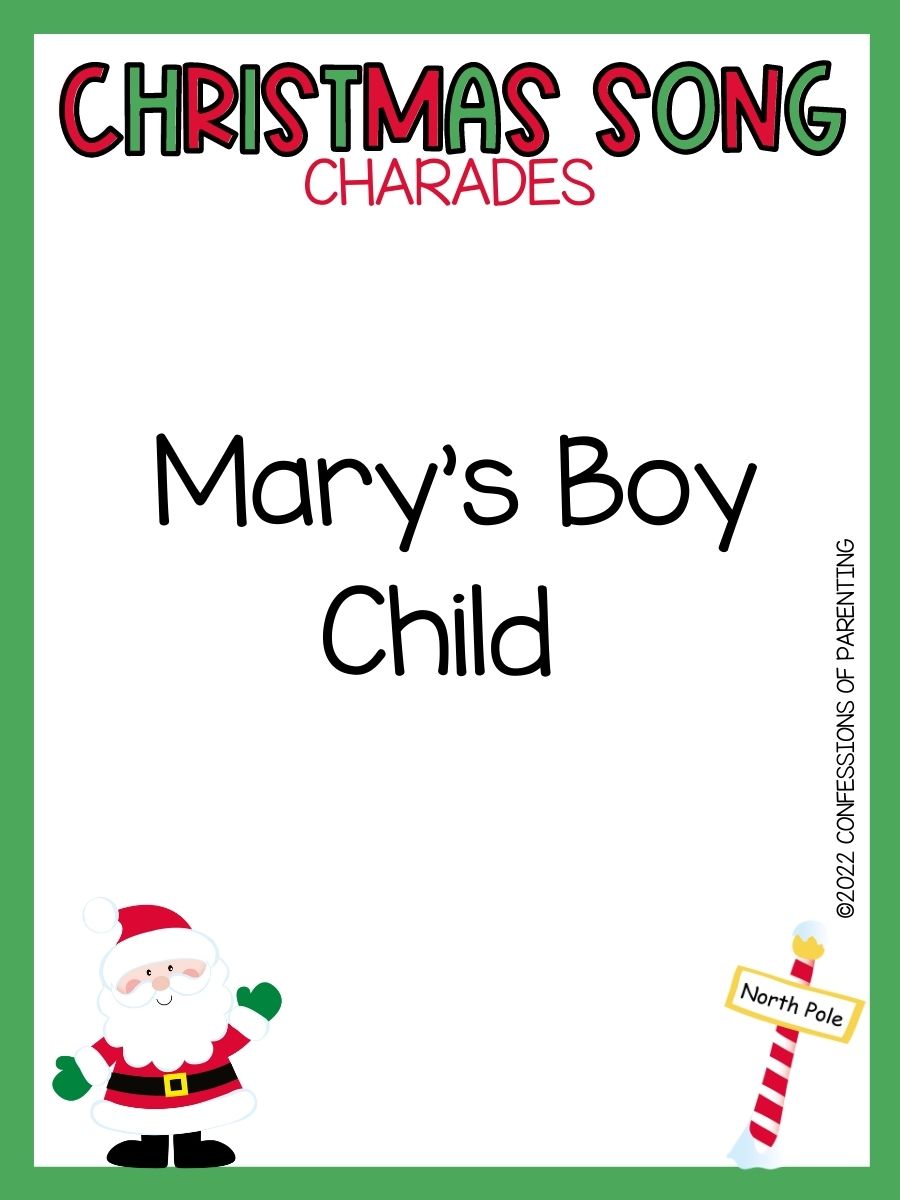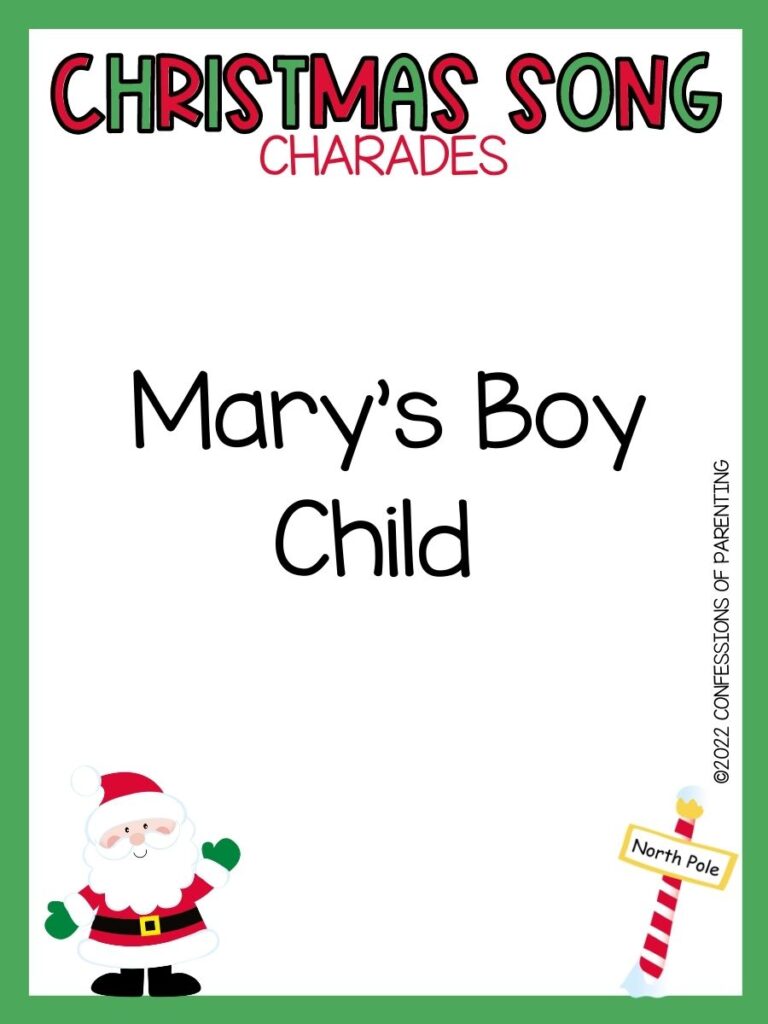 Mary's Boy Child
Nuttin for Christmas
O Little Town of Bethlehem
O Tannenbaum/O Christmas Tree
Please Come Home for Christmas (Eagles)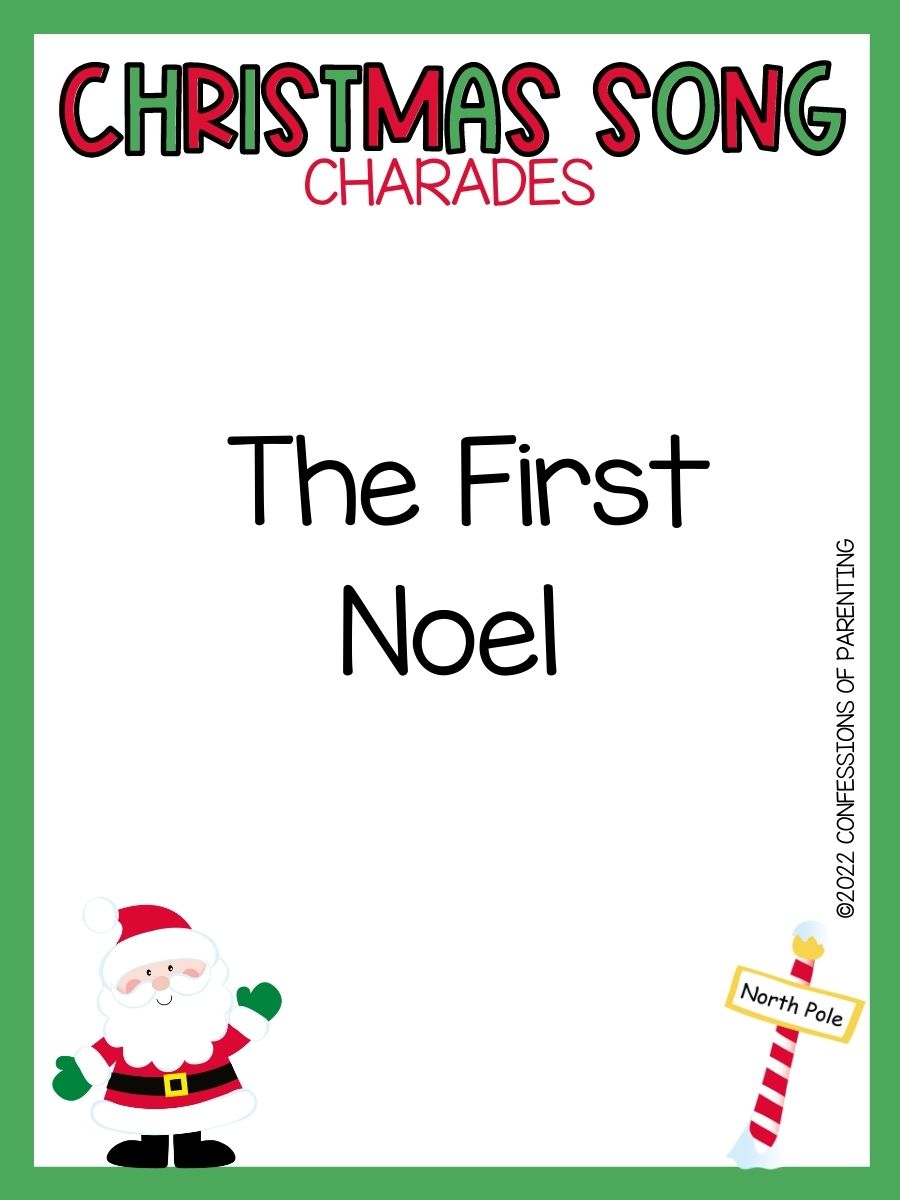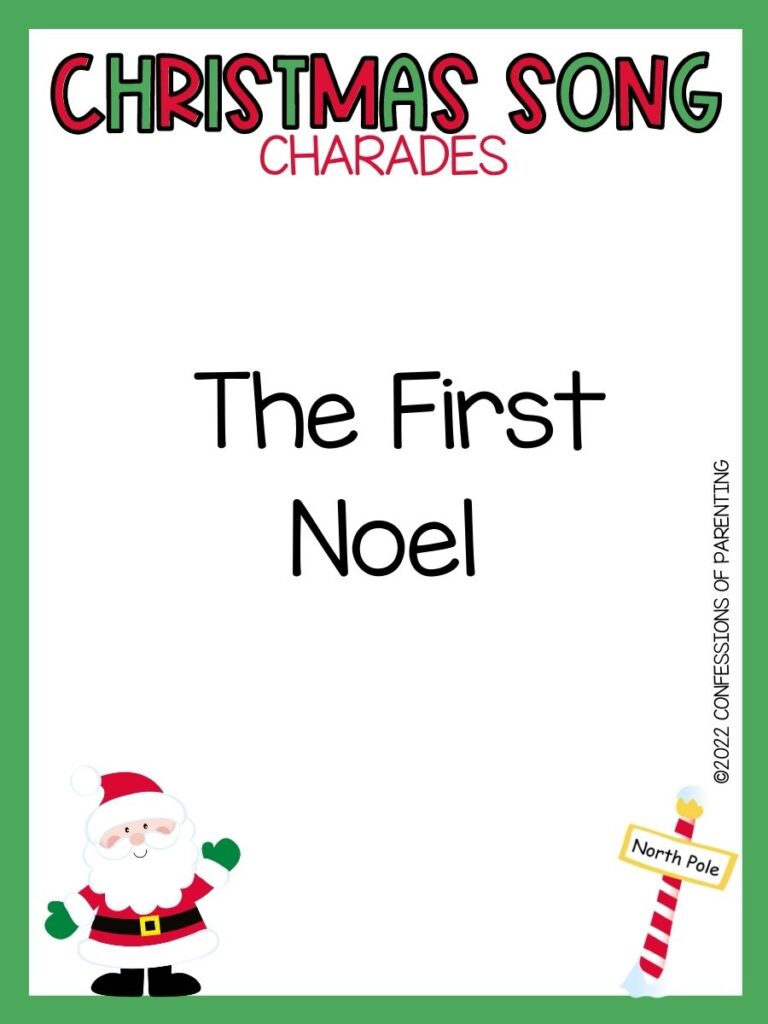 The First Noel
The Little Drummer Boy
Underneath the Tree (Kelly Clarkson)
We Three Kings
We Wish You a Merry Christmas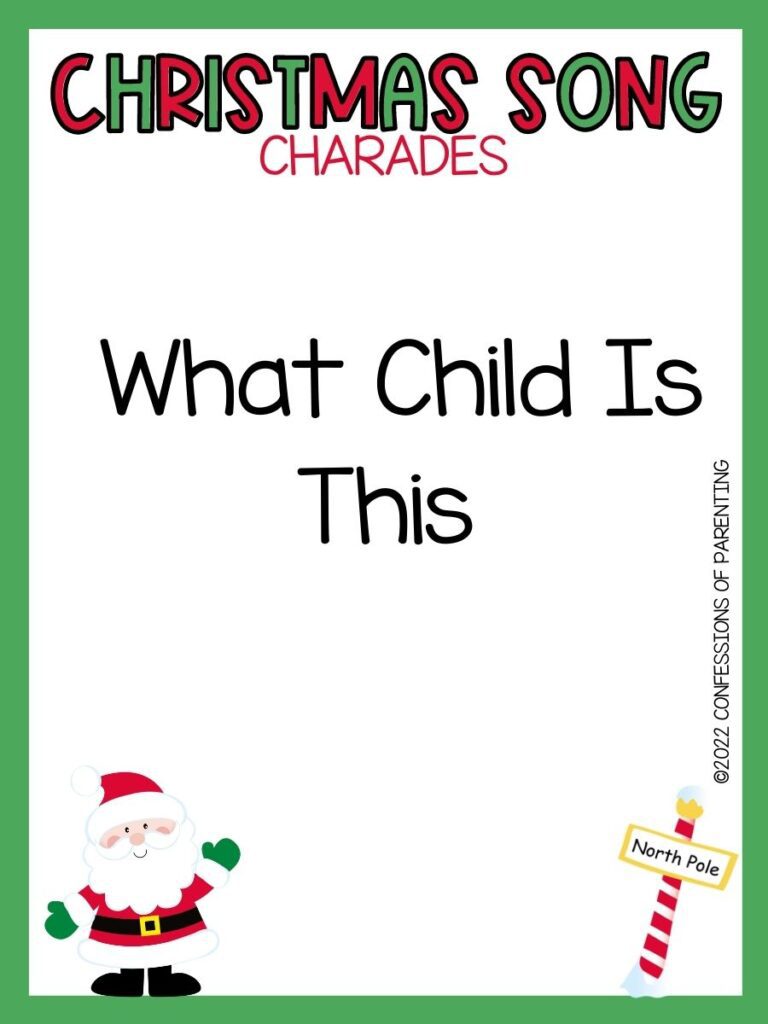 What Child Is This
Grandma Got Run Over By a Reindeer
You're a Mean One, Mr. Grinch
I Want a Hippopotamus for Christmas
Cool Yule (Louis Armstrong)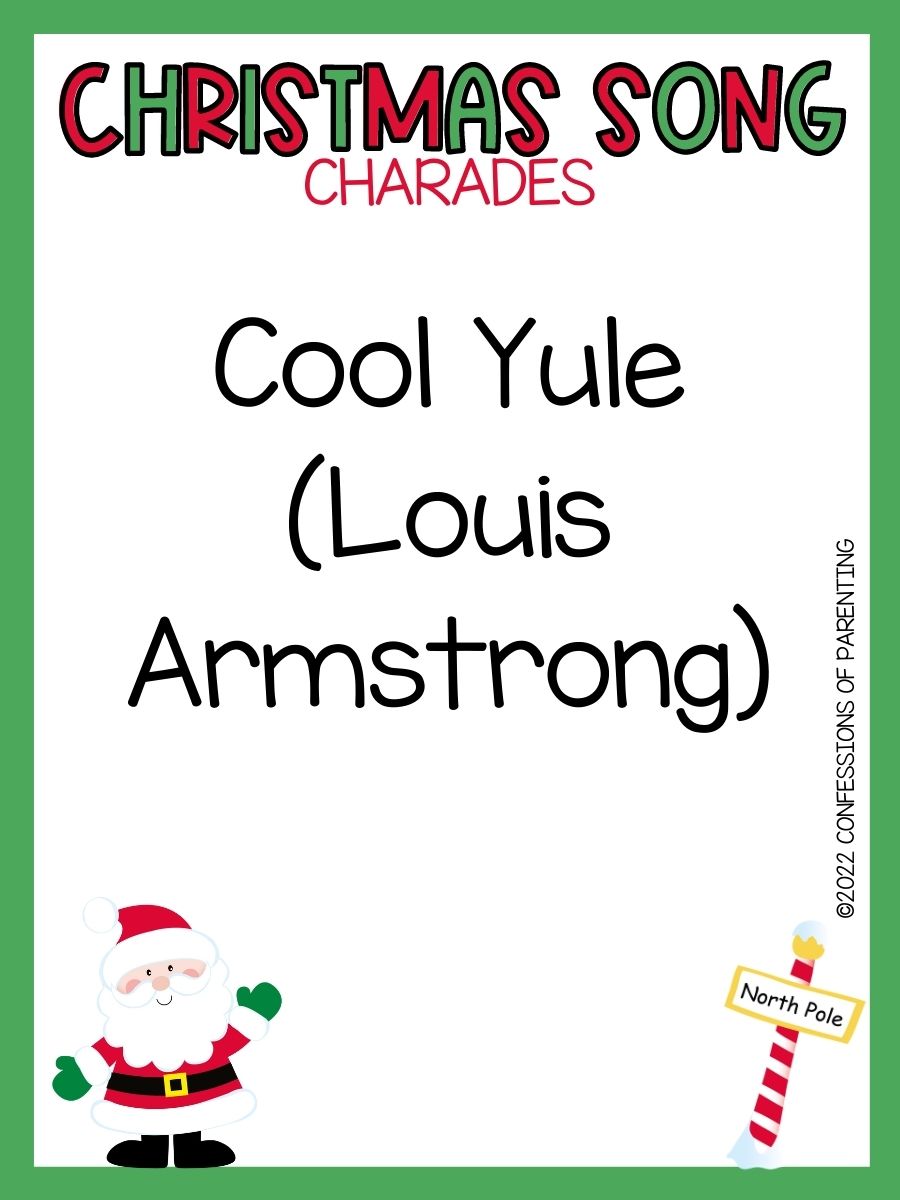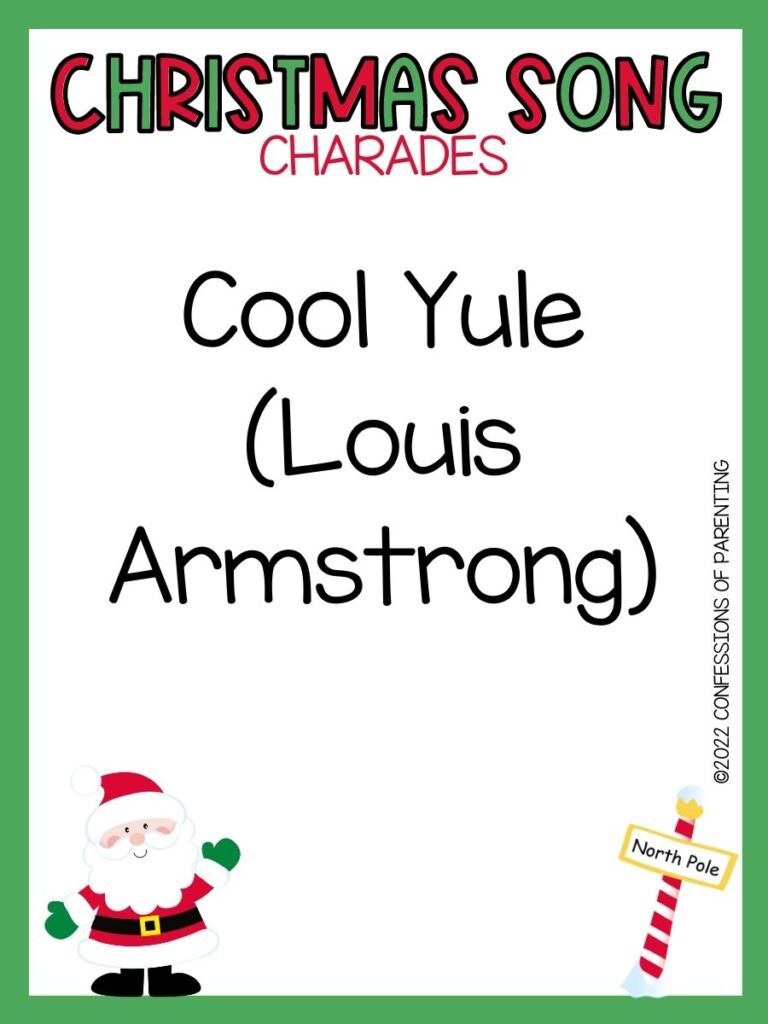 Love Charades? Try these other great charade games!
How Do I access my free printables?
Fill in the form above. You will receive an email in your inbox. If you don't see it check your spam folder! You will then click to confirm your subscription.You will then be redirected to your free download.
How Do I Print a PDF?
You'll need a program that supports PDFs. Adobe Acrobat is a great option. Open the program, click file then print. Select your printer and the number of copies you want to print. Be sure you click double-sided if you want it to print on both sides.
Can I resell these?
You may not resell any printable that you find on our website or in our resource library. You may use them for class parties, at church, at home, or in the classroom. You may get these printed at an office supply store or copy center at your own expense.