With 50 magical Christmas Writing Prompts to choose from, it's easy to spread some Christmas cheer with writing this holiday season!
With Christmas around the corner, I am always looking for ways to spread some holiday cheer and keep my kids entertained. Journal prompts about Christmas are the perfect start to our holiday season. With 50 Christmas Journal Prompts, it is easy to get your kids to enjoy writing and perfect their writing skills around the holidays!
After some quiet time writing, we love to play Christmas games like Christmas Charades and Christmas would you rather!
Christmas Writing Prompts
I love Christmas Journal Prompts because we can look back on them year after year! It's so fun to save them and read them together as a family the following year. Your kids can see their progress in writing skills and remember precious memories from the year before.
With 50 journal prompts, you can easily make writing a daily habit! Make sure to grab your Christmas Journal Prompts and add them to your December writing prompts this month.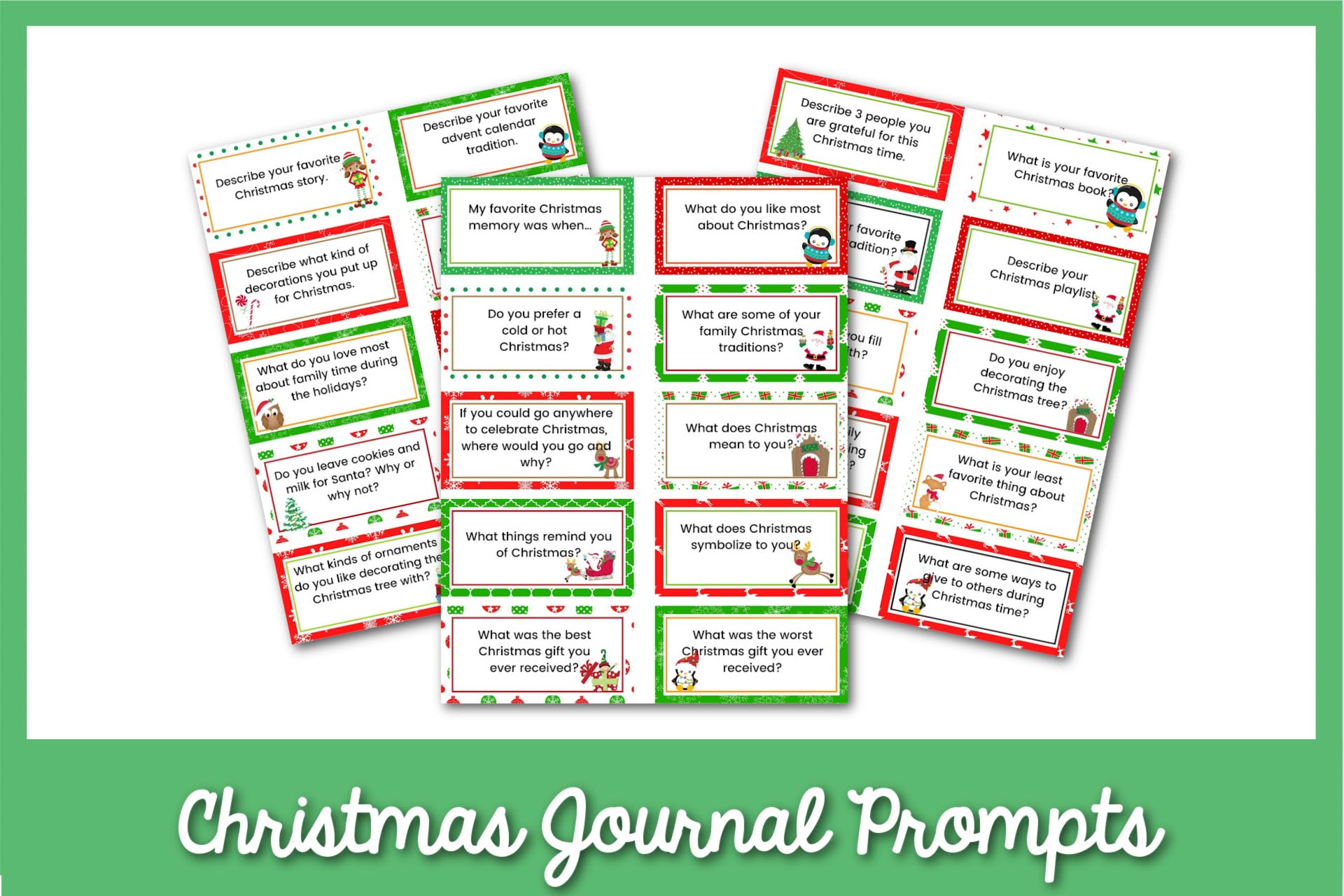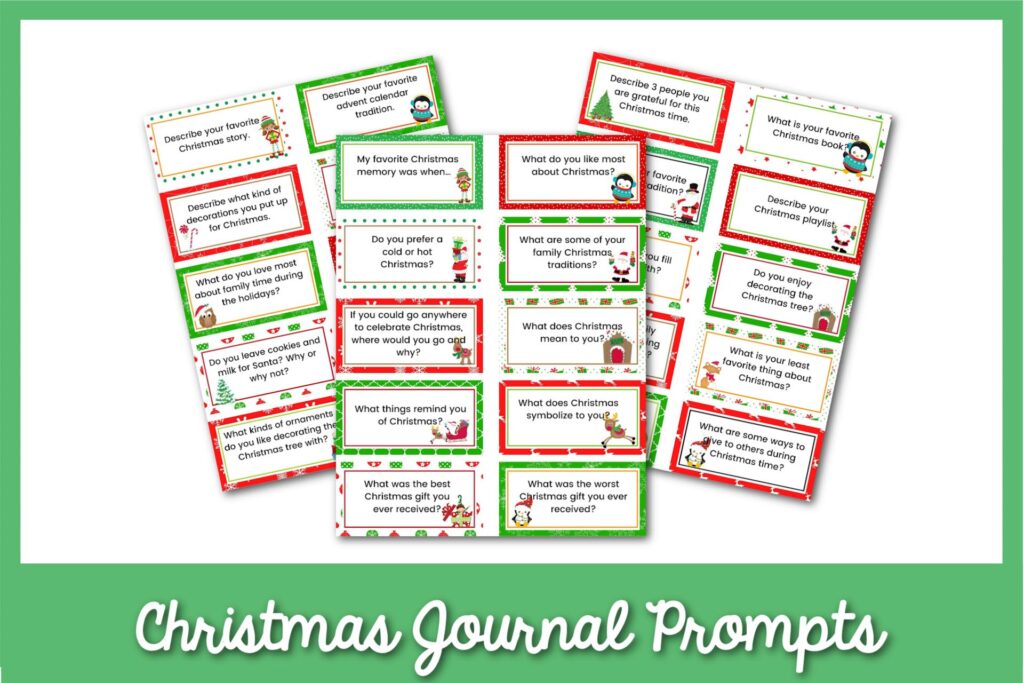 How To Use Christmas Journal Prompts
I love Christmas writing Prompts because they are so easy to use. All you have to do is download the printable and cut them out! To keep using them year after year, simply laminate them.
There are several ways you can use journal prompts. After cutting them out, you can put them in a basket to have them choose a prompt each day to write about. Or you can glue the writing prompt onto a page in their journal. Repeat it on several pages so they are ready to write about a new prompt each day that week.
You can even include a line for them to write the date so it's even easier to look back on next year!
Benefits of Using Journal Prompts
When it comes to using Christmas journal prompts, there are several benefits. Since your kids will have a holiday break, it's important to keep up on their writing while they aren't in school.
Using our Christmas journal prompts makes it so you don't have to worry because their writing skills will stay sharp! With fun topics, they will even enjoy writing! Christmas journal prompts will also help your kids remember all their favorite Christmas memories.
After they are done writing, you can talk about the prompt as a family. Discussing the daily journal prompt will help them verbally express themselves and help you bond as a family. So what are you waiting for? Grab your Christmas journal prompts and inspire writing in your home this Christmas season!
Christmas Journal Prompts
My favorite Christmas memory was when…
What do you like most about Christmas?
Do you prefer a cold or hot Christmas?
What are some of your family Christmas traditions?
If you could go anywhere to celebrate Christmas, where would you go and why?
What does Christmas mean to you?
What things remind you of Christmas?
What does Christmas symbolize to you?
What was the best Christmas gift you ever received?
What was the worst Christmas gift you ever received?
Describe 3 people you are grateful for this Christmas time.
What is your favorite Christmas book?
What is your favorite Christmas tradition?
Describe your Christmas playlist.
What would you fill stockings with?
Do you enjoy decorating the Christmas tree?
What is your family tradition in decorating the Christmas tree?
What is your least favorite thing about Christmas?
What items would you love in your hot chocolate?
What are some ways to give to others during Christmas time?
Describe your favorite Christmas story.
Describe your favorite advent calendar tradition.
Describe what kind of decorations you put up for Christmas.
How is your favorite type of hot chocolate?
What do you love most about family time during the holidays?
Describe when presents go under your Christmas tree.
Do you leave cookies and milk for Santa? Why or why not?
Do you believe in miracles? Why or why not?
What kinds of ornaments do you like decorating the Christmas tree with?
What is your favorite Christmas color?
Do you enjoy traveling during Christmas time? Why or why not?
Would you like snow on Christmas Day?
Do you prefer a real tree or a fake tree and why?
If you could write a letter to Santa, what would you say?
What does the Christmas spirit mean to you?
How does the Christmas spirit make you feel?
How do you count down the days before Christmas?
The perfect Christmas day is when…
If you would create a new Christmas tradition, what would it be and why?
If you could spend a whole day with Santa what would you do with him?
If I could talk to reindeers, I would…
If you could only celebrate Christmas with only 5 people, who would they be and why?
What is one gift you would give to everyone around you?
What matters most about Christmas is…
My top 5 favorite Christmas activities are…
If you could become Santa's elf for the day, what would you do?
On Christmas morning I…
On the night of Christmas Eve I…
Do you open a small present on Christmas Eve? Why or why not?
Christmas wouldn't be Christmas without…
What Christmas Journal Prompts would you add? Tell us in the comments!
Check out these other writing prompts!