Looking for some Christmas entertainment? Christmas Scattergories is a fun and competitive game to play together as a family! Just download, print, and play!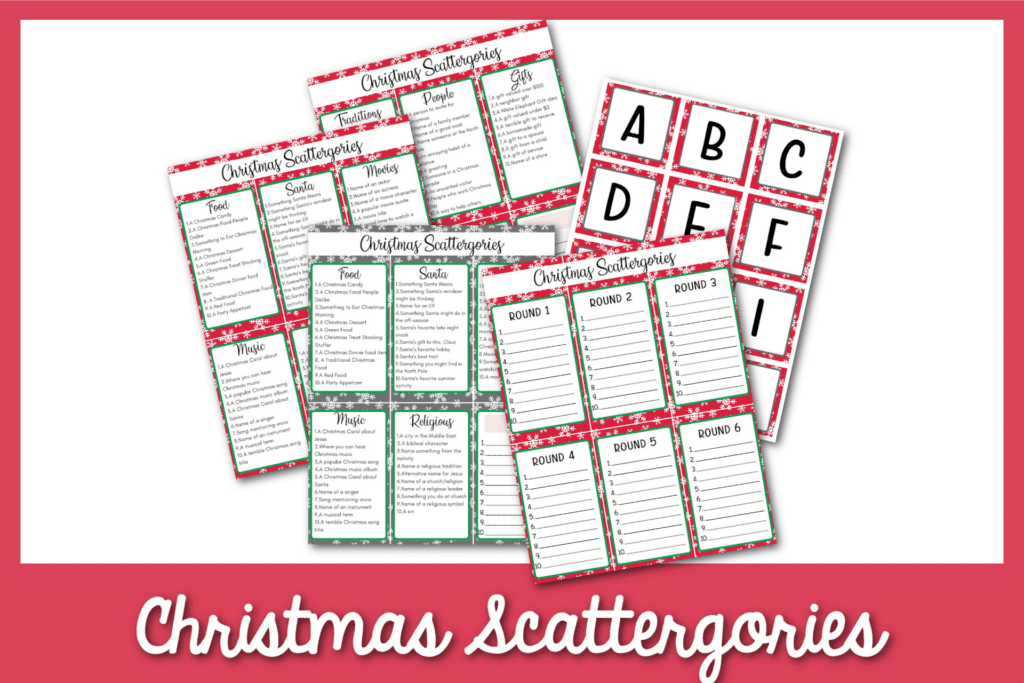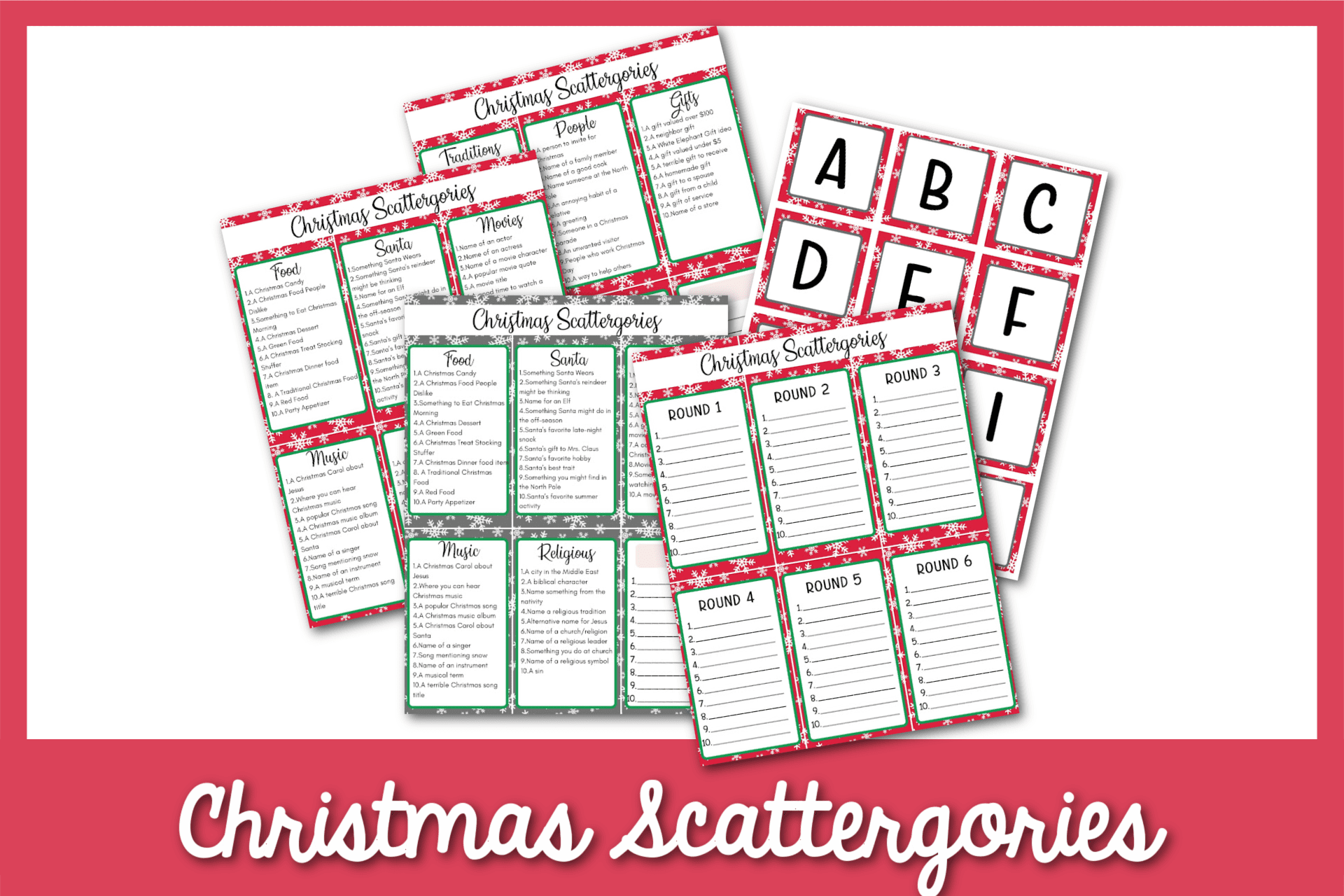 Christmas Scattergories List for the Whole Family to Enjoy
Christmas time means more than just gift giving and receiving. Christmas is a special time of year that usually involves large gatherings with family and friends. Be prepared this year with some fun Christmas games like Christmas Would You Rather and of course Christmas Scattergories. These Scattergories Lists are sure to be enjoyed by all ages. 
If you find that your family loves Scattergories, we have a bunch to choose from. Check out our Scattergories for Kids, Halloween Scattergories, Valentine's Day Scattergories, or Bible Scattergories.
What is a Christmas Scattergories List?
Scattergories is an older board game created in the late eighties by Hasbro. It's a fun word game that can be played by 2 to 8 people. We have now bumped it up a notch with a Christmas theme! Plus, with our game, you could play with as many people as you'd like!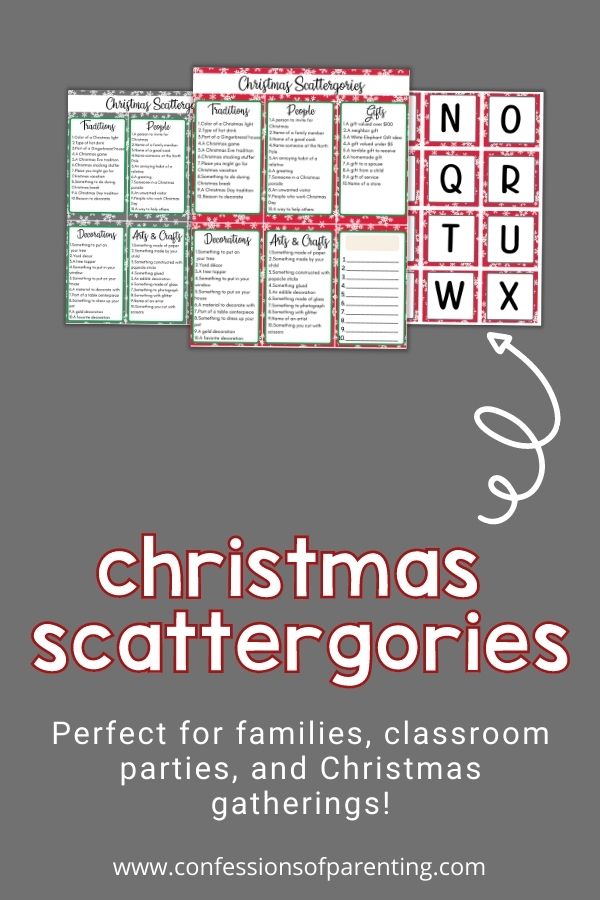 What do you need to play?
To play with the Christmas Scattergories Lists you will need the following items:
Paper and pencil for each player
A set of the 10 lists for each player
Folders to hide answers (or just some space between participants to avoid cheating)
A 20-sided letter die or use our letter squares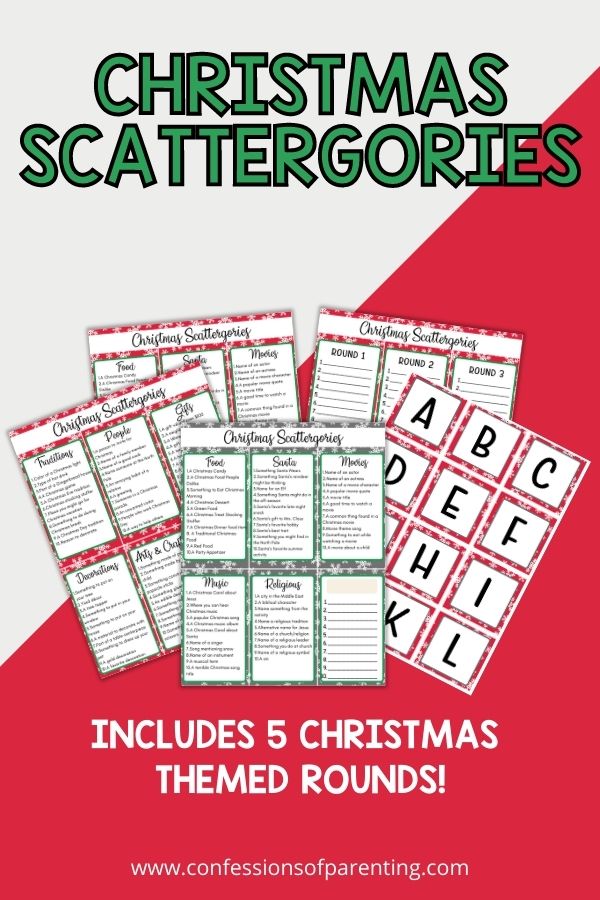 How do you play?
Hand out the first 3 supplies. Make sure the lists are not seen ahead of time. Roll the die or select your letter.
Set the timer. Each player writes the answer to each prompt following the letter assigned. The first word of every answer must start with the assigned letter in order to count. After the minute is up, everyone reads their answers out loud and tally up their score.
If multiple people give the same answer, that answer is not scored.
If a player's answer has multiple relevant related words, players can score multiple points. For example, if the prompt was "Name a Christmas Candy" and the letter chosen was "C", the answer "Candy Cane" would score 2 points.
If a player does not agree with a given answer, that player will make a challenge. The group then votes on the validity of the answer following the rules. If the group ties, the answer is considered invalid and is not scored.
Answers cannot be repeated in multiple sections for a single player.
After scoring each answer, each player totals up their score and announces the winner of that round. With these 10 Christmas Scattergories Lists, you can play ten rounds and announce the ultimate winner at the end!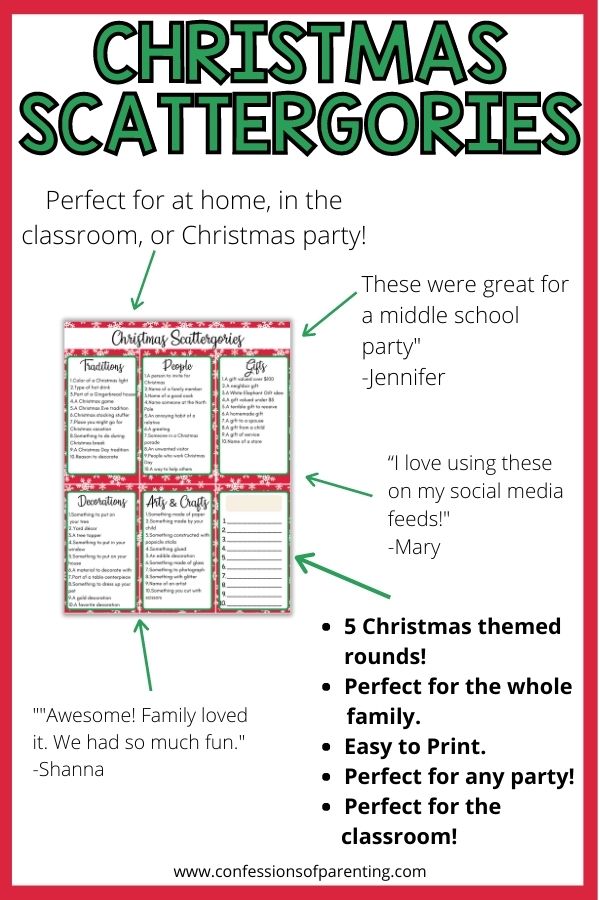 An extra variation
Some people enjoy playing one list multiple times. If this is how you'd like to play, just select a new letter each time.
These Christmas Scattergories Lists can be played with family and friends, a large group or a small one. Enjoy spending time together while challenging your Christmas vocabulary!
Love Scattergories? Try these awesome games!
Gear up for the Holidays with this Mega Christmas Game Collection!
Christmas Scattergories Lists
Download your printable below by joining our email list. Or, if you aren't ready to join our list, you can grab it right here.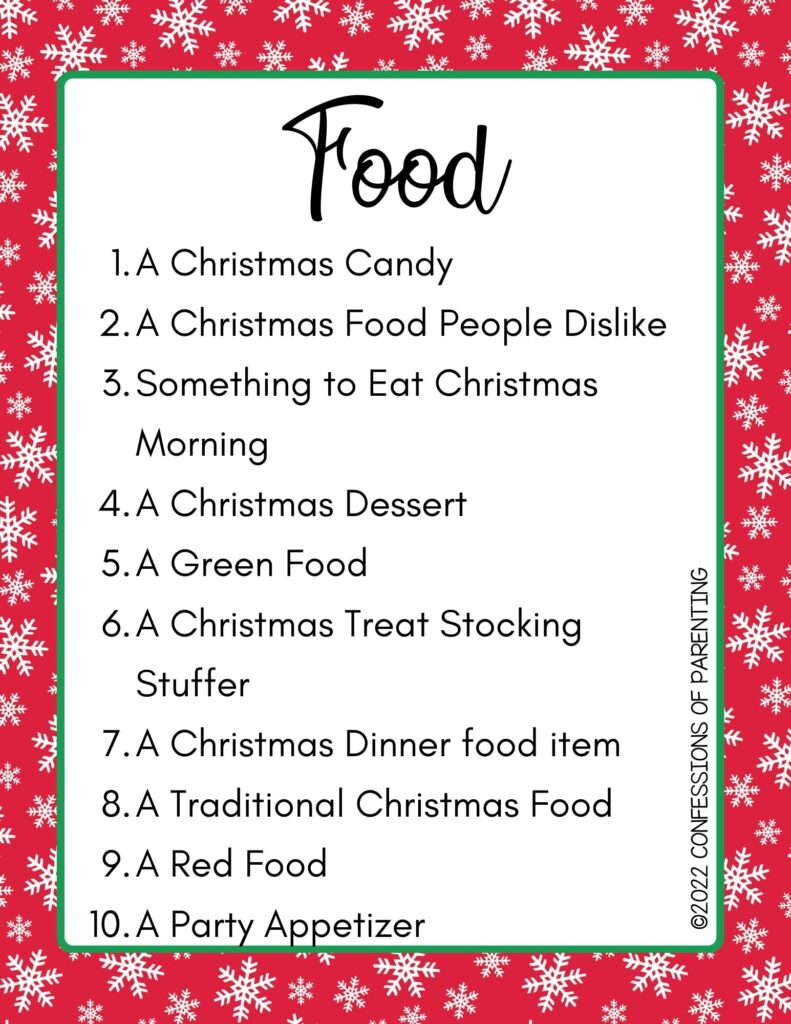 LIST 1: FOOD
A Christmas Candy
A Christmas Food People Dislike
Something to Eat Christmas Morning
A Christmas Dessert
A Green Food
A Christmas Treat Stocking Stuffer
A Christmas Dinner food item
A Traditional Christmas Food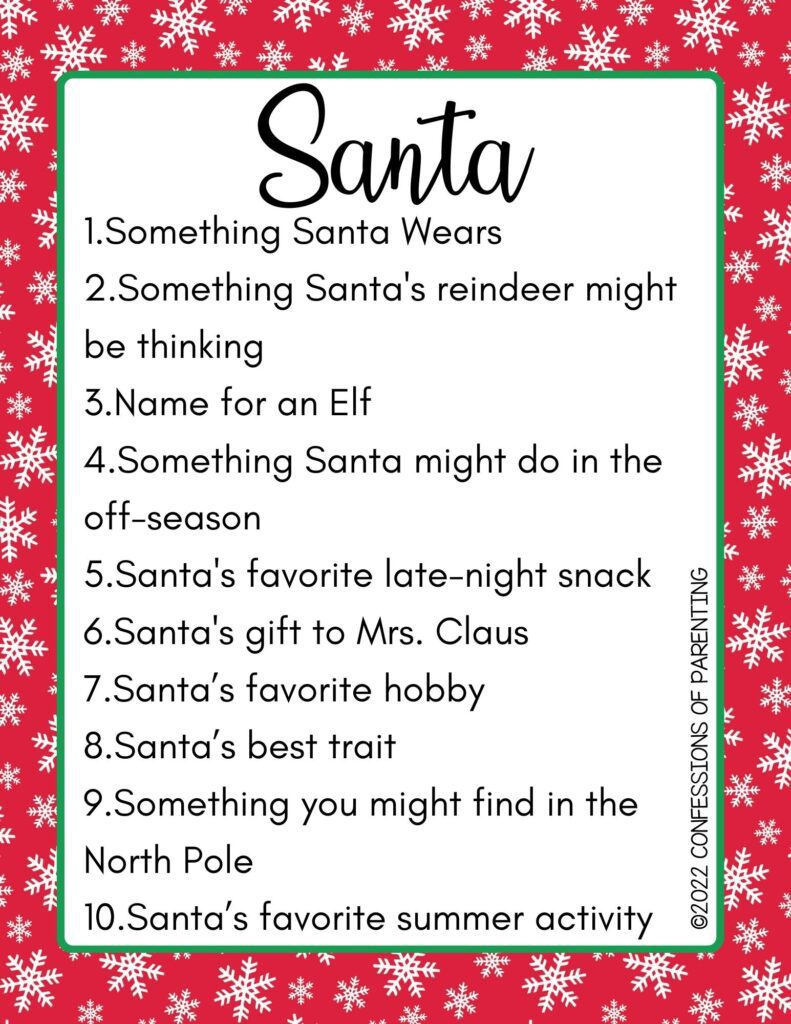 LIST 2: SANTA
Something Santa Wears
Something Santa's reindeer might be thinking
Name for a Santa Elf
Something Santa might do in the off-season
Santa's favorite late night snack
Santa's gift to Mrs. Claus
A song about Santa
A movie with Santa in it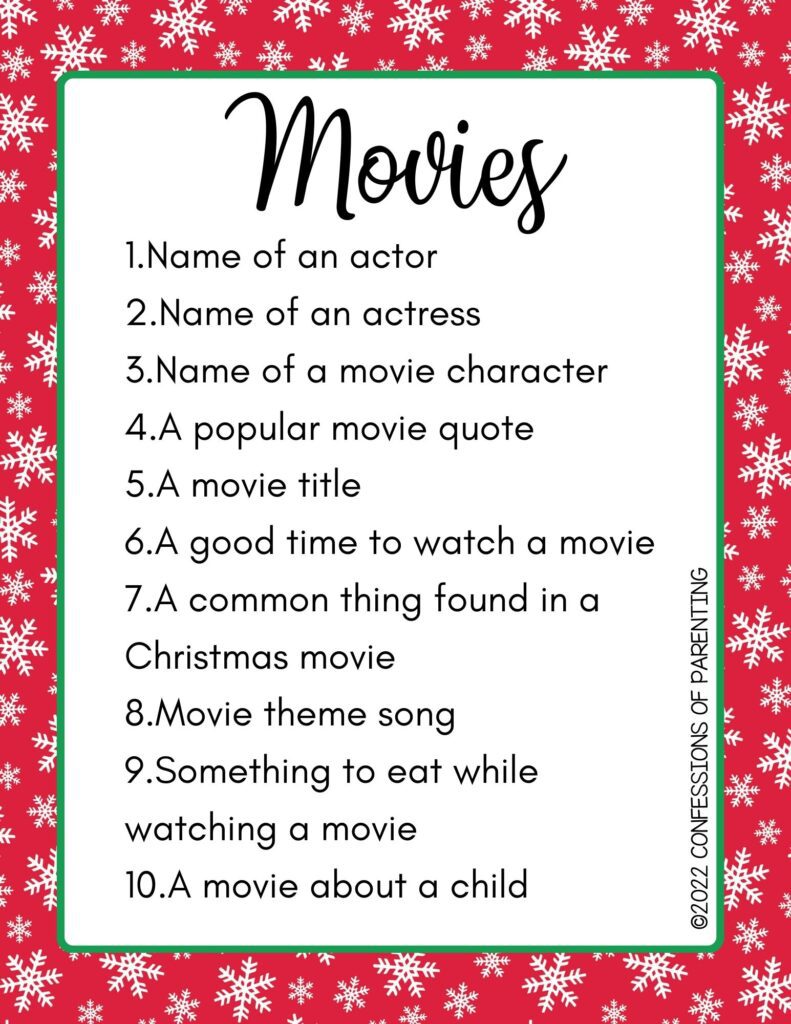 List 3: Movies
Name of an actor
Name of an actress
Name of a character
A popular quote
A movie title
When to watch a movie
A favorite animated movie
Movie song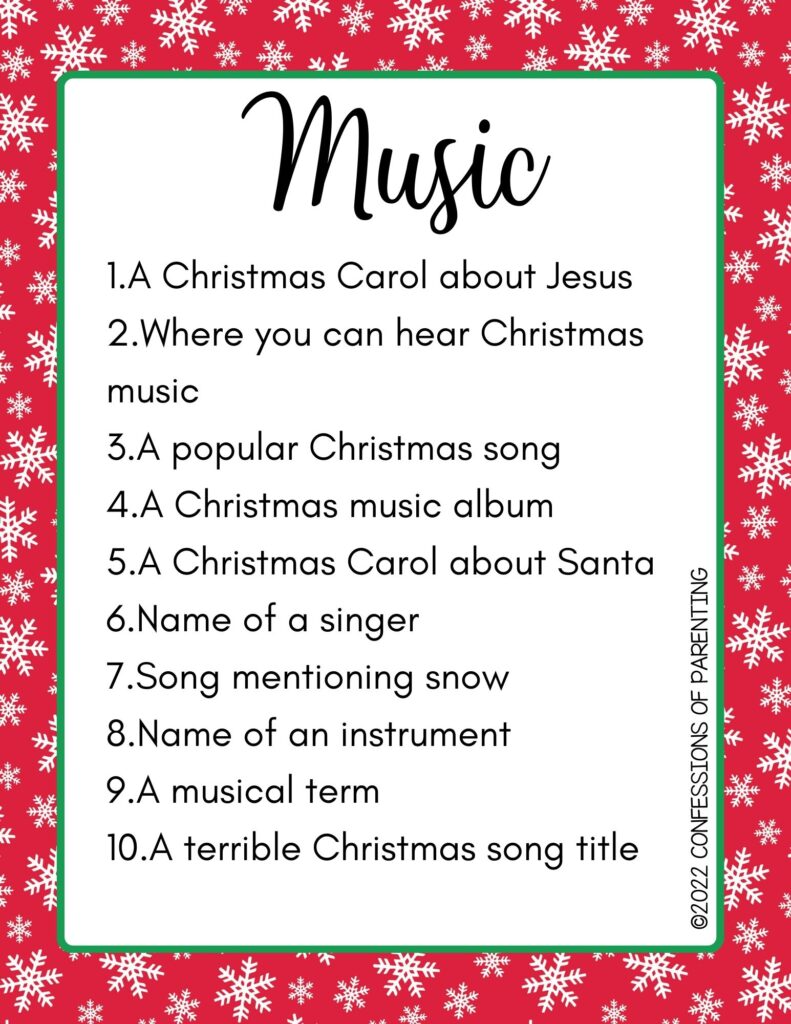 List 4: Music
A Christmas Carol about Jesus
Where you can hear Christmas music
A popular Christmas song
A Christmas music album
A Christmas Carol about Santa
Name of a singer
Song mentioning snow
An instrument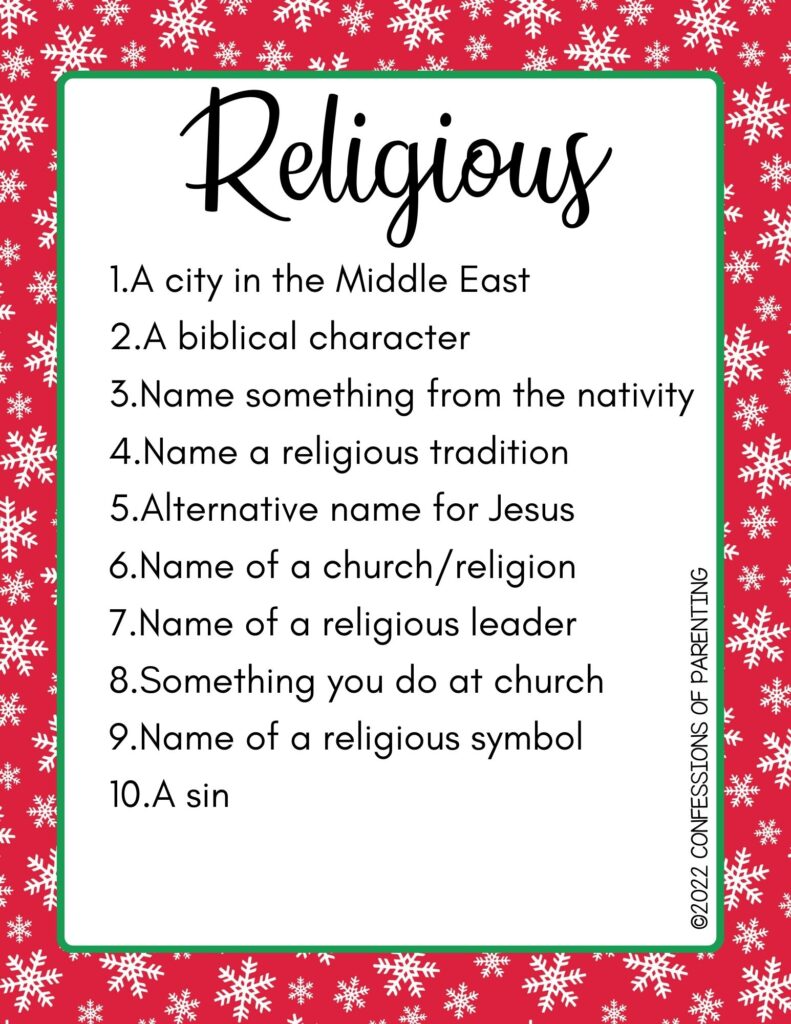 List 5: Religious
A city in the Middle East
A biblical character
Name something from the nativity story
Name a religious tradition
Alternative names for Jesus
Name of a church
Name of a religious symbol
Name of a religious leader
A sin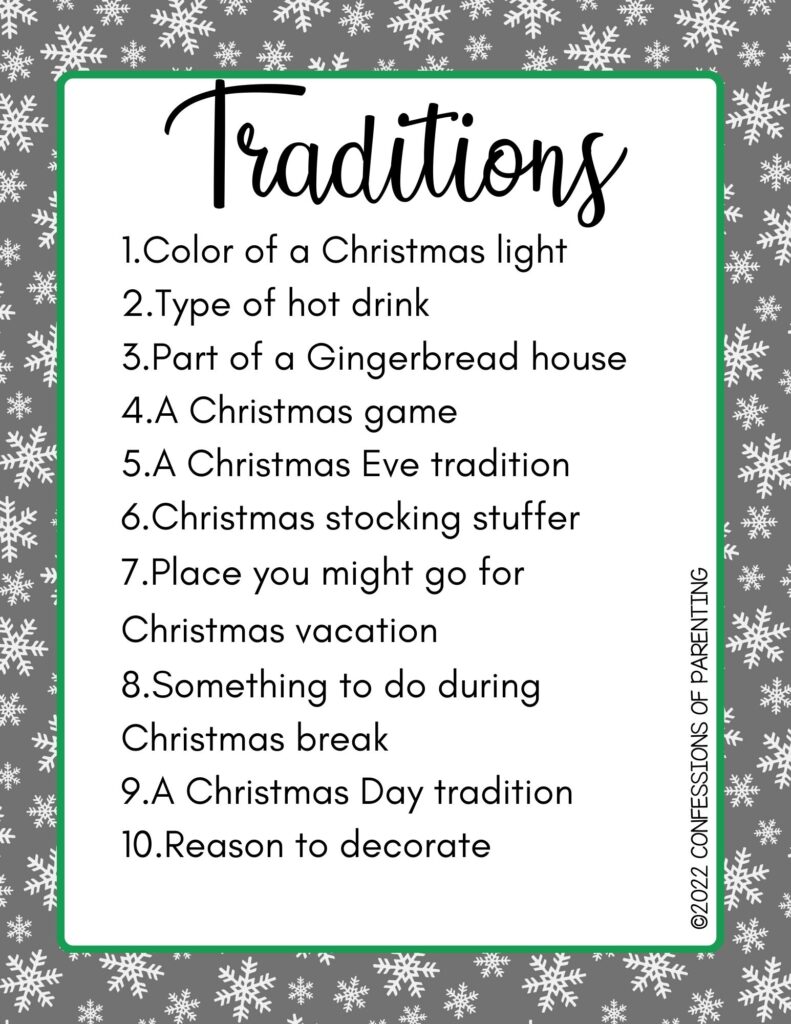 List 6: Traditions
Color of a Christmas light
Type of hot drink
Part of a Gingerbread house
A Christmas game
A Christmas Eve tradition
Christmas stocking stuffer
Place you might go for Christmas vacation
Something to do during Christmas break
A Christmas Day tradition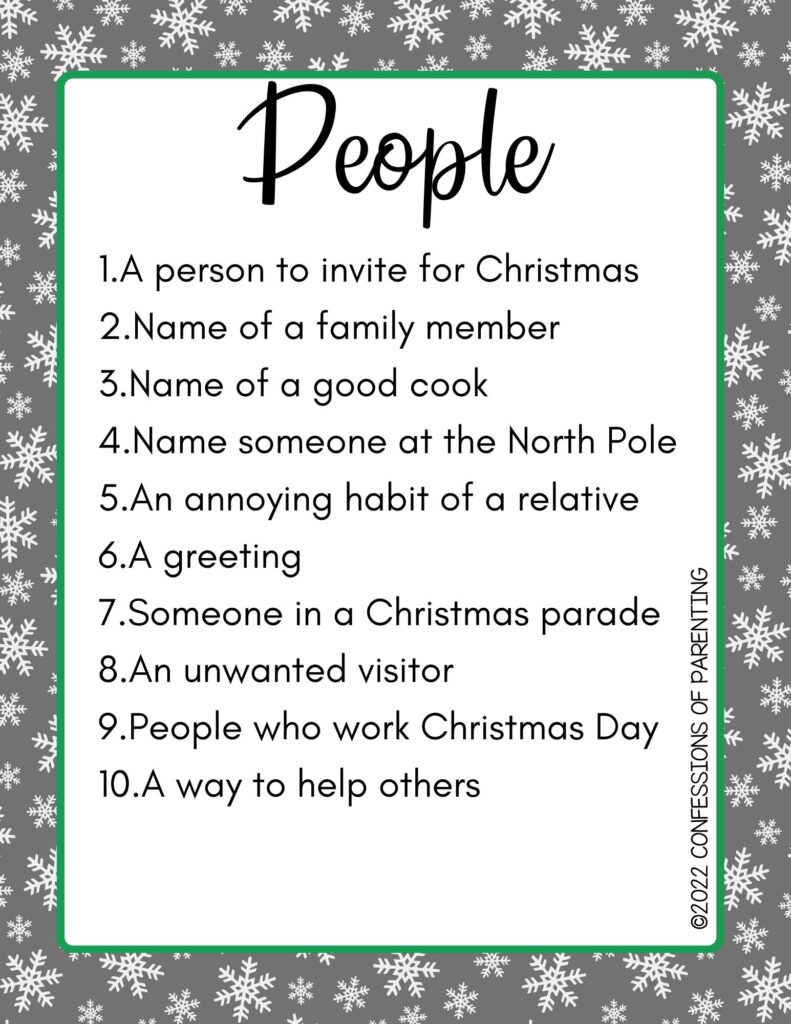 List 7: People
A person to invite for Christmas
Name of an extended family member
Name of a good cook
Name someone at the North Pole
An annoying habit of a relative
An unwanted visitor
A greeting
A person in a Christmas parade
People who work on Christmas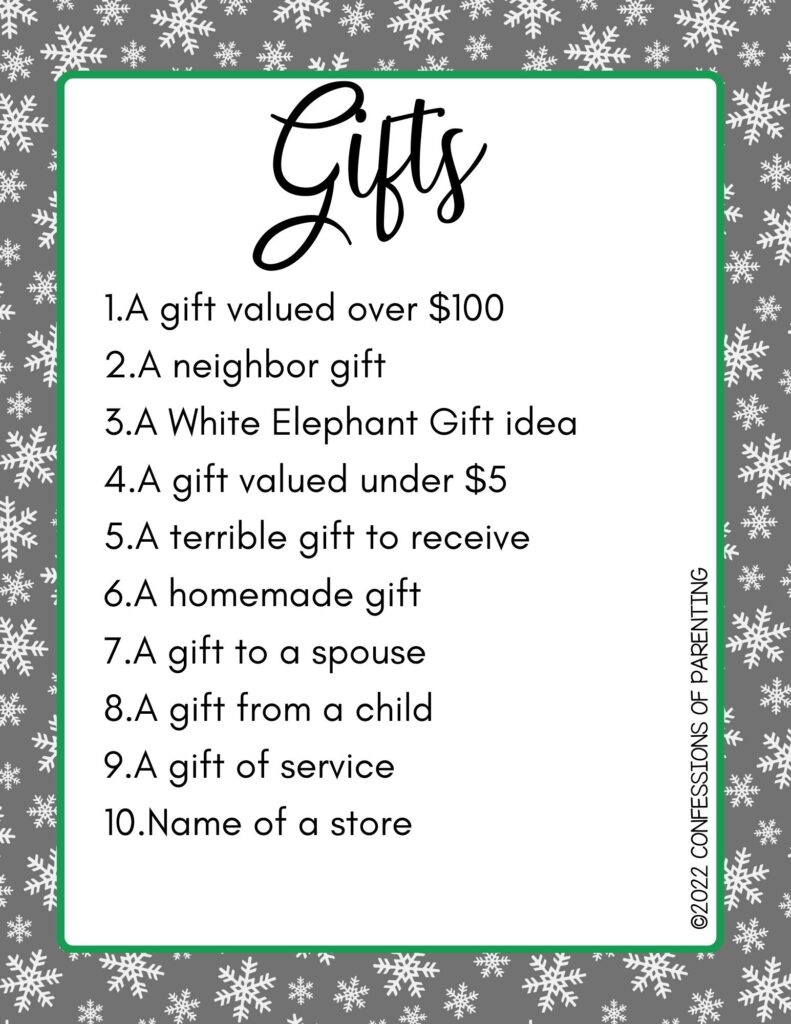 List 8: Gifts
Name of a store
A gift valued over $100
A neighbor gift
A White Elephant Gift idea
A gift valued under $5
A terrible gift to receive
A homemade gift
A gift to a spouse
A gift from a child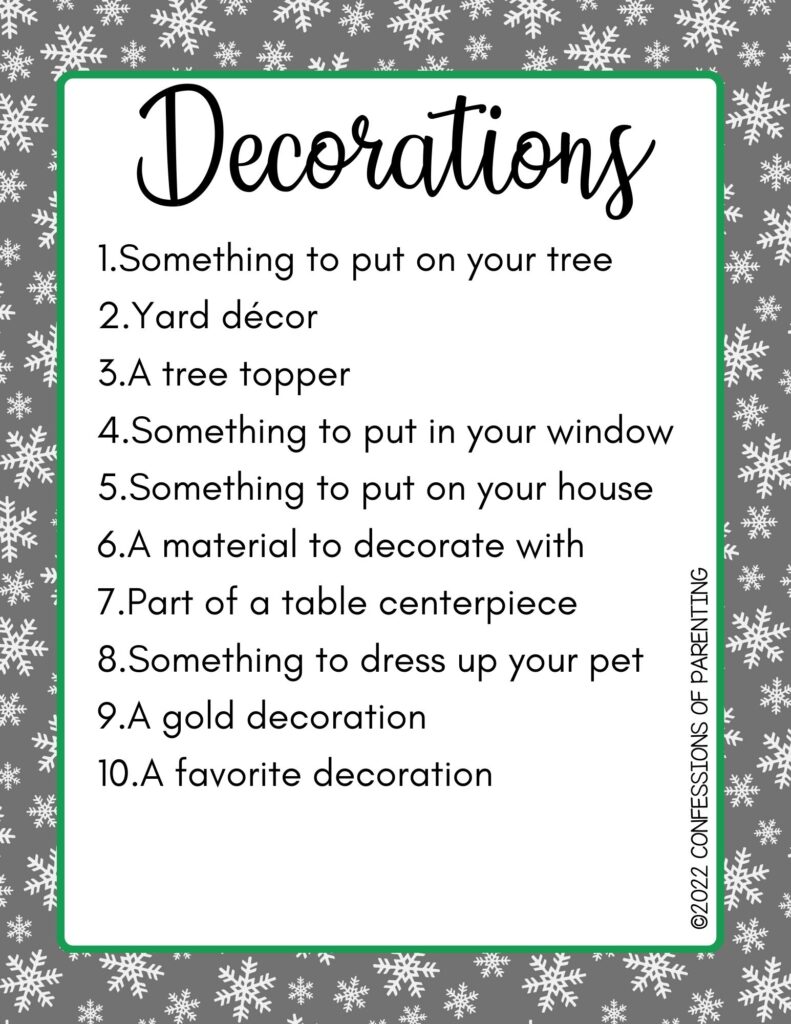 List 9: Decorations
Something to put on your tree
Yard décor
A tree topper
Something to put in your window
Something to put on your house
A material to decorate with
Part of a tablescape
Something to dress up your pet
A gold decoration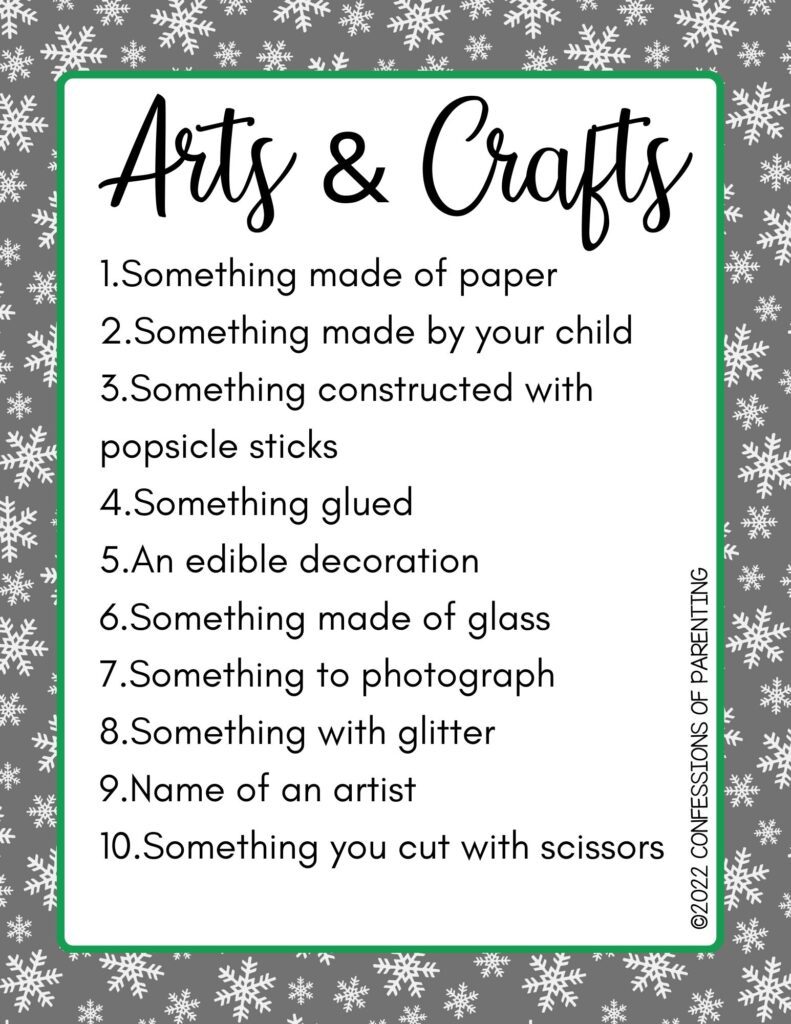 List 10: Arts and Crafts
Something made of paper
Something made by your child
Something constructed with popsicle sticks
Something glued
An edible decoration
Something made of glass
Something to photograph
Something with glitter
Name of an artist
We even include a blank round for you to create your own!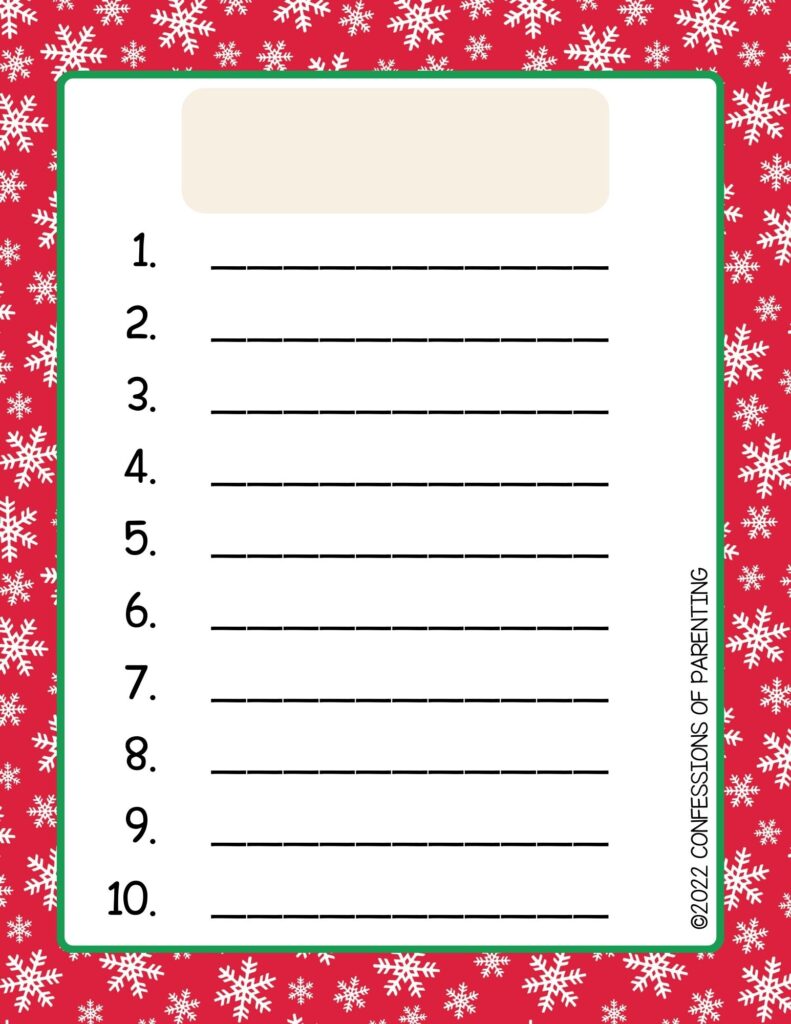 Love Scattergories? Be sure to share it with your friends!
What categories would you add to Christmas Scattergories? Tell us in the comments!
Ready for More Christmas Games Or Printables? Try these!