These 24 jolly Christmas Lunch Box Jokes make it easy to count down to Christmas and spread some holiday cheer at lunch every day! Pair these with our jokes for kids for endless laughs all the time!
Christmas is my favorite time of year to focus on spending time as a family and laughing together. With the kids being away from home for lunch at school, I love to find ways to make them smile. That's why lunch box jokes are a daily tradition at our house!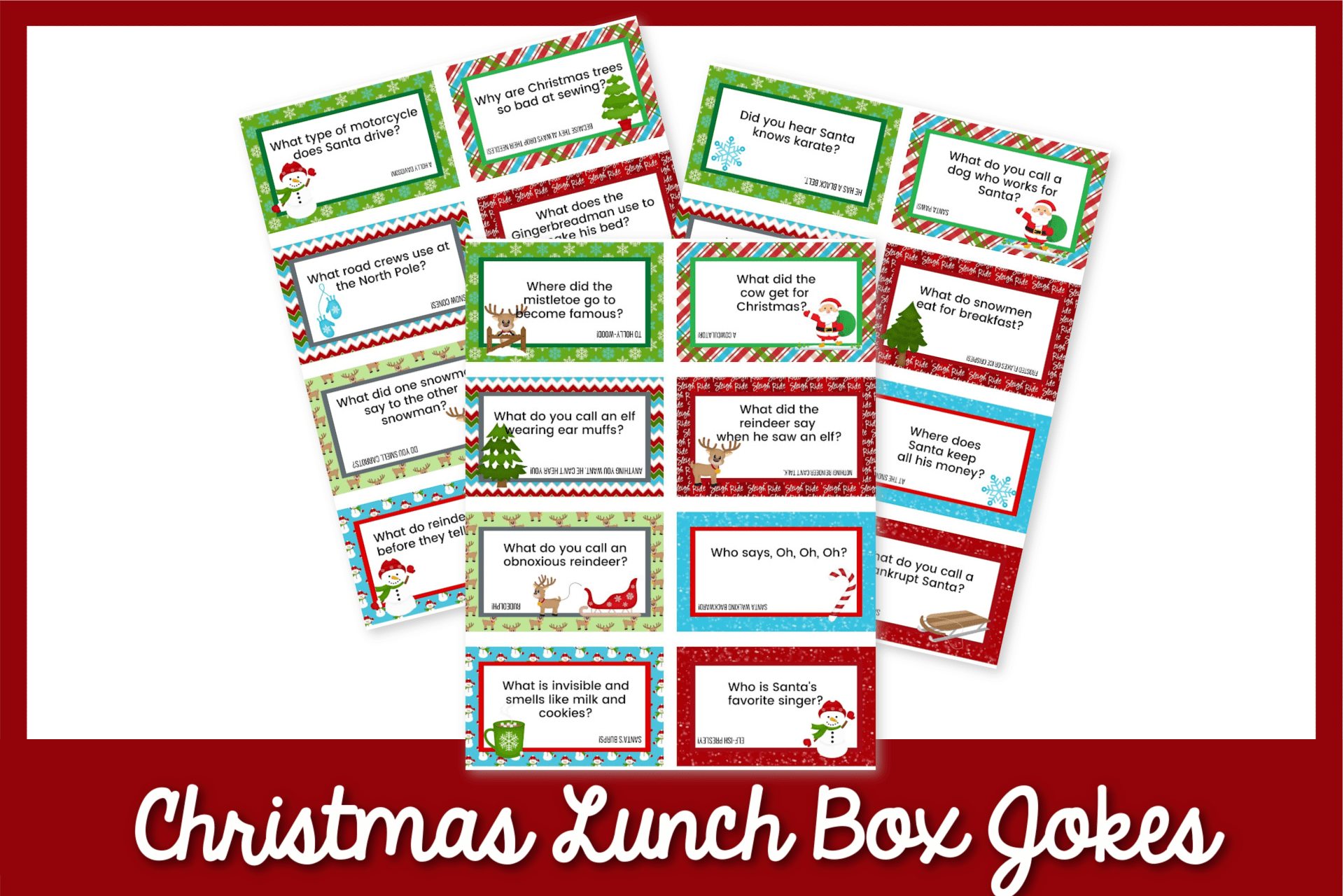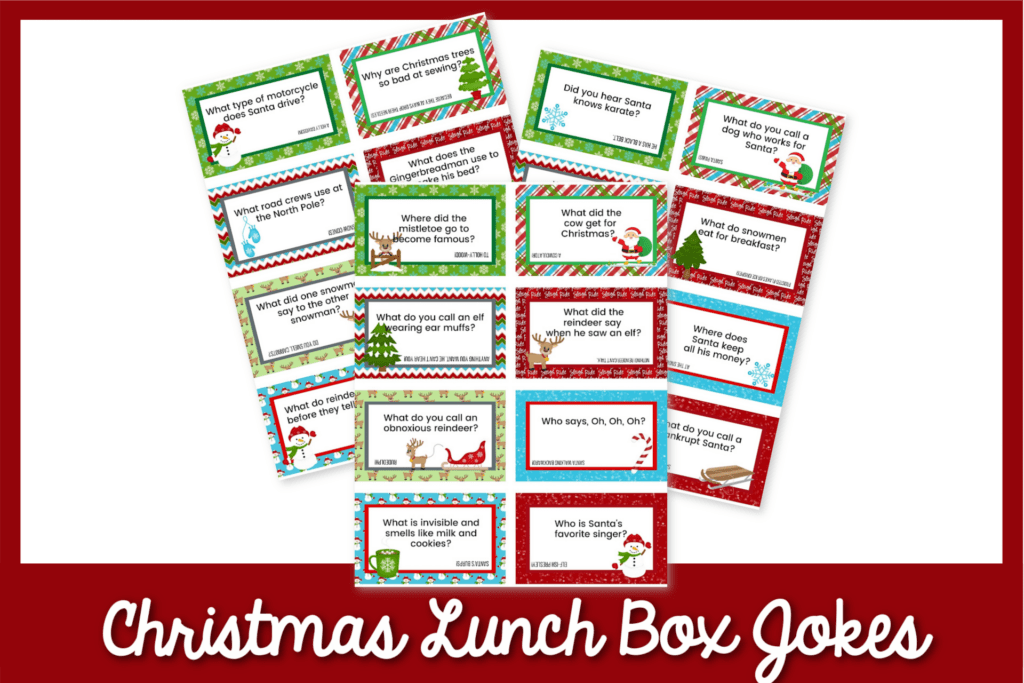 My kids loved the fall lunch box jokes and Thanksgiving lunchbox jokes so to keep the laughter going, I've created Christmas Lunchbox Jokes!
To get your kids laughing this holiday season, be sure to grab your printable Christmas lunch box jokes!
Christmas Lunch Box Jokes
It's cold outside which means Christmas is almost here! With how chilly it is outside, I love to warm things up with some good laughter! No matter how old your kids are, Christmas lunch box jokes will give them all a good laugh. They will even make you laugh as you pack their lunch!
Do your kids love jokes? Grab these fun joke cards for them to laugh at all the time! These are perfect for lunch box jokes, joke cards series, bedtime laughs, and more! Grab them now!
Printable Christmas Lunch Box Jokes
We've made it extremely easy to spread holiday cheer with our printable Christmas lunch box jokes! All you have to do is download, print, cut, and slip them in with their lunch each morning.
What makes these lunch box jokes even more special is the blank space on the back so you can add your own personal touch. You can write a small note, give them encouragement, or even add a Christmas quote on the back. You can easily have a good laugh and make your child feel special!
24 Christmas Lunch Box Jokes
Q. What type of motorcycle does Santa drive?

A. A Holly Davidson!
Q. Why are Christmas trees so bad at sewing?

A. Because they always drop their needles!
Q. What road crews use at the North Pole?

A. Snow cones!
Q. What does the Gingerbreadman use to make his bed?

A. Cookie sheets!
Q. What did one snowman say to the other snowman?

A. Do you smell carrots?
Q. Who is Santa's favorite singer?

A. Elf-ish Presley!
Q. Why was the snowman looking in the bag of carrots?

A. He was picking his nose!
Q. What do reindeer say before they tell a joke?

A. This will sleigh you!
Q. What is Santa's favorite candy?

A. Jolly ranchers!
Q. Did you hear Santa knows karate?

A. He has a black belt.
Q. What do you call a dog who works for Santa?

A. Santa paws!
Q. What do Santa's little helpers learn in school?

A. The elf-abet!
Q. What do snowmen eat for breakfast?

A. Frosted Flakes or Ice Crispies!
Q. What is red, white and blue at Christmas time?

A. A sad candy cane!
Q. Where does Santa keep all his money?

A. At the sow bank!
Q. Why did the elf put his bed into the fireplace?

A. He wanted to sleep like a log!
Q. What do you call a bankrupt Santa?

A. Saint Nickel-less!
Q. Where did the mistletoe go to become famous?

A. To holly-wood!
Q. What did the cow get for Christmas?

A. A cowculator!
Q. What do you call an elf wearing ear muffs?

A. Anything you want. He can't hear you!
Q. What did the reindeer say when he saw an elf?

A. Nothing! Reindeer can't talk.
Q. What do you call an obnoxious reindeer?

A. RUDEolph!
Q. Who says, Oh, Oh, Oh?

A. Santa walking backward!
Q. What is invisible and smells like milk and cookies?

A. Santa's burps!
What Christmas lunch box jokes would you add to our list? Tell us in the comments!
You can Never Have Too Many Jokes! Complete List of Awesome Jokes!
Kid Jokes
Adult Jokes
How Do I access my free printables?
Fill in the form above. You will receive an email in your inbox. If you don't see it, check your spam folder! You will then click to confirm your subscription. Once confirmed, you will be taken to Airtable (a different website) where all our free printables will be waiting for you! It is free to sign up for Air Table!
How Do I Print a PDF?
You'll need a program that supports PDFs. Adobe Acrobat is a great option. Open the program, click File, then print. Select your printer and the number of copies you want to print. Be sure you click double-sided if you want it to print on both sides.
Can I resell these?
You may not resell any printable found on our website or in our resource library. You may use them for class parties, at church, at home, or in the classroom. You may get these printed at an office supply store or copy center at your own expense.