Fall lunch box jokes for kids are a fun way to let your kids know you love them while they are at school. Grab these free printable lunch jokes and give them a good laugh at school. Just download, print, and get your kids laughing!
Fall Lunch Box Jokes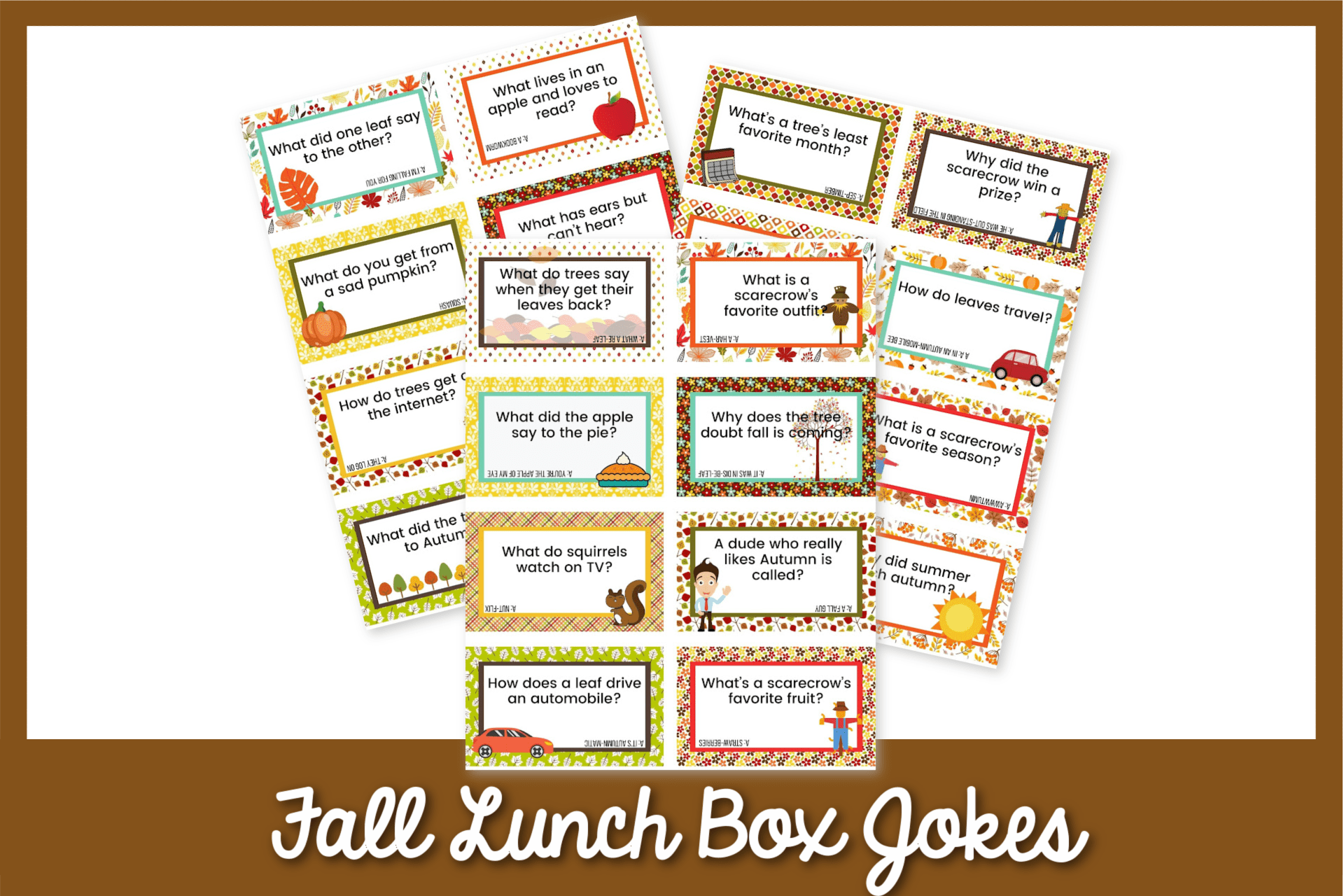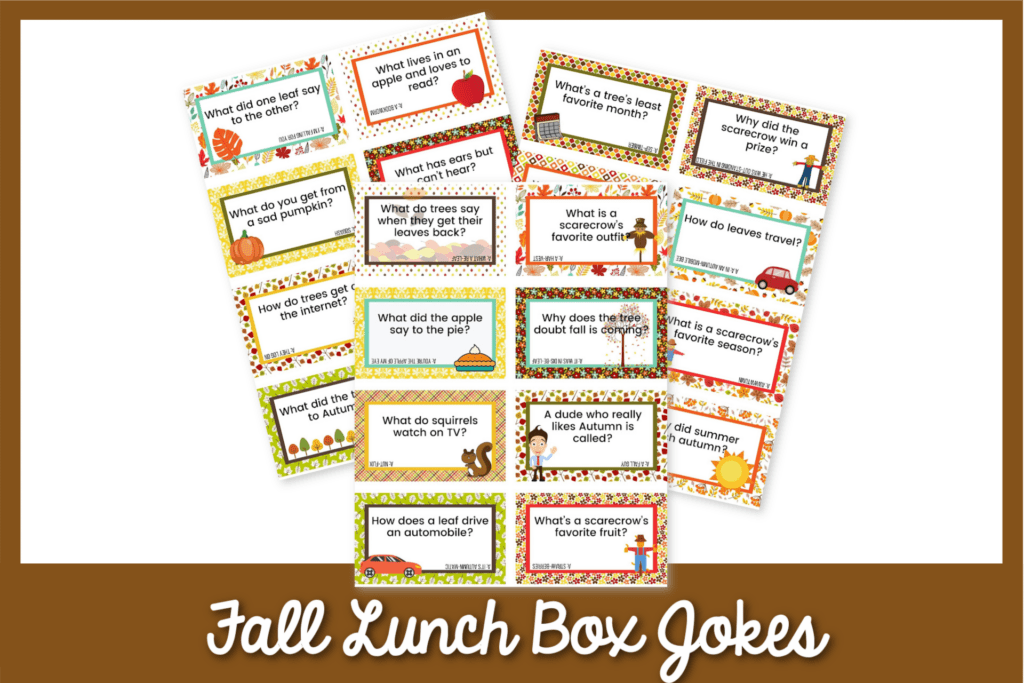 The weather is officially getting a little cooler here in Texas (at least in the morning and at night thank goodness) which means fall is on its way!
Our kids started back to school a couple of weeks ago and it is going well. They are loving our lunch box jokes printable so I decided it was time to create our fall lunch box jokes for kids to keep them laughing as the weather changes.
Free Printable Fall Lunch Box Jokes
No matter how old your kids are they all love a good laugh and a good joke. And this fall we are making it even easier to get them to laugh. These fall lunch box jokes are as simple as downloading, printing, cutting, and sticking in their lunchbox each morning. 
What's great about these lunch box jokes is that the backside is completely blank so that you can write a small note, give encouragement, or even some words of affirmation for kids if that is what they need!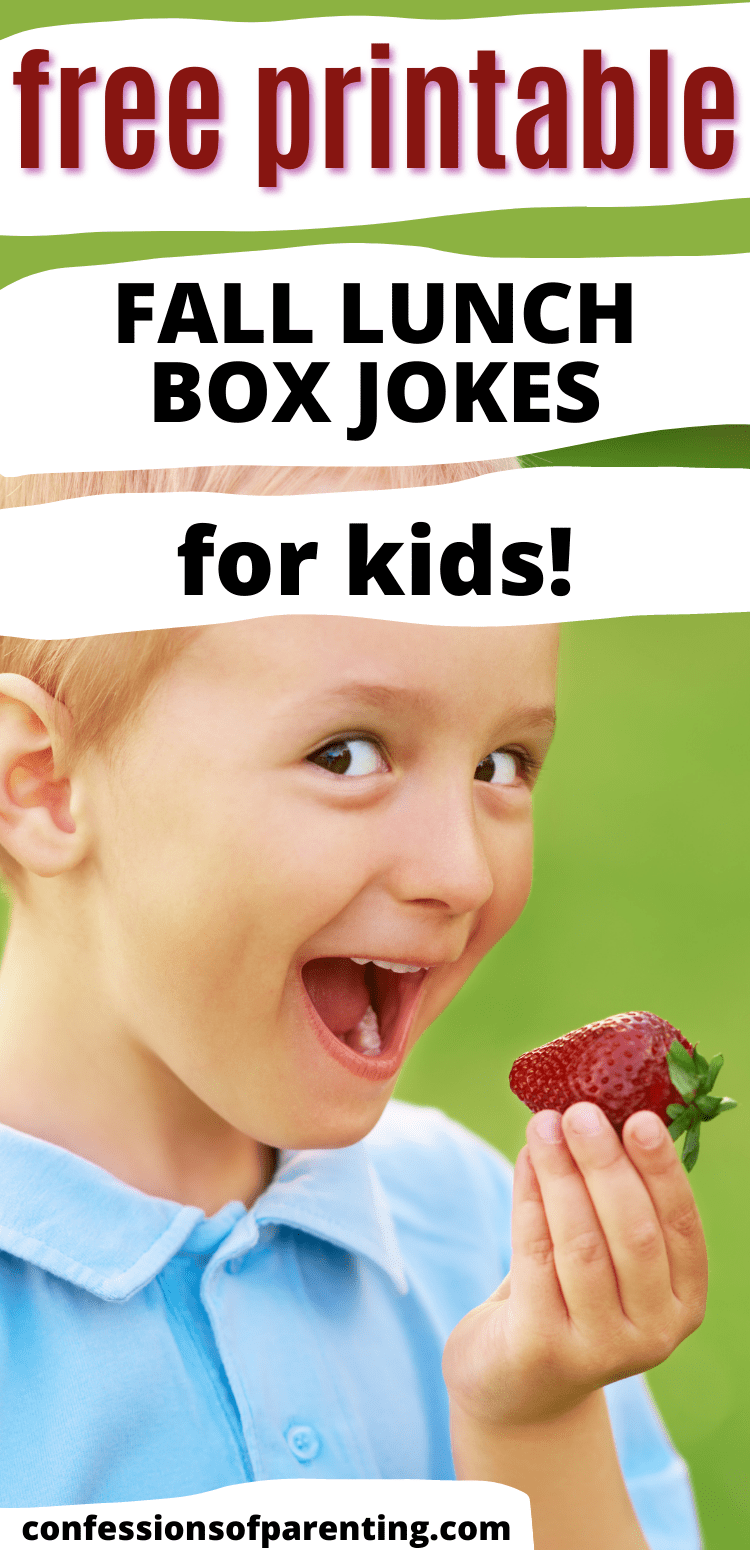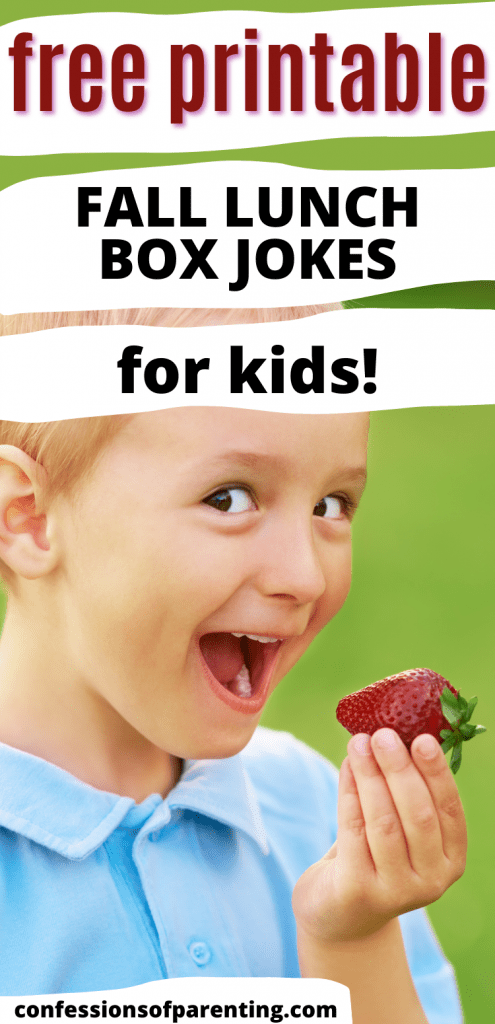 Do your kids love jokes? Grab these fun joke cards for them to laugh all the time! These are perfect to use as lunch box jokes, joke cards series, bedtime laughs, and more! Grab your set now! We are always adding more to the collection! Please note, every time we add a set of joke cards to this collection we will email you the newest collection. Grab them now before the price increases!
Fall Lunch Box Jokes for Kids
Be sure to join our VIP Club to download these jokes and more for free!
Q: What did one leaf say to the other?
Q: What lives in an apple and loves to read?
Q: What do you get from a sad pumpkin?
Q: What has ears but can't hear?
Q: How do trees get on the internet?
Q: What's everyone's favorite season if money grew on trees?
Q: What did the tree say to Autumn?
Q: What's a tree's least favorite month?
Q: Why did the scarecrow win a prize?

A: He was out-standing in the field

Q: What's a scarecrow's favorite fruit?
Q: How do leaves travel?
Q: Why can't cornfields keep a secret?
Q: It doesn't move but runs around the farm?
Q: What is a scarecrow's favorite season?
Q: How do you help a sick jack-o-lantern?
Q: Why did summer catch autumn?
Q: What do trees say when they get their leaves back?
Q: What is a scarecrow's favorite outfit?
Q: What did the apple say to the pie?

A: You're the apple of my eye

Q: Why does the tree doubt fall is coming?
Q: What do squirrels watch on TV?
Q: A dude who really likes Autumn is called?
Q: How does a leaf drive an automobile?
Q: Why do trees hate tests?
What fall lunch box jokes would you add to the list? Share in the comments!
Check out these other fun activities for kids!
You can Never Have Too Many Jokes! Complete List of Awesome Jokes!
Kid Jokes
Adult Jokes
How Do I access my free printables?
Fill in the form above. You will receive an email in your inbox. If you don't see it check your spam folder! You will then click to confirm your subscription. Once confirmed you will be taken to Airtable (a different website) where all our free printables will be waiting for you! It is free to sign up for Air Table!
How Do I Print a PDF?
You'll need a program that supports PDFs. Adobe Acrobat is a great option. Open the program, click file then print. Select your printer and the number of copies you want to print. Be sure you click double-sided if you want it to print on both sides.
Can I resell these?
You may not resell any printable that you find on our website or in our resource library. You may use them for class parties, at church, at home, or in the classroom. You may get these printed at an office supply store or copy center at your own expense.