Spice up your next party, game night, family gathering, and more with one of our many Charades Games on this ultimate list. Charades ideas are perfect for players of all ages and encourage silliness as well as the use of imagination.
Charades Games To Try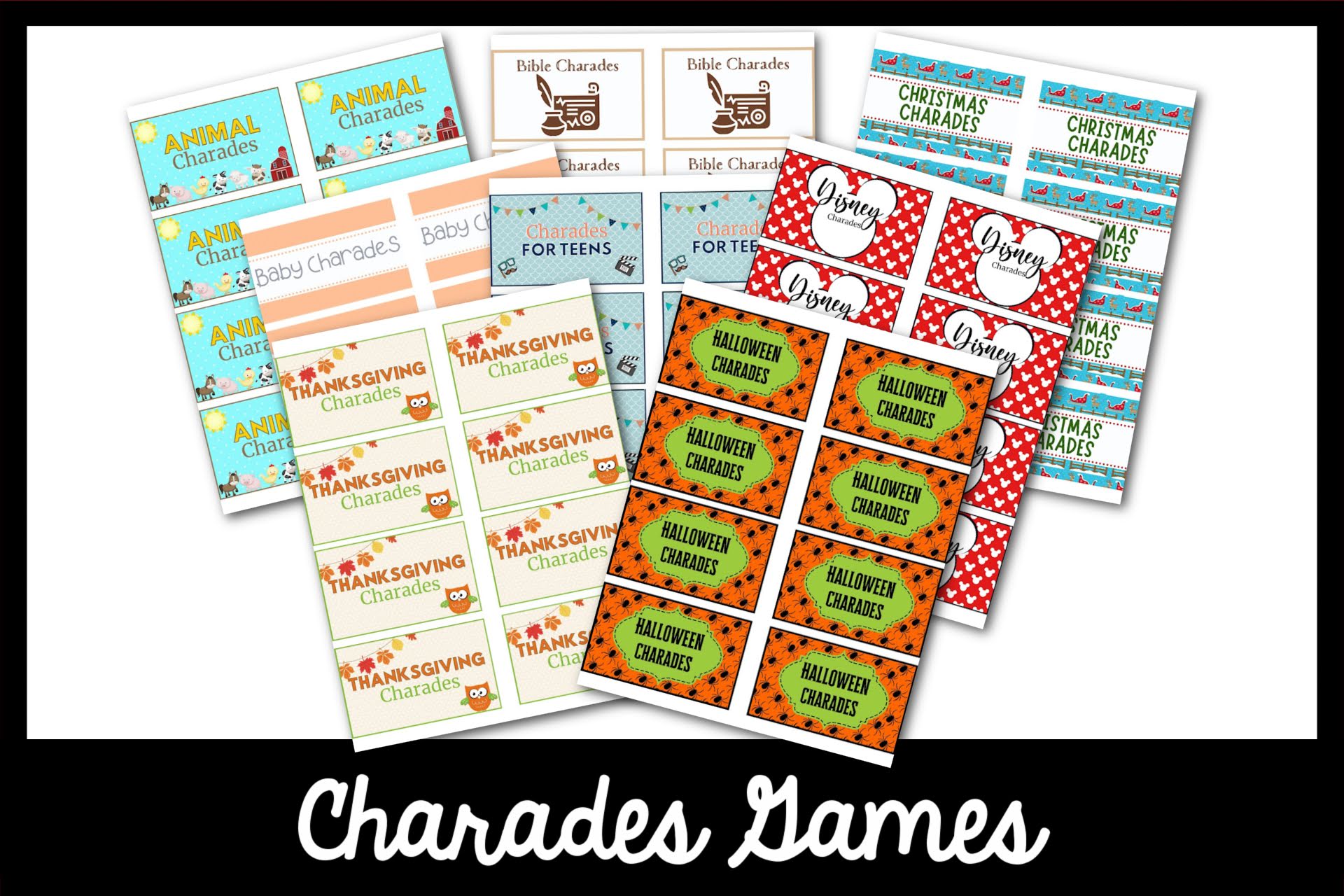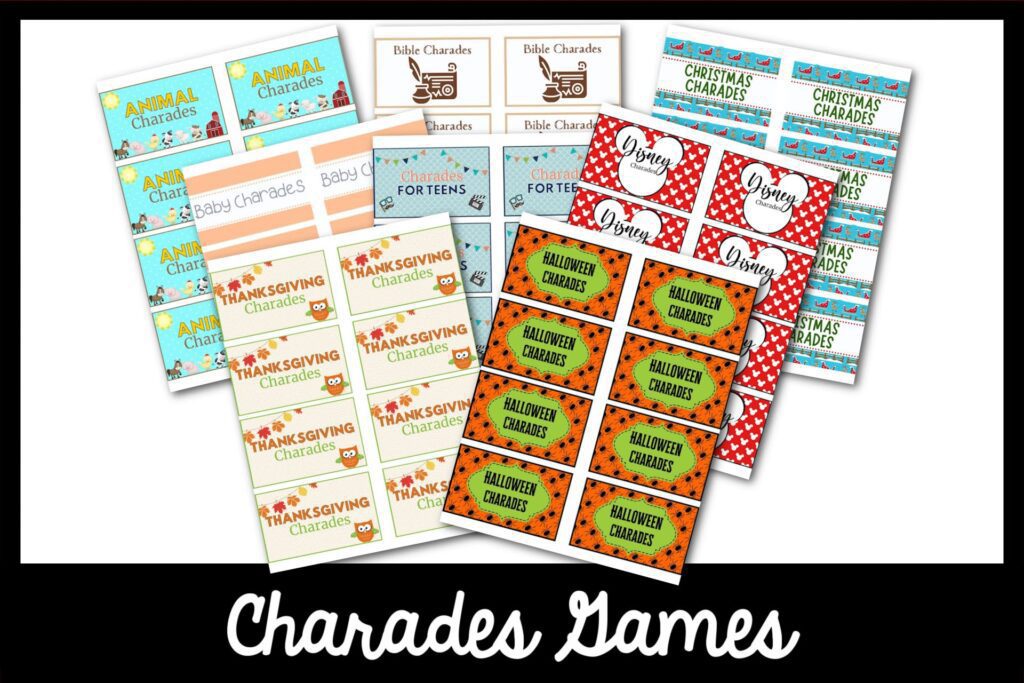 My family loves game nights, especially when we decide to play charades, but coming up with charades ideas can be difficult. That is why I love this ultimate list of charades ideas so that you can find a topic and play for hours!
How Do You Play?
Start by splitting into two (or more) teams. At this time you can also choose someone to be your scorekeeper and timekeeper. Also take some time to decide the time limit for each round before the game begins. We love using these timers for all our games to keep it simple. After the teams have been decided, establish which team will start.
The team that starts will pick the first representative who will act out the first clue from the pile. The timer begins and the actor tries to get his or her teammates to guess what is on the first card. The actor cannot make any noises or use words or pointing to help their team.
If the actor can get their teammates to guess the word on the card within the time limit, their team gets a point. If the team could not guess it, no points were earned for that round. The teams take turns each round. Make sure everyone gets a chance to act.
The game can end in many ways. It could be when you run out of cards, after a certain time has passed, after a team reaches a certain amount of points, and so on. Whoever has the most points after the game has ended wins!
Up the Competition With Prizes!
Of course charades is fun to play just for fun, but it can also be fun to award the winning team with a prize. The prize could be anything from candy, to toys, to a gift card, or whatever you think will entice your players.
Benefits of Playing Charades
Playing charades brings families or friends closer together. It provides a safe space for your kids to let loose, be silly, laugh, and just have a fun time with one another.
It can also be a great conversation starter and a way to learn about all kinds of topics. Your kids can learn without even realizing it, while having a blast in the meantime!
Charades Ideas
Although some of these charades ideas are designed for specific ages, each game can be easily adapted for players of all ages to enjoy themselves as well! With our ever expanding list, you will be sure to find the perfect charades game for every occasion.
Space Charades Game Over 50 Ideas: Play a game that is out of this world with these Space Charades cards. Help your kids learn more about galaxies, constellations, planets, and more with this fun game.
Charades For Teens: Grab this Fun Charades For Teens for sleepover fun, friend hangouts, family game nights, and more. Your teens will love acting out anything from school subjects, to movies, to high school activities.
Christmas Charades: With out of town family members visiting, it helps to have a fun game on hand, like this Christmas Charades, to keep everyone engaged and laughing. You can be sure to include family members of all ages with this easy and fun game.
Animal Charades: Get silly with this list of Animal Charades cards. Your kids will be sure to love running around like wild animals.
Winter Charades: Even if it's cold outside you can still have fun inside and these 50 winter charade ideas is the perfect way to warm up and have fun all at the same time!
Thanksgiving Charades: This Thanksgiving Charades game is sure to pass the time in laughter while the turkey finishes cooking. It is a great way to entertain your kids without needing many supplies, which can be handy on the go!
Halloween Charades: As the witches, monsters, and superheroes gather, be sure to grab this Halloween Charades game before the spells start flying. It's also a great way to get into the spirit of Halloween with your family.
Valentine's Day Charades: Valentine's Day charades is the perfect addition to any get-together or party this Valentine's Day. Grab your themed charades cards to get started.
Bible Charades: Help your children better learn various bible stories and commandments with this list of Bible Charades ideas. Your kids will learn the stories while having a blast!
Family Charades: This Family Charades game covers topics such as animals, sports, vacations, and more! Get your family connecting with this simple game that everyone is sure to enjoy!
Disney Charades: Get those imaginations working with this game of Disney Charades. It includes characters from classic and more modern movies and TV shows. This game also features iconic items found in the Disney universe, like Cinderella's glass slipper.
Baby Shower Charades: Bring a new and hilarious twist to baby showers with this fun Baby Shower Charades game. Your group will be laughing in no time.
Famous People Charades: Do you love acting out famous people with your friends and family? Be sure to grab this fun famous people Charades game with over 50 ideas!
Picture Charades: Do you have some non-readers in your home, but yet want to involve them in all the charade's fun? This picture charades version is the perfect option as all the cards are easy and have visual pictures included!
Book of Mormon Charades: If you want to engage your kids in learning the scriptures in the Book of Mormon, this Book of Mormon charades is what you are looking for! This is excellent for learning and family bonding at the same time!
4th of July Charades: While waiting for the the parade or fireworks, this is one activity that you can do! This 4th of July charades is the perfect pastime that you are looking for!
Fall Charades: This charade is the best way to welcome fall! We have 50 ideas for this fall charade. Grab them now!
Verb Charades: This is an easy charade from toddlers to parents! The verb charades is fun and entertaining to do around friends or family!
Easter Charades: Easter is coming up, and this Easter Charades is one enjoyable activity before or Easter Egg hunting! We have 50 ideas which you can use!
Camping Charades: Going on a camping trip? This camping charades is one way to kill time while you are around a bonfire! This is for all ages and you can do it with family and friends!
Adjective Charades: Our Adjective Charades game is just what you need to make language learning fun! Your family will love acting out each clue and making each other giggle! Make this your next family game night or use in the classroom! Just download, print, and play!
Emotion Charades: Looking for a fun game to lighten your mood? Turn that frown upside-down with Emotion Charades! This game is fun for the whole family, so don't feel shy! Grab yours today!
Zoo Charades: Looking to shake up your next game night? Your family will love playing Zoo Charades! Don't miss out on this fun game that is sure to get everyone acting silly and laughing together! Grab your printable cards today!
Reverse Charades: Reverse charades is one hilarious charades because instead of one person doing the act, it is the whole team and only one will be guessing! This will make your place full of laughter!
Summer Charades: School's out, and you're ready for some fun, so why not try our Summer Charades game? We promise you'll have the best time playing and giggling together with this exciting game! Be sure to grab these printable charade cards for hours of fun!
Song Charades: Ready to boogie all night as you play charades? Well, good news, these 300+ song charades are just what you are looking for for your next gathering with friends or family game night.
Superhero Charades: Superhero fans rejoice! You are going to love these superhero charades ideas and game! Just download your printable superhero charades cards, print, and play over and over again!
Marriage Charades for Couples: These Marriage Charades cards are a fun way to celebrate any wedding anniversary or upcoming nuptials! Don't miss out on this fun twist on a classic party game! Just download, print, and play!
Olympic Charades: Get into the Olympic spirit with our exciting Olympic Charades! Your family will love competing and giggling together as they act out each card. Be sure to grab this fun game for your next game night!
Emoji Charades: This silly Emoji Charades game will have you feeling all the feels! You won't want to miss this exciting, family-friendly game! Be sure to grab it for your next game night!
Princess Charades: These princess charades ideas are sure to be a huge hit. You will have loads of fun with this massive list of over 100 princess ideas! Use these at family game night, in the classroom, at birthday parties, and more! Just download your princess charades card ideas, print, and play for endless fun!
Christmas Song Charades: Ready for some festive Christmas fun? These Christmas song charades ideas is the ticket to getting in the spirit of the season in no time! Just download, print, and start playing in minutes.
Ultimate Charades Bundle!
Do you want to Grab the Ultimate Charades Bundle with over 23 themed charades games? Grab it now before the price increases!
Which charades game is your favorite? Which charades ideas would you like to see? Let us know in the comments!
How Do I access my free printables?
Fill in the form above. You will receive an email in your inbox. If you don't see it check your spam folder! You will then click to confirm your subscription.You will then be redirected to your free download.
How Do I Print a PDF?
You'll need a program that supports PDFs. Adobe Acrobat is a great option. Open the program, click file then print. Select your printer and the number of copies you want to print. Be sure you click double-sided if you want it to print on both sides.
Can I resell these?
You may not resell any printable that you find on our website or in our resource library. You may use them for class parties, at church, at home, or in the classroom. You may get these printed at an office supply store or copy center at your own expense.