Reverse Charades is such a fun family game! If you love laughing and having a good time this is the game for you! Get your family and friends together and have a blast!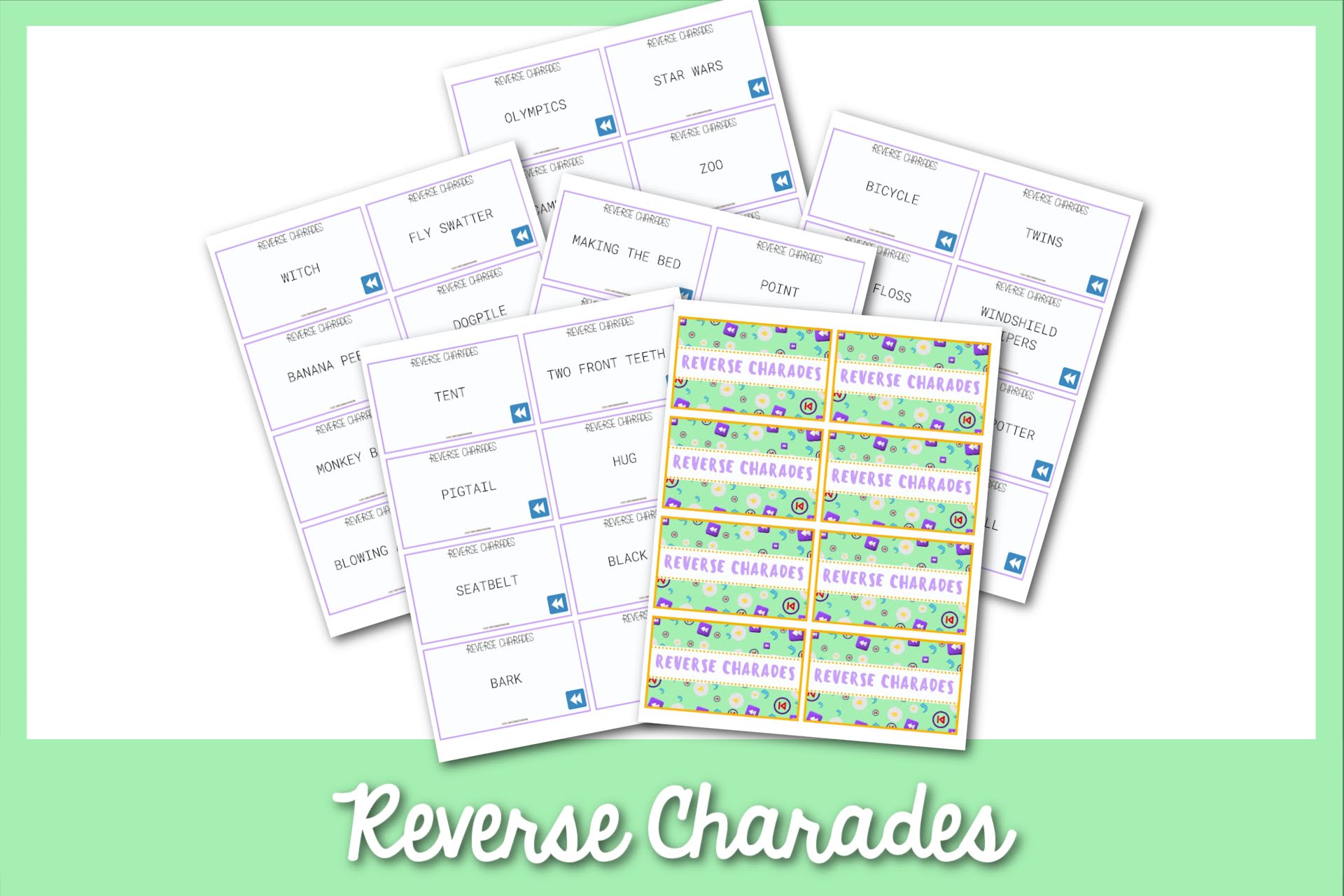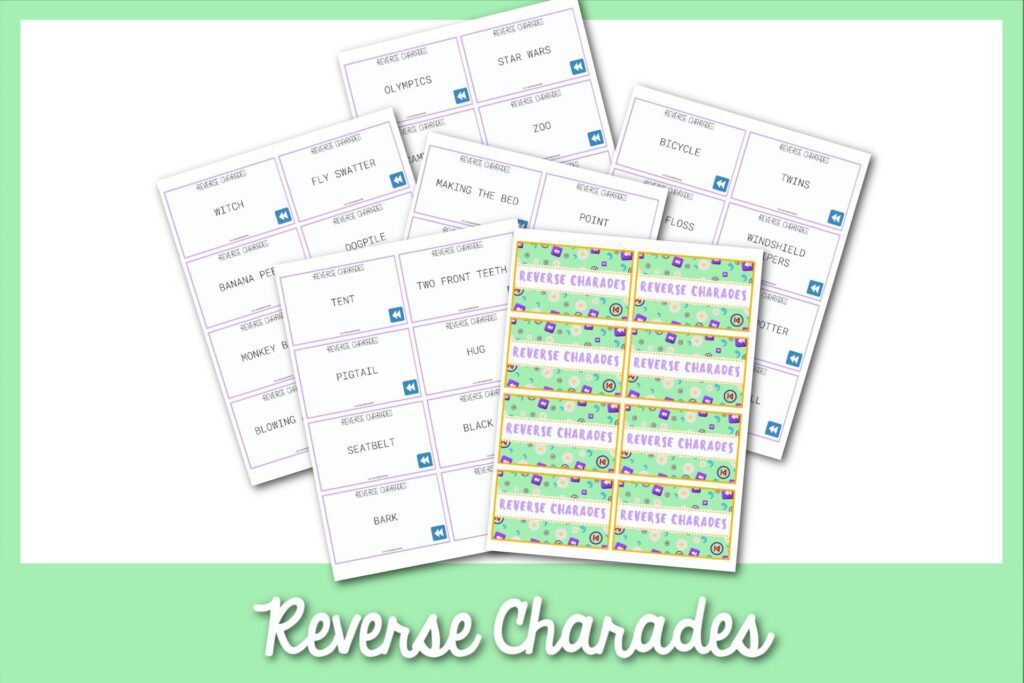 Reverse Charades
I absolutely love Reverse Charades! It's a fun spin off from regular charades. Instead of having a team try to guess the actions of one person it's flipped! One person tries to guess the actions of their whole team! I love being the guesser in reverse charades! Not because I'm particularly good at guessing, but because I love watching my team do different silly gestures to try and make me guess the same word!
This game really encourages family bonding and cooperation! You have to all work together as a group to get points. It doesn't work as well if someone is not invested! You can have some friendly competition with your family as well by wagering who picks dessert or the next game to play. I know my family always has a blast when we play this game!
It's also great as a game between friends! I remember many days growing up where we would play reverse charades at parties and things! It really gets you out of your shell! I've met many friends that way!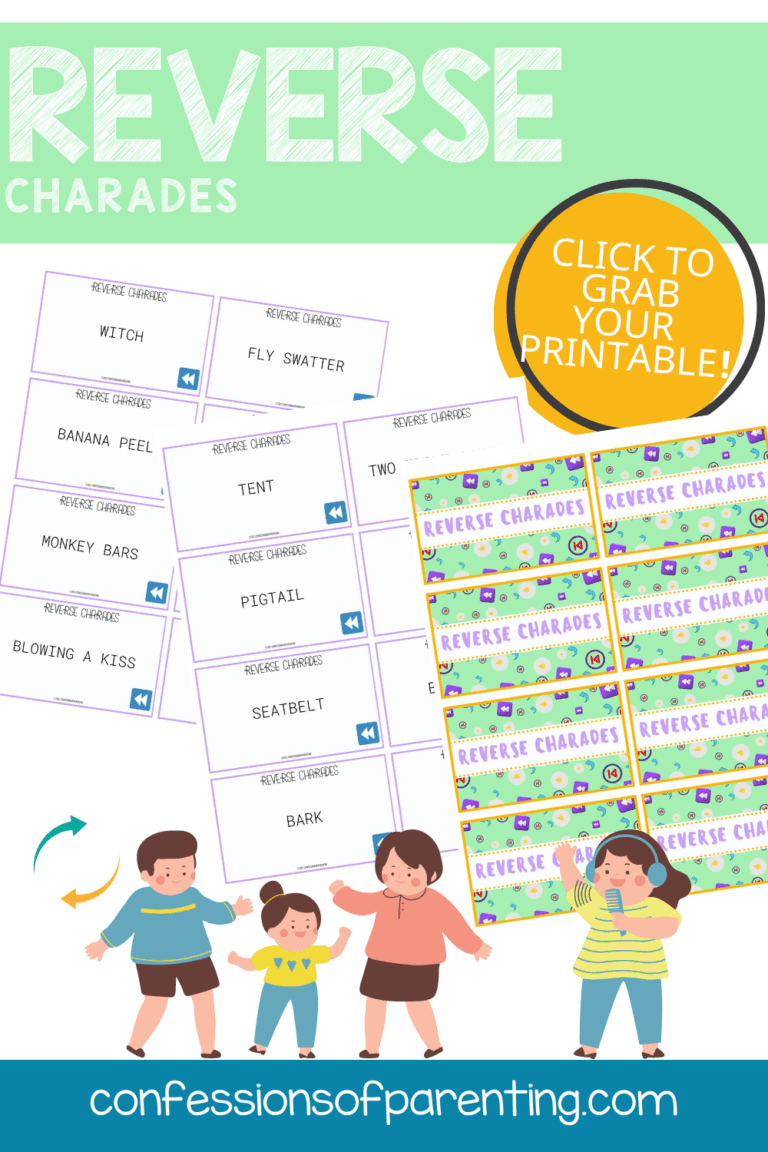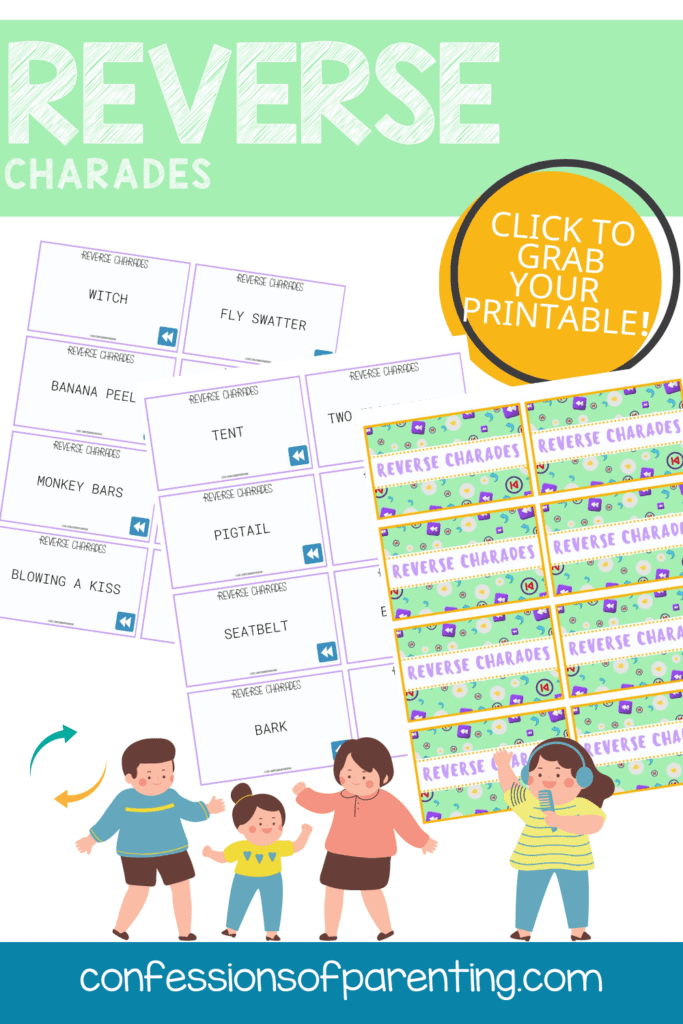 How To Play Reverse Charades
One of the reasons I love this game is because there is no setup or clean up! All you need are our reverse charades printable cards! It's also super easy to learn and play! Anyone can do it!
Here's how you play reverse charades
Split up into groups of at least 3 people. I personally think the bigger the group the more fun!
Decide who is going to be the guesser first. You can do this in fun ways if you want like the shortest, the person with the most freckles, the fastest mile, etc.
A timer will be set for 1 minute.
During that time, the team going first will try and get through as many cards as possible. When you pick up a card your team is going to try and act out whatever is on the card. You can't use any words and you can't mouth anything either.
When the minute is up you'll tally up the number of cards the guesser was able to guess right.
The other team will then take their turn and so on and so on until either the cards are done, or a certain number of points is reached. If you need more charade ideas you can find an entire list on our site or try some of our favorites like Charades for teens, Bible charades, Disney charades, or even Thanksgiving Charades!
Once you're done you'll proclaim a winner and enjoy the victory! Don't forget the celebration dance while you are at it!
Ultimate Charades Bundle!
Do you want to Grab the Ultimate Charades Bundle with over 23 themed charades games? Grab it now before the price increases!
Helpful Hints for Playing Reverse Charades
For the guesser's benefit it's best if the actors display the number of words the guesser needs to guess with their hands (ex. If the word was peanut butter and jelly, the actors would home up 4 fingers)
If there is a word your guesser just can't guess, skip it. You'll be able to move on to words they can guess rather than spending all your time on one card.
Have some yummy treats for after. The winners get first picks!
Reverse Charades List
Grab our reverse charades cards that you can download and print to always have on hand! Laminate them for added durability. Or just see our reverse charades list below if you don't feel like printing anything out today!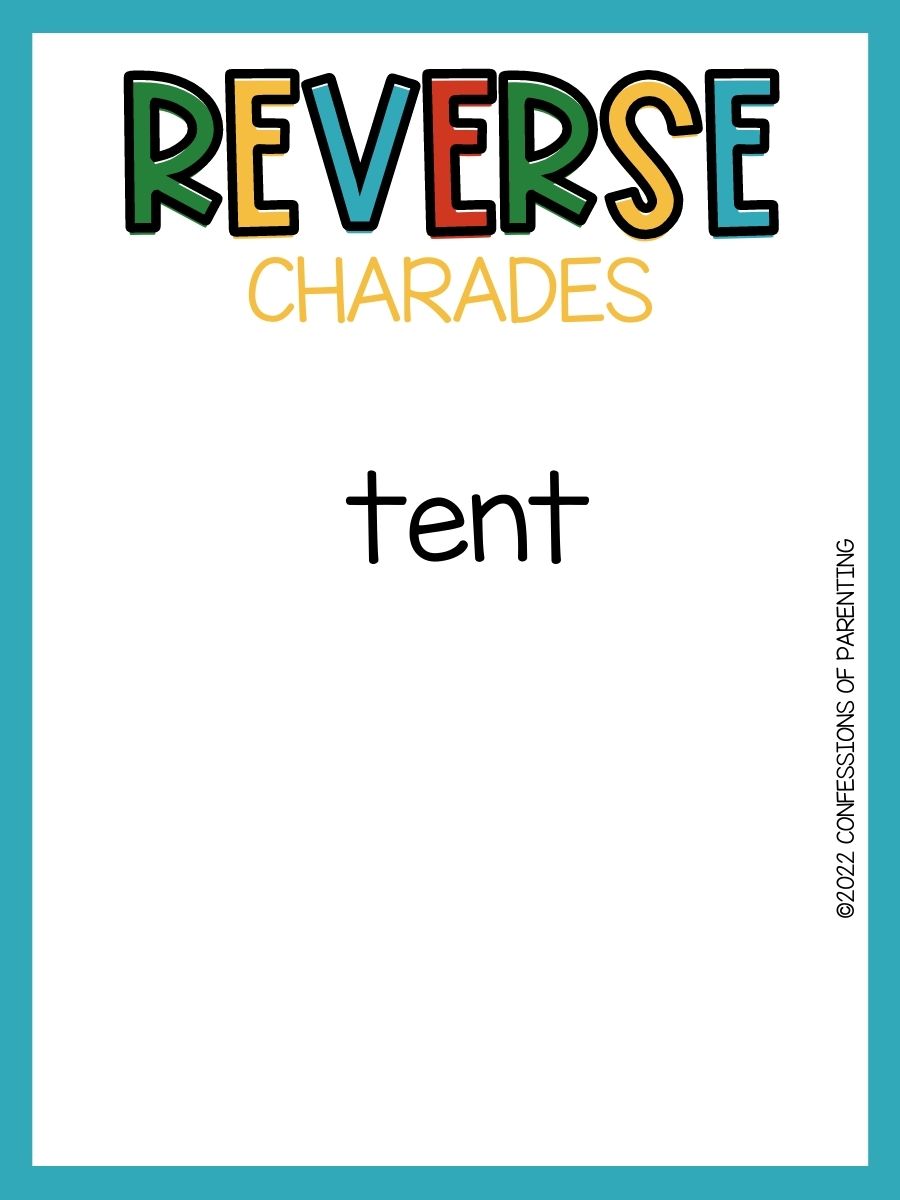 tent
two front teeth
pigtail
hug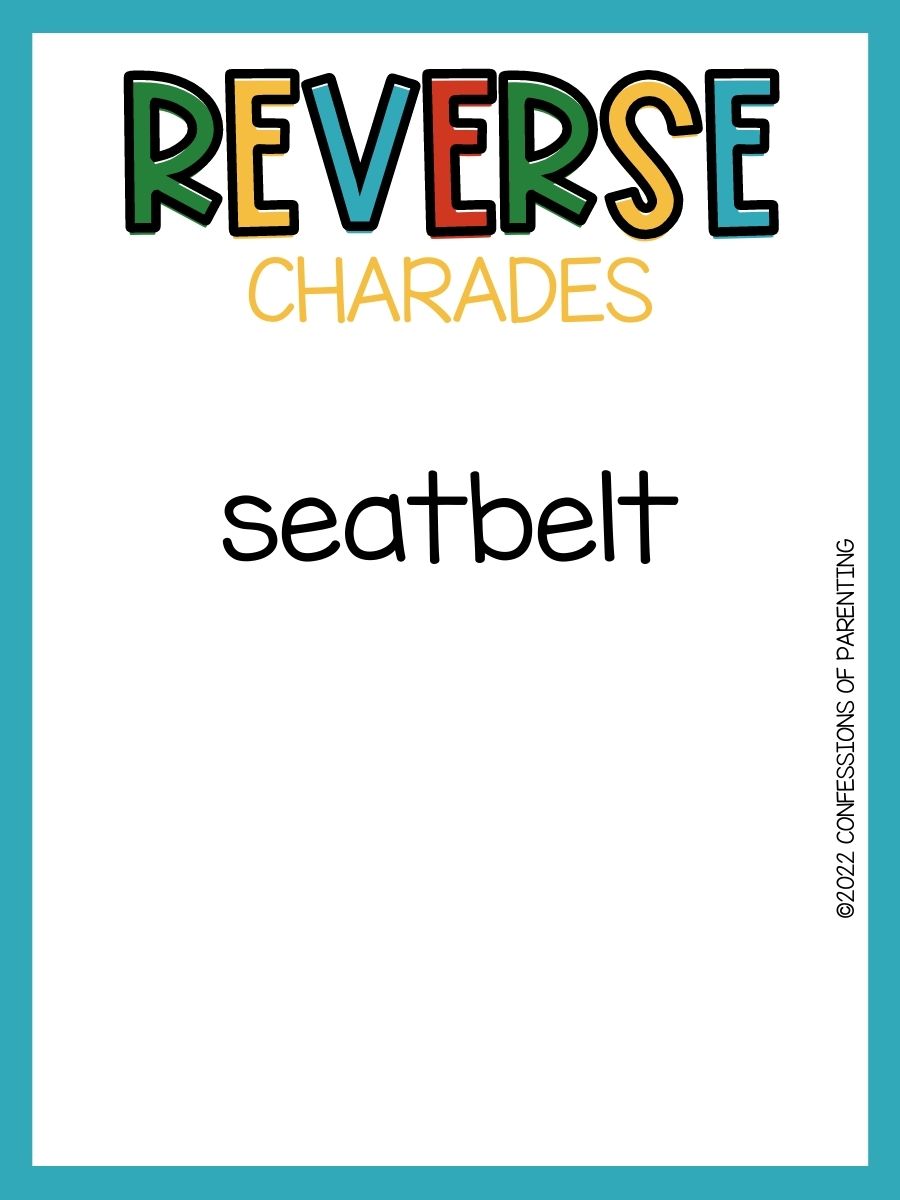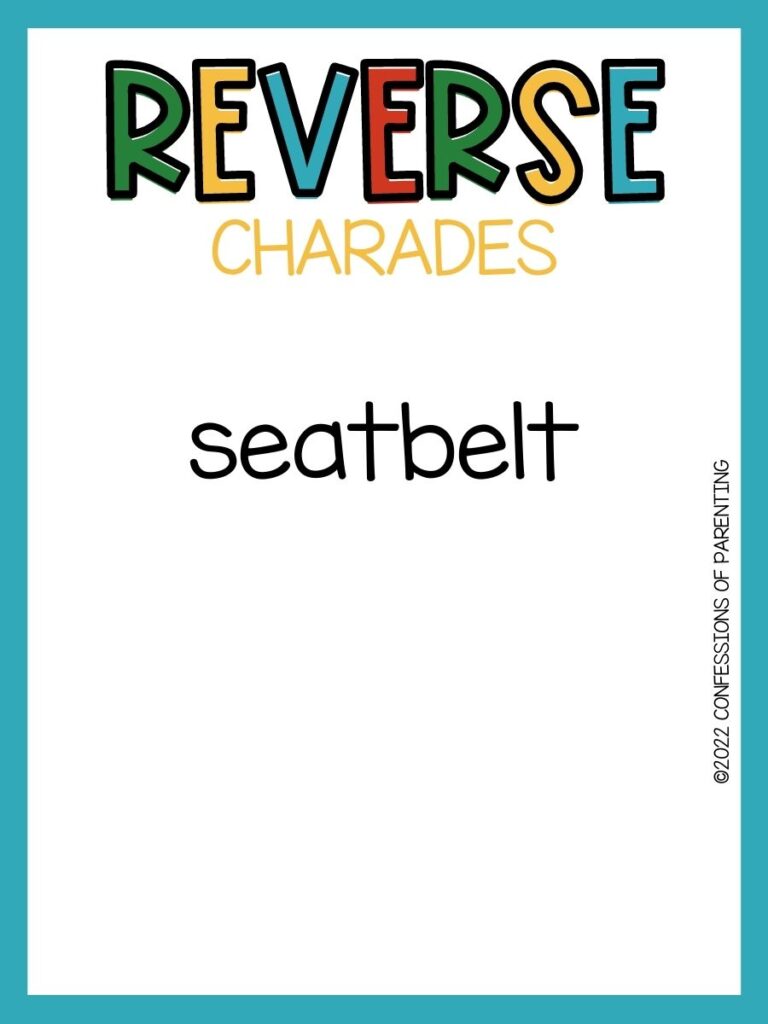 seatbelt
black eye
bark
nap
witch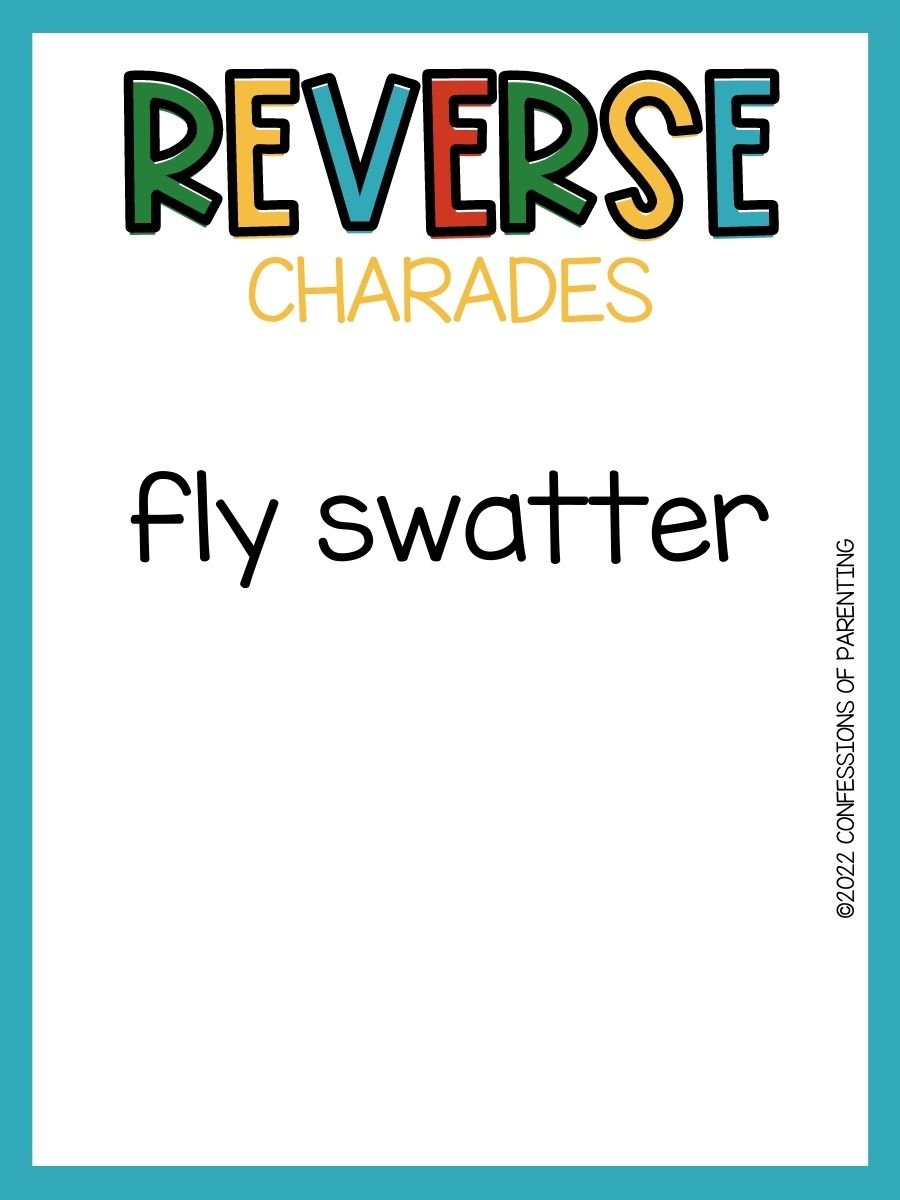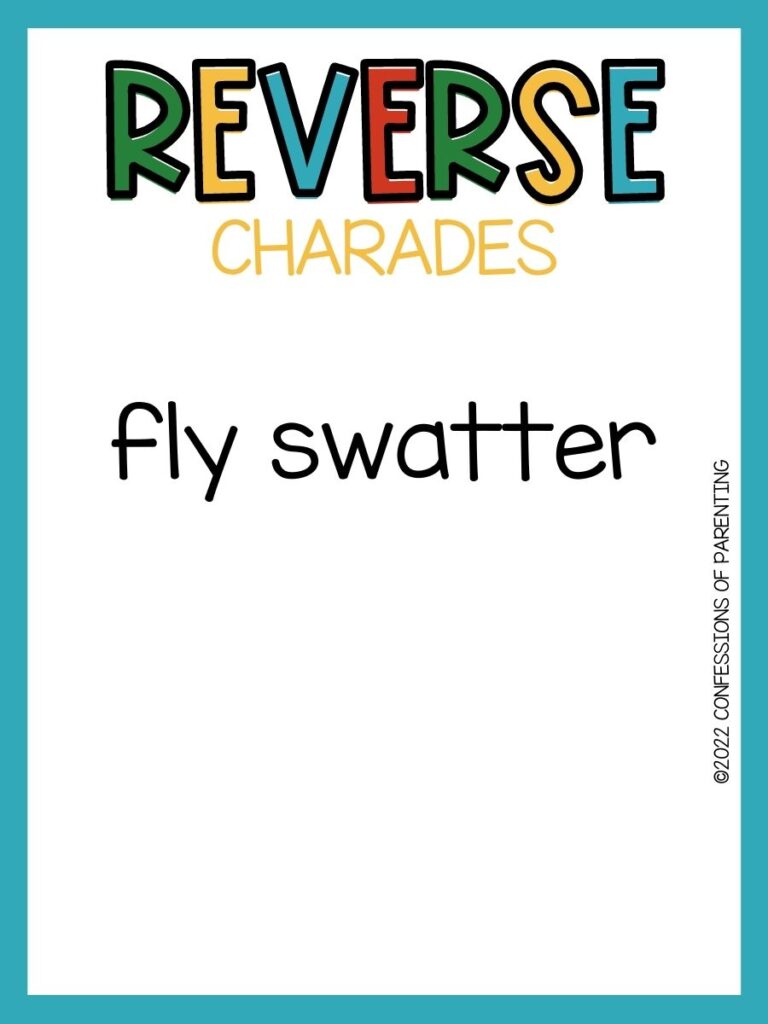 fly swatter
banana peel
dogpile
monkey bars
toothpaste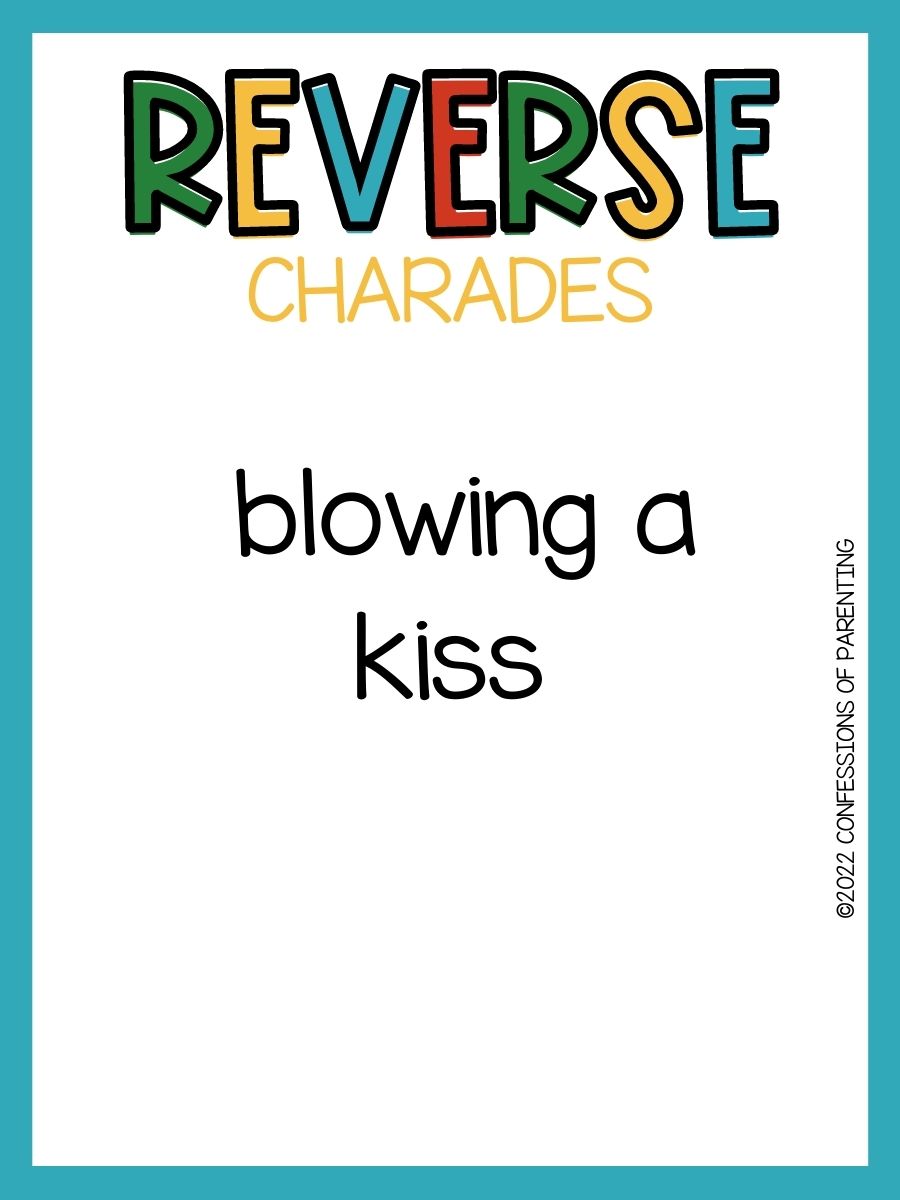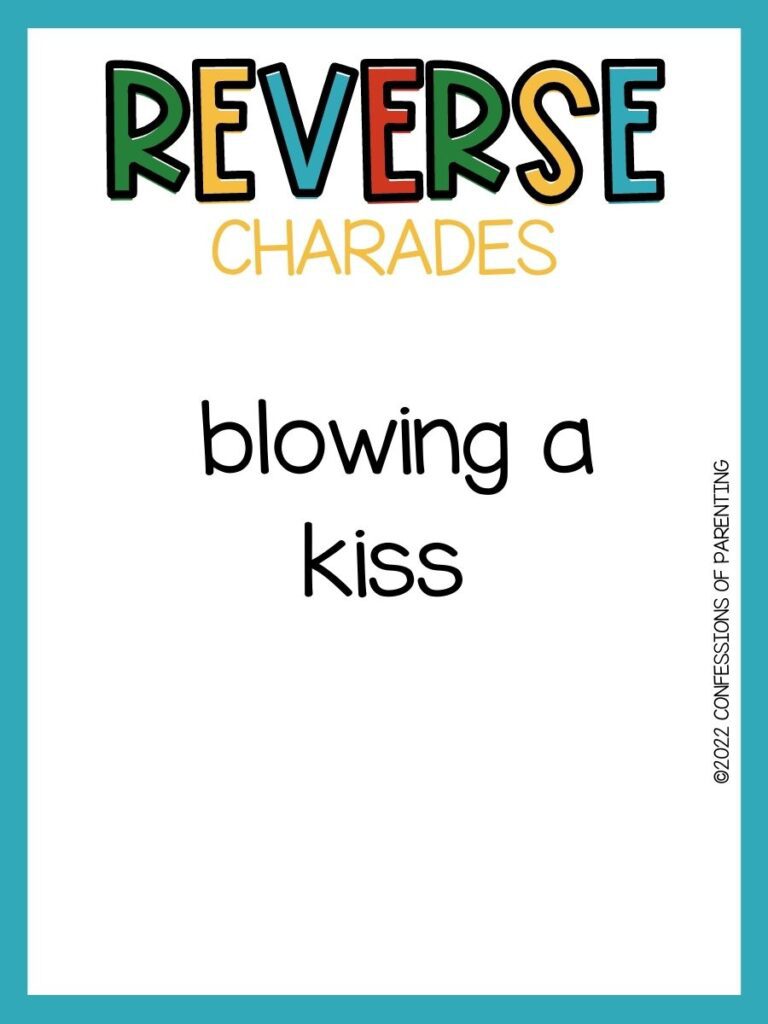 blowing a kiss
backpack
making the bed
point
toilet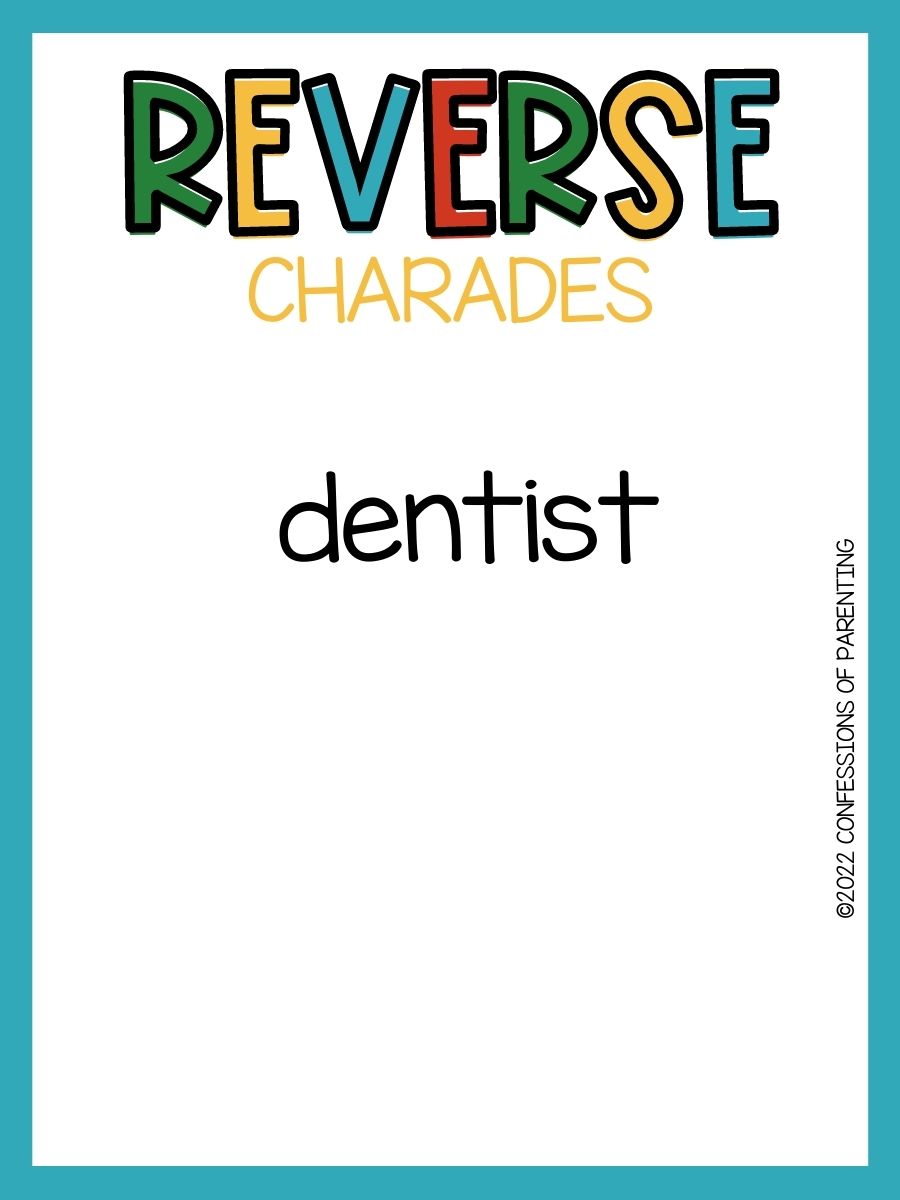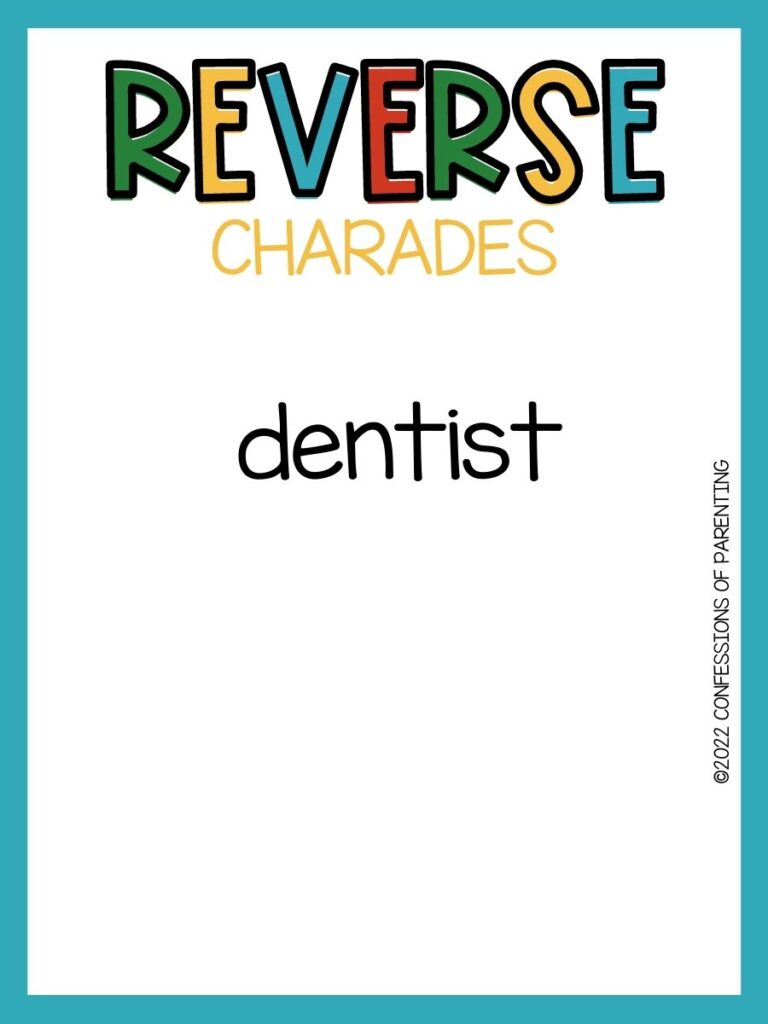 dentist
swallow
twister
peanut butter and jelly
food fight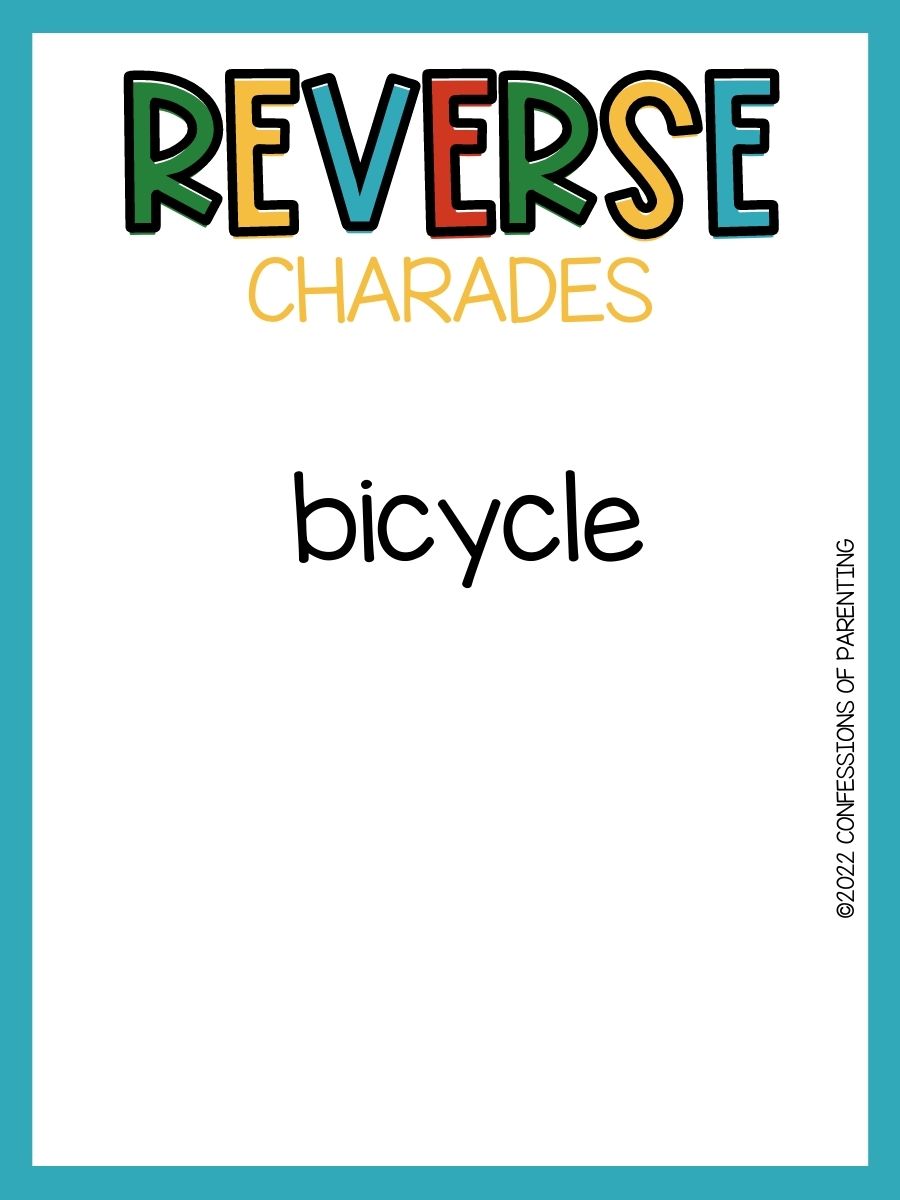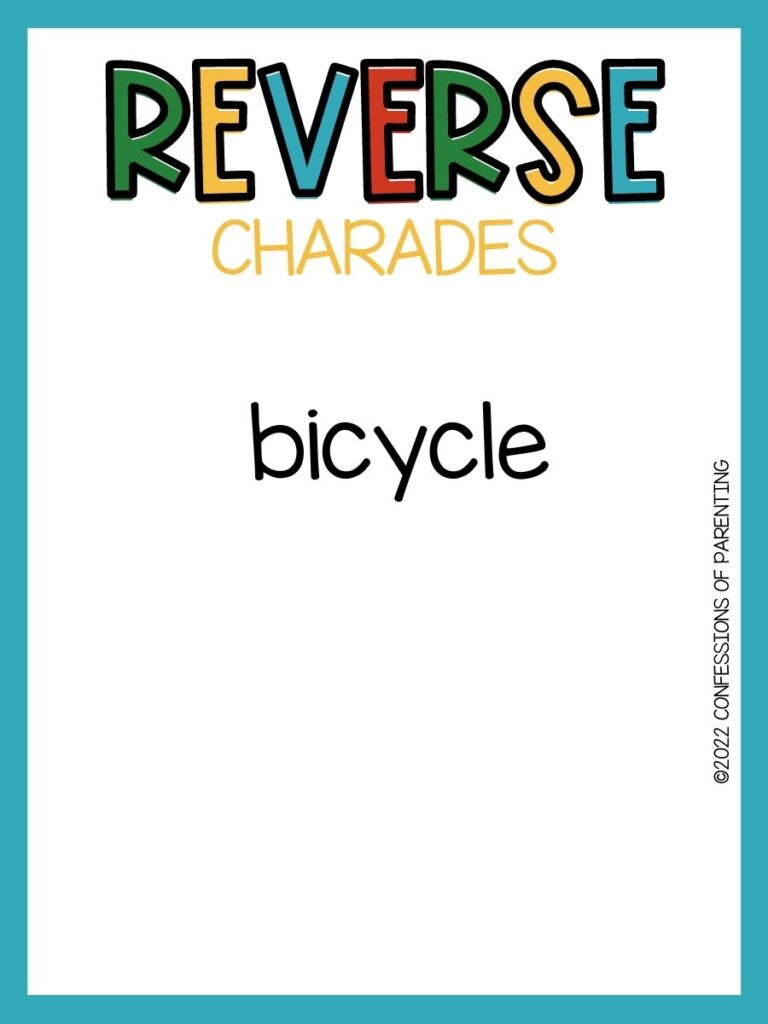 bicycle
twins
dental floss
windshield wipers
barbershop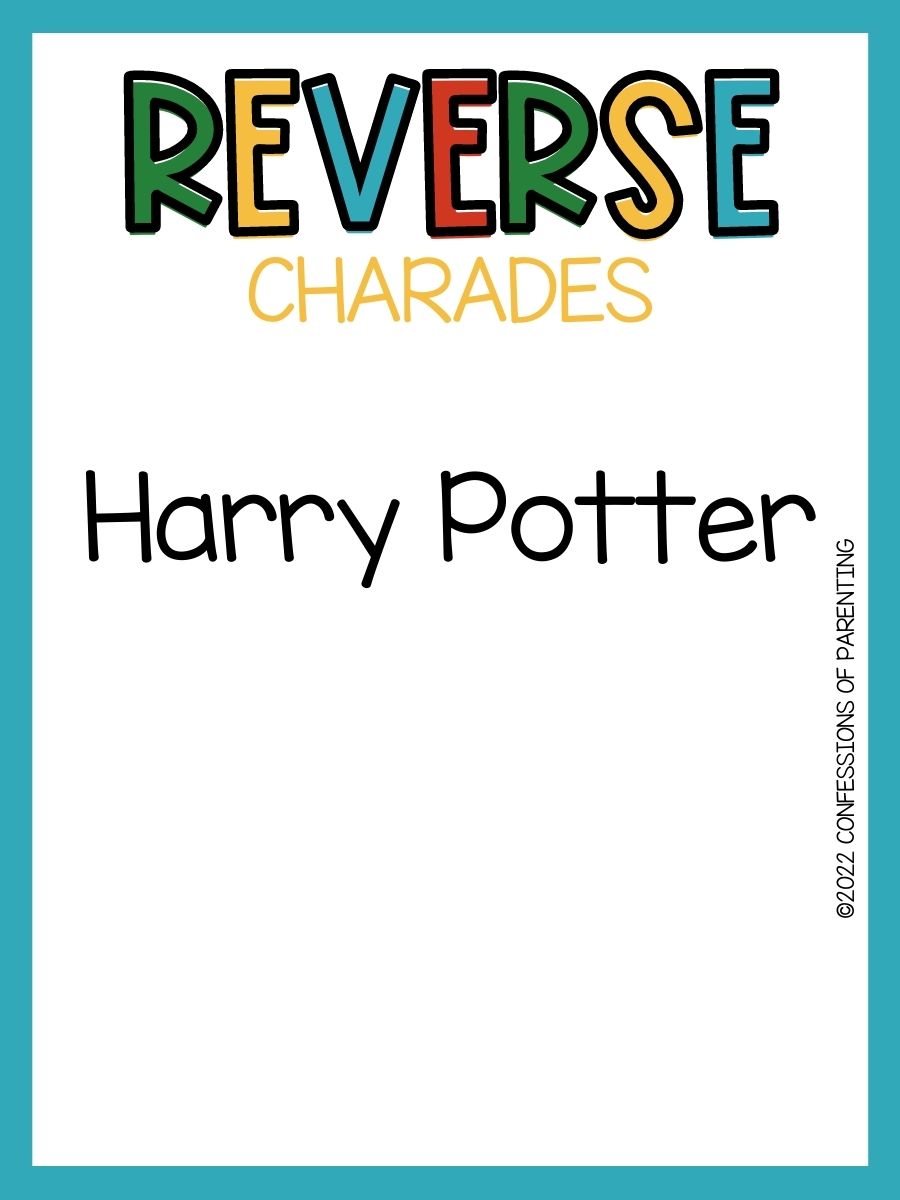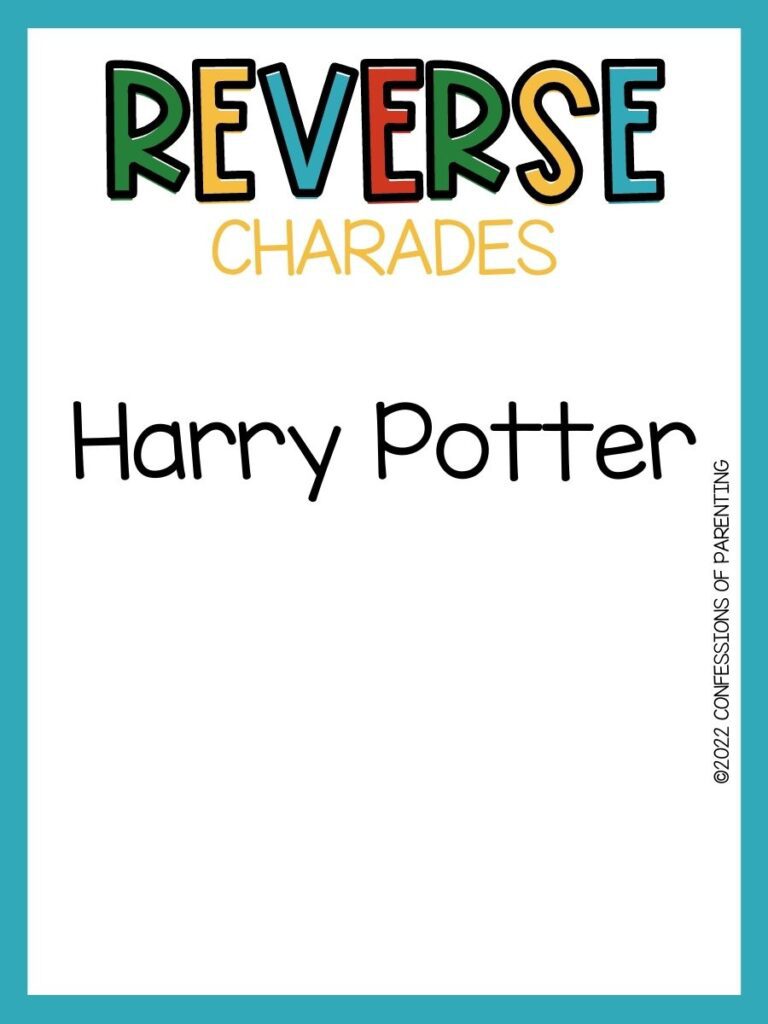 Harry Potter
tug-of-war
volleyball
Olympics
Star Wars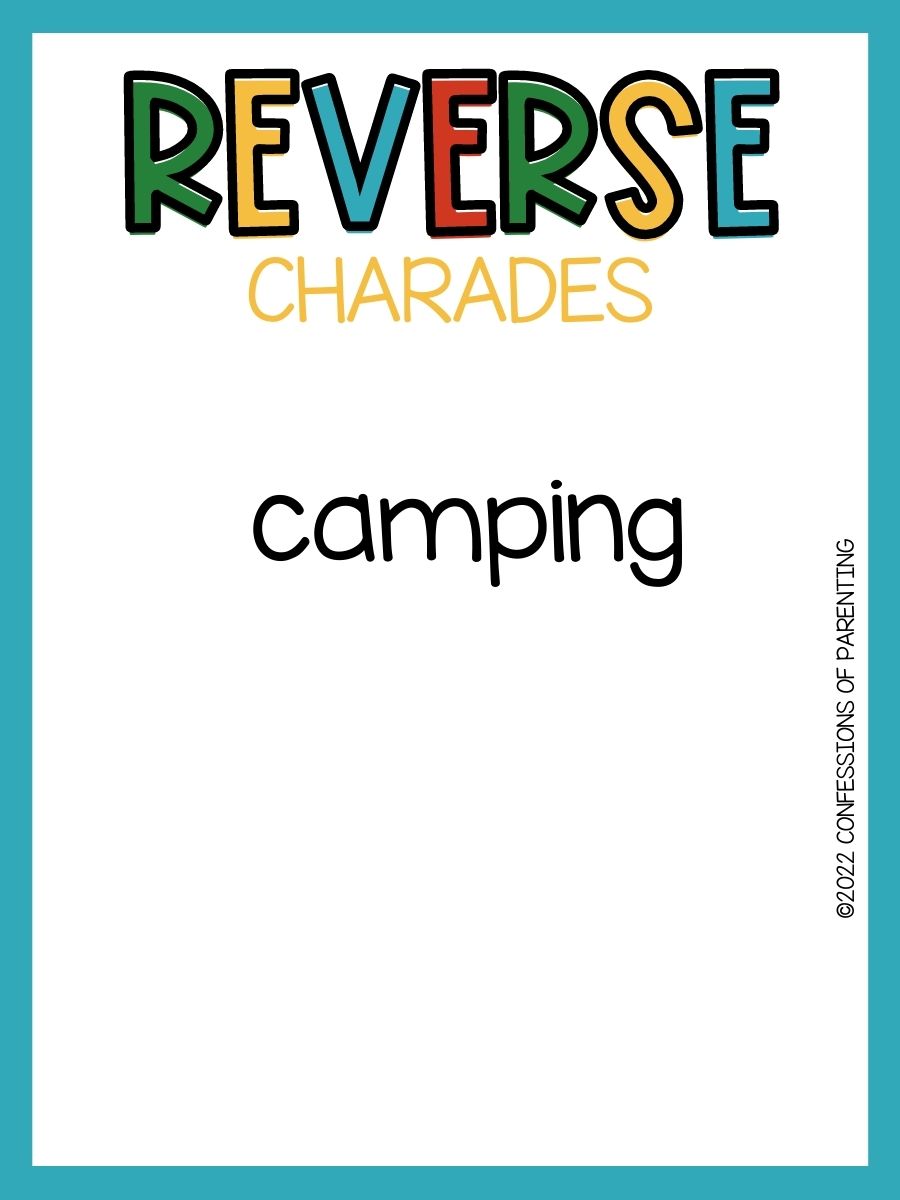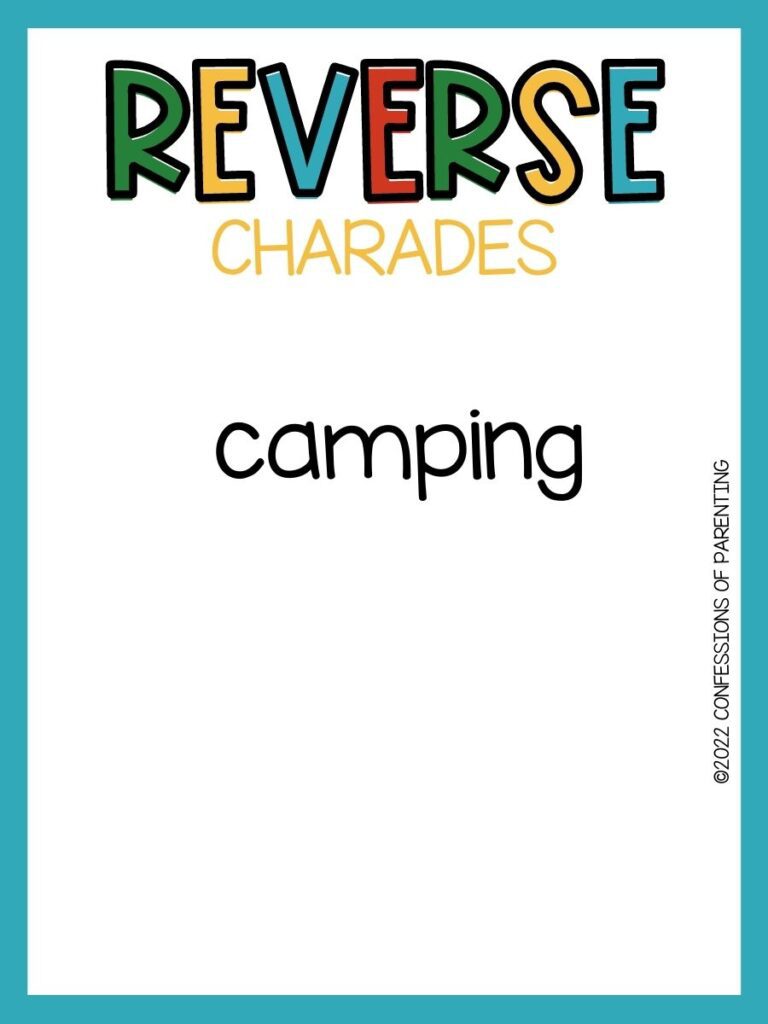 camping
zoo
library
ice fishing
hitchhike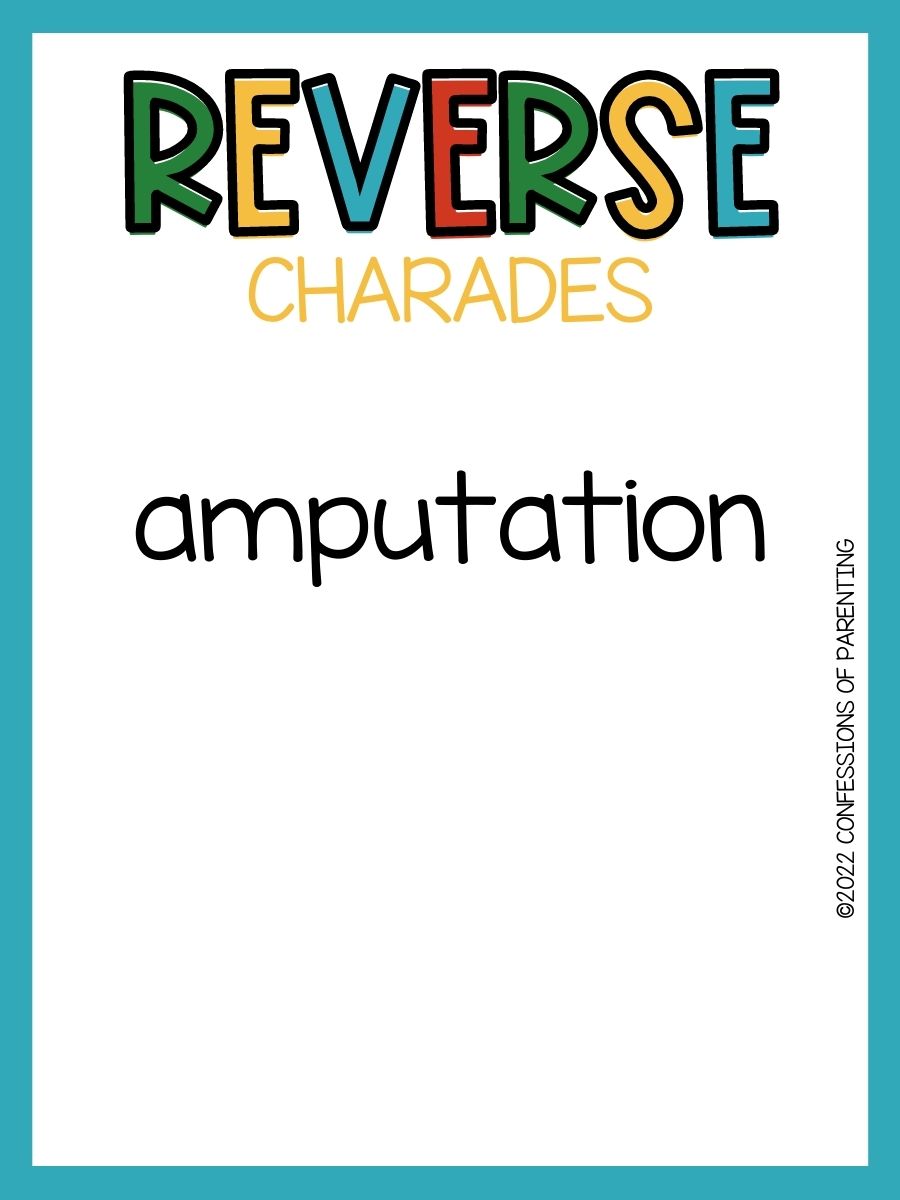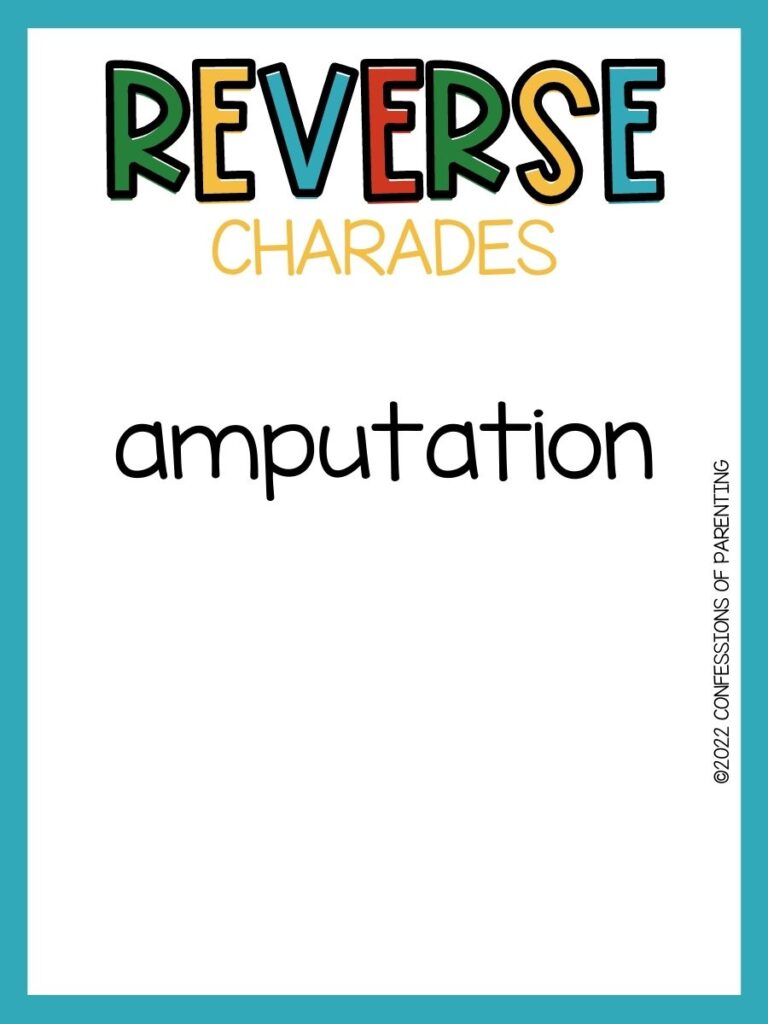 amputation
spoon
the wave
crab walk
leapfrog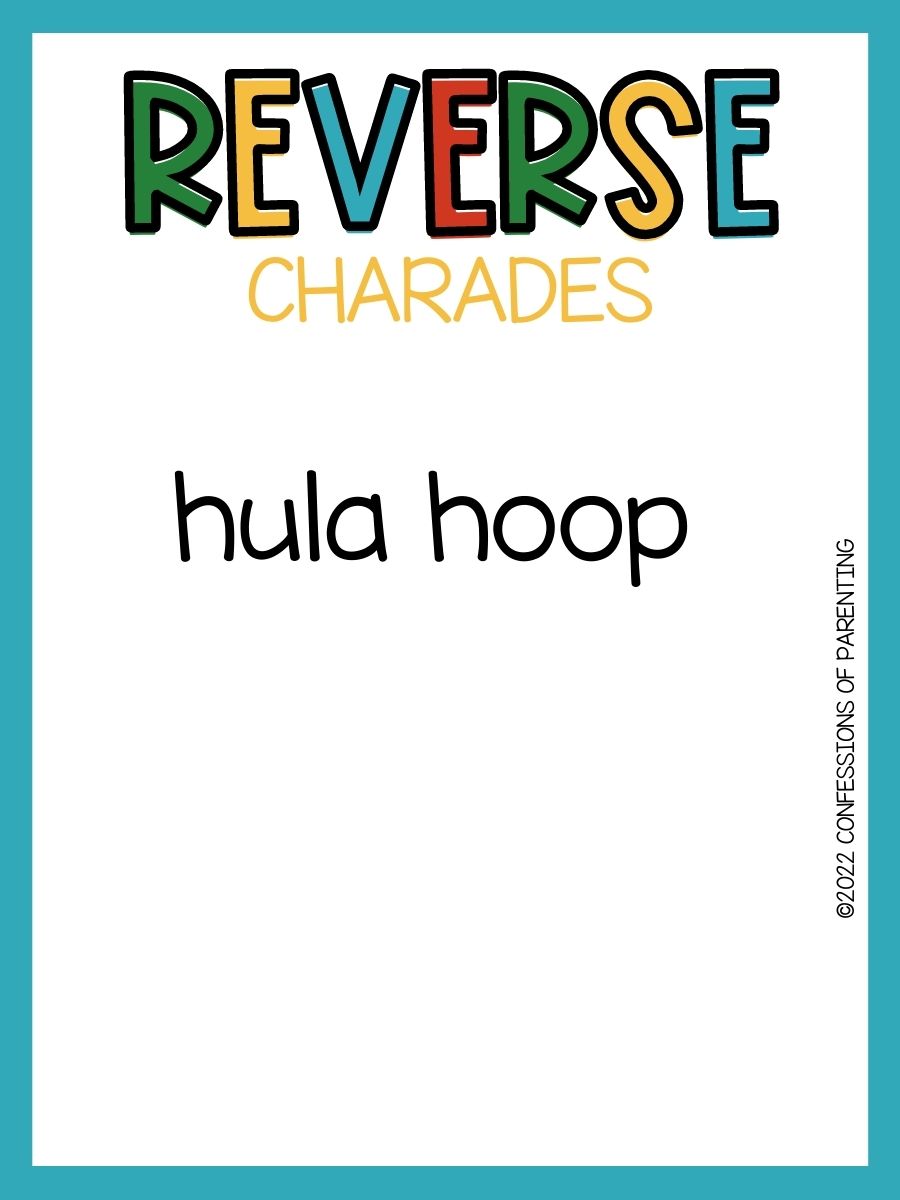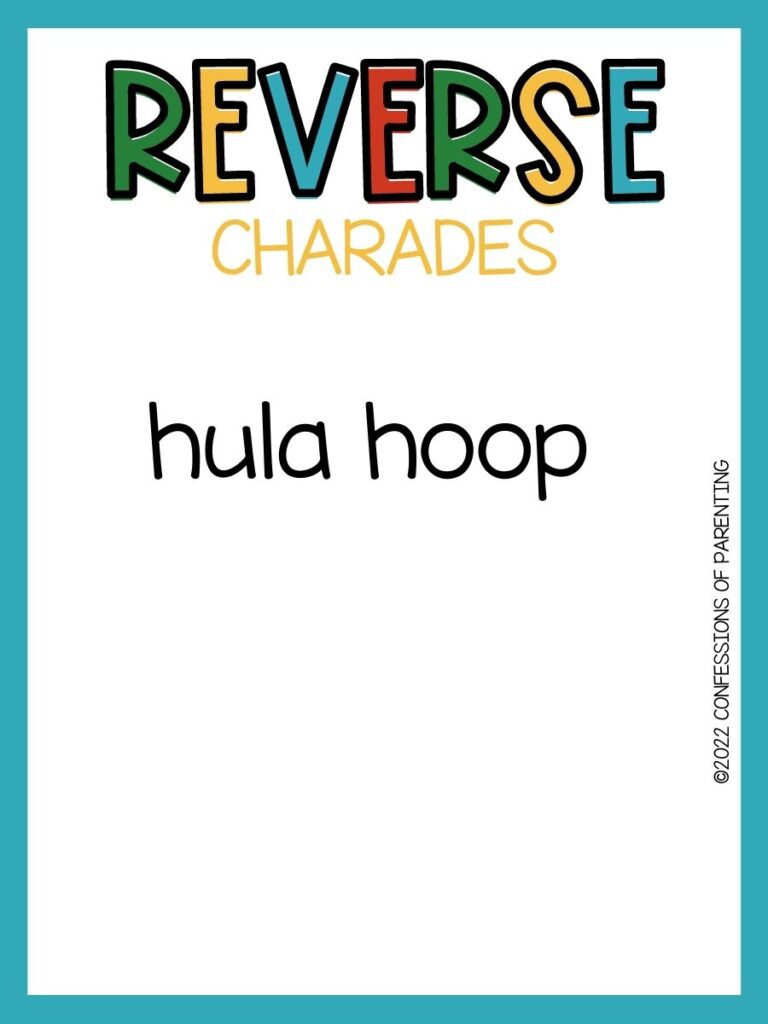 hula hoop
flight attendant
chess
caterpillar
mannequin
slam dunk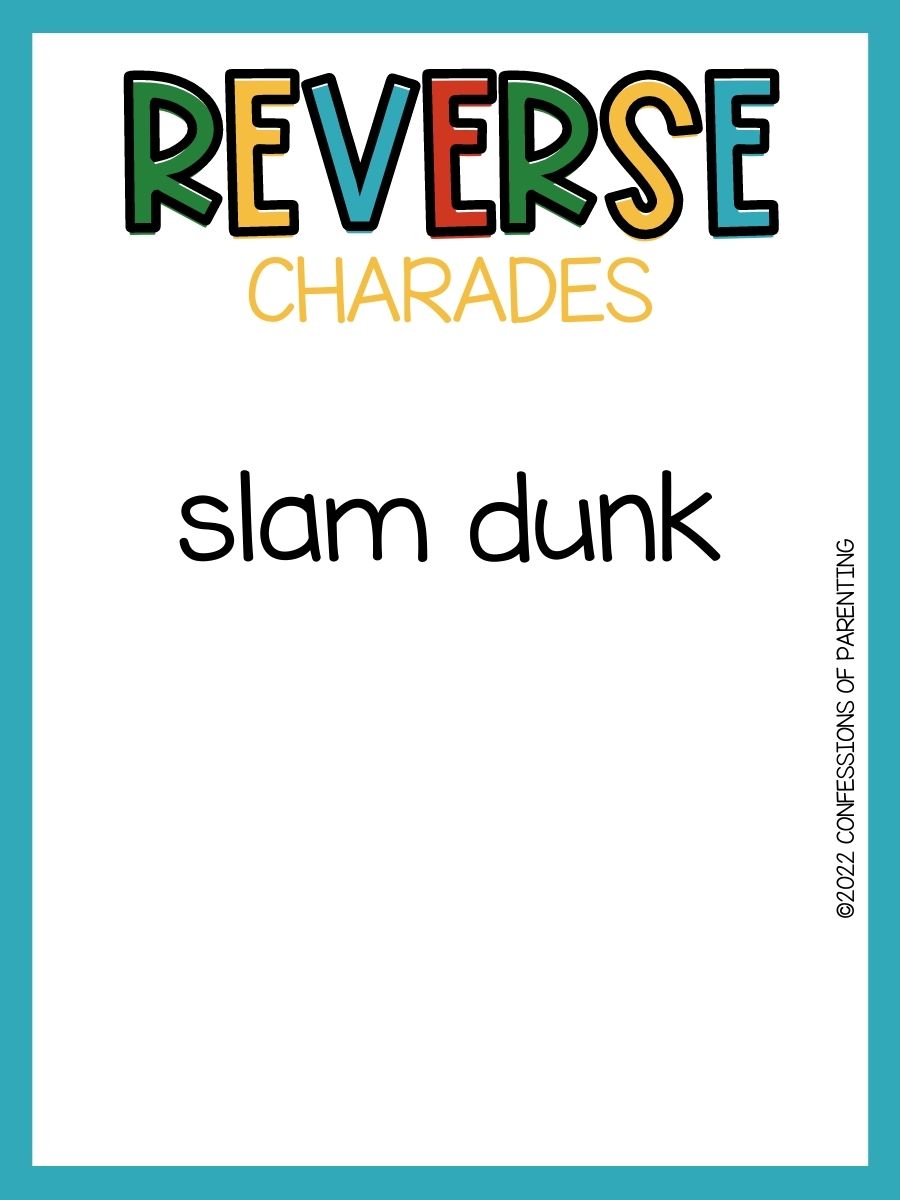 What reverse charades ideas would you add to the list? Share in the comments below!
Other Games to Try!
Love Charades? Try these other great charade games!
How Do I access my free printables?
Fill in the form above. You will receive an email in your inbox. If you don't see it check your spam folder! You will then click to confirm your subscription.You will then be redirected to your free download.
How Do I Print a PDF?
You'll need a program that supports PDFs. Adobe Acrobat is a great option. Open the program, click file then print. Select your printer and the number of copies you want to print. Be sure you click double-sided if you want it to print on both sides.
Can I resell these?
You may not resell any printable that you find on our website or in our resource library. You may use them for class parties, at church, at home, or in the classroom. You may get these printed at an office supply store or copy center at your own expense.