This silly Emoji Charades game will have you feeling all the feels! You won't want to miss this exciting, family-friendly game! Be sure to grab it for your next game night!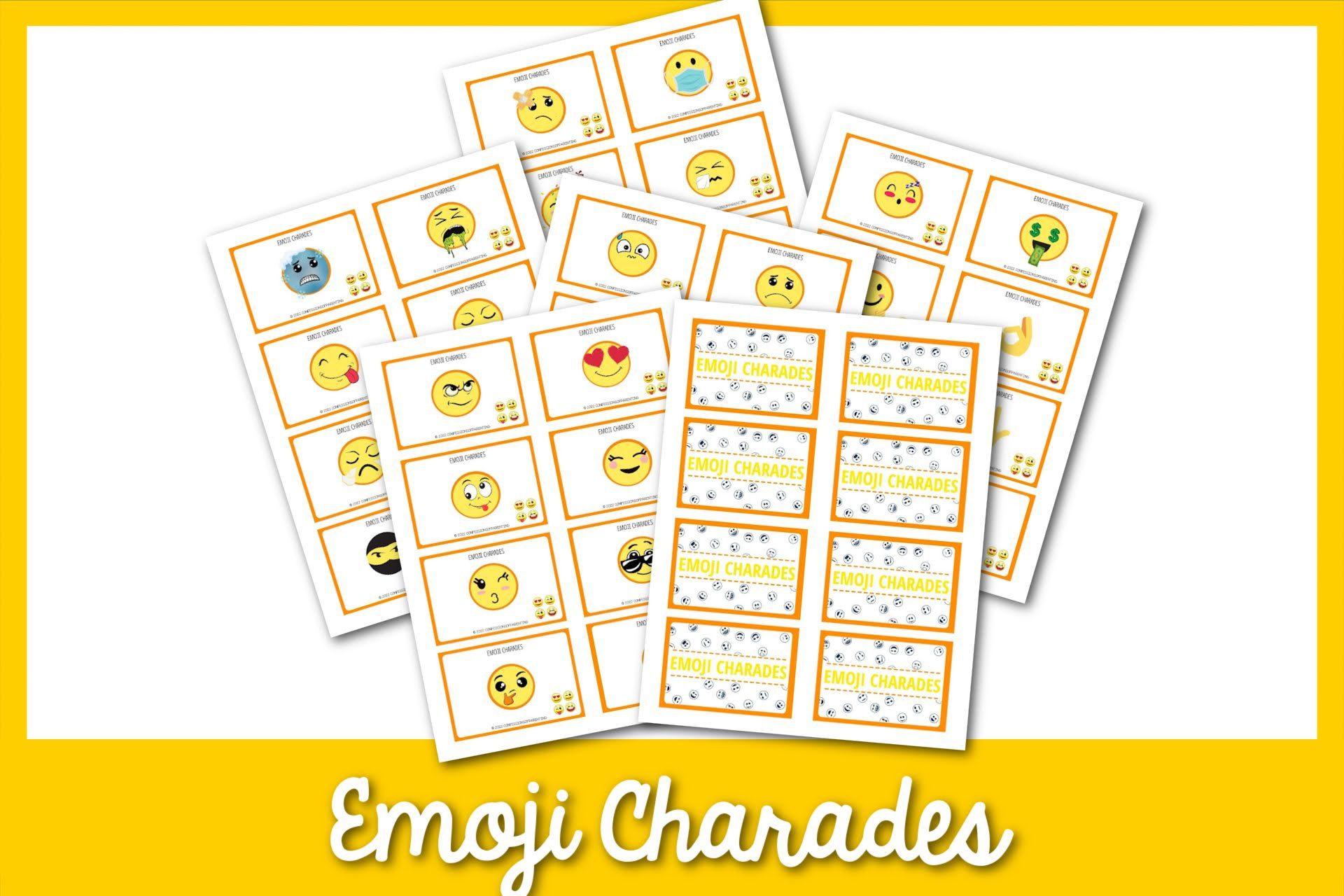 Emoji Charades
Who doesn't love emojis? Those cute round yellow faces always seem to have just the right expression to show how we are feeling. My family loves to find the silliest ones to send each other and make each other laugh.
I just knew that Emoji Charades was going to be a huge hit for our family game night! We always have the best time acting out each card and making each other giggle!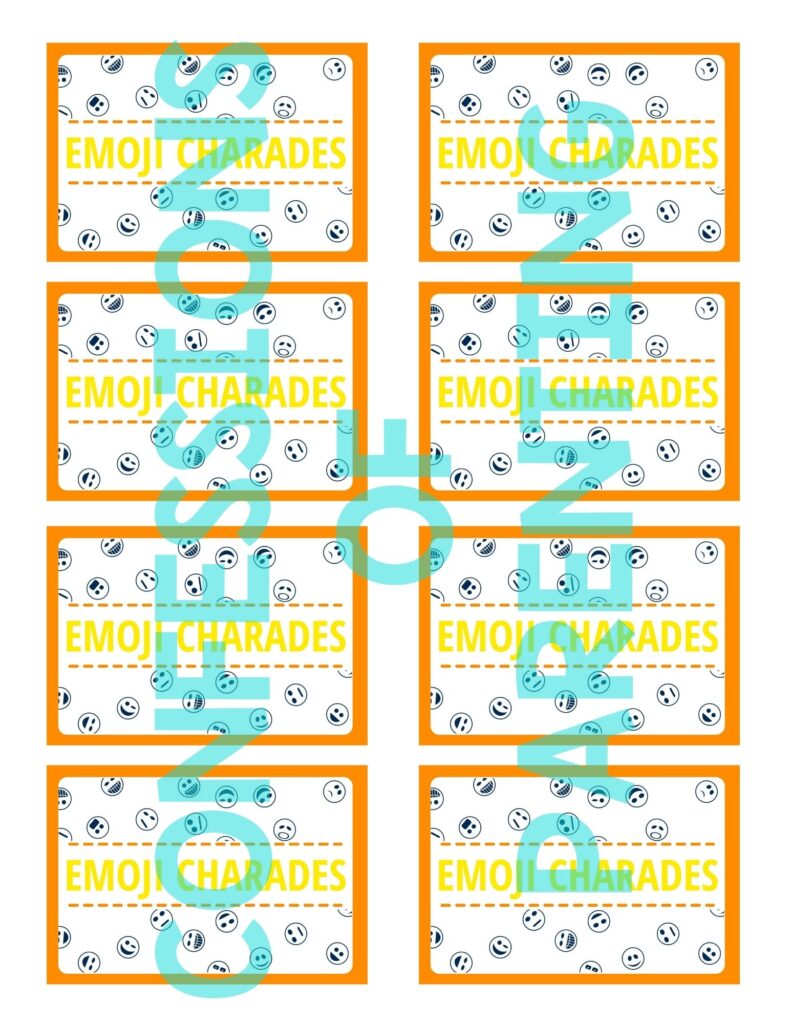 Charades is always our go-to family game night staple!
We love how easy it is to just grab our charades cards and start playing!
Some of our favorites are Animal Charades and Disney Charades. Emoji Charades is so much fun, this is one we will definitely be playing again and again! 
If your family loves emojis, be sure to check out our Emoji Riddles as well, for more Emoji fun!
Don't miss your chance to grab your Emoji Charades printable cards below to get started on all the fun!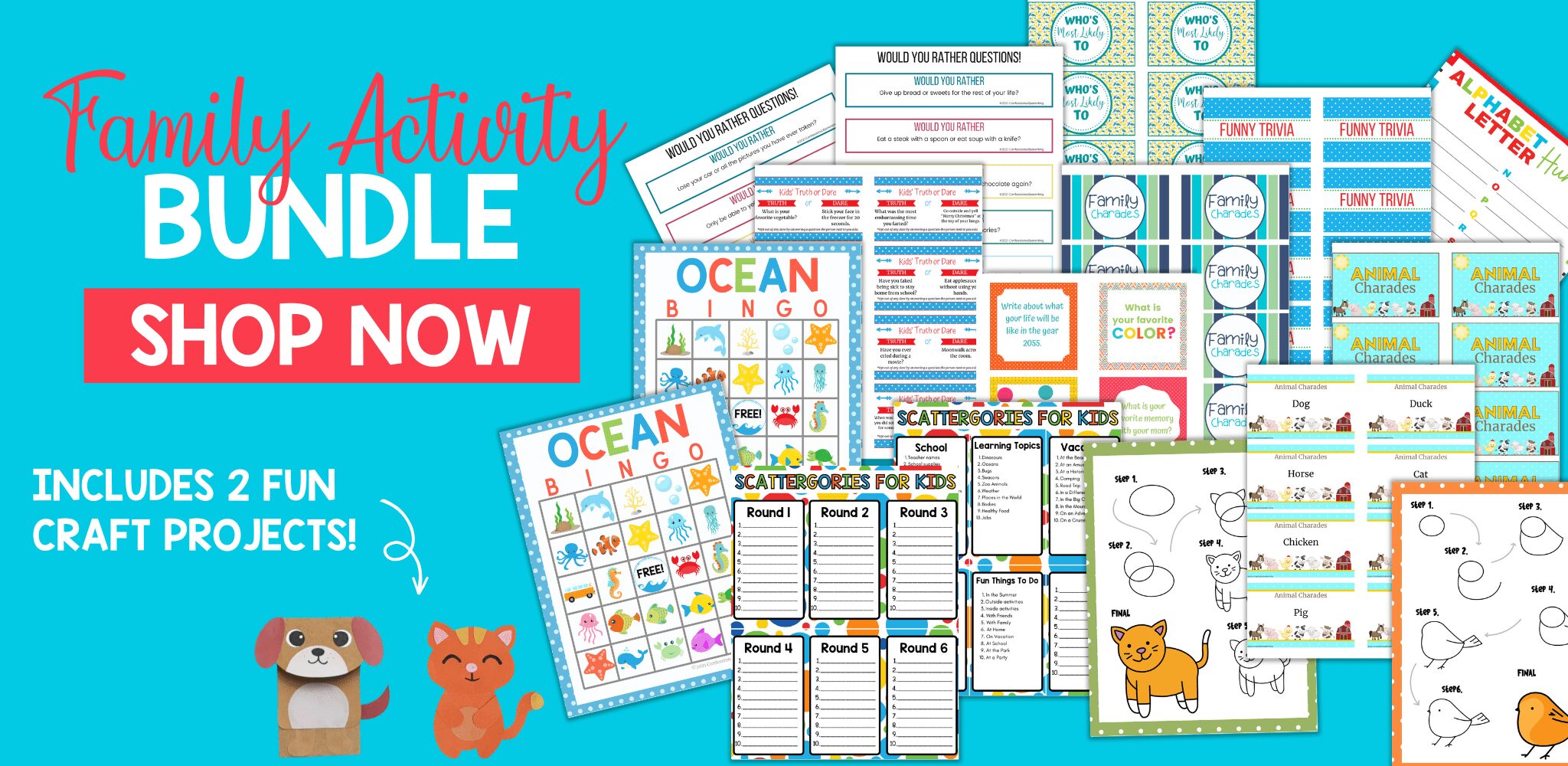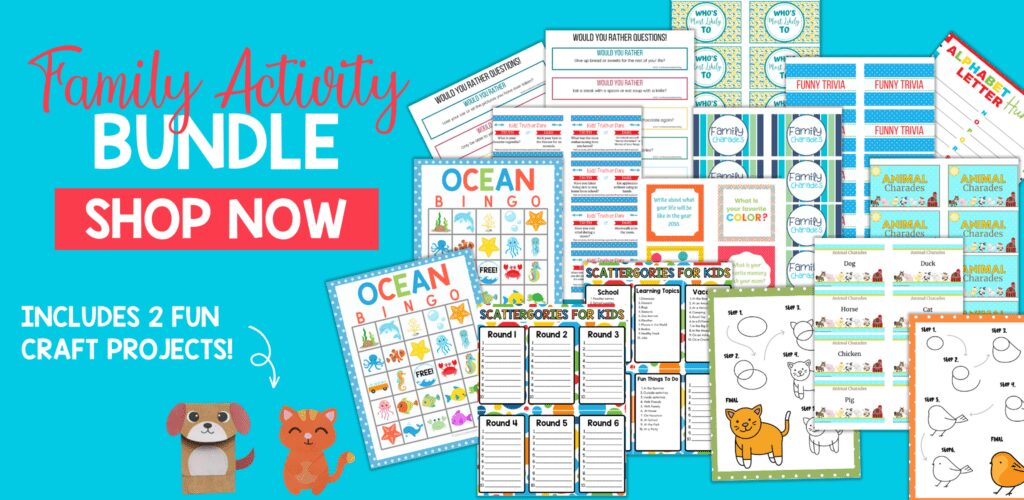 Why I Love Charades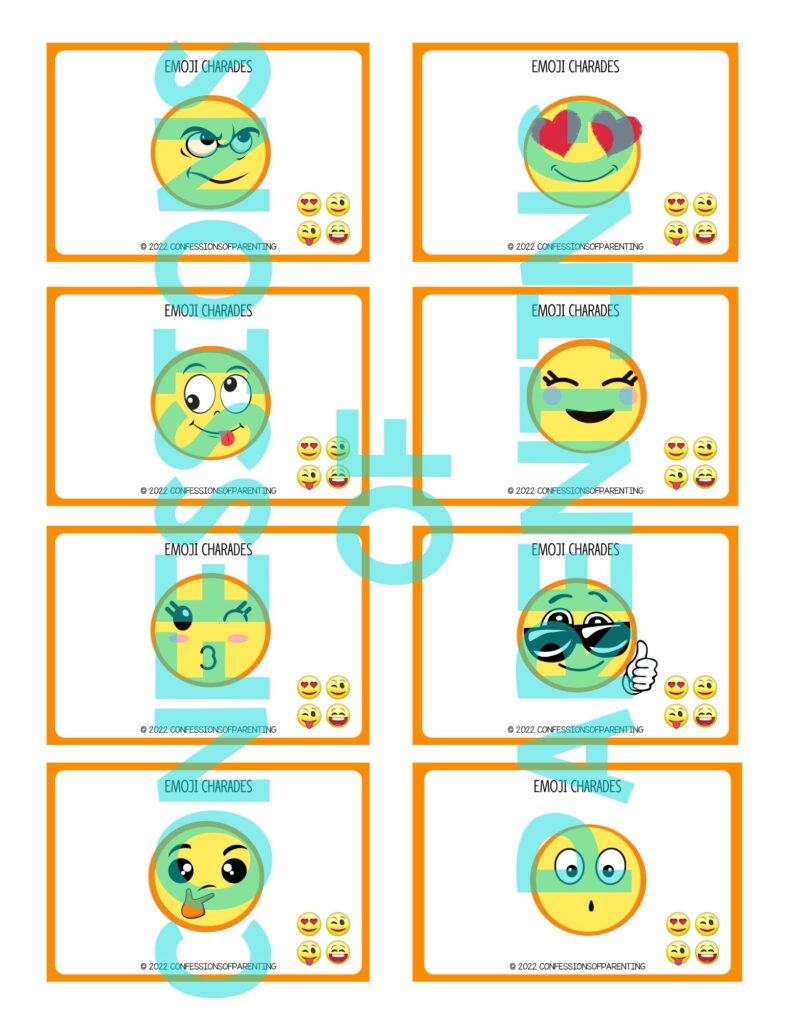 Charades makes game night so easy! There isn't much to set up or clean, so you can focus all of your time having fun with your family! All you need are these printable cards, your family or friends, and you are ready to start playing!
Charades is great for any age.
With its simple, easy-to-follow rules, the whole family can all have so much fun together!
Charades is also very versatile! You can adjust it for small or large groups, and play it in almost any setting, whether at home, at school, or at a party with friends.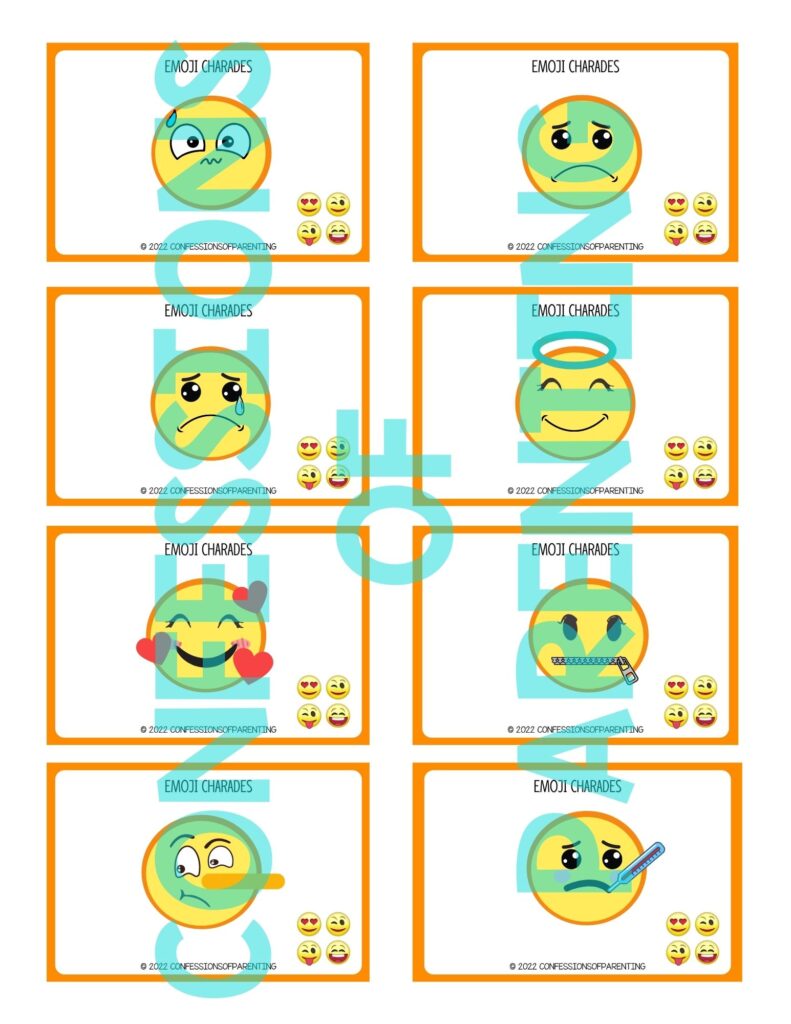 Ultimate Charades Bundle!
Do you want to Grab the Ultimate Charades Bundle with over 23 themed charades games? Grab it now before the price increases!
How to Play Emoji Charades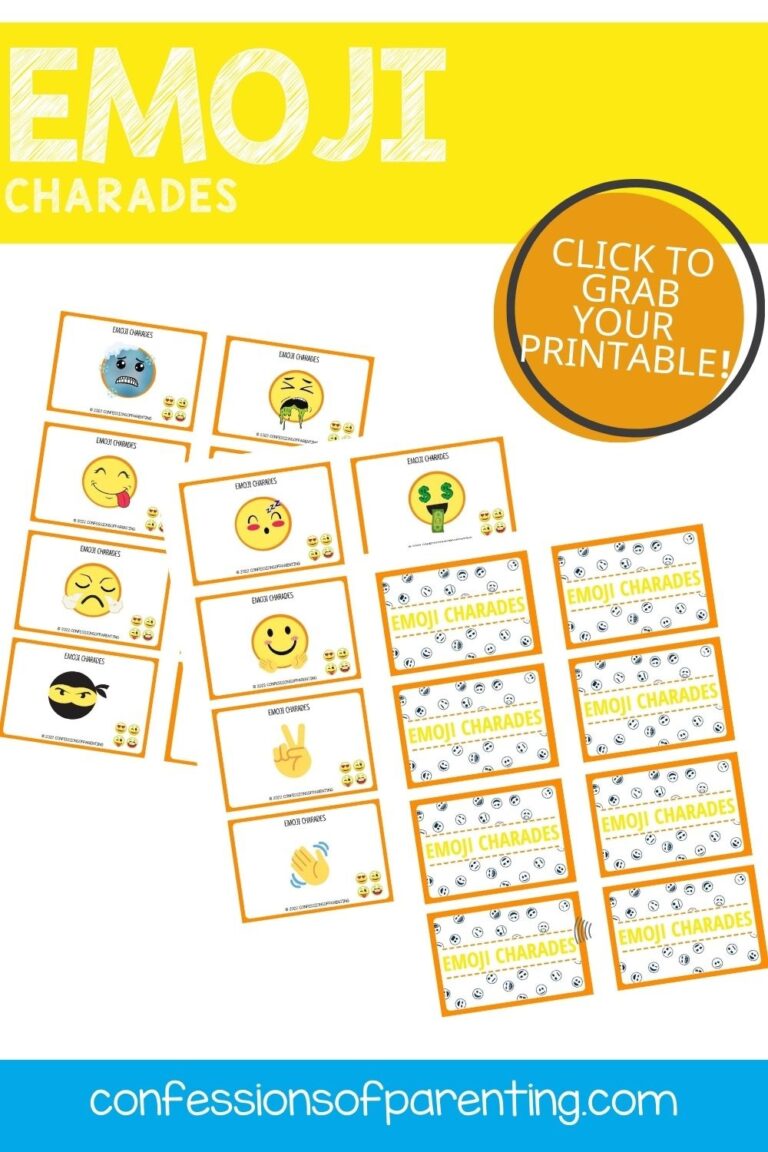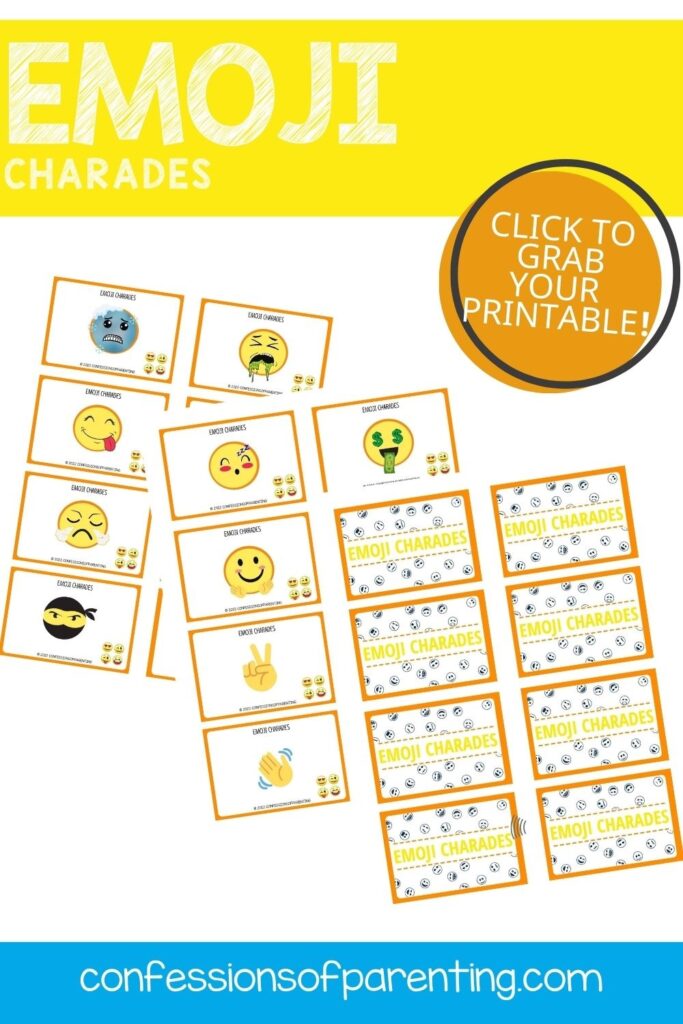 Divide into two or more teams. If you have a large group, multiple teams can make things easier.
Decide who will go first. You can flip a coin, have a thumb wrestling match, or come up with your own silly method!
An actor from the first team chooses a card and acts it out without using their mouth at all, not even to mouth words. The rest of the team has one minute to guess. If they guess correctly, they get a point!
If they don't guess it correctly, the other team has only one chance to guess it and steal the point, so make it a good one!
The game is over when you've run out of cards, when everyone has had a turn, or you've reached a predetermined amount of points. Whoever has the highest points wins!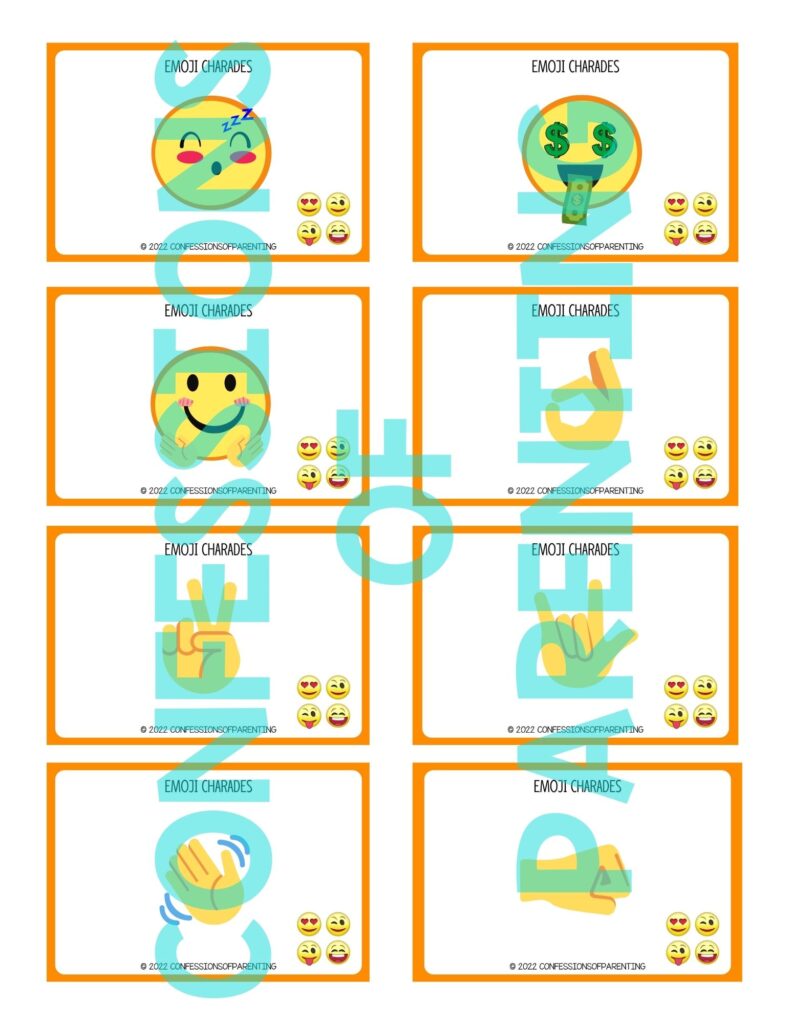 Tips for Playing Emoji Charades
It's a good idea to go over the rules and make sure everyone understands them before you start playing! This can help avoid any confusion during the game.
Don't forget that actors can use their hands to indicate how many words their team should guess.
Don't be shy! Get into the fun of acting out each card, and don't be afraid to be a little silly!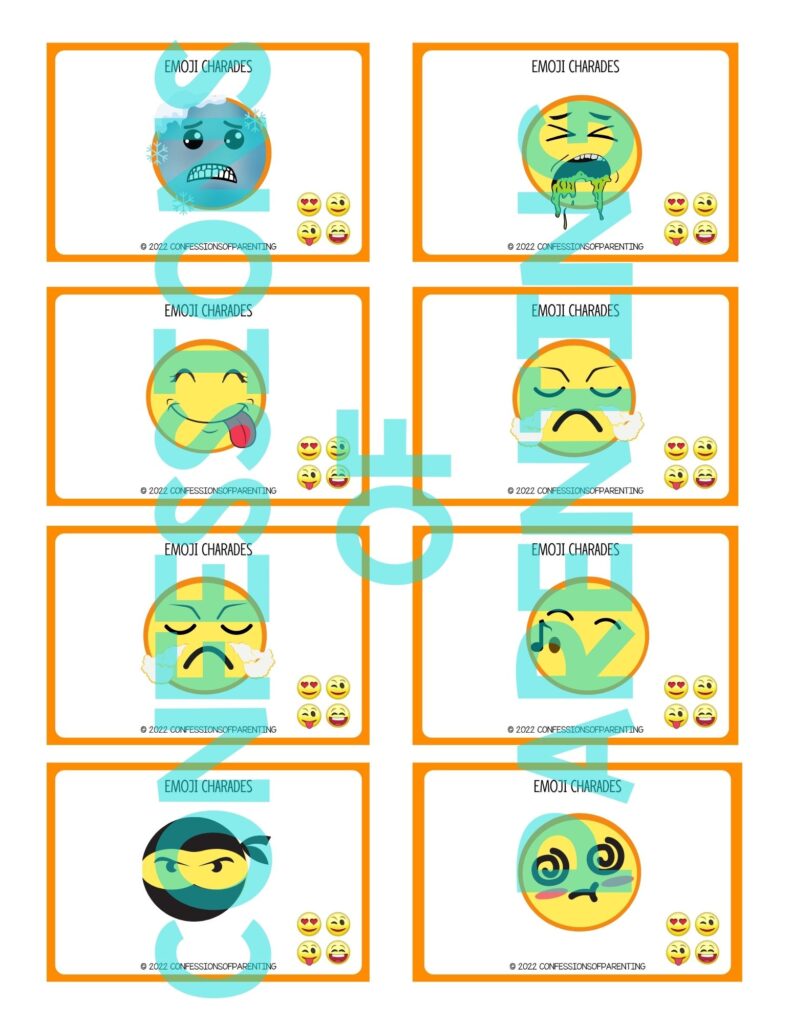 Emoji Charades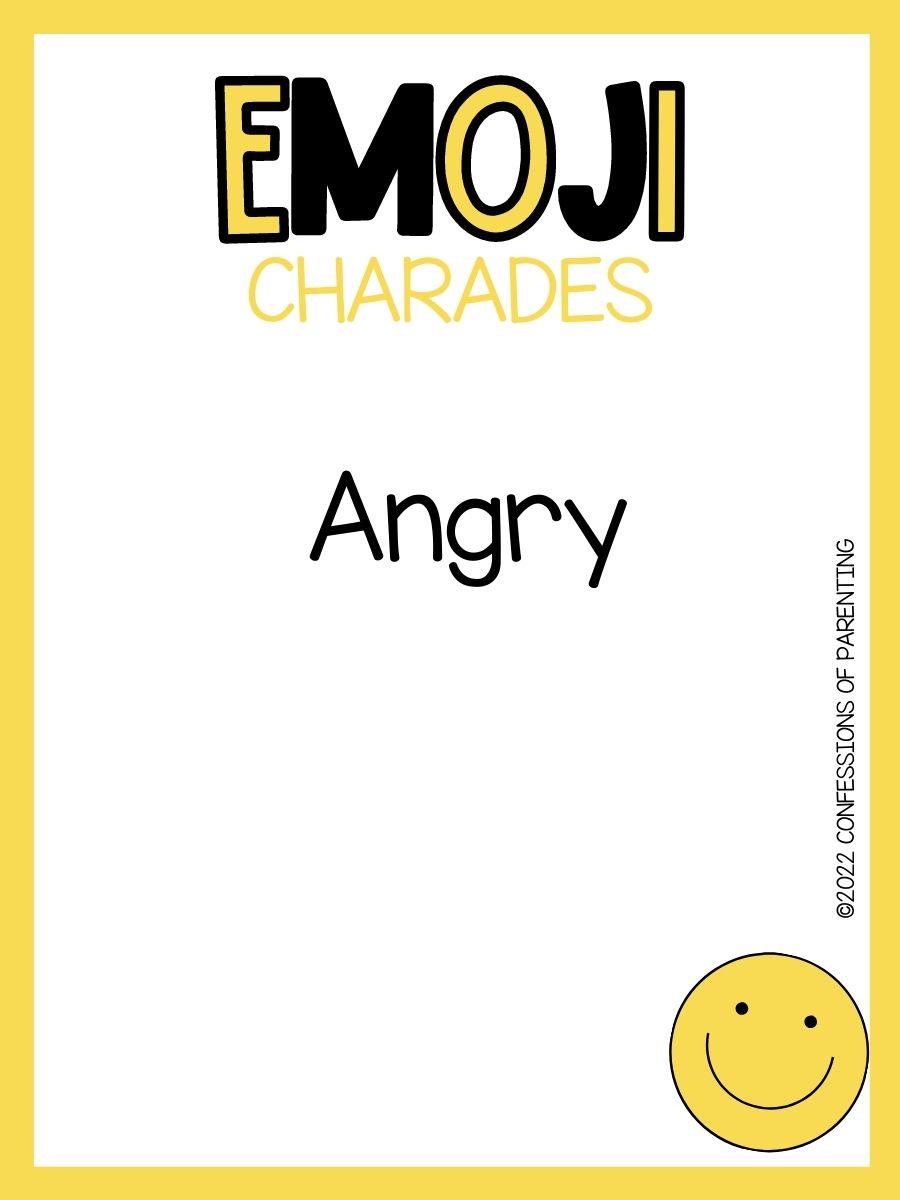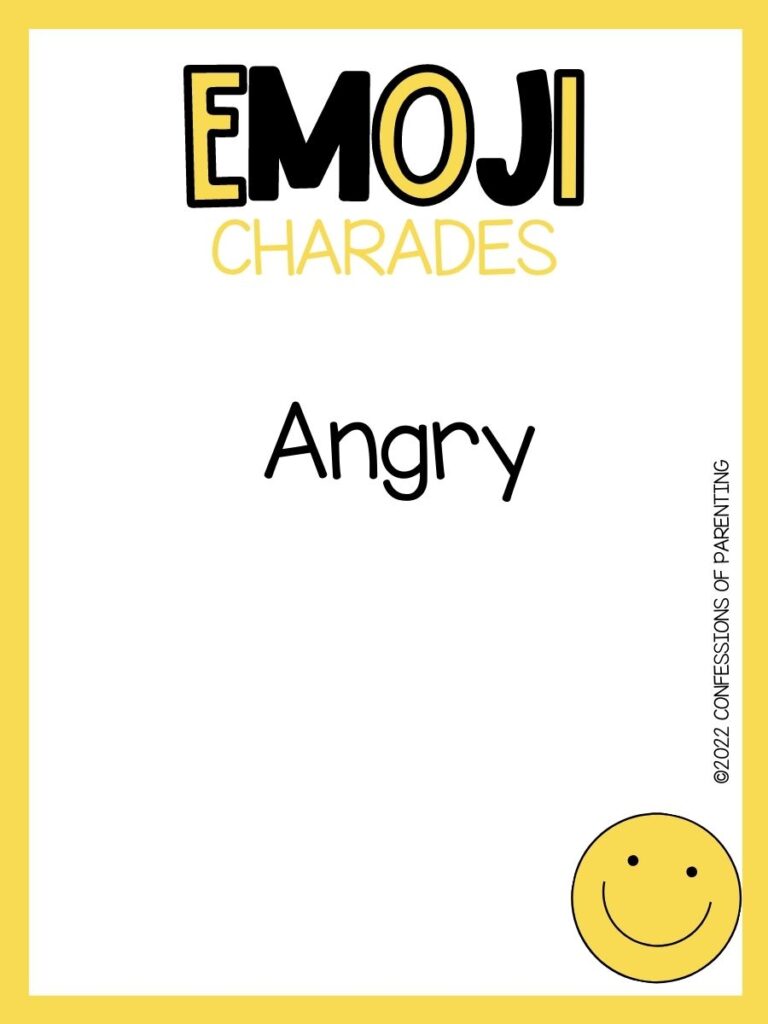 Angry
Love
Crazy
Blushing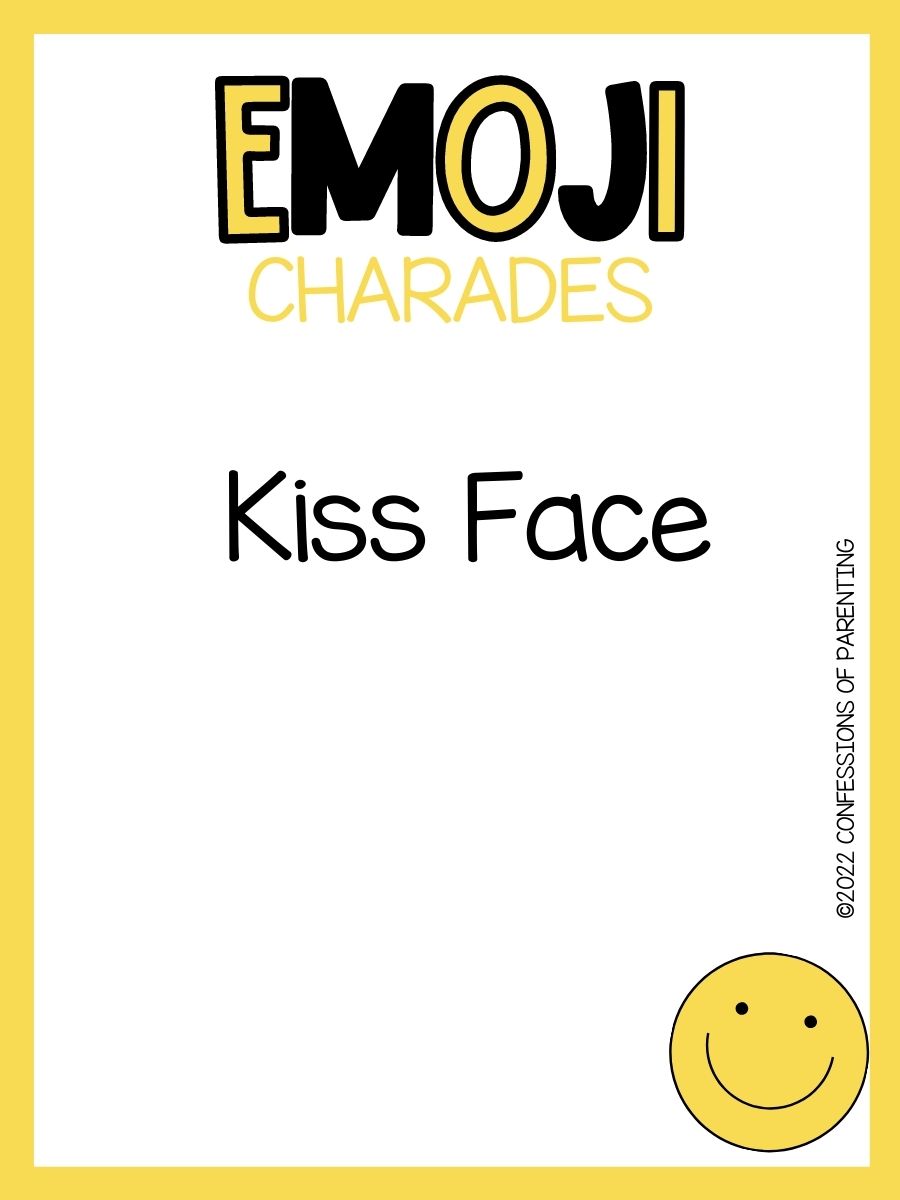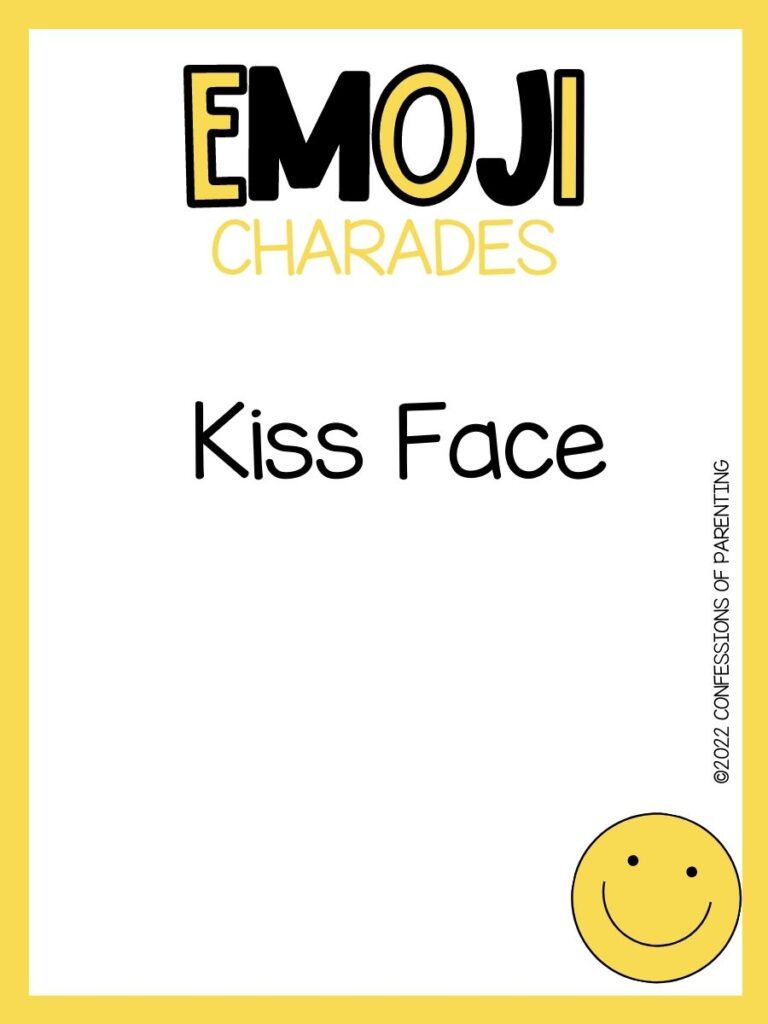 Kiss Face
Good job
Thinking face
Hushed face
Sad but relieved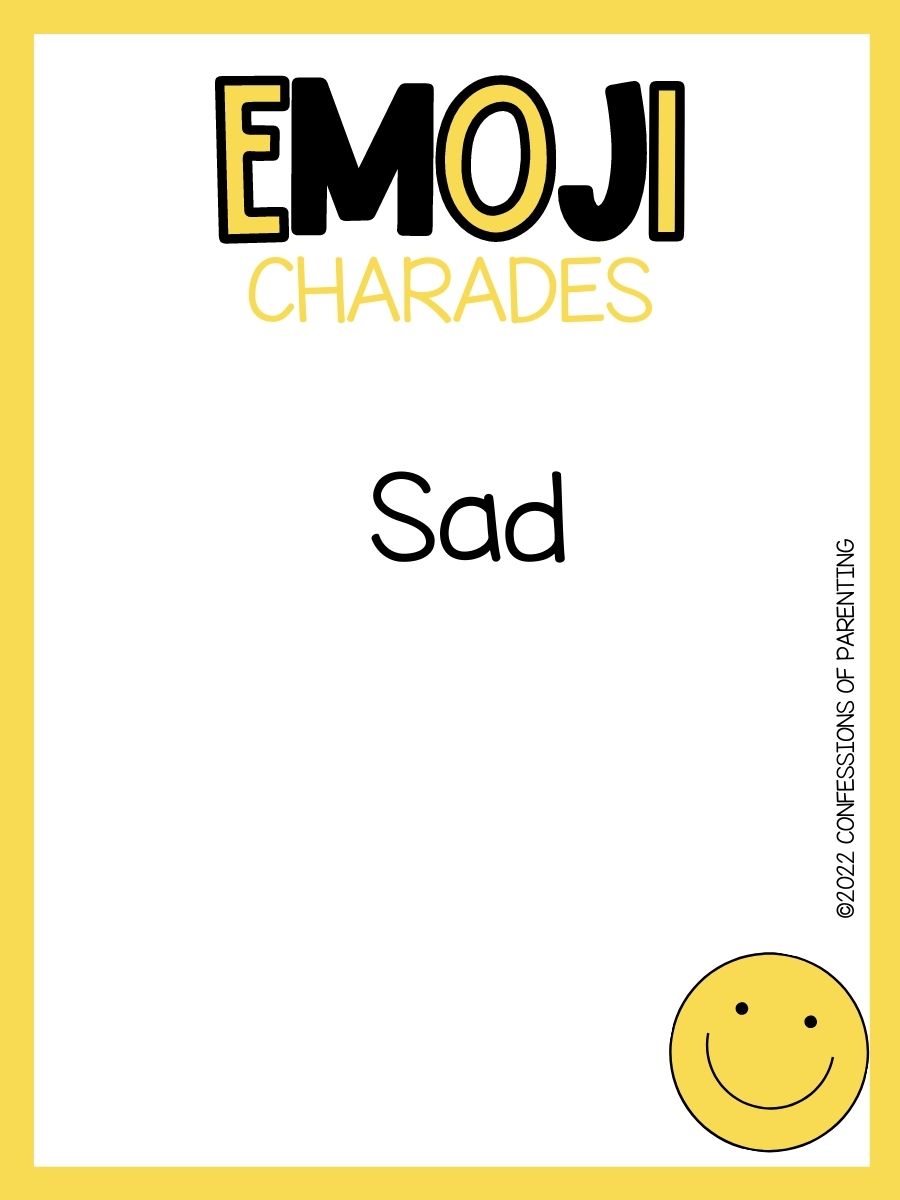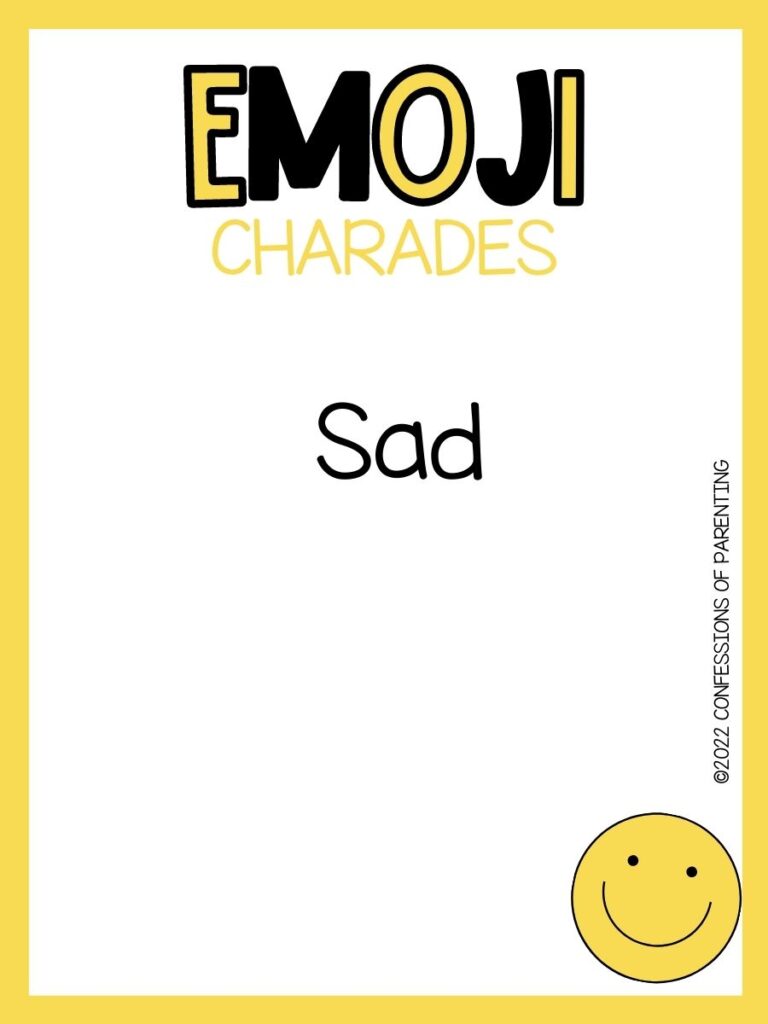 Sad
Crying face
Smiling face with halo
Smiling face with hearts
Zipper-mouth face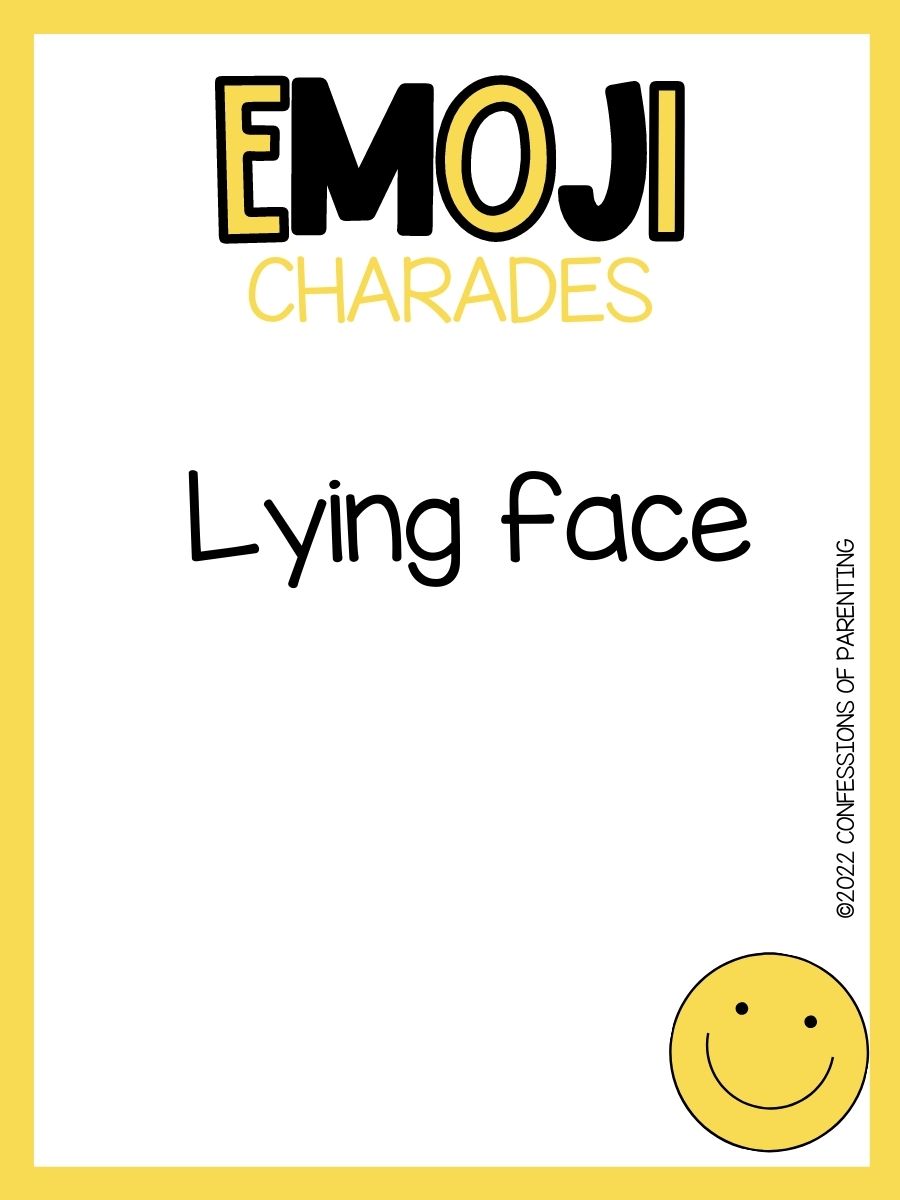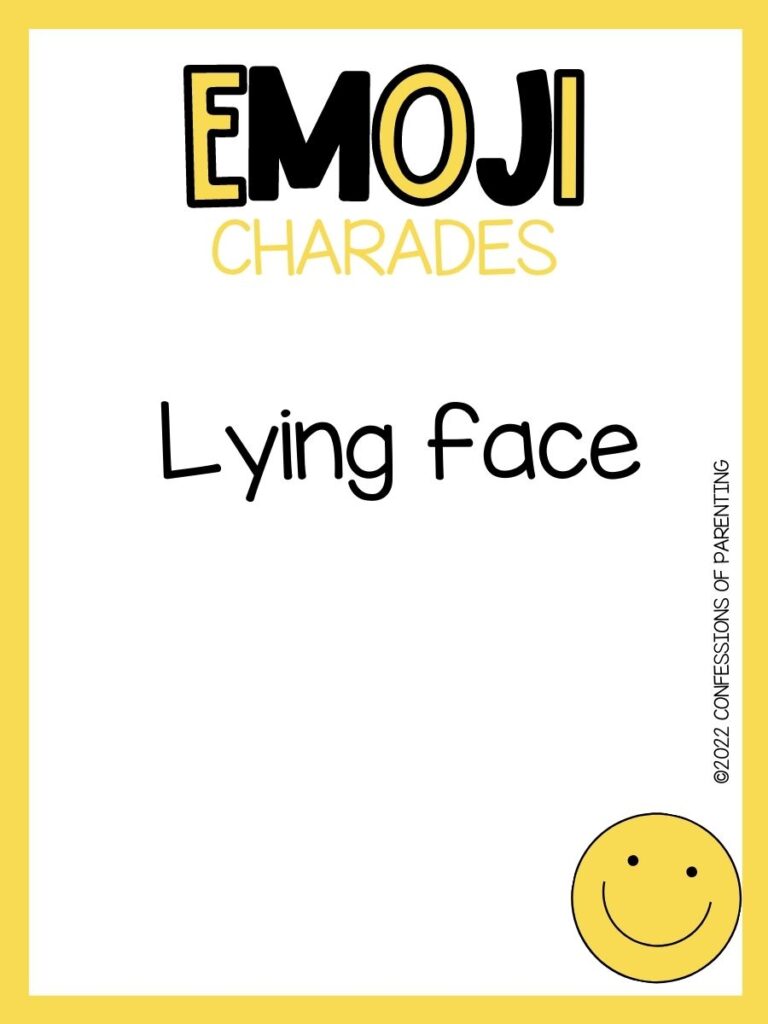 Lying face
Face with thermometer
Sleeping face
Money-mouth face
Hugging face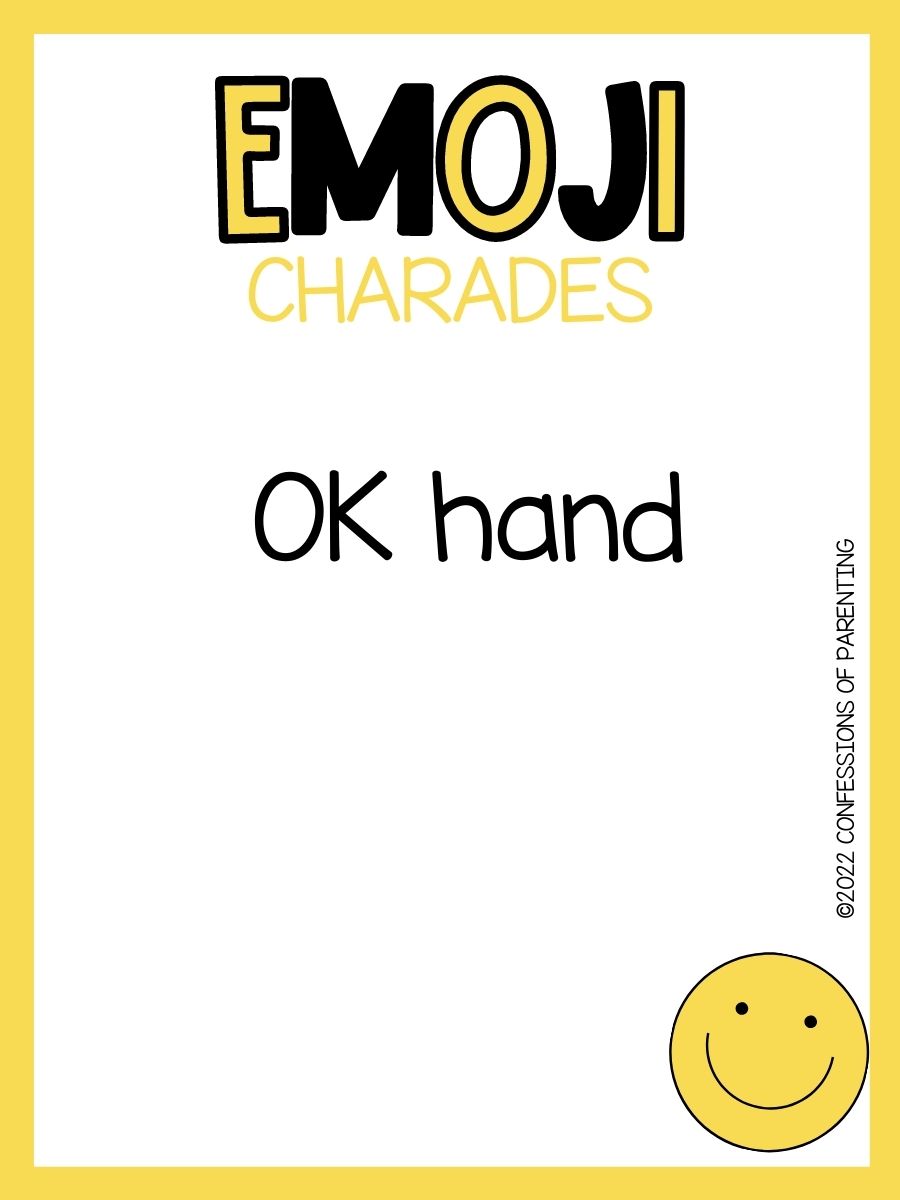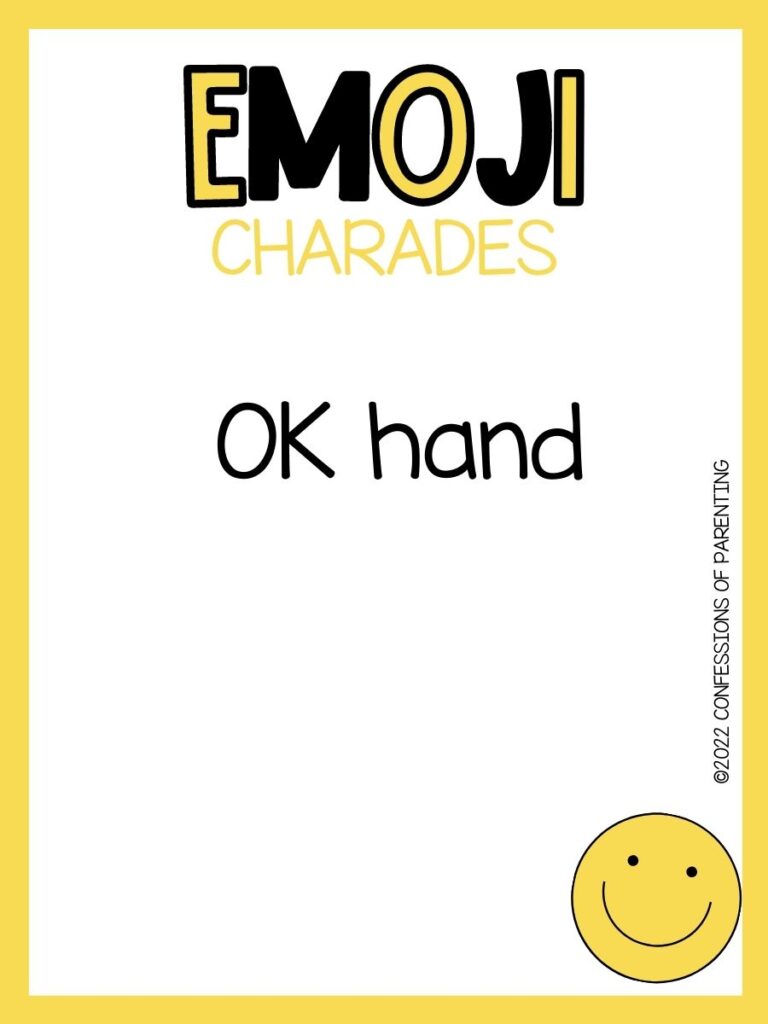 OK hand
Peace sign or victory hand
Love you gesture
Waving hand
Right fist bump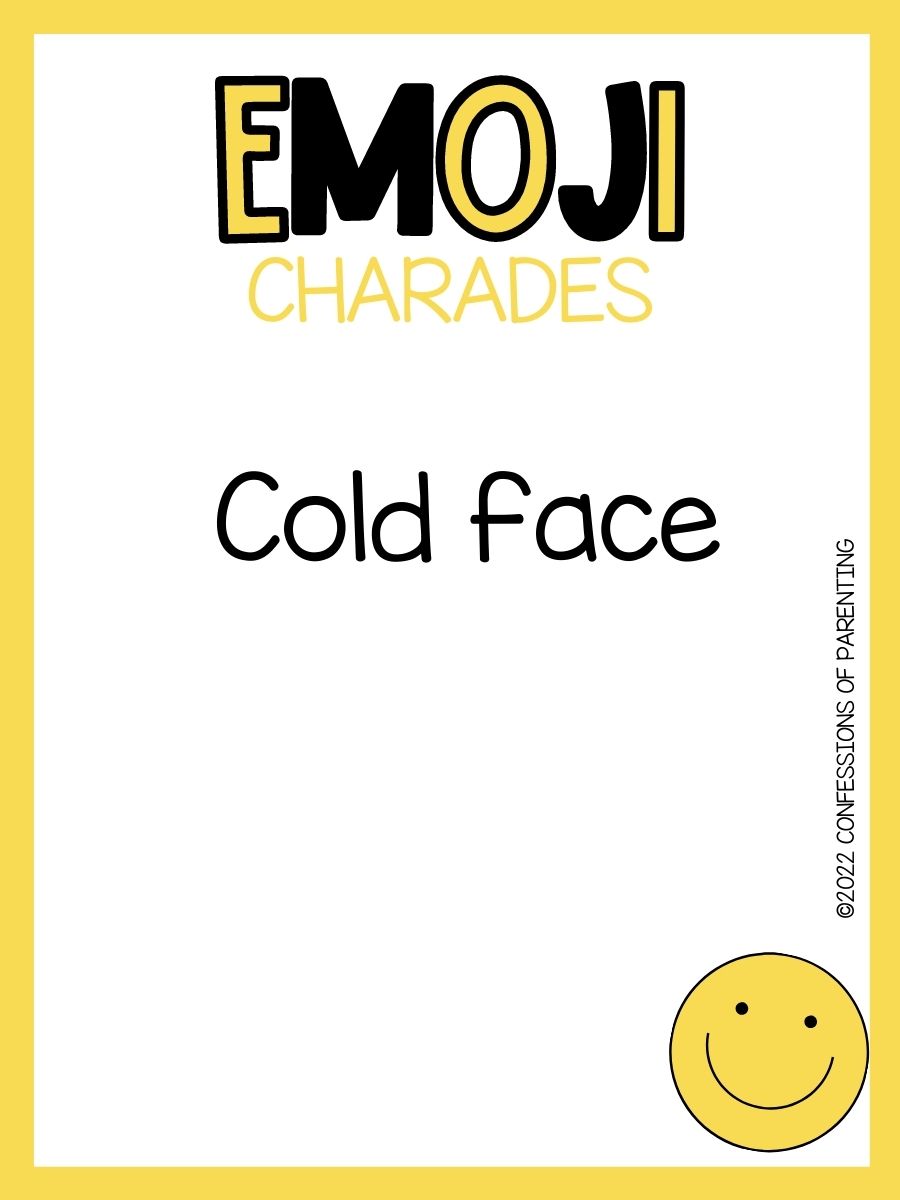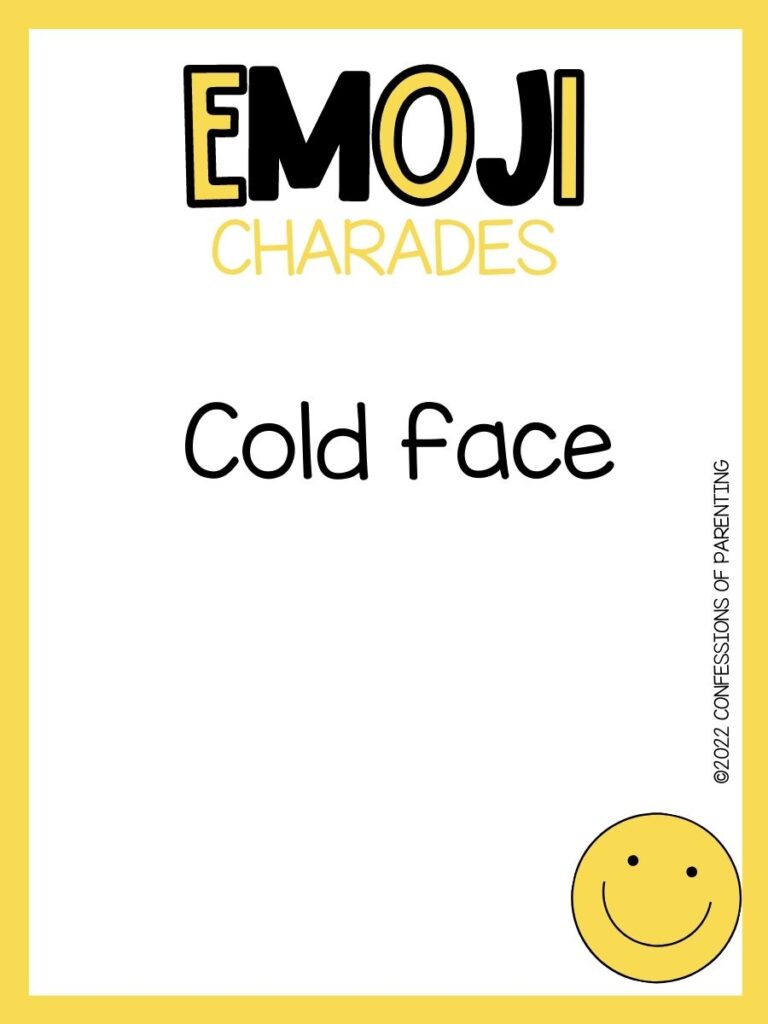 Cold face
Throwing up
Face savoring food
Frustrated
Whistling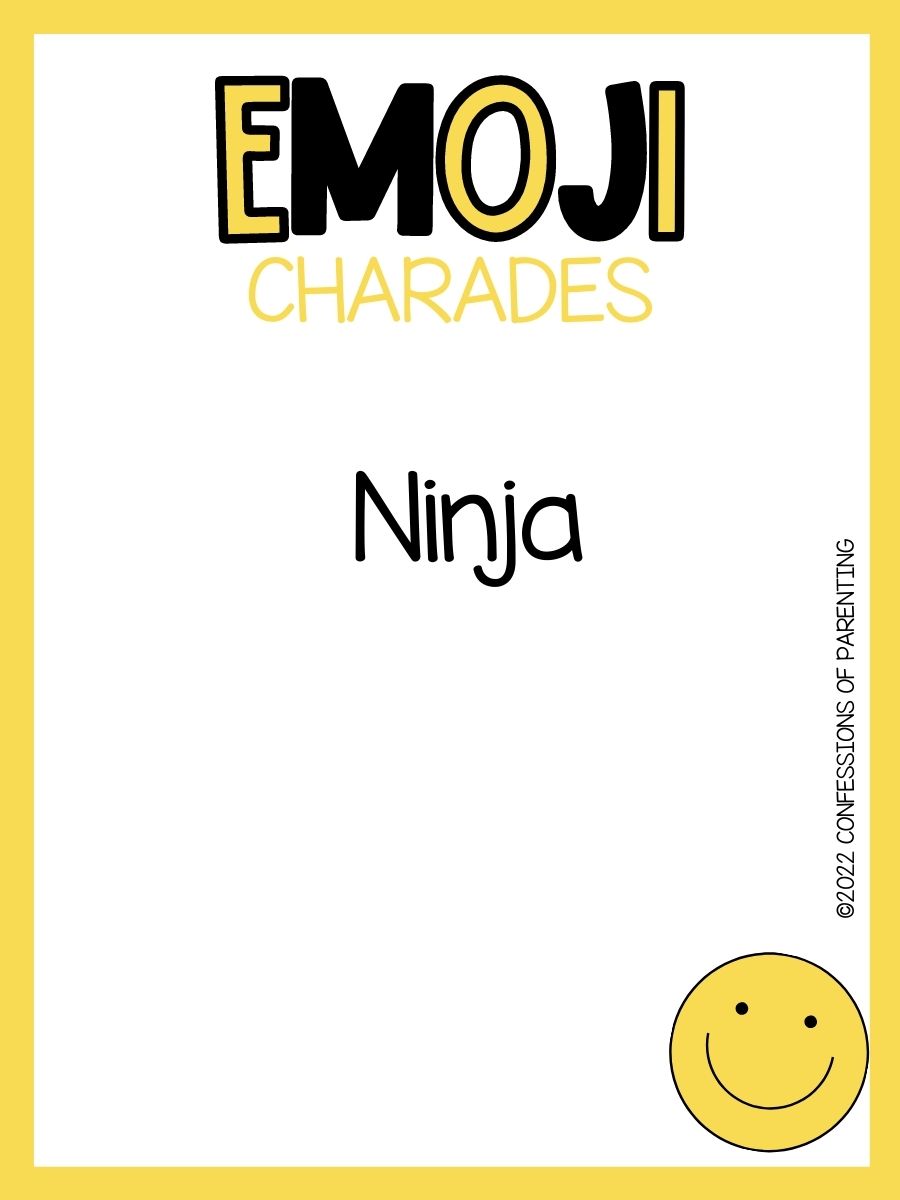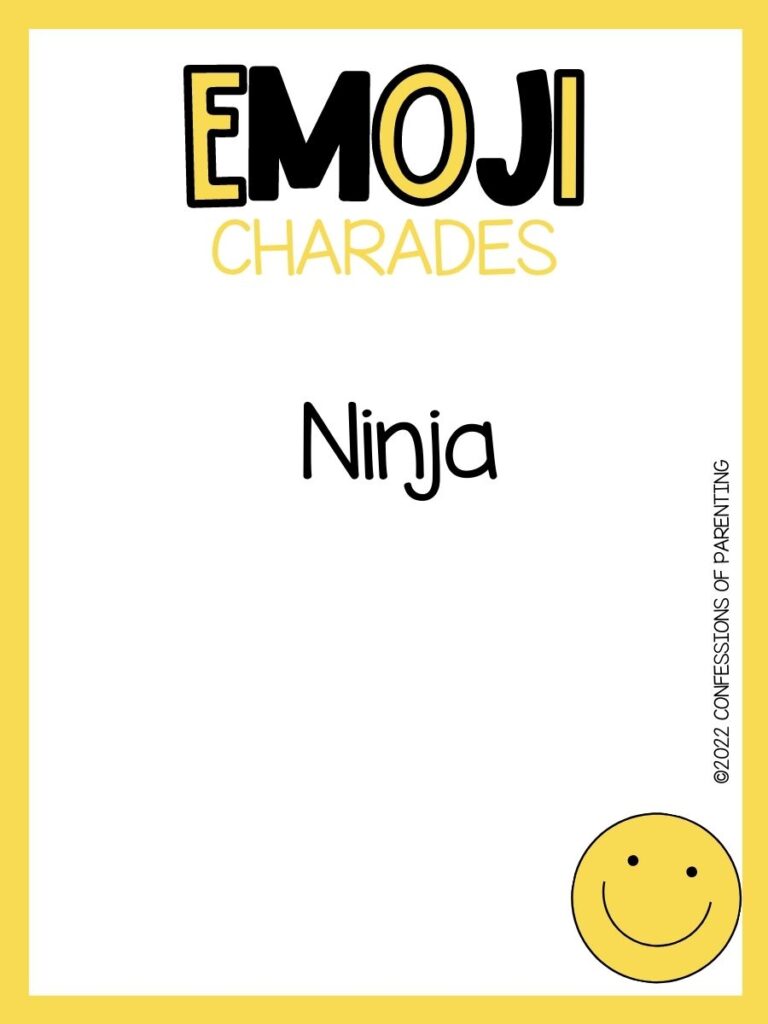 Ninja
Dizzy
Injured
Face with medical mask
Party face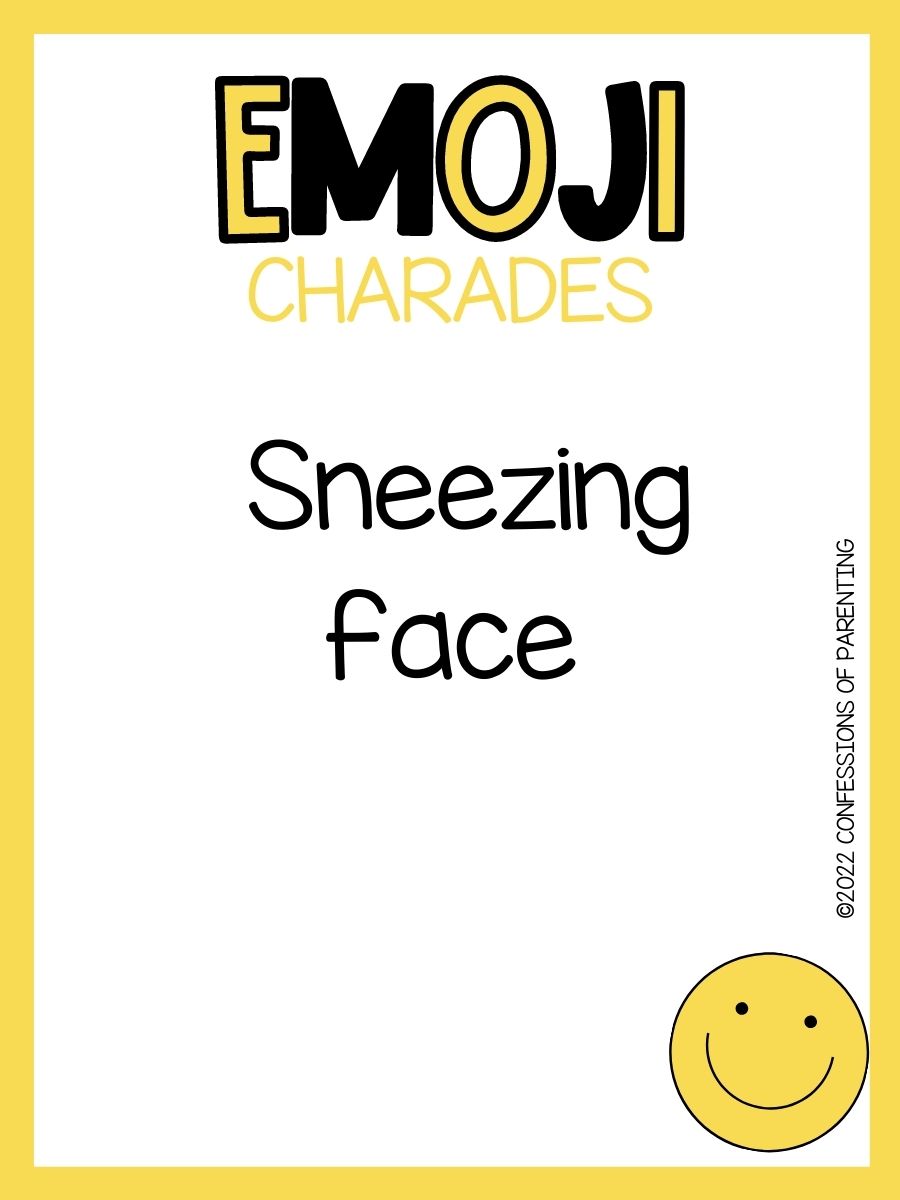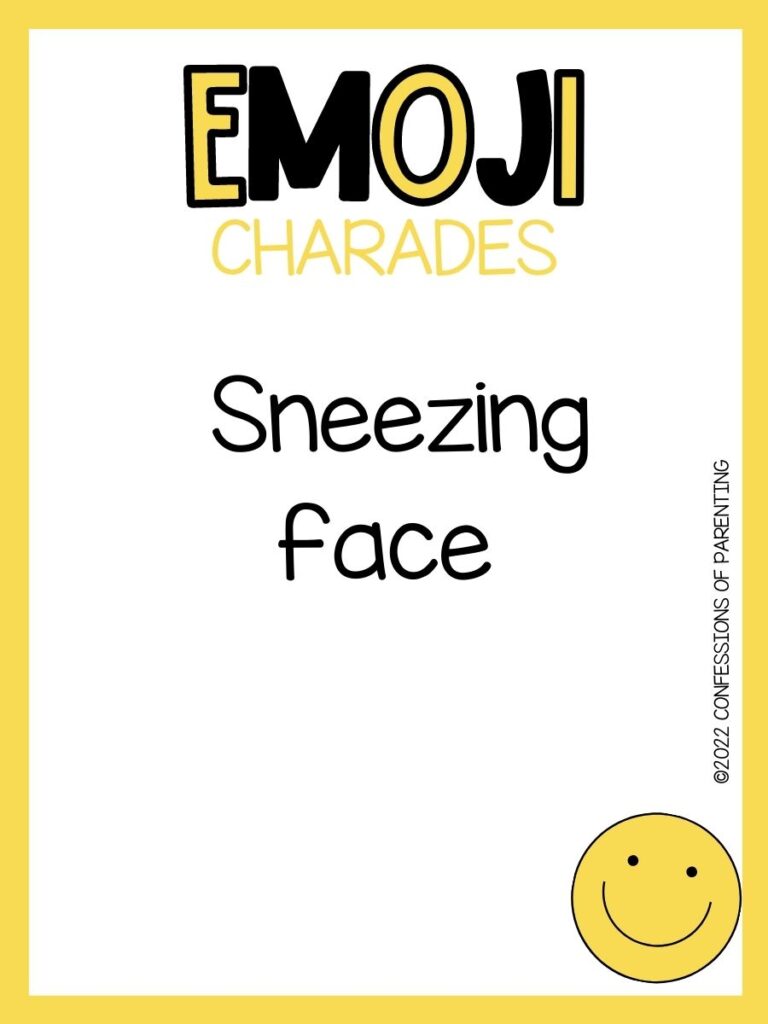 Sneezing face
Baby
Nerdy
Upside-down face
Straight face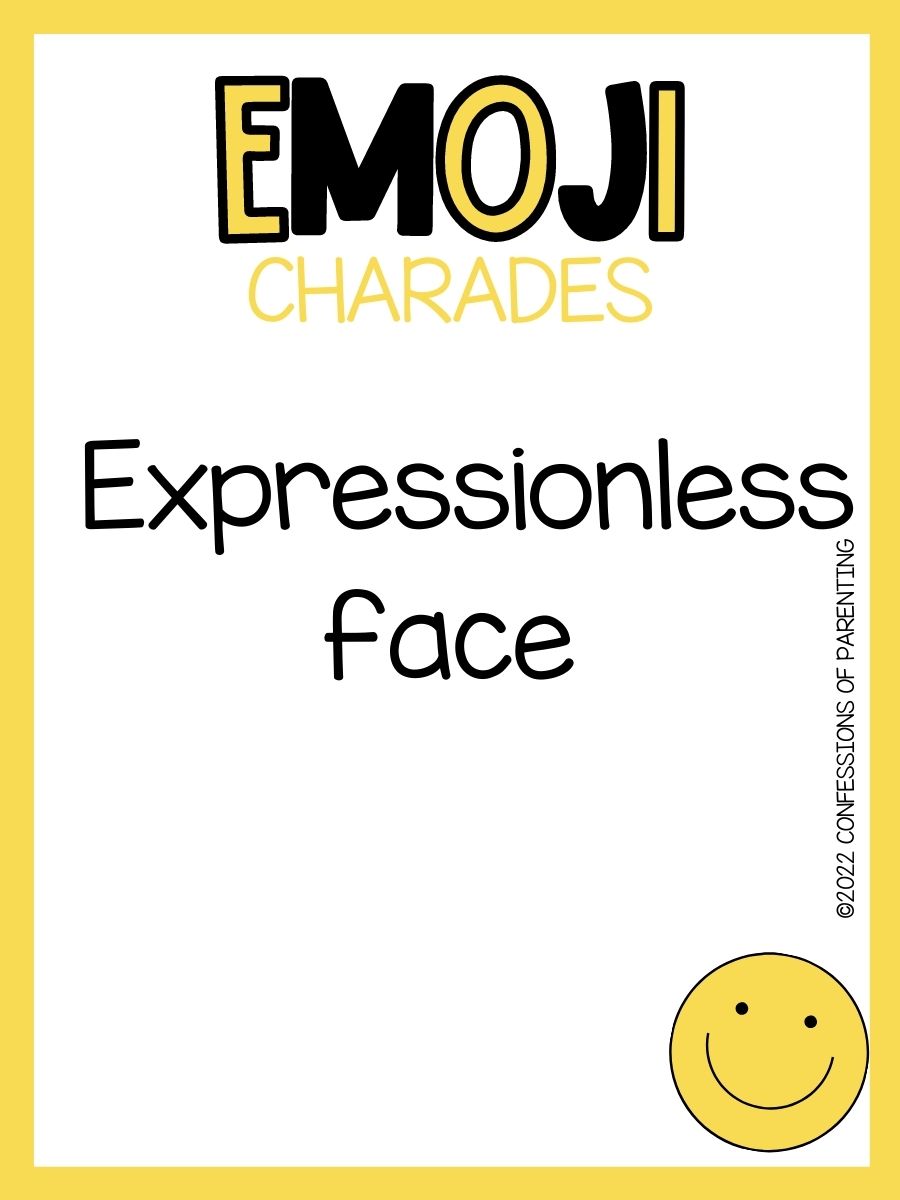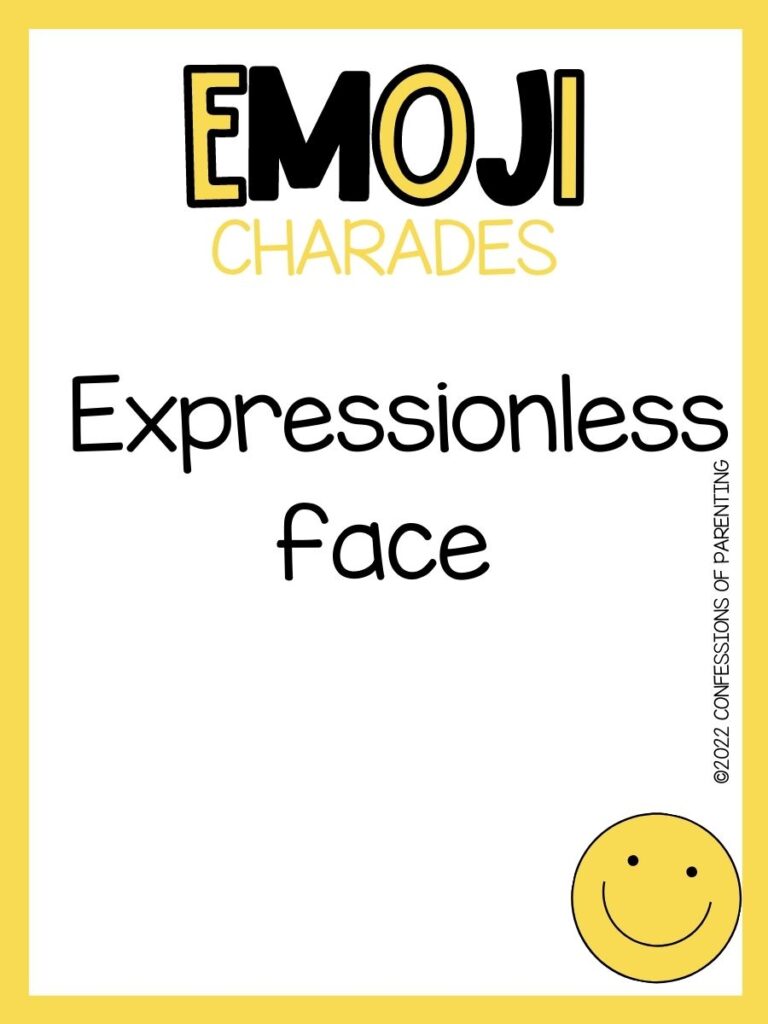 Expressionless face
Eye Roll
Silly
Happy Sweat
Loudly crying face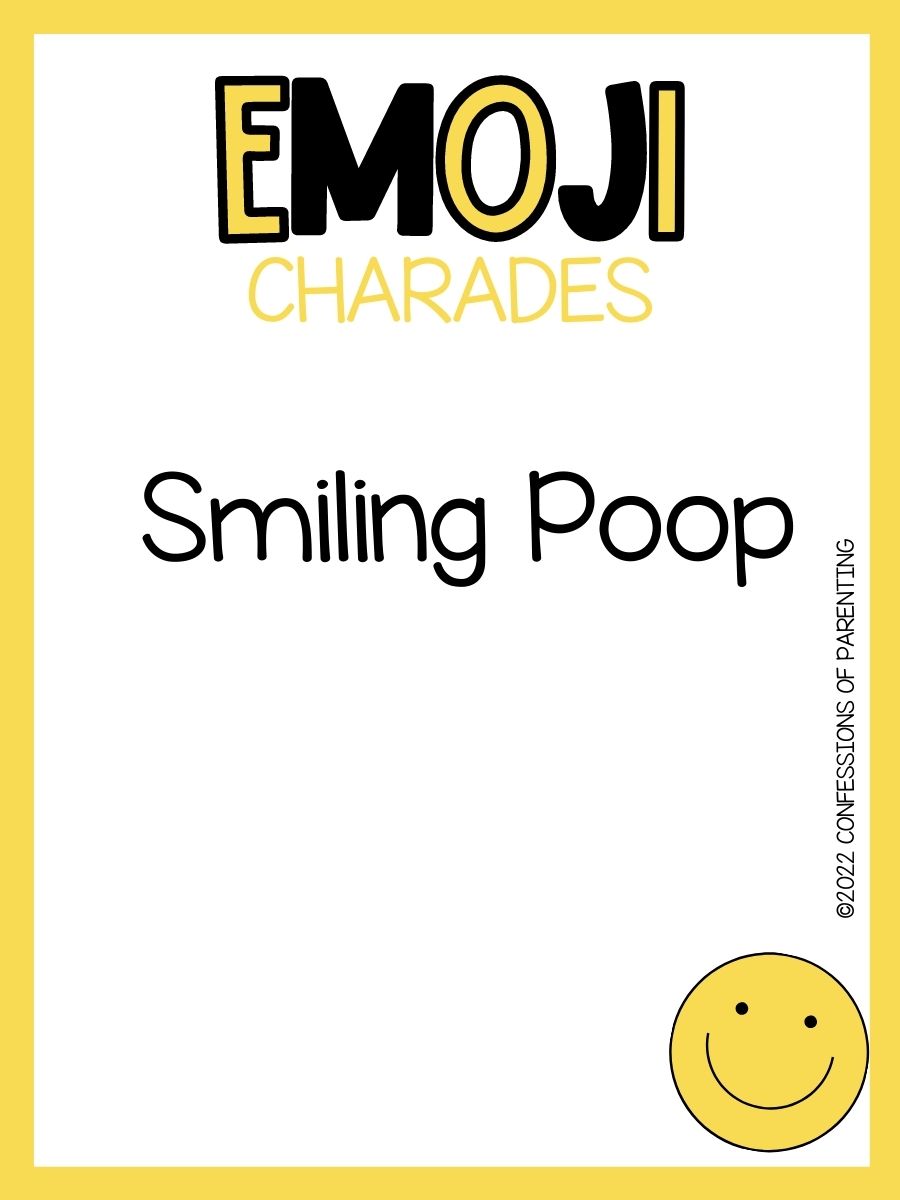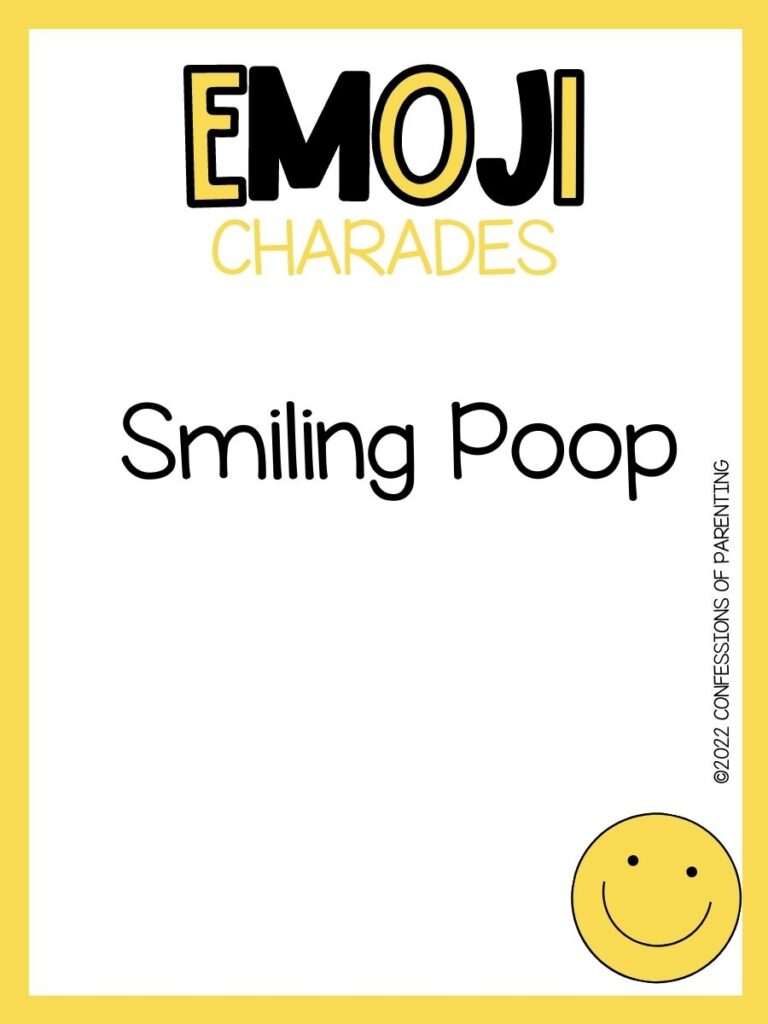 Smiling Poop
Alien
Seriously?!
Strong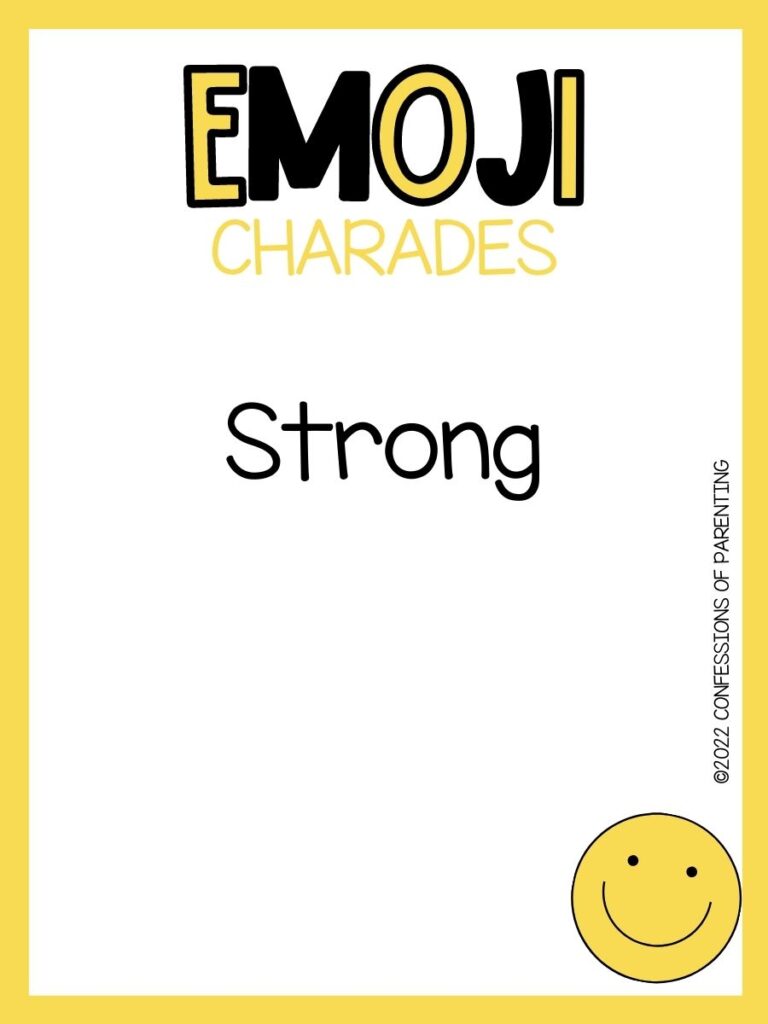 What other emojis would you add to these emotion charades cards? Share in the comments!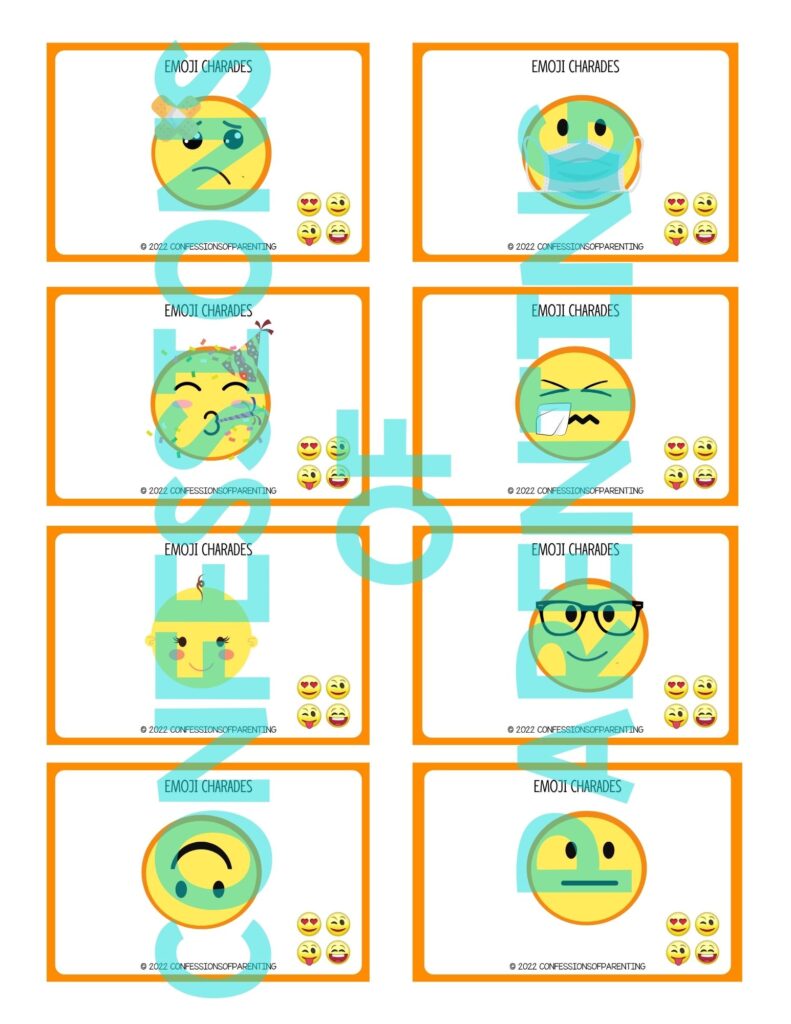 Love Charades? Try these other great charade games!
How Do I access my free printables?
Fill in the form above. You will receive an email in your inbox. If you don't see it check your spam folder! You will then click to confirm your subscription.You will then be redirected to your free download.
How Do I Print a PDF?
You'll need a program that supports PDFs. Adobe Acrobat is a great option. Open the program, click file then print. Select your printer and the number of copies you want to print. Be sure you click double-sided if you want it to print on both sides.
Can I resell these?
You may not resell any printable that you find on our website or in our resource library. You may use them for class parties, at church, at home, or in the classroom. You may get these printed at an office supply store or copy center at your own expense.