Make learning fun with this Space Charades game. It is the perfect activity for the classroom or evenings at home. Just download, print, and play!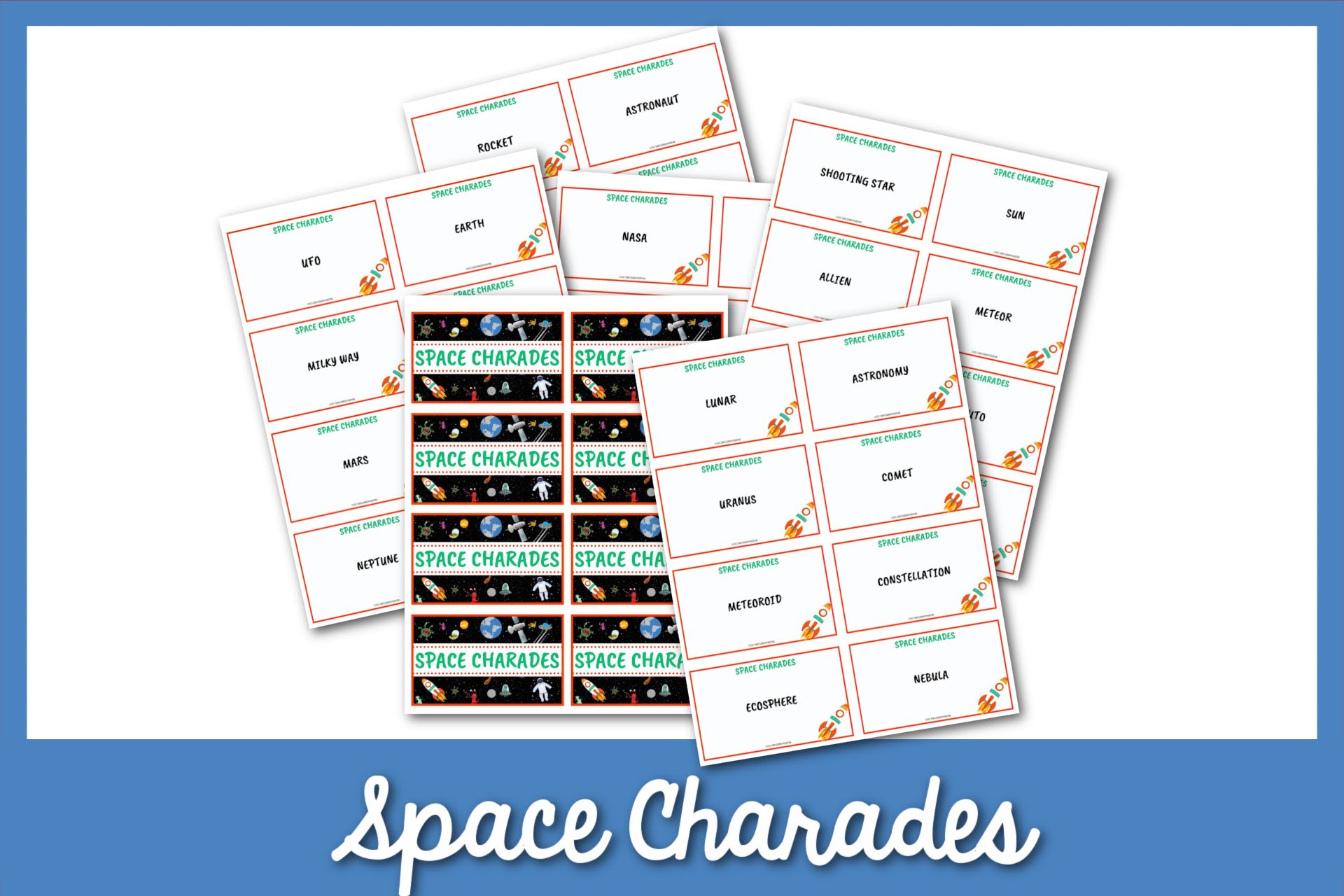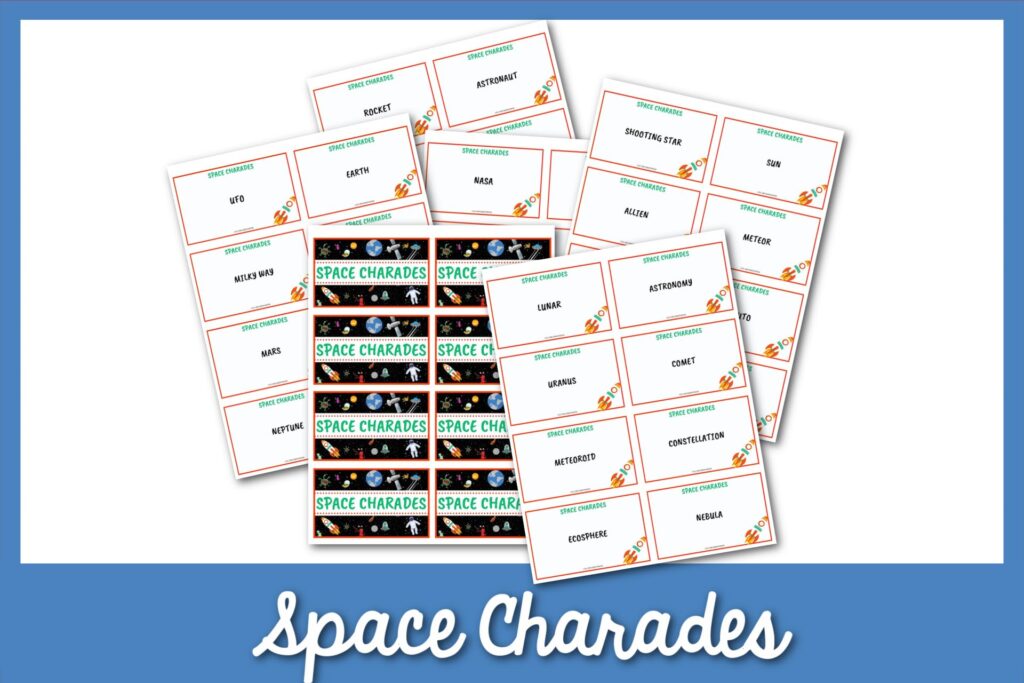 Space Charades
What kid, while dreaming about their future, doesn't want to be an astronaut at one point in their childhood? This Space Themed Charades game is a perfect way to explore the many topics of space while having fun at the same time.
I know my kids love learning about space. There are so many different topics for them to learn about and study. They love learning about stars, constellations, the planets, astronauts, spaceships, the galaxy, and the list goes on.
I encourage their learning in this topic as I believe it will help them understand complex ideas better later in life. With this charades game, they can learn while having a blast (pun intended).
For other space themed fun, be sure to check out our Astronaut Word Search, Space Trivia, Space Riddles, and Space Word Search.
If you are looking for more awesome charades ideas, don't forget to check out our Best Family Charades and The Very Best Animal Charades for more family fun.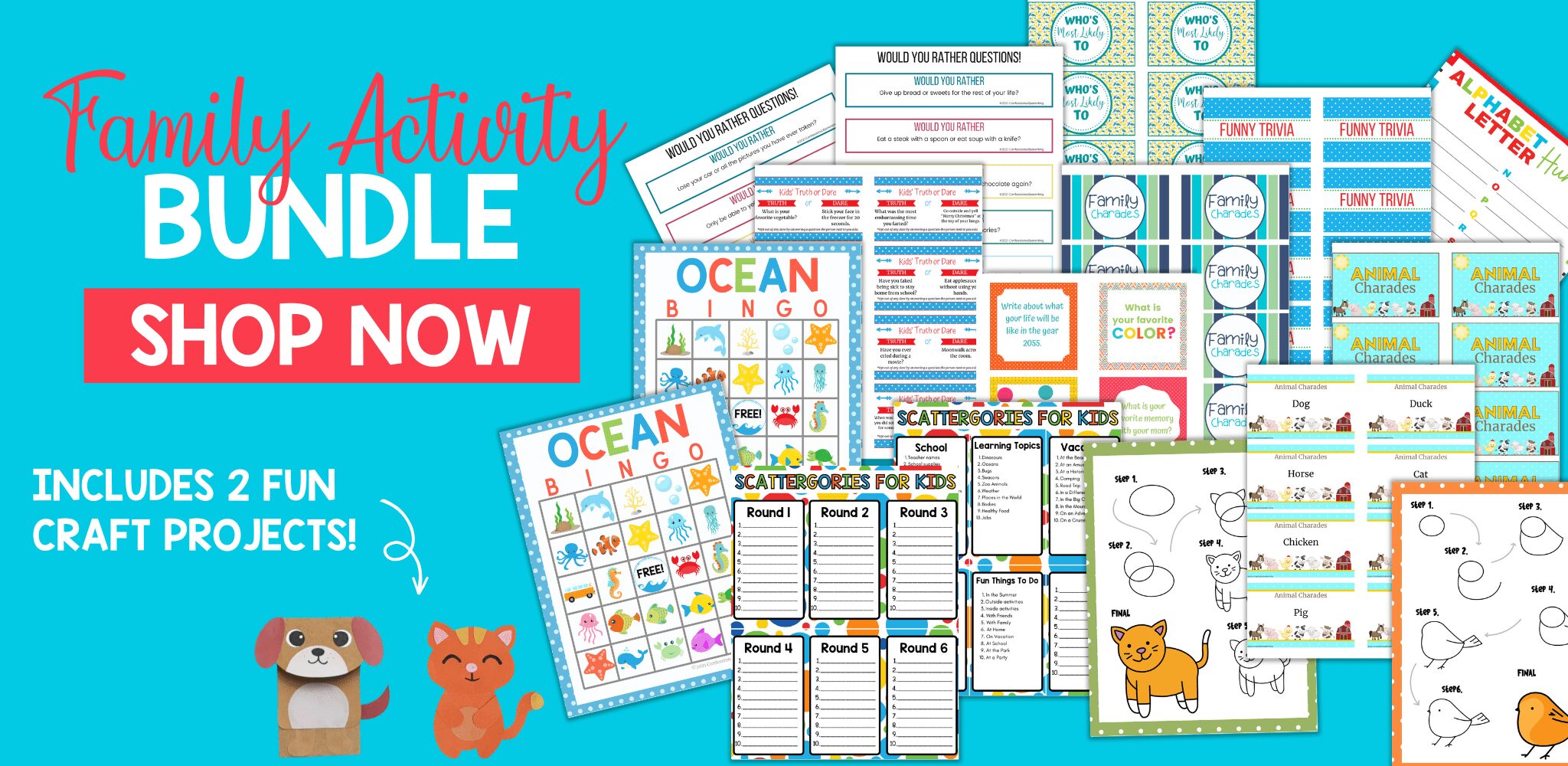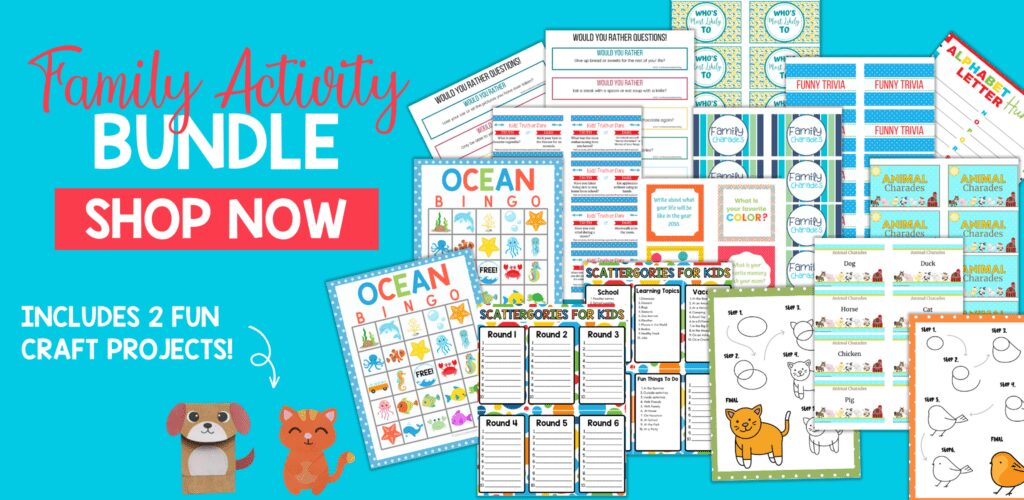 How to Play Charades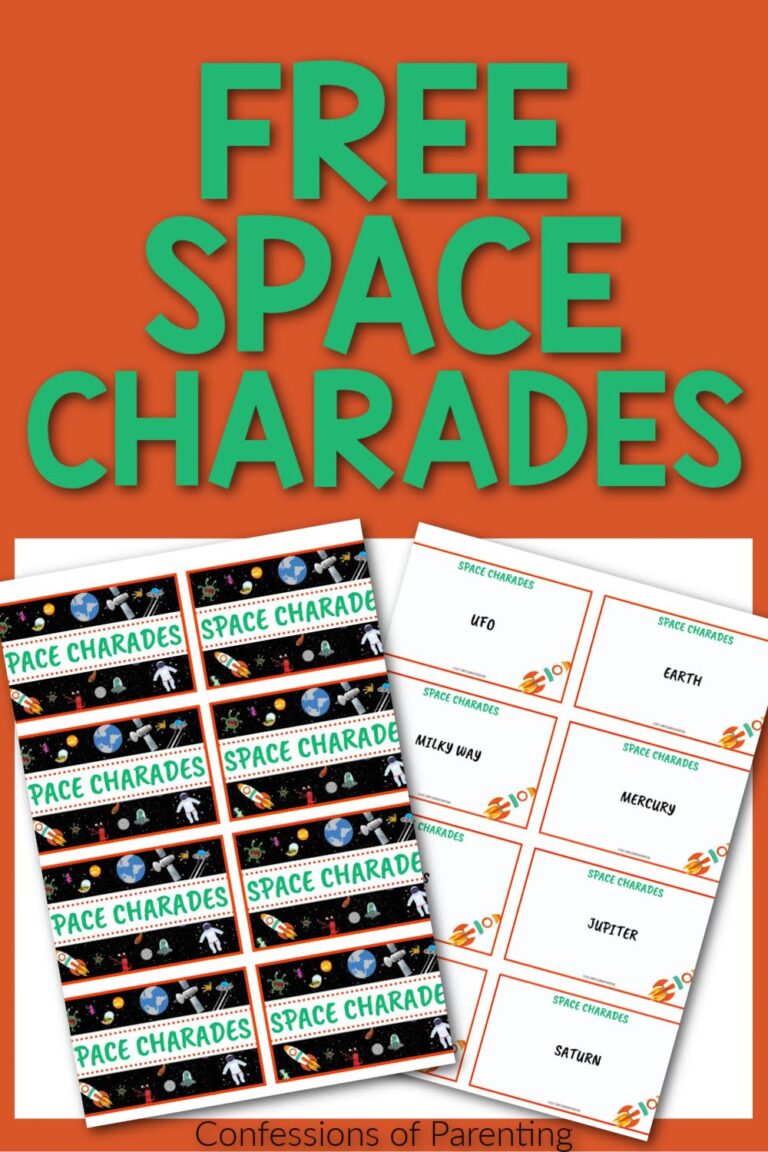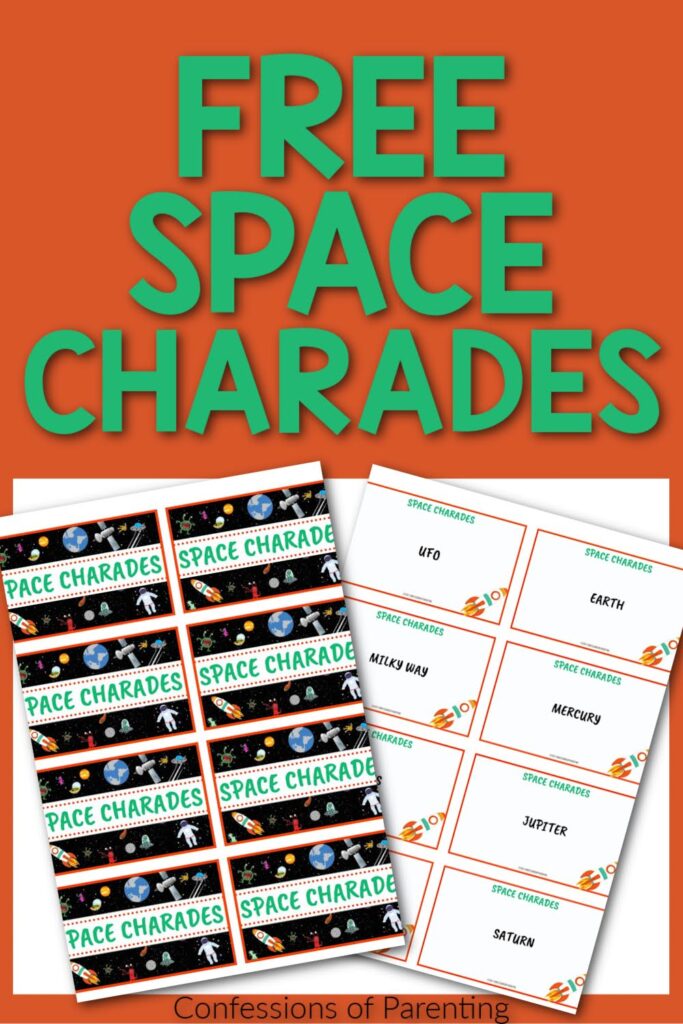 Charades is easy for the whole family to play.
First you'll start by splitting up into two even teams. If you have a larger group, feel free to split up into three or more teams if needed. You should also establish your scorekeeper and timekeeper before the game begins. Decide now how much time each round will last, usually 1-2 minutes is enough time.
Now that you have your teams established, choose which team will go first. You can do this with a coin toss, a game of rock-paper-scissors, or any other method you can think of.
Whichever team wins the battle of who goes first, they send a representative (the actor) to the front of the room. He or she picks a card from the pile and has to act out the term on the card before the time runs out. While the actor is acting, his or her team members are trying to guess what is written on the card. The actor cannot speak, make any noises, or mouth anything.
If the teammates guess correctly within the allotted time, they get a point. If the correct answer was not given within the time limit, that team does not get any points.
The teams alternate each round, sending up a different actor each time so everyone can get a turn.
The end of the game could be when a team reaches a certain amount of points, when a certain amount of total time has passed, or when you run out of cards.
Space Charades is Great for Family Time
Charades is a fantastic way to get kids, teens, and adults active and having fun. This Space Themed version would be best for children ages 10 and up, but all members of the family can find ways to participate and have fun!
This version of the game may include terms younger children may not know, but an older child or adult could help them understand the card and even whisper some ideas of how to act it out.
Ultimate Charades Bundle!
Do you want to Grab the Ultimate Charades Bundle with over 23 themed charades games? Grab it now before the price increases!
Tips for Playing Space Charades
It can be helpful for the actor to indicate how many words he or she is going to act out by holding up that many fingers.
Be sure not to take yourself too seriously. Let go and enjoy being silly with your loved ones. It is a fantastic way to make lasting memories with each other.
Space Charades Ideas
To download our space charade cards, be sure to join our VIP library to get your free set, or you can grab them right here for purchase! Now on to the list of space charade ideas.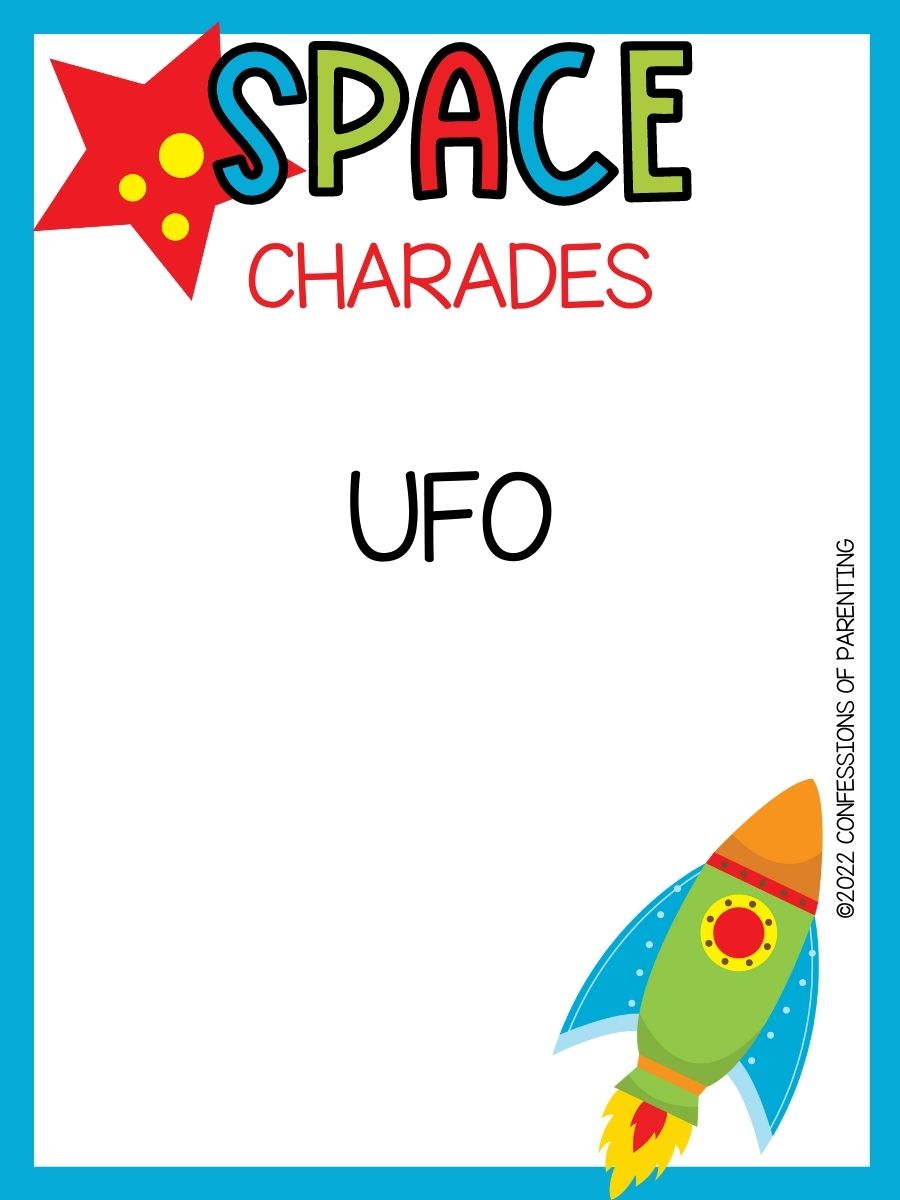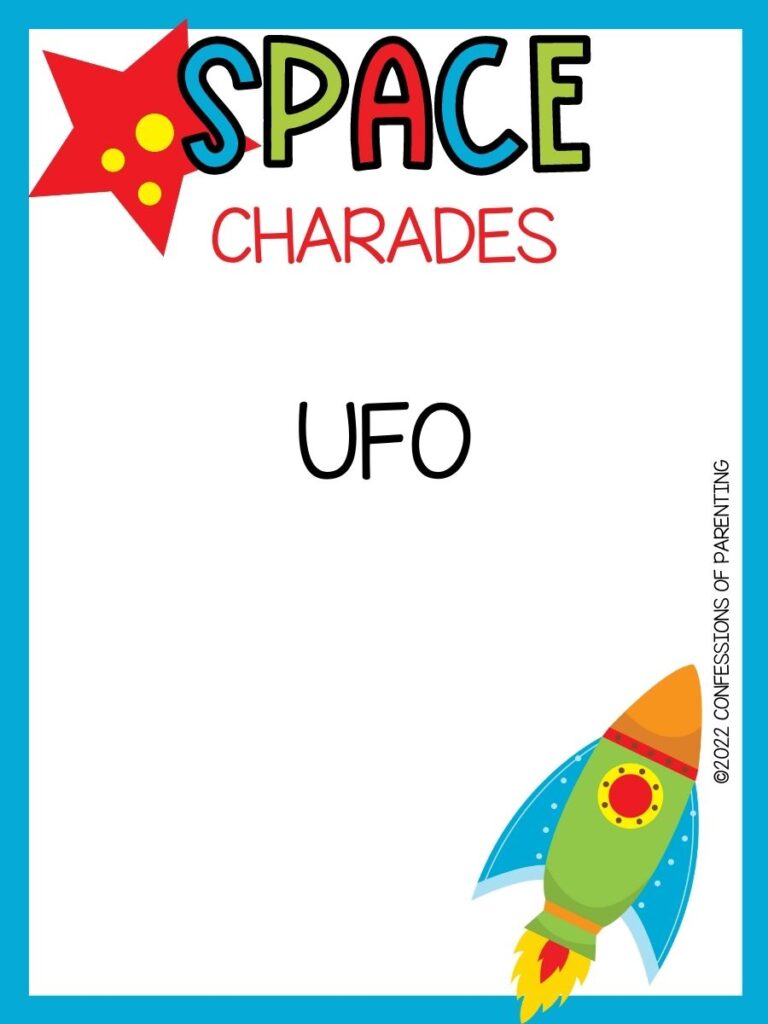 UFO
Earth
Milky Way
Mercury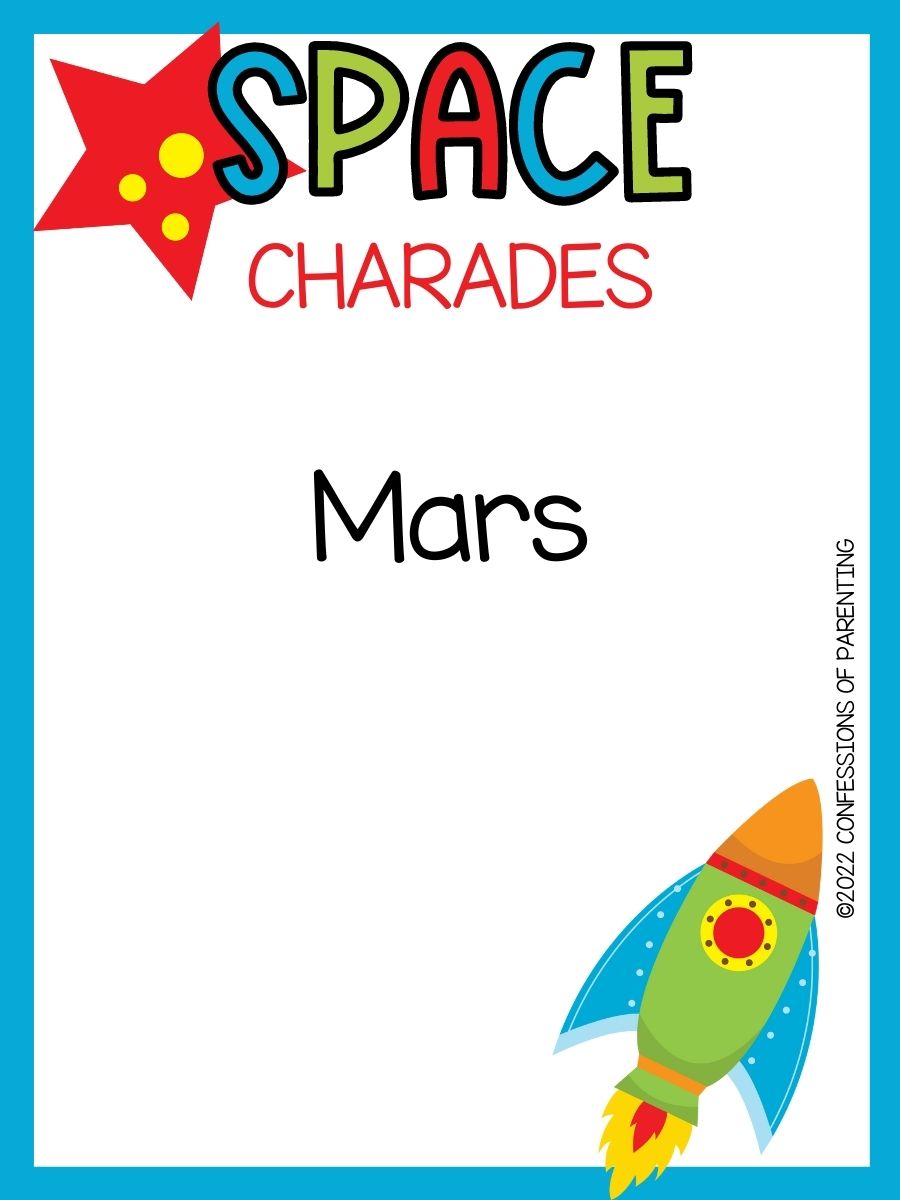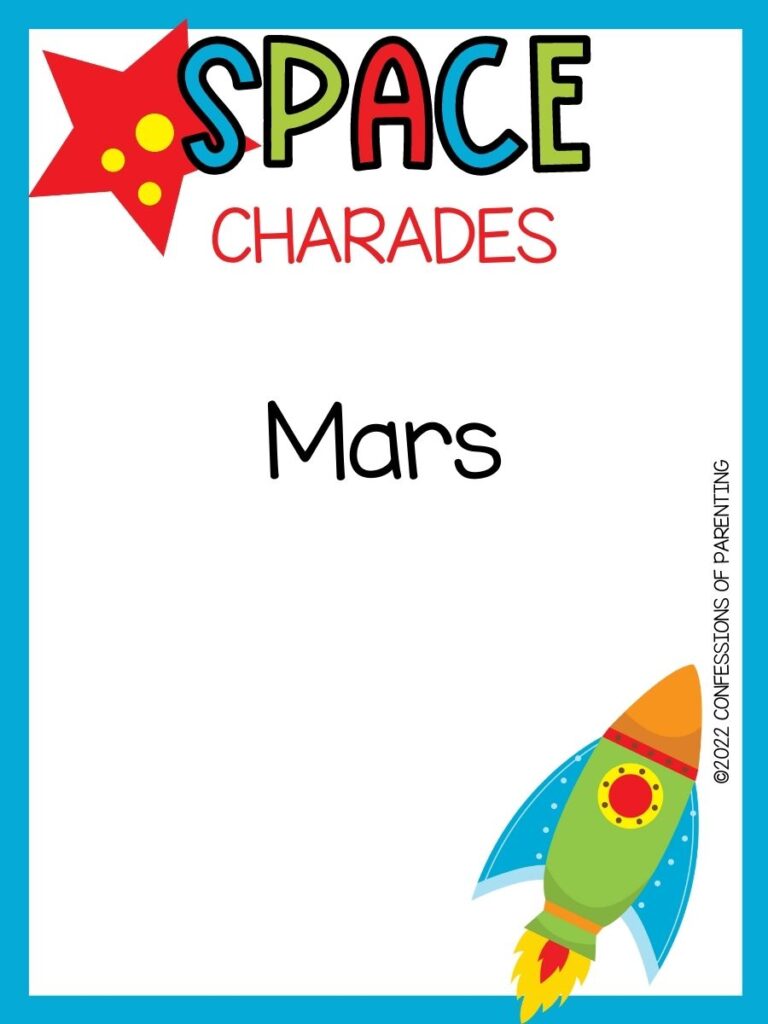 Mars
Jupiter
Neptune
Saturn
Rocket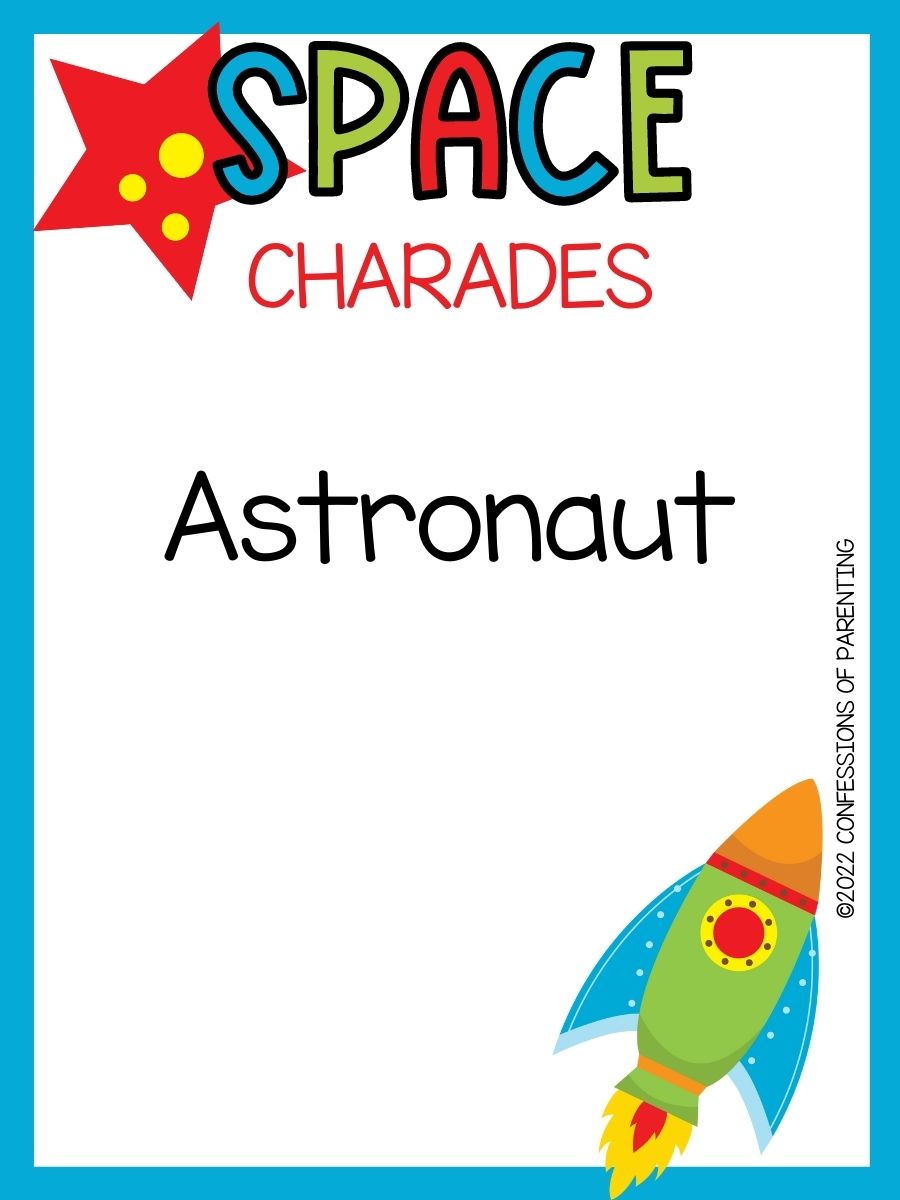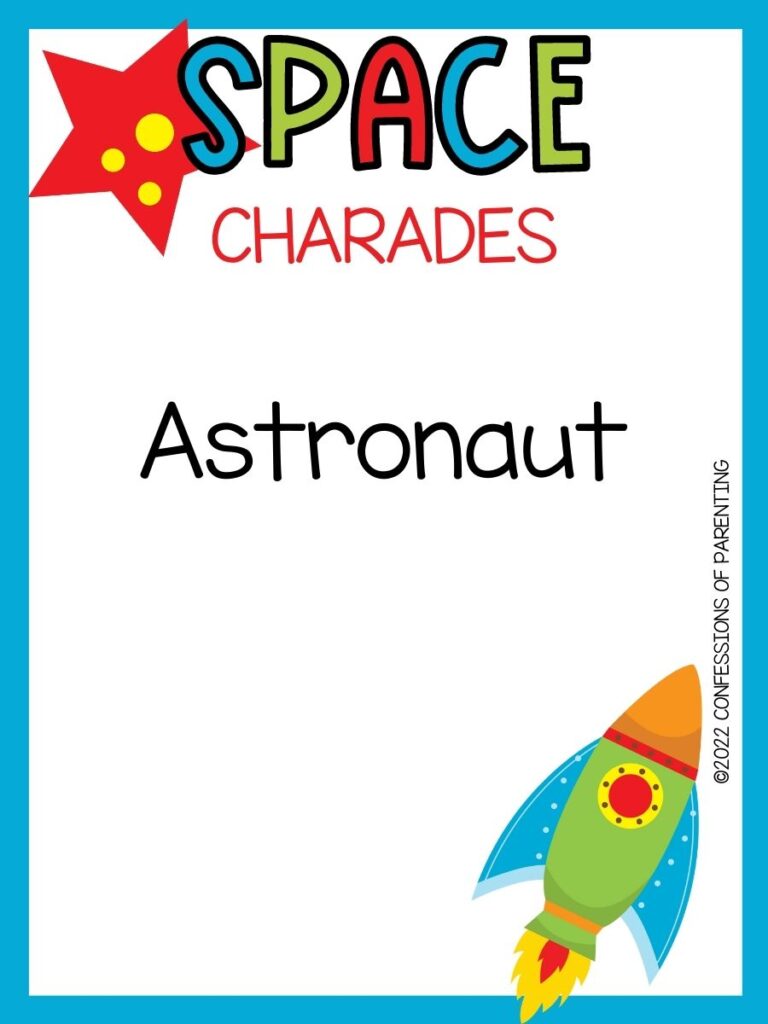 Astronaut
Solar System
Galaxy
Asteroid
Stars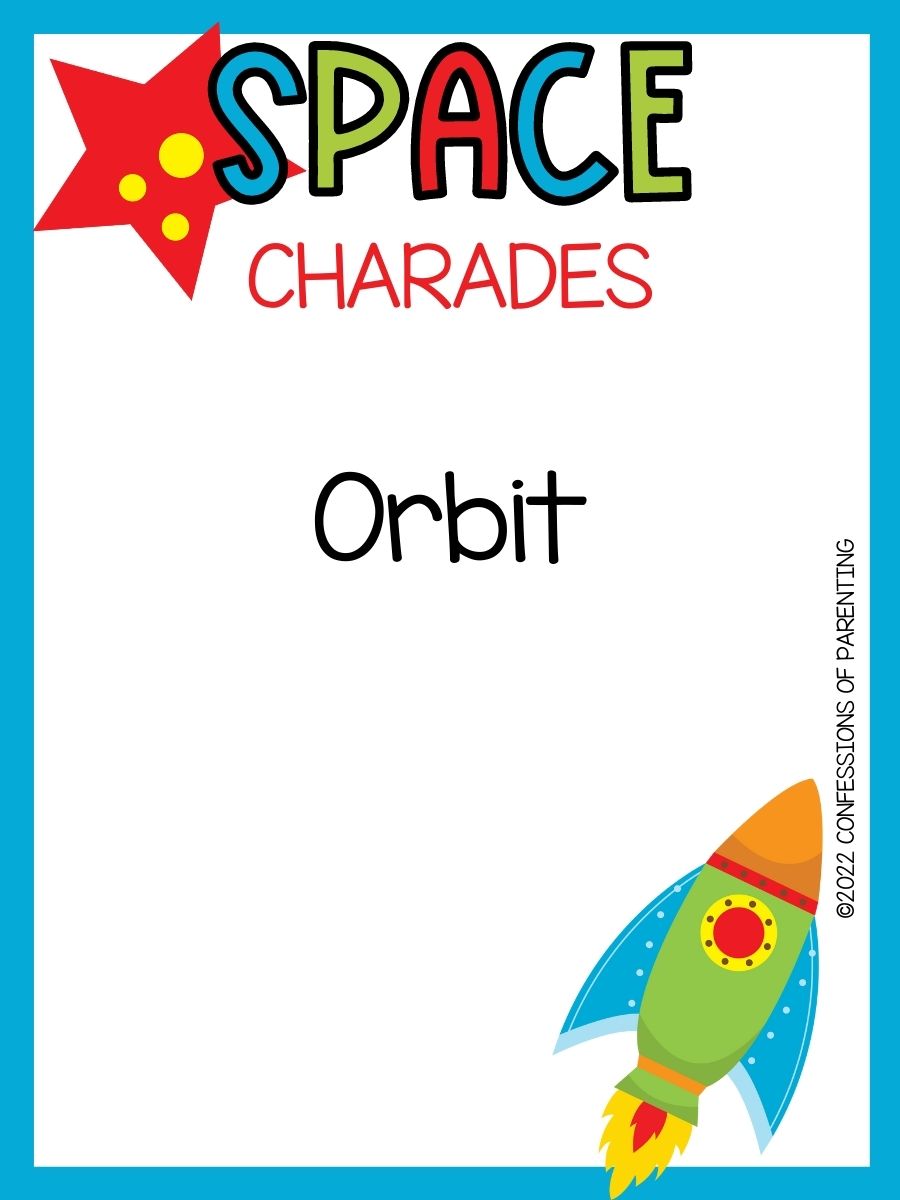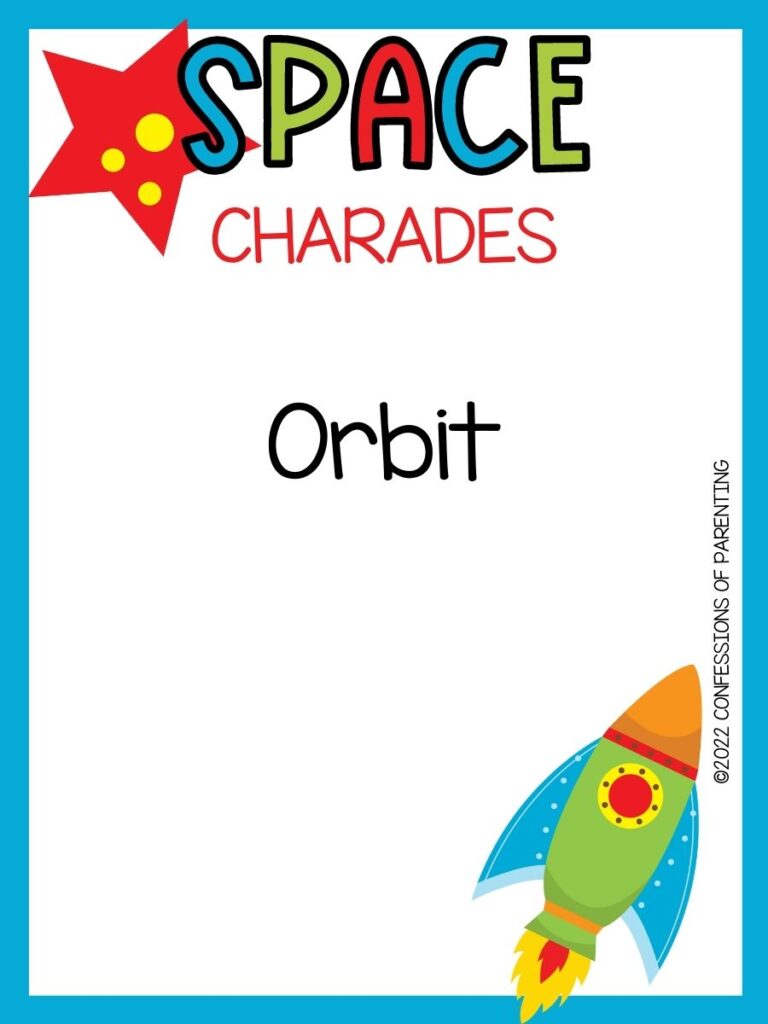 Orbit
Moon
Shooting Star
Sun
Alien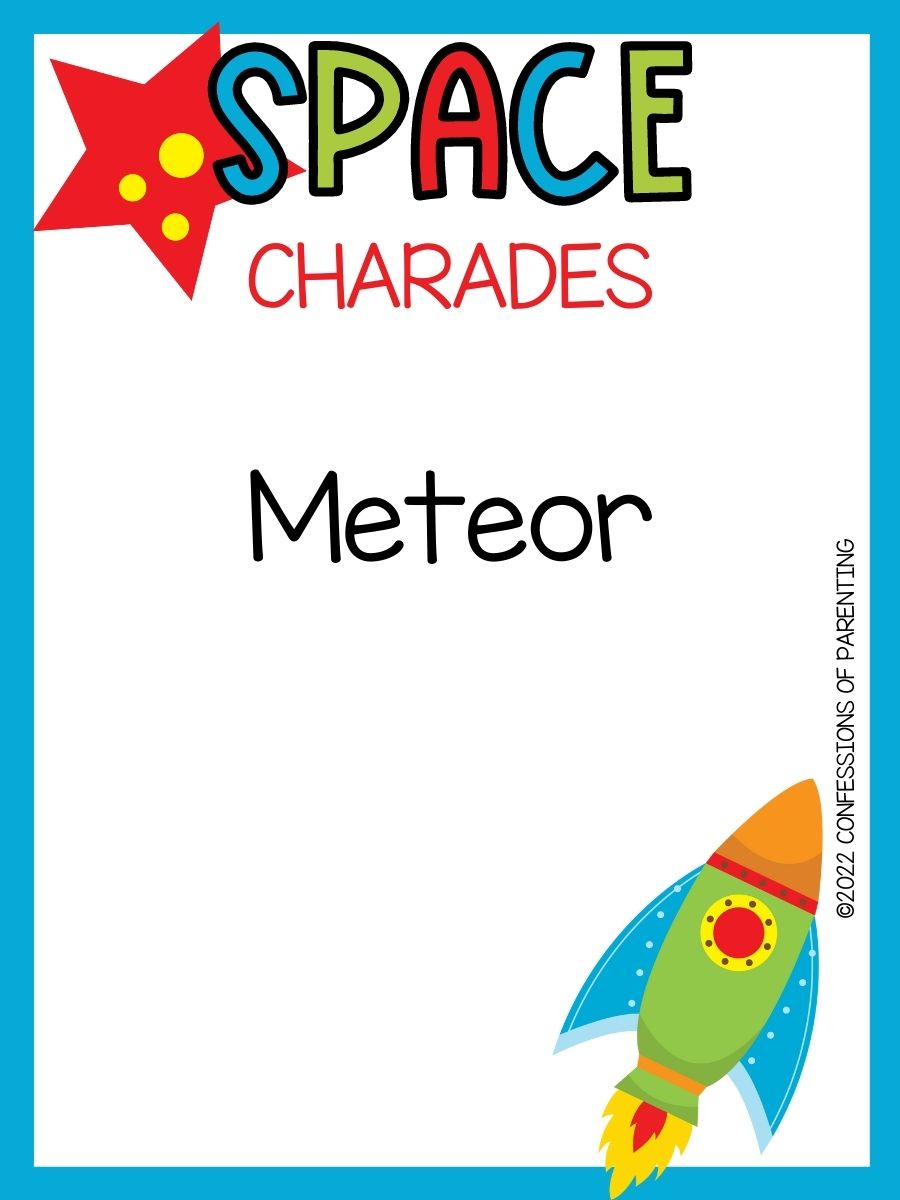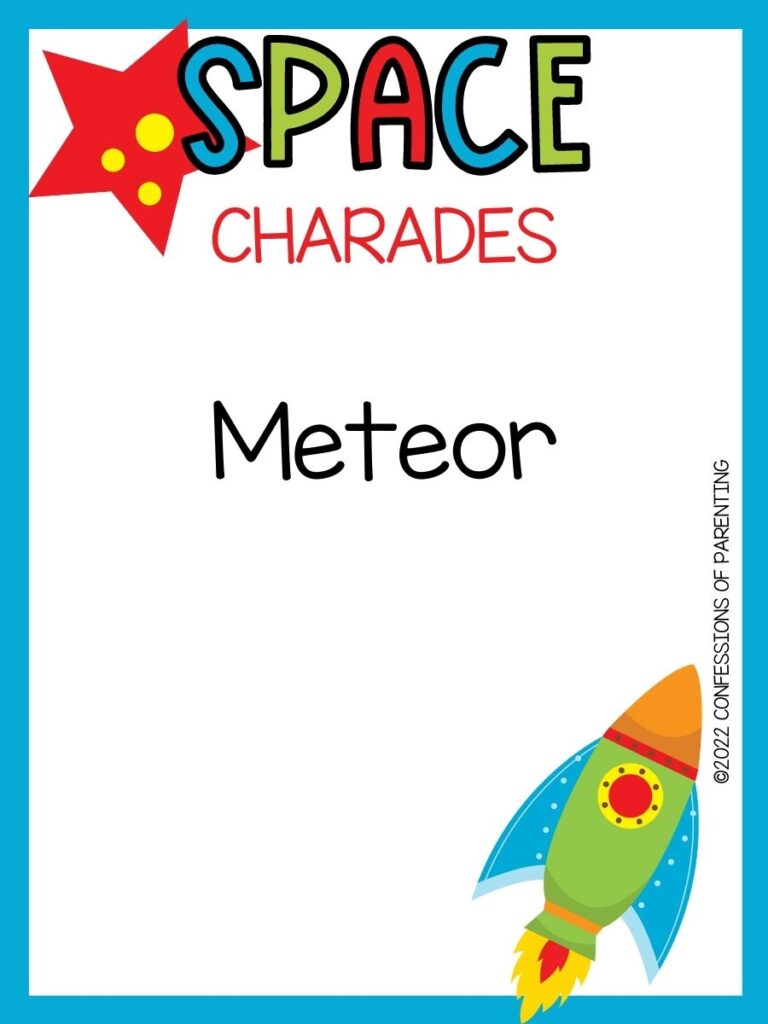 Meteor
Moon Walk
Pluto
Satellite
Space Shuttle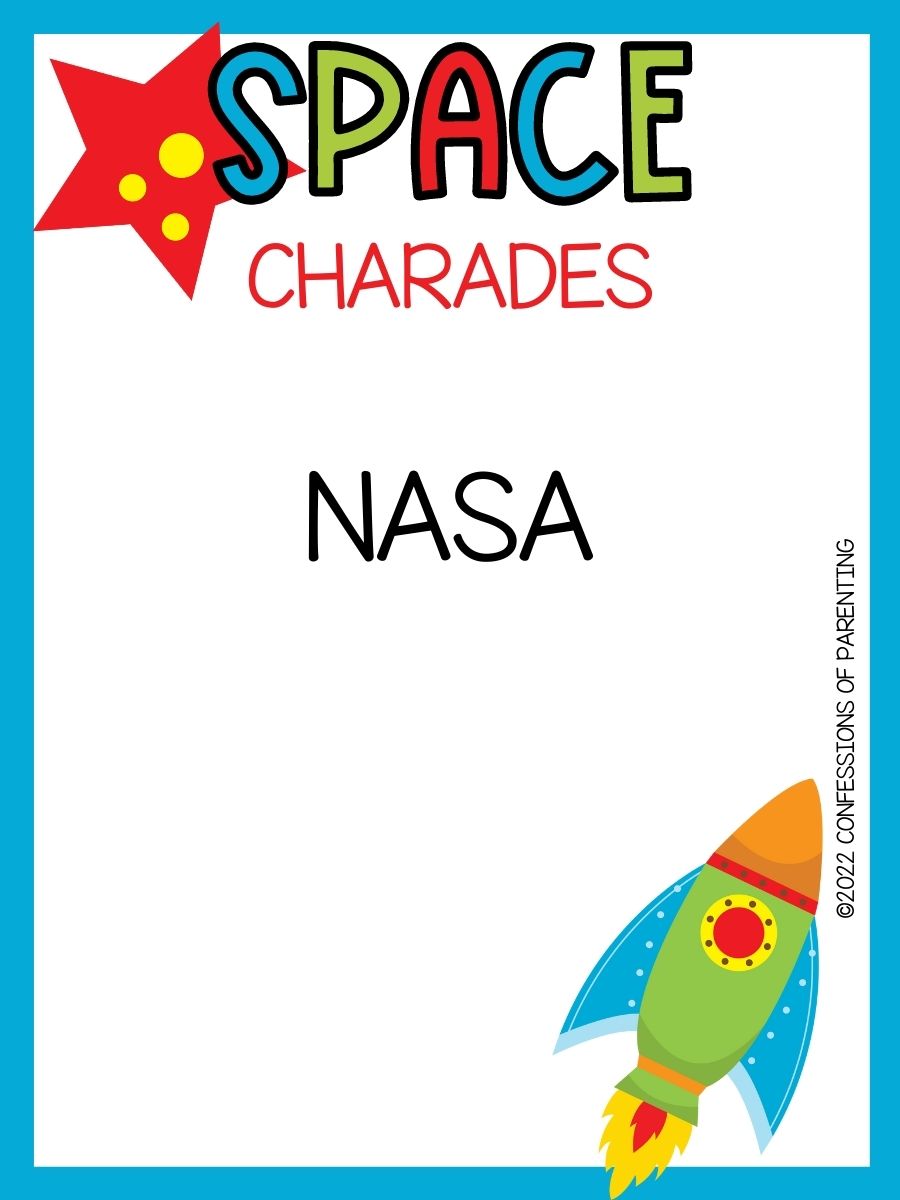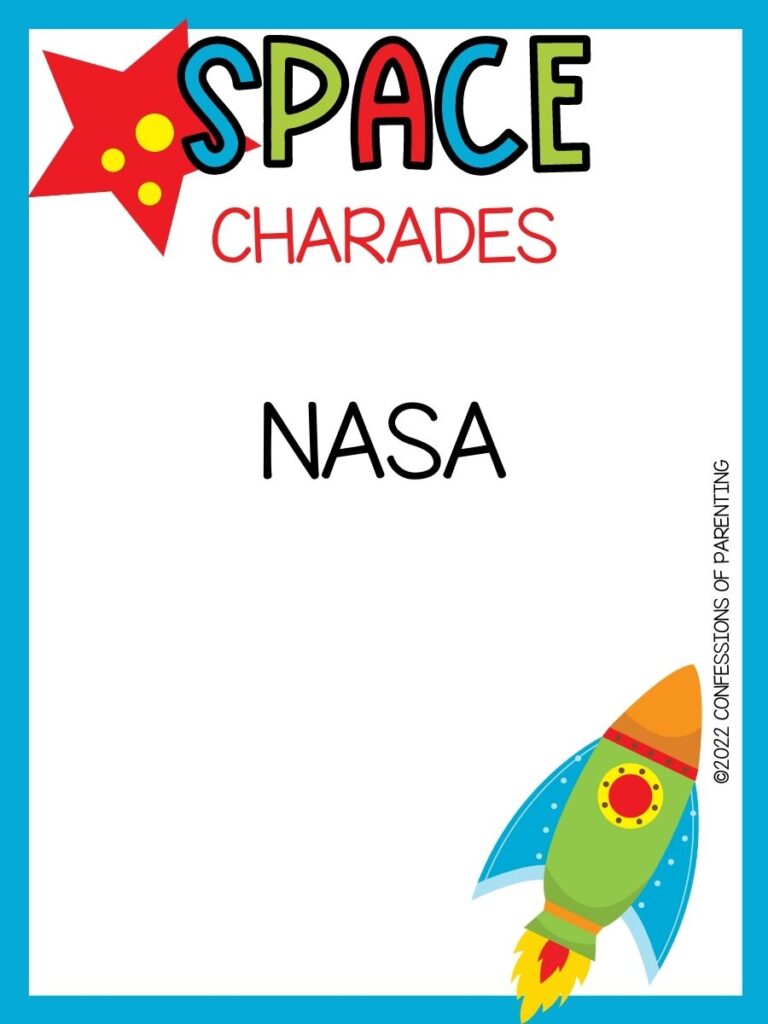 NASA
Universe
Outer Space
Scientist
Gravity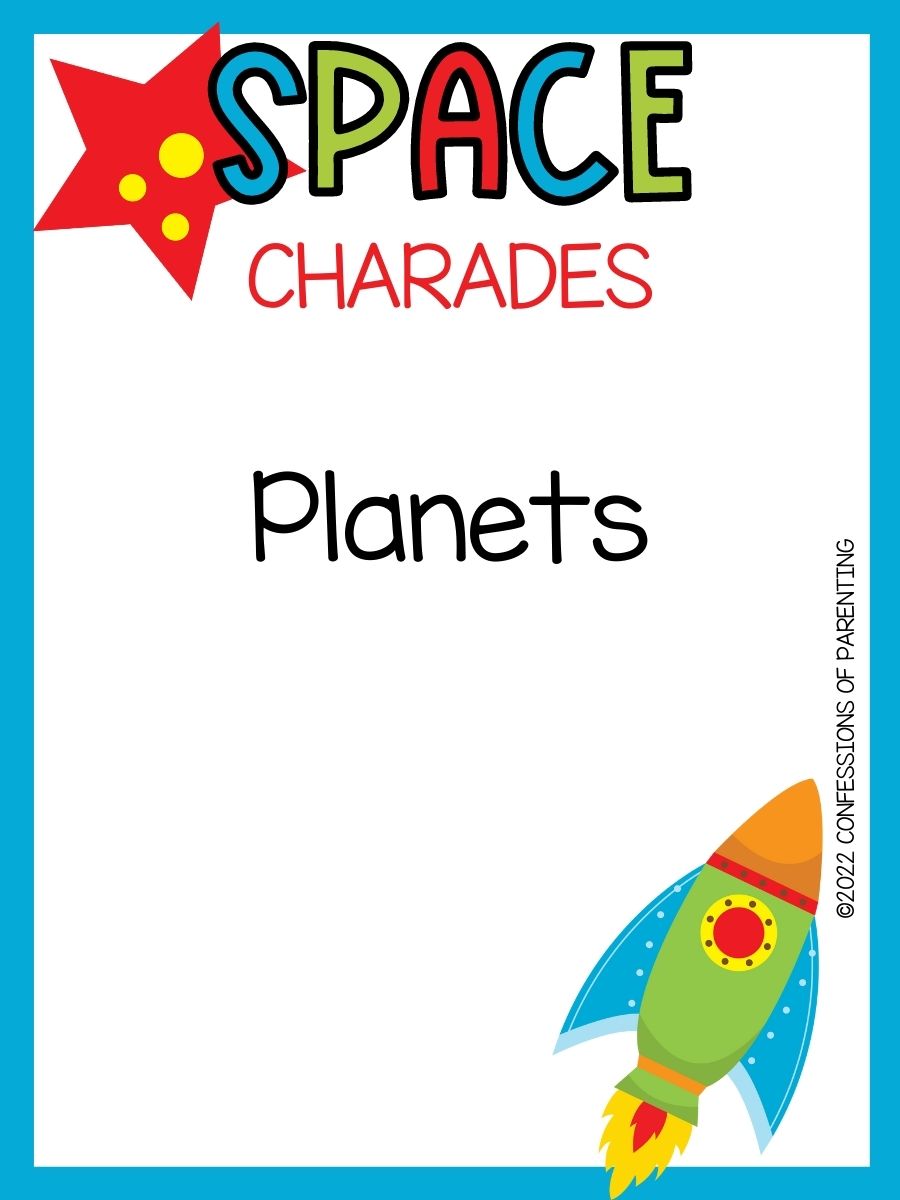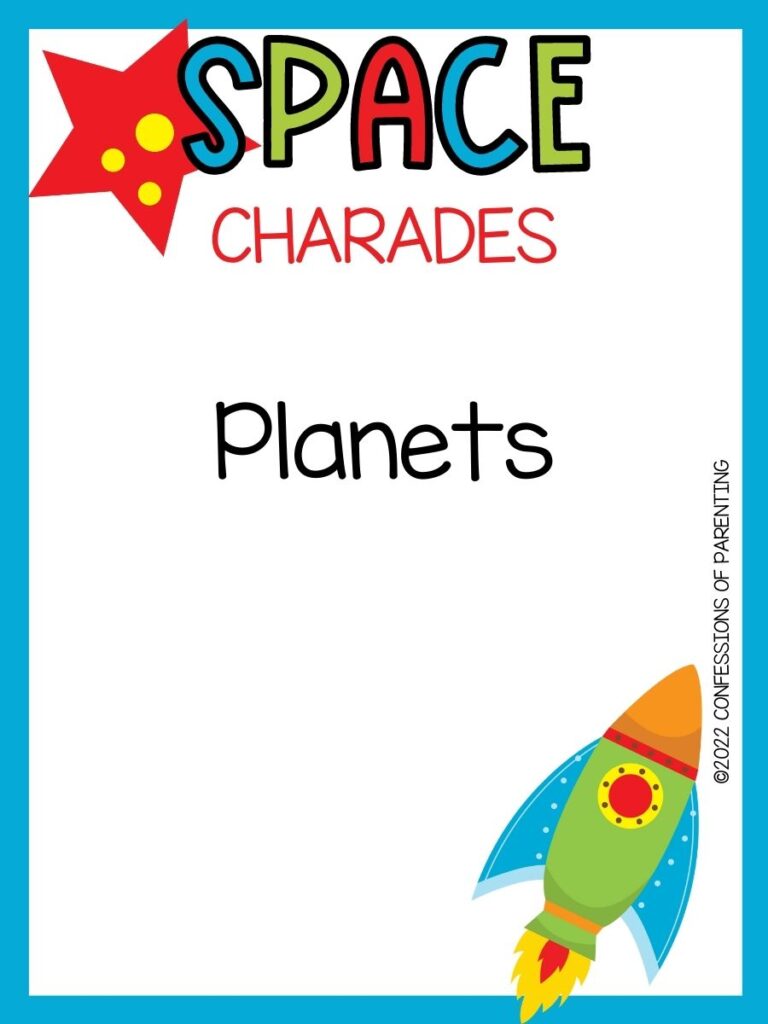 Planets
Eclipse
Sky
Lunar
Astronomy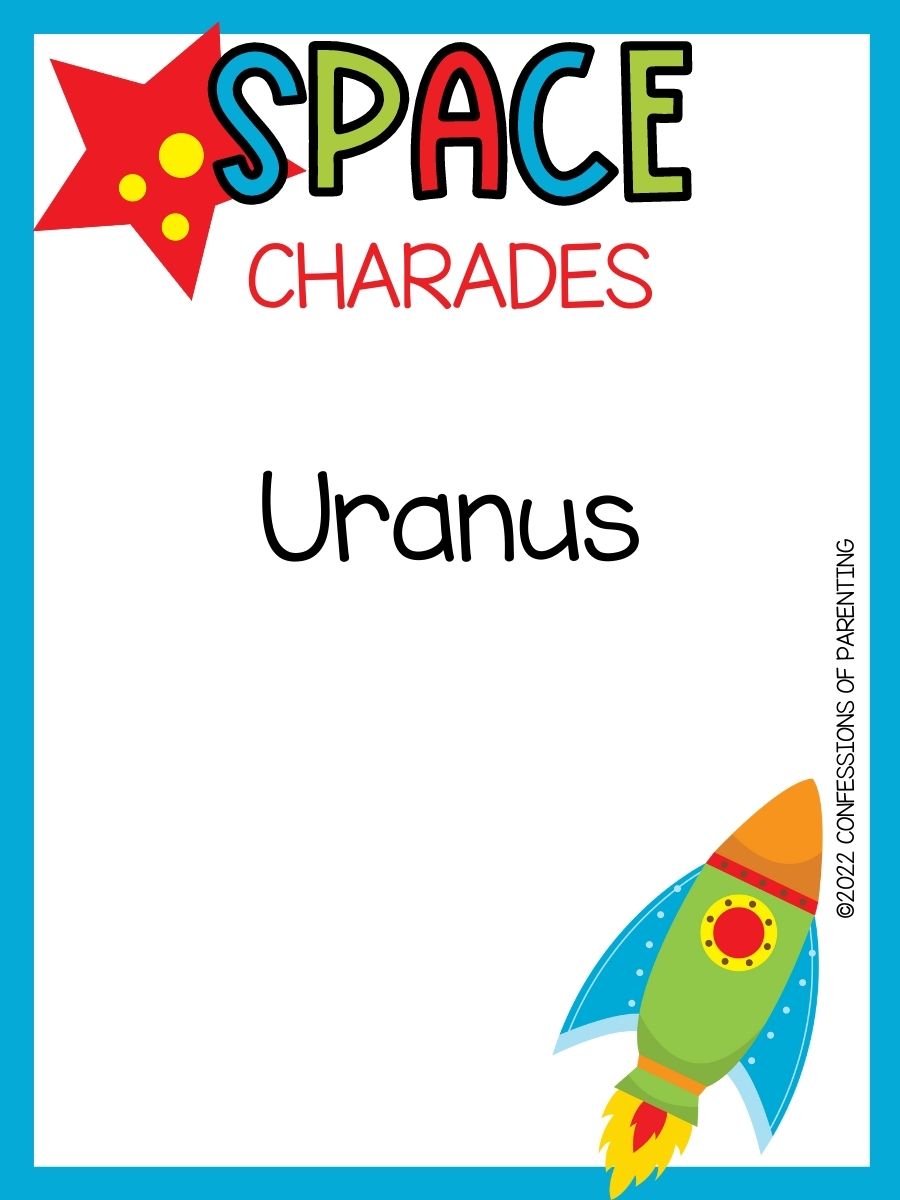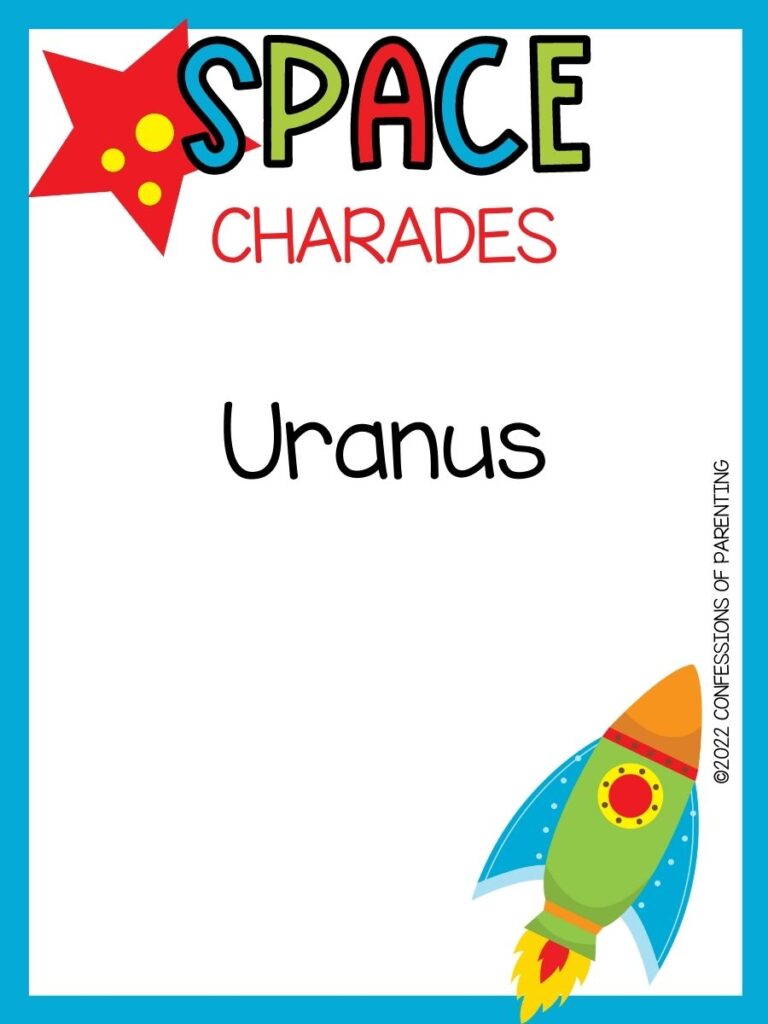 Uranus
Comet
Meteoroid
Constellation
Ecosphere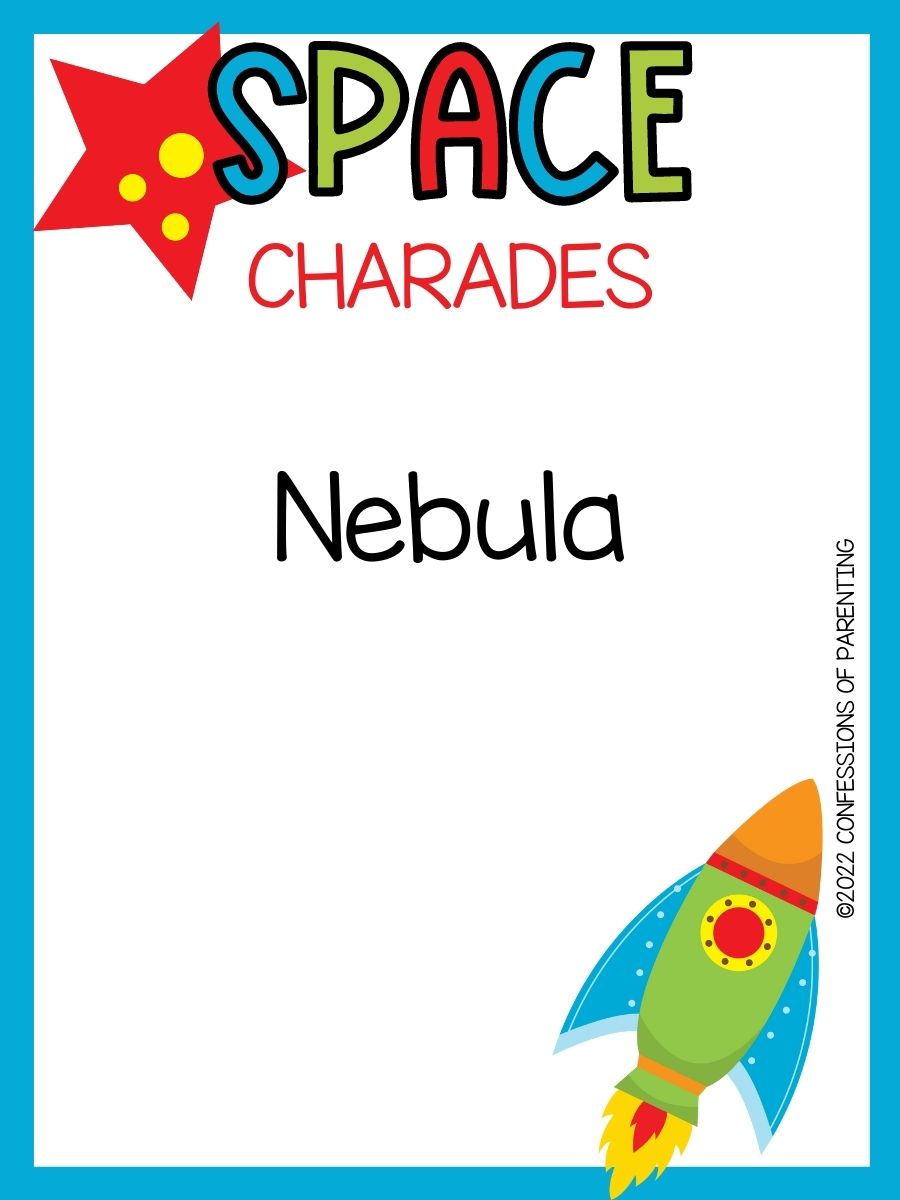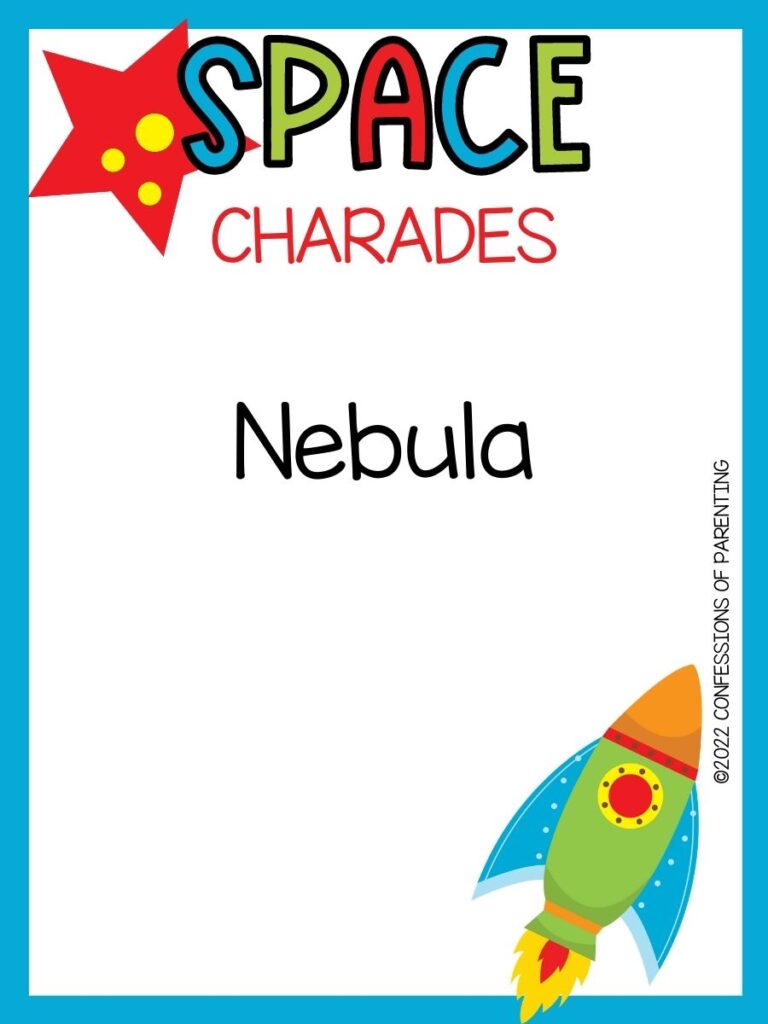 Nebula
Rotation
Zodiac
Crater
Dust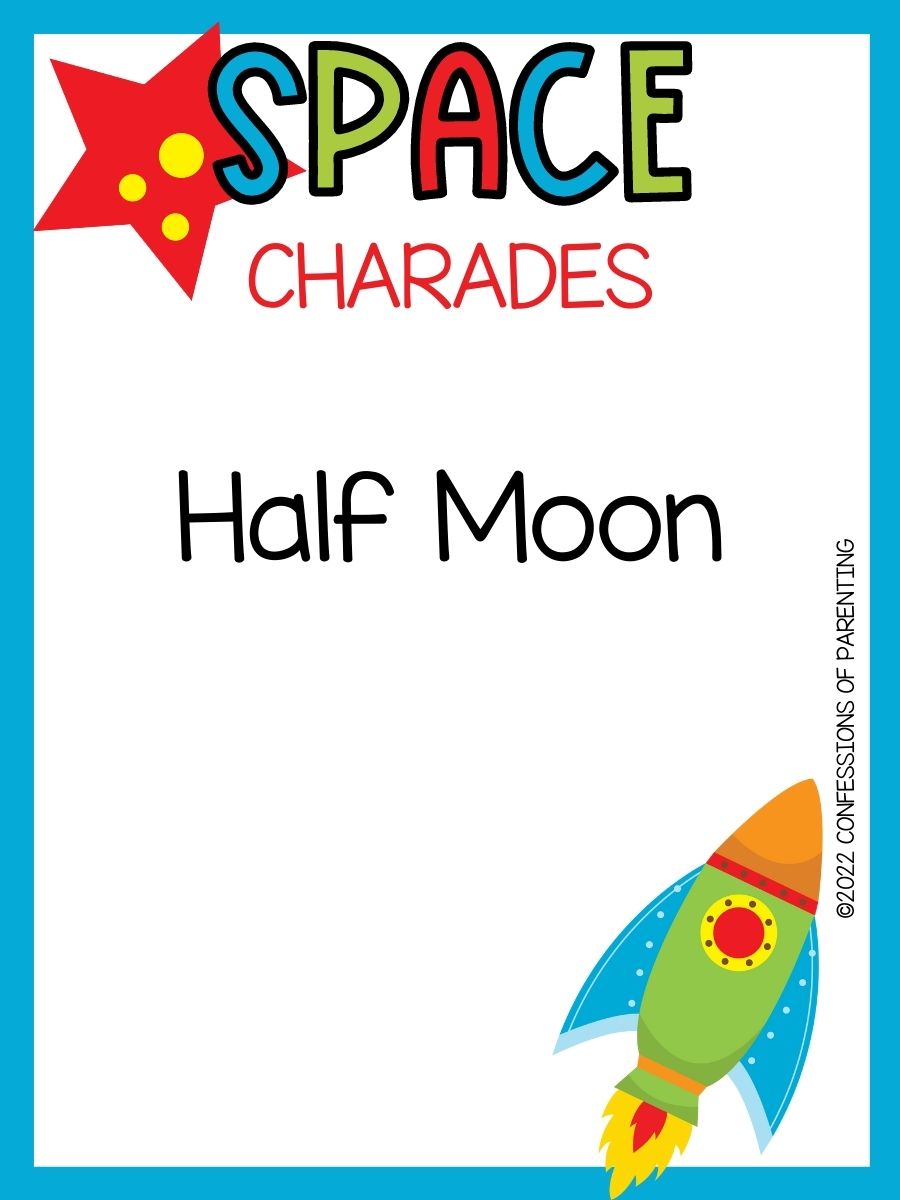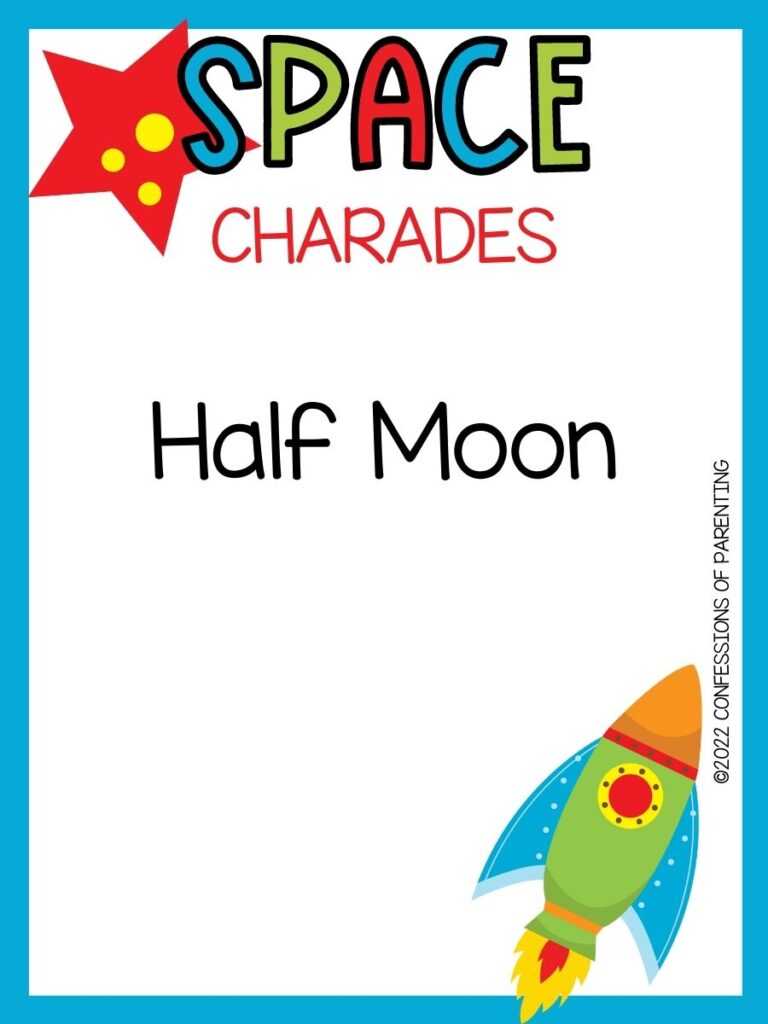 Half Moon
Dwarf Planet
Starlight
New Moon
Magnitude
Axial Tilt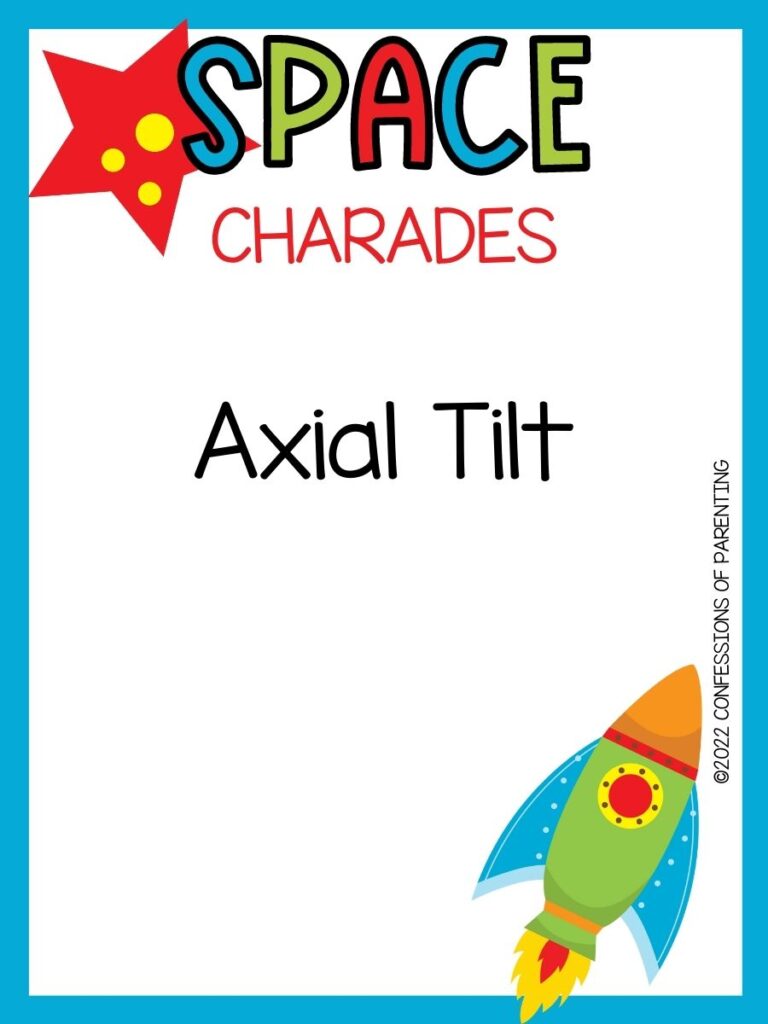 Helpful Tools We Love When Downloading Printables
Printer– I love my HP+ printer that uses Instant Ink. I love it because we can use as much color ink as you want for one low cost starting at $.99/ month for ink. Try it out for free here!
Cardstock- I always recommend printing on cardstock. This makes it way more durable so you don't have to worry about printing it time and time again.
Laminator / Laminating Sheets- Again, for added durability, grab a laminator and laminating sheets so that you can use this again and again!
Scissors (I seriously love these ones)
Dry Erase Pens- Use dry erase pens so that you can wipe your laminated printable clean over and over again for endless use!
Love Charades? Try these other great charade games!
How Do I access my free printables?
Fill in the form above. You will receive an email in your inbox. If you don't see it check your spam folder! You will then click to confirm your subscription.You will then be redirected to your free download.
How Do I Print a PDF?
You'll need a program that supports PDFs. Adobe Acrobat is a great option. Open the program, click file then print. Select your printer and the number of copies you want to print. Be sure you click double-sided if you want it to print on both sides.
Can I resell these?
You may not resell any printable that you find on our website or in our resource library. You may use them for class parties, at church, at home, or in the classroom. You may get these printed at an office supply store or copy center at your own expense.