Looking for a fun game to lighten your mood? Turn that frown upside-down with Emotion Charades! This game is fun for the whole family, so don't feel shy! Grab yours today!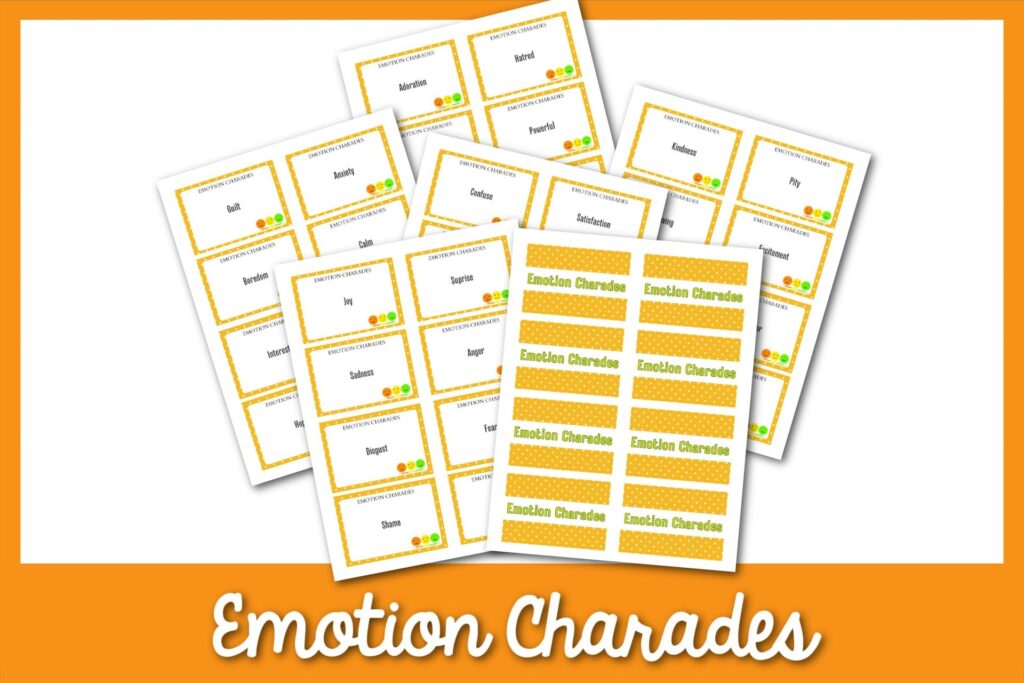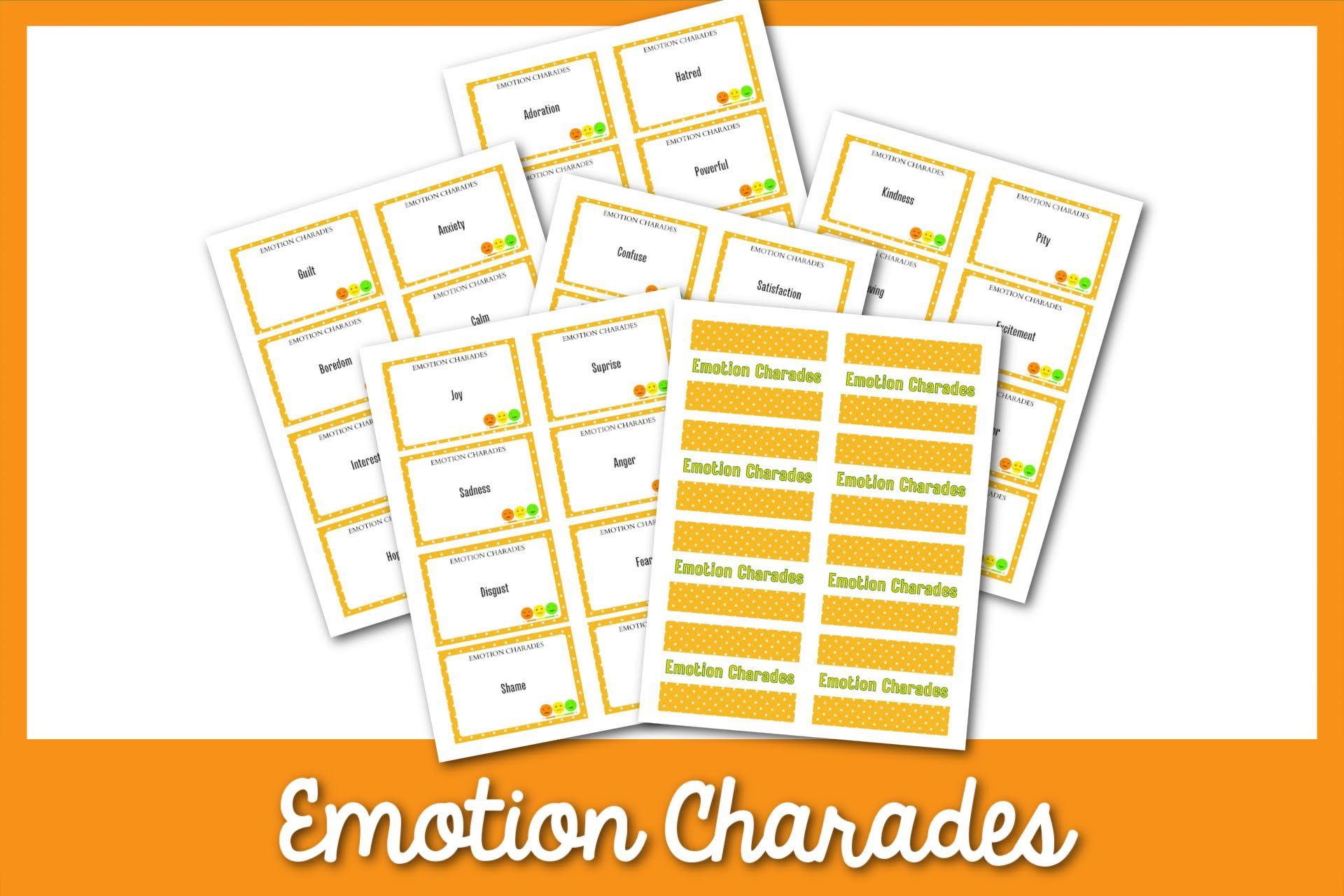 Emotion Charades
Does your family love to play charades? It's so much fun! My kids love the chance to flex their acting skills and make each other laugh as they act out each clue. Even the little ones can join in the fun, because charades is so easy to adjust for any age.
Some of our favorites have been Family Charades and Disney Charades. Once we bust out those charades cards, we know the fun is about to begin, so we were so excited to try Emotion Charades!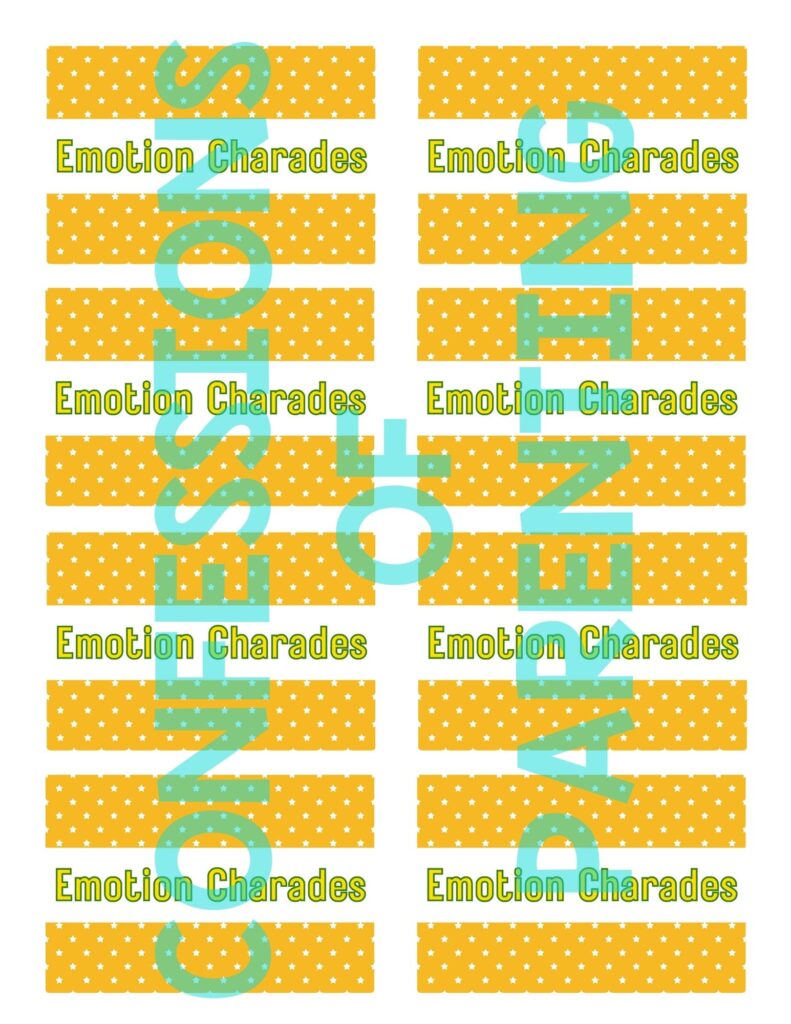 We have the best time playing Emotion Charades! It's a great opportunity to explore all the different emotions we feel and put a name to them, and to do it in a way that is relaxed and fun for everyone.
You'll giggle at each exaggerated expression of emotion, and try to guess what emotion the actor is portraying!
Be sure to grab our Emotion Charades printable cards for your next family game night!
Why I Love Charades
Charades is the perfect family game after a busy week because it is so easy to set up and start playing! All you need are these printable cards, your family or friends, and you are ready to start having fun together!
Charades has simple, easy-to-follow rules, which makes it a great game for any age. Whether you have preschoolers, teens, or adults in the game, you'll all have a fun time playing together!
You can adjust charades for small or large groups, and play it in almost any setting, whether at home, at school, or at a party with friends.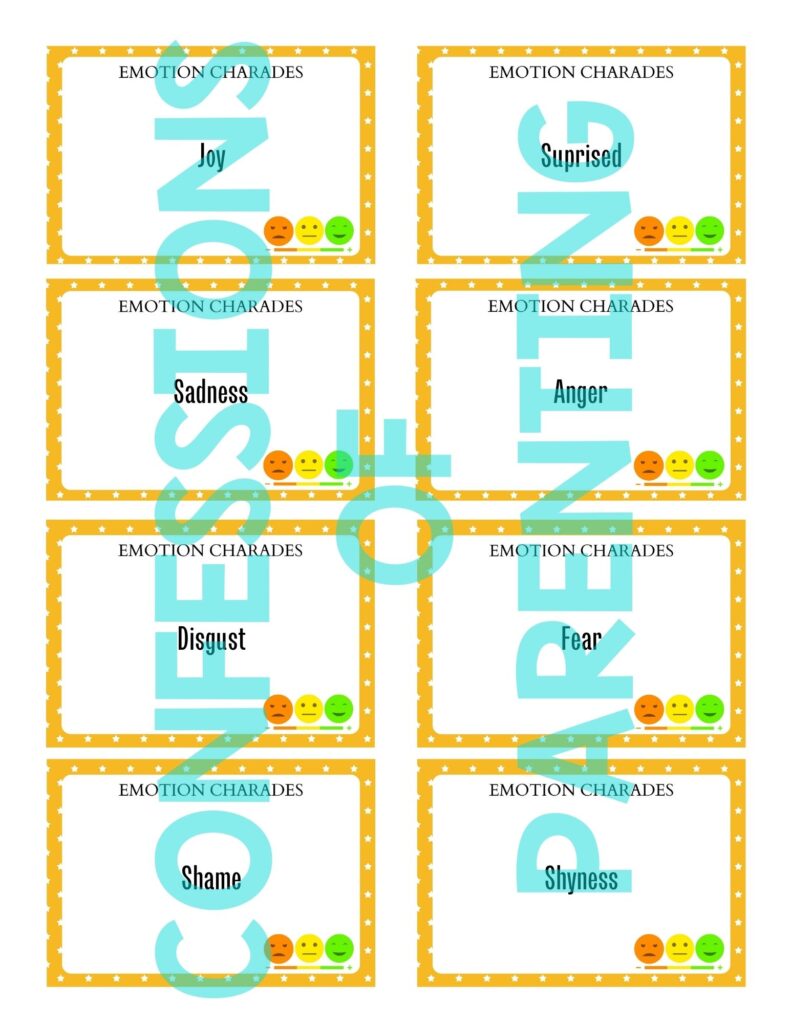 Ultimate Charades Bundle!
Do you want to Grab the Ultimate Charades Bundle with over 23 themed charades games? Grab it now before the price increases!
How to Play Emotion Charades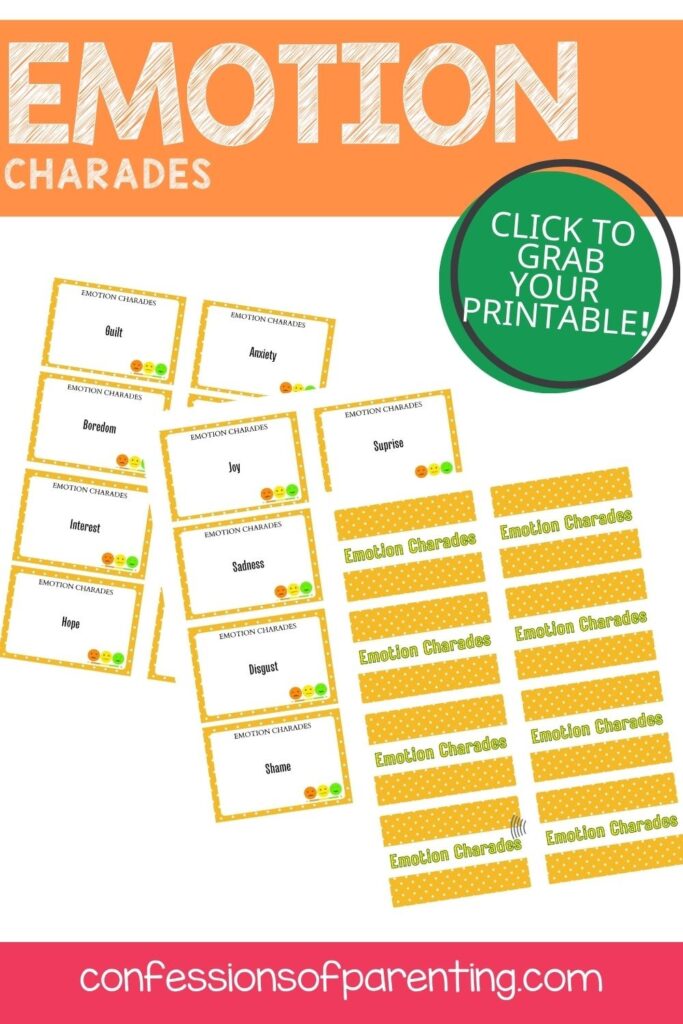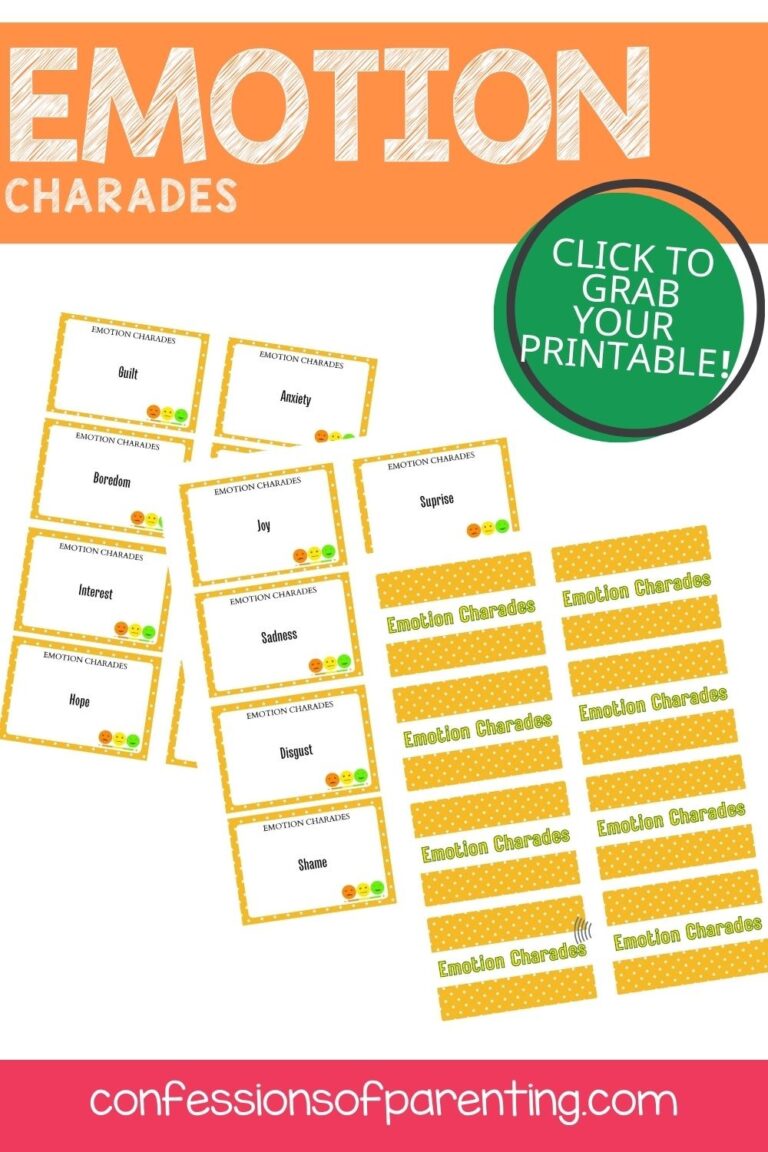 First, divide into at least two teams. If you have a large group, multiple teams can make things easier. Or, two people can play just by taking turns acting for the other person.
Next, decide who will go first. You can decide this however you choose! Flip a coin, play paper-rock-scissors, or come up with your own silly method!
To start the game, an actor from the first team chooses a card and then acts it out without using their mouth at all, not even to mouth words. The rest of the team has just one minute to guess.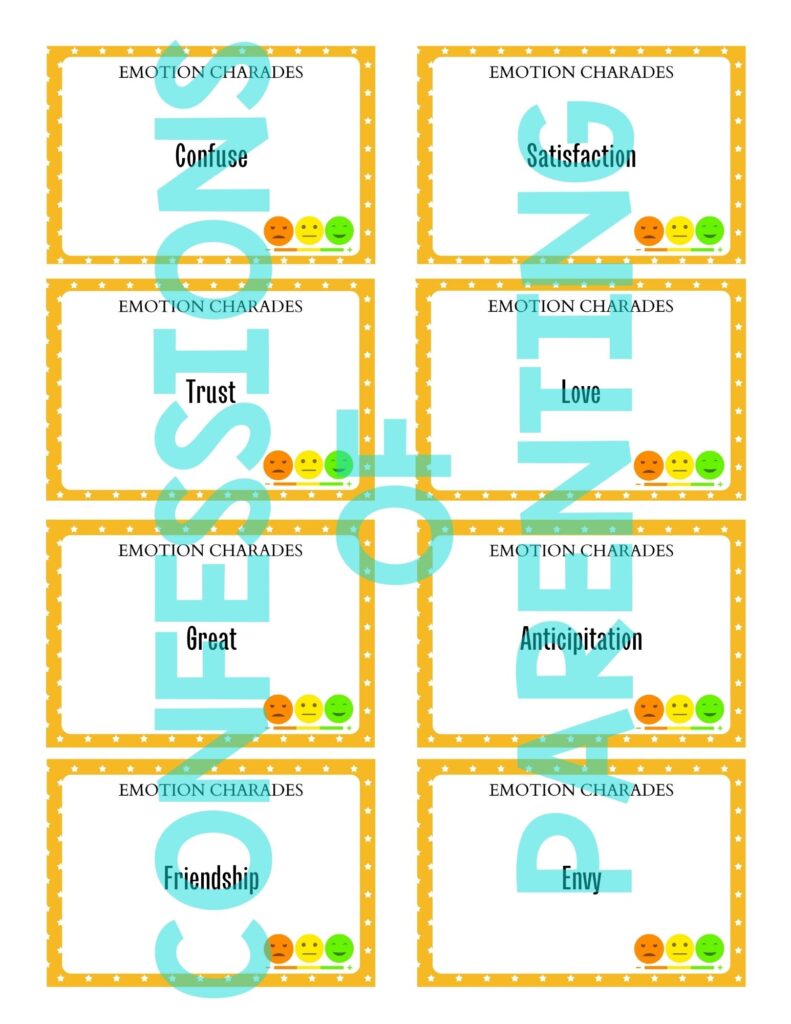 If they guess correctly, they get a point! However, if they don't guess it correctly, the other team has only one chance to guess it and steal the point, so make sure your guess is a good one!
The game is over when everyone has had a turn, you've run out of charades cards, or you've reached a predetermined amount of points. Whoever has the highest points wins! Celebrate with a goodie or a prize!
Tips for Playing Emotion Charades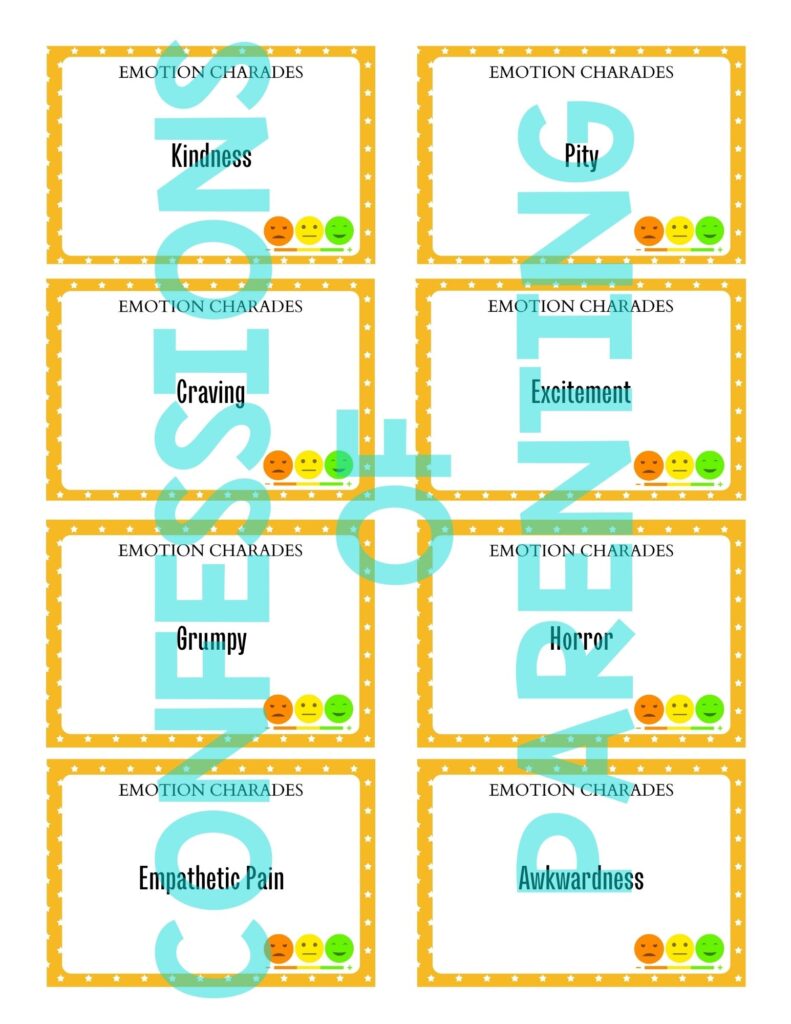 I recommend going over the rules with everyone before you play to make sure everyone understands them. This can help avoid a lot of confusion or frustration during the game.
Don't forget to use your hands! Actors can indicate to their team how many words to guess by holding up that many fingers.
Don't be afraid to get into the acting and be a little silly! You'll have a lot more fun when everyone can laugh!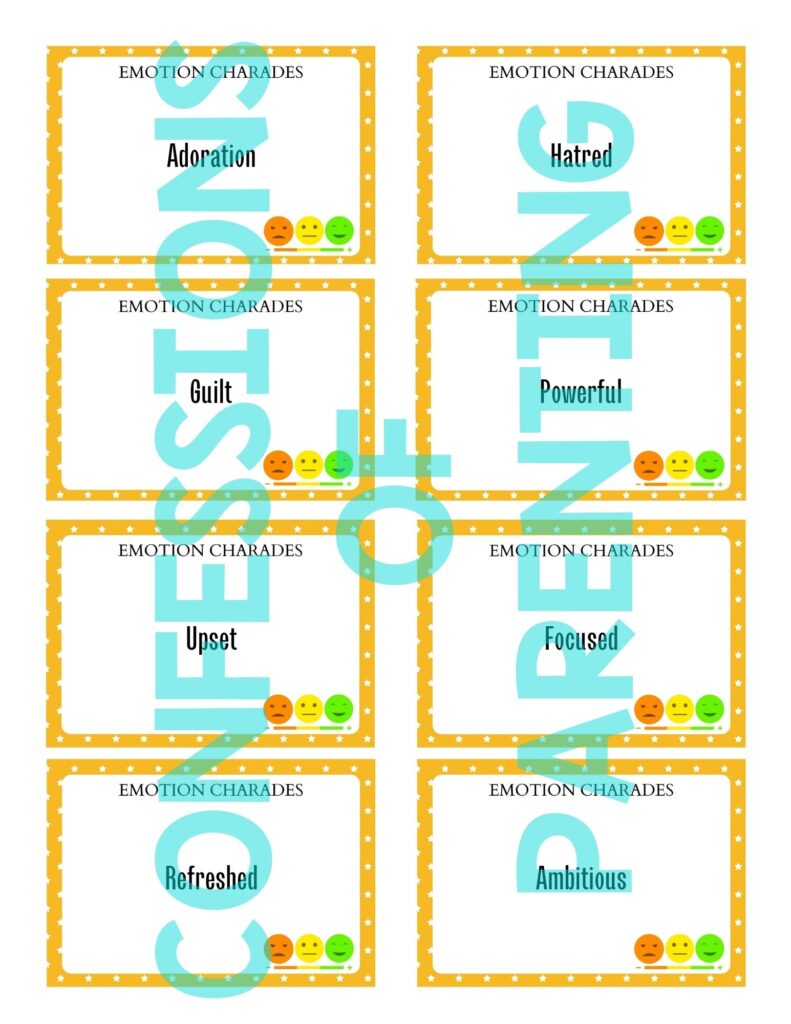 Helpful Tools We Love When Downloading Printables
Printer– I love my HP+ printer that uses Instant Ink. I love it because we can use as much color ink as you want for one low cost starting at $.99/ month for ink. Try it out for free here!
Cardstock- I always recommend printing on cardstock. This makes it way more durable so you don't have to worry about printing it time and time again.
Laminator / Laminating Sheets- Again, for added durability, grab a laminator and laminating sheets so that you can use this again and again!
Scissors (I seriously love these ones)
Dry Erase Pens- Use dry erase pens so that you can wipe your laminated printable clean over and over again for endless use!
Emotion Charades Ideas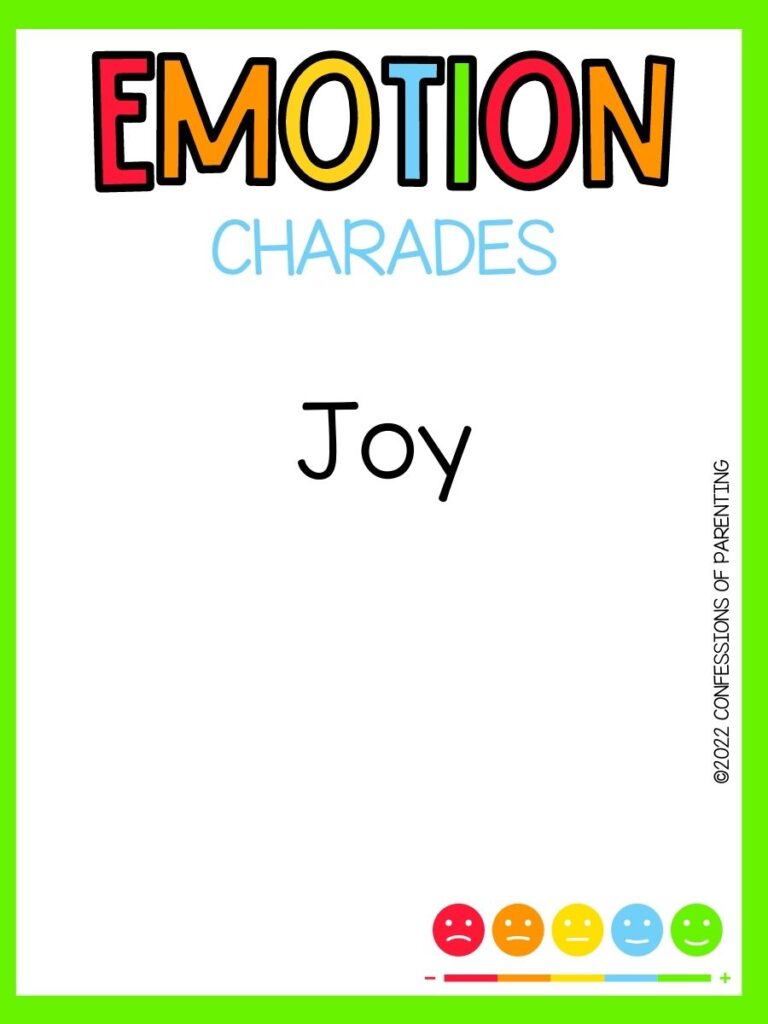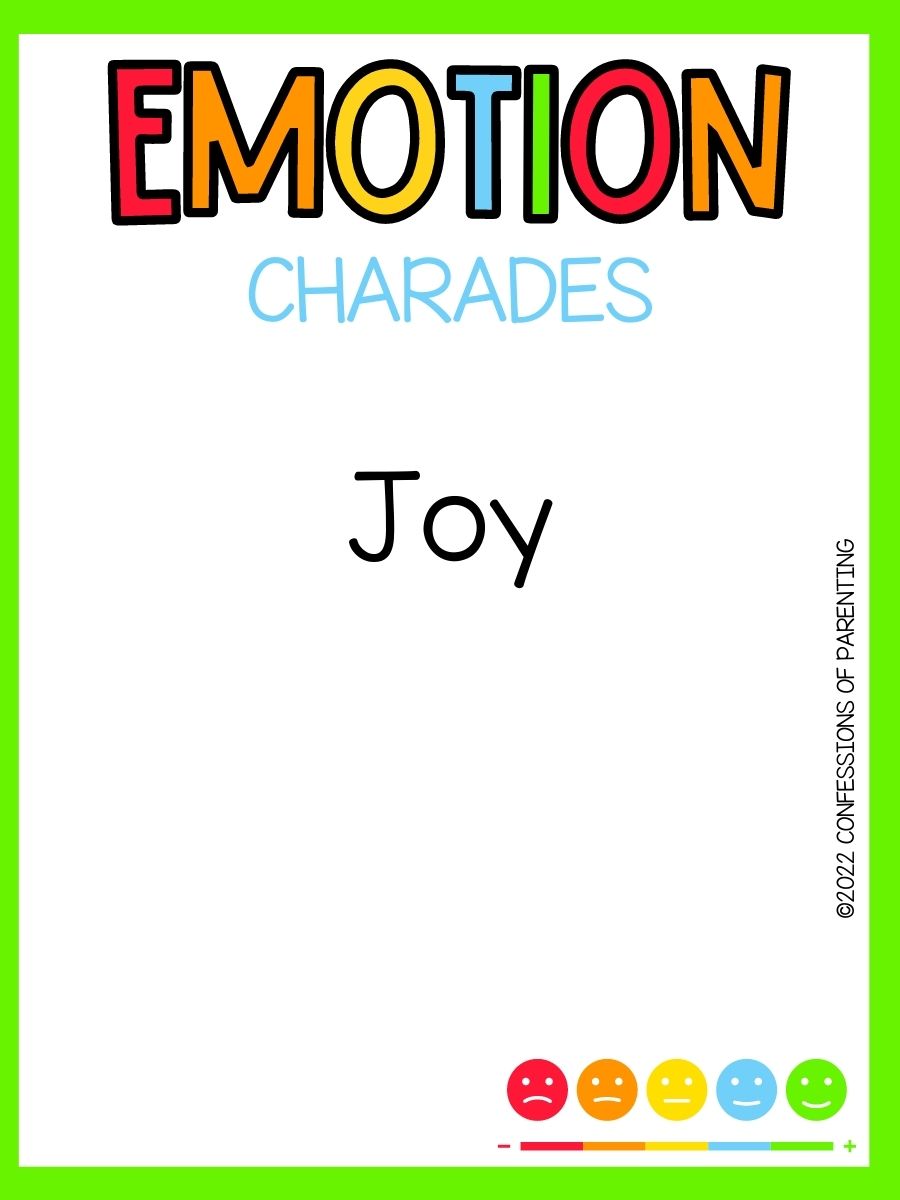 Joy
Surprised
Sadness
Anger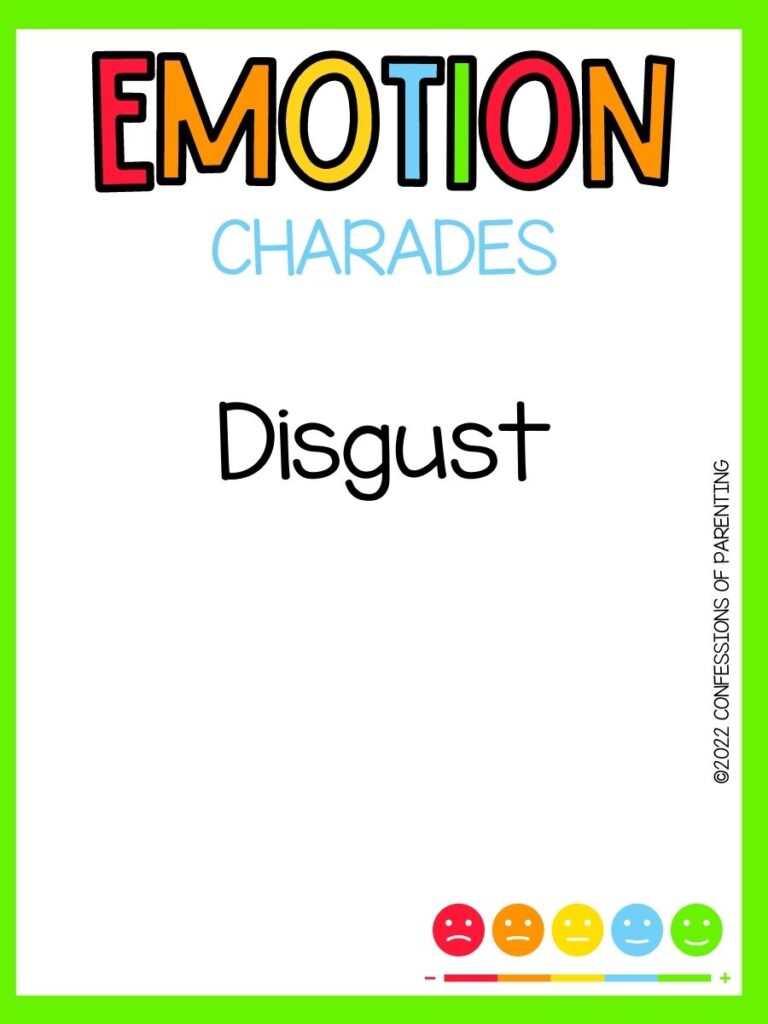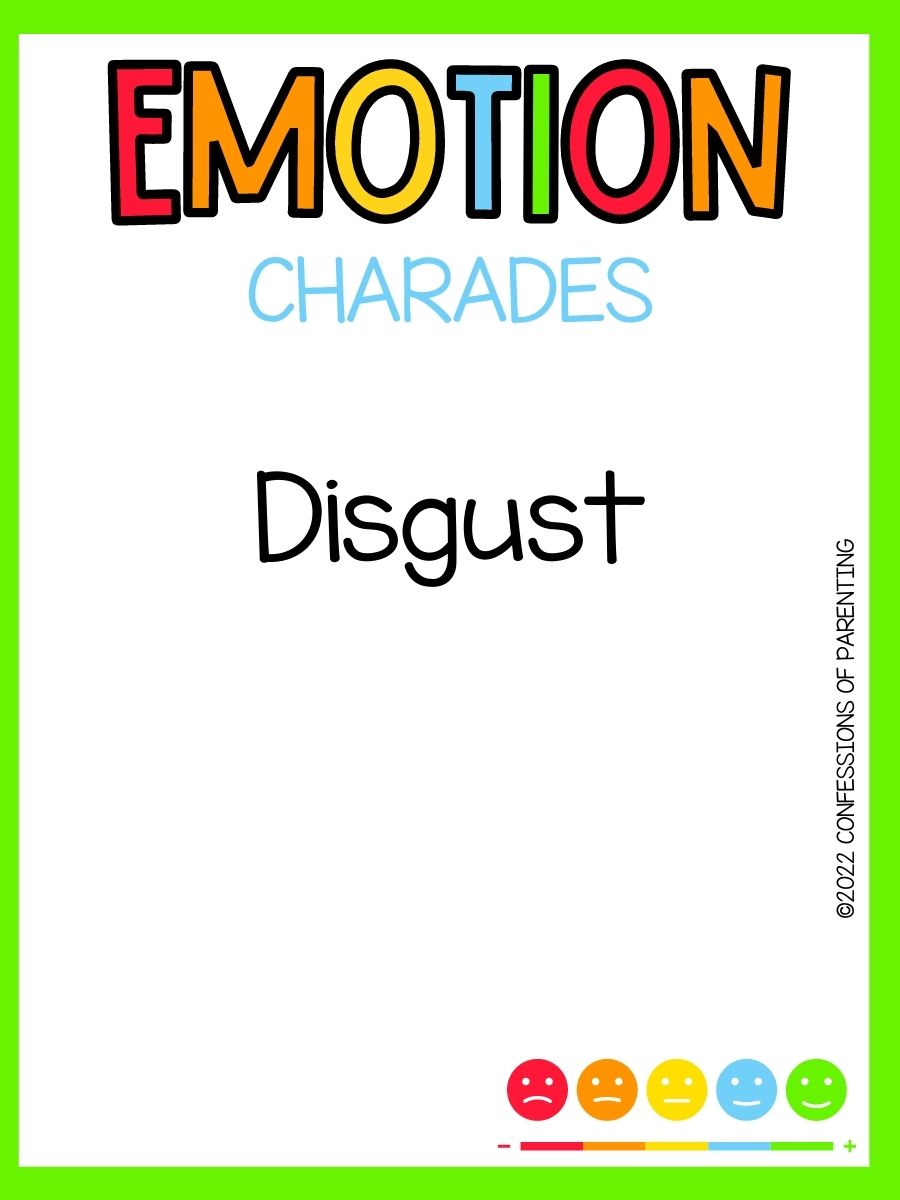 Disgust
Fear
Shame
Shyness
Guilt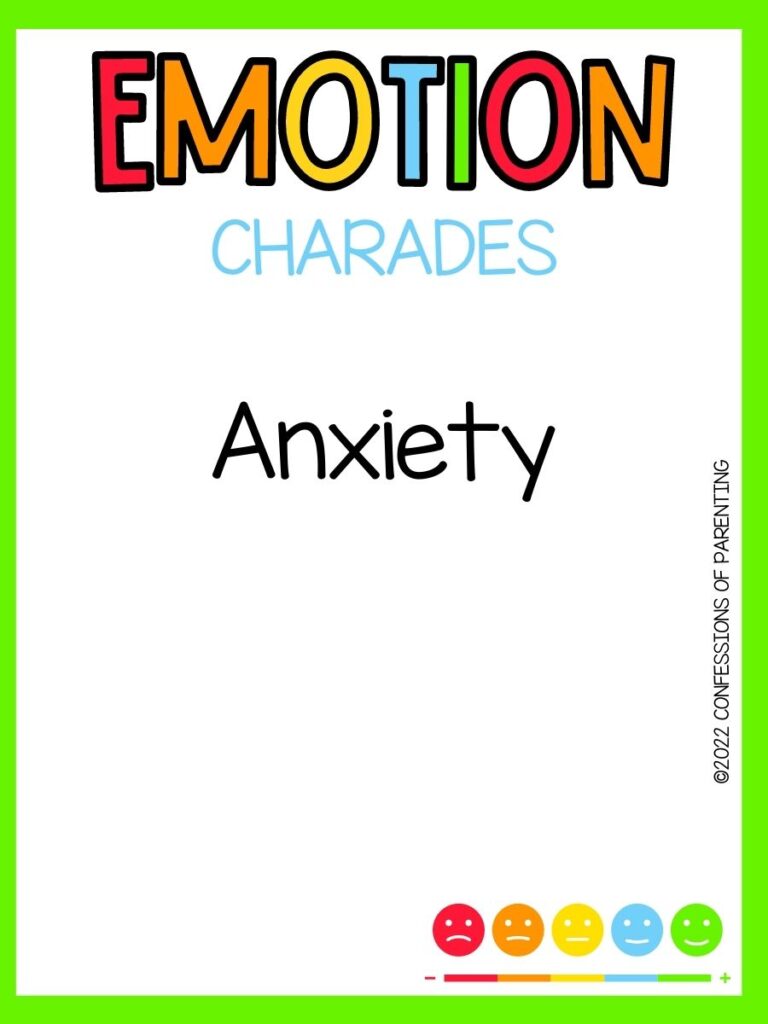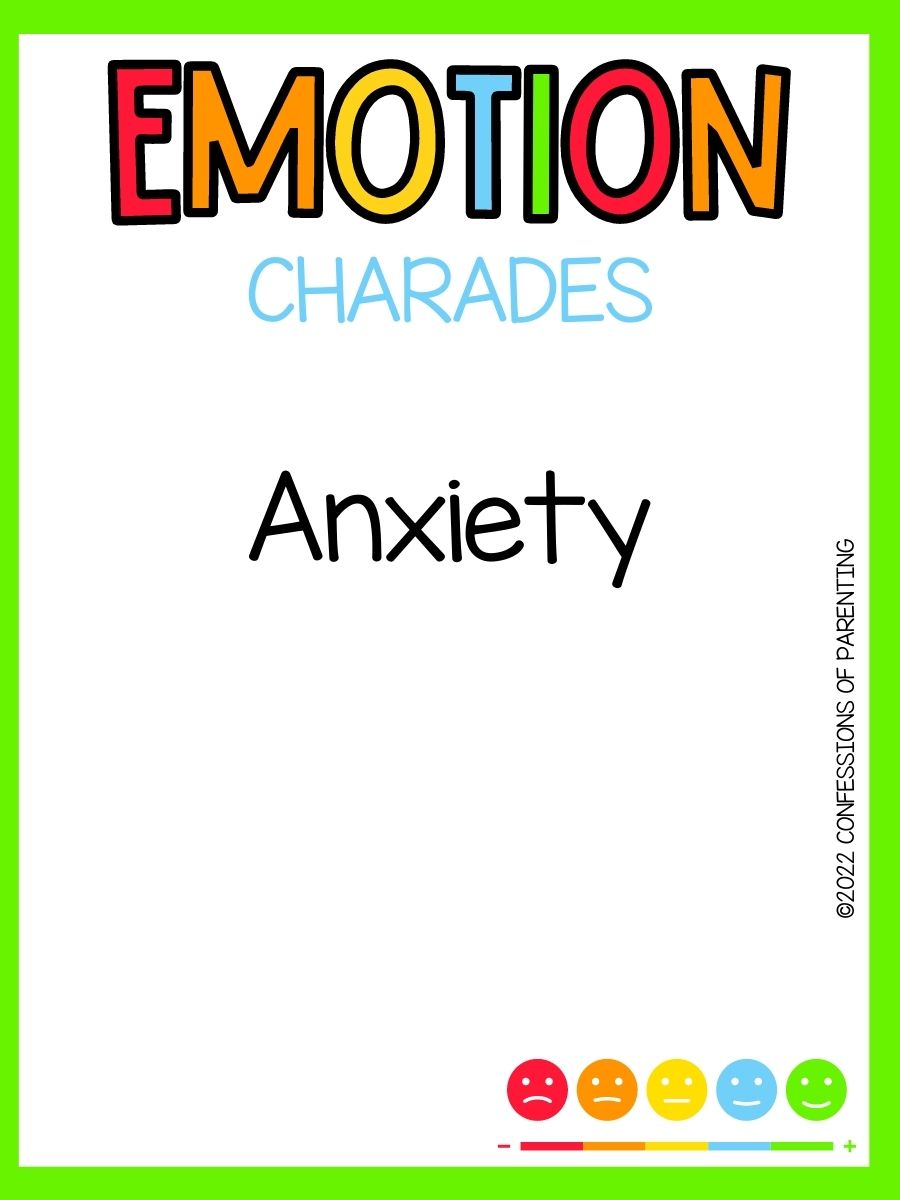 Anxiety
Boredom
Calm
Interest
Relief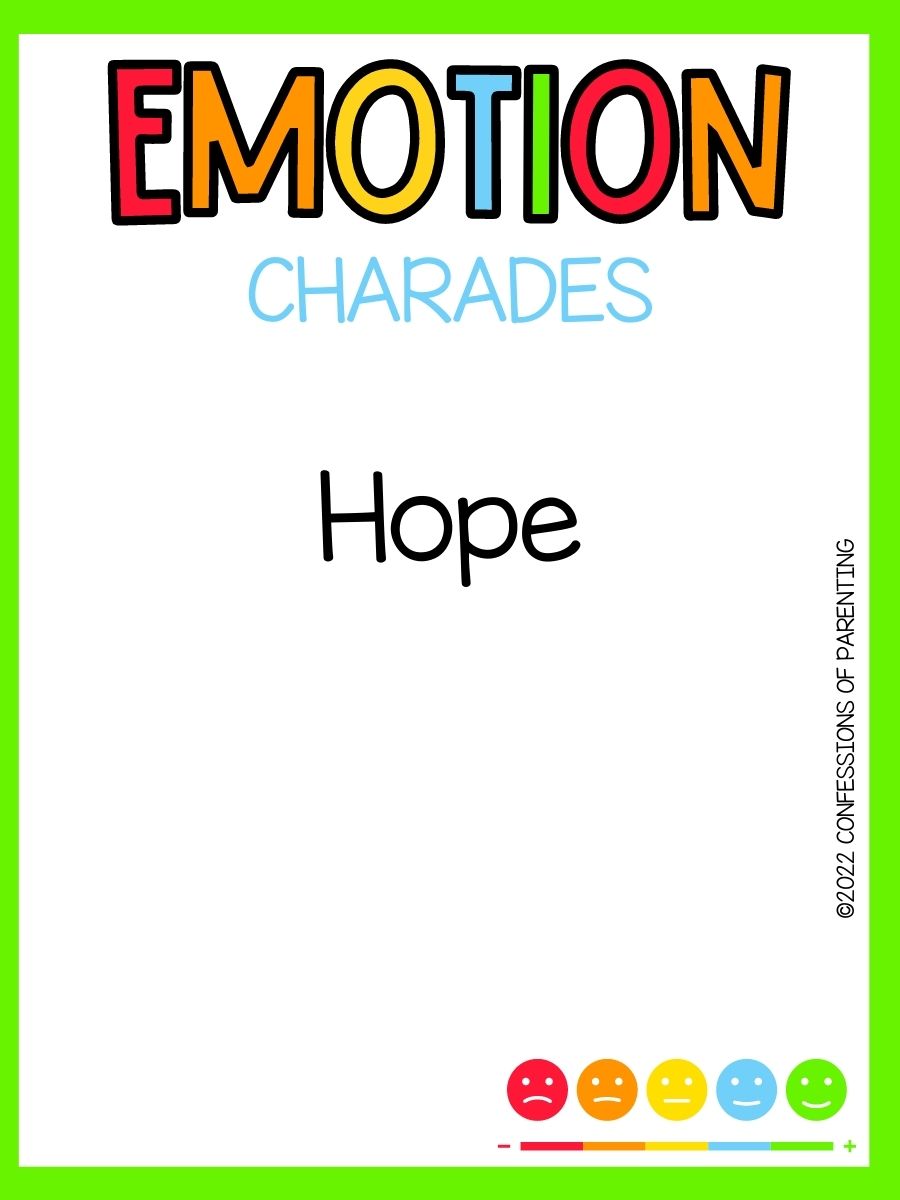 Hope
Pride
Confuse
Satisfaction
Trust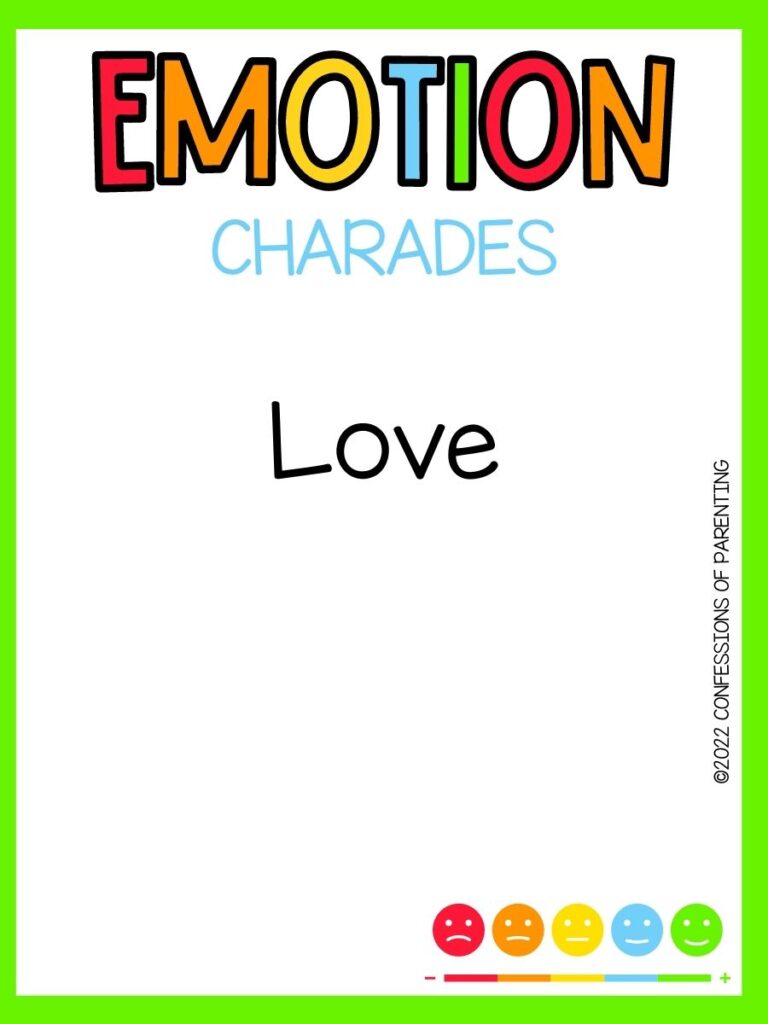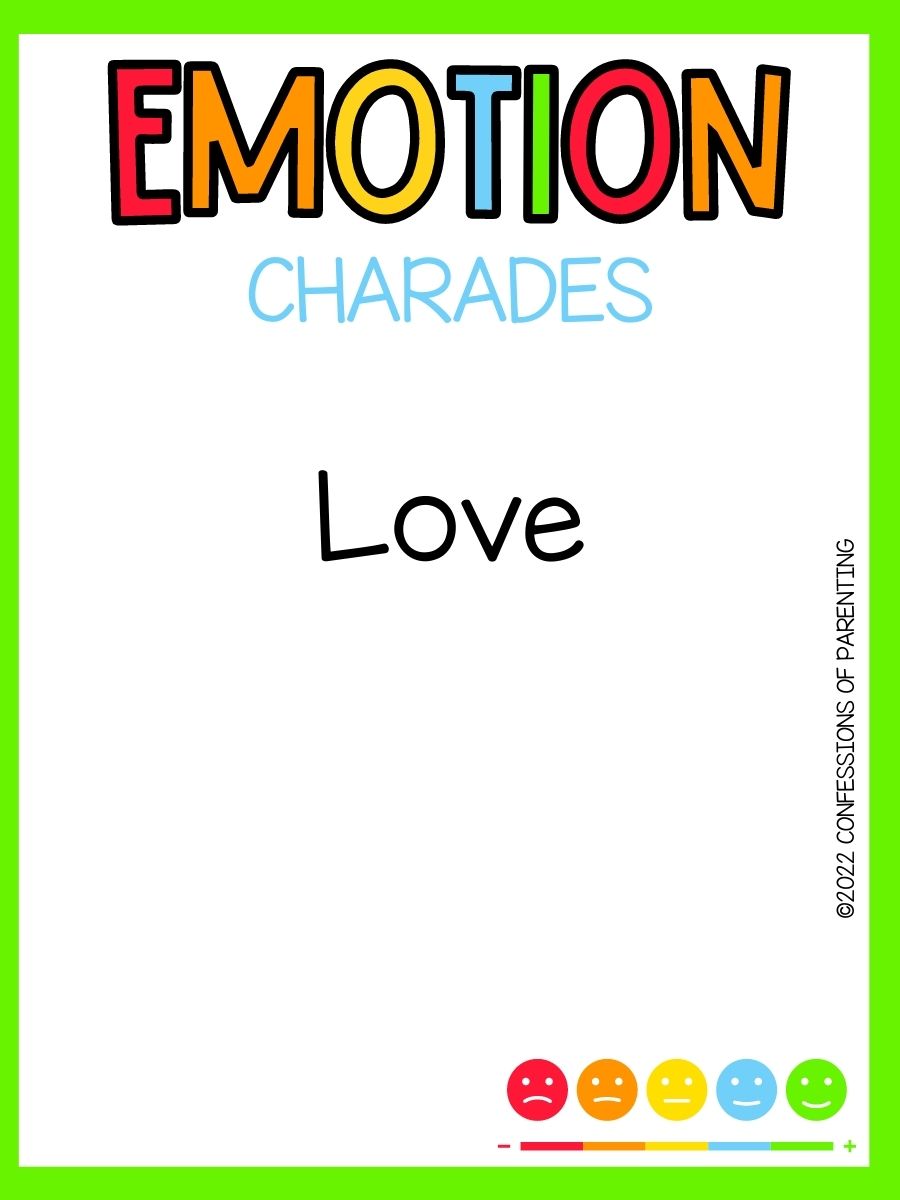 Love
Great
Anticipation
Friendship
Envy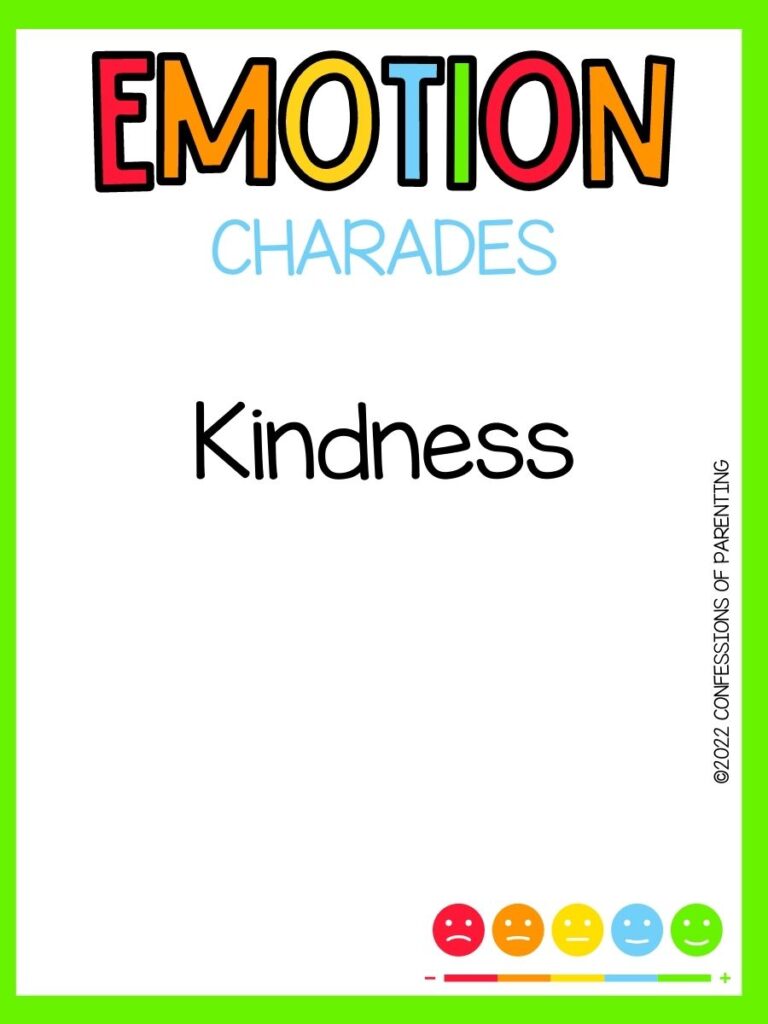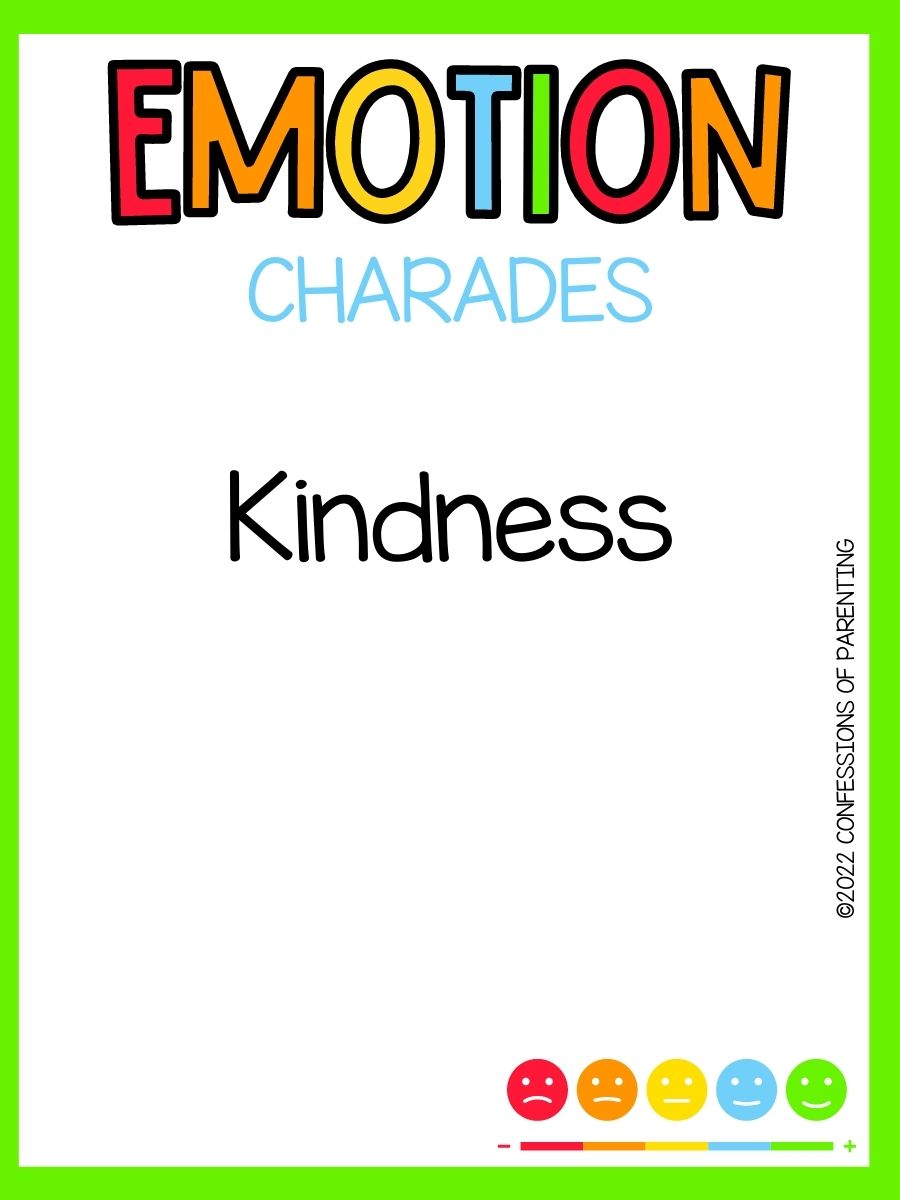 Kindness
Pity
Craving
Excitement
Grumpy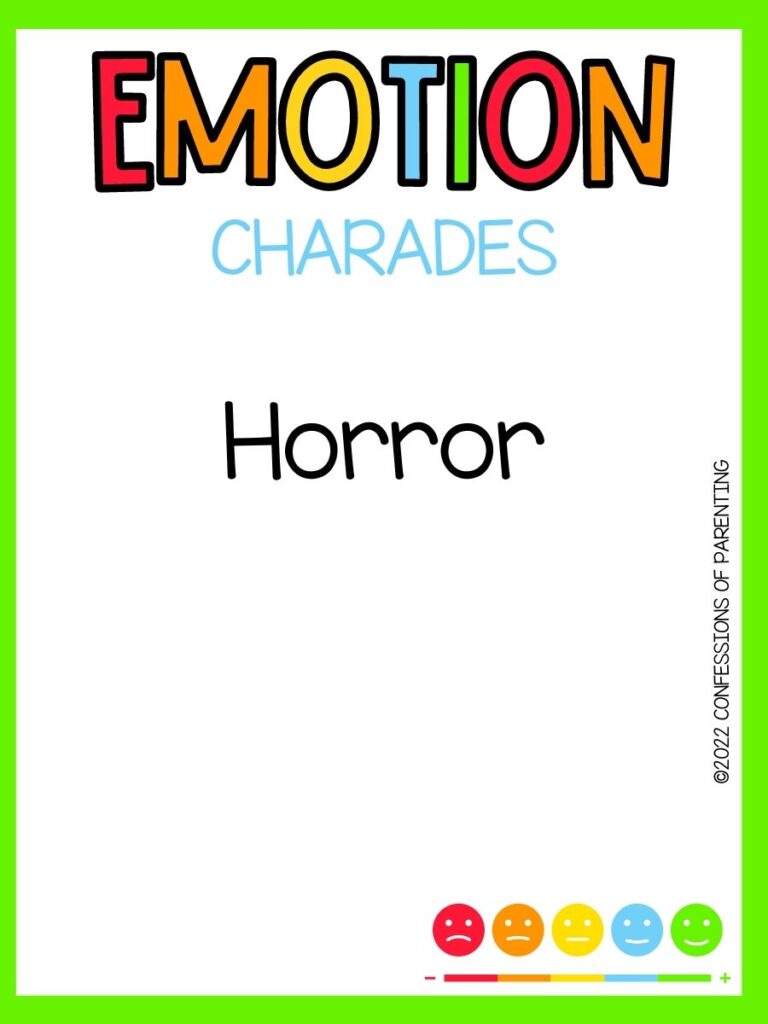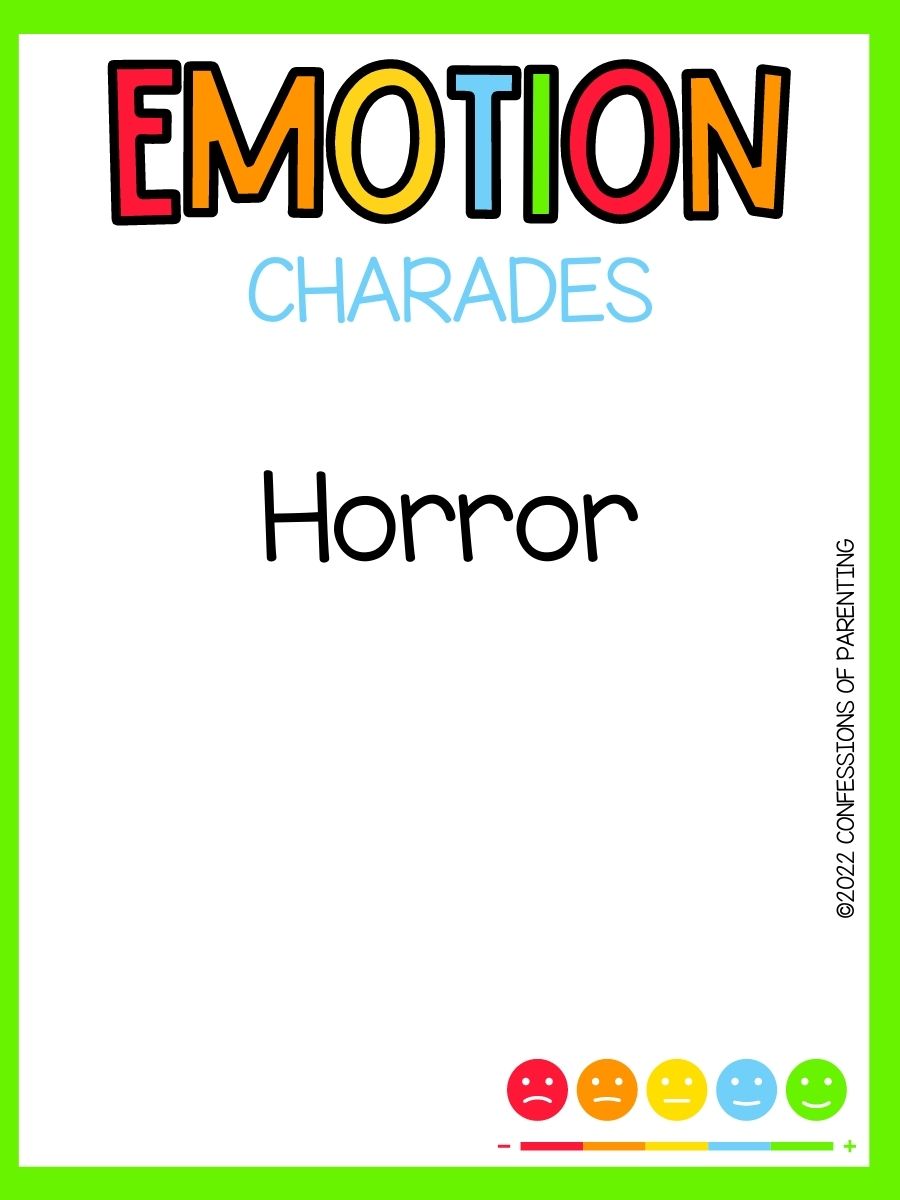 Horror
Empathetic Pain
Awkwardness
Adoration
Hatred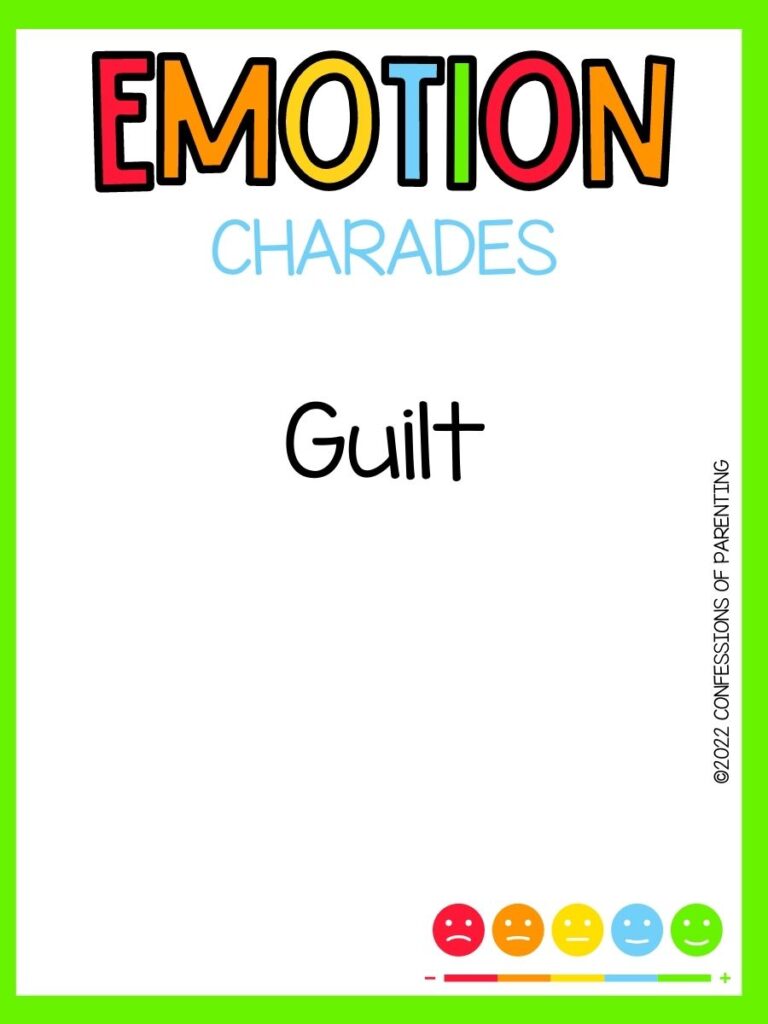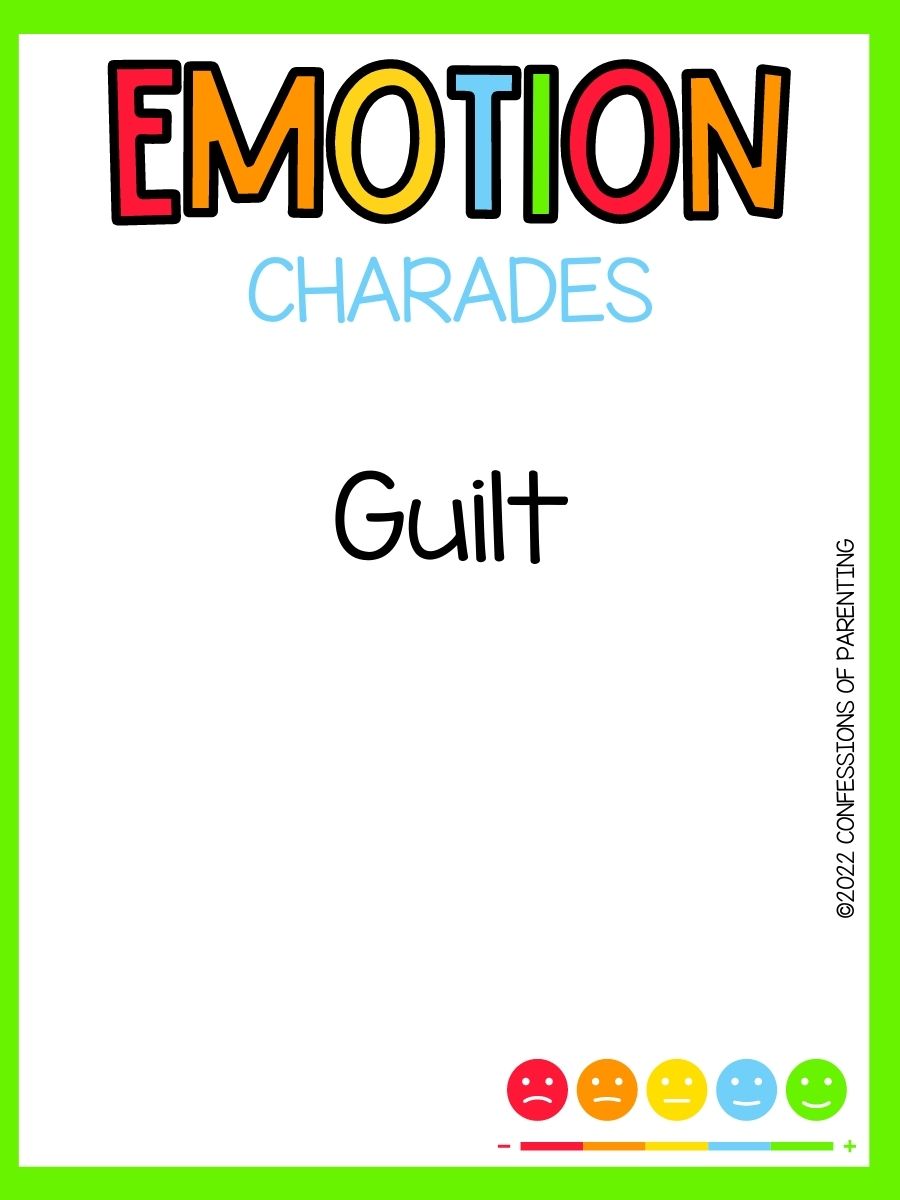 Guilt
Powerful
Upset
Focused
Refreshed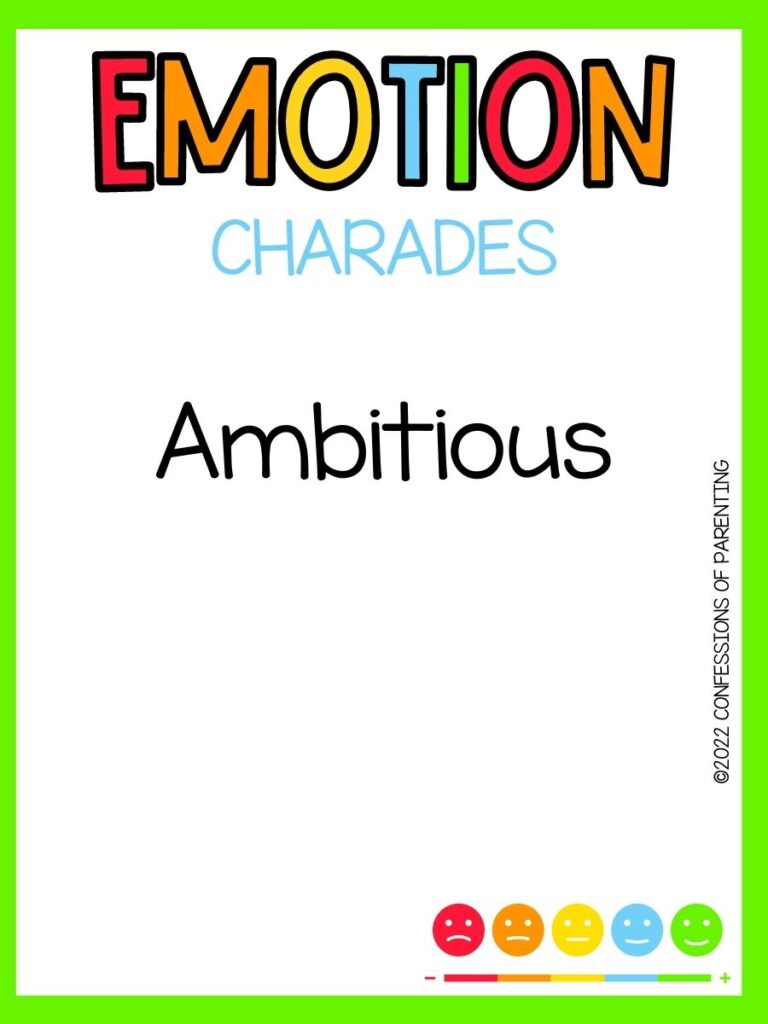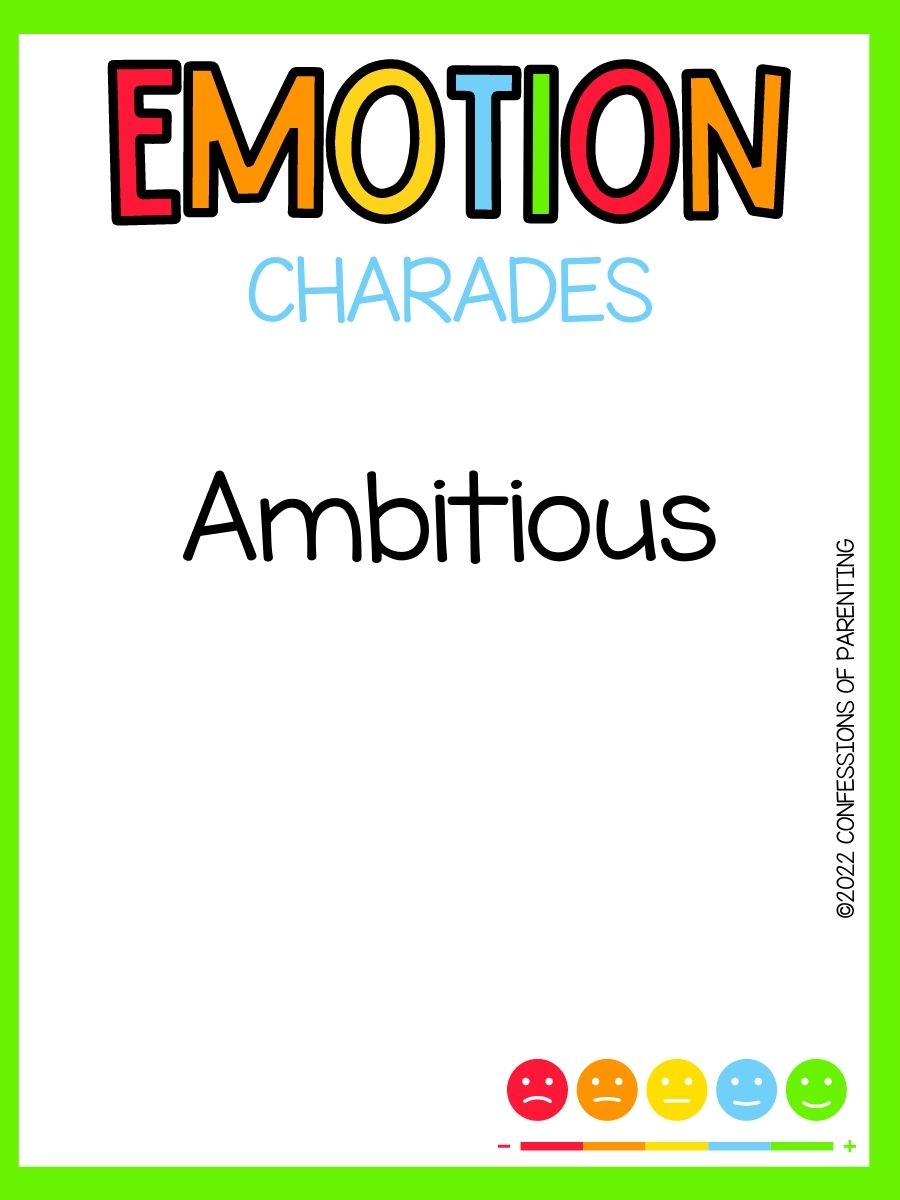 Ambitious
Charmed
Optimistic
Bossy
Nervous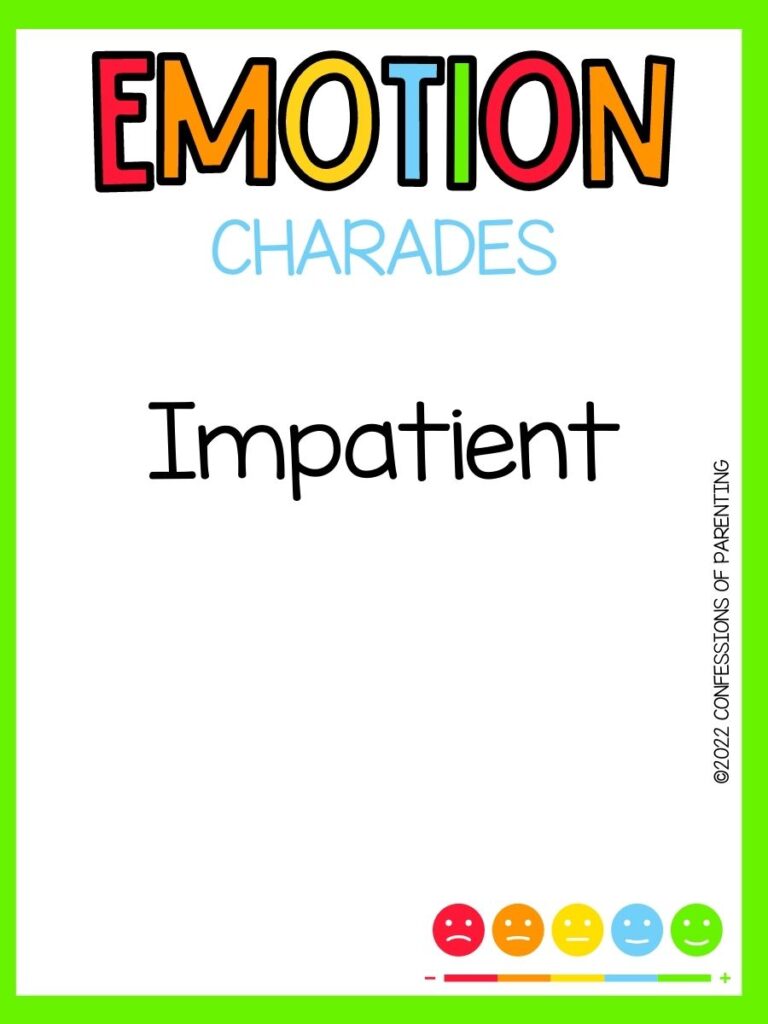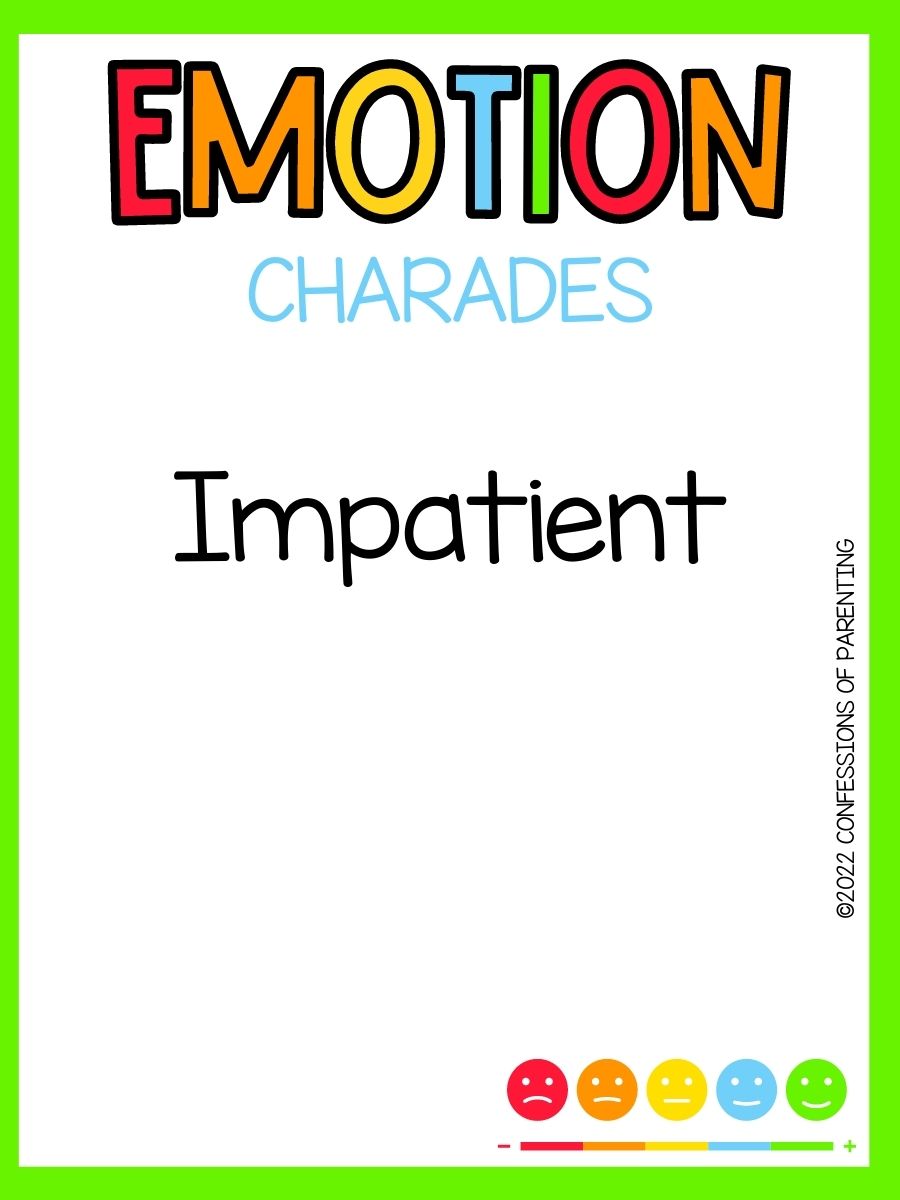 Impatient
Curious
Kind
Silly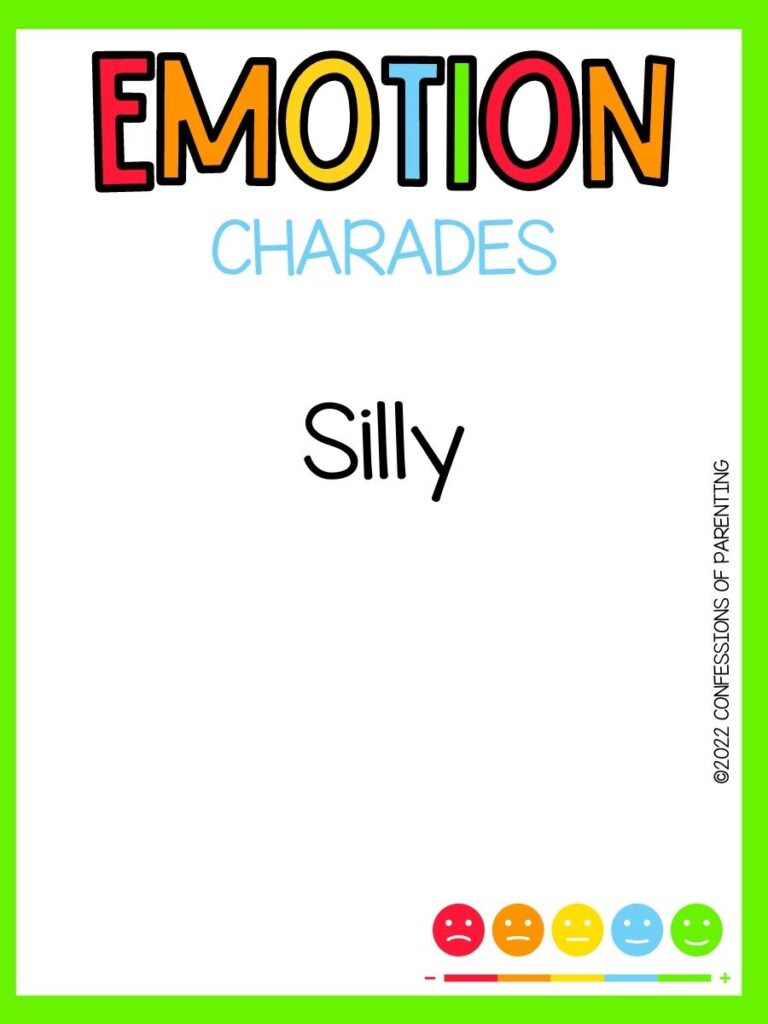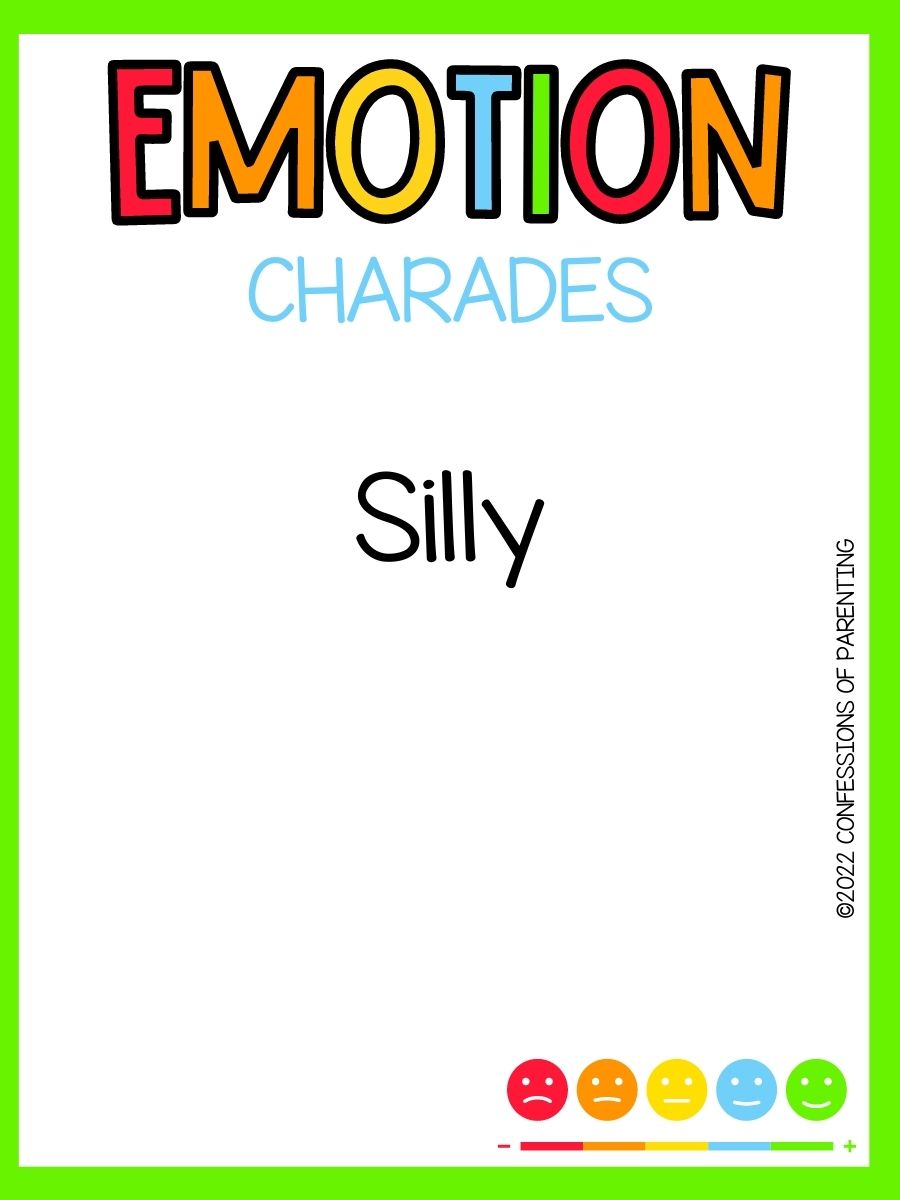 What other emotions would you add to these emotion charades cards? Share in the comments!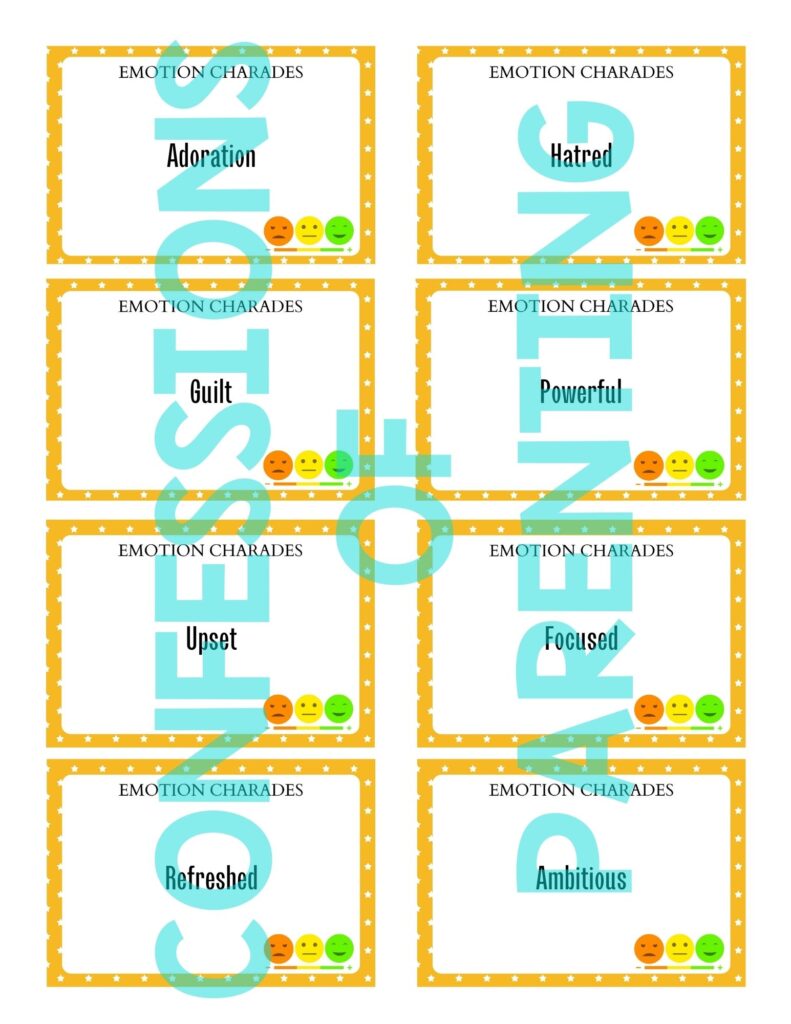 Love Charades? Try these other great charade games!
How Do I access my free printables?
Fill in the form above. You will receive an email in your inbox. If you don't see it check your spam folder! You will then click to confirm your subscription.You will then be redirected to your free download.
How Do I Print a PDF?
You'll need a program that supports PDFs. Adobe Acrobat is a great option. Open the program, click file then print. Select your printer and the number of copies you want to print. Be sure you click double-sided if you want it to print on both sides.
Can I resell these?
You may not resell any printable that you find on our website or in our resource library. You may use them for class parties, at church, at home, or in the classroom. You may get these printed at an office supply store or copy center at your own expense.