Looking for a fun game just for teens? Check out these 250 charades for teens to get them laughing, acting, and bonding in no time!
Charades for Teens
Charades for Teens is the perfect party game for your teenagers to play with friends. With 250 charade cards tailored specifically to teens, it is almost guaranteed there will be fun for hours! Whether you're having a family game night, or your teens are throwing a party of their own this charades game is the perfect blend of clean fun and total entertainment.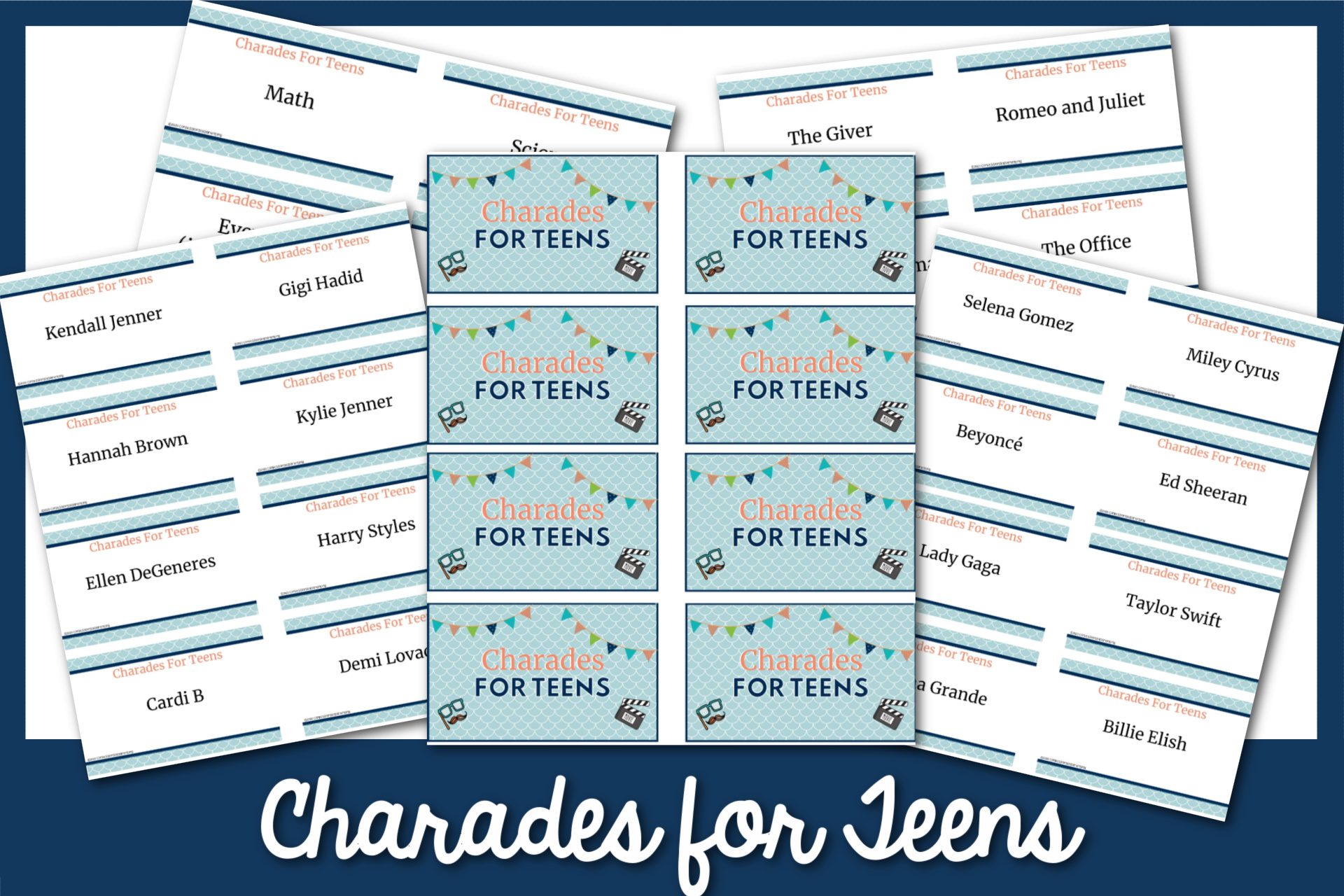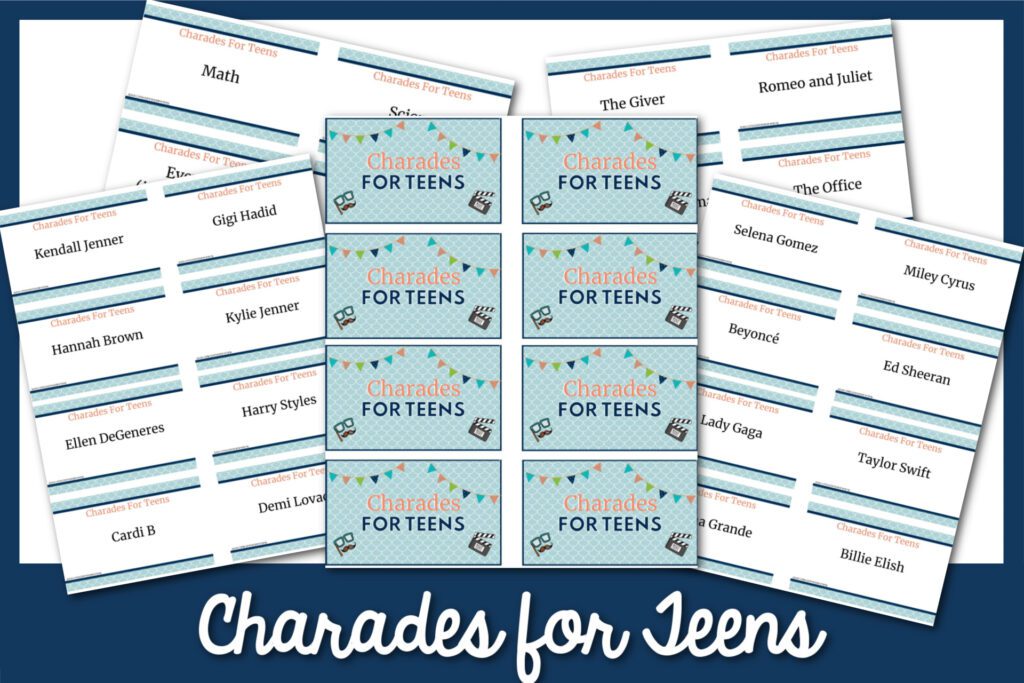 Why We Love Charades
Charades is such a universal game. Everyone in the family can have an enjoyable time from the parents of the house, to the teenagers, to the toddlers. This game is tailored to teenagers specifically, but it can still be fun for the whole family! We are strong supporters of family fun and playing with different charades ideas are a great way to create that environment!
Check out these other Charade games!
Ultimate Charades Bundle!
Do you want to Grab the Ultimate Charades Bundle with over 23 themed charades games? Grab it now before the price increases!
How to Play Charades for Teens
This easy-to-play game can be broken down into a few simple steps.
First, split into two (or more) even teams. This is a good time to decide who is going to be the scorekeeper and who is going to be the timekeeper for the whole group.
Once teams are divided, you then decide which team is going first (can be decided by a coin toss, craziest socks, rock paper scissors, or any other method you choose).
Next, the winning team picks their first representative (the actor). He or she will take a card from the pile. Once the timer begins, the actor will act out whatever is on the card. During this time the actor's teammates are trying to guess the word on the card. The actor CANNOT use words, mouth anything, or point to anything in the room in order to help their team.
Tip for the actor: it's best to indicate the number of words you are having your team guess (you can do this by holding up the correct number of fingers after the timer starts). It's also good to indicate the category you're acting out (movie, school, person, etc.)
Before the actor begins the group must decide how much time should be given for each round. Rounds typically last for 1-2 minutes. The time starts at the beginning of each round if the guessing team can guess the correct word on the card before the time runs out they get a point. If not, they don't get any points.
The teams take turns, alternating who the actor is each time so that everyone can have a turn.
The game can end in a number of ways. For example, when all the cards run out, when a team reaches a certain number of points, after playing for a certain amount of time, and so on. Decide before you start how the game will end. Whoever has the most points at that time is the winner.
Grab your Teen Charades Cards Printable Cards!
Check out the fun words and phrases in this game of charades!!
School subjects
Math
Science
Eye wash (in science lab)
English paper
Drowning in homework
Science lab
Cooking class
School lunch
Physical Education
Health class
Art class
Social studies
American history
World history
Drama class
Spanish class
Superlatives
Biggest flirt
Cutest couple
Most athletic
Most changes
Most successful
Best hair
Best dressed
Class clown
Best smile
Best eyes
Best personality
Best friends
Party animal
Best car
Best gamer
Worst driver
Best bromance
Stereotypes/high school activities
Nerd alert
Popular girl
The jock
Math geek
Mean girl
Gossip queen
The player
Football game
Tailgate
Cheer off
Senior prom
Homecoming queen
Homecoming game
Trouble maker
The bro
Outcast
Friend group
Sports
Volleyball
Basketball
Soccer
Baseball
Bowling
Cheerleading
Tennis
Golf
Track and field
Softball
Swimming
Lacrosse
Animals
Snake
Narwhal
Unicorn
Baby seal
Flying squirrel
Baby pig
Butterfly
Panda
Ostrich
Sloth
Dinosaur
Horse
Frog
Elephant
Cow
Dog
Cat
Hamster
Fish
Shark
Fox
Owl
Movies
Frozen
Clueless
Sixteen Candles
The Breakfast Club
Pitch Perfect
Grown Ups
The Hunger Games
Bring It On
The Fault in Our Stars
SuperBad
The Princess Diaries
Footloose
Five Feet Apart
Hair Spray
Dirty Dancing
Back to the Future
The Kissing Booth
Paper Towns
The Cheetah Girls
She's the Man
Spider-Man
The Avengers
Tangled
Napoleon Dynamite
Step Brothers
Ocean's 8
The Princess Bride
Lord of the Rings
The Giver
Romeo and Juliet
The Greatest Showman
The Office
Movie Characters
Harry Potter
Hermione Granger
Ron Weisley
Indiana Jones
Batman
Joker
Shrek
Luke Skywalker
Black widow
The Hulk
Captain America
Iron Man
Black Panther
Doctor Strange
Ant-Man
Deadpool
James Bond
People
Justin Bieber
Kanye West
Kim Kardashion
Kendall Jenner
Gigi Hadid
Hannah Brown
Kylie Jenner
Ellen DeGeneres
Harry Styles
Cardi B
Demi Lovado
Selena Gomez
Miley Cyrus
Beyoncé
Ed Sheeran
Lady Gaga
Taylor Swift
Ariana Grande
Billie Elish
Kevin Hart
Katy Perry
Donald Trump
The Rock
Jonas Brothers
Blake Lively
Stephen Curry
Post Malone
Marshmello
Will Smith
Adam Sandler
Oprah Winfrey
Bob Ross
Abraham Lincoln
Elvis Presley
Micheal Jackson
The Queen of England (Elisabeth II)
Helen Keller
Food
Peanut butter and jelly sandwich
French fries
Chicken nuggets
Ice cream
Cookie crumbs
Chocolate cake
Buffalo wings
Popcorn
Spicy chips
Cheese pizza
S'mores
California roll
Sweet tea
Hot coffee
Hot soup
Burger
Bubble gum
Eating candy
Fried rice
Pumpkin pie
Muffin top
Potato chips
Spicy taco
Hot dogs
Trends
Tik Tok
Instagram
Vegan
Vegetarian
Podcasts
Hydroflasks
Netflix
Hulu
Film camera
Color hair
Ripped jeans
Expensive leggings
Scrunchie
Activities
Dancing at a party
Driving a car
On a date
Rejecting a kiss
Shopping
Slow dancing
Falling
Taking a test
Breakdancing
Dinner date
Food fight
Hiking
Card games
Monopoly
Water skiing
Snowboarding
Karaoke
Mountain climbing
Bungy jumping
Skydiving
White water rafting
Drive in movie
Playing a trombone
Boxing
Building a sand castle
Touchdown
Chopping a tree
Flying a plane
Surprise party
Catch Phrases
A chip on your shoulder
Burst your bubble
Dodge a bullet
Hold your horses
It's not rocket science
Jet lag
Knock yourself out
Long time no see
Monkey see monkey do
Raining cats and dogs
Sitting duck
The straw that broke the camel's back
Under your nose
My hands are tied
Did you and/or teens play this game of Charades? Comment below on your experience!
Check out these games for teens
Love Charades? Try these other great charade games!
How Do I access my free printables?
Fill in the form above. You will receive an email in your inbox. If you don't see it check your spam folder! You will then click to confirm your subscription. Once confirmed you will be taken to Airtable (a different website) where all our free printables will be waiting for you! It is free to sign up for Air Table!
How Do I Print a PDF?
You'll need a program that supports PDFs. Adobe Acrobat is a great option. Open the program, click file then print. Select your printer and the number of copies you want to print. Be sure you click double-sided if you want it to print on both sides.
Can I resell these?
You may not resell any printable that you find on our website or in our resource library. You may use them for class parties, at church, at home, or in the classroom. You may get these printed at an office supply store or copy center at your own expense.