Are you looking for the best board games for teens, but are scratching your head because there are so many options out there you don't even know where to begin? We are sharing our favorite board games for teenagers that they will have a blast playing with friends, family, or in a party setting!
Board Games for Teenagers
We love that board games are making a comeback for teenagers. More often than not teenagers are getting together with friends to play games and to be honest I could not be more excited, especially because it gets them away from their favorite video game and their phones!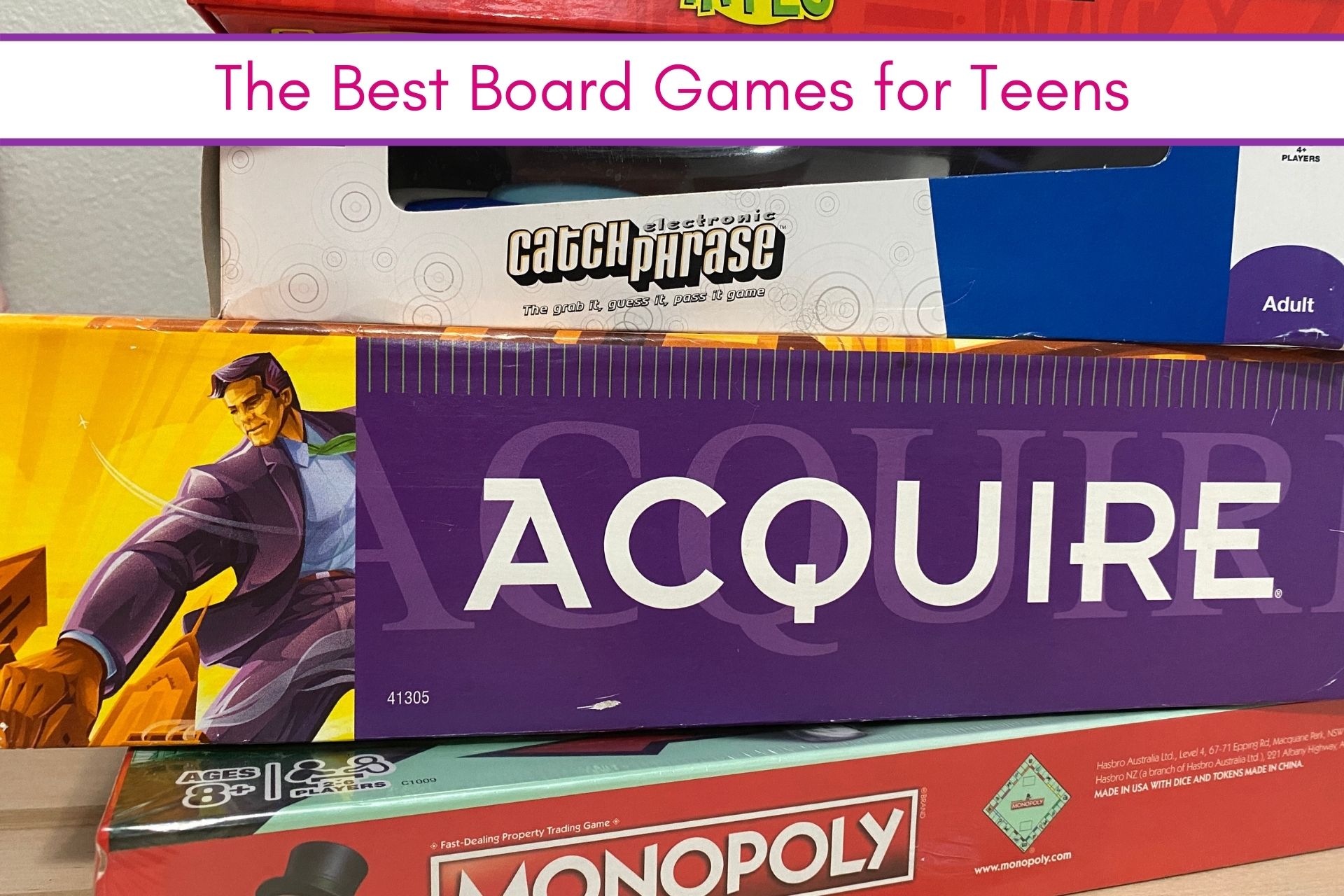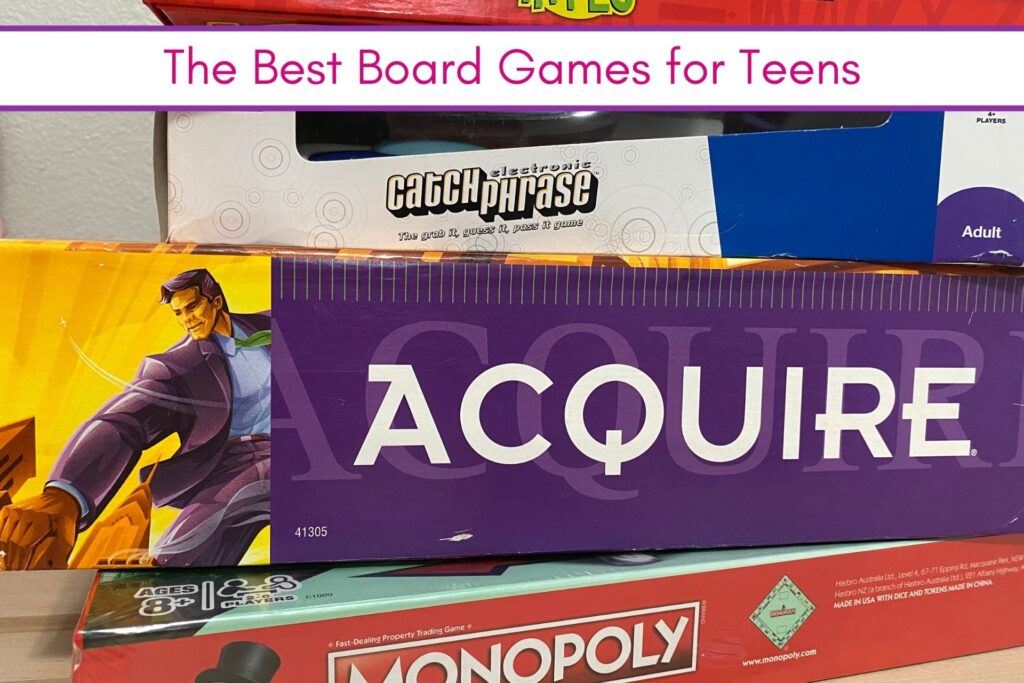 Our Top Picks of the Best Board Games for Teens
Overall favorite game for teenagers: Throw Throw Burrito
Best Seller: Kids Against Maturity
Top 10 Favorite Teen Board Games: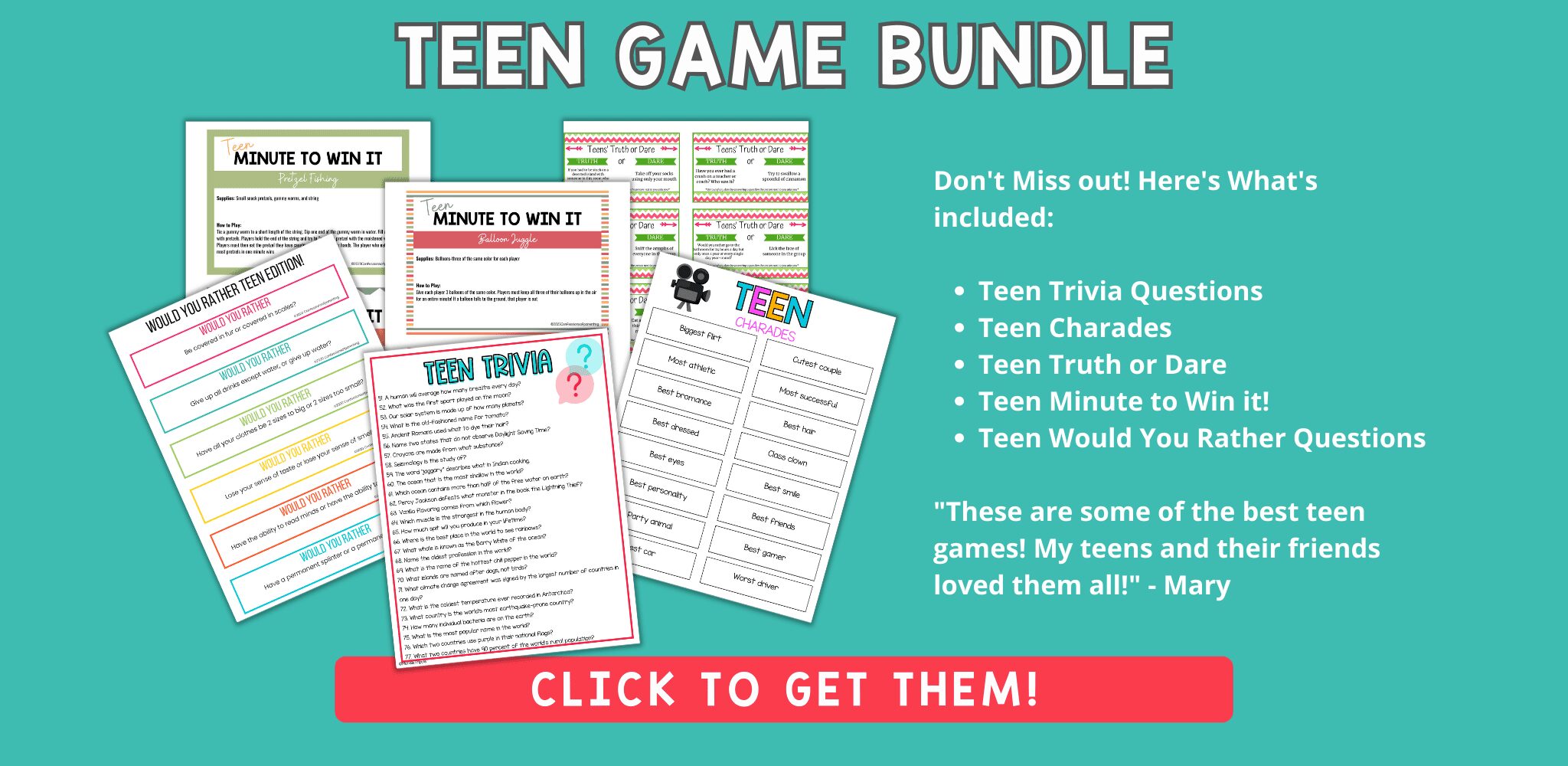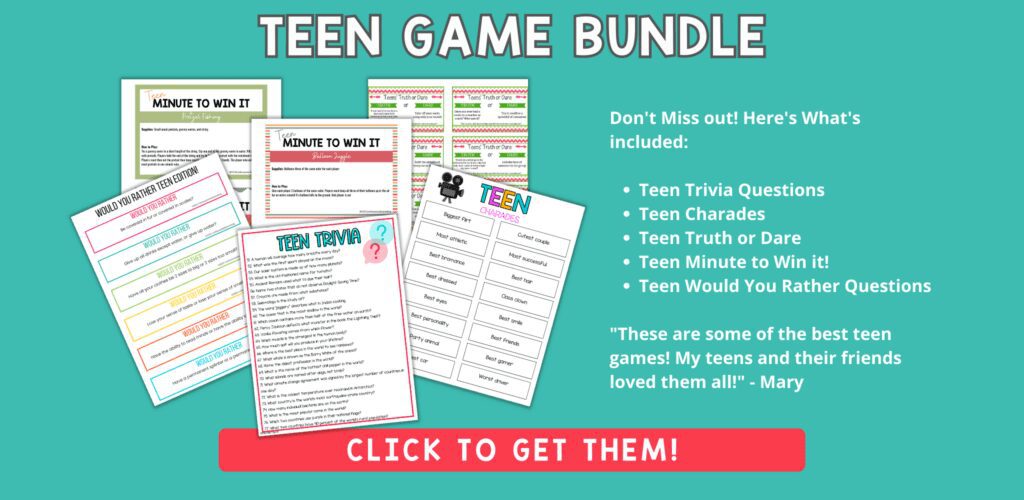 Need a Last Minute Game Idea? Try These!
Benefits from Playing Board Games
Board games are a way to connect with each other whether it is bringing the whole family together or a group of friends it is fun quality time spent with one another.
They are educational. With so many games out there, there are several that offer many educational benefits that make your mind think while having fun.
It is scary to think that our teenagers will be young adults soon, so thankfully games help with critical thinking skills. Not only that, but they learn strategy as well as social skills.
How to Pick the Right Game
There are so many games on the market right now, it is hard to know which one to buy first.
The number of players. When choosing new games you want to look at the number of players that can play. This way you can plan accordingly when buying.
Difficulty. There are games of all different difficulties. Some can be simple games that you can play while talking and having fun and then there are those strategic critical thinking games that require all your concentration.
Age. While the age on the box is a suggestion you will want to look at it while choosing the games for your teenagers. If the game is made for younger kids it is possible that they may lose interest in it quickly. On the other hand, if a game is suggested for adults it may be inappropriate for them.
Length of Time. Check out how long it takes to play the game. Some of the classic games we love like Monopoly take hours, while other games take 15 minutes. Choose games that are just the right amount of time that you are looking for.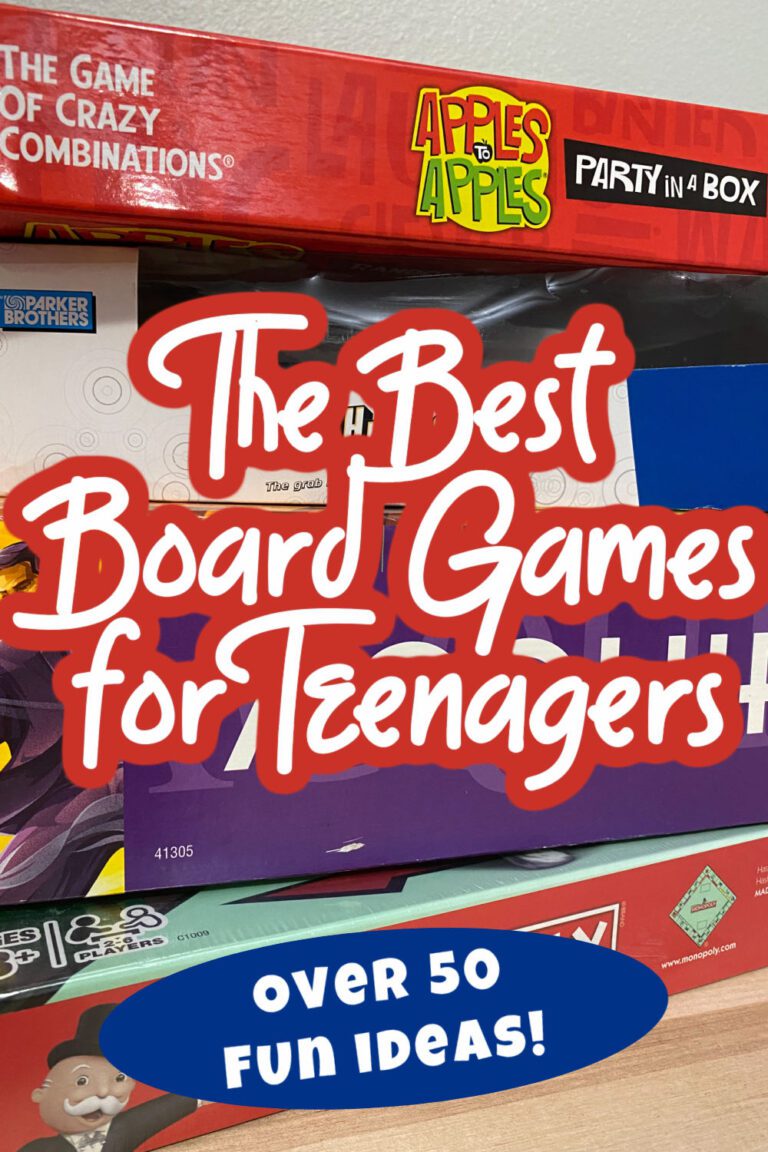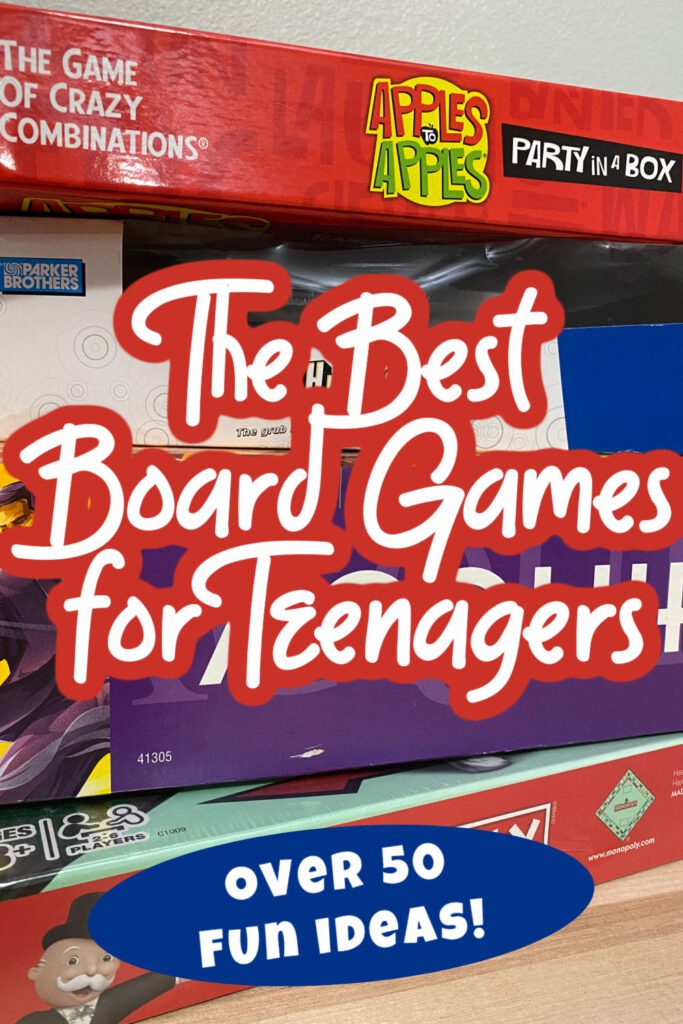 The Best Board Games for Teens
Rather than just giving you a list of the best board games for teens to choose from, we will go into detail about many of them to help you find the best ones for your teenagers that are lots of fun.
Cooperative Games
Pandemic
There is a reason why Pandemic is the best-selling cooperative game on Amazon! In this game, your team works together to save the world from outbreaks and epidemics and try to find cures for them. This game is for 2-4 layers and takes about 45 minutes to play.
Spaceteam
If you are looking for a fast-paced quick game that takes about 5 minutes, then Spacteam is the game for your next family game night. In this game, your team needs to find the right parts (with the most ridiculous names) to fix your spaceship. Find the right tool to fix the part while helping everyone else build the spaceship. This is a fun game of shouting to try and get the job done. This is the perfect ice breaker game if you need one for that too!
Heist
Can your team pull off the Heist to earn $50 million dollars in less than five minutes? In Heist, they will try to do just that as each person is assigned a role to the team. Be sure to follow the commands given and think fast to complete the mission. We love that there are 5 levels so that you can keep playing over and over again. This game is made for 2-4 people.
The Mind
Can you mind-meld with fellow players without saying a word? In this cooperative board game, The Mind, players must figure out a way to silently communicate without crazy gestures. With over 3.5 million copies sold already this game has become a popular game in no time. This game is for 2-4 players and takes about 15 minutes to play.
Escape Room
If you are looking for an Escape Room to do at home then you will want to grab this fun game. Play with a group of friends or your family to try to escape multiple themed rooms as you race against the clock. Can you do it in 60 minutes or less? Only time will tell.
Forbidden Island
Forbidden Island is a great game of strategy and cooperation as you join a team to complete a do-or-die mission to capture the 4 treasures from the ruins. This game takes about 30 minutes to play and is perfect for younger teens all the way to older kids and adults!
Strategy Games
Ticket to Ride
Ticket to Ride is a fantastic game that takes between 30-60 minutes to play. In this game, players play against one another to grab the best train cards and routes before other players. This has become a modern classic game that the entire family loves playing together.
Sushi Go
Sushi Go is a great way to help reinforce probability and strategic thinking. This is a pick-and-pass game where you are trying to build the best sushi combination. Score points for making rolls and becoming the ultimate Sushi Master. This game takes about 20 minutes and 2-5 players can play at a time.
Acquire
Acquire has been a popular game in our house ever since I was a teenager. This is one of those strategy board games that are different every time you play it. Once you think you figure out the perfect strategy you might just be wrong as another player merges two stock companies way sooner than you would like. In this game, you will sell, trade, and keep stocks to try and end up with the most money at the end of the game.
Risk
Risk is a classic board game that has been around forever where players compete against one another to take over the world. This game is a favorite if you want to plan strategy all day long.
Try these other strategy games as well!
Family Game Night
Kids Against Maturity
Kids Against Maturity is the best game for family game night! This game is fun for all games that you won't ever get tired of playing with over 500 question and answer cards. It is simple and hilarious and will bond you as a family as you play this time and time again!
Apples to Apples
Apples to Apples is a family favorite game perfect for any age group. In this game, you use the included cards to try to choose the card that best fits the card the judge is looking for. This is a good game to always have one hand because everyone always loves playing it.
Phone Phever
Phone Phever is the only game where we are letting teenagers be on their phones while playing. In this game, teenagers will use their phones to complete challenges without having to download an app to play. Honestly, we love that this helps teenagers figure out how to use their smartphones more productively than just watching videos and being on social media.
Monopoly Cheaters Edition
Monopoly Cheater's Edition is all about bending, breaking, and following the rules to win, but don't get caught cheating or you will get chained to the jail space. In this version, you will try to complete different cheat challenges to earn money. This is the most hilarious game of Monopoly you will play.
Nertz
Nertz is the fastest family game night game out there as you race against each other to be the first person to yell "Nertz" by getting rid of your Nertz pile. 2-12 people can play at a time in this fun game!
Captain Sonar
If you love war then you will love Captain Sonar. In this game, teams compete against one another to find and destroy submarines while escaping deactivation. This game takes strategy and skill to pay attention to everything happening all at once so that your team can win.
Spontuneous
Musically inclined? Not so much? Whether you are musically inclined or not this song game is tons of fun. In Spontuneous, one player chooses a word from the hit list and reads it aloud. It is then a race for the other players to sing a song that has that word in it. You must sing at least 5 words, and if you do, you win that round! This is fun for even college-age kids at their next get-together, just be warned, it can get a little loud.
Other Great Family Games for Teenagers
Party Games
Throw Throw Burrito
Throw Throw Burrito is a great way to get a little energy out of those teenagers! This is the world's first dodgeball card game. The object of the game is to try and collect matching sets of cards faster than other players while trying to avoid getting hit by the flying burritos. Collect points for collecting cards, but be careful you will lose them if you get hit by the flying burrito. This is the perfect game to help get the party started. We love that younger children can play this too.
Exploding Kittens
Exploding Kittens has quickly become one of our favorite games. It is very similar to Uno, but with goats, enchilada, and kittens that can kill you. This is by far a great game that makes for the perfect gift that is so much fun! With over 9 million copies sold, if you don't have it yet, it is definitely time to buy it. Don't forget to grab some expansion packs as well!
Rollick!
Rollick is one of the best ways to get kids laughing and having fun at their next game night! This is very similar to reverse charades and is perfect for the entire family if you choose! It is simple to learn and full of tons of interaction.
Been There Done That
How Well Do you know the people you are playing with? Well in Been There Done That you will find out just how well you know them. This is the perfect conversation starter or icebreaker game that 3-12 people can play together. This is a ton of fun and takes only 2 minutes to set up and a game lasts about 30 minutes.
In Kahoots
If you are looking for more great party games, then add In Kahoots to the list. You are sure to have many evenings with lots of laughter with this fun new game.
Other great party games for teenagers
Dice Games
Tenzi
Did you know that there are 77 ways to Play Tenzi? This game is super easy to learn as you roll your set of dice as fast as you can to win the round.
Flash
Flash is all about visual perception and arithmetic as players are tasked with counting dots and matching dice that have the same number. This is a fast paced dice rolling game that takes quick decision-making to win.
LCR
LCR is maybe one of the most addicting dice games out there. Teenagers will roll the dice to figure out which way to move their chips. The one with the chips left is the winner and wins the pot!
Farkle
Roll the dice in Farkle and start praying that you did not test your luck too far and lose all your points! This game is all about risk-taking and hoping that you get the right combination that you need to win! If you want to take it up a notch grab Farkle with Friends to play all together!
For more dice games check these out also!
Card Games
Although these games technically don't have a game board, we thought we should throw in a few of the best games that use a deck of cards too for a little variety because it is always a good idea to have some cards on hand to help get the conversation started!
Phase 10
Phase 10 is a classic game that everyone loves. A great thing about this game is that you can play this with younger kids, older kids, and even your grandma and everyone will have fun!
Unstable Unicorn
Before Unstable Unicorn was even released people were excited about it even though this game is pretty weird. LOL. The goal of this strategic card game is to fill your stable with 7 unicorns before other players do. We have to be honest, this is probably the most cut-throat game on the list
3 up 3 down
3 up 3 down is a fast-paced game all about getting rid of your cards before everyone else, but there is a catch, three cards are not uncovered until the very end so you need both strategy and luck to win. If you can't count to 10 you can play this game
Taco Cat Goat Cheese Pizza
Taco Cat Goat Cheese Pizza is a simple and hilarious card game that is the perfect game to play just about anywhere. It takes just a few minutes to learn and lasts about 15 minutes as you try to get the world that is said to match the card. Don't be the last one to slap the pile or you will end up with it!
Monopoly Deal
We have loved Monopoly Deal in our house for a very long time! There is a reason why Amazon told me that I have bought this 5 times because we love it that much! In this quick version of Monopoly, you play with a deck of cards rather than a board. The object is to lay down three sets of the property before anyone else, but beware there are action cards to stop you all along the way! This game is always full of great fun and surprises to see who wins.
Other Card Games to Have on Hand for Teenagers
What board games for teens did we forget? Share in the comments so we can add them to the list!
Ready for more games? Check these out!