Make date night a lot more interesting with truth or dare for couples! Get to know your loved one while having a fun time. Truth or dare for couples is a great way to spend your evening relaxing and having fun together.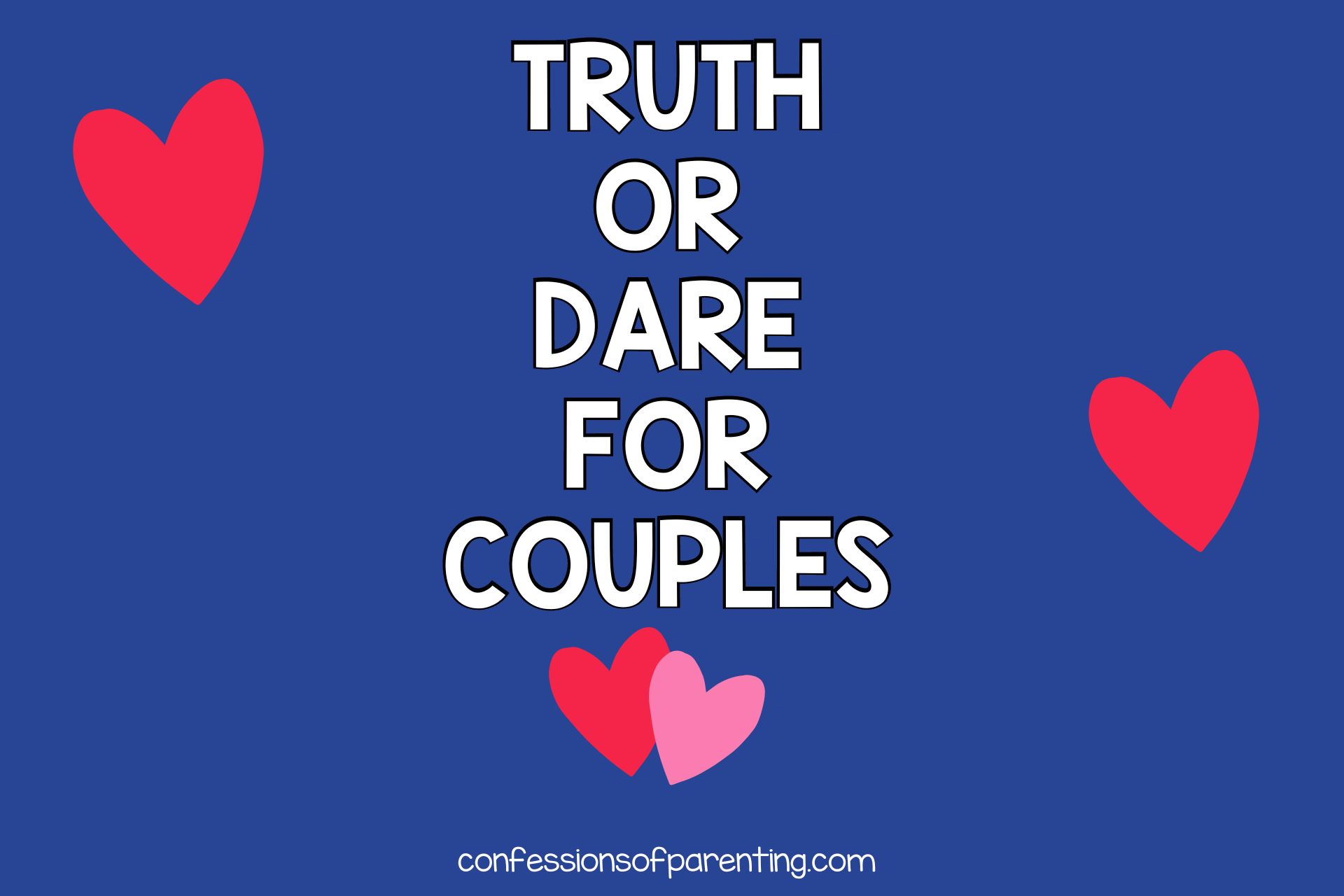 Truth or Dare for Couples
If you're looking for the perfect date ideas for married couples then truth or dare for couples is a great option! My kids love playing truth or dare for kids. Seriously, they could play it all day long. And honestly, after writing all these truth or dare questions, I realized this would be a fun game to play as a couple!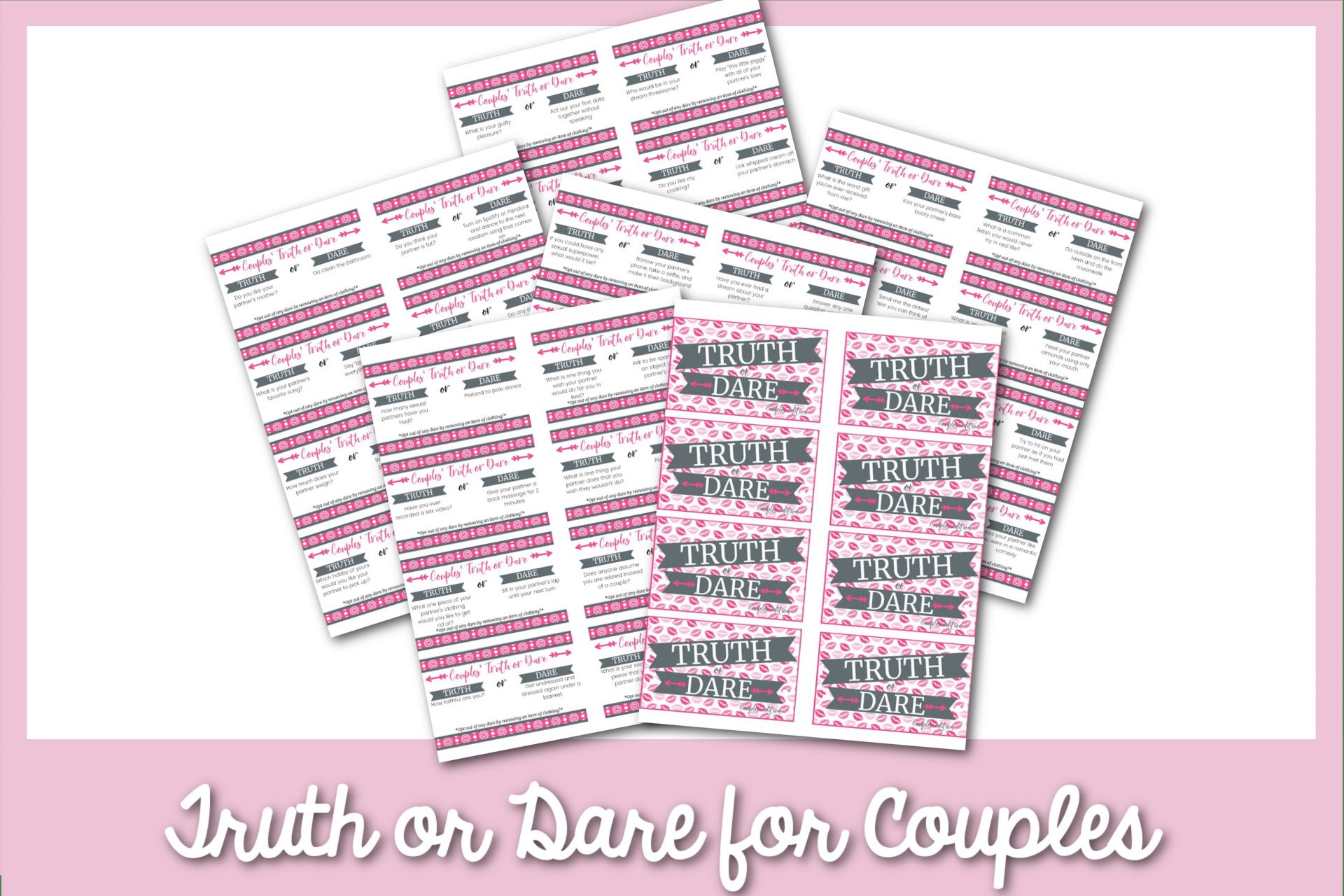 Truth or Dare for couples is pretty similar to truth or dare for kids, except that it involves more intimate questions and dares. Just a warning, truth or dare for couples gets a little steamy but not super sexual.
If you want something more sexual, check out these 500 Never Have I Ever Questions Dirty-Perfect for Married Couples and if you are looking to spice up the bedroom we have you covered there too!
Are you and your partner apart? No problem! Grab our flirty truth or dare questions over text to spice it up even when you are apart!
How to Play Truth or Dare for Couples
As I said before, truth or dare for couples is pretty similar to every other truth or dare version out there. However, you can modify the rules a little bit here to make it more accommodating for your relationship.
To start the game, one person will ask the other, "truth or dare?" If they say "truth," they will be given a personal question that they have to answer as truthfully as possible. If they say "dare," they will be given a task they must perform.
There are exceptions if someone doesn't want to complete a dare or if the question is too personal. You could get a new truth if you picked "truth" or a new dare if you picked "dare." However, you can't jump from truth to dare. If you pick truth, you have to do a "truth" and vice versa. Plus, you can only get a new "truth" or a new "dare" once per turn and only three times in a game!
Or, if you want to make it a little spicier, you can opt out of any truth or dare by removing an item of clothing!
But other than that, there are no winners or losers. This game is fun and lets you get to know your partner better.
Why I Love Truth or Dare for Couples
As a wife for many years and as a family life educator specializing in marriage and family, I get how sometimes you may feel like you are just going through the motions in your marriage, especially when you are so busy! That is why I love simple ways to spice up your marriage and get you out of the normal rut of day-to-day life. These truth or dare cards can help you! Just download them, print them out, and have an easy way to connect! You and your spouse will have fun and reconnect even on the busiest days!
Grab our truth or dare for couples printable cards for endless fun!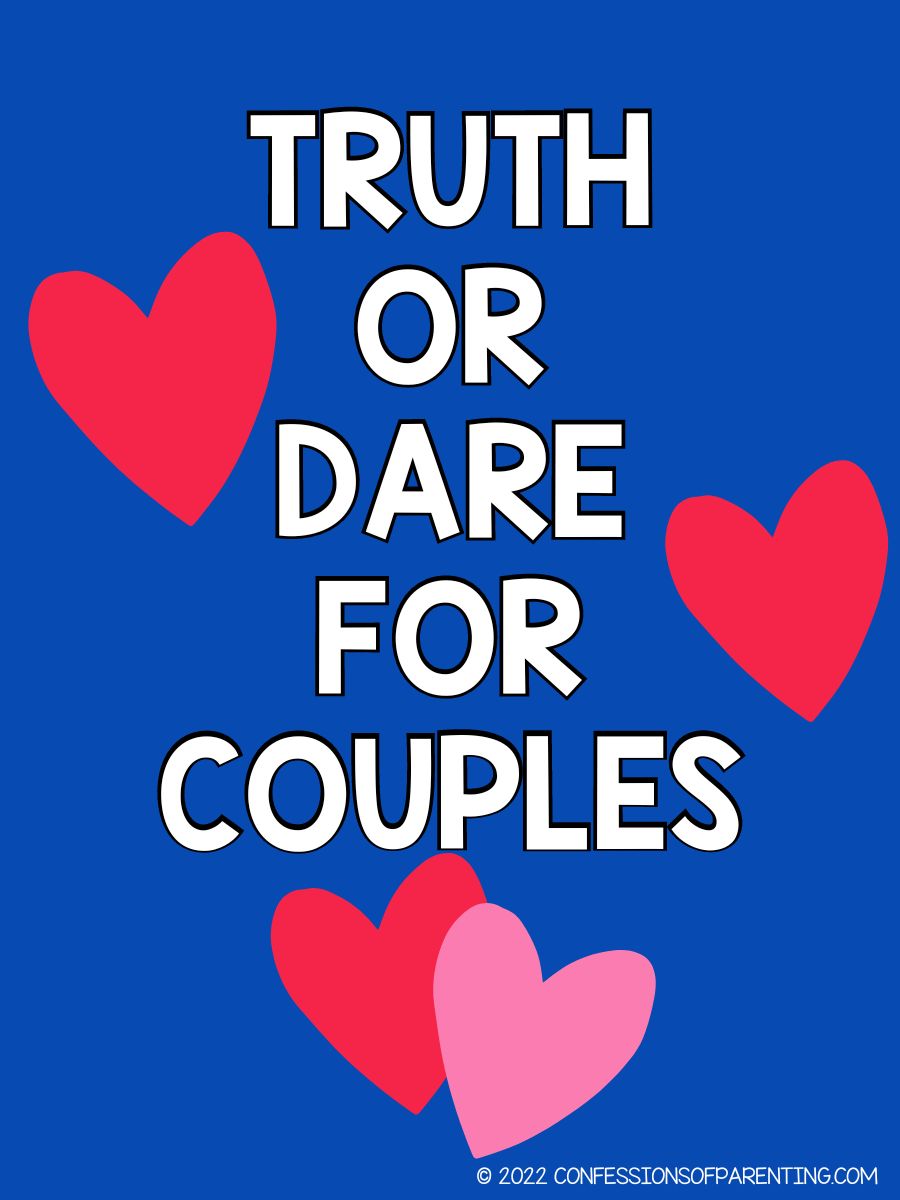 Truths for Truth or Dare for Couples
Intimate Truths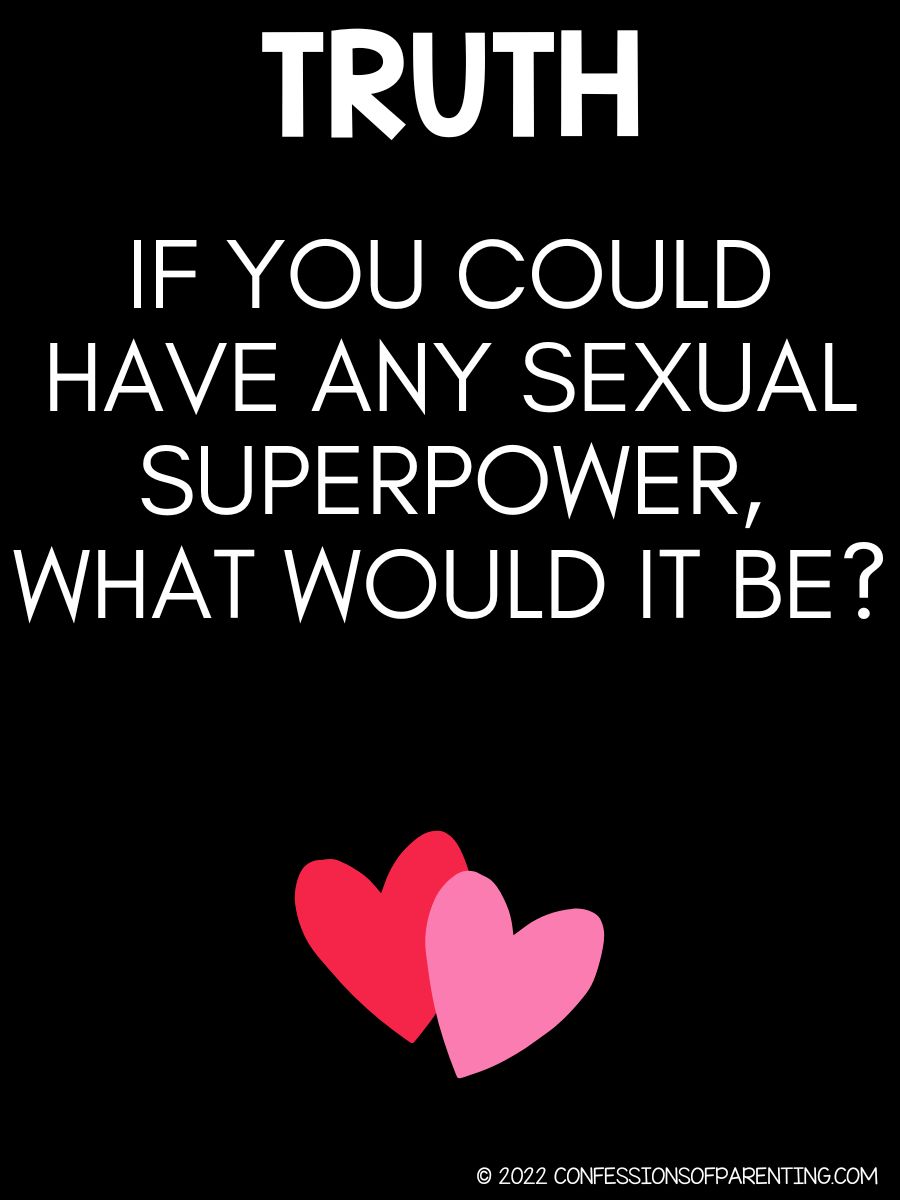 If you could have any sexual superpower, what would it be?
What is your favorite part of me?
What is your biggest turn-on?
What personality traits do you find most attractive?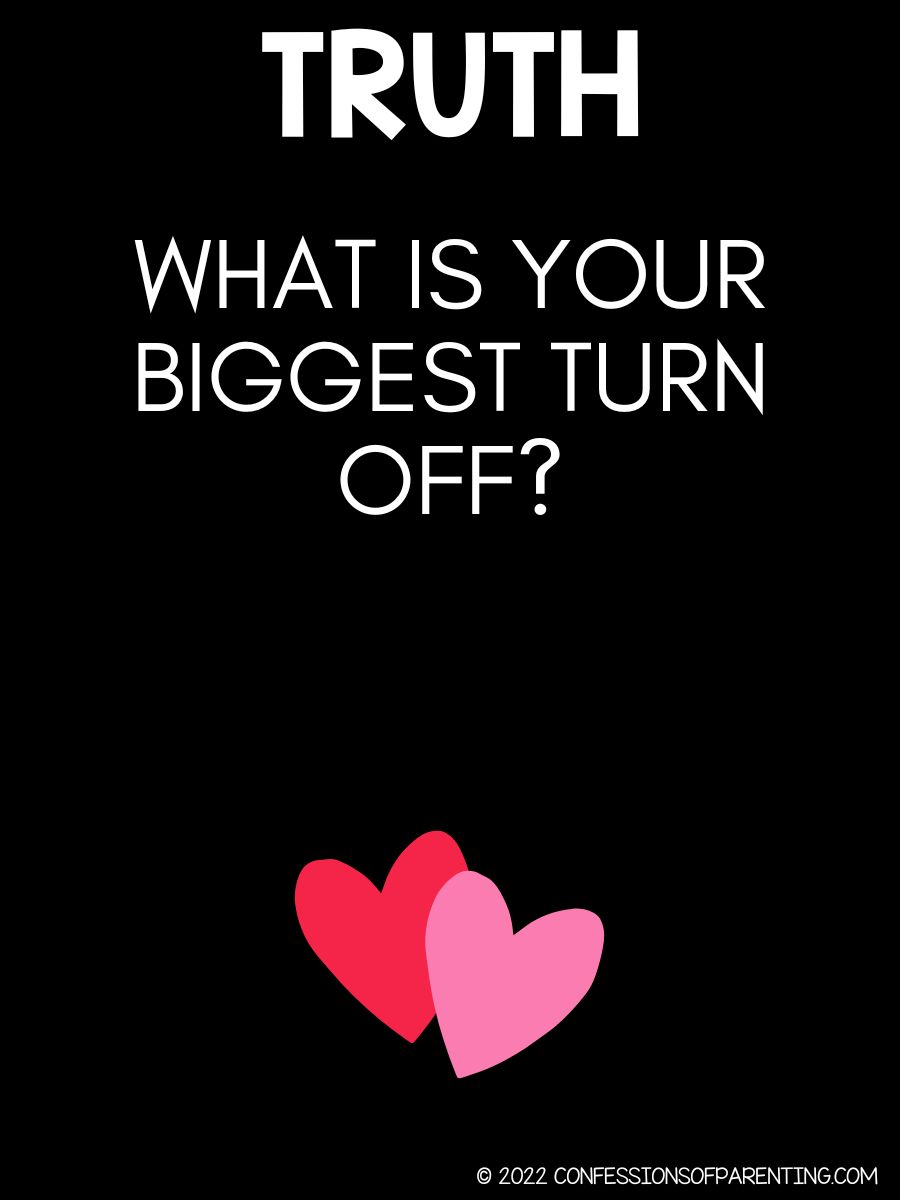 What is your biggest turn off?
Have you ever lied to me before?
Do you like giving or receiving a lap dance?
What is one question you don't want me to ask you?
What is your hidden talent that I don't know yet?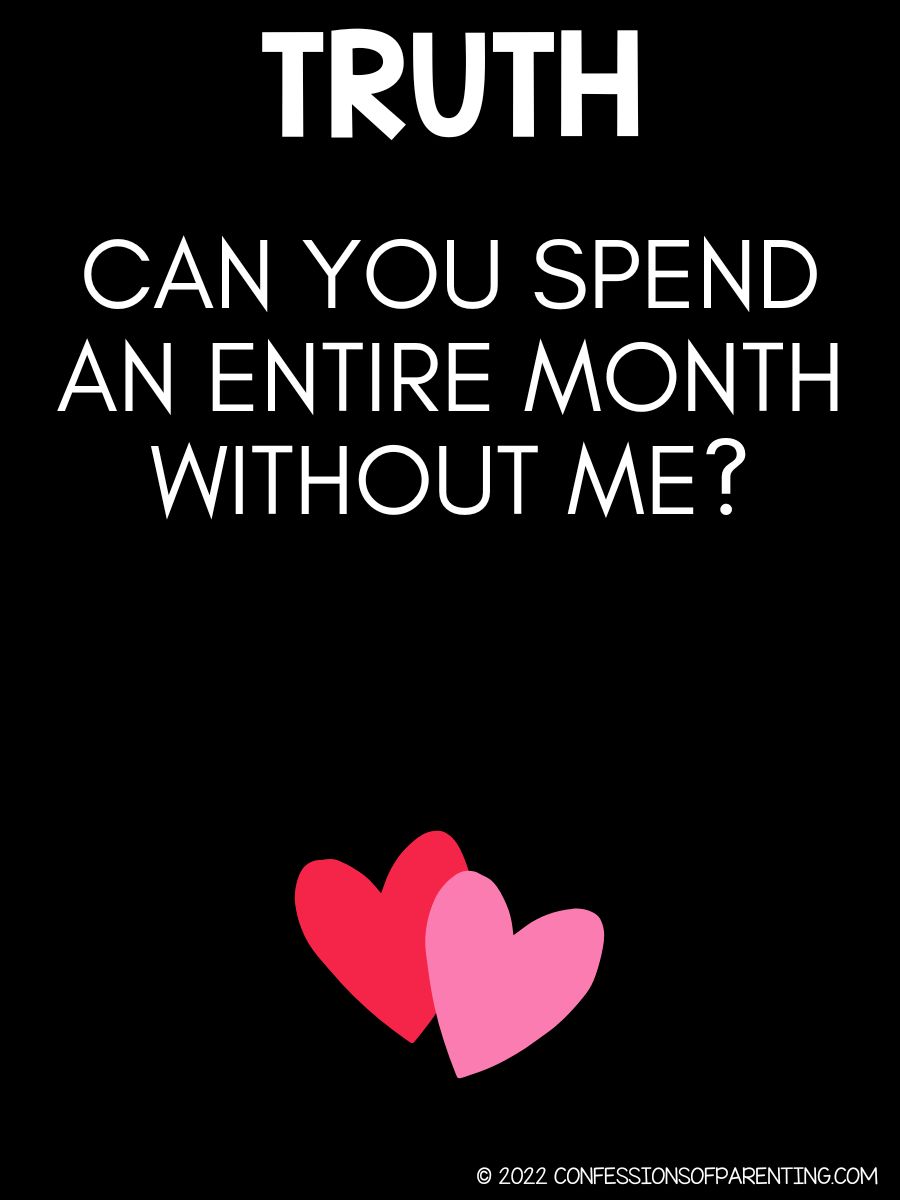 Can you spend an entire month without me?
Do you feel some kind of emotional dependence?
Do you daydream? If yes, about what?
What do you think my best quality is?
Do you want any changes in my body? Where?
At what age did you first learn about making out?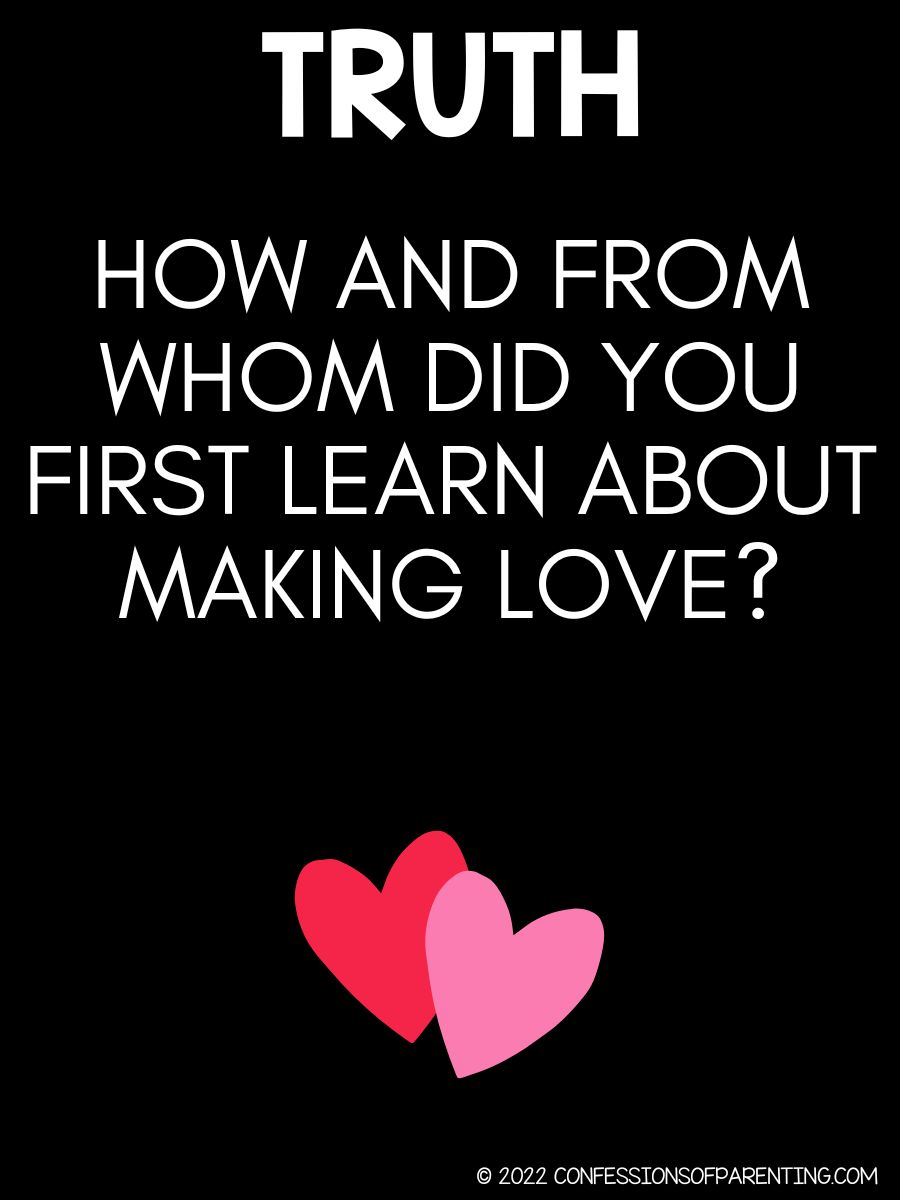 How and from whom did you first learn about making love?
Did your parents ever walk in on you having making out? How?
Did you ever have a secret crush on a cousin? Who?
If you could spend a romantic night with a celebrity who would it be? Any gender and from any field.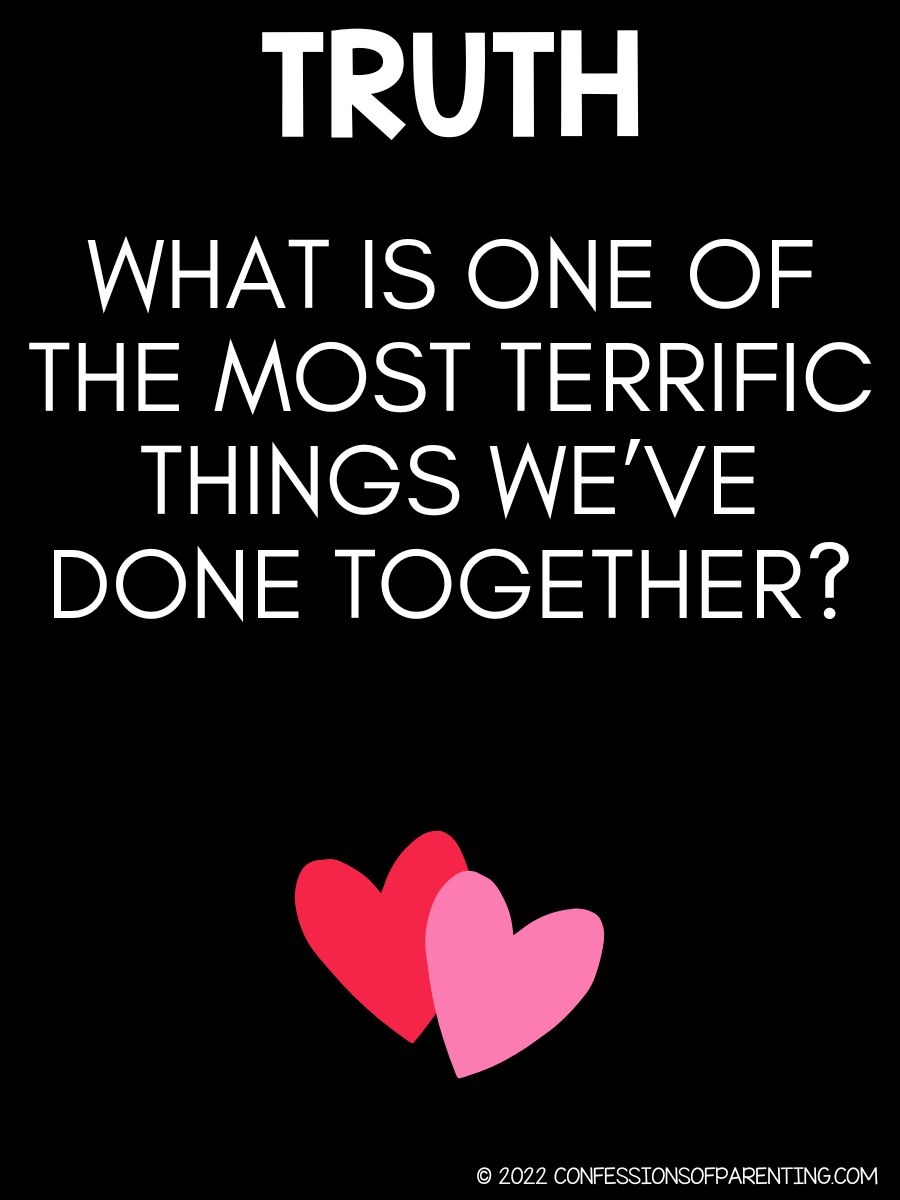 What is one of the most terrific things we've done together?
What is your biggest fear about relationships?
Have you ever been dumped in public?
What is the worst gift you've ever received from me?
Where would you be if you had never met me?
Did you ever have a Tinder profile?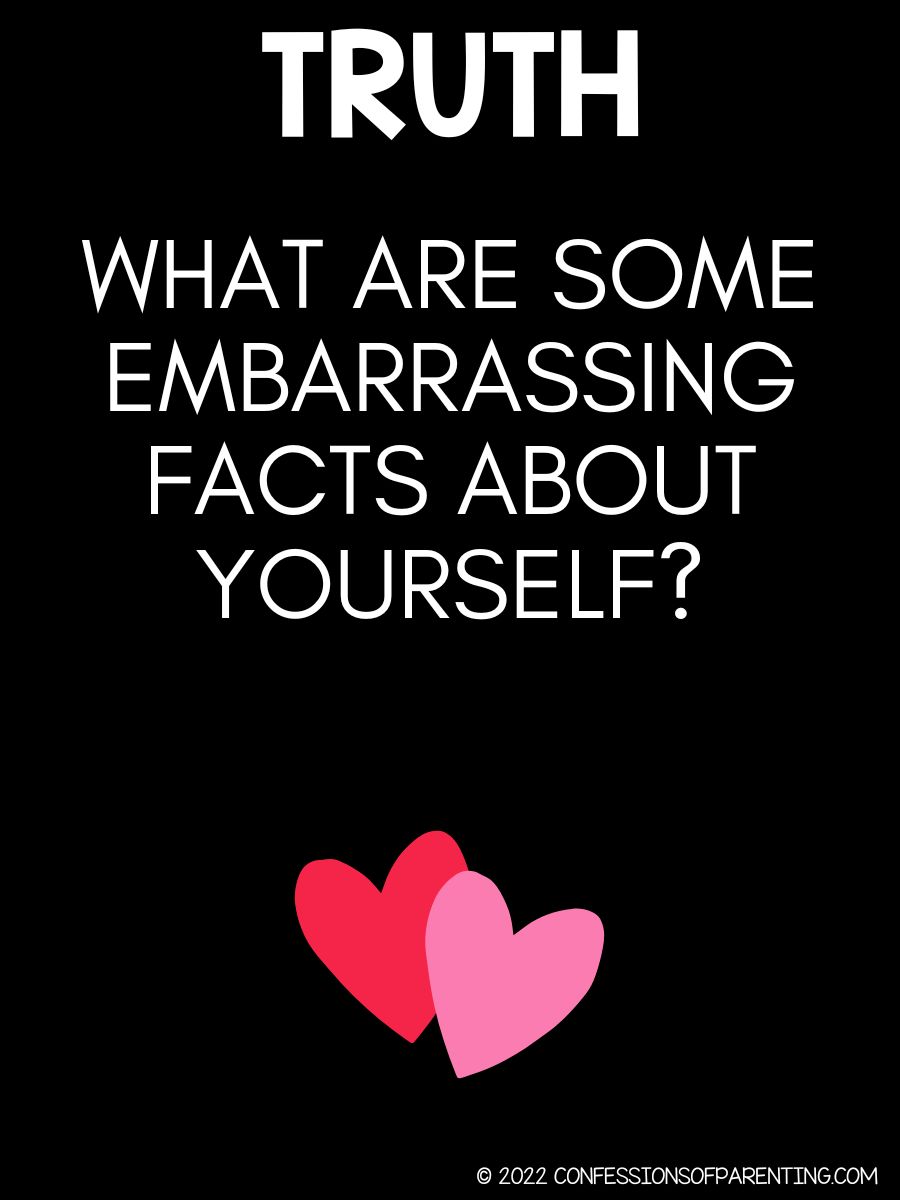 What are some embarrassing facts about yourself?
When did you have your first kiss and at what age?
What is the first thing you notice on a date?
On a scale of one to ten, how good am I in bed?
What is your favorite body part? Why do you like it?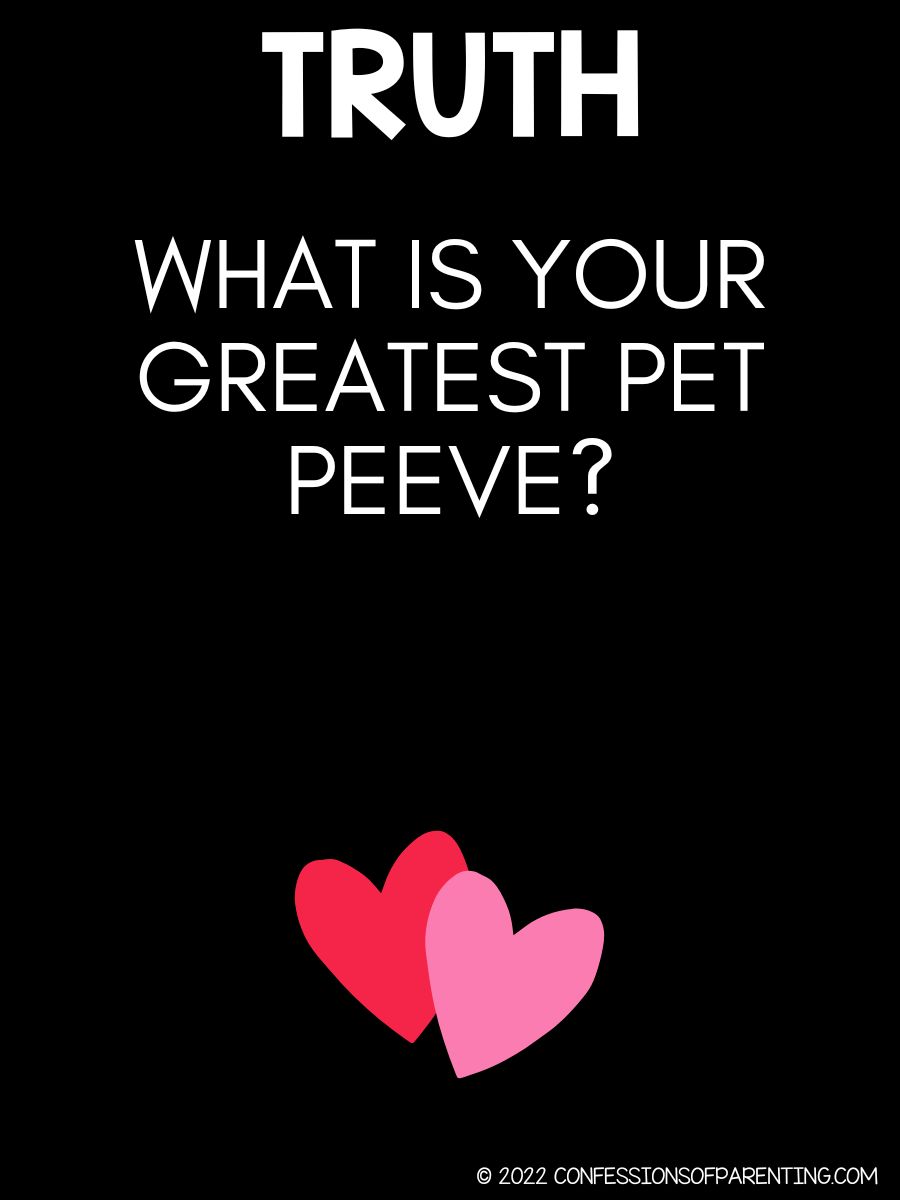 What is your greatest pet peeve?
Ever done role-playing or what is your role-playing fantasy?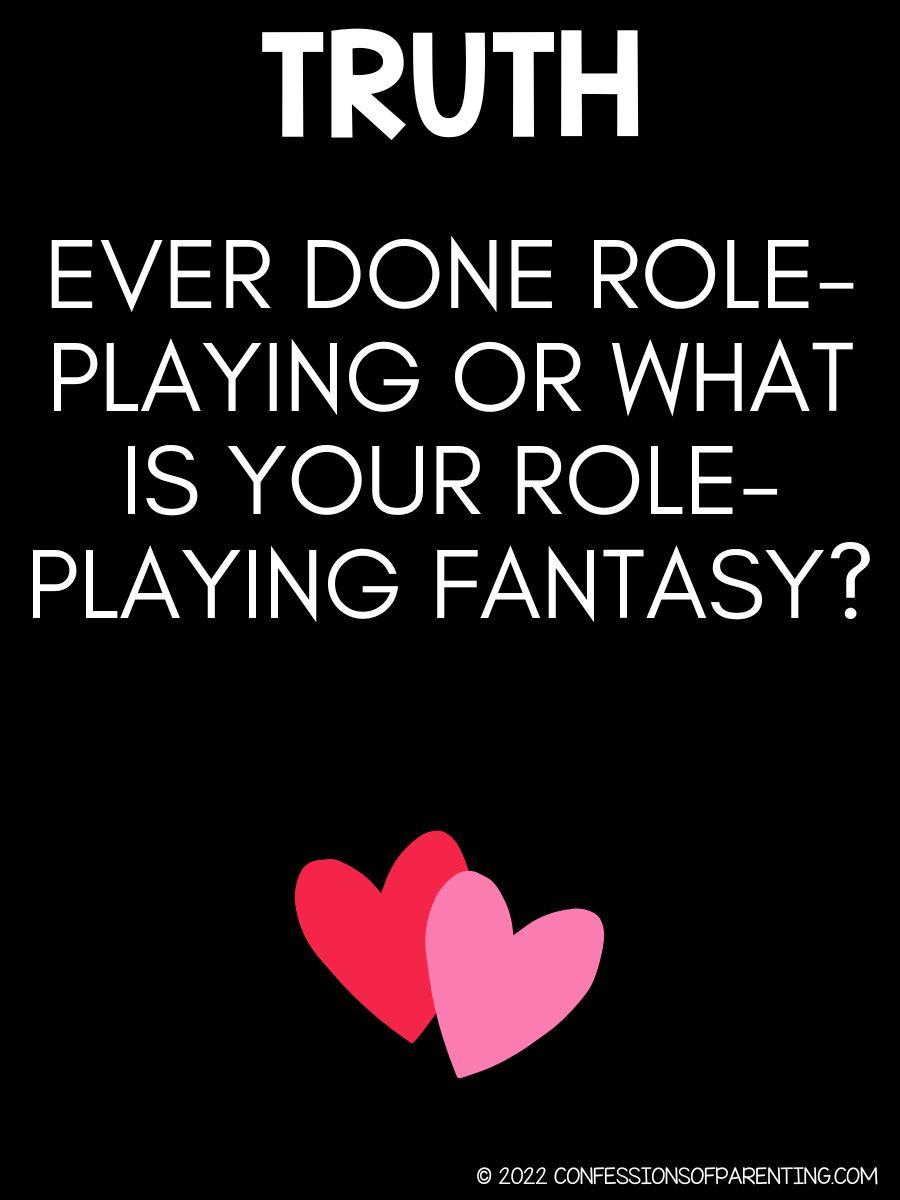 Naughty Truths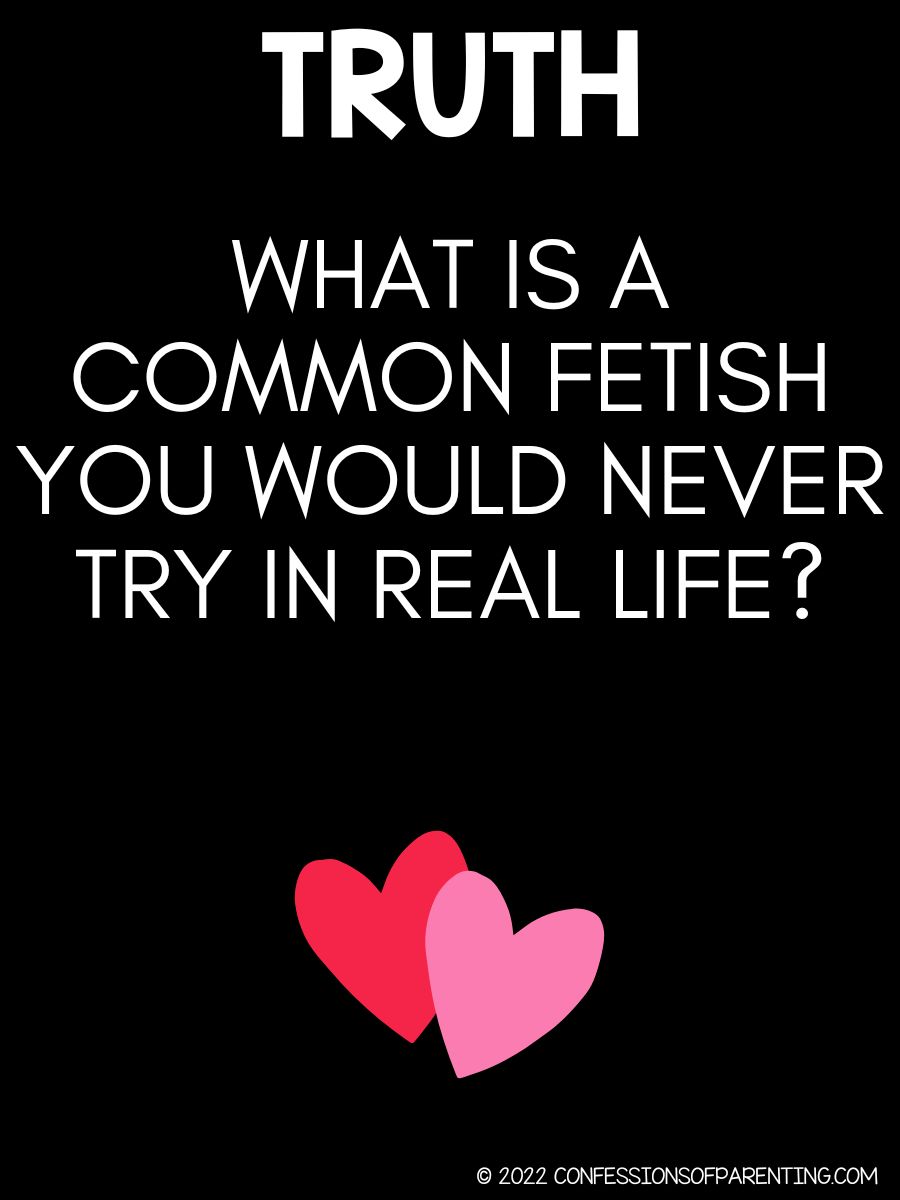 What is a common fetish you would never try in real life?
What is a weird fetish that you actually want to try?
What is on your sexual bucket list?
What is one non-sexual thing that I've done that has aroused you?
Have you ever sent a sexy Snapchat to someone?
What was the last R-rated movie you watched?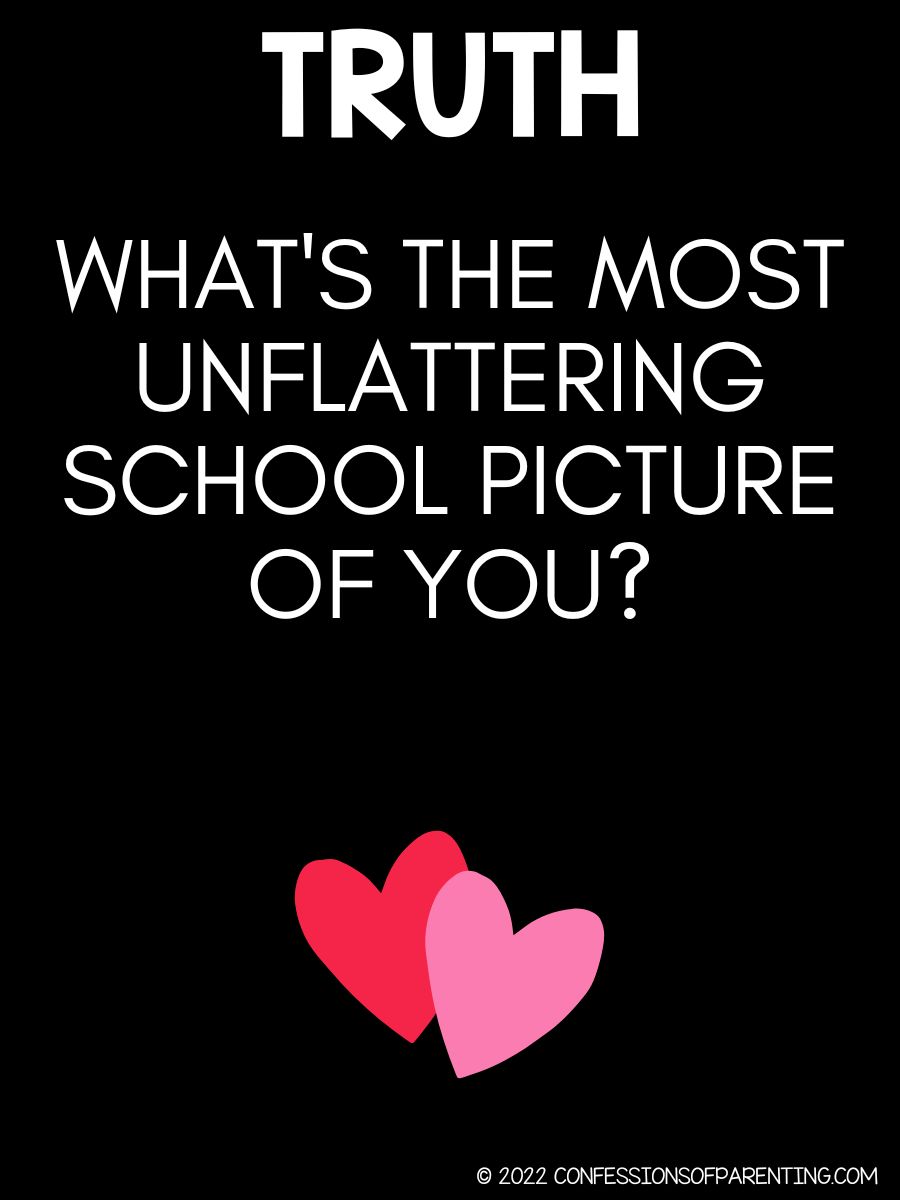 What's the most unflattering school picture of you?
Have you ever done anything to try to look cooler or more popular?
Have you ever practiced kissing in a mirror?
What're the naughtiest things about me?
What's the craziest thing you have ever done?
What is the best night or moment with me?
What is your greatest asset?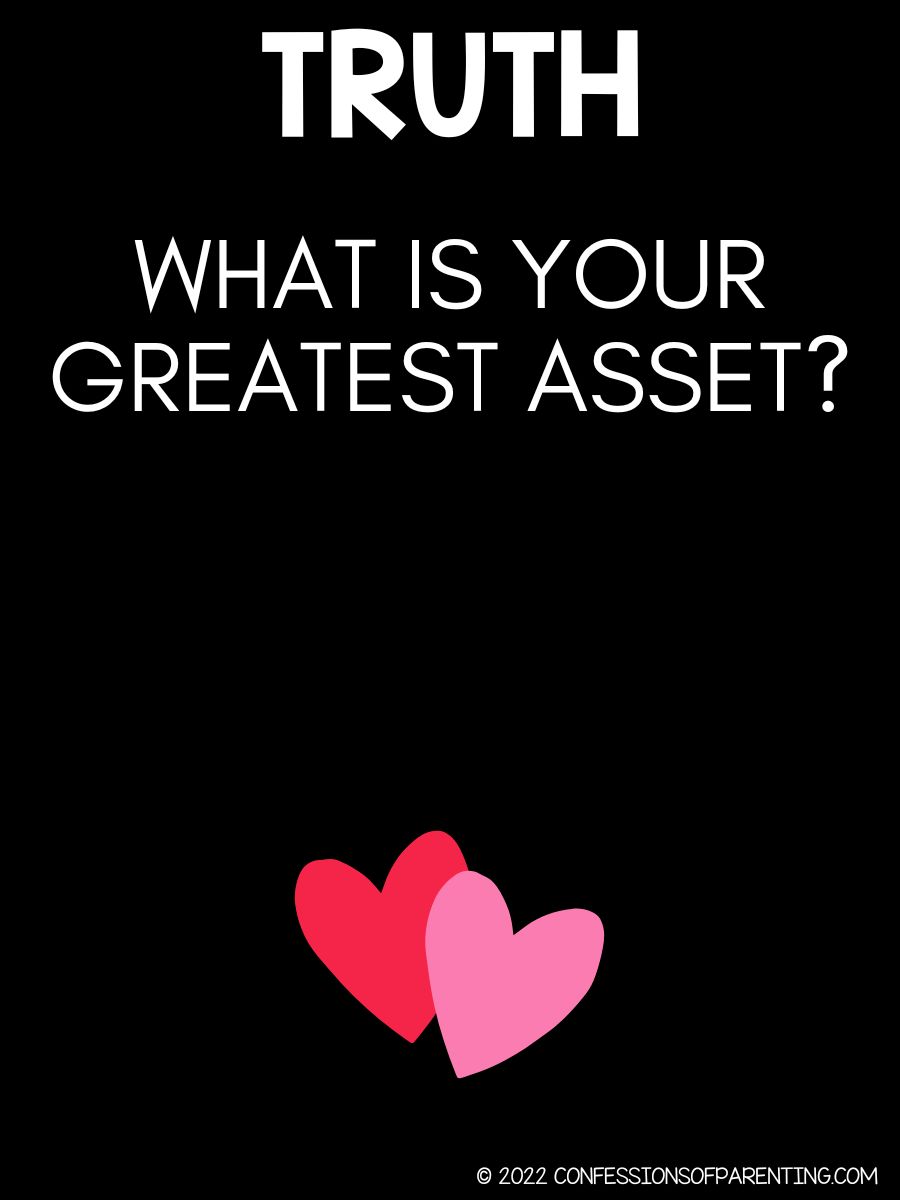 Have you ever sexted with someone other than me?
What is the most embarrassing/sexual text you've ever received? Describe it to me
What is your guilty pleasure?
Who would be in your dream threesome?
What is your favorite body part on yourself? On me?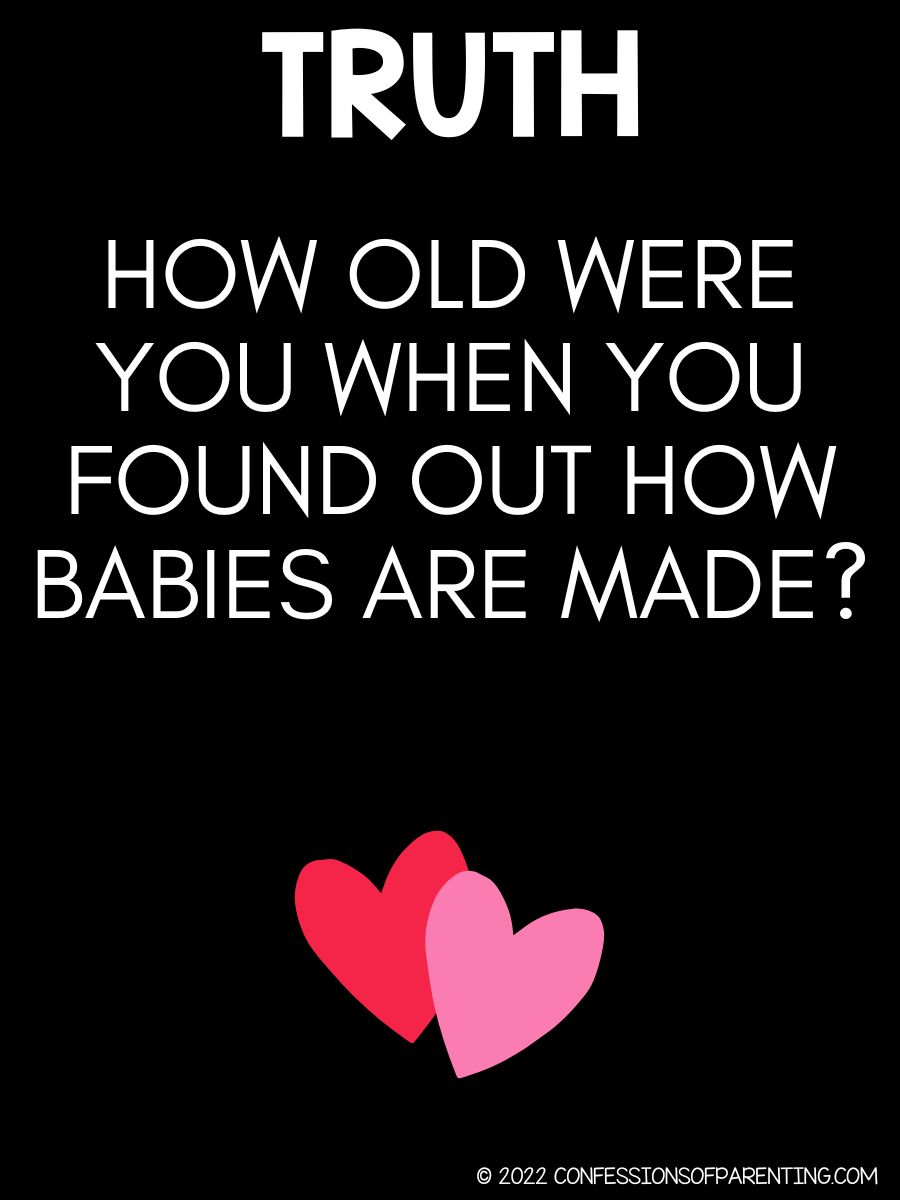 How old were you when you found out how babies are made?
Have you ever text messaged me while in the shower?
Have you ever waited for my text message?
Do you like my body hair?
Have you ever fell down from your bed when you were naked?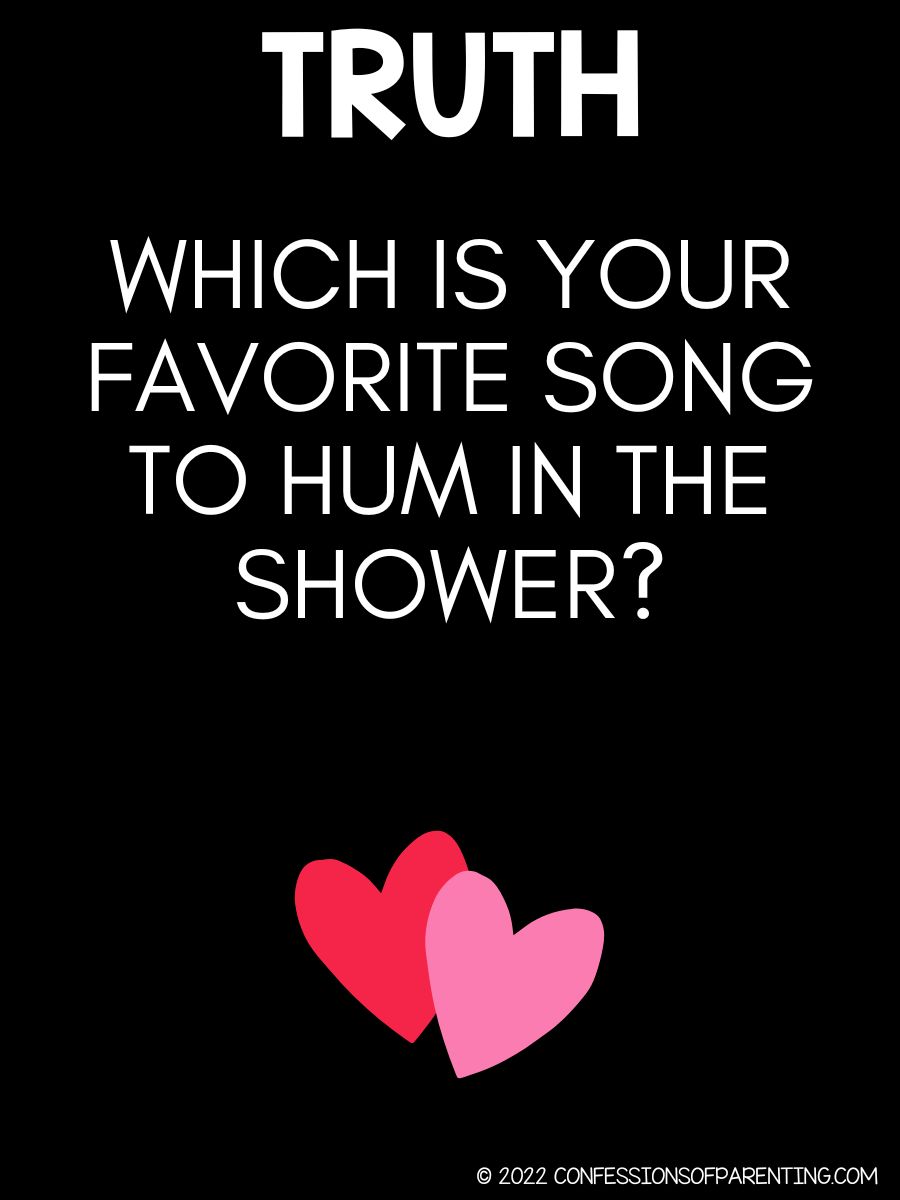 Which is your favorite song to hum in the shower?
Did you ever accidentally send a wrong intimate message to your colleague?
Would you leave me for a hotter and more beautiful girl?
What do you tolerate about me?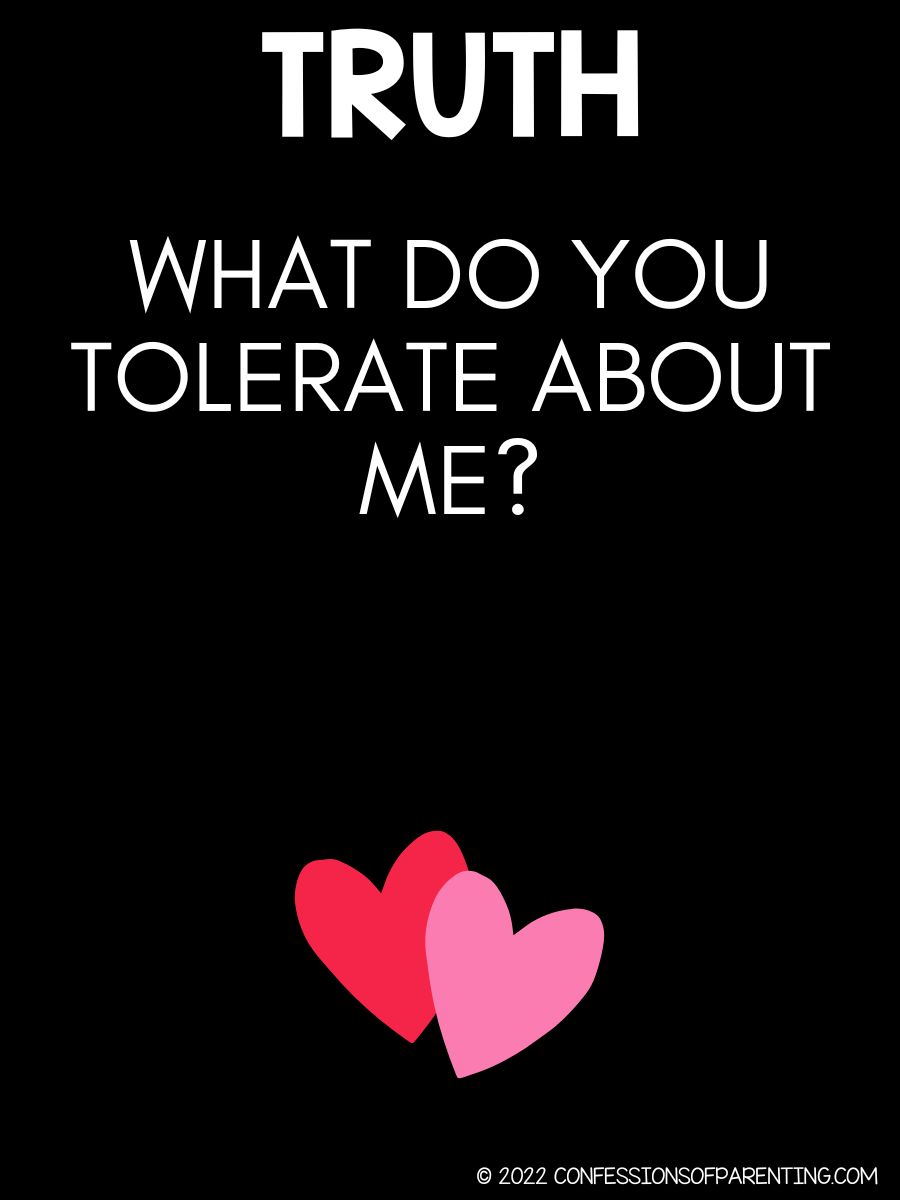 Interesting Truths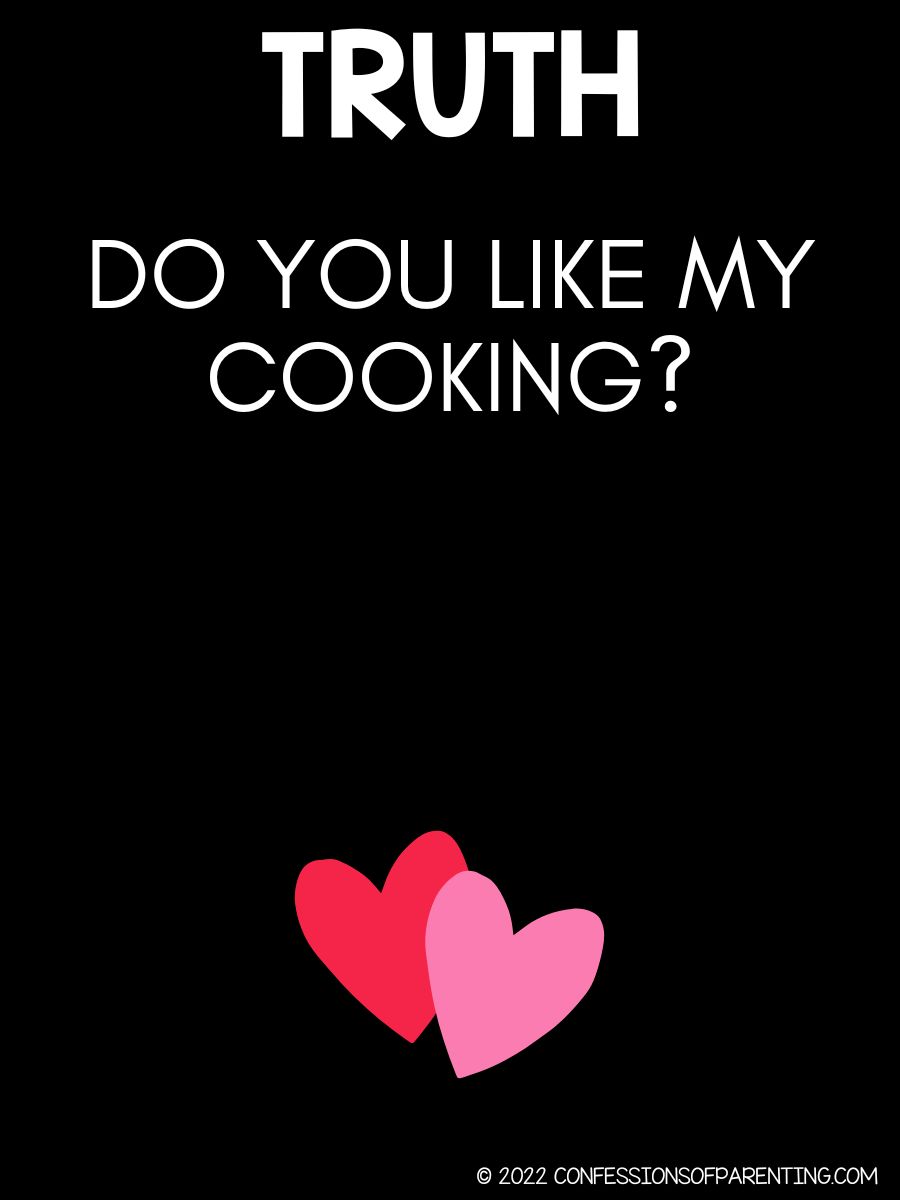 Do you like my cooking?
What is the craziest thing on your bucket list?
What is your biggest fear?
Who snores louder between us?
What is the most embarrassing situation you've had with me? Whose fault was it?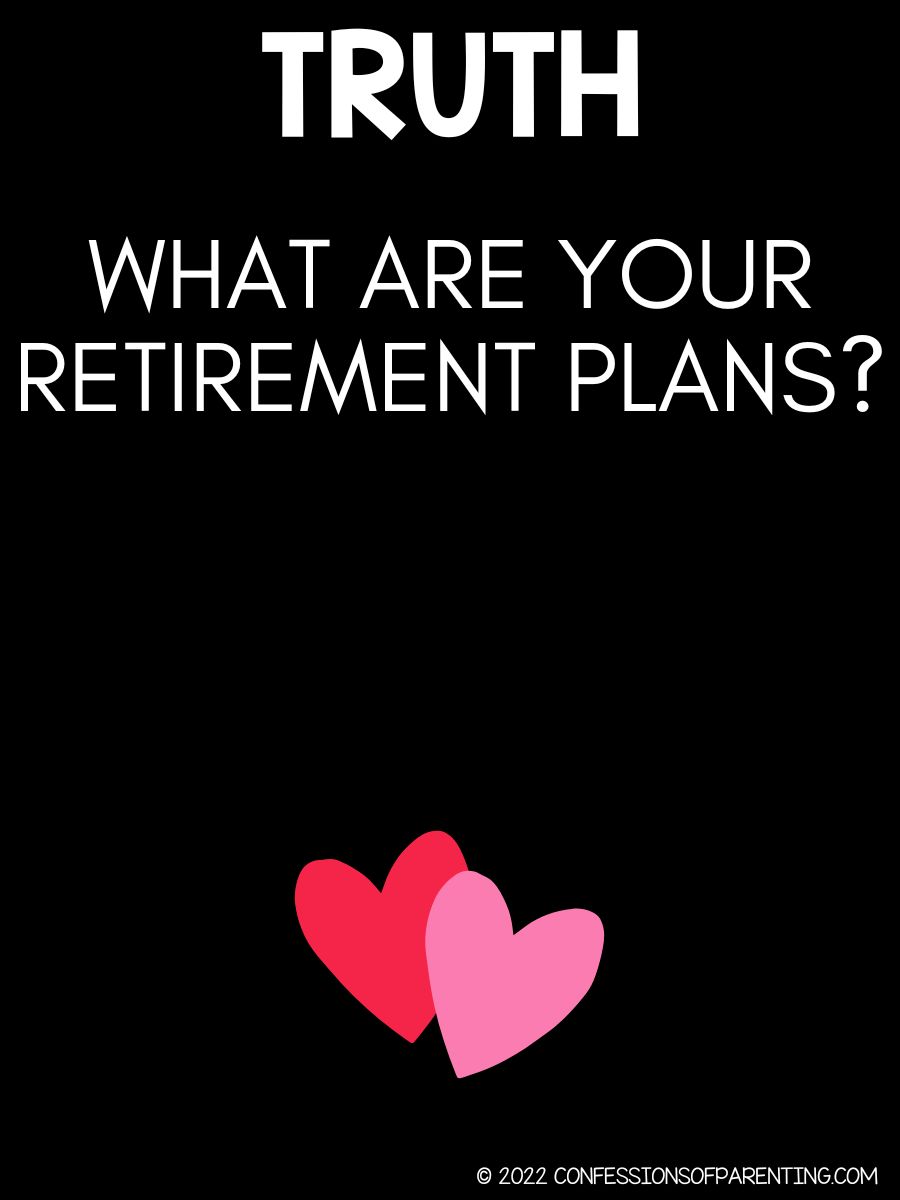 What are your retirement plans?
Have you ever thought of marrying someone else?
How many kids do you want to have in the future?
If you had a million dollars, what is the first thing you would buy?
Have you ever dated someone older than you?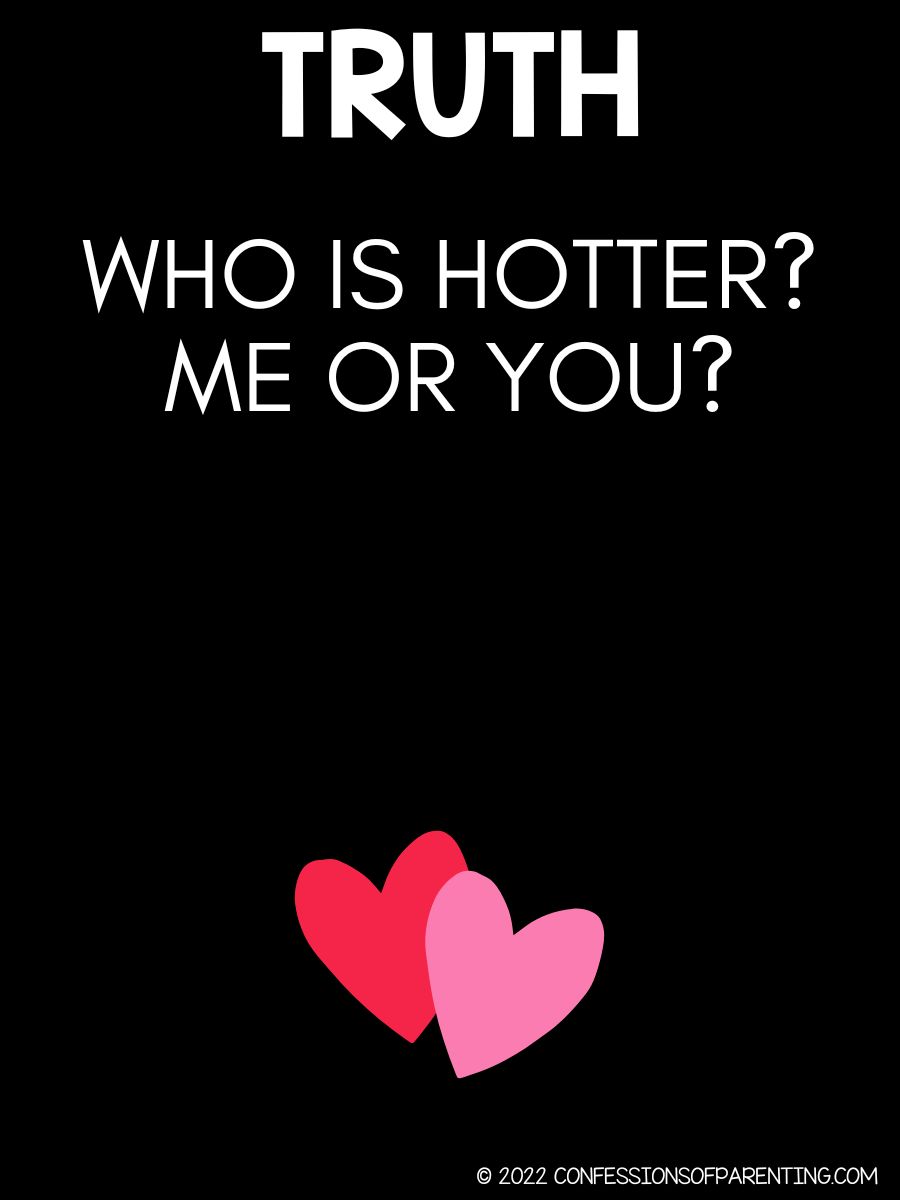 Who is hotter? Me or you?
What is one household chore that you hate doing?
What animal comes to mind when you think of me?
Have you ever cursed my family?
What makes you cry and jump in joy at the same time?
Have you ever had a conversation using only emojis?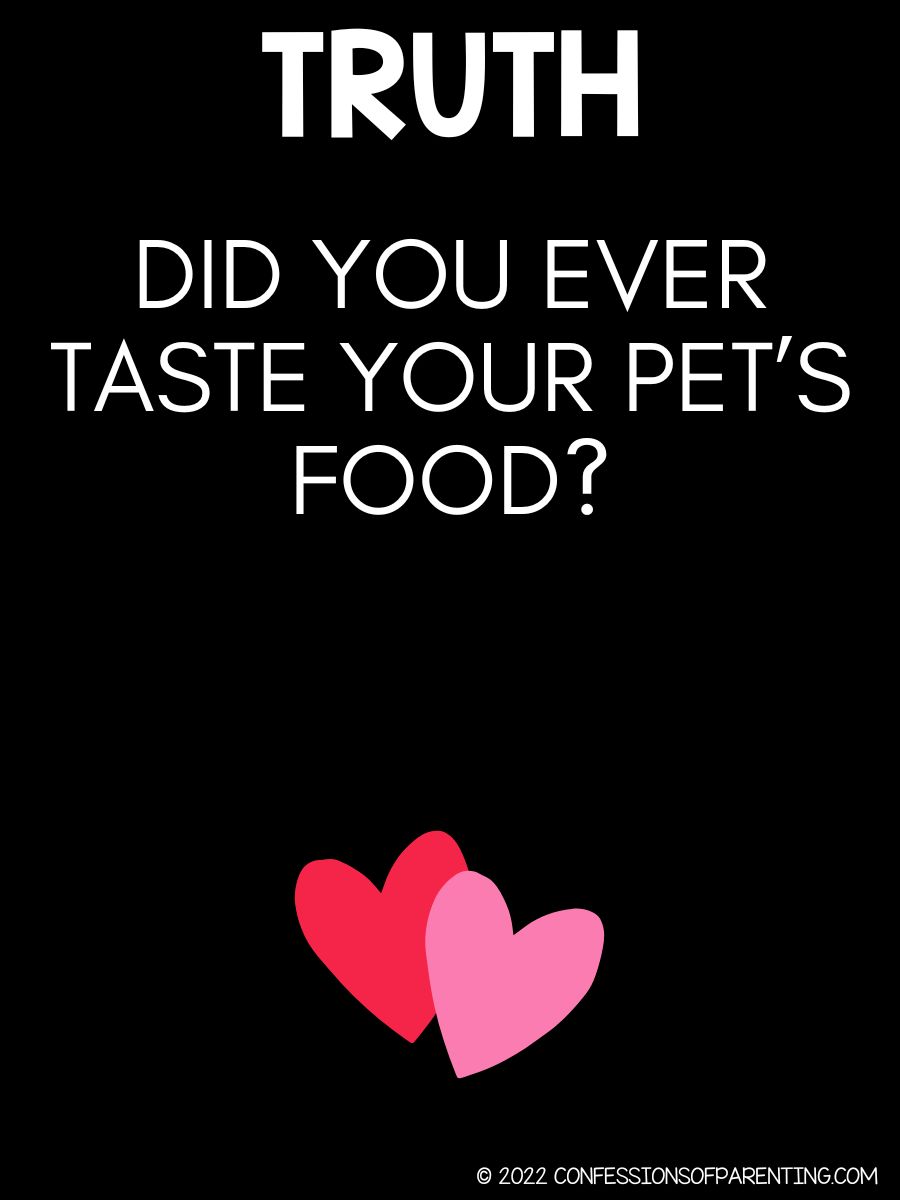 Did you ever taste your pet's food?
What would you do if you found out you were cheated on?
What aspect of our relationship needs improvement?
Do you still have feelings for your ex?
Who among my friends do you not like? Why?
Have you kept a secret from me? What is it?
If I pass away, how long will you wait to get another girlfriend/boyfriend?
What is the hottest dream you ever had? Narrate vividly!
Do you have a crush on someone at work?
Do you have a crush on one of my friends? Who is it?
What would your ideal vacation destination be?
What is the sweetest thing about me?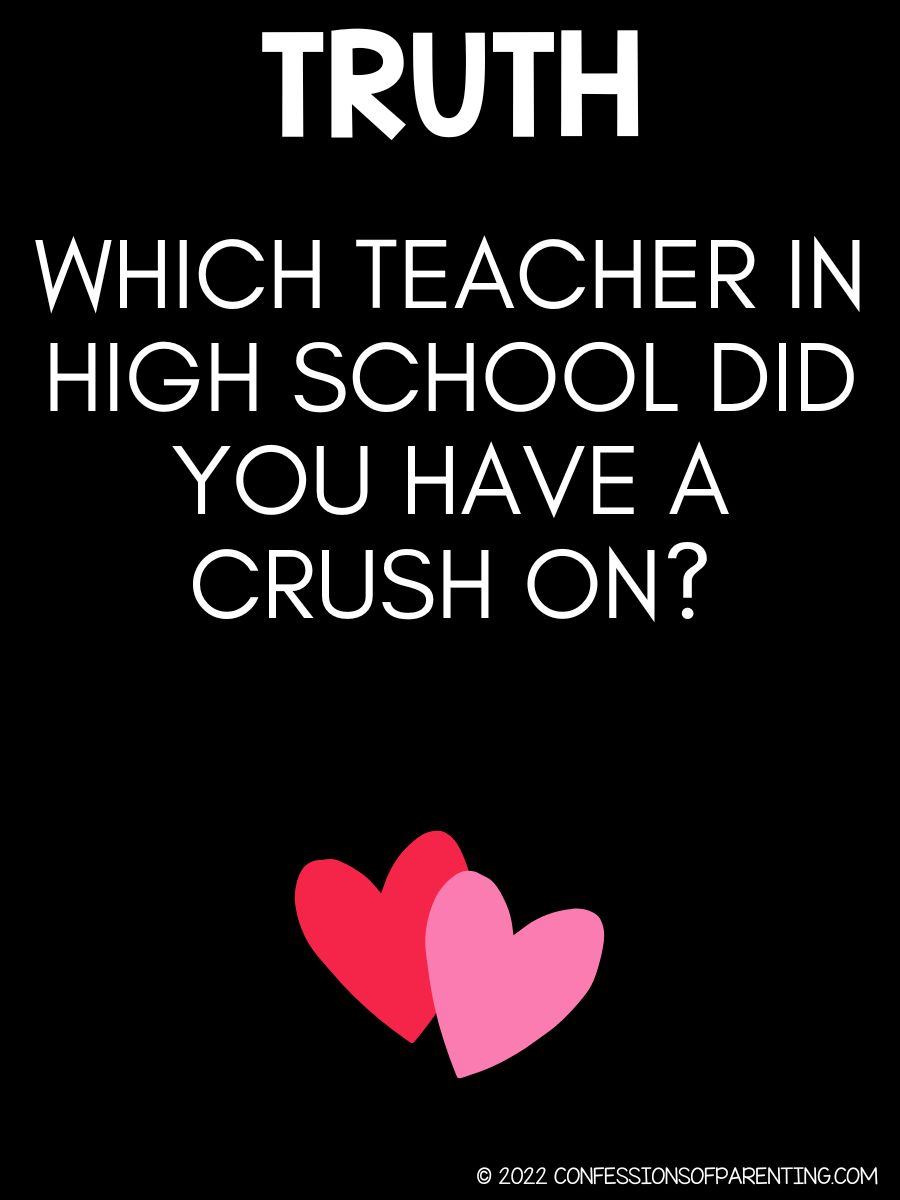 Which teacher in high school did you have a crush on?
What are your favorite hobbies or activities?
Name a fictional character that you are attracted to.
Have you ever been tempted to be unfaithful with me?
Can you tell me your favorite game that's taken most of your time?
Have you ever smoked pot? How was it like?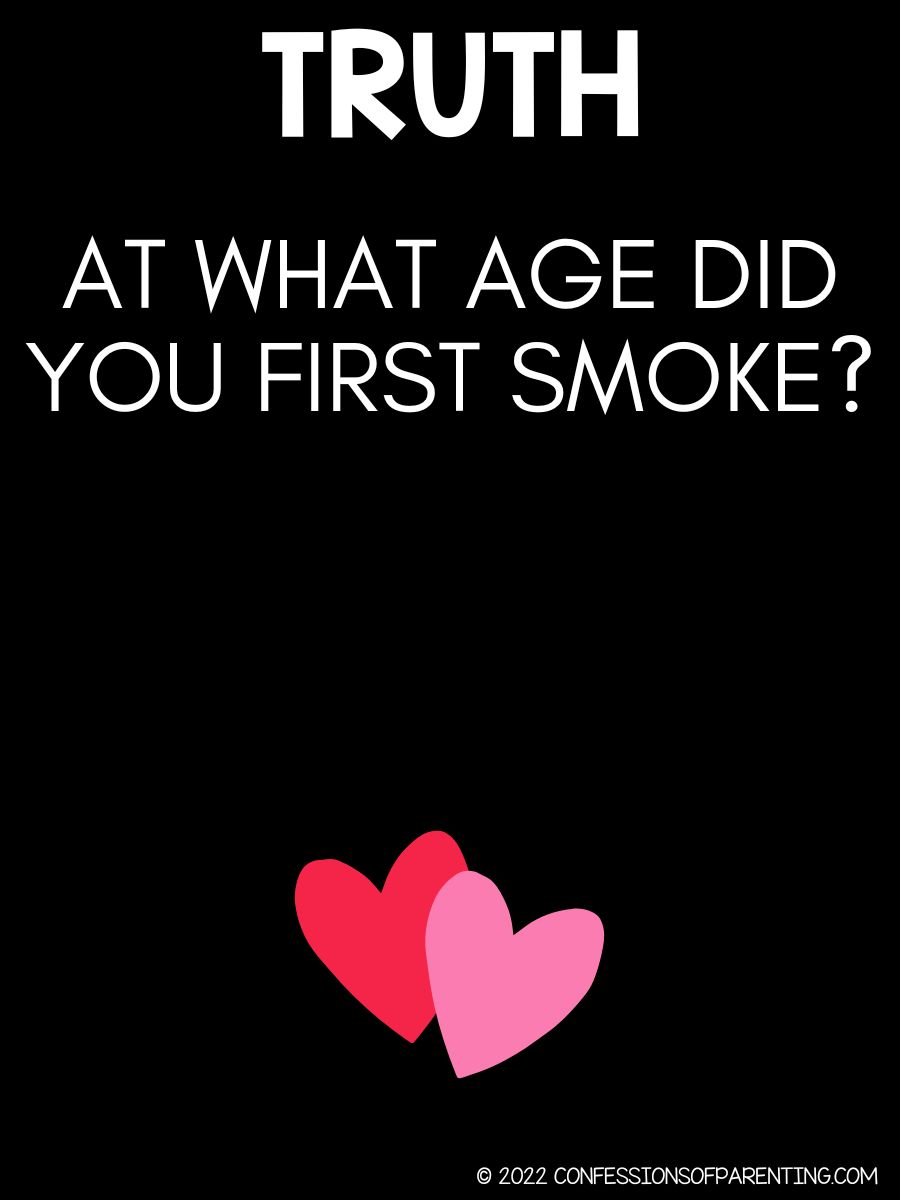 At what age did you first smoke?
Are you attracted to a person of the same gender as you?
Did your parents ever catch you drinking or smoking? How? What was their reaction?
What was the worst lie you ever said? To whom did you say it?
Do you have any secret ambition? What is it?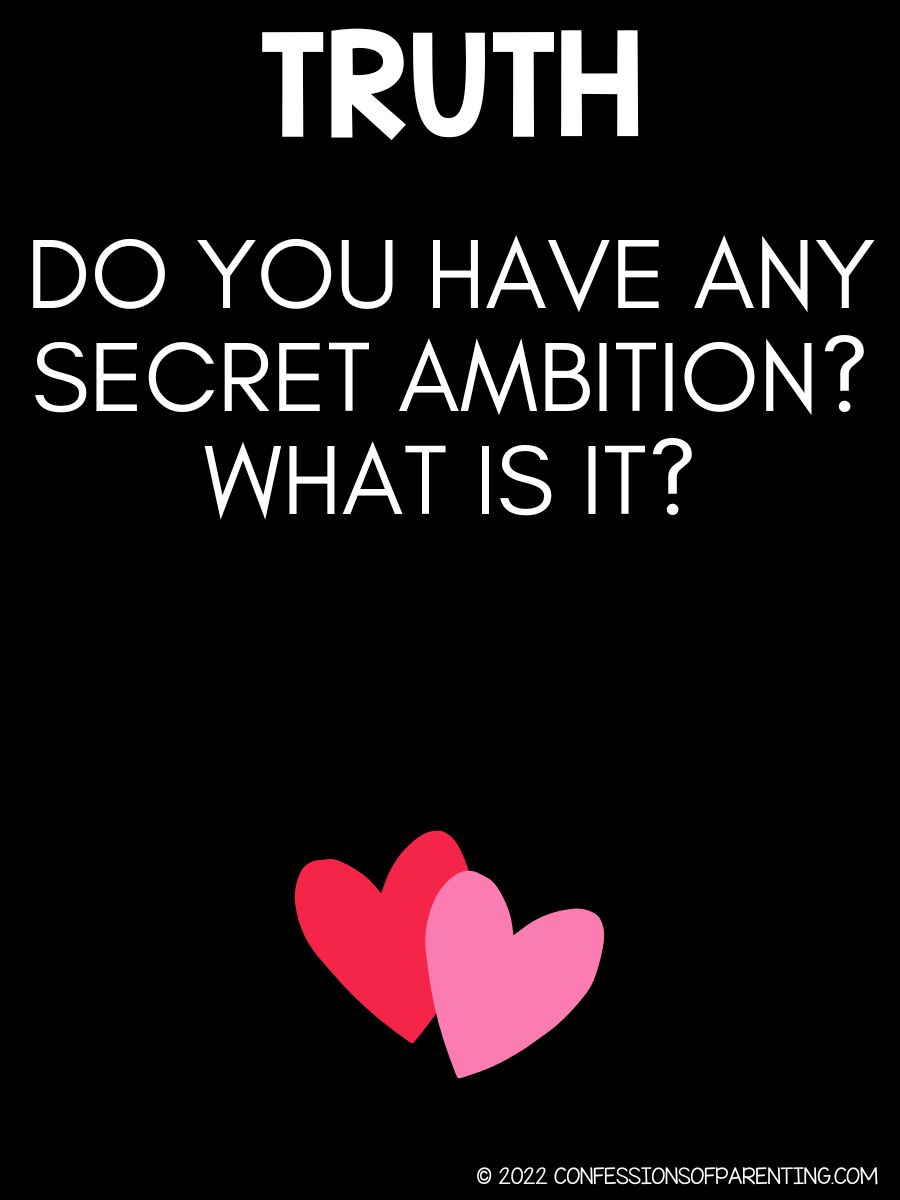 What is one thing that would cause our relationship to break up?
Do you like my perfume/cologne?
Do you believe in love at first sight?
Did you ever two-time while being in a committed relationship?
Did you ever dance intimately with someone?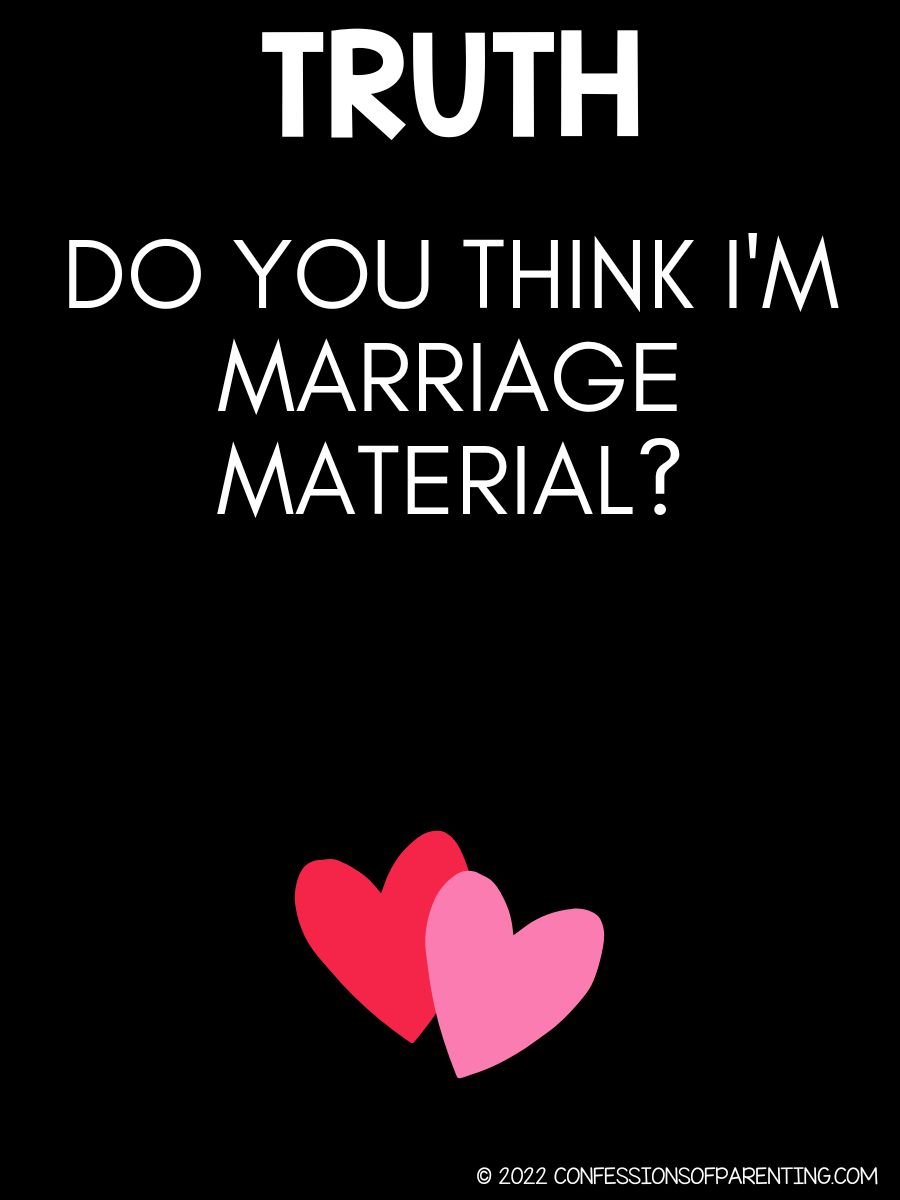 Do you think I'm marriage material?
How many kids are you planning to have?
Would you ever want to undergo plastic surgery? Why?
What is my most annoying habit?
Do you have the hots for someone at your workplace?
What was the first-ever lie you told me?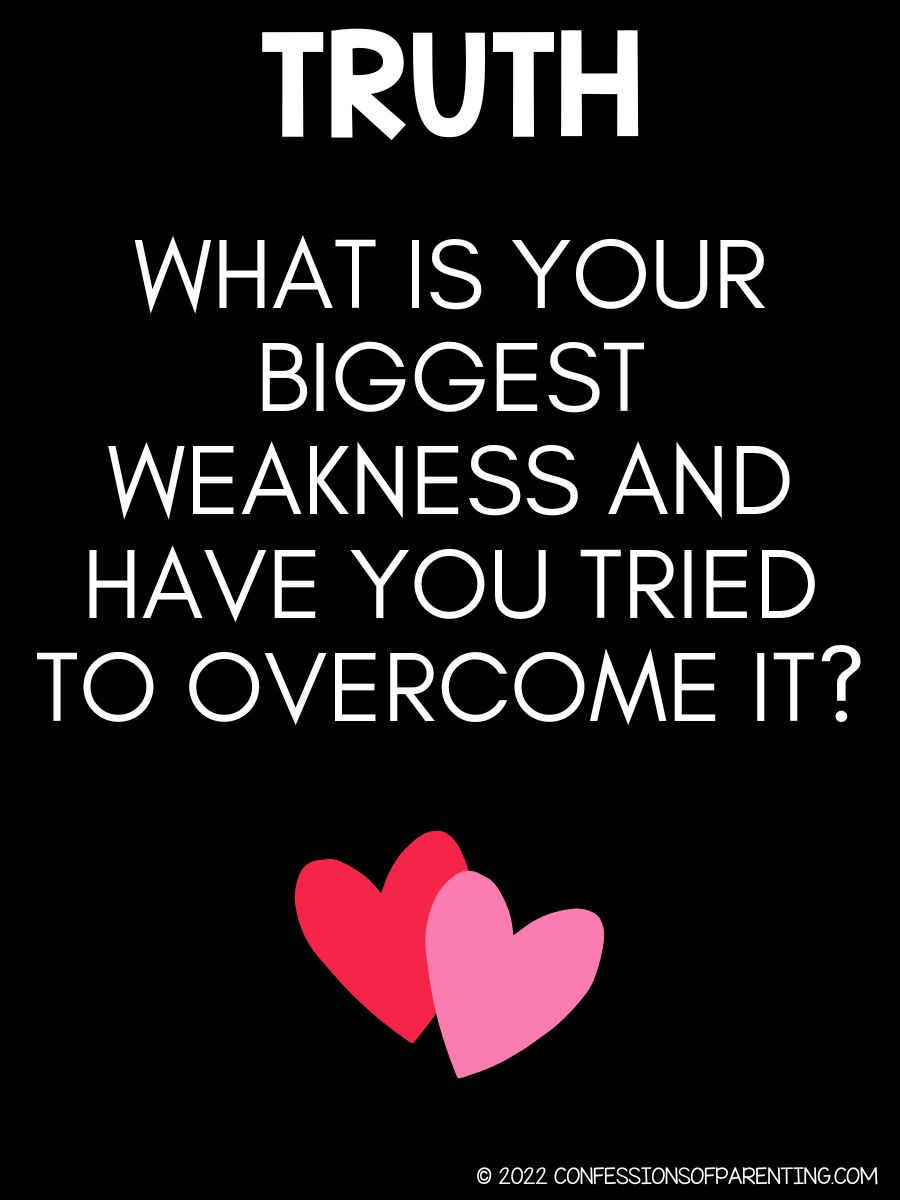 What is your biggest weakness and have you tried to overcome it?
Do you prefer long walks or long drives?
Did you ever steal from your parents? What did you steal? Do they know yet?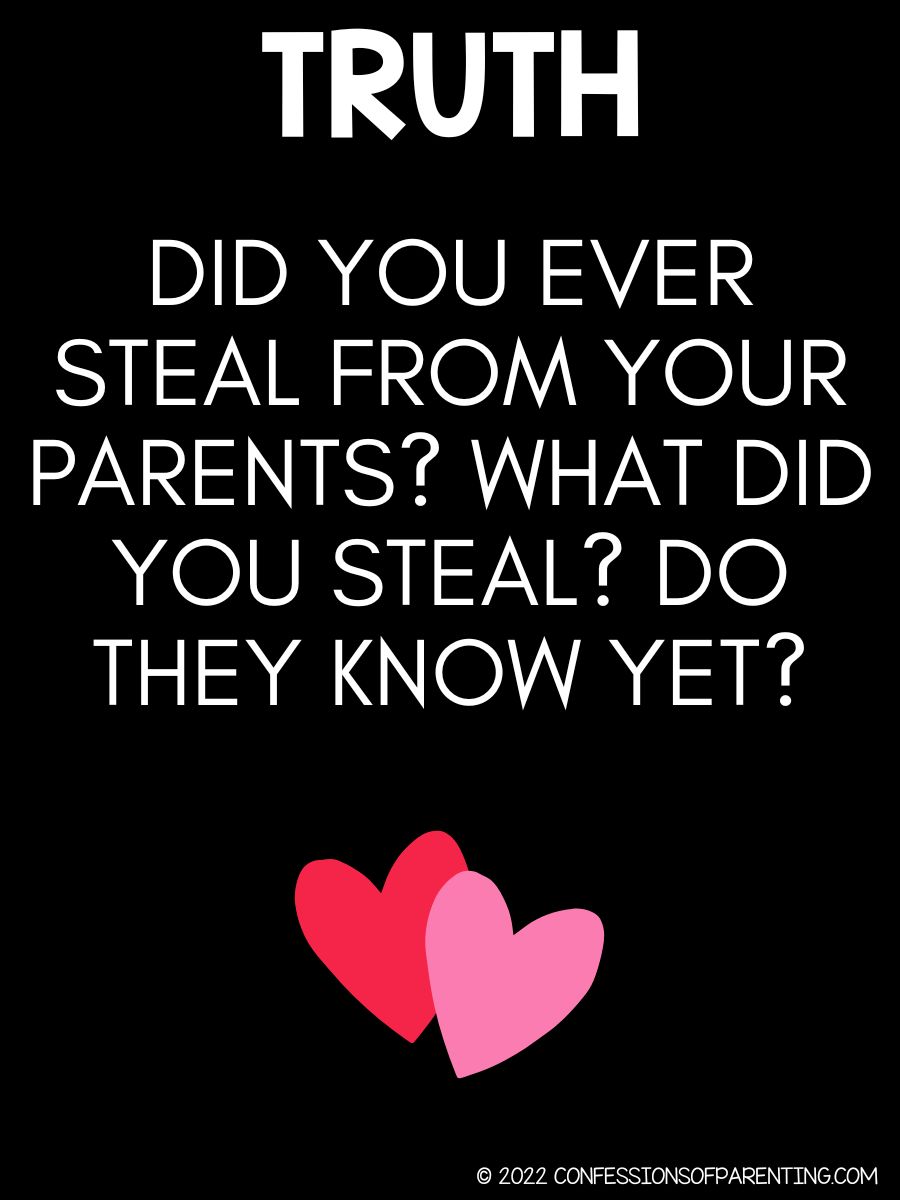 Challenging Truths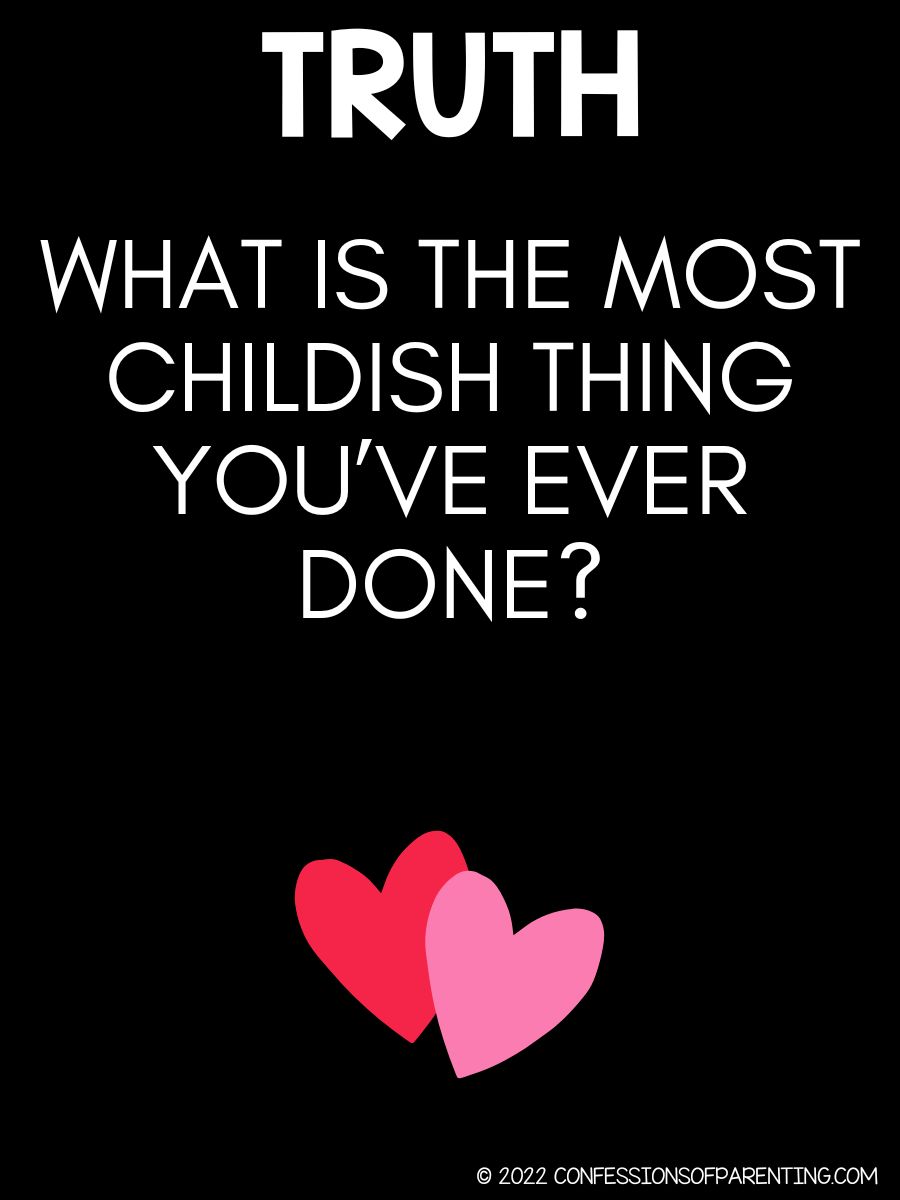 What is the most childish thing you've ever done?
What is one bad habit that you have?
What is your biggest regret?
What is something that you like about yourself?
What is something that you dislike about yourself?
Have you ever peed in the pool?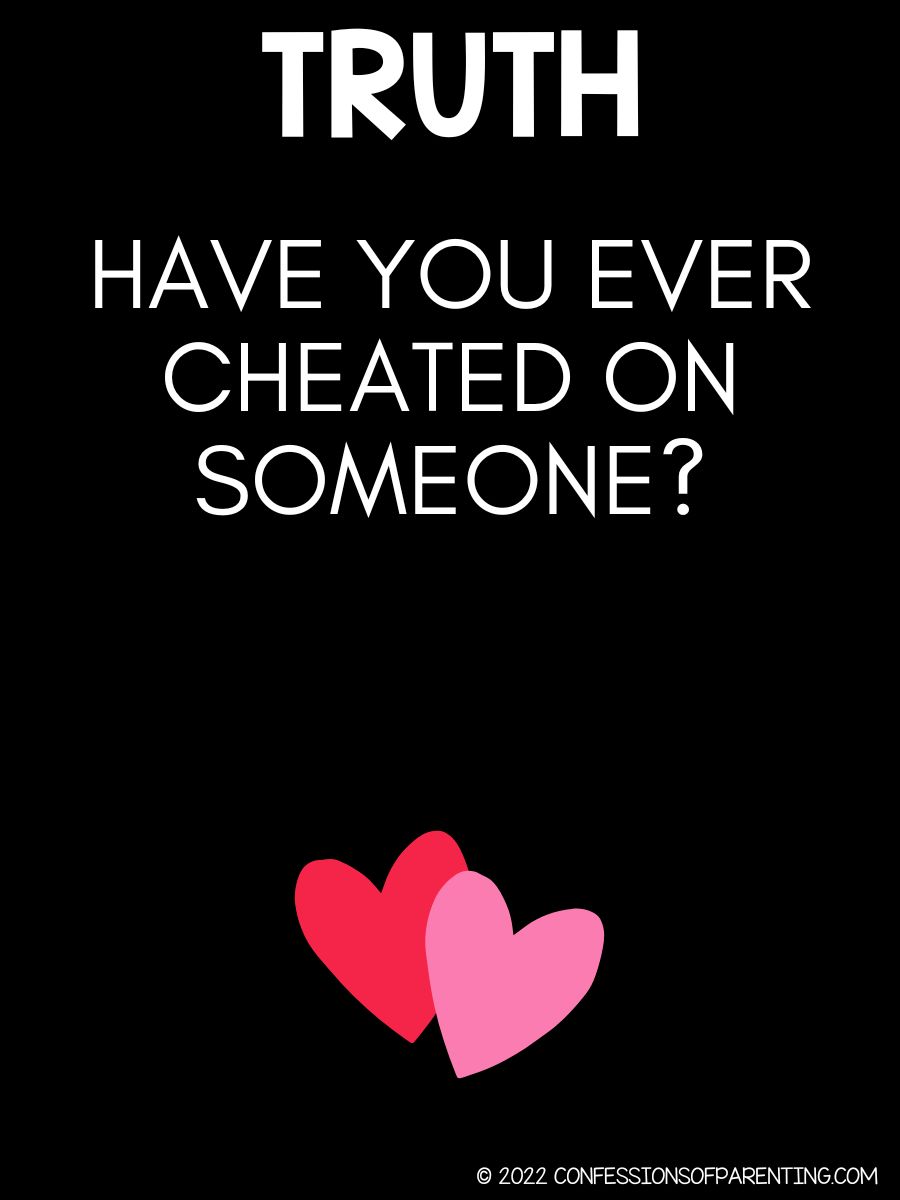 Have you ever cheated on someone?
What is the last thing you searched on your phone?
Will you allow me to check the browsing history on your mobile?
Have you ever tried skinny dipping?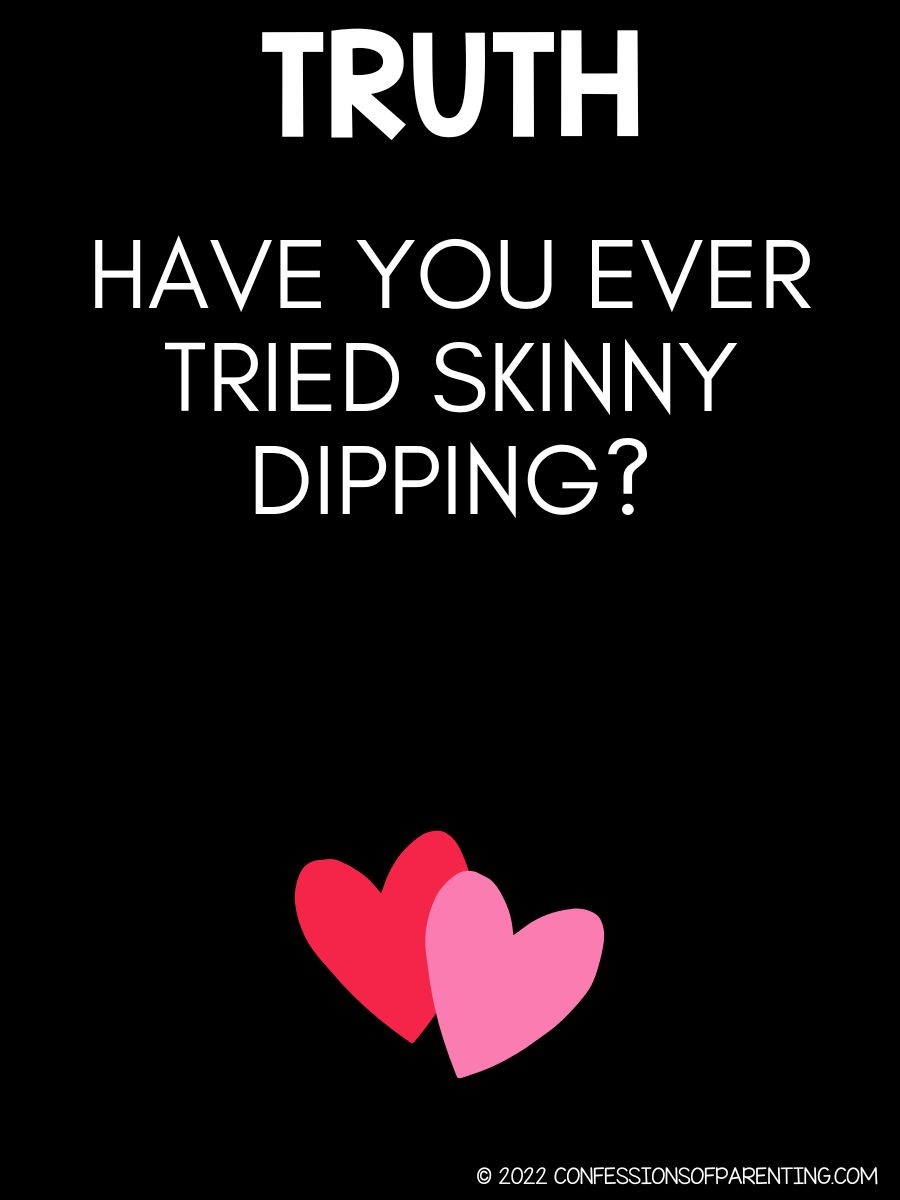 Is there anything in your web browsing history that you would be embarrassed to share with me?
Have you ever peed your pants?
Have you ever given a lap dance to someone?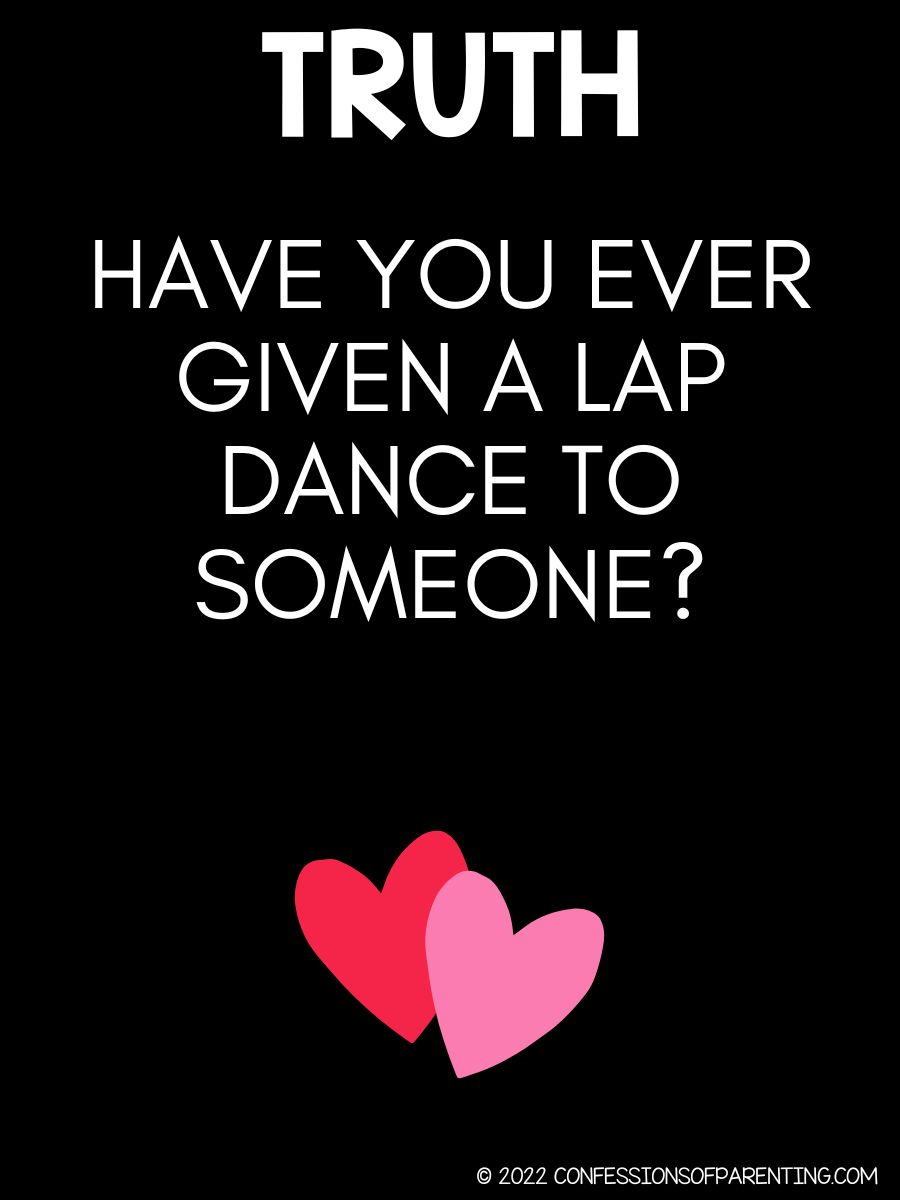 More Truths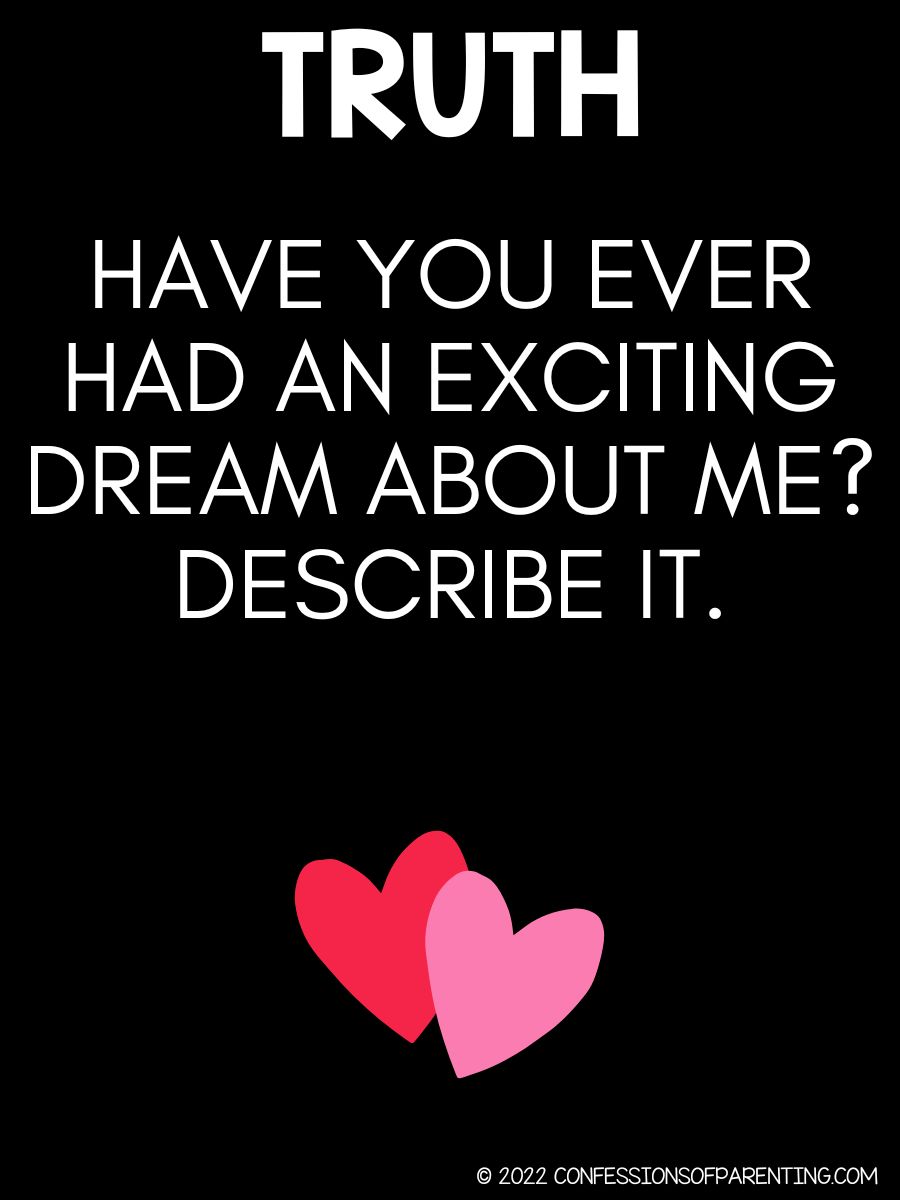 Have you ever had an exciting dream about me? Describe it.
When did you first know you were attracted to me?
What's the most insane idea you have that you would want to be realized before you die?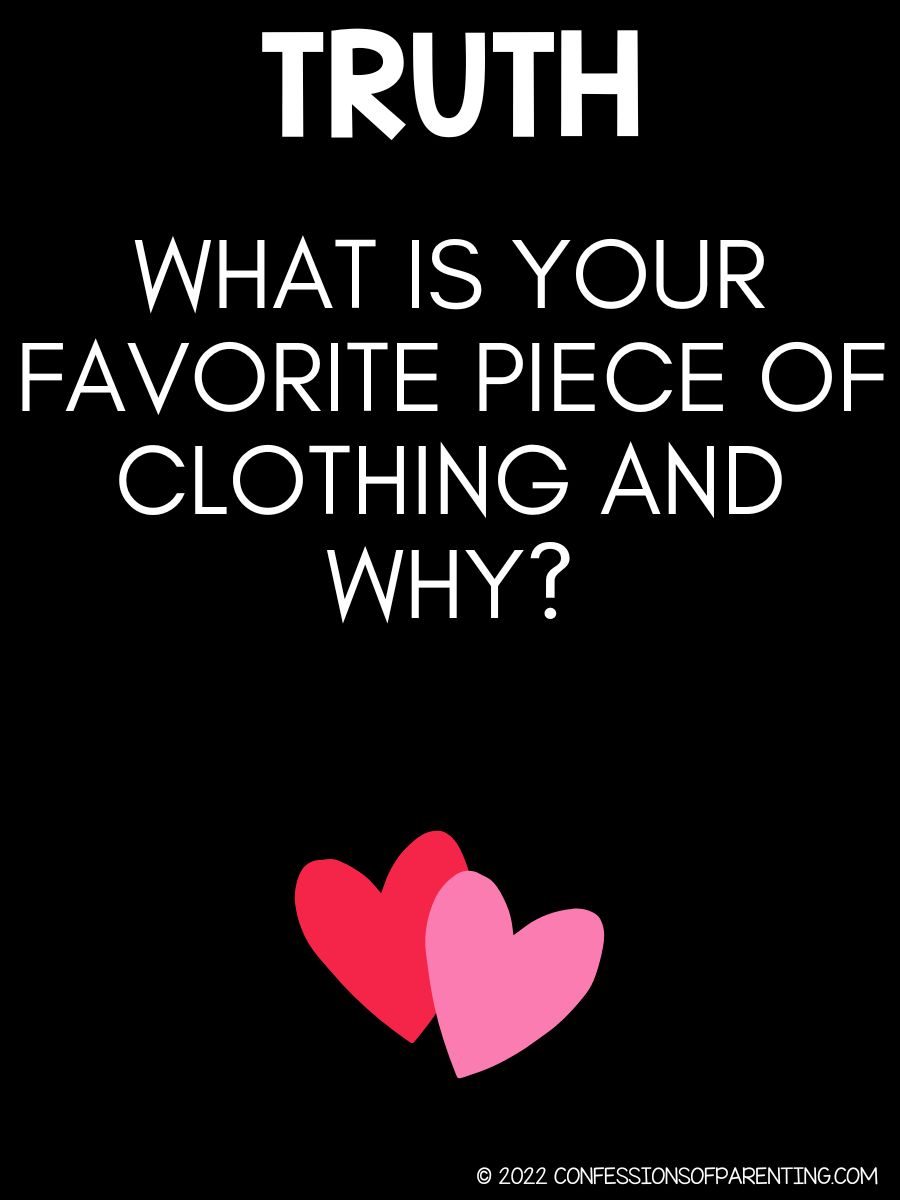 What is your favorite piece of clothing and why?
Are you where you thought you'd be 10 years ago?
What is something that I do that you didn't expect?
What is your wildest fantasy?
If you could give me a stripper name, what would it be?
What would your stripper name be?
What is the first thing about me that attracted you?
Do looks matter?
What is your comfort food? Can you cook it?
Which food do you absolutely hate? Would you eat it for a hundred bucks?
What do you find most attractive about a person?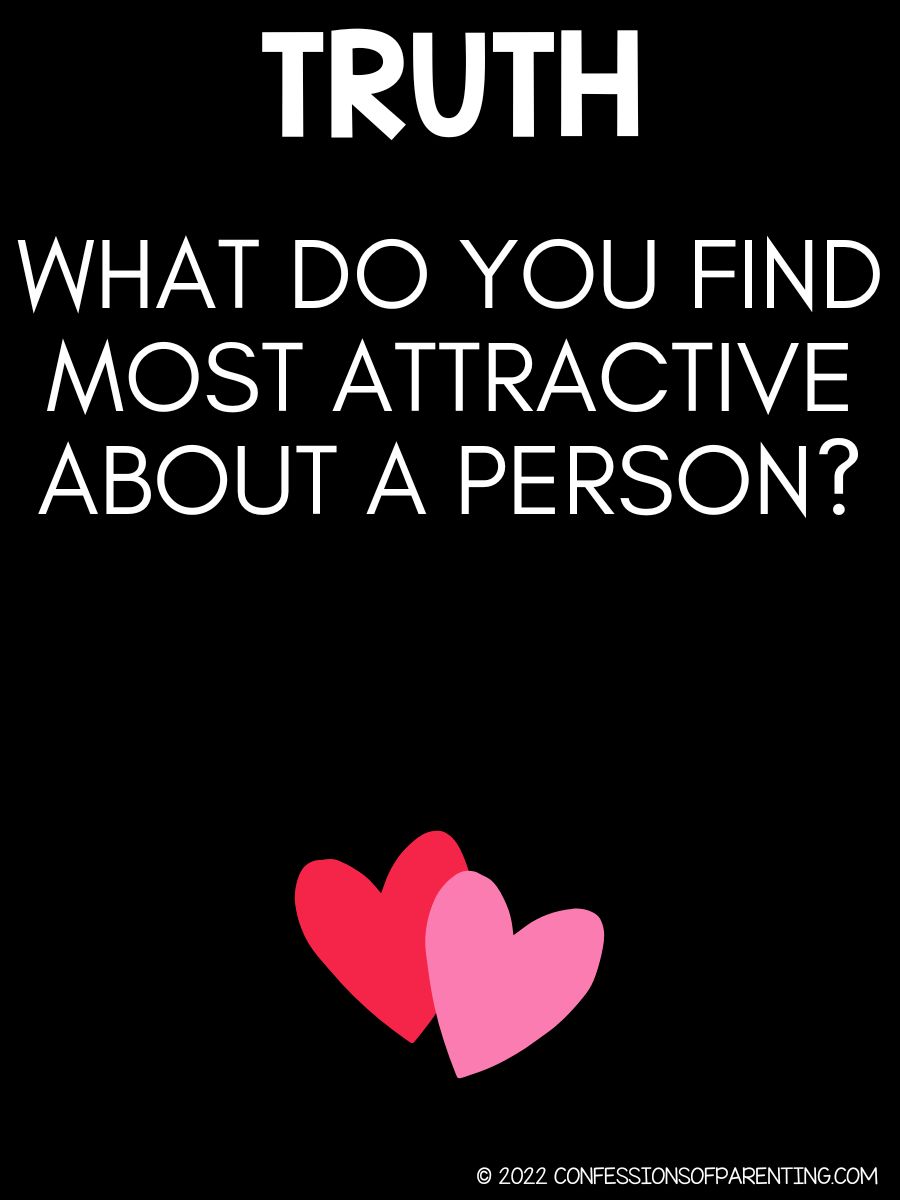 What is your favorite memory of us?
How many partners have you had?
Where do you see our relationship going?
How many serious relationships have you had?
Any special talents you want to share?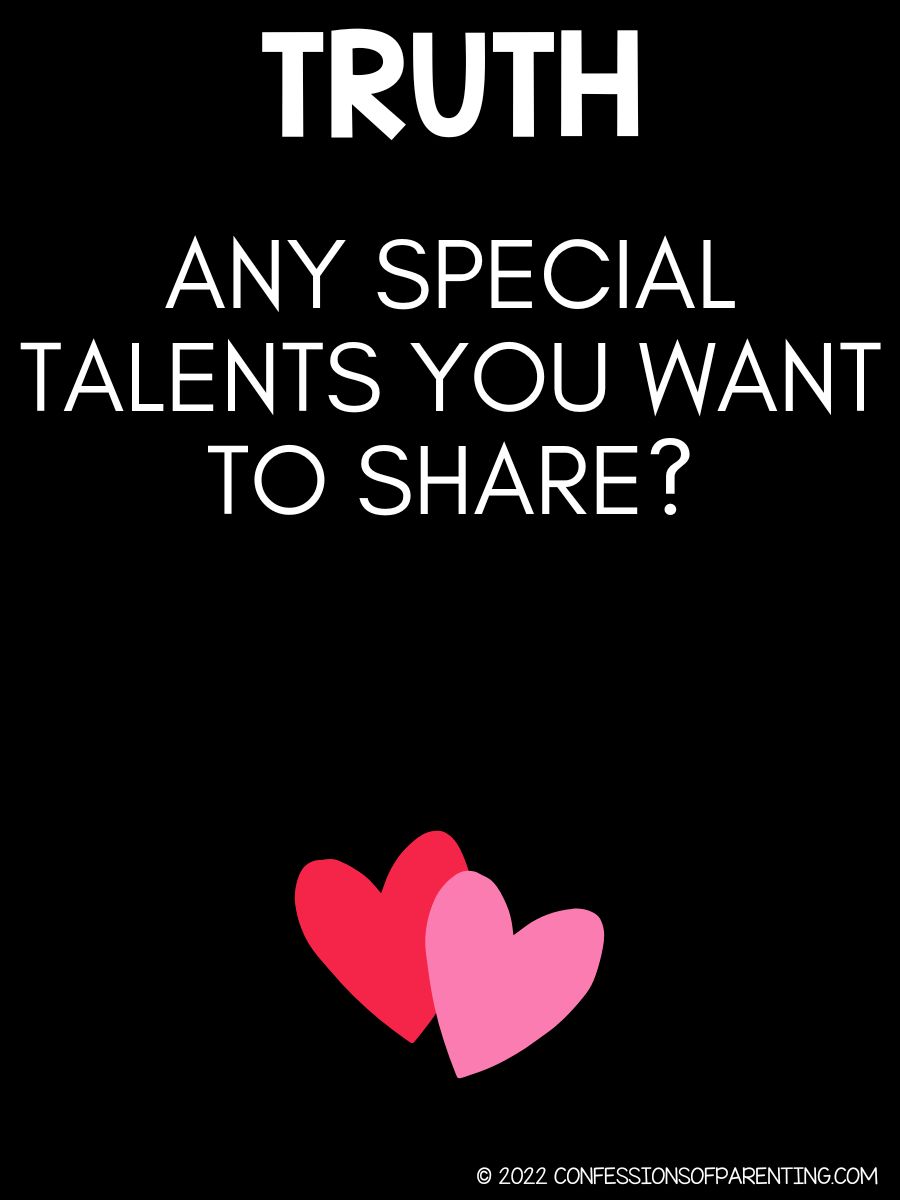 What is the craziest thing you did with your ex?
What is the number of people you have kissed?
Have you ever picked your nose in public?
Have you ever farted and blamed someone else for it?
Have you ever drunk-dialed an ex?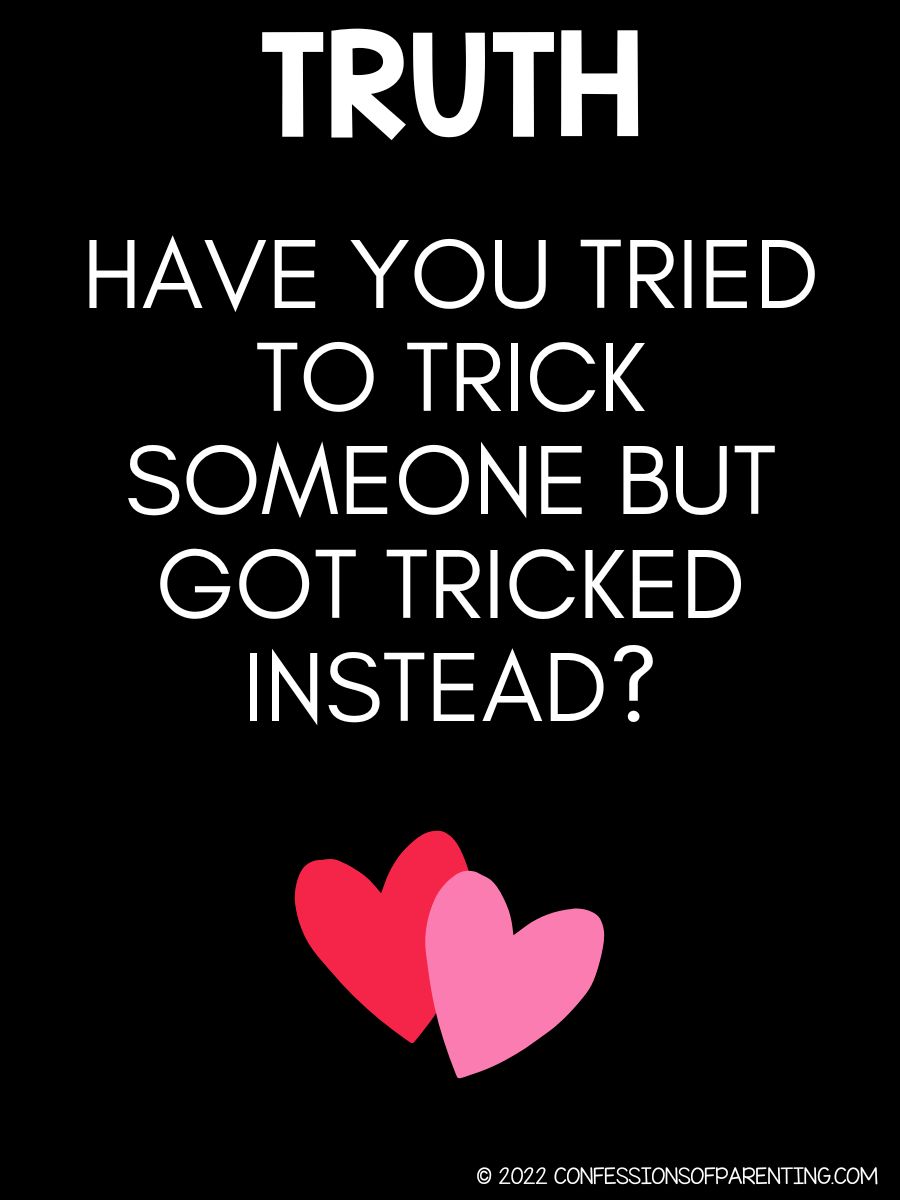 Have you tried to trick someone but got tricked instead?
What is your most embarrassing shopping experience?
If you were invisible for a day, what are the three things that you will do?
Have you ever gossiped about someone?
Have you ever intentionally done something to hurt your partner?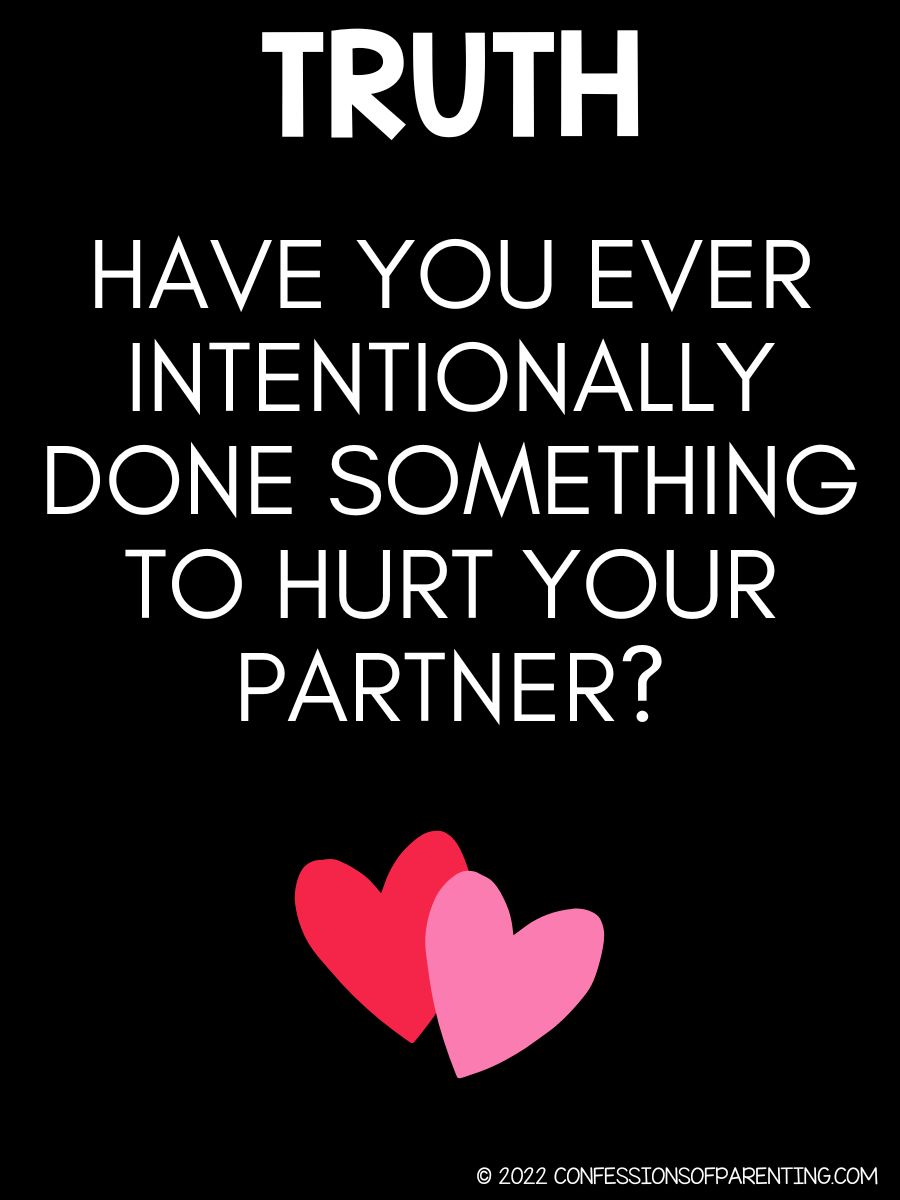 Dares for Truth or Dare for Couples
Funny Dares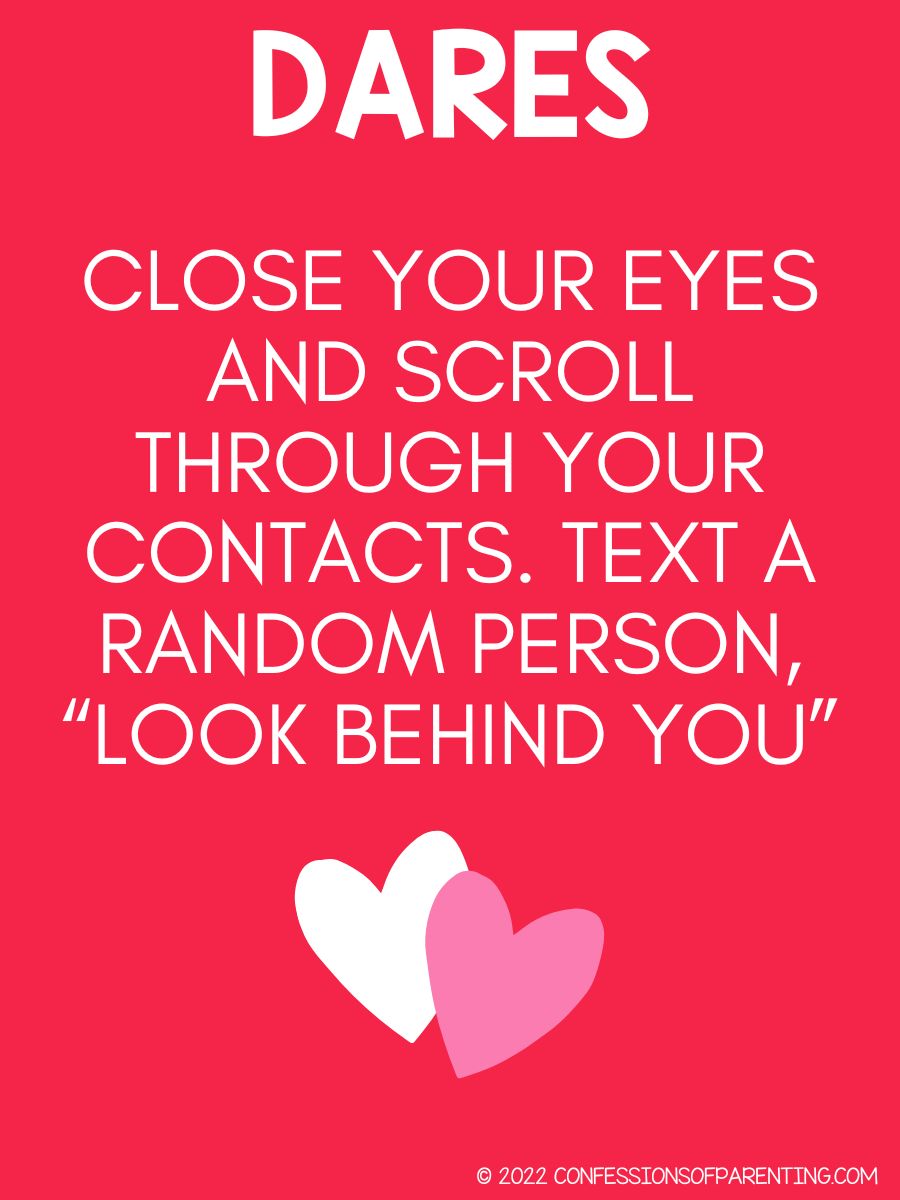 Close your eyes and scroll through your contacts. Text a random person, "look behind you"
Put chocolate/whipped cream/ice cream on a pickle and eat it
Walk around the room and your hands and knees pretending to be a dog
Let your partner give you a makeover
Ask a neighbor if they have fifty cents
Close your eyes and reach into your fridge or food pantry – the first thing you touch, you have to eat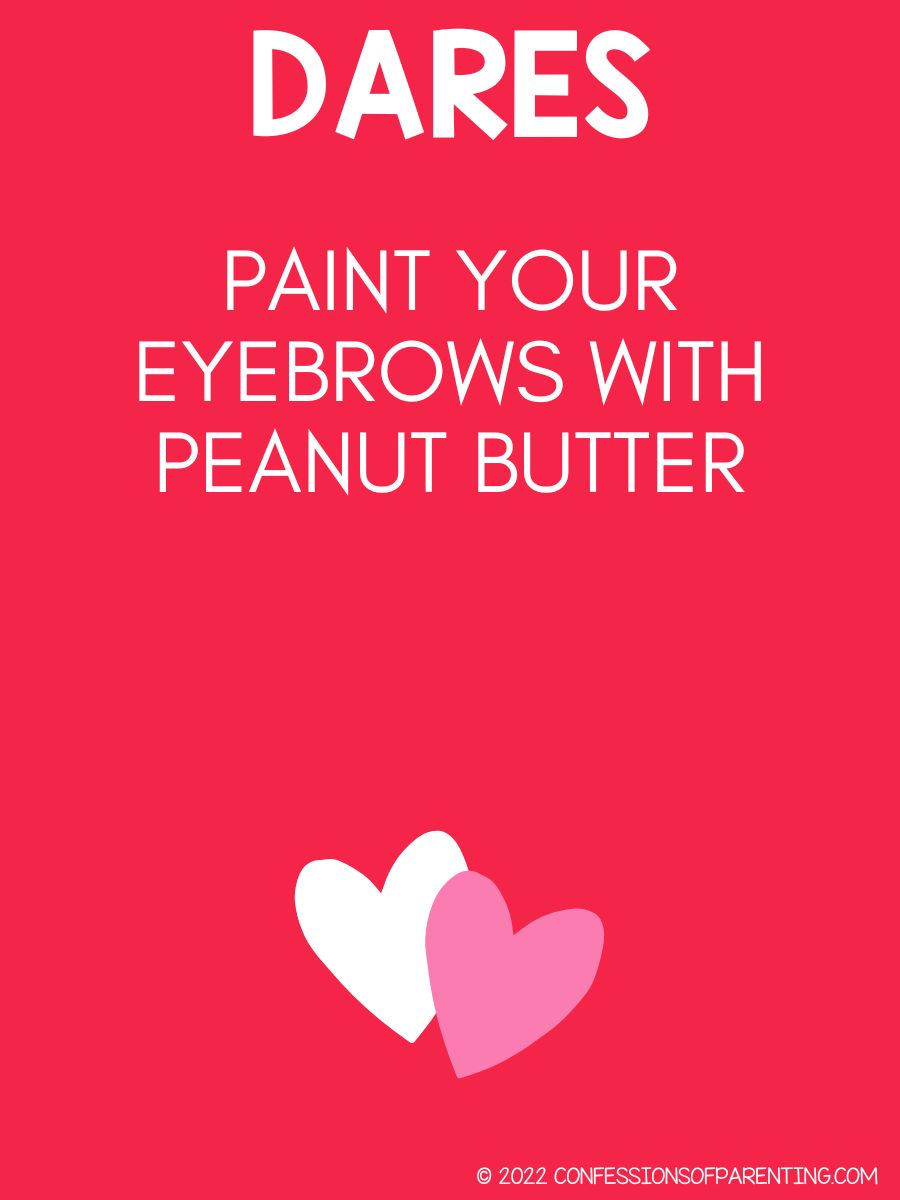 Paint your eyebrows with peanut butter
Cut an eye-hole in a piece of cheese/deli meat and put it over your eye. Leave it on your face for the remainder of the game
Describe your last bathroom experience
Call the nearest drugstore and ask if they sell adult diapers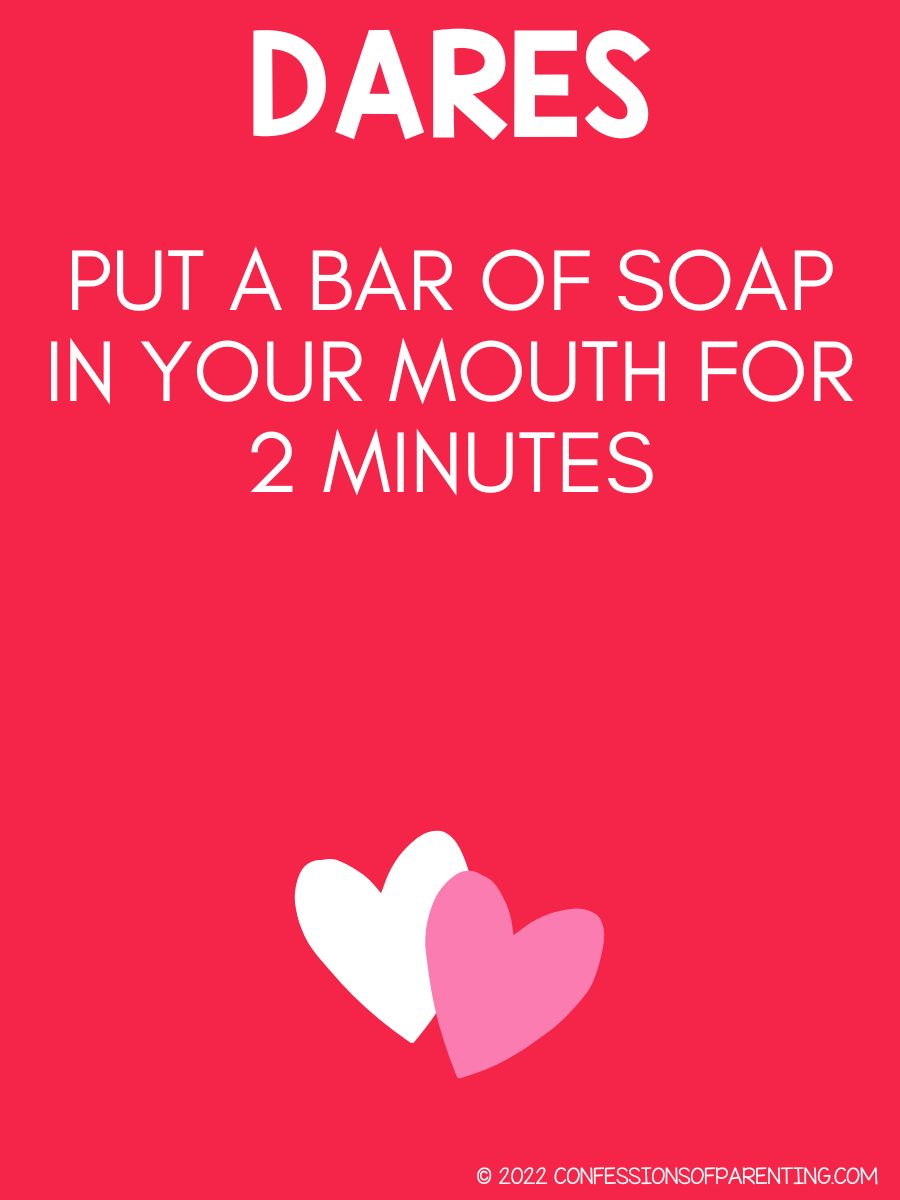 Put a bar of soap in your mouth for 2 minutes
Eat a raw egg
Act out a scene from your favorite show/movie and let your partner try to guess what it is
Post a 1,000 word Facebook status of gibberish
Kiss your partners big toe
Eat a tablespoon of soy sauce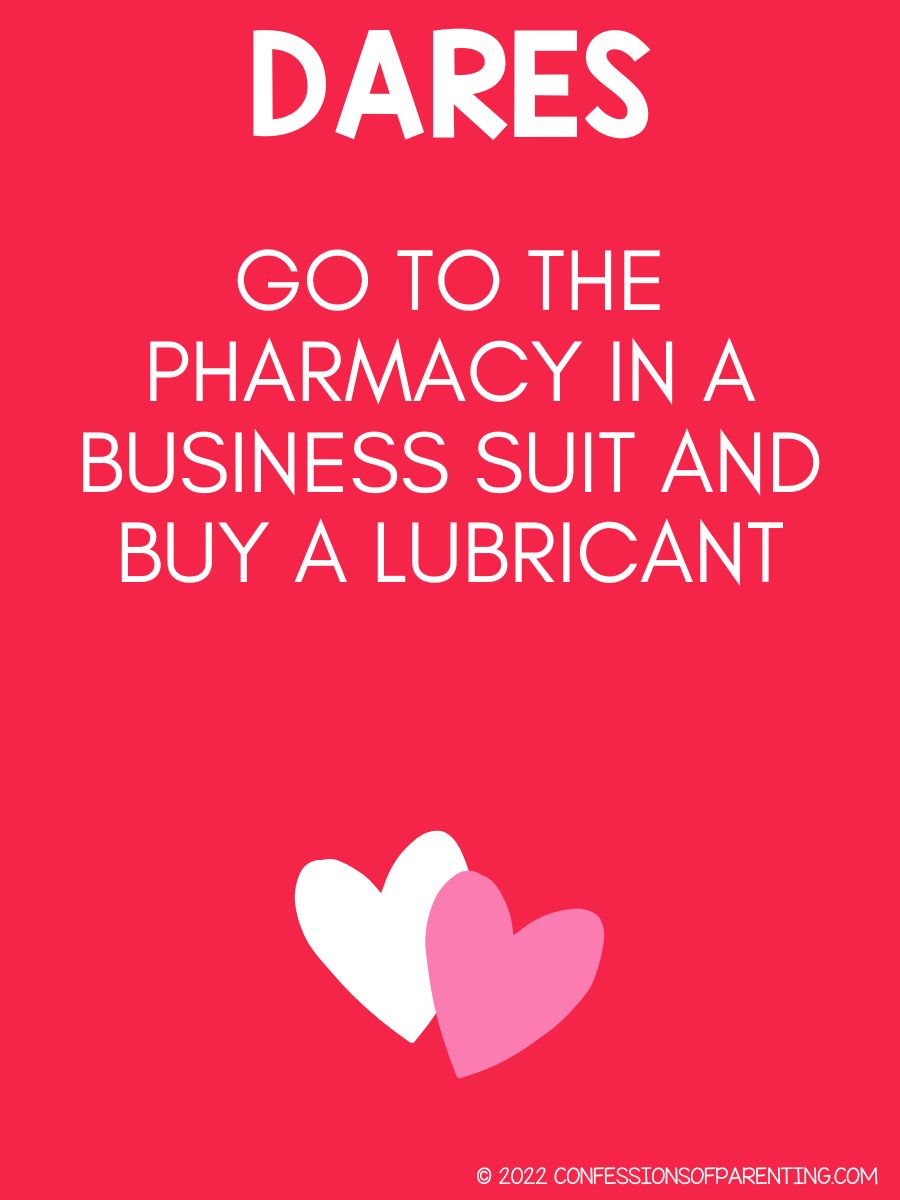 Go to the pharmacy in a business suit and buy a lubricant
Go over to your neighbors in a tux, rent a cheap one, and politely ask them if they would officiate your wedding
Give me a lap dance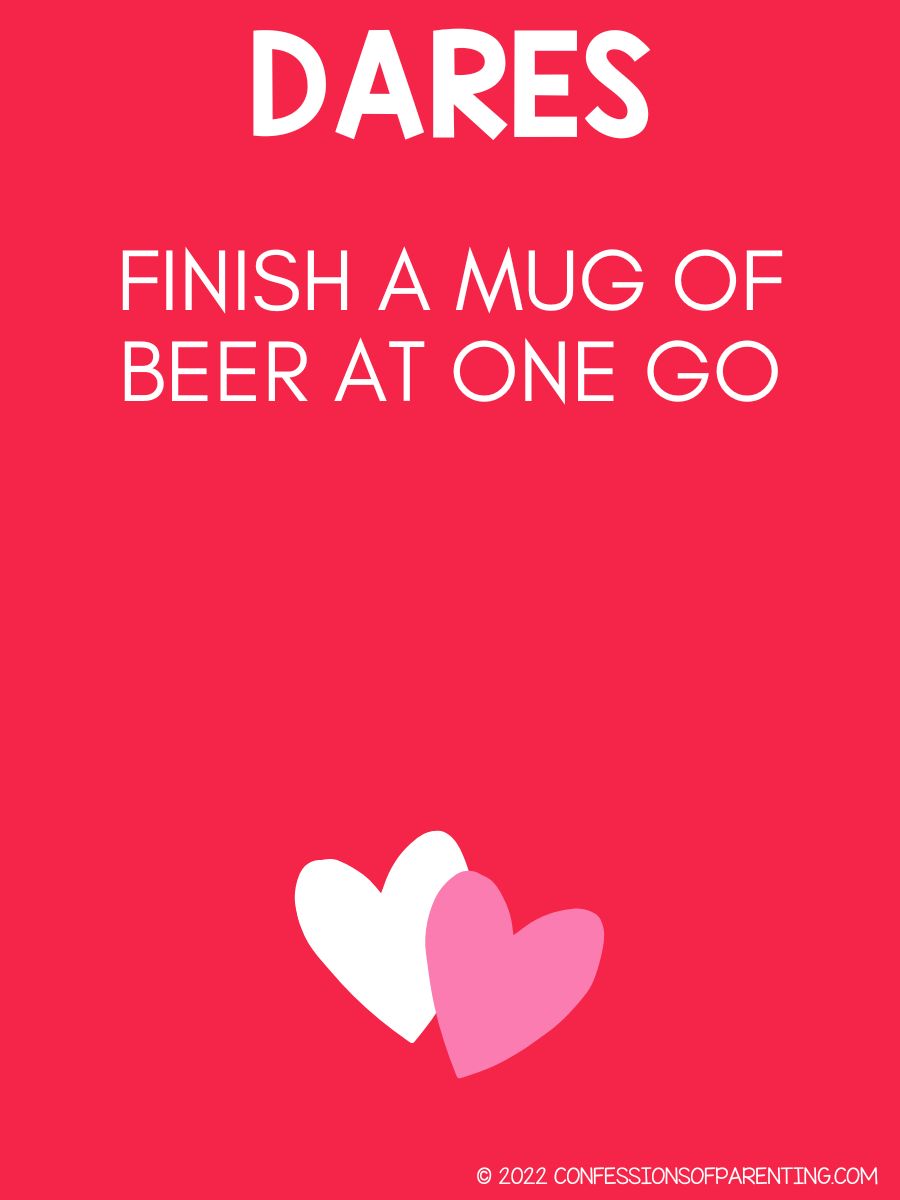 Finish a mug of beer at one go
Gift your parents a pair of fluffy handcuffs on their anniversary. Wrap it up nicely!
Put ice cubes down your pants and try to shake them out
Draw a dog on your face with lipstick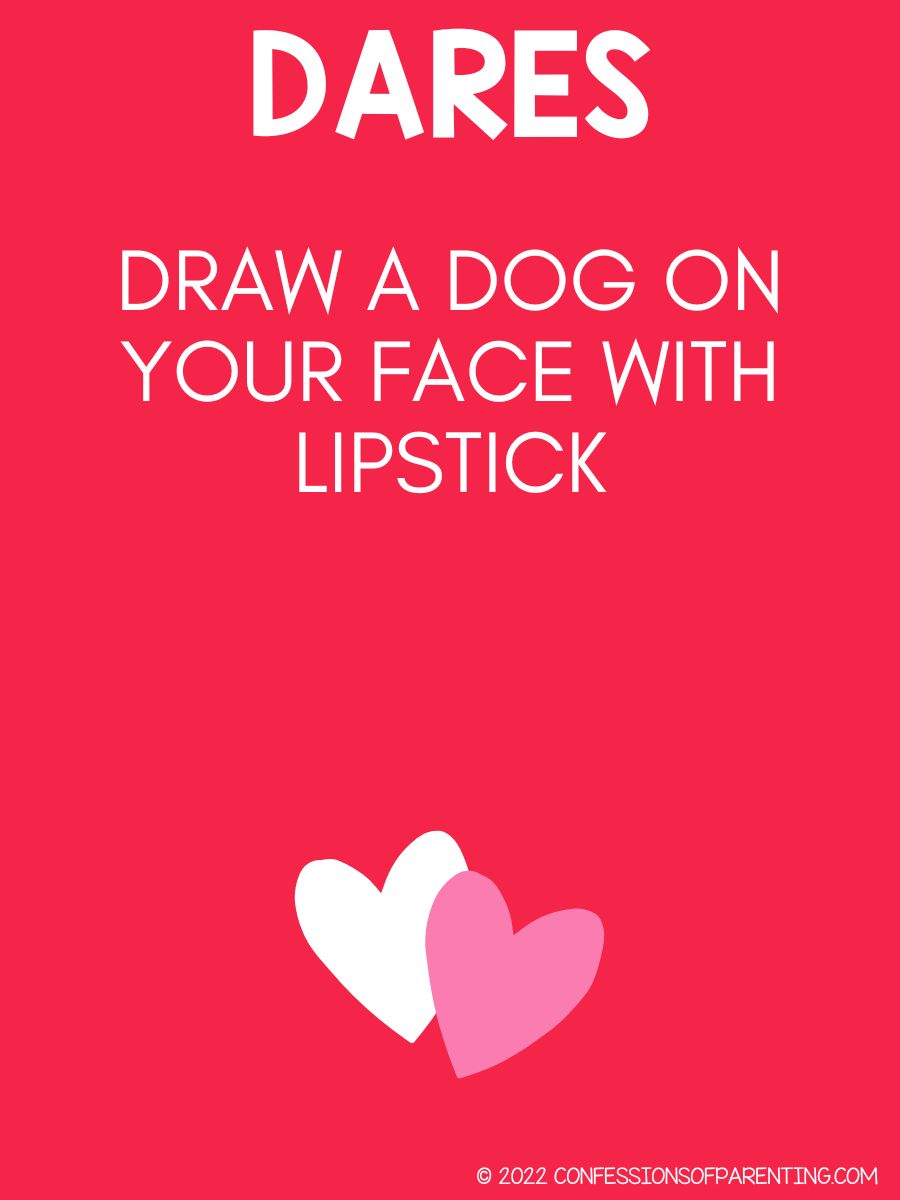 Good Dares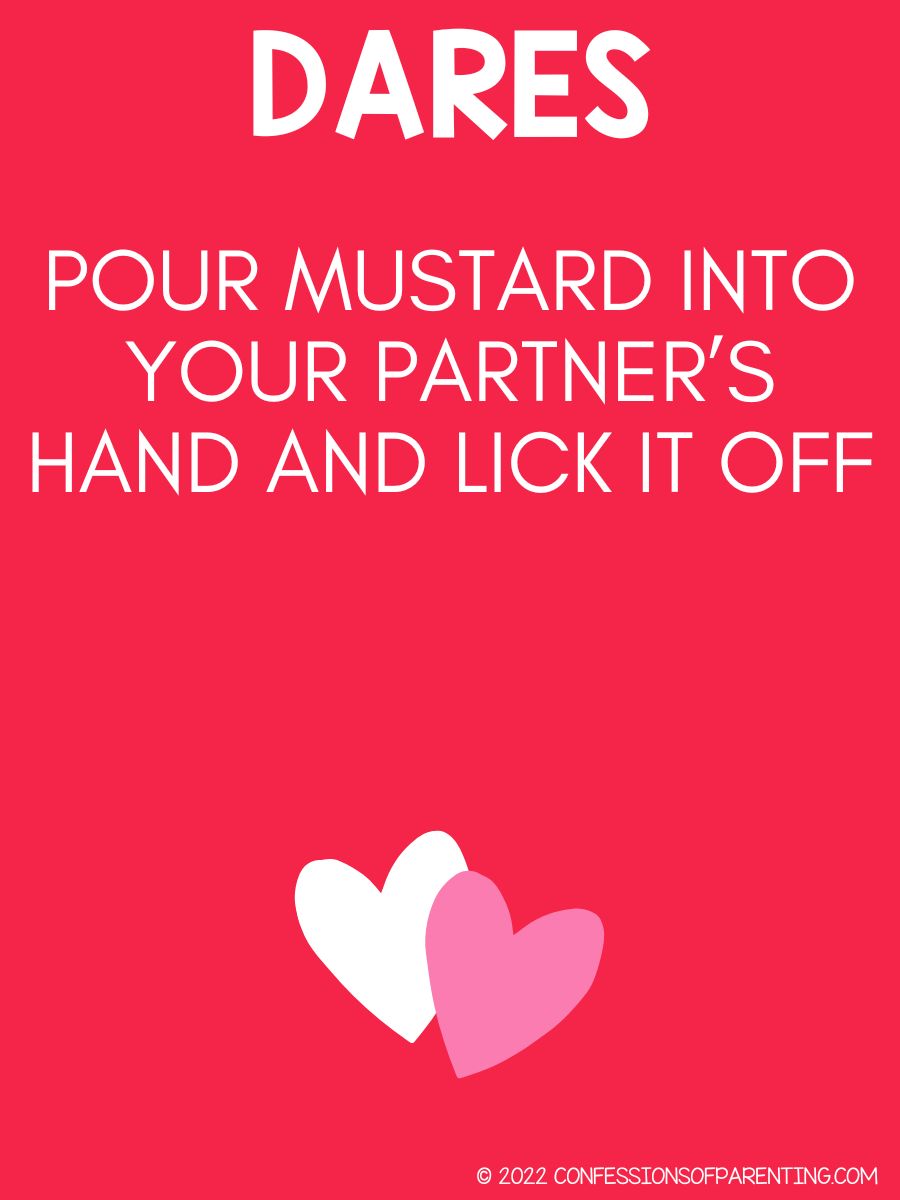 Pour mustard into your partner's hand and lick it off
Don't say a word till your next turn
Call a local pet store and ask if they have mosquitos for sale
Put on a blindfold and eat whatever your partner gives you (make sure it's edible!)
Send a text to a random person by closing your eyes
Do the tango with the broom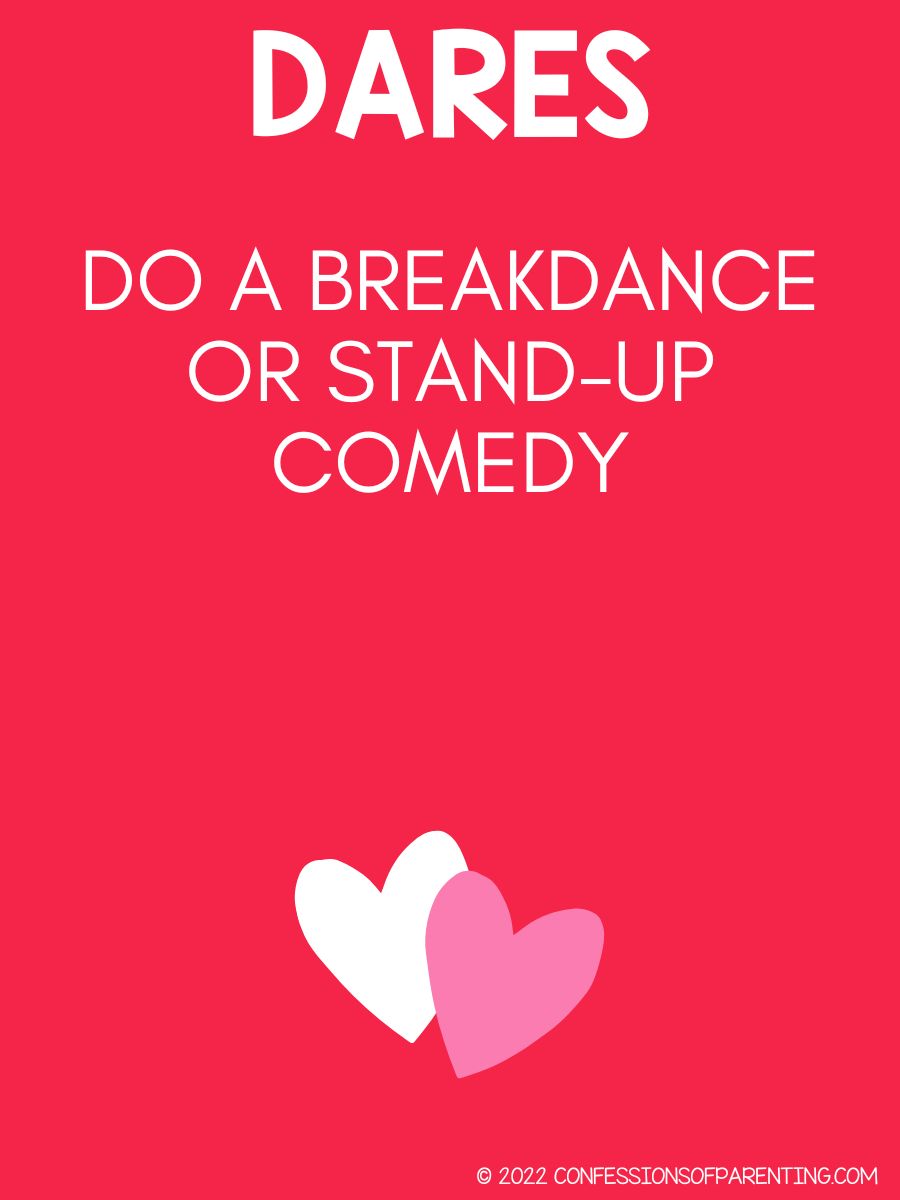 Do a Breakdance or stand-up comedy
Imitate a monkey or gorilla pounding in the chest or scribbling over their body
Give me a body or foot massage
Use your elbows to unbuckle your belt
Ask your neighbor for a banana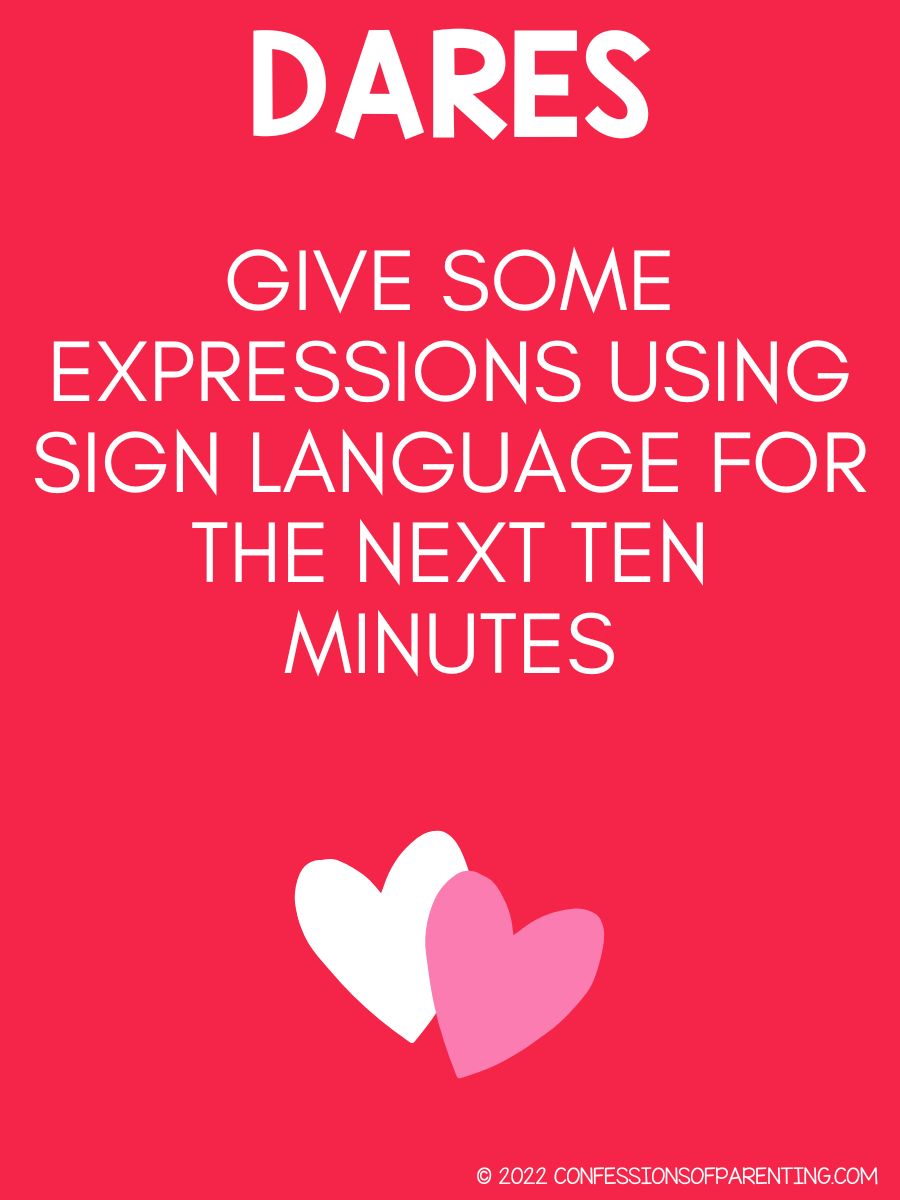 Give some expressions using sign language for the next ten minutes
Use your toes to update your Facebook status
Use your teeth to paint your toenails
Show me your worst dance moves while your favorite song is on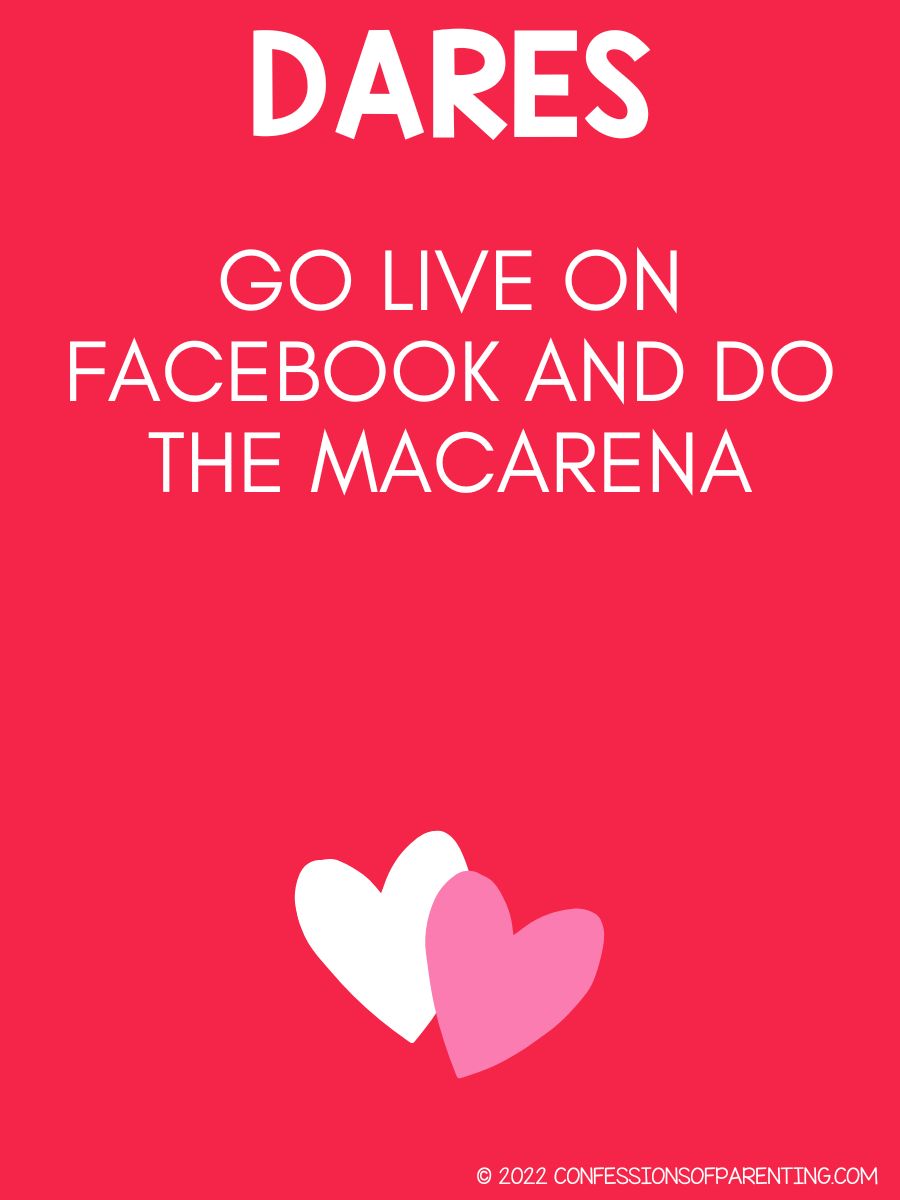 Go live on Facebook and do the Macarena
Close your eyes and let your partner draw on you for three minutes
Peel a potato with your teeth
Stalk your neighbor for a week
Tag a random person in a post on Facebook
Go outside and pick exactly 30 blades of grass with tweezers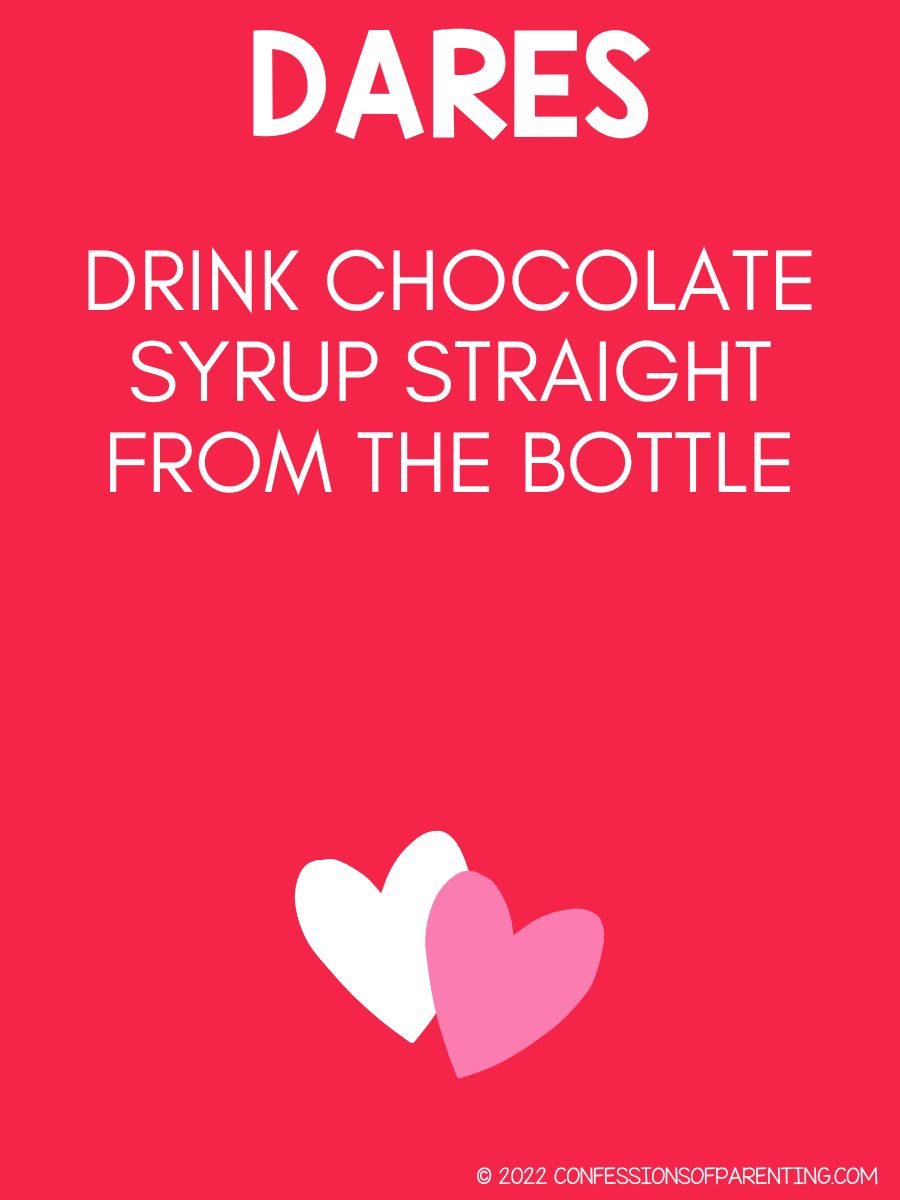 Drink chocolate syrup straight from the bottle
Sing the ABCs
Call a pizza place and order Chinese
Go into the bathroom and unroll all the toilet paper
Try to make one part of your body make a fart sound
Bleat like a goat for two whole minutes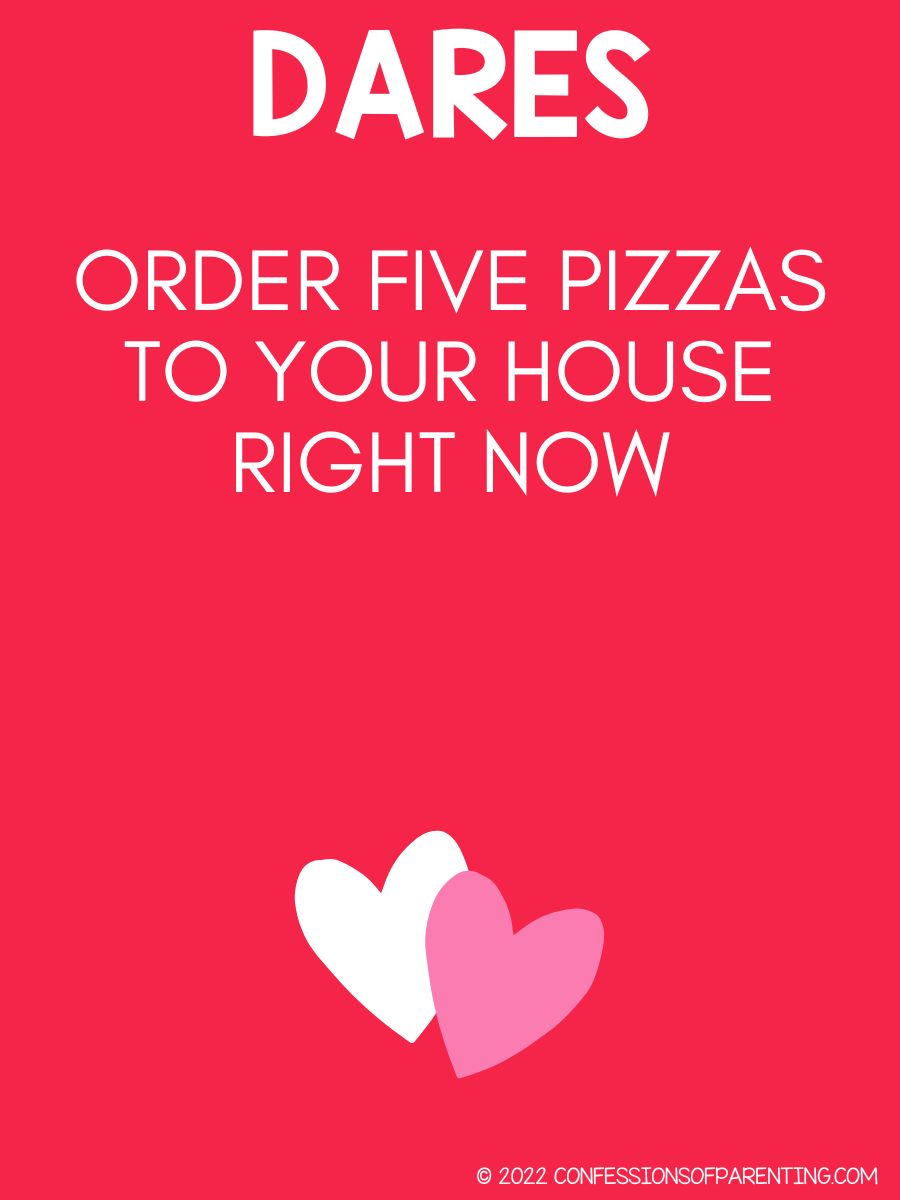 Order five pizzas to your house right now
Try to be funny and make me laugh with your best joke
Put two drops of the spiciest sauce you have on your tongue. Try to not drink water for two minutes
Eat a blade of grass
Exchange your pants with the first person you see outside our house
Convince someone outside to shout and proclaim that you two just got married
Call an unknown number and tell them the person on the other line "I am dying. Help me"
Take a shower with your clothes on
Strip off your clothes and run down the street with your underwear
Sing your worst song to me
Start licking the floor or the wall
Imitate your favorite celebrity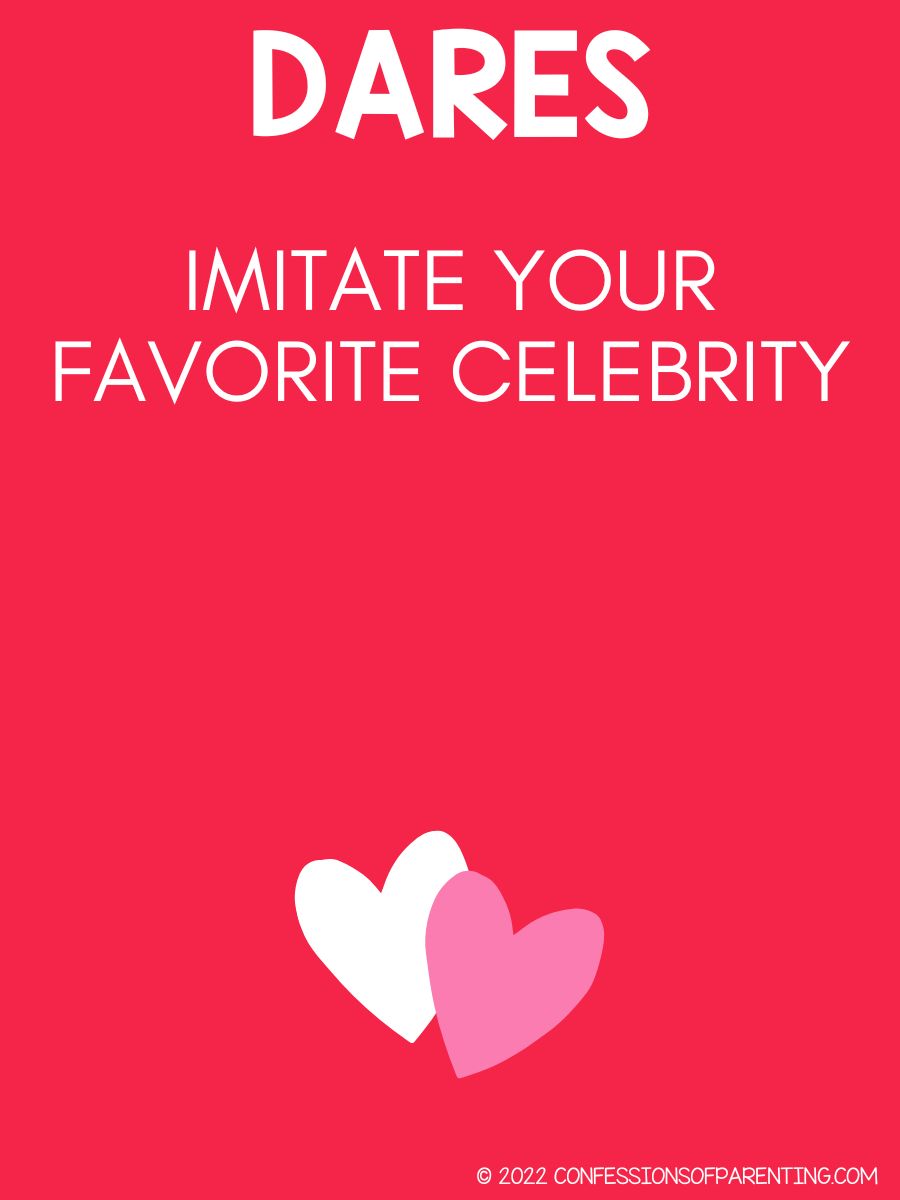 Steamy Dares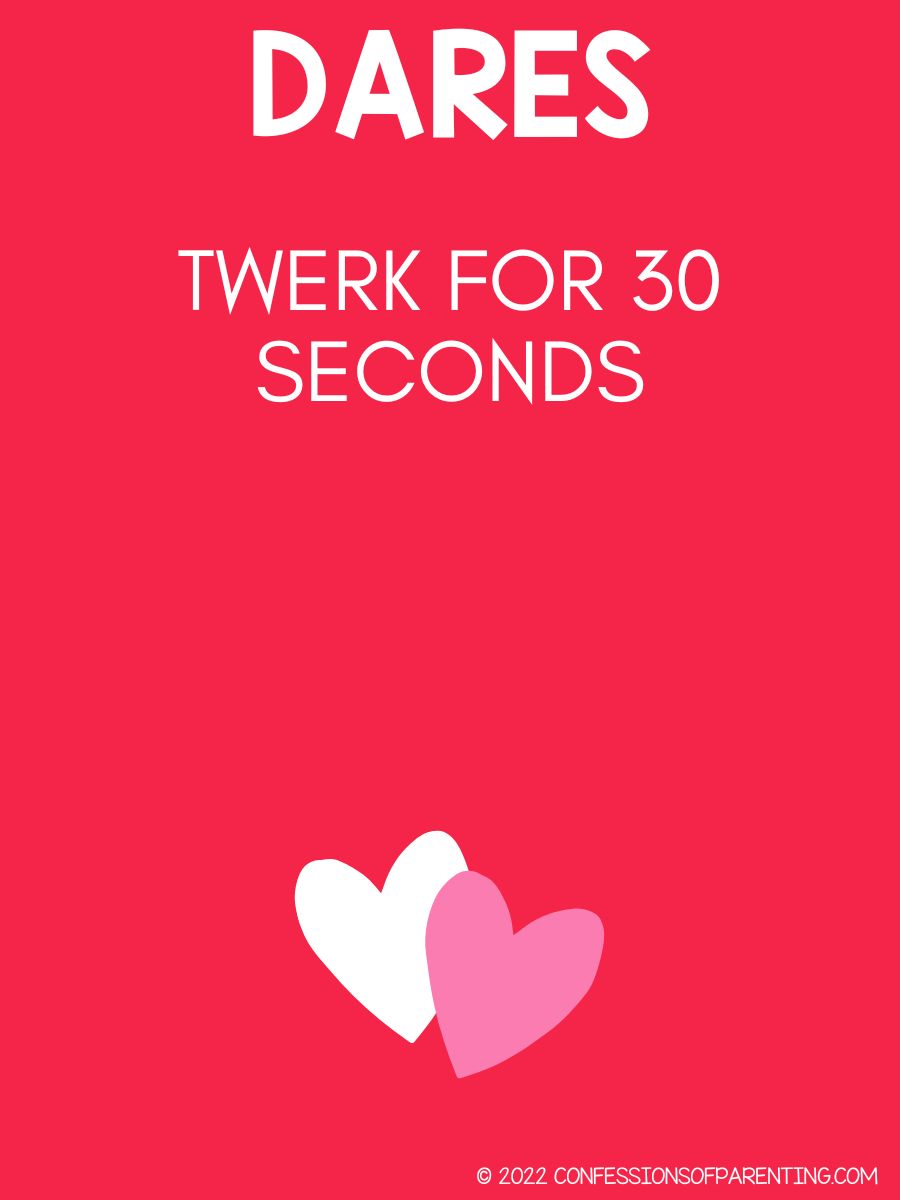 Twerk for 30 seconds
Do a striptease on the table
Lick me all the way to my underwear
Put your hand in my pants as I walk around the house
Bite my booty
Lick my right foot
Makeout with me without feeling me up for 5 minutes straight
Tell me a fantasy that you've never told anyone
Be blinded and tickled for one minute
Take off your partner's shirt using only your teeth
Belly dance for your partner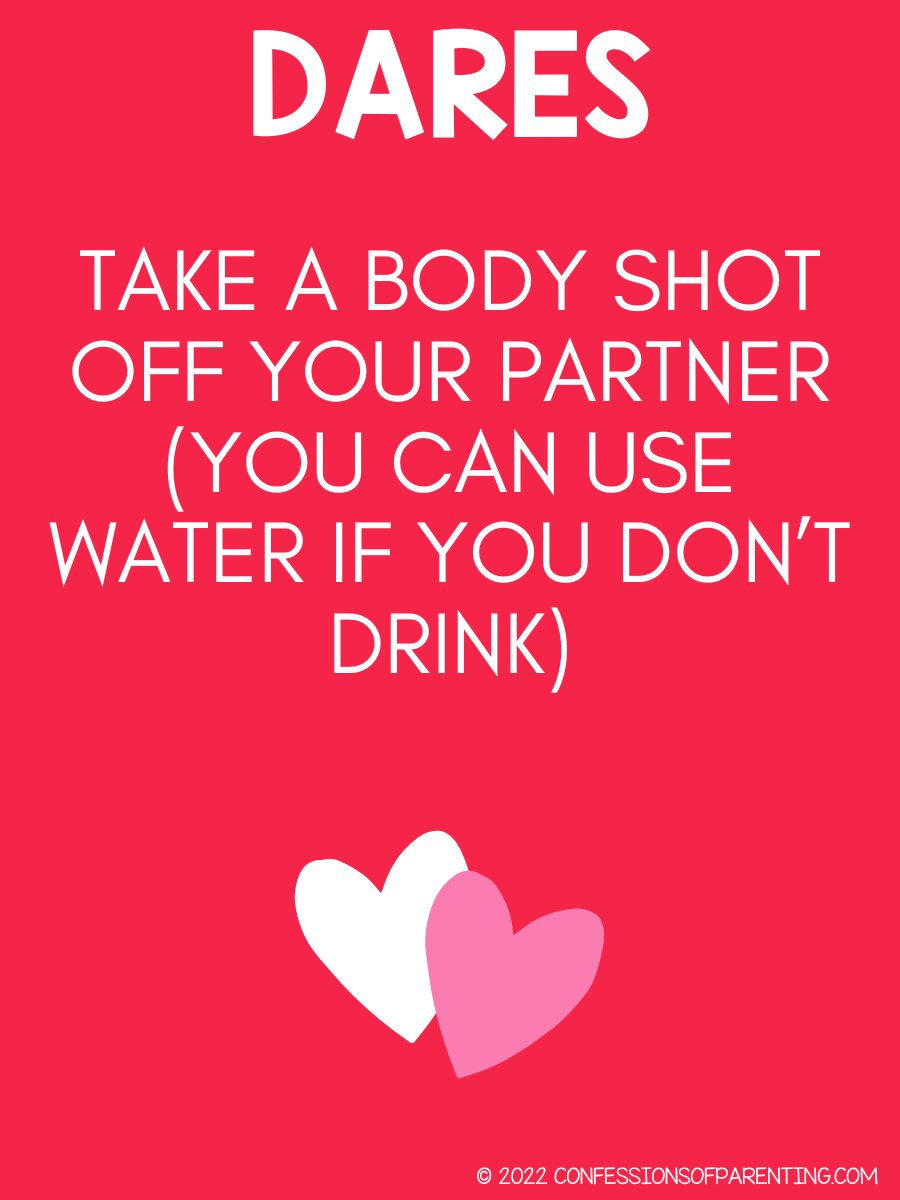 Take a body shot off your partner (you can use water if you don't drink)
Give your partner a back massage
Lick your partner's face
Strip off your clothes and stand outside for 5 minutes
Wash your partner's feet
Wear handcuffs for the rest of the game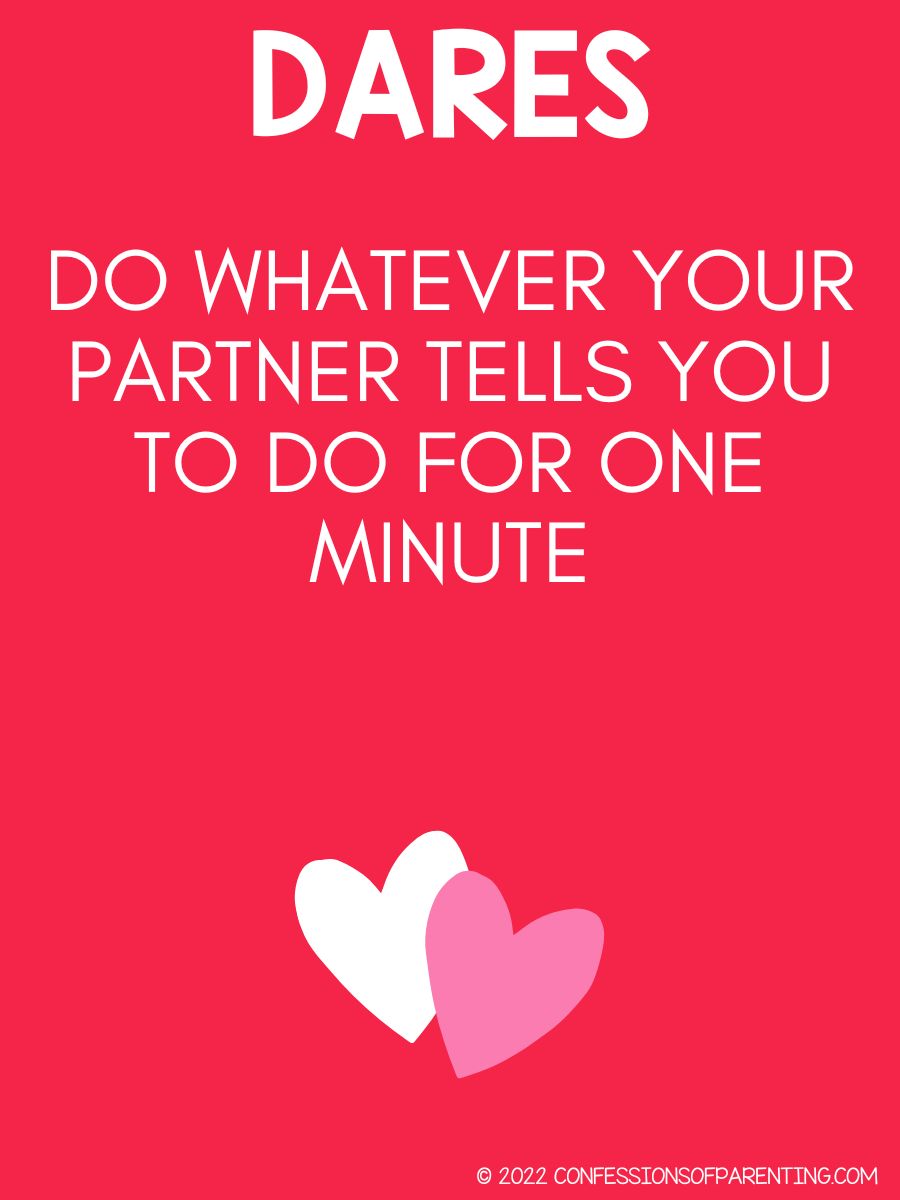 Do whatever your partner tells you to do for one minute
Teach me how to kiss you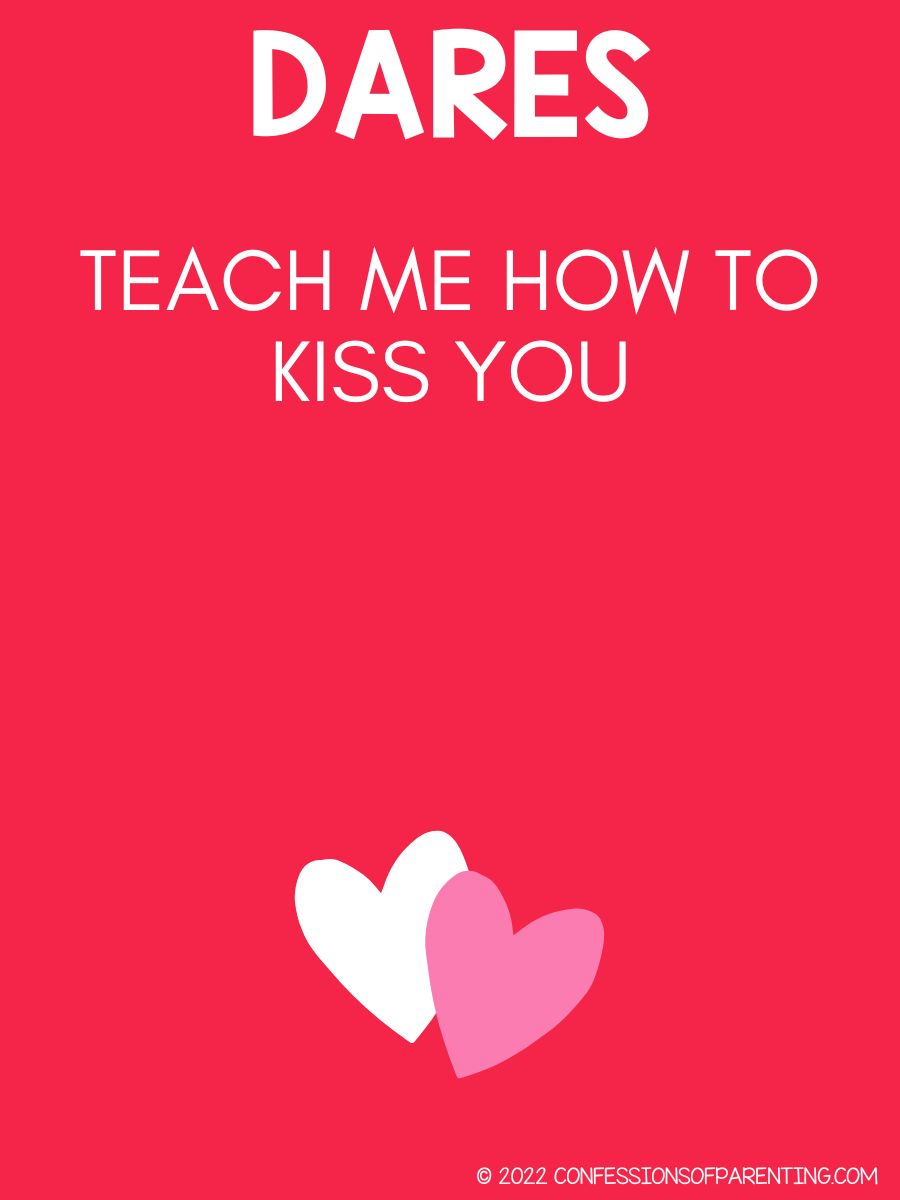 Entertaining Dares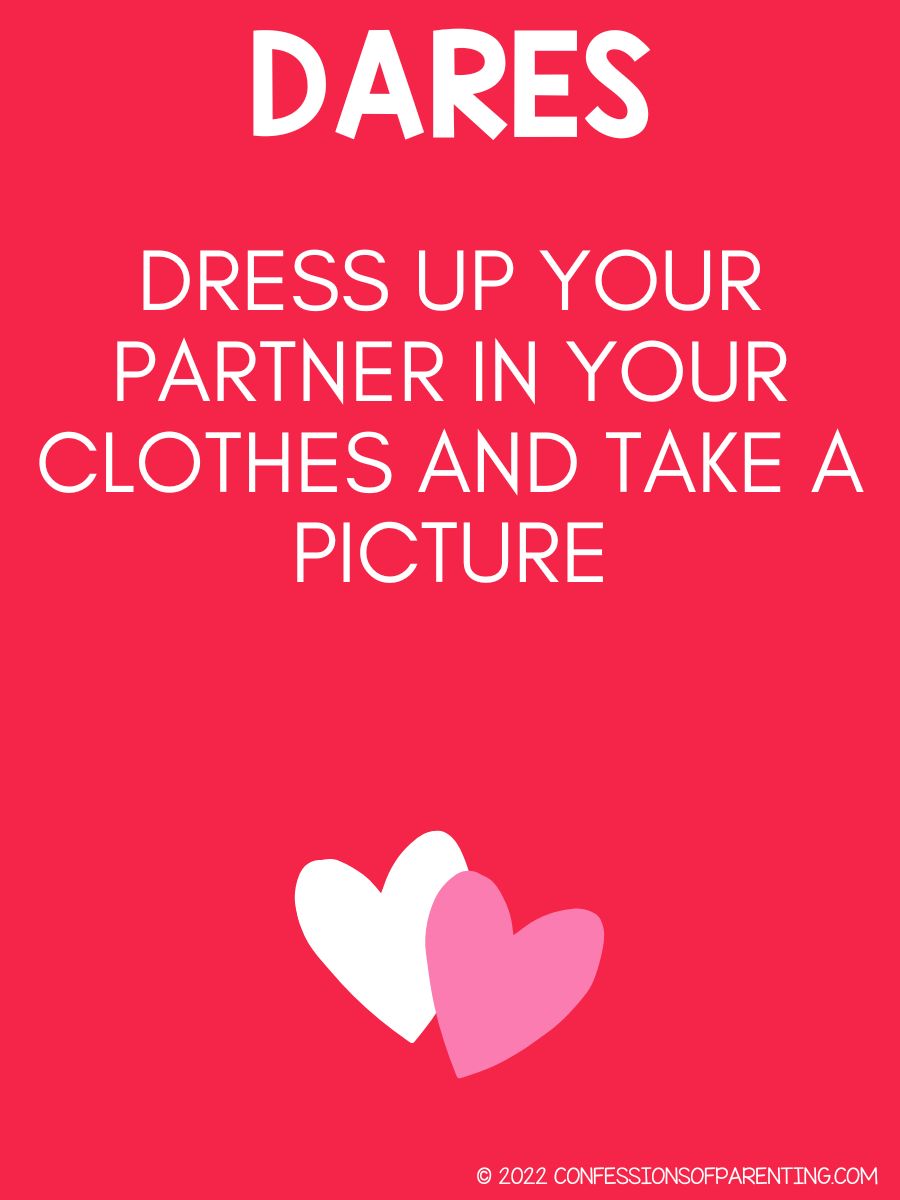 Dress up your partner in your clothes and take a picture
Do a sexy dance using only one leg
Order a pizza or any other food you like, and when the delivery arrives, open the door in a bikini
Send a topless selfie to any of your grandparents
Take a random photo and send it to your ex
Kiss the person you first come across when you get out of the house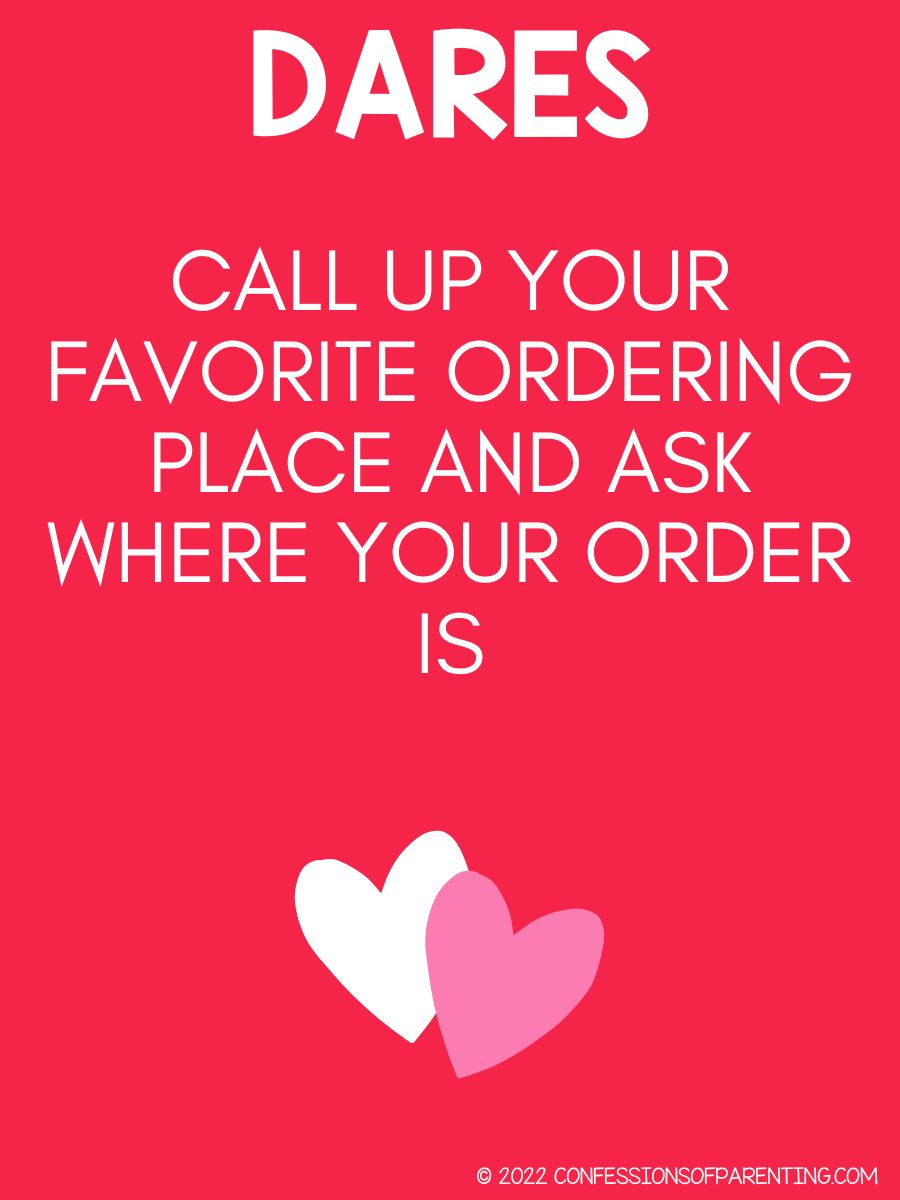 Call up your favorite ordering place and ask where your order is
Crawl in the room like a baby
Kiss and hug a pillow
Drink four glasses of water without stopping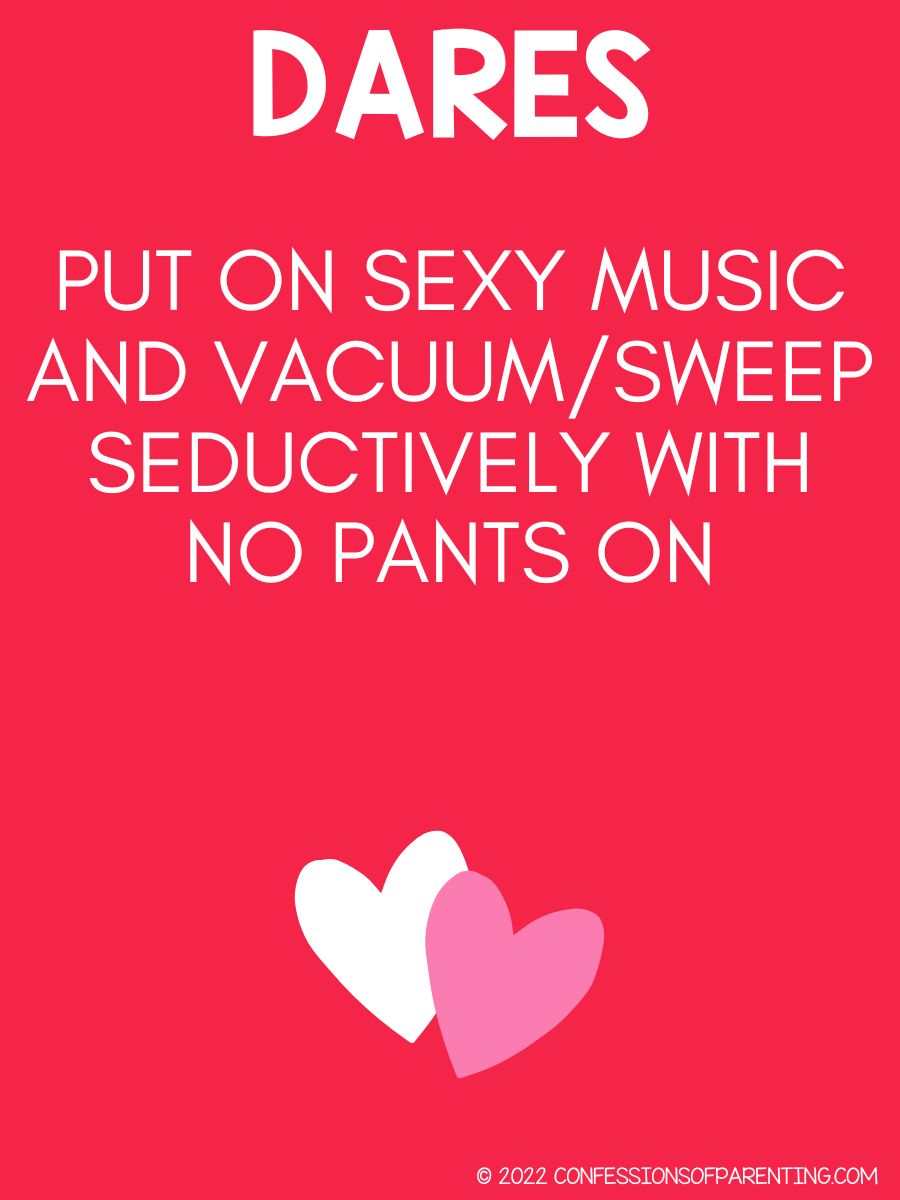 Put on sexy music and vacuum/sweep seductively with no pants on
Whisper all 50 states into your spouse's ear as seductively as you can
Lick whipped cream off your partner's stomach
Call 911 and ask them, "How much is the best weed in town?"
Call a random number and sing 'happy birthday' song. If they hang up call another random number and sing the national anthem.
Imitate one of your parents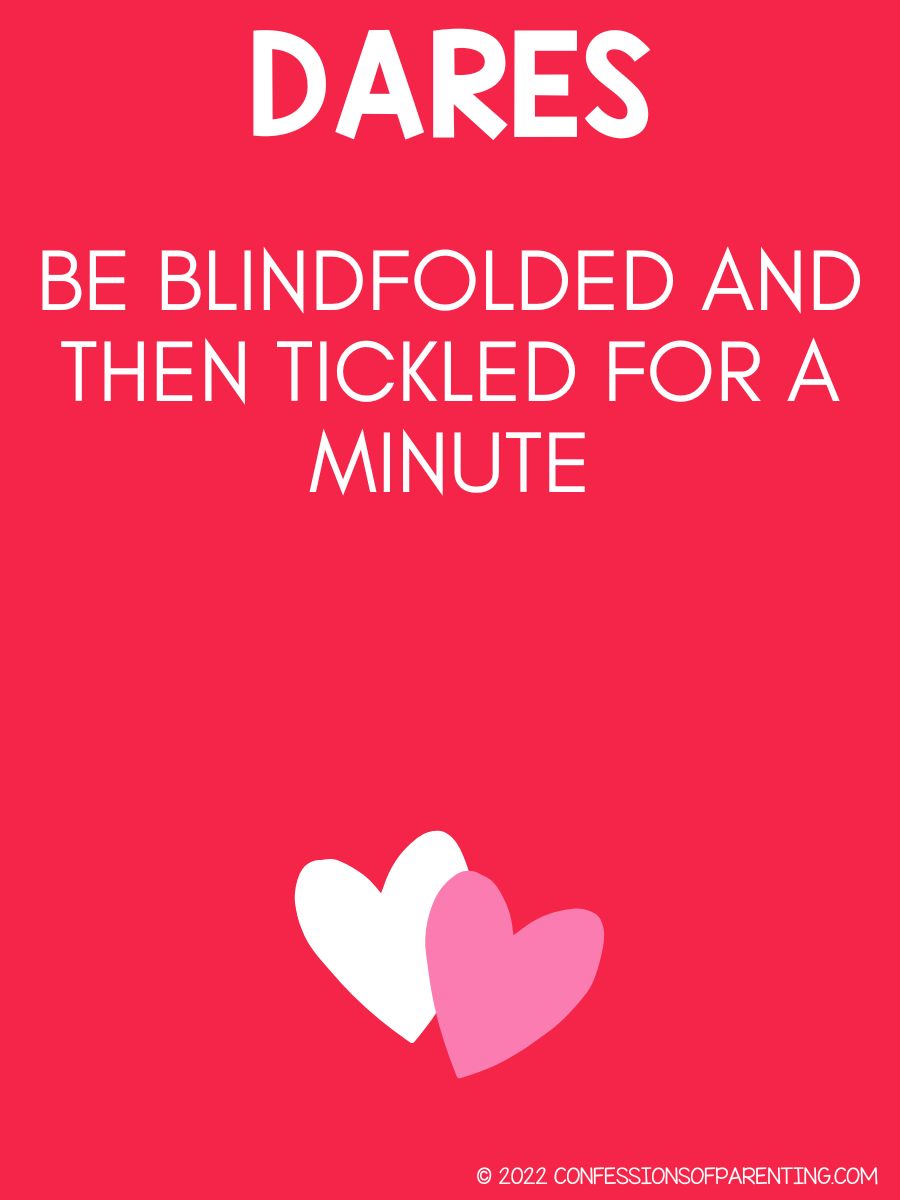 Be blindfolded and then tickled for a minute
Read a page of a book in a romantic style
Use talcum powder to give yourself a facial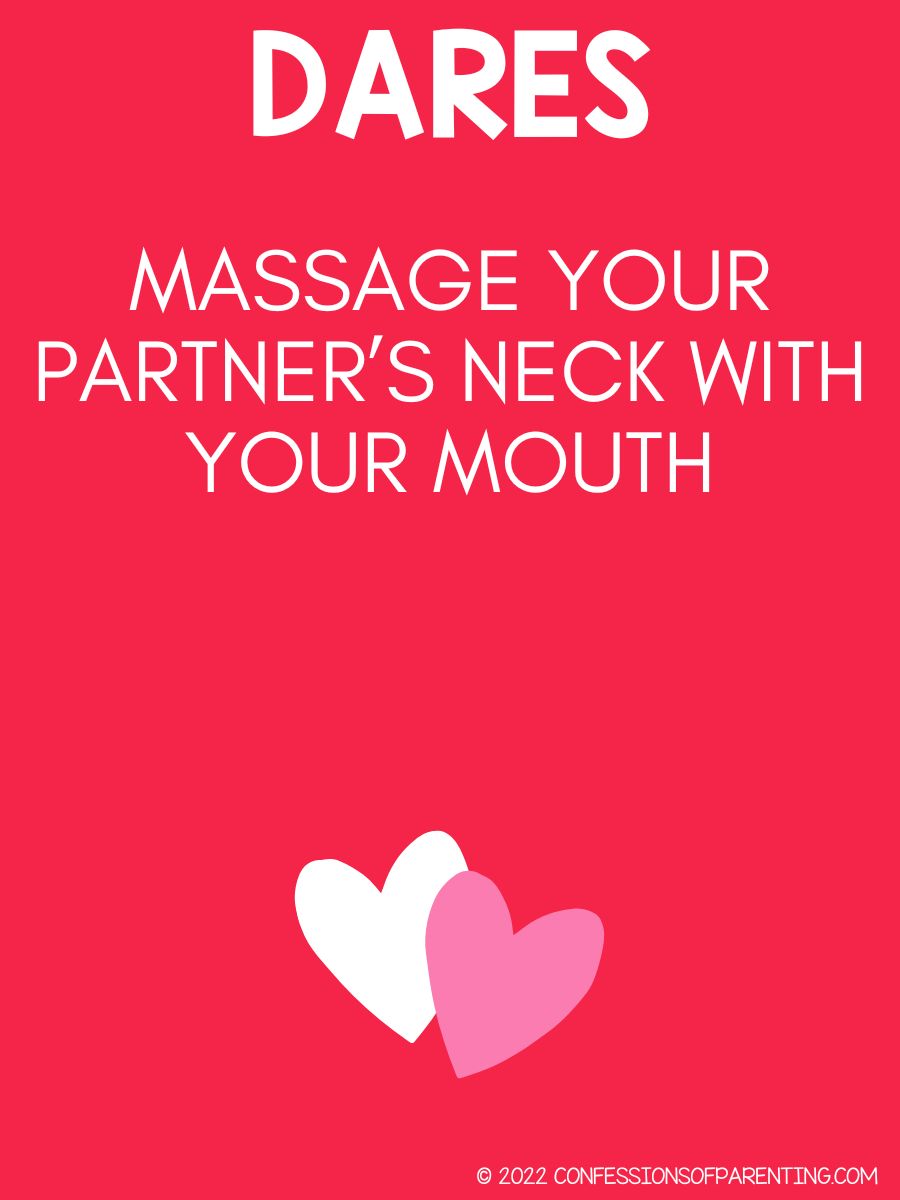 Massage your partner's neck with your mouth
Play "this little piggy" with all of your partner's toes
Act our your first date together without speaking
Kiss your partner like you were in a romantic comedy
Do a headstand to 5 minutes
Do 10 pushups and say my name in each
Brush your teeth with peanut butter or another condiment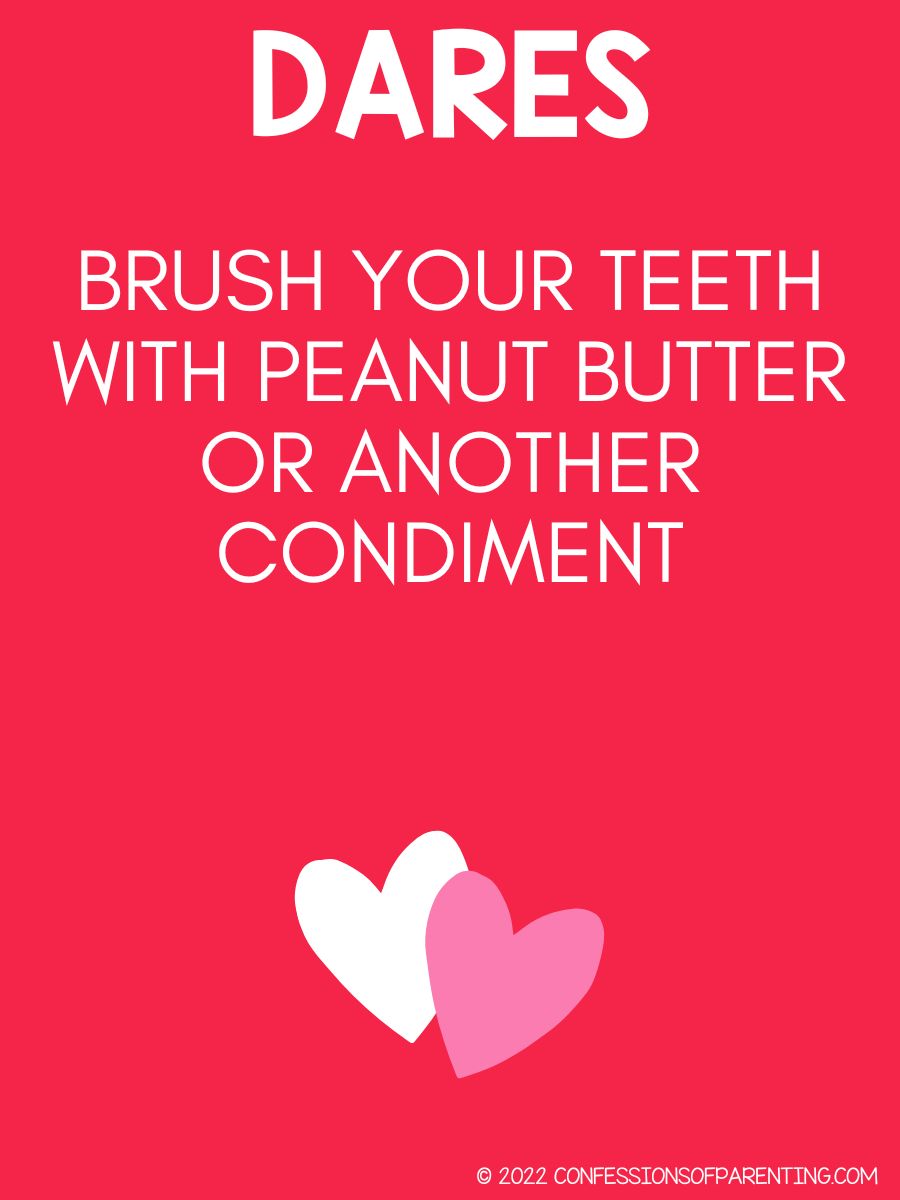 More Dares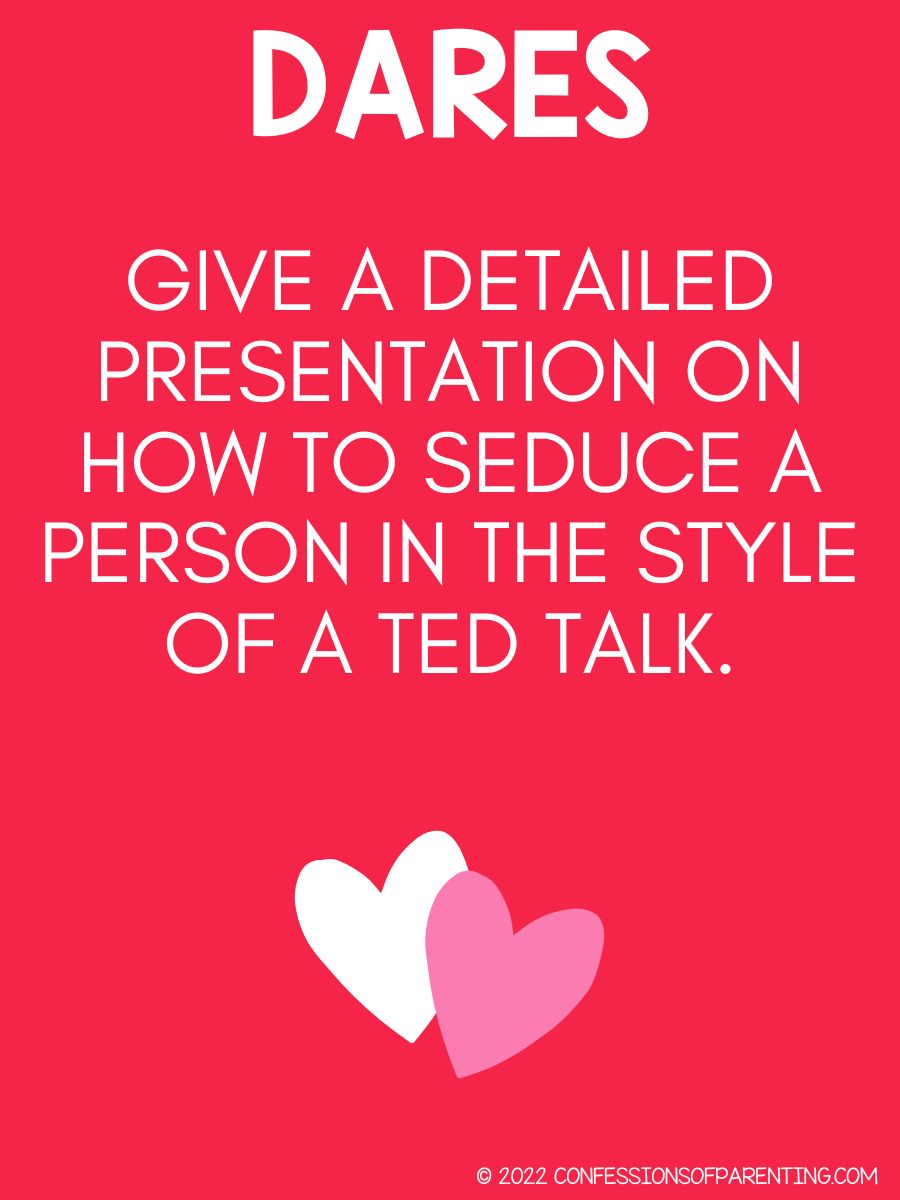 Give a detailed presentation on how to seduce a person in the style of a TED talk.
Try to hit on your partner as if you had just met them
Eat a bag of popcorn as fast and as sexy as you can
Shave your arms and send me a pic
Record yourself singing a song and post it on YouTube
Try to lick your own foot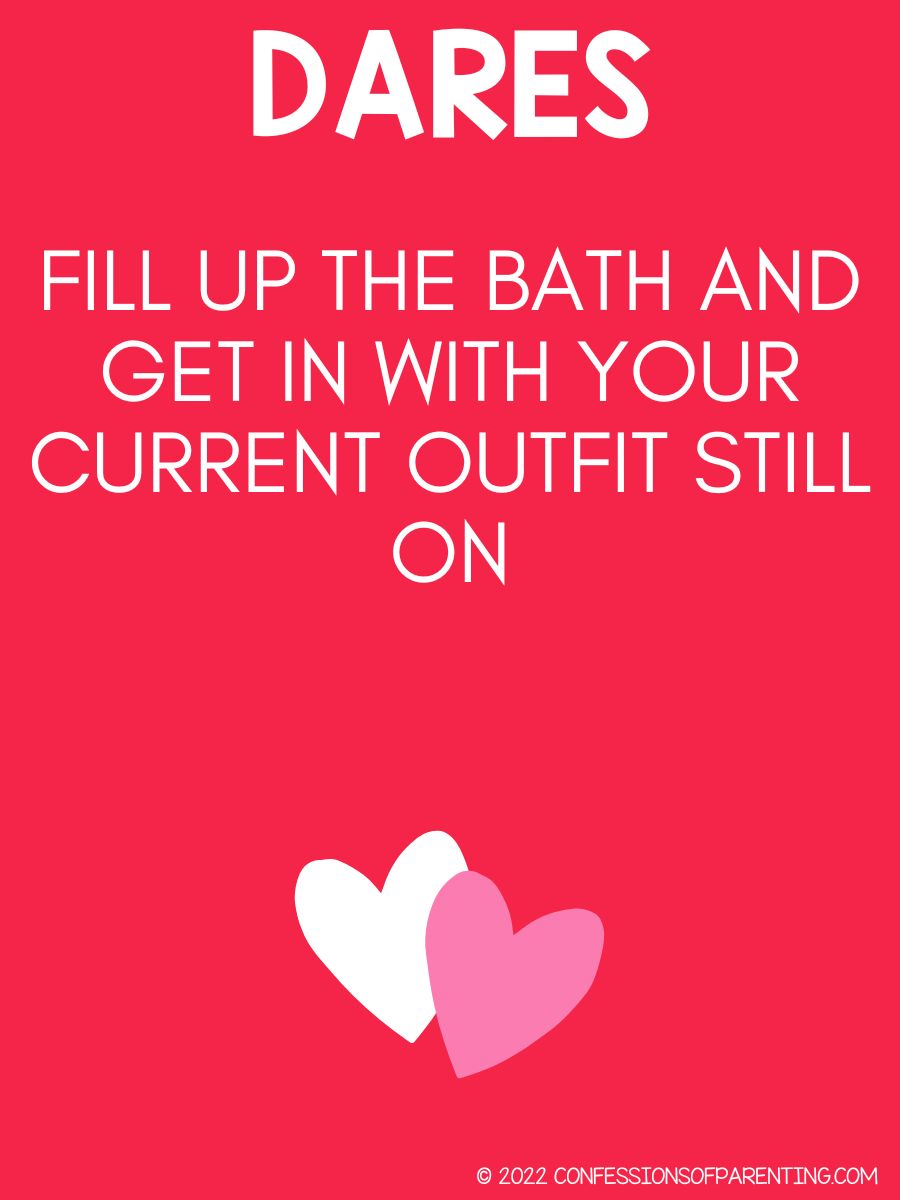 Fill up the bath and get in with your current outfit still on
Pick the third number on your contacts list and message them a silly poem
Cut a piece of your hair
Text your parents that you're pregnant
Call Pizza Hut and pretend to order Chipotle
Rub your feet with your hands and then smell your hands
Try to eat a tablespoon of cinnamon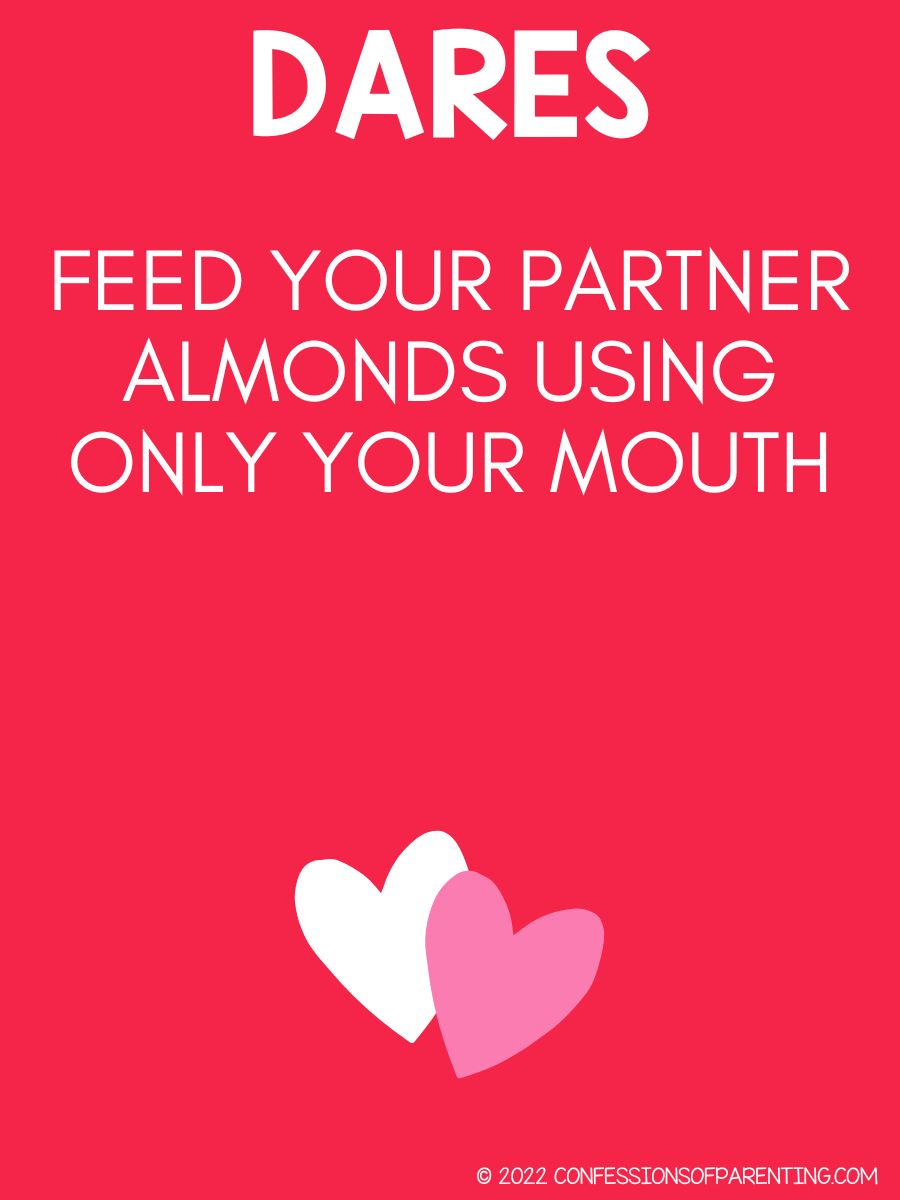 Feed your partner almonds using only your mouth
Send me the dirtiest text you can think of
Go outside on the front lawn and do the moonwalk
Kiss your partner's bare booty cheek
Go five minutes without blinking
Allow me do whatever I want for two minutes with your phone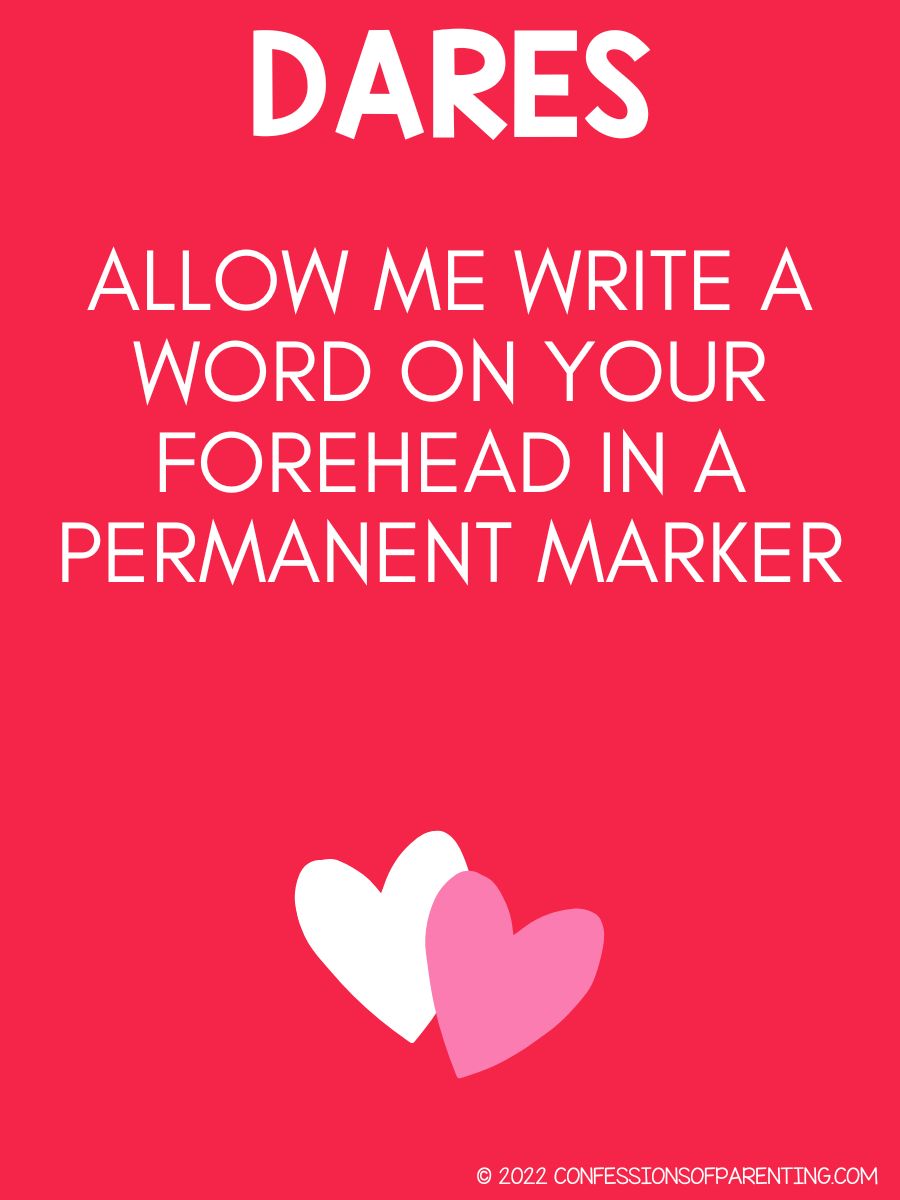 Allow me write a word on your forehead in a permanent marker
Make up a story about the item to your right
Text a random number and write "I see dead people"
Walk to the nearest store and ask for the smallest available change for five dollars
Wait until a dog walks past your house and bark at it
Knock on someone's door and try to run away before they answer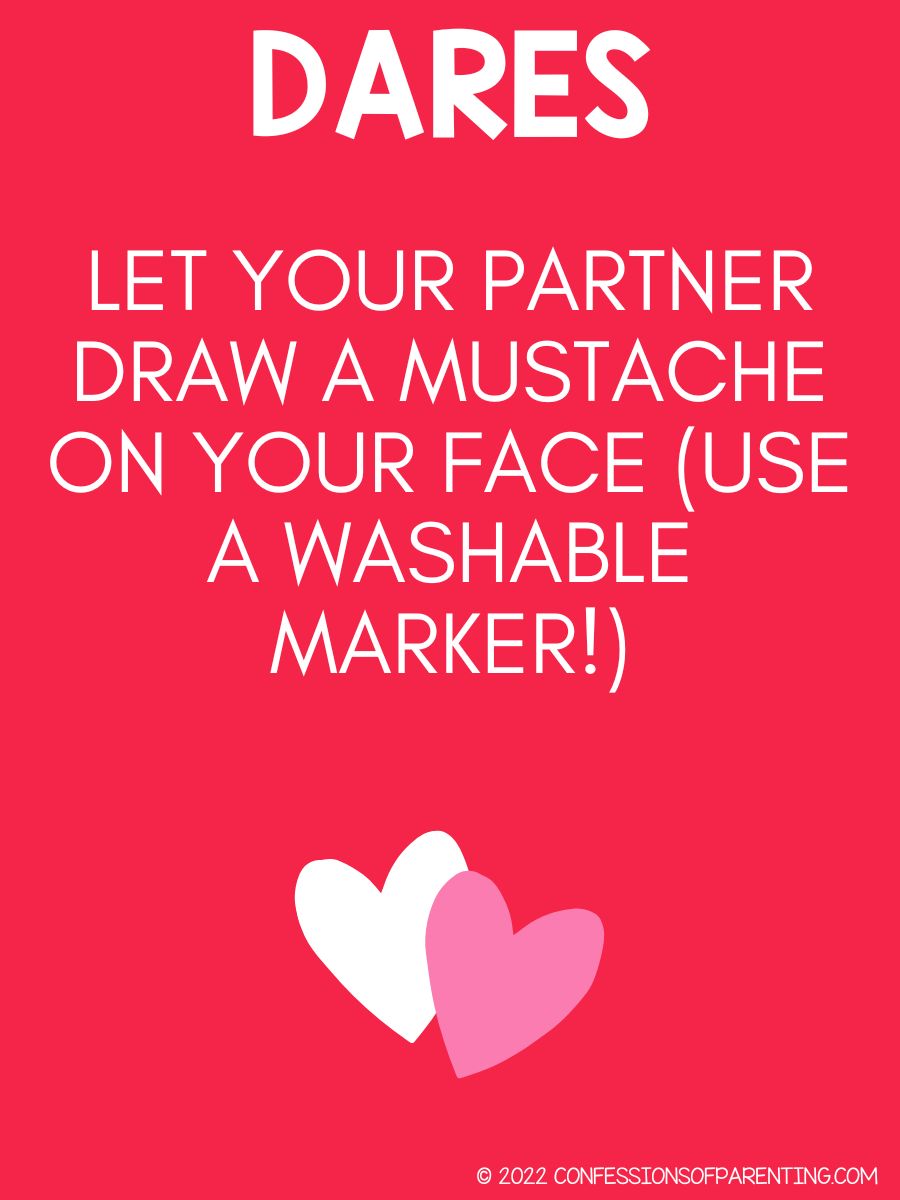 Let your partner draw a mustache on your face (use a washable marker!)
Stay in only your underwear for the rest of the game
Say the alphabet backward in 20 seconds
Spin around ten times, when you get done, try to walk in a straight line
Yell out the first word that comes to your mind right now
Call one of your partner's parents and tell them how much you love your partner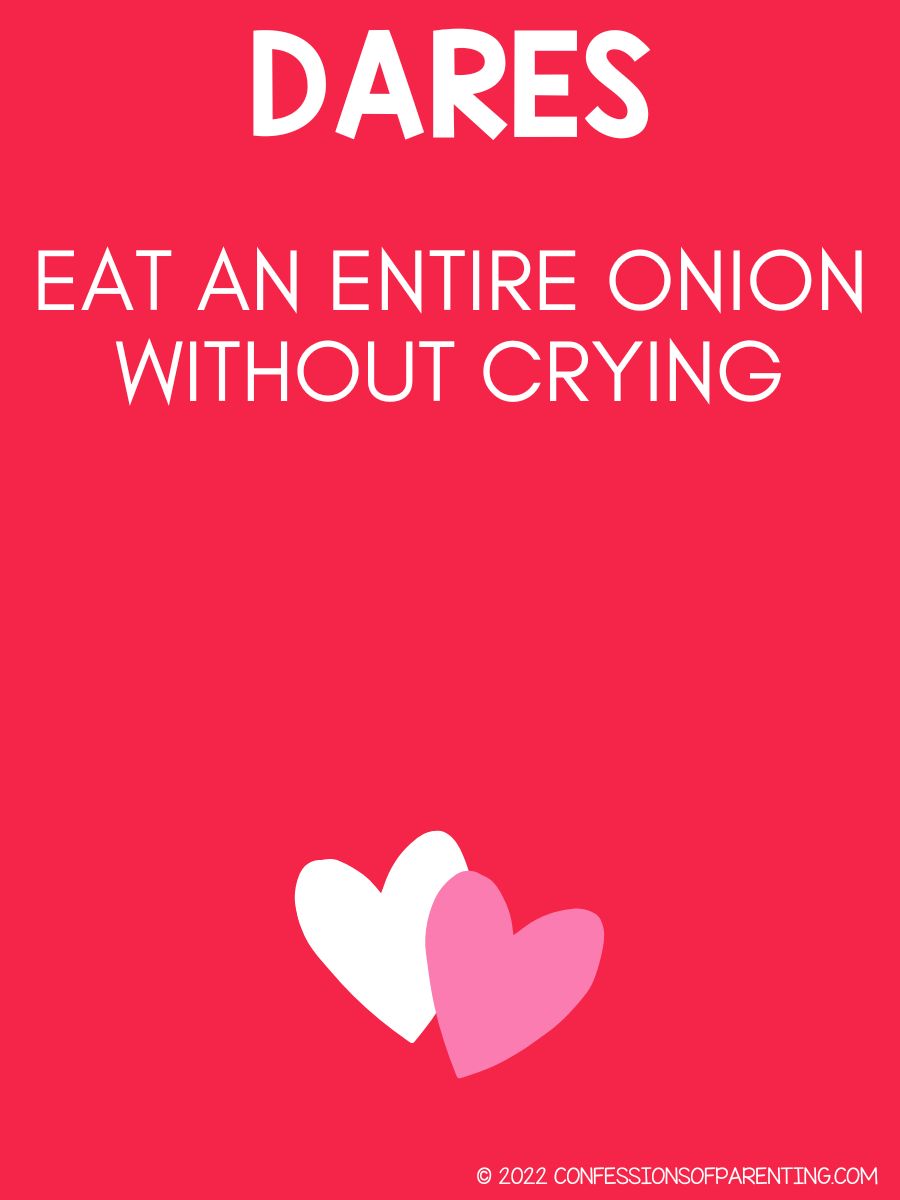 Eat an entire onion without crying
Do as many sit-ups as you can in one minute
Try to lick your elbow for the next three minutes
Wear your favorite cloth inside out and walk around the street
Bark like a dog for 3 minutes
Put syrup/chocolate syrup/caramel/sugar on a pickle and eat it
Make a sandwich with potato chips and take a bite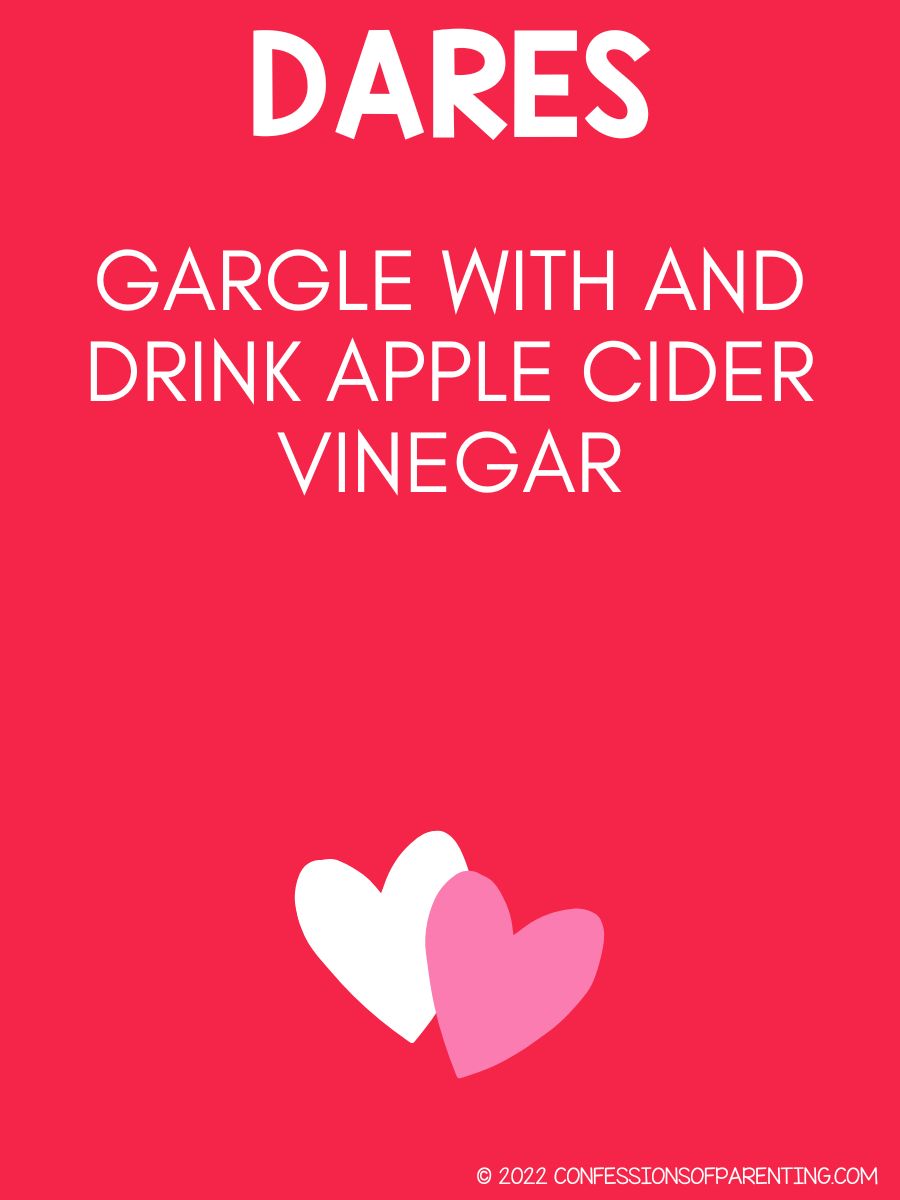 Gargle with and drink apple cider vinegar
Give a piggyback ride to your partner
Talk only by whispering for the next 10 minutes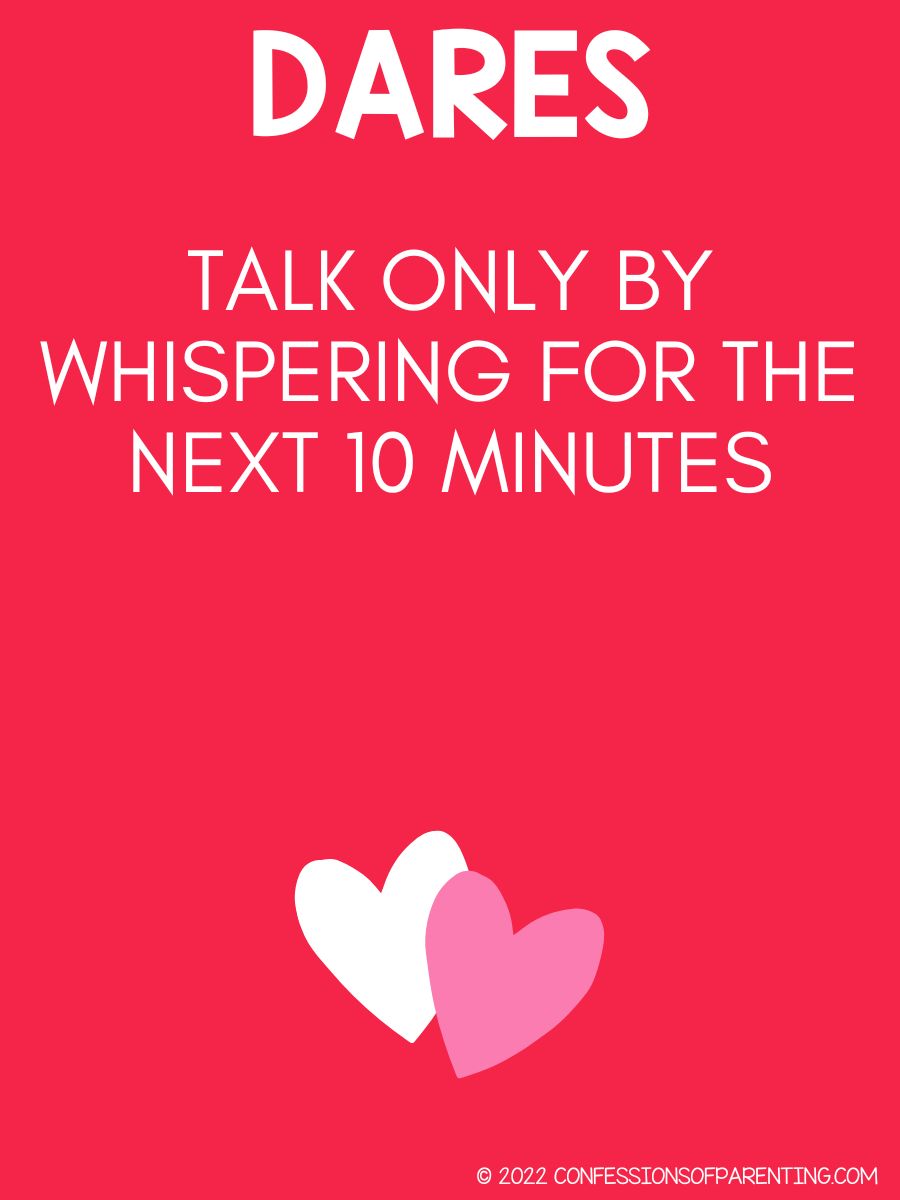 Be sure to share your favorite truth or dare for couples questions in your stories on Instagram and tag us @confessions_of_parenting! We love seeing what you are up to! While you are at it, be sure to follow us to see what else we are working on to make your life easier!
Try these truth or dare games!