Your Halloween season won't be complete without these Halloween Would You Rather Questions! Perfect for little ones up to adults, this is going to be your go-to October game! Just download, print, and play!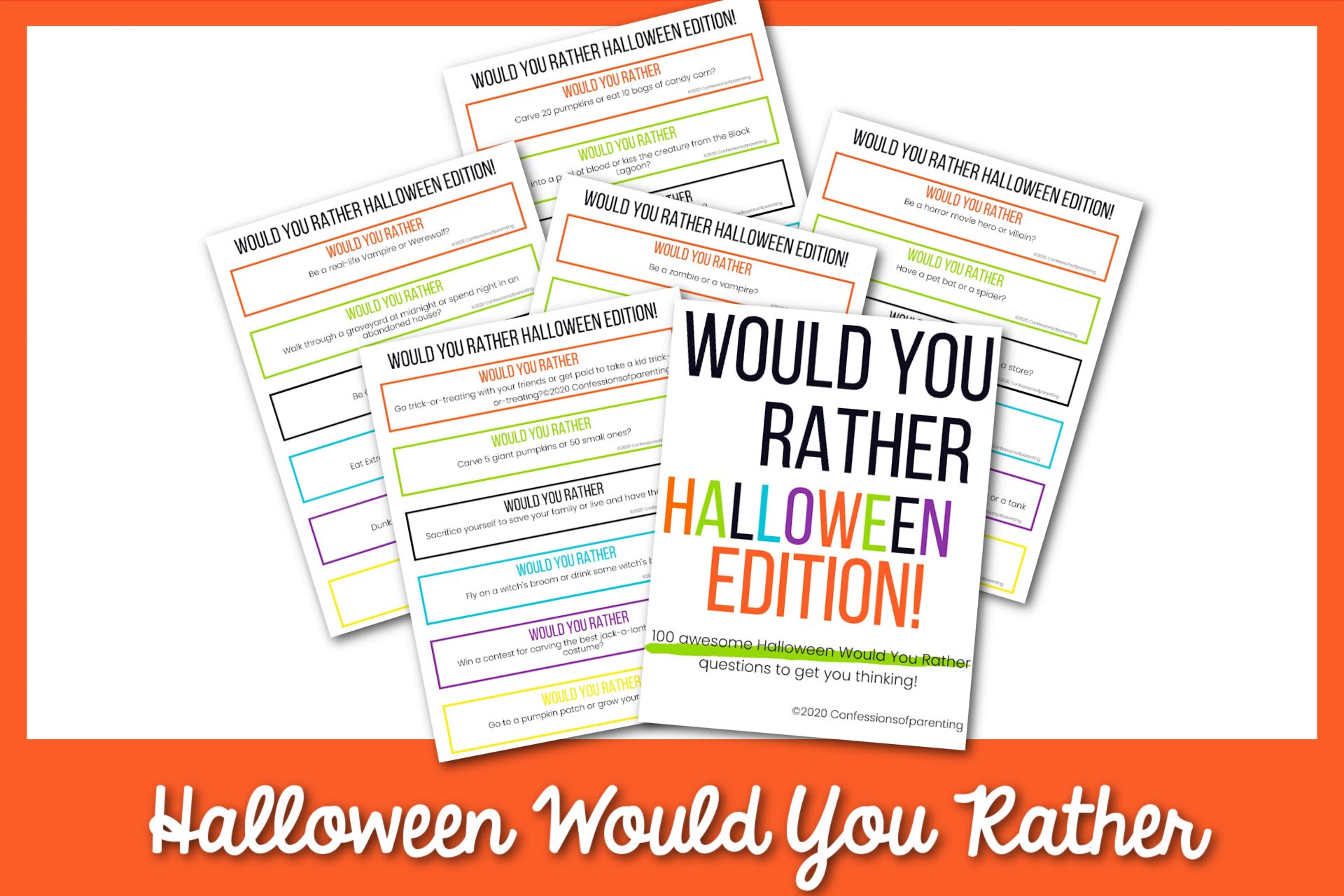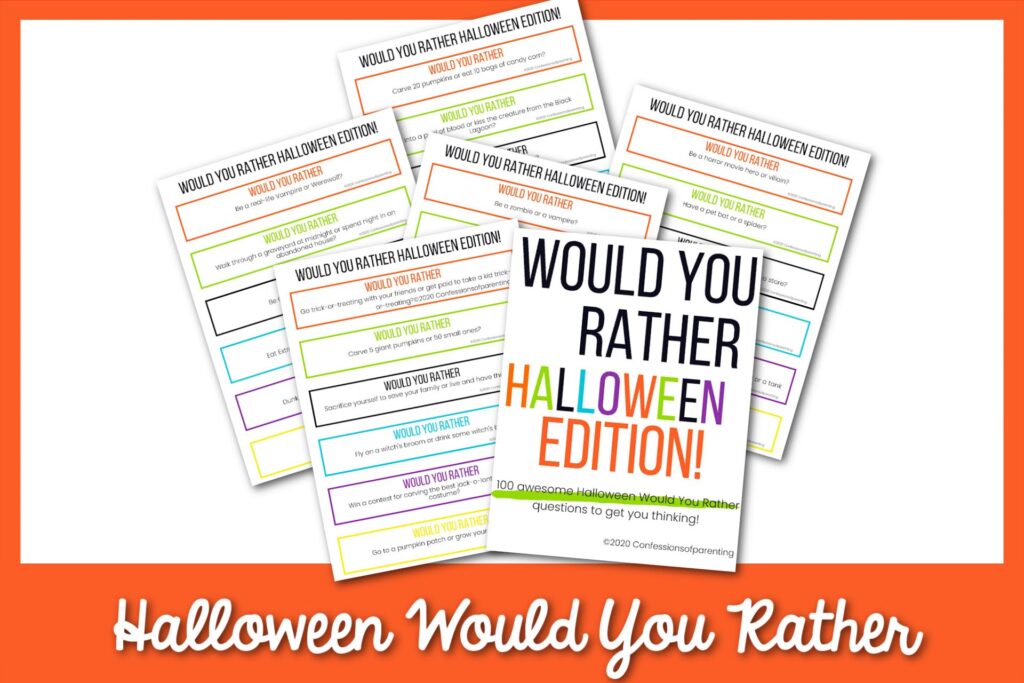 Halloween Would you Rather Questions
My family is on a serious game night kick right now, and we can't get enough of these Halloween Would You Rather questions. This season is full of silly characters and stories, and this is the perfect way to celebrate together.
With 100 of these Halloween Would You Rather questions, your family can celebrate all month long!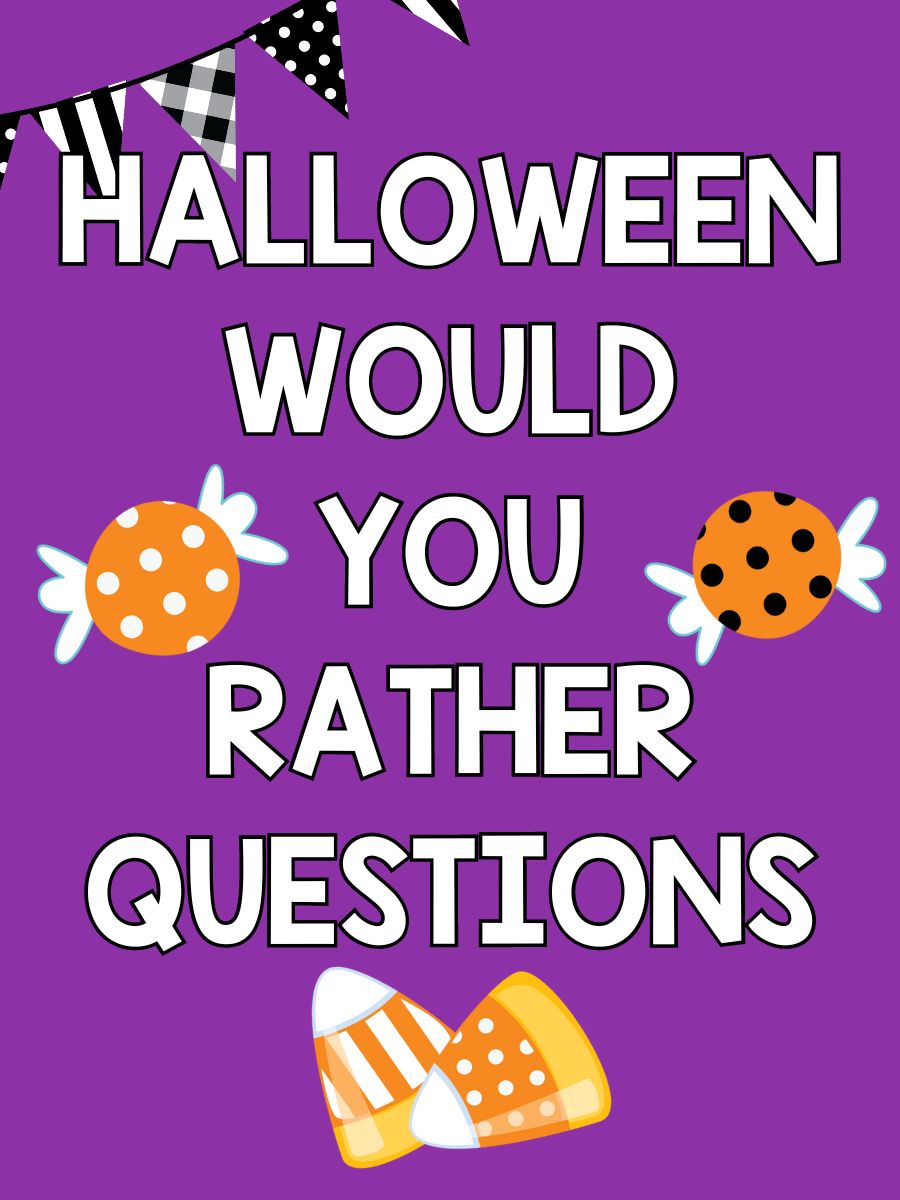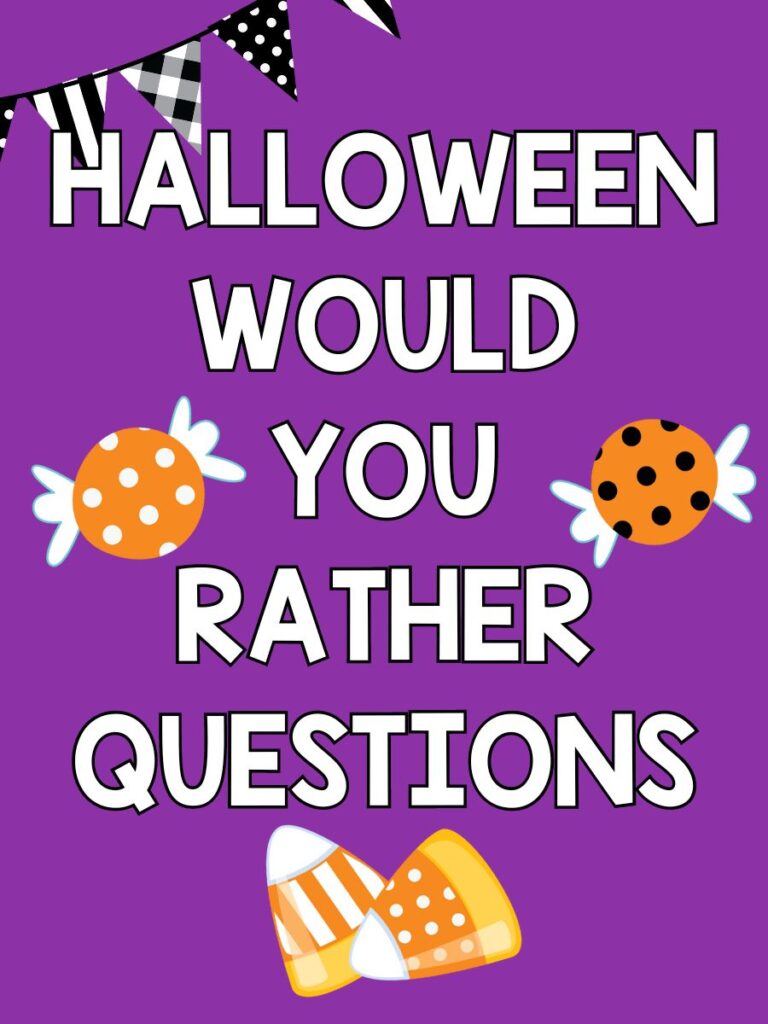 Why I love Would You Rather
One reason we like playing would you rather is that it's so simple. Anyone can play with just a few instructions! My youngest and my oldest kids both like it equally because it's perfectly easy, silly, and fun.
It's also great for so many different occasions. We'll bring out this list for a game night at home, but it would also be great for a school or community Halloween party. How fun would it be to print off some of these Halloween Would You Rather questions and put them on each party table to play while people snack on yummy treats?!
If you're on the search for Halloween games for a party, make sure you try Halloween Charades and Halloween bingo as well!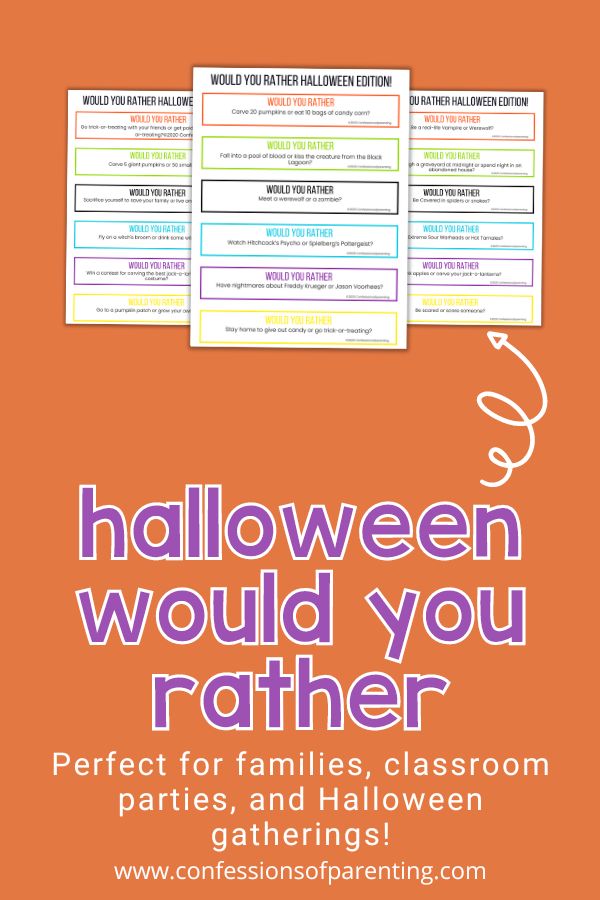 How to Play Halloween Would You Rather
Using these Halloween Would You Rather questions is so simple! Just scroll down to download our printable and read off the questions on at a time. Take turns answering them and you won't be able to stop laughing at each other's answers!
Feel free to get some fun debates going about why your choice is the right one too!
For a simple group variation, grab paper or whiteboards and have everyone write down their answer. Reveal your answers at the same time and see what everyone wrote!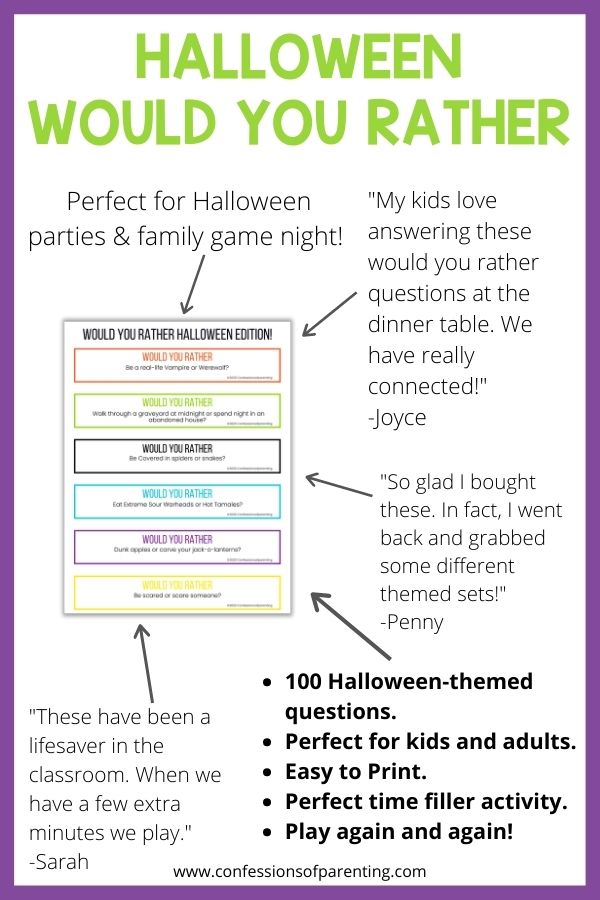 100 Halloween Would You Rather Questions
Grab our Halloween would you rather cards right here! As a bonus, sign up for our emails below and try out our general would you rather questions as well with the free sample.
Halloween Would You Rather Questions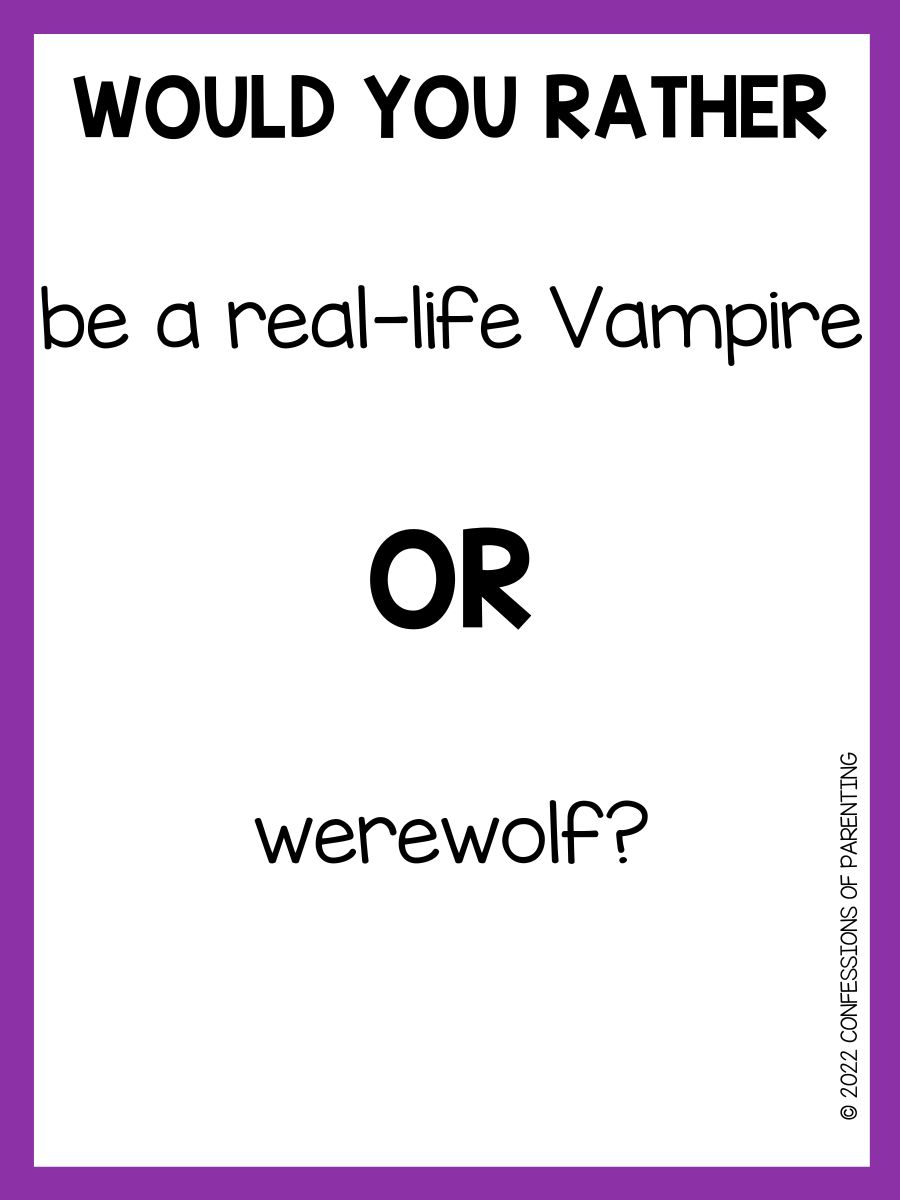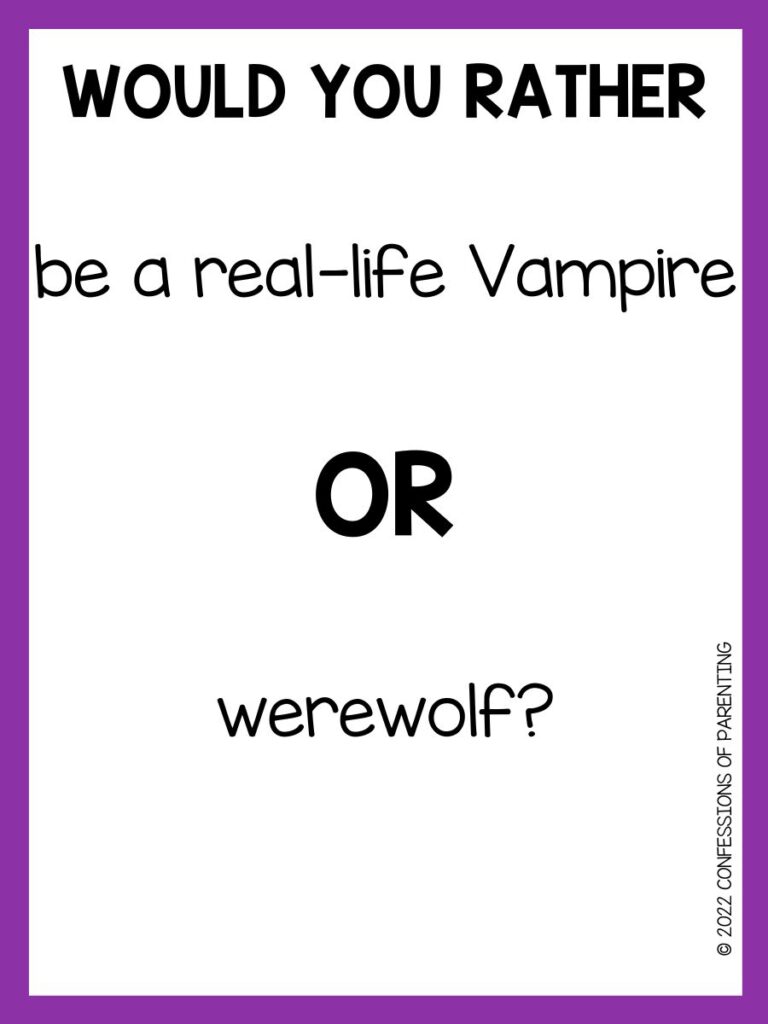 Be a real-life Vampire or Werewolf?
Be Covered in spiders or snakes?
Eat Extreme Sour Warheads or Hot Tamales?
Dunk apples or carve your jack-o-lanterns?
Be scared or scare someone?
Carve 20 pumpkins or eat ten bags of candy corn?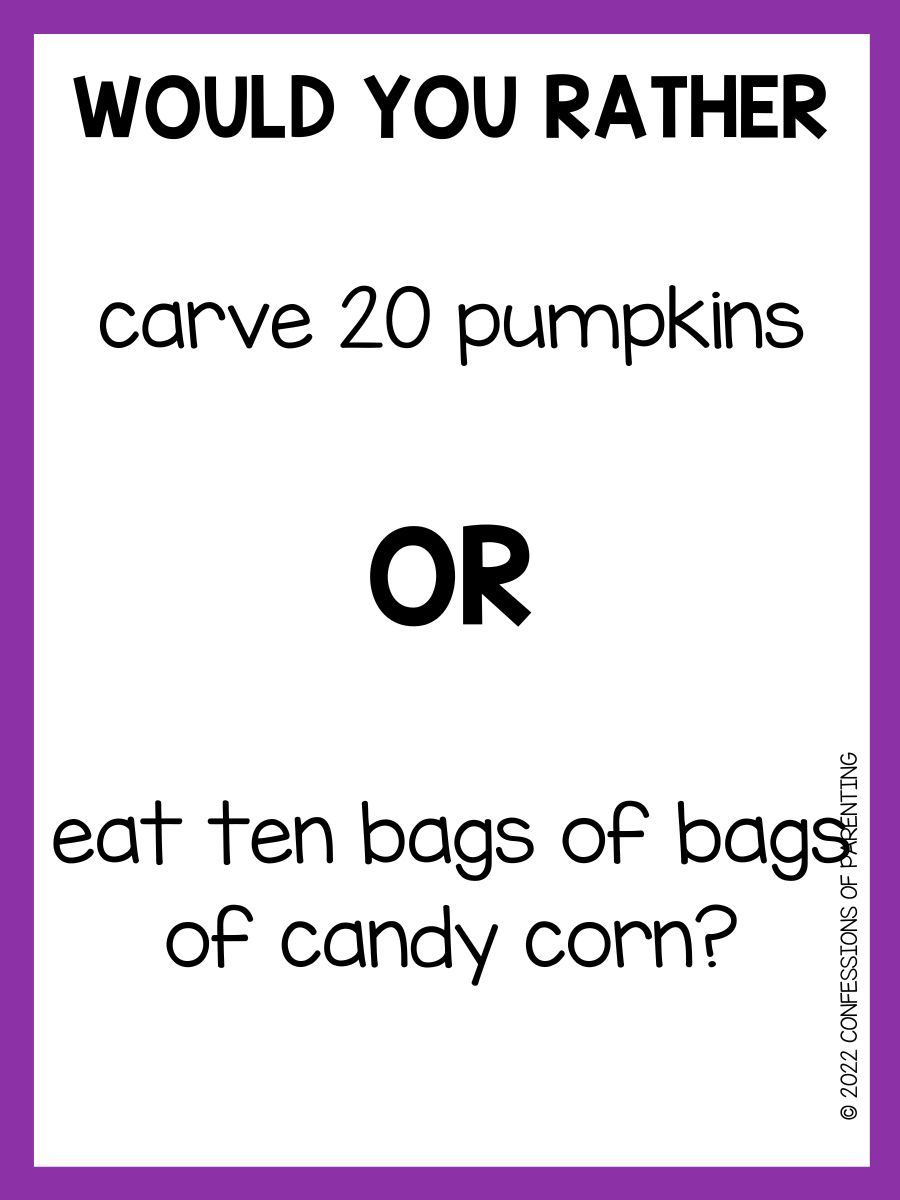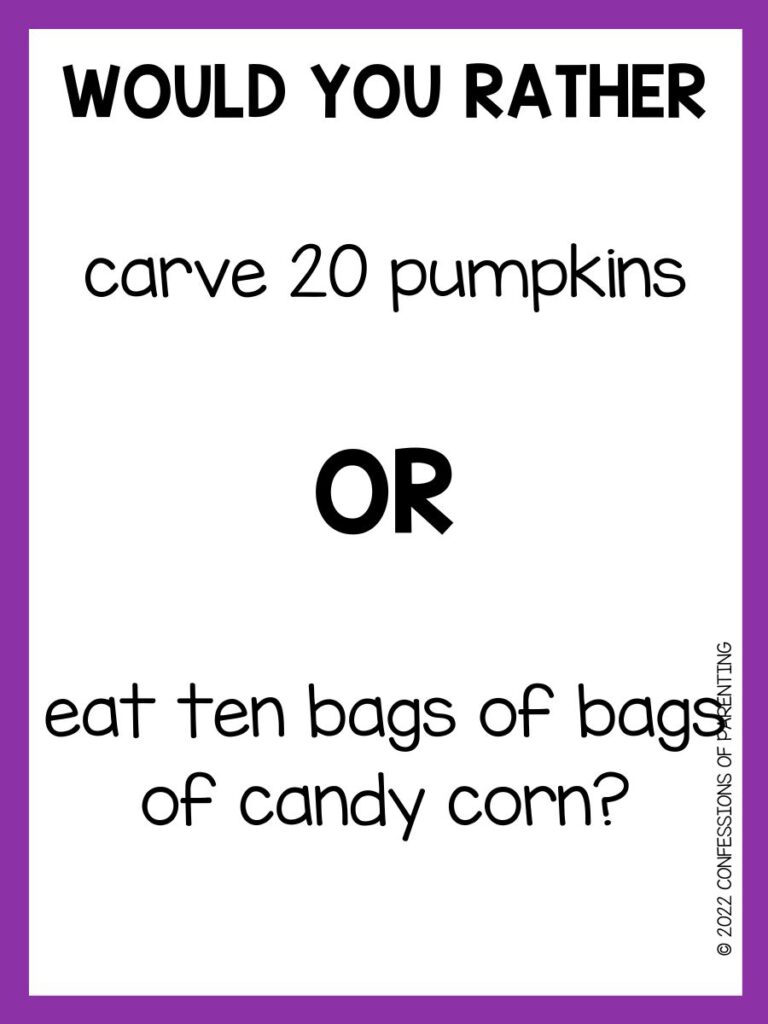 Fall into a pool of blood or kiss the creature from the Black Lagoon?
Meet a werewolf or a zombie?
Watch Hitchcock's Psycho or Spielberg's Poltergeist?
Walk through a graveyard at midnight or spend a night in an abandoned house?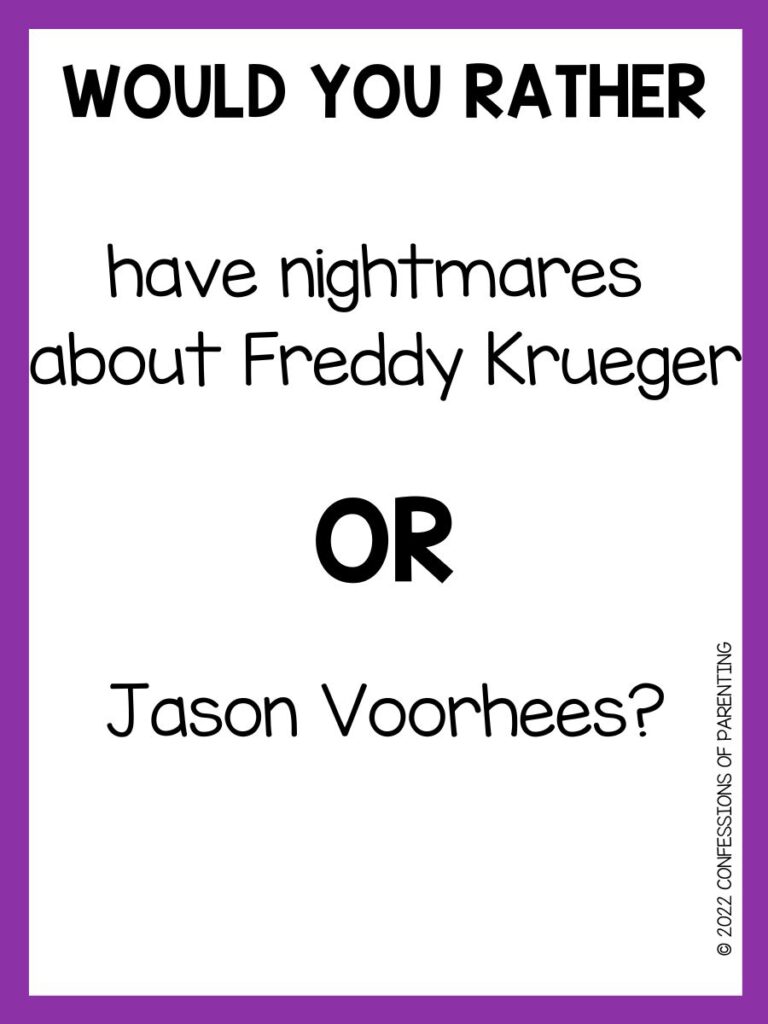 Have nightmares about Freddy Krueger or Jason Voorhees?
Stay home to give out candy or go trick-or-treating?
Be a zombie or a vampire?
Watch a show by Houdini or Siegfried and Roy?
Watch Teen Wolf or An American Werewolf in London?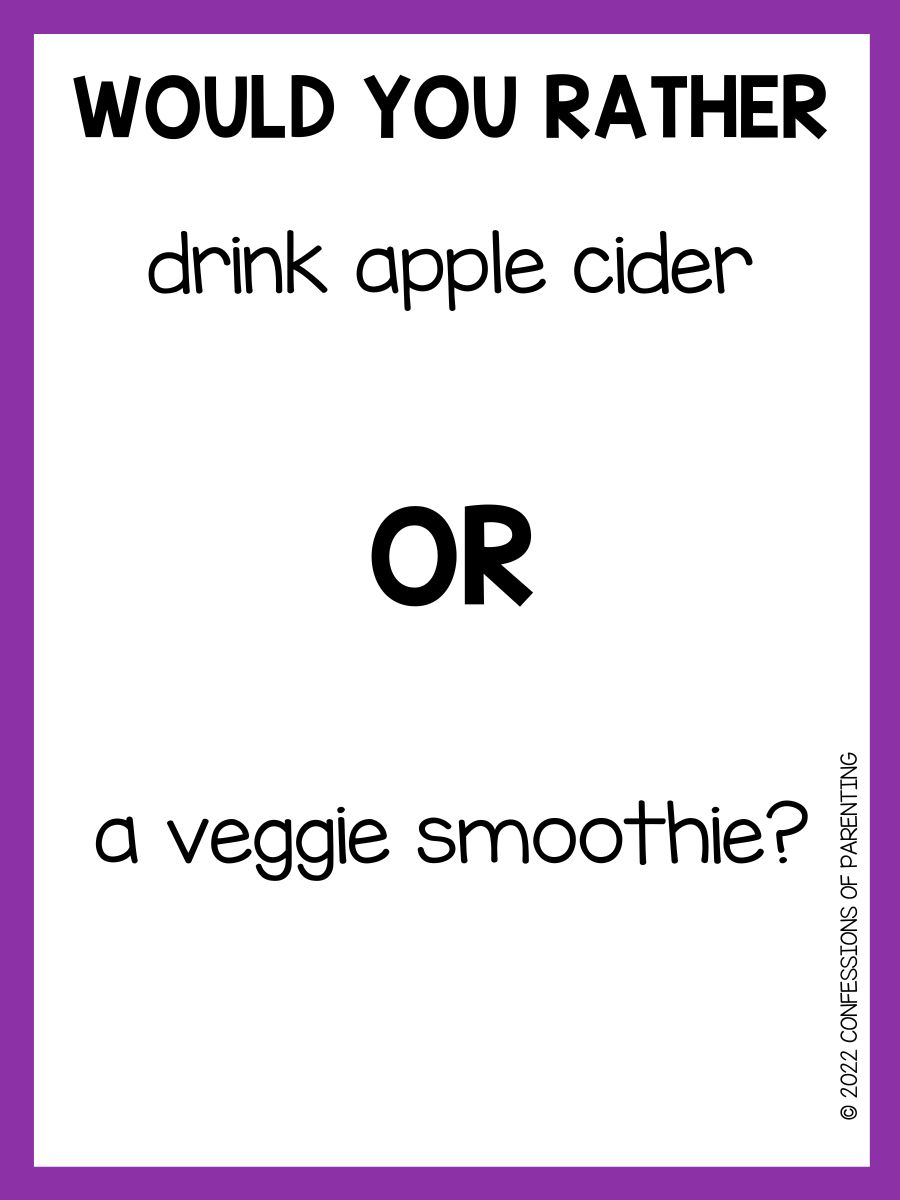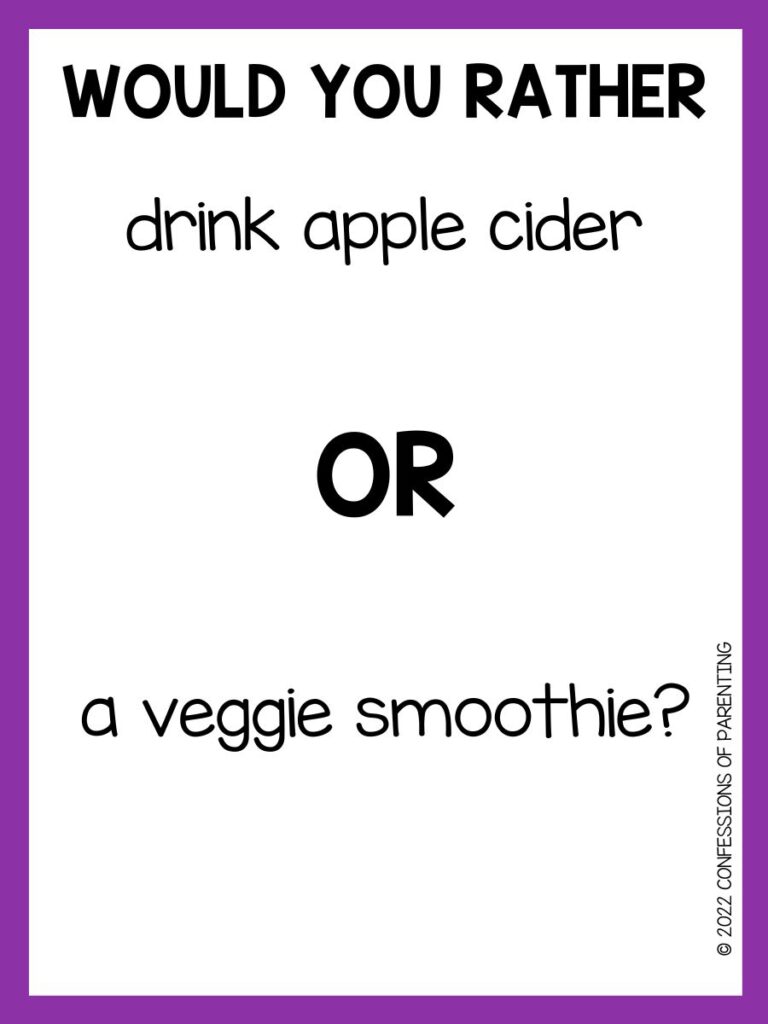 Drink apple cider or a veggie smoothie?
Read horror stories or watch horror movies?
Live in a zombie apocalypse or post-nuclear war?
Be a horror movie hero or villain?
Have a pet bat or a spider?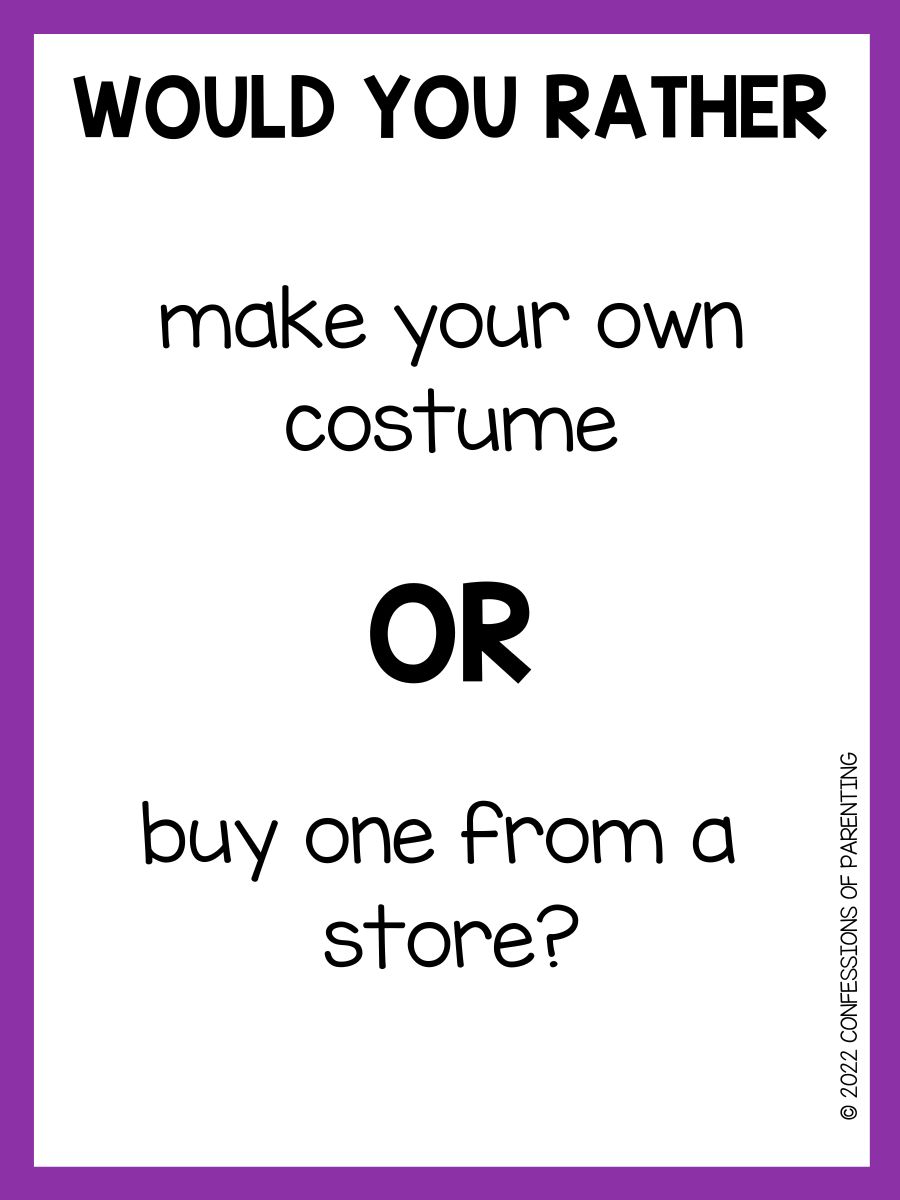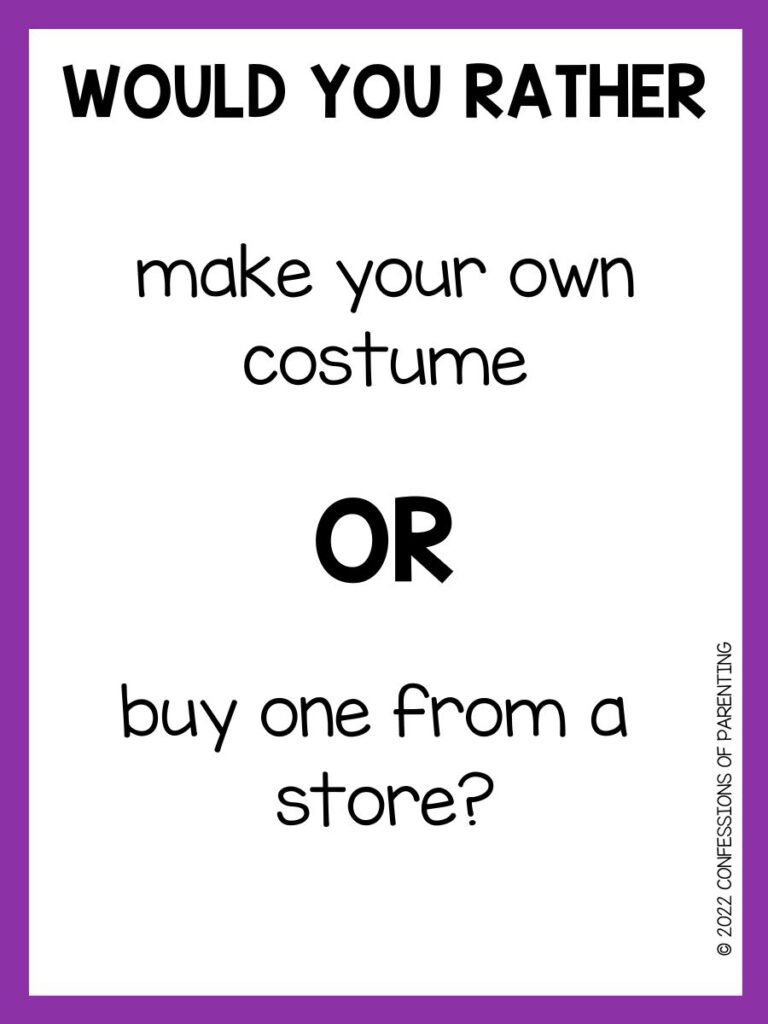 Make your own costume or buy one from a store?
Have curly red hair or long black hair?
Put your hand in a tank full of spiders or a tank full of snakes?
Have it rain candy corn or Sneakers?
Go trick-or-treating with your friends or get paid to take a kid trick-or-treating?
Carve five giant pumpkins or 50 small ones?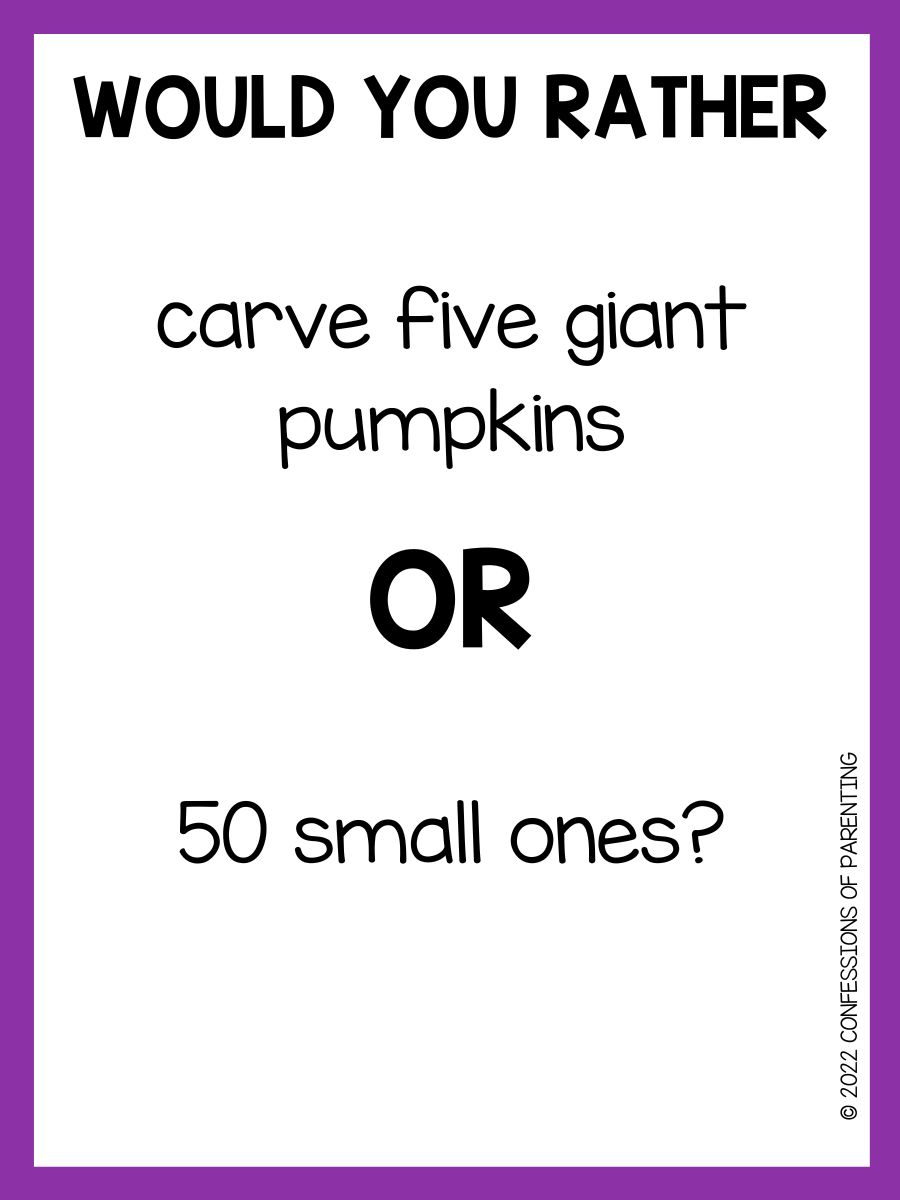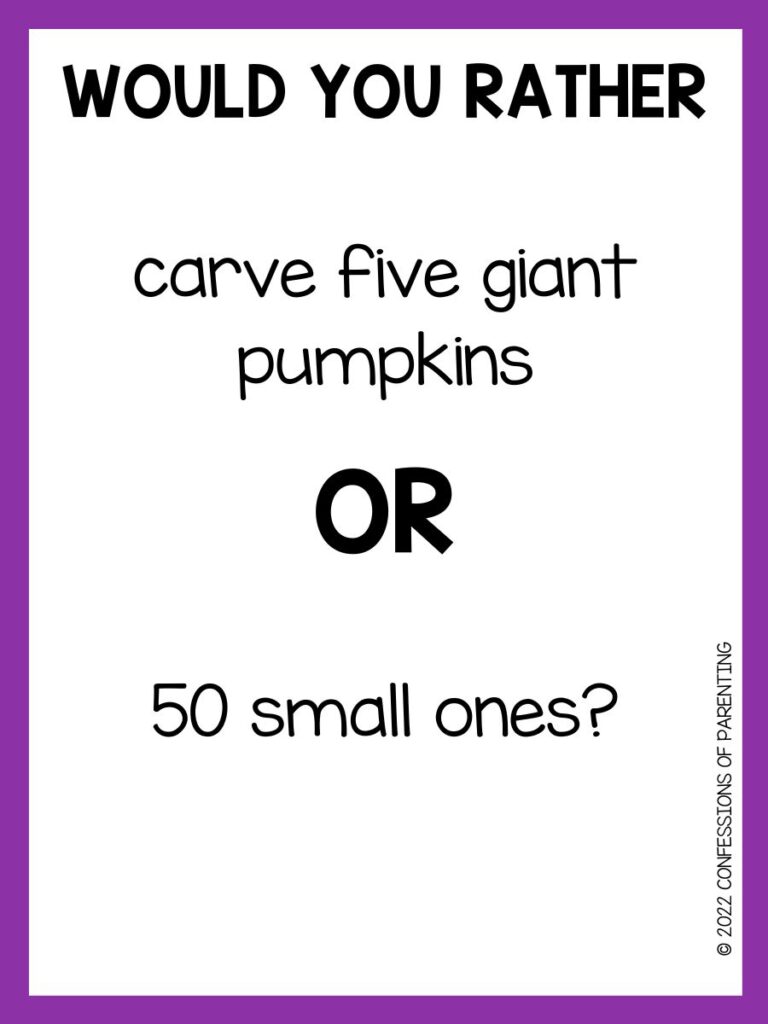 Sacrifice yourself to save your family or live and have them die?
Fly on a witch's broom or drink some witch's brew?
Win a contest for carving the best jack-o-lantern or win best costume?
Be a black cat or a vampire bat?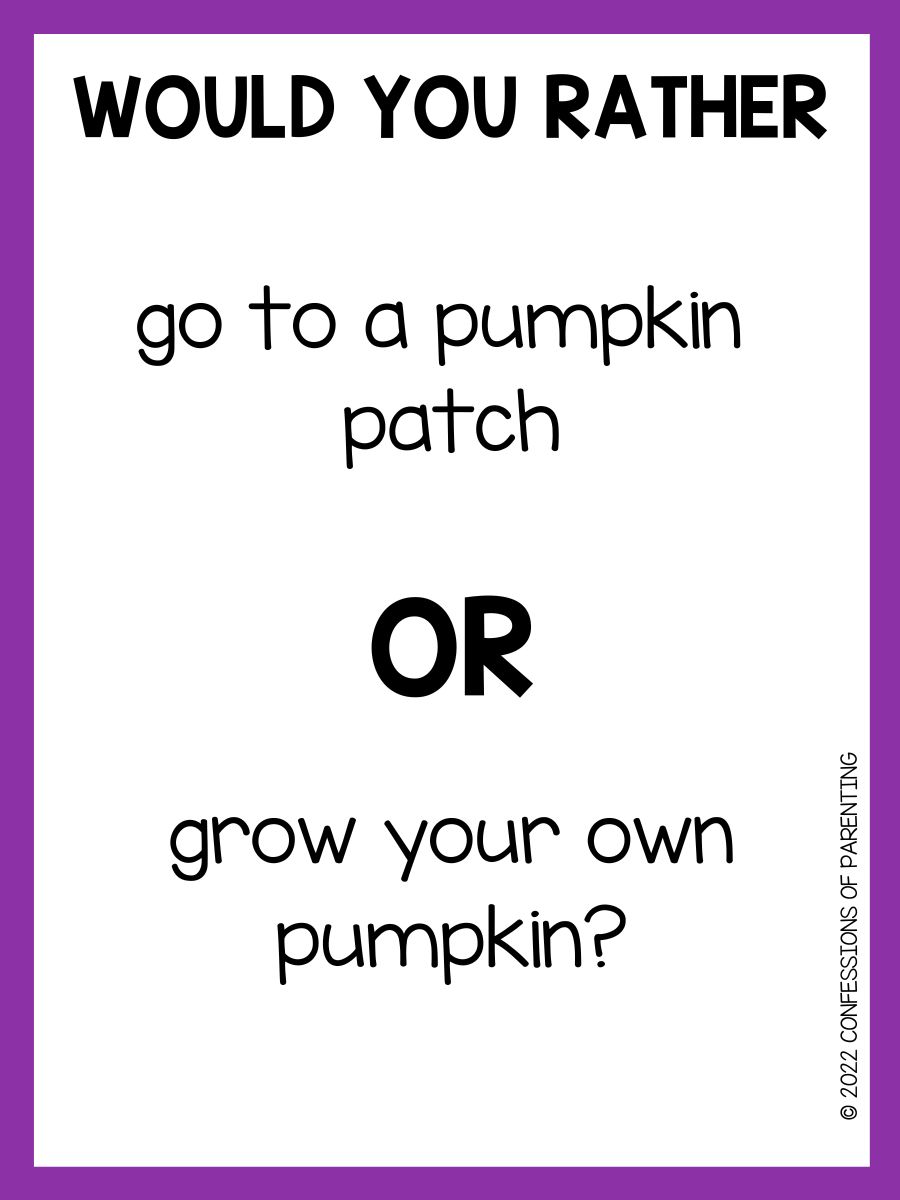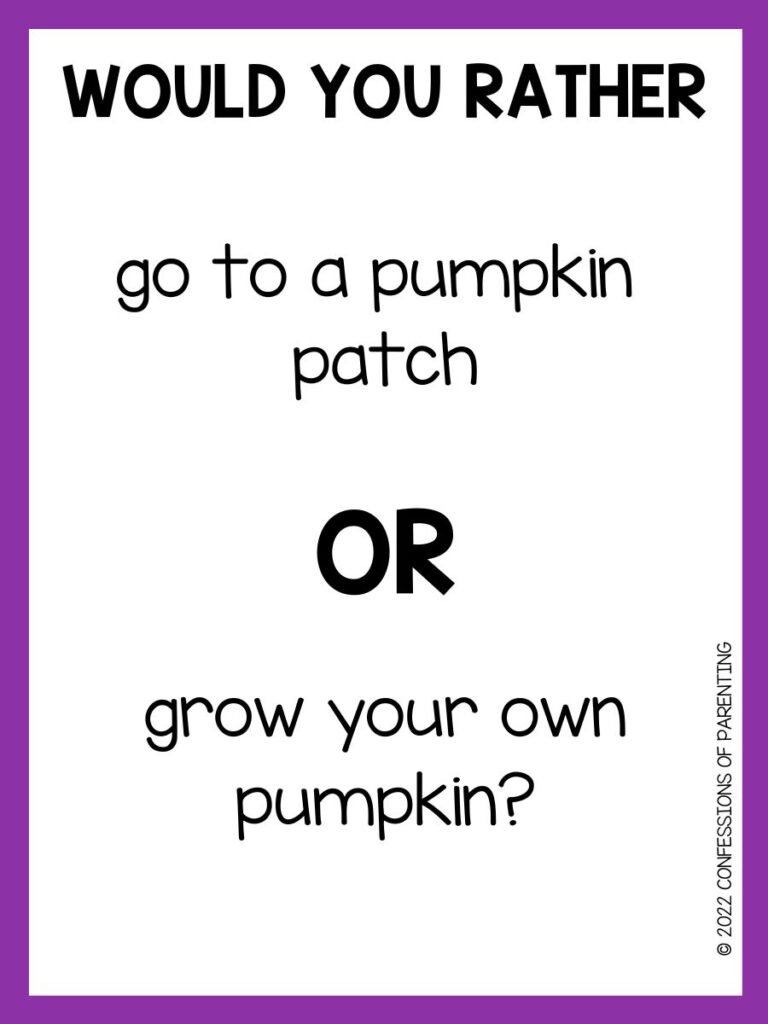 Go to a pumpkin patch or grow your own pumpkin?
Sleep in a coffin or inside a giant pumpkin?
Sleep in a coffin or in a haunted house?
Go trick-or-treating with a vampire or a zombie?
Visit a haunted house or an abandoned cemetery?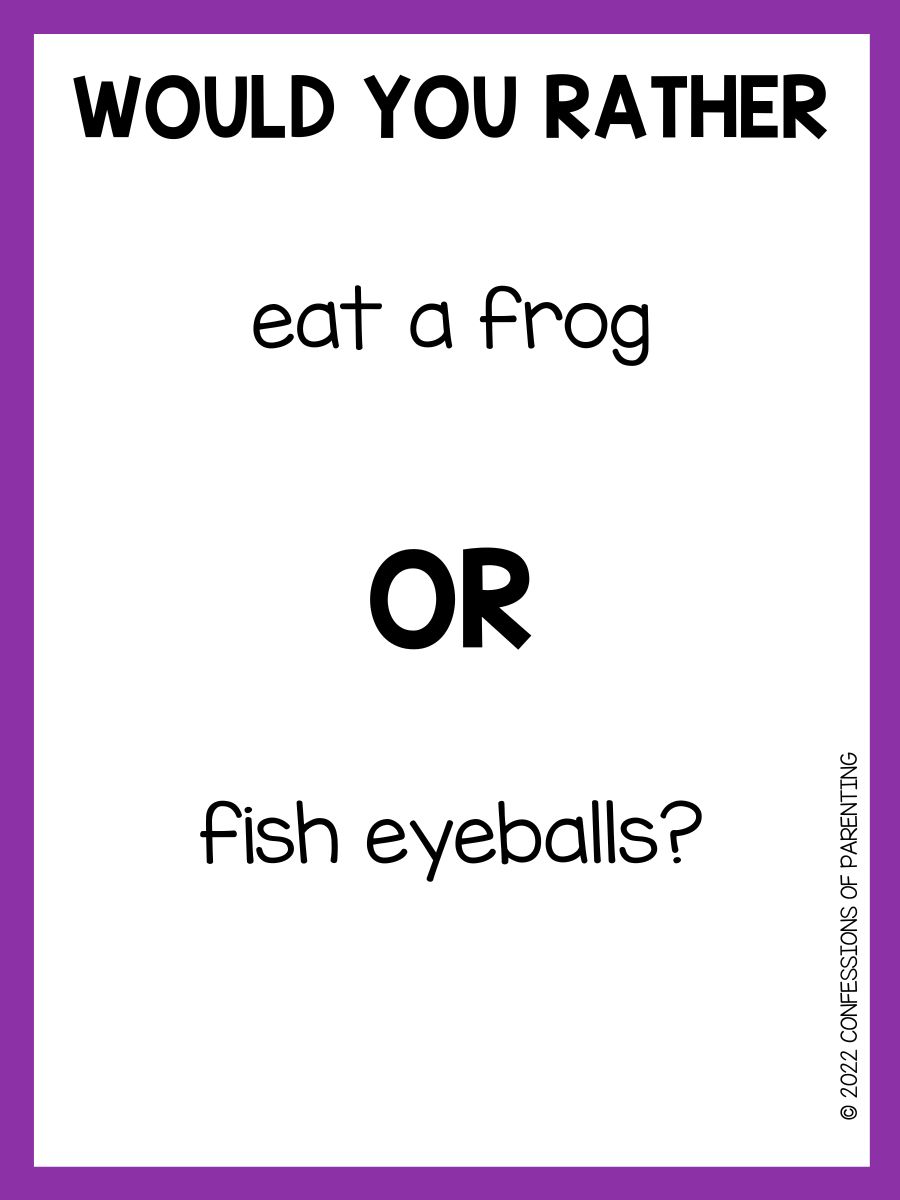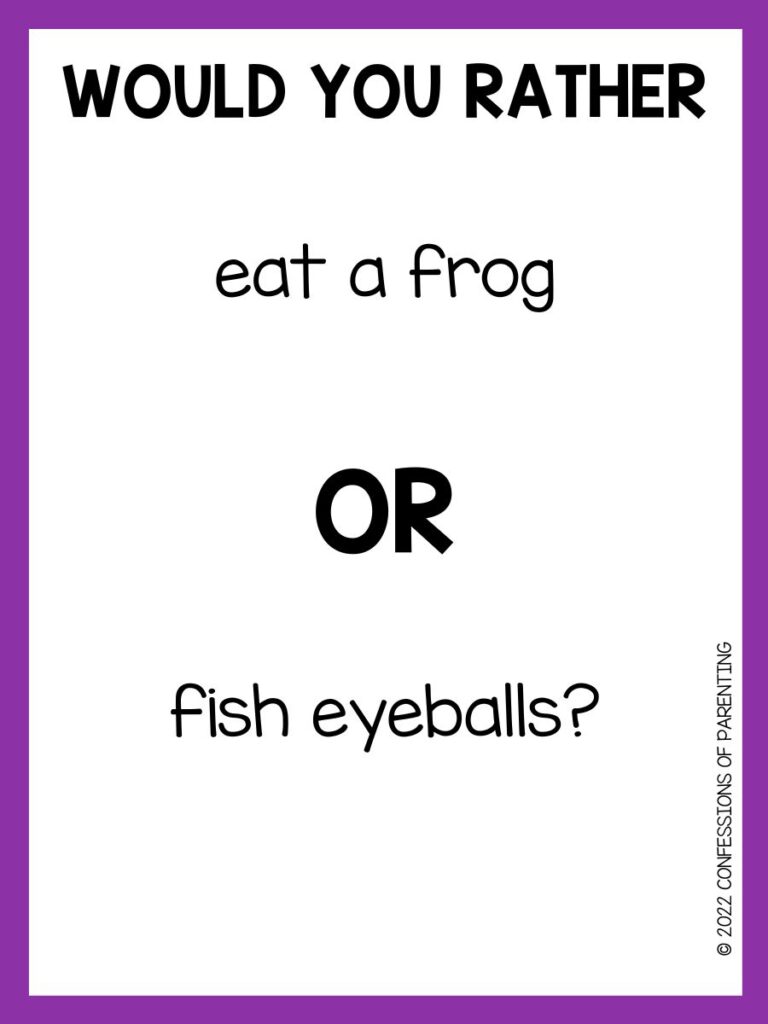 Eat a frog or fish eyeballs?
Spend a night in a haunted house or haunt a house yourself?
Make a haunted house or go to an actual haunted house?
Wear a princess costume or a minion outfit?
Drink apple cider or eat pumpkin spice cake?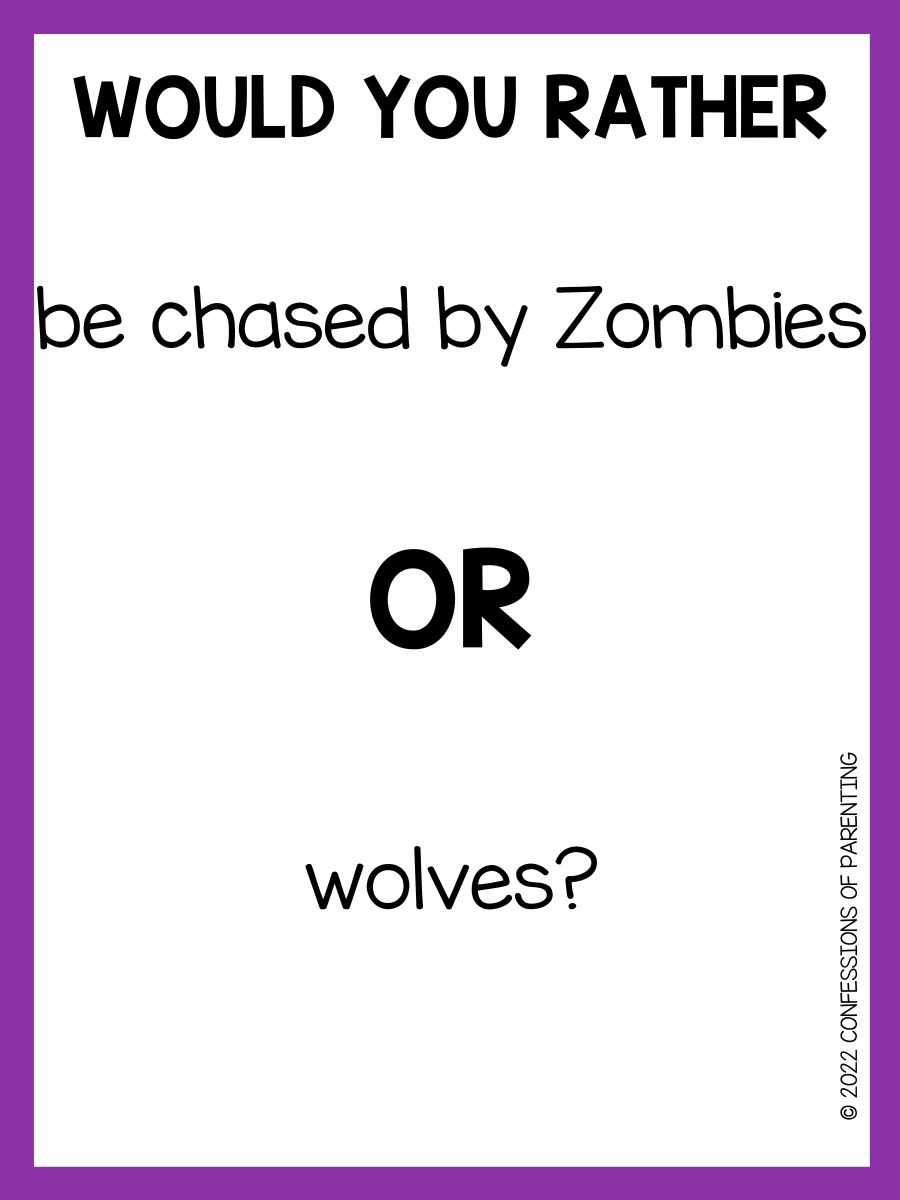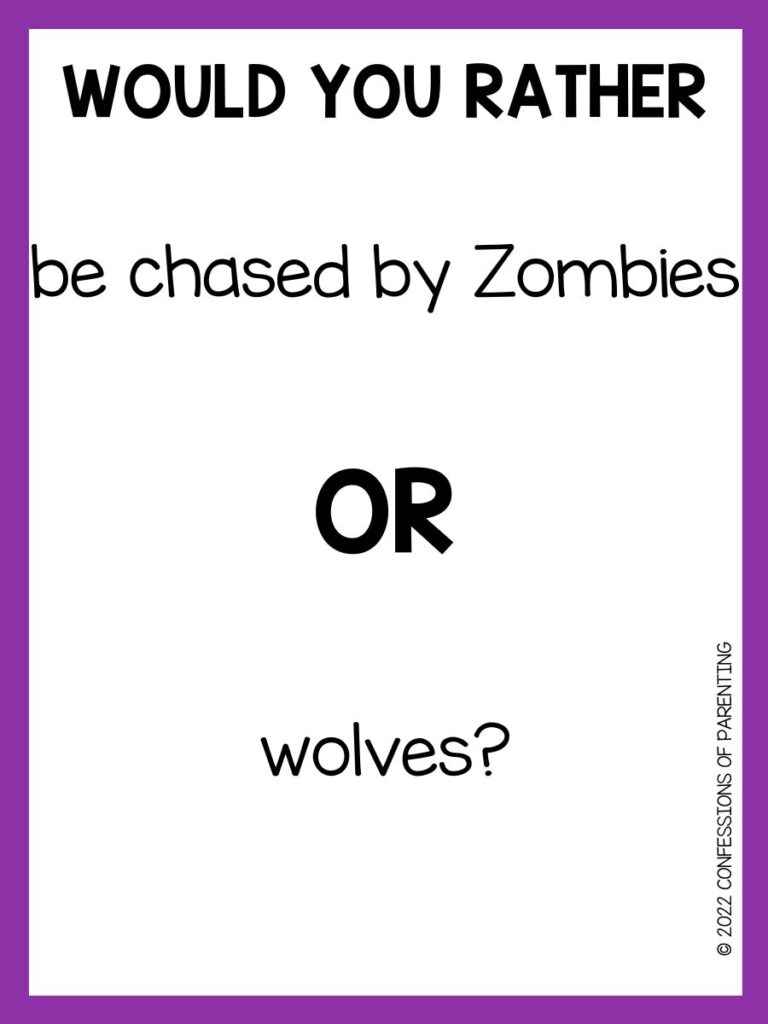 Be chased by Zombies or wolves?
Go trick-or-treating in the mall or in your neighborhood?
Eat a bloody Snickers bar or a Twix covered in underarm hair and sweat?
Would you rather get to trick or treat?
Be haunted by the demon from "Insidious" or Bughuul from "Sinister"?
Listen to Edgar Allen Poe or Stephen King tell a scary story?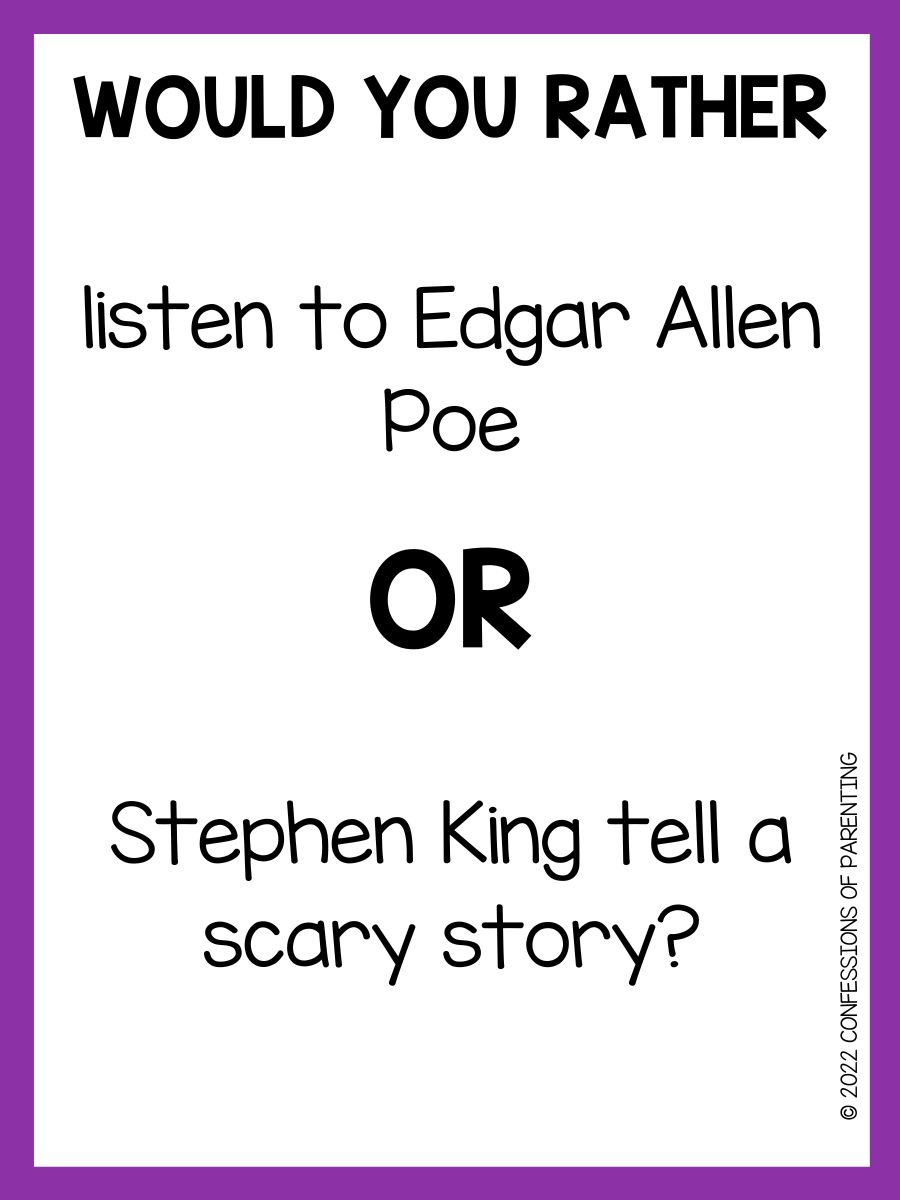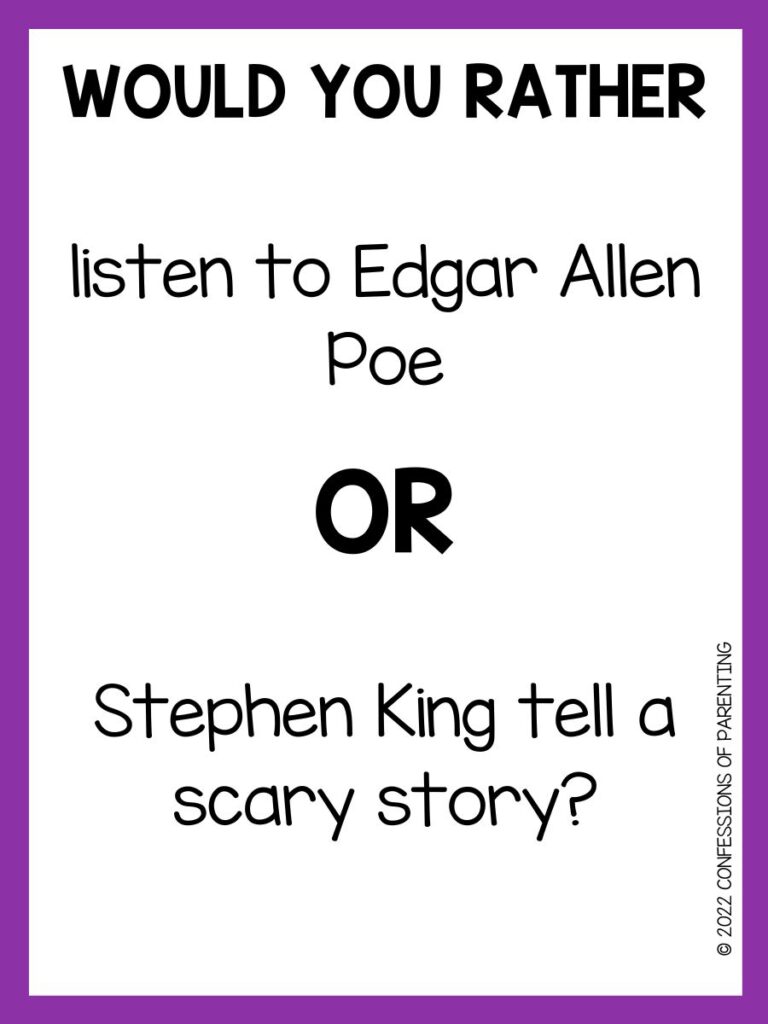 Eat candy corn or Smarties?
Be given a Snicker's Bar or a Reese's Peanut But cup?
Use an Ouija board oo preform a séance?
Enjoy eating all your Halloween candies, or exchange all of them for $15?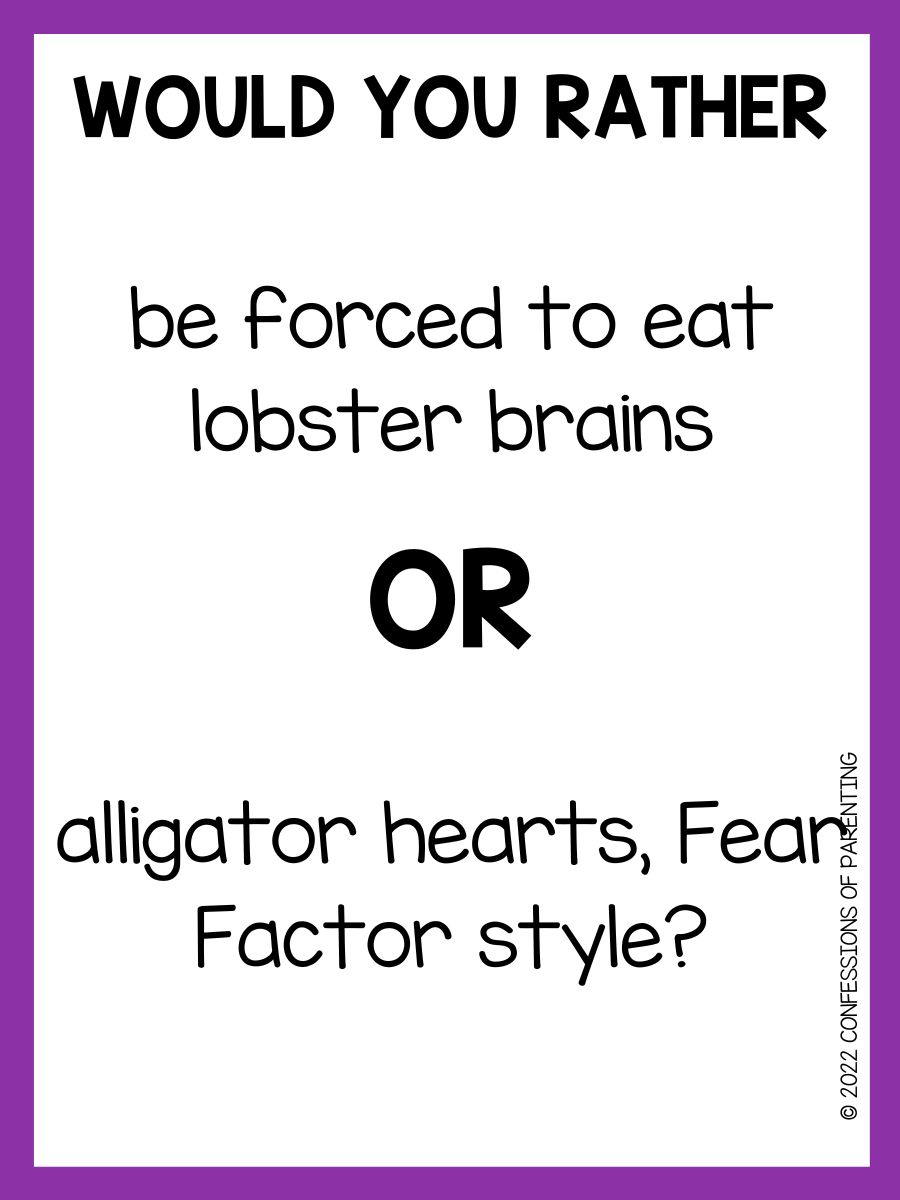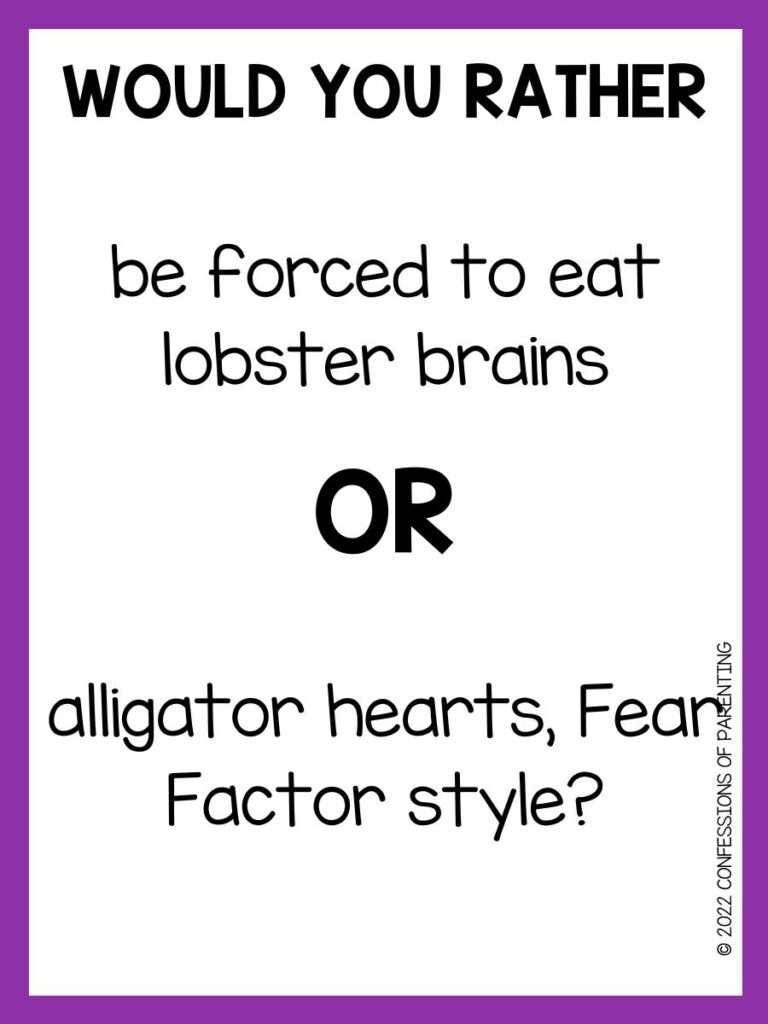 Be forced to eat lobster brains or alligator hearts Fear Factor style?
Would you rather get bitten by a werewolf or a vampire?
Live in a world where King Kong or Megalodon is real?
Only watch horror movies or never be able to see movies again?
See Little Shop of Horrors or Sweeney Todd on Broadway?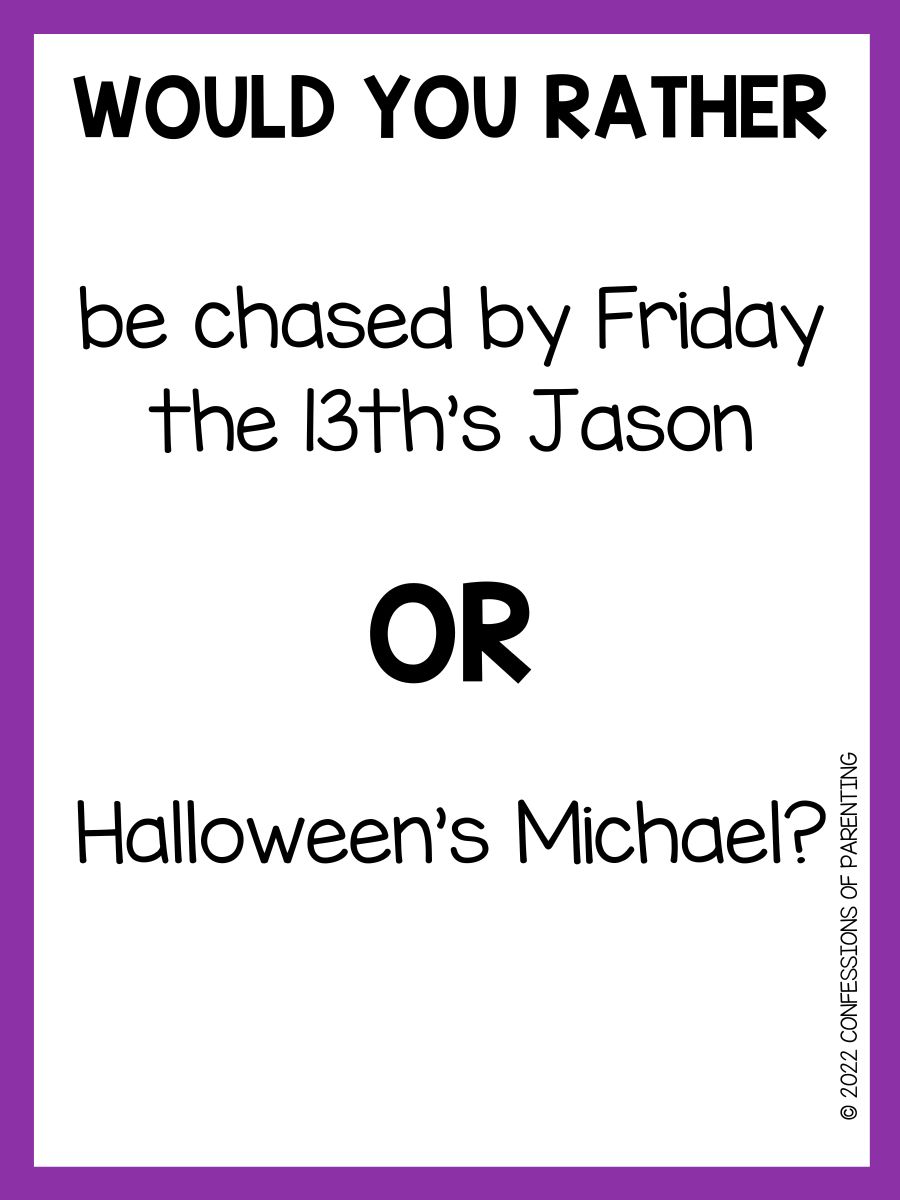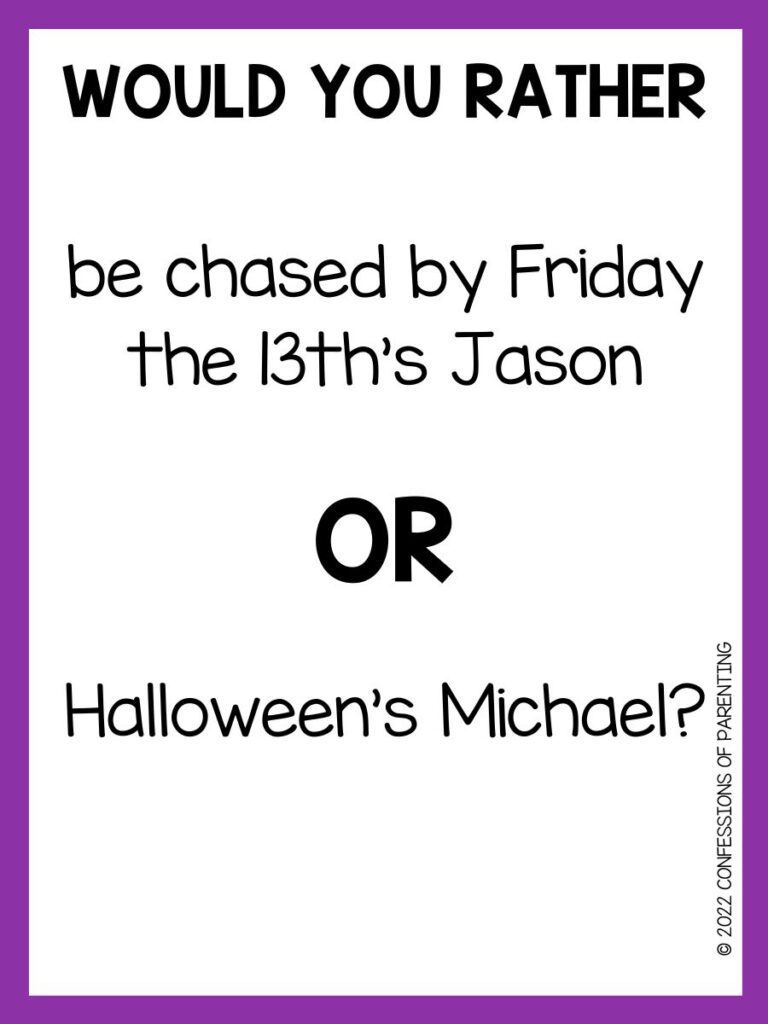 Be chased by Friday the 13th's Jason or Halloween's Michael?
Trick or Treat in a store-bought or homemade costume?
See the costumes at a Halloween dog parade or human parade?
Watch a slasher film or get a root canal?
Get dressed as an angel or a devil?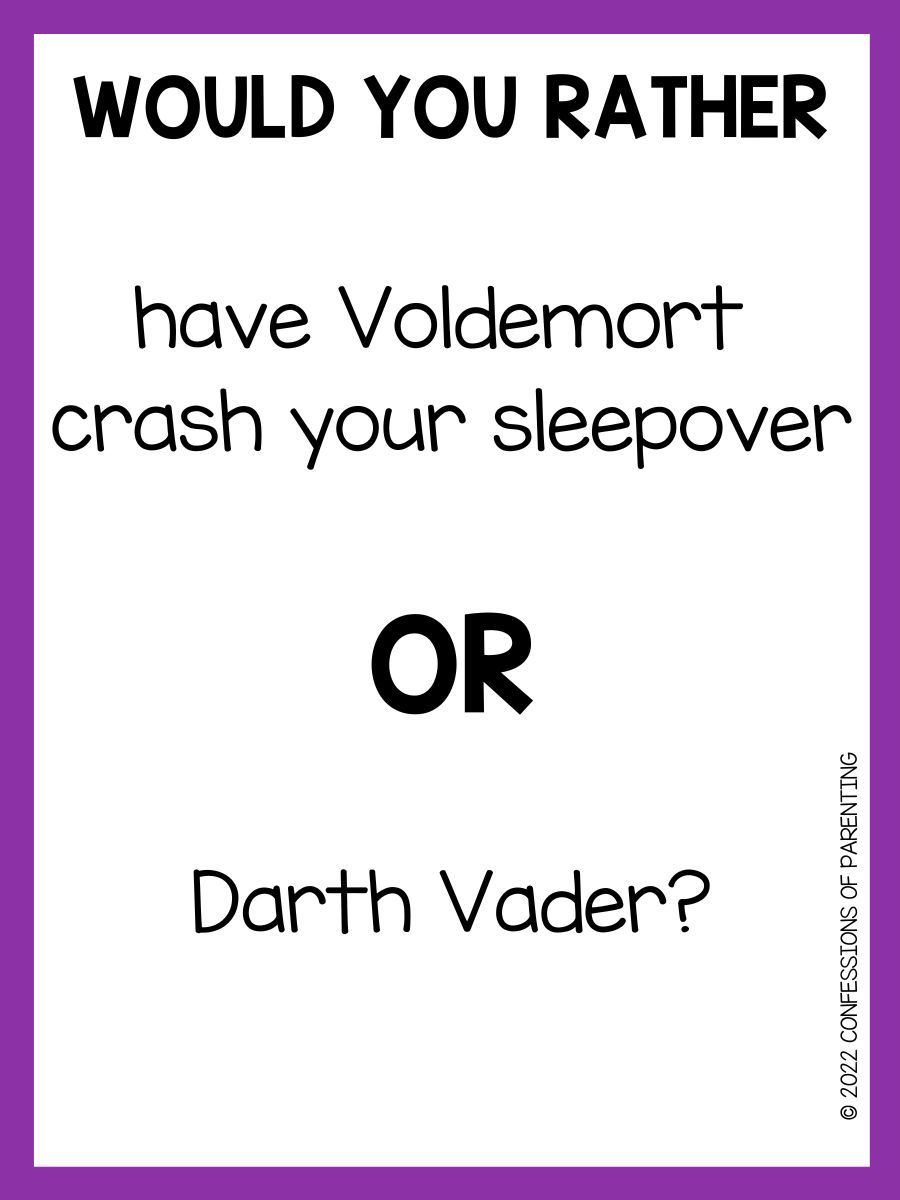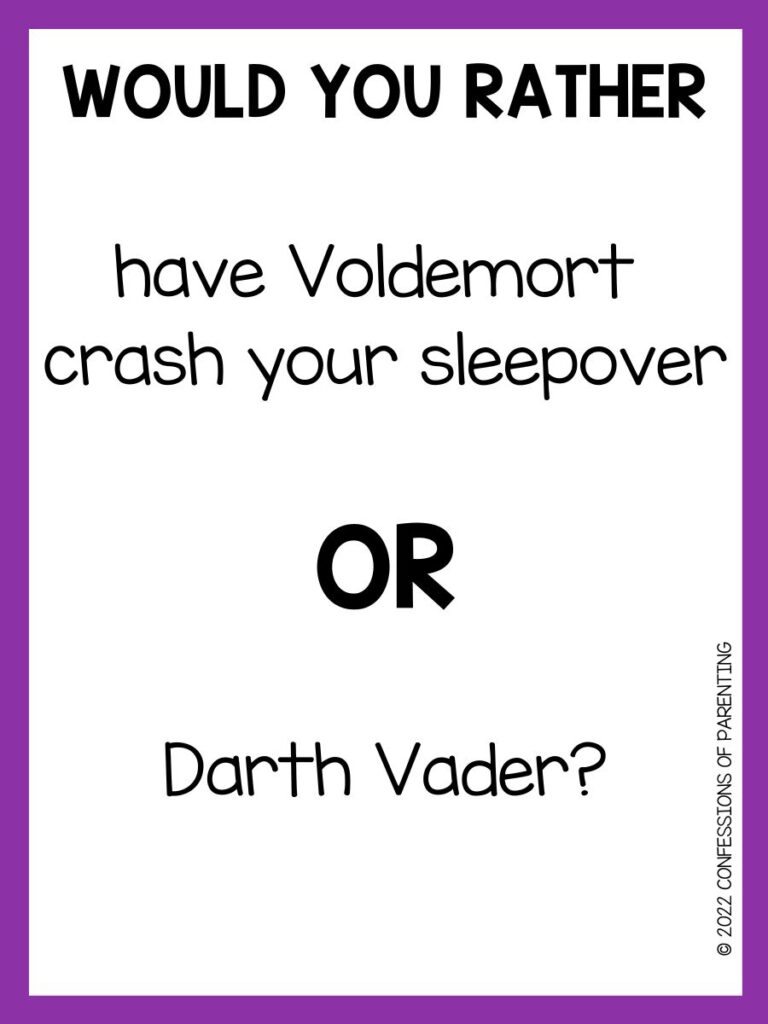 Have Voldemort crash your sleepover or Darth Vader?
Wait for the Great Pumpkin with Linus or celebrate Christmas with Jack Skellington?
Have a costume malfunction in public or an allergic reaction to your face paint?
Have a nightmare featuring the clown Pennywise or the Headless Horseman?
Explore a corn maze or a haunted house?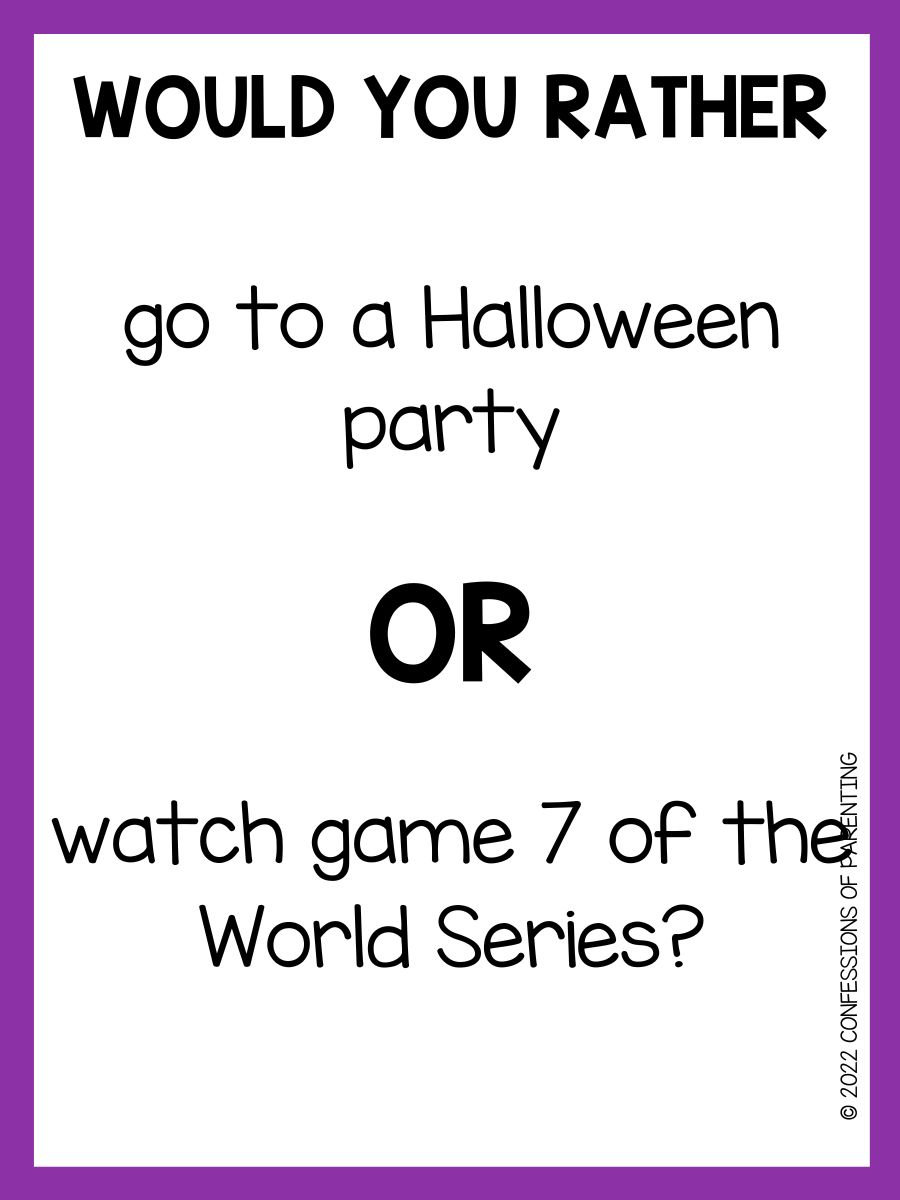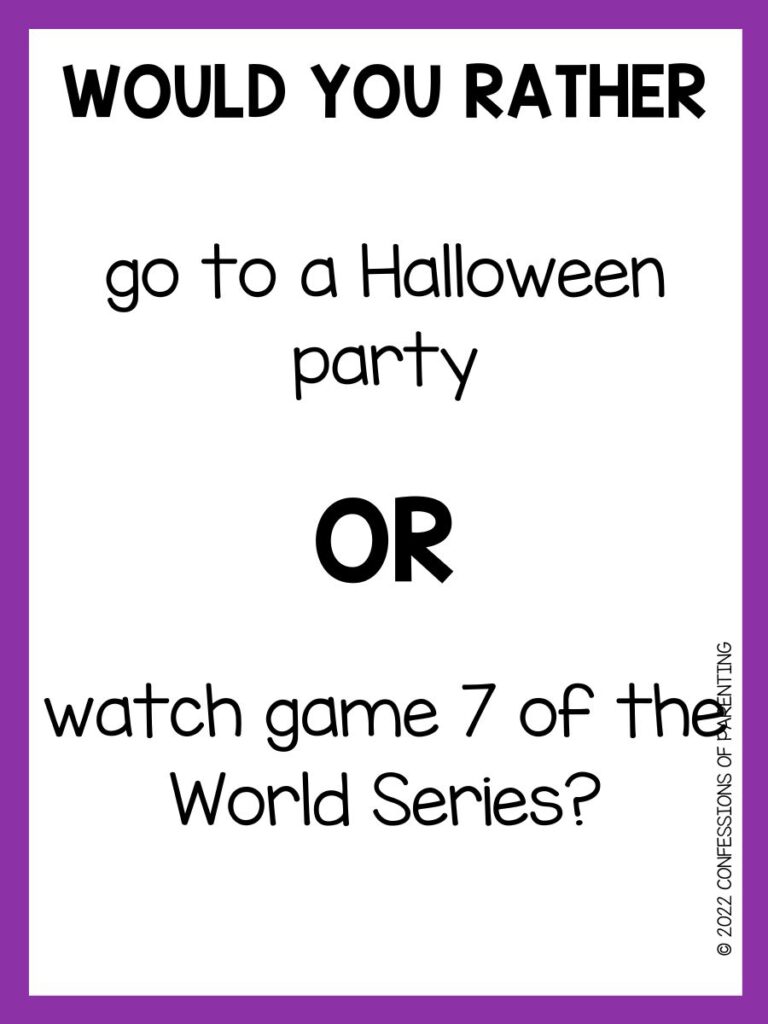 Go to a Halloween party or watch game 7 of the World Series?
Wear an incredibly itchy wig all night or super uncomfortable fake teeth all night?
Be a member of the Brady Bunch or the Addams' Family?
Go trick or treating with an embarrassing parent or an embarrassing teacher?
Never celebrate Halloween or Thanksgiving again?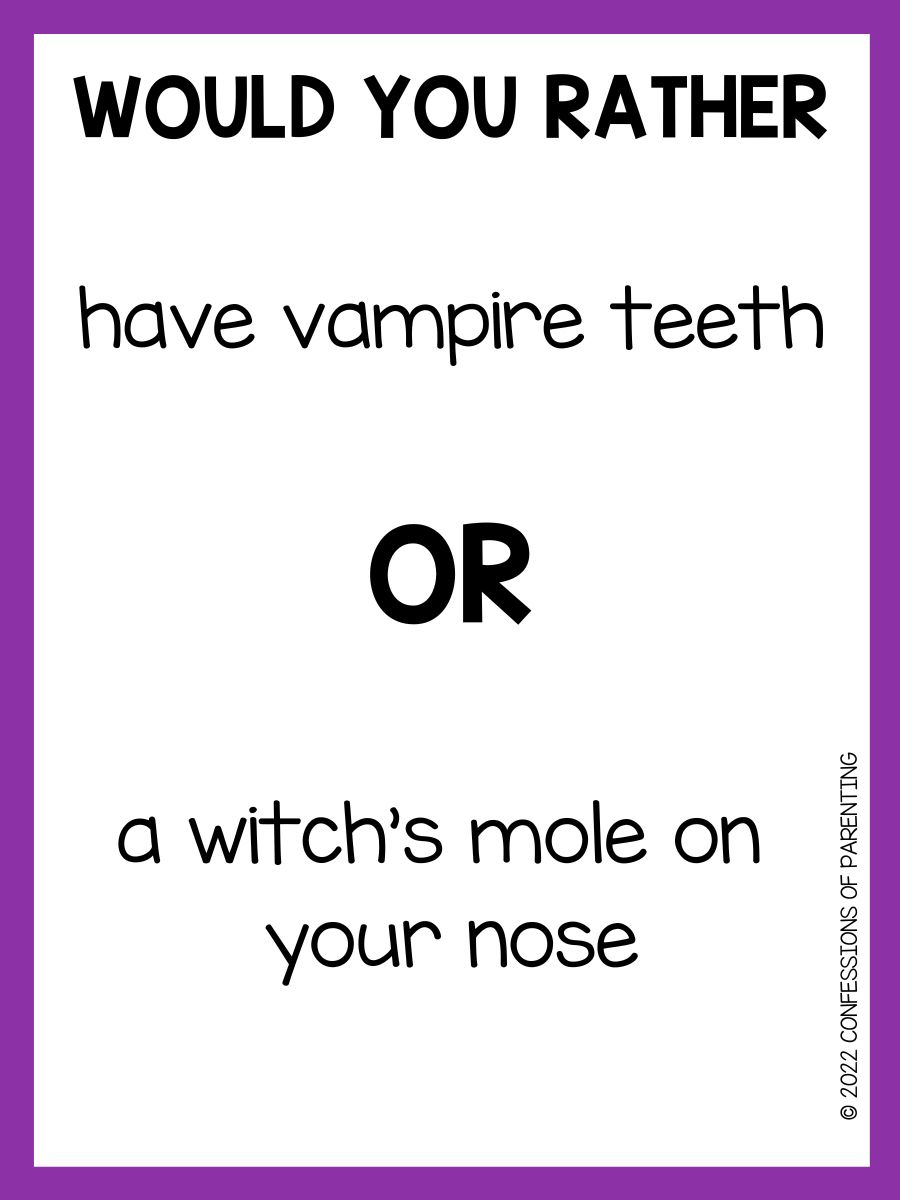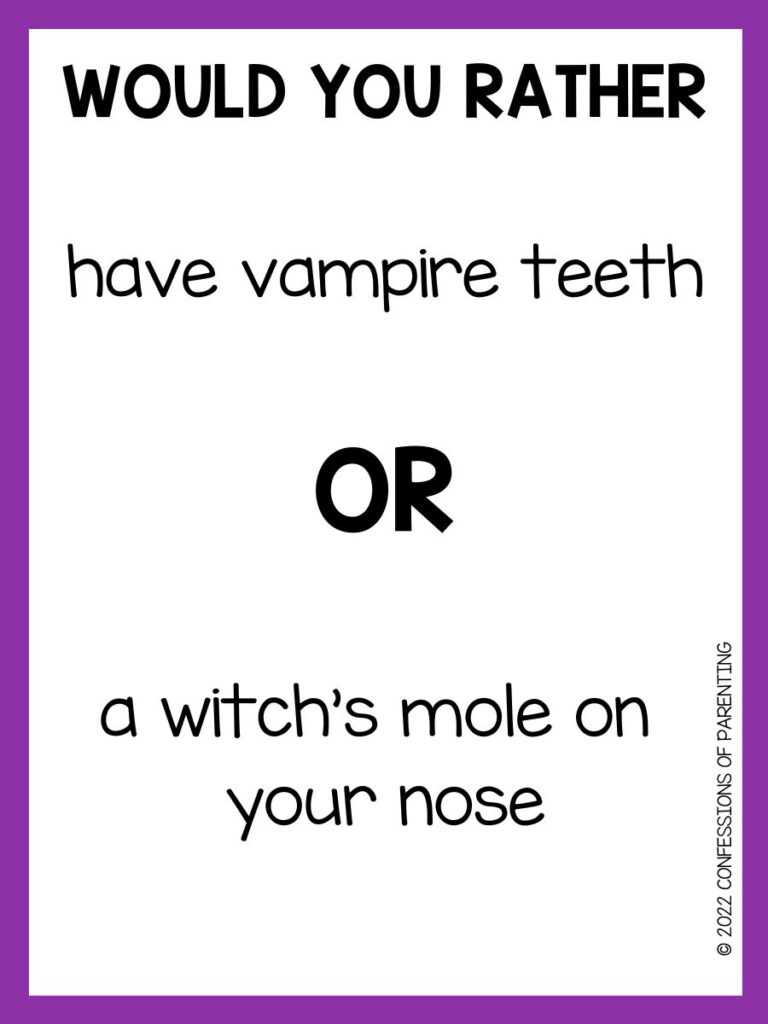 Have vampire teeth or a witch's mole on your nose
Get your groove on to "Thriller" or boogie down to "Monster Mash"?
Face a Zombie Apocalypse or an Invasion of 10-ft spiders?
Put "I'll Be Back" or "I Told You I Was Sick" on your gravestone?
Hand out candy to trick-or-treaters or ignore trick-or-treaters and watch horror movies all night?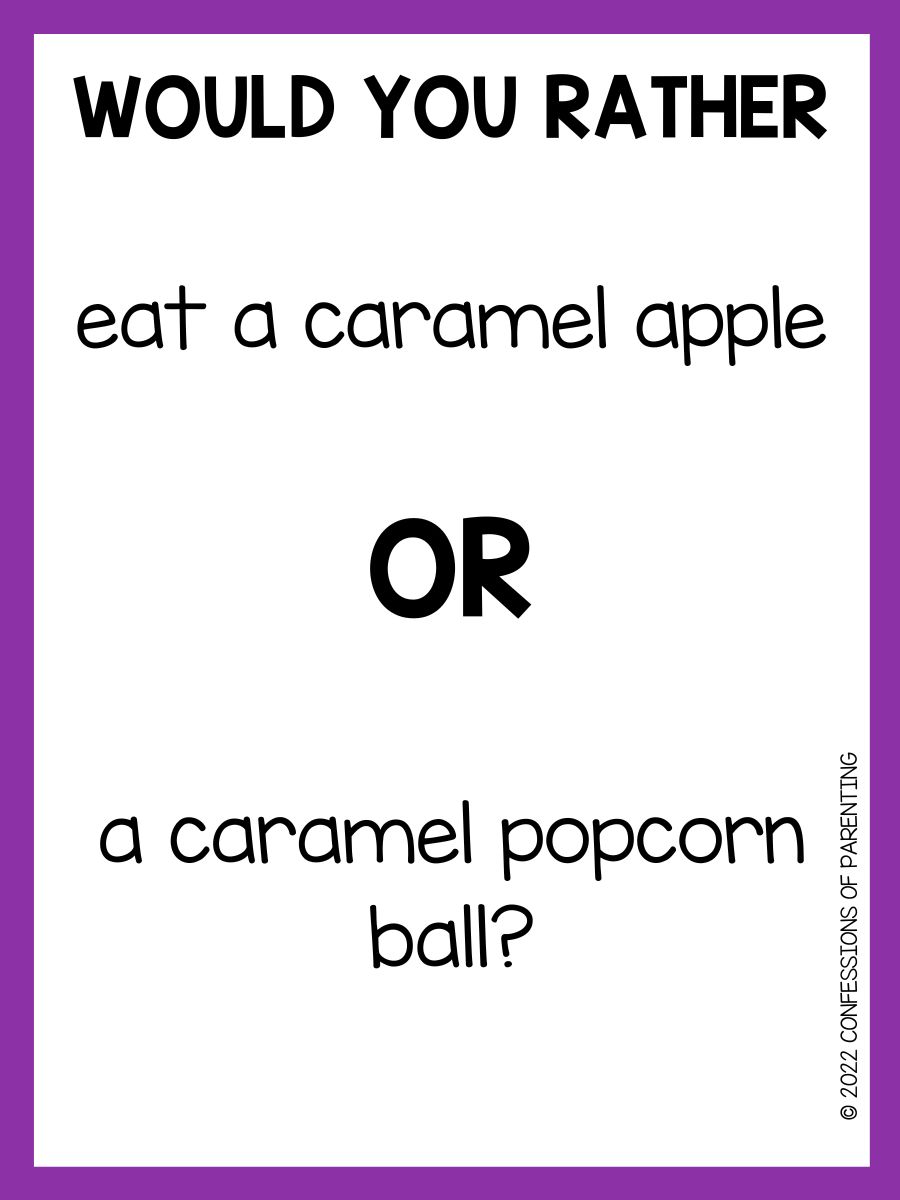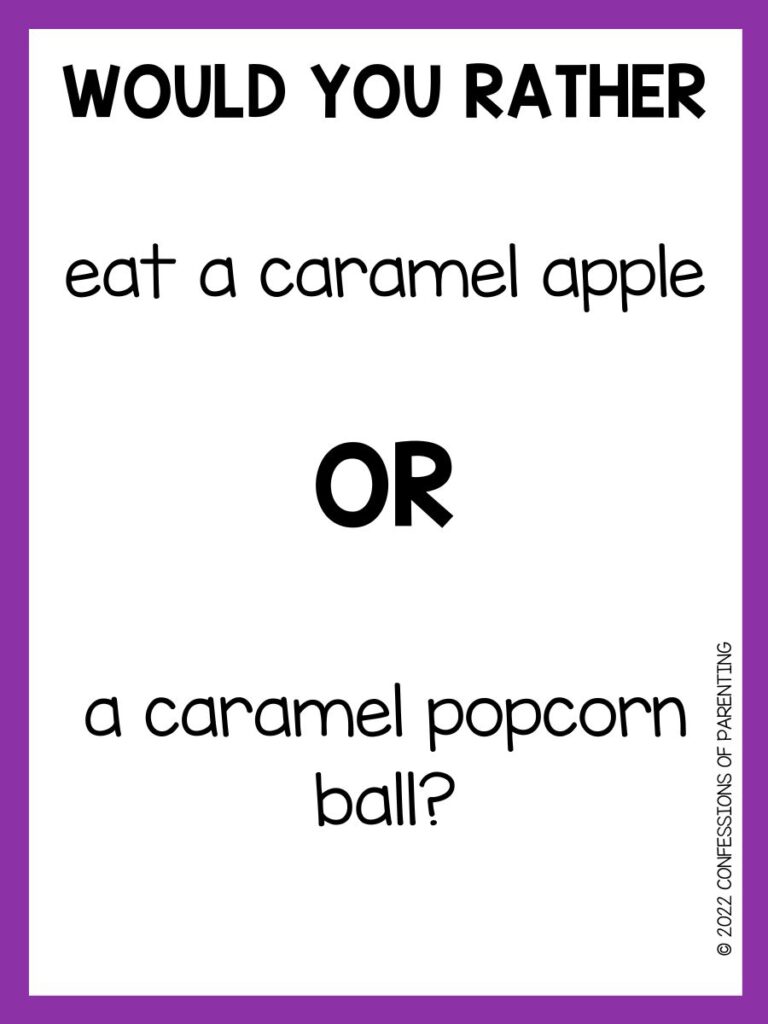 Eat a caramel apple or a caramel popcorn ball?
Would you rather go to a Halloween party or go Trick or Treating?
Listen to the song Monster Mash on repeat or Werewolves of London?
Be super sweaty in your onesie costume on a warm Halloween night or out in your tiny/thin costume on a cold Halloween night?
Feel sick from too much candy, or not have any candy at all?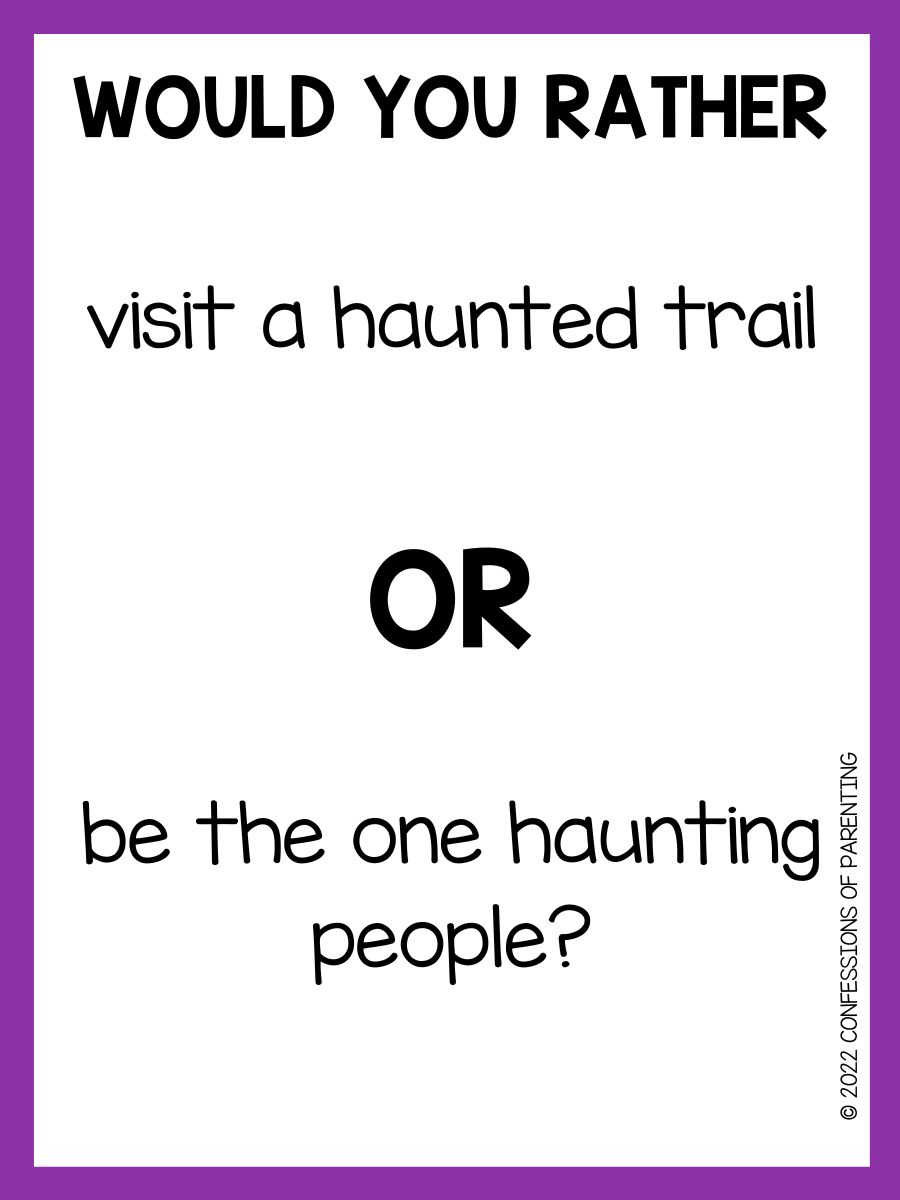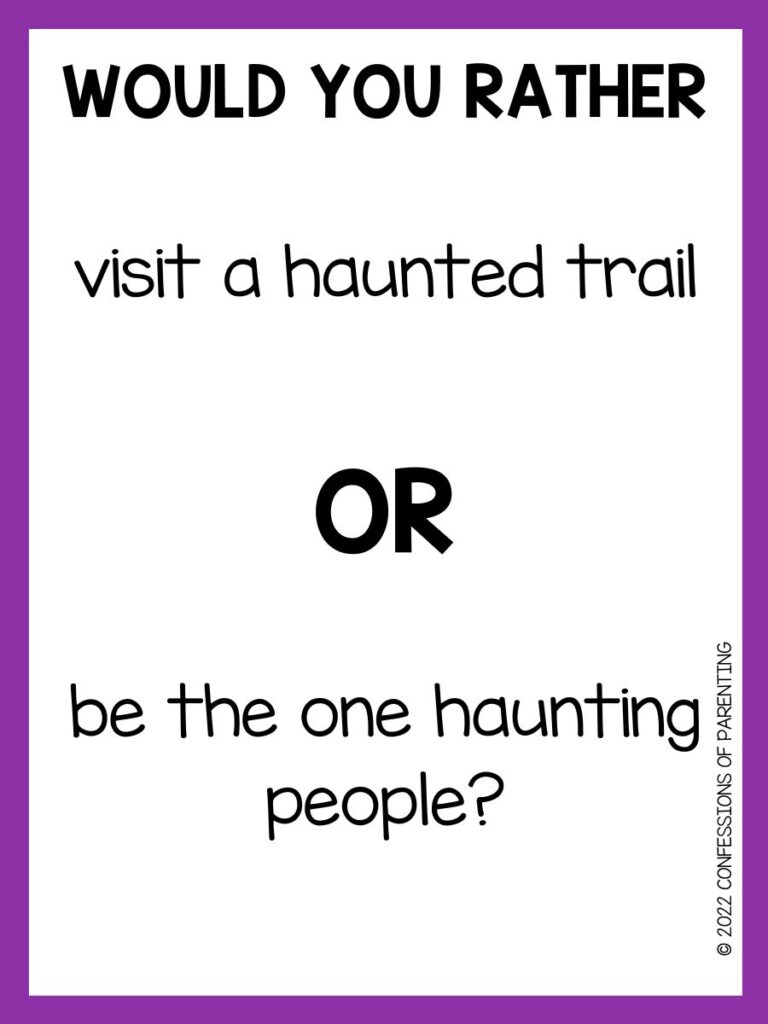 Visit a haunted trail or be the one haunting people?
Be locked in a room full of snakes or rats?
Light a bonfire or a candle at the graves of the dead.
Wear something that makes it impossible to walk or wear something too tight that you can hardly breathe.
Frequently use the word "brilliant" or "clever"?
Would you rather have a pumpkin for a head or pumpkins for feet?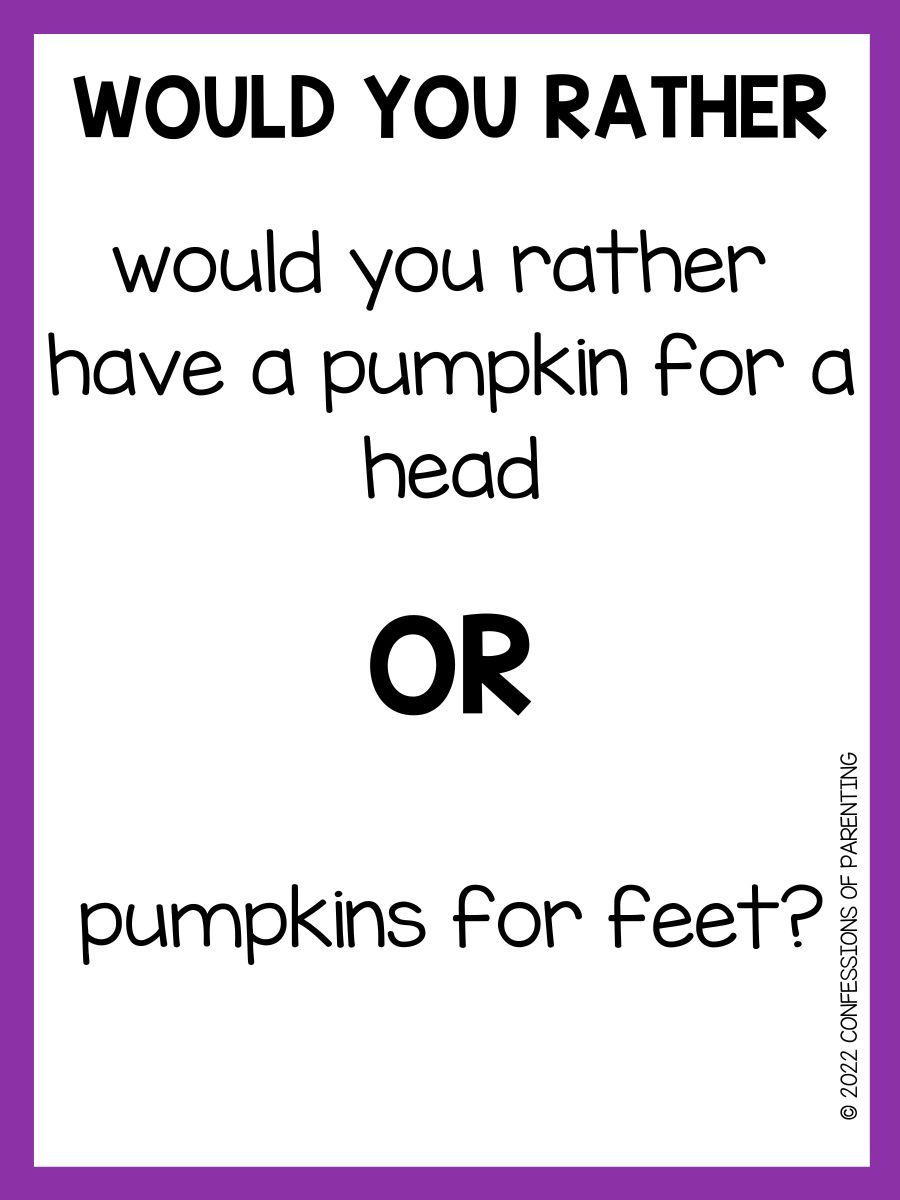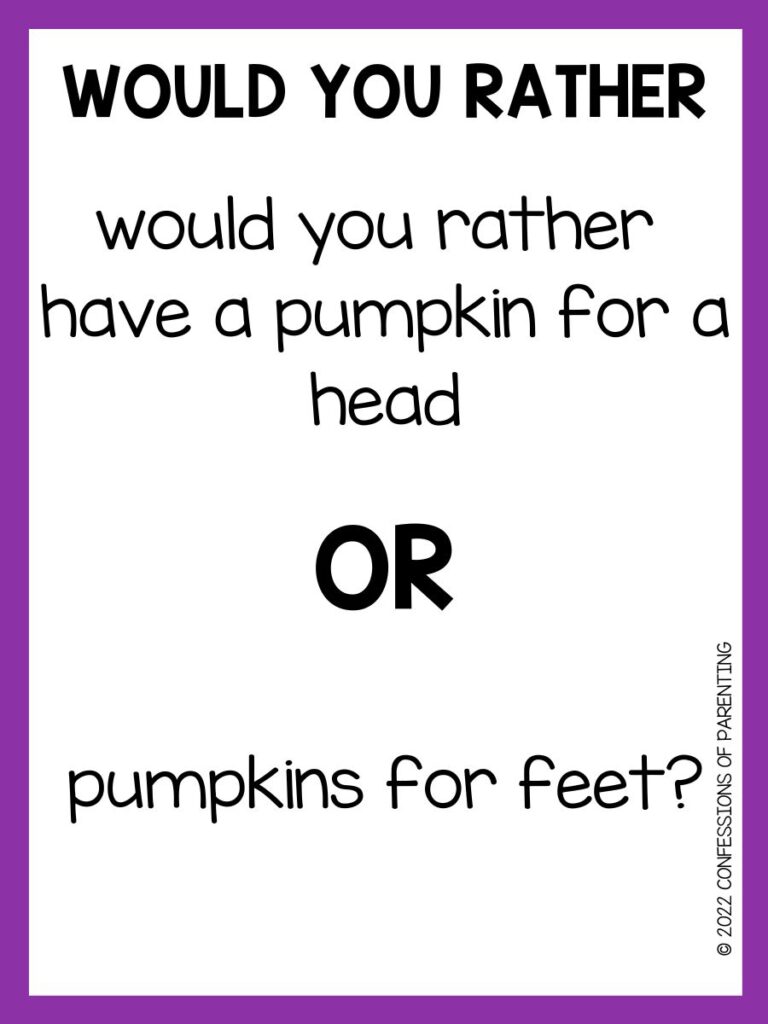 Eat pumpkin pie or apple cider donuts?
Stay at the Hotel Transylvania or the Monster House?
Dress up as a character from Harry Potter or Star Wars?
Eat a live cockroach or play a game of Ouija?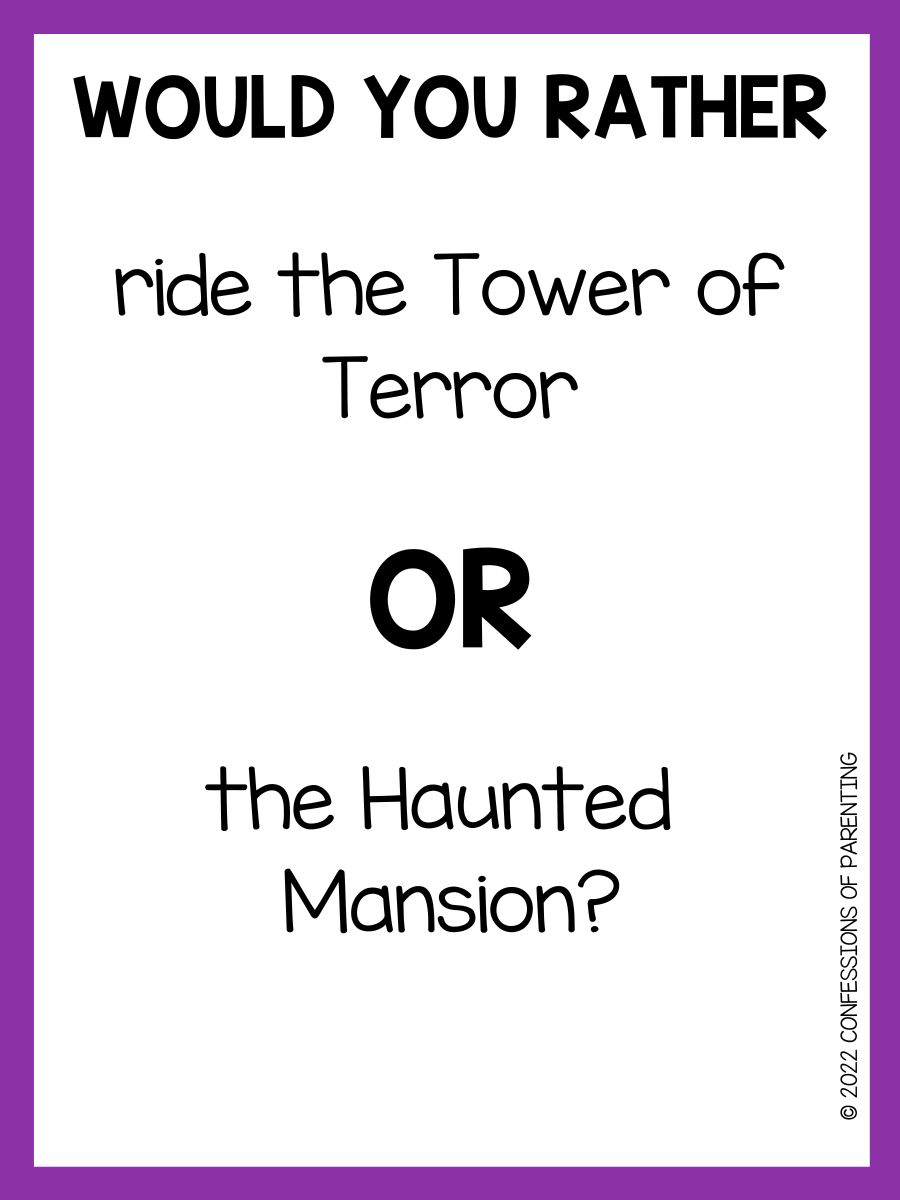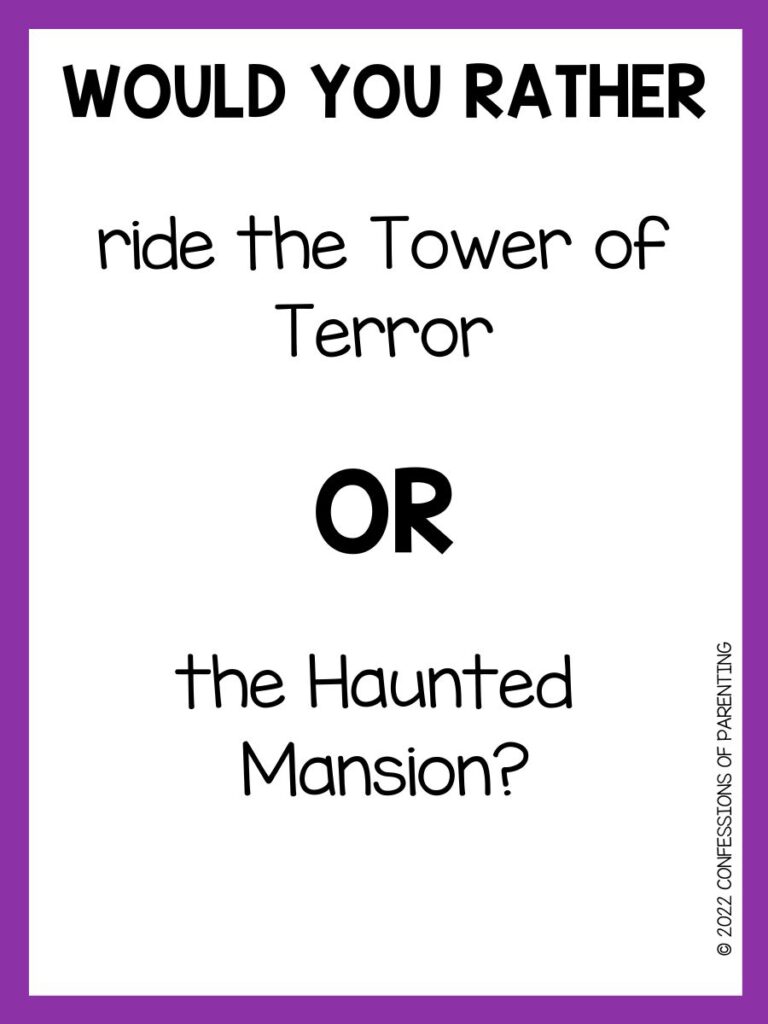 Ride the Tower of Terror or the Haunted Mansion?
Have all your pumpkins smashed or get egged?
Watch Beetlejuice or Ghostbusters?
Would you rather be in a zombie apocalypse or a ghost in a school forever?
Carve a jack-o-lantern or play some pranks?
Live in Salem, Massachusetts or Roswell, New Mexico?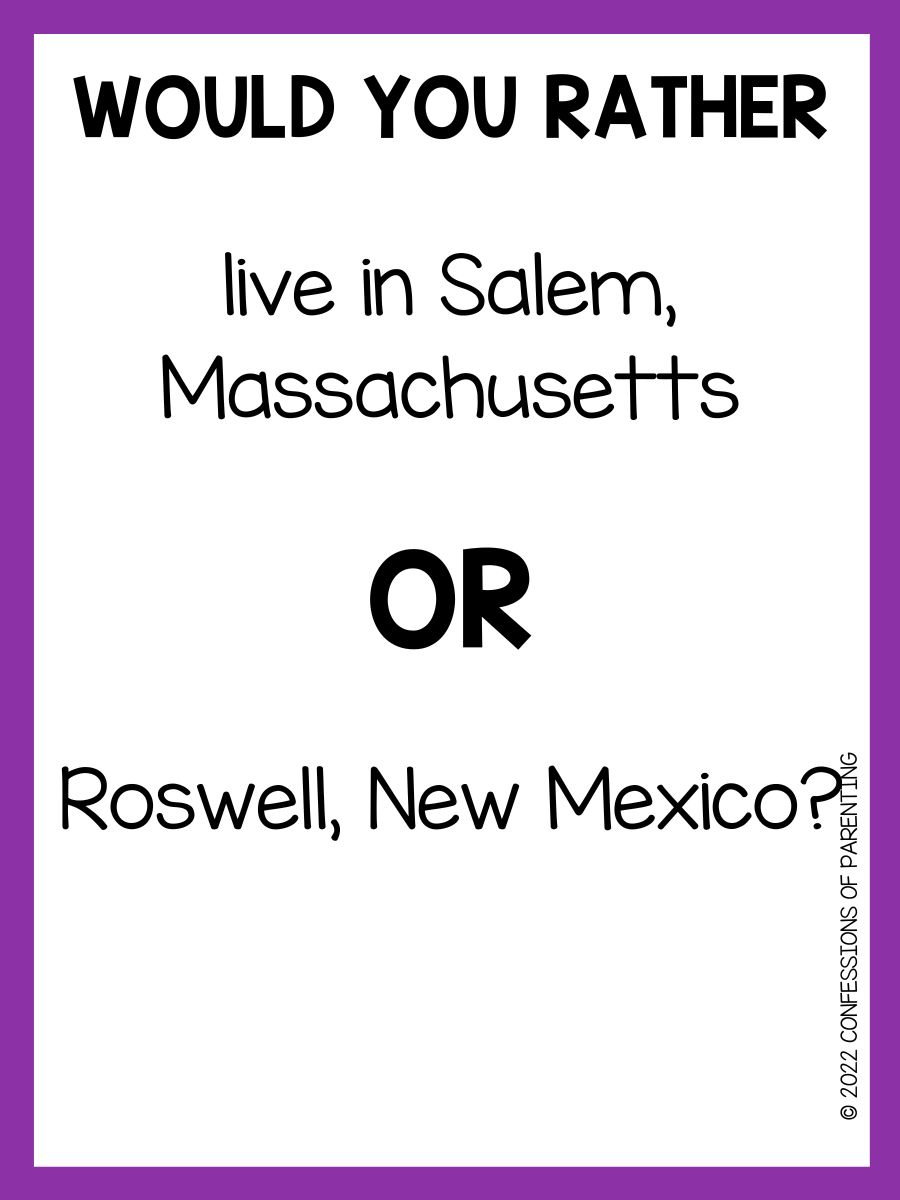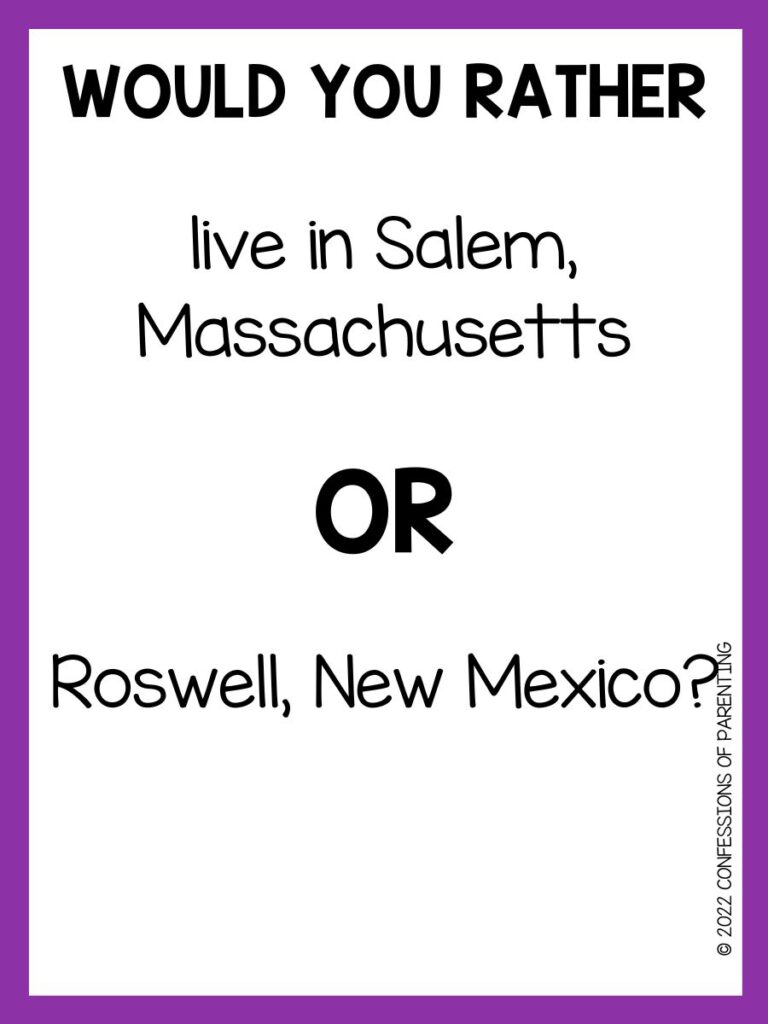 Live in the world of A Quiet Place or Hocus Pocus?
Create a monster like Frankenstein or become one like Dr. Jekyll?
Take an evening swim at Amity Cove or a midnight stroll in a cemetery?
Wear a scary costume or dress as a baby?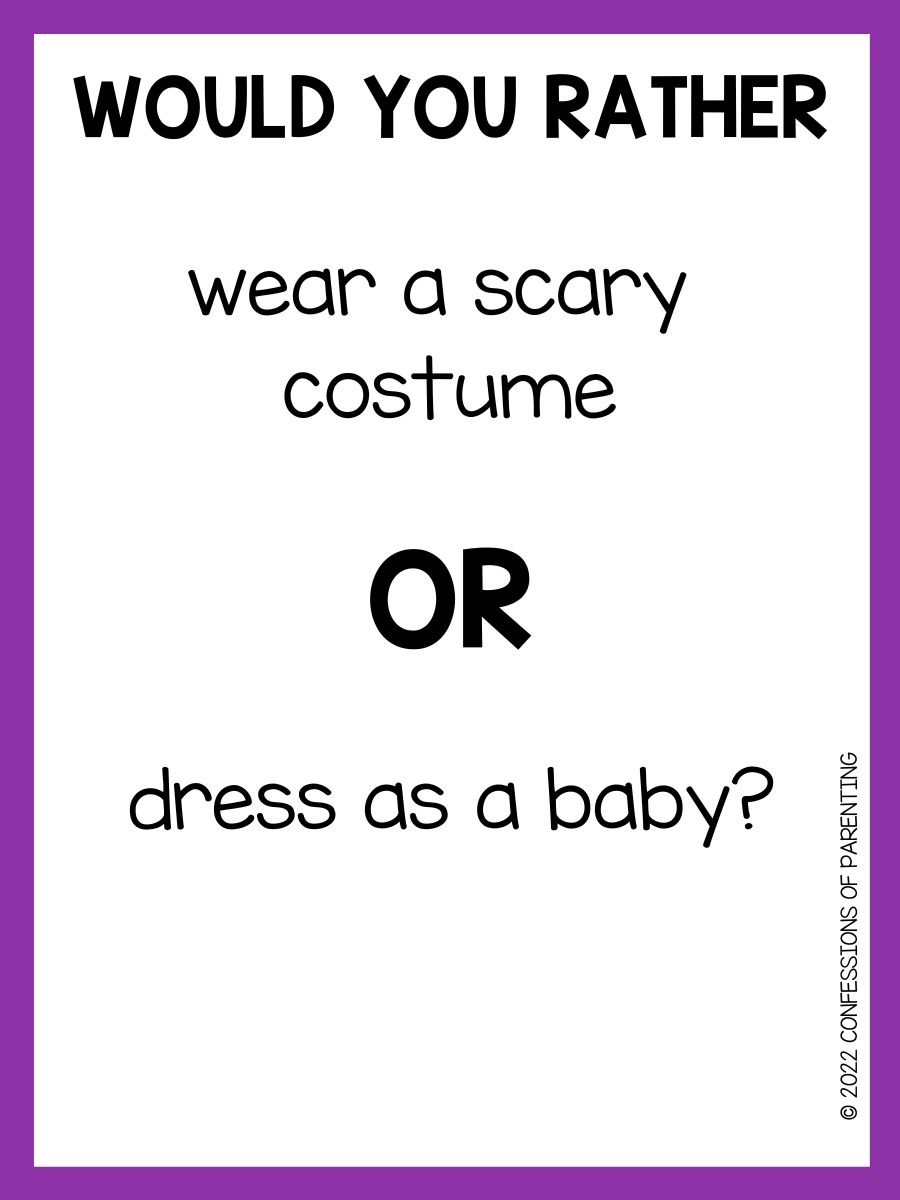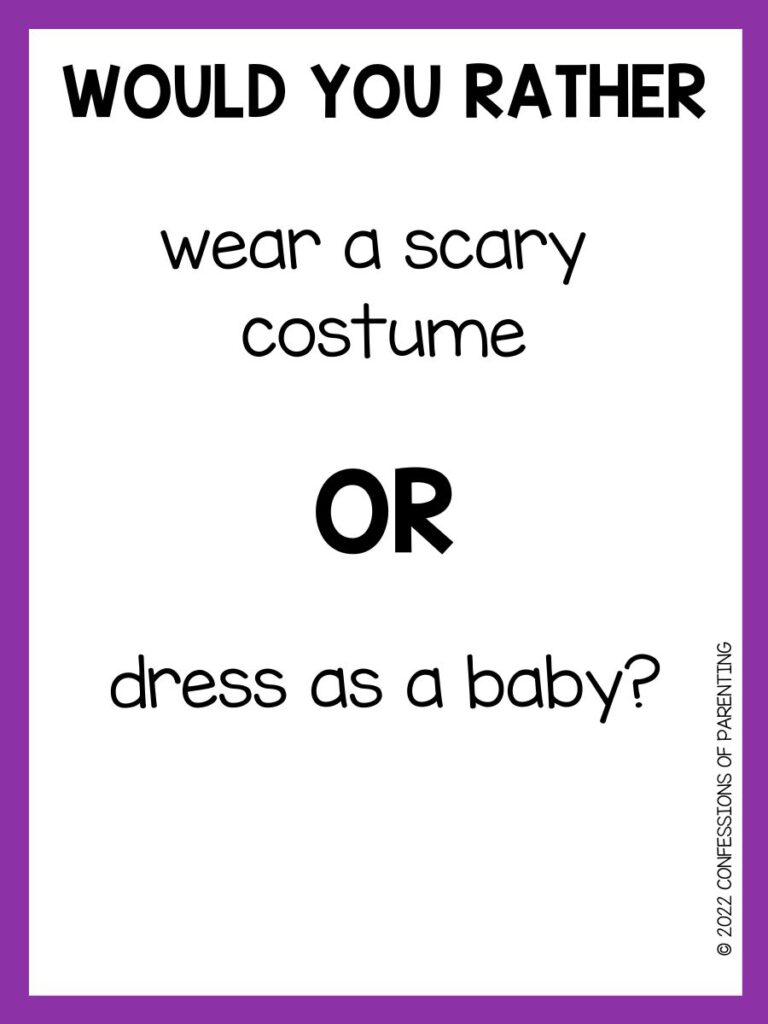 Don't forget to grab your Halloween Would you rather printable for your Halloween party!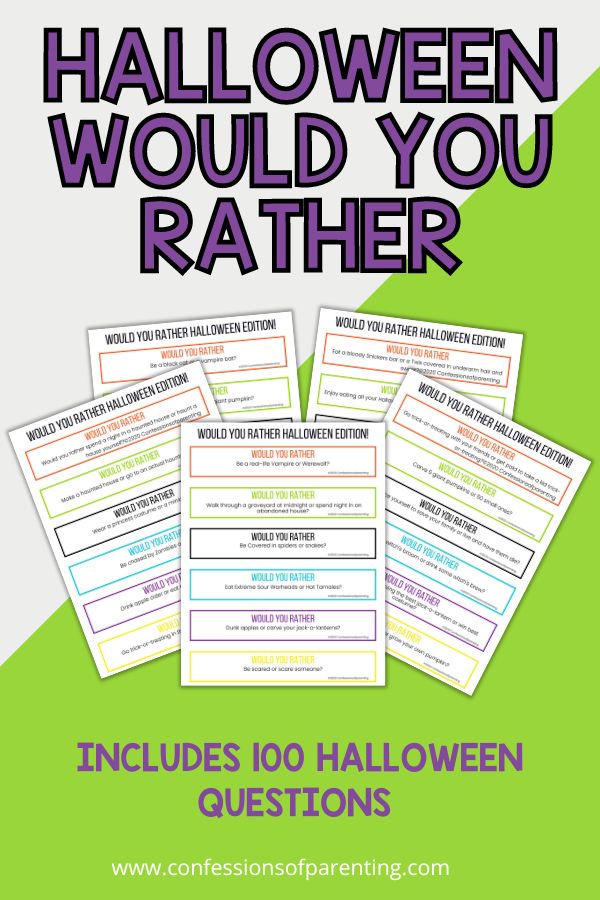 If you love, would you rather, grab some of our most popular would you rather games! If you are looking for a free sample of our would you rather game, scroll a little bit further to sign up!
Love Would You Rather? Try These fun Versions!
How Do I Access My Free Printables?
Fill in the form above. You will receive an email in your inbox. If you don't see it, check your spam folder! You will then click to confirm your subscription. Once confirmed, you will be emailed your free printable. Be sure to add [email protected] to your email contacts so you never miss an update!
How Do I Print A PDF?
You'll need a program that supports PDFs. Adobe Acrobat is a great option. Open the program, click File, then print. Select your printer and the number of copies you want to print. Be sure you click double-sided if you want it to print on both sides.
Can I resell these?
You may not resell any printable found on our website or in our resource library. You may use them for class parties, at church, at home, or in the classroom. You may get these printed at an office supply store or copy center at your own expense.