For those snowy days in, grab this fun Winter Would You Rather game. Get your whole family laughing together with this simple game. It's perfect to play with your friends too! Just download, print, and play!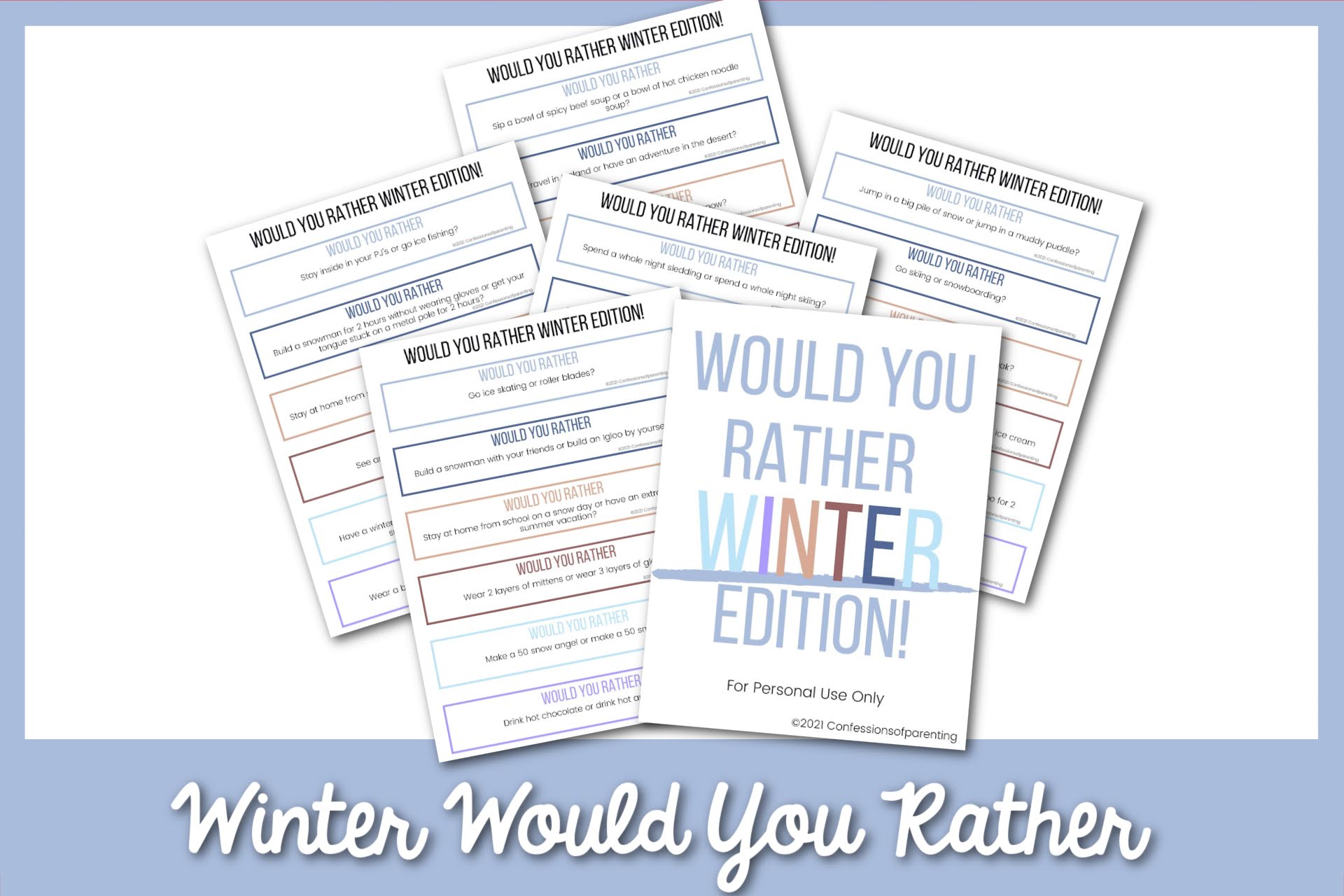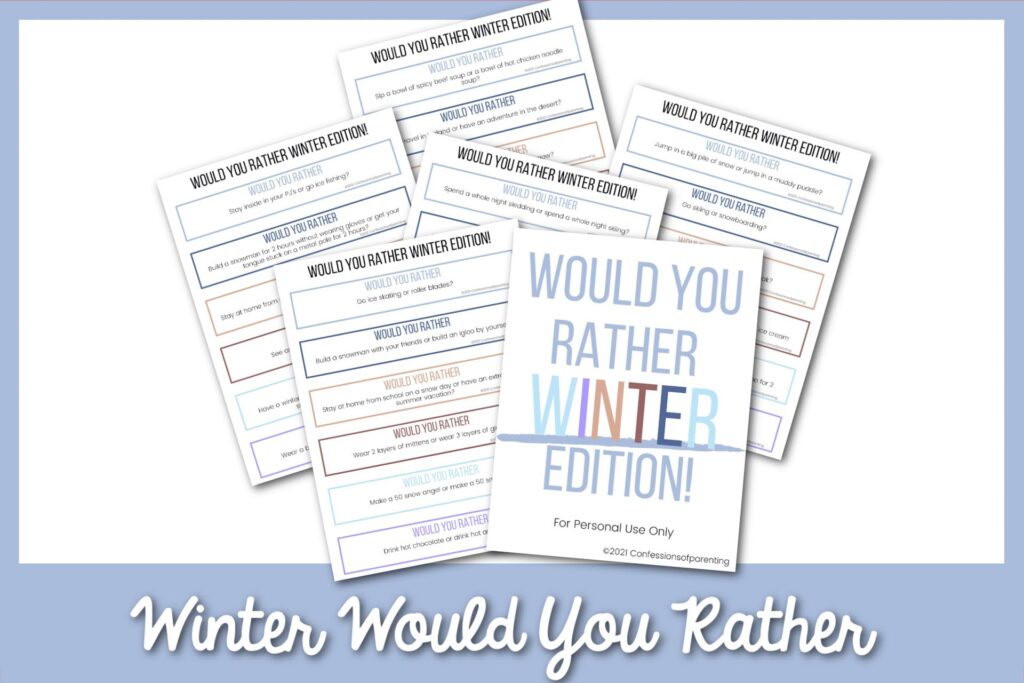 Winter Would You Rather
When we're stuck at home for a while, my kids often wander around the house declaring "I'm boooored!" That's when these easy games like Would You Rather come in handy that takes no preparation or effort on my part but offers loads of fun for them.
My kids love asking each other Would You Rather questions. Even after the list of questions has been exhausted, they come up with their own creative questions or move on to another series of Would you Rather like Hilarious Would You Rather. I love that they get to use their imagination and that the fun lasts even once the game is done.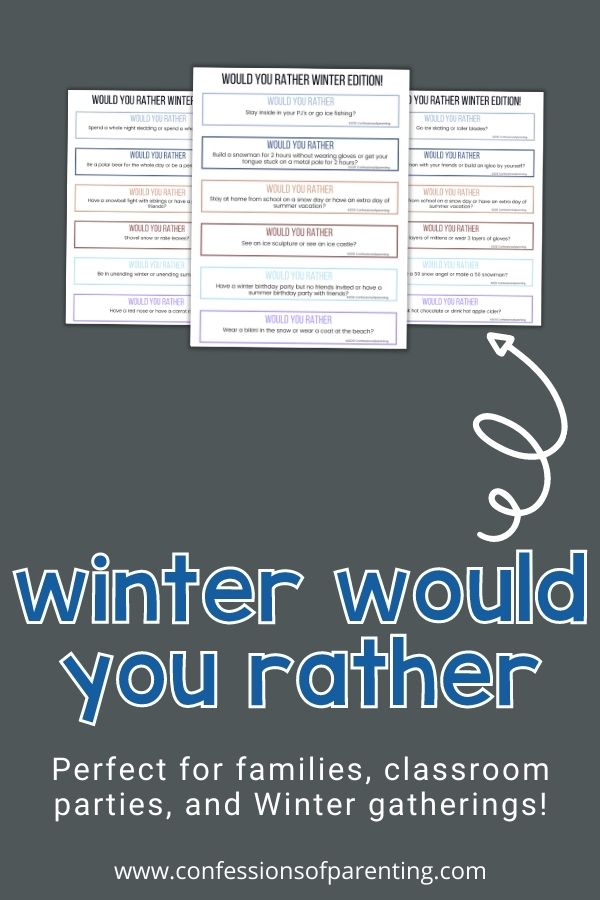 Get even more Would You Rather question ideas with these fun lists: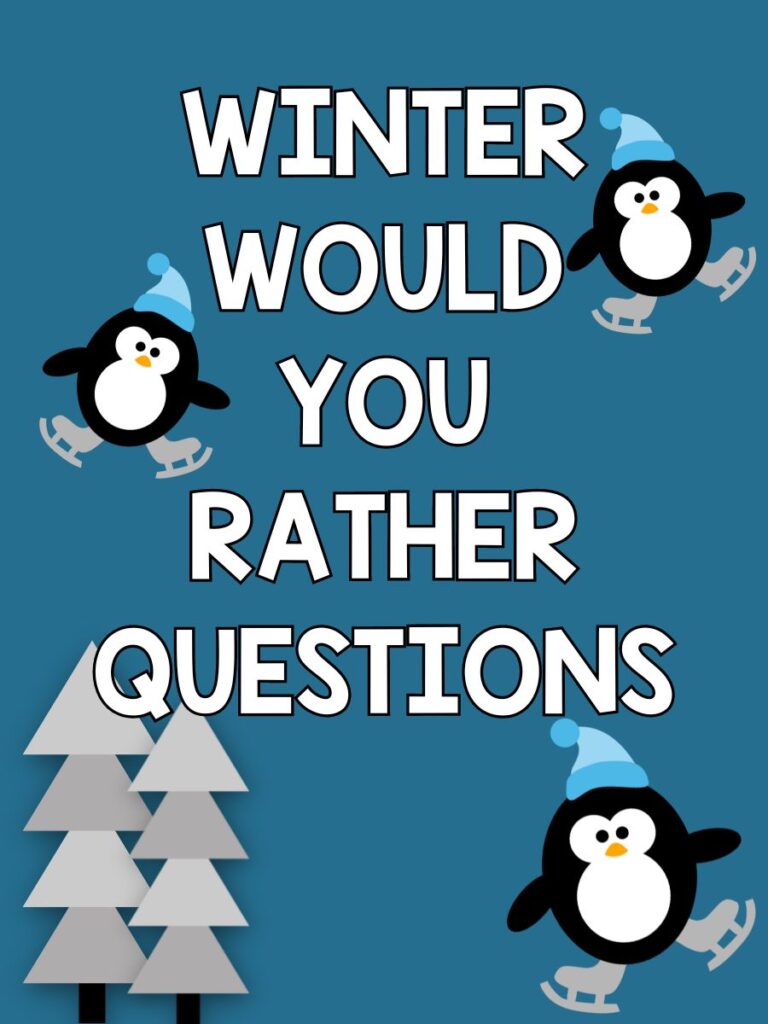 How to Play Winter Would You Rather
Winter Would You Rather is such a simple game, which makes it easy for everyone to play! And you can easily adapt the game to play however you want.
All you have to do is scroll down to the list of questions below or download our Winter Would You Rather printable and you're all set!
You can have one person ask all of the questions, or everyone can take turns asking them. When the question is asked, one person can answer and then everyone moves onto the next question, or you can have every player answer every question.
The one rule is that someone cannot say "neither" or "pass." They have to choose one of the options, no matter how silly or how embarrassing it may be! Hearing everyone's answers is my favorite part of the game.
Usually, you need at least two players, but you can play in big groups as well.
If you have a big group, you can make it easy to see everyone's answers by splitting the room into two sides – option A and option B. When the question is called, each player makes their way to the side of the room they would rather do.
Take a few minutes for everyone to make up their mind, and then a few more to discuss their answers. Then you can move onto the next question.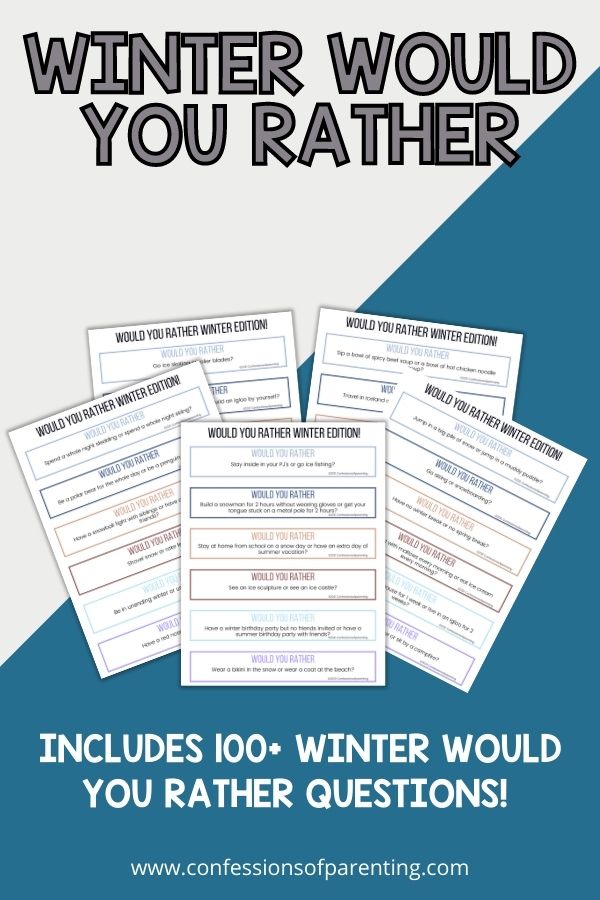 Benefits of Winter Would You Rather
Would You Rather questions are a great way to think about situations you wouldn't normally think of. It is a great brain exercise without it feeling like work at all!
This game requires very little preparation. All you have to do is get the questions and then you can play right away. I personally love games and activities that take no time at all to get ready and have absolutely no clean up.
Besides being easy to prepare as well as a good brain stretch, this game also starts some fun conversations between your players. Take some time in between the questions to hear others' points of view. This also encourages learning empathy and understanding.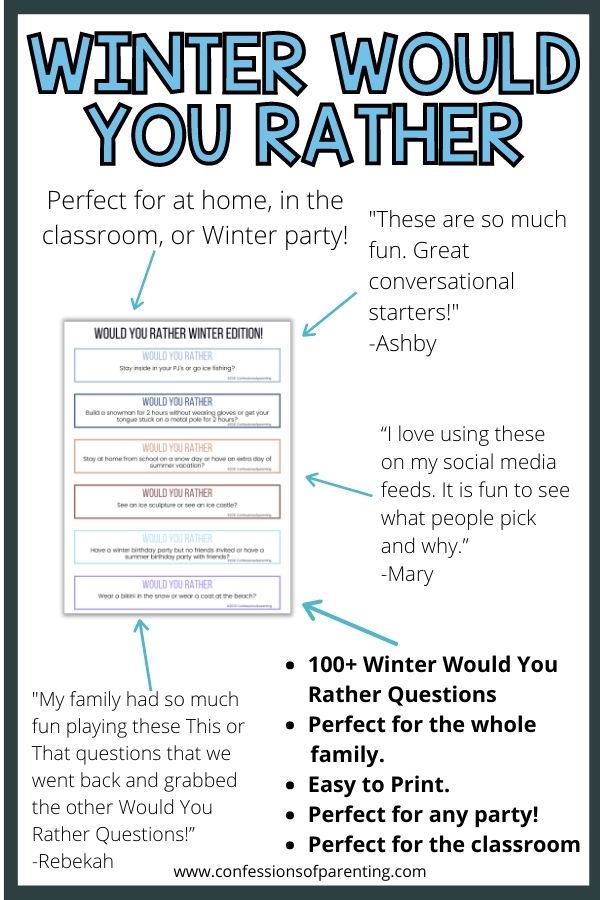 Winter Would You Rather Questions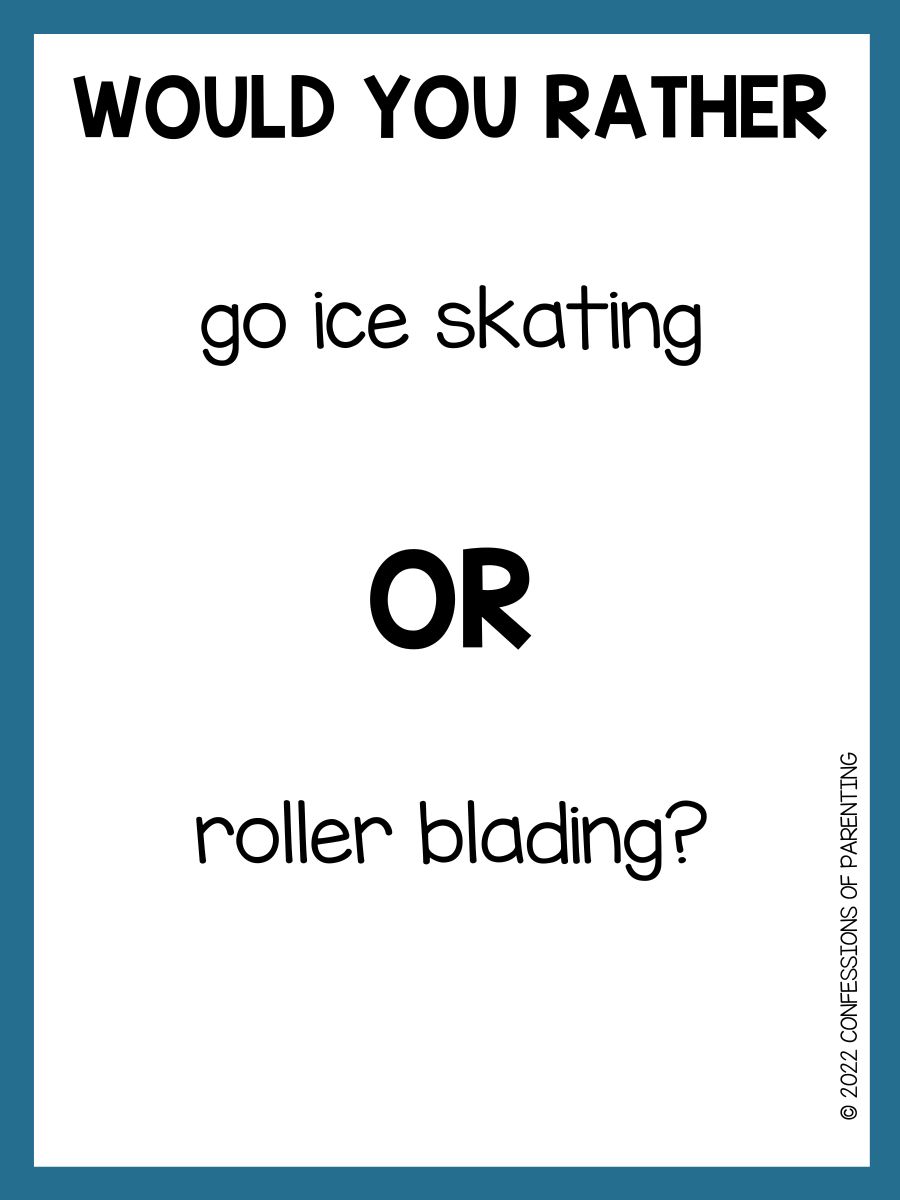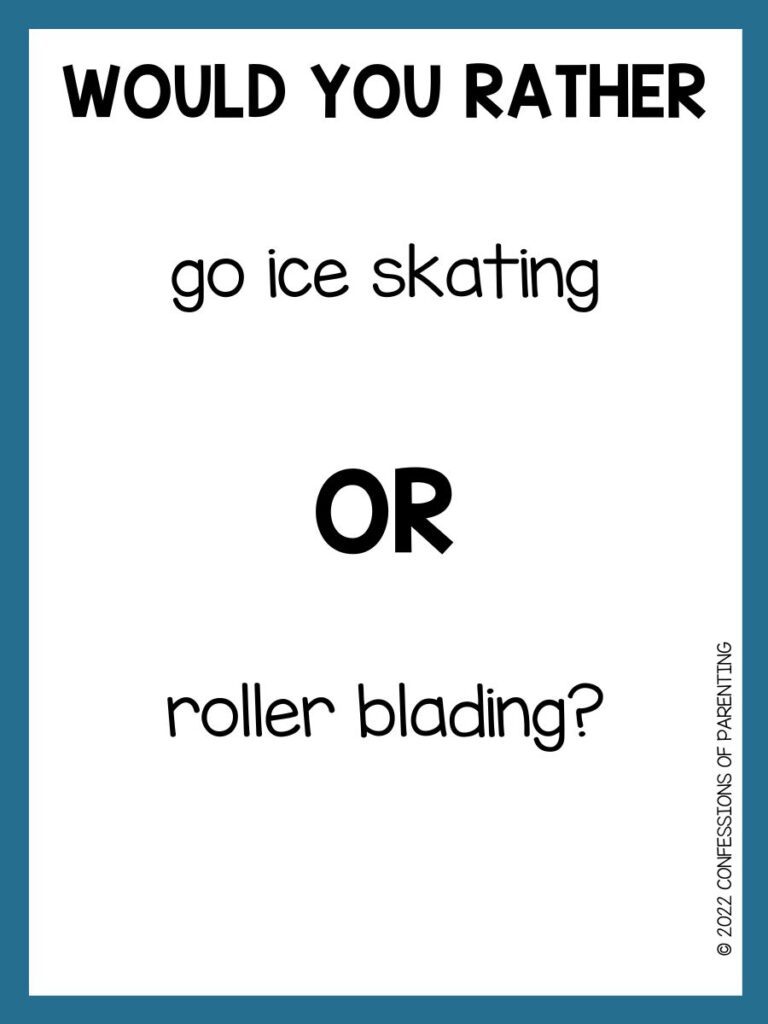 Go ice skating or roller blades?
Build a snowman with your friends or build an Igloo by yourself?
Stay at home from school on a snow day or have an extra day of summer vacation?
Wear 2 layers of mittens or wear 3 layers of gloves?
Make a 50 snow angel or make a 50 snowman?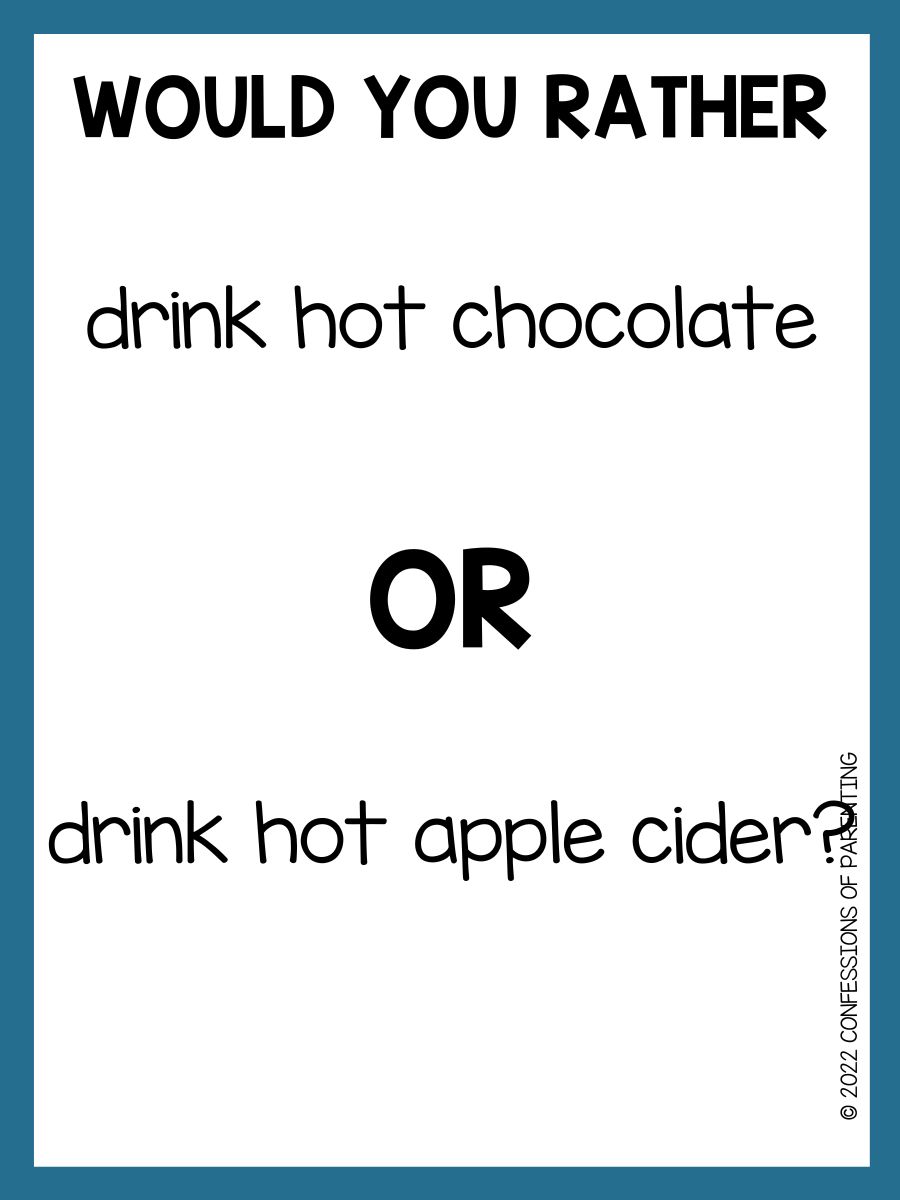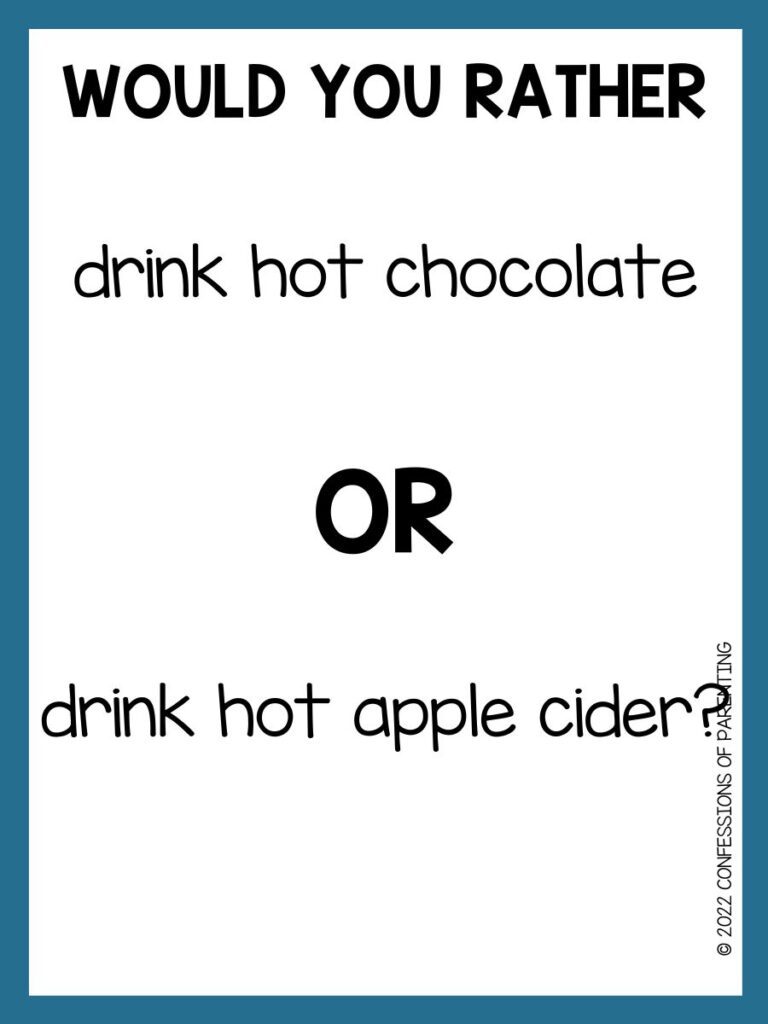 Drink hot chocolate or drink hot apple cider?
Stay inside in your PJ's or go ice fishing?
Build a snowman for 2 hours without wearing gloves or get your tongue stuck on a metal pole for 2 hours?
See an ice sculpture or see an ice castle?
Have a winter birthday party but no friends invited or have a summer birthday party with friends?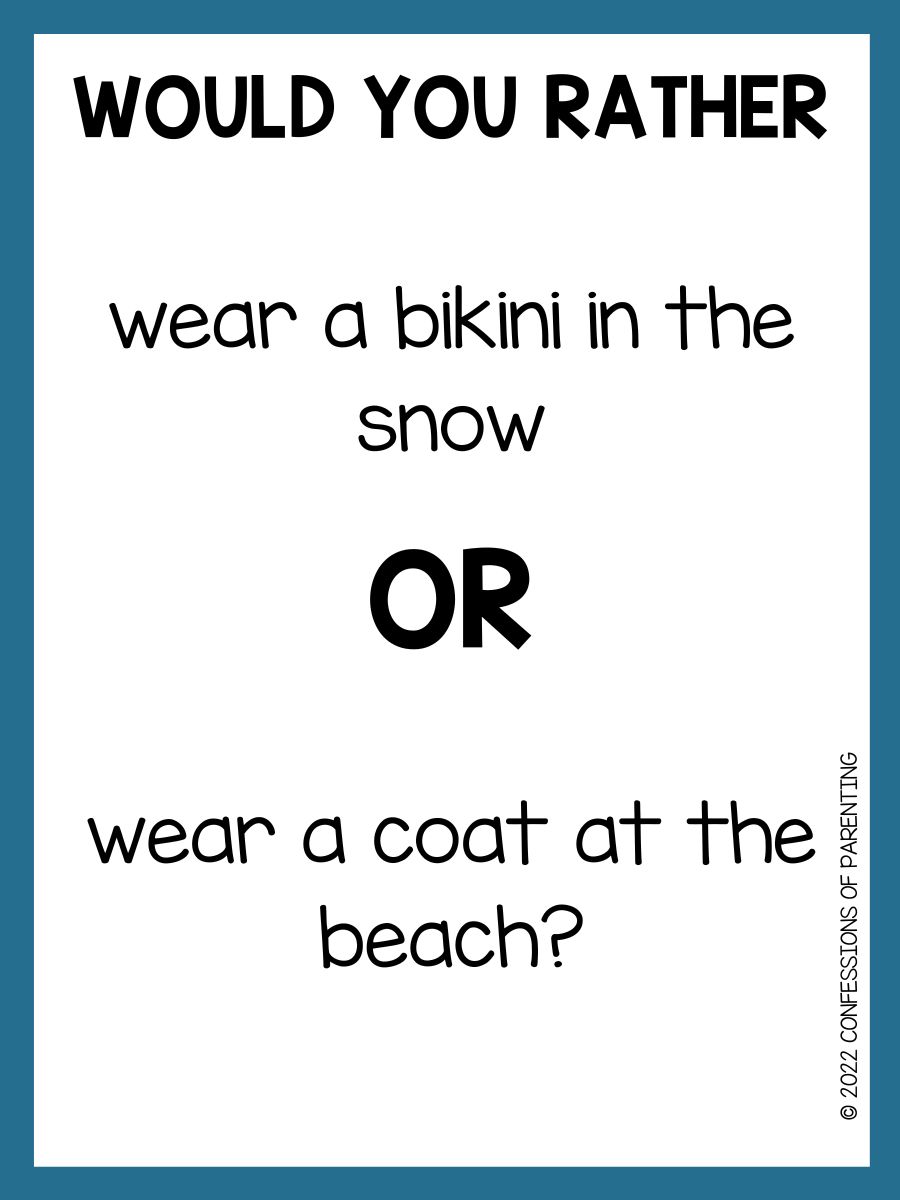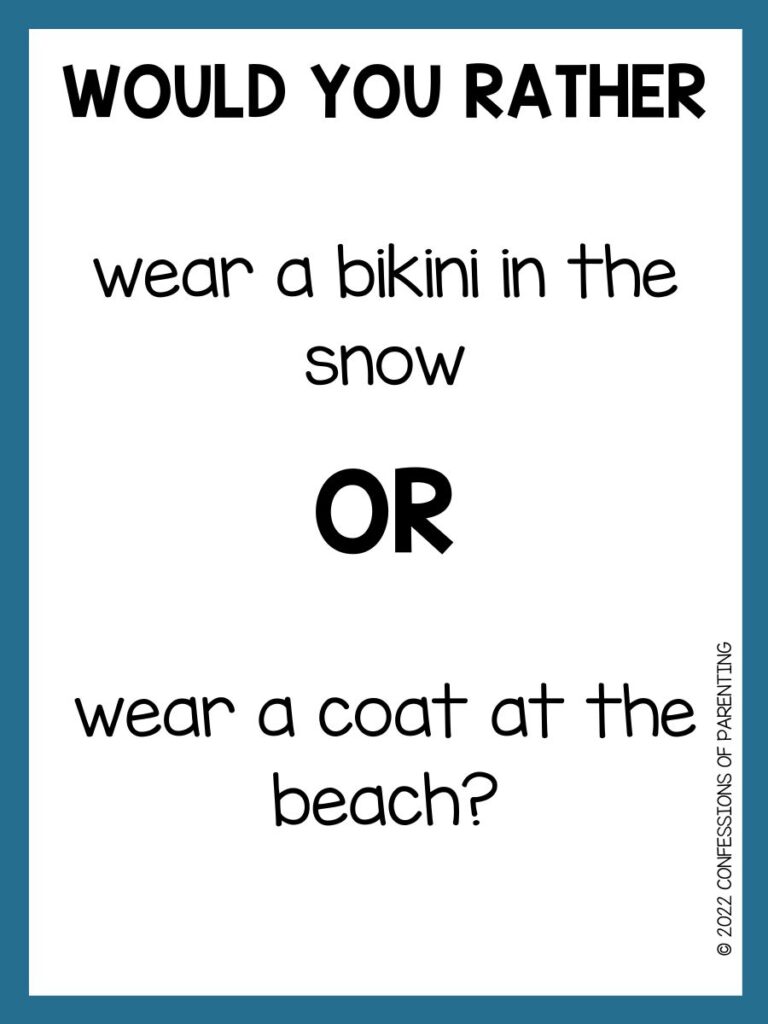 Wear a bikini in the snow or wear a coat at the beach?
Spend a whole night sledding or spend a whole night skiing?
Be a polar bear for the whole day or be a penguin for 1 night?
Have a snowball fight with siblings or have a pillow fight with friends?
Shovel snow or rake leaves?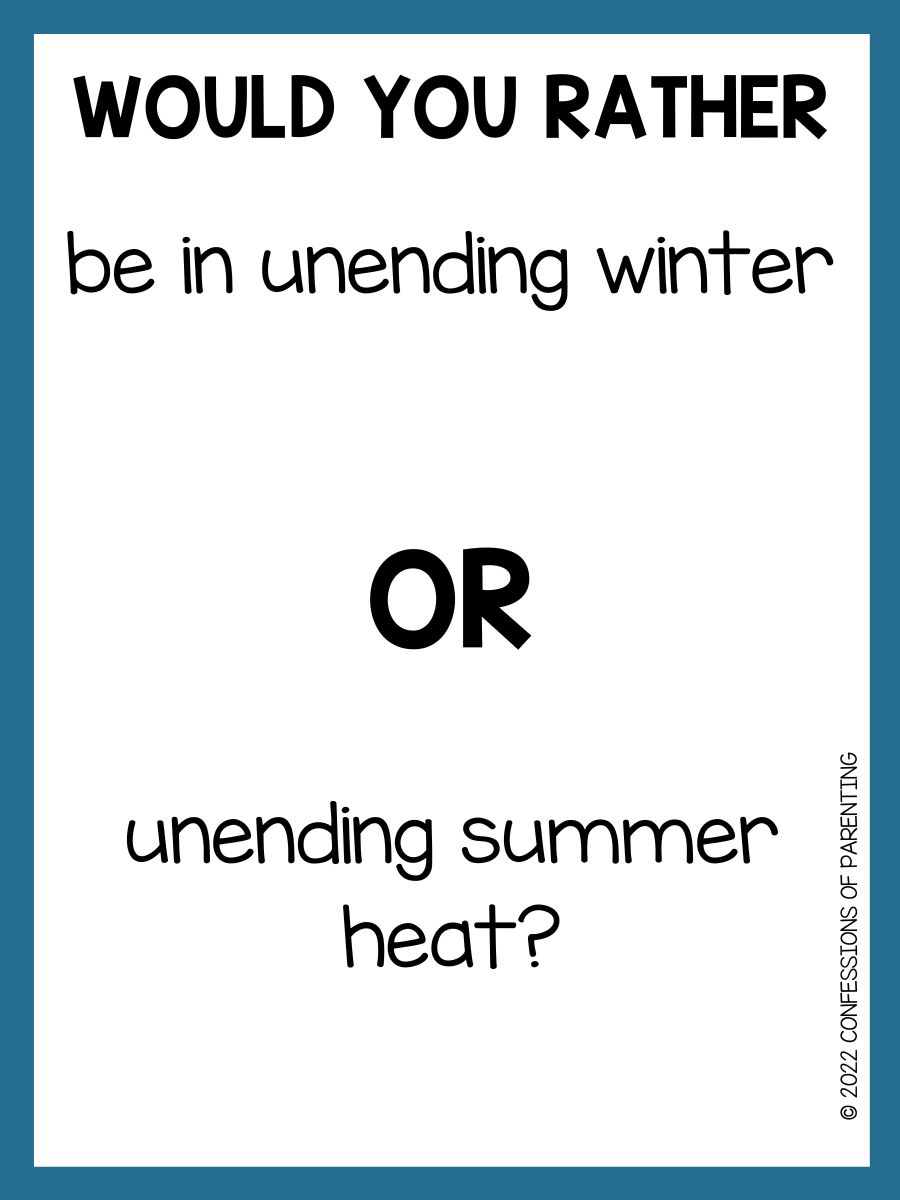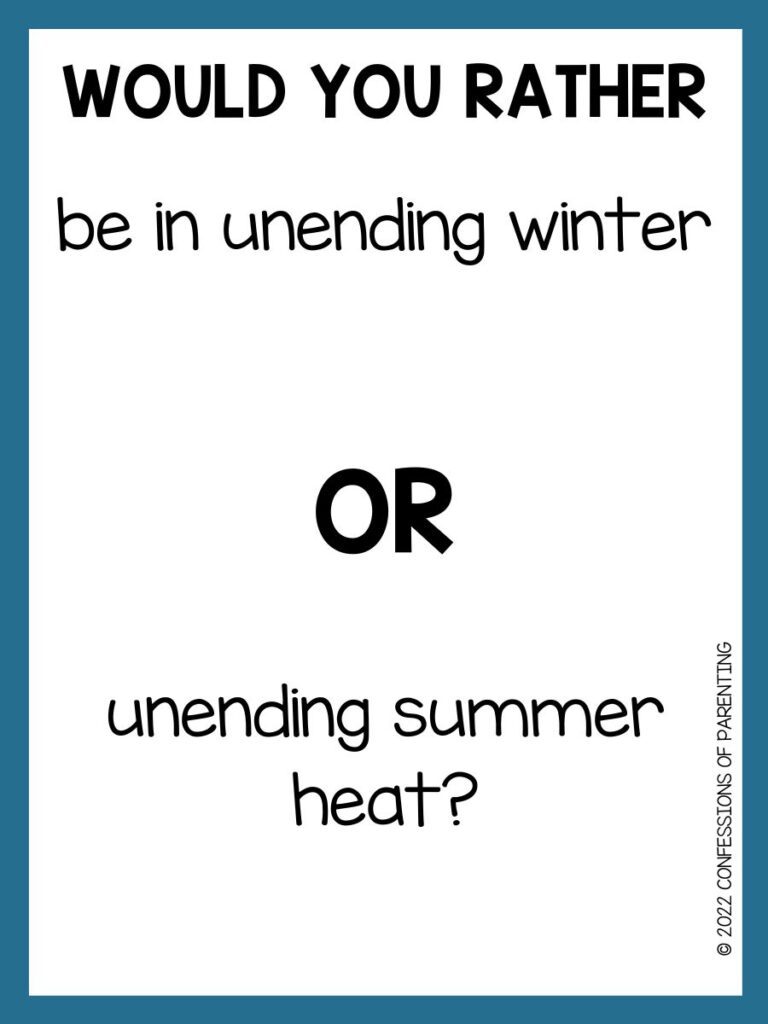 Be in unending winter or unending summer heat?
Have a red nose or have a carrot nose?
Jump in a big pile of snow or jump in a muddy puddle?
Go skiing or snowboarding?
Have no winter break or no spring break?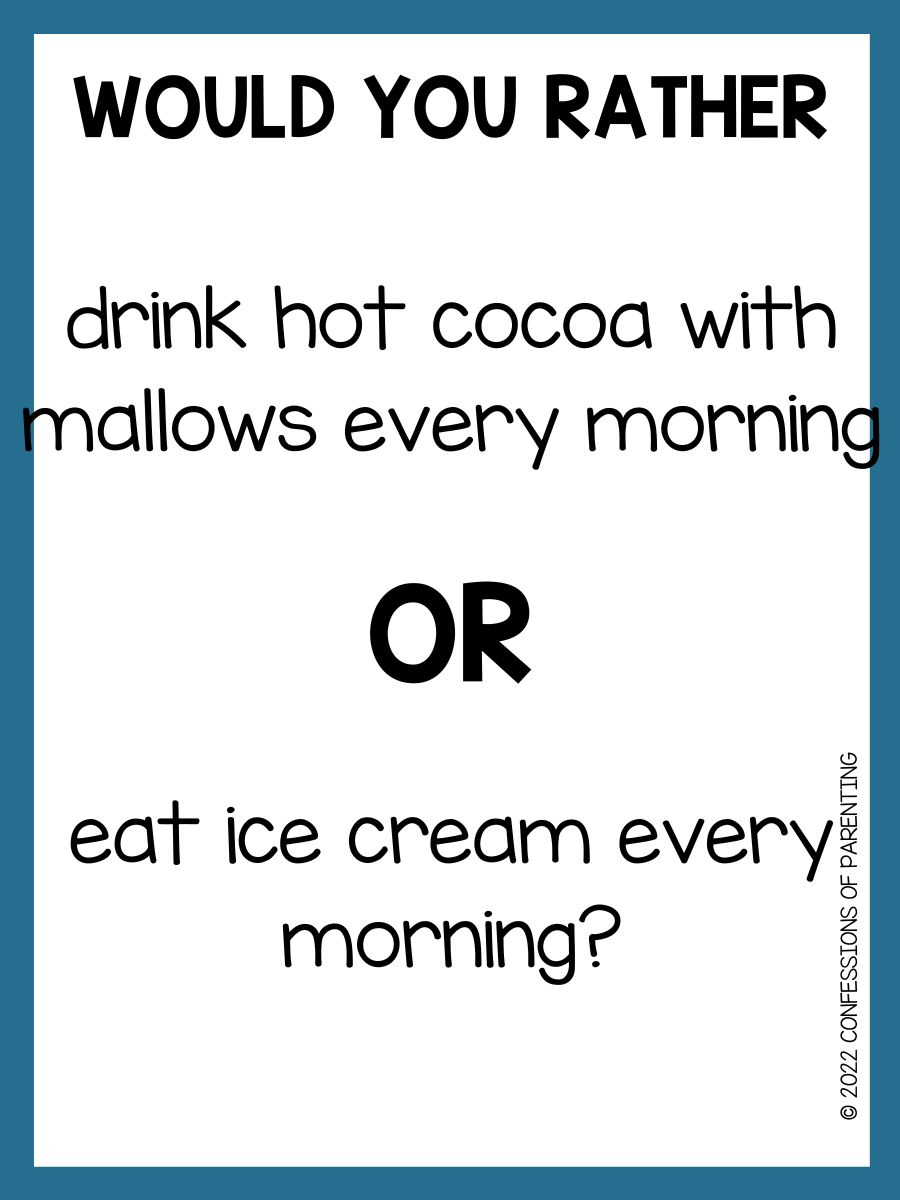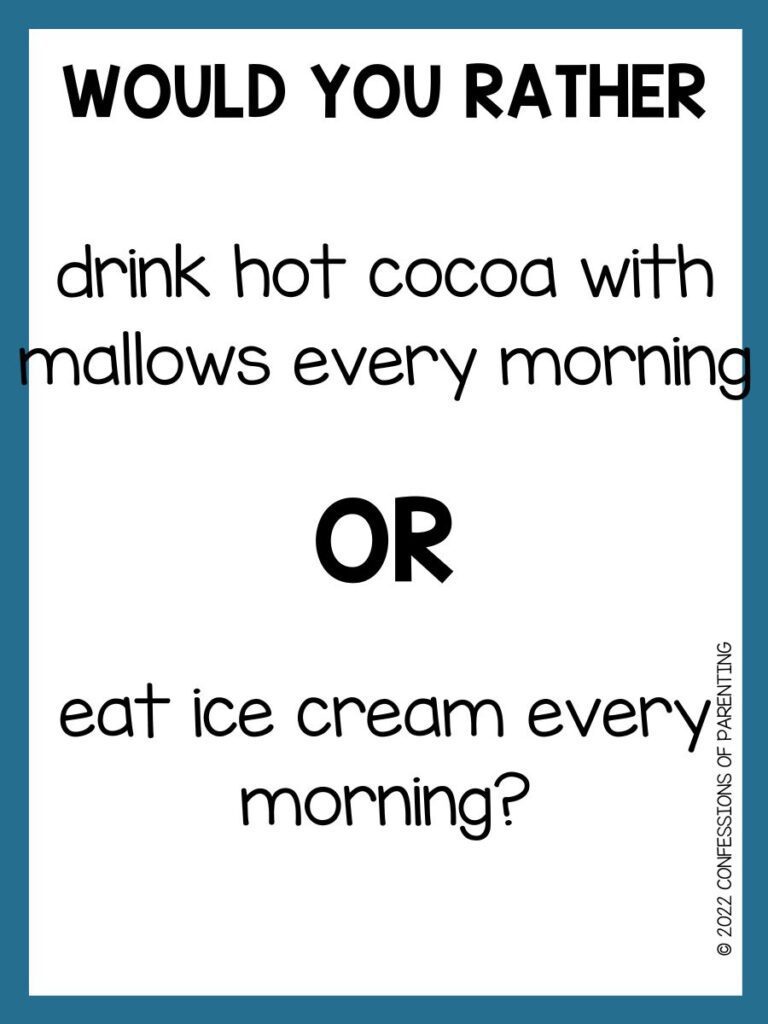 Drink hot cocoa with mallows every morning or eat ice cream every morning?
Live in a gingerbread house for 1 week or live in an igloo for 2 weeks?
Sit by a warm fire in snow or sit by a campfire?
Sip a bowl of spicy beef soup or a bowl of hot chicken noodle soup?
Travel to the North Pole or have an adventure in the desert?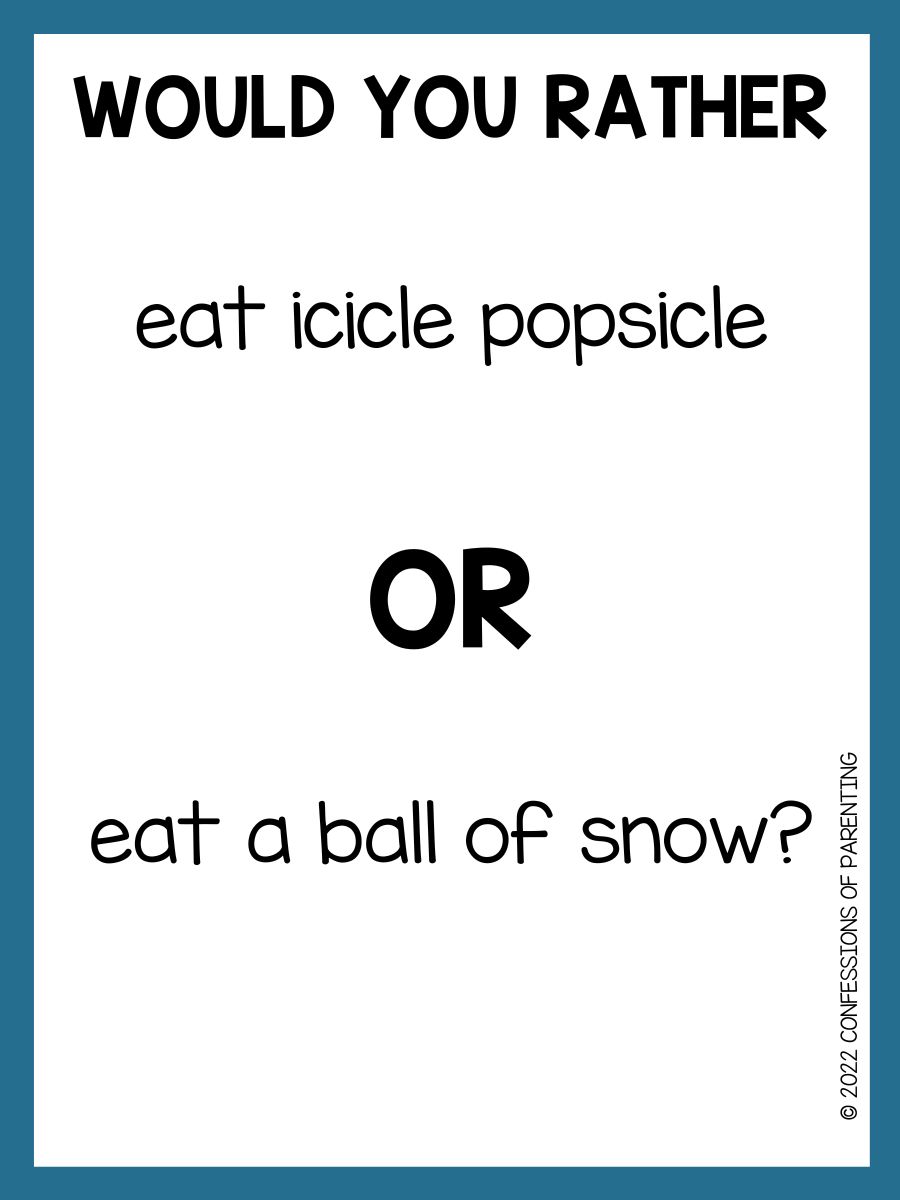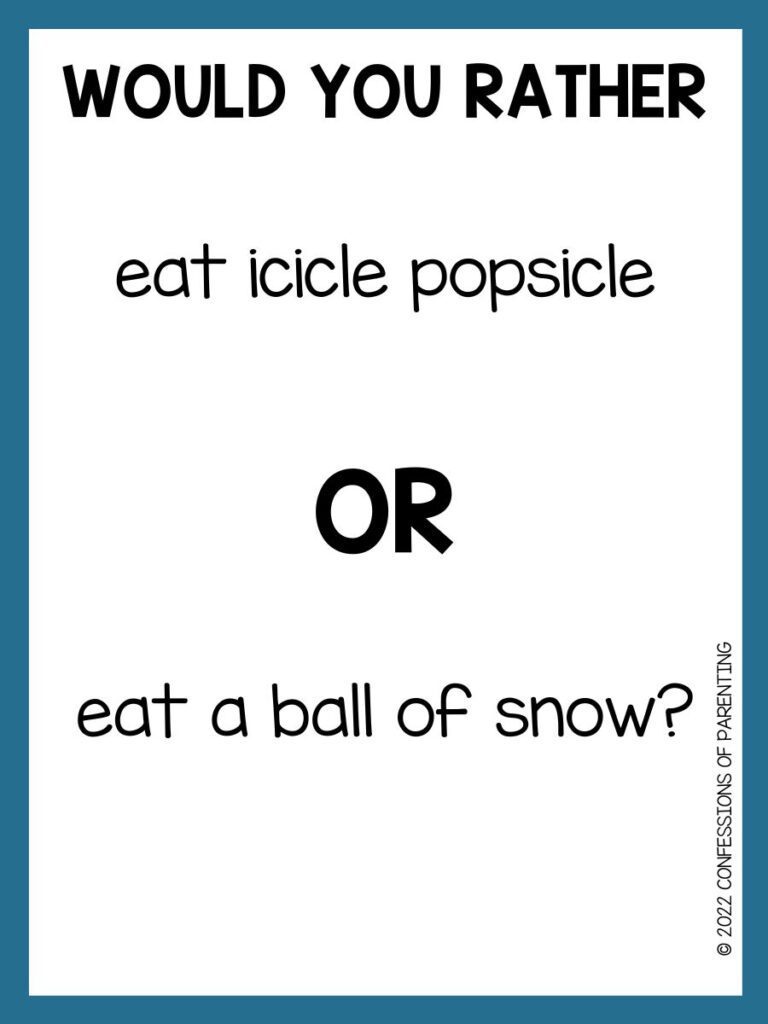 Eat an icicle popsicle or eat a ball of snow?
Go sledding but no gloves and bonnet or go swim but no sunscreen and beach towels?
Have Elsa's power to freeze things or have Olaf's magic and never melt at all?
Wear snowshoes on your hands or bonnet on your feet?
Meet Rudolph the Red-nosed reindeer or Frosty the Snowman?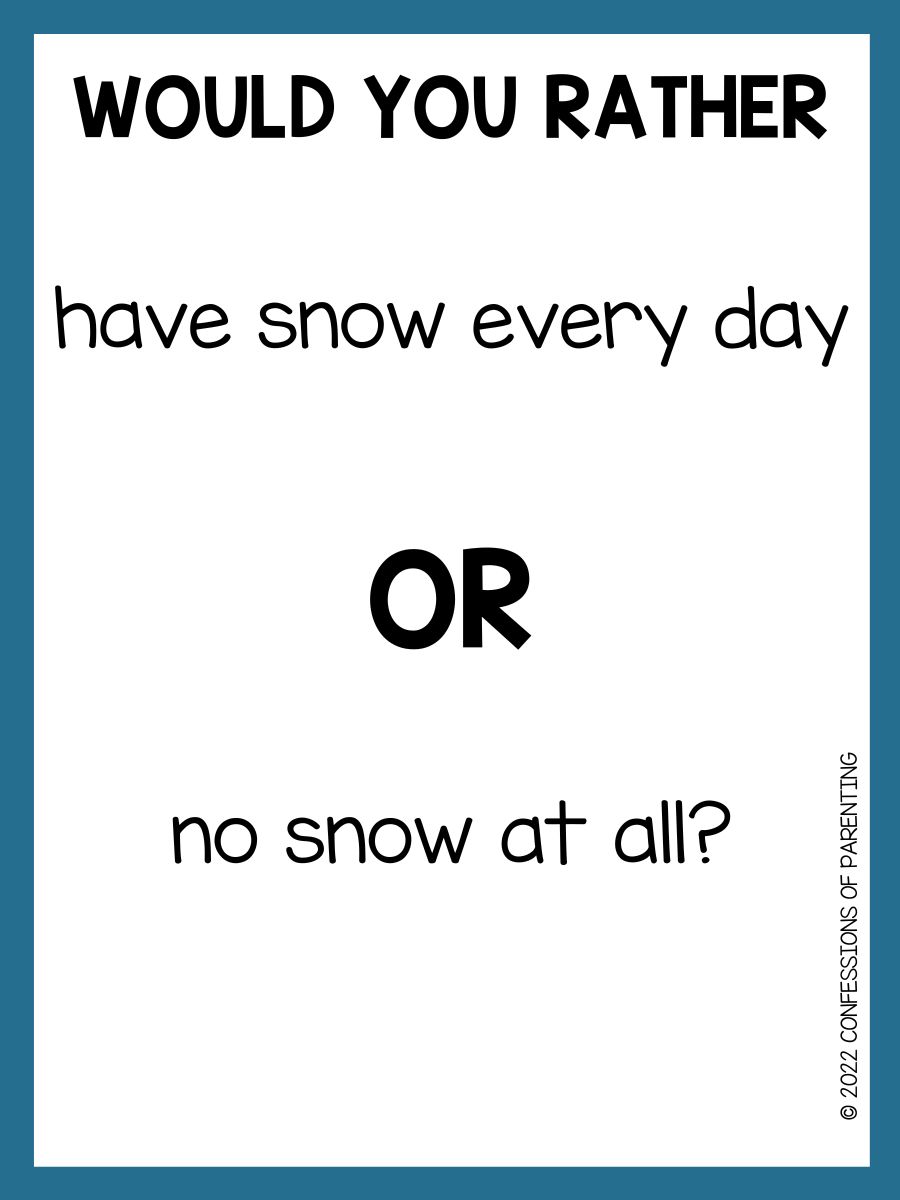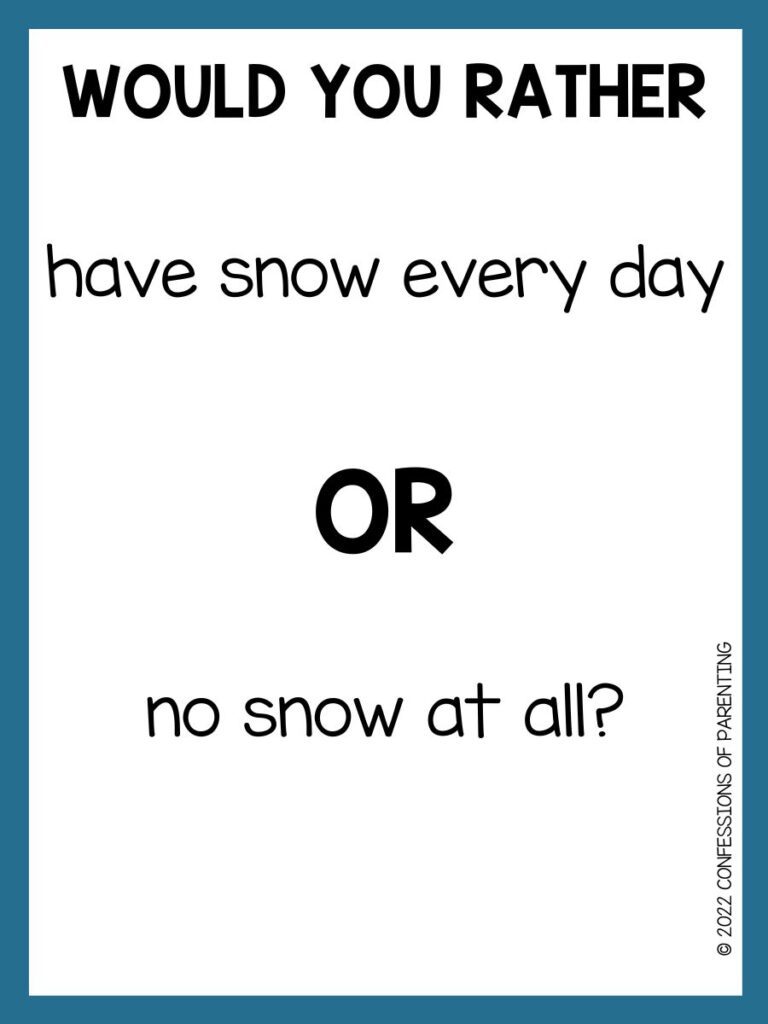 Have snow every day or no snow at all?
Get travel to a future winter holiday or relive a past winter holiday again?
Wash your dad's car in winter or during the scorching heat in summer for the rest of your life?
Go ice skating or go swimming?
Go look at holiday lights or watch the 4th of July fireworks?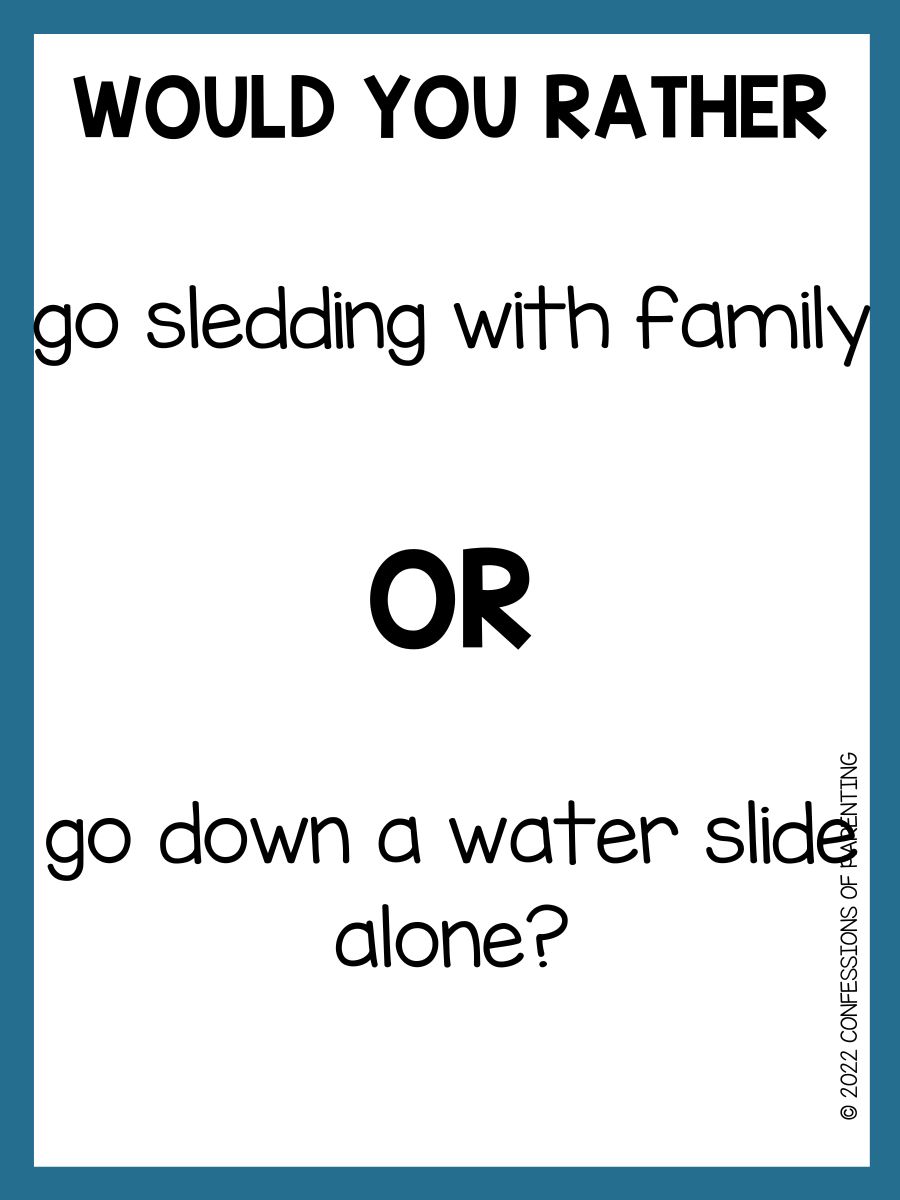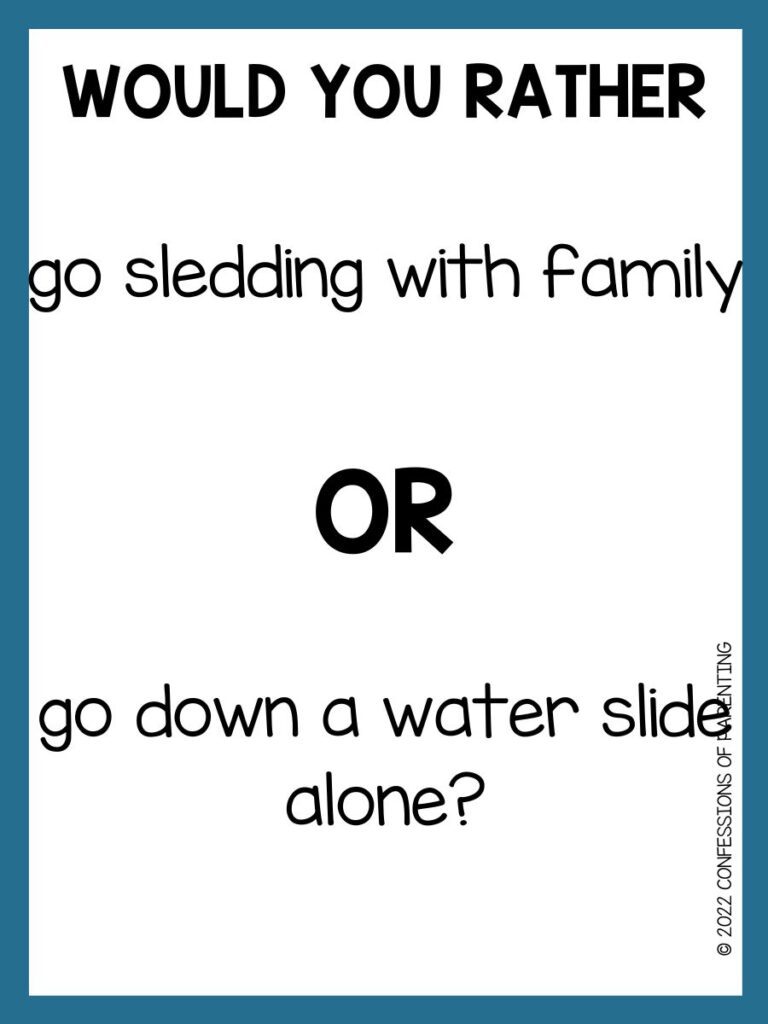 Go sledding with family or go down a water slide alone?
Get hit by a giant snowball or have a giant wave crash down on you?
Shovel the village driveway or mow your neighbor's lawn?
Go snowmobile or go off-roading?
Drive a dog sled or drive a horse-drawn sleigh?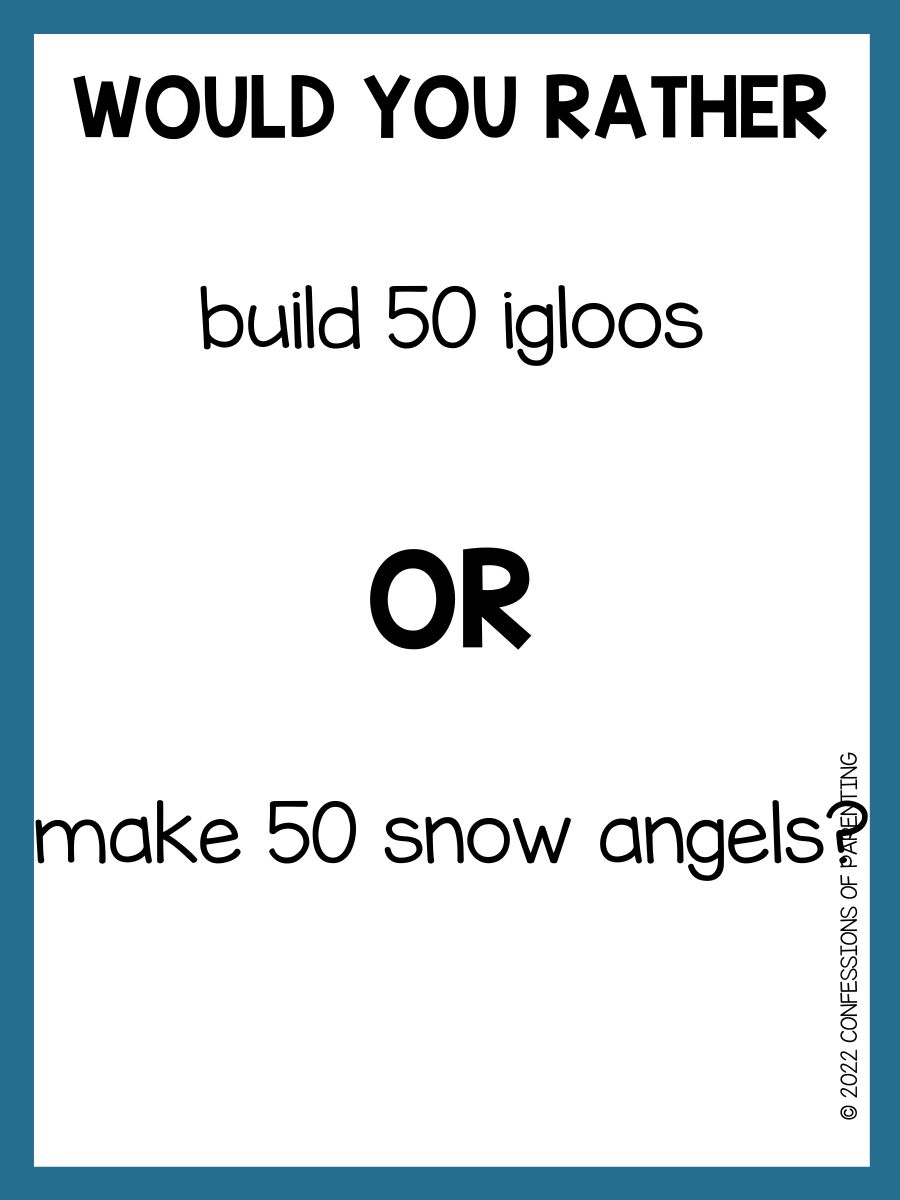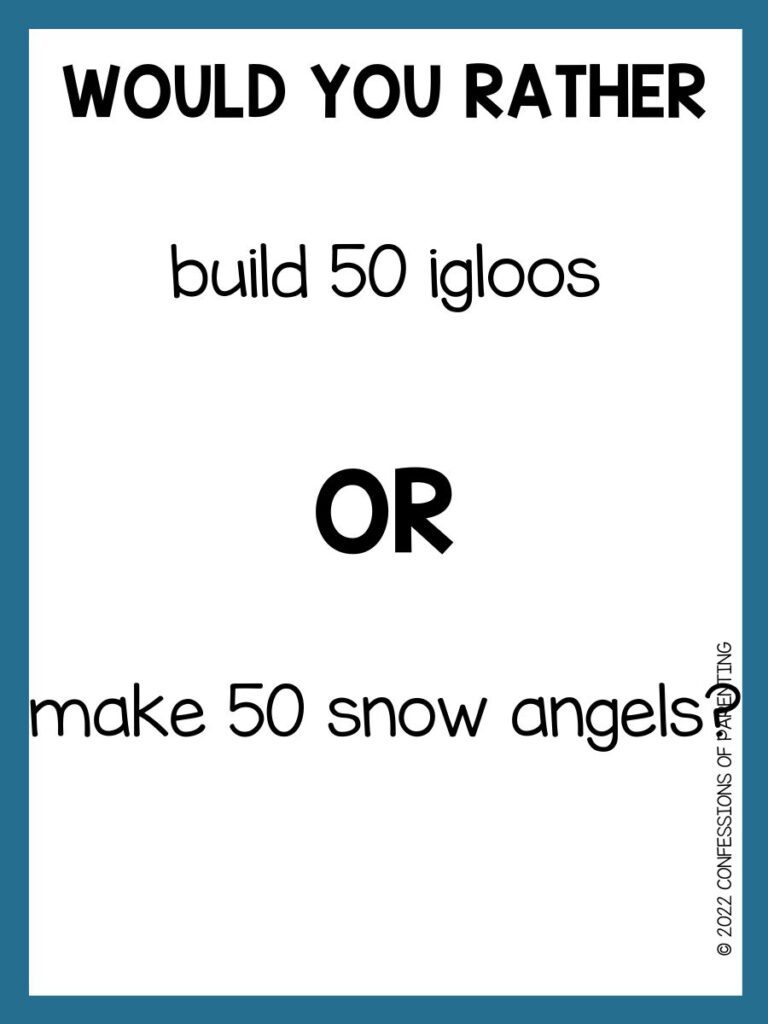 Build 50 igloos or make 50 snow angels?
Play Ice hockey with your parents for 2 days or go figure skating for 2 days with your friends?
Shovel snow or clean the house?
Drink hot cocoa or drink ginger tea?
Have snow buddy with a polar bear or snow body with Olaf?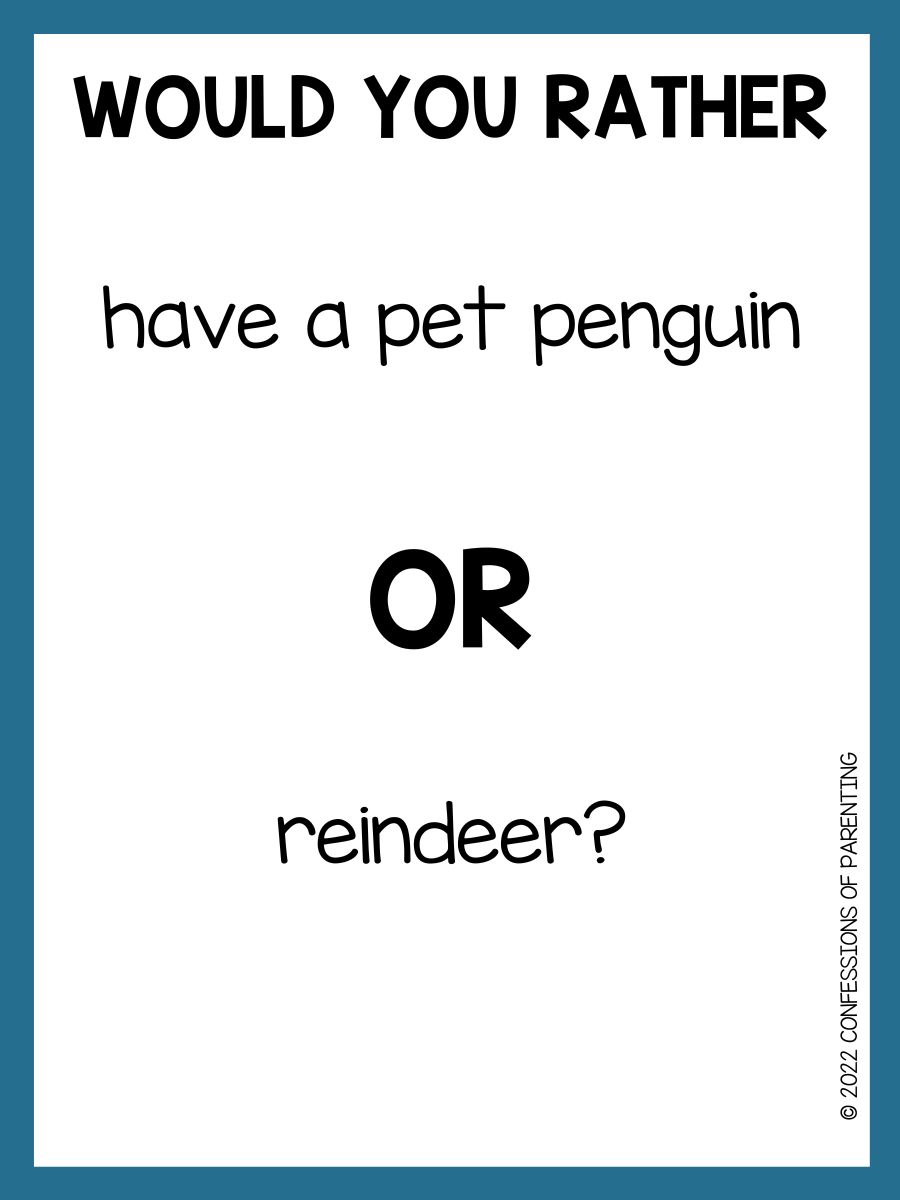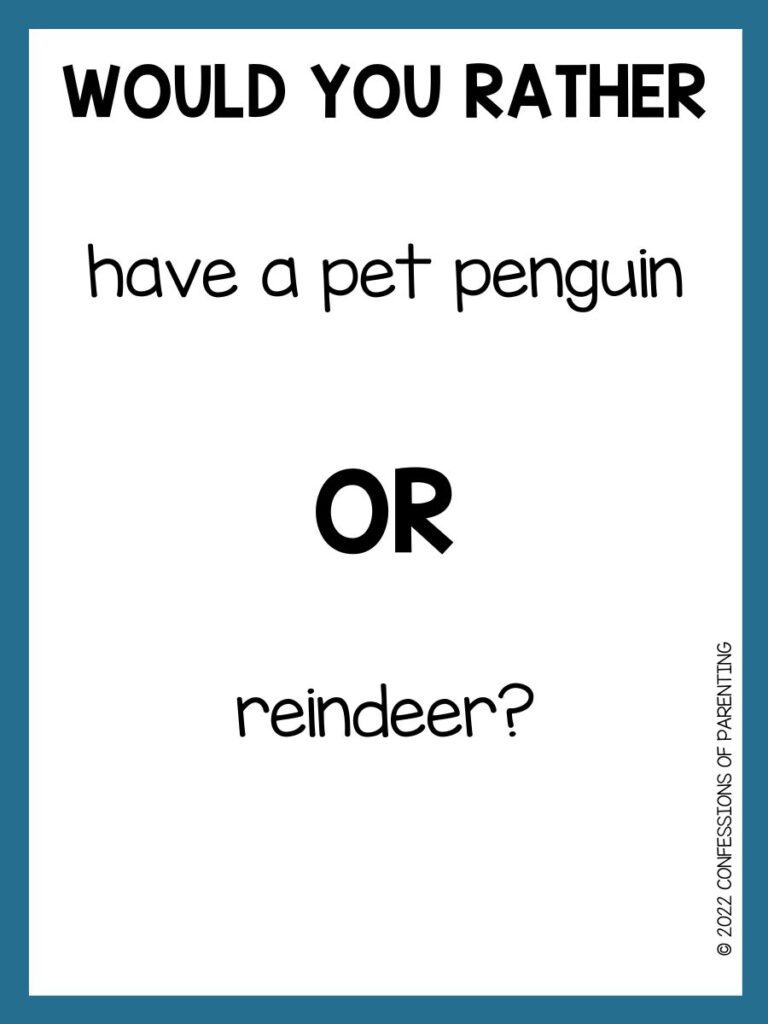 Have a pet penguin or reindeer?
Eat mint candies or sour jello?
Decorate a winter-themed Christmas tree or decorate Christmas cookies?
Have wet socks on your hand for a year or wet mittens on your feet for a year?
Watch Frozen for the whole week or watch The Grinch for the whole week?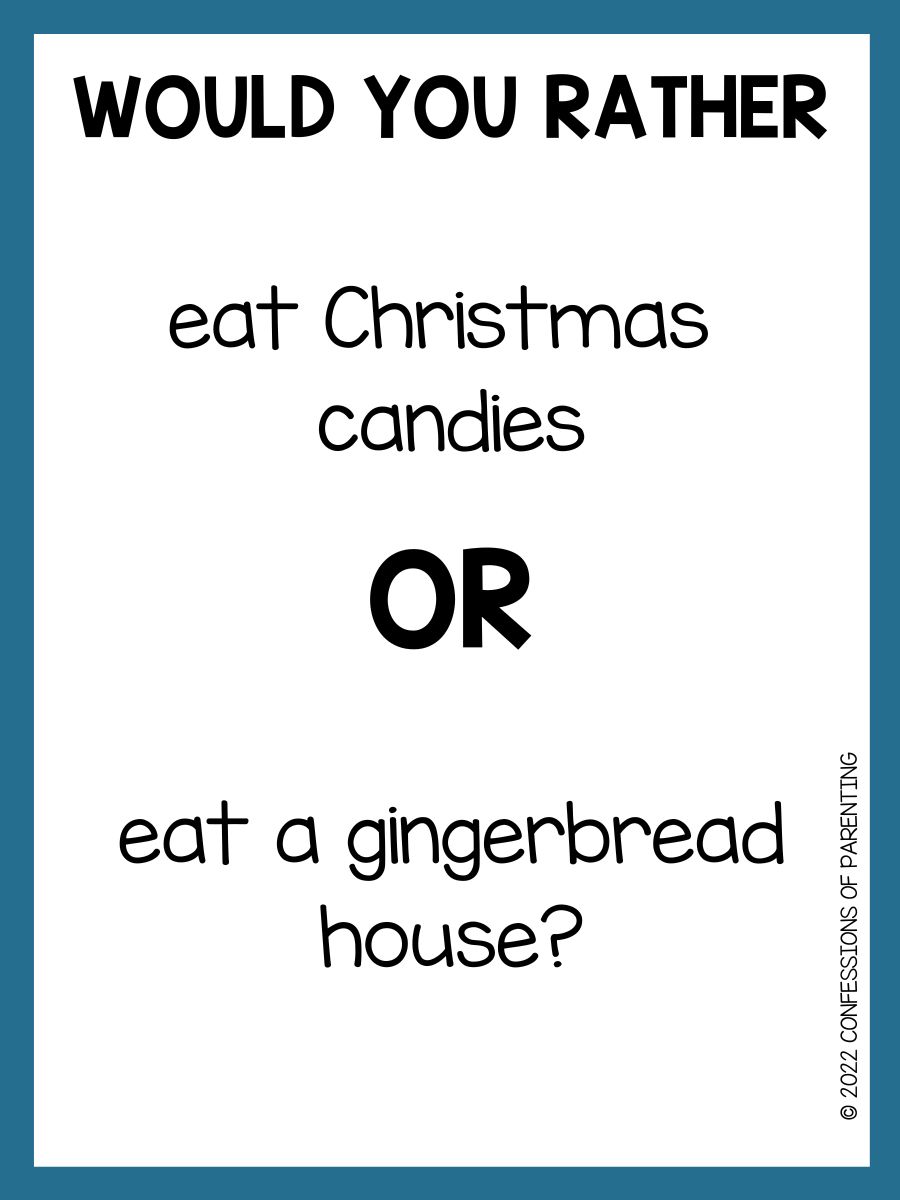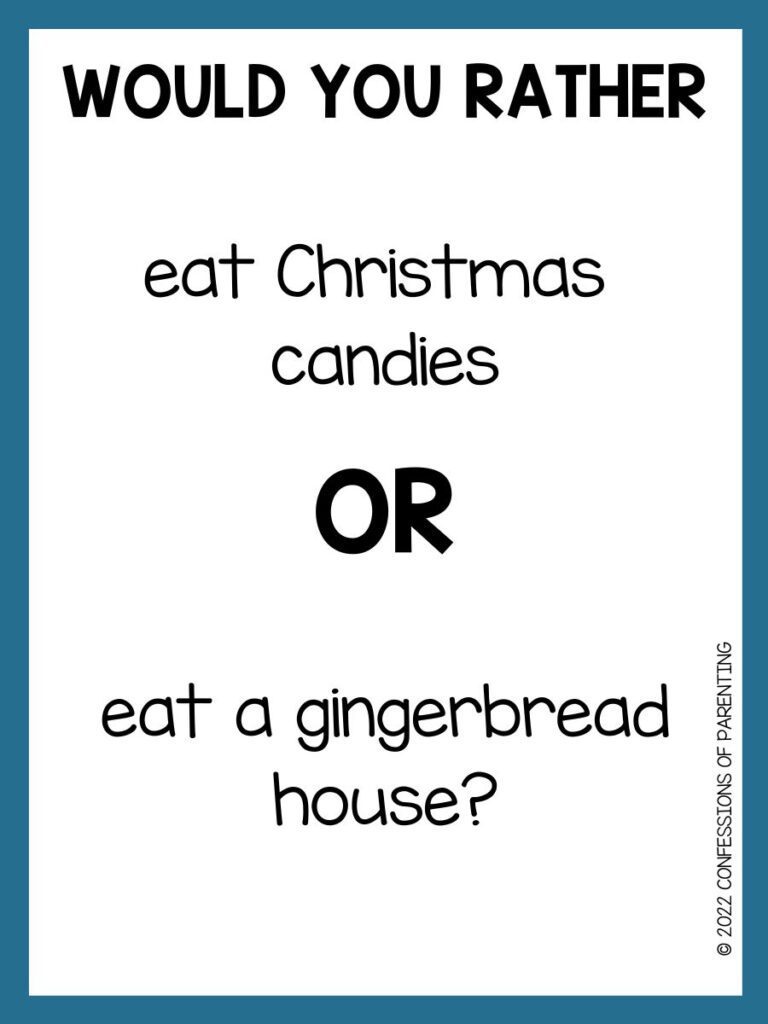 Eat Christmas candies or eat a gingerbread house?
Snuggle in a blanket inside or wrap up and play outside?
Have 4 more weeks of winter or 4 more weeks of summer?
Build 100 snow people or go sledding for 30 minutes?
Play in the snow for 3 hours or stay in and watch a movie for 3 hours?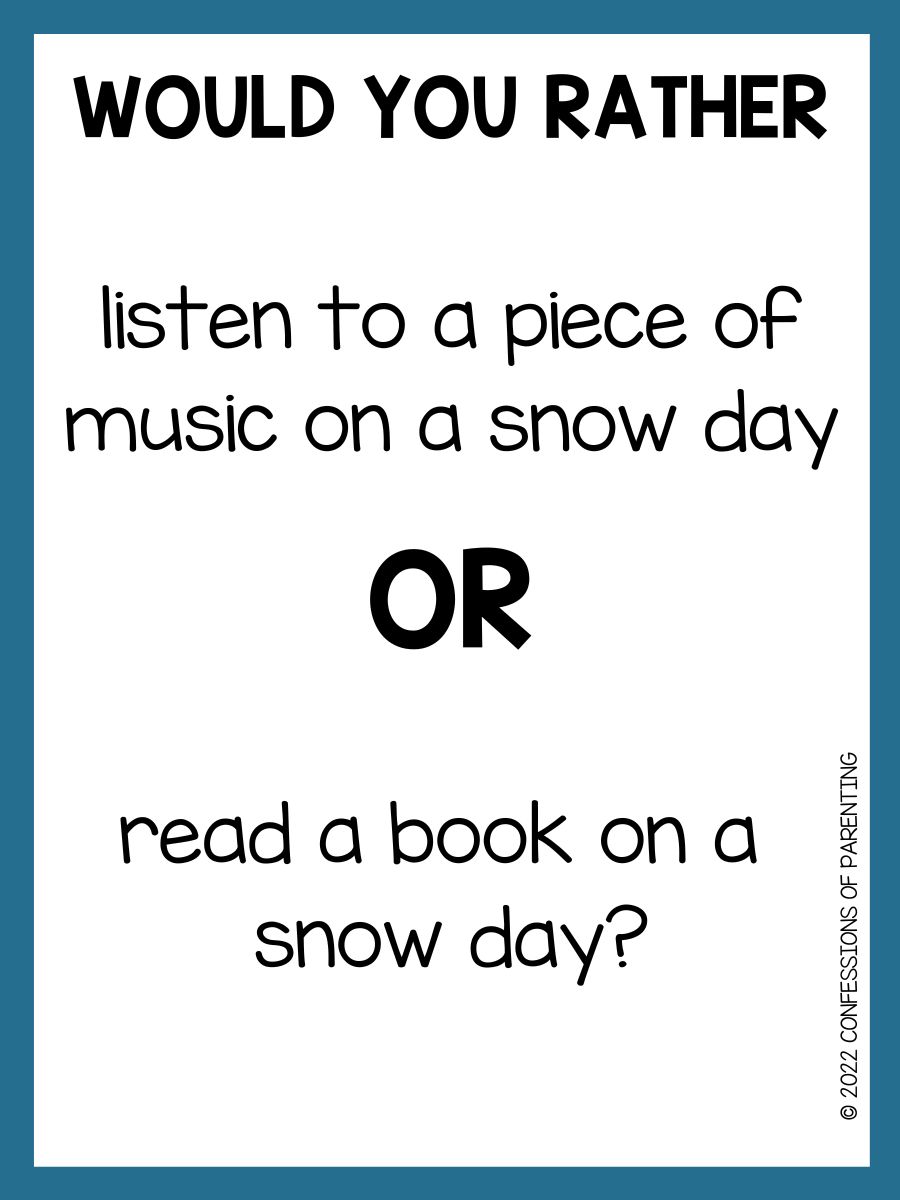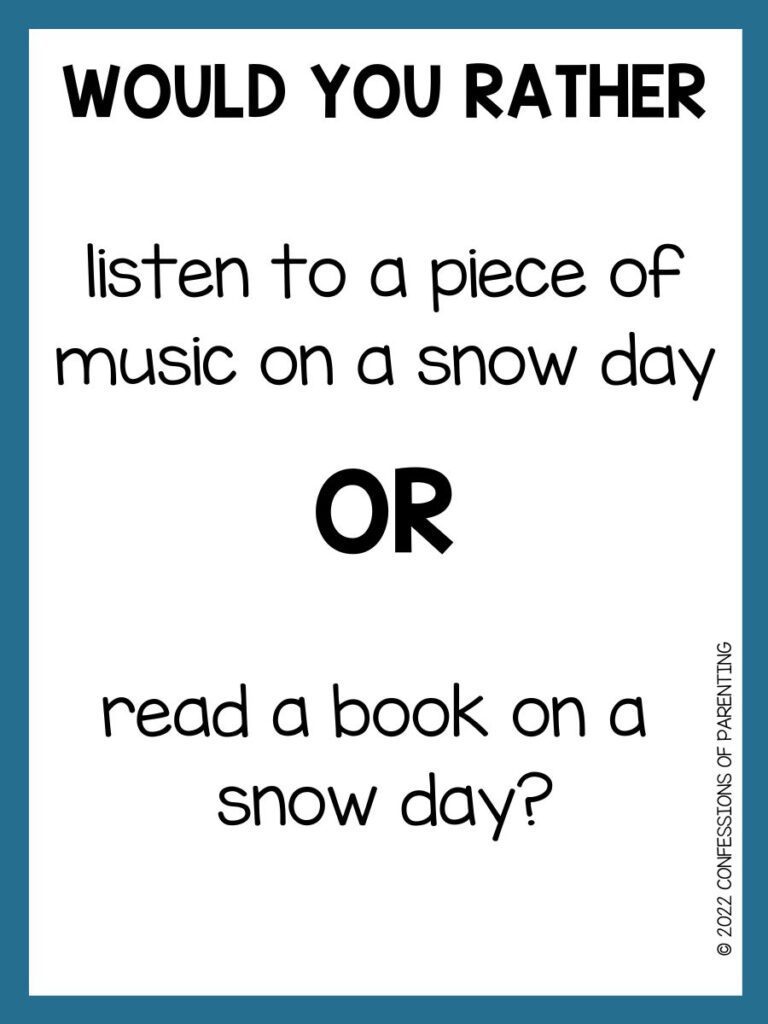 Listen to a piece of music on a snow day or read a book on a snow day?
Wear a cool scarf or wear cool earmuffs?
Have friends with a polar bear or have friends with a penguin?
Be an arctic fox or be a snowy owl?
Have penguin flippers or have walrus tusks?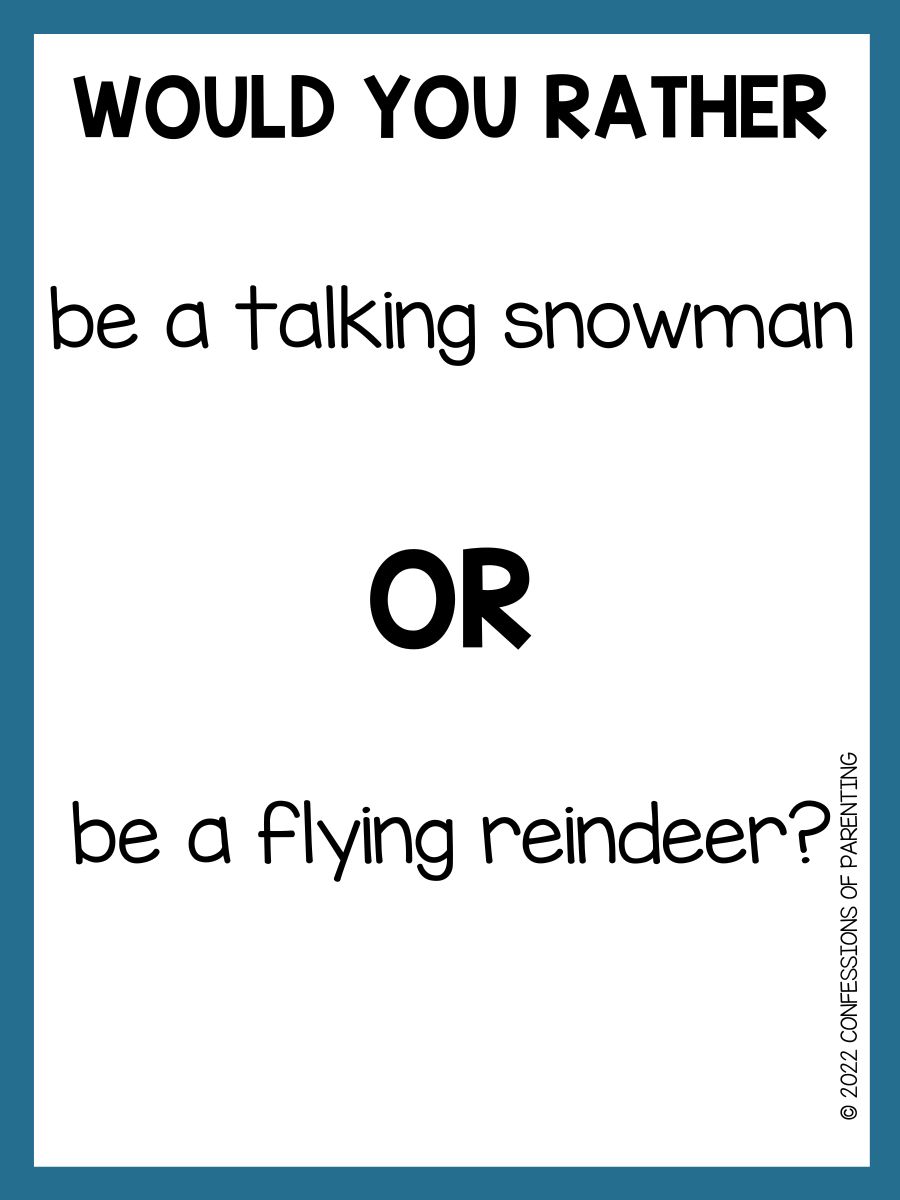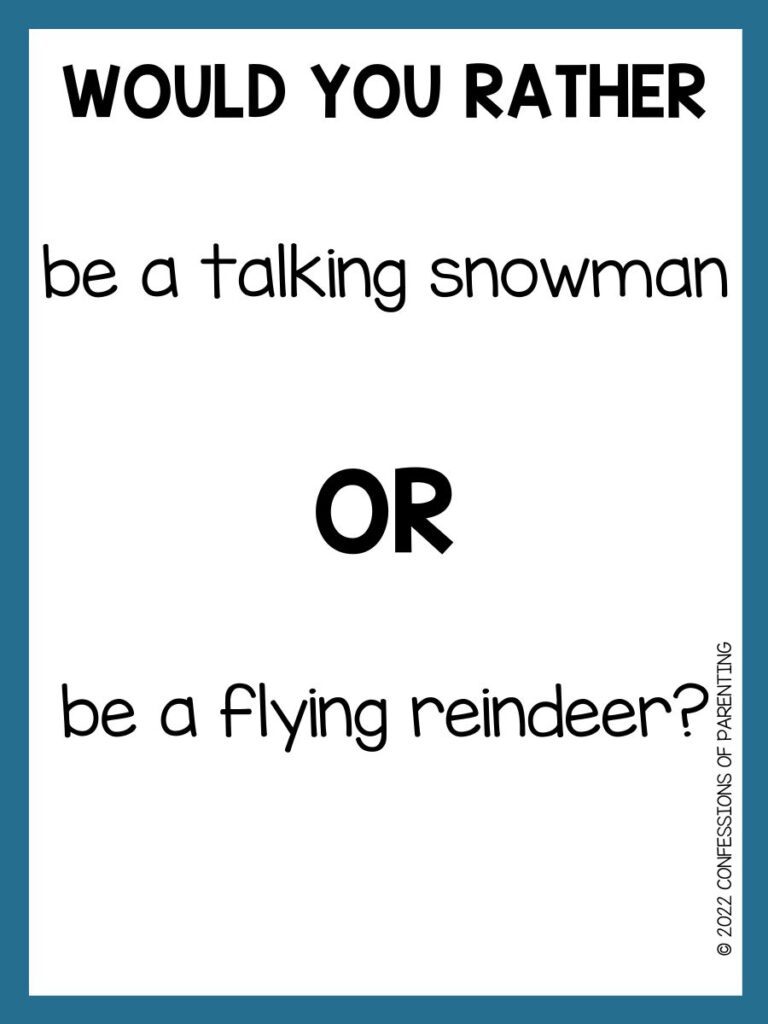 Be a talking snowman or be a flying reindeer?
Always be cold or always be warm?
Bake a gingerbread man that comes to life or build a snowman that comes to life?
Hibernate all winter or migrate to a warmer place?
Sled down a huge hill once or sled down a small hill 30 times?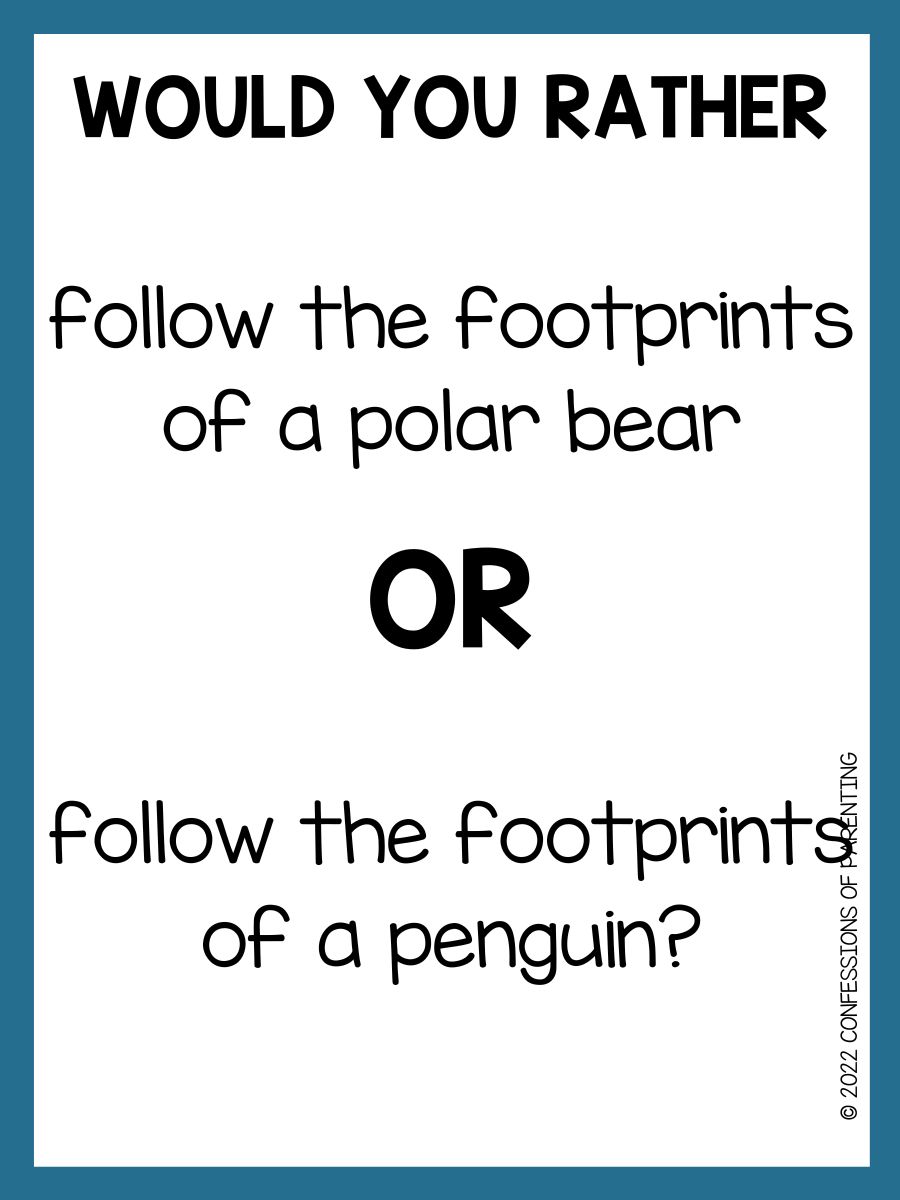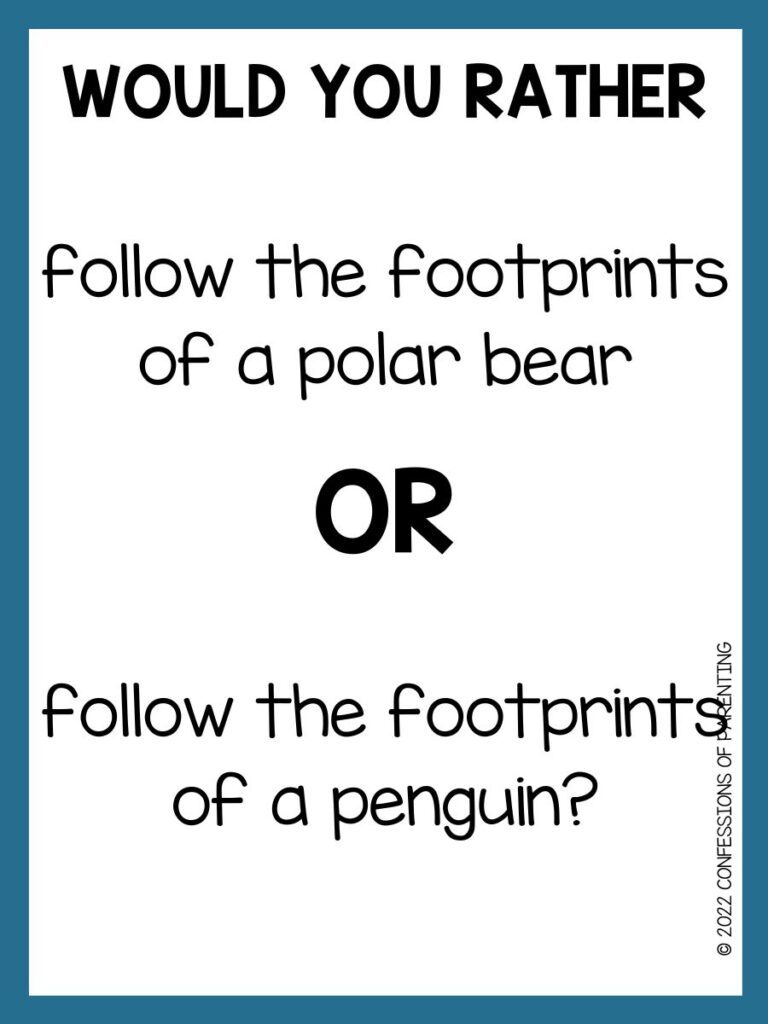 Follow the footprints of a polar bear or follow the footprints of a penguin?
Walk barefoot in the snow or wear a snowman costume at school?
Play in the snow or stay fireside?
Drink more warm milk or drink more warm water?
Forget your coat or forget your mitten?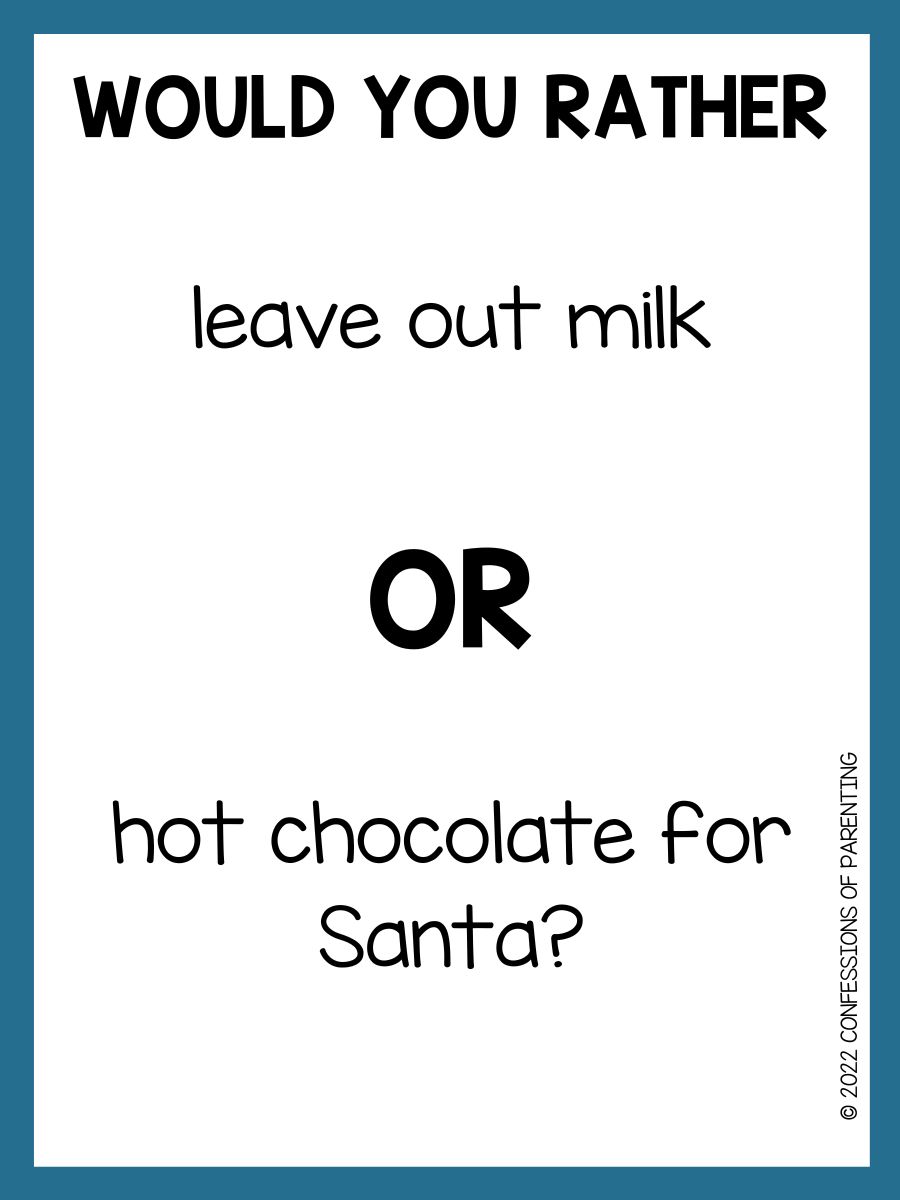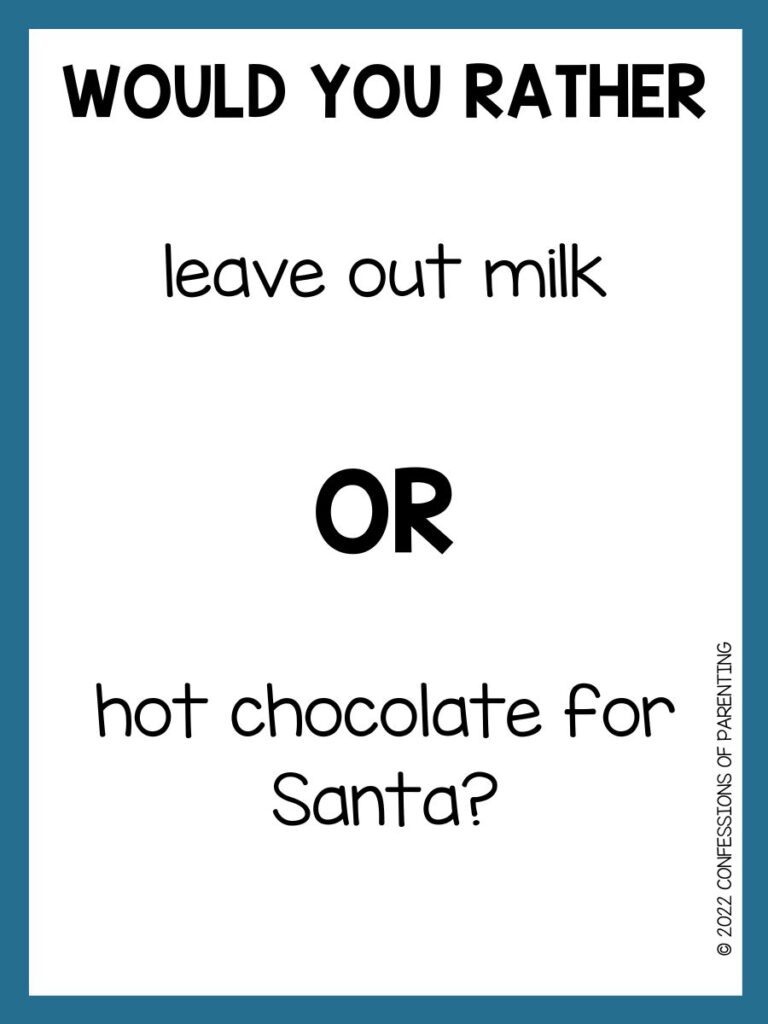 Leave out milk or hot chocolate for Santa?
Clear icicles or shovel snow?
Eat a pint of hot ice cream or eat a bowl of cold chicken soup?
Be in winter forever or summer forever?
Have a cold winter with less snow or a warm winter with more snow?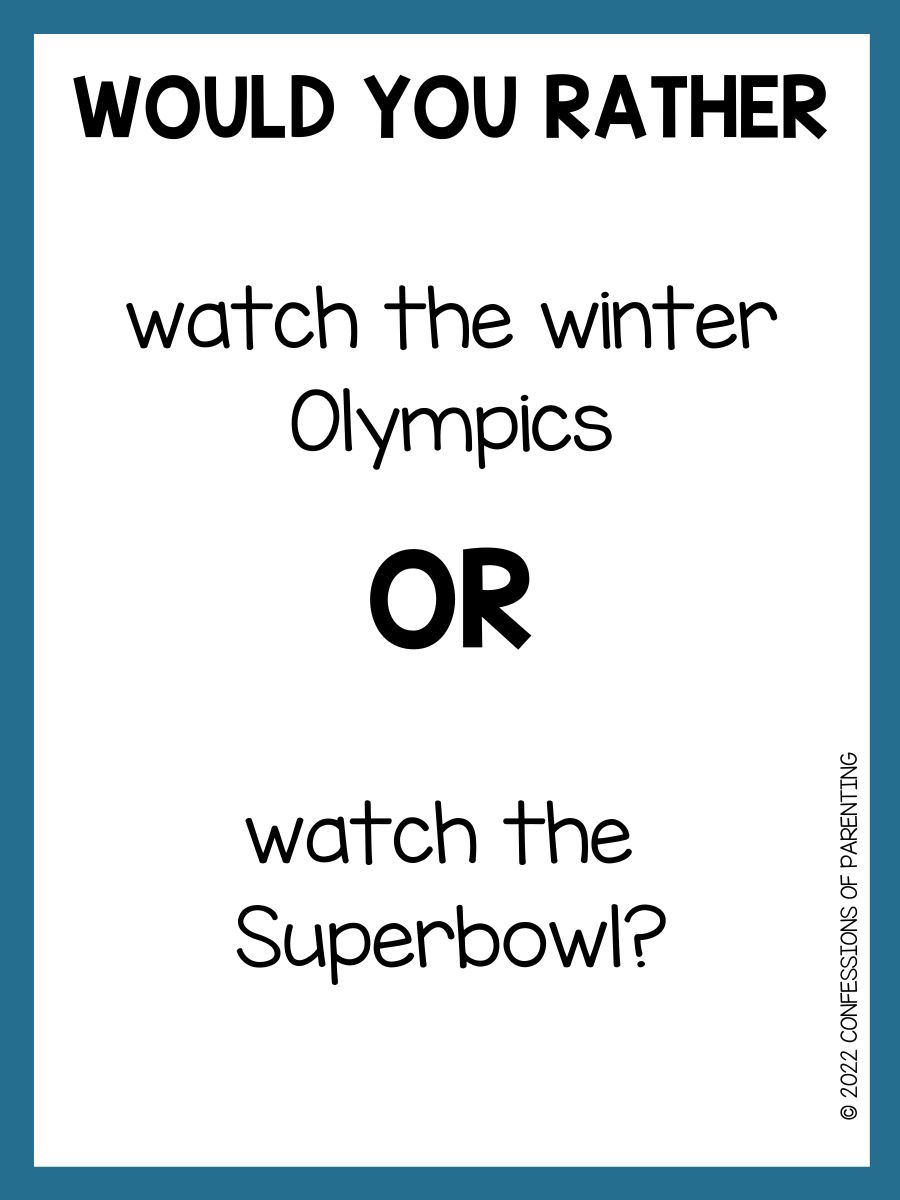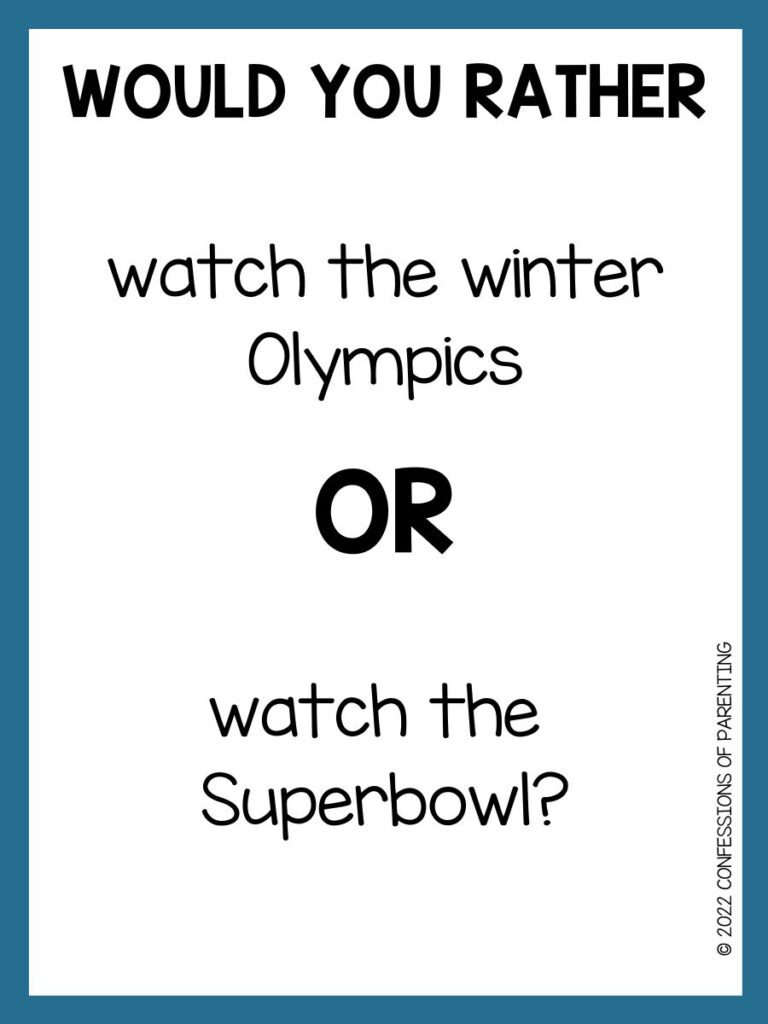 Watch the winter Olympics or watch the Superbowl?
Let it snow or melt it all?
Eat hot fudge or warm cookies?
Build 20 igloos or build 20 snow forts?
Play in snow or stroll in the woods?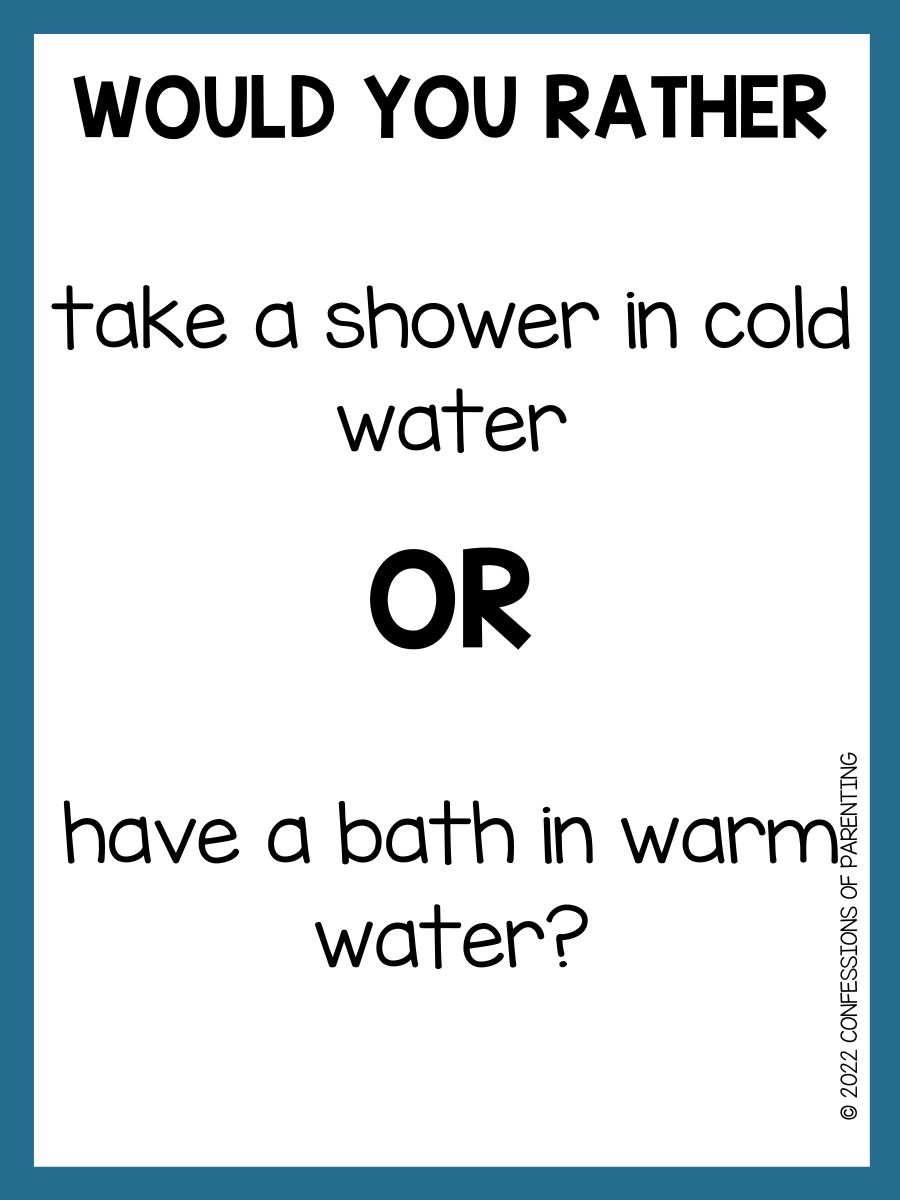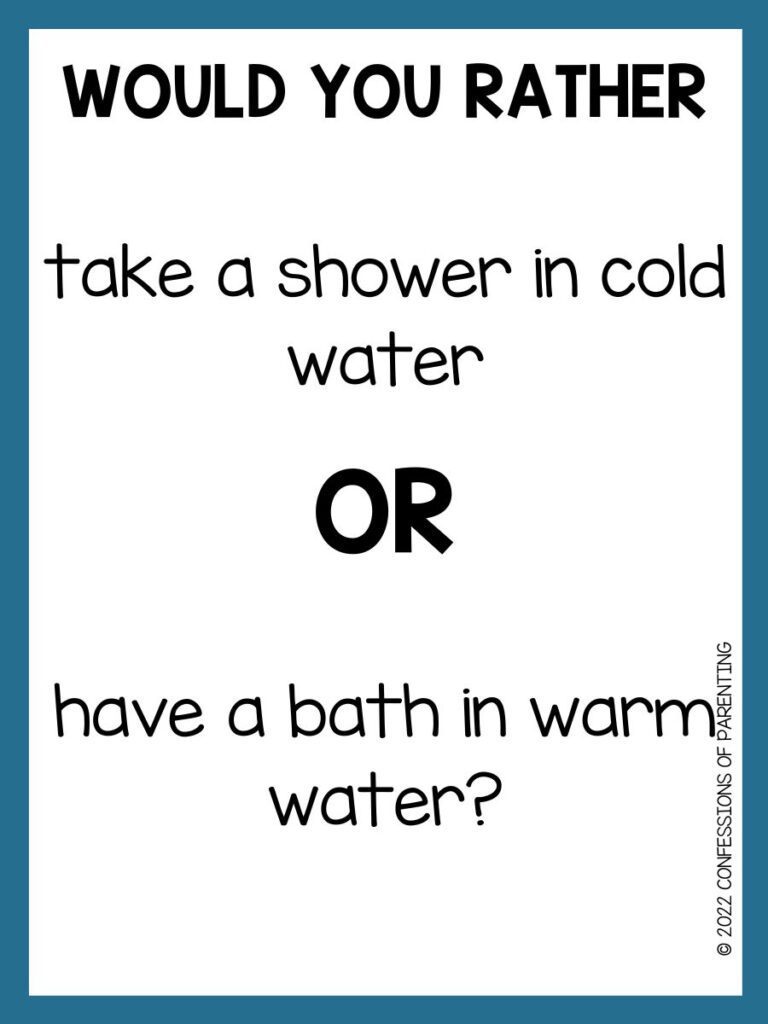 Take a shower in cold water or have a bath in warm water?
Wear sweaters for the rest of your life or never wear sweaters again?
Hug a polar bear or shake hands with a penguin?
Make your own sweater or buy one from a store?
Be given warm milk or a cup of hot chocolate with marshmallows?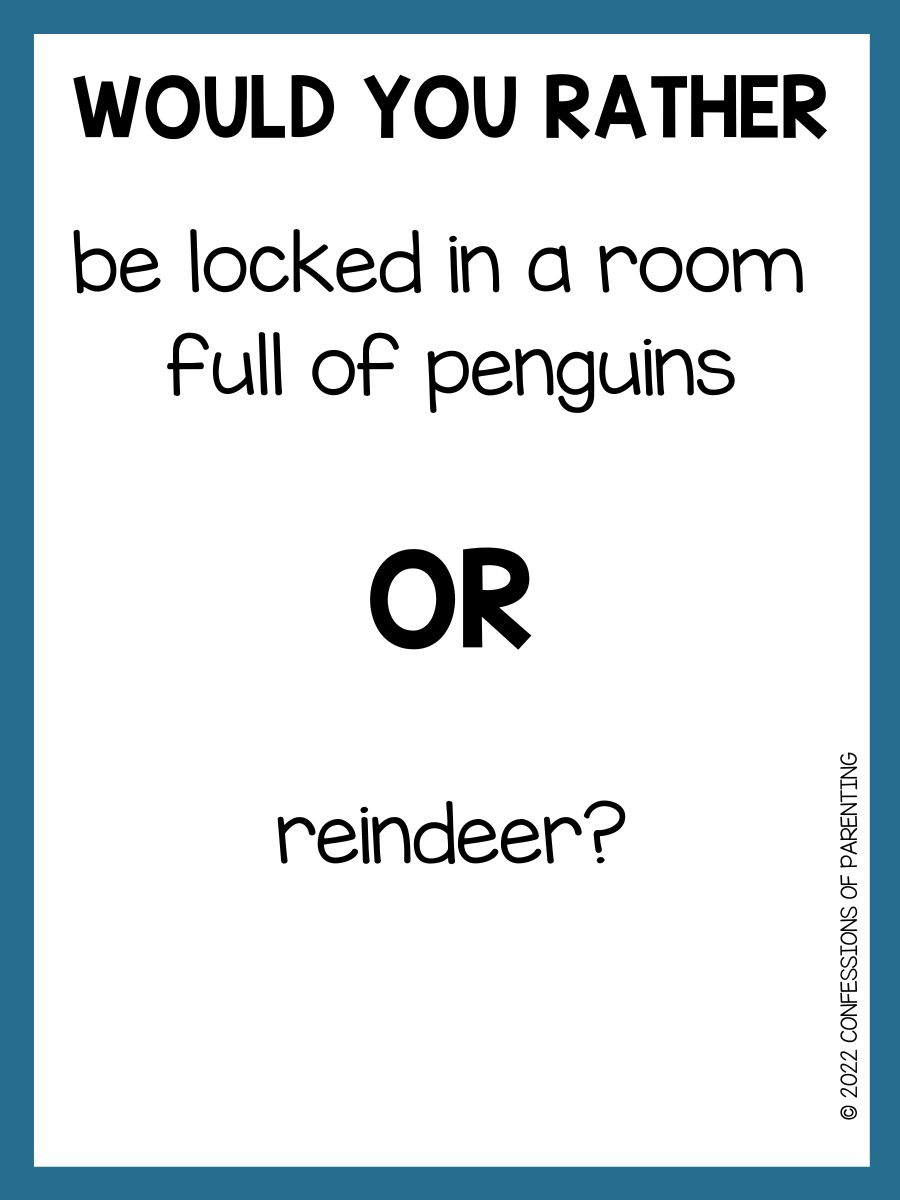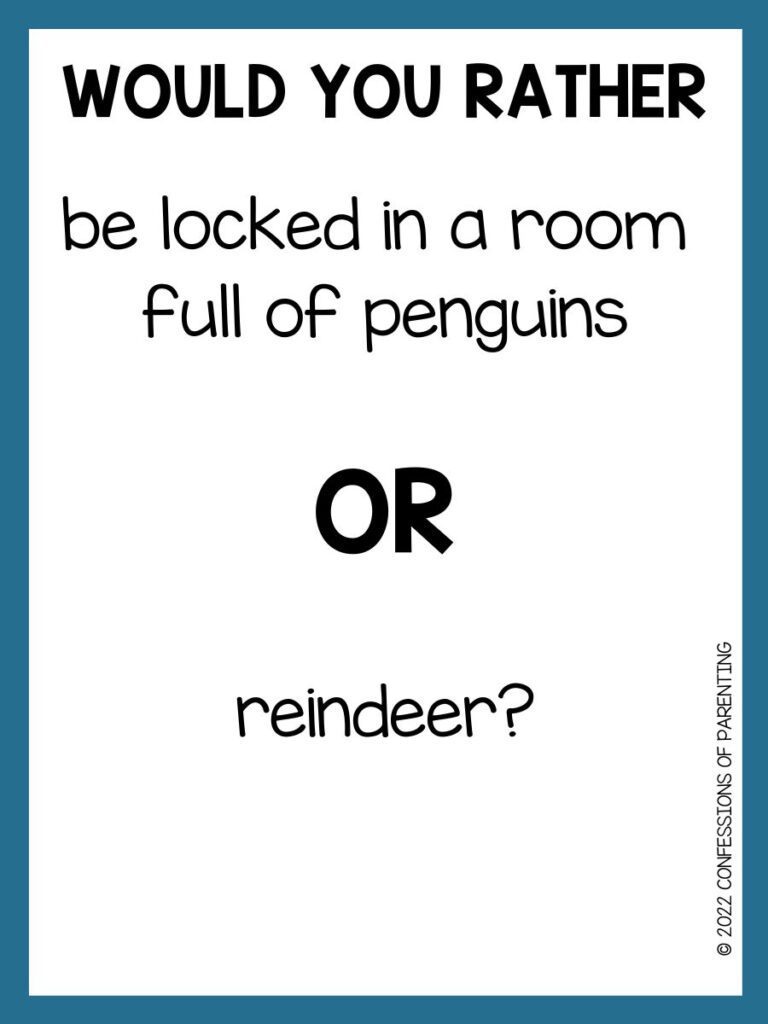 Be locked in a room full of penguins or reindeer?
Have a snow-head or penguin flippers?
Get soak with warm milk or hot cocoa?
Go for a ride in Polar express or take a trip to the North Pole?
Have mittens for feet or skis on hand?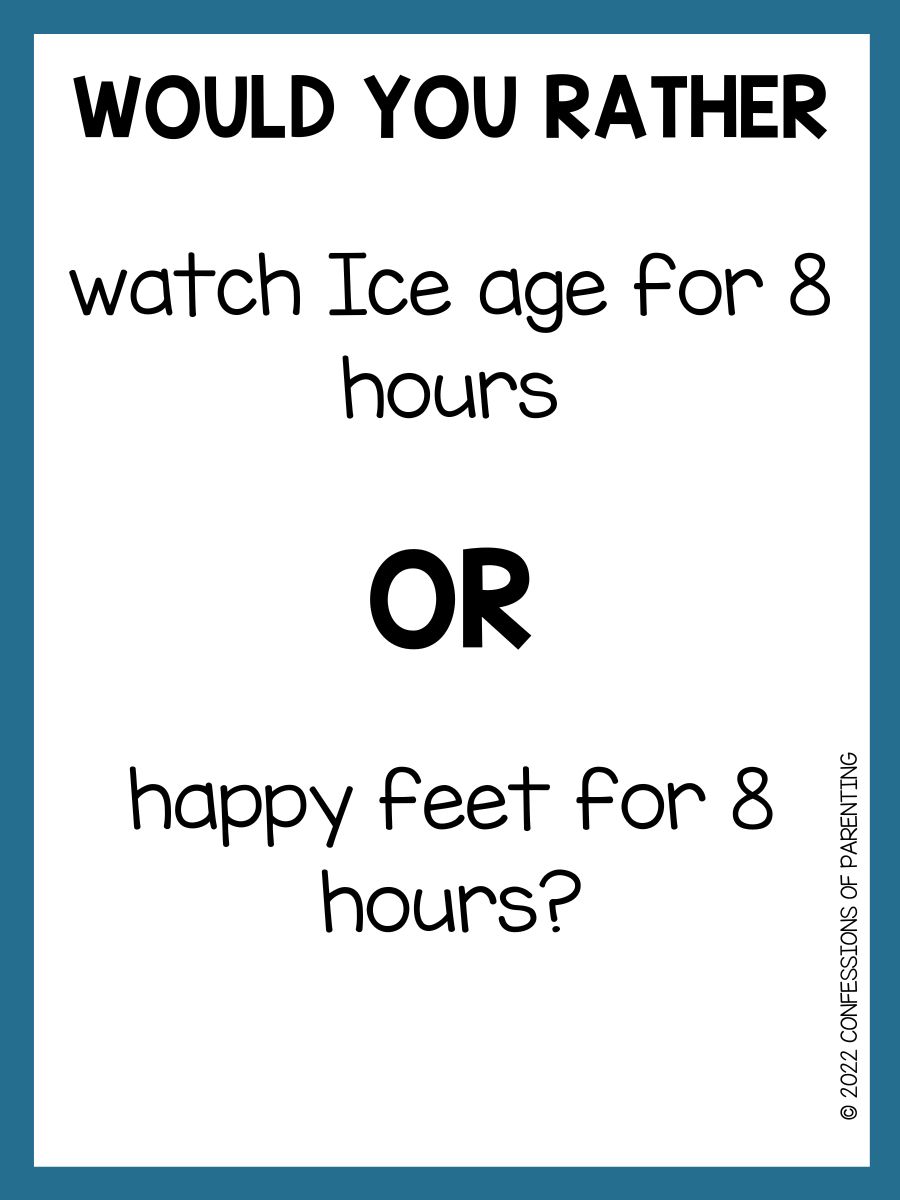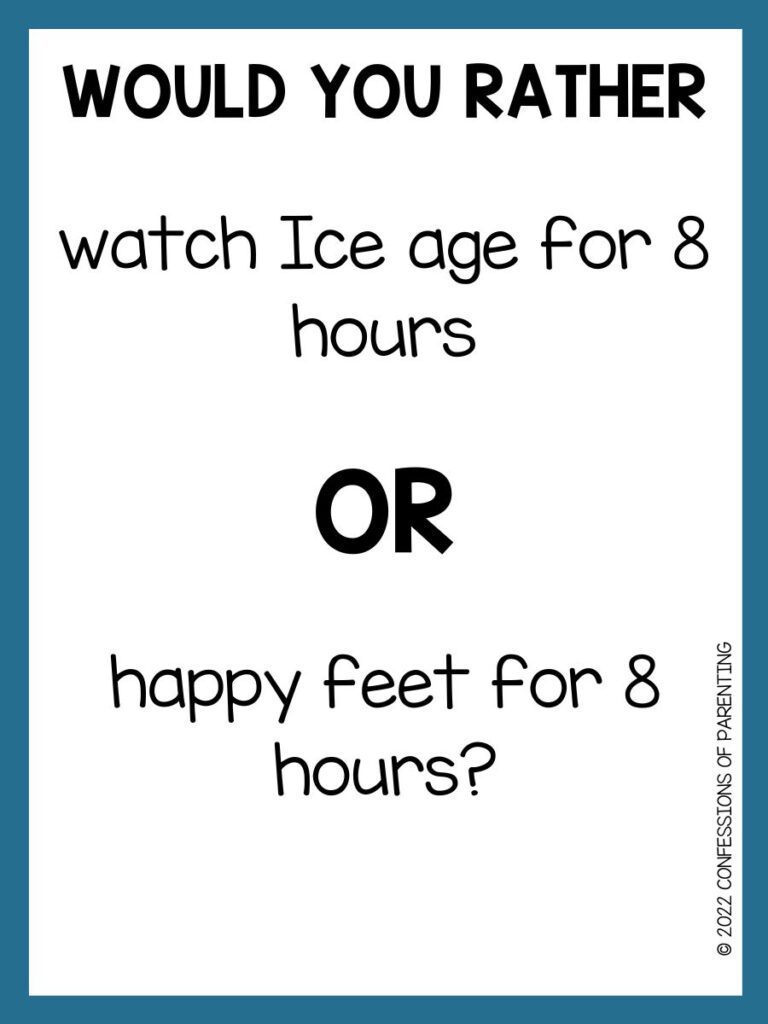 Watch Ice age for 8 hours or Happy feet for 8 hours?
Be an elf at the North Pole or one of the horse-drawn sleighs?
Have a complete family trip to the North Pole or on a beach with a few family members?
Have a bonfire and smores or watch a holiday movie and hot cup of chocolate?
Perform in the Nutcracker or play in the Super Bowl?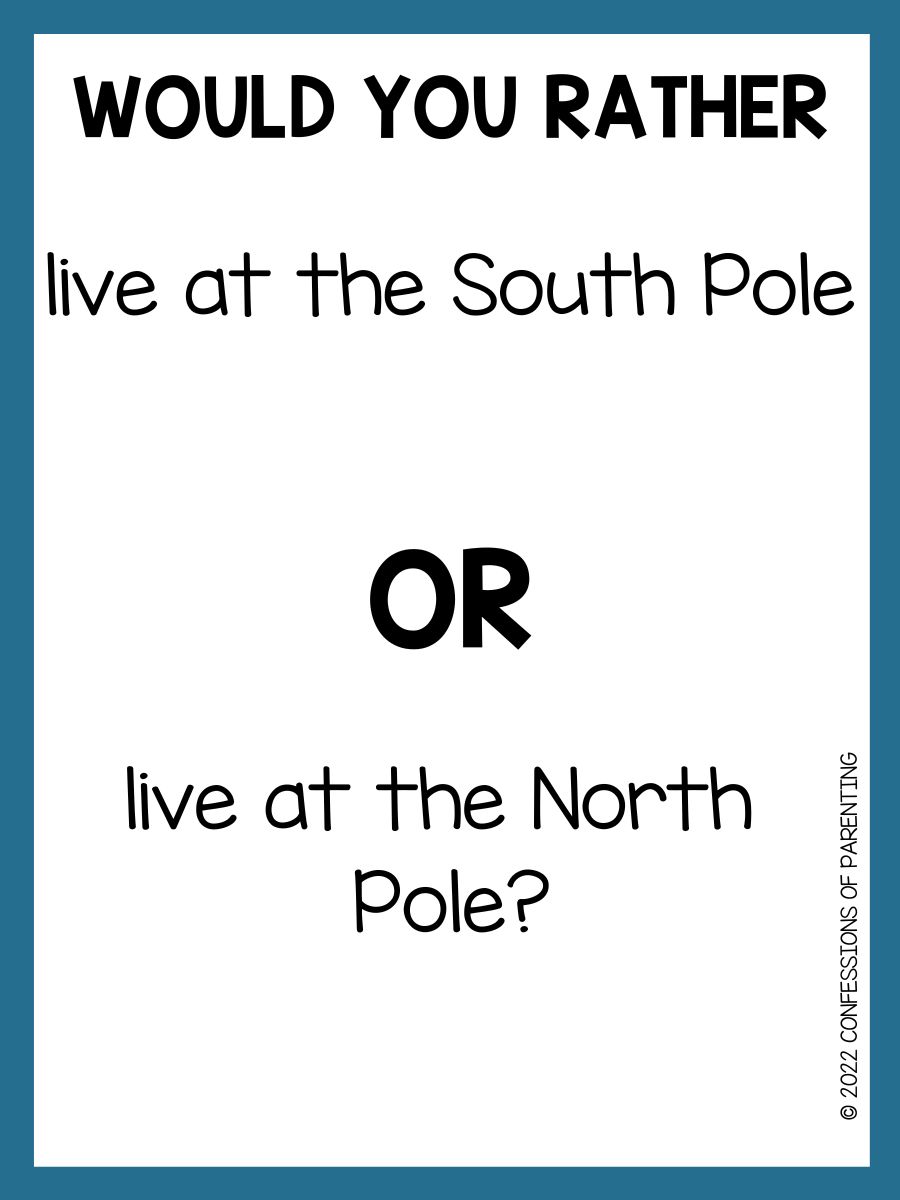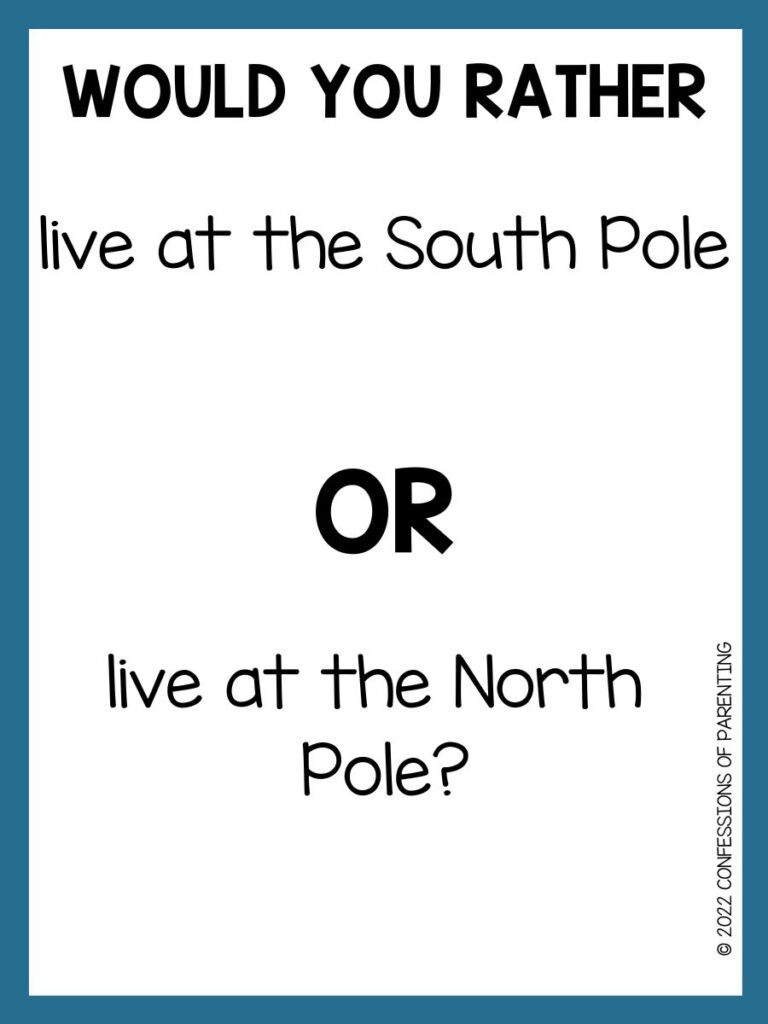 Live at the South Pole or live at the North Pole?
Have a cup of hot choco with a Polar bear or make a hot choco with a polar bear?
See the Nut Cracker or dance in the Nut Cracker?
Make a growling sound like a polar bear for 2 hours or walk like a penguin for 2 hours?
Live in Aurora Borealis where nobody knows you or somewhere that everybody knows you?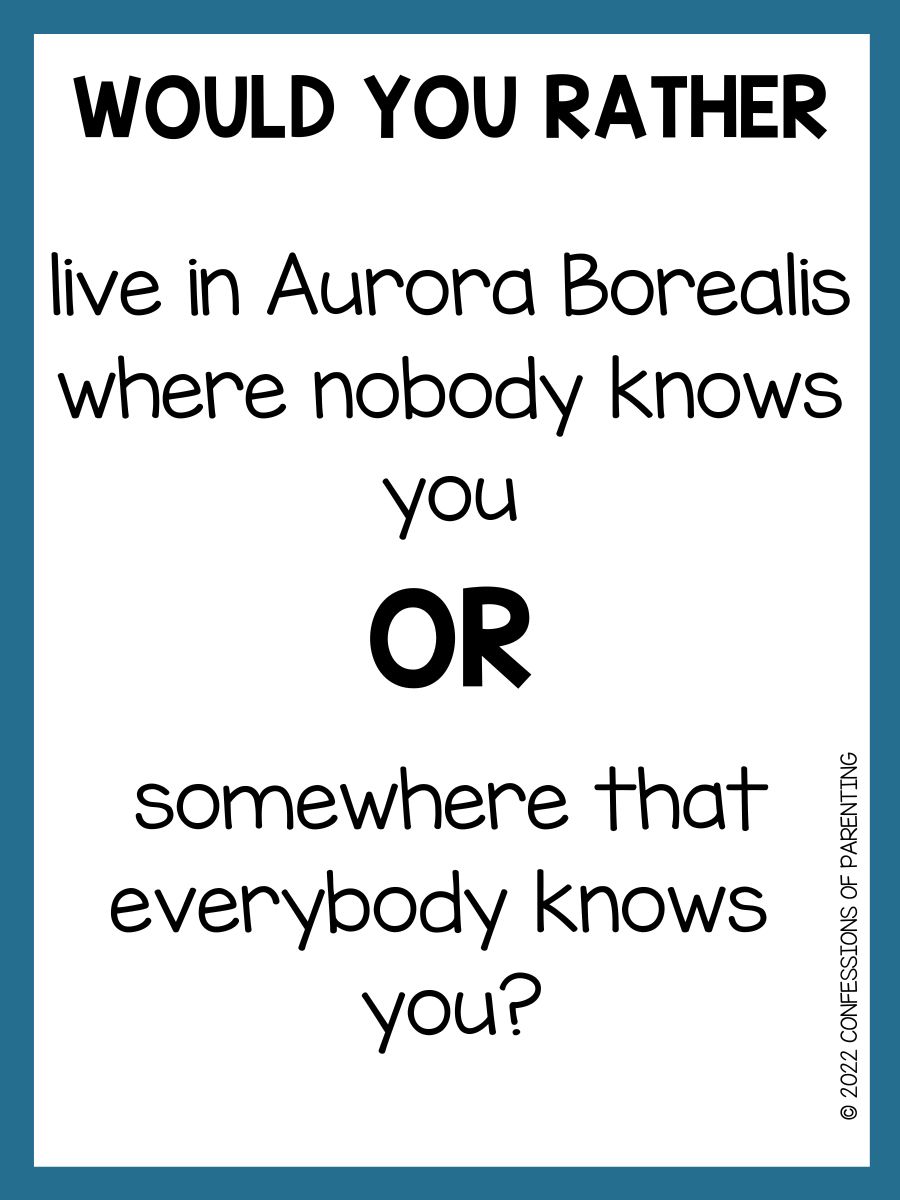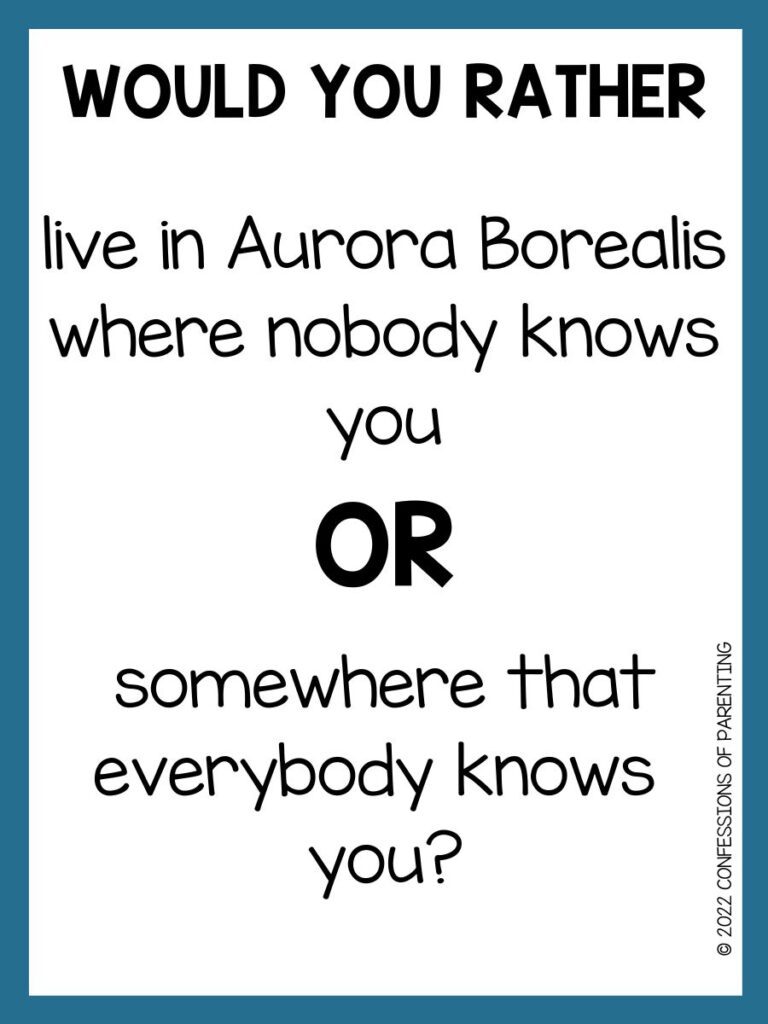 If you love, would you rather, grab some of our most popular would you rather games! If you are looking for our free would you rather game, scroll a little bit further to sign up!
Love Would You Rather? Try These fun Versions!
How Do I access my free printables?
Fill in the form above. You will receive an email in your inbox. If you don't see it, check your spam folder! You will then click to confirm your subscription. Once confirmed, you will be sent your printable through your email.
How Do I Print a PDF?
You'll need a program that supports PDFs. Adobe Acrobat is a great option. Open the program, click File, then print. Select your printer and the number of copies you want to print. Be sure you click double-sided if you want it to print on both sides.
Can I resell these?
You may not resell any printable found on our website or in our resource library. You may use them for class parties, at church, at home, or in the classroom. You may get these printed at an office supply store or copy center at your own expense.