Start a new tradition with your family this year and get into the Christmas spirit with these festive Christmas Would You Rather questions!
Would You Rather Christmas Edition
With presents, food, sweets, decorations, and family time, Christmas is my favorite time of year! I am always on the hunt for some fun games that the whole family can play. My kids can't get enough of Christmas Charades so to keep the holiday fun going, I've created Christmas Would You Rather questions!
Would You Rather is such a fun and simple game to play as a family. I love Christmas Would You Rather because it gets everyone talking about the holidays and it's easy for everyone to play, no matter the age!
So when you are brainstorming Christmas Party Ideas, make sure to include a round of Would You Rather Christmas edition!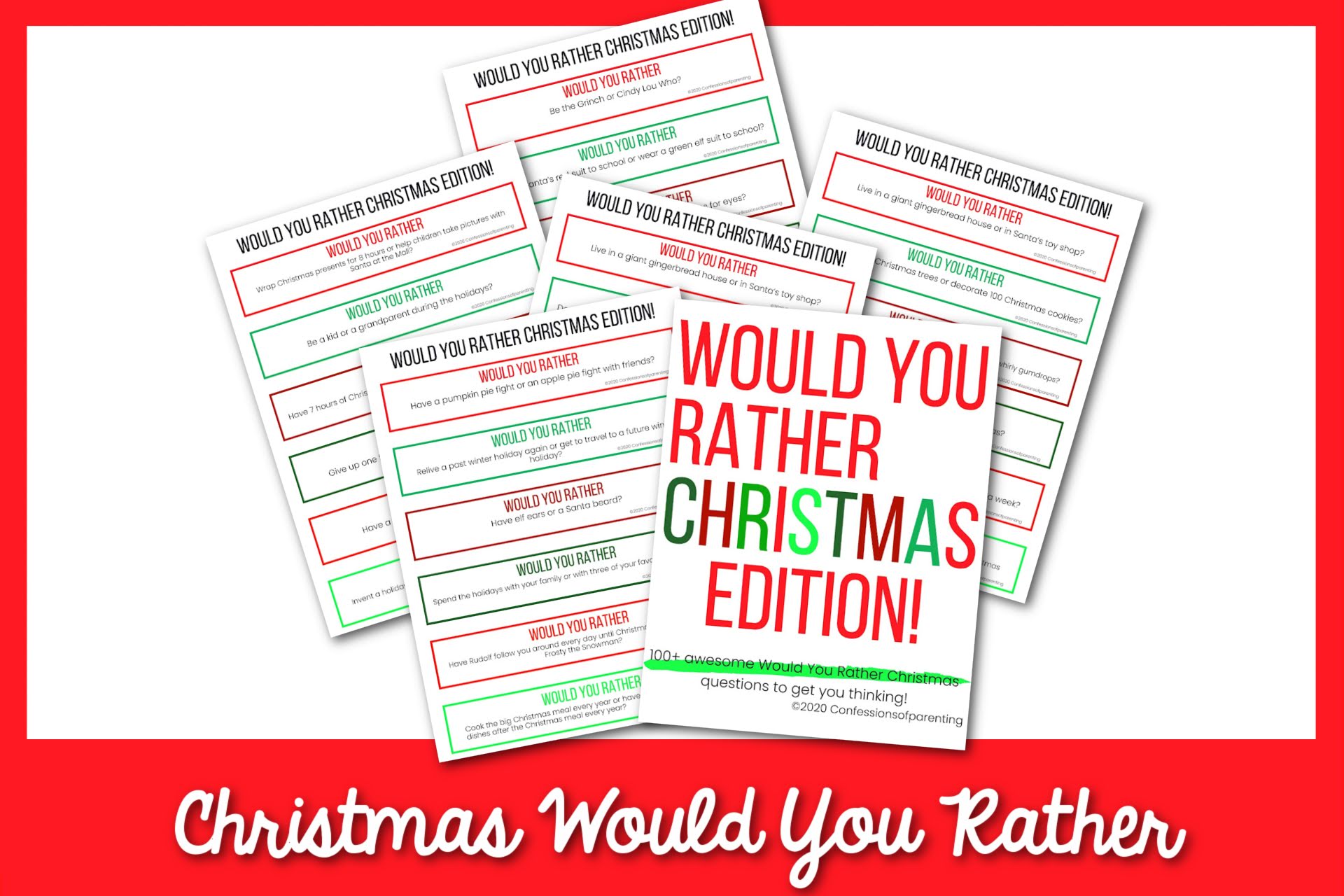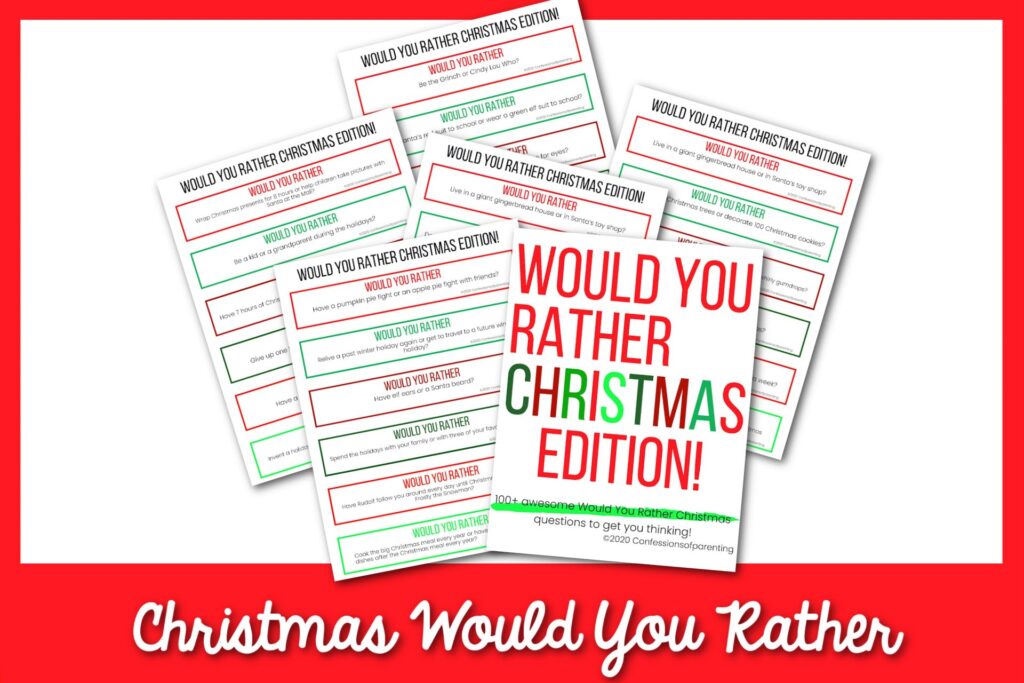 Be sure to check out all these Would You Rather Games for even more fun!
How to Play Christmas Would You Rather
Christmas Would You Rather is such an easy and simple game to play. You just need to scroll down to see the questions or download our Would You Rather Christmas Edition and ask away!
Would you rather Christmas edition is customizable to however you want to play it. You just need to take turns asking questions. You can answer each question or you can give each person a different question. The best part of the game is hearing everyone's answers!
There are no winners or losers in this game so everyone can have a good time playing. That means no stress, just lots of fun!
If you're looking to get the conversation started this Christmas and laugh together as a family, Christmas Would You Rather is the perfect game!
Tips and Tricks
Add the element of surprise! Grab some whiteboards and have everyone answer the same question. Then count to three and have everyone reveal their answers at once. It's so fun to be surprised together!
To switch things up you can try to guess what the person next to you would choose. It's a great way to make things more challenging and see how well you know each other!
100 Christmas Would You Rather Questions
Have a pumpkin pie fight or an apple pie fight with friends?
Relive a past winter holiday again or get to travel to a future winter holiday?
Have elf ears or a Santa beard?
Spend the holidays with your family or with three of your favorite celebrities?
Have Rudolf follow you around every day until Christmas or be followed by Frosty the Snowman?
Cook the big Christmas meal every year or have to clean up and do the dishes after the Christmas meal every year?
Wrap Christmas presents for 8 hours or help children take pictures with Santa at the Mall?
Be a kid or a grandparent during the holidays?
Give up one family holiday tradition or start a new one?
Have 7 hours of Christmas shopping or 10 hours of Christmas movies?
Have a red Rudolf Nose or a Frosty button nose?
Invent a holiday on whatever day you want or have a holiday fall on your birthday?
Ask everyone you meet their favorite color or really big at everyone and not say anything?
Eat Thanksgiving or Christmas food every day?
Watch Elf or It's a Wonderful Life?
Work in Santa's workshop or work in a giant toy store?
Make snow angels or go ice skating?
Go for a ride in Santa's sleigh or take a trip on the Polar Express?
Live in a giant gingerbread house or in Santa's toy shop?
Decorate 100 Christmas trees or decorate 100 Christmas cookies?
Have 7 levels of the candy cane forest or sea of swirly whirly gumdrops?
Have a snowy Christmas or a hot Christmas?
Eat only fruitcake for a week or drink only egg nog for a week?
Lose your voice for the holidays Or only be able to speak in Christmas carols?
Be the Grinch or Cindy Lou Who?
Wear Santa's red suit to school or wear a green elf suit to school?
Have candy cane for legs or gumdrops for eyes?
Eat Christmas dinner at home or help serve Christmas dinner to those who are less fortunate?
Have large ornaments for earrings or a decorated wreath necklace?
Have a red nose that lights up or have pointy elf ears?
Only be allowed to listen to Christmas carols for a year or have to make toys for a year?
Sing Jingle Bells once every hour for 2 weeks or wear an Elf costume to school for 1 week?
Be best friends with Frosty the Snowman or Rudolph the red-nosed reindeer?
Watch How the Grinch Stole Christmas or the Christmas Story?
Receive one big present or receive 10 small presents?
Wear a hat made of mistletoe or wear jingle bells on your feet for a week?
Open your presents on Christmas Eve or on Christmas morning?
Have mittens for hands or skis for feet?
Eat Christmas cookies for 6 months or eat candy canes for 6 months?
Never receive another gift from anyone ever again or be forced to give everyone in your family an adult toy as a gift?
Have your elf on a shelf talk to you or talk with your Christmas tree?
Have Christmas lights for fingernails or silver tinsel for hair?
Have to loudly sing the chorus of Jingle Bells every time you walk into a room for a week or wear a Santa suit to school every day for a week?
Go home with family for the Holidays or Disneyworld by yourself?
Make presents for your family instead of buying them or make ornaments for your Christmas tree instead of buying them?
Sing Christmas carols by yourself or sit on Santa's lap for 1 hour?
Not celebrate Christmas this year or not celebrate your birthday this year?
Rake leaves or shovel snow?
Be a mouse and receive a big piece of cheese for Christmas or be a cat and receive a BIG fish for Christmas?
Snowed in with complete family during the holidays or on a beach with just a few of your family members?
Have a mistletoe hanging in your bedroom doorway or have a large decorated Christmas tree in your bedroom doorway?
Be in a scene from Home Alone or Elf?
Eat your cereal with eggnog instead of milk or eat a candy cane sandwich?
Grow a permanent Santa beard or grow permanent reindeer antlers?
Be an elf at the North Pole or one of Santa's reindeer?
Be allowed to only eat fruitcake for two days or be allowed to only eat candy canes for two days?
Work as a mall Santa for the rest of your life or become the real Santa and have to live in the North Pole?
Have eyes made out of coal or reindeer feet?
Drink only eggnog all December or eat candy canes all December?
Have a snowball for a head or 100 jingle bells for hair?
Have the Elf on the Shelf be alive or have Santa actually in your bedroom watching you sleep at night?
Christmas caroling or go sledding?
Spend 11 hours untangling Christmas lights or find the one light that is out on a string of Christmas lights a mile long?
Have turkey for Christmas dinner or have a ham for Christmas dinner?
Have bonfire and smores or holiday videos and hot chocolate?
Wear Santa's big boots to gym class or wear pointy elf shoes to gym class?
Play in the Super Bowl or perform in the Nutcracker?
Visit the north pole or visit Bethlehem?
Be Rudolph the red-nosed reindeer or Prancer, or Dancer, or Blitzen?
Go sledding or take a horse-drawn sleigh ride?
Have a partridge in a pear tree or 2 turtle doves?
Have 3 French hens or 4 calling birds?
Have 5 golden rings or 6 geese a-laying?
Have 7 swans a swimming or 8 maids a milking?
Have 9 ladies dancing or 10 lords a leaping?
Have 11 pipers piping or 12 drummers drumming?
Spend a day with Mrs. Claus or Santa Claus?
Be an angel on top of the tree or a Jack in the Box toy?
Be Mrs. Claus or be the Head Elf in Santa's workshop?
Wrap 100 presents or decorate 100 trees?
Spend a day with the Grinch or Jack Frost?
Live at the North Pole or live at the South Pole?
Be a melting snowman or a munched on gingerbread person?
Be on the naughty or nice list?
Eat Christmas cookies with Santa or bake Christmas cookies with Santa?
Have snowflakes for eyelashes or icicles for teeth?
Receive socks for Christmas or receive a dictionary for Christmas?
Have a job wrapping presents at the mall or have a job taking pictures of children sitting on Santa's lap at the mall?
Have holly for hair or wear Christmas stockings for legs?
Be given $100 for Christmas to buy things for yourself or be given $1000 before Christmas to use to buy gifts for other people?
See the Nut Cracker or dance in the Nut Cracker?
Have strings of cranberries for fingers or figgie pudding toes?
Spend a day watching Christmas videos or spend a day Christmas shopping at the mall?
Wear ugly Christmas sweaters for 1 year or stay with the abominable snowman for 1 week?
Have Christmas tree tinsel for hair or have fingernails that light up like Christmas lights?
Take a look at Santa's list or peek at your presents?
Live in a giant gingerbread house or ride on the Polar Express?
Laugh like Santa or talk like an elf?
Write a five-paragraph essay about the meaning of Christmas or solve a page of Christmas-themed math problems?
String a mile of popcorn garland or light and keep 500 candles burning at once?
What Christmas Would you Rather Questions would you add? Share in the comments!
Ready for More Christmas Games? Try these!