Looking for a classic game with a fun holiday twist? With this Christmas Tic Tac Toe free printable, you can easily keep your kids entertained over the holidays!
With the holiday season in full swing, I love to find simple ways to entertain my kids. Whether it's decorating the house, watching a classic Christmas movie, or playing a round or two of Christmas Charades, we love spending time together as a family.
To help pass the time while we wait for our eggnog cookies to finish baking, we love to sit down and play Christmas Tic Tac Toe. As a mom, I love Tic Tac Toe because they can play it unsupervised and it's easy for all ages to play. Just grab your free Christmas tic tac toe boards and see who gets a row first!
What is Tic Tac Toe
Tic Tac Toe is a classic game where two players alternate placing their x's and o's in a square of their choice. Each player tries to get a row of three X's or O's first. It's a simple and fast game that you can play over and over!
Tic tac toe is traditionally played on a piece of paper by drawing two vertical and two horizontal lines to create the board. With our Christmas tic tac toe, there's no need to draw your boards because we have already created cute Christmas themed cards!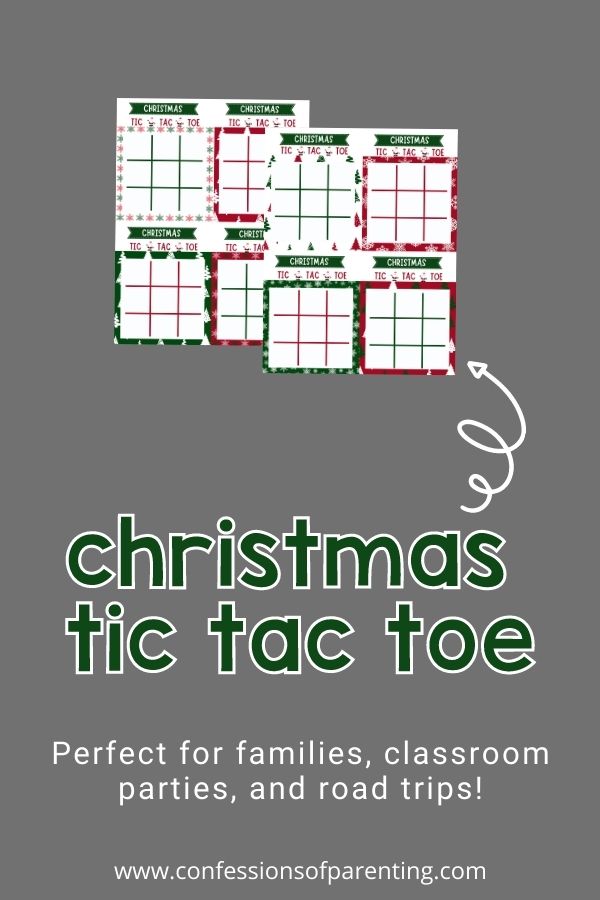 How to Play Tic Tac Toe
With Tic tac toe you will be surprised with how easy it is for everyone to play, even the little ones! The goal of the game is to be the first person to get three squares in a row.
To start, print out several copies of our Christmas Tic Tac Toe boards and cut them out. Assign everyone a partner or let your kids choose who they want to play against. Then choose how you want to mark the squares.
With Christmas tic tac toe, you can choose to mark the squares with the classic X's and O's by using a pen or pencil. Or you can choose any item to mark your square, as long as you have two different kinds. For example, you can use two different colored candies or pom pom balls.
Players then alternate marking their squares until a player gets three in a row horizontally, vertically, or diagonally. Or until all the squares on the board are full. The player who gets three in a row first wins.
If all squares are full and neither player has three in a row then the game is a draw.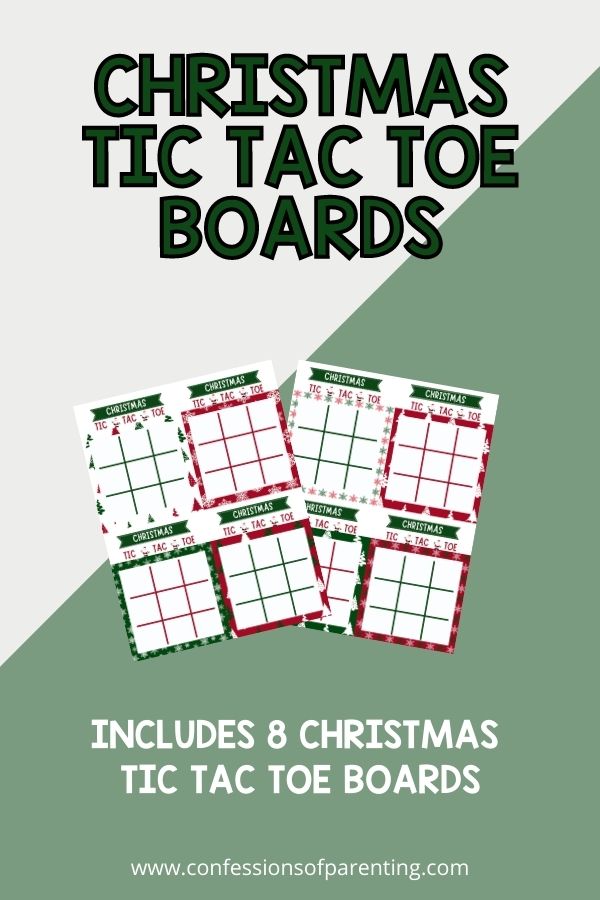 Rules for Tic Tac Toe
The game is played on a grid of 3 squares by three squares.
Players take turns marking the empty squares.
The first player to get 3 in a row, wins.
When all 9 squares are full and no one has 3 in a row, the game ends in a tie.
Benefits of Playing Tic Tac Toe
I love tic tac toe because it's fun and it has several benefits for kids. I love seeing my kids interact, compete, and see their developmental growth. Tic tac toe improves their problem-solving skills, strategic skills, and spatial reasoning. It also helps them practice taking turns and showing good sportsmanship.
With so many benefits and the simplicity of the game, it's no wonder that parents and kids love tic tac toe!
Marker Ideas
Use Candy!
In our family, we love using candy to mark our tic tac toe boards! We love buying a bag of skittles or m&m's and having everyone pick a color to play with. My kids always love eating their markers after the game is over.
It's always a hit when we can have fun and eat a tasty treat at the same time!
Make a craft!
Making markers for your boards can be even more fun when you turn it into a craft! I love ordering a bunch of 1-inch wood slices that my kids can draw on. They are the perfect size for the tic tac toe board and my kids love choosing a theme when they make their markers.
To make it Christmas related, help your kids come up with various Christmas items or characters. Have them choose one and draw it on 6 of the wood slices. Those 6 circles then become their markers.
Tips and Tricks for Tic Tac Toe
Add Competition and Candy
To add some friendly competition, have each person grab 5 extra pieces of candy in their chosen color. Whoever wins a round of tic tac toe gets to eat 1 candy from the other player's pile. Whoever is the last one with candy leftover in their pile, wins!
Play Ultimate Tic Tac Toe
Turn a simple game of tic tac toe into a tournament! All you have to do is take the winner from each pair and have them face off against another winner. Each winner of that round moves on to another round until there are only two people left. The final two players battle it out until there is a winner!
With ultimate tic tac toe, you can play one round of tic tac toe or you can do best out of three rounds. However you choose to play, adding more competition and turning it into a tournament is sure to keep your family entertained for hours!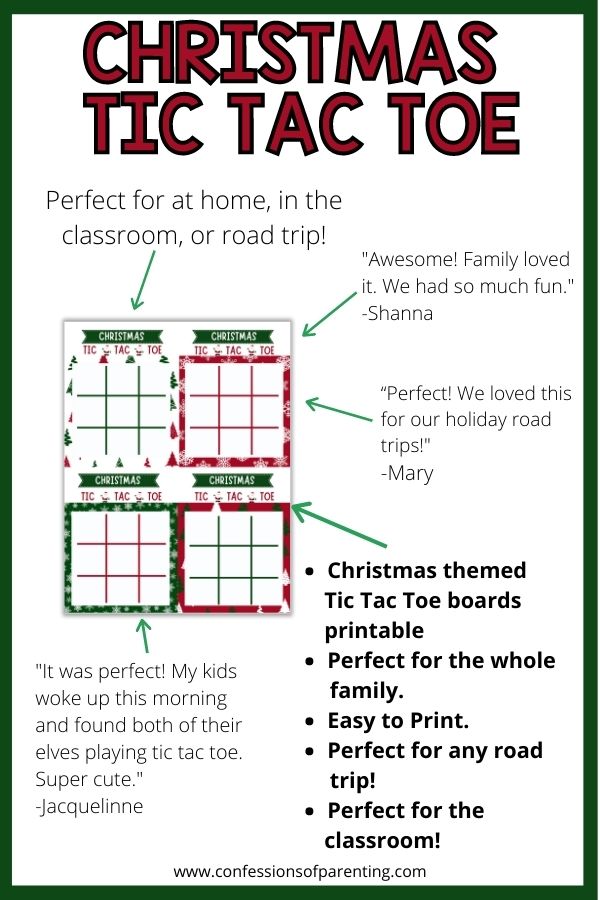 Ideas for Playing with Kids
Demonstrate how to play tic tac toe by playing a sample game.
Encourage older kids to think about strategies or different ways that they could win. You can even have them write them down.
Pair your kids with someone who is similar in age. That way everyone has a fair chance to win a game or two of tic tac toe.
Have your kids invent their own twists on tic tac toe. It's so fun to see the different ideas that kids come up with!
Gear up for the Holidays with this Mega Christmas Game Collection!
What is your favorite marker to use in Christmas Tic Tac Toe? Share in the comments!
Ready for More Christmas Games Or Printables? Try these!