With drawing, guessing, and lots of laughter, Christmas Pictionary is a perfect way to get the whole family to play and have fun this Christmas season!
Christmas Pictionary
The holiday season is the perfect time of year to slow down and spend quality time with family. We love playing games like would you rather or who is most likely to. It's an easy way for us to have fun and bond as a family!
Our whole family enjoyed playing Thanksgiving Pictionary so I decided to keep the fun going by creating this free Christmas Pictionary printable!
Pictionary is the perfect game to play as a family or to keep your kids entertained with their friends during the holiday season! You don't need amazing drawing skills, just some pens, paper, and some creativity.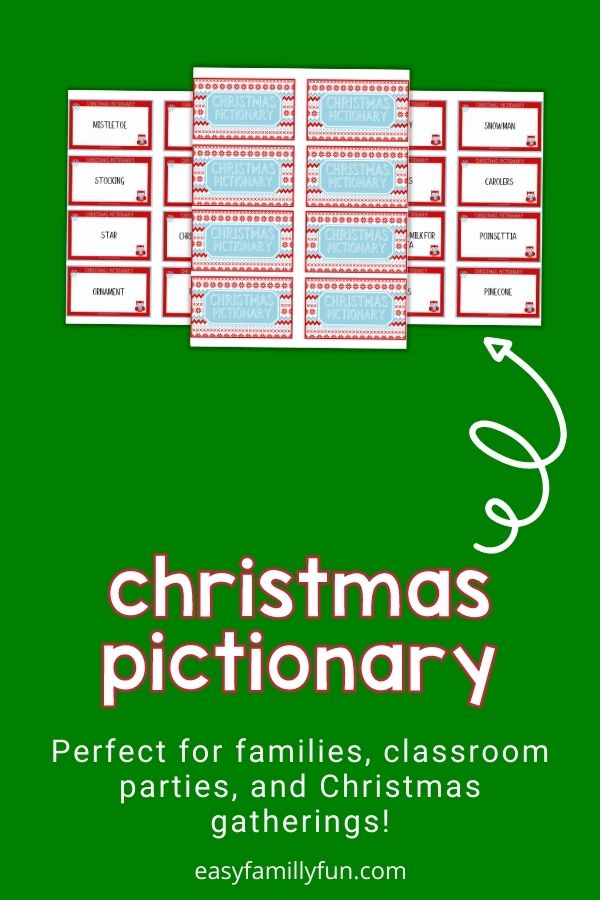 What is Pictionary?
Pictionary is a simple drawing and guessing game. The whole family can easily play, children and adults alike!
One person draws their assigned word while the other players on their team guess what they are drawing. The person drawing can't talk, make sounds, or write words. Their drawing needs to show the other players what the word is.
How to Play Pictionary
To get started, grab our pre-printed Christmas Pictionary words, pens, paper, and a game timer. Decide whether you want to work together or divide into two teams. Dividing everyone into two teams will make the game more competitive.
To play with two teams, have a person from each team come up at the same time to draw. Have them pick a card with a word, set the timer, and let the drawing begin! The team that guesses correctly first, gets a point.
If you prefer less competition or if you want to play with younger kids, work together as a team to guess the word. Send one person up to pick a card and start drawing. This version of Christmas pictionary is perfect for families with varying ages and/or smaller children.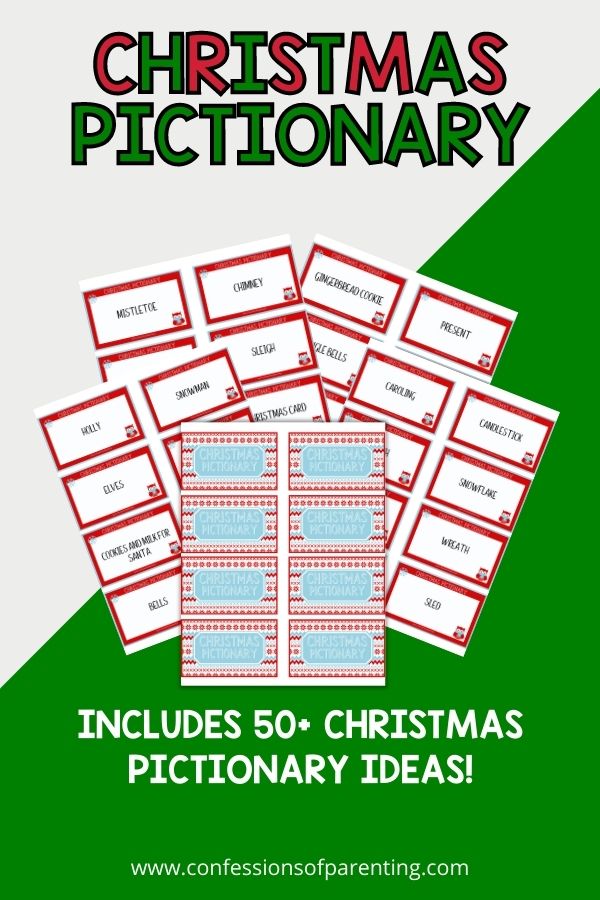 Rules of Pictionary
Choose one person to pick a printed Christmas Pictionary card. Only the person drawing can look at the card. Use a game timer or set a digital timer for one minute, or whatever time you choose.
The person drawing has one minute to draw the word on a whiteboard or on a piece of paper while the other players try to guess what they are drawing. They keep drawing until the team guesses the word correctly or time runs out. Choose the next person and start the fun all over again!
Tips for Playing Christmas Pictionary
Make your Christmas Pictionary even more magical with these simple tips!
Involve Young Children
If you are playing with younger children, try and make it less stressful for them. You can accomplish this by giving them extra time to draw or assigning them a partner to help them draw or whisper ideas of what to draw to them. Less stress means more fun for everyone!
Use Cardstock
We love printing our Christmas Pictionary cards onto cardstock because I know they will last longer. It makes them a lot more durable and you can't see through them. I even take extra time to laminate them so we can play them next year too!
Use a Whiteboard
Using a whiteboard to draw on is a lot easier for everyone to see. Plus you can easily wipe it clean and use it over and over again! It also gives you more space to create your beautiful drawings! I love using portable whiteboards because they are compact but still stand up on their own so you can use it on a table.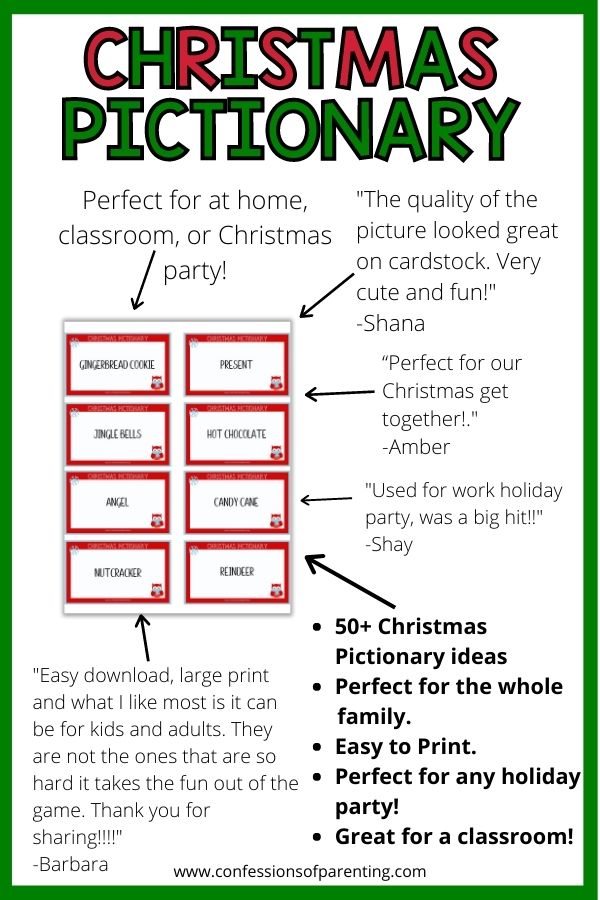 Offer Prizes
Kick your game of Christmas Pictionary up a notch with the chance to win a prize! You can have smaller prizes for participating or a large prize for the winning team. Soft Christmas socks or some cute Christmas glasses are my go-to prizes for pictionary! Or you can come up with your own fun prize like opening a Christmas gift early!
Gear up for the Holidays with this Mega Christmas Game Collection!
Christmas Pictionary Word List
Here is your Christmas Pictionary Word List! Grab your printable cards for free below by joining our Confessions of Parenting VIP Club. Don't feel like joining? Grab them right here!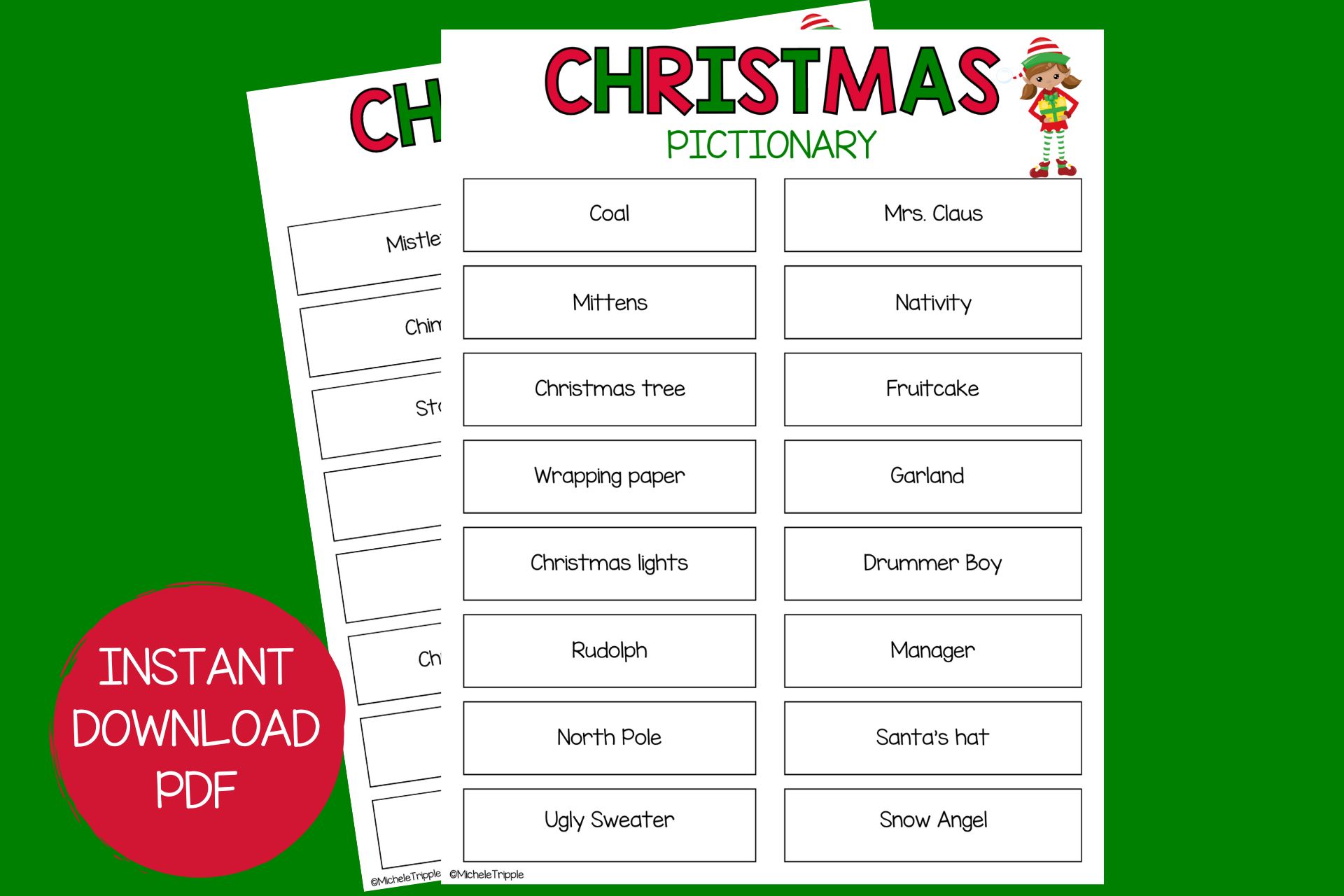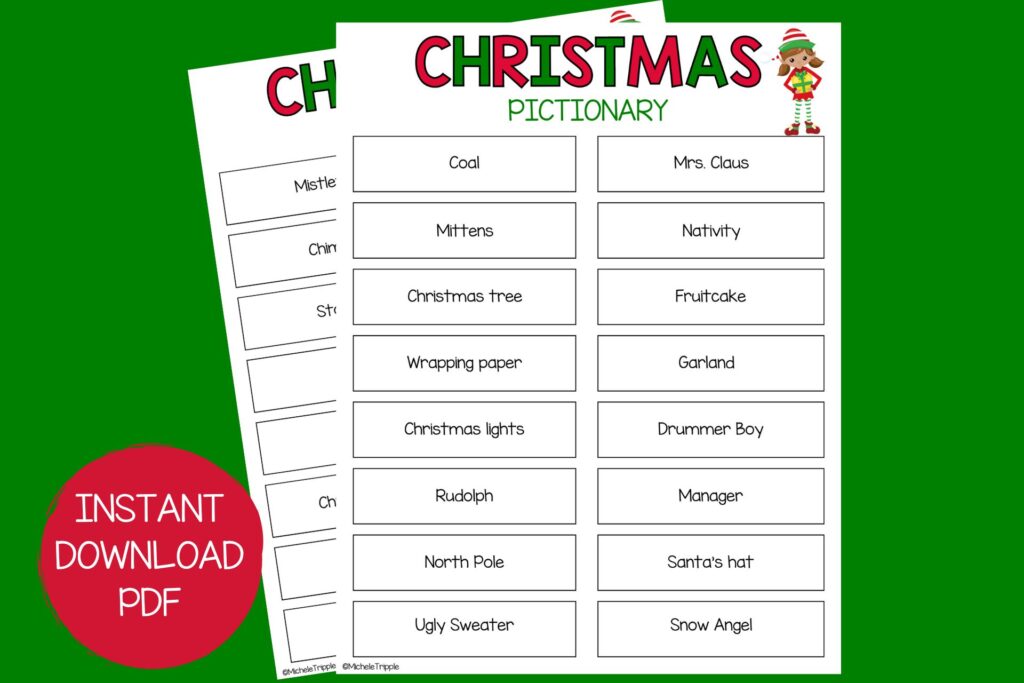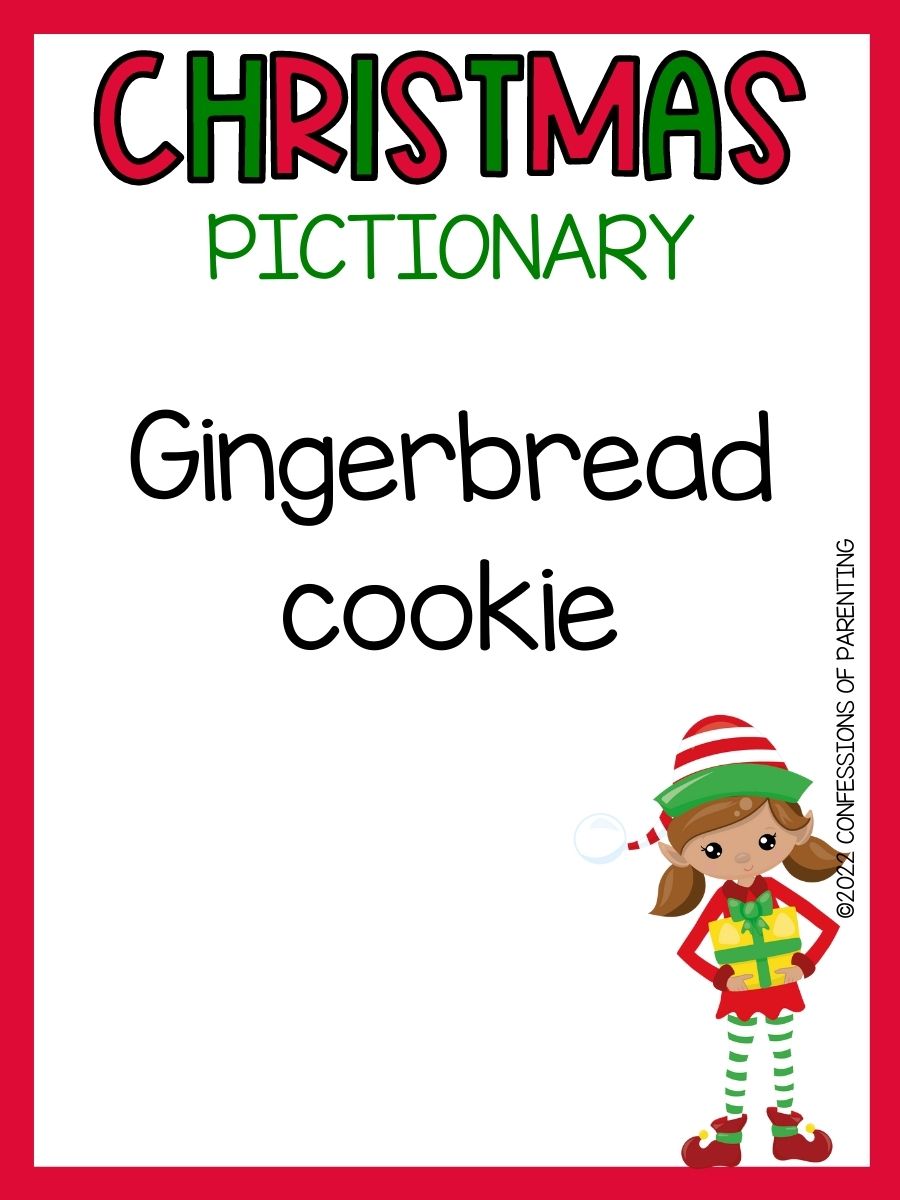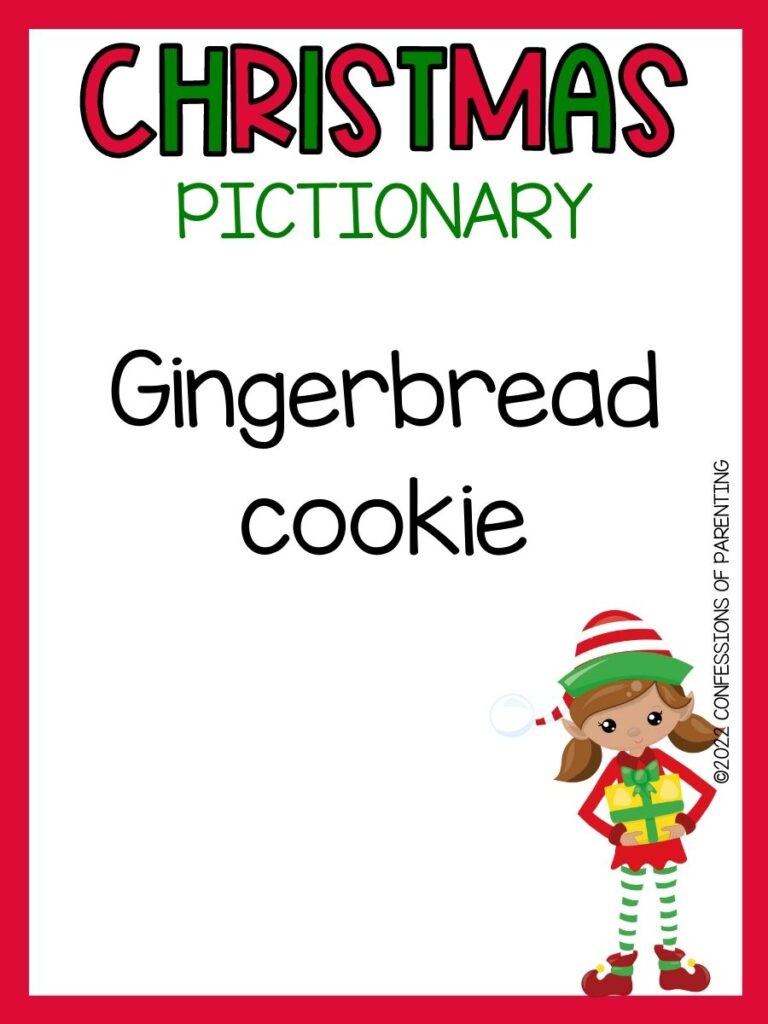 Gingerbread cookie
Present
Jingle Bells
Hot Chocolate
Angel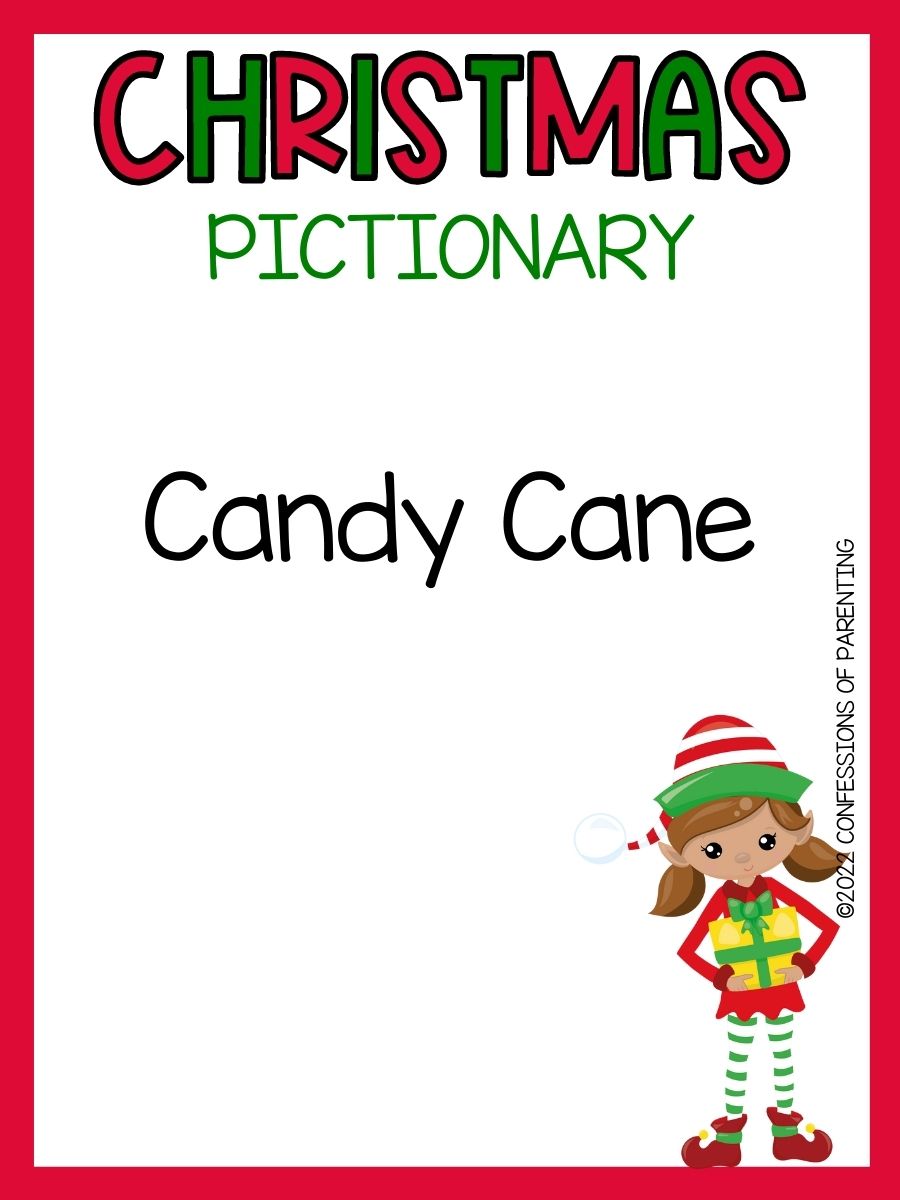 Candy cane
Nutcracker
Reindeer
Caroling
Grinch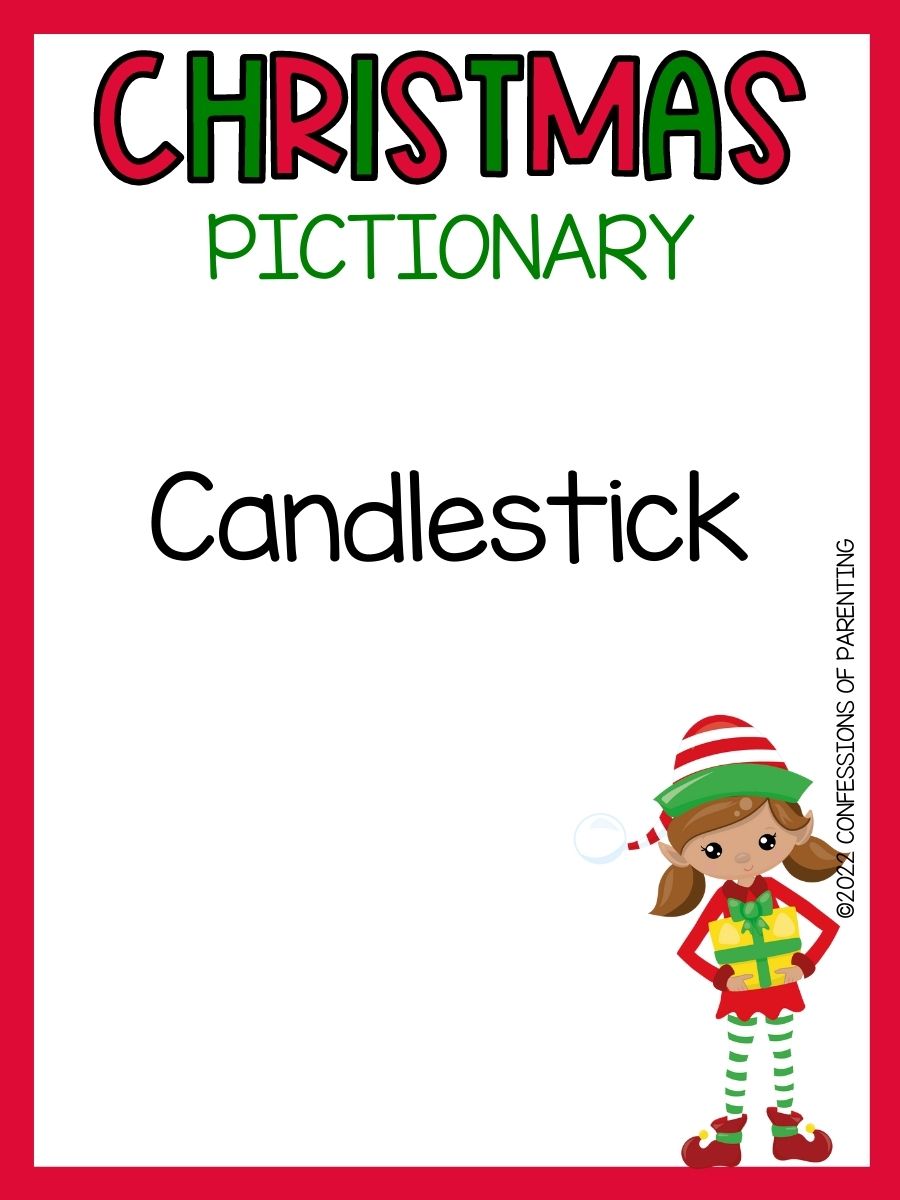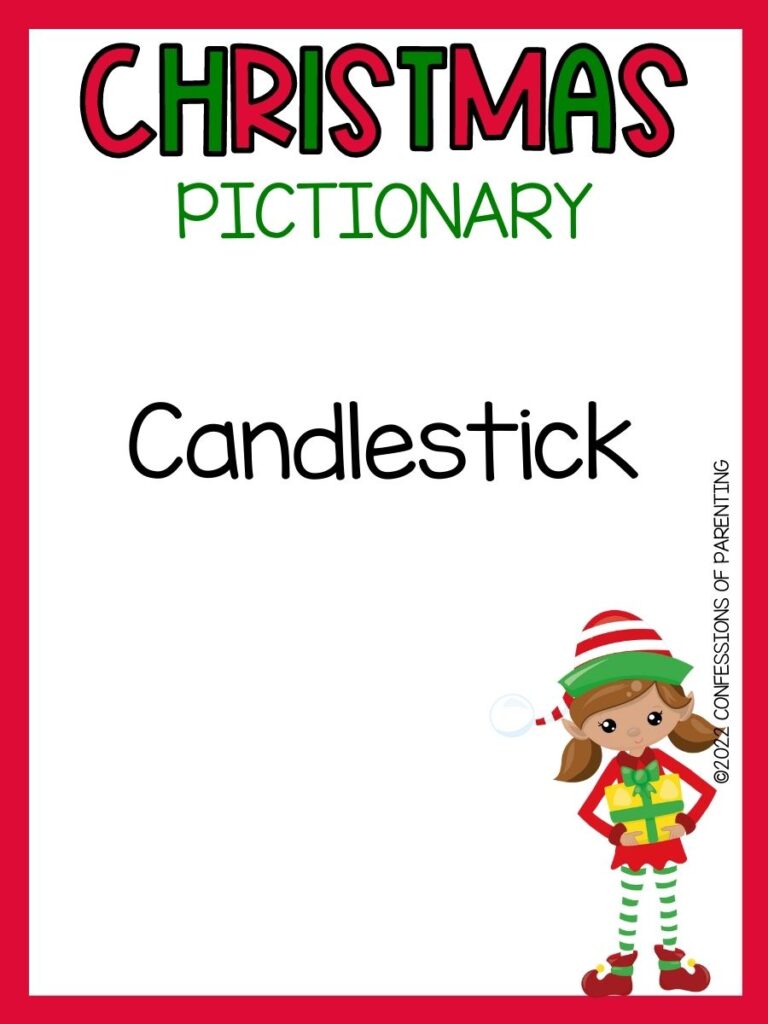 Candlestick
Snowflake
Icicle
Wreath
Sled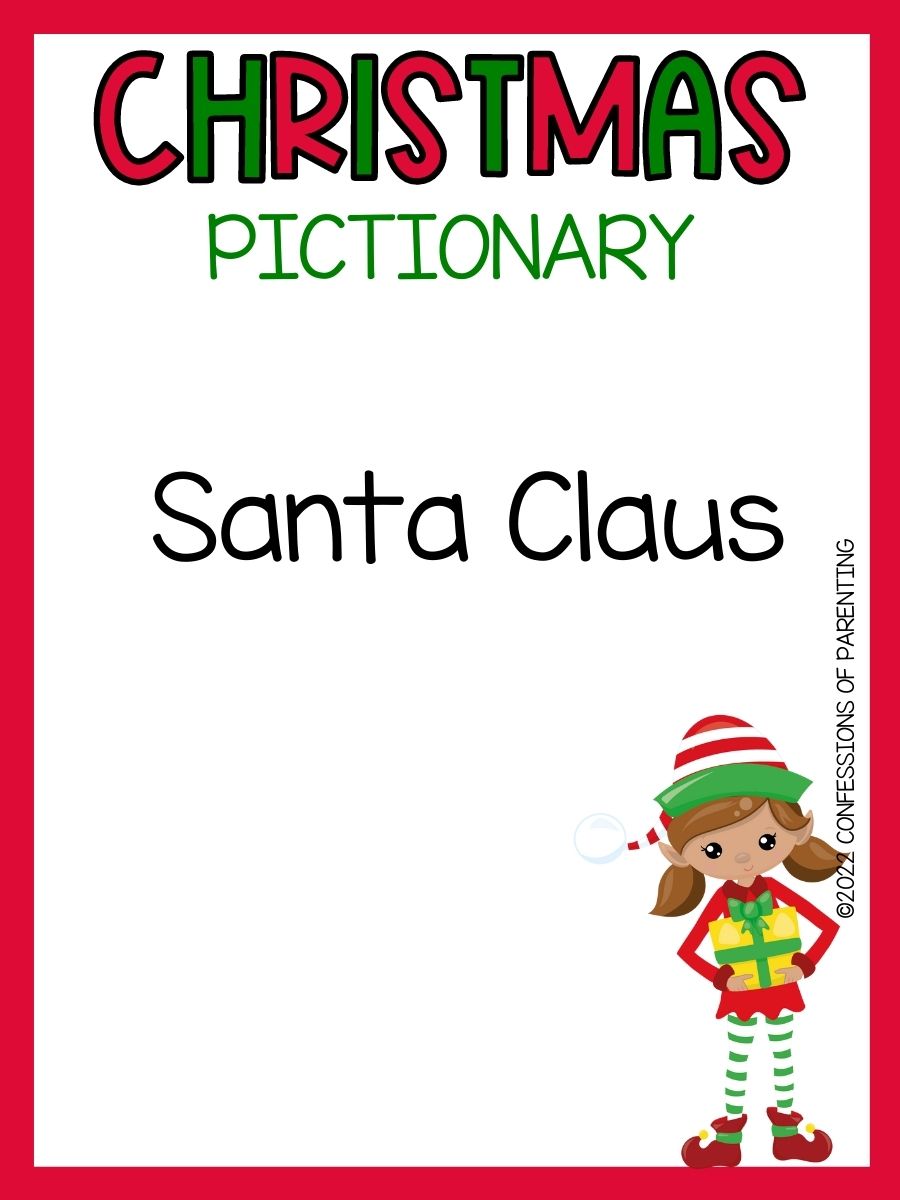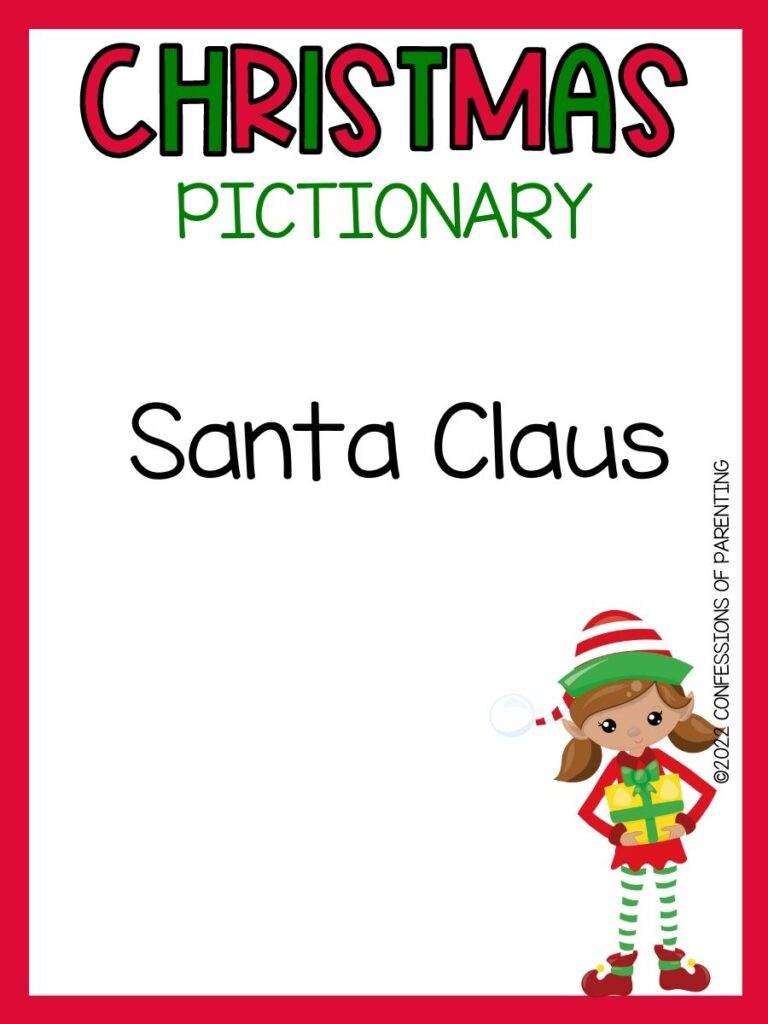 Santa Claus
Mistletoe
Chimney
Stocking
Star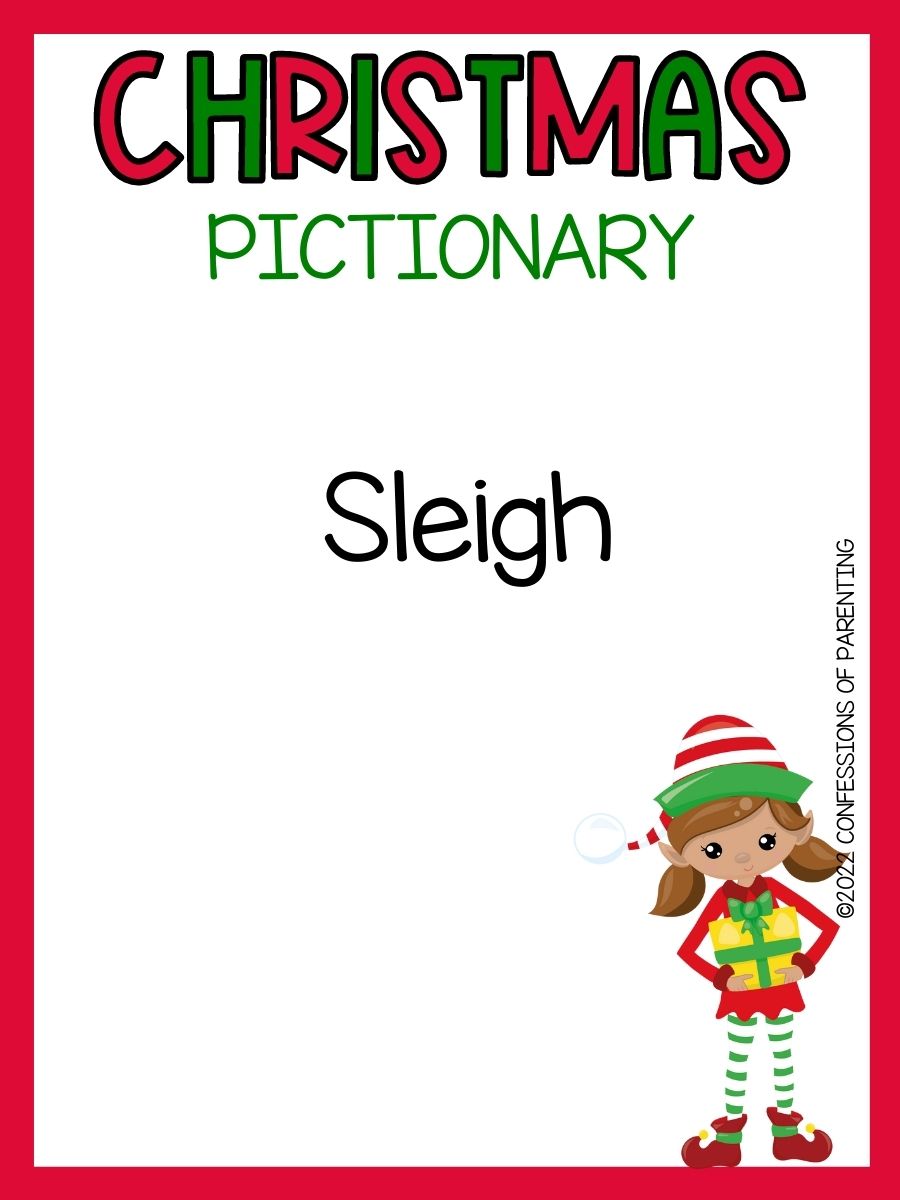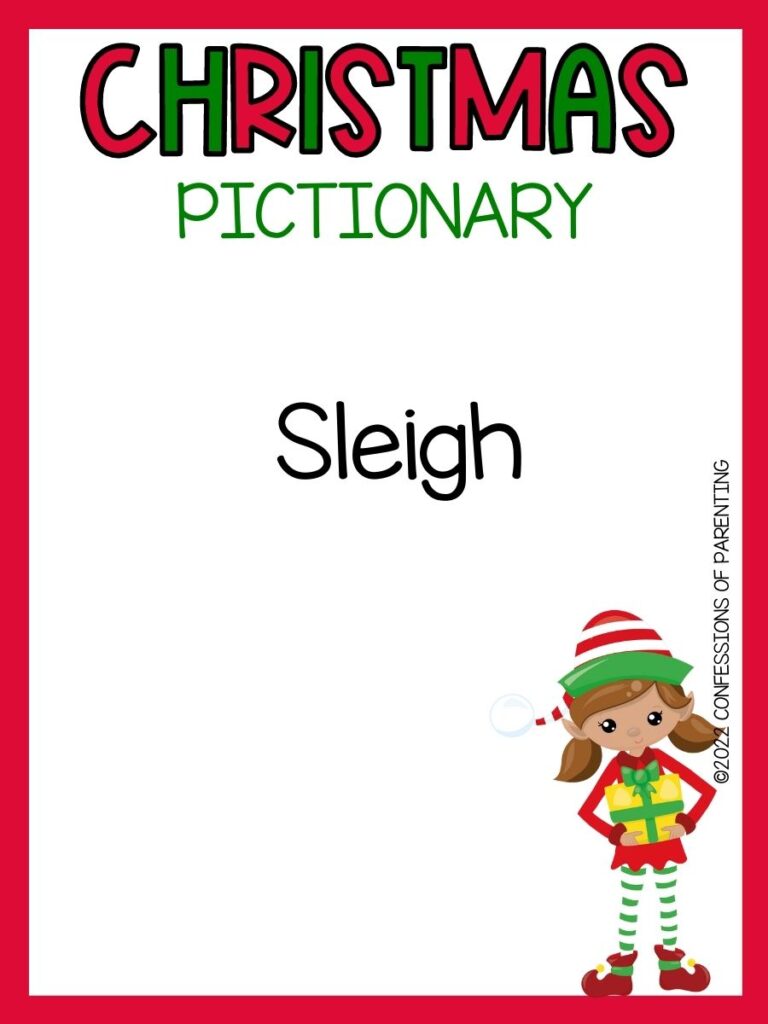 Sleigh
Christmas card
Ornament
Fireplace
Snowman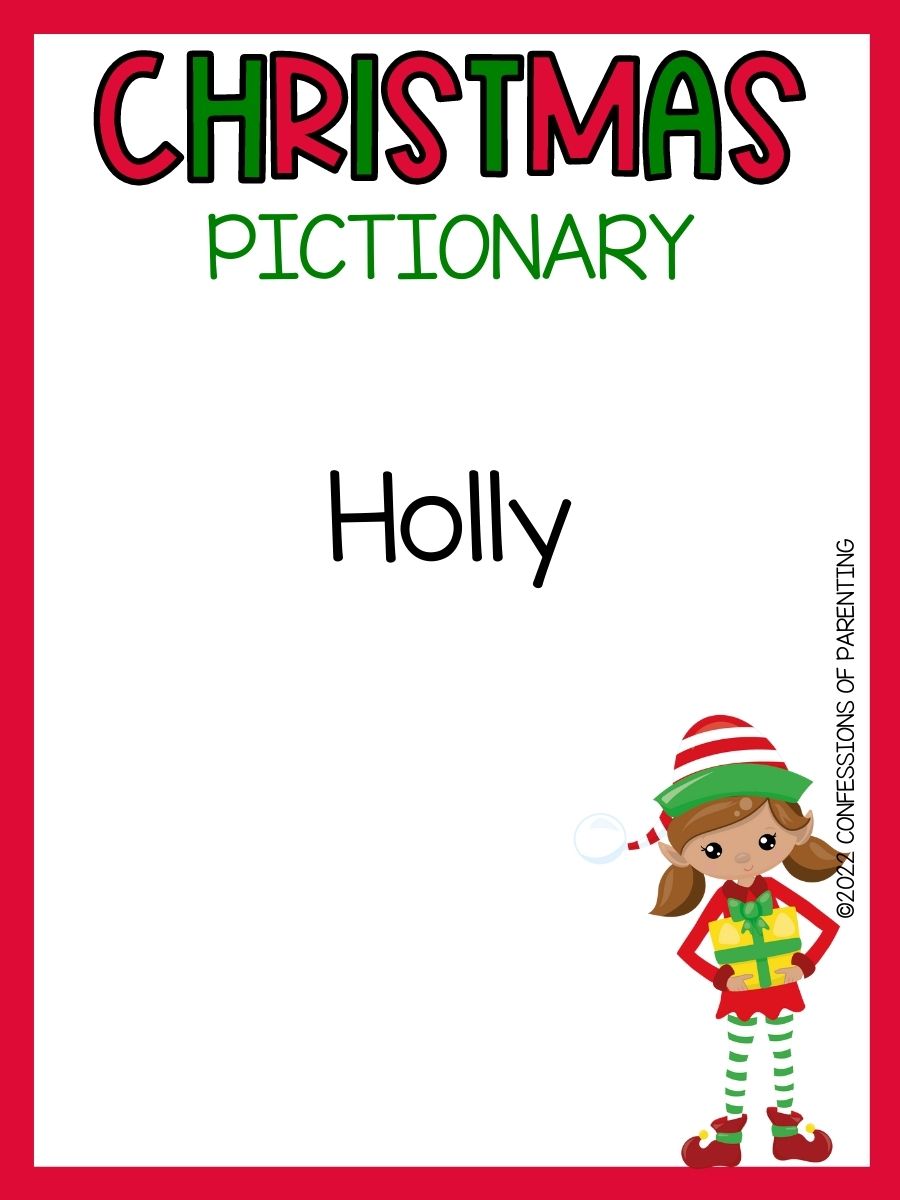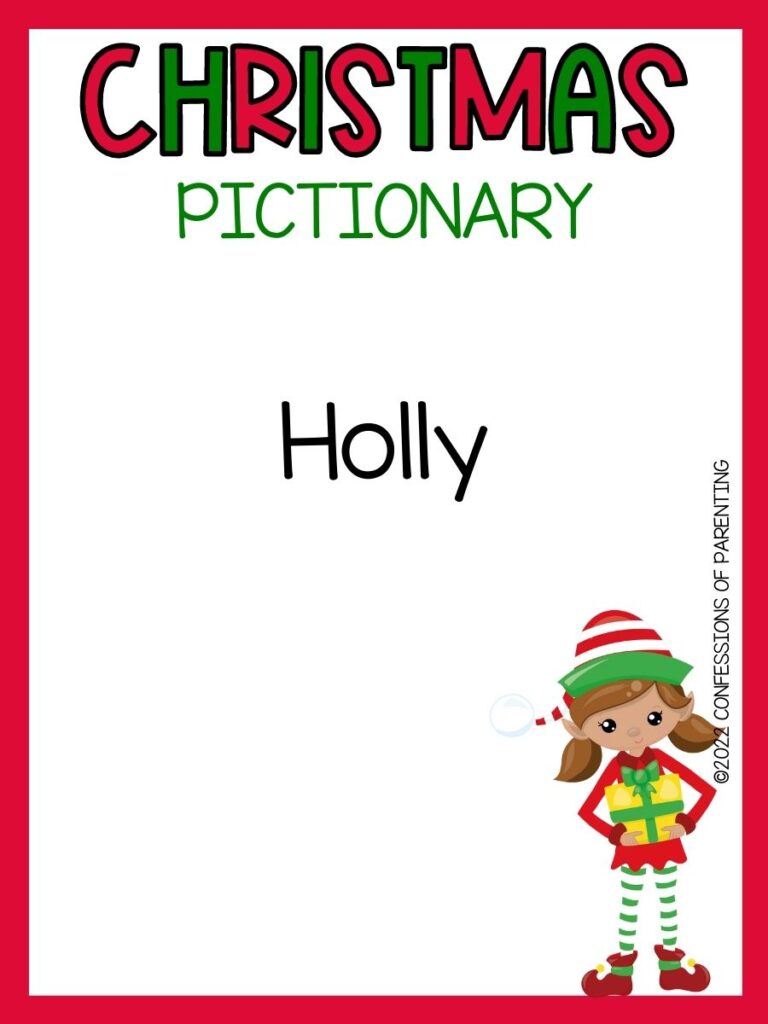 Holly
Elves
Carolers
Cookies and milk for Santa
Bells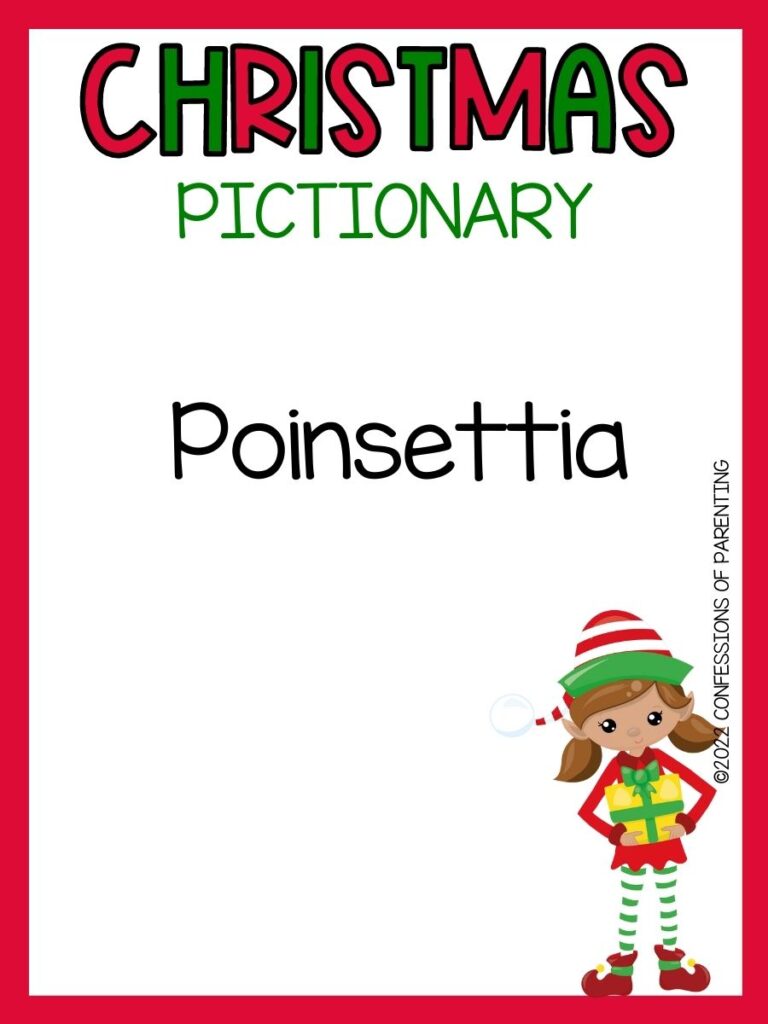 Poinsettia
Pinecone
Coal
Mittens
Christmas tree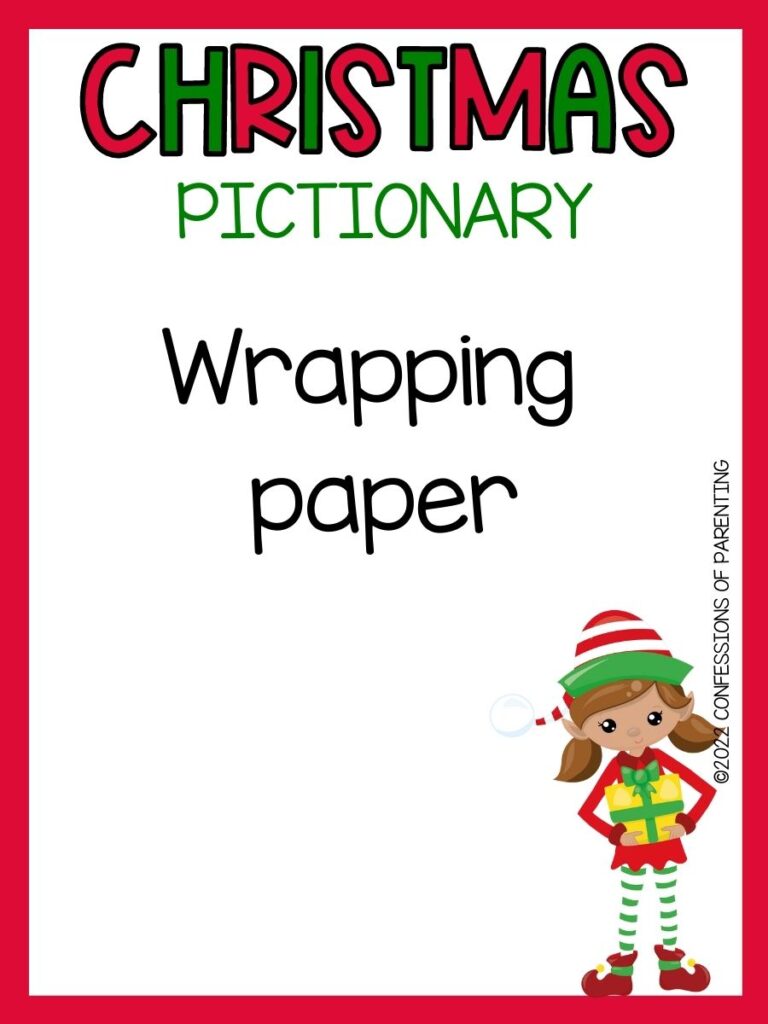 Wrapping paper
Christmas lights
Rudolph
North Pole
Ugly sweater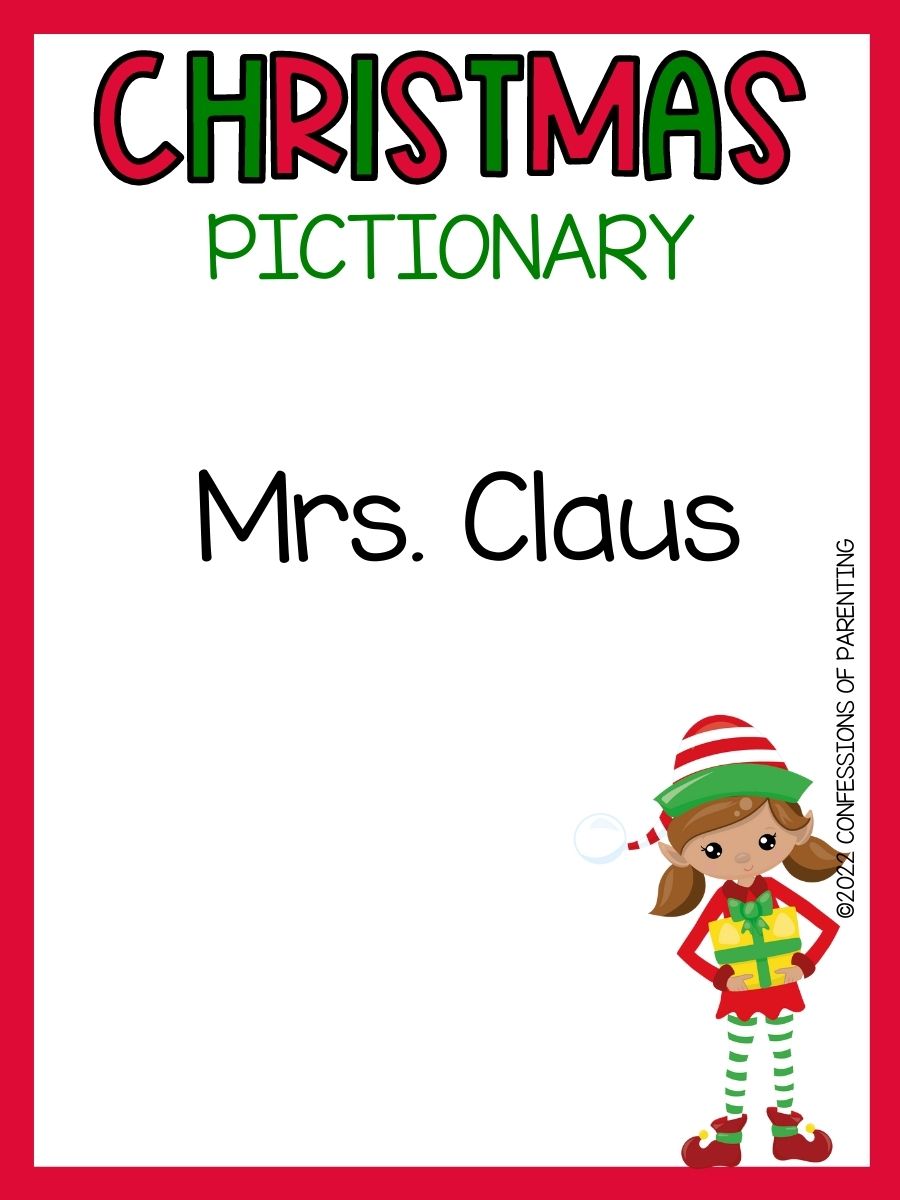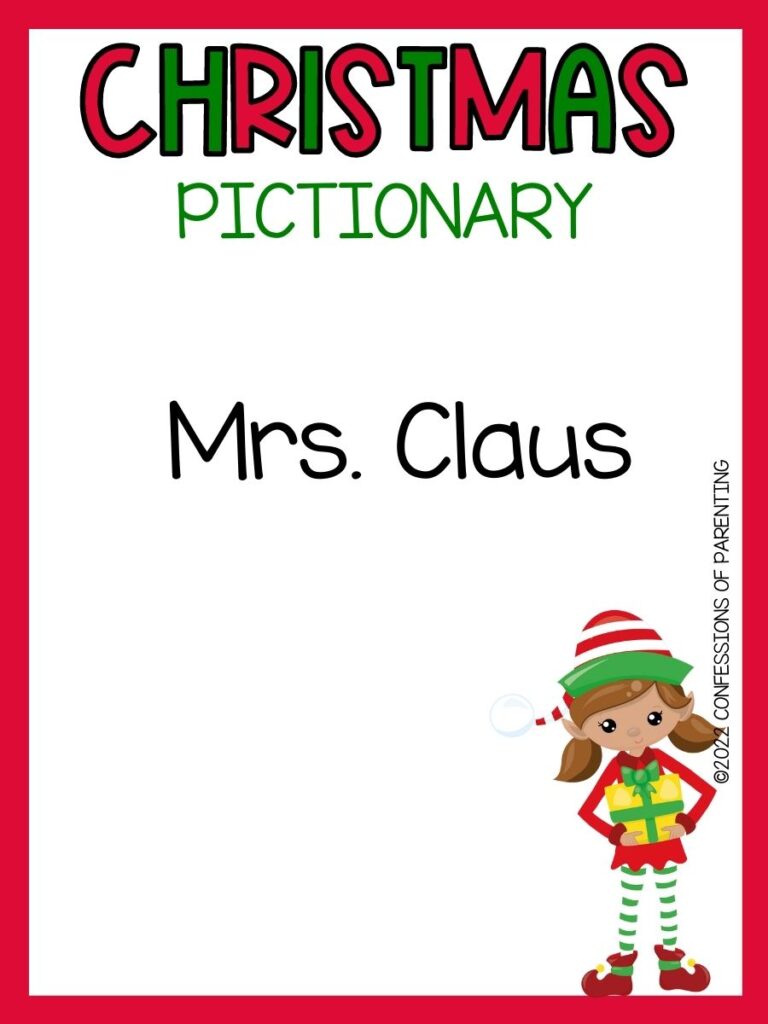 Mrs. Claus
Nativity
Fruitcake
Garland
Drummer boy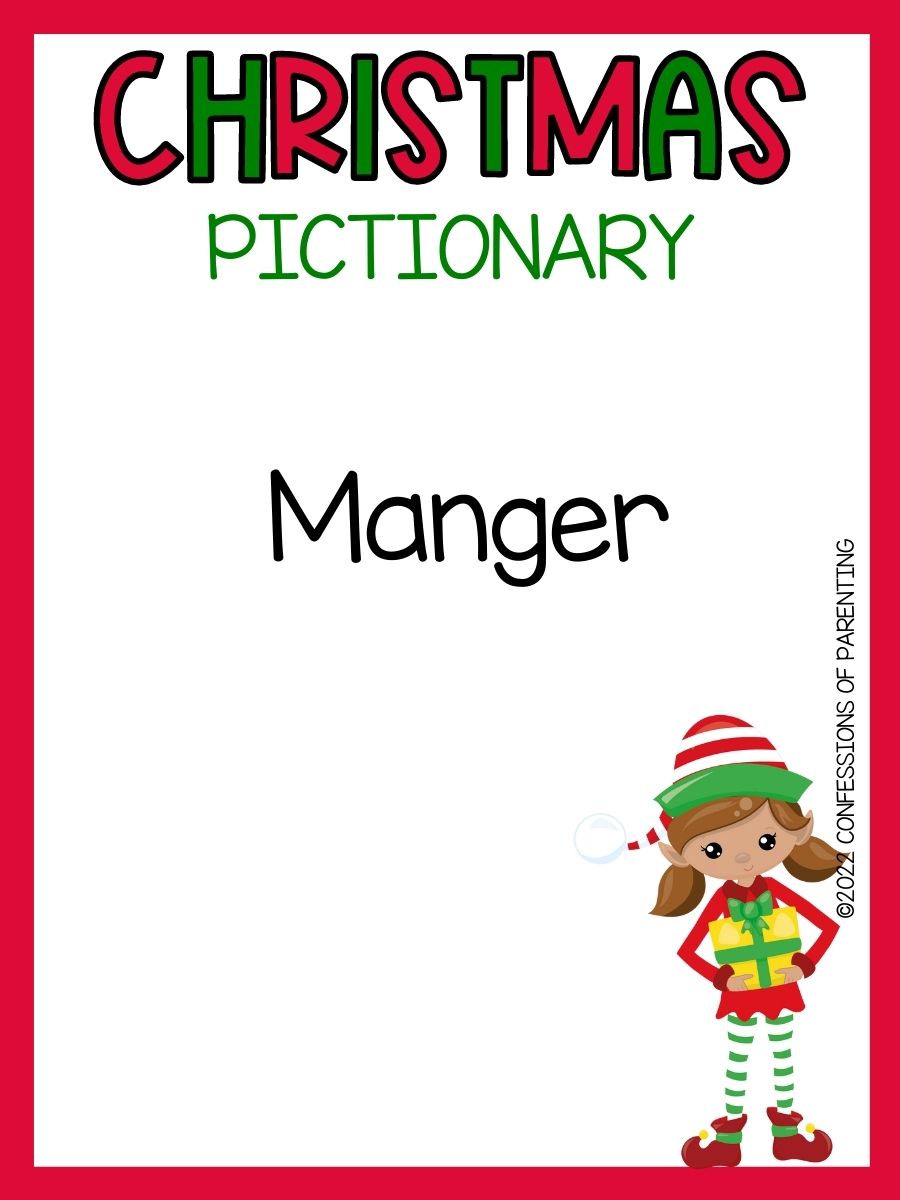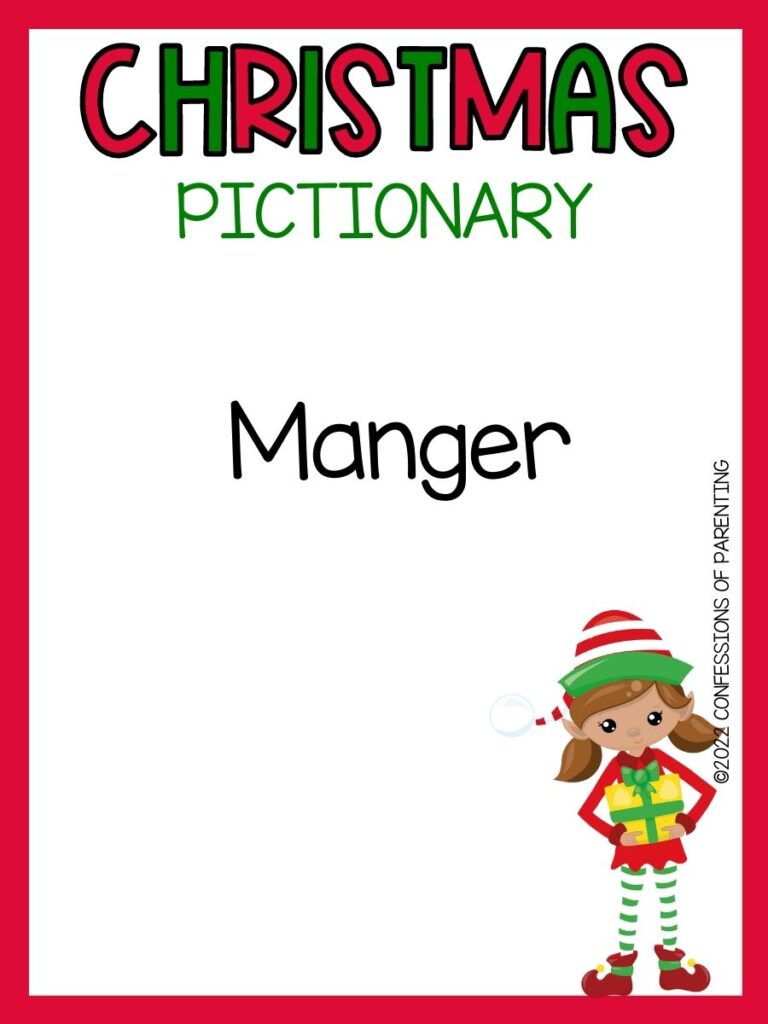 Manger
Santa's hat
Snow Angel
Scarf
Snowball Fight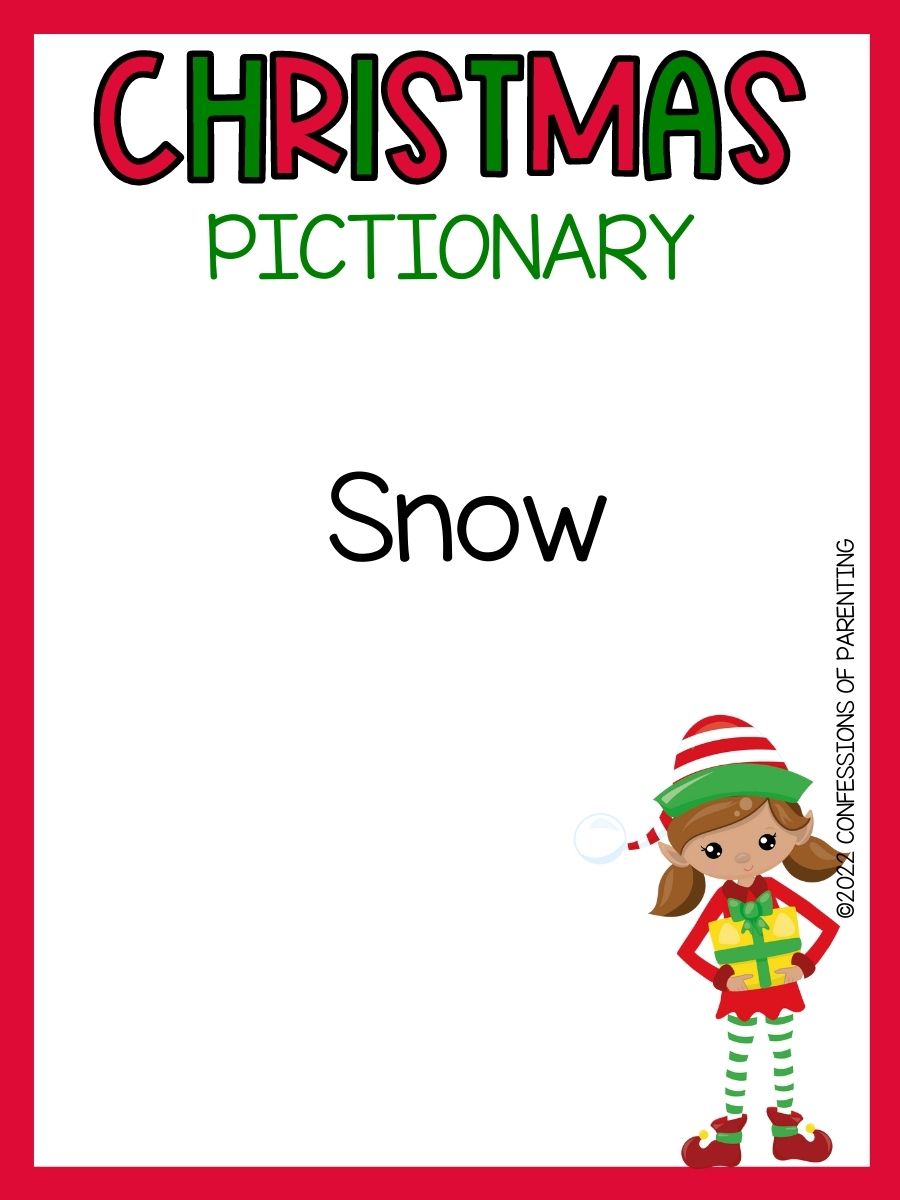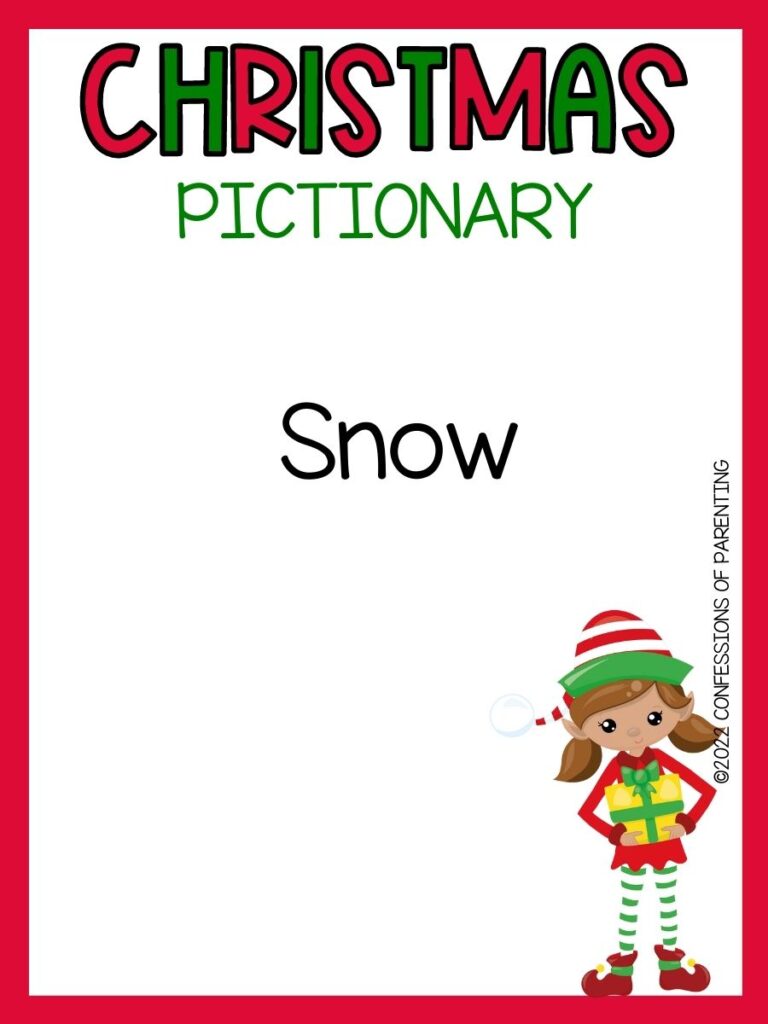 Snow
Eggnog
Fireplace
Gingerbread House
Snowball
Ice Skates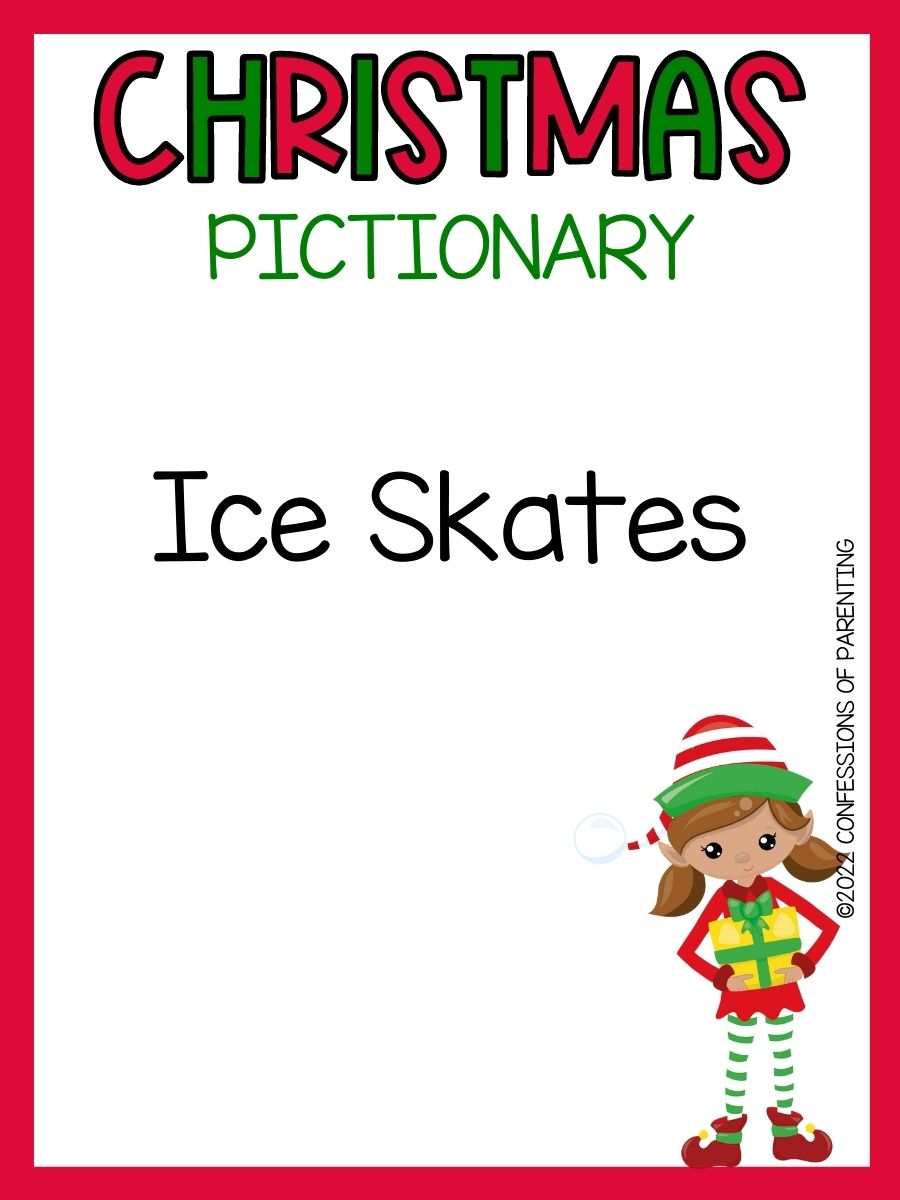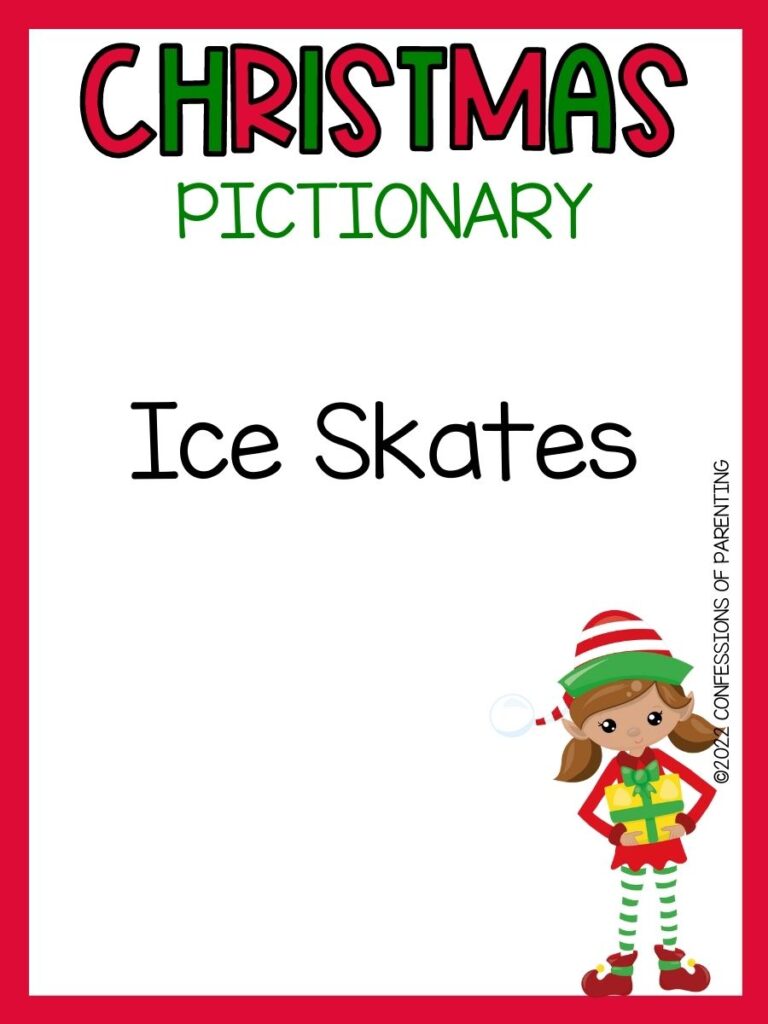 What Christmas words would you add to the list? Share in the comments!
Ready for More Christmas Games Or Printables? Try these!
Ready to grab your Christmas Pictionary cards? Be sure to join our Free Confessions of Parenting VIP Library! Where you have access to hundreds of free printables!
How Do I access my free printables?
Fill in the form above. You will receive an email in your inbox. If you don't see it, check your spam folder! You will then click to confirm your subscription. Once confirmed, you will be sent an email with your free printable.
How Do I Print a PDF?
You'll need a program that supports PDFs. Adobe Acrobat is a great option. Open the program, click File, then print. Select your printer and the number of copies you want to print. Be sure you click double-sided if you want it to print on both sides.
Can I resell these?
You may not resell any printable found on our website or in our resource library. You may use them for class parties, at church, at home, or in the classroom. You may get these printed at an office supply store or copy center at your own expense.