Ready to test your elf knowledge? These elf trivia questions will help determine if you are an elf expert!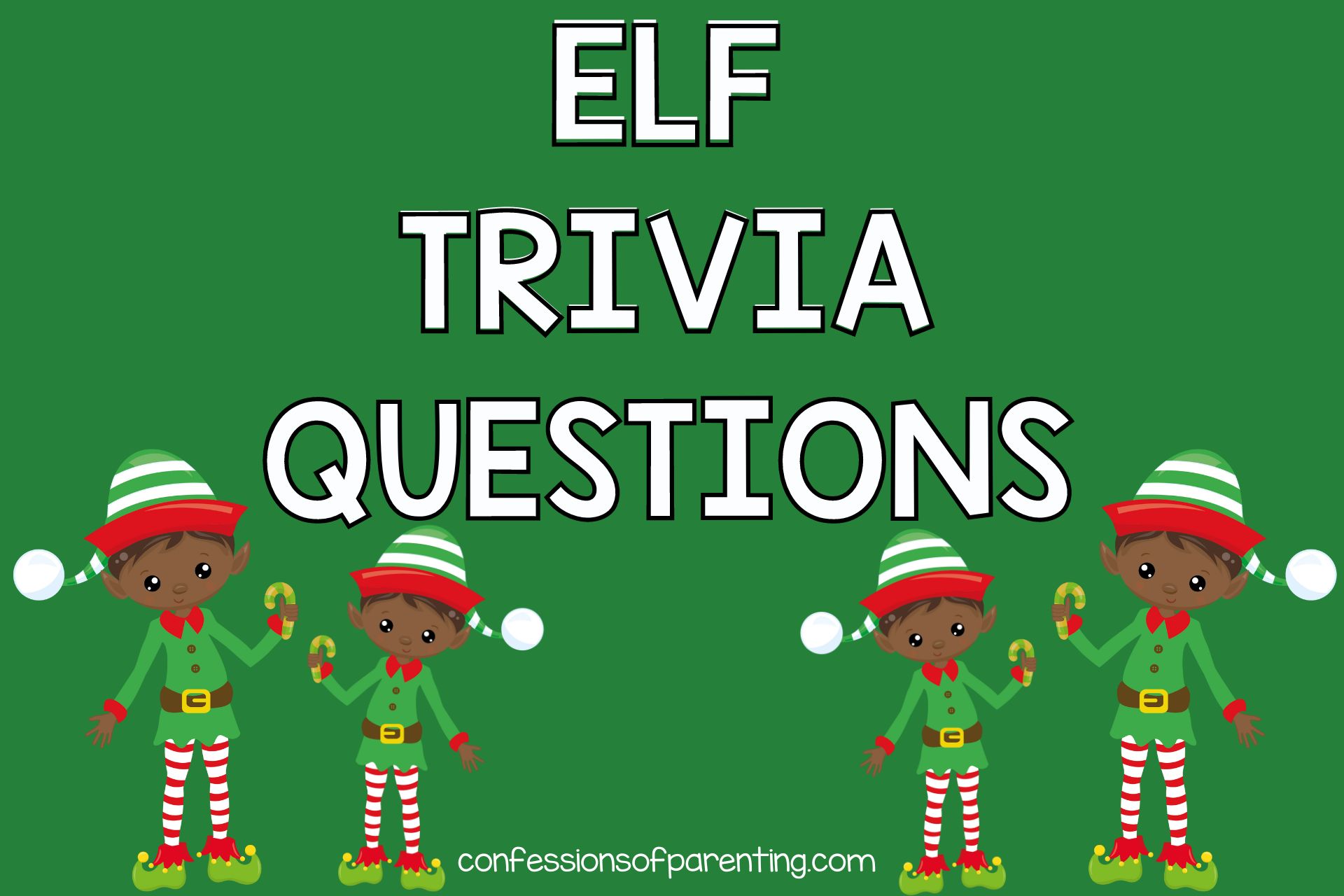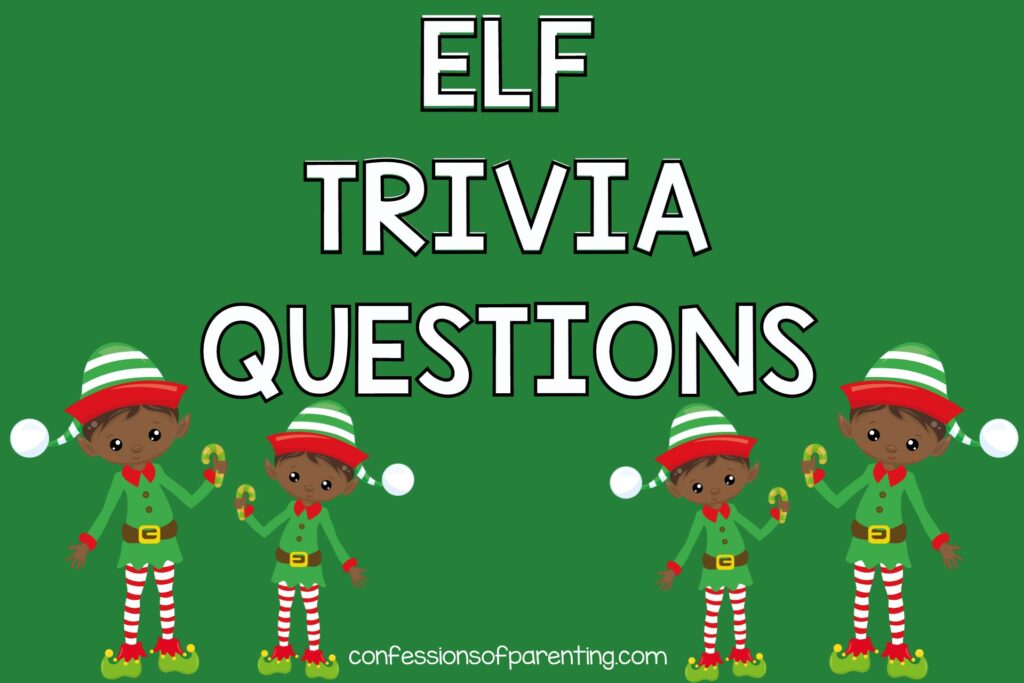 In our house, we love trivia questions! That is why we are always trying to come up with the most obscure trivia questions to stump each other with. This time of year, it is all about Christmas trivia. My kids love Christmas Movie trivia and Santa Claus trivia and I am a huge fan of Elf trivia because it can stump a lot of them!
We have had so much fun with these elf questions we thought you would love to test your elf trivia as well! Be sure to let us know how many you get right in the comments!
How to Play Trivia
Elf trivia is simple! You can test your knowledge on your own, break into teams, or however you choose.
You will then take turns asking trivia questions. If you know the answer, you can raise your hand or shout it out (however you decide to play). If you get the correct answer, you get 1 point. The person or team that gets the most points wins.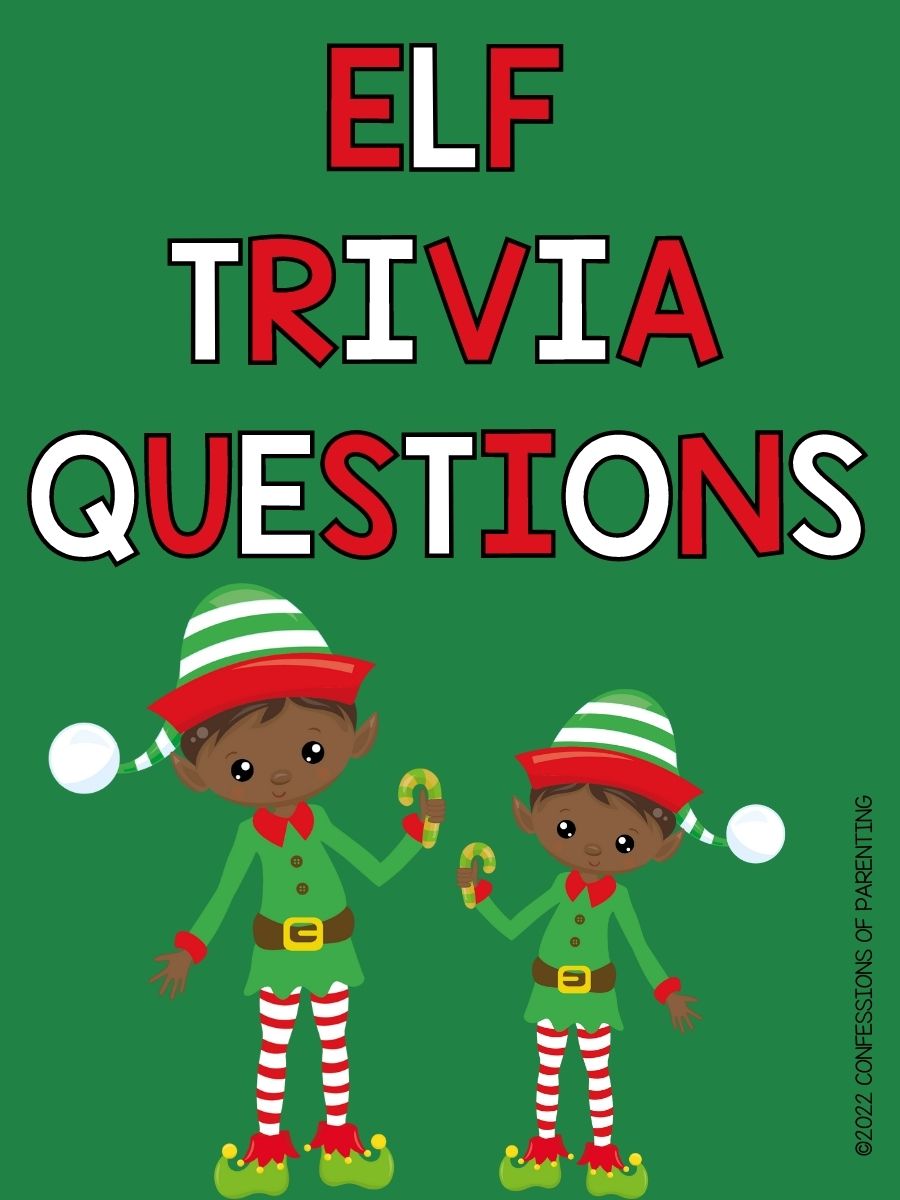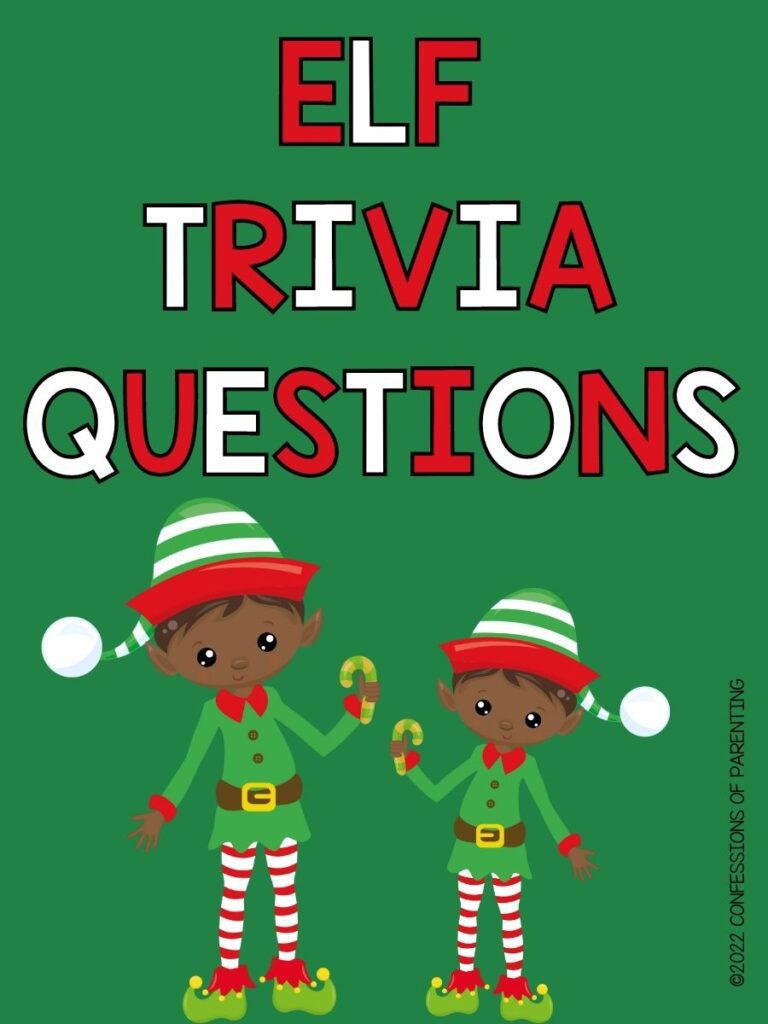 How to Increase Your Trivia Skills?
We get asked a lot, how do I get better at trivia? We have found that the more you play, the better you get. But here are some other great ways.
Never stop researching and learning. Knowledge is power, so always find ways to learn.
Become more curious.
Ask questions.
start memorizing things. This helps increase brain power to remember random facts you need to be a trivia expert.
Start with things that you find interesting and go from there!
Gear up for the Holidays with this Mega Christmas Game Collection!
Elf Trivia
Ready to test your elf trivia? Let's get started!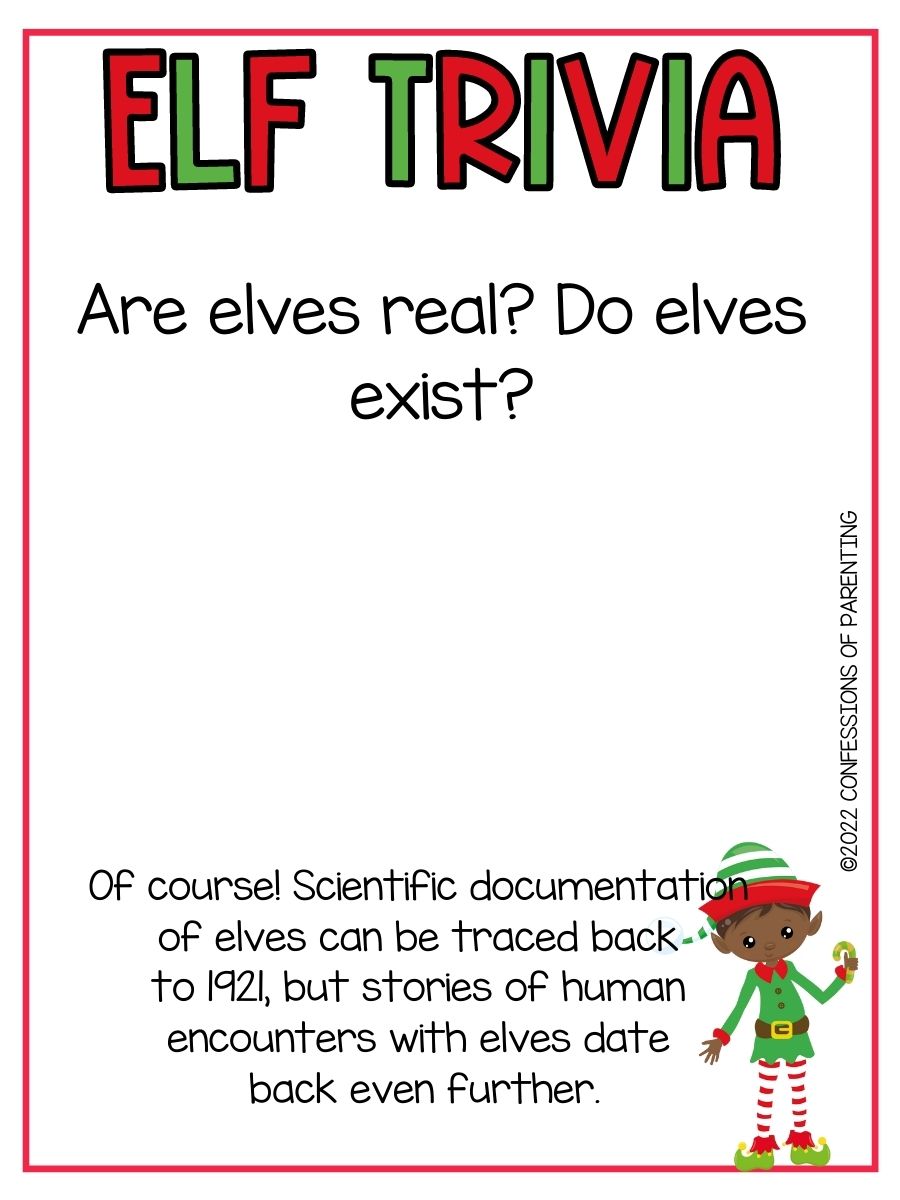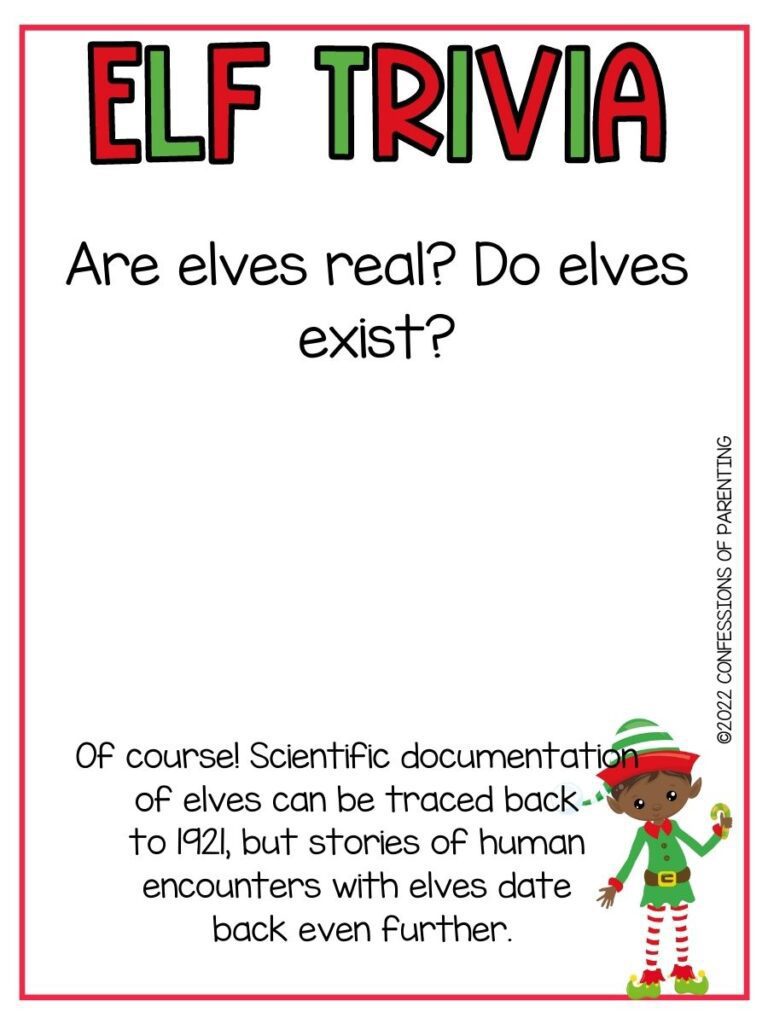 Q: Are elves real? Do elves exist?

A: Of course! Scientific documentation of elves can be traced back to 1921, but stories of human encounters with elves date back even further.
Q: What do elves look like?

A: Elves are described as well-intentioned beings, smaller than a person, who lives outdoors and normally does not talk.
Q: How many elves does Santa have?

A: The number of elves that work for Santa continues to go up each year. In 2018, the number of elves jumped to over 90,000. The number is expected to reach nearly 110,000 by Christmas 2020
Q: How tall are elves?

A: Just like humans, elves' heights vary, but Santa's elves are typically between 2 and 4 feet tall.
Q: What do elves eat?

A: Elves' favorite things to eat are cookies, candies, and pizza. Mrs. Claus looks after the elves to make sure they also eat fruits and vegetables.
Q: How long do elves live?

A: Elves typically reach maturity around the same age as humans, however, their lifespan is infinite.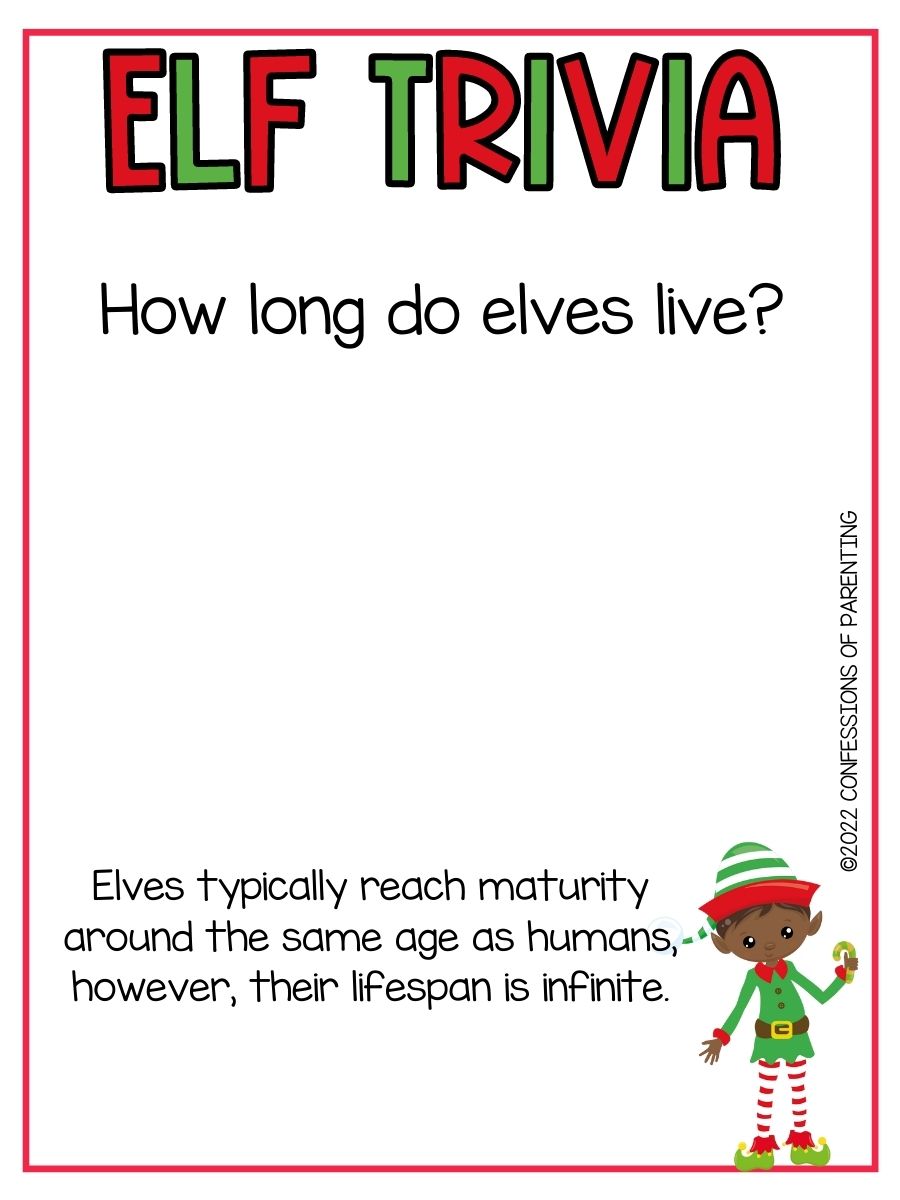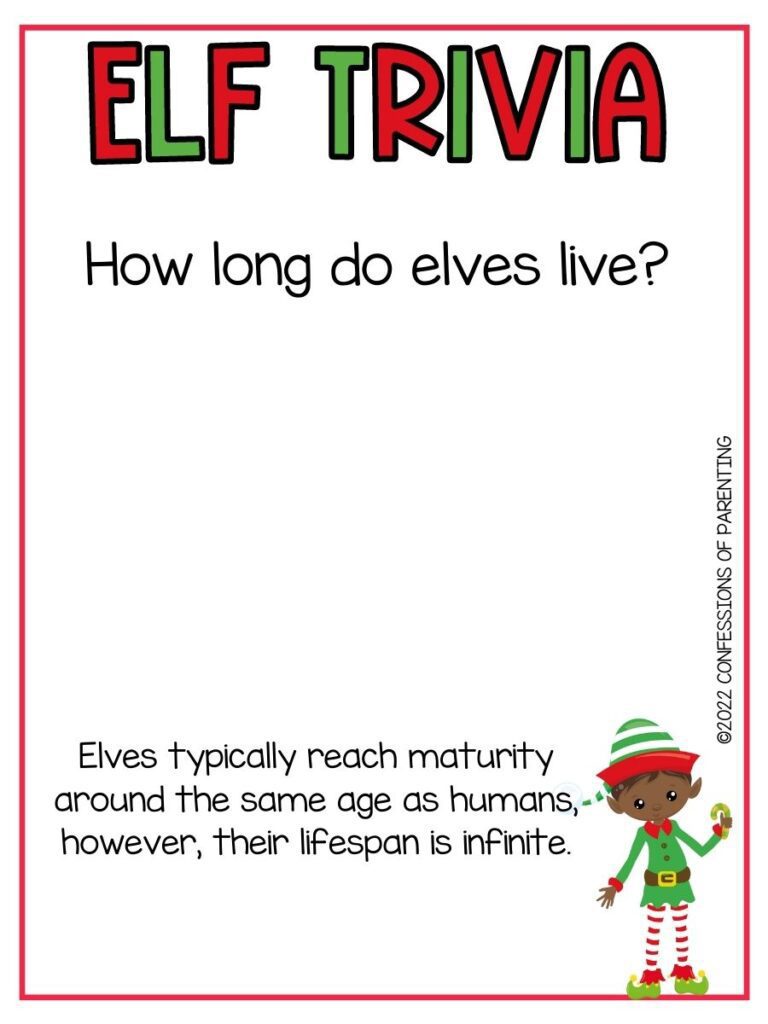 Q: How old are Santa's elves?

A: Santa's elves are a variety of ages from 25 – 2025.
Q: What do elves learn in school?

A: Just like human children, elf children learn the skills they will need to be productive adults. The school covers subjects like woodworking, gift wrapping, painting, technology, how to care for animals, and more! Most importantly, all elves learn the ELF-ABET!
Q: Where do elves live?

A: Santa's elves live at the north pole, for easy access to Santa's workshop where they live. They have wonderful homes full of family and friends.
Q: Why do elves have pointy ears?

A: Elves are born with ears that look exactly like human ears, but as they age the ears get pointier and pointier. Pointy ears are the mark of a very wise elf! Maybe if humans lived as long as elves do, then humans would have pointy ears too!
Q: What are the names of Santa's elves?

A: It's impossible to list them all! Santa has so many elves and they all have beautiful, unique names, just like you.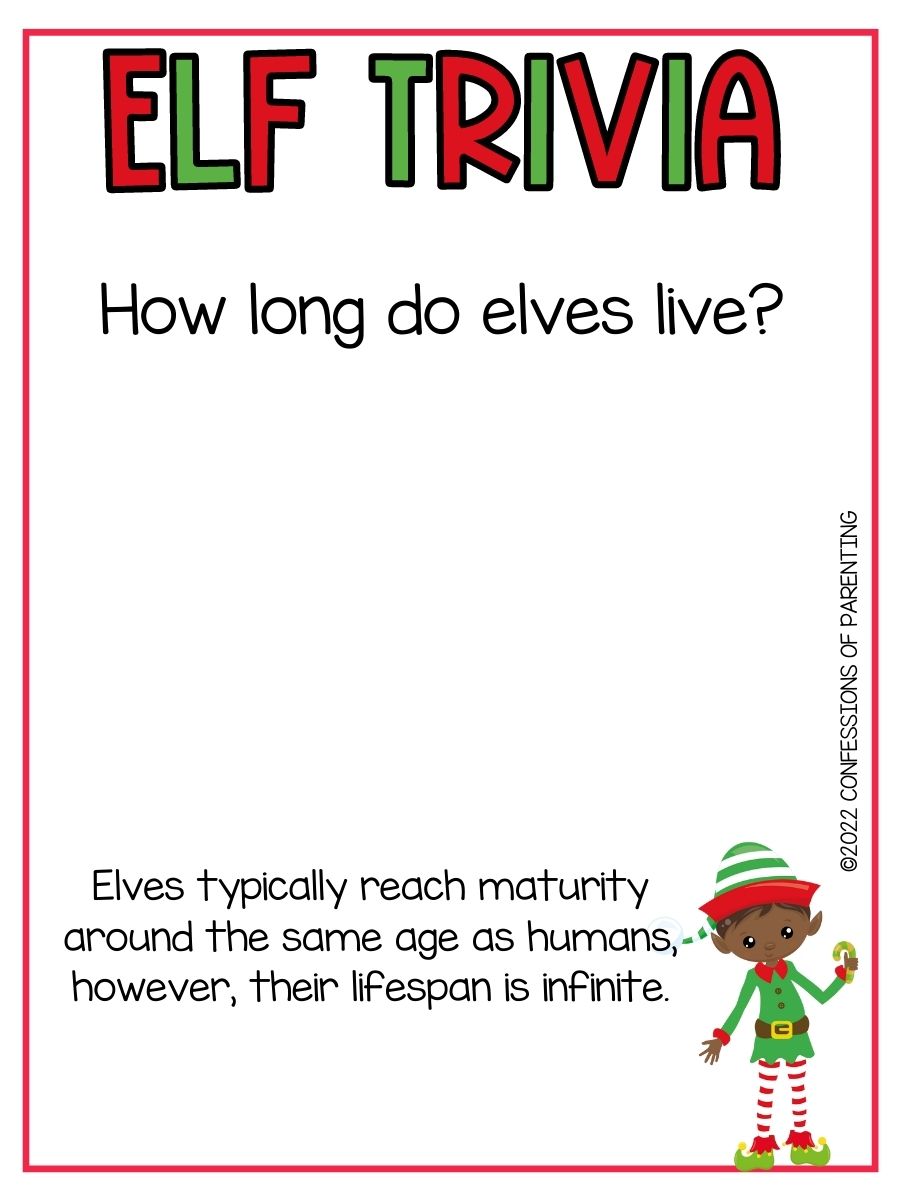 Q: What do Elves Homes Look Like?

A: The elves live in tiny colorful cottages throughout the North Pole. They look like colorful gingerbread houses.
Q: What kind of jobs do elves have?

A: Many of them work in Santa's workshop making toys. Elves make toys throughout the entire year not just during Christmas. Making toys keeps the elves busy throughout the year.
Q: What are elves favorite hobbies?

A: Elves love to have snowball fights, make snow angels and play goldfish with the reindeer.
Q: What's the job of Santa's toy builders?

A: Being a toy builder for Santa Claus is the highest honor for an elf. The North Pole has strick regulations for becoming a Toy Builder, here are some of the talents you need to have to become one.
Q: What do transporter elves do for Santa?

A: Stable workers – Santa's sleigh cannot fly without his reindeer and these elves ensure they are well fed, cleanly groomed and in a healthy place. Maintenance – Santa's sleigh needs to be inspected for safety and maintained. Santa's safety is in these elves hands.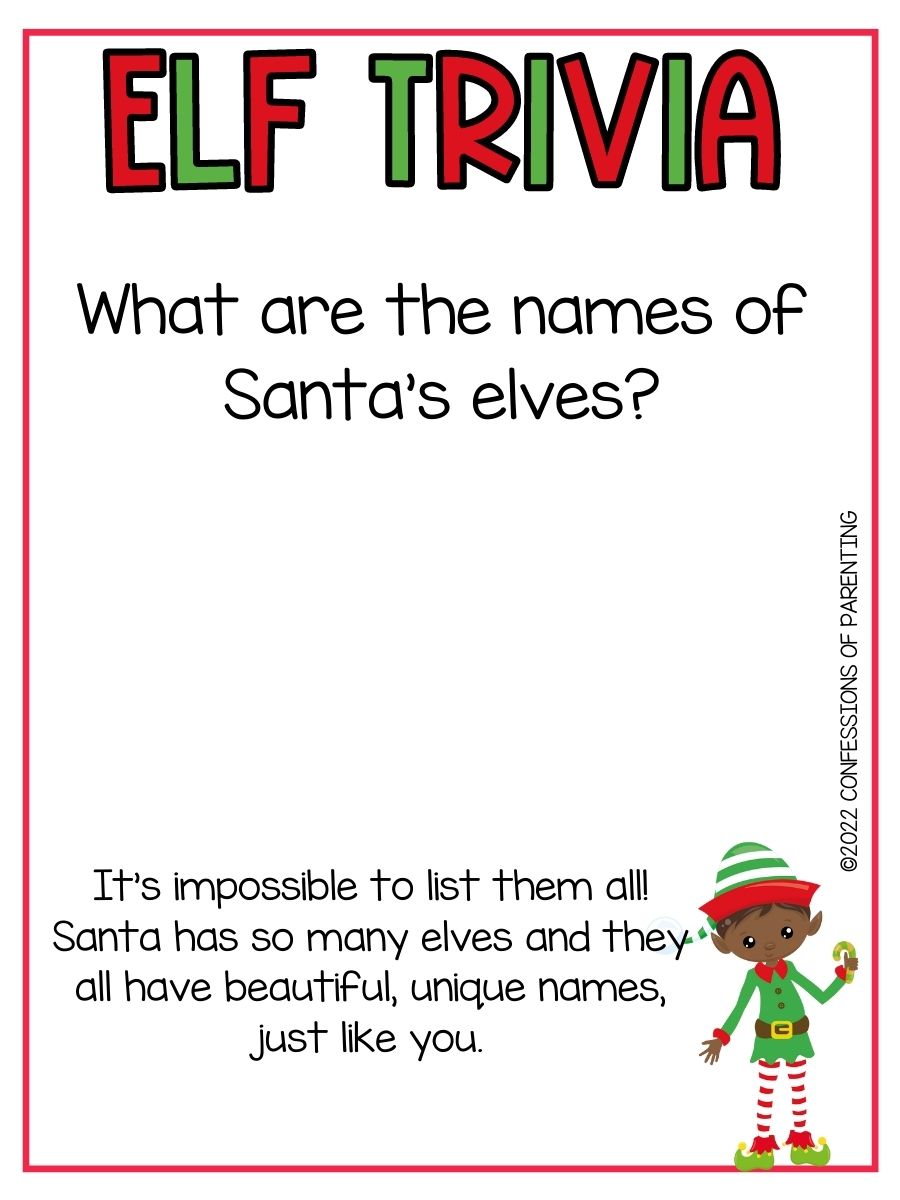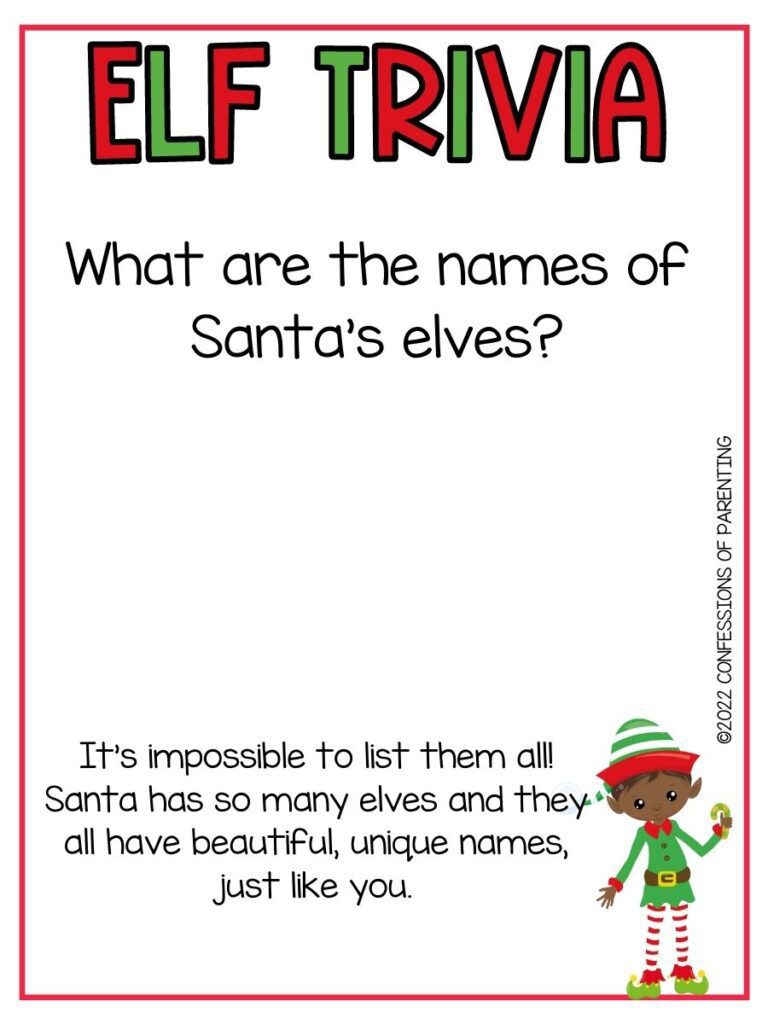 More Facts About Elves
Elves were first noted in German mythology during medieval times.
For Germans, they had superpowers and were amazingly beautiful.
They were considered divine or semi-divine creatures.
Elf originally meant "white being".
In Norse mythology, the elves were divided into good and bad elves.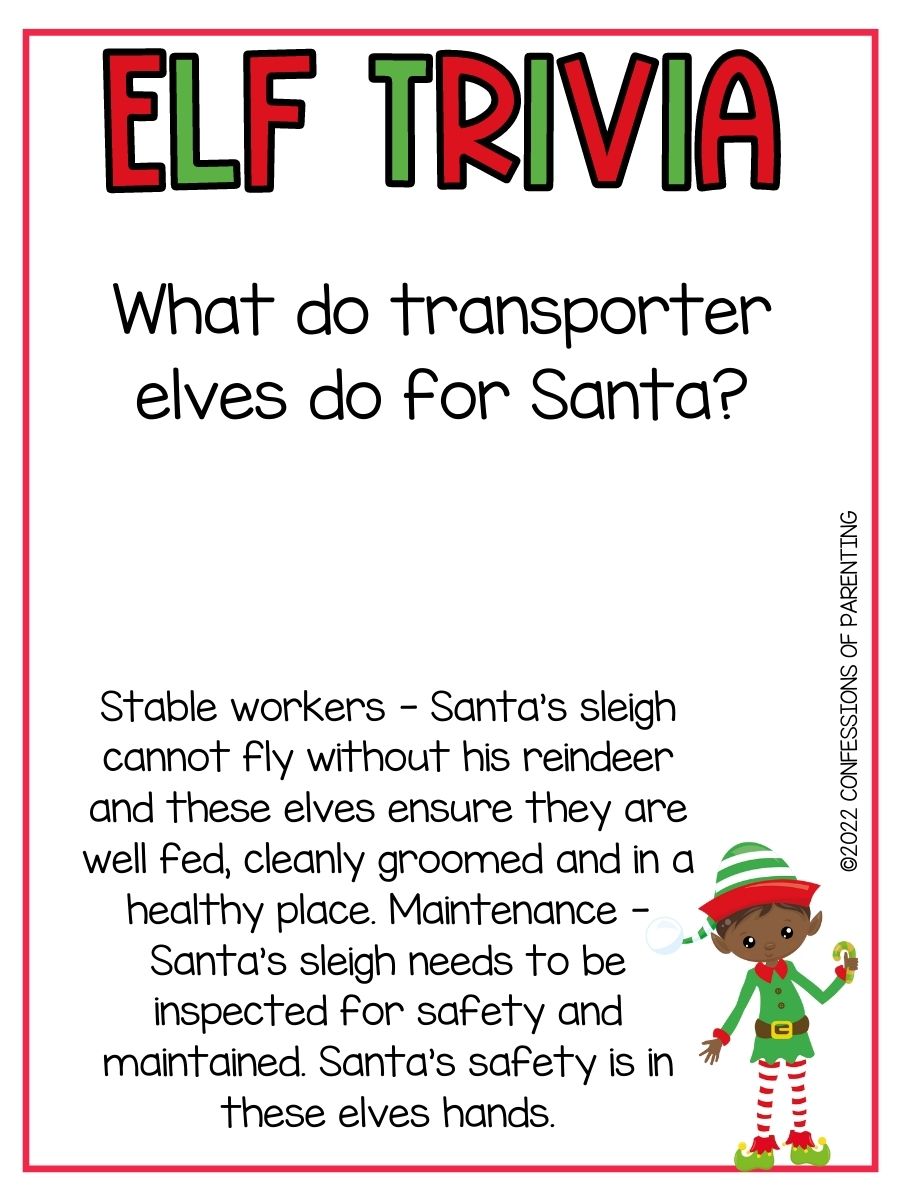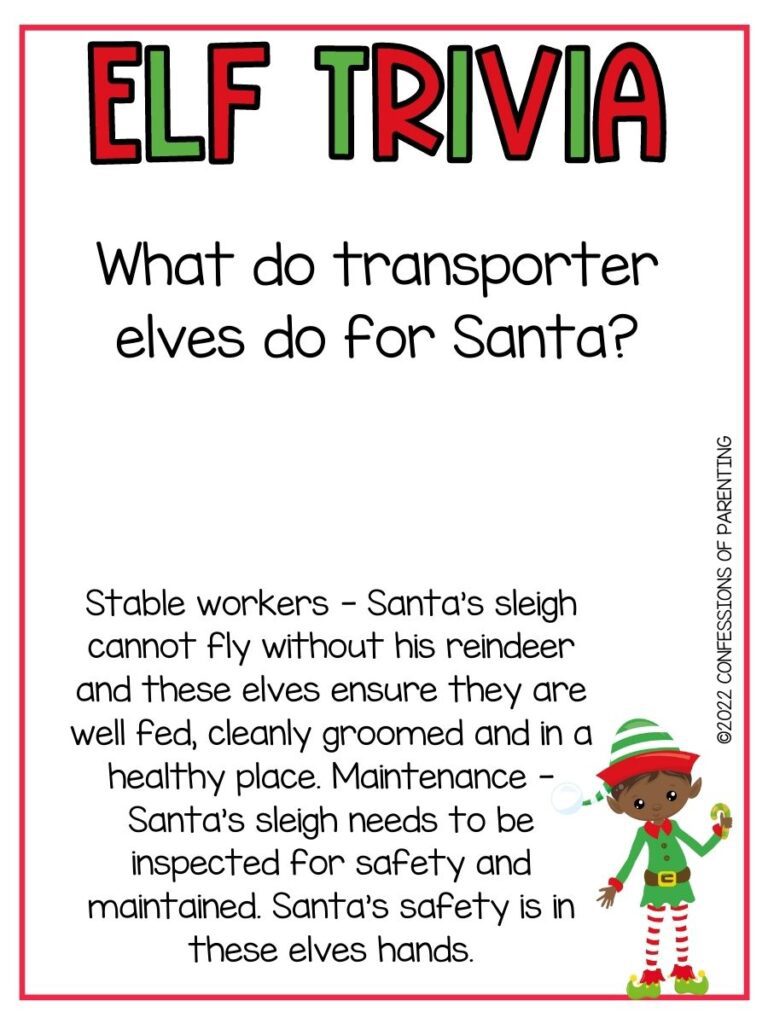 From the Norse mythology were "born" the Trolls as well.
In more recent folklore elves were connected with Fairies.
Shakespeare included elves in his play "A Midsummer Night's Dream".
J.R. Tolkien had elves in all of his novels.
When it comes to Tolkien, he created an "elvish" language.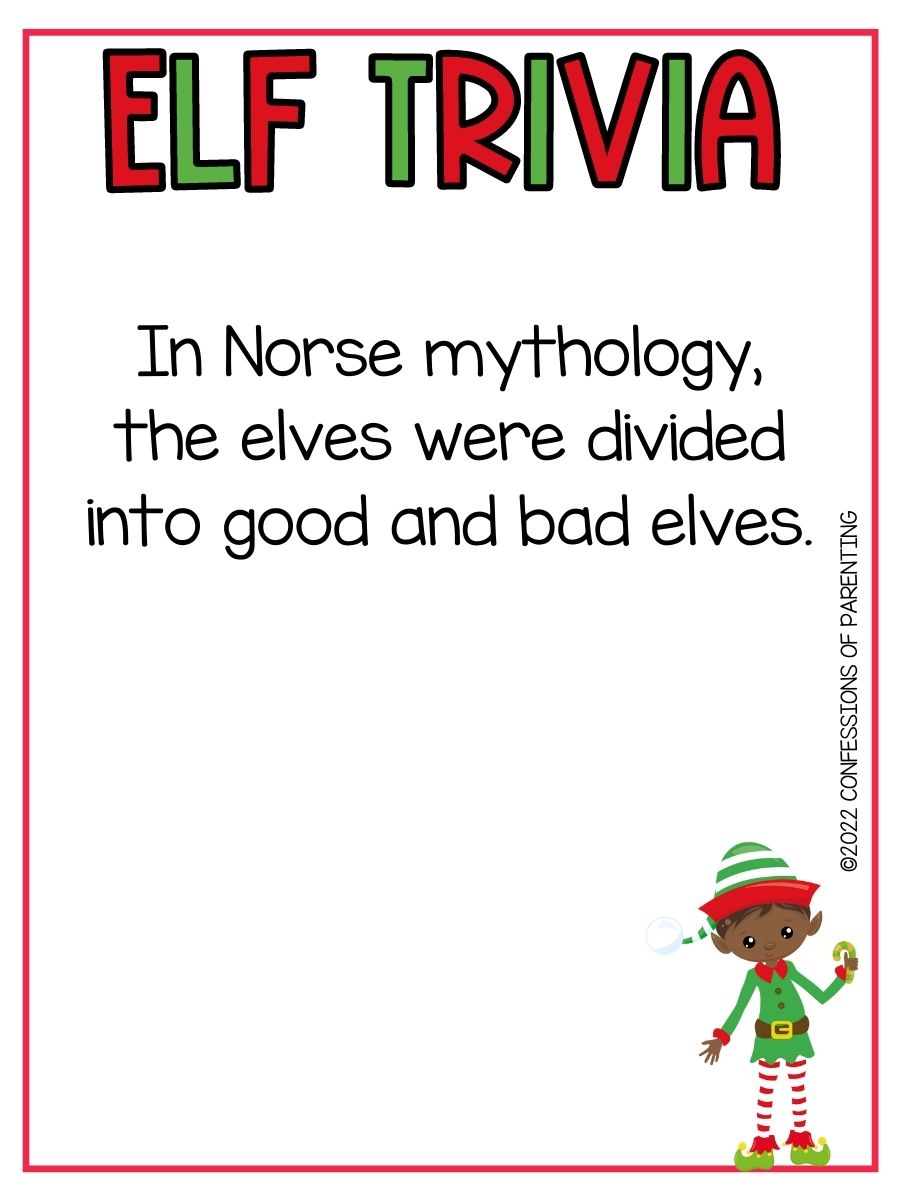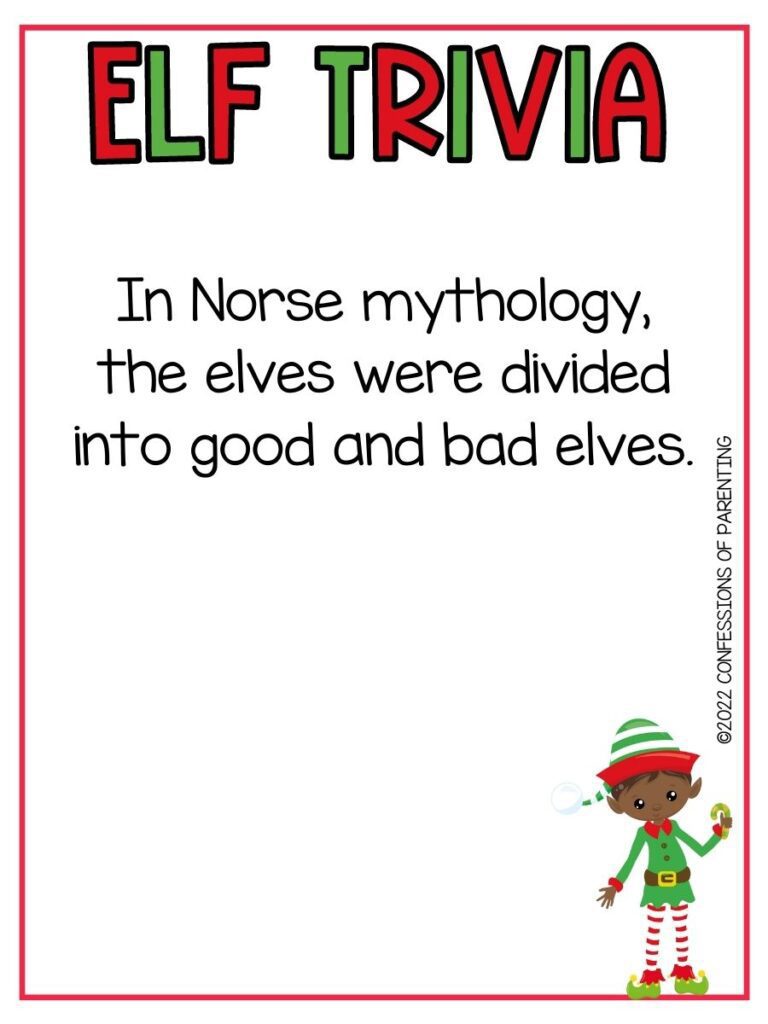 So, in "Elvish" there is another word for butt which is… hakka!
Tolkien's elves symbolized purity.
For the writer, they were the ideal people because they were kind, insular and monogamous.
Elves though are famous for helping Santa Claus to prepare the gifts for the kids.
According to what the kids are told elves decorate their houses with lights all year long, so they basically live in a Christmas normality.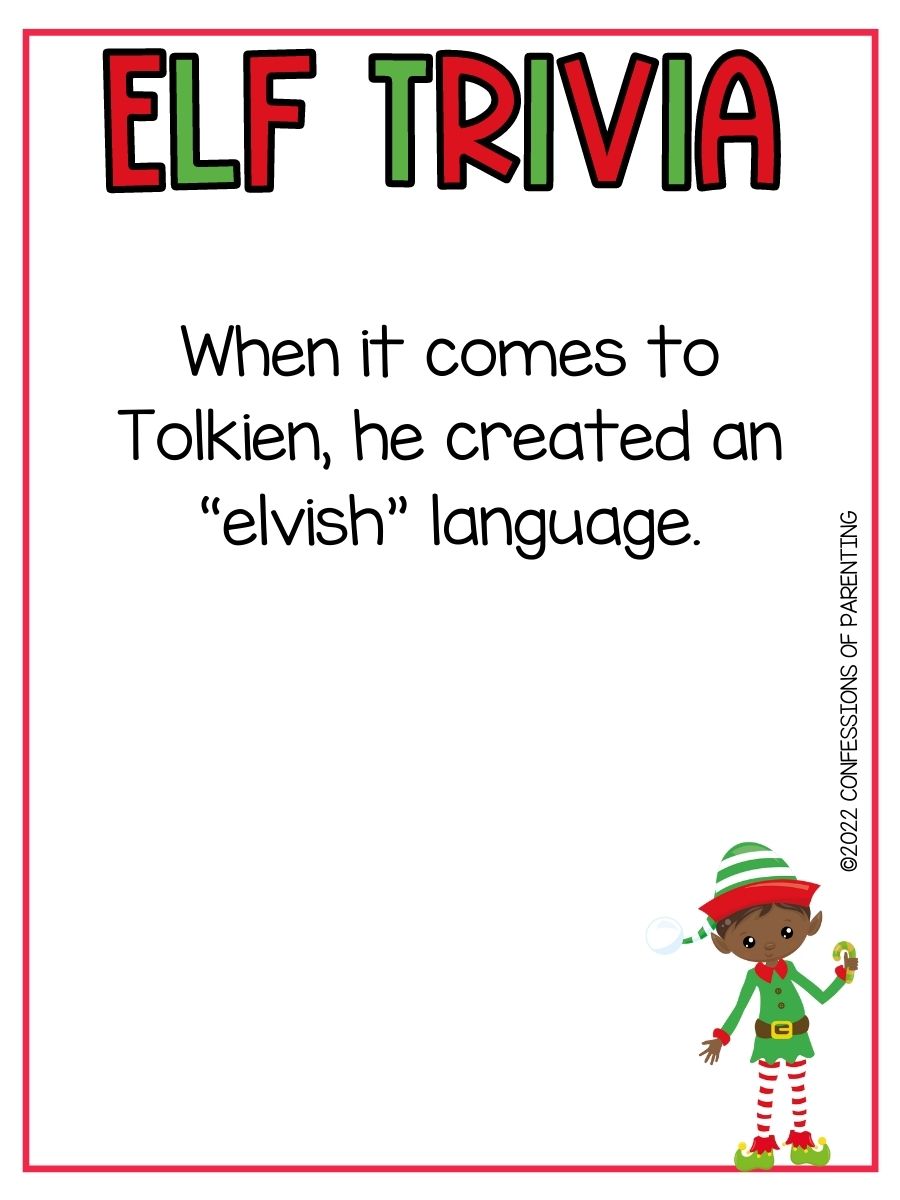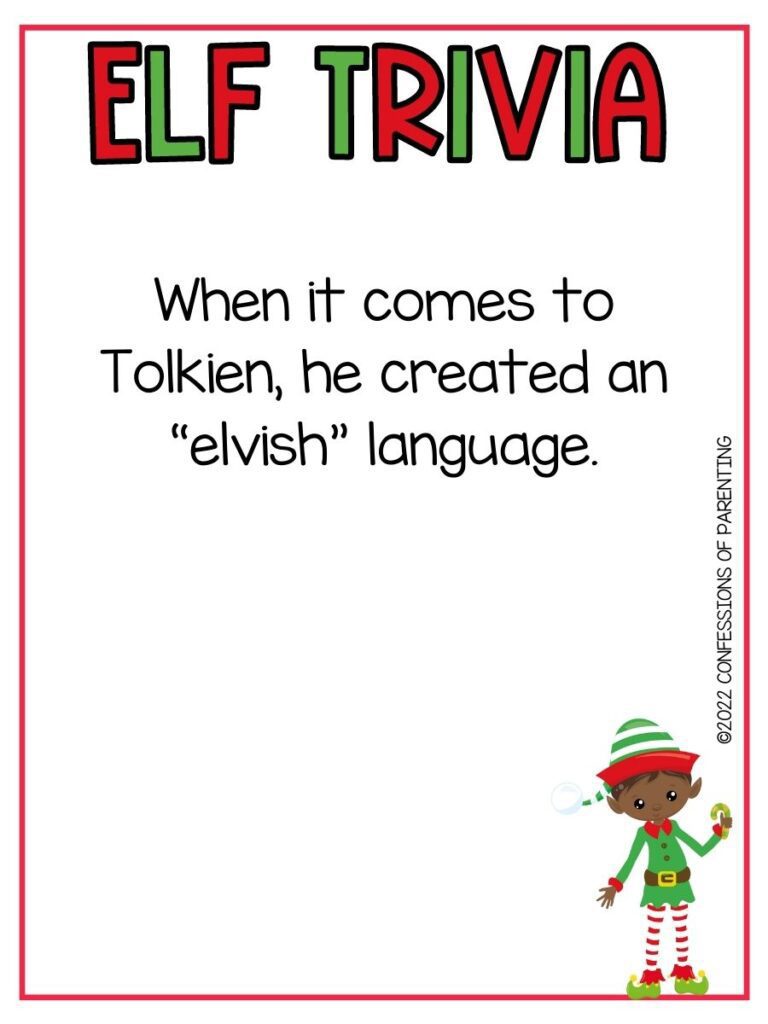 According to the tradition the elves live in the North Pole where they work in Santa's workshop.
Their main job is making toys according to the tradition.
The image of elves in Santa's workshop was popularized in magazines of the mid-1800s.
In Iceland half of the residents believe in the existence of elf-like creatures.
But objectively elves aren't real!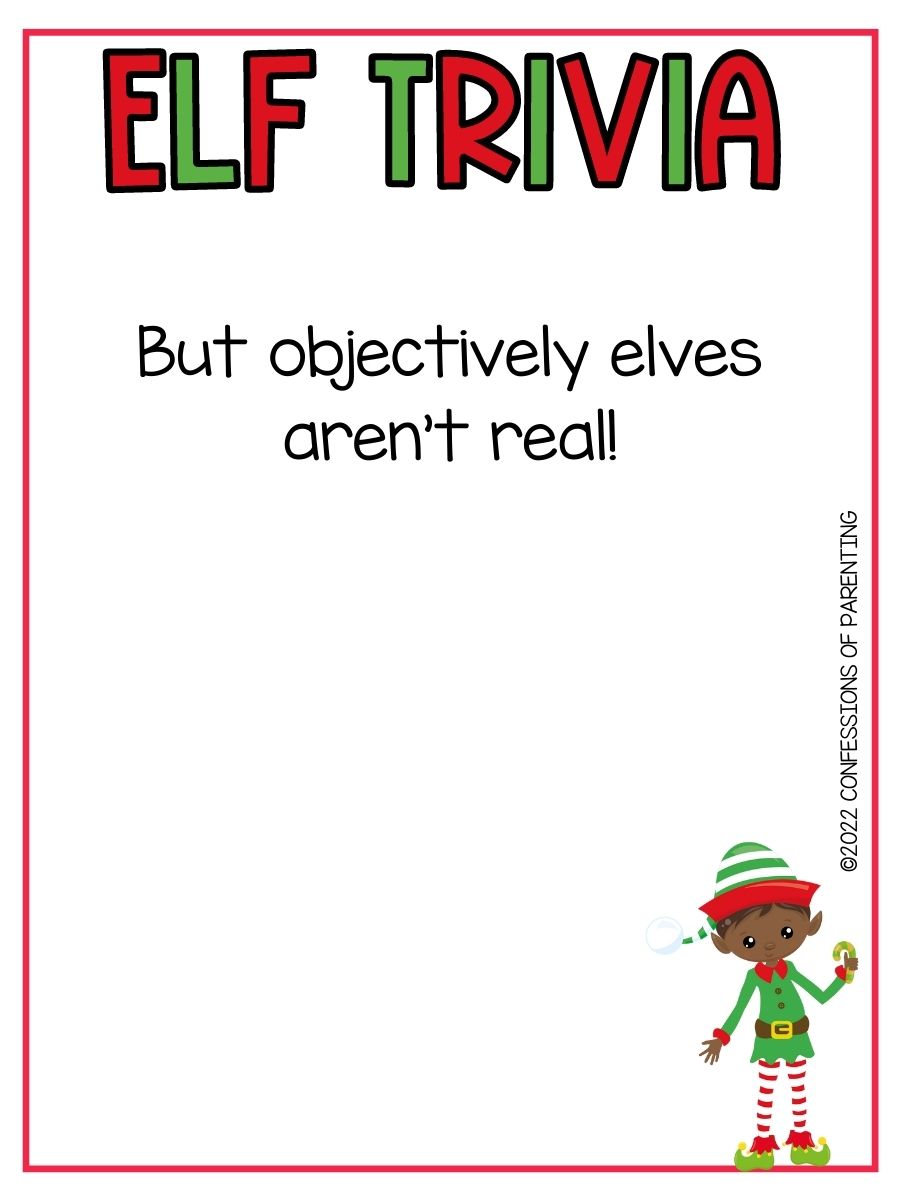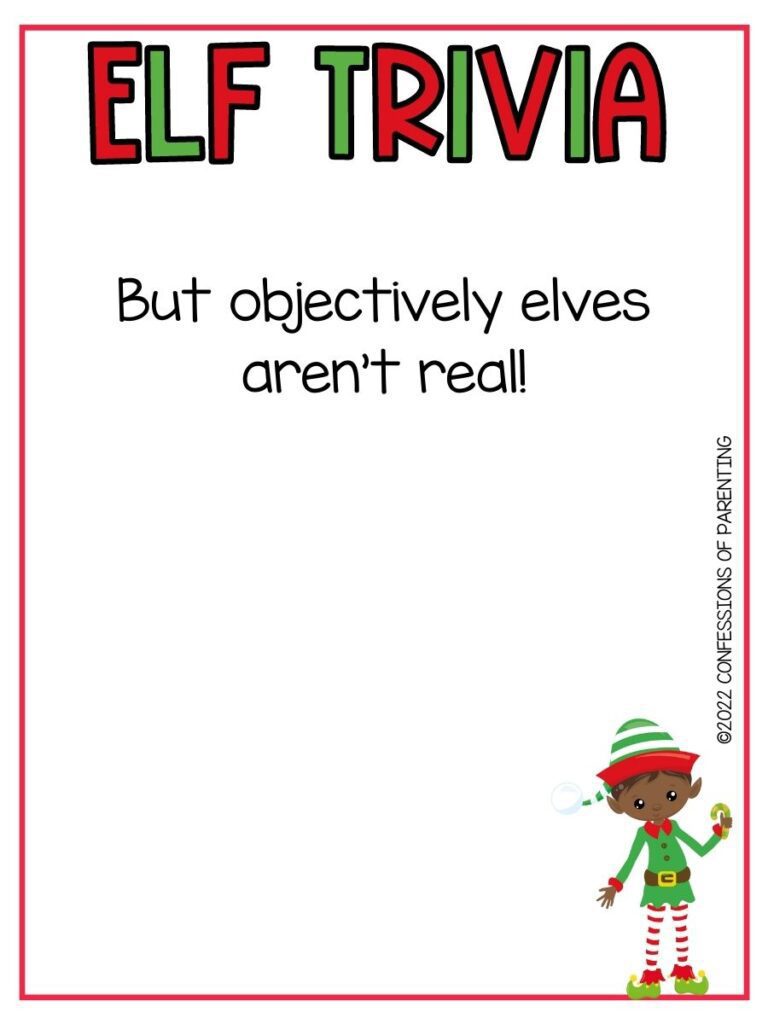 These creatures are called "huldufolk" which means hidden people.
Elves are usually portrayed in the movies with pointy ears and rosy cheeks.
Their distinctive characteristic is also their height because they are very short.
Also, in the movies, they seem to enjoy eating cookies and candies!
Some popular elf names for boys are Jingle, Buddy and Charlie.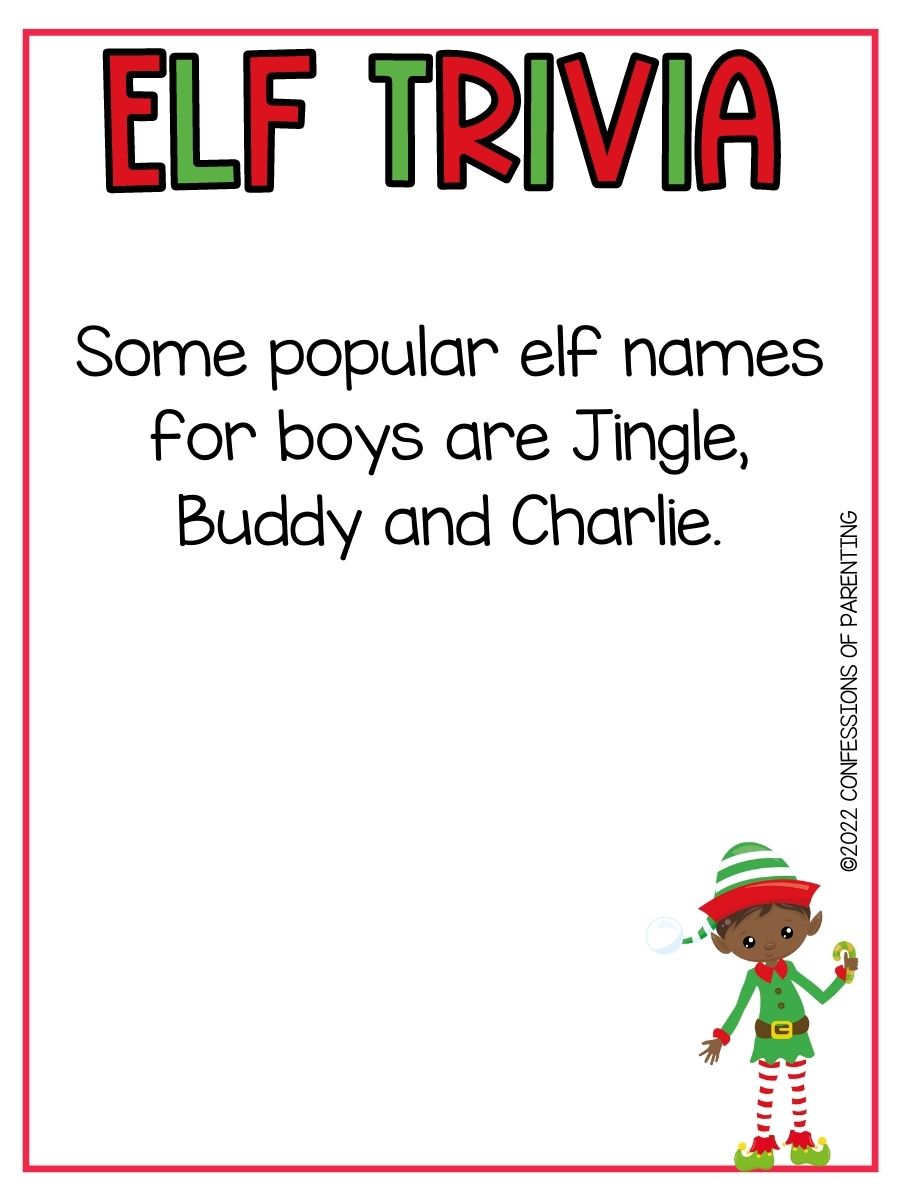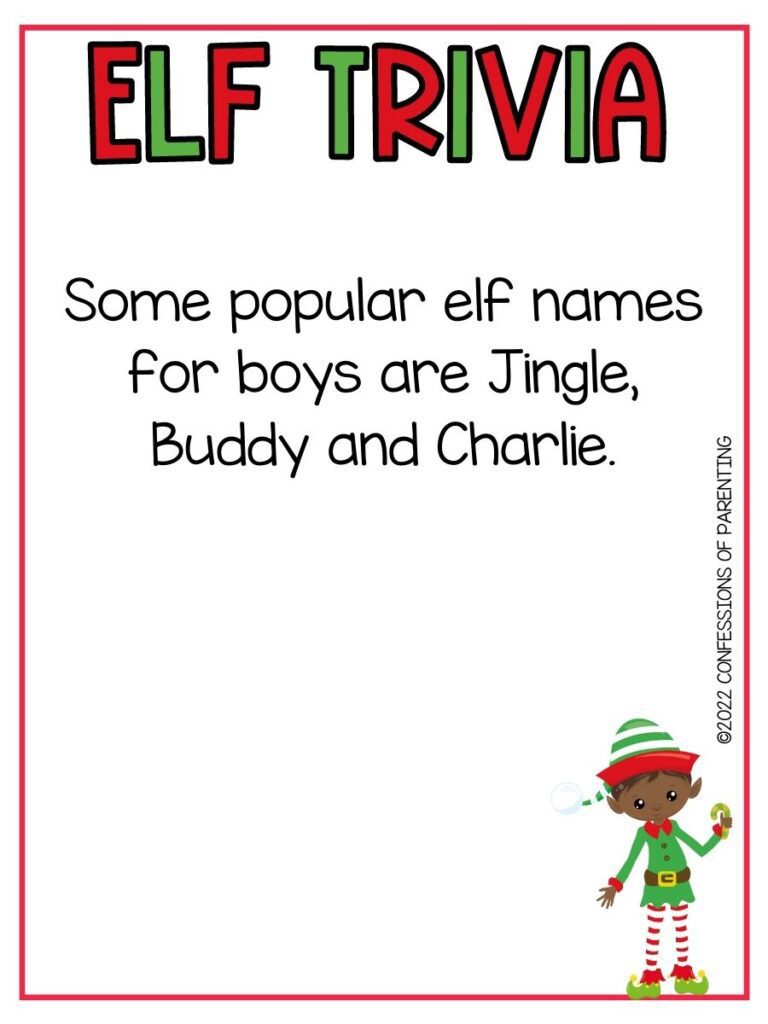 Popular names for girls are Nellie, Elfie, and Trixie.
Their costumes are green and red outfits.
Also, one of the most popular Christmas movies is called… Elf!
Will Ferrell portrayed in a great way the Elf.
The movie's plot is about a human named Buddy who was adopted and raised as an Elf.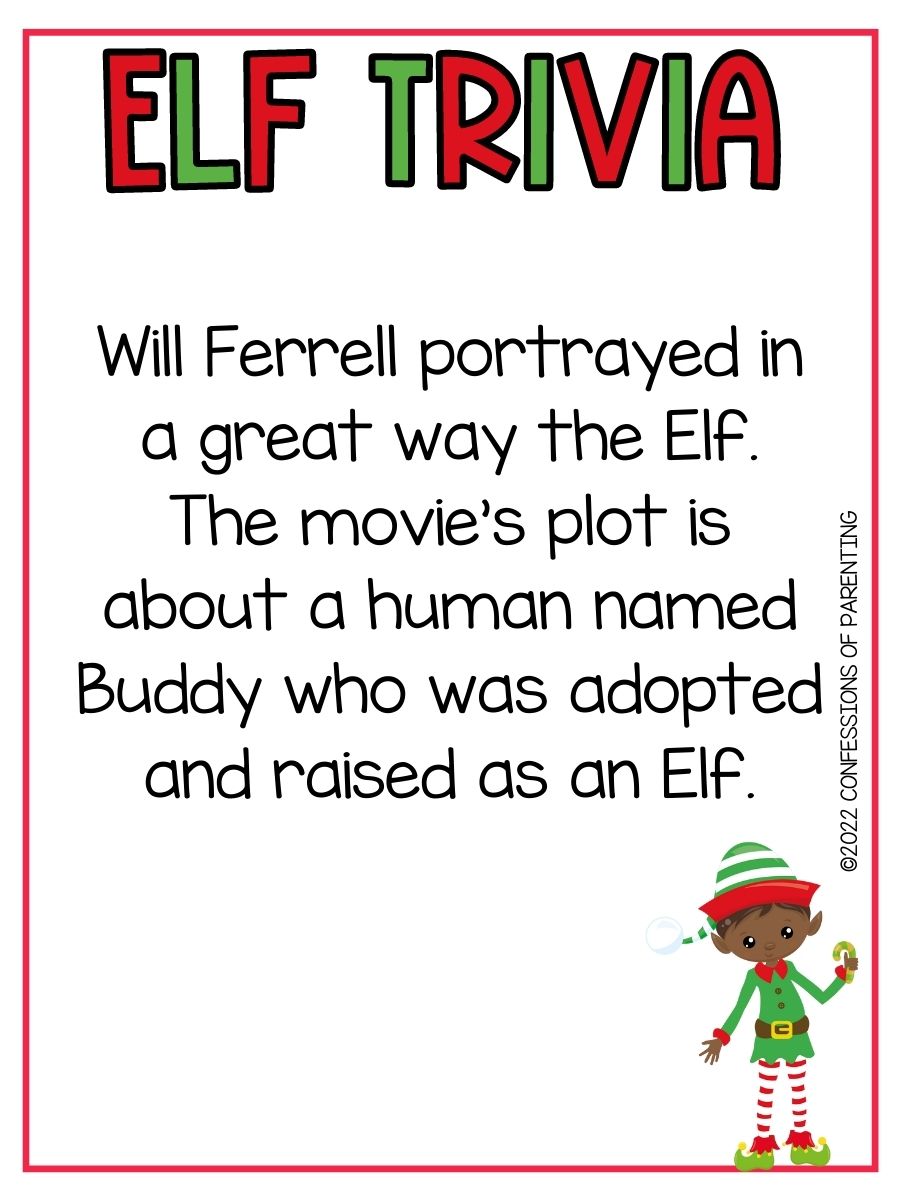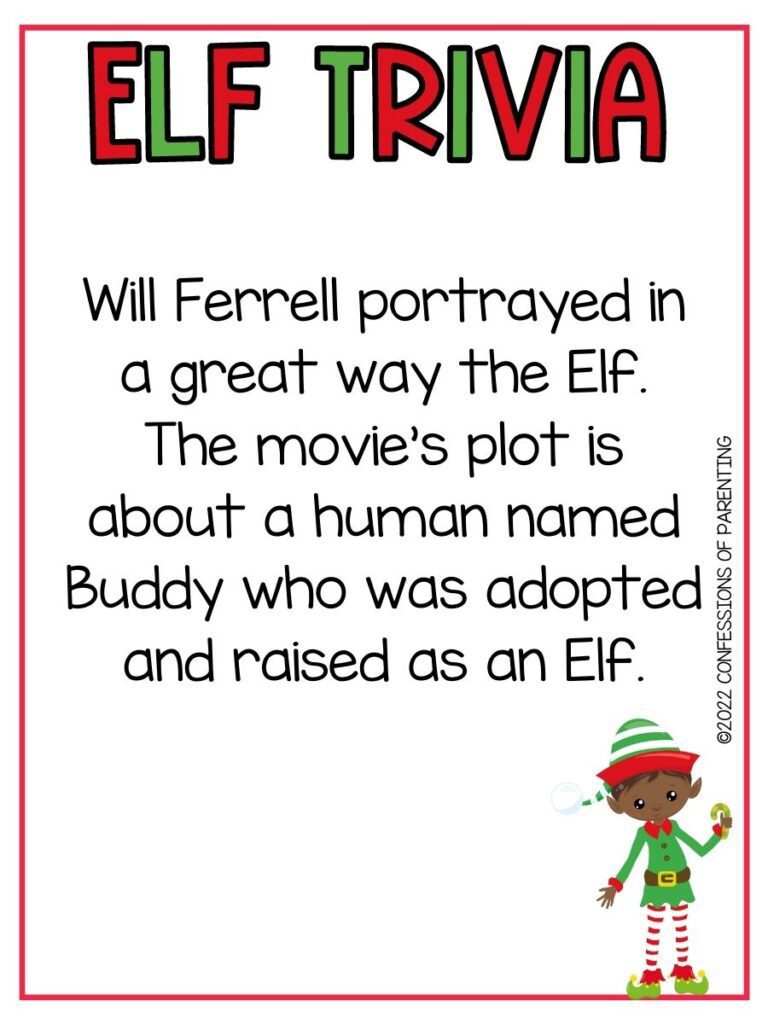 Love Trivia questions? Check out these trivia posts!