Ready to test your knowledge of food? These Food Trivia questions make for the perfect game or conversation starter! Take them with you on the go, while you're lounging around the house, or when you just need a little ice breaker!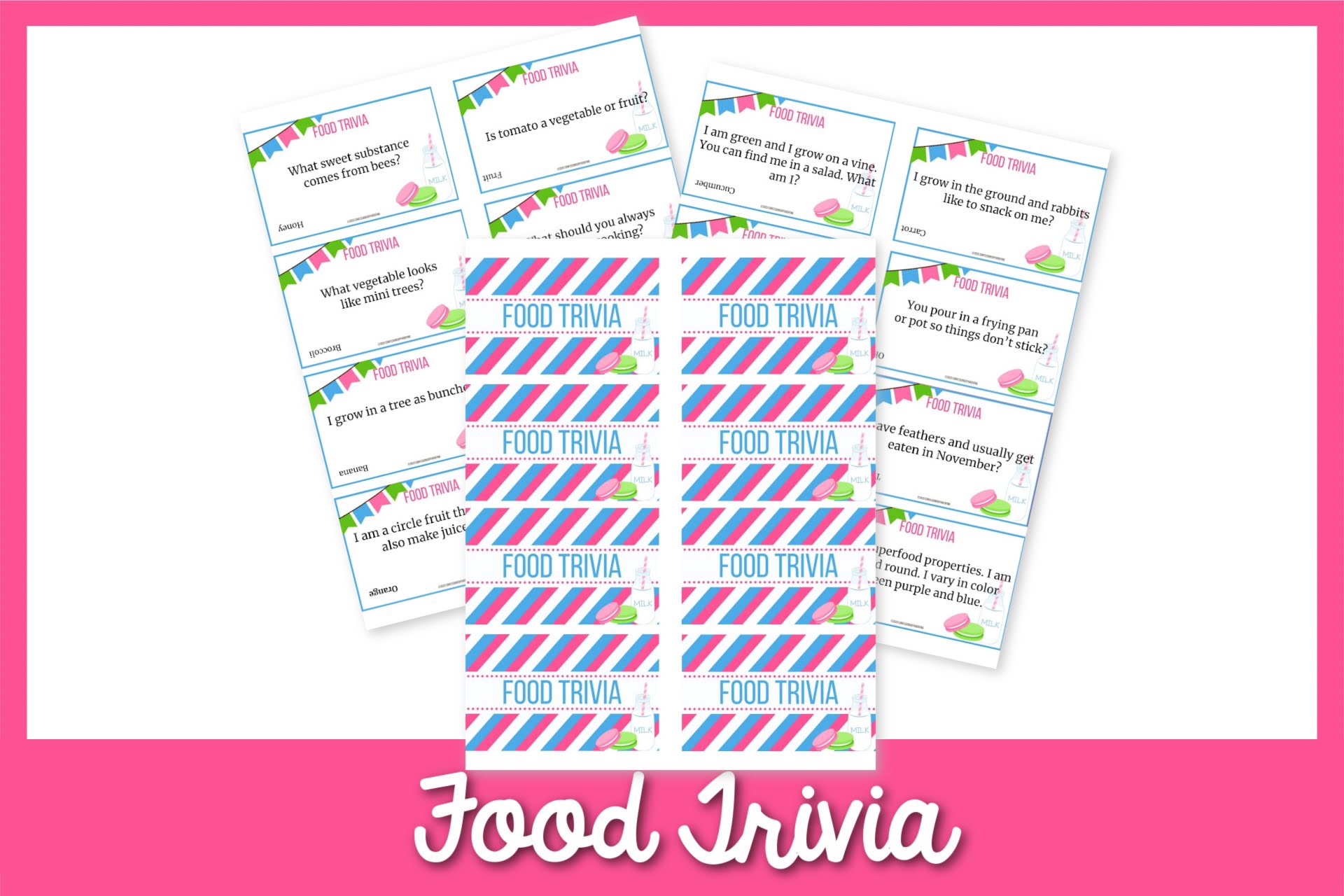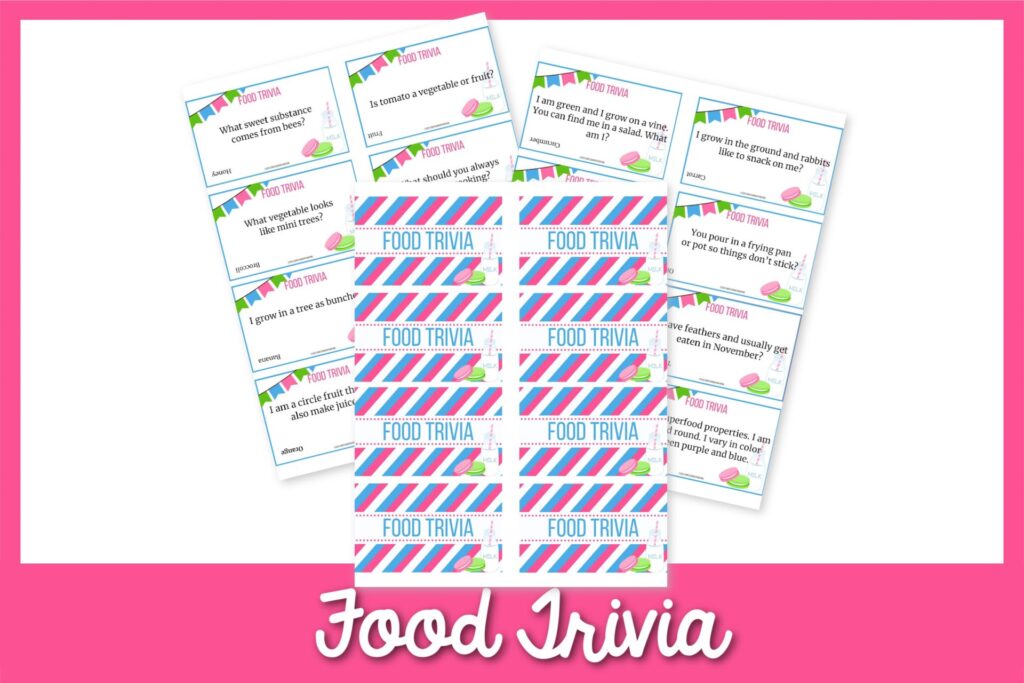 Food Trivia
Trivia Questions are our favorite! No matter if we are playing Teen trivia, or using our 4th grade trivia questions, the kids and I are always trying to guess the right answer. We absolutely love these food trivia questions, because who doesn't love to learn about food!
Learning interesting facts about food has sparked countless conversations. I love the time I get to spend with my family when we get together and play trivia! It's such a simple, easy-to-learn game which makes it versatile. You can play for any length of time too! Whether you only have 5 minutes to play or a whole hour, this is the game for you.
More Trivia Games You'll Love!
Love Trivia Nights? Grab Our Ultimate Trivia Bundle!
Why I Love Trivia
Trivia is a fun way to learn new things! I have always found that learning in a fun environment helps me remember things better! Trivia is the perfect combination between a great game and a learning activity!
You can learn more about serious academic things like geography, states, and National Parks. Or you can go the less practical route and test your knowledge of anything from sports trivia to Harry Potter to Halloween trivia.
Trivia will help your kids memory skills and is a great way for them to cooperate with one another as they figure out the right answer.
There are even blank trivia cards included in this pack.You and your family can come up with your very own trivia questions to stump your fellow players!
How To Play Food Trivia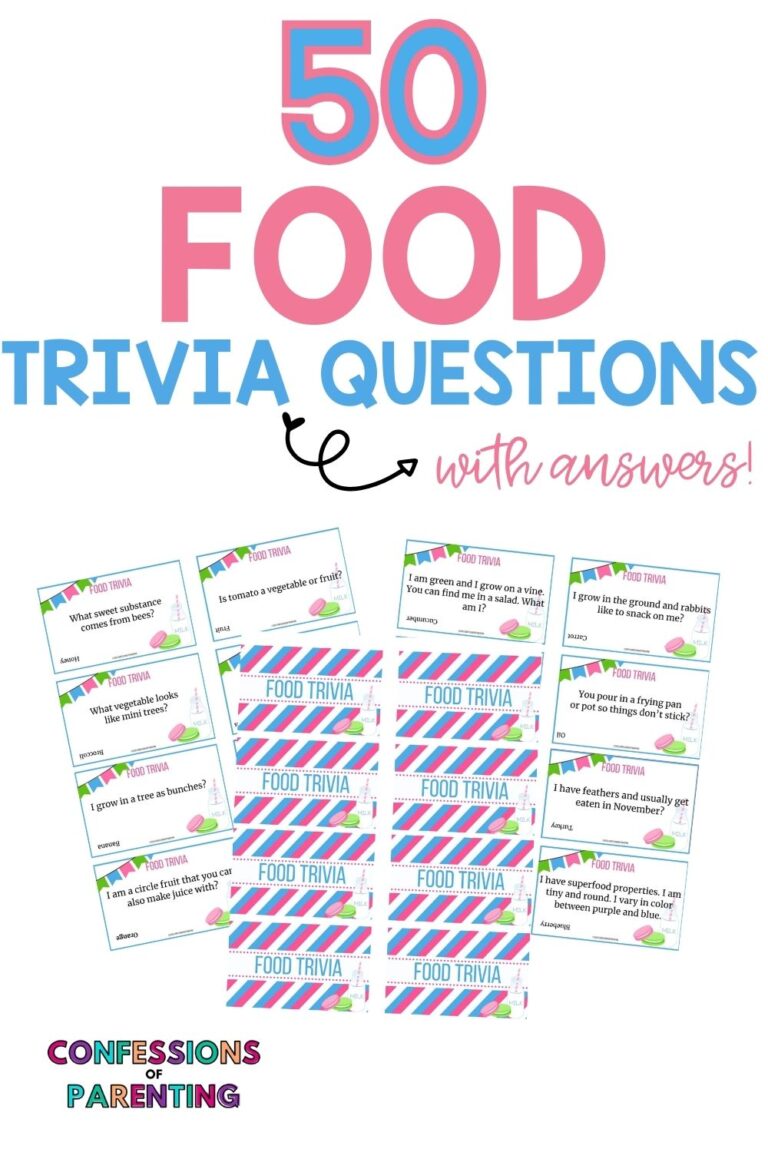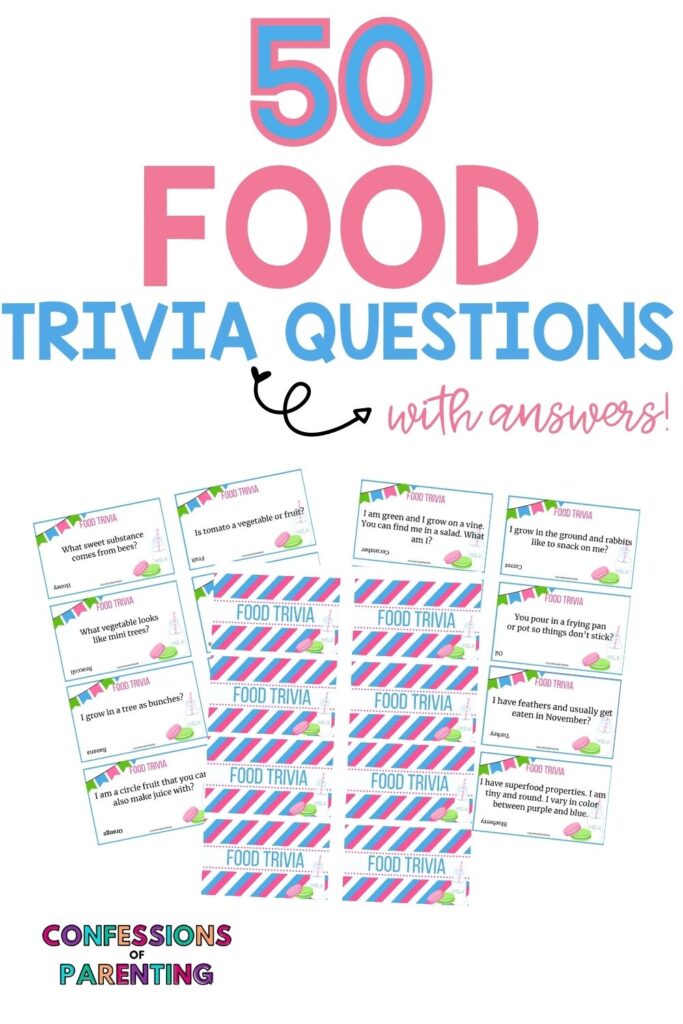 Food Trivia is a very simple game! There's no set up or take down. All you need is to print off our great list of food trivia questions and you're ready to go!
Trivia can be played casually by simply asking 1 or more people the question on the card and seeing if they can guess the answer.
You can also play competitively by playing game show style with a larger group of people (4 or more) and keeping track of who can guess the right answers. 1 point is awarded for every right answer.
When playing this as a family game night activity the winner can choose next week's activity or the movie for the night. Whatever your stakes you'll have a blast!
How Can I Make This Game More Fun?
Whiteboards and dry erase markers are the way to go if you're going to play game show style! Have everyone write down their guesses. Flip your boards over when everyone's done.
Using cardstock and laminating your cards will help them last a lot longer.
Do you want to become a trivia wiz? Start learning different, interesting facts about the things you enjoy learning about. You'll wow your friends and family with the things you learn. You can encourage curiosity in your kids by learning new things yourself.
Let your kids ask you these questions. My kids love it when I get stumped. It happens more often than I'd like to admit. We have gotten some great family time with one another this way.
The Best Food Trivia Questions
Ready to grab the food trivia cards? Grab them right here!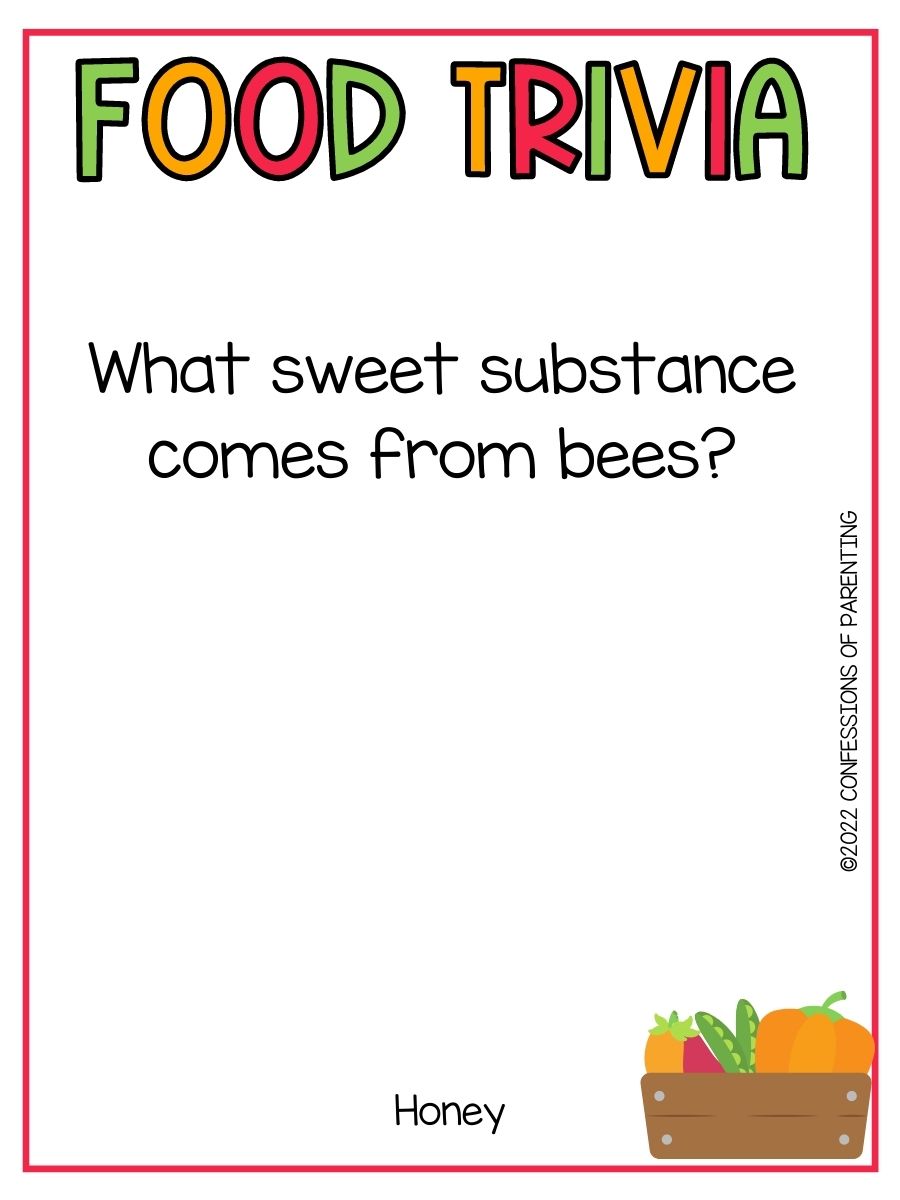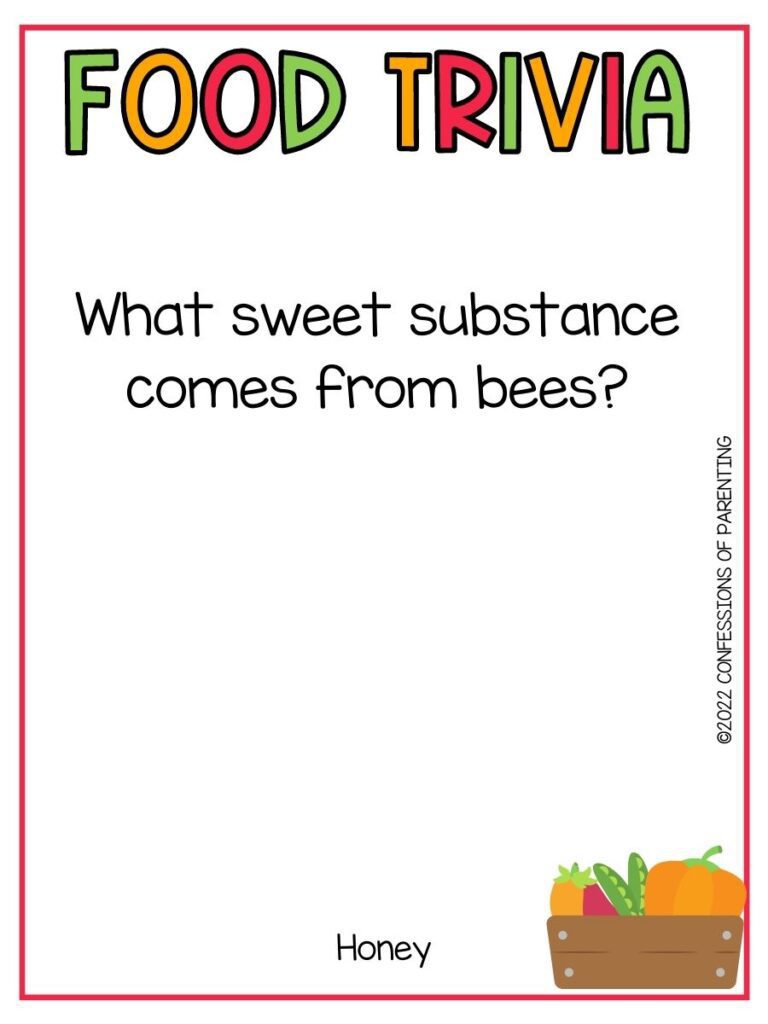 Q: What sweet substance comes from bees?

A: Honey
Q: Is tomato a vegetable or fruit?

A: Fruit
Q: What vegetable looks like mini trees?

A: Broccoli
Q: What should you always do before cooking?

A: Wash your hands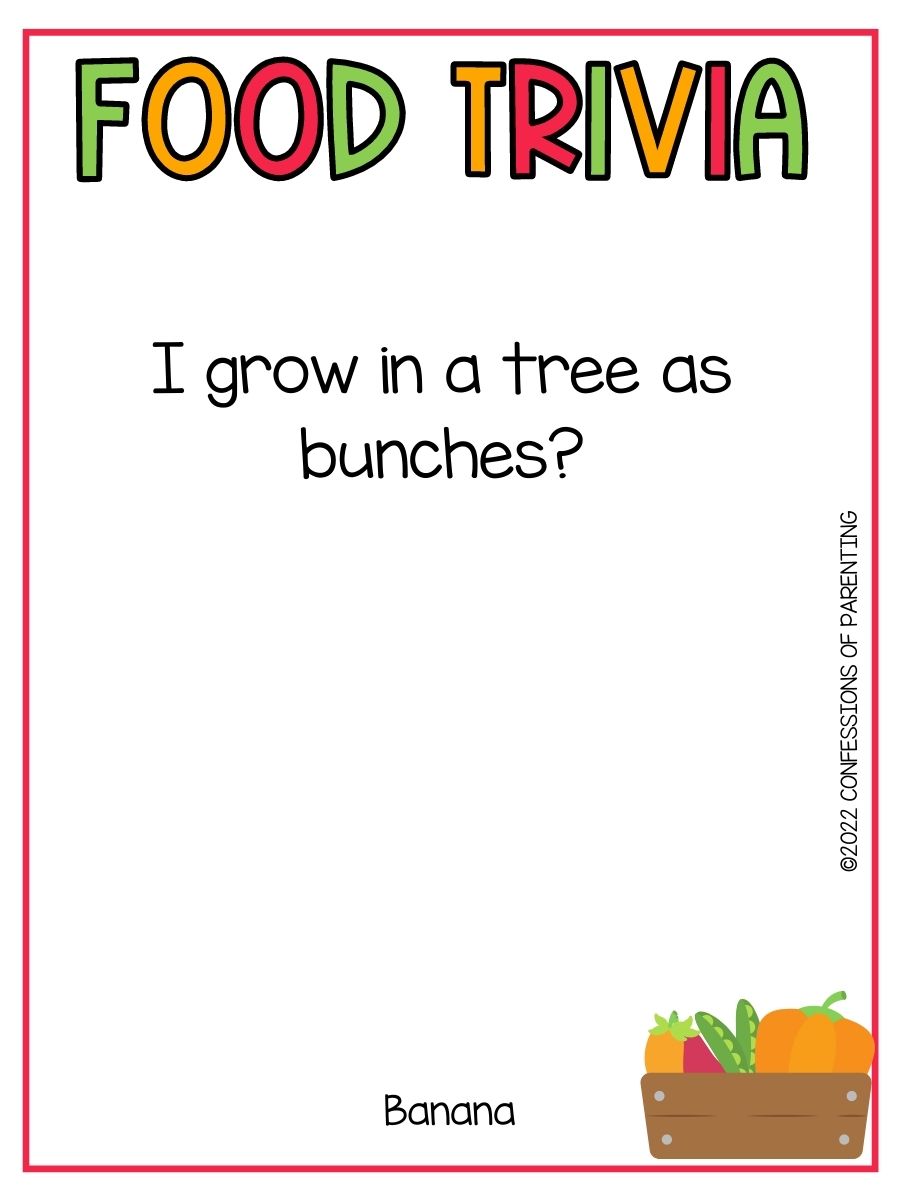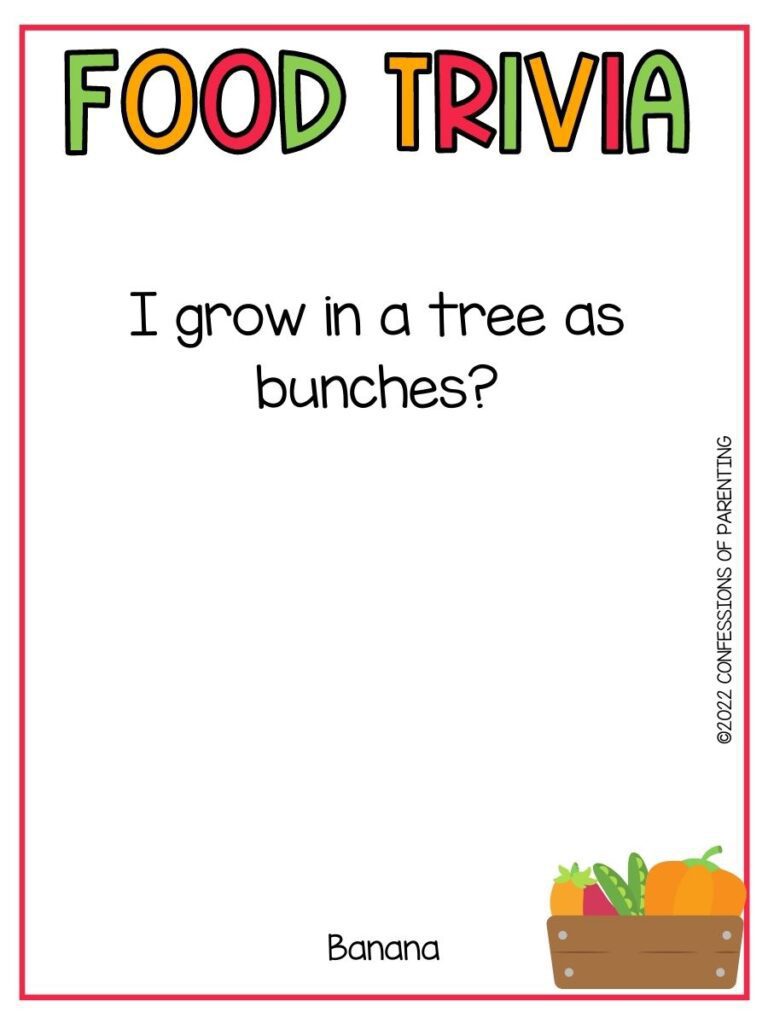 Q: I grow in a tree as bunches?

A: Banana
Q: I am sweet, red, and you pick me from a field?

A: Strawberry
Q: I am a circle fruit that you can also make juice with?

A: Orange
Q: I am a red soup that goes well with grilled cheese?

A: Tomato soup
Q: I am green and I grow on a vine. You can find me in a salad. What am I?

A: Cucumber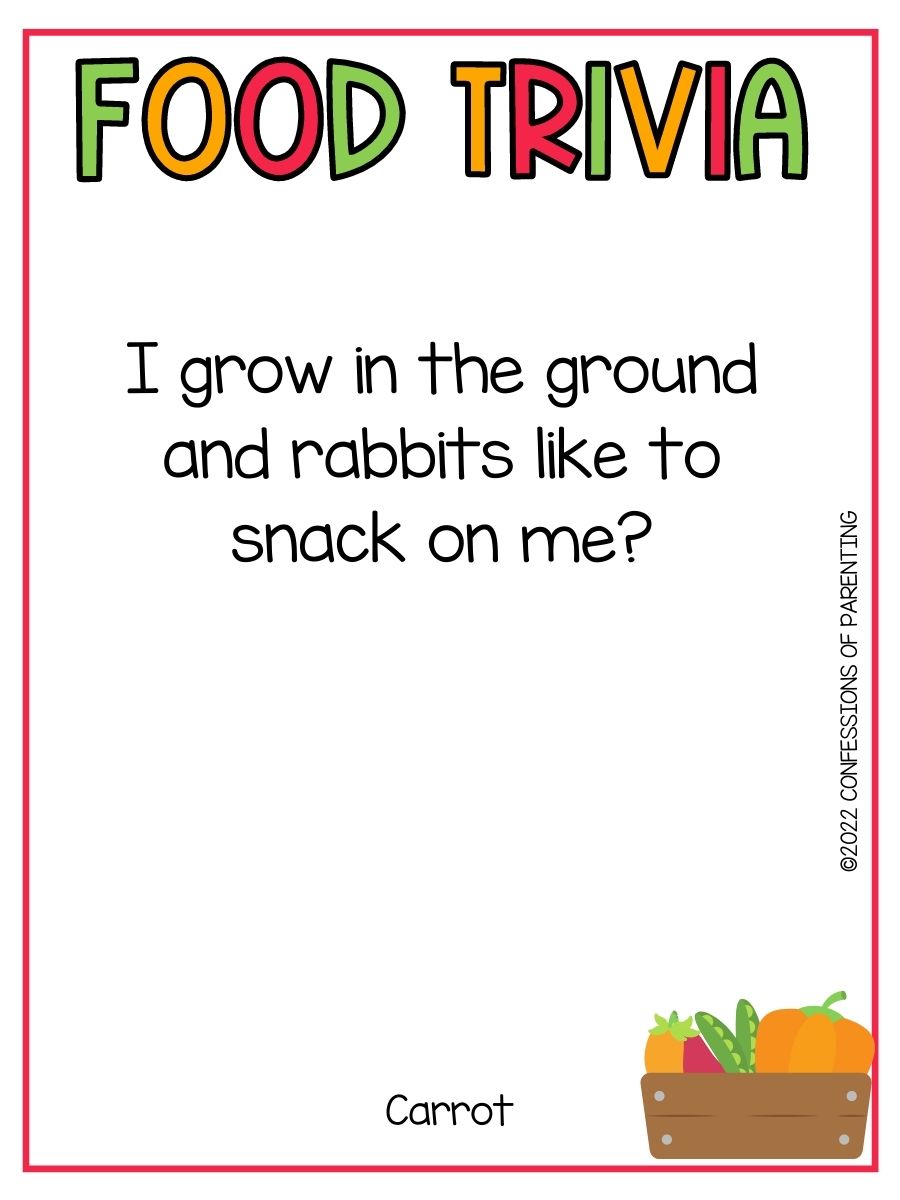 Q: I grow in the ground and rabbits like to snack on me?

A: Carrot
Q: I a round and like to be cooked on a bbq grill?

A: Hamburger
Q: You pour in a frying pan or pt so things don't stick?

A: Oil
Q: I taste good as a pie but kids love decorating me as well?

A: Pumpkin
Q: I have feathers and usually get eaten in November?

A: Turkey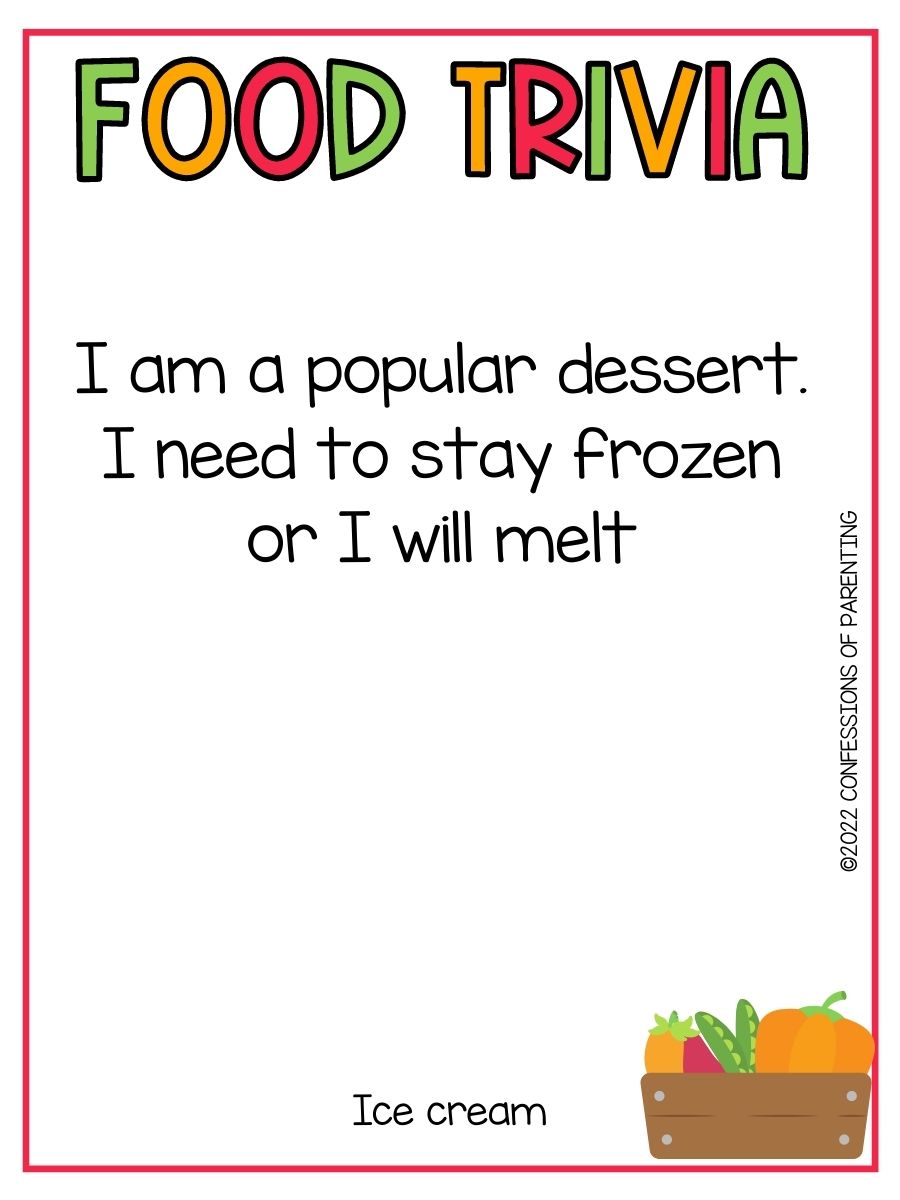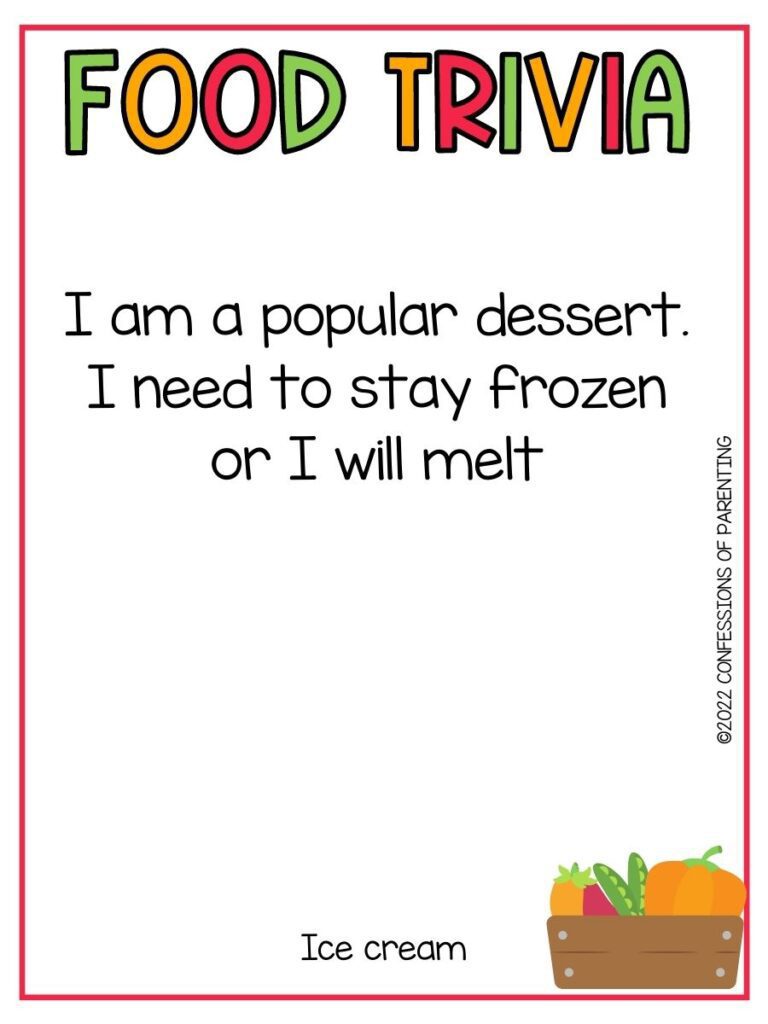 Q: I am a popular dessert. I need to stay frozen or I will melt

A: Ice cream
Q: I have superfood properties. I am tiny and round. I vary in color between purple and blue.

A: Blueberry
Q: I am a popular food at baseball games and go well with a bag of chips.

A: Hotdog
Q: Which is healthier, spinach or iceberg lettuce?

A: Spinach
Q: What year did McDonald create its first Happy Meal?

A: 1977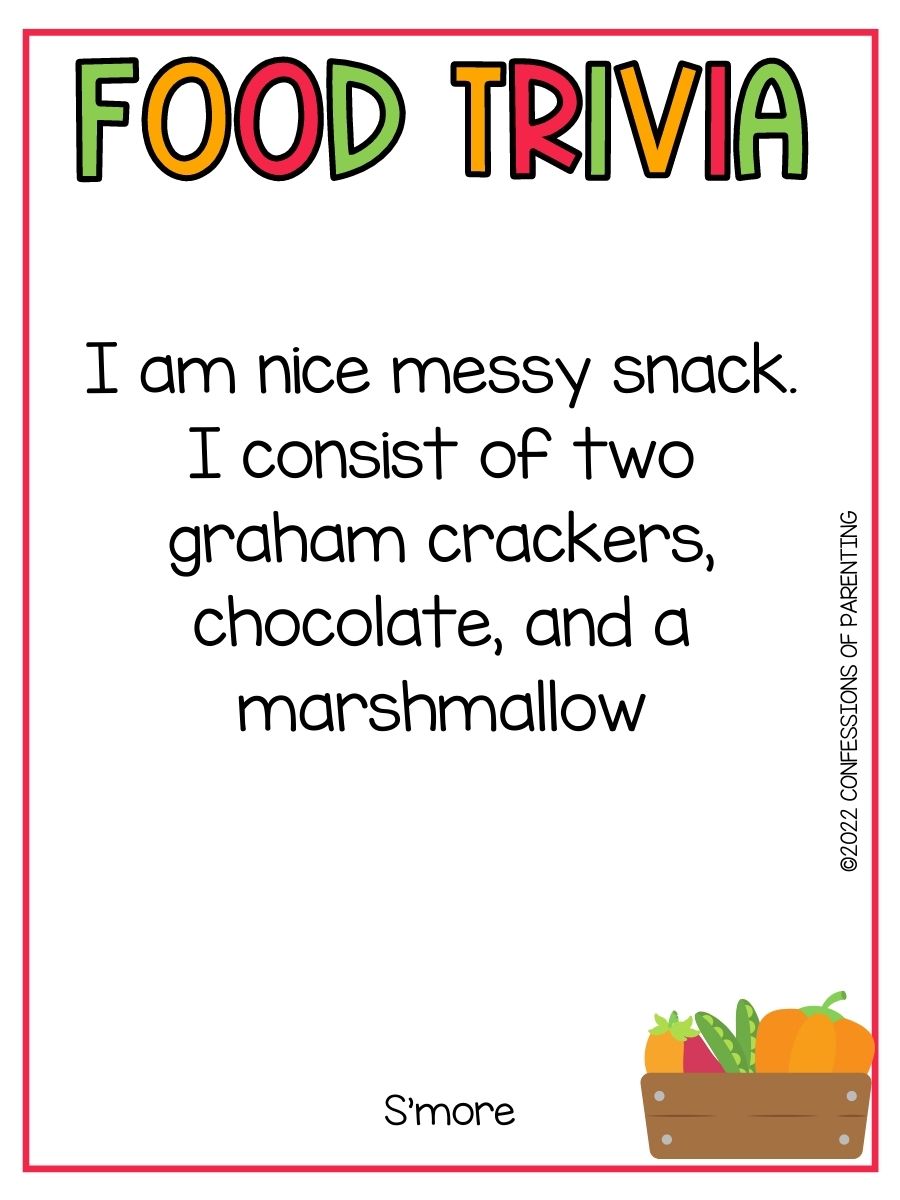 Q: I am nice messy snack. I consist of two graham crackers, chocolate, and a marshmallow

A: S'more
Q: I am fruit with a large single seed in the middle. What am I?

A: Avocado
Q: I am yellow. You can find me in singles or on a cob?

A: Corn
Q: I am staple food prepared from flour and water.

A: Bread
Q: I am high in protein and fiber. There are many different types of me. I am very small and come in different colors. What am I?

A: Bean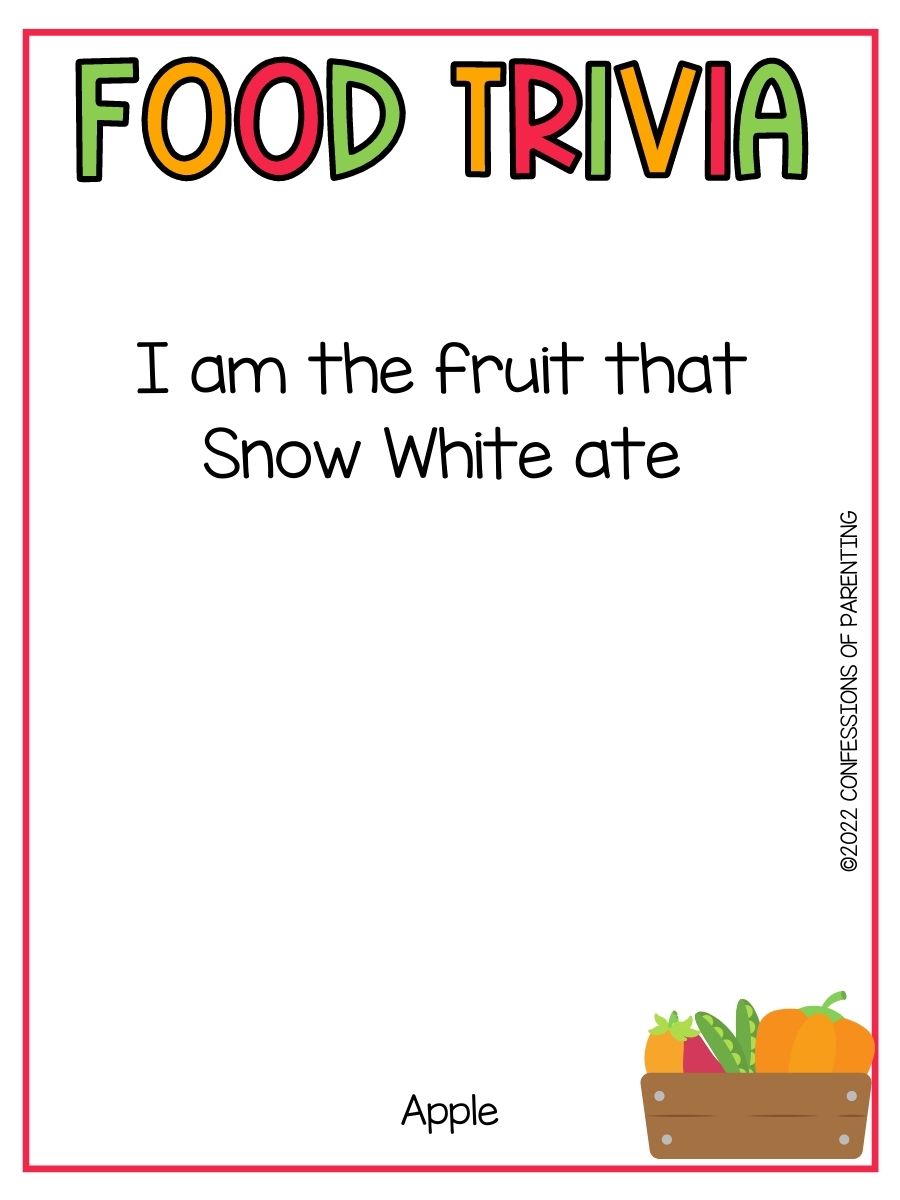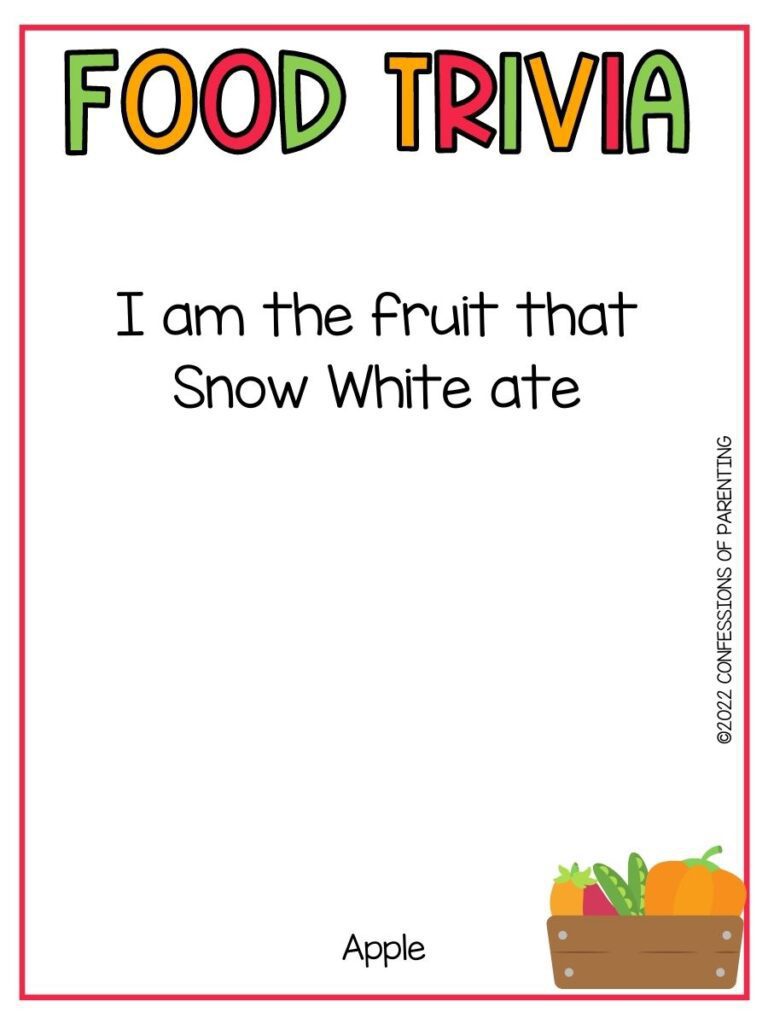 Q: I am the fruit that Snow White ate

A: Apple
Q: I am protected with a hard white shelle on the outside. Inside I have a small yellow ball. You can scramble me or boil me.

A: Egg
Q: I am a common type of poulytry. I can be cooked many different ways like fried, baked, or broiled.

A: Chicken
Q: I am high in protein and low in fat. I am caught in seas and oceas.

A: Fish
Q: I am very popular seafood. It can be cooked in many ways. I have a thin layer of shell you have to pull of when you eat me.

A: Shrimp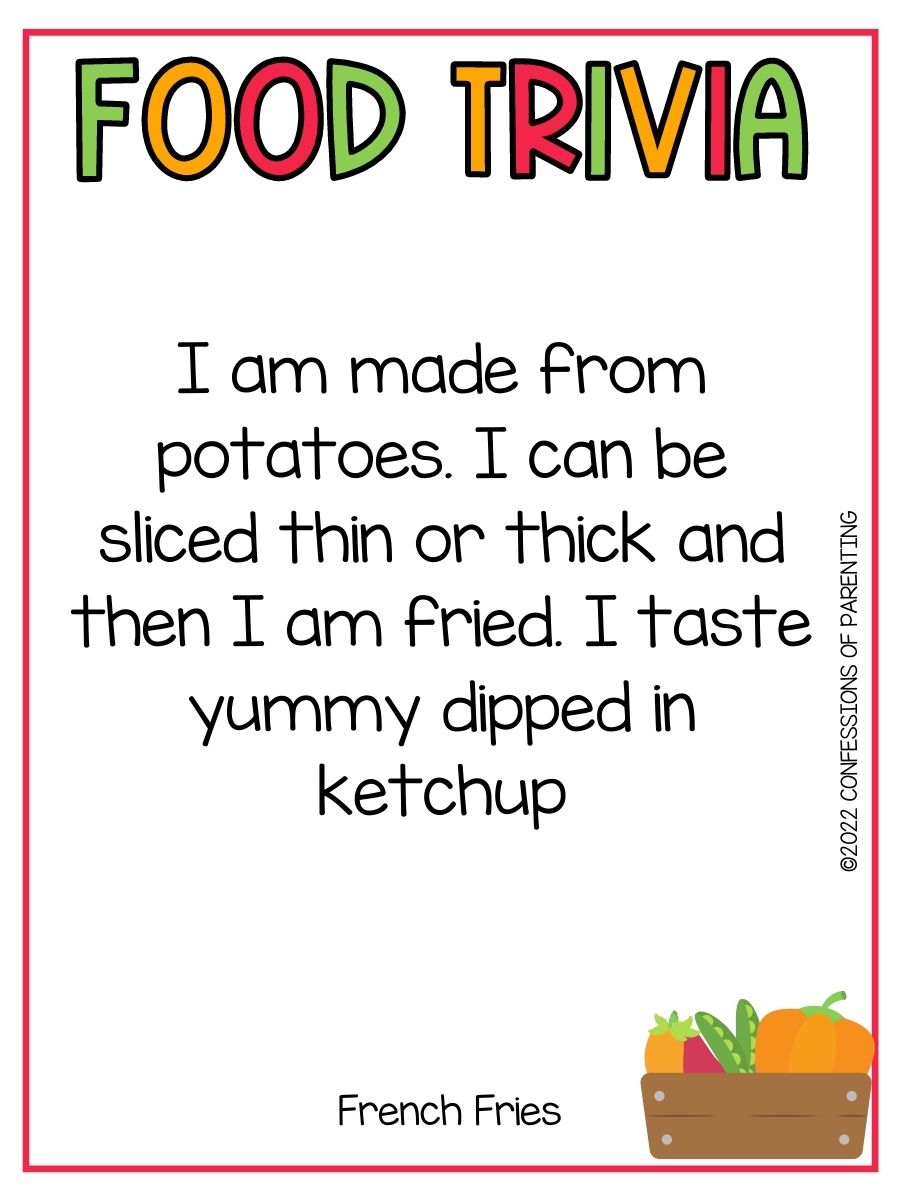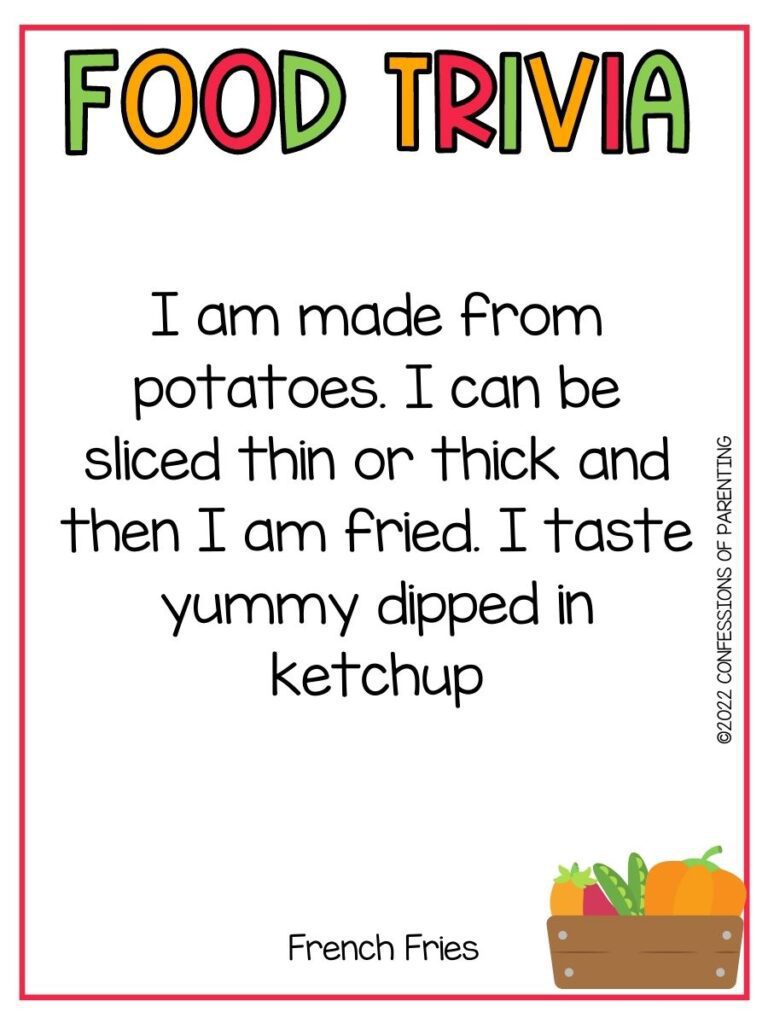 Q: I am made from potatoes. I can be sliced thin or thick and then I am fried. I taste yummy dipped in ketchup

A: French Fries
Q: I am a squash that starts with the letter Z?

A. Zucchini
Q: I am a melon that is green on th inside?

A: Honeydew
Q: I am a melon that has seeds on the inside. I am red on the inside.

A: Watermelon
Q: I looked like an orange on the outside but inside I am pink.

A. Grapefruit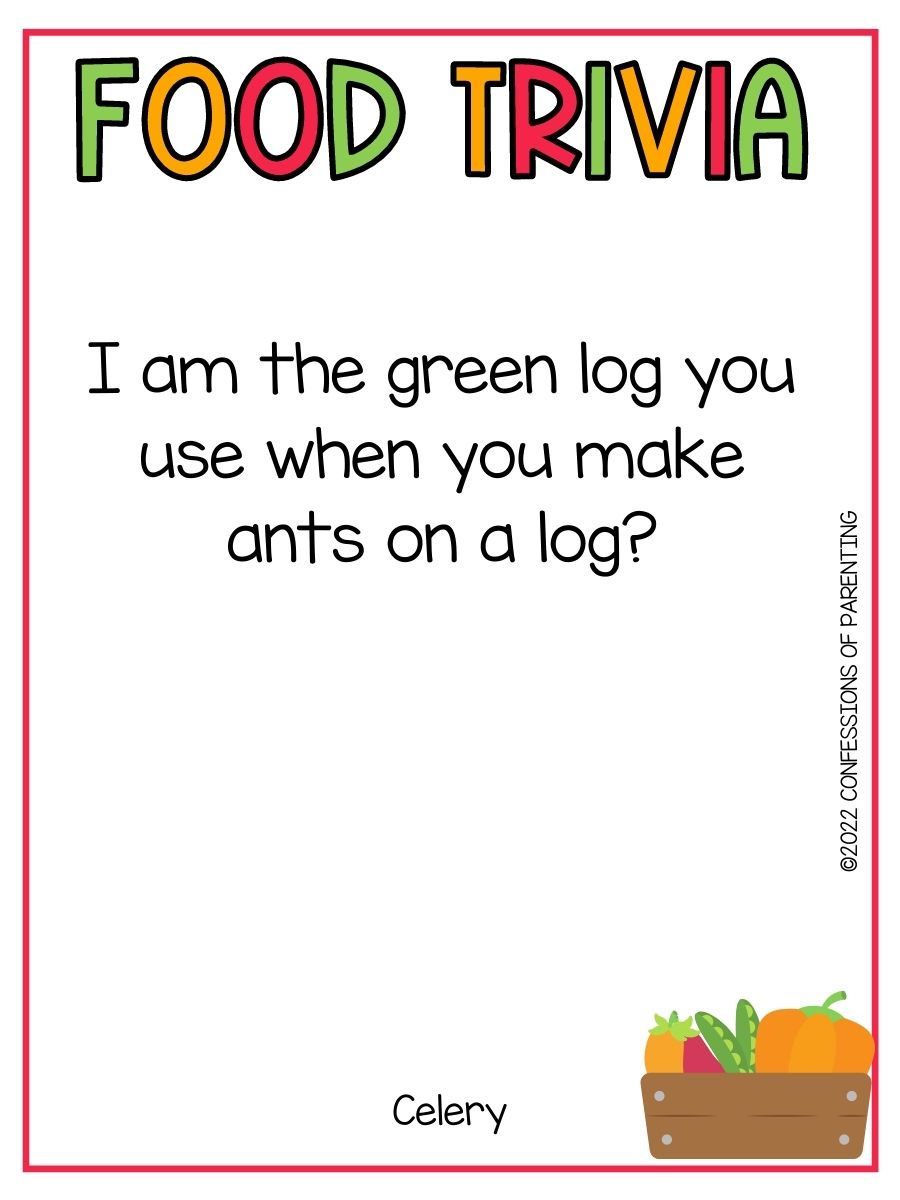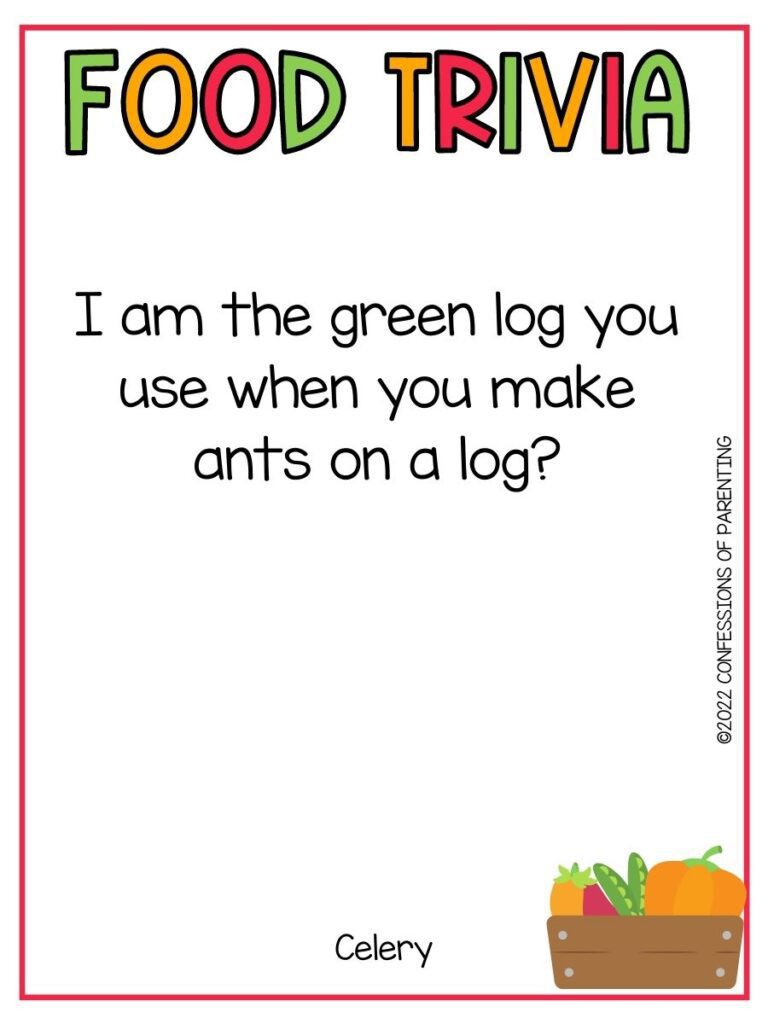 Q: I am the green log you use when you make ants on a log?

A: Celery
Q: When you cut me I will usually make you cry.

A: Onion
Q: I am red and sweet. I have a long thin stem but I am small in size. I am a fruit and have a very small seed inside.

A: Cherries
Q: I am sweet and you eat me after you sing a Happy Birthday.

A: Cake
Q: I am very popular dessert during the Holidays. I came in many different flavors. You have to bake me.

A: Pie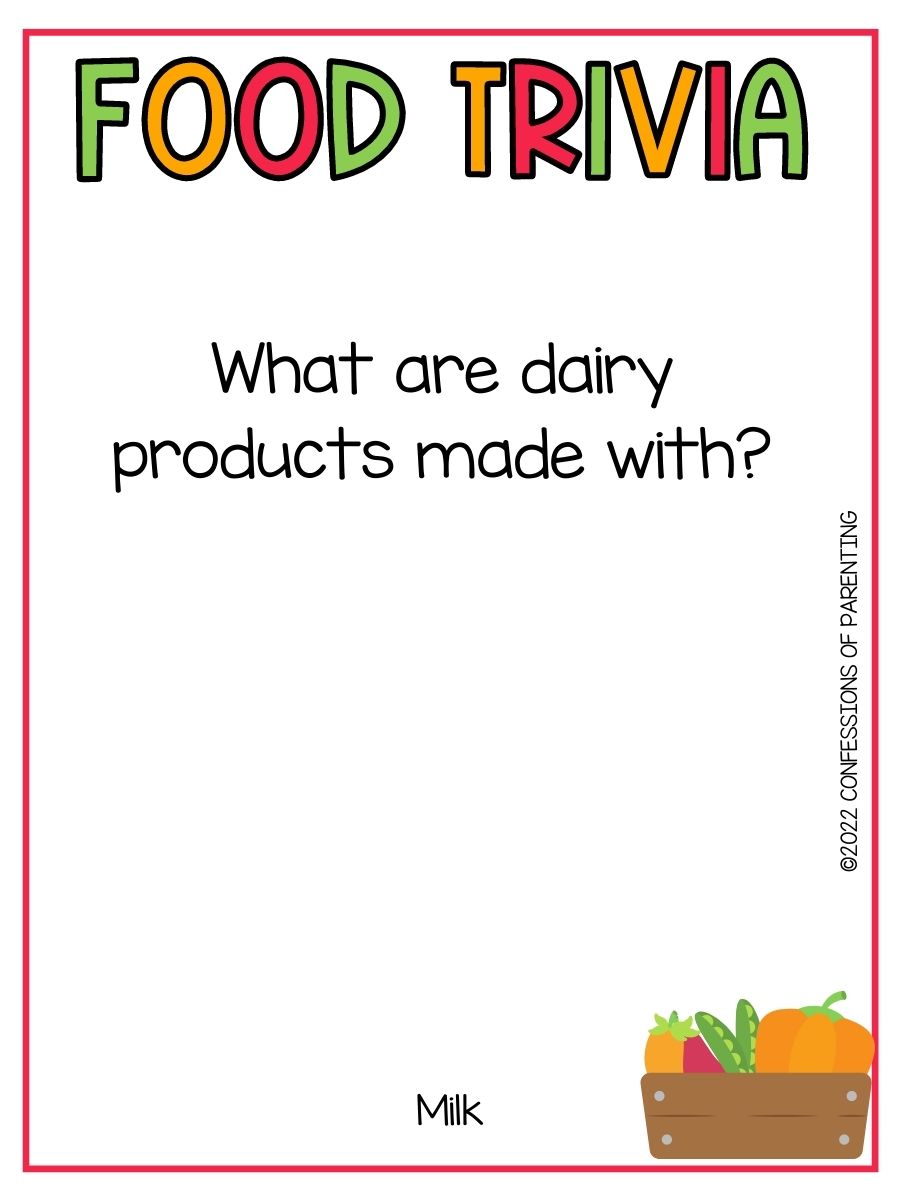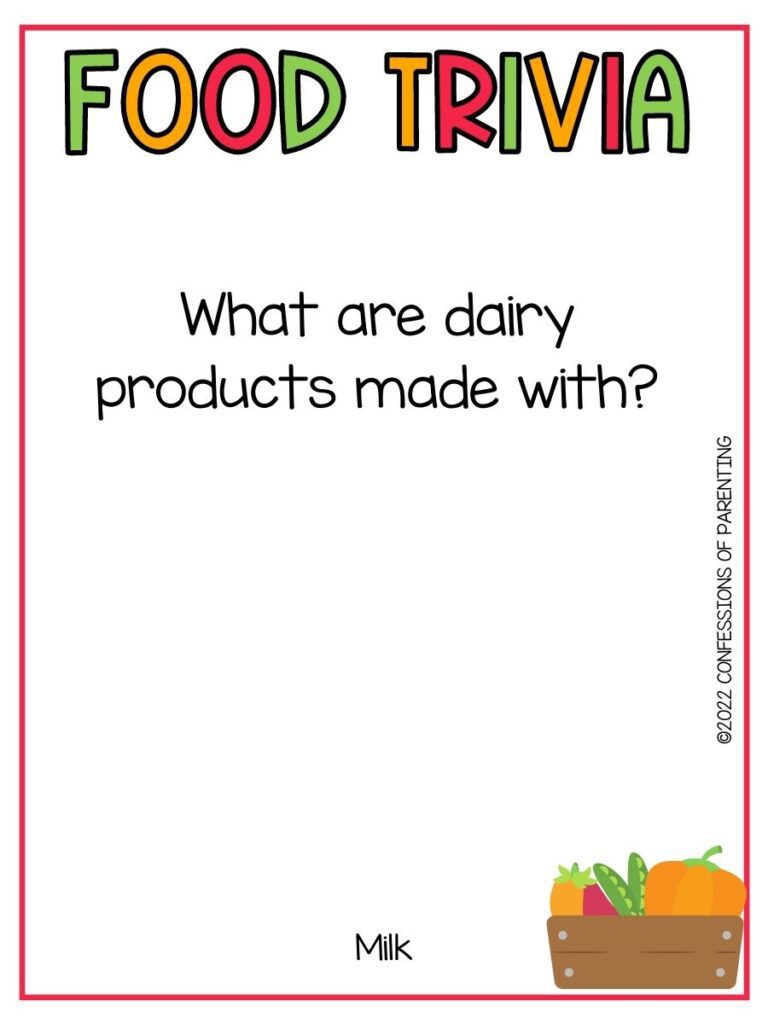 Q: What are dairy products made with?

A: Milk
Q: What are black-eyed peas? Bean or Peas?

A: Beans
Q: I am fruit. I come from a tropical plant. I am ripe when my mind is yellow.

A: Pineapple
Q: I am a fruit that comes from a very tall tree. I have a very hard outer shell. Inside I am white with water.

A: Coconut
Q: I am a dried plum.

A: Prunes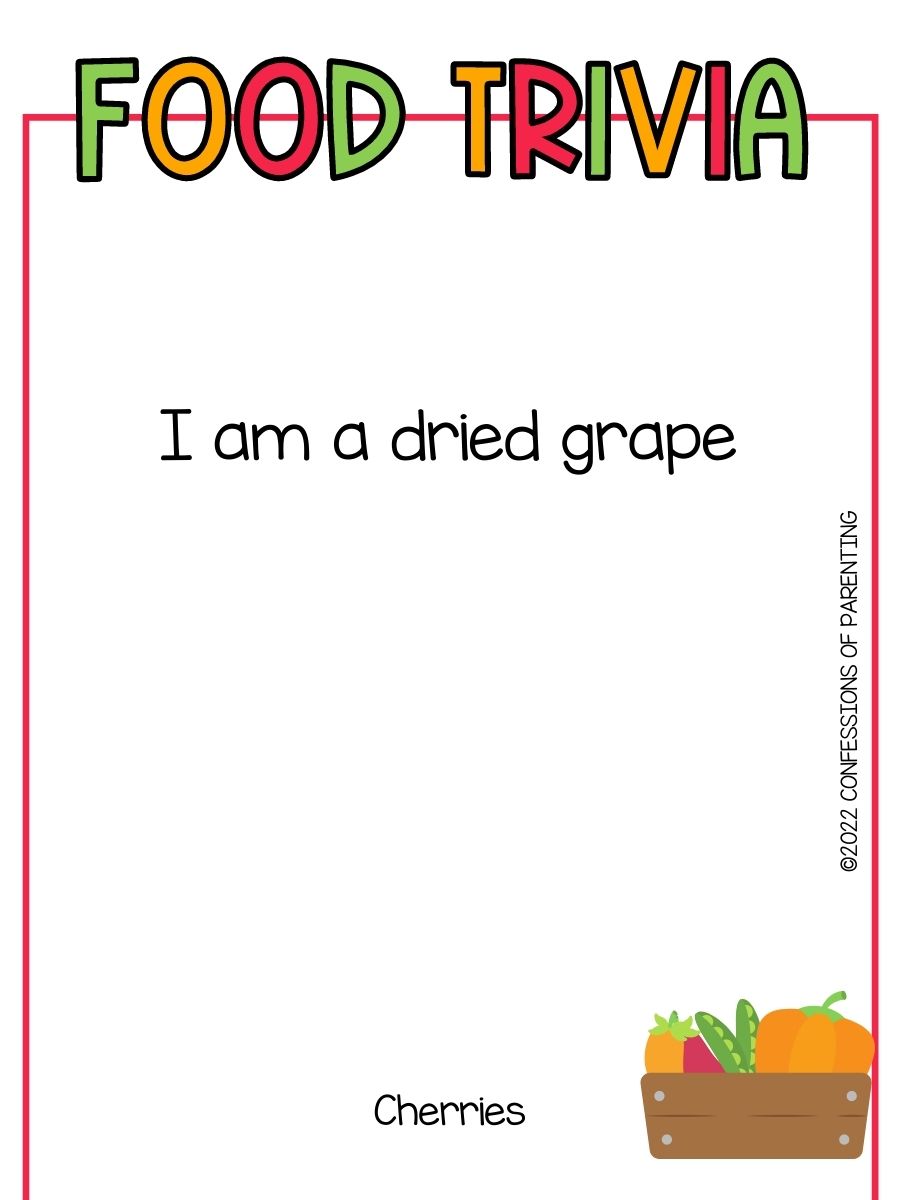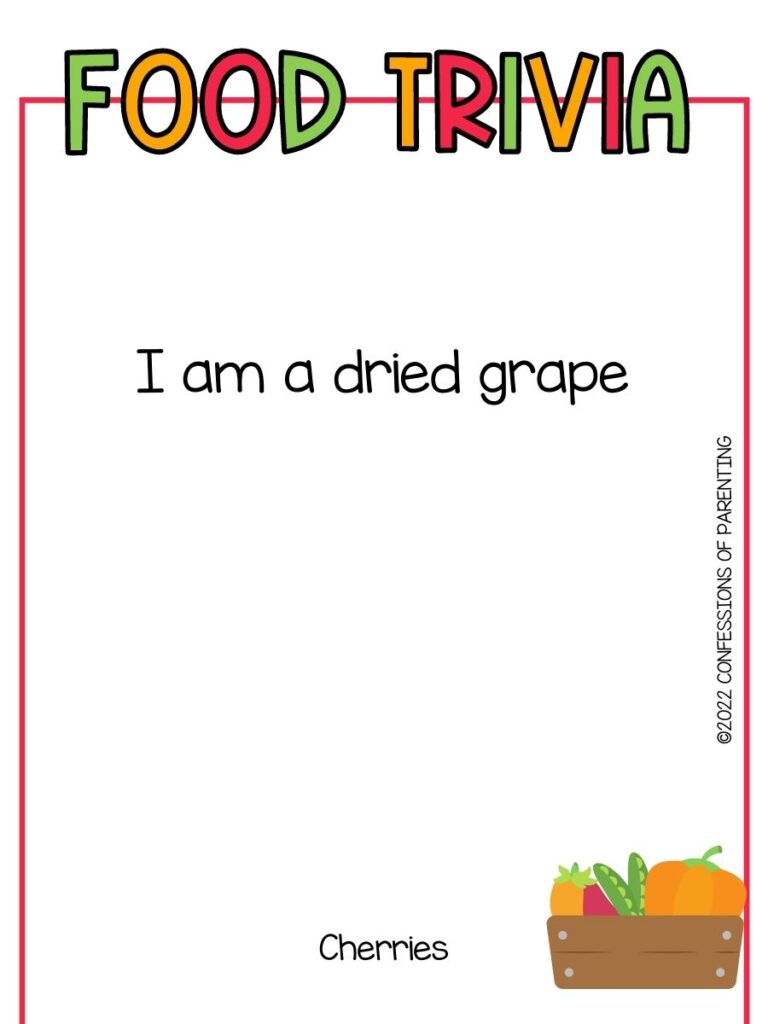 Q: I am a dried grape

A: Cherries
Q: I am popular kid dish. I am usually shaed in a triangle. I am made with flour, sauce, cheese, vegetables, and meat.

A: Pizza
Q: I am a vegetable. I am white in color and look like mini trees.

A: Cauliflower
Q: I am spread. I go well with jelly.

A: Peanut butter.
Q: I am popular kid dish. I am made with cheese, milk, and macaroni noodles.

A: Mac and Cheese
Q: You need the most servings from me which is 6 servings. What is my food group called?

A: Grains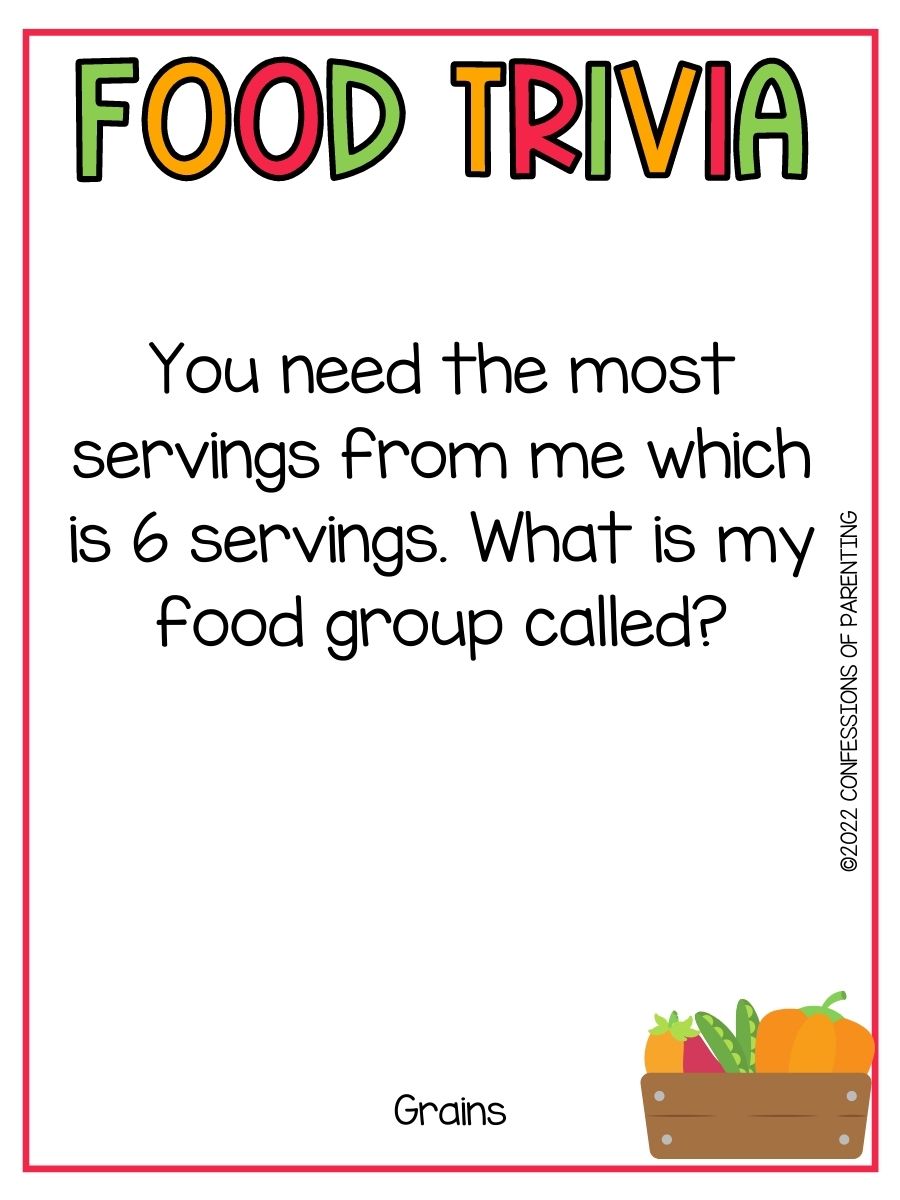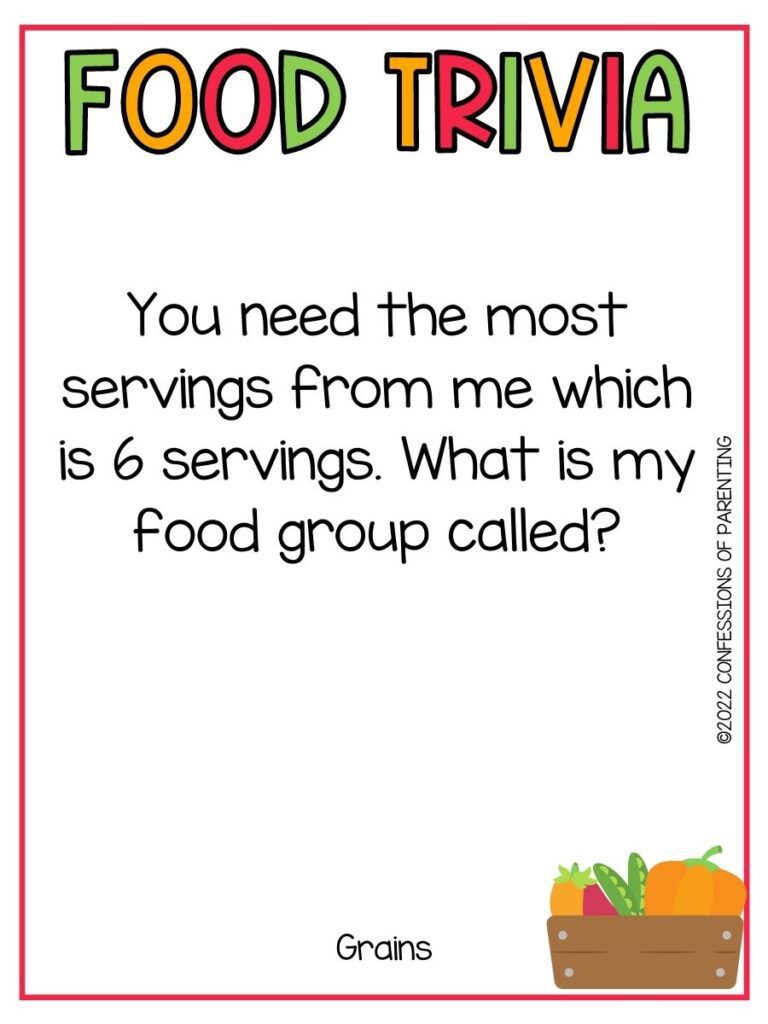 Got more food trivia questions we can add? Share them in the comments so we can add them to the list!
Love Trivia questions? Check out these trivia posts!
How Do I access my free printables?
Fill in the form above. You will receive an email in your inbox. If you don't see it, check your spam folder! You will then click to confirm your subscription. Once confirmed, you will be sent an email with your free printable.
How Do I Print a PDF?
You'll need a program that supports PDFs. Adobe Acrobat is a great option. Open the program, click File, then print. Select your printer and the number of copies you want to print. Be sure you click double-sided if you want it to print on both sides.
Can I resell these?
You may not resell any printable found on our website or in our resource library. You may use them for class parties, at church, at home, or in the classroom. You may get these printed at an office supply store or copy center at your own expense.