Do you have any Star Wars fans in your house? See how much they know with these Star Wars Trivia questions! With 90 questions of varying difficulty, everyone from the Star Wars novice to the expert can play and have fun together.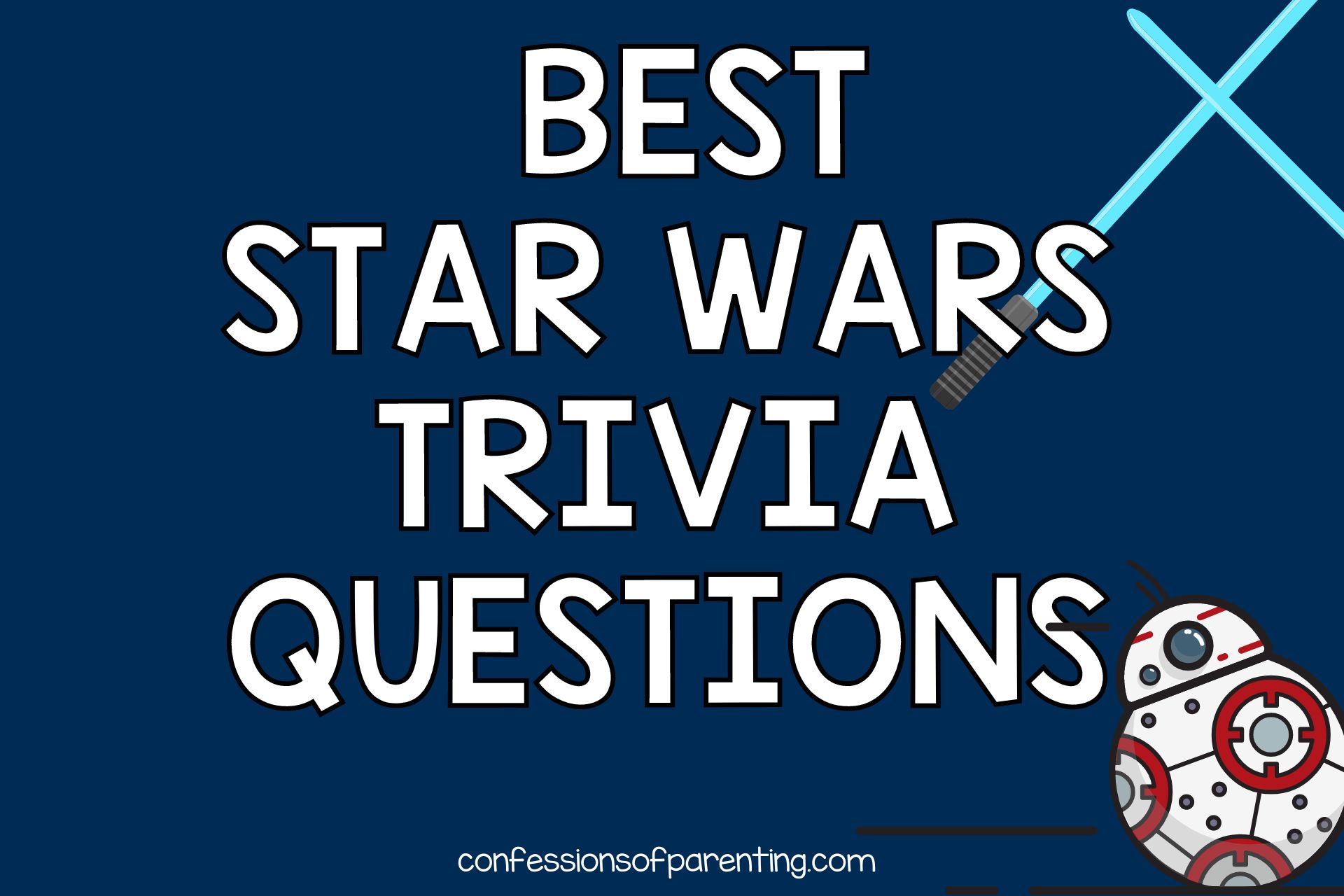 Trivia games are an excellent addition to any party, road trip, or family get-together. In our home, we are all about movies. From comedy to action, we love it all. Because of how much we love movies, we tend to do a lot of movie trivia. From Kid's Movie Trivia to Harry Potter Trivia and now this Star Wars Trivia, my family is always a huge fan when I say it is trivia night. So grab all the Star Wars fans and test their knowledge with Star Wars trivia!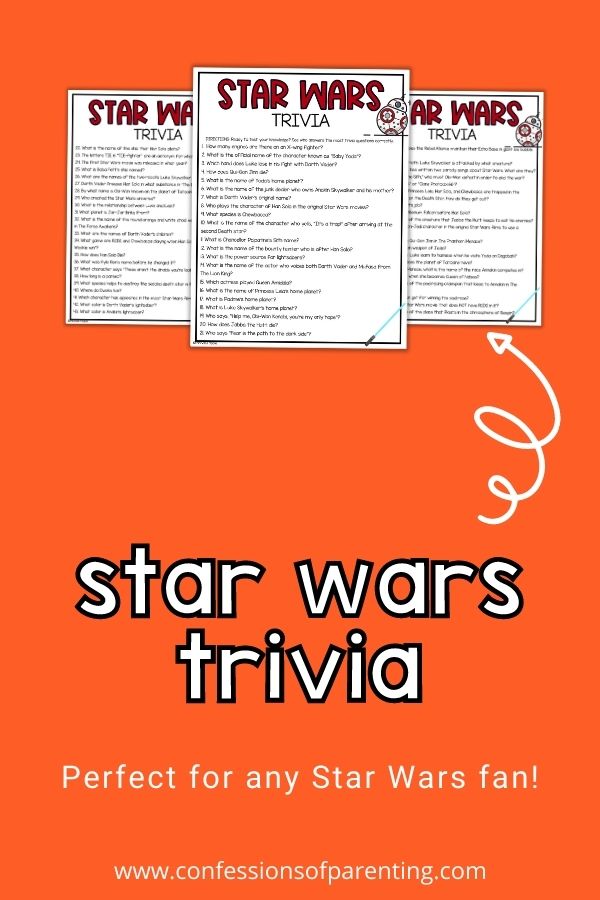 Why I love Trivia Games
There are so many reasons why I love trivia games in our home. Not only does it encourage lifelong learning, but it also spurs spending time together and having fun.
Sure, trivia games can spark a little bit of rivalry, but it also teaches kids about competition, how to work as a team, and how to be a good winner or loser.
Love Trivia Nights? Grab Our Ultimate Trivia Bundle!
How to Play Star Wars Trivia
Playing Star Wars trivia is simple:
If you have a large group, you can split into teams, with one person as the trivia master, keeping score.
Take turns answering questions for a relaxing game, or for a more competitive game, use a buzzer to see who can ring in first!
Whoever has the most correct answers at the end is the winner!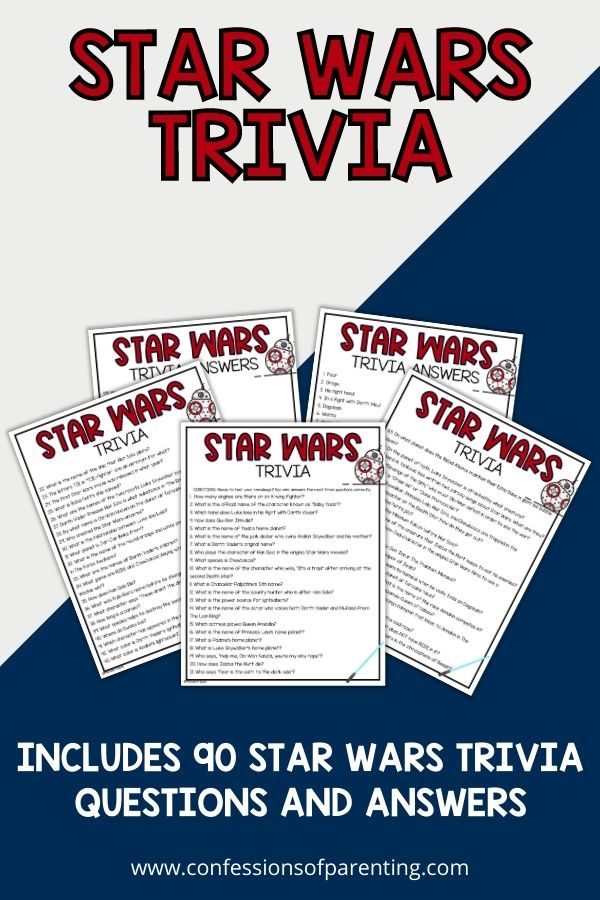 Benefits of Trivia Games
When it comes to trivia, there are so many amazing benefits.
Trivia is a great way to connect with your family and have fun together.
Builds teamwork skills (if you play in teams).
Improves your memory!
Encourages learning, and who doesn't love that for their kids?
Tips and Tricks
Adjust the game for a variety of age groups by color coding the questions by difficulty level.
Put younger kids on a team with an older sibling or an adult so that they can help and participate.
For a speed round, pick out a dozen or so questions and see who can answer the most in 3 minutes!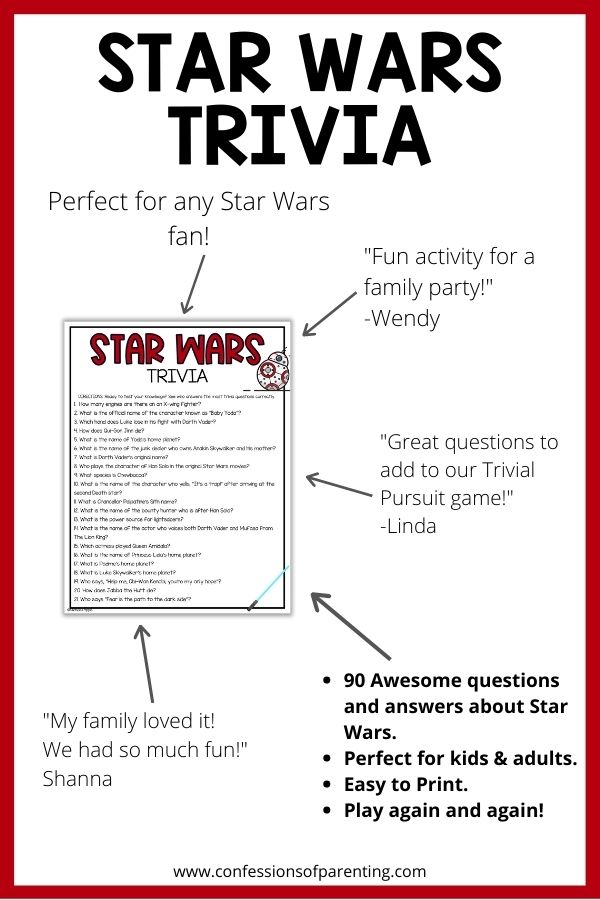 Star Wars Trivia Questions
For a quick and easy download and print, grab these questions right here! Otherwise, you can read the questions right off this page. Grab our printer-friendly lists or our Star wars trivia cards for your next trivia night!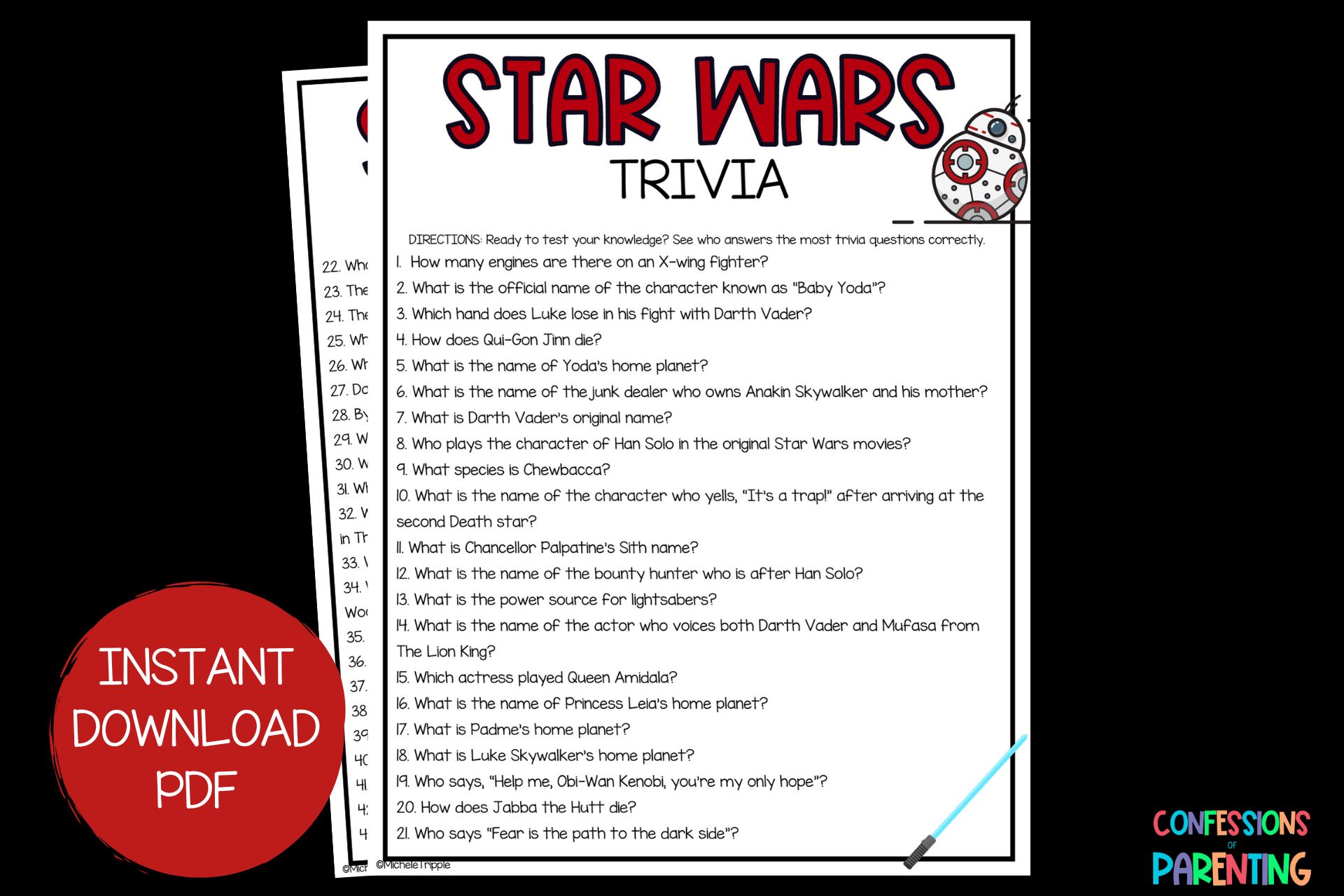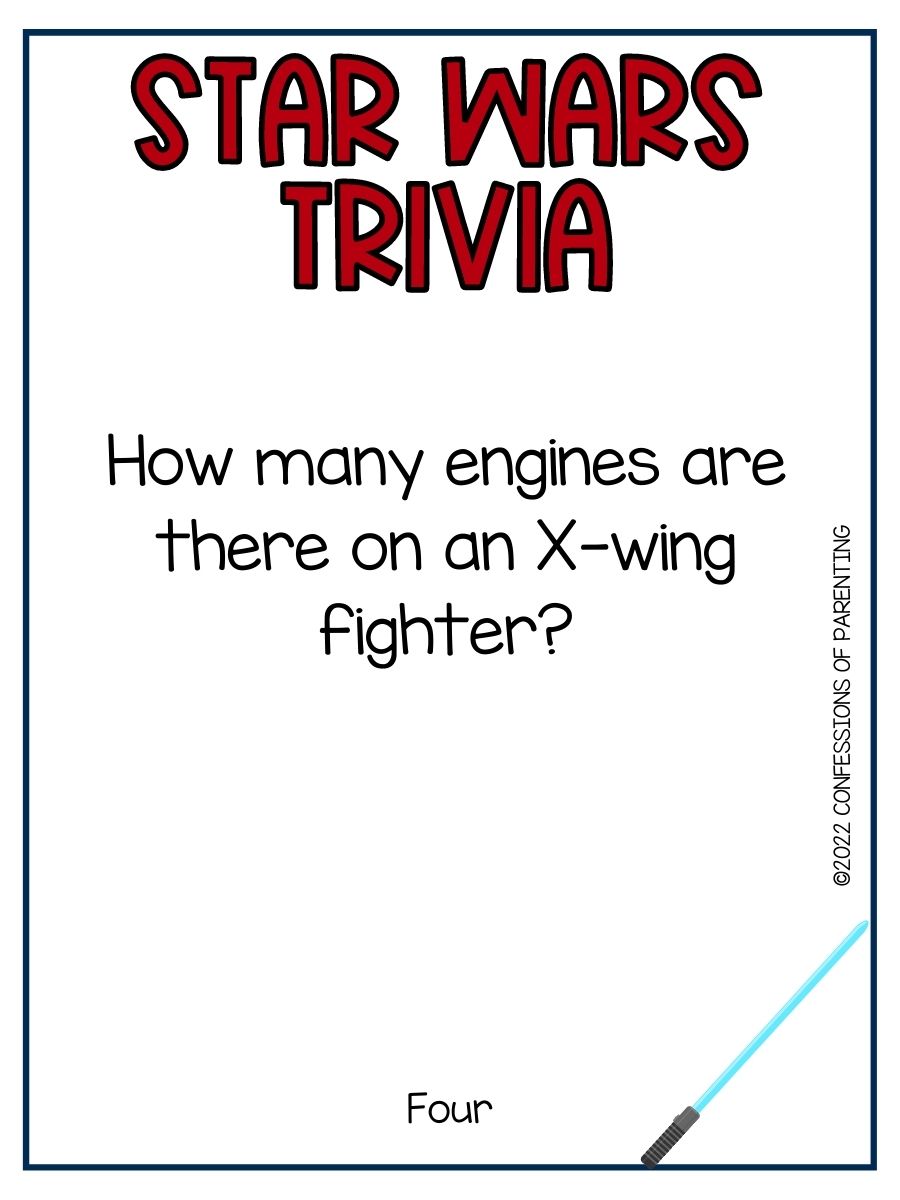 How many engines are there on an X-wing fighter?

A: Four
What is the official name of the character known as "Baby Yoda"?

A: Grogu
Which hand does Luke lose in his fight with Darth Vader?

A: His right hand
How does Qui-Gon Jinn die?

A: In a fight with Darth Maul
What is the name of Yoda's home planet?

A: Dagobah
What is the name of the junk dealer who owns Anakin Skywalker and his mother?

A: Watto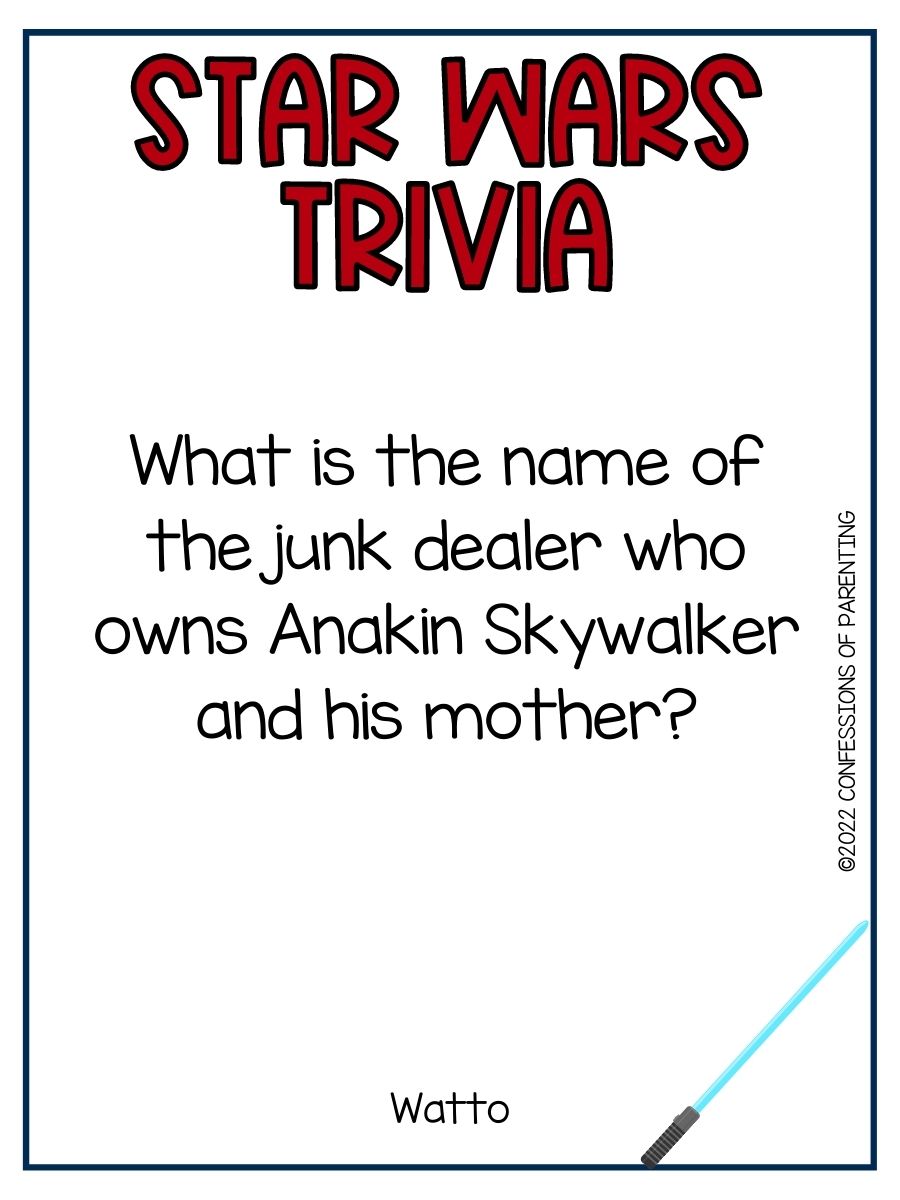 What is Darth Vader's original name?

A: Anakin Skywalker
Who plays the character of Han Solo in the original Star Wars movies?

A: Harrison Ford
What species is Chewbacca?

A: Wookie
What is the name of the character who yells, "It's a trap!" after arriving at the second Death star?

A: Admiral Ackbar
What is Chancellor Palpatine's Sith name?

A: Darth Sidious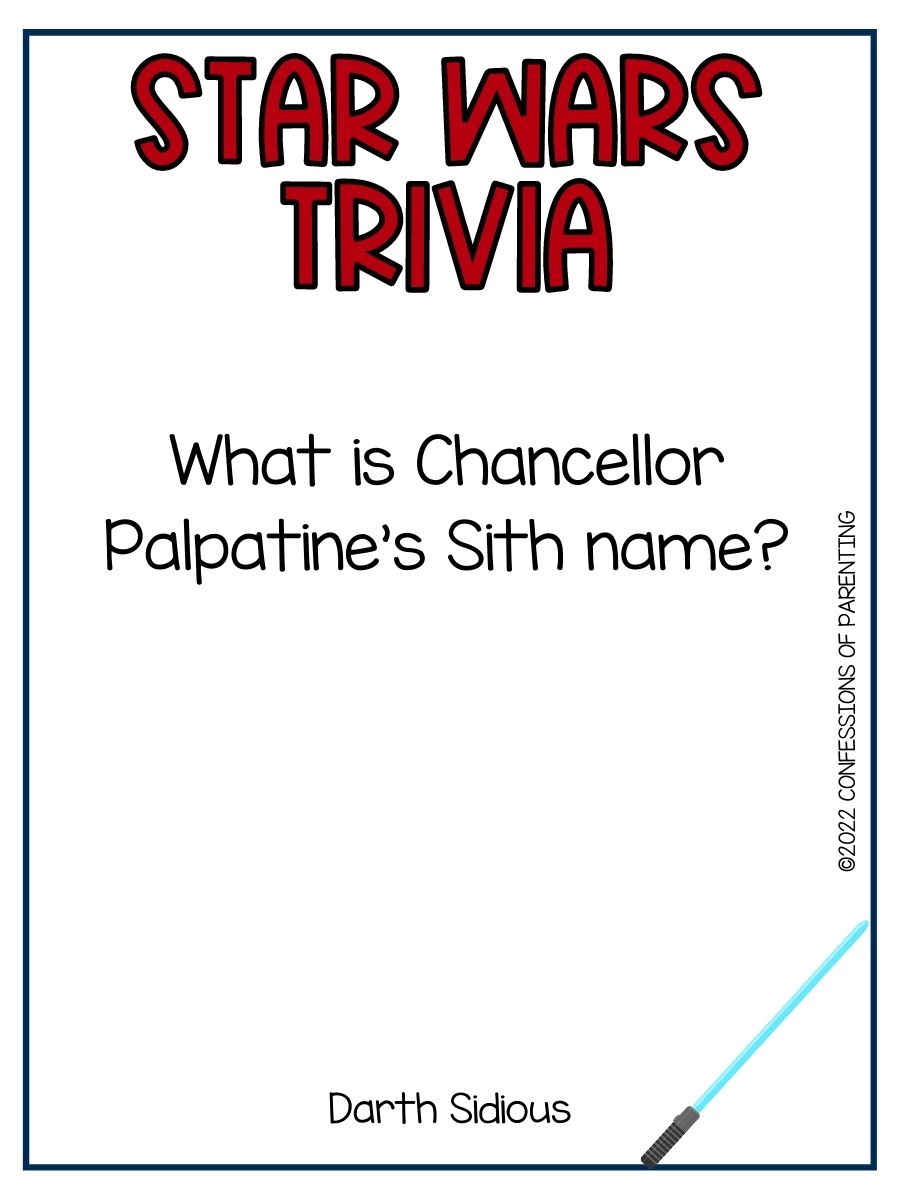 What is the name of the bounty hunter who is after Han Solo?

A: Boba Fett
What is the power source for lightsabers?

A: Kyber crystals
What is the name of the actor who voices both Darth Vader and Mufasa from The Lion King?

A: James Earl Jones
Which actress played Queen Amidala?

A: Natalie Portman
What is the name of Princess Leia's home planet?

A: Alderaan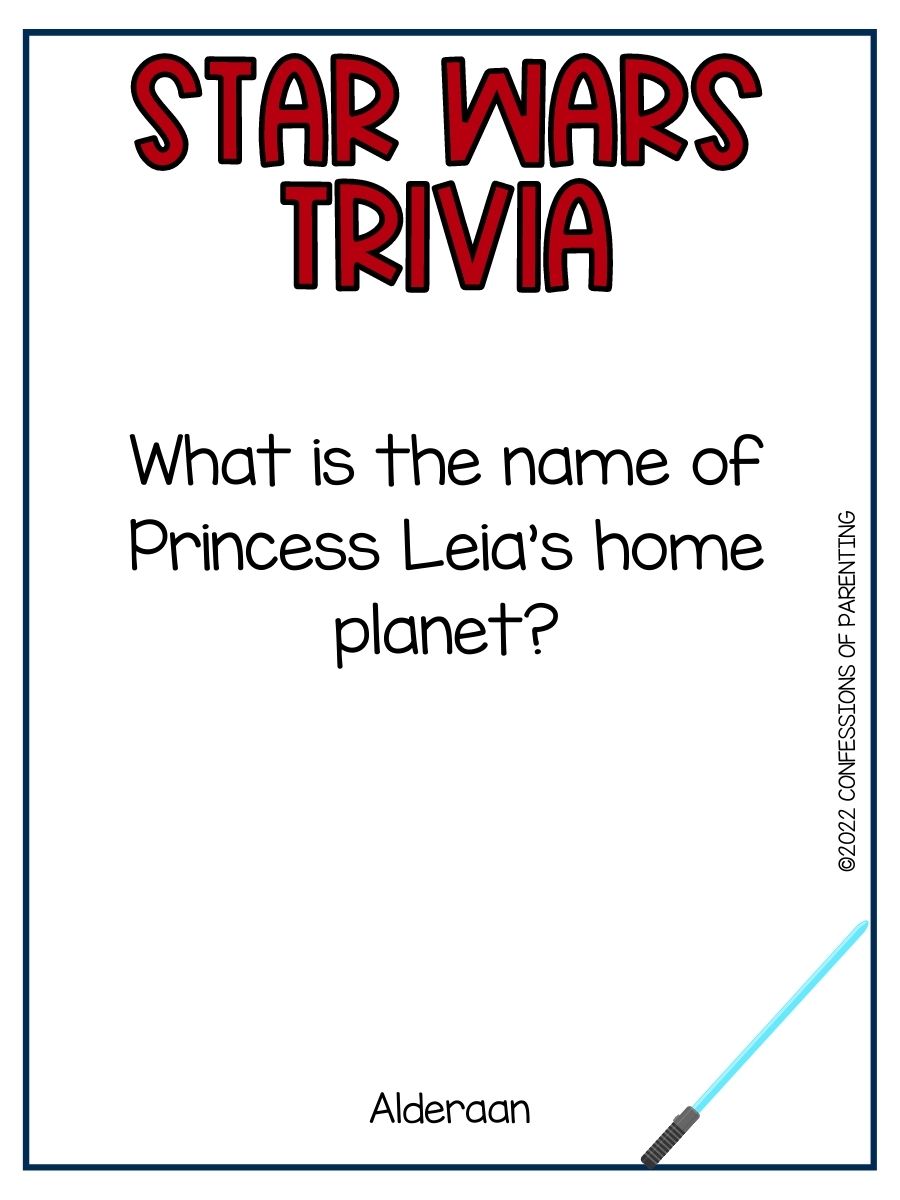 What is Padme's home planet?

A: Naboo
What is Luke Skywalker's home planet?

A: Tatooine
Who says "Help me, Obi-Wan Kenobi, you're my only hope"?

A: Princess Leia
How does Jabba the Hutt die?

A: Princess Leia strangles him
Who says "Fear is the path to the dark side"?

A: Yoda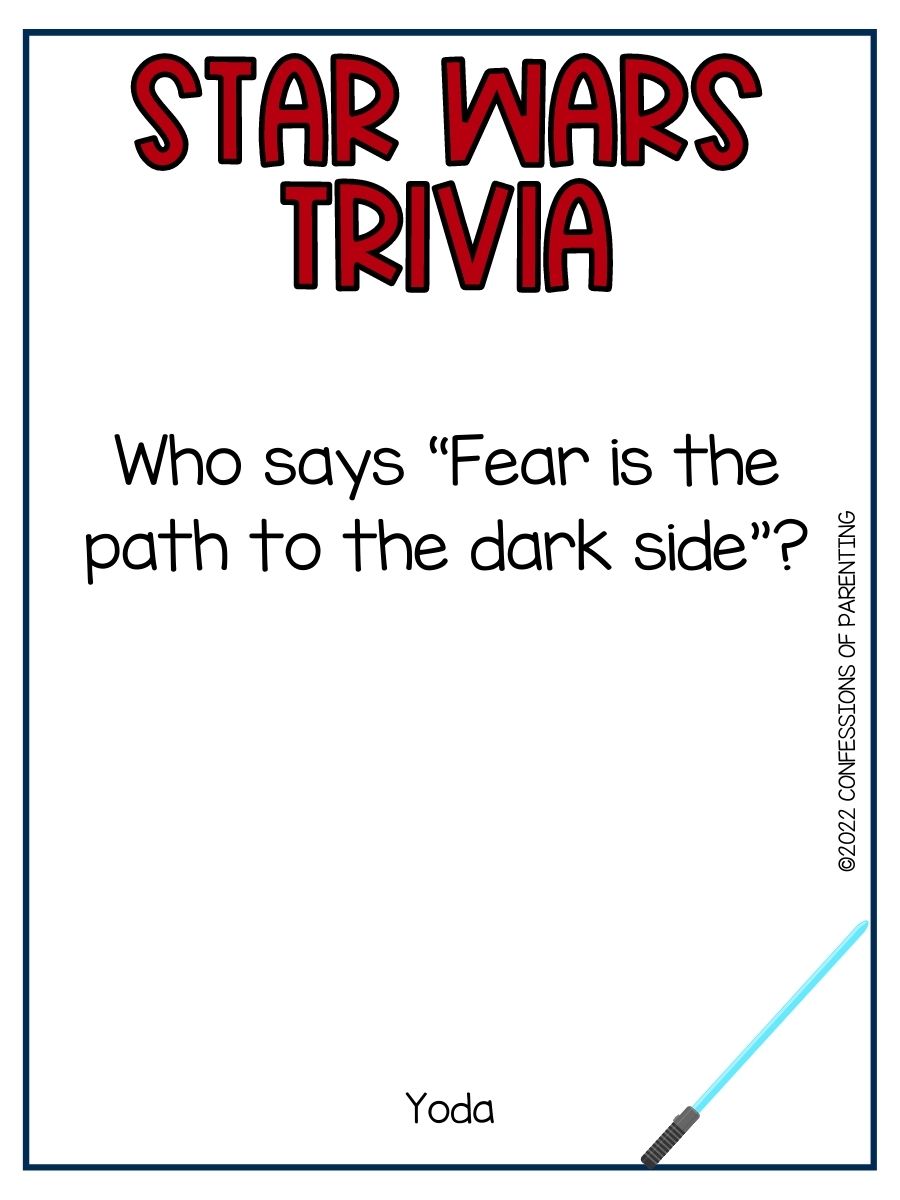 What is the name of the ship that Han Solo pilots?

A: Millennium Falcon
The letters TIE in "TIE-fighter" are an acronym for what?

A: Twin Ion Engine
The first Star Wars movie was released in what year?

A: 1977
What is Boba Fett's ship named?

A: Slave I
What are the names of the two robots Luke Skywalker buys from the Jawas?

A: C-3PO and R2D2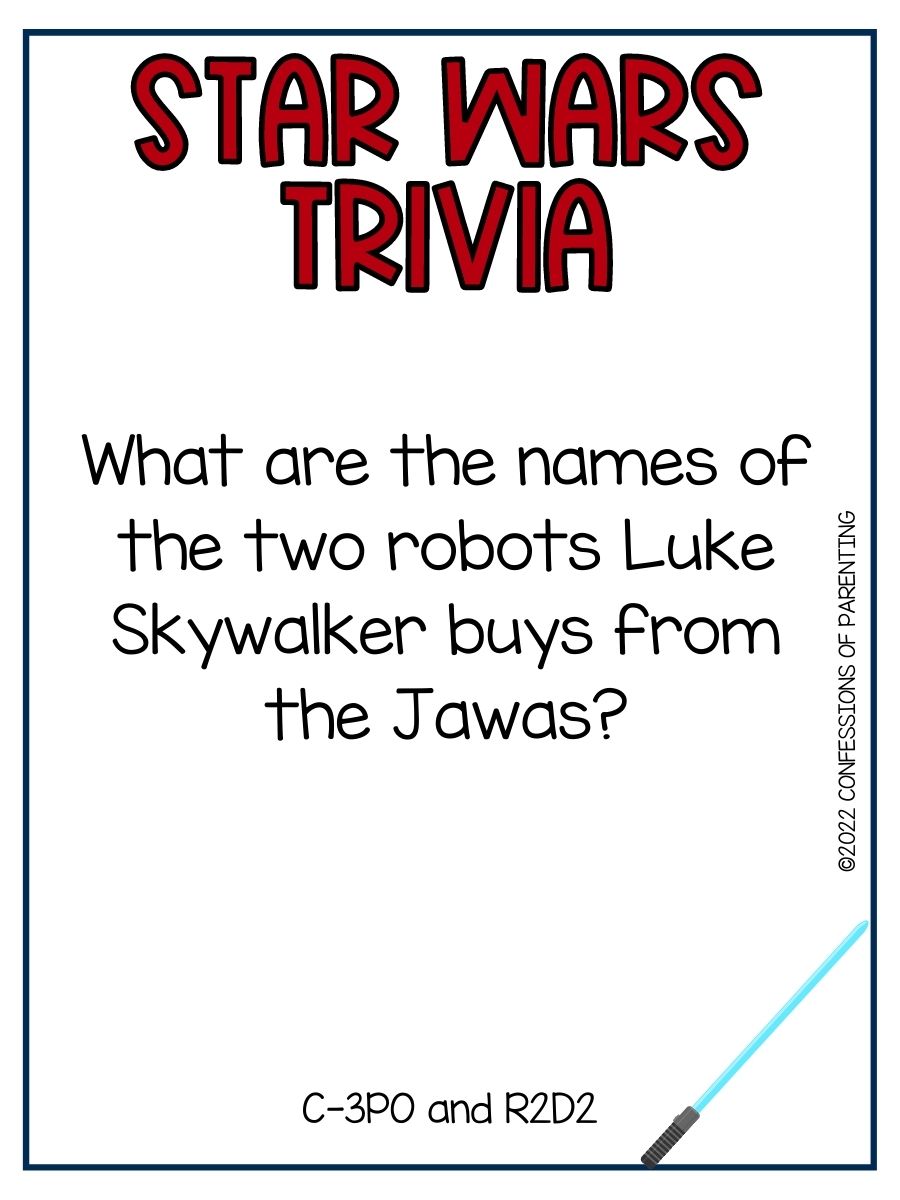 Darth Vader freezes Han Solo in what substance in "The Empire Strikes Back"?

A: Carbonite
By what name is Obi-Wan known on the planet of Tatooine?

A: Ben
Who created the Star Wars universe?

A: George Lucas
What is the relationship between Luke and Leia?

A: They are twins
What planet is Jar-Jar Binks from?

A: Naboo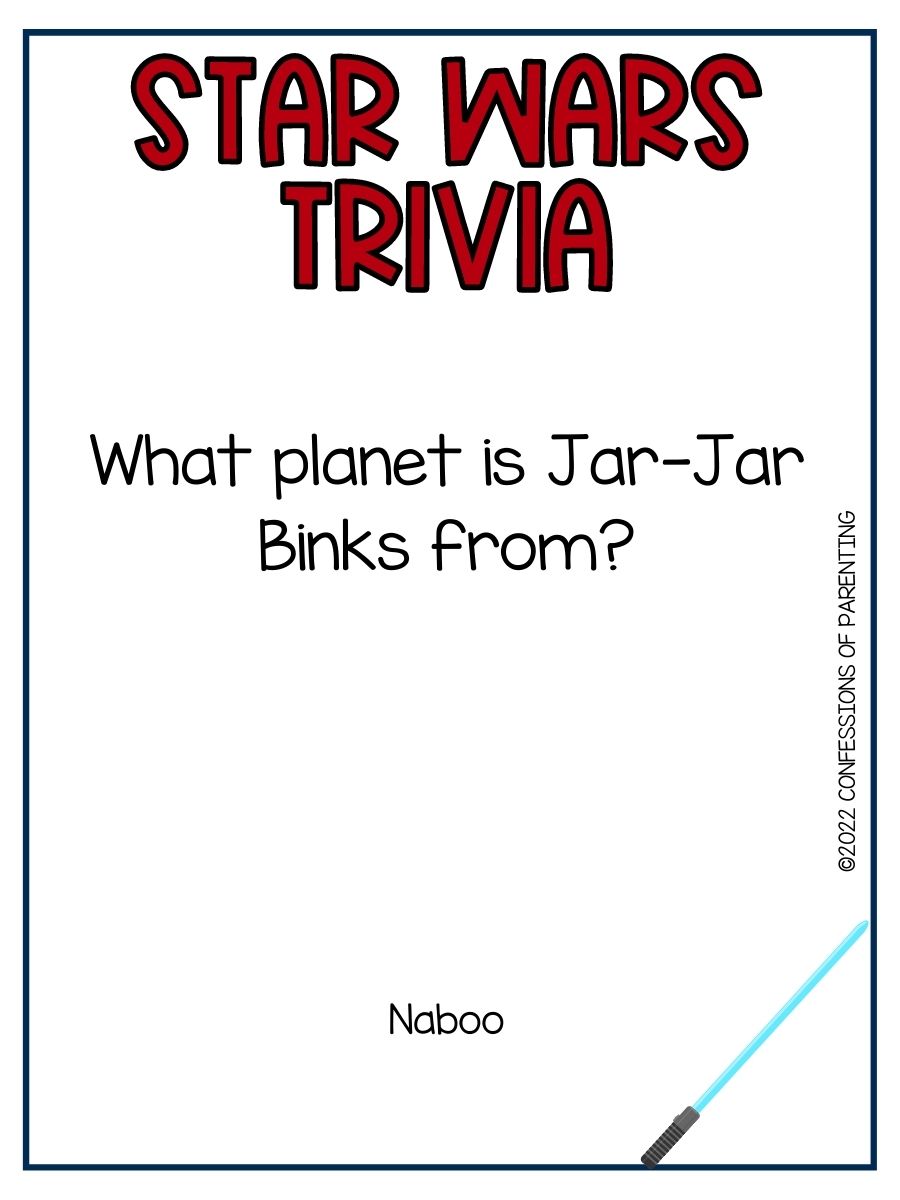 What is the name of the round orange and white droid we meet for the first time in The Force Awakens?

A: BB-8
What are the names of Darth Vader's children?

A: Luke and Leia
What game are R2D2 and Chewbacca playing when Han Solo suggests to "let the Wookie win"?

A: Dejarik or holochess
How does Han Solo Die?

A: He is killed by his son Kylo Ren
What was Kylo Ren's name before he changed it?

A: Ben Solo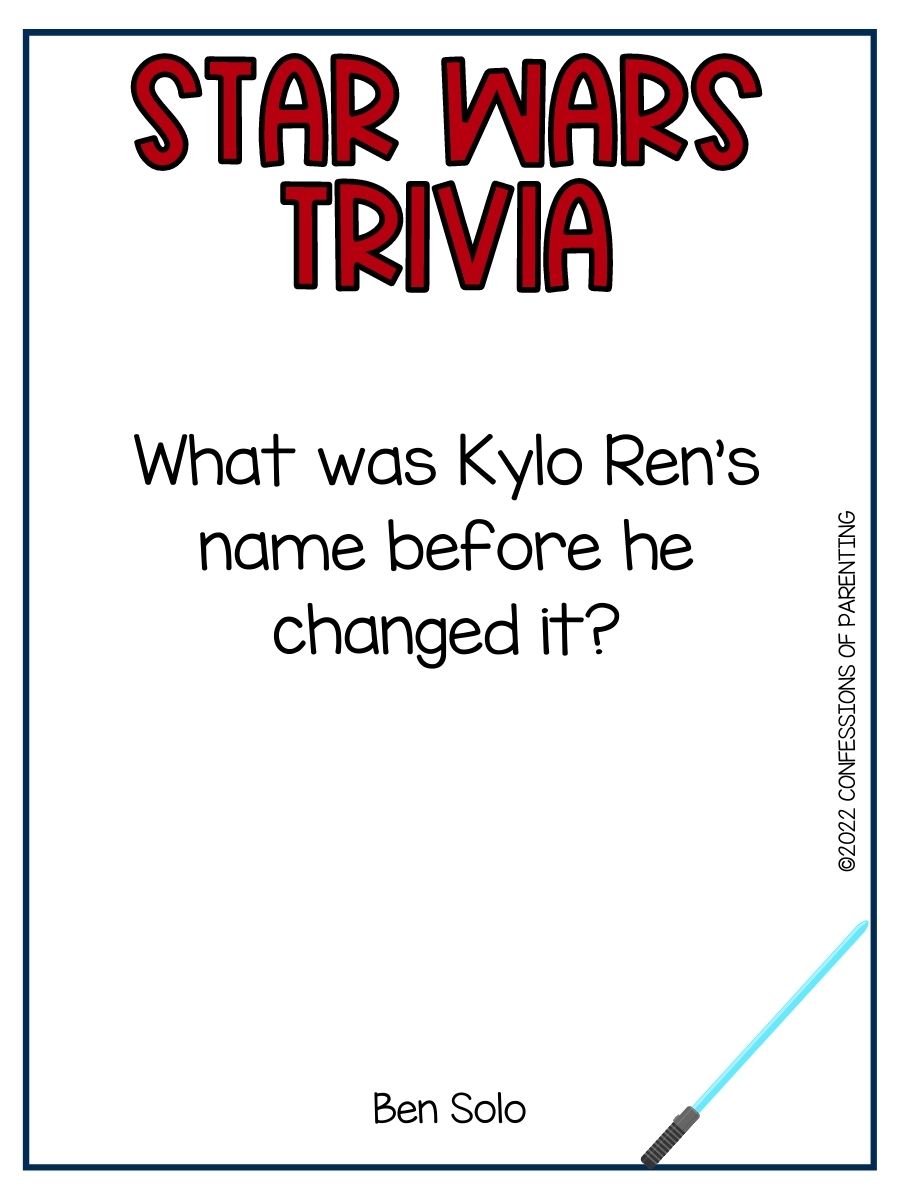 What character says "These aren't the droids you're looking for"?

A: Obi-Wan Kenobi
How long is a parsec?

A: 3.26 light-years
What species helps to destroy the second death star in Return of the Jedi?

A: Ewoks
Where do Ewoks live?

A: The forest moon of Endor
Which character has appeared in most Star Wars films?

A: C-3PO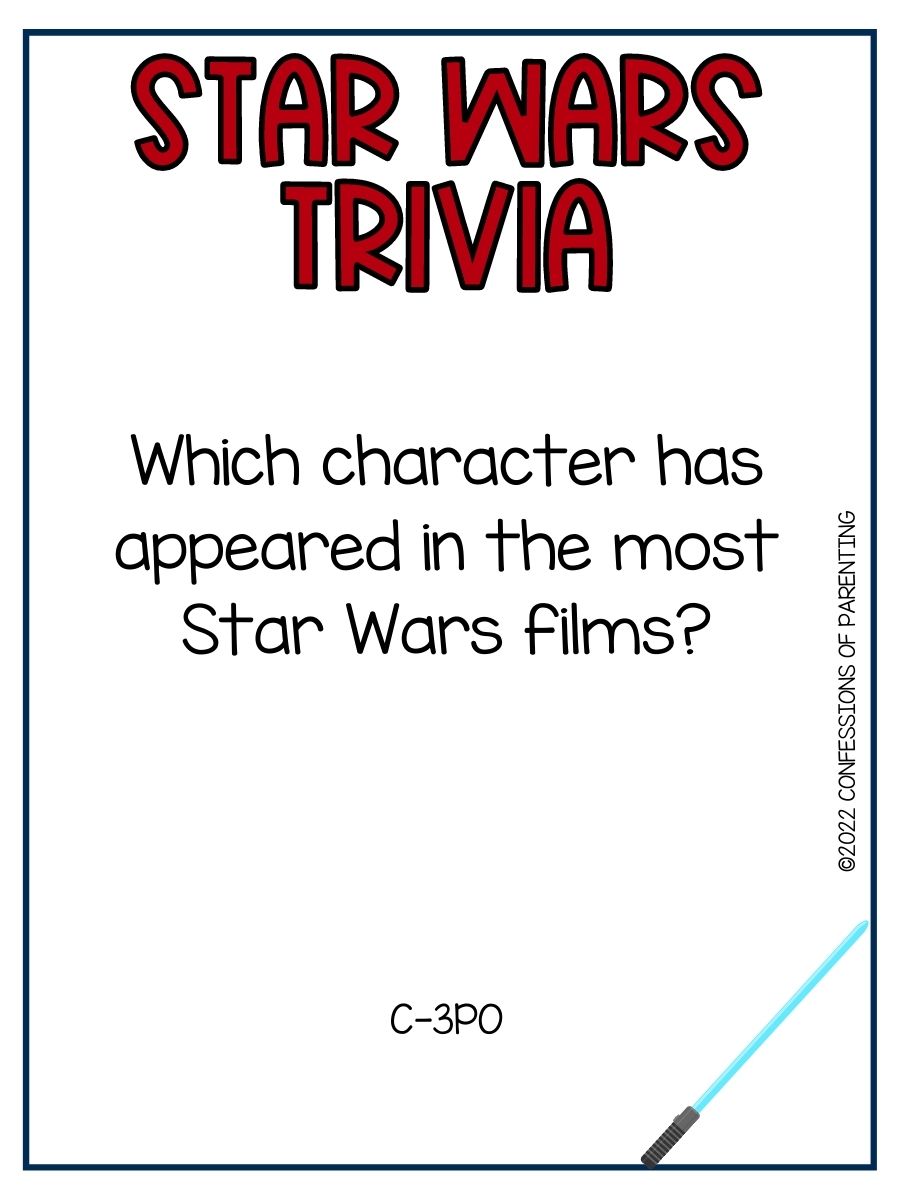 What color is Darth Vader's lightsaber?

A: Red
What color is Anakin's lightsaber?

A: Blue
When is "Star Wars Day"?

A: May 4th
What spacecraft was Luke flying when he helped destroy the Death Star?

A: An X-wing
What animal does Han Solo cut open to save Luke's life on the planet of Hoth?

A: Tauntaun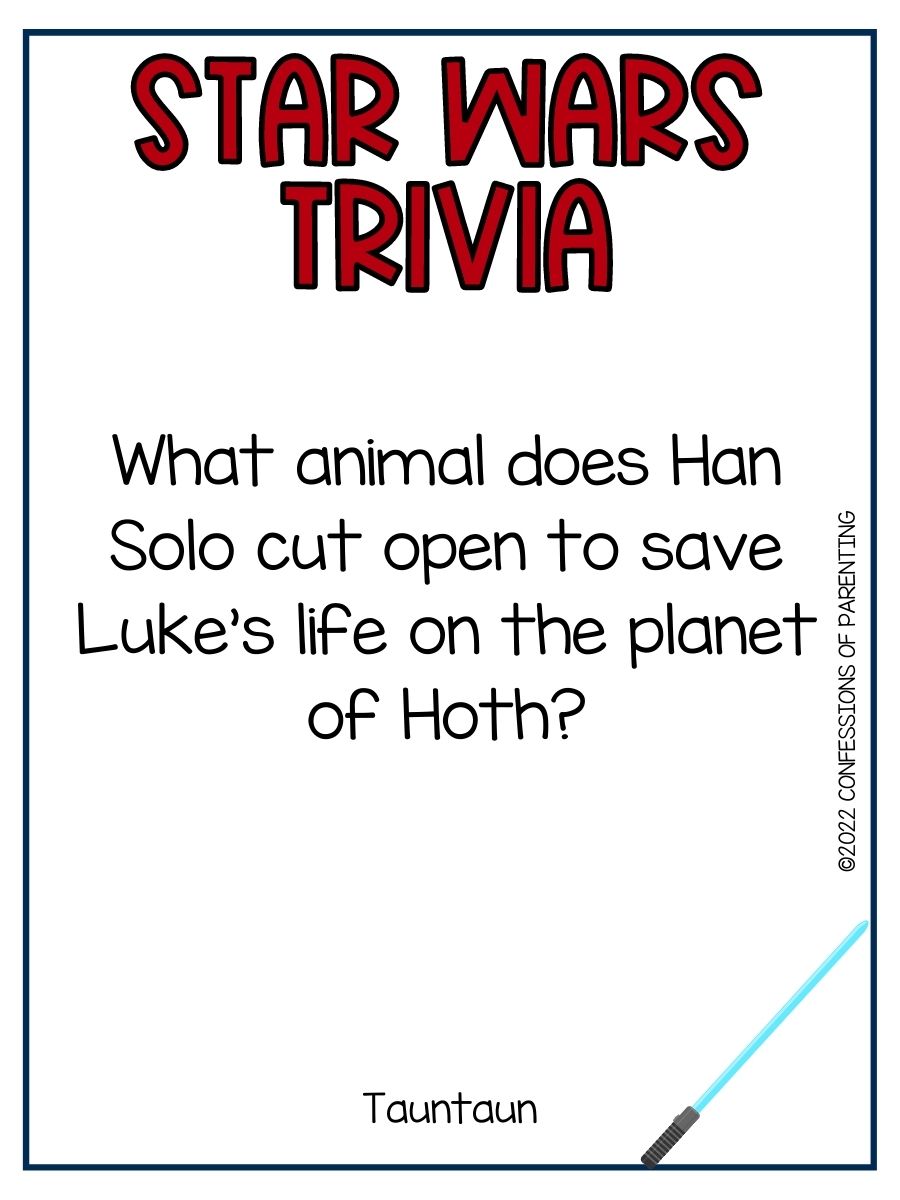 What does AT-AT stand for?

A: All Terrain Armored Transport
What galactic vehicle did Ewoks destroy on the moon of Endor?

A: AT-ST
What body part on C-3PO is a different color than the rest in the original Star Wars movies?

A: His right leg is silver from the knee down
What is the name of Jabba the Hutt's pet in Return of the Jedi?

A: Salacious Crumb
What species always walks in a single file line?

A: Sand People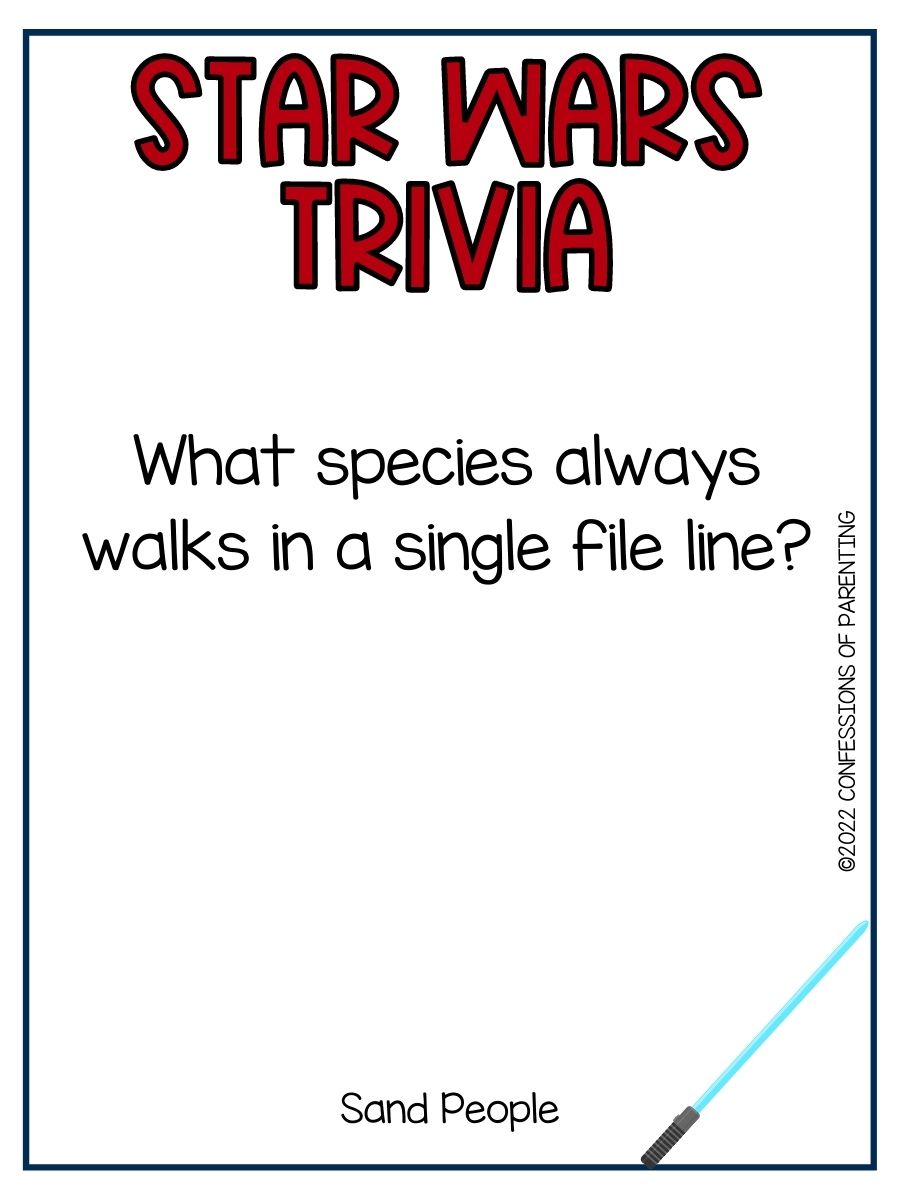 What job does Owen Lars have?

A: A moisture farmer
What is the name of Han Solo's sidekick?

A: Chewbacca
What is Boba Fett's son's name?

A: Jango Fett
Darth Vader does NOT say "Luke, I am your father." What does he ACTUALLY say?

A: "No, I am your father."
What theme park added a Star Wars-themed section titled "Star Wars: Galaxy's Edge" in 2019?

A: Disneyland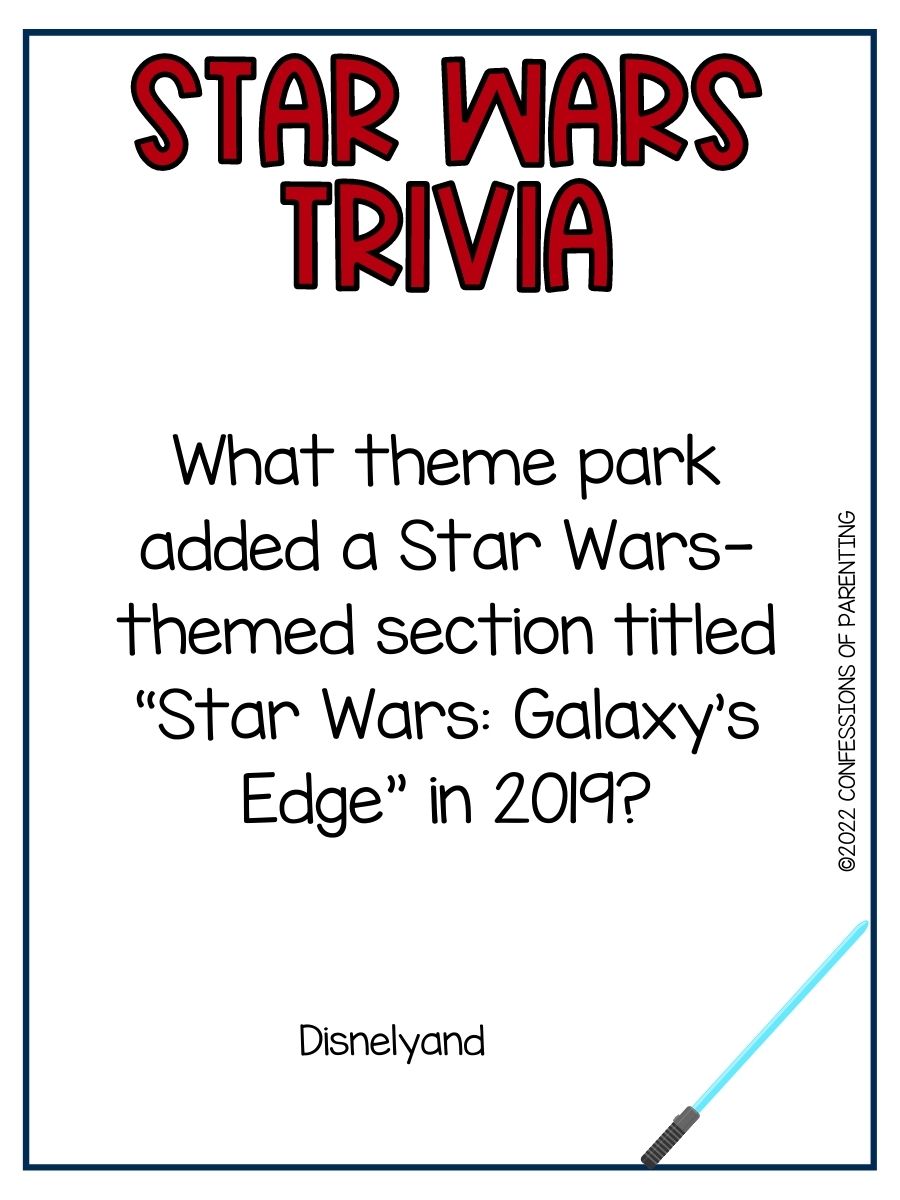 Who was the actor inside the Darth Vader suit in the original Star Wars movies, although he did not voice the character?

A: David Prowse
What State Park was used to film the forest moon of Endor scenes?

A: Grizzly Creek Redwoods State Park
What controversial character says things like "Mesa your humble servant"?

A: Jar-Jar Binks
How does Padme Amidala die?

A:She dies in childbirth
Which of the nine Star Wars movies is the longest?

A: The Last Jedi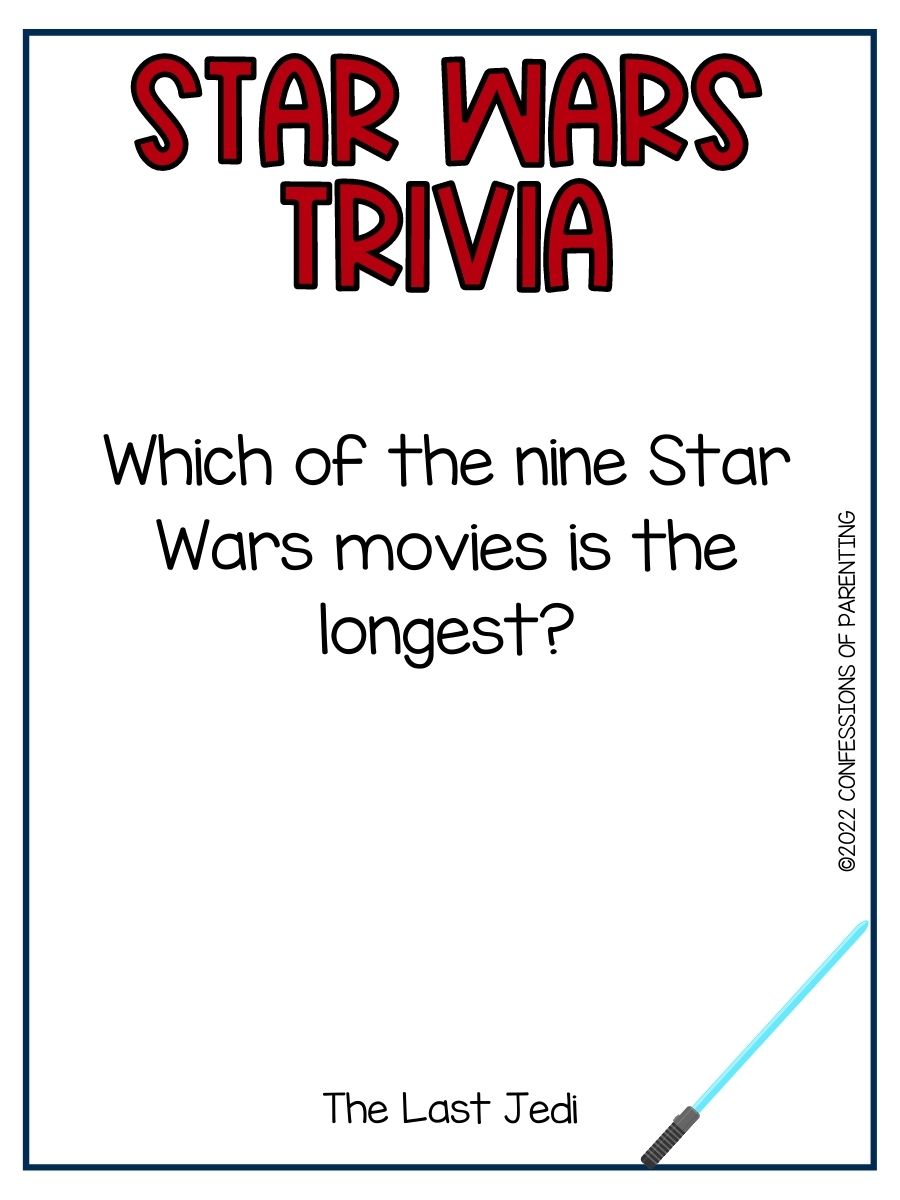 In "Attack of the Clones" what planet is the clone army discovered on?

A: Kamino
On what planet does the Rebel Alliance maintain their Echo Base in giant ice bubble caves?

A: Hoth
On the planet of Hoth, Luke Skywalker is attacked by what creature?

A: A wampa
Weird Al Yankovic has written two parody songs about Star Wars. What are they?

A: "The Saga Begins" and "Yoda"
In "Revenge of the Sith," who must Obi-Wan defeat in order to end the war?

A: General Grievous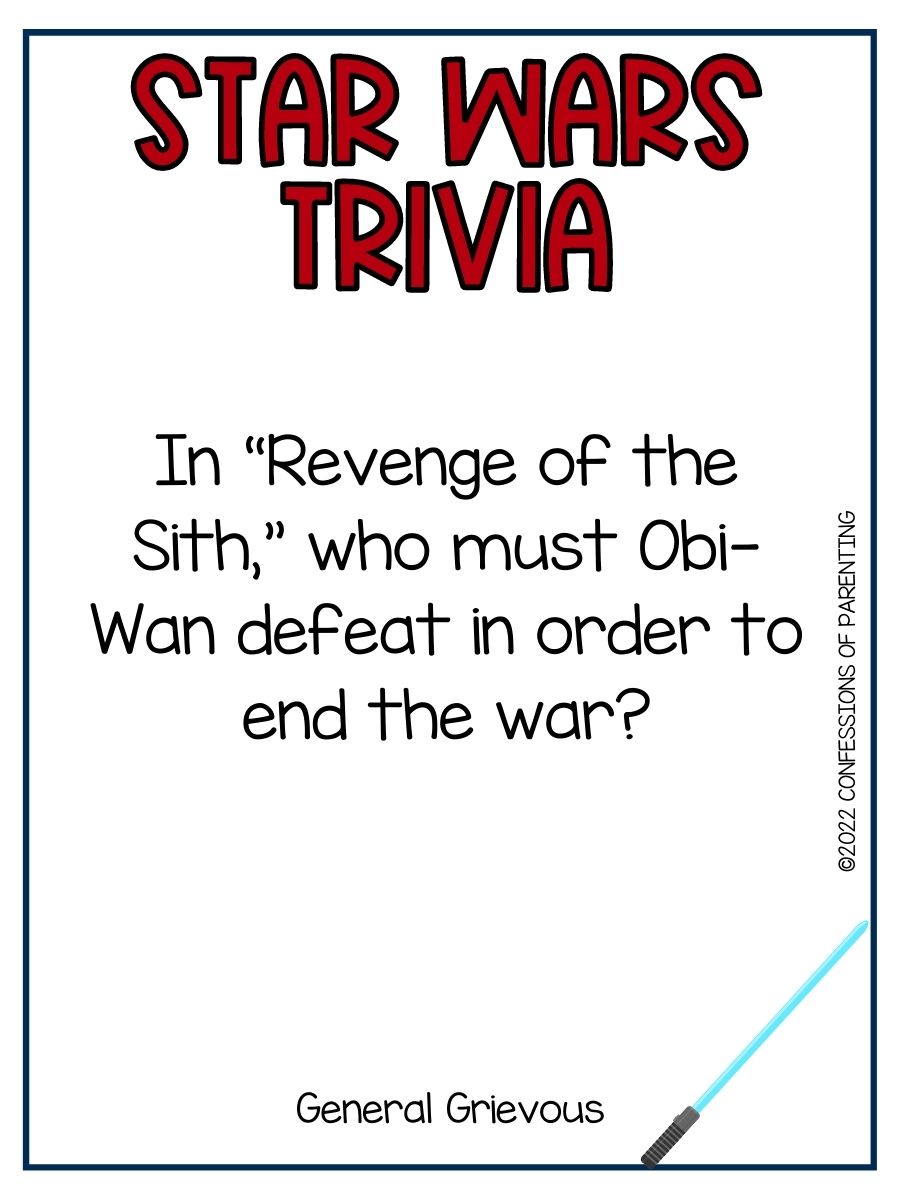 What is "Order 66" or "Clone Protocol 66"?

A: This order labeled all Jedi as traitors and required them to be executed.
Luke Skywalker, Princess Leia, Han Solo, and Chewbacca are trapped in the garbage compactor on the Death Star. How do they get out?

A: R2D2 disables all the garbage compactors
What is Boba Fett's job?

A: He is a bounty hunter
Who owned the Millenium Falcon before Han Solo?

A: Lando Calrissian
What is the name of the creature that Jabba the Hutt keeps to eat his enemies?

A: Rancor
Who is the only non-Jedi character in the original Star Wars films to use a lightsaber?

A: Han Solo, when he cuts open the Tauntaun on Hoth
What actor plays Qui-Gon Jinn in The Phantom Menace?

A: Liam Neeson
What is the chosen weapon of Jedis?

A: A lightsaber
What power does Luke learn to harness when he visits Yoda on Dagobah?

A: The Force
How many suns does the planet of Tatooine have?

A: Two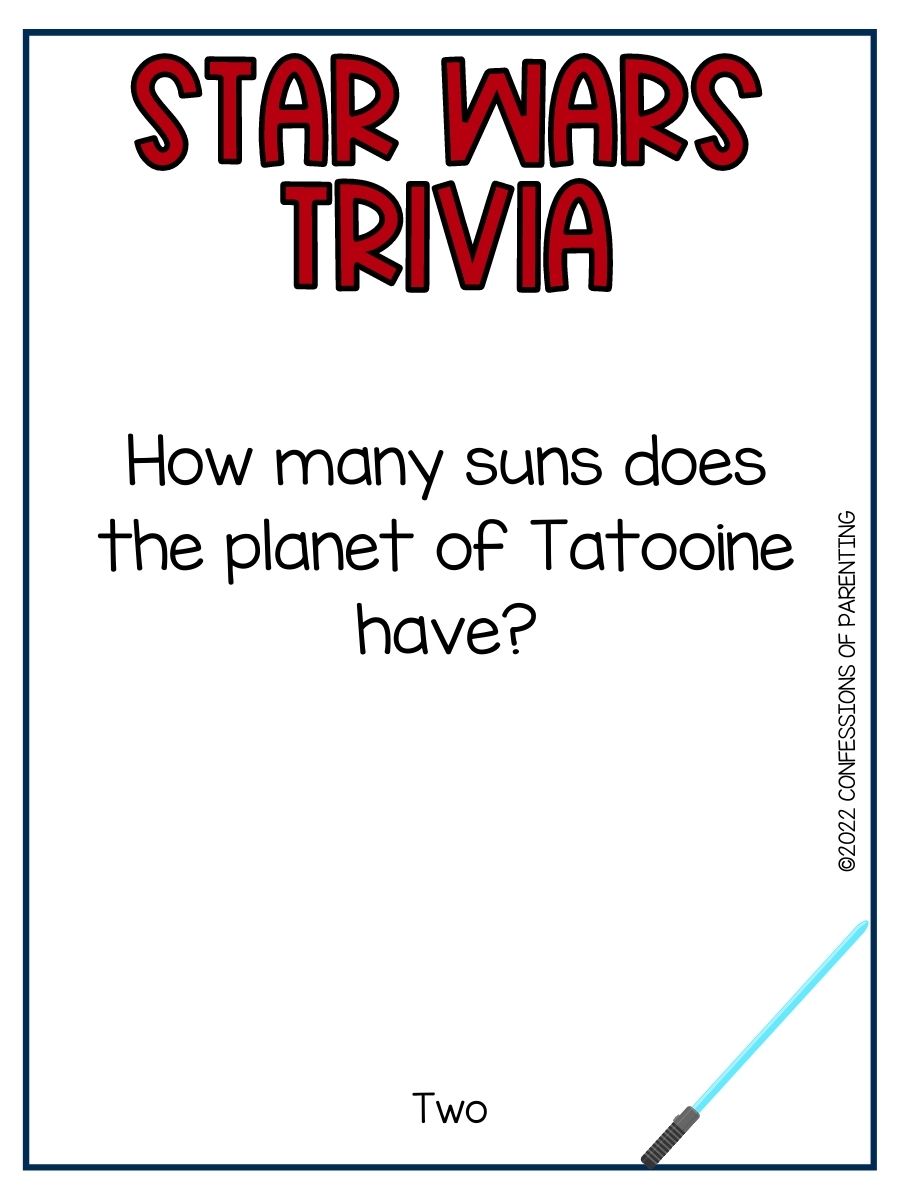 In The Phantom Menace, what is the name of the race Annakin competes in?

Boonta Eve Classic Podrace
How old is Padme when she becomes Queen of Naboo?

A: Fourteen
What is the name of the pod racing champion that loses to Annakin in The Phantom Menace?

A: Sebulba
What does Annakin get for winning the pod race?

A: His freedom
What is the only Star Wars movie that does NOT have R2D2 in it?

A: Solo: A Star Wars Story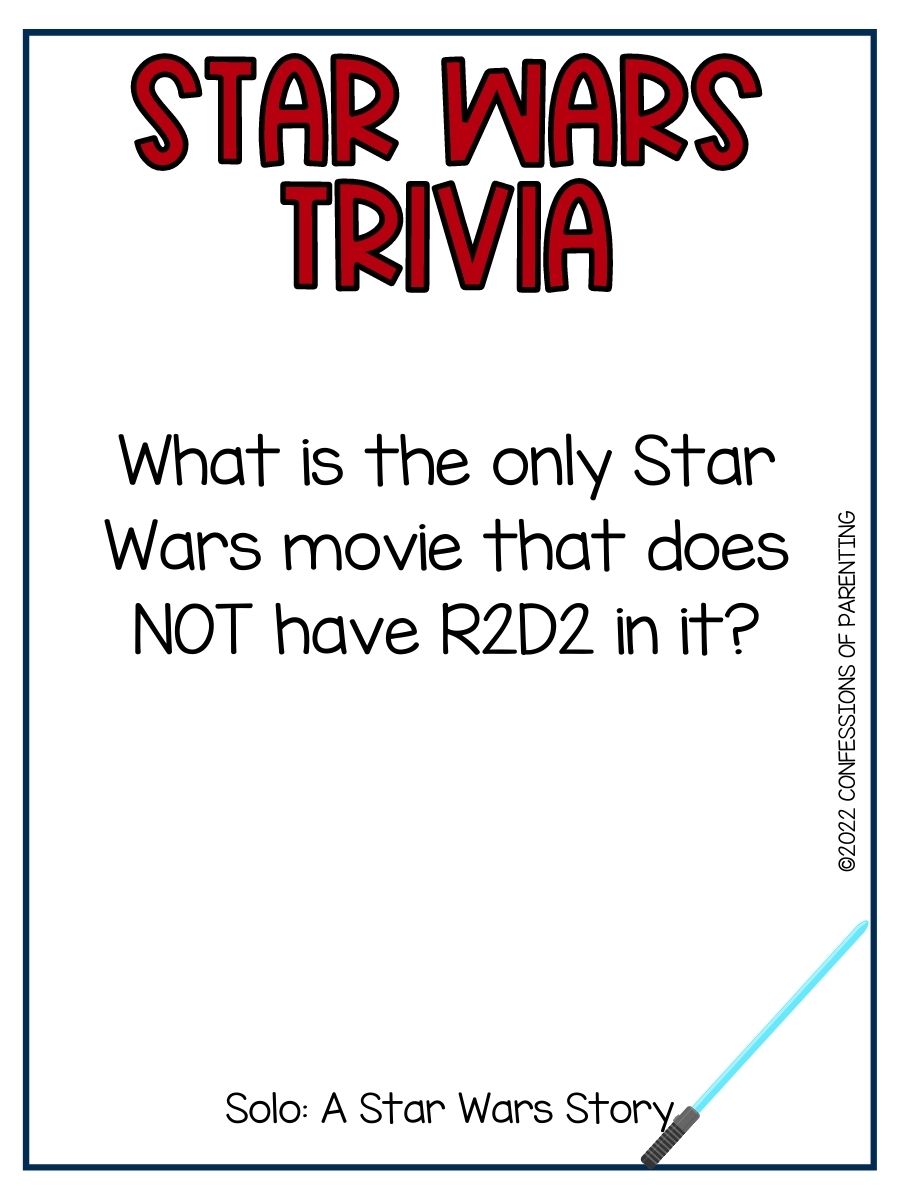 What is the name of the place that floats in the atmosphere of Bespin?

A: Cloud City
What is a Padawan?

A: An apprentice Jedi
What famous muppeteer is the voice of Yoda?

A: Frank Oz
On what planet do we first meet Rey?

A: Jakku
George Lucas originally had a different last name for Luke Skywalker. What was it?

A: Starkiller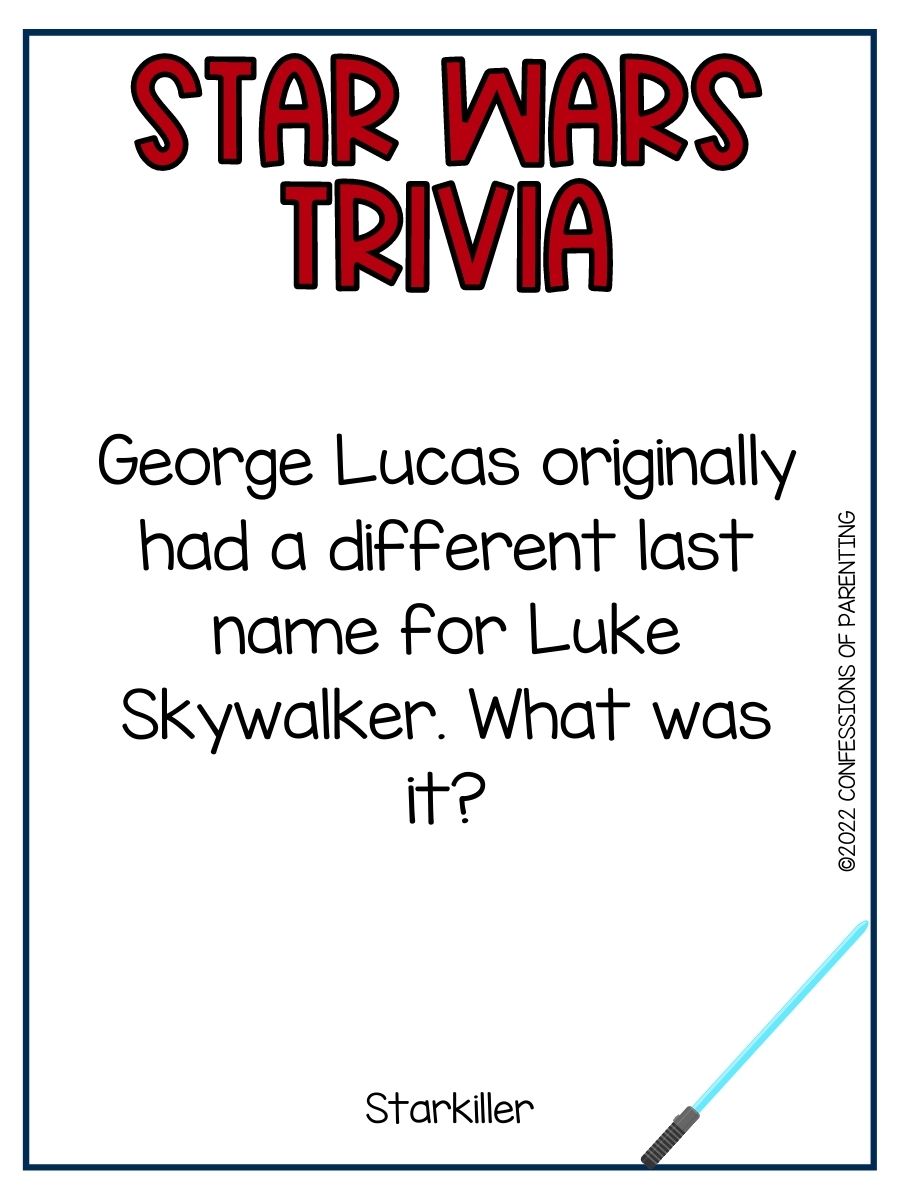 What is Annakin's mother's name?

A: Shmi
Landscapes from what African country were used for the planet of Tatooine?

A: Tunisia
If present in a high enough quantity, what microscopic life forms inside the cells of all living things gives a person the ability to detect the Force?

A: Midi-chlorians
The movie "Return of the Jedi" originally had a different name. What was it?

A: Revenge of the Jedi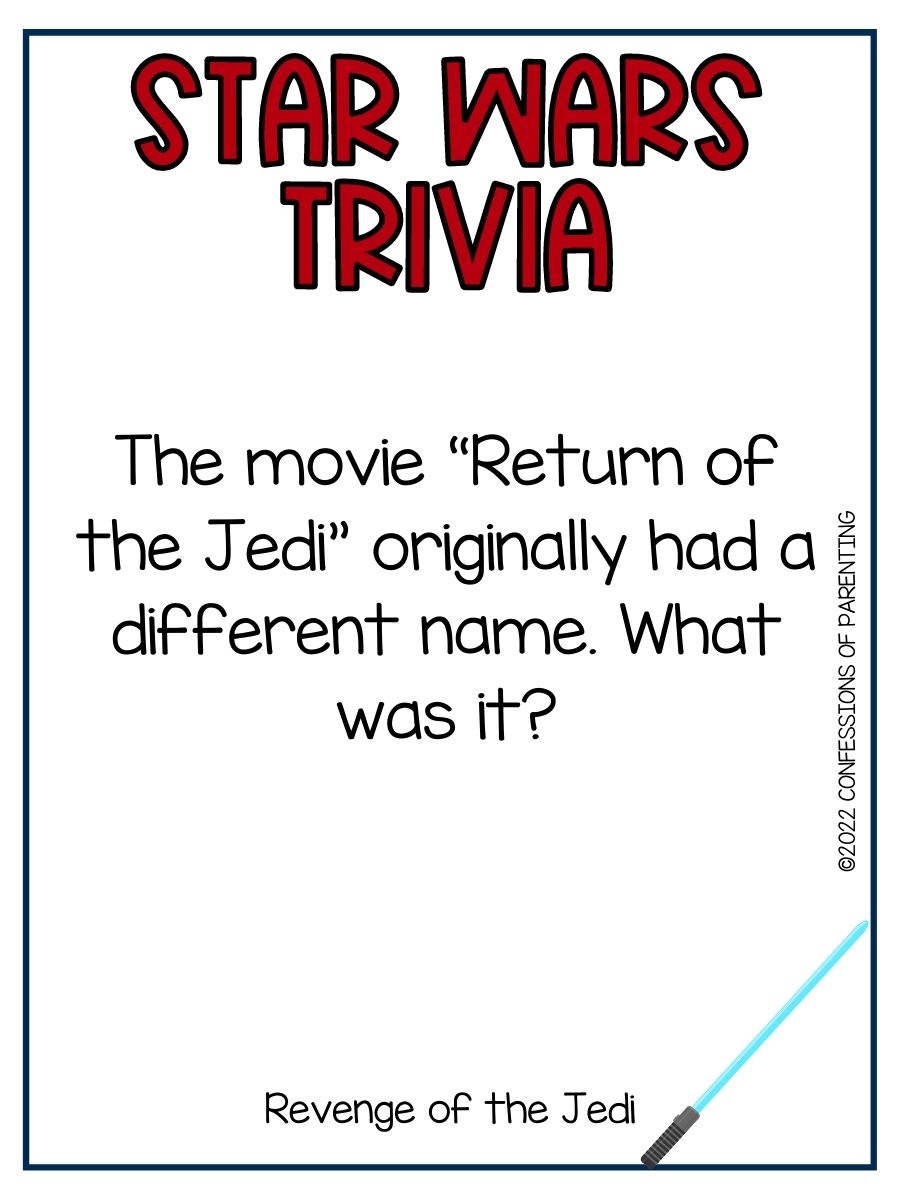 Do you have some more Star Wars Trivia questions that may stump others? Share them in the comments so we can add them to the list.
Love Trivia questions? Check out these trivia posts!