Your next trip just got more fun! Check out these hilarious and thoughtful would you rather road trip questions to play with your friends and family.
Would You Rather Road Trip Questions
I'm all for a good road trip, but sometimes filling up the downtime feels like such a chore! Does anyone else feel that way? Well, I've got the answer for our next trip… Would You Rather road trip questions! These are the perfect addition to all our other Would You Rather Questions Collection!
Of course, we always play all the basics like the License plate game, Road Trip Truth or Dare, or Trivia. We even have started bringing road trip jokes to get the laughs going. But these Would You Rather road trip questions are going to be the perfect addition to our list of family favorites.
The thing I love best about these car games is that you'll keep everyone in the car entertained for hours with little or no supplies! Who doesn't love a good car activity with no supplies?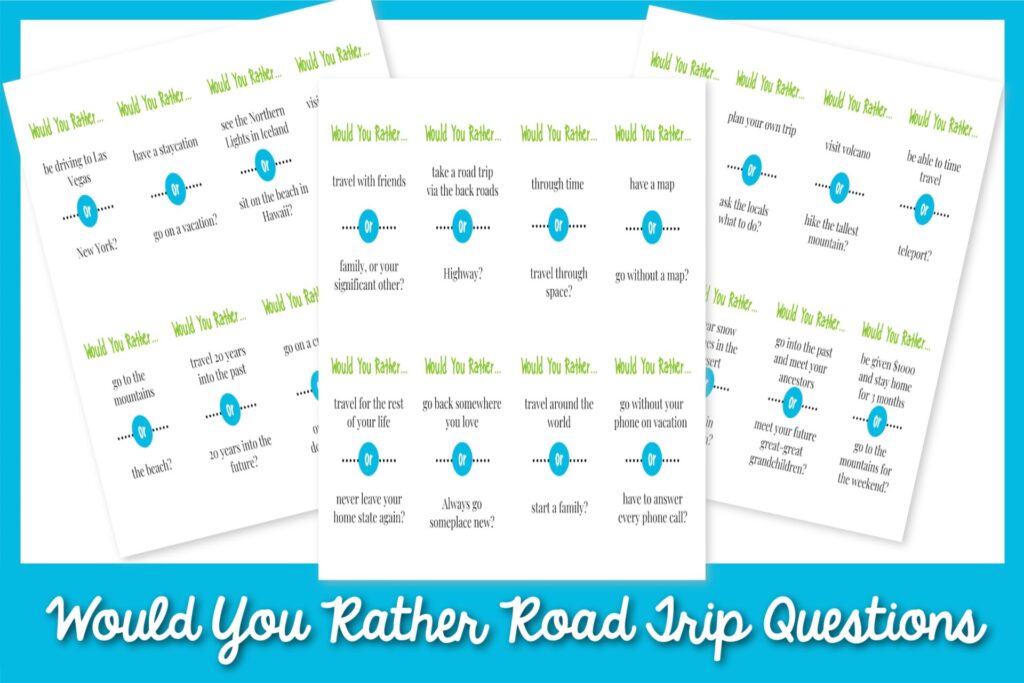 More road trip posts you'll love
How to Play These Would You Rather Road Trip Questions
To play Would You Rather Road Trip Questions, take turns answering questions from the list below. You can designate someone to ask the questions, or you can take turns.
We've played with just one person answering the questions, but you can also have the whole group answer. You can even grab some white boards for everyone to hold up there answer at the same time for even more surprise and fun!
Sometimes it can be fun to start a discussion about the questions and debate a bit! This is also a great safe place to practice patience, understanding, and confidence. Some of these questions are silly, some are thoughtful, but all of them are so fun!
90+ Would You Rather Road Trip Questions
Ready to play? Here is my list of 100 Would You Rather road trip questions!
Travel with friends or family, or your significant other?
Take a road trip via the back roads or highway?
Through time or travael through space?
Have a map or go without a map?
Travel for the rest of your life or never leave your home state again?
Go back somewhere you love or always go someplace new?
Travel around the world or start a family?
Go without your phone on vacation or have to answer every phone call?
Be driving to Las Vegas or New York?
Have a staycation or go on a vacation?
See the Northern Lights in Iceland or sit on the beach in Hawaii?
Visit every country in the world or go to space?
Go to the mountains or the beach?
Travel 20 years into the past or 20 years into the future?
Go on a cruise or fly to a destination?
Travel by train or by plane?
Have no knees or no elbows?
Plan your own trip or ask the locals what to do?
Visit volcano or hike the tallest mountain?
Be able to time travel or teleport?
Never leave home or go to the most dangerous place in the world?
Wear snow clothes in the desert or shorts in Antartica?
Go into the past and meet your ancestor or meet your future great-great grandchildresn?
Be given $1000 and stay home for 3months or go to the mountains for the weekend?
Travel for 5 years in an RV or travel for 5 years in a sailboat?
Live in a different country forever or move every 6 months?
Vacation a the beach or in the mountains?
Get up early or stay up late?
Have a new car or travel around the world?
Do a Safari tour in Kenya or go on a cruise to Antartica?
Have the ability to travel through time or be able to become anyone?
Travel or start a family early?
Live in a tiny house or a camper van?
Give up Emojis for a week or all social media?
Load the dishwasher or empty the dishwasher?
Super fast or super strong?
Rich and sad or poor and happy?
Have an awesoe job in a mediocre city or a Mediocre job in an awesome city?
Have free food for life or unlimited flights for life?
Be the smartest kid or the most popular kid?
Spend 10 minutes on the moon or 2 weeks paid vacation in Europe?
Have smelly feet or smelly armpits?
Travel on a flying carpet or a dragon's back?
Good looking with no friends or ugly with lots of friends?
Have a job you love that doesn't pay well or have a job you hate that makes a lot of money?
Invent something new or get all inventions made?
Wake up to Alexa or mom singing to you?
Have an everlasting phone battery or unlimited Wi-Fi wherever you go?
Drive or fly across the country?
Be homeless or not see friends and family again?
Travel alone or live alone?
Be a kid forever or look like a grandma grandpa your whole life?
Sit all day or hop everywhere you go for a month?
Live without music or TV / YouTube?
Live in a cottage at the lake or tiny house in the mountains?
Spend the night a castle or a tree hut?
Be half yopur weight or double your height?
Visit Hogwarts or Narnia?
Run out of gas and have to walk 2 miles or get 3 flat tire in one trip?
Only salty food or only sweet foods?
Have a vacation to Italy or Hawaii?
Live on a pirate ship or live with the mermaids?
Explore space or the ocean?
Attend the super bowl or the Olympic games?
Sleep in a tent or rent a cabin?
Stop to pee every 30 minutes or derink nothing the whole car ride?
Live one life that lasts 1,000 years or live 10 lives that last 100 years each?
Stay in a 5 star hotel in the middle of no where or a motel on the beach?
Drive the whole trip or sit in the middle eating whatever you want?
Eat Chick-Fil-A or McDonalds?
Listen to kids music the whole trip or no music?
Use an actual map for the whole trip or be stuck in construction traffic in 3 hours?
leep on a long car trip or do fun activities?
Not shower the whole trip or be soaking wet?
Plan the entire trip or be suprised by what you are doing?
Have a criyng baby or listen to someone complain the whole time?
Go really fast and get 5 speeding tickets or got the speed limit?
Win a free phone or get to go on your dreanm vacation?
Be bored forever or listen to someone talk nonstop?
Be home for Christmas or go somewhere to have a white Christmas?
Have no money or no memories?
Eat cookies or ice cream forever?
Have Taco Tuesday or Friday Pizza night every week forever?
Never laugh again or give up your most prized possession?
Travel with your friends or spouse?
Be deaf or cant't smell forever?
Be blind or cant't walk forever?
own a boat or a plane?
Be a kid foerever or a parent?
Take a cruise or fly to your vacation destination?
Speak a foreign language or be a concert pianist?
Never pay for gas or fly anywhere 3 times?
Go to Mount Rushmore or Grand Canyon?
Go to jail for 6 months or live in your car for a year?
Live in the 1800's or now?
What road trip would you rather gave your family the most laughs? Let us know in the comments!
Be sure to join our free Confessions of Parenting members club and get access to hundreds of free printables!
How Do I access my free printables?
Fill in the form above. You will receive an email in your inbox. If you don't see it check your spam folder! You will then click to confirm your subscription. Once confirmed you will be taken to Airtable (a different website) where all our free printables will be waiting for you! It is free to sign up for Air Table!
How Do I Print a PDF?
You'll need a program that supports PDFs. Adobe Acrobat is a great option. Open the program, click file then print. Select your printer and the number of copies you want to print. Be sure you click double-sided if you want it to print on both sides.
Can I resell these?
You may not resell any printable that you find on our website or in our resource library. You may use them for class parties, at church, at home, or in the classroom. You may get these printed at an office supply store or copy center at your own expense.
Love Would You Rather? Try These fun Versions!
Love Would You Rather? Check out these Versions!