4th of July Charades is the perfect game to play while waiting for the parade to go by or before watching fireworks at night! It's easy to get started, just download, print, and play!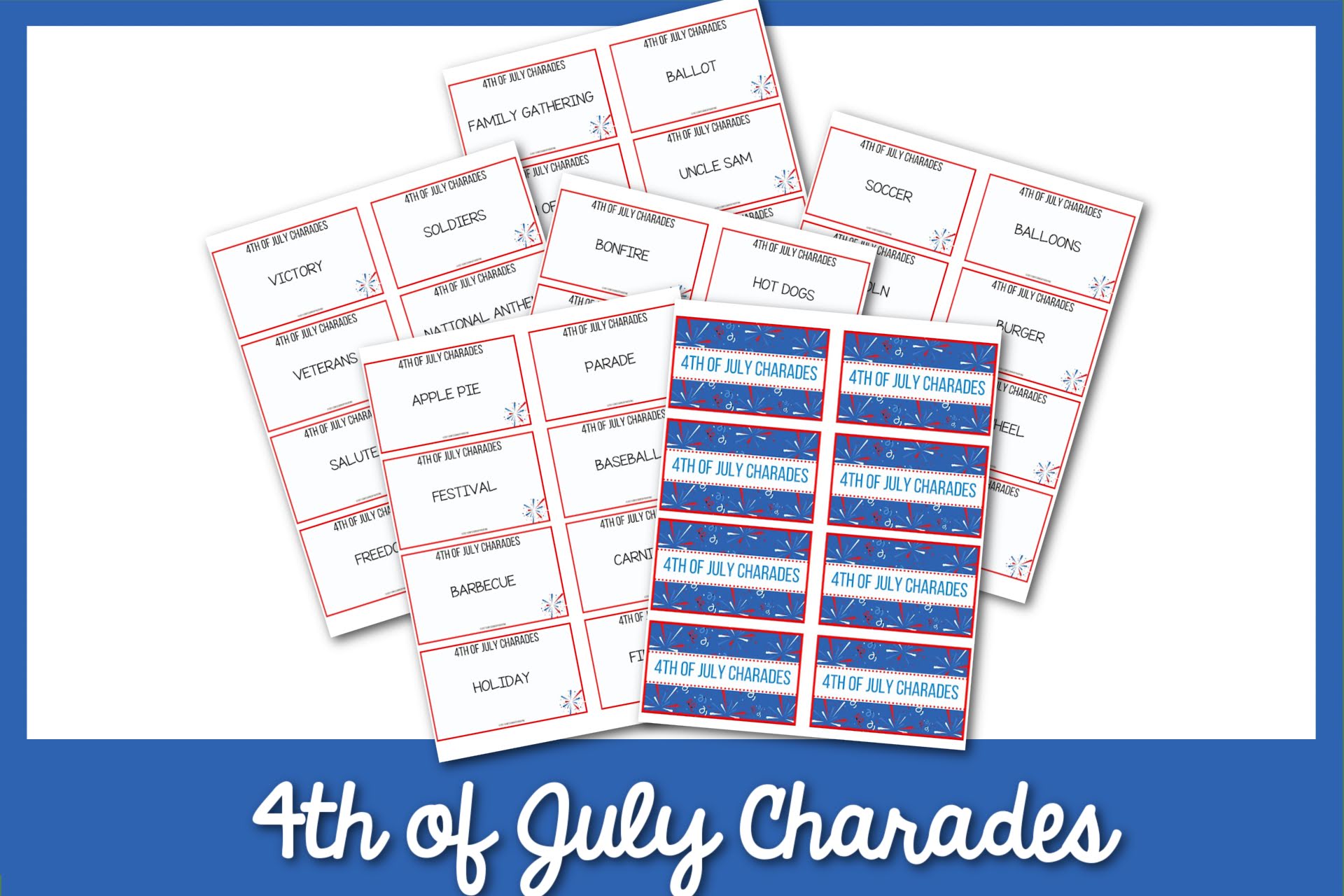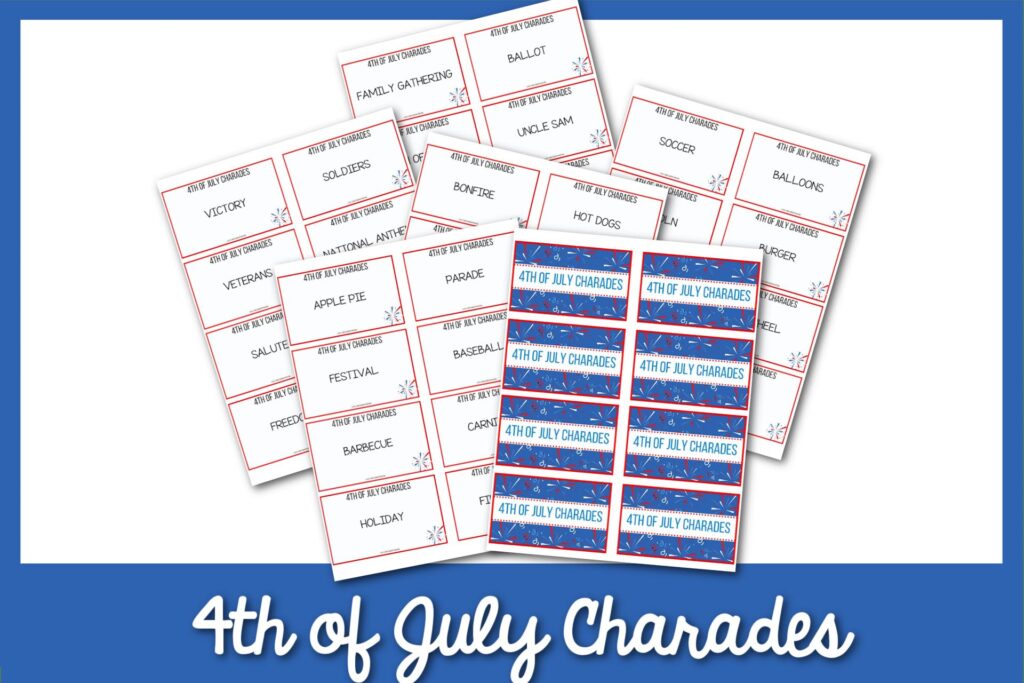 Summertime is all about having fun and spending time with one another! One of our favorite things to do as a family is play charades! With so many fun charades ideas like Animal charades, reverse charades, and this fun 4th of July Charades, you can pretty much guarantee that we are never running out of charades ideas.
4th of July Charades
4th of July is one of my favorite holidays! Everyone is so patriotic, and there are always so many activities to enjoy! 4th of July Charades and 4th of July Bingo have become some of our favorite games to play!
Both games require minimal effort to get started and offer a ton of fun and laughter. Whether you are celebrating with your immediate family or with a large group, 4th of July charades is a no-brainer to play.
Ultimate Charades Bundle!
Do you want to Grab the Ultimate Charades Bundle with over 23 themed charades games? Grab it now before the price increases!
Why I Love Charades
My family really has fallen in love with charade games. It started with the classic family charades we'd play during family night. It quickly grew into a family favorite. No matter what the occasion, there is a charade game to match! We love playing Camping Charades on a camping trip when outdoors with nature.
Charade games bring my family together in such a special way. We love being able to let go and have a good time together! No matter the age, everyone can participate and have fun playing together. There aren't many games that can bring a whole family together like that.
How to Play 4th of July Charades
If you've never played charades before, don't worry. It's very simple and easy to learn.
This game can be played as one big group, or you can add some competition by dividing into teams and keeping points. However you choose to play, the rest of the rules are the same.
One person will be the actor first. I love doing fun things to pick the actor. For example, the person who can make the best Uncle Sam impression or the person with the most patriotic outfit goes first. The actor will change at the start of each new round.
The first actor will draw the top card. They will then have 60 seconds to act it out without using any words or sounds! They are trying to get their team to guess it. If their team does this within 60 seconds, they will get the point. If they don't, the other team gets one guess to steal. Be careful because the first thing shouted out is that team's guess.
You can decide when the game ends. You can either go through all the cards, play until everyone has had a turn, or play until a certain amount of points.
REMEMBER: The actor cannot say or mouth any words. They can only use actions and gestures to get their team to guess the word on their card.
More 4th of July Fun
We have so many great 4th of July activities for you to check out! Try our 4th of July Color By Number, or our great 4th of July Bingo game! If you're looking for more fun to do in July, take a look at this July Bucket List too!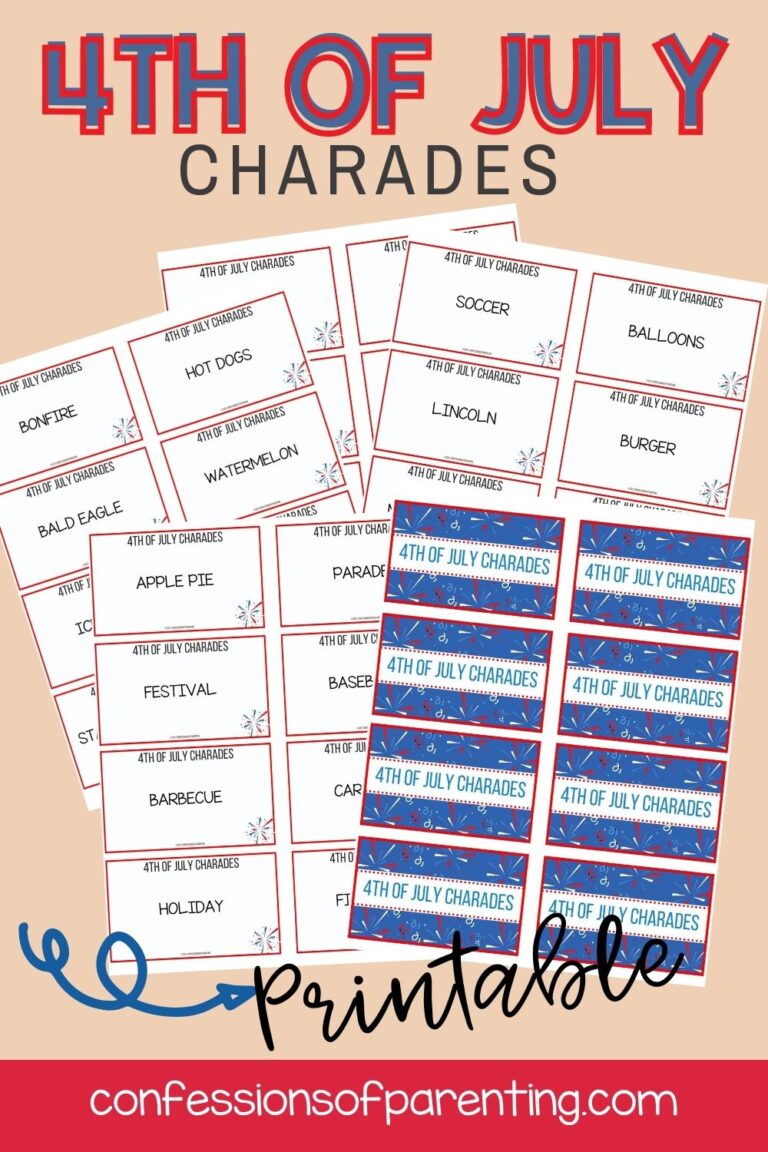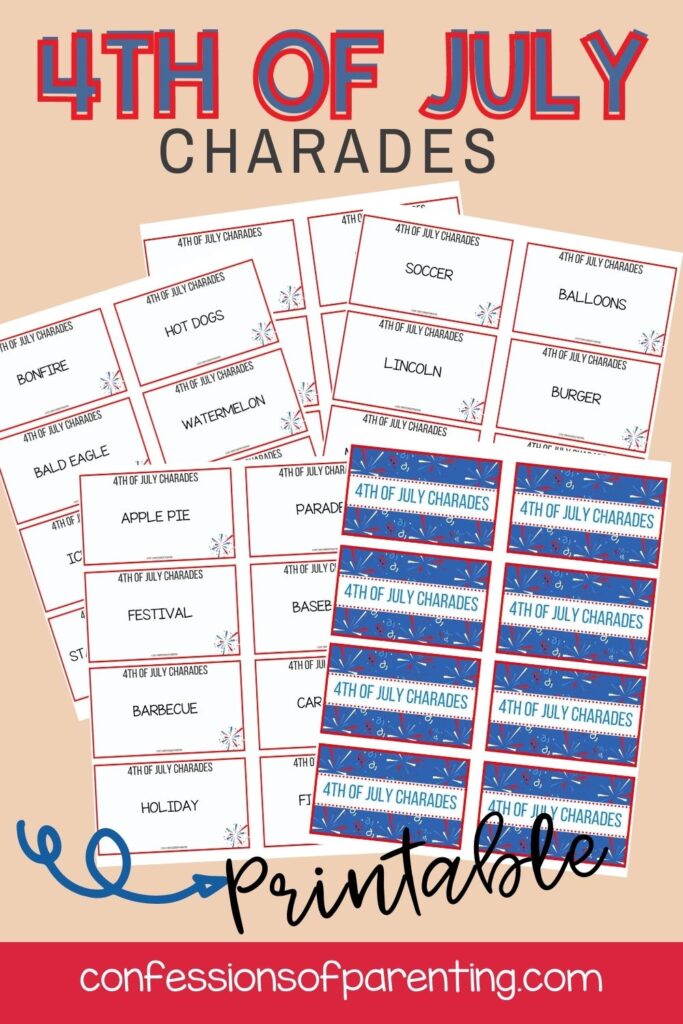 Helpful Tools We Love When Downloading Printables
Printer– I love my HP+ printer that uses Instant Ink. I love it because we can use as much color ink as you want for one low cost starting at $.99/ month for ink. Try it out for free here!
Cardstock- I always recommend printing on cardstock. This makes it way more durable so you don't have to worry about printing it time and time again.
Laminator / Laminating Sheets- Again, for added durability, grab a laminator and laminating sheets so that you can use this again and again!
Scissors (I seriously love these ones)
Dry Erase Pens- Use dry erase pens so that you can wipe your laminated printable clean over and over again for endless use!
4th of July Charades Word List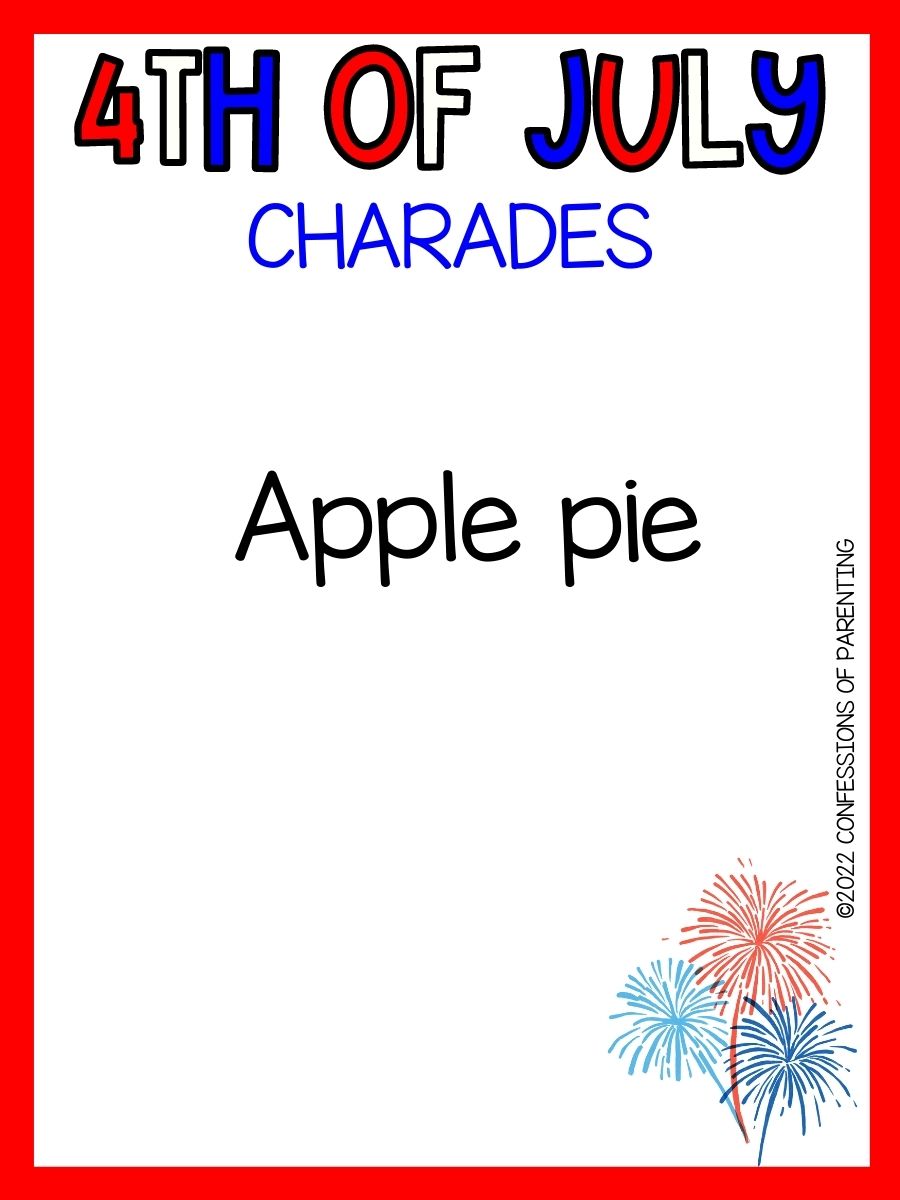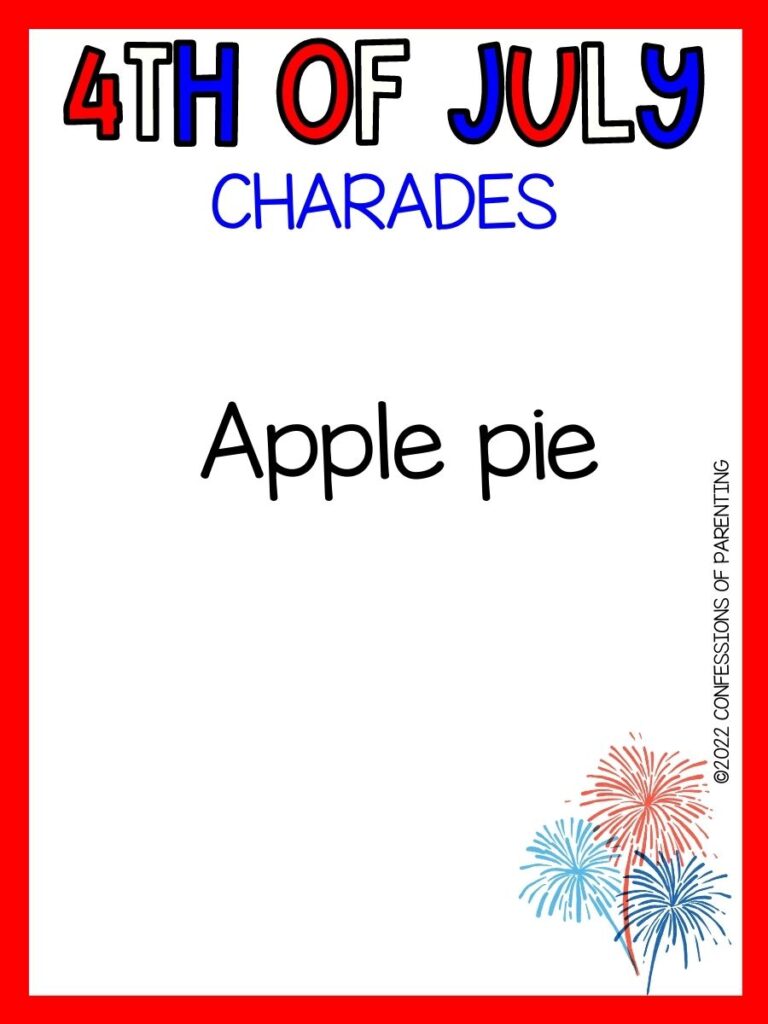 Apple pie
Parade
Festival
Baseball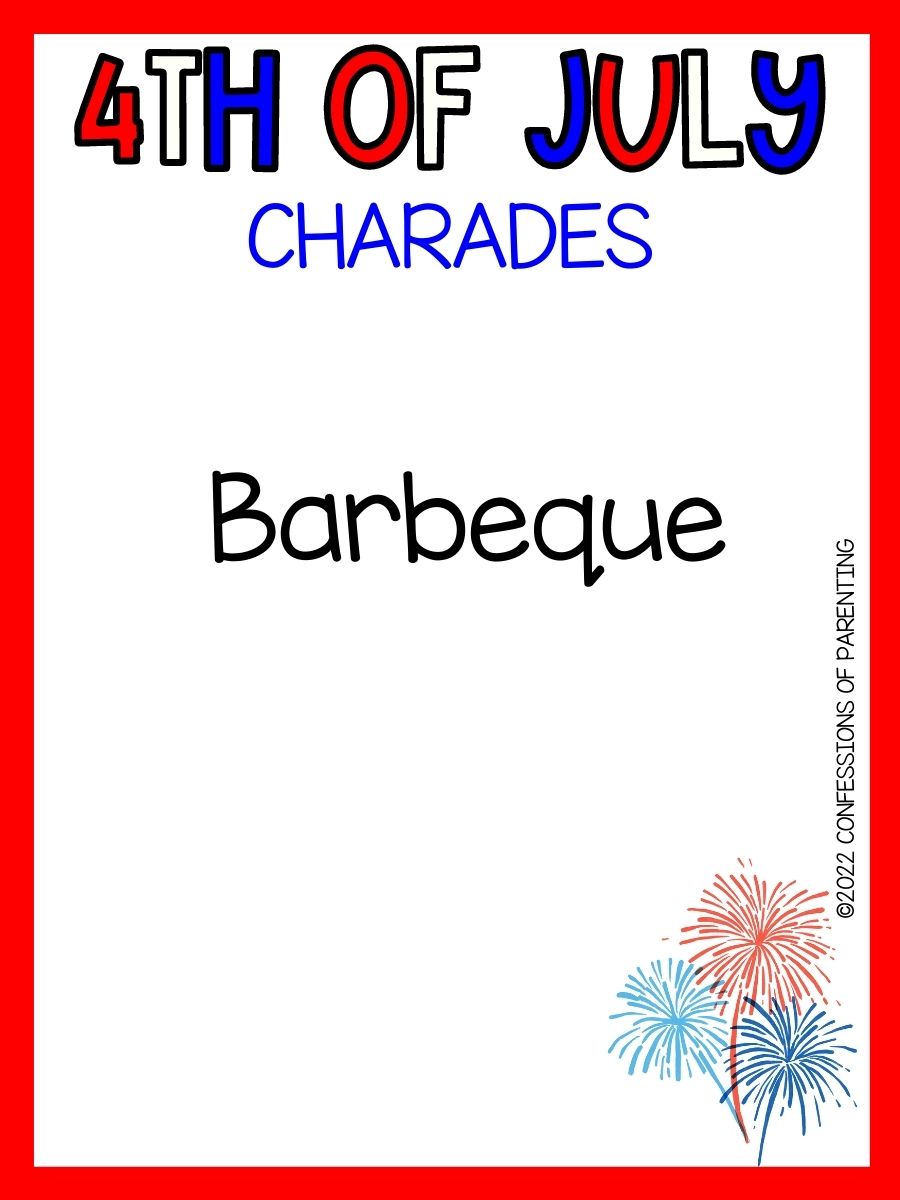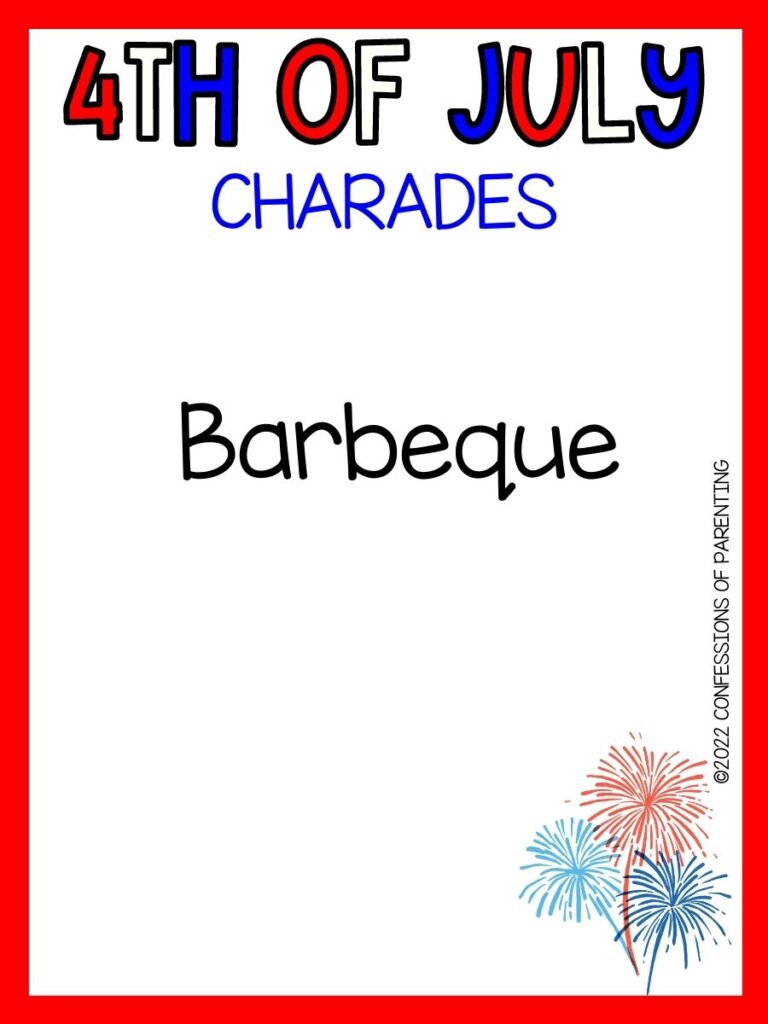 Barbeque
Carnival
Holiday
Fireworks
Victory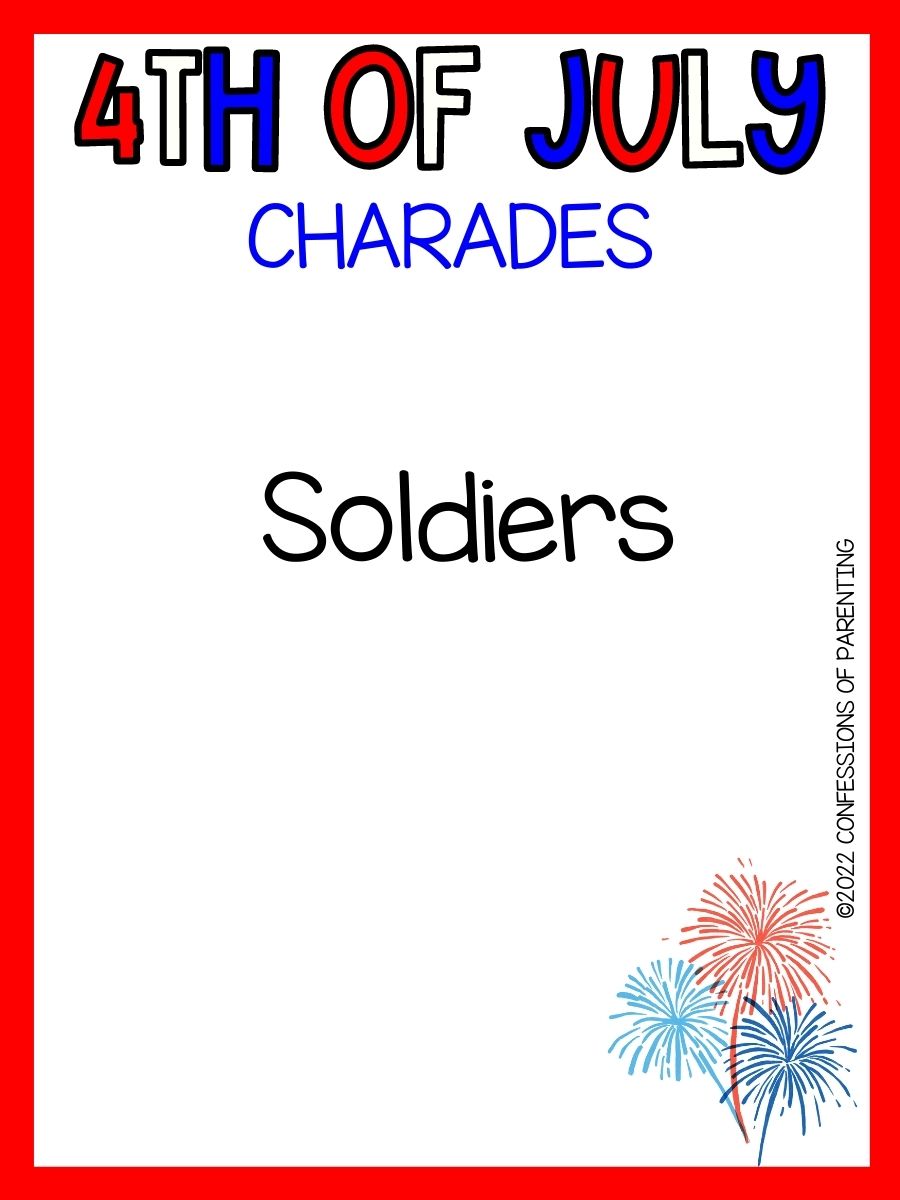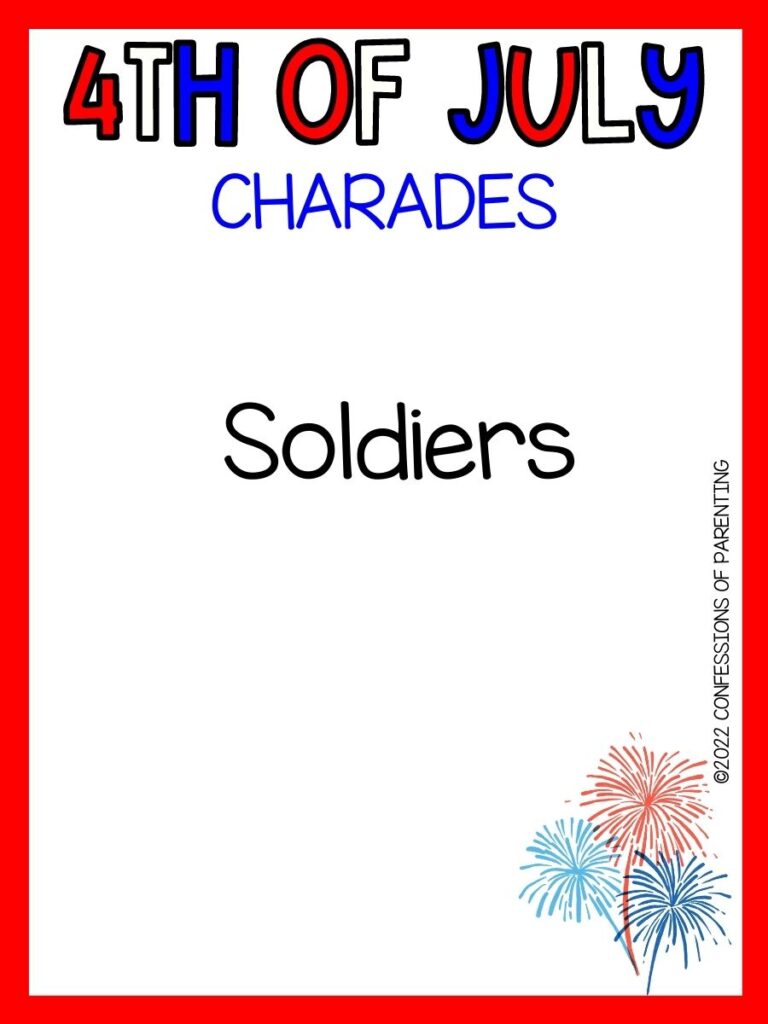 Soldiers
Veterans
National Anthem
Salute
President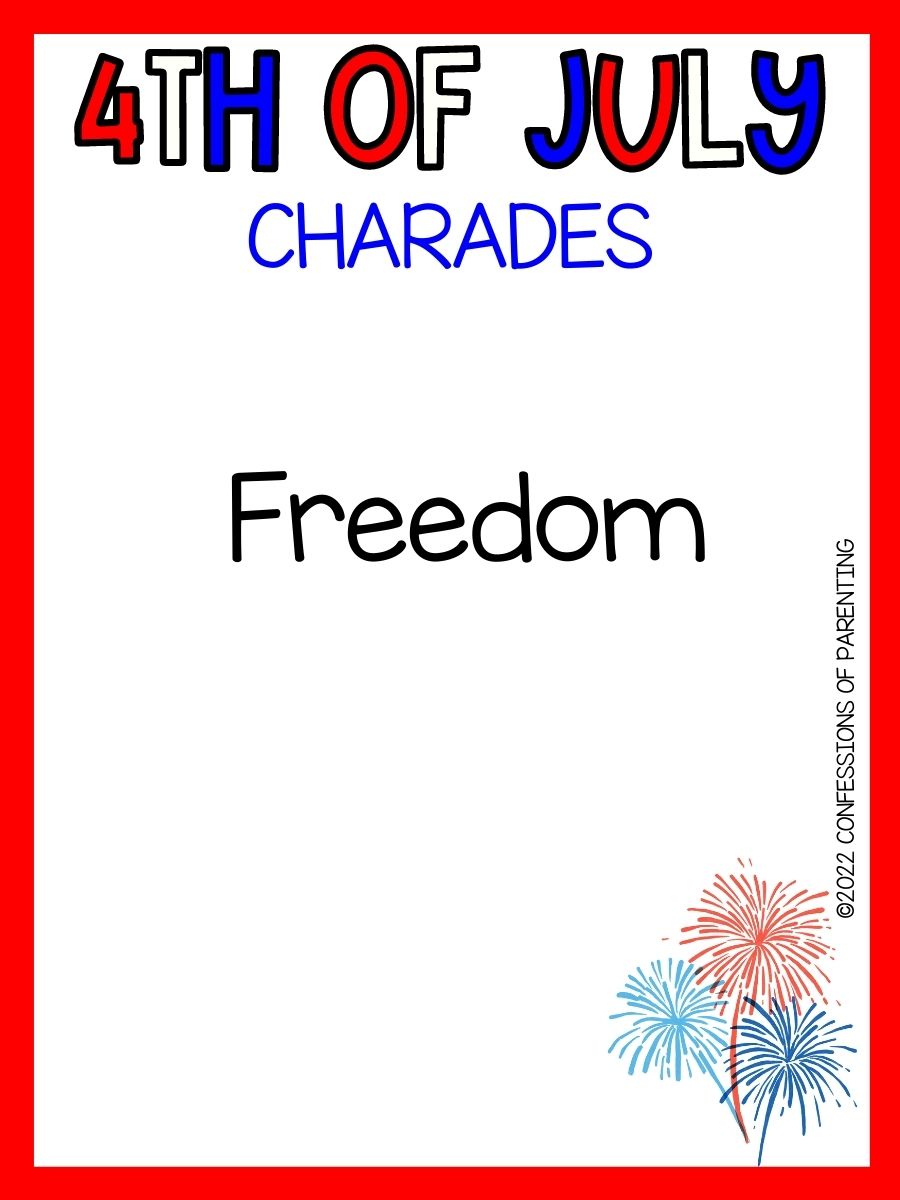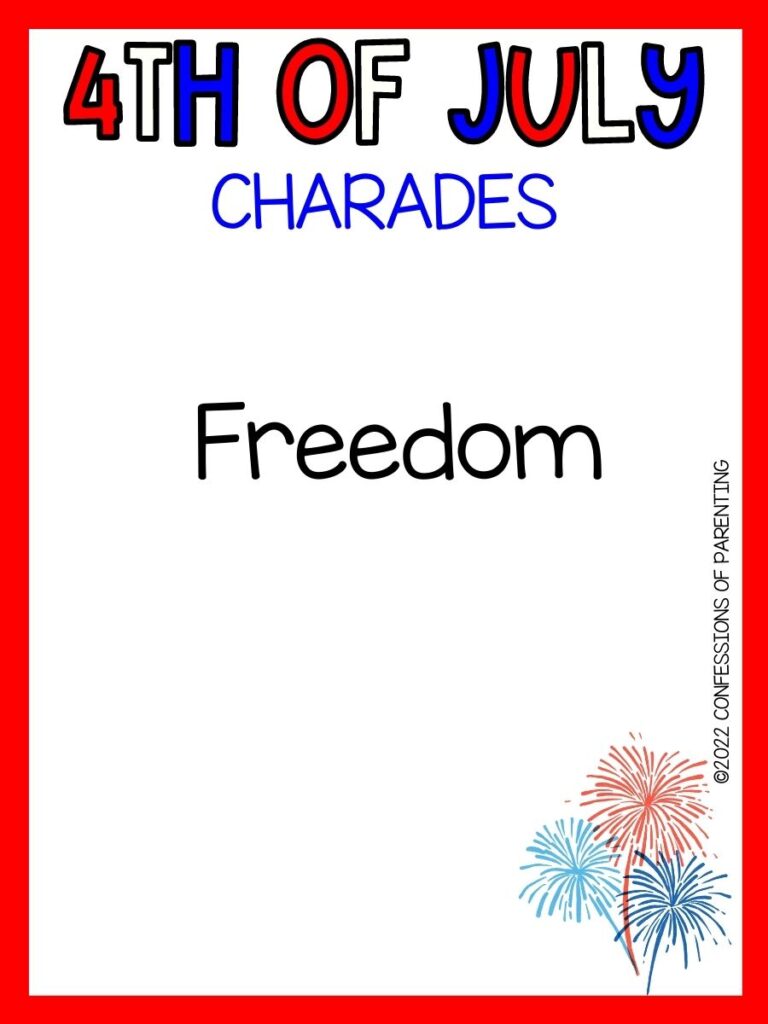 Freedom
Firecrackers
Bonfire
Hot dogs
Bald eagle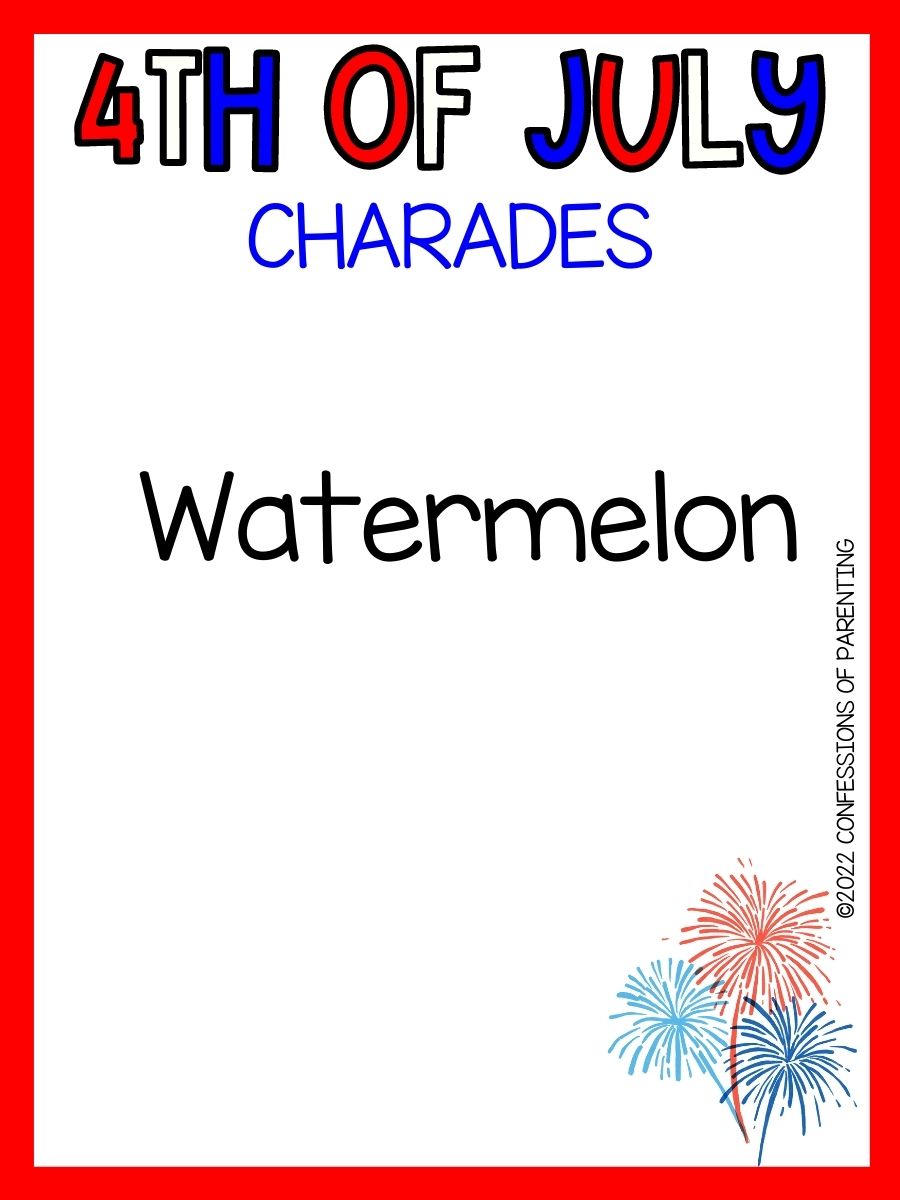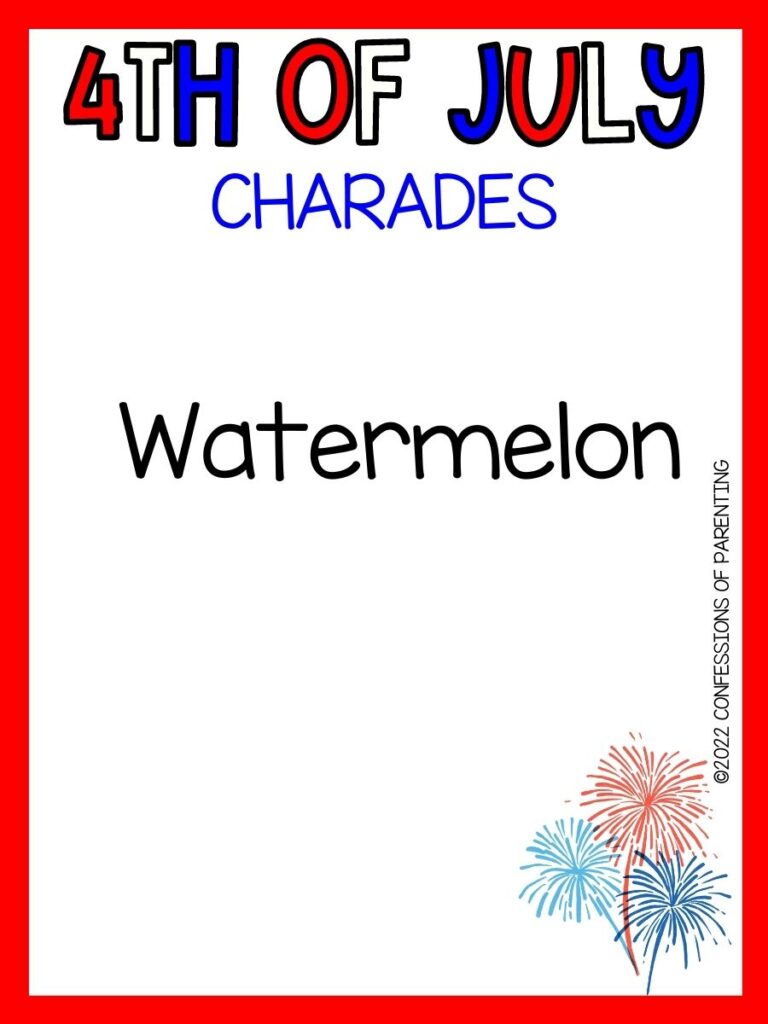 Watermelon
Ice cream
Lemonade
Statue of Liberty
American Flag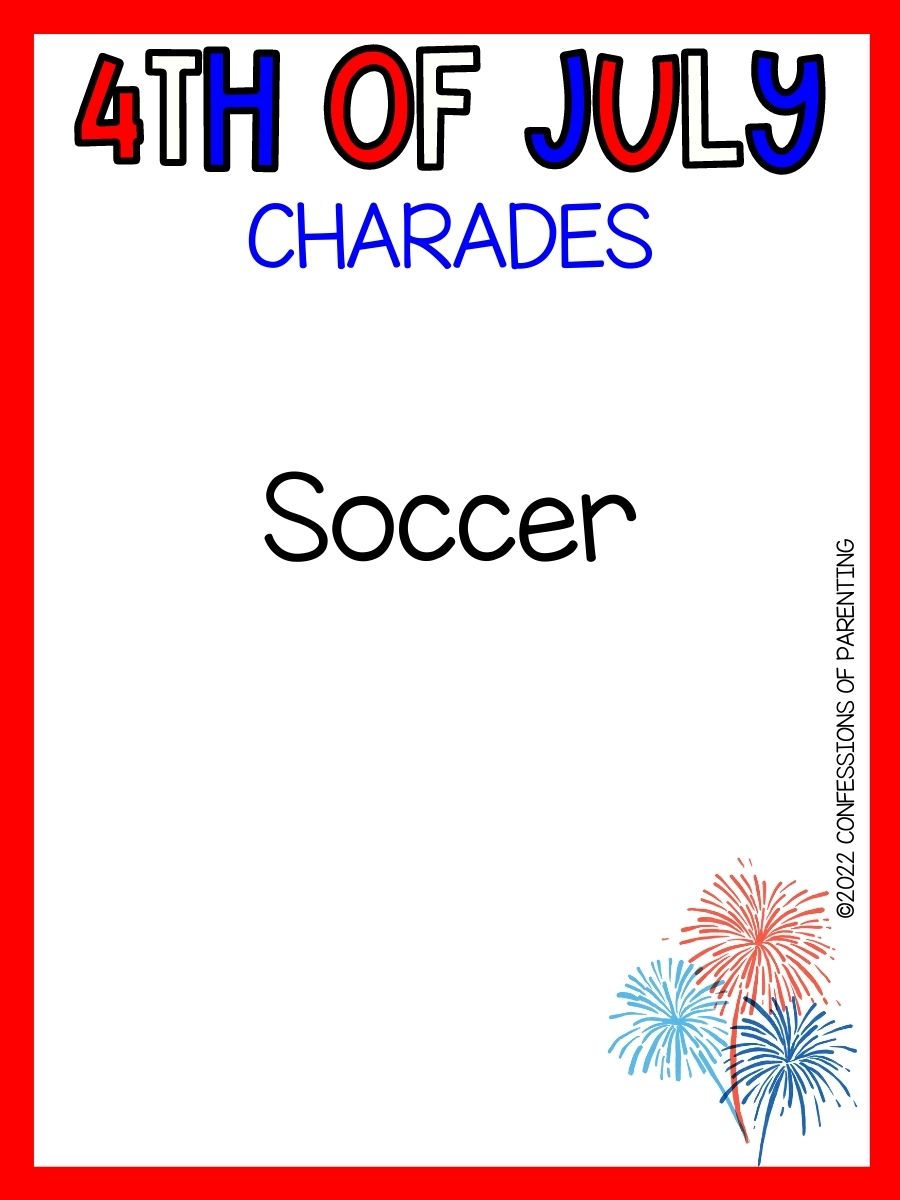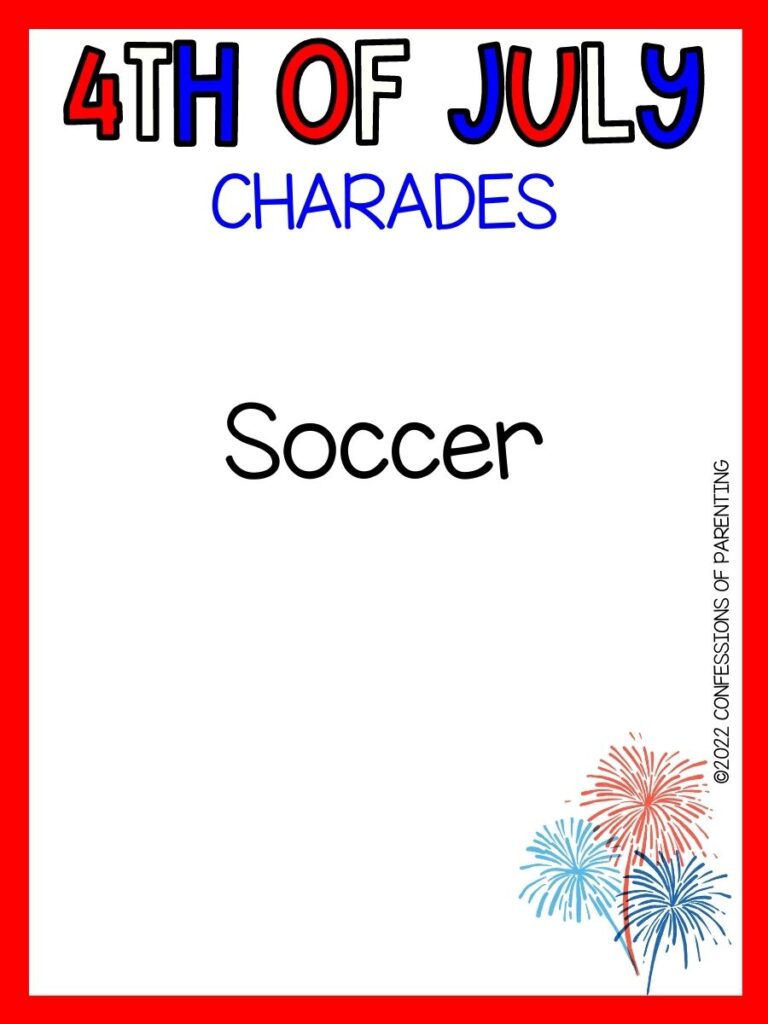 Soccer
Balloons
Lincoln
Burger
Marching band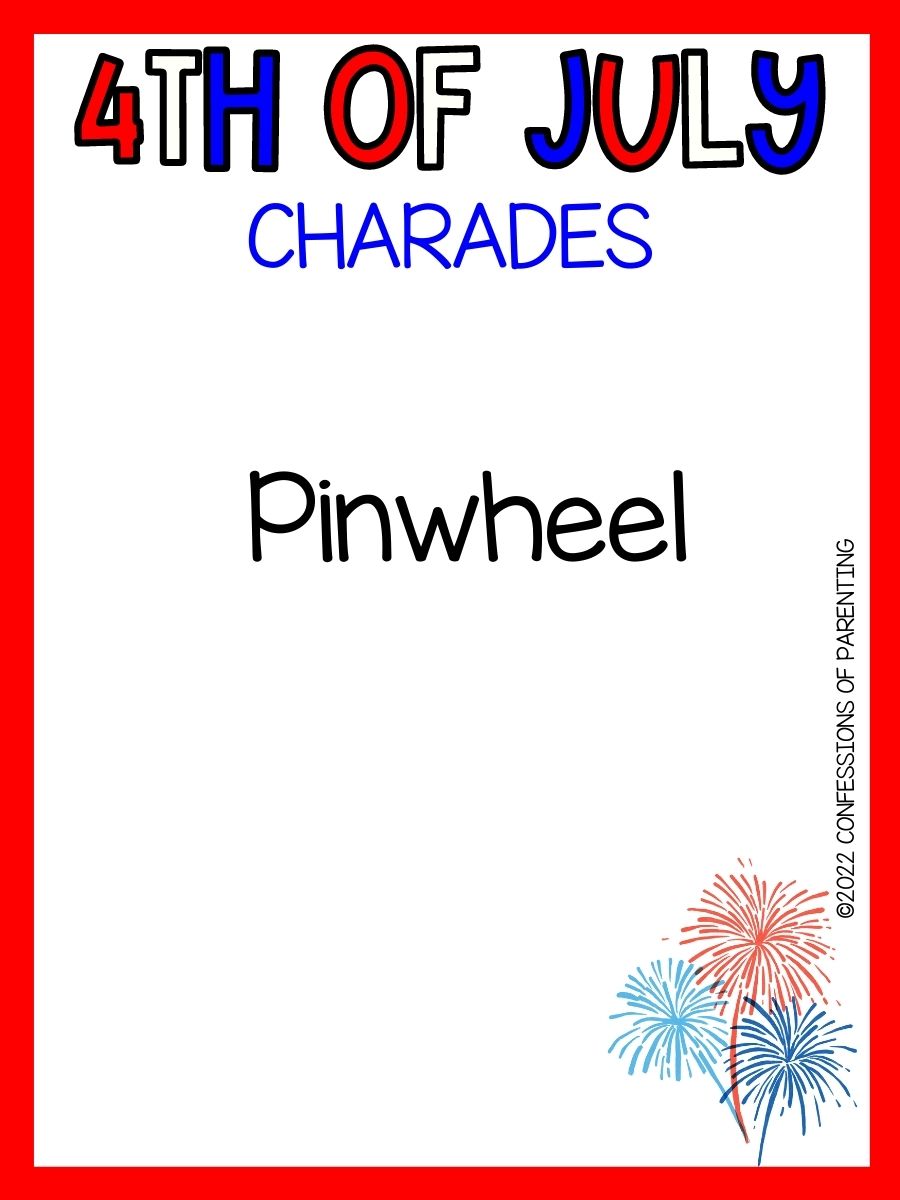 Pinwheel
Sparkler
Star
Family Gathering
Ballot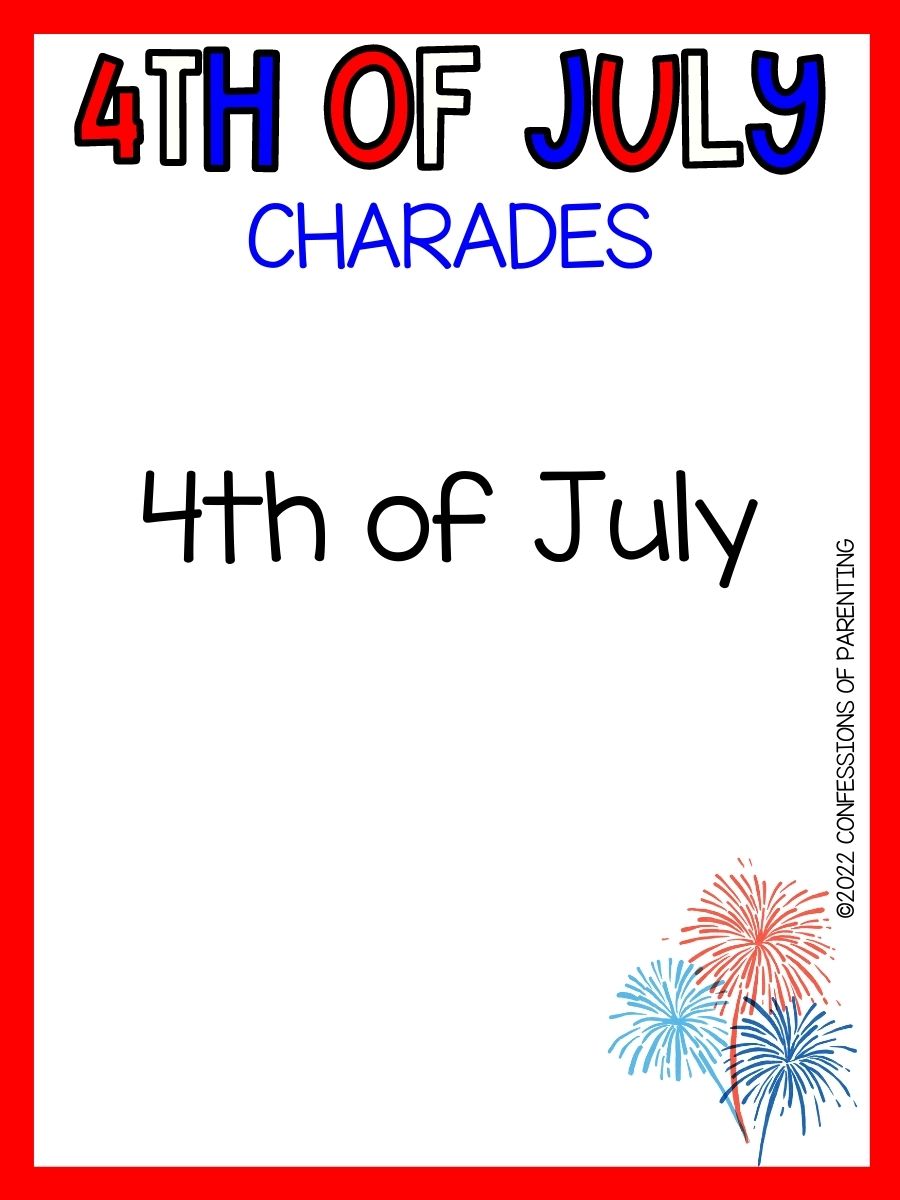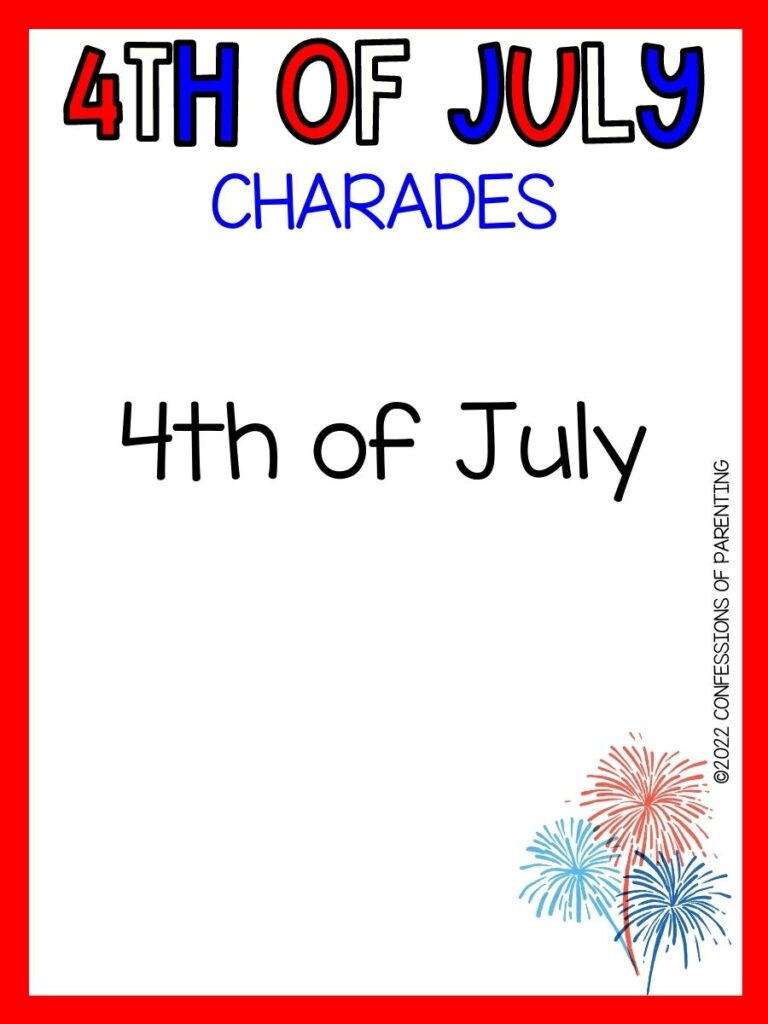 4th of July
Uncle Sam
Cupcakes
Flip flops
Stripes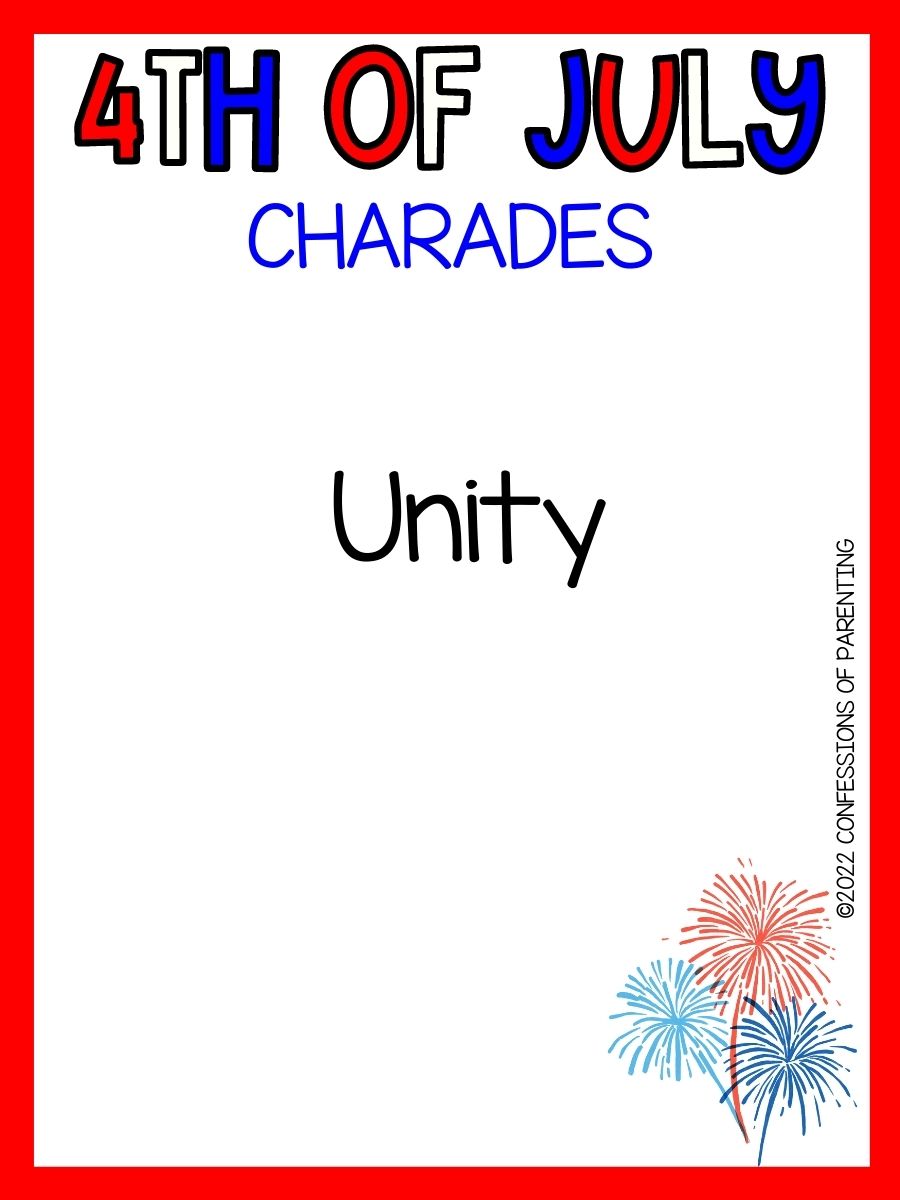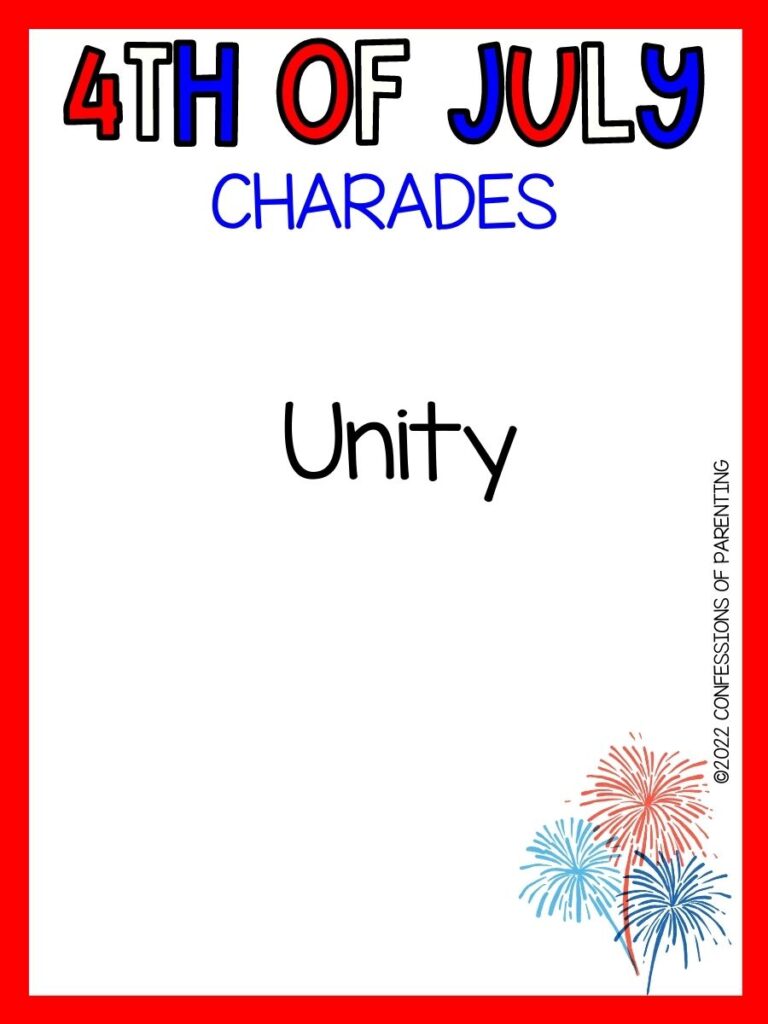 Unity
Patriotic
Liberty bell
Summer
History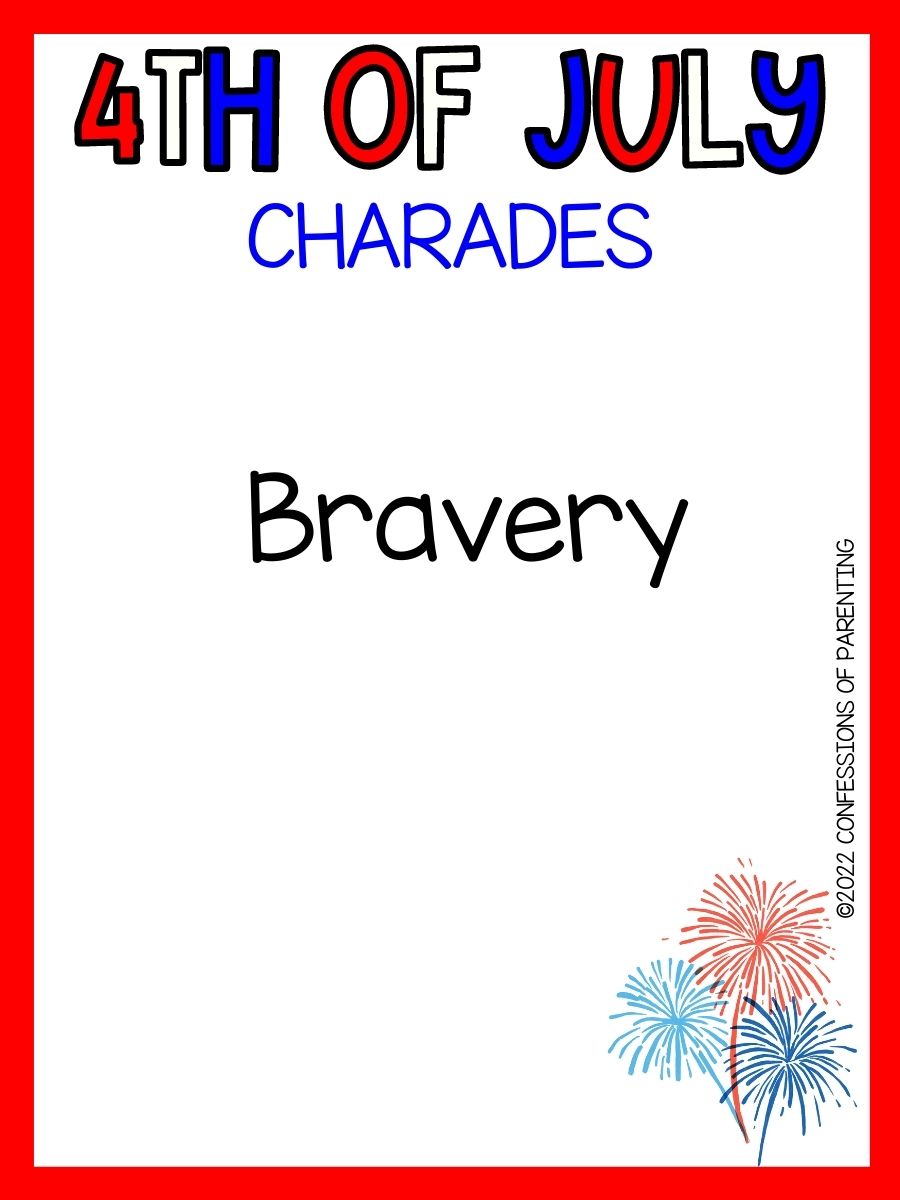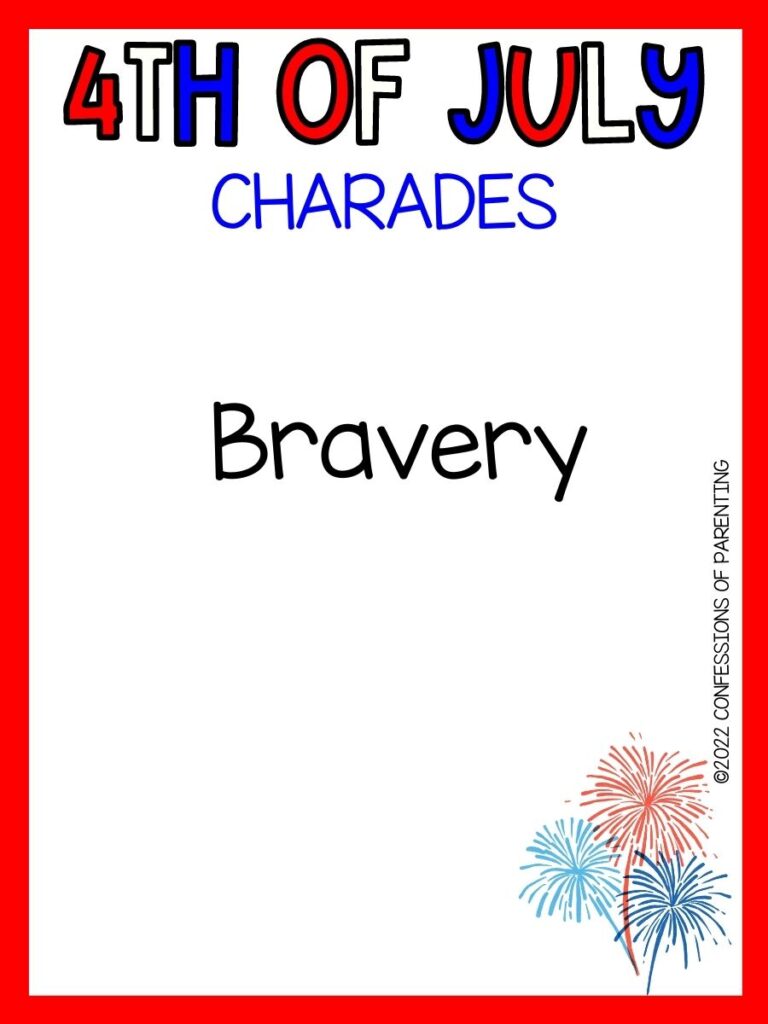 Bravery
The White house
Picnic
Celebration
Battle
Washington D.C.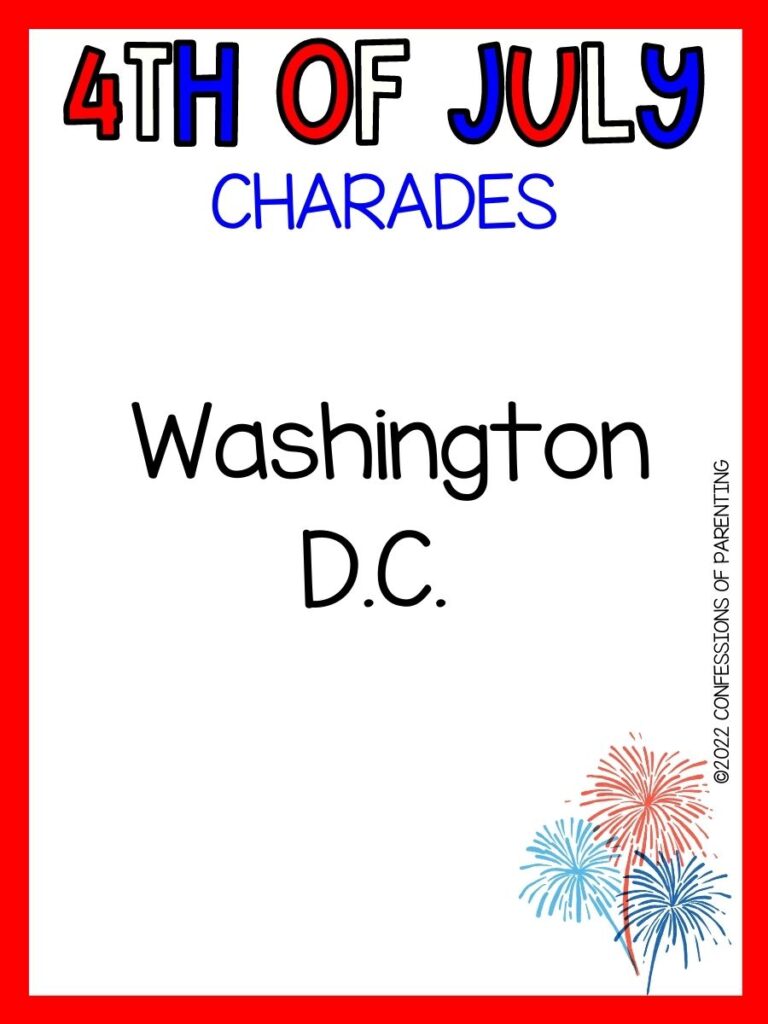 If you loved this activity, be sure to share the 4th of July Charades with your friends!
Love Charades? Try these other great charade games!
How Do I access my free printables?
Fill in the form above. You will receive an email in your inbox. If you don't see it check your spam folder! You will then click to confirm your subscription.You will then be redirected to your free download.
How Do I Print a PDF?
You'll need a program that supports PDFs. Adobe Acrobat is a great option. Open the program, click file then print. Select your printer and the number of copies you want to print. Be sure you click double-sided if you want it to print on both sides.
Can I resell these?
You may not resell any printable that you find on our website or in our resource library. You may use them for class parties, at church, at home, or in the classroom. You may get these printed at an office supply store or copy center at your own expense.