Celebrate July with these fun ideas that you can do with your family. Download this free July bucket list printable that will take your July from boring to fab!
Celebrate July
July sits right in the middle of summer and between trips and holidays you may find yourself and your family wondering what to do with those summer days!
Try any one of these July bucket list activities this month to bring a little extra fun to your day. All of these ideas are free or inexpensive and totally perfect to do with the whole family!
Get ready to celebrate July with your family with these fun ideas and make sure to download our free July bucket list printable below.
July Bucket List Ideas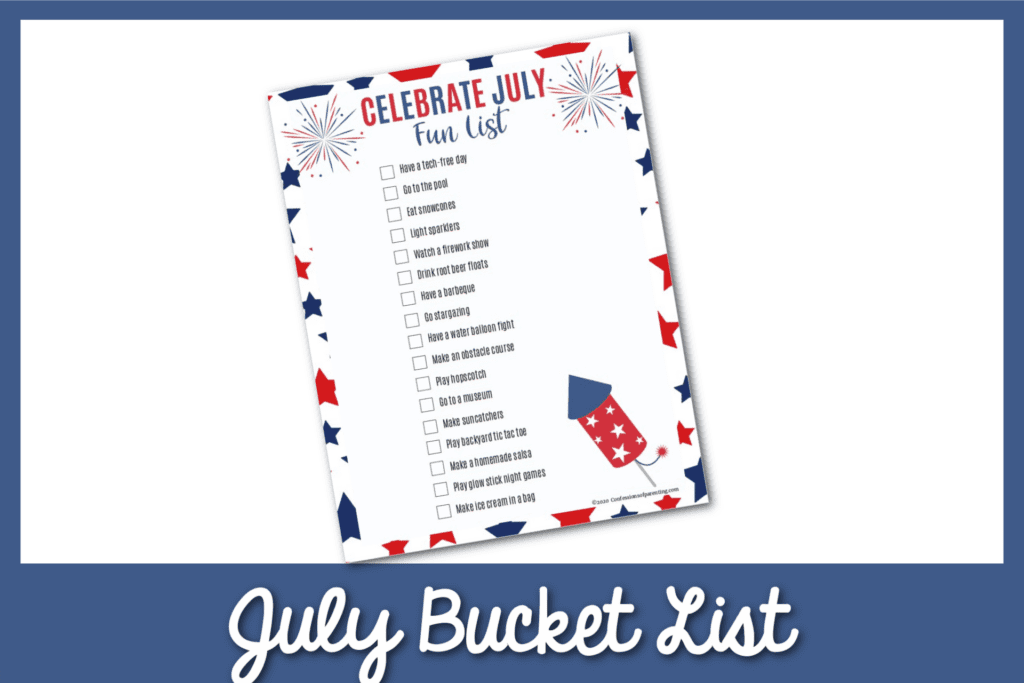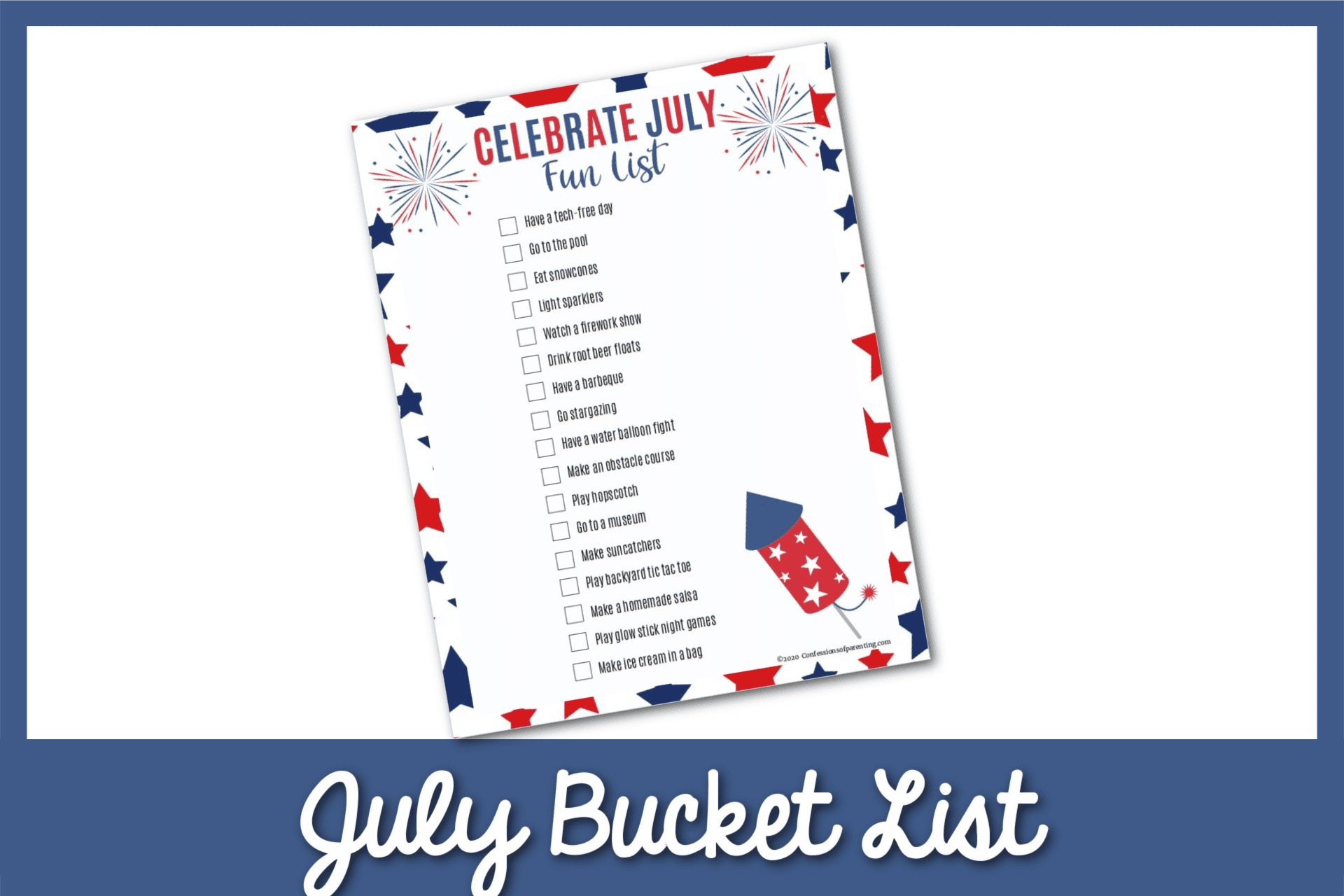 Have a tech free day
Summer often becomes filled with tv, phones, games, and all sorts of technology.
While this can be such fun, it can get a bit draining on your family. Challenge each other to have a completely tech-free day!
Keep each other accountable and make sure parents are included in this challenge! See how much fun you can have without all your electronics.
Go to the pool
July is one of the hottest times of the year so you definitely need to take some time for some fun in the sun!
Go to your local pool and have fun swimming together. Bring some water toys and make it a great day together!
Eat snow cones
Cool off from the warm heat with some yummy snow cones!
Look around town for a snow cone stand or shop. They often have them close to parks or lakes and they are so delicious!
If you can't find one, pick up an inexpensive snow cone machine and make them whenever you want!
Light sparklers
Fourth of July is at the beginning of the month and there's no better way to celebrate July than by lighting up some sparklers with your kids!
Sparklers are so cheap and around the holiday you can often find them at your local grocery stores so they need an extra trip.
Your kids will love the magic of the sparklers. Make sure to take lots of pictures!
Watch a firework show
Another 4th of July bucket list activity definitely needs to be watching a firework show. You could watch a neighborhood show and be part of the action, or go into town and watch a big show.
Many shows have festivals with food and games beforehand and they are a perfect way to spend a hot afternoon together as a family.
Make an United States themed craft
No matter what age your kids are, they can enjoy a fun US themed craft! We love making patriotic straws for the 4th of July to use for our patriotic layered drinks!
Keep it simple with your young kids and do a drawing or painting and try out some more complex crafts with your older kids.
Use them as decorations for the holidays or keep them as memories throughout the years.
Drink root beer floats
Yum! A delicious way to cool down on a hot day is to make root beer floats. .
You don't need any sort of special occasion to have a special treat like this!
The great thing about root beer floats is that they are super easy and cheap. Keep some root beer around and some ice cream in the freezer and you have a delicious treat whenever you feel like sharing memories together.
Have a barbeque
July is the perfect time for a barbeque!
Have a small family barbeque and enjoy your favorite hot dogs or hamburgers, or invite friends and neighbors and have a party!
Enjoy the nice weather and some delicious food.
Go on a trip
Celebrate July with a family summer vacation!
Remember that vacations don't have to be grand and expensive! Just get out of your comfort zone and do something different. It is also a perfect way to spend time together and there are so many benefits of a family vacation!
Camp at a local beach, visit relatives, or take a road trip to somewhere fun!
Go stargazing
The warm summer nights are the best time for what may become your family's favorite activity.
Looking at the stars is so peaceful and beautiful. It's worth keeping the kids up for a night to do something this special!
Make a special night out of it by packing snacks, researching stars, and bringing some peaceful music.
Have a water balloon fight
Water balloons are definitely not just for kids! Have the kids help you fill up as many water balloons as you can and gather them together. (Thank goodness for those instant fill water balloons that came out right?)
Make sure you are in a safe spot with your kids and start throwing the balloons! If you have enough people in your family, split into teams and try to get the other team.
Make sure that you pick up all the pieces of balloons. The easiest way to do this is by making it a competition. Which kid can pick up the most pieces. It'll be cleaned up in a hurry!
Eat popsicles
Another good way to cool off is by eating popsicles! Get some popsicles and eat them together as a family.
This would be an especially good activity after a day of playing outside in the heat all afternoon. I think we all have memories of sitting with our friends or family on the porch eating a popsicle.
It sounds like a perfect afternoon!
If you want to get really creative grab a popsicle mold and make popsicles with the kids!
Play with a water table
With toddlers playing with a water table is a must on your July bucket list. Get outside and play with that water table that you have sitting around.
If you don't have a water table you can make a makeshift table super easily! Grab a storage bucket or even a big bowl and some toys, spoons, and other fun things and let your kids play with the water for a bit.
If you are in the market for the best water table for kids we offer several suggestions that we love in our best water table post!
It's a great way to cool off and do something different!
Make an obstacle course
Make your own obstacle course this July! Grab whatever you can find and as a family make a fun course in your home or yard for each other to complete.
You could even take turns making courses and see who can complete your course the fastest!
Play hopscotch
Grab your chalk and make yourself an old fashioned hopscotch court!
If you have older kids you can still make this a fun activity! Make the course extra tricky and have fun seeing who can hop the best!
Play 4 Square
Remember when we were kids and played four square at recess? Well, teach your kids to play four square this summer!
We taught our kids last year and we still play once a week when the weather is nice.
Make sun catchers
Suncatchers are so much fun! They can be so simple and easy for little ones, or intricate and beautiful for older kids and adults.
Get a large piece of wax paper and cut it into your desired shape. Then add some glue and stick on some cut up tissue paper!
Hang it on your window and watch the beautiful sunshine come through the different shades of tissue paper.
Play backyard tic tac toe
Celebrate July with a fun game of tic tac toe!
Setting up a tic tac toe is super simple. Grab some sticks, rope, or anything you have sitting around that you can make into a few lines.
Grab some balls, rocks, bean bags, or anything to be your x's and o's and start playing!
Start a summer routine
Routines are so important during July in the middle of summer. Moms and dads may struggle with the lack of structure that often happens when school is out. Start a summer morning routine and make a plan to get some organization back in your schedule!
We have great ideas on how to get started on a summer morning routine for kids and teens to help you get started!
Make homemade salsa
Make homemade salsa and enjoy it with your favorite meal or some chips!
Making salsa is simpler than you might think and tastes so much better and fresher when you make it yourself.
If you want a super delicious salsa, try our fresh mango salsa which will be an instant hit in your home I am sure!
Squirt gun painting
Try something different and do some squirt gun painting.
Get some cheap squirt guns and fill them with paint. Squirt them on a canvas if you want to keep your paintings, or some paper just for fun!
You could create some really fun memories and have a good time doing it!
Do glow stick night games
You can find almost anything in LED or glow-form nowadays and it is amazing so take advantage of it and play glow in the dark glow stick night games!
Grab an LED frisbee or ball and play some night games together as a family. You could do this right in your yard if you have space, or go to a park or community area. Don't forget to get decked out in glow sticks first though!
Make ice cream in a bag
You can't finish your July bucket list without making ice cream in a bag as a family!
Gather your ingredients together and enjoy shaking and squeezing your bags until you have some yummy ice cream that you worked hard for!
Most stores have easy kits to make ice cream that comes with different flavors and fun mix-ins! Try one out with your family or keep it traditional.
There you have it! Some great ways to Celebrate July with your family! What would you add to this July bucket list? Share in the comments!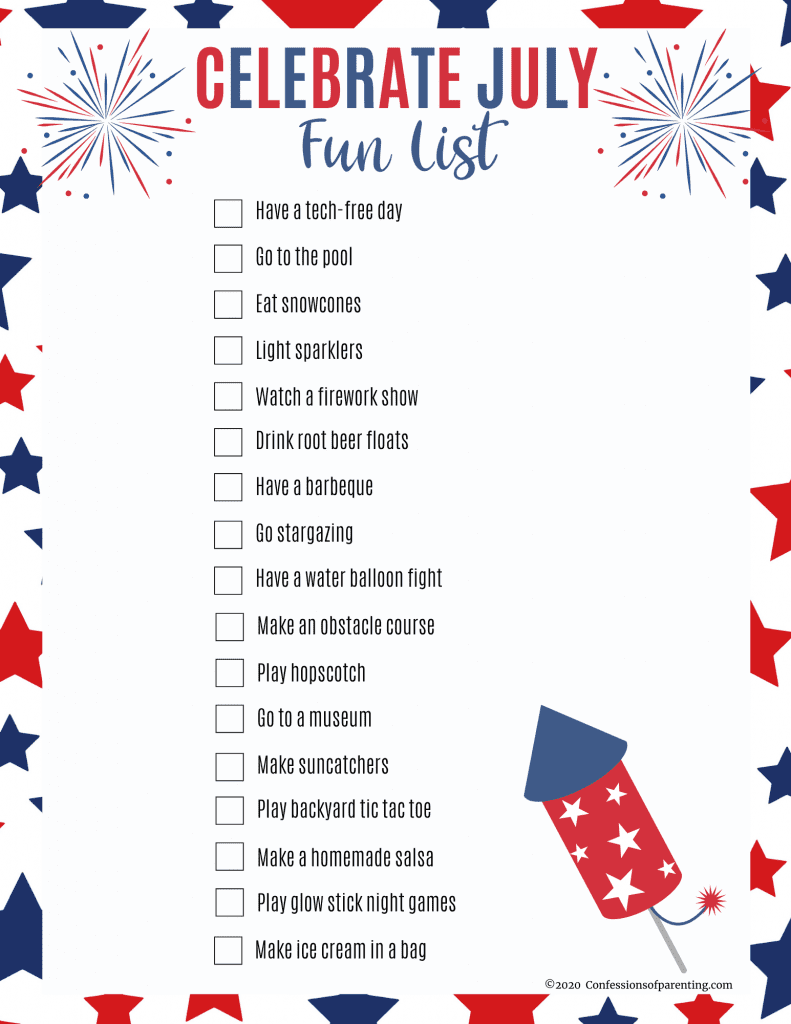 Looking for other ways to Celebrate all Year Long? Check out these posts!
We hope that you and your family enjoy these fun Celebrate July ideas! Be sure to share your experience in your stories on Instagram and tag us @confessions_of_parenting! We love seeing what you are up too!
Don't forget to save this July Bucket list on Pinterest so you can find it easily each July!