Grab your pilgrim hats and get ready to play Thanksgiving Charades! These Charade Ideas are the perfect way to spice up your family's holiday party.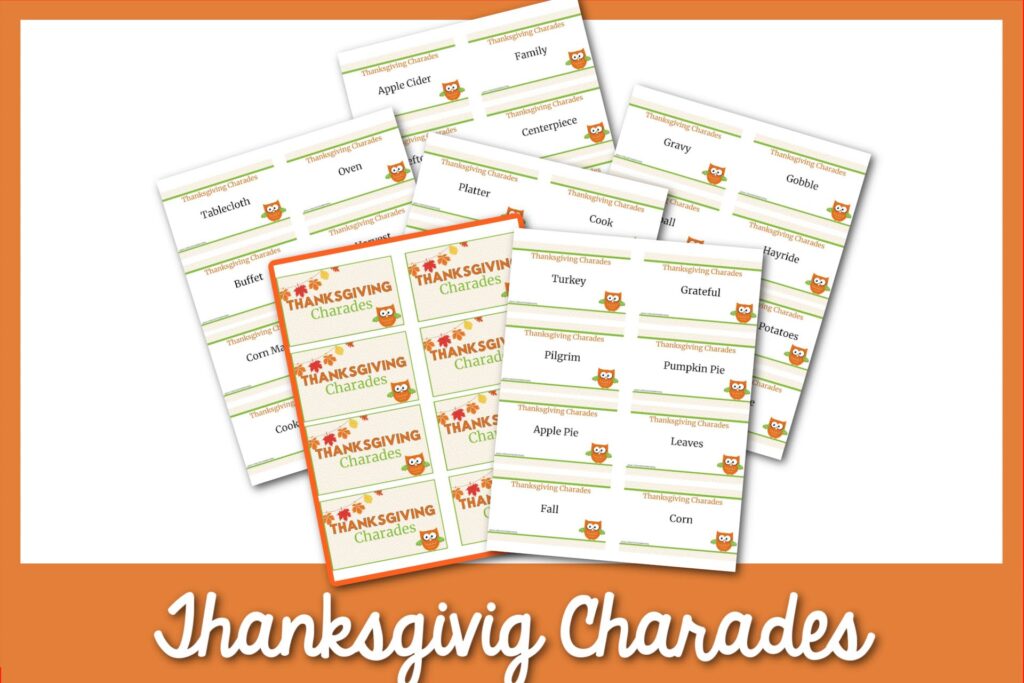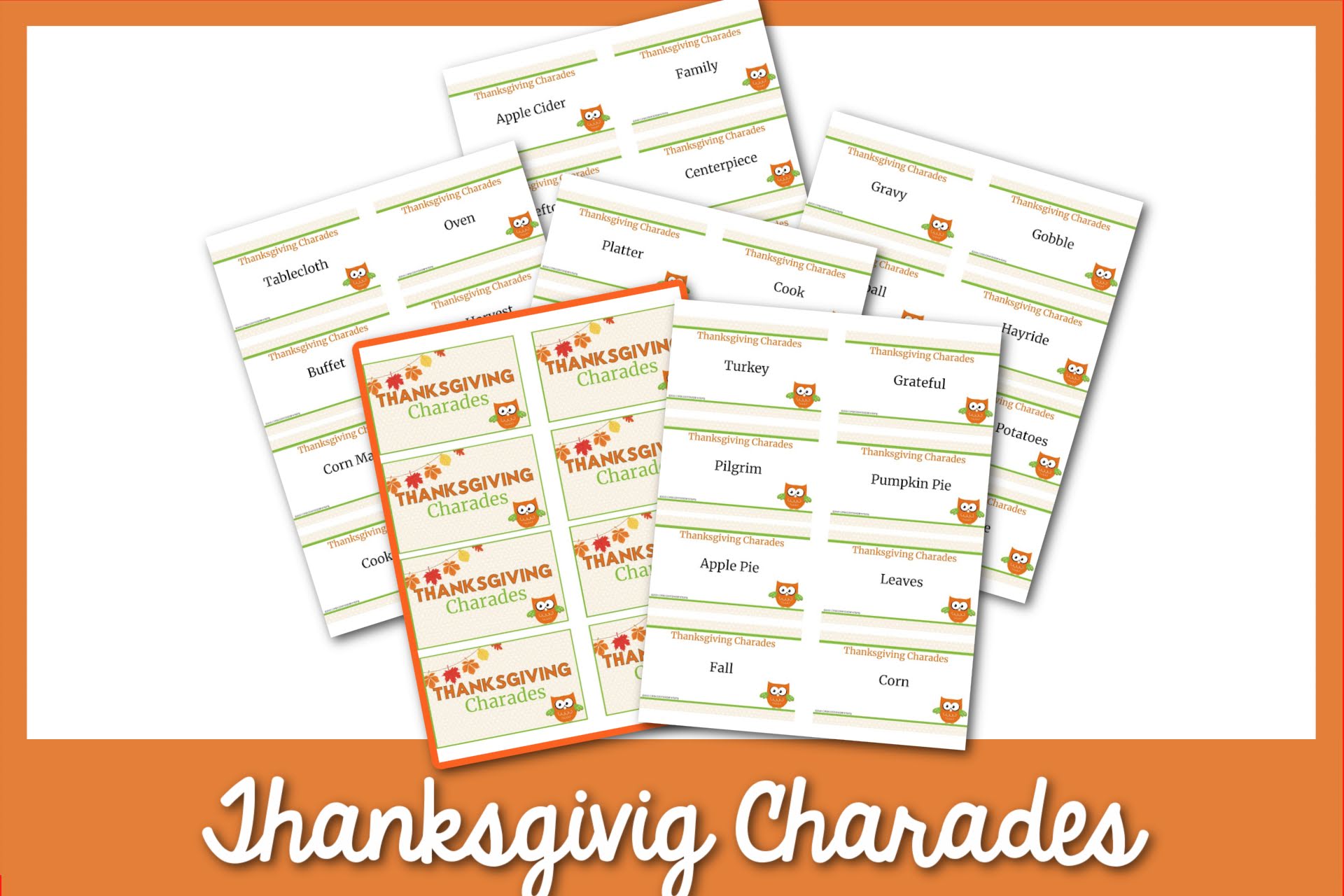 One of my favorite games ever is charades! It's so simple and I can't help but laugh whenever I play. Even the family members who start out a little nervous with the spotlight end up breaking out and having a blast.
My kids loved Halloween Charades, so I decided to keep the fun going for Thanksgiving this year. If you want to take this year's celebration up a notch, you have got to add Thanksgiving Charades to your list!
With 200 of these Thanksgiving Charade ideas, your family can play all night!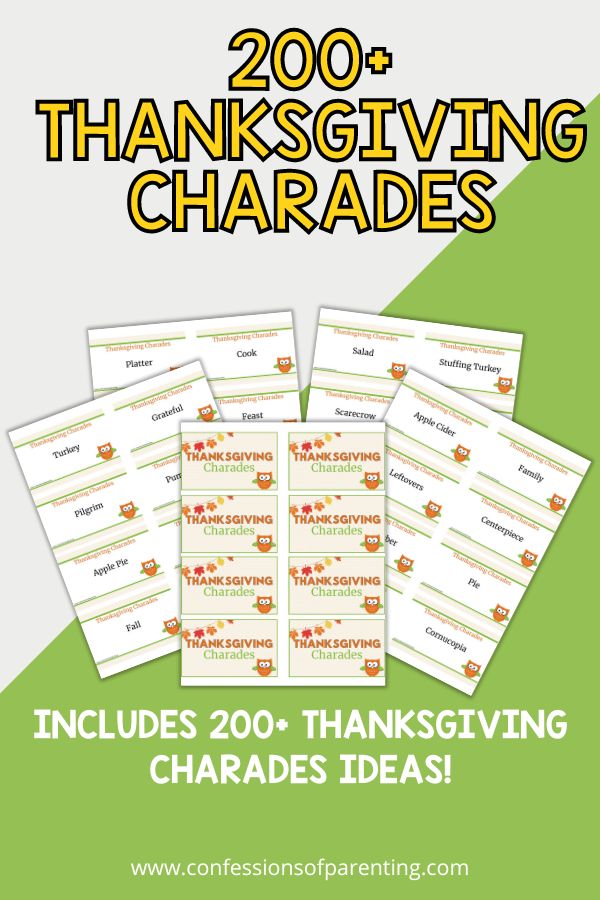 Making Your Thanksgiving Special
Thanksgiving always seems to be all about the food, and believe me, I'm okay with that! But don't forget to be ready with some great activities too!
While the kids are waiting for food, send them on a themed Thanksgiving Scavenger hunt! Try out a game of Thanksgiving Bingo and see if it's a new family favorite! Quiz each other with some tricky Thanksgiving Riddles. Decorate your table with some Would You Rather Thanksgiving prompts. Or play a few Thanksgiving Minute to Win It Games!
Of course, at the top of your list has got to be Thanksgiving Charades!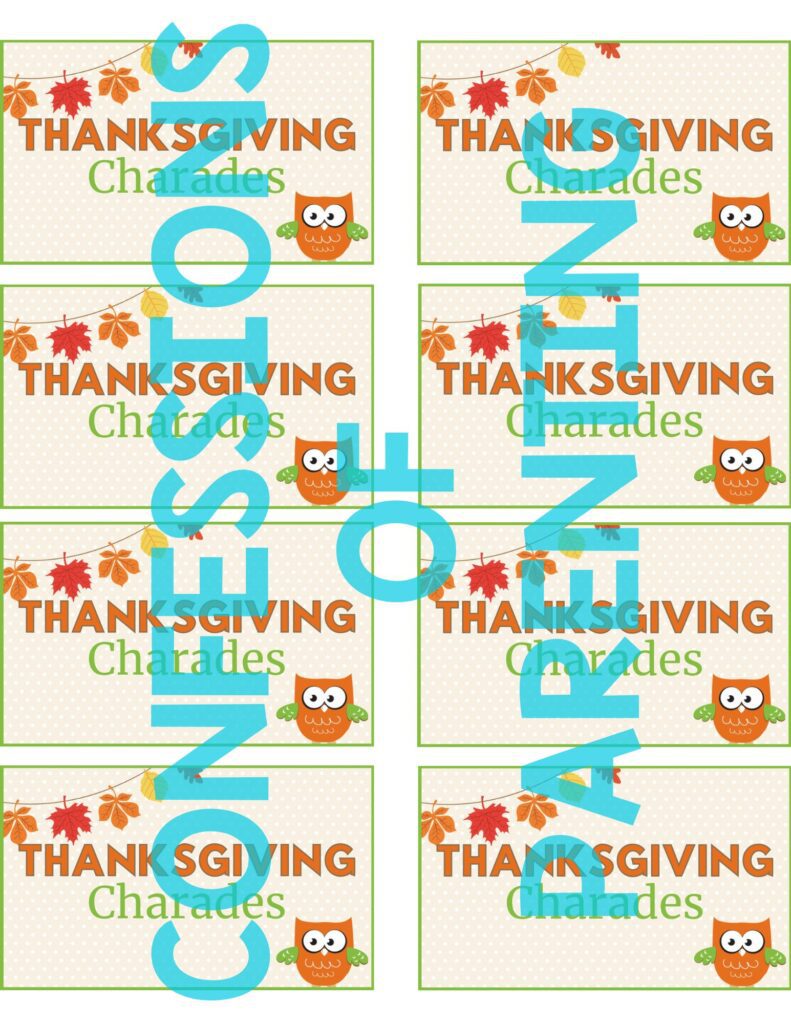 Ultimate Charades Bundle!
Do you want to Grab the Ultimate Charades Bundle with over 23 themed charades games? Grab it now before the price increases!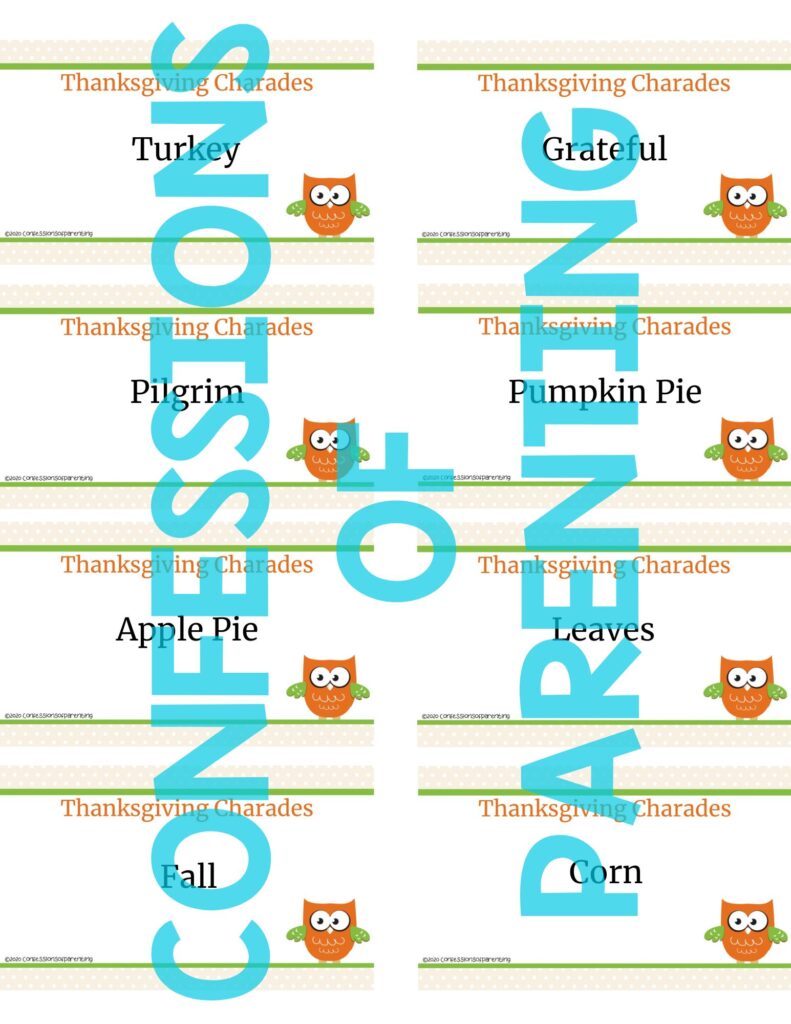 How to Play Thanksgiving Charades
Your first step is to scroll down and download my printable with some great ready-to-use word cards full of charade ideas.
Once you have your cards ready, you are all set to play. Split into two teams and take turns reading a card and acting it out to your team. If your team guesses the word on the card before a one-minute timer goes off, you get a point!
The team that gets the most points wins! Pass out some ribbons or give them first dibs for some delicious pie!
Ready for more thanksgiving Fun? Grab the whole bundle now!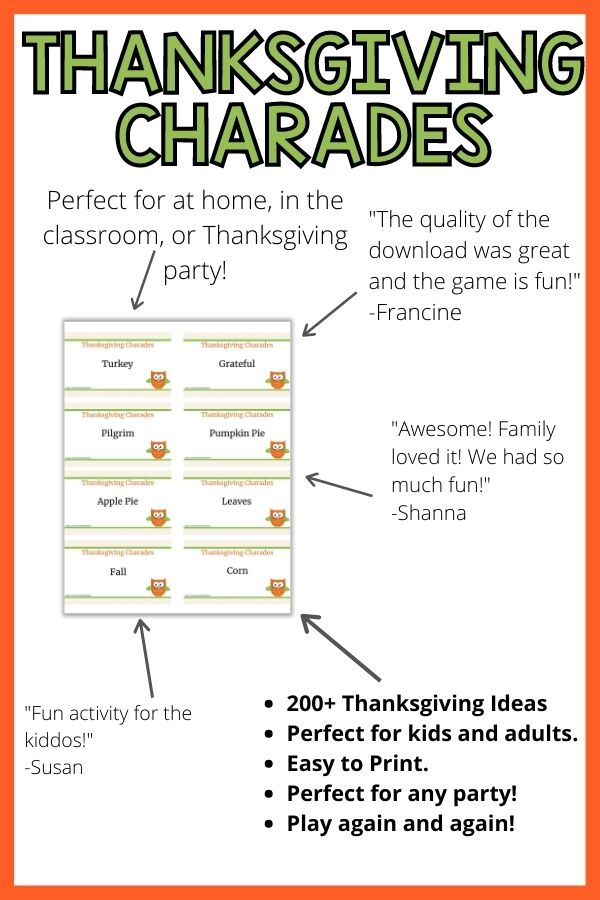 200+ Thanksgiving Charade Ideas
Grab your Thanksgiving Charades right here and let the fun begin! There are two options to choose from! Classic Thanksgiving charades or a printer friendly option!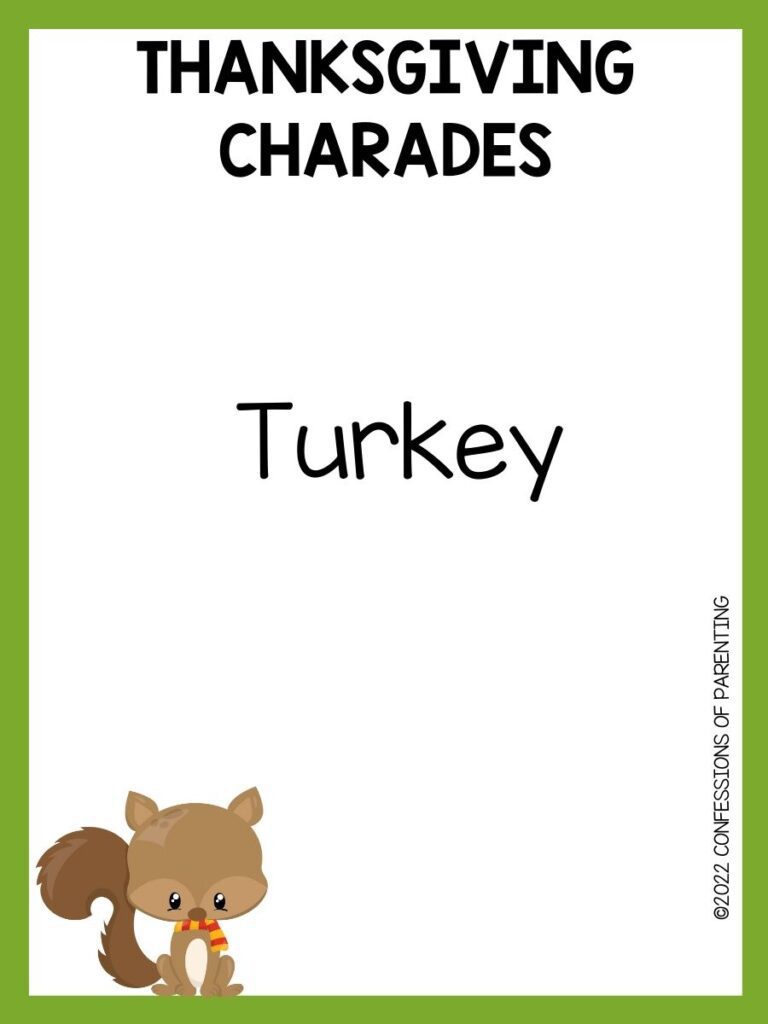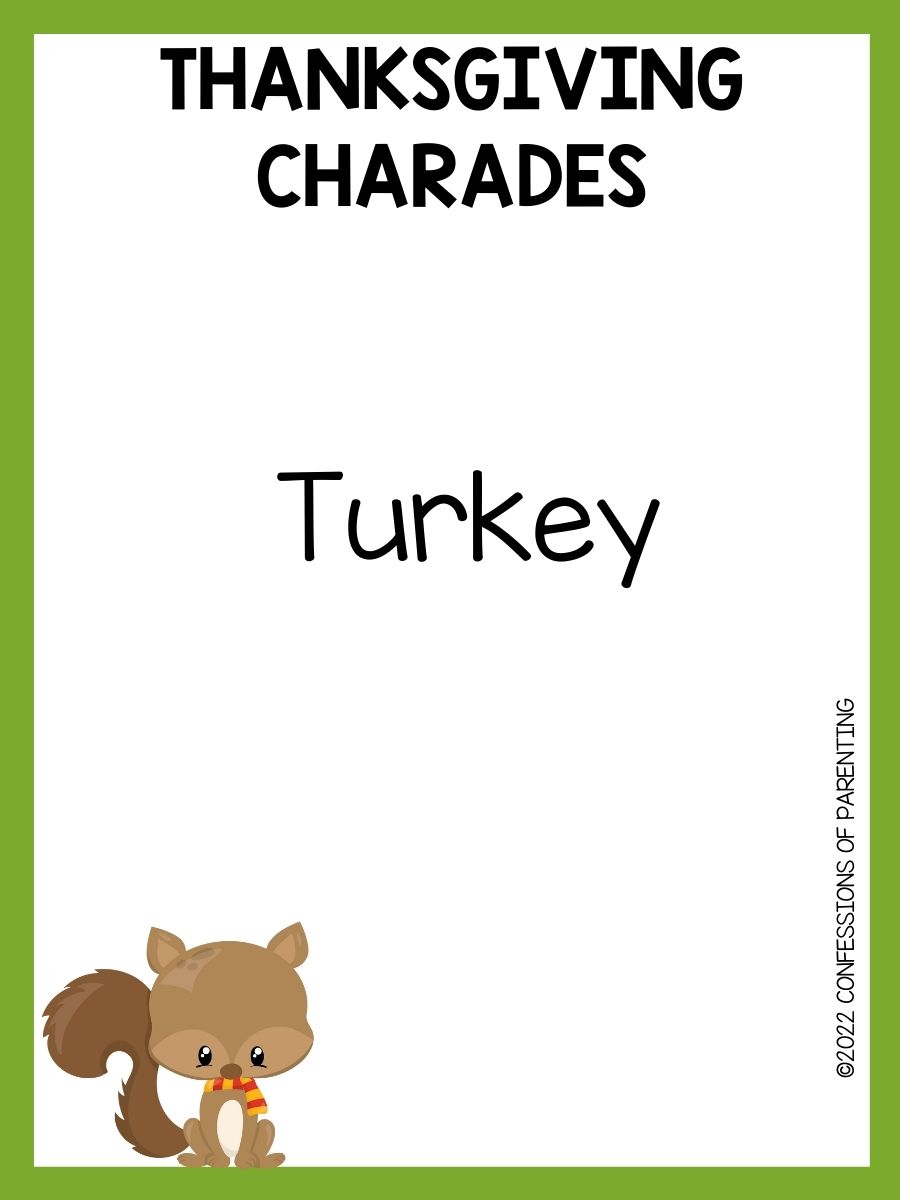 Turkey
Grateful
Pilgrim
Pumpkin Pie
Apple Pie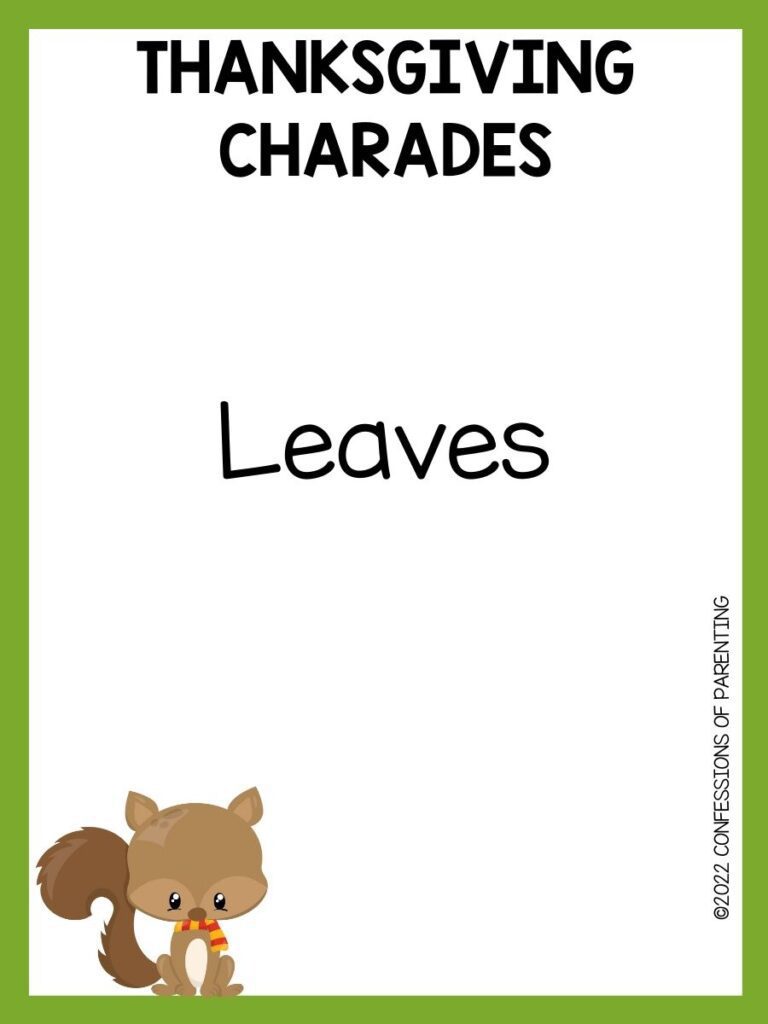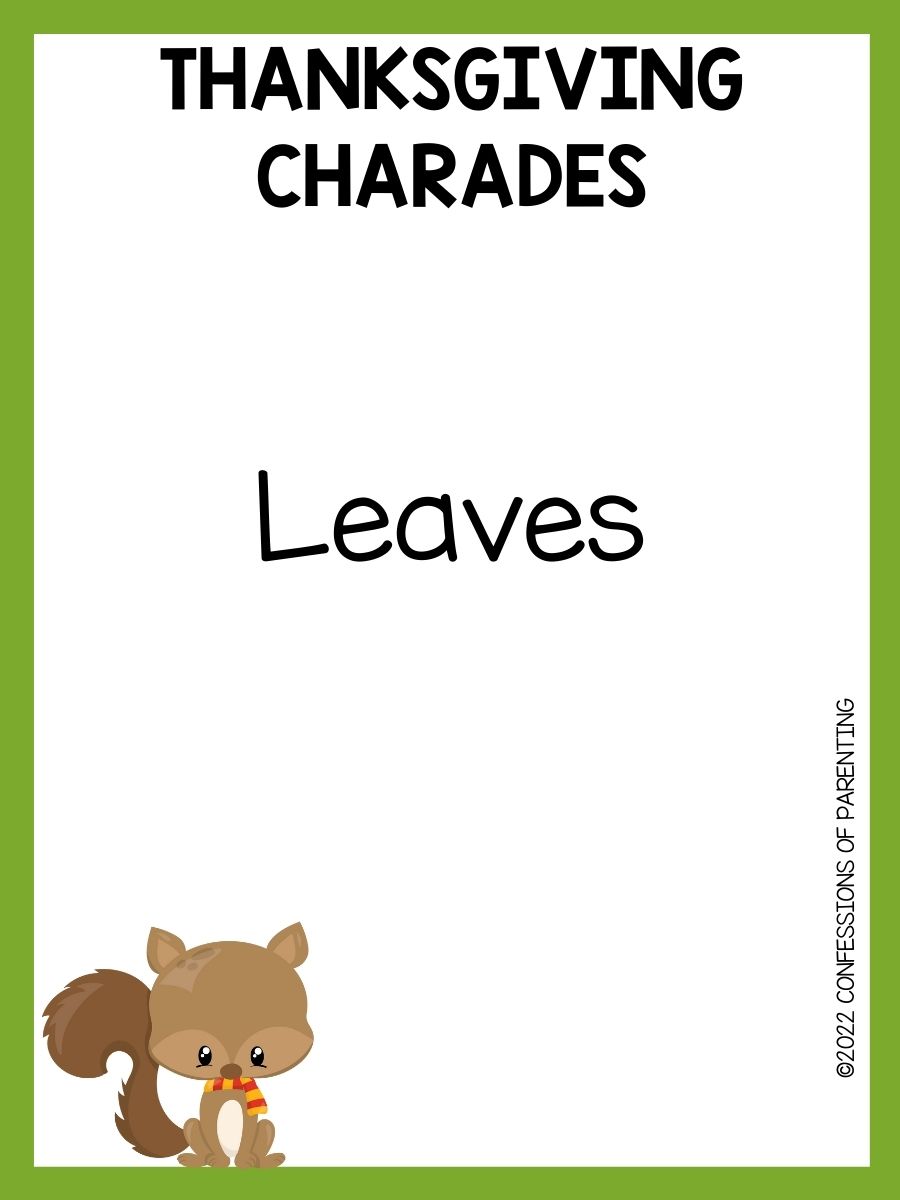 Leaves
Fall
Corn
Gravy
Gobble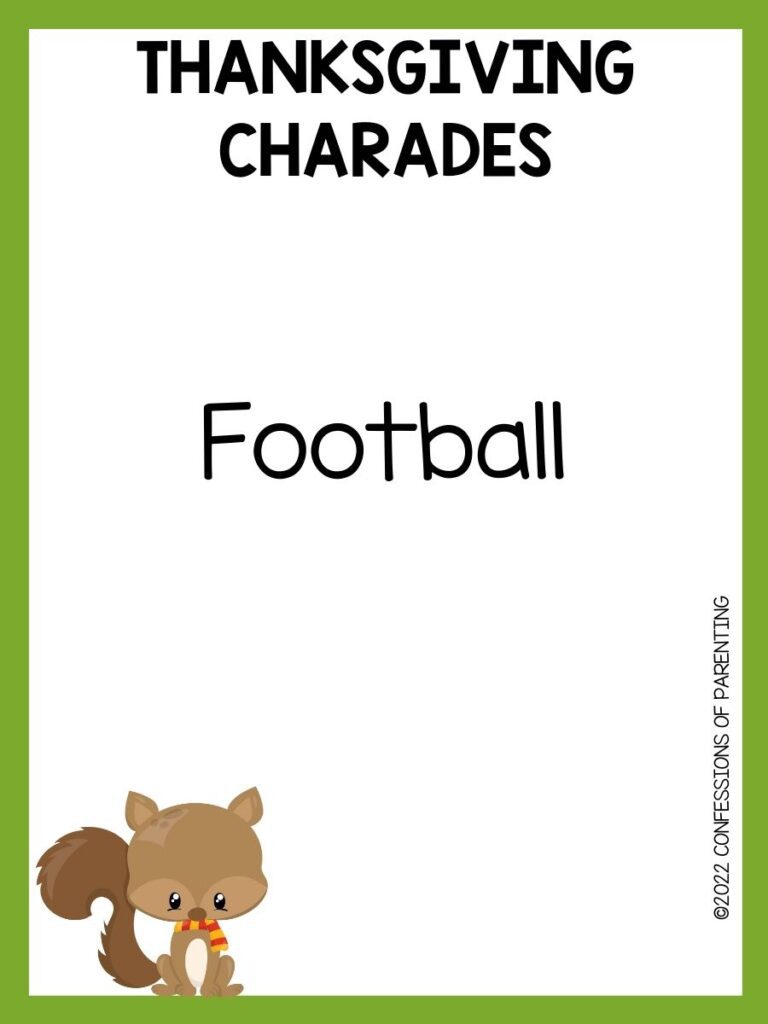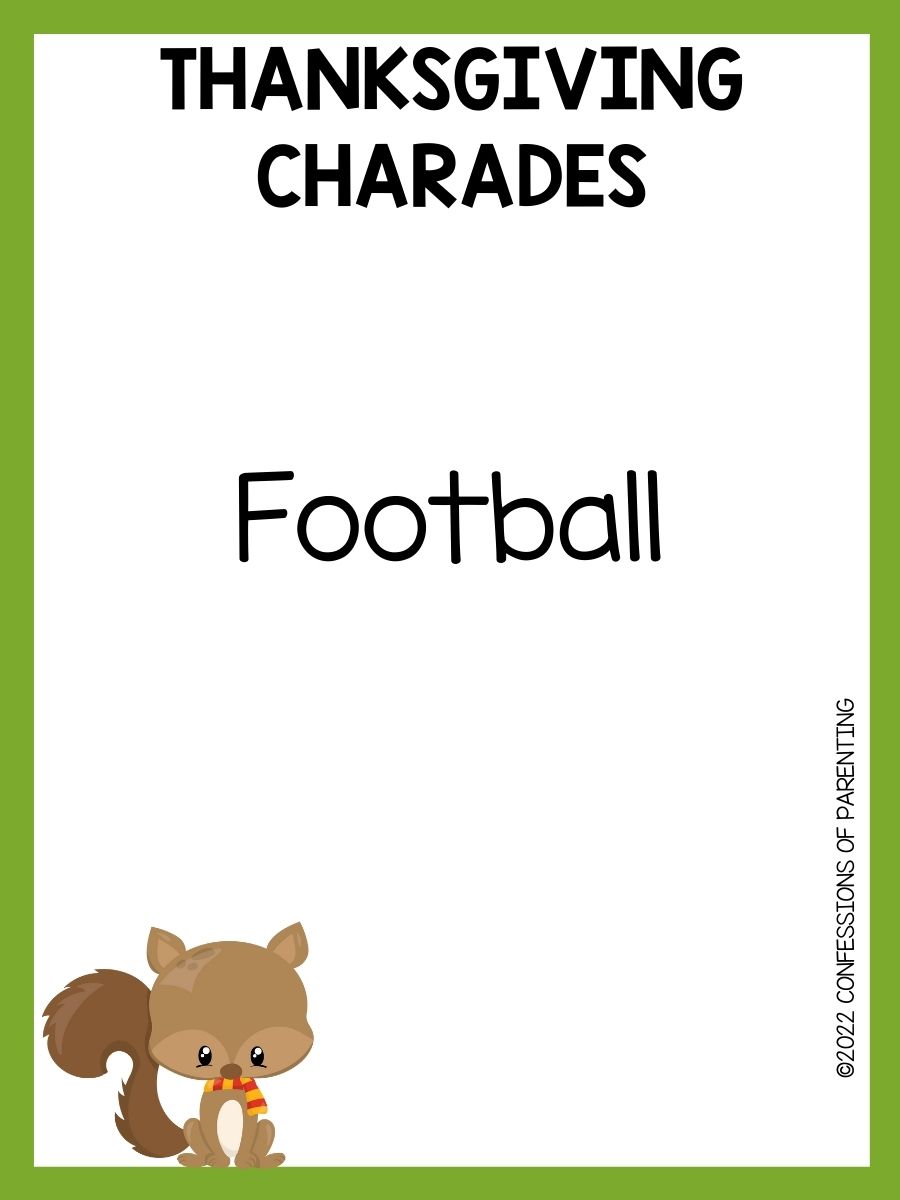 Football
Hayride

Sweet Potato Casserole

Mashed Potatoes
Wishbone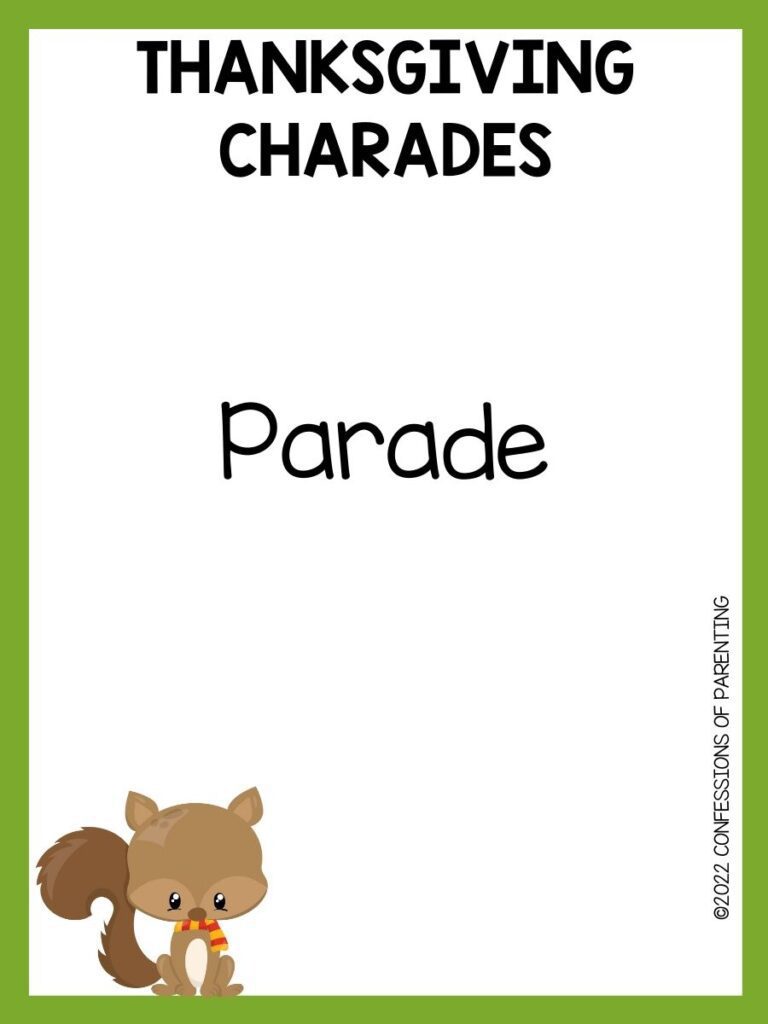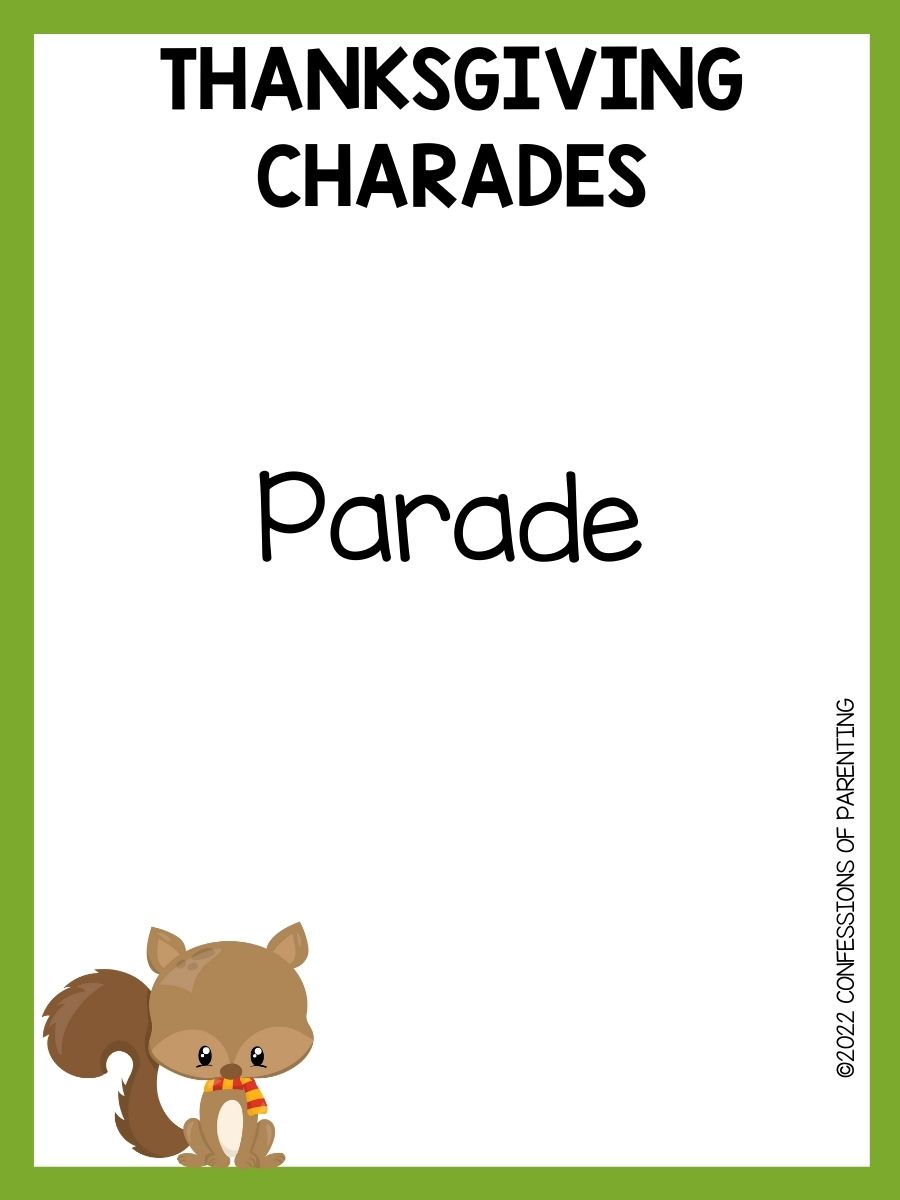 Parade
Apple Cider
Family
Leftovers
Centerpiece
November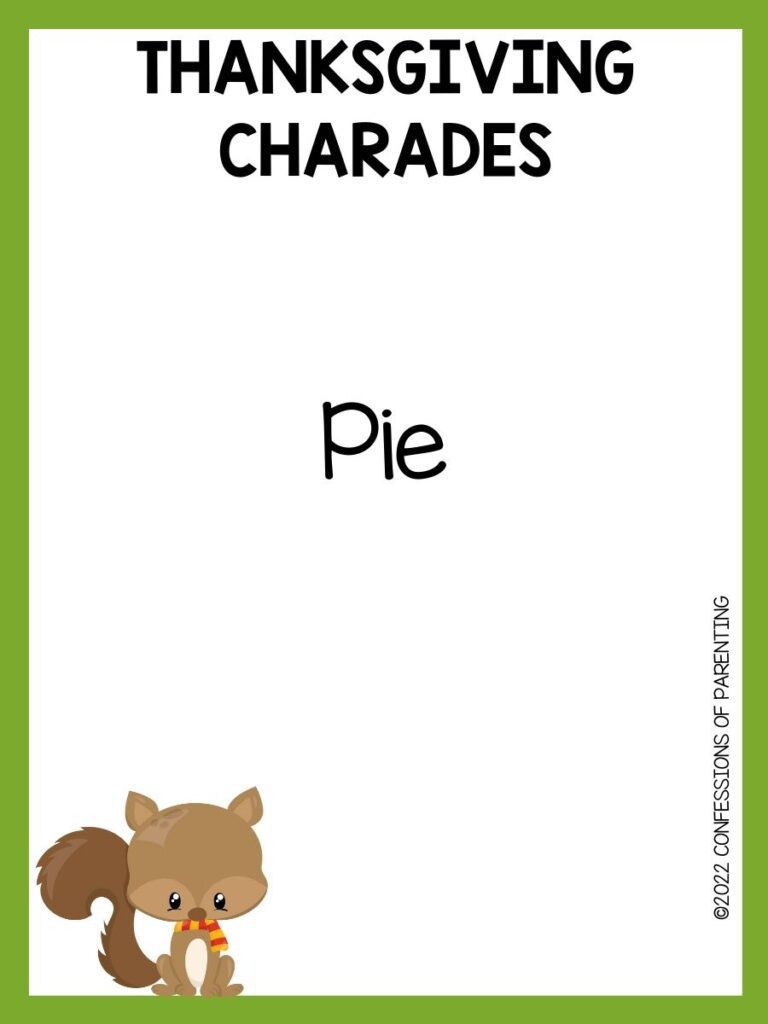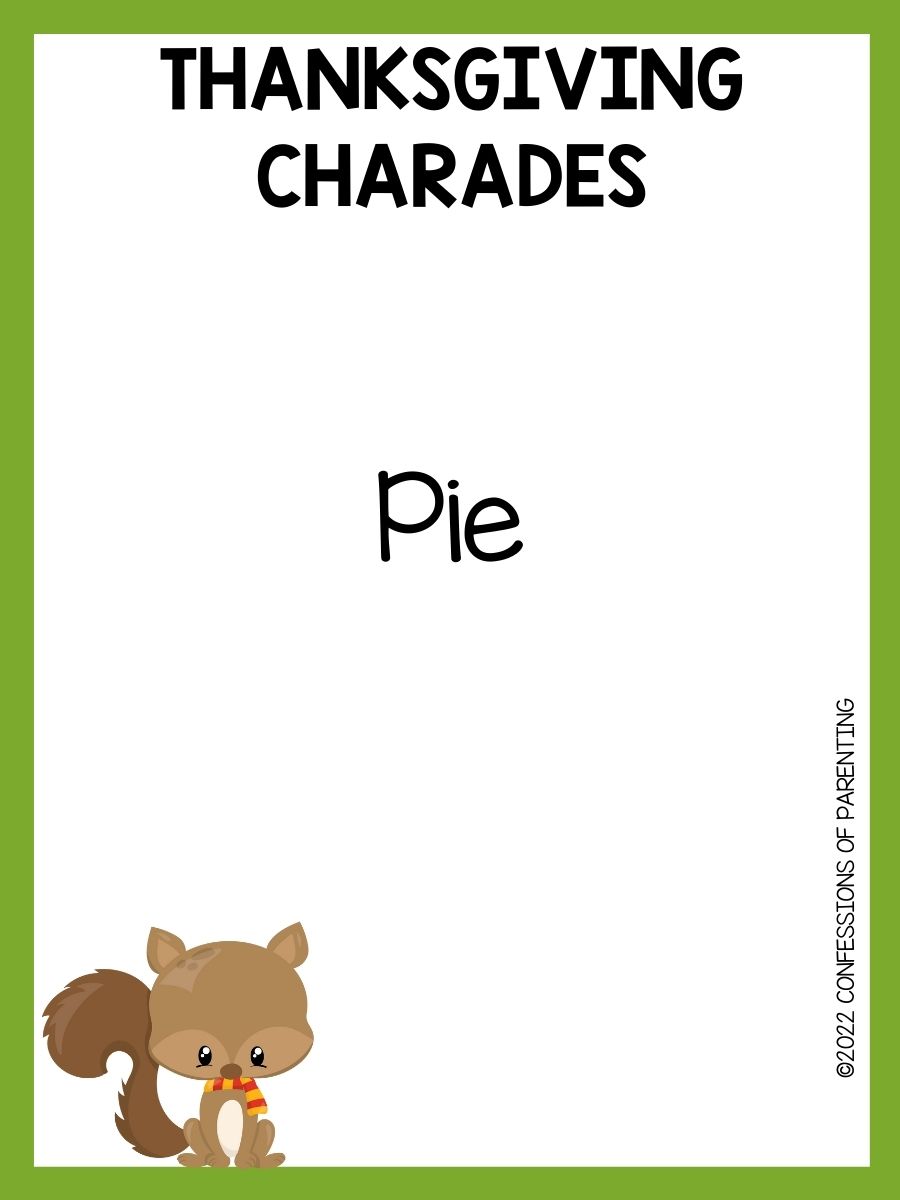 Pie
Bread
Cornucopia
Platter
Cook
Cranberries
Feast
Ham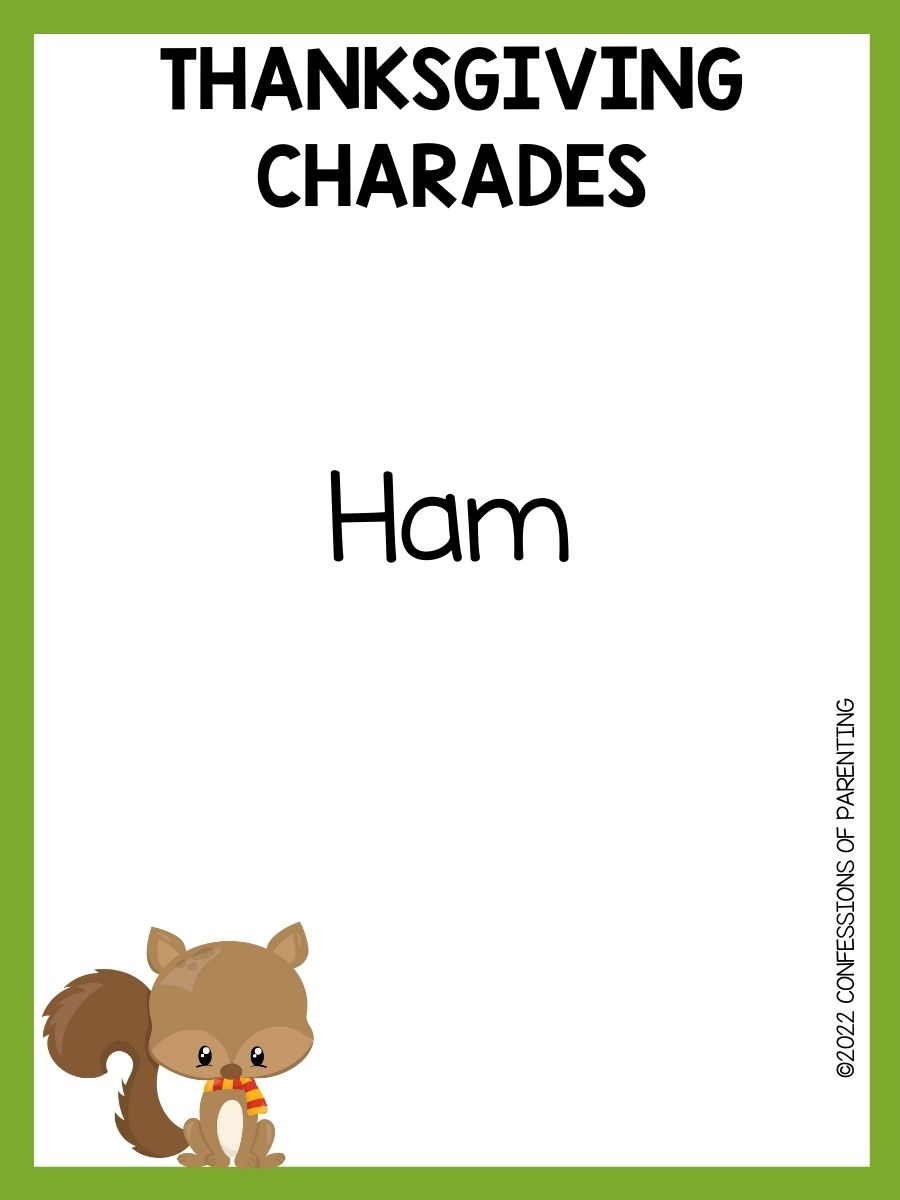 Vegetables
Tradition
Stuffing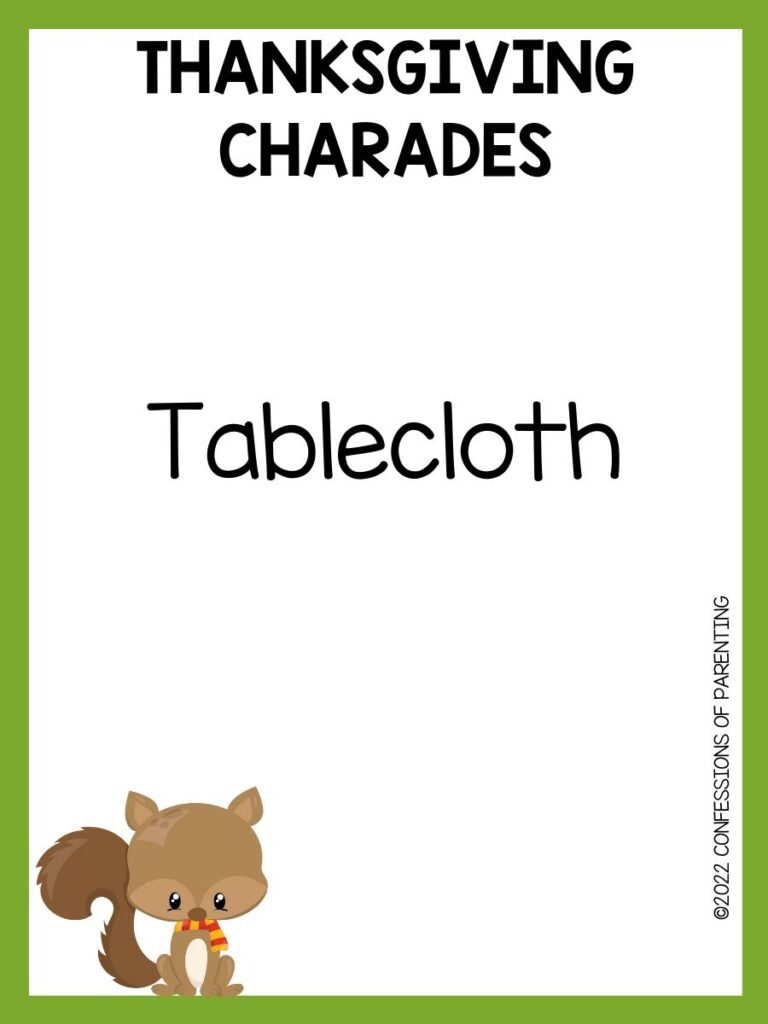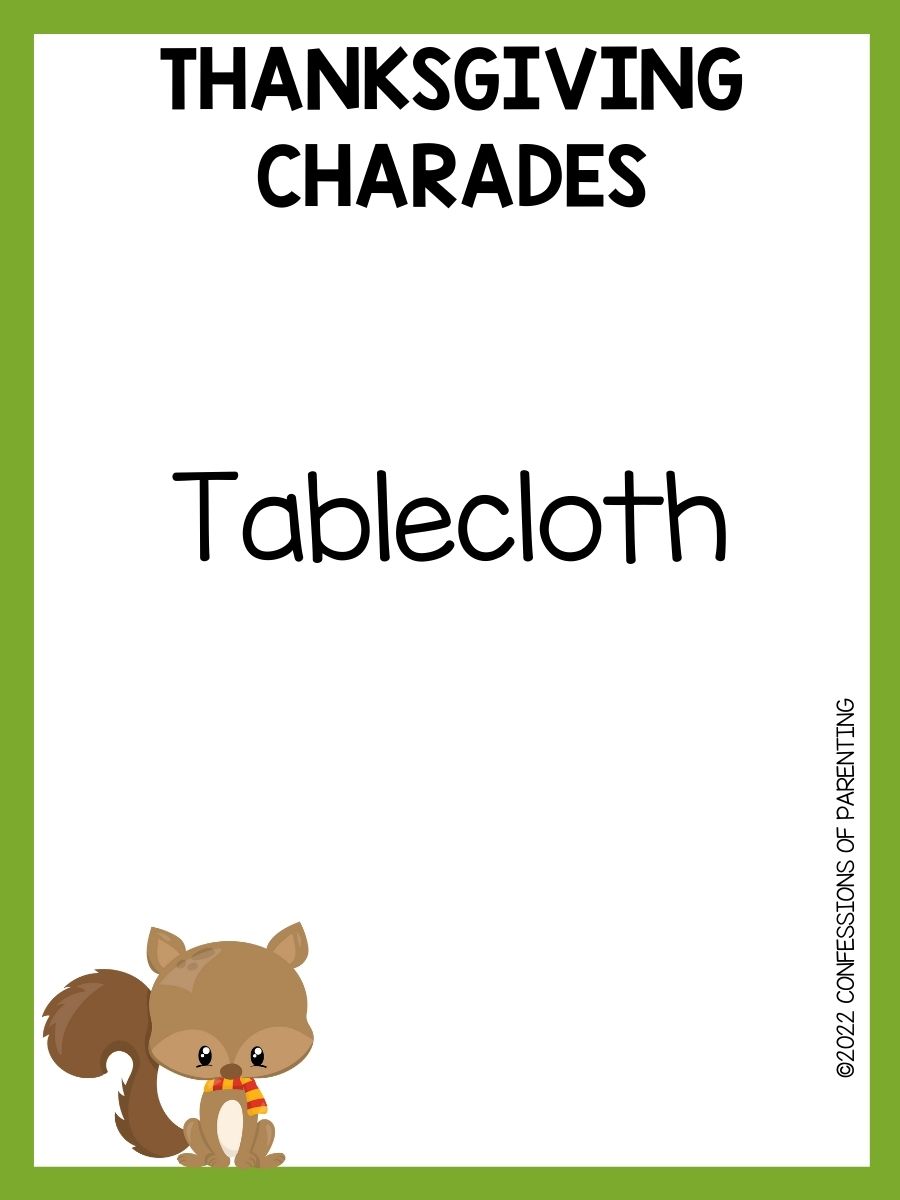 Tablecloth
Oven
Buffet
Harvest
Corn Maze
Potluck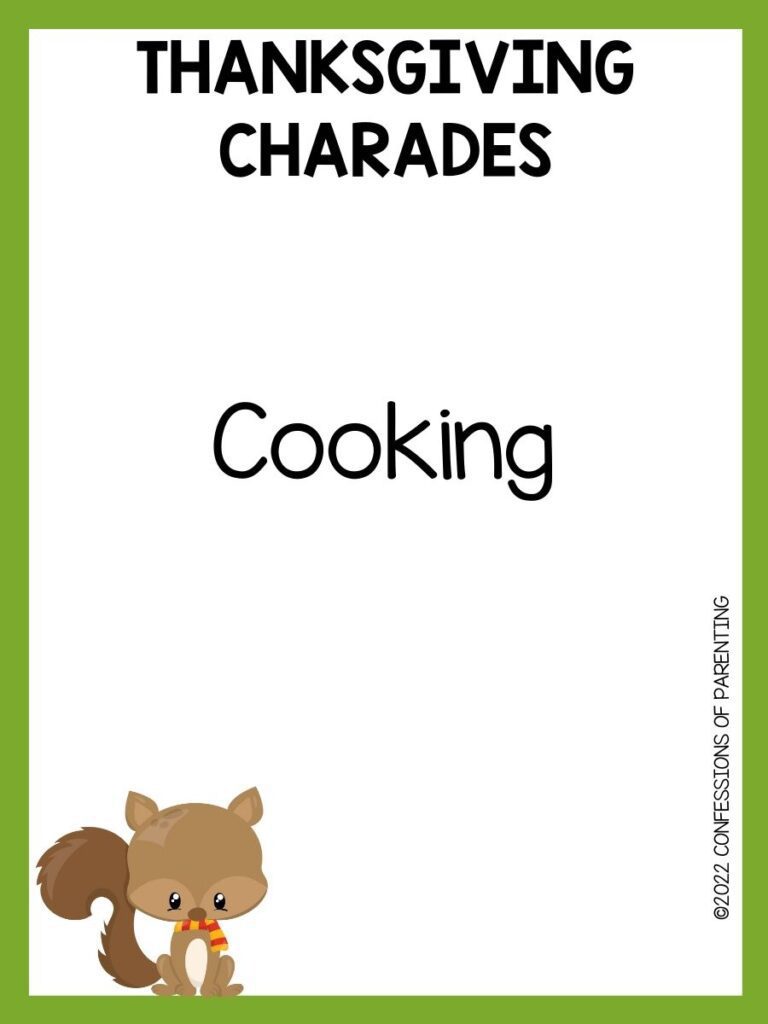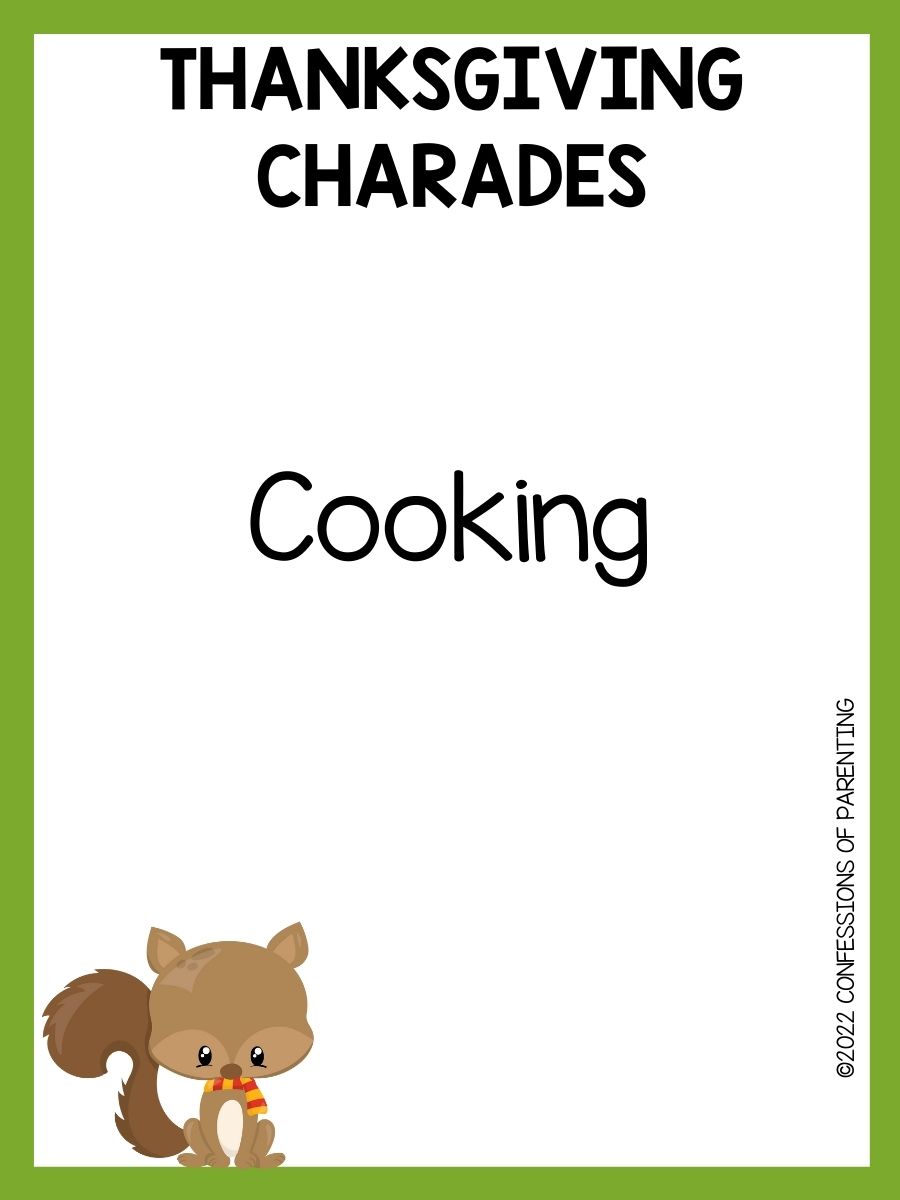 Cooking
Prayer
Mom
Grandma
Blessing

Kid's Table

Baking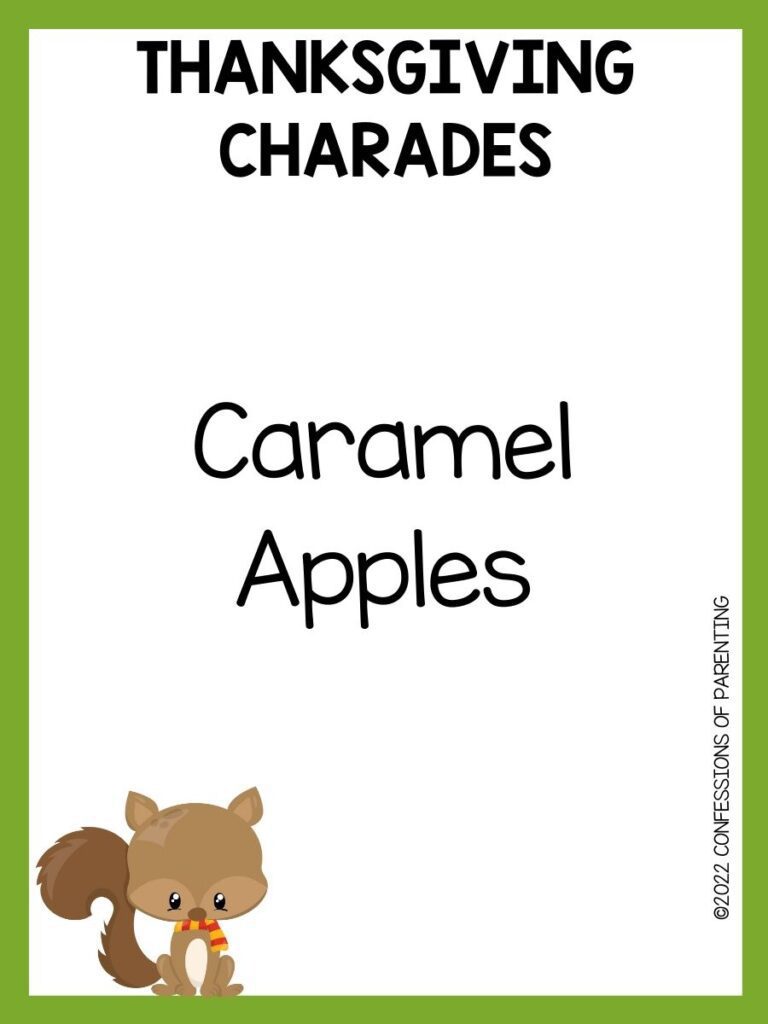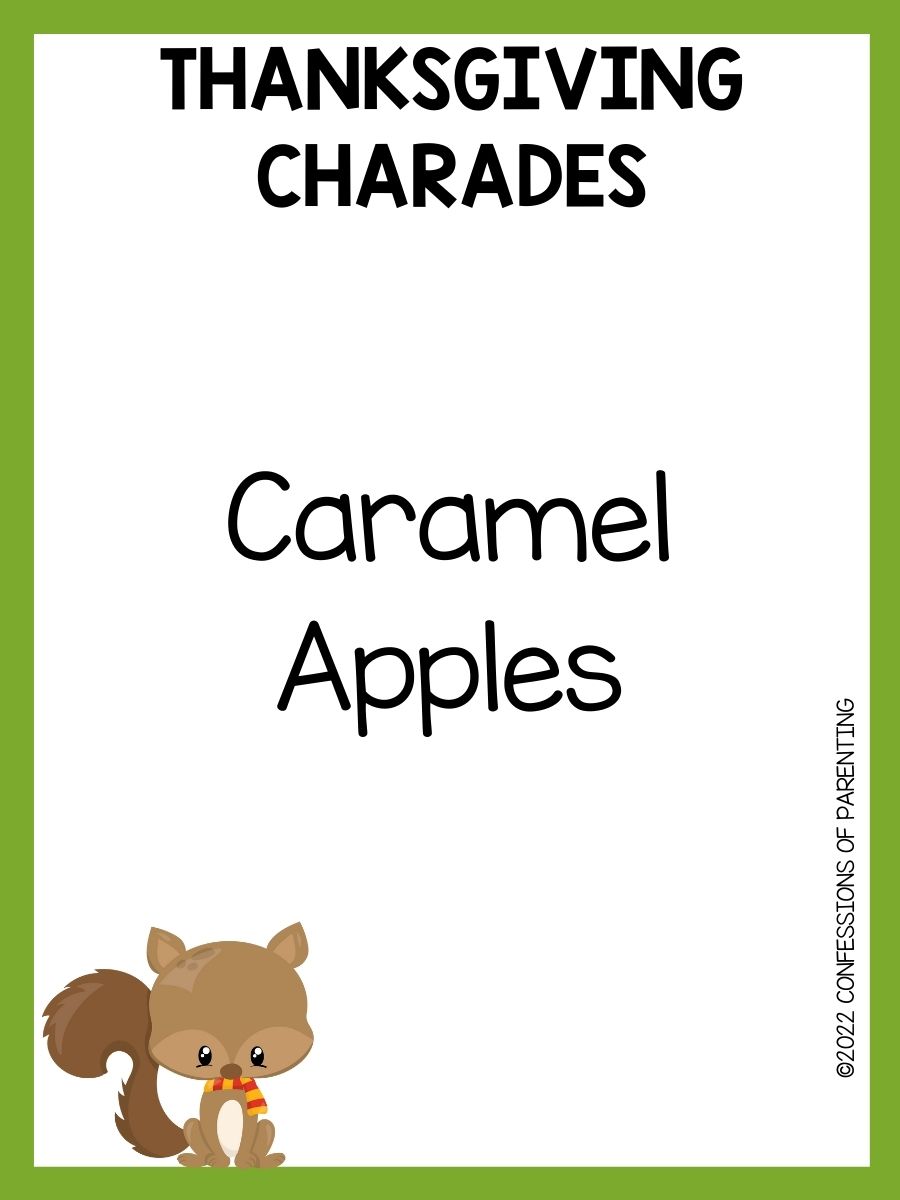 Caramel Apples
Cranberry Sauce
Green Bean Casserole
Salad
Scarecrow
Cold Weather
Putting on a Coat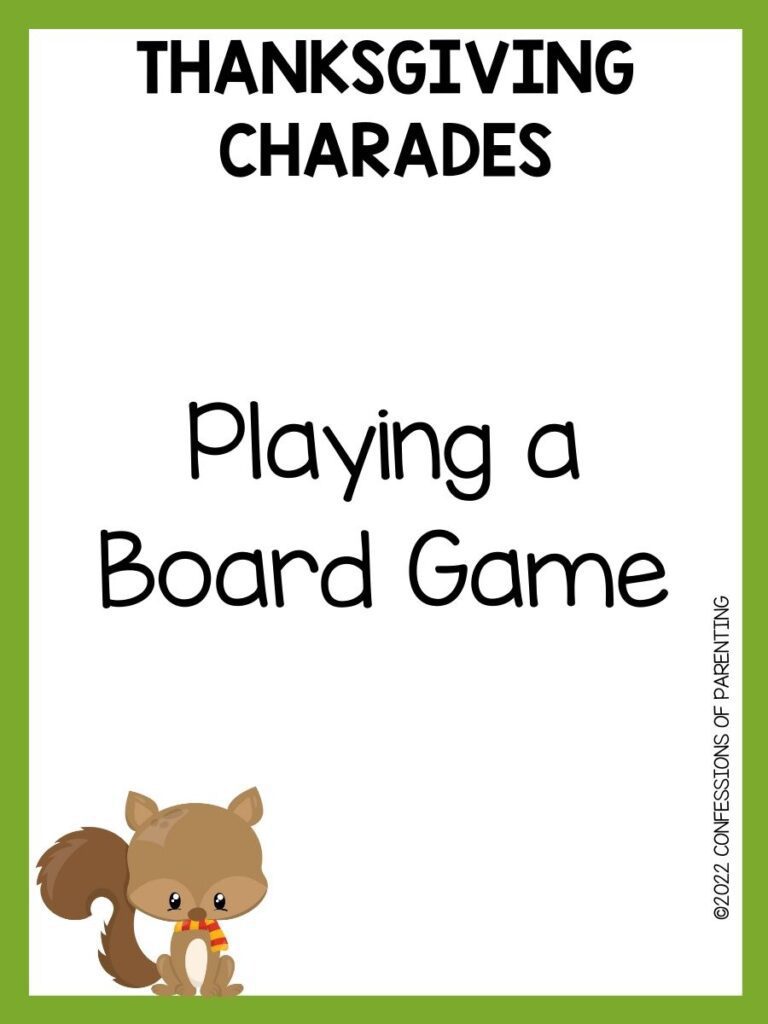 Playing a Board Game
Leaves Falling
Raking the Leaves
Jumping in the Leaves
Chopping Wood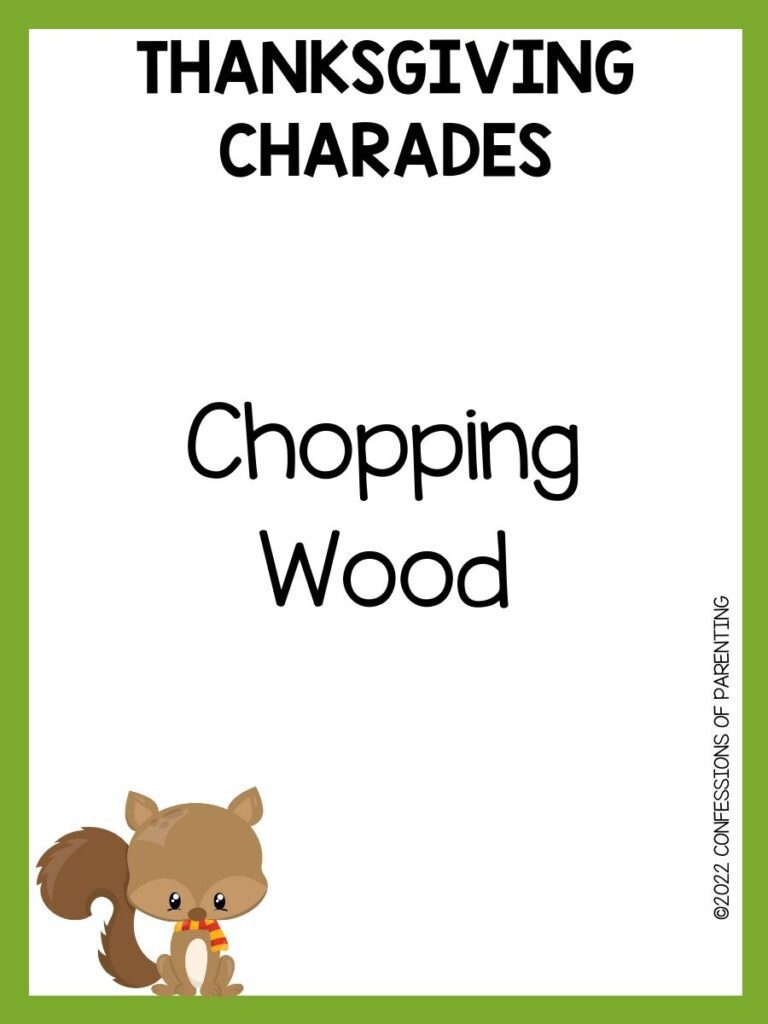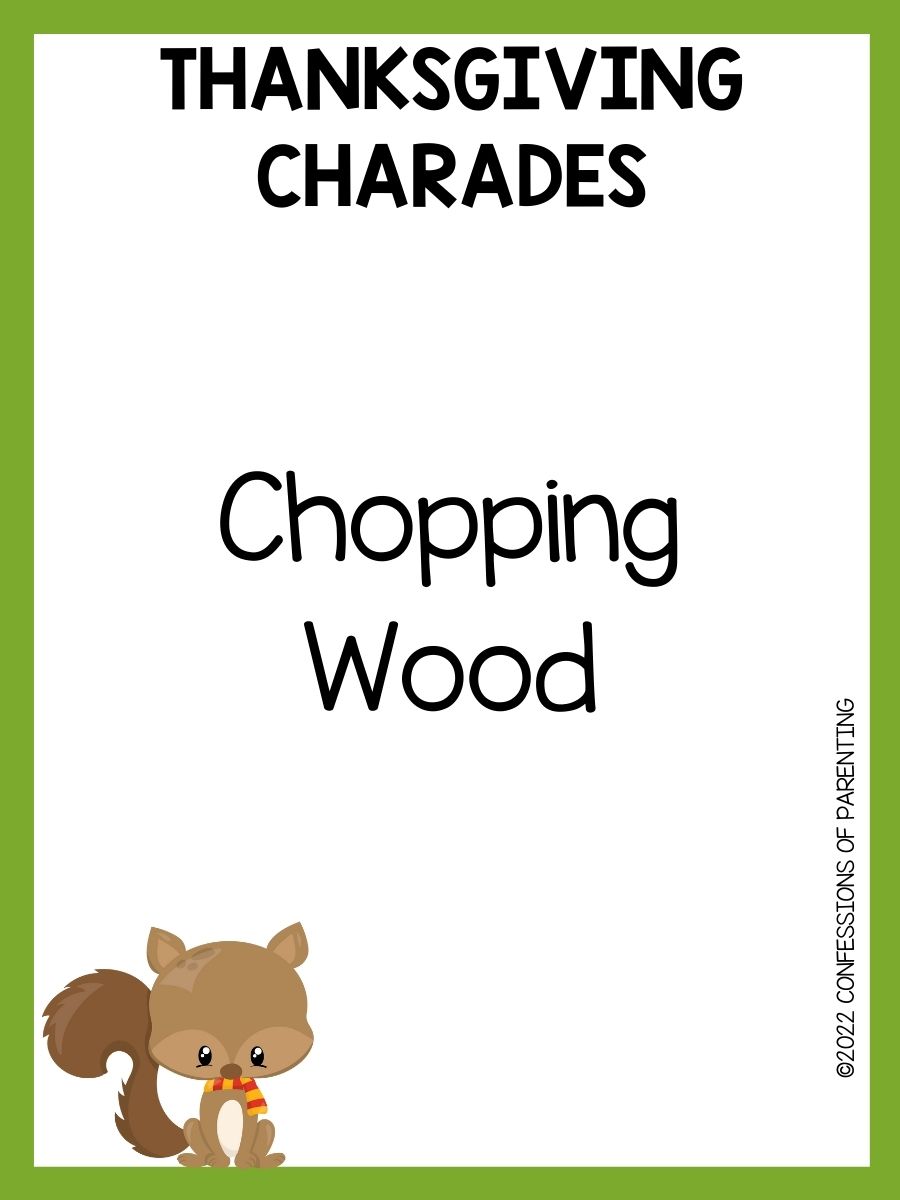 Whipped cream
Setting the Table
Travel
Hugging Family Members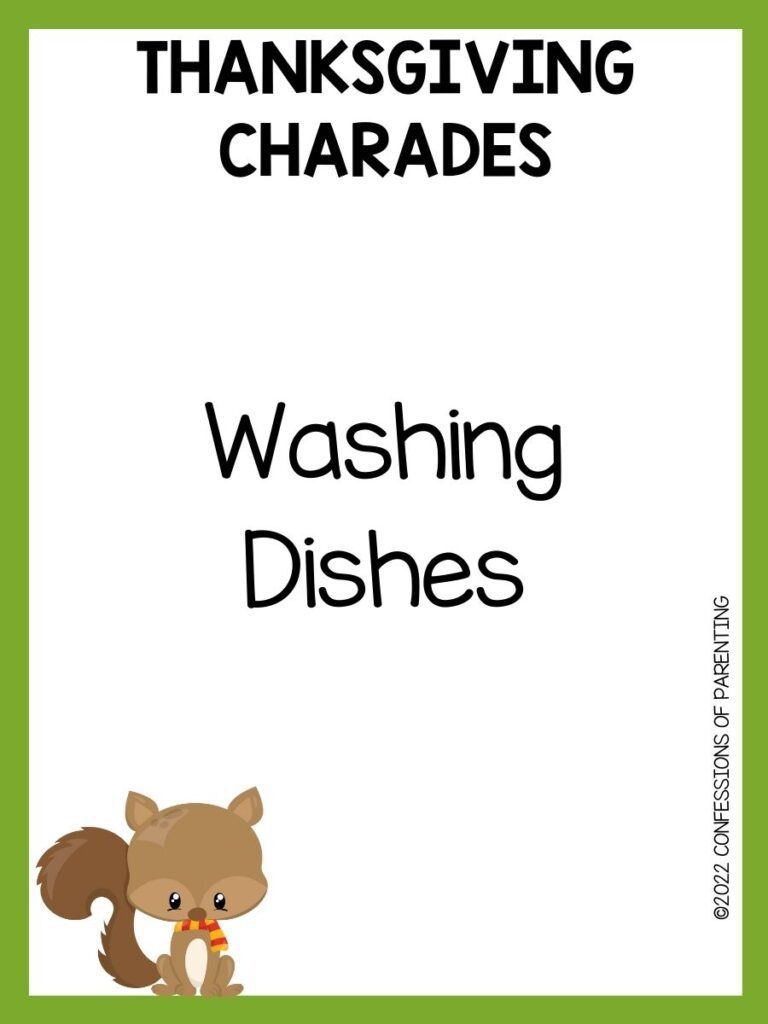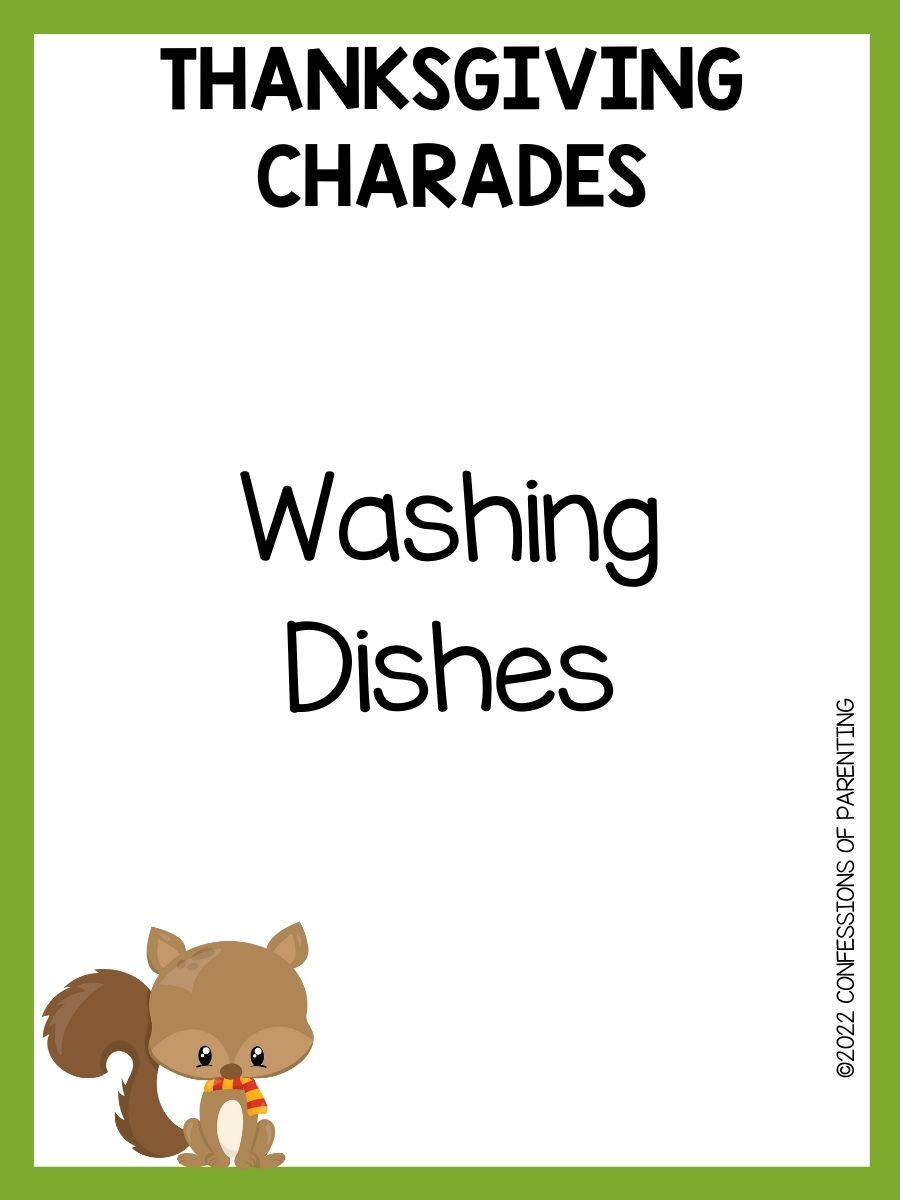 Washing Dishes
Charlie Brown
Passing the Food Around the Table
Getting Food from a Buffet Table
The Mayflower
Cookies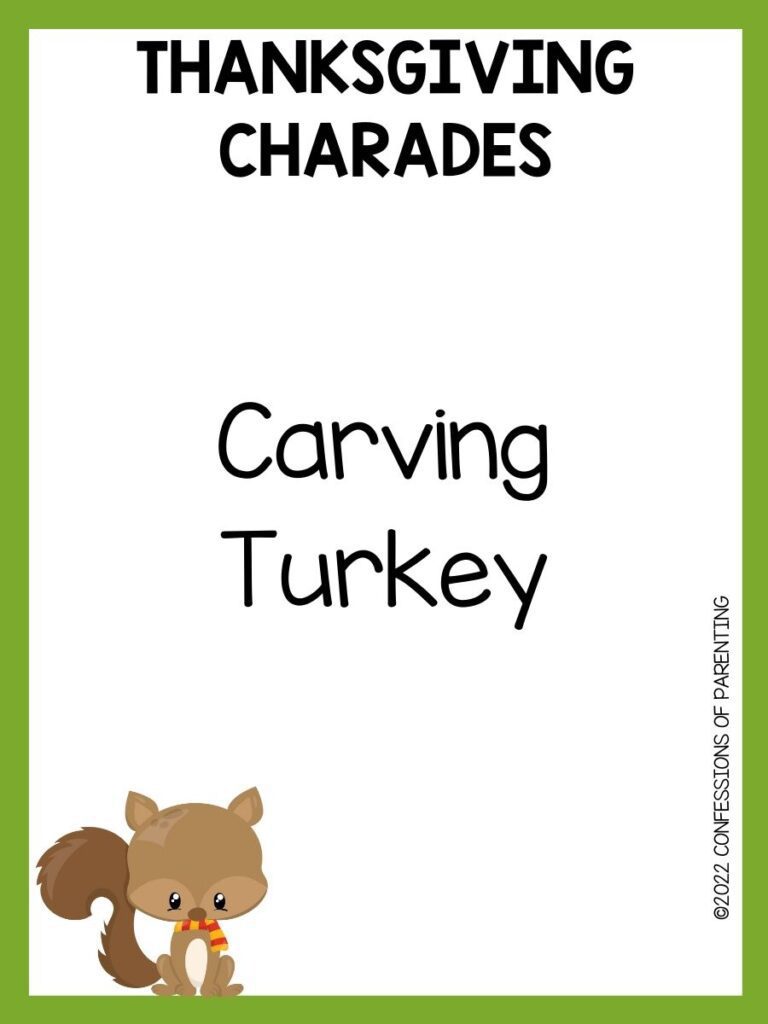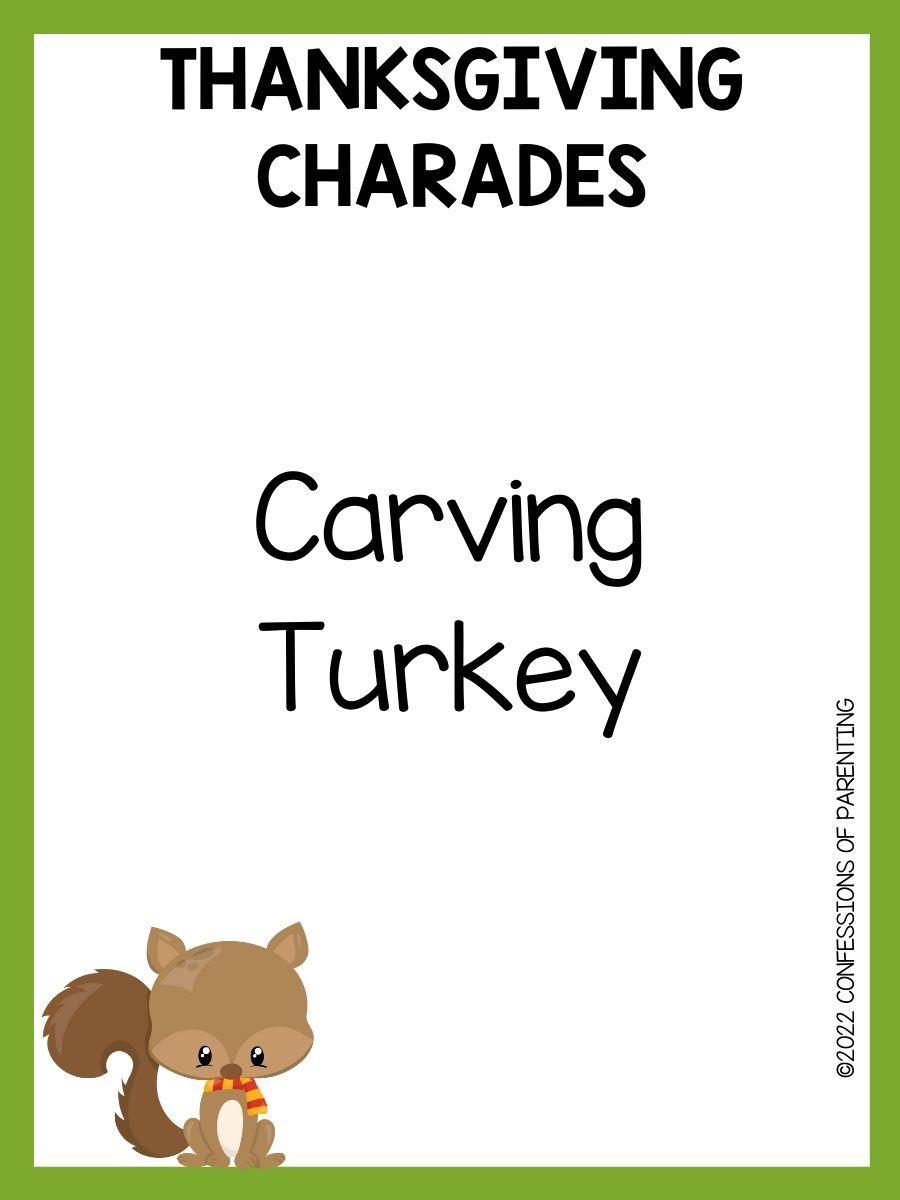 Carving Turkey
Lighting Candles
Slicing Bread
A Turkey Platter
Pumpkin Spice Latte
Knitting a Scarf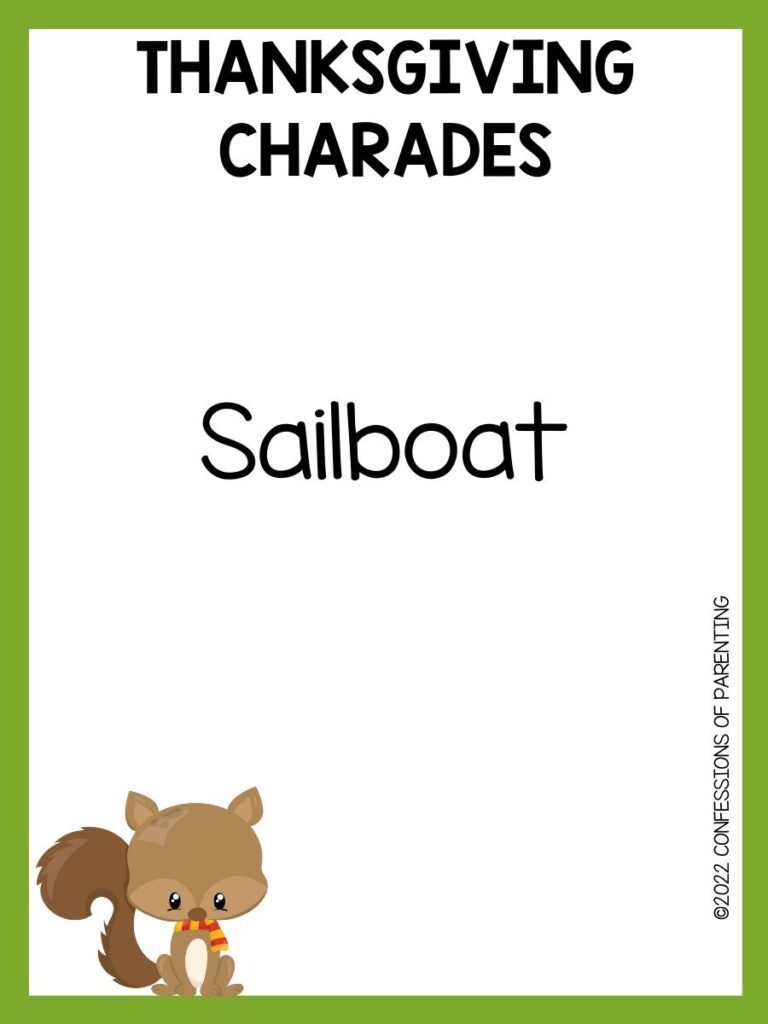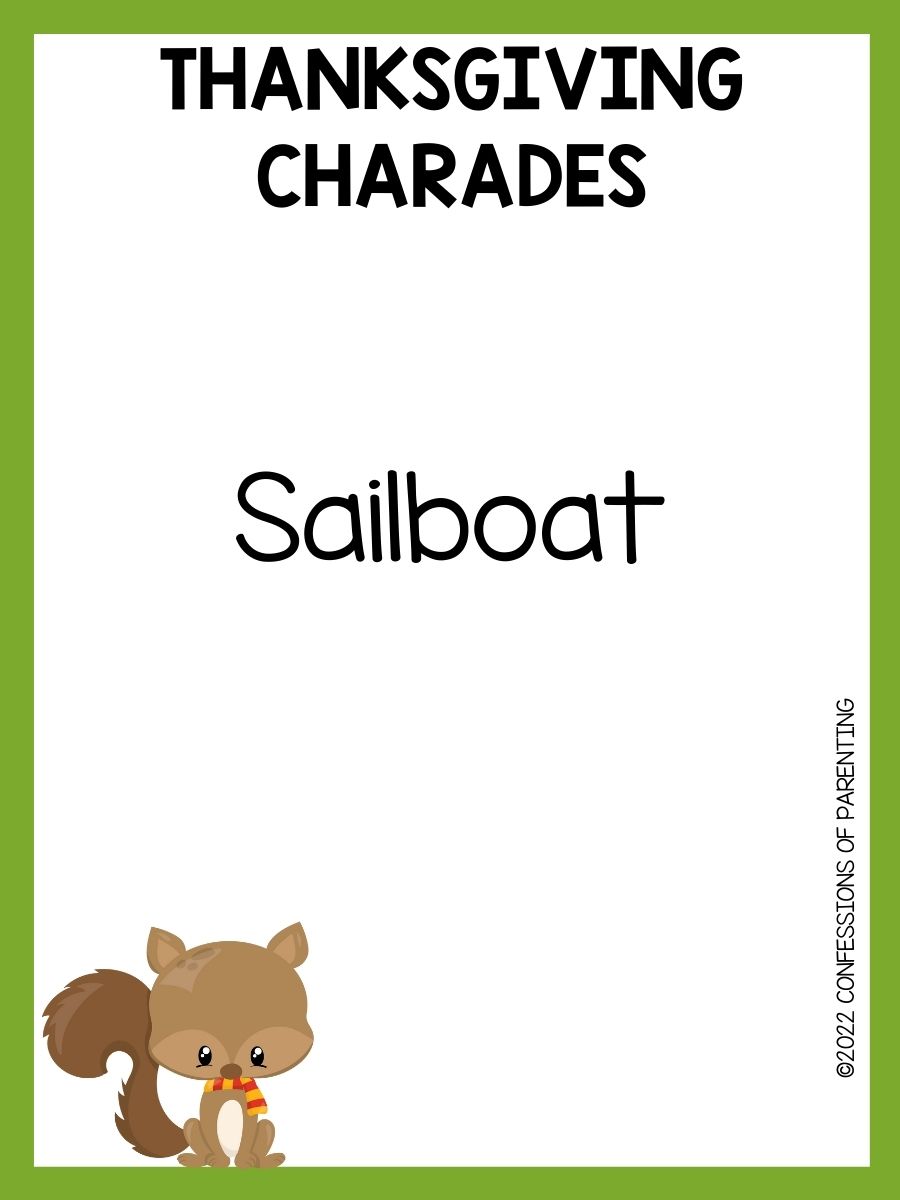 Sailboat
Eating Leftovers
Grandparents
Aunt
Uncle
Siblings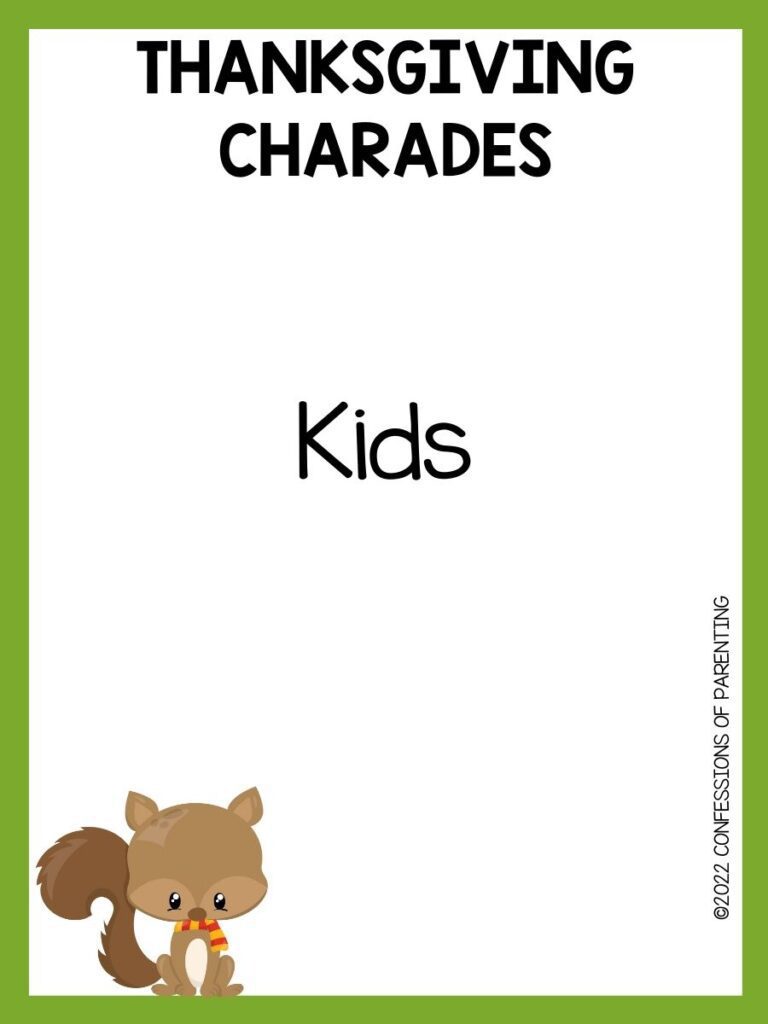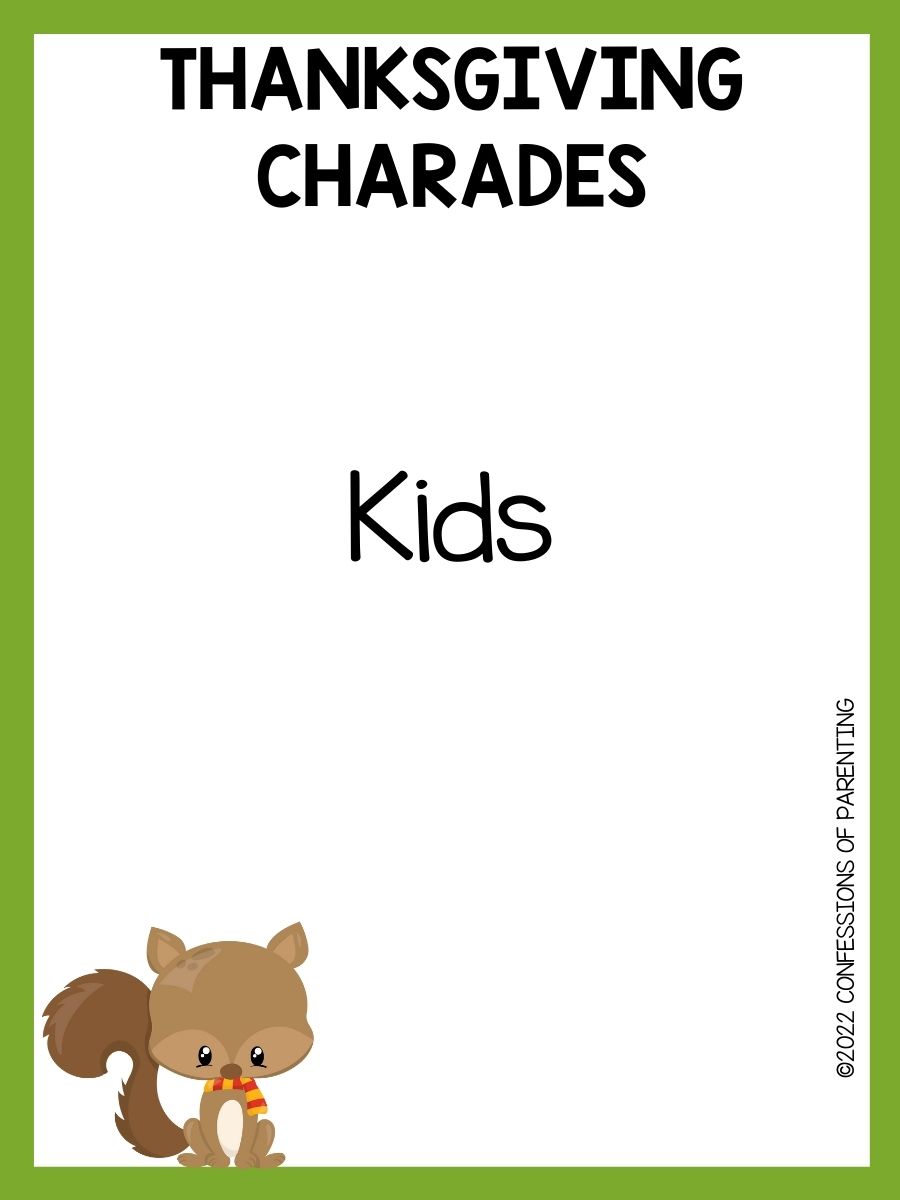 Kids
Vase of flowers
Macy's Parade
S'mores
A Fireplace
Giblets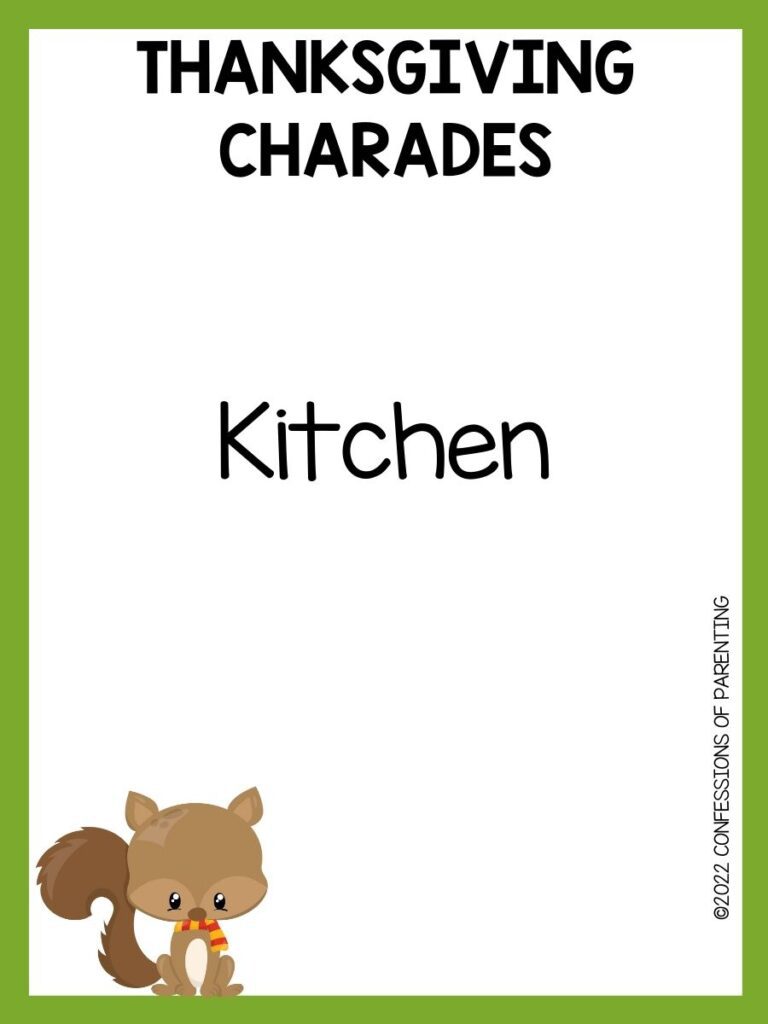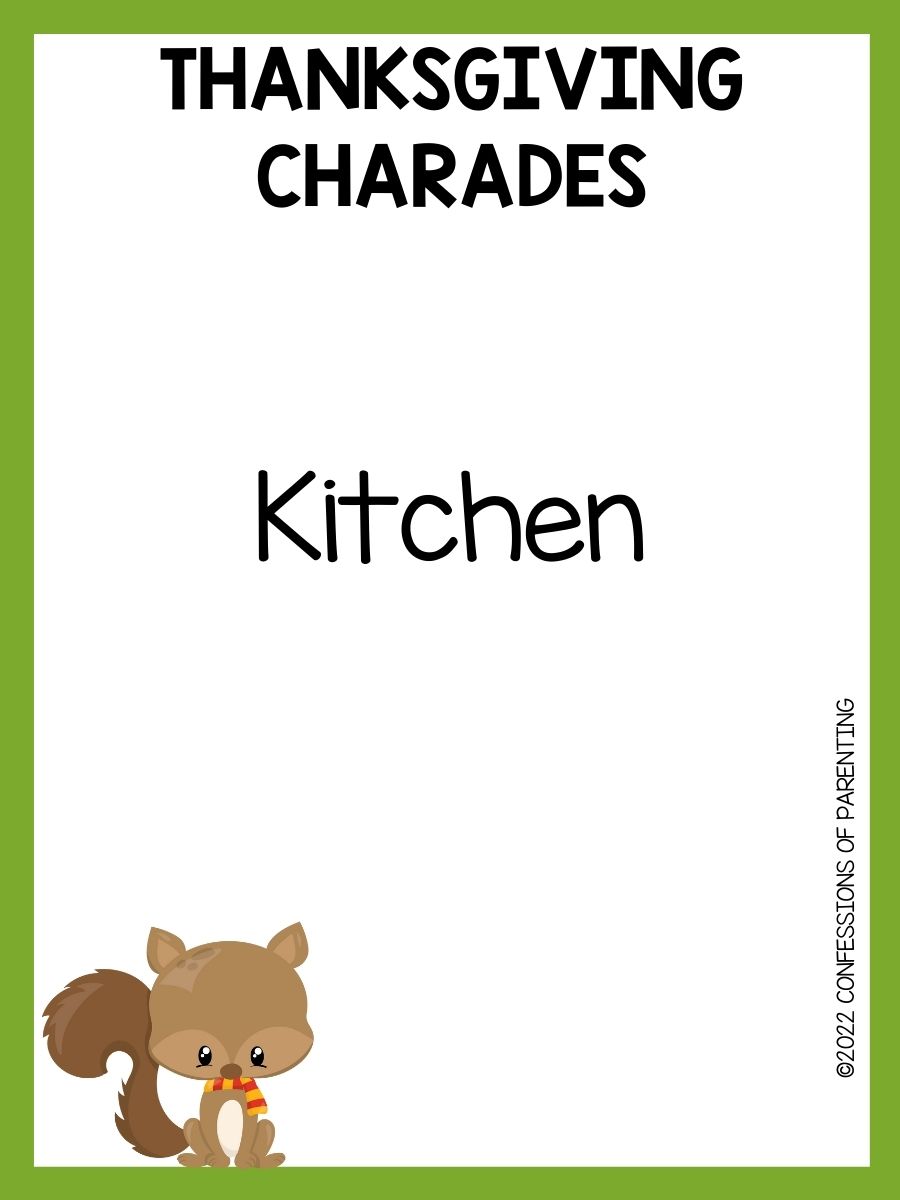 Kitchen
Owl
Plymouth Rock
Thankful
Full
Thursday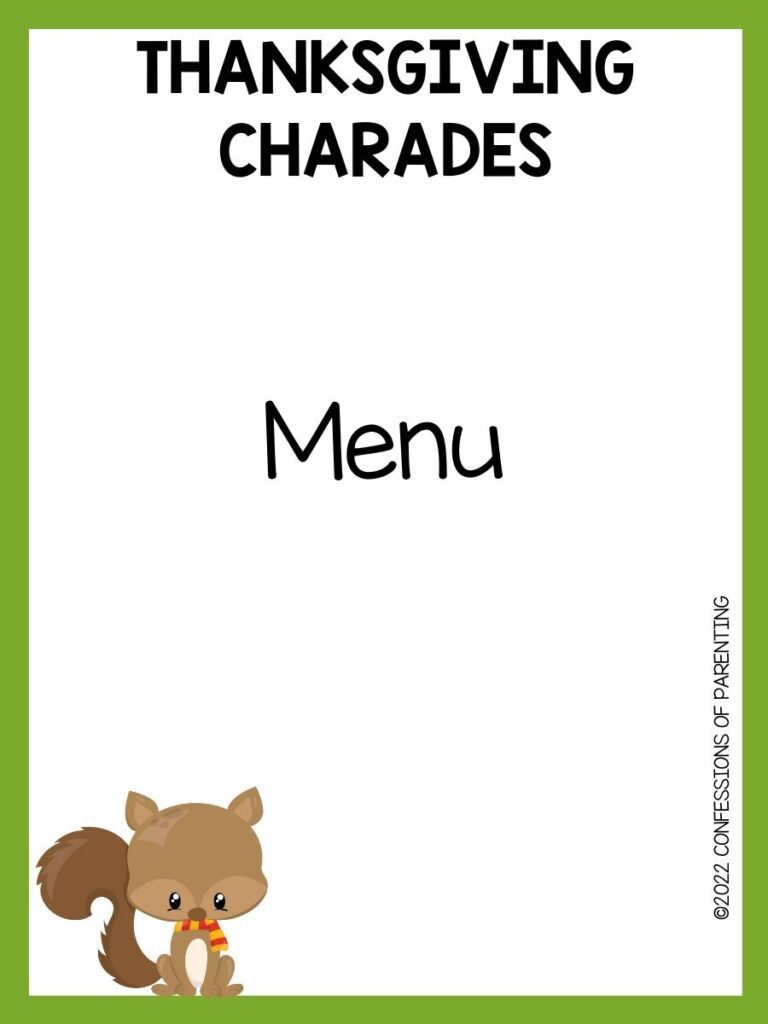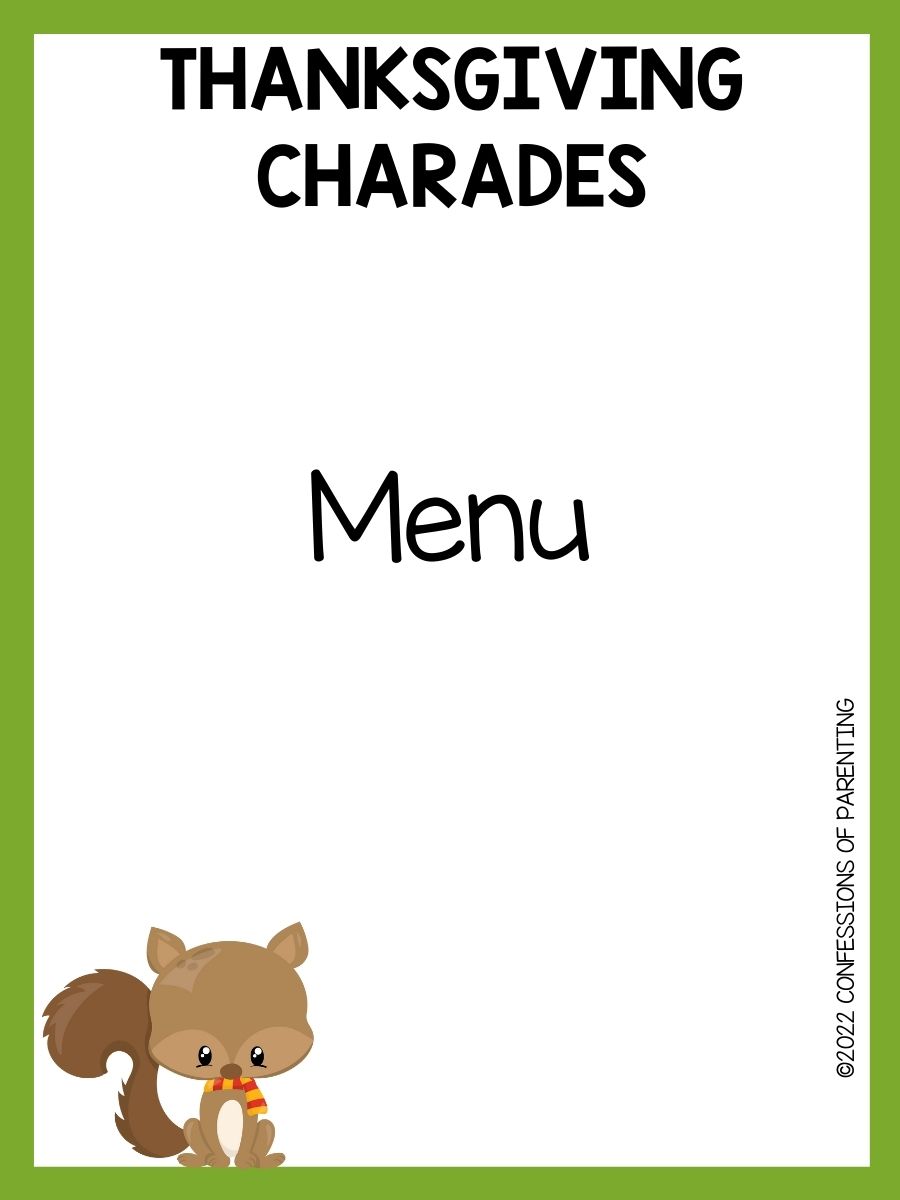 Menu
Feeding the Dog Under the Table
Candy Corn
Passing the Rolls
Loading the Dishwasher
Picking Apples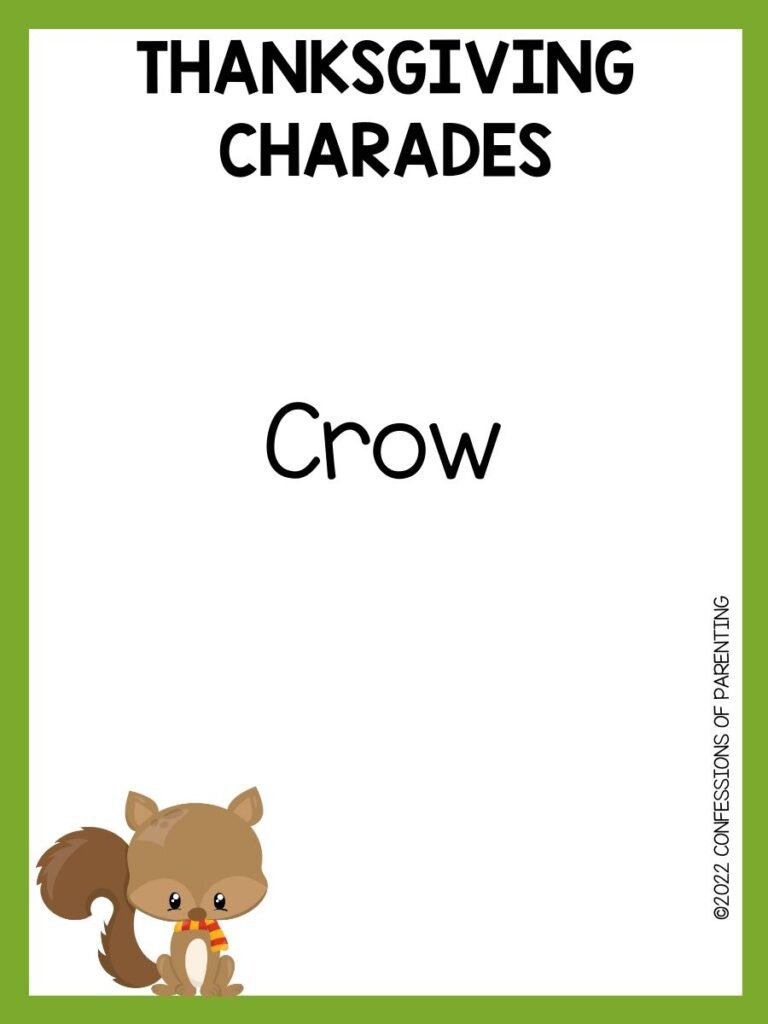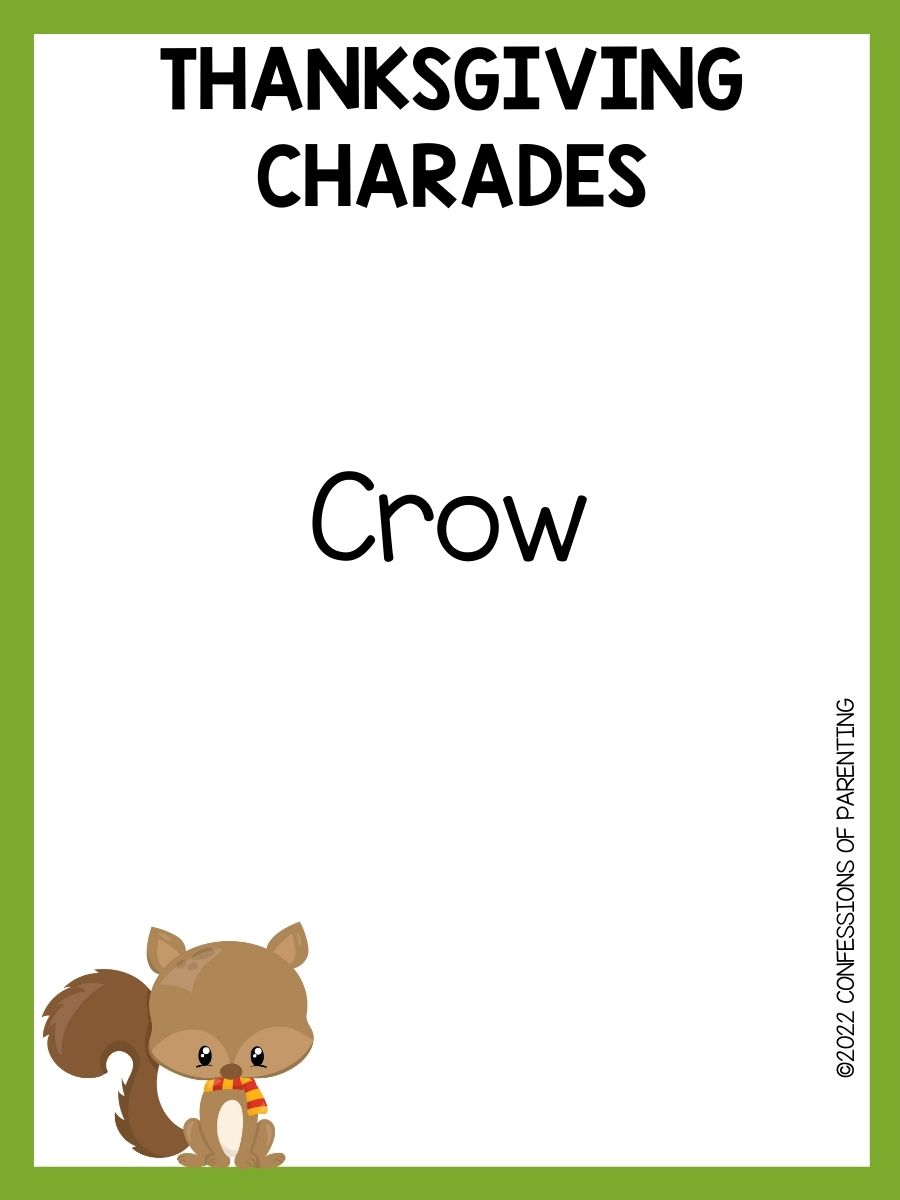 Crow
Pumpkin Spice Latte
Knitting a Scarf
Acorn
The Great Pumpkin
Pecan Pie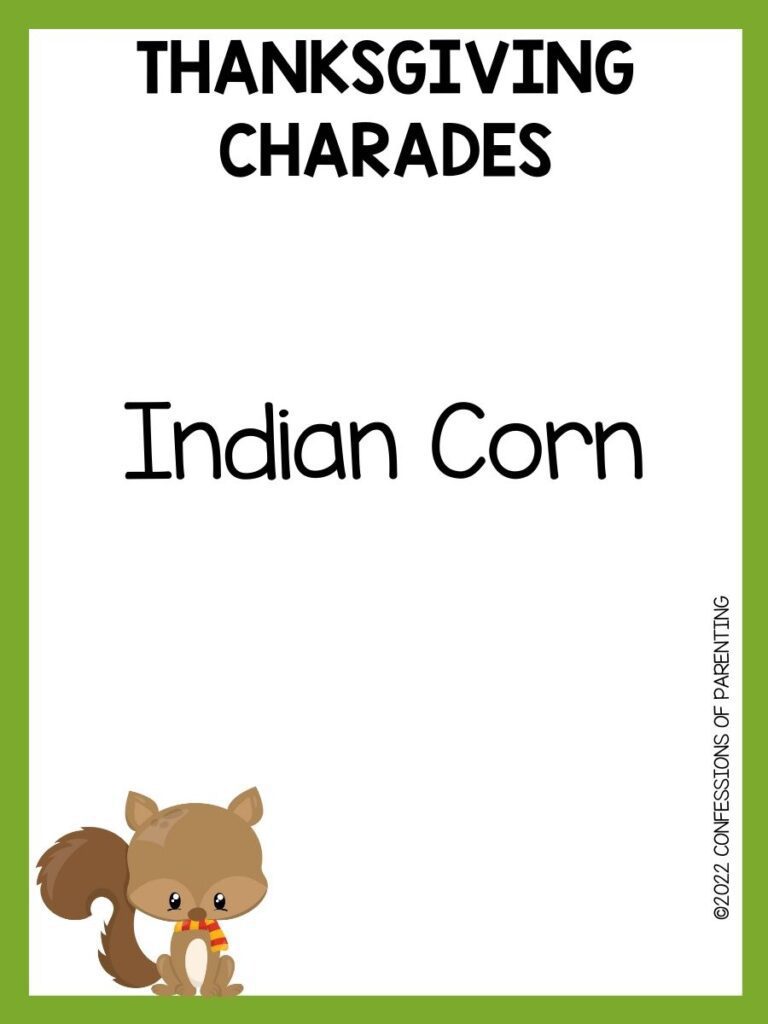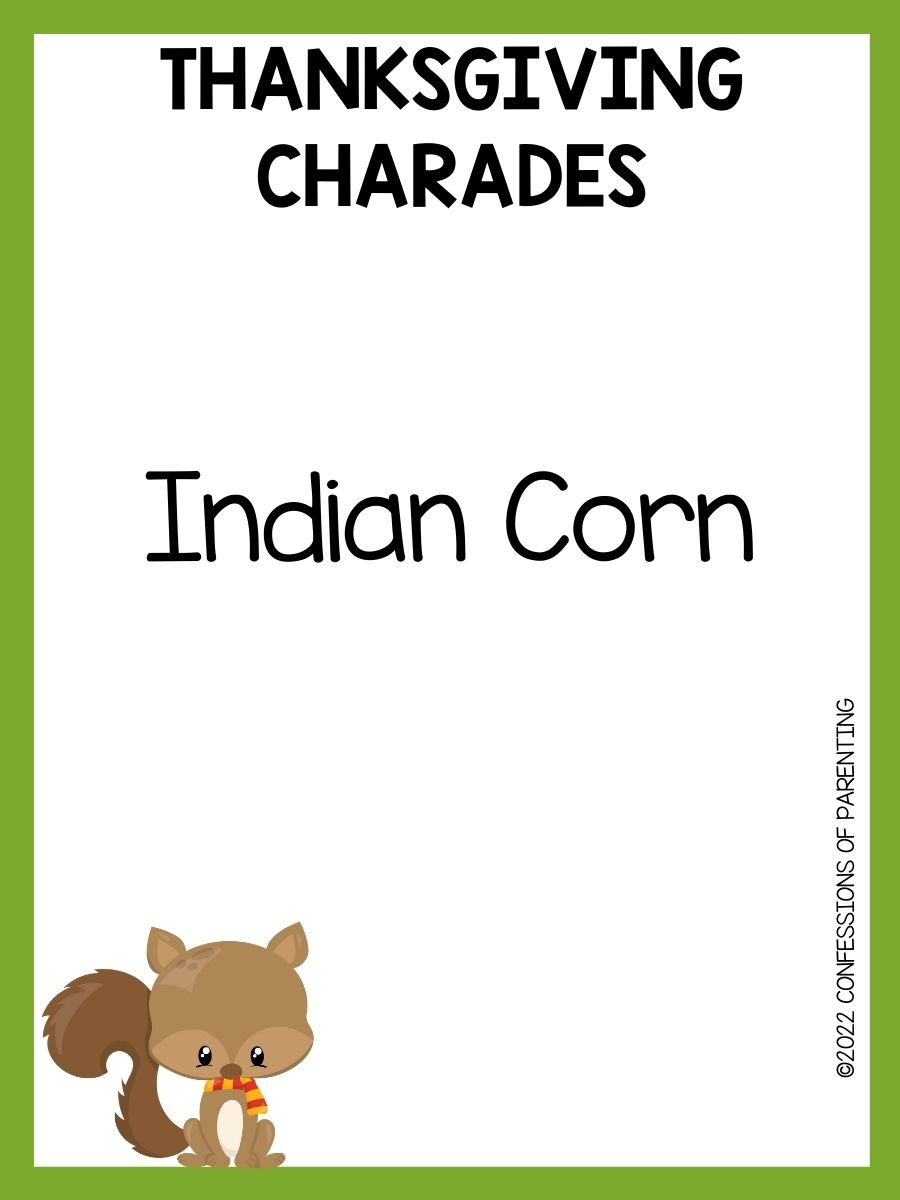 Indian Corn
Pumpkin Patch
Travel to Grandma's House
Pumpkin Seeds
Harvest Moon
Drumstick Leftovers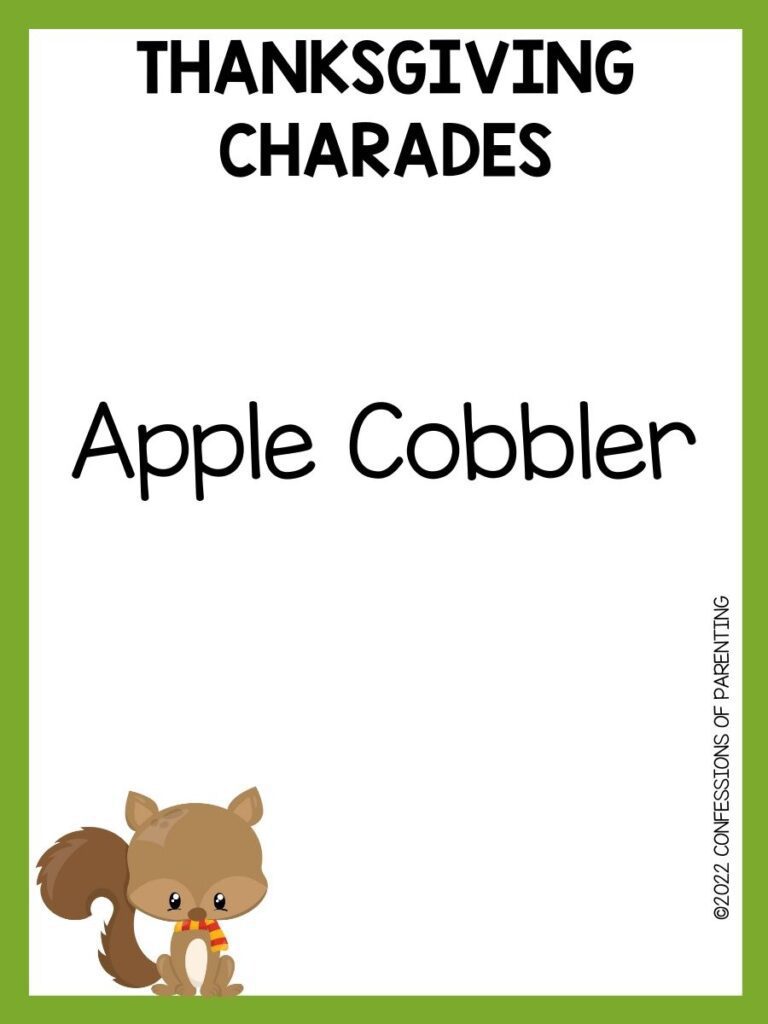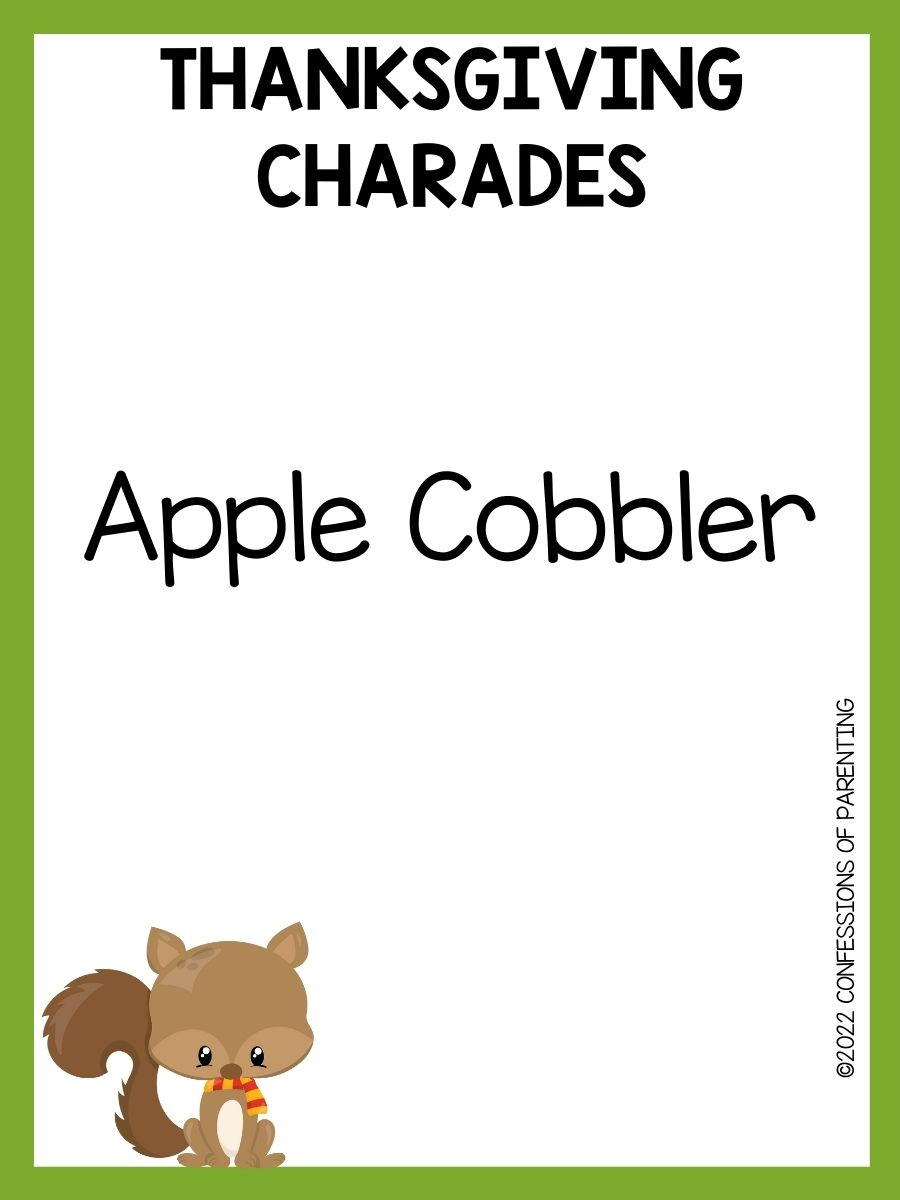 Apple Cobbler
Applesauce
Autumn
Baking Pies
Happiness
Blessings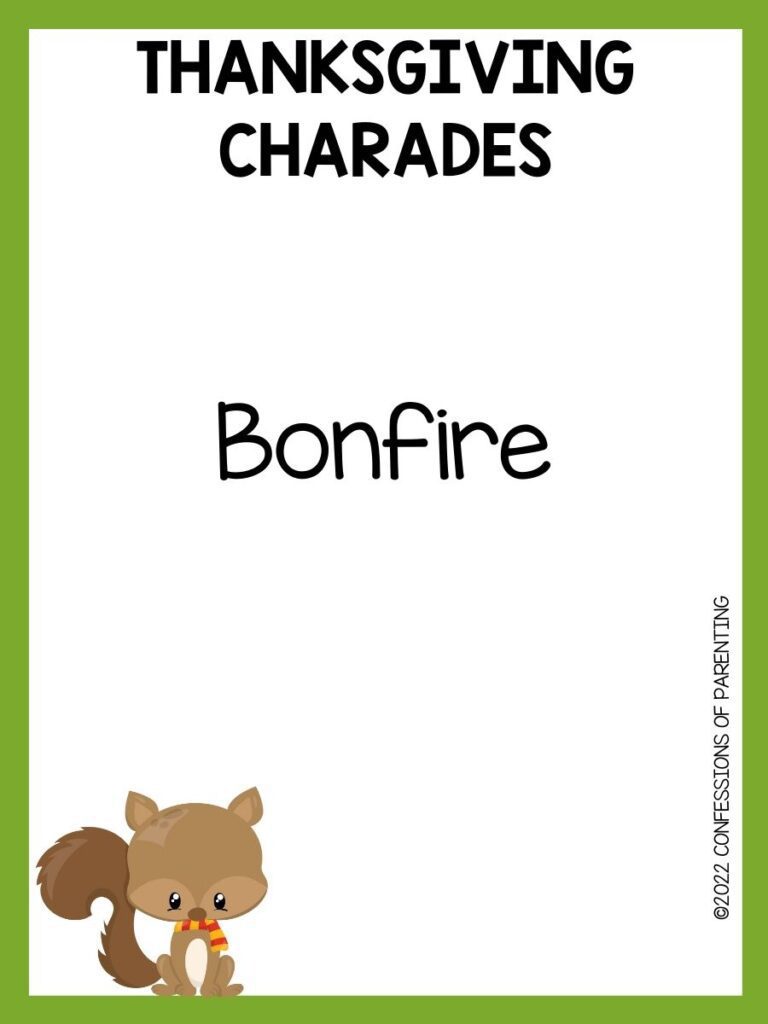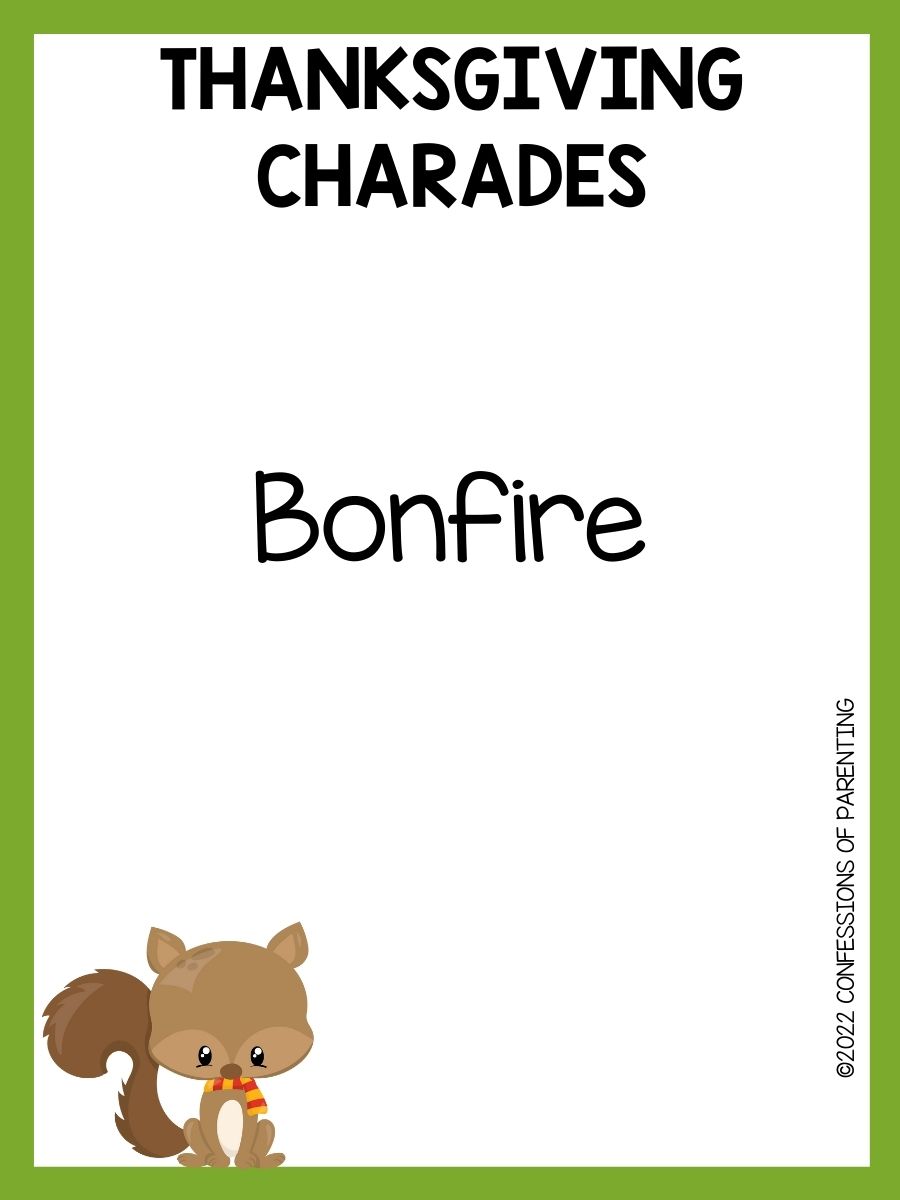 Bonfire
Care
Candlesticks
Festival
Food
Free time
Grace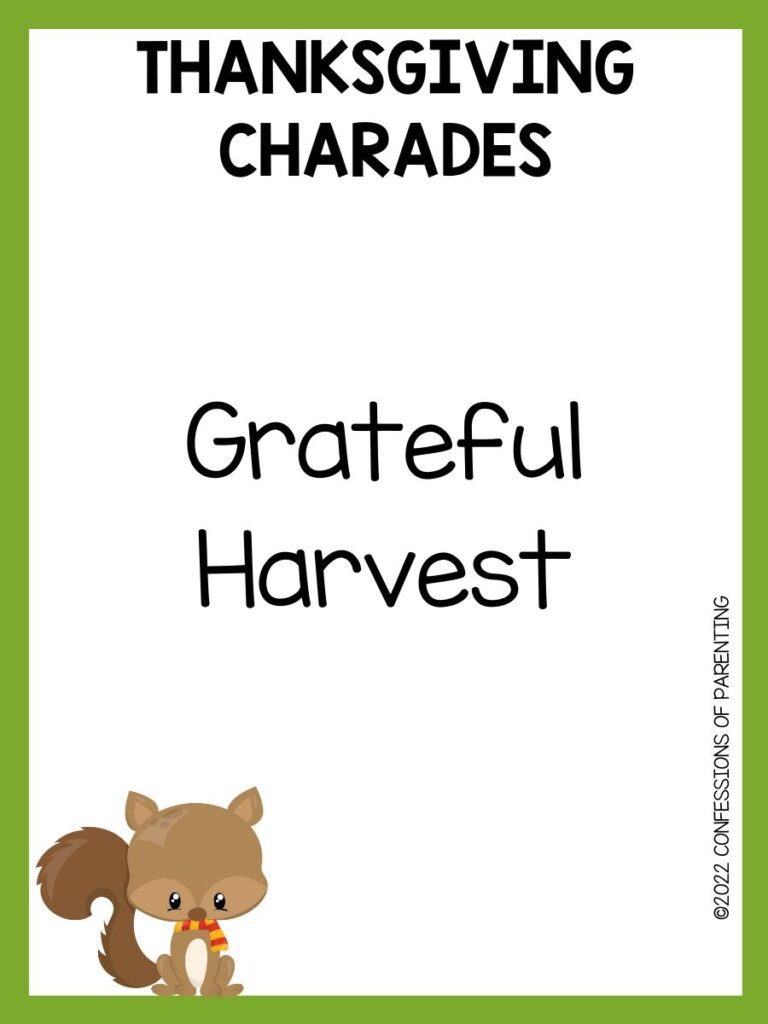 Grateful Harvest
Haystack
Love
Maple Syrup
Memories
Nature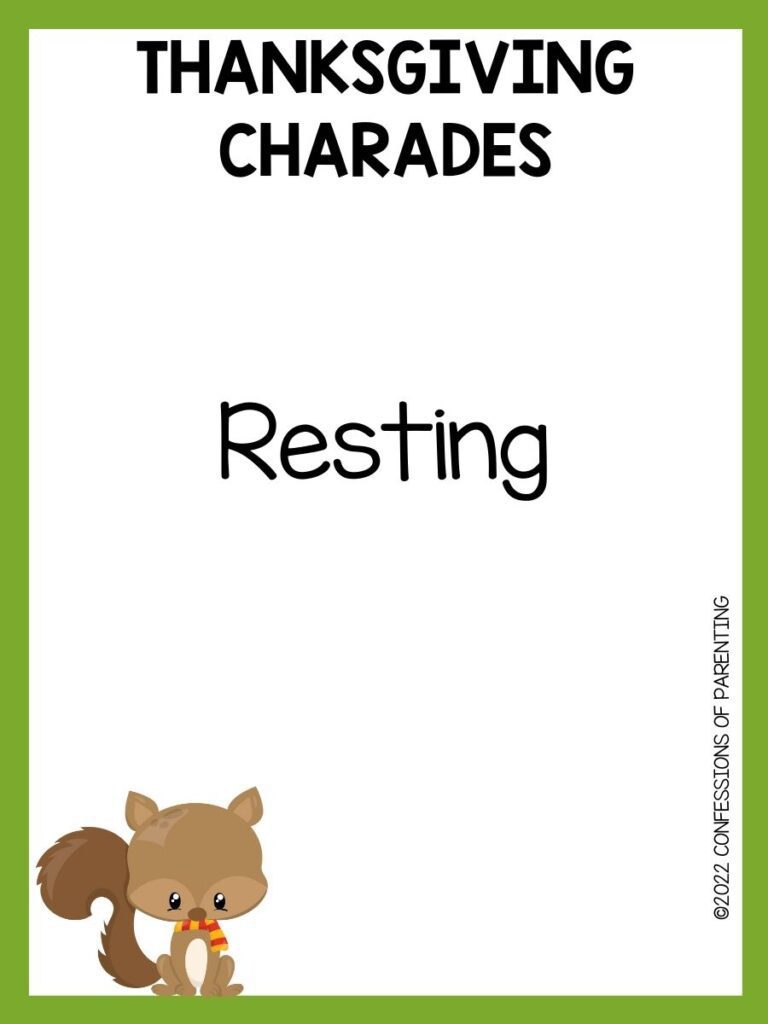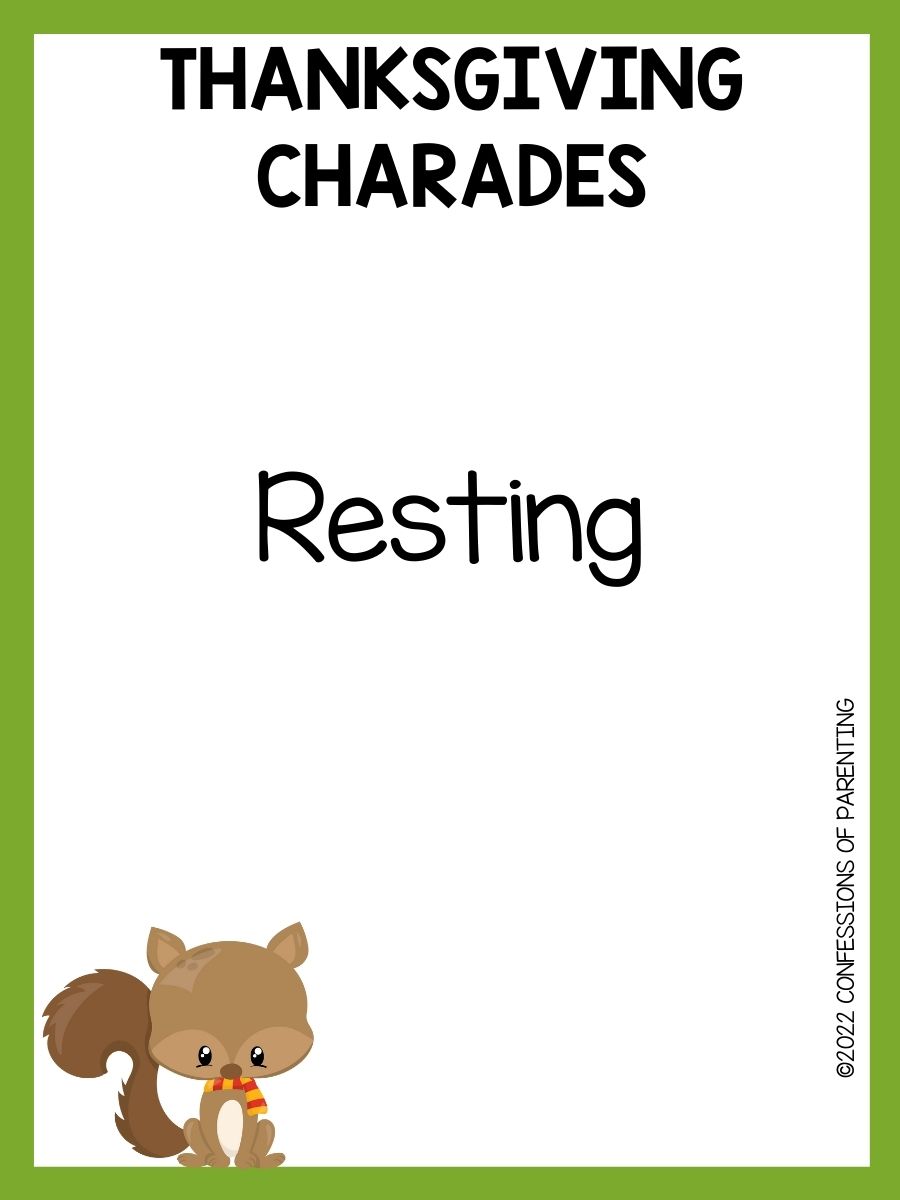 Resting
Rolls
Squirrel
Sunflowers
Sweet Corn
Table Setting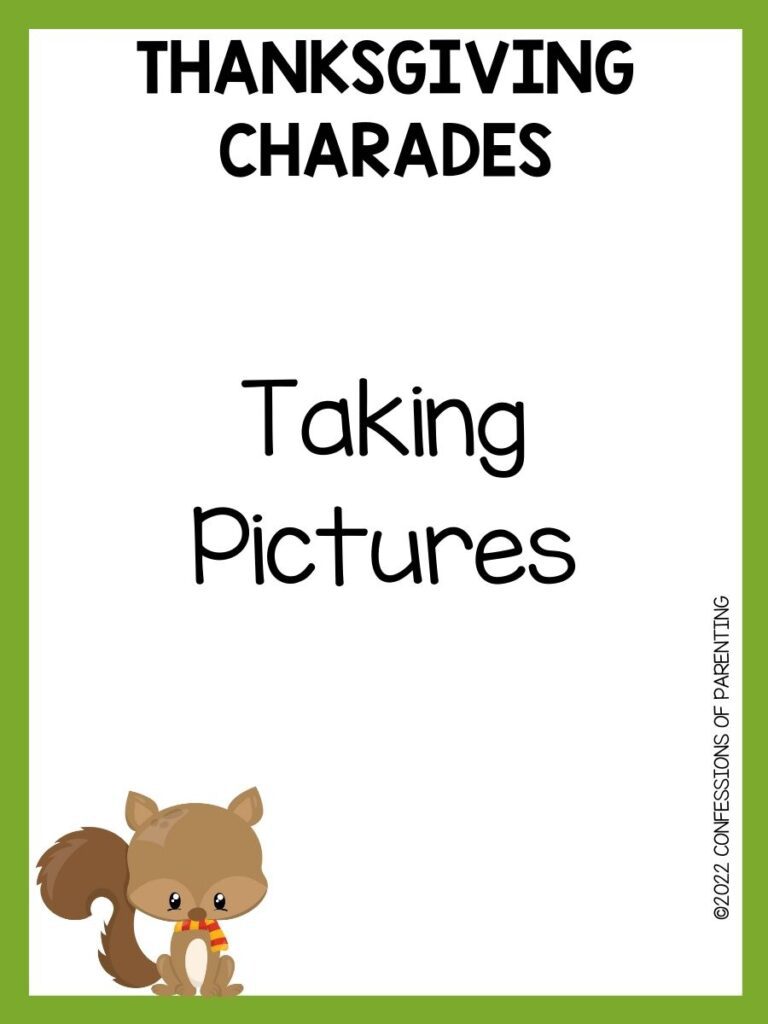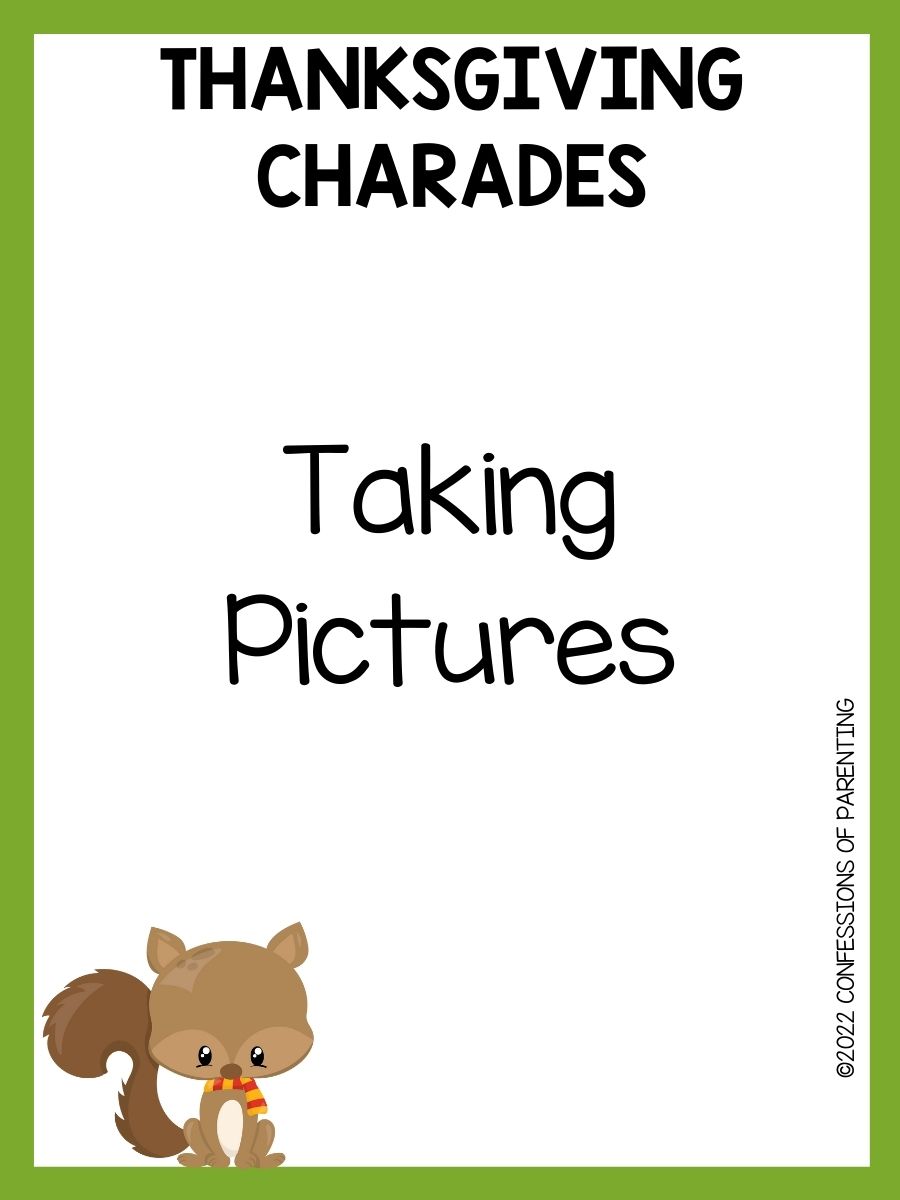 Taking Pictures
Bobbing for Apples
Brussels Sprouts
Children
Coffee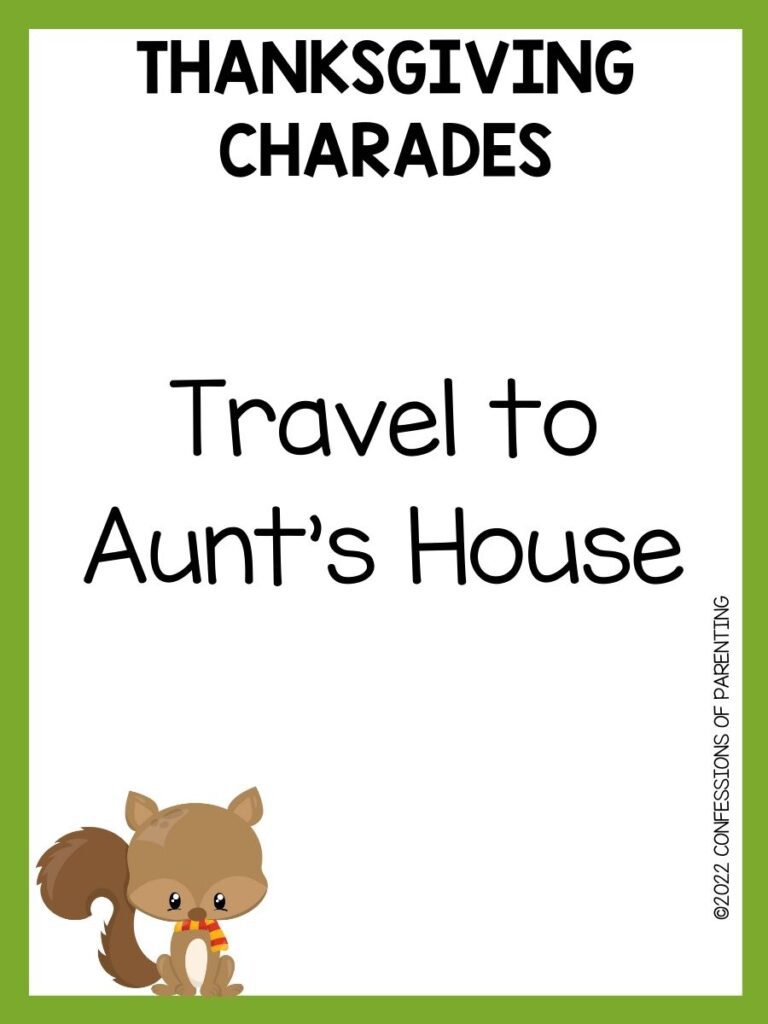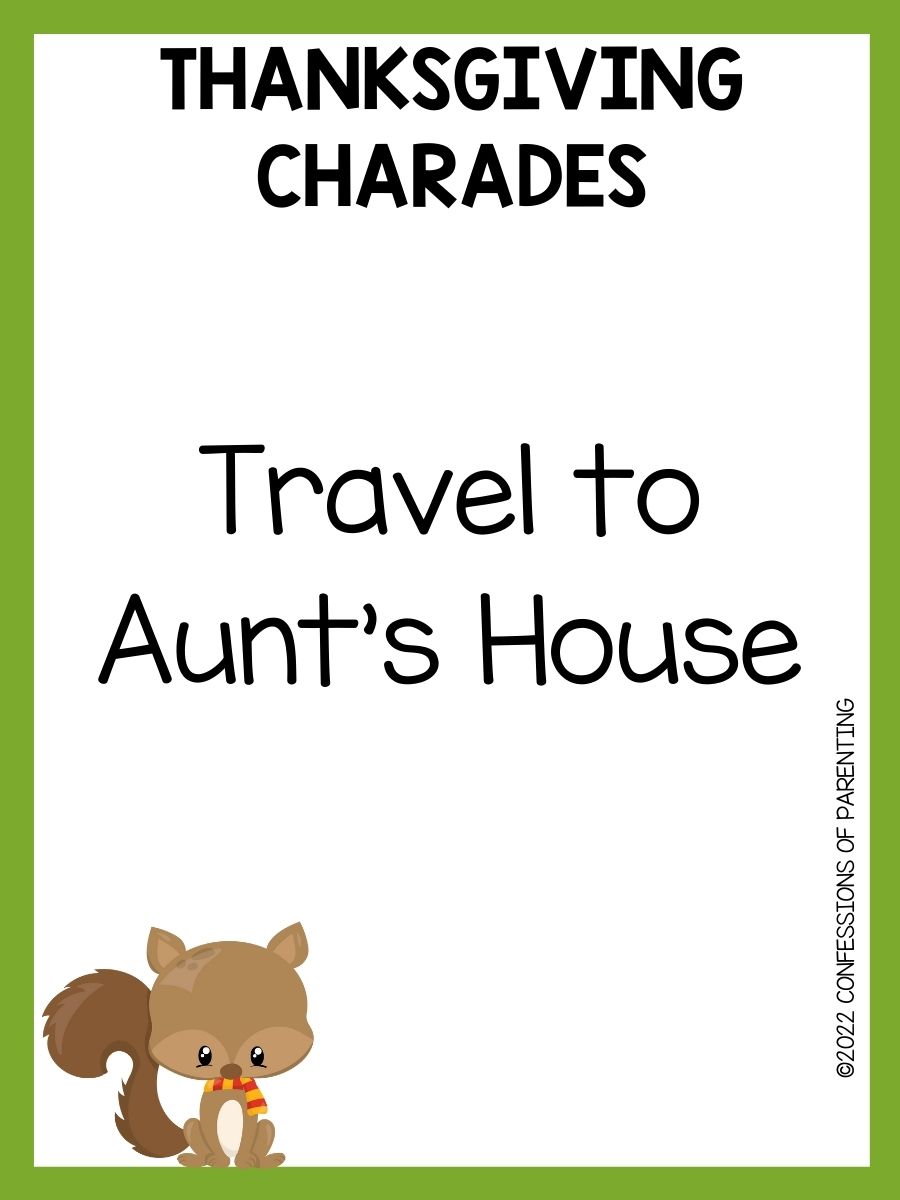 Travel to Aunt's House
Croissants
Firefighters
Good Health
Gratitude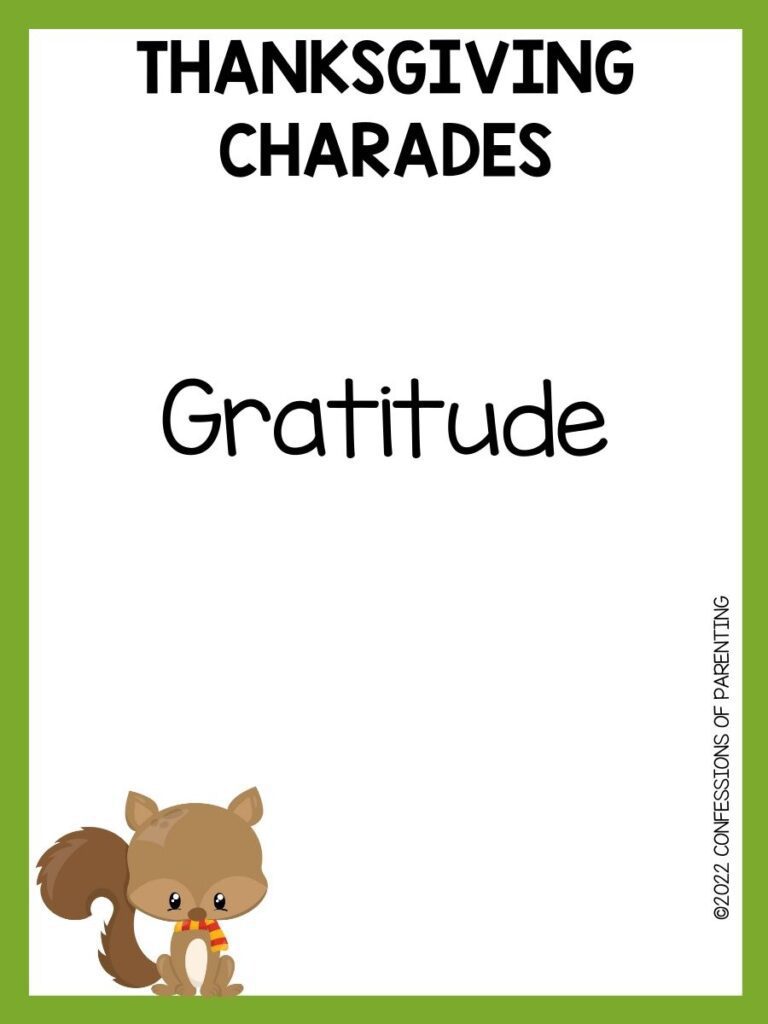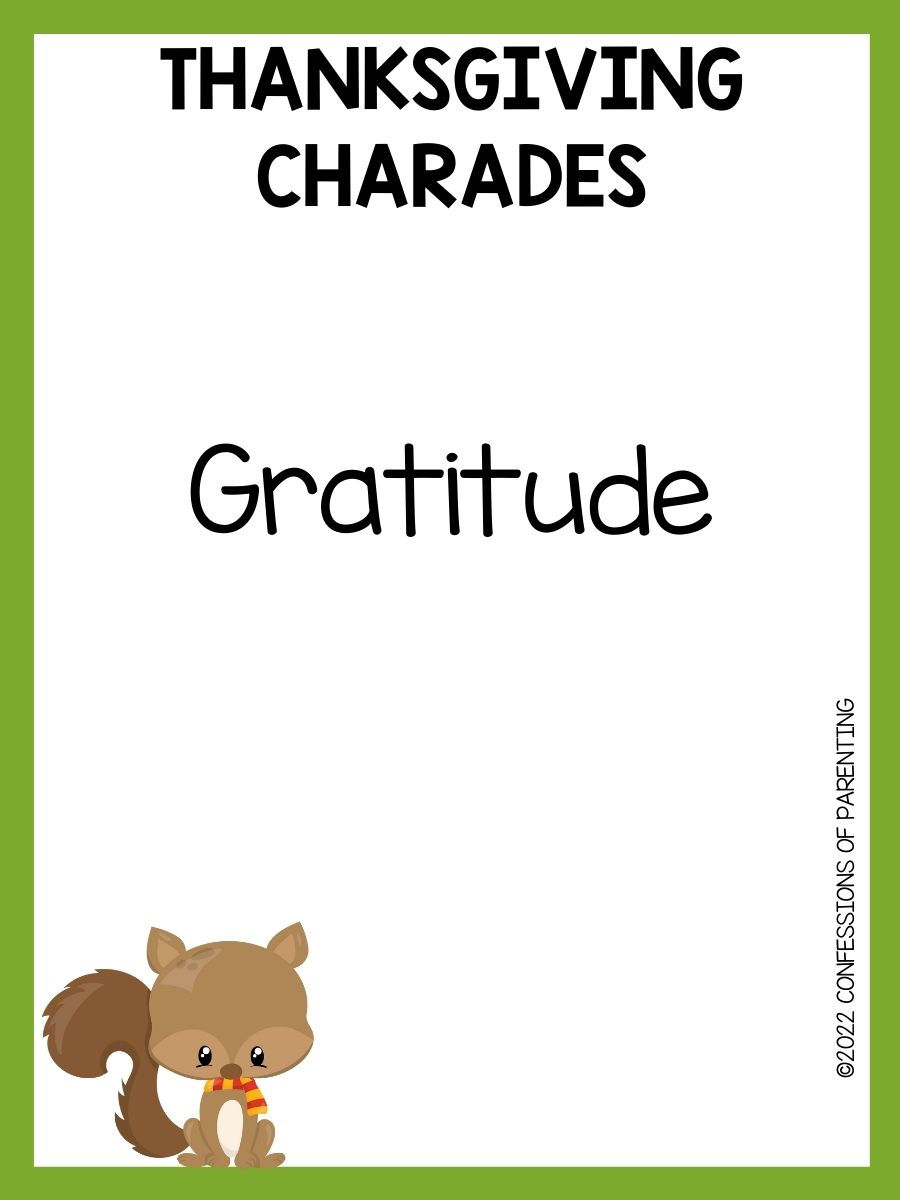 God

Leaf piles

New England
Nurses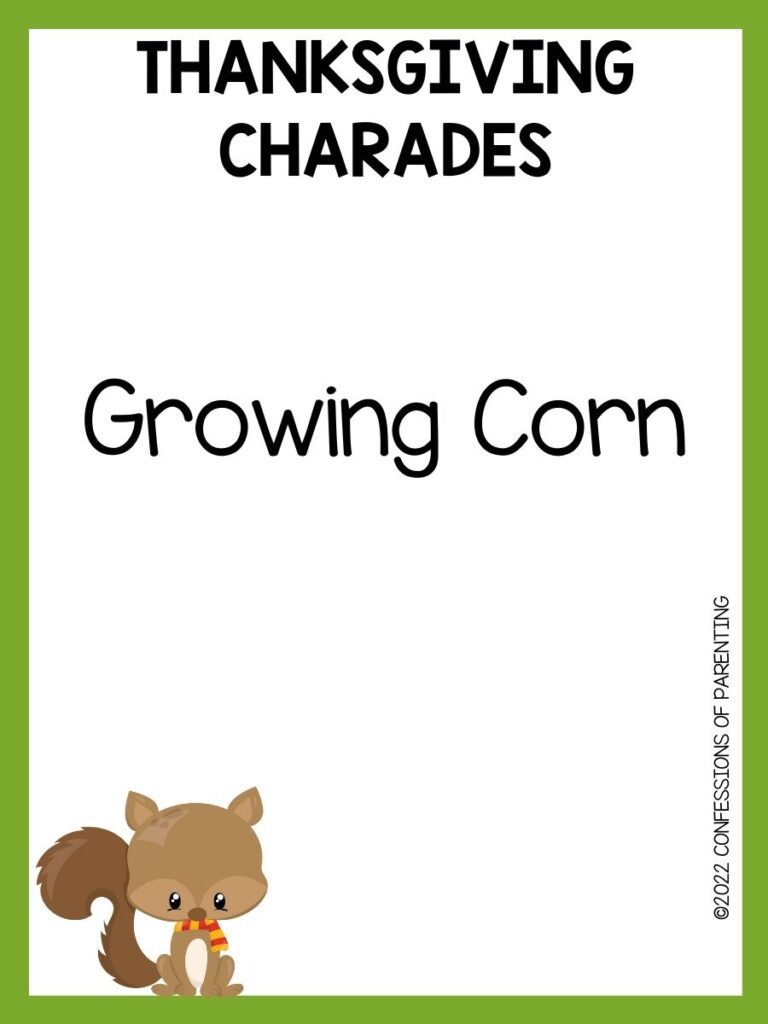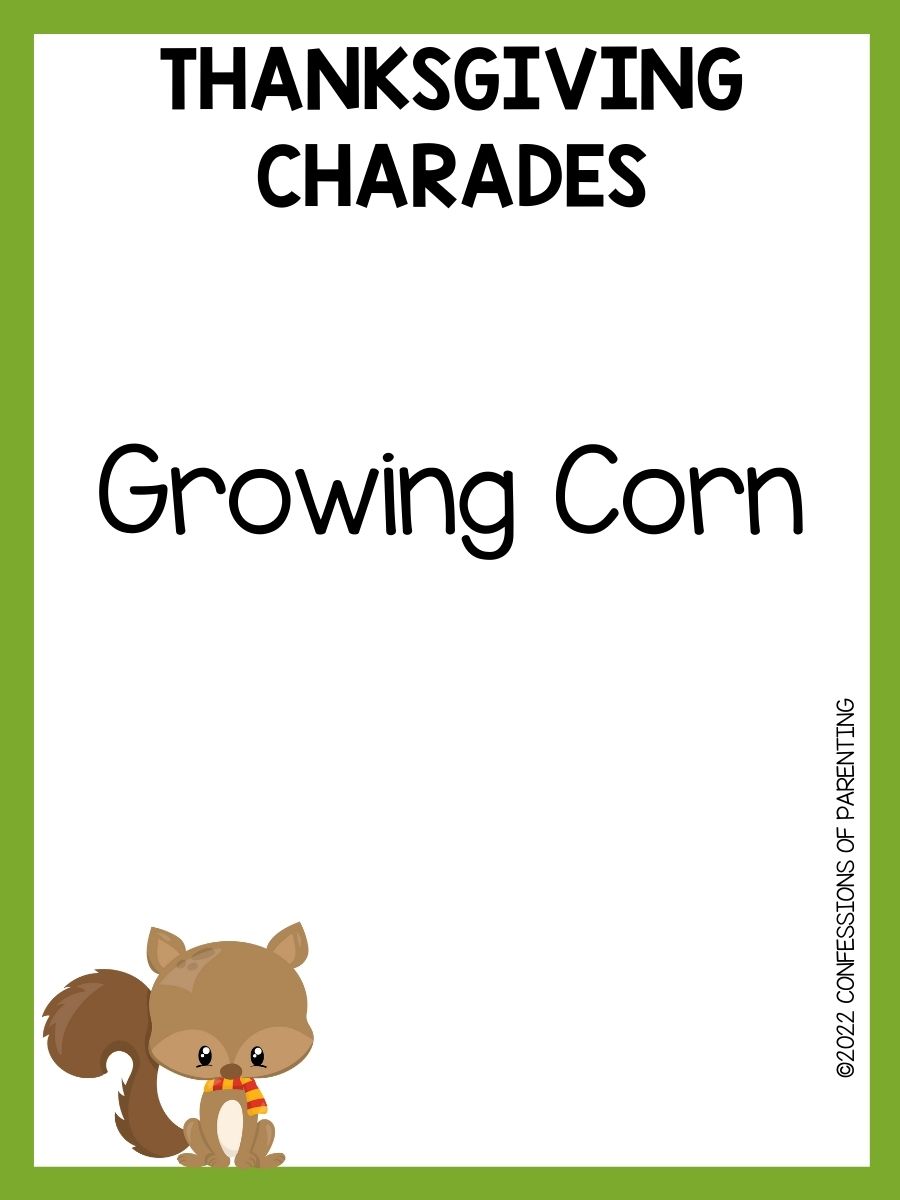 Growing Corn
Pinecones
Praise
Pumpkin Spice
Sweater Weather
Wealth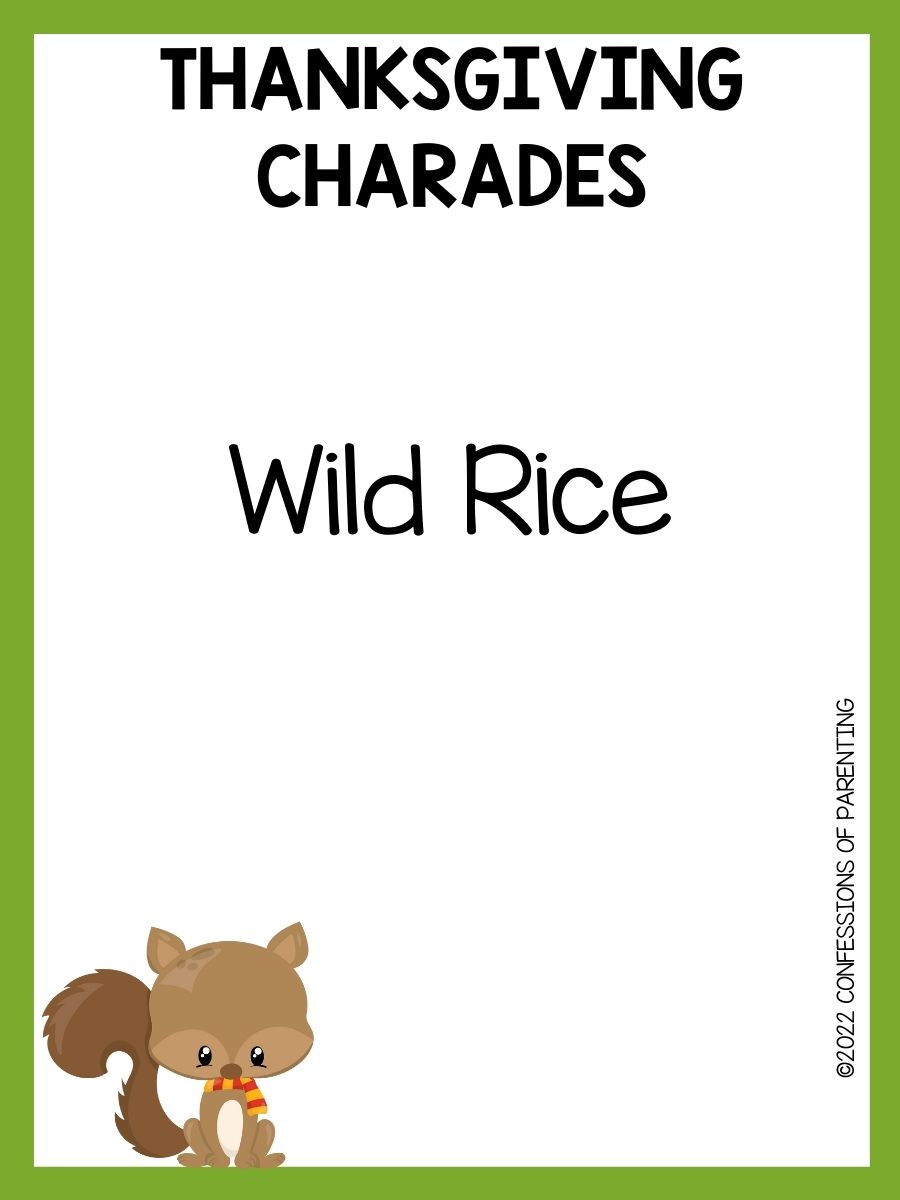 Wild Rice
Wisdom
Playing Football
Worship
Fall Leaves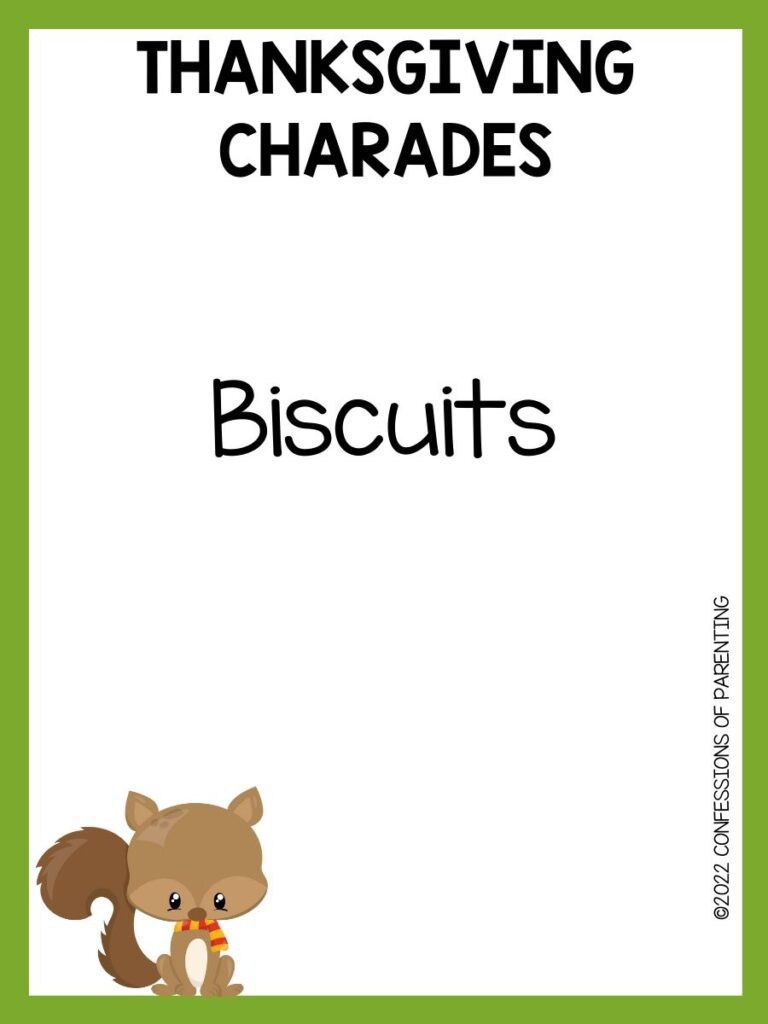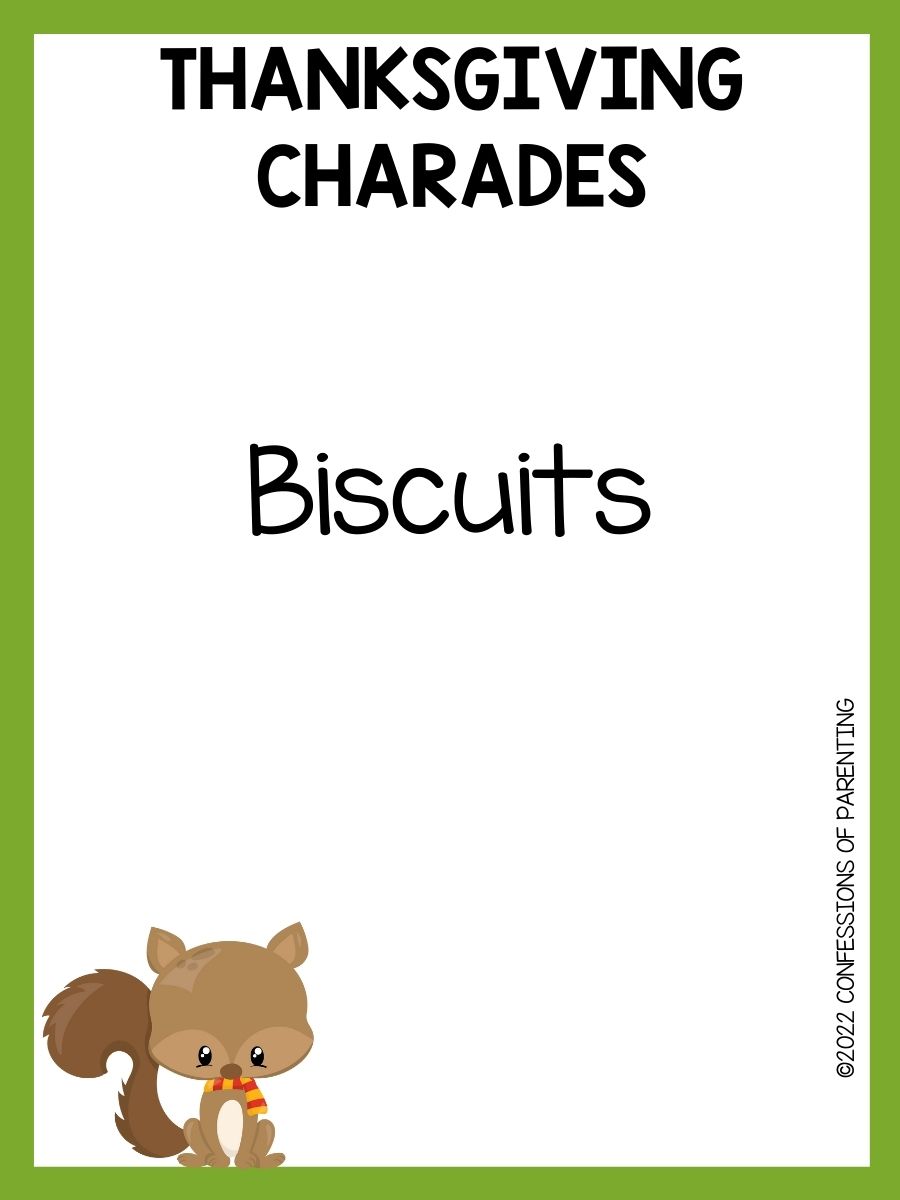 Biscuits
Carrots
Family Recipe
Celebrate
Cornbread
Deep-fried Turkey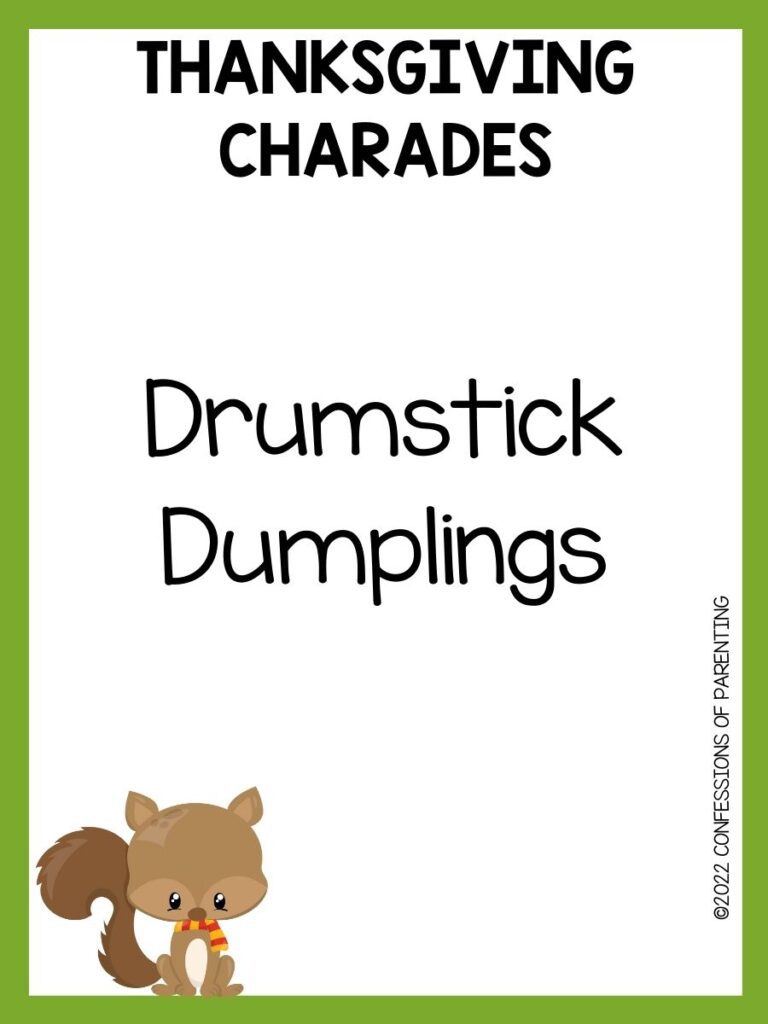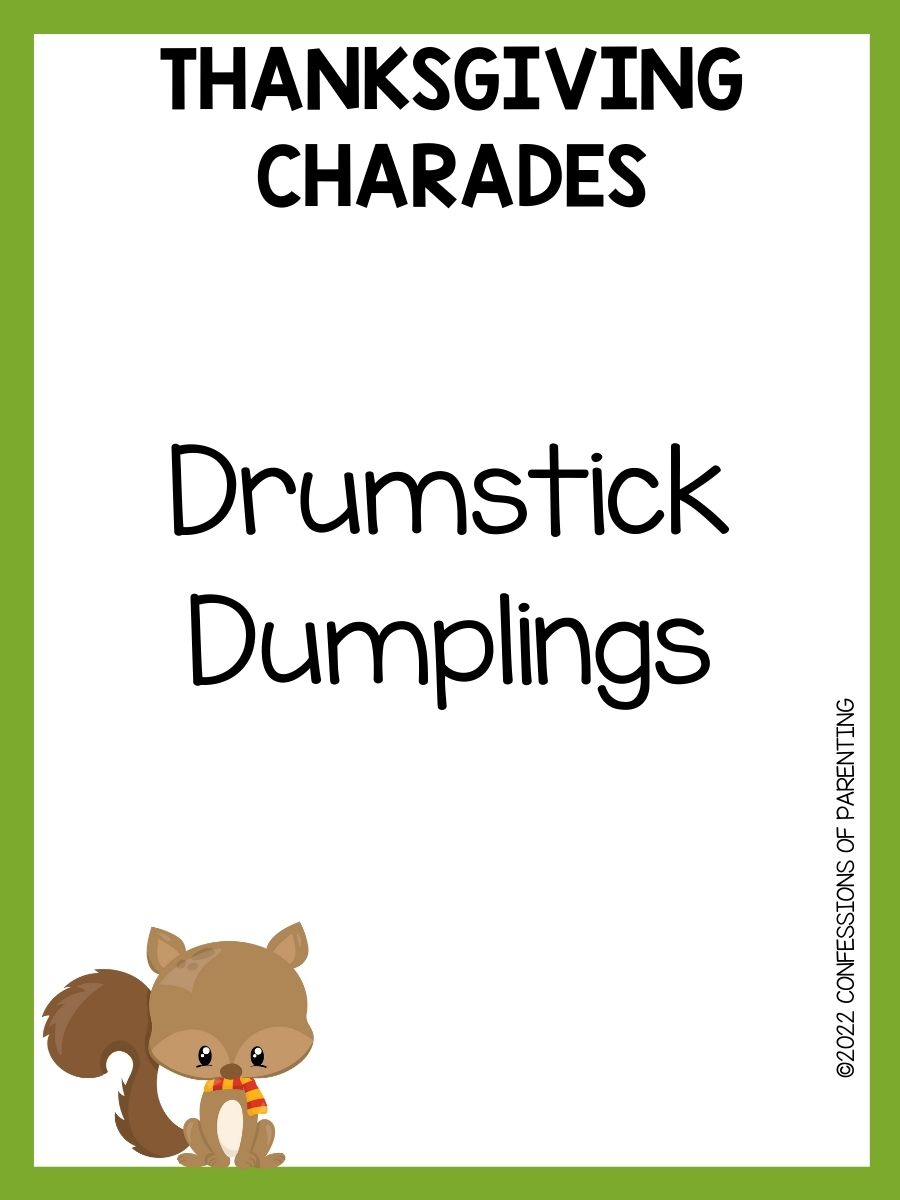 Drumstick Dumplings
Holiday
Basting the Ham
Moon
Watching Football
Orange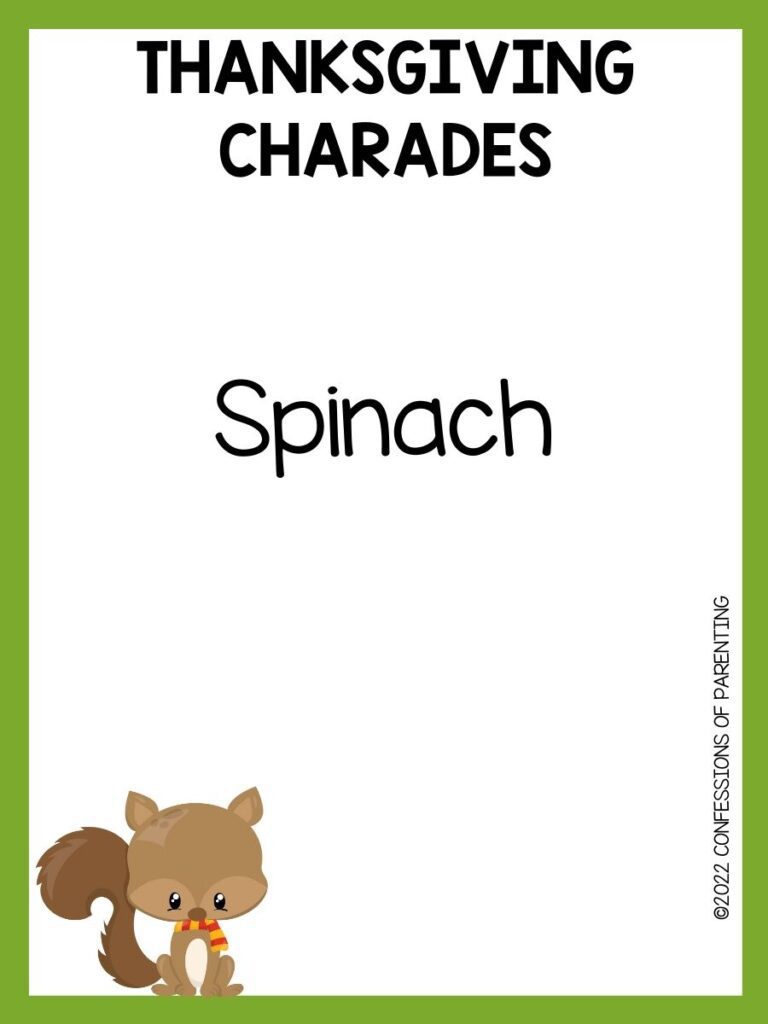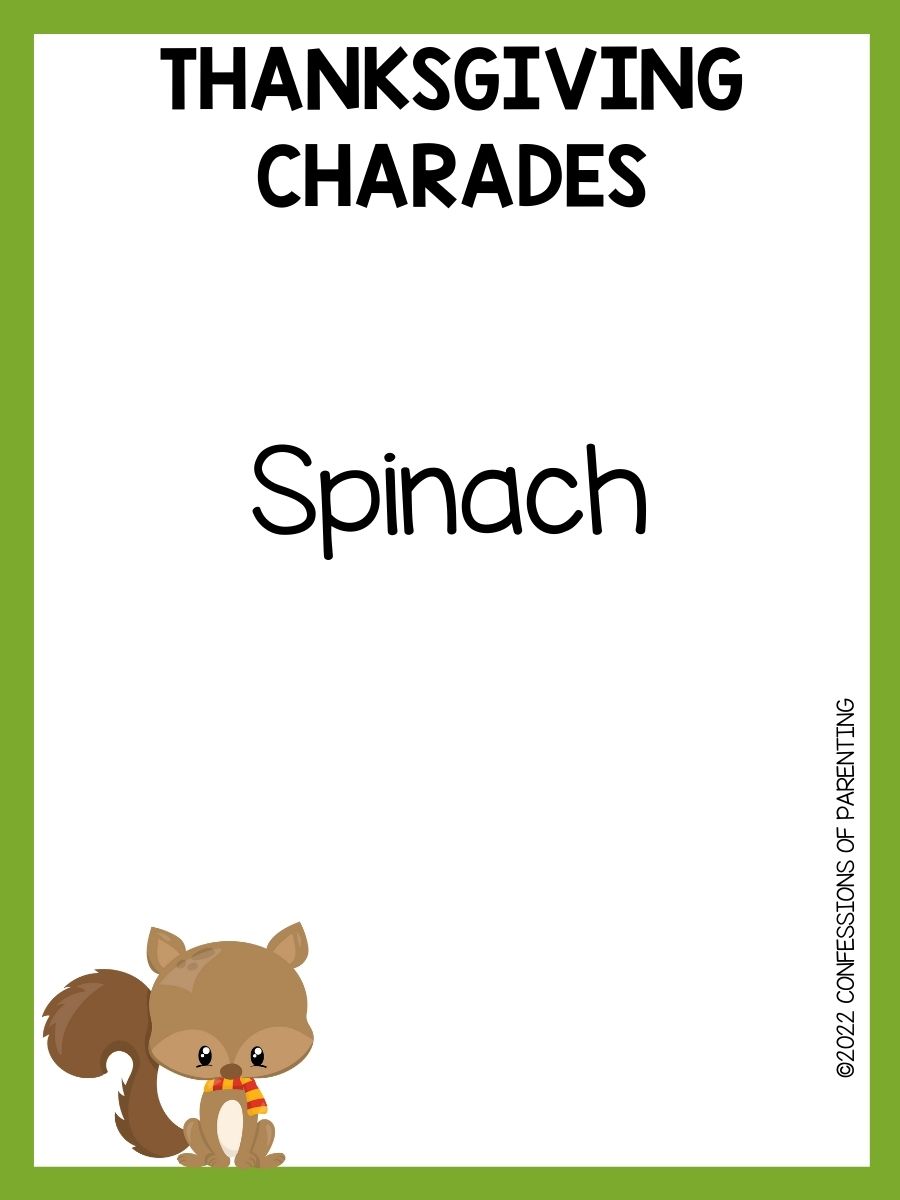 Spinach
Squash
Walnuts
Watching TV
Winter
1621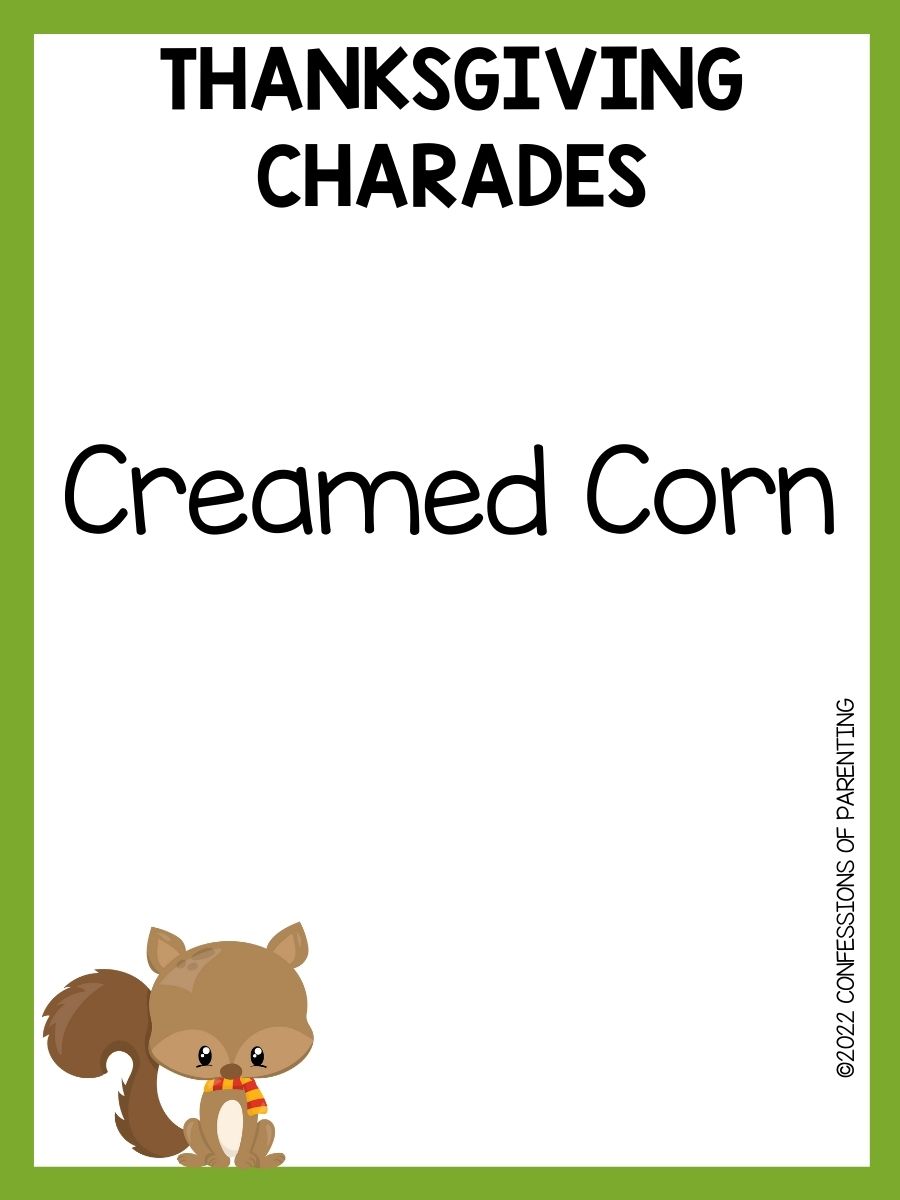 Creamed Corn
Dressing
Eating an Overcooked Turkey
Black Friday Shopping

Thanksgiving

Scrabble

Happiness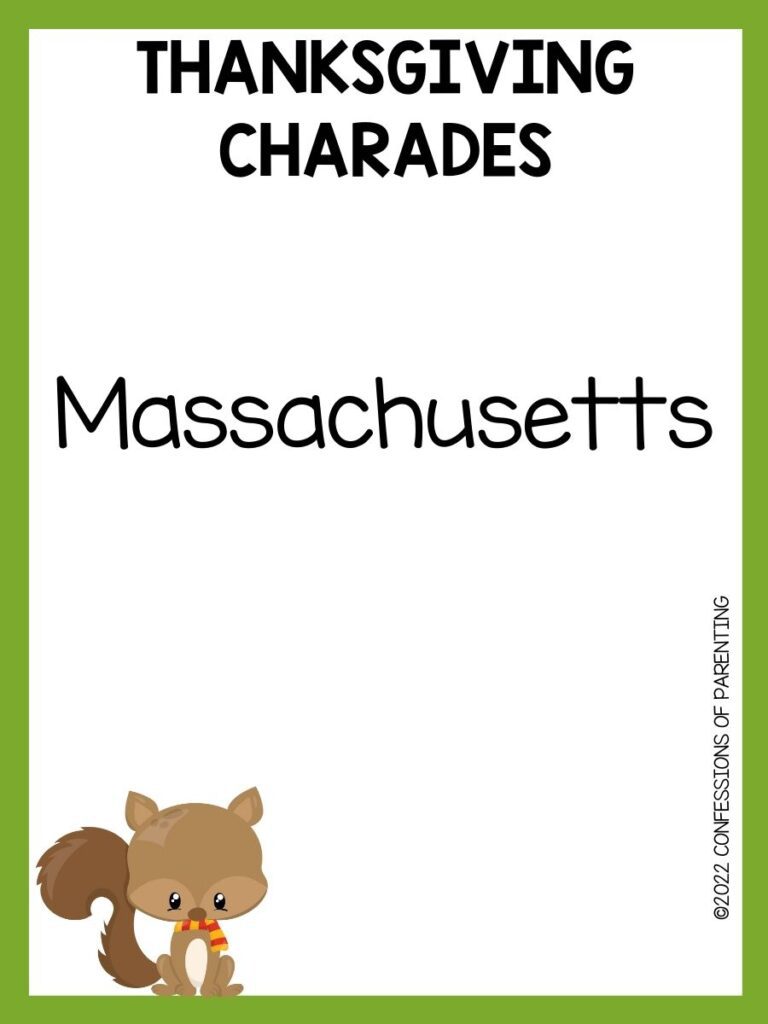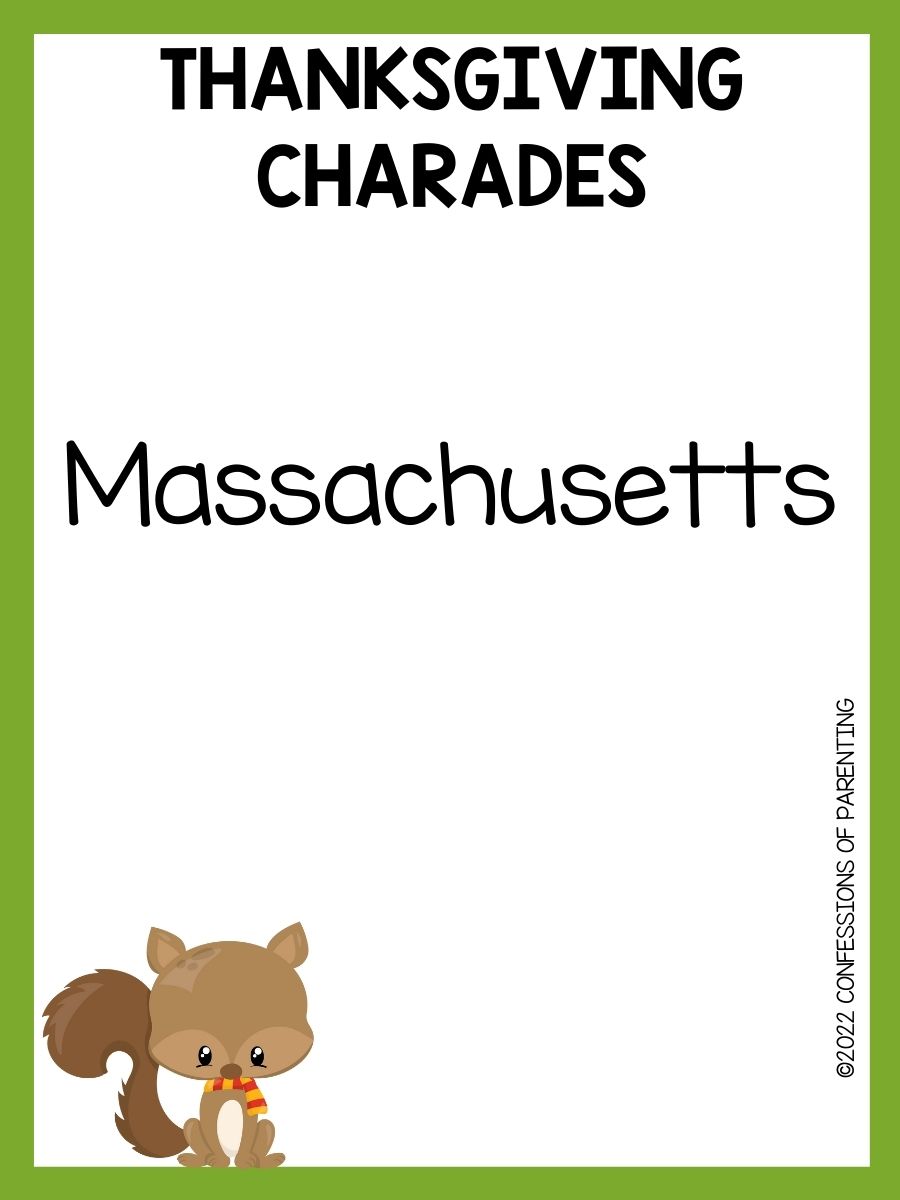 Massachusetts
Native American
Thanksgiving Scavenger Hunt

Police officers

Proclamation
Samoset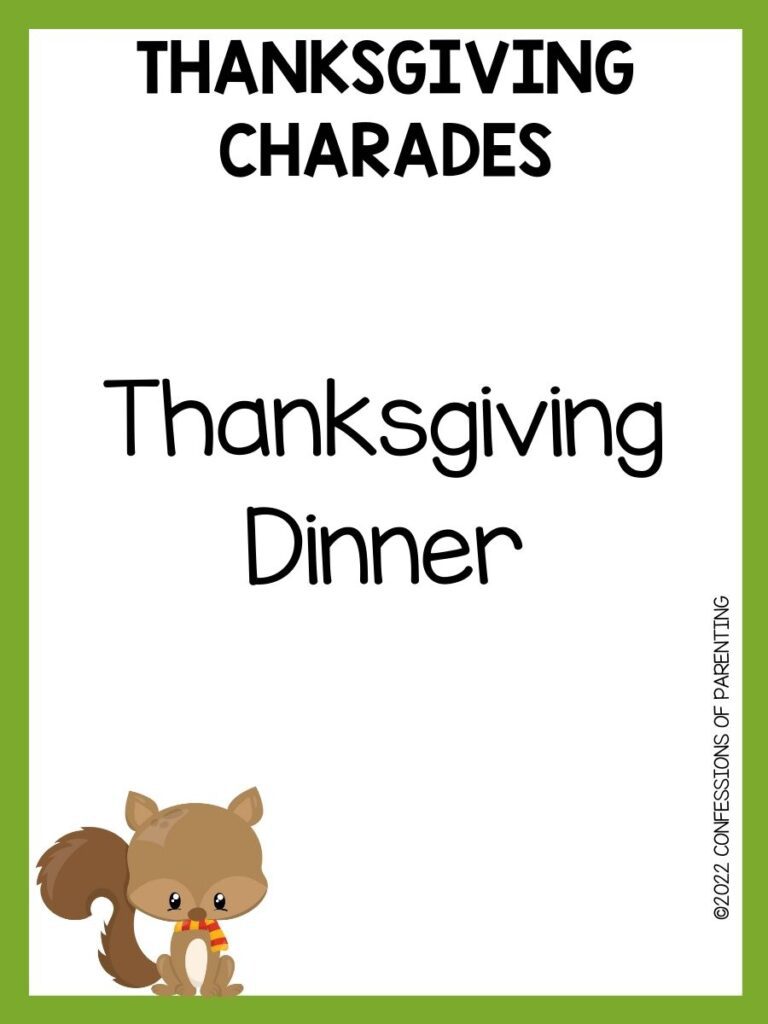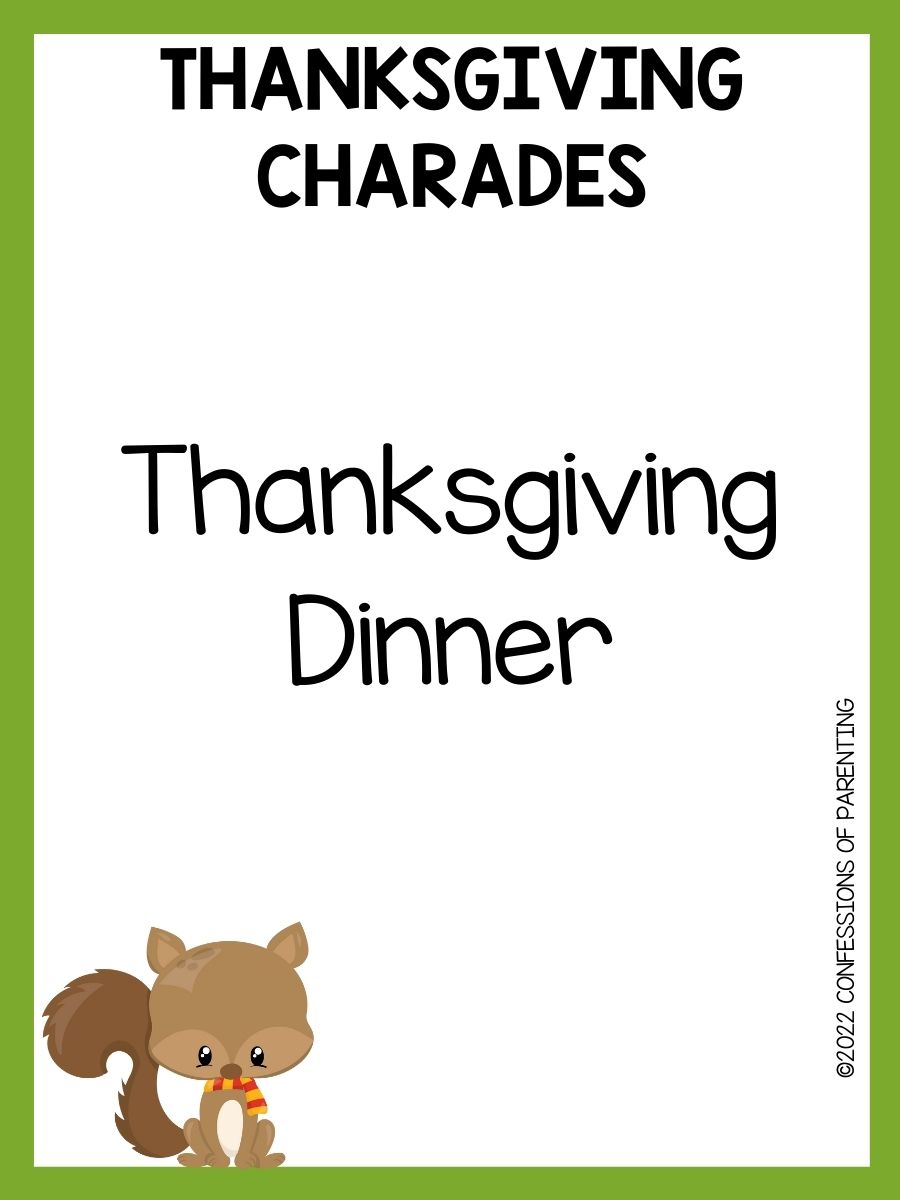 Thanksgiving Dinner
Turkey Pardoning
Yams
Pinching Cheeks

Dessert

Pie a la Mode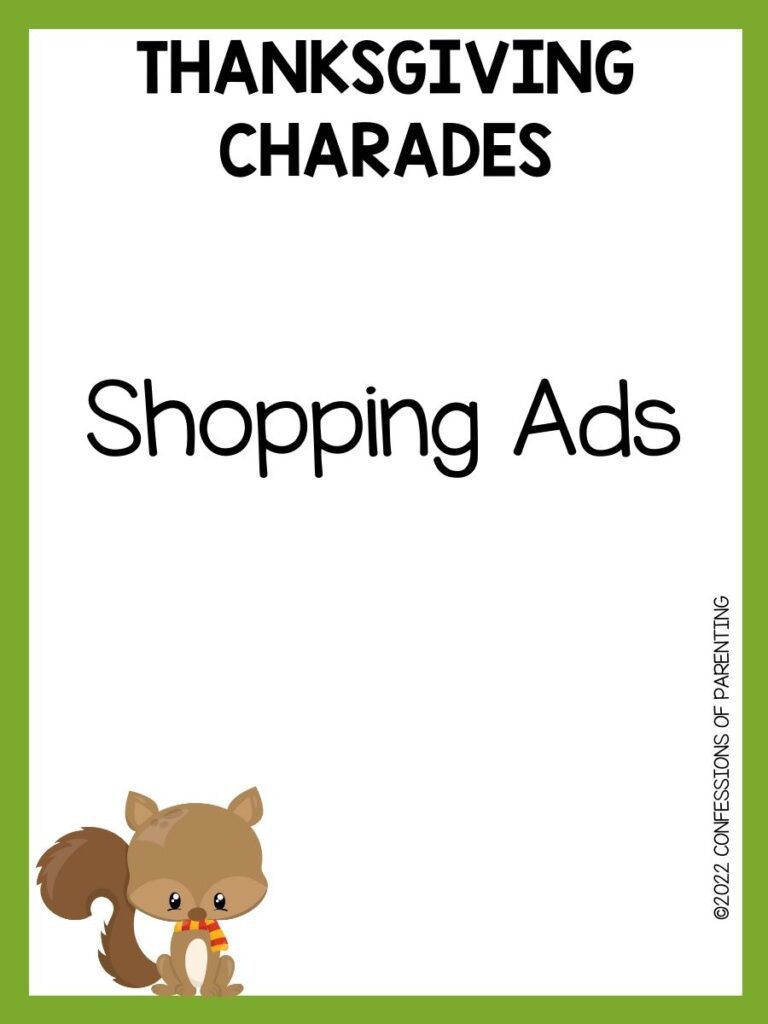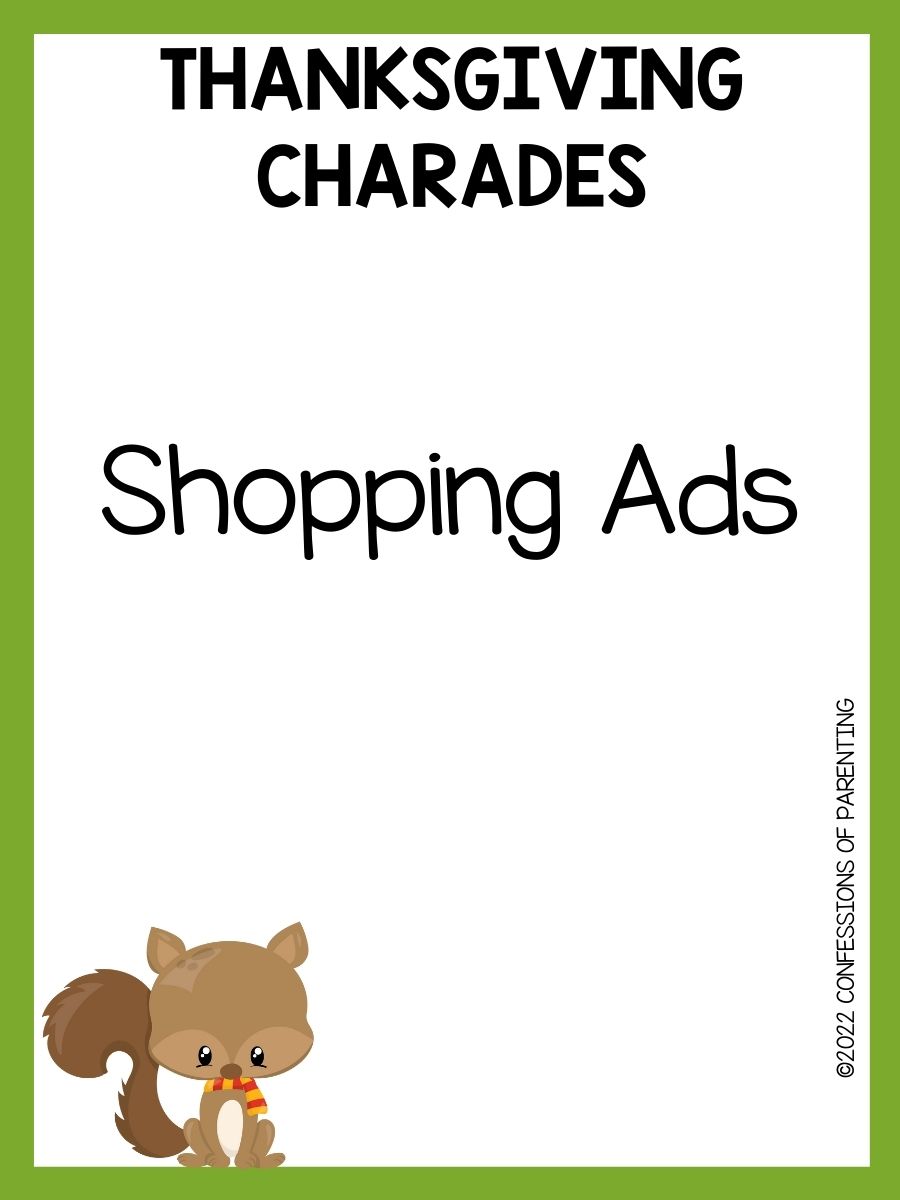 Shopping Ads

Afternoon Nap

Grateful Turkey

Chocolate Pie
Nurses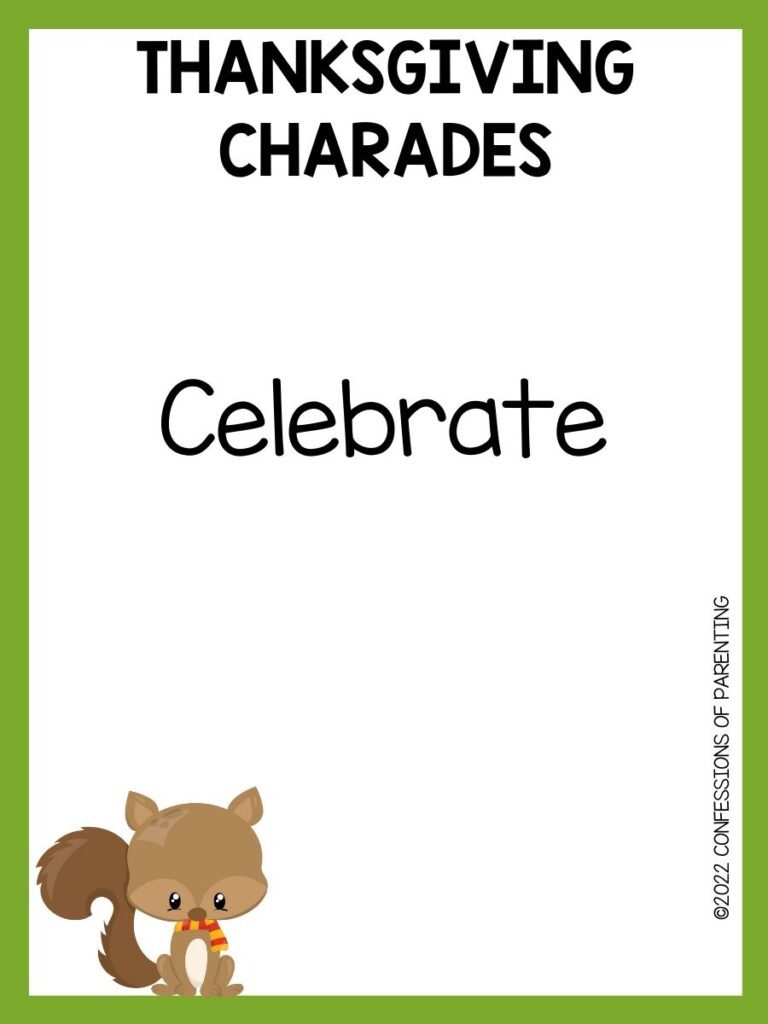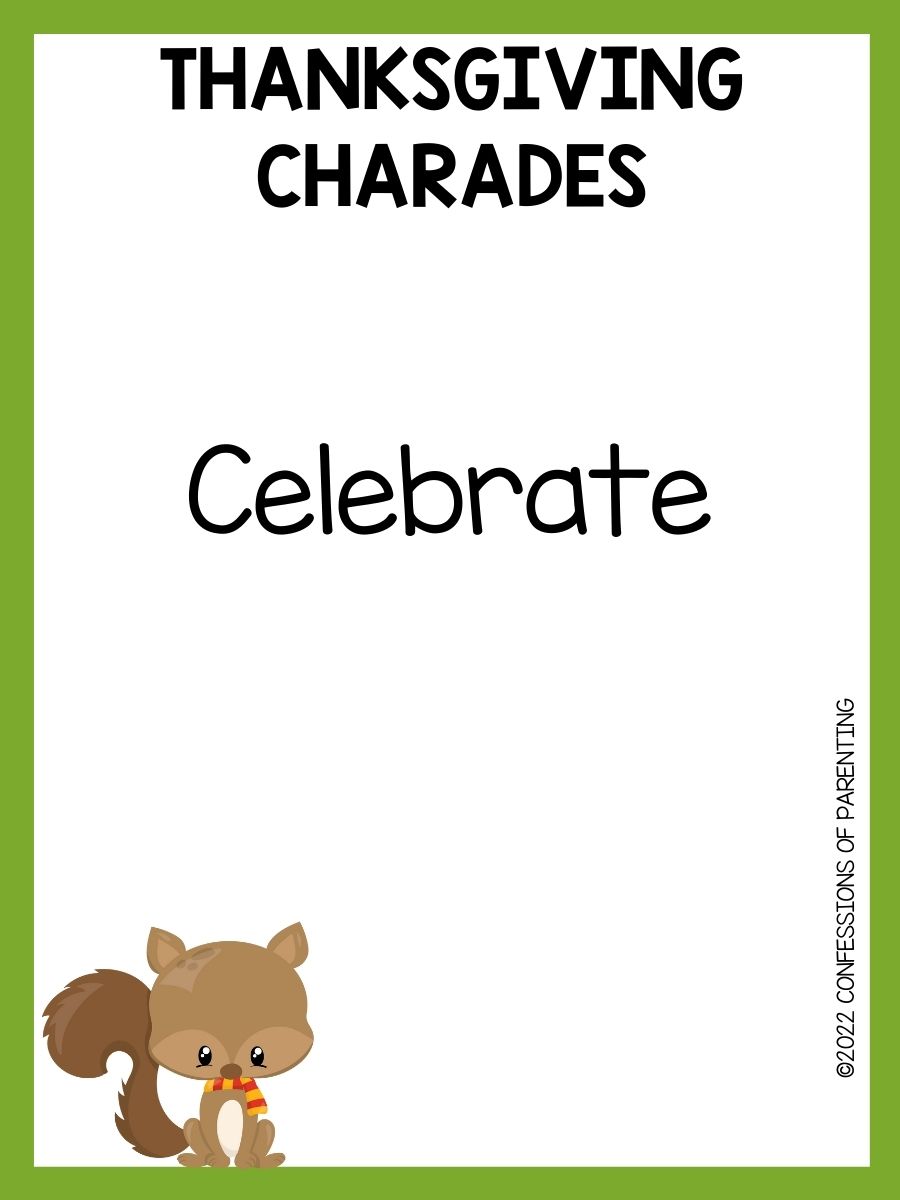 Celebrate
Family
Dad
Please
Thank You
Cousins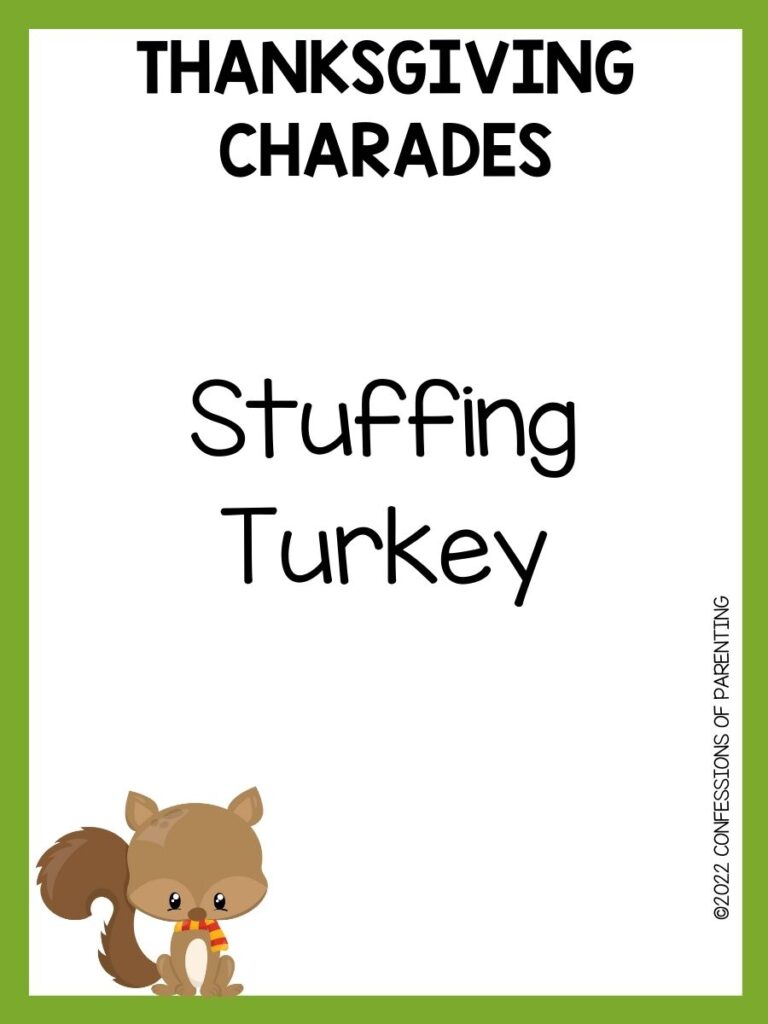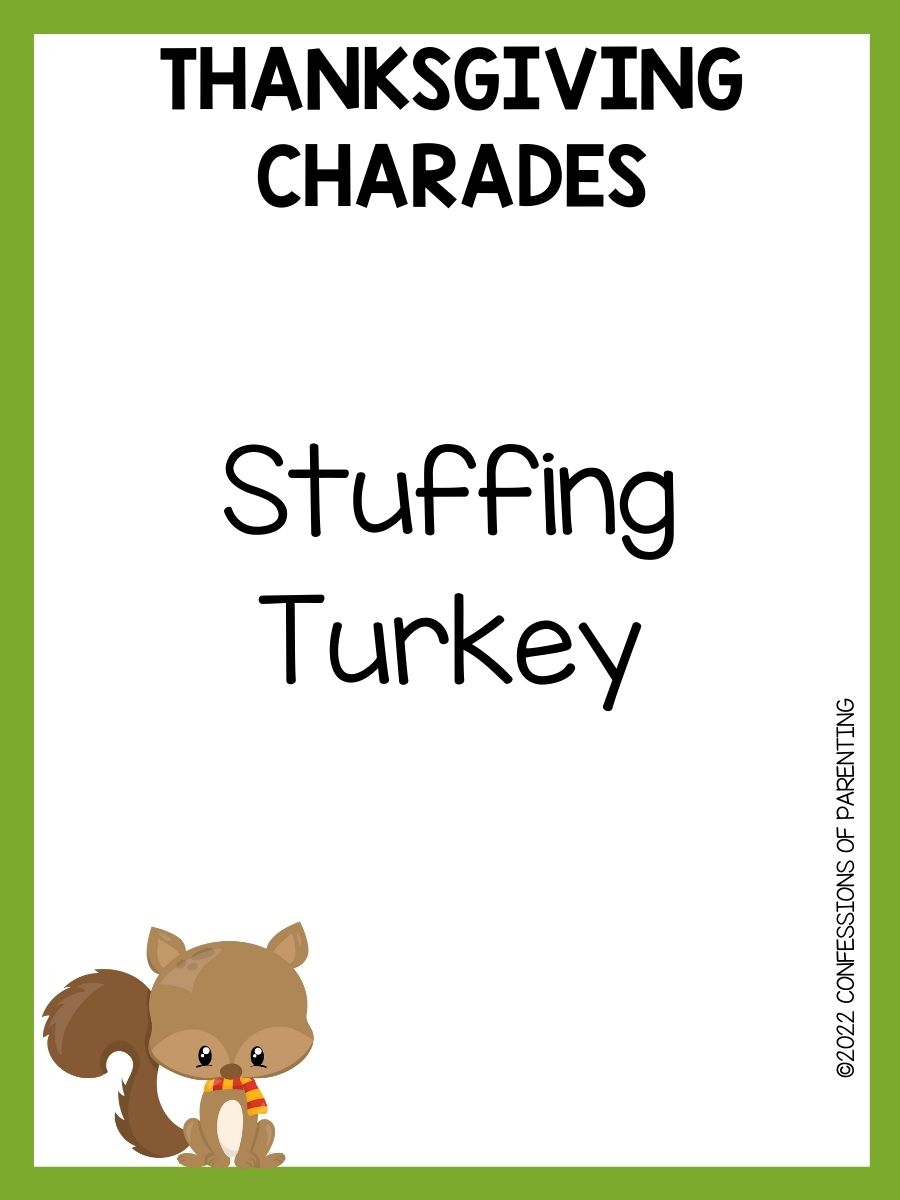 Stuffing Turkey
Stepparents
Half Siblings
Friends
Pets
House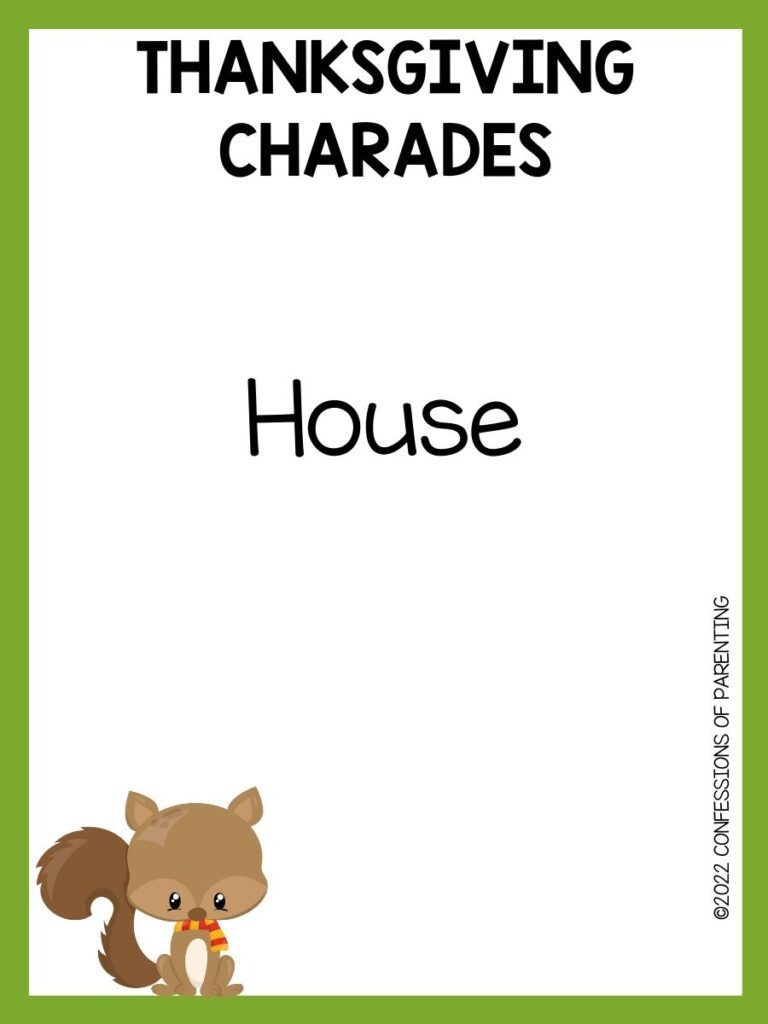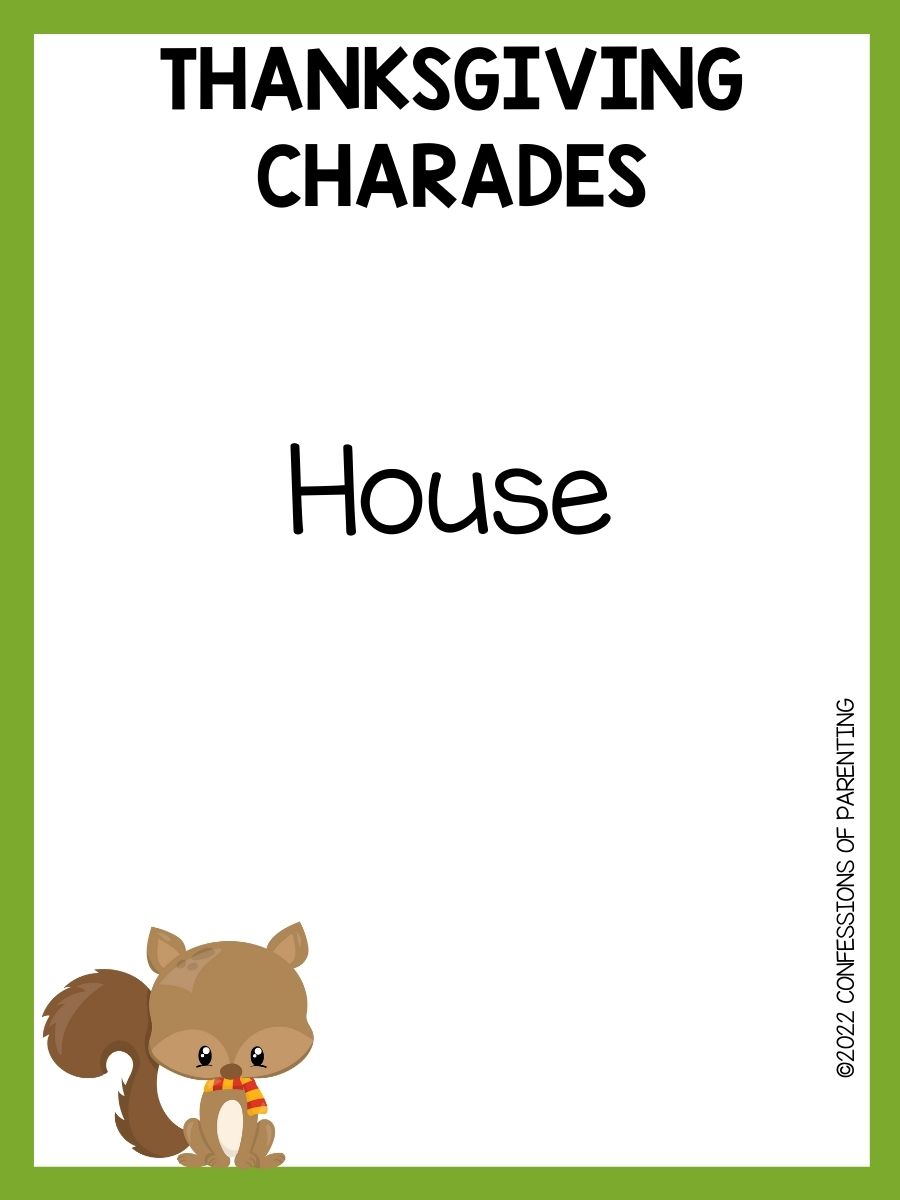 Love Charades? Try these other great charade games!
How Do I access my free printables?
Fill in the form above. You will receive an email in your inbox. If you don't see it check your spam folder! You will then click to confirm your subscription.You will then be redirected to your free download.
How Do I Print a PDF?
You'll need a program that supports PDFs. Adobe Acrobat is a great option. Open the program, click file then print. Select your printer and the number of copies you want to print. Be sure you click double-sided if you want it to print on both sides.
Can I resell these?
You may not resell any printable that you find on our website or in our resource library. You may use them for class parties, at church, at home, or in the classroom. You may get these printed at an office supply store or copy center at your own expense.