Our Adjective Charades game is just what you need to make language learning fun! Your family will love acting out each clue and making each other giggle! Make this your next family game night or use in the classroom! Just download, print, and play!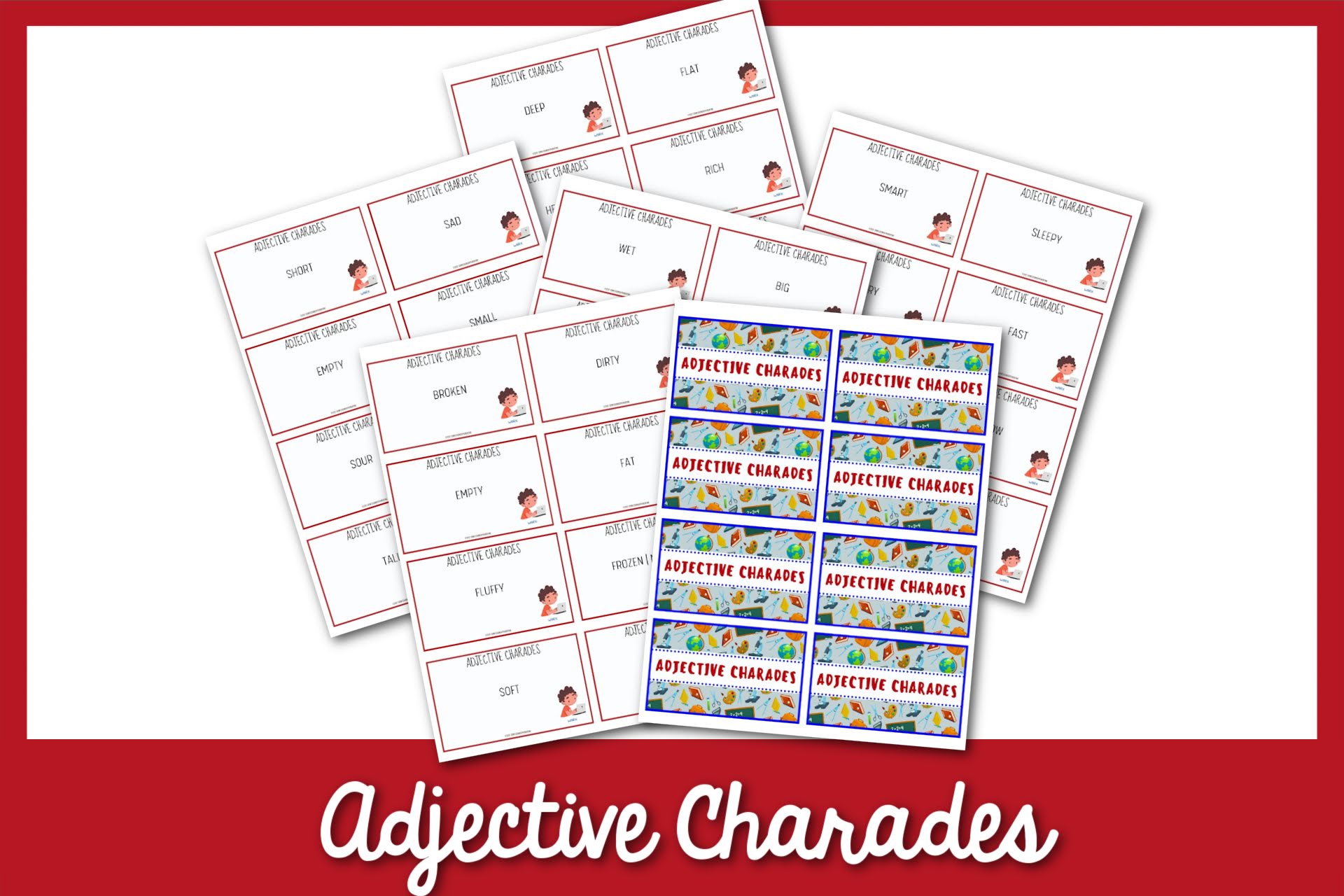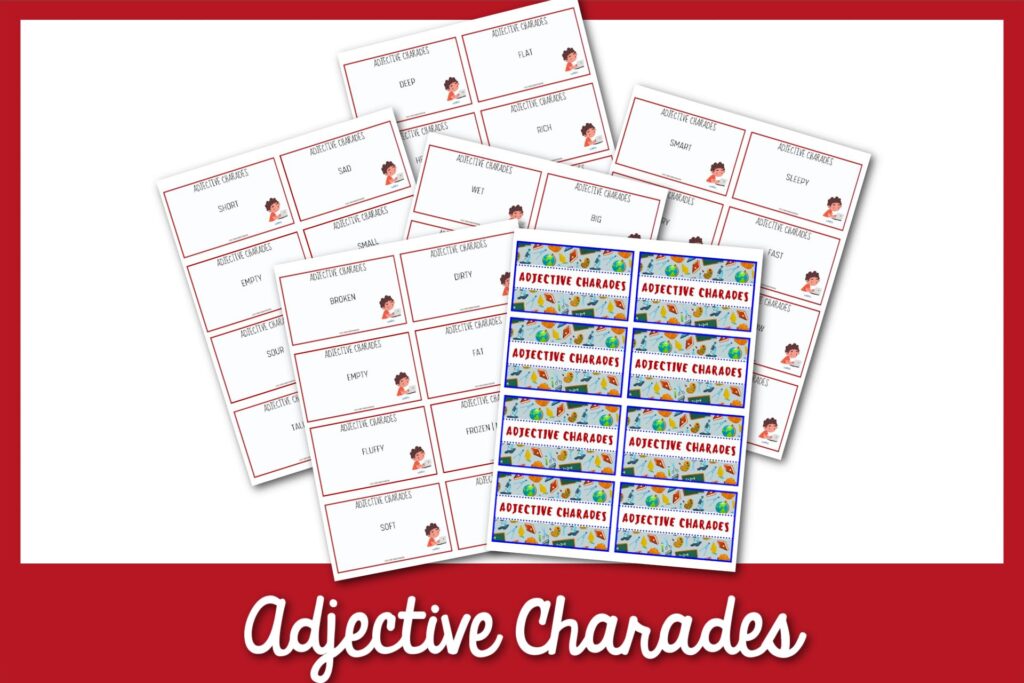 Adjective Charades
If you are looking for a game that combines learning and fun, your search is over!
Adjective Charades is such a fun way to practice developing grammar skills while having silly fun together. Your kids will love guessing each adjective and having some competitive fun.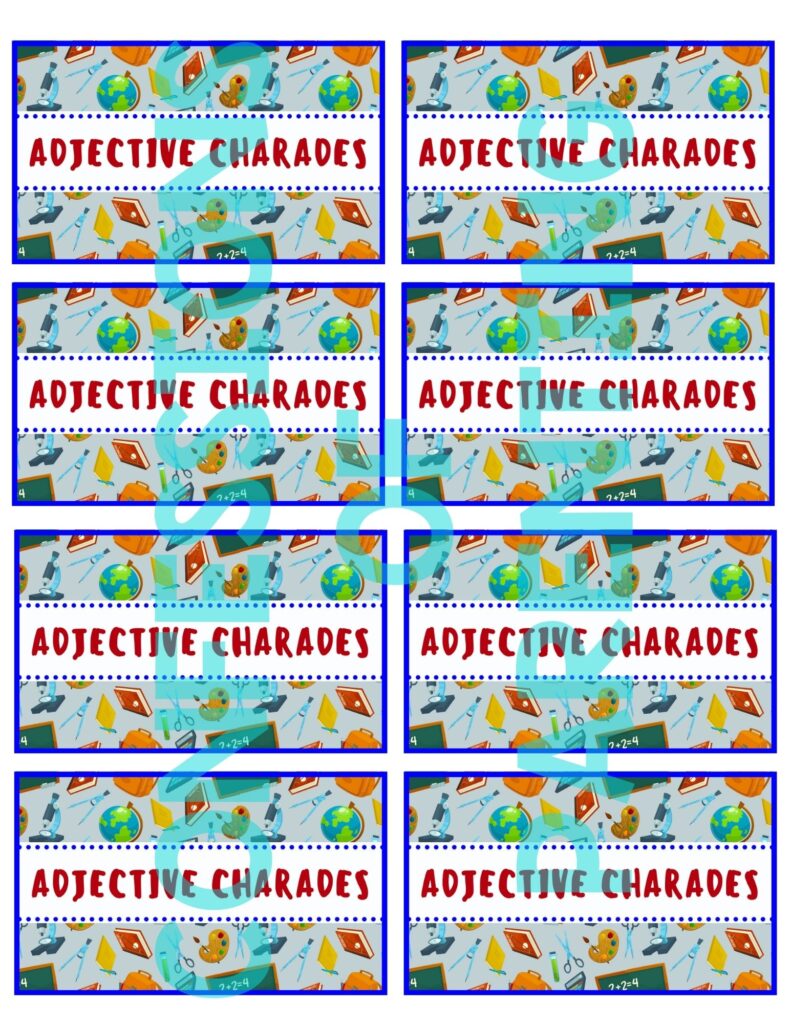 Don't miss out on this fun charades game!
Teachers, this game is perfect for your classroom, too! What better way to reinforce your students' language arts learning than with a fun game?
Paired with our Verb Charades, your kids' language skills will grow in leaps and bounds!
Grab these printable Adjective Charades cards today and start playing with your kids! Also, check out Reverse Charades for a fun twist on this classic game!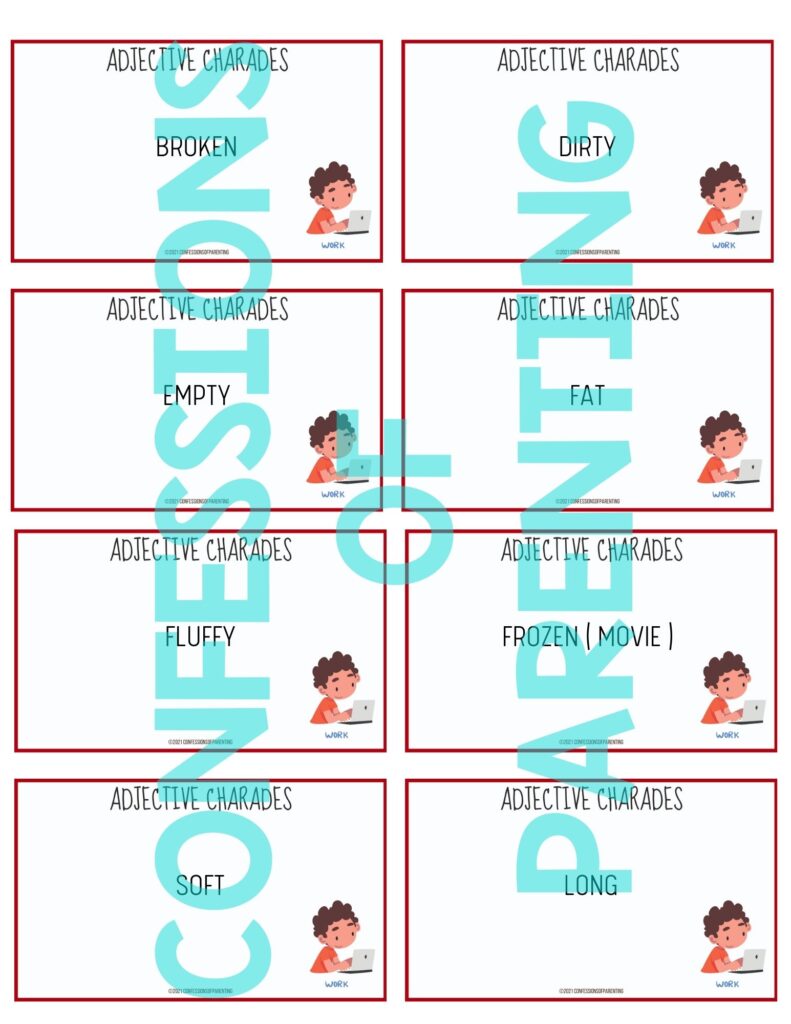 Why I love Charades
Whenever I am looking for a quick and easy game to play with my family, my go-to game is charades!
It makes game night so easy because there is hardly any setup or clean-up, so you can focus all of your time on having fun!
All you need are these printable cards and a group of family or friends, and you are ready to start playing!
If you have a group of all different ages, charades is the perfect game to play!
With its simple, easy-to-follow rules, the whole family can all have fun playing together!
Charades is also very versatile! It's great in almost any setting, and can be adjusted for small or large groups. Whether you are at home, at school, at a party, or at a family reunion, this game is just what you need!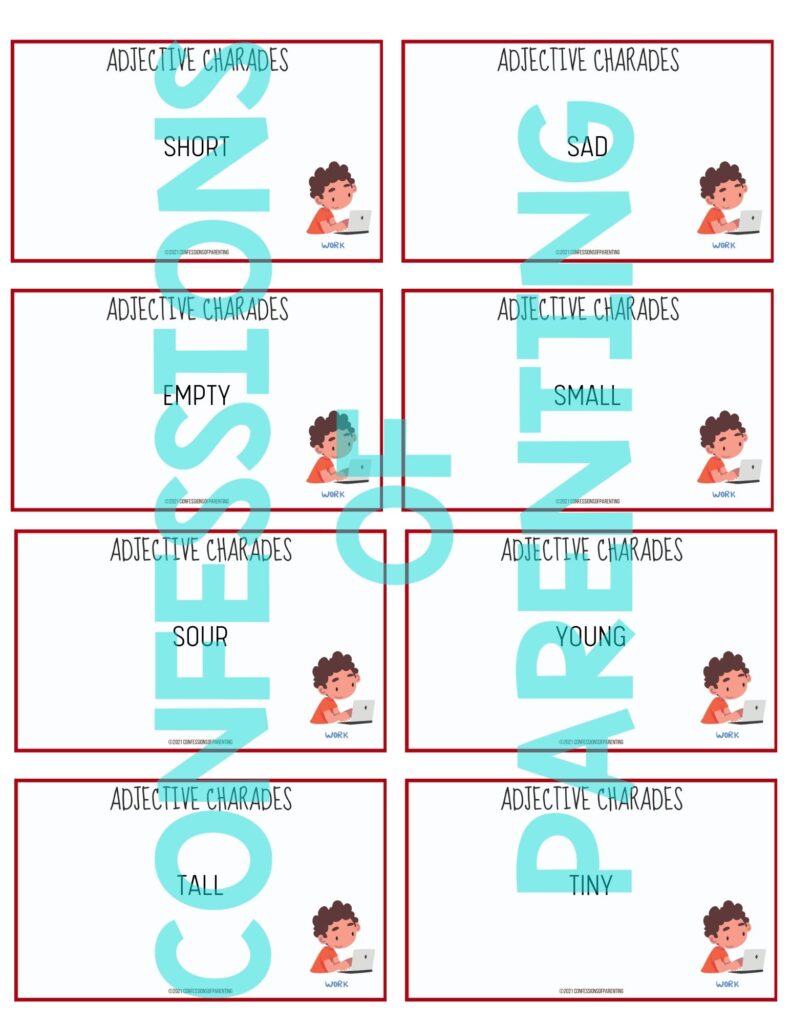 Ultimate Charades Bundle!
Do you want to Grab the Ultimate Charades Bundle with over 23 themed charades games? Grab it now before the price increases!
How to Play Adjective Charades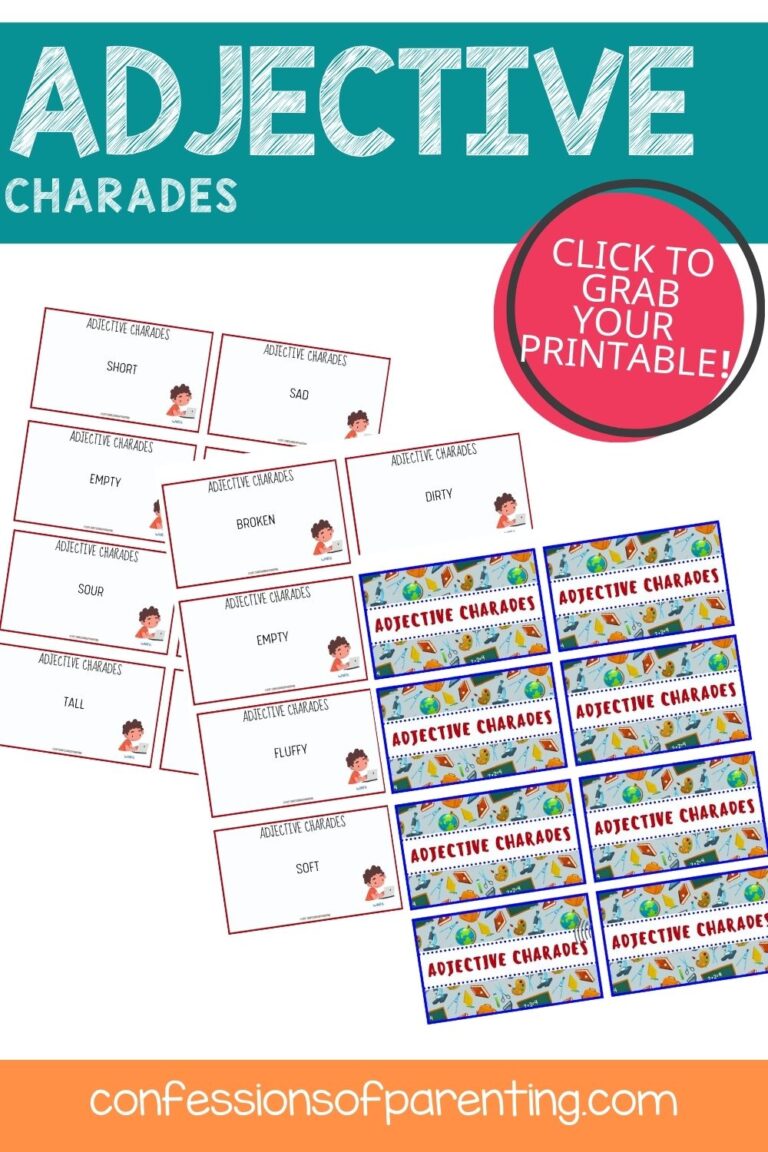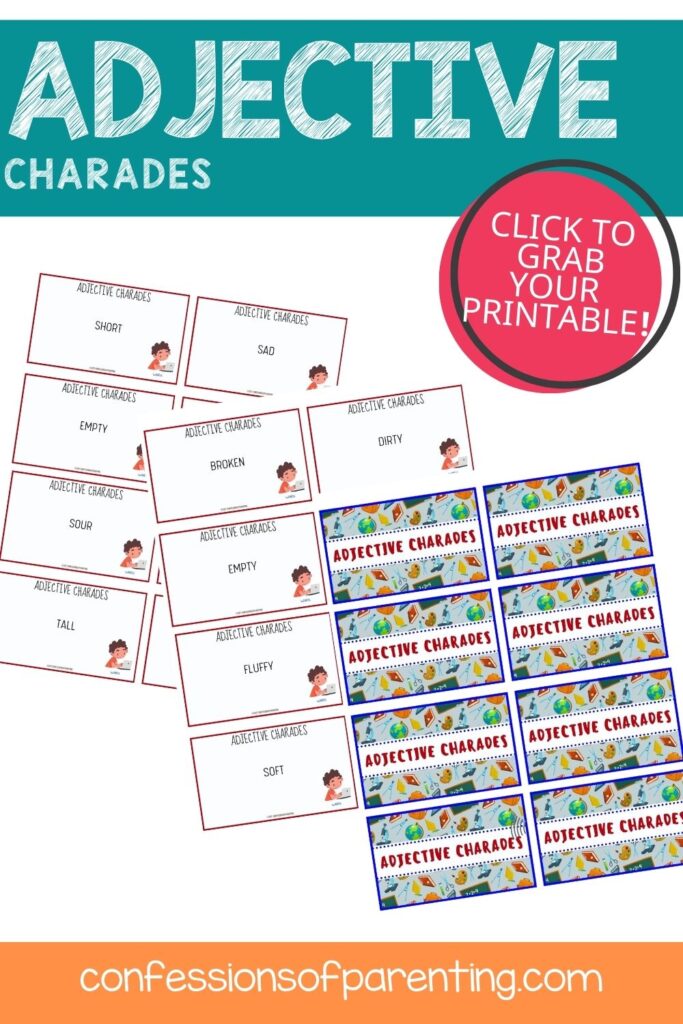 Print your Adjective Charades cards, cut them up, laminate them for added durability and put them in a bowl or hat to choose from.
Gather your group and divide it into two or more teams. If you have a large group, playing with multiple teams can make things go more smoothly.
Determine who will go first. To do this, you can flip a coin, play paper-rock-scissors, or come up with your own fun and silly method!
An actor from the first team selects a card and acts it out. Remember, they must not use their mouth at all, not even to mouth out the words. The rest of the team has one minute to guess. If they guess correctly, they get a point!
If they don't guess it correctly, the other team has only one chance to guess it and steal the point, so make sure you all agree on a good guess!
The game is over when you've run out of charades cards, when everyone has had a turn, or when you've reached a predetermined amount of points. Whoever has the highest points wins!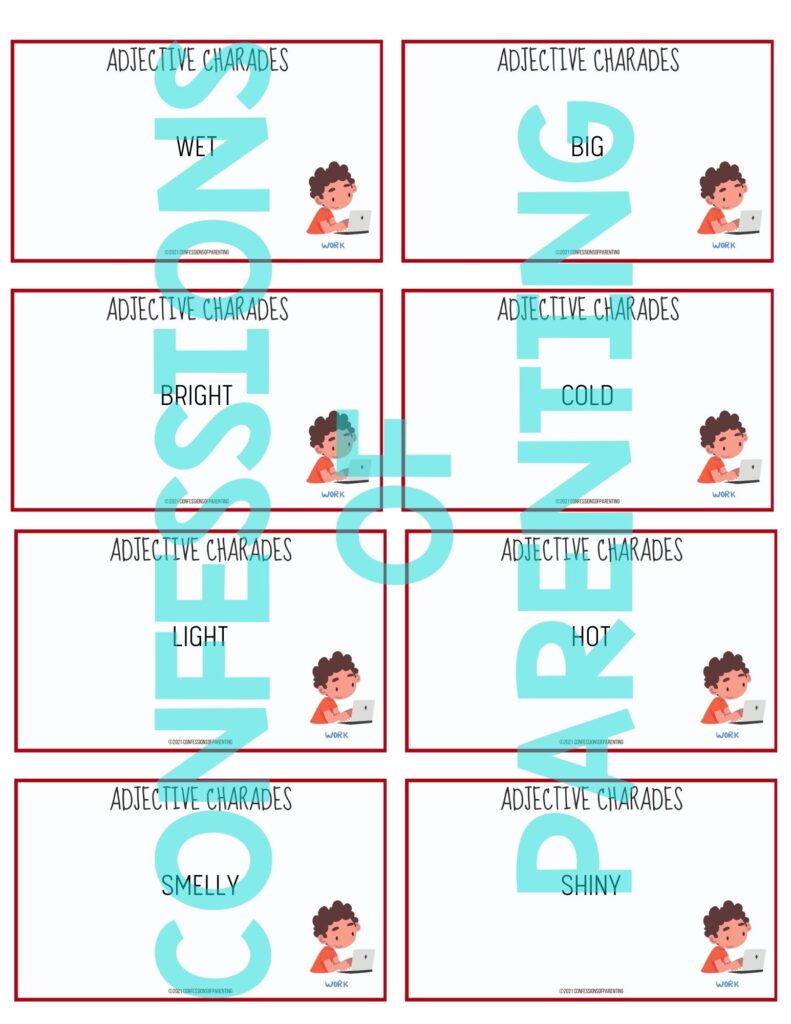 Tips for Playing Adjective Charades
I recommend going over the rules of the game beforehand to make sure everyone understands them! It is also a good idea to discuss what an adjective is before playing. This can help avoid any confusion or frustration during the game.
Actors can use their hands to indicate how many words their team should guess.
Don't be afraid to get a little silly when acting out the cards! This is what makes it fun, and it helps your team to guess the right answer!
You'll want to play this over and over, so you may want to laminate your charades cards to make them last!
Have prizes for the winners! Some favorite treats or small toys make it extra fun!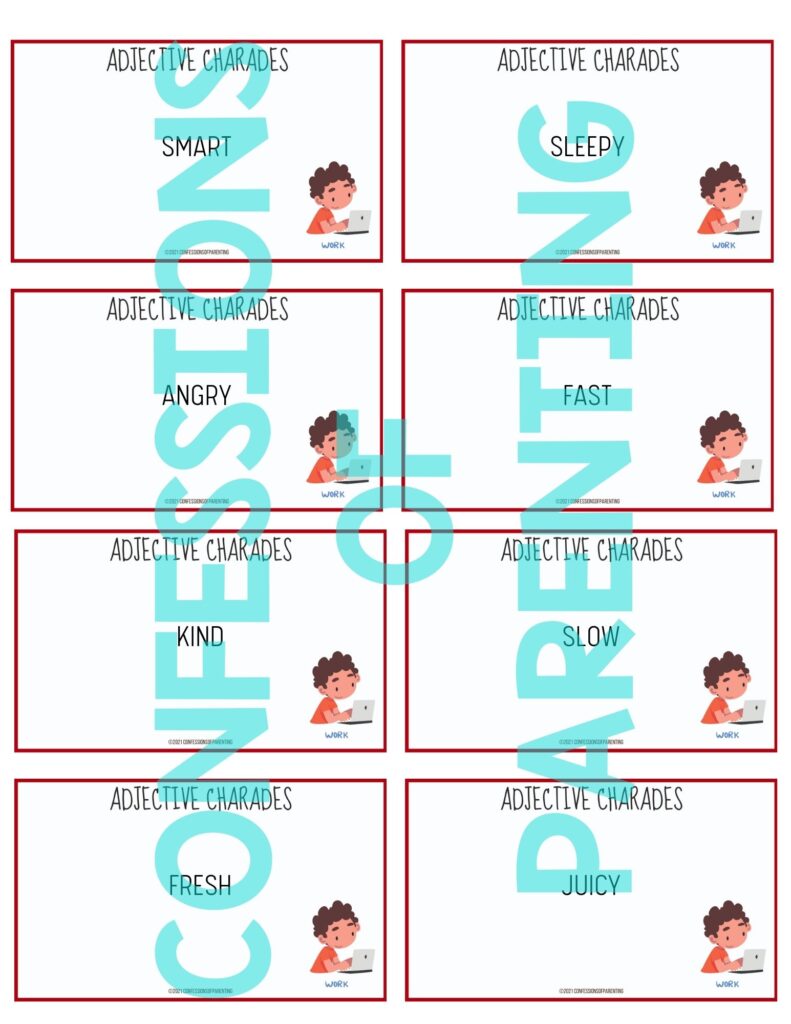 Helpful Tools We Love When Downloading Printables
Printer– I love my HP+ printer that uses Instant Ink. I love it because we can use as much color ink as you want for one low cost starting at $.99/ month for ink. Try it out for free here!
Cardstock- I always recommend printing on cardstock. This makes it way more durable so you don't have to worry about printing it time and time again.
Laminator / Laminating Sheets- Again, for added durability, grab a laminator and laminating sheets so that you can use this again and again!
Scissors (I seriously love these ones)
Dry Erase Pens- Use dry erase pens so that you can wipe your laminated printable clean over and over again for endless use!
Adjective Charades
Broken
Dirty
Empty
Fat
Fluffy
Frozen (Movie)
Soft
Long
Short
Sad
Small
Sour
Young
Tall
Tiny
Wet
Big
Bright
Cold
Light
Hot
Smelly
Shiny
Smart
Sleepy
Angry
Fast
Kind
Slow
Fresh
Juicy
Deep
Flat
Heavy
Rich
Cute
Healthy
Happy
Scary
Curly
Jolly
Sharp
Delicious
High
Clean
Difficult
Spicy
Lovely
Slippery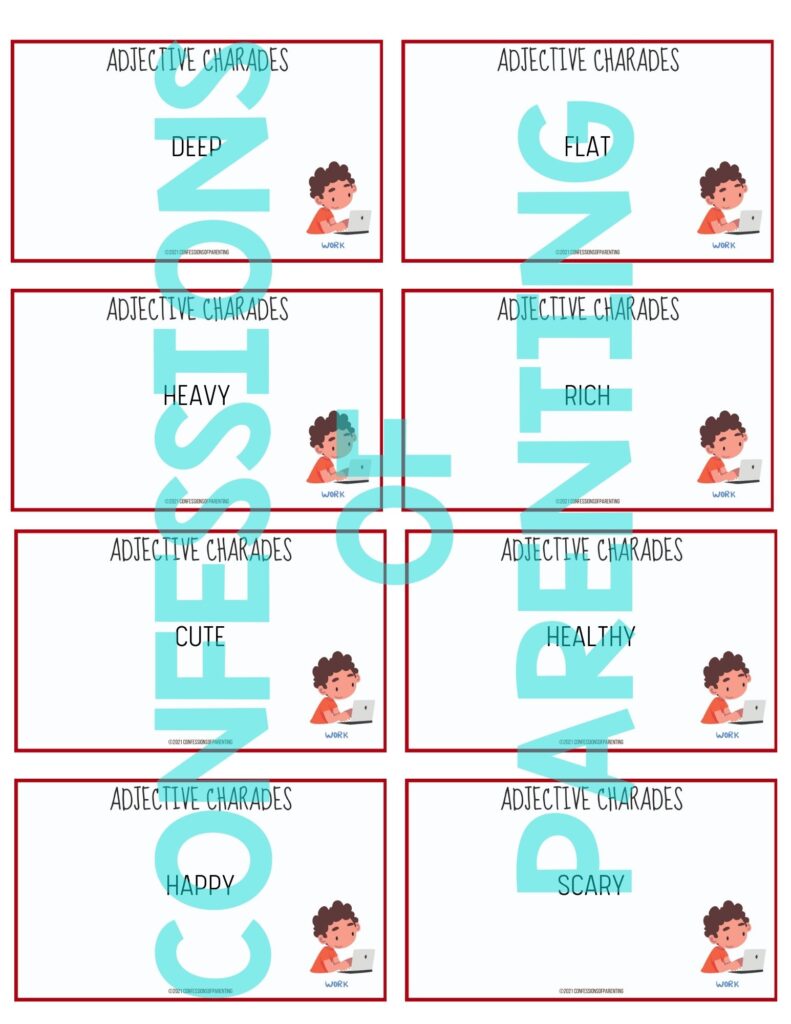 Love Charades? Try these other great charade games!
How Do I access my free printables?
Fill in the form above. You will receive an email in your inbox. If you don't see it check your spam folder! You will then click to confirm your subscription. Once confirmed you will be taken to Airtable (a different website) where all our free printables will be waiting for you! It is free to sign up for Air Table!
How Do I Print a PDF?
You'll need a program that supports PDFs. Adobe Acrobat is a great option. Open the program, click file then print. Select your printer and the number of copies you want to print. Be sure you click double-sided if you want it to print on both sides.
Can I resell these?
You may not resell any printable that you find on our website or in our resource library. You may use them for class parties, at church, at home, or in the classroom. You may get these printed at an office supply store or copy center at your own expense.