Looking to shake up your next game night? Your family will love playing Zoo Charades! Don't miss out on this fun game that is sure to get everyone acting silly and laughing together! Grab your printable cards today!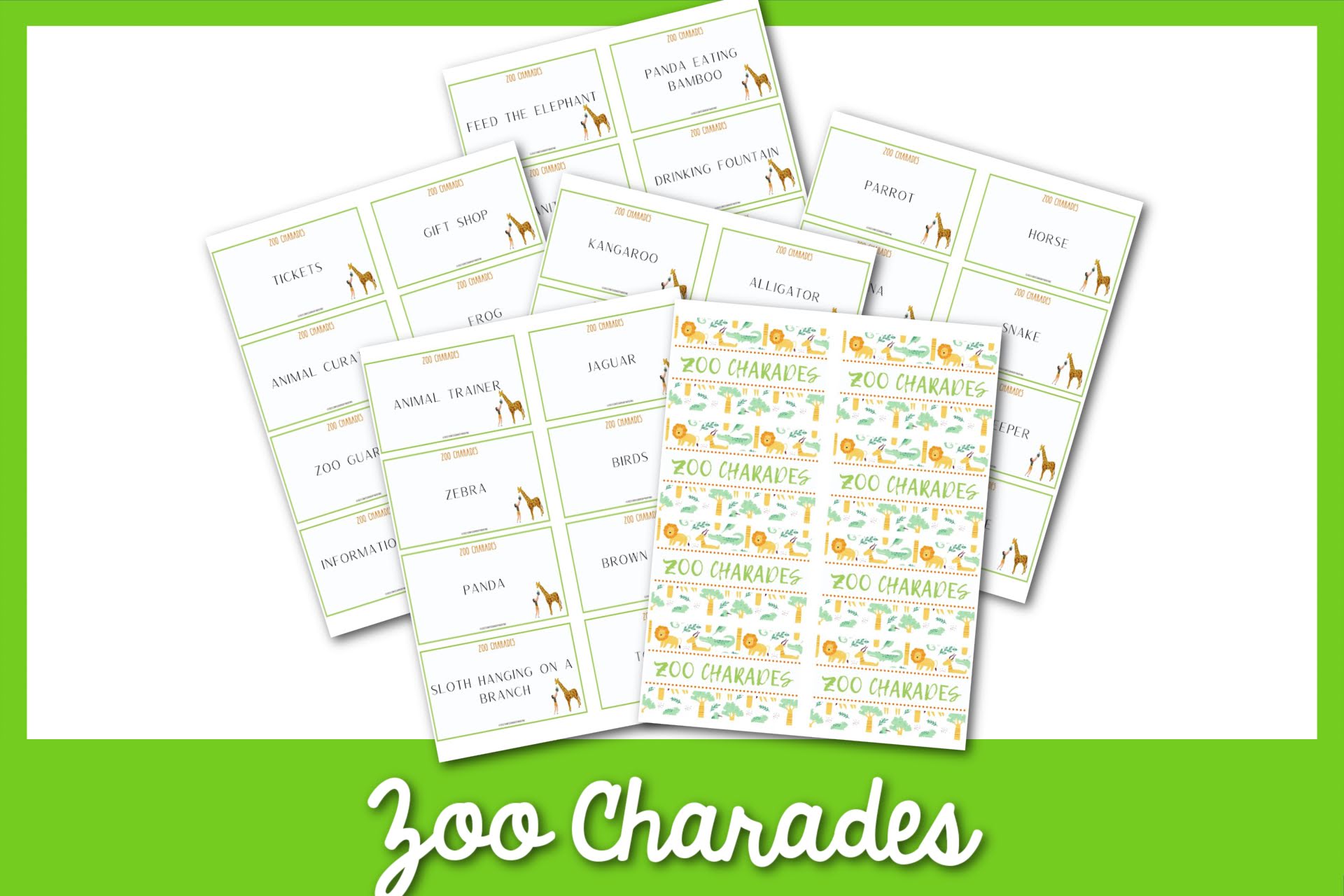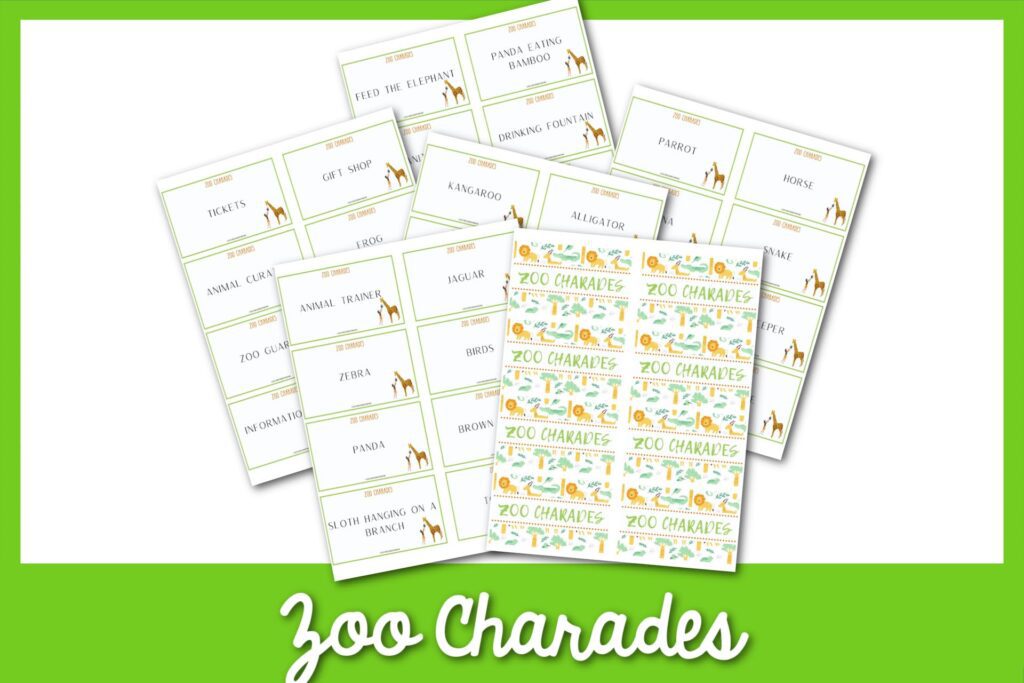 Zoo Charades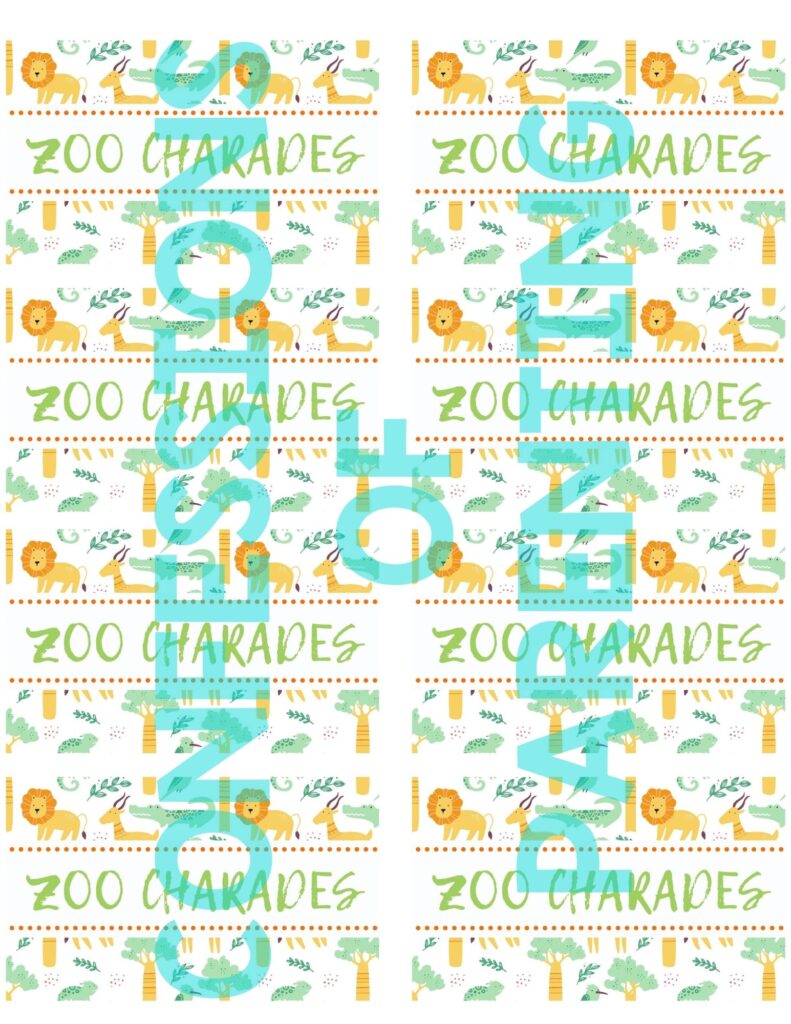 What's the next best thing to going to the zoo? Playing Zoo Charades, of course!
You'll love seeing how this game brings out creativity and teamwork in your kids as they work together in teams to play and have fun together!
We always end up getting a little silly with our actions and guesses, which makes it so much more fun.
It's almost impossible to contain your giggles as you watch each other act out each card and try to guess what it is!
Charades is always one of the most requested games at our house, and that's because it is so easy for everyone to play!
Little kids, big kids, and even grandparents love to get in the mix when we get out our charades cards!
Some of our favorites have been Reverse Charades, Verb Charades, and Animal Charades, so I knew Zoo Charades would be a hit! I know your family will love it too, so be sure to grab your printable Zoo Charades cards for your next game night!
Why I Love Charades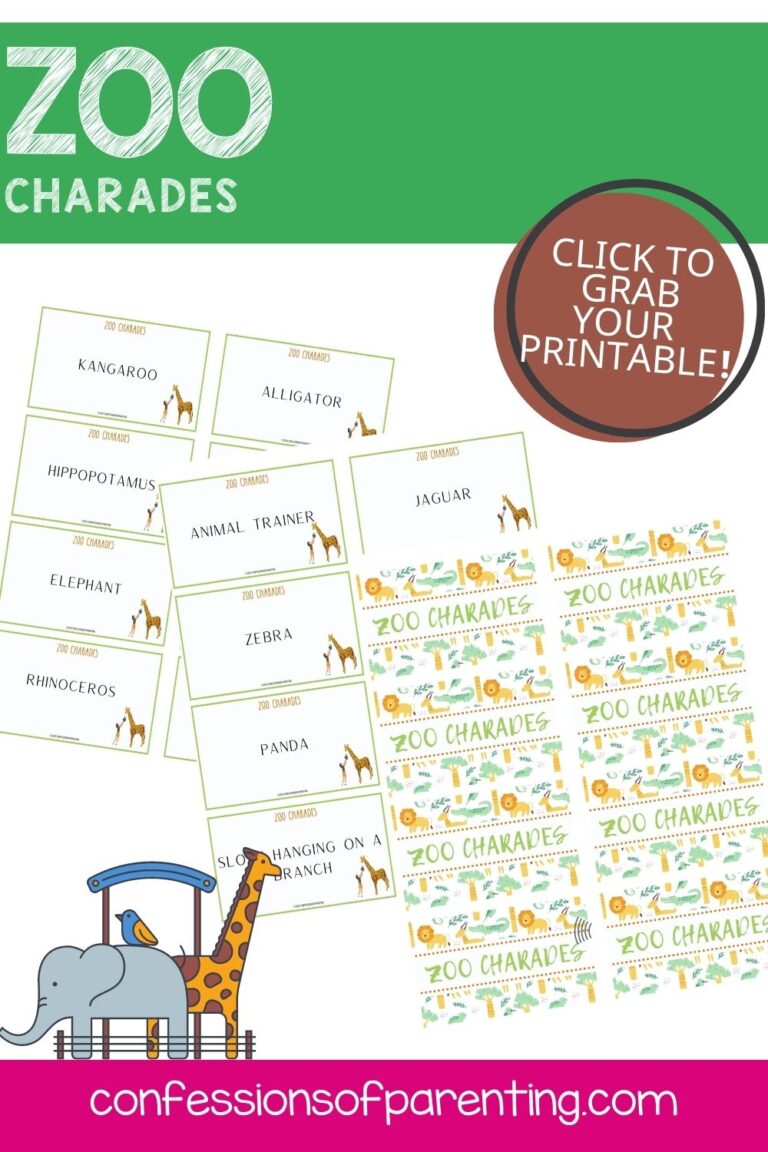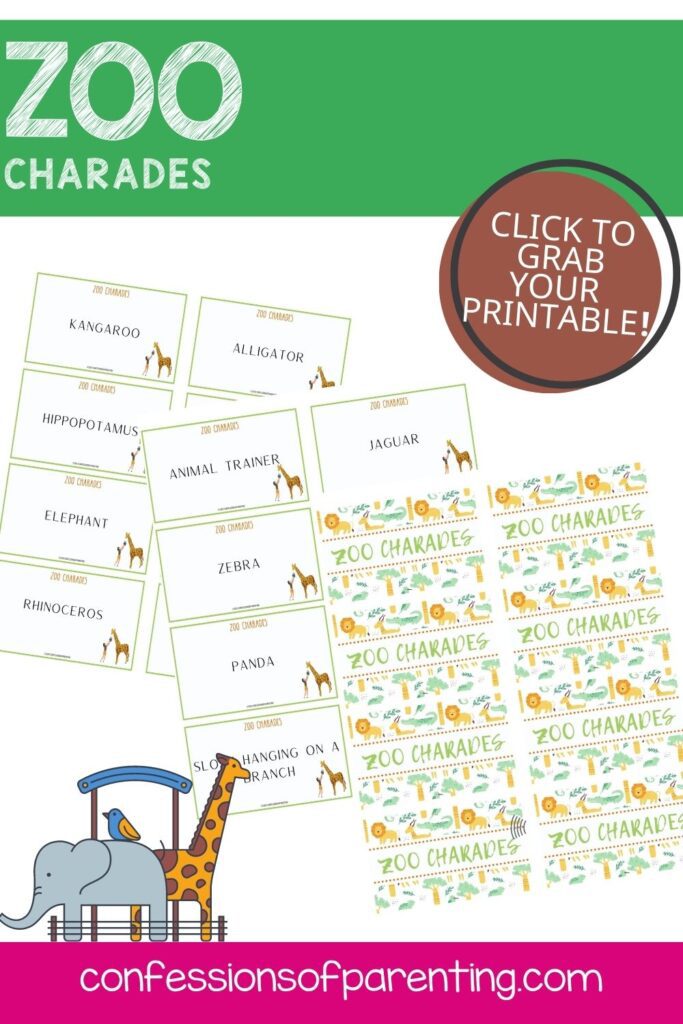 My family loves playing charades! It's so easy to set up, so it's always our go-to game for any time we want to kick back, relax, and have fun as a family.
Just download, print, and you are all set for a fun game night together!
Charades is great for any age, because the rules are easy to understand and follow. Preschoolers, teens, and adults can all have fun playing together! If a have a non-reader yet our picture charades is perfect for them!
You can also adapt charades for small or large groups, and play in almost any setting! You'll love charade at home, at school, at a party, or on vacation!
Ultimate Charades Bundle!
Do you want to Grab the Ultimate Charades Bundle with over 23 themed charades games? Grab it now before the price increases!
How to Play Zoo Charades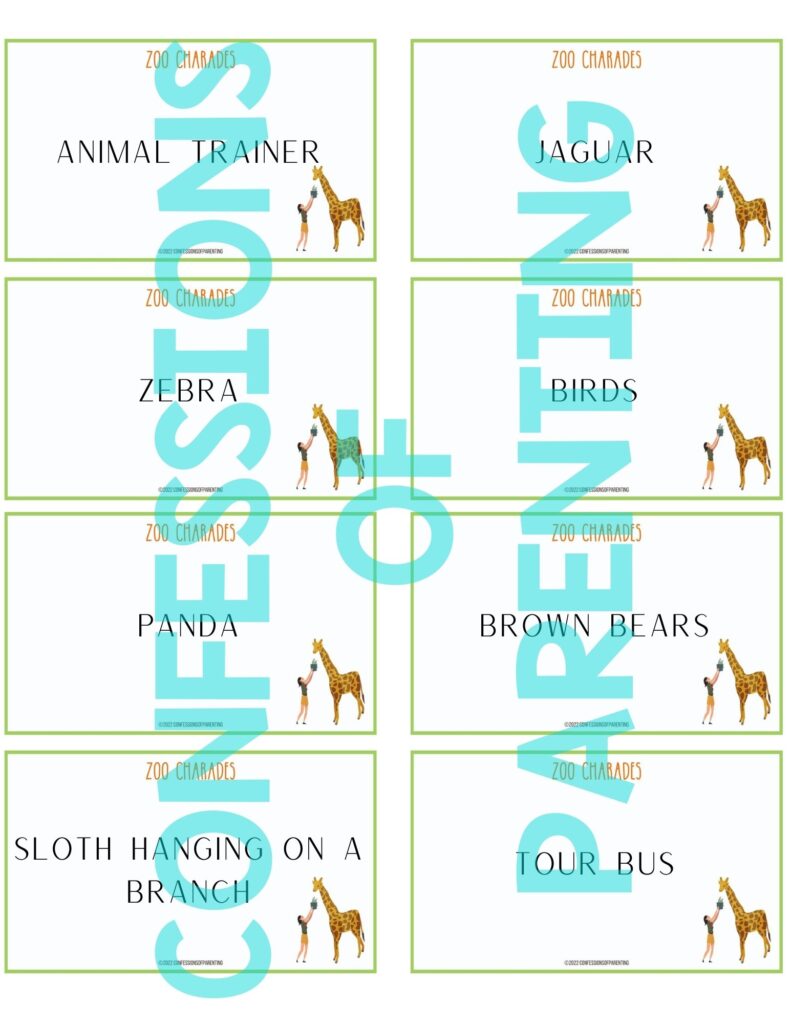 Download and print your Zoo Charades cards, and then cut them up. You may want to laminate them for added durability.
Place them in a bowl or hat.
Divide your group into two or more teams. If you have a large group, it might be easier to form multiple teams.
Decide who will take the first turn. To do this, you can roll a die, flip a coin, have a staring contest, or come up with your own fun and silly method!
An actor from the first team chooses a card and then acts it out. Don't forget, they must not use their mouth at all, not even to mouth out the words! The rest of the team has one minute to guess. If they guess correctly, they get a point!
If that team doesn't guess the correct answer within a minute, the other team has one chance to guess it and steal the point. They only get one guess, so make sure everyone agrees on a good guess!
The game is over when everyone has had a turn, when you've run out of zoo charades cards, or when you've reached a predetermined amount of points. Whoever has the highest points wins!
Tips for Playing Zoo Charades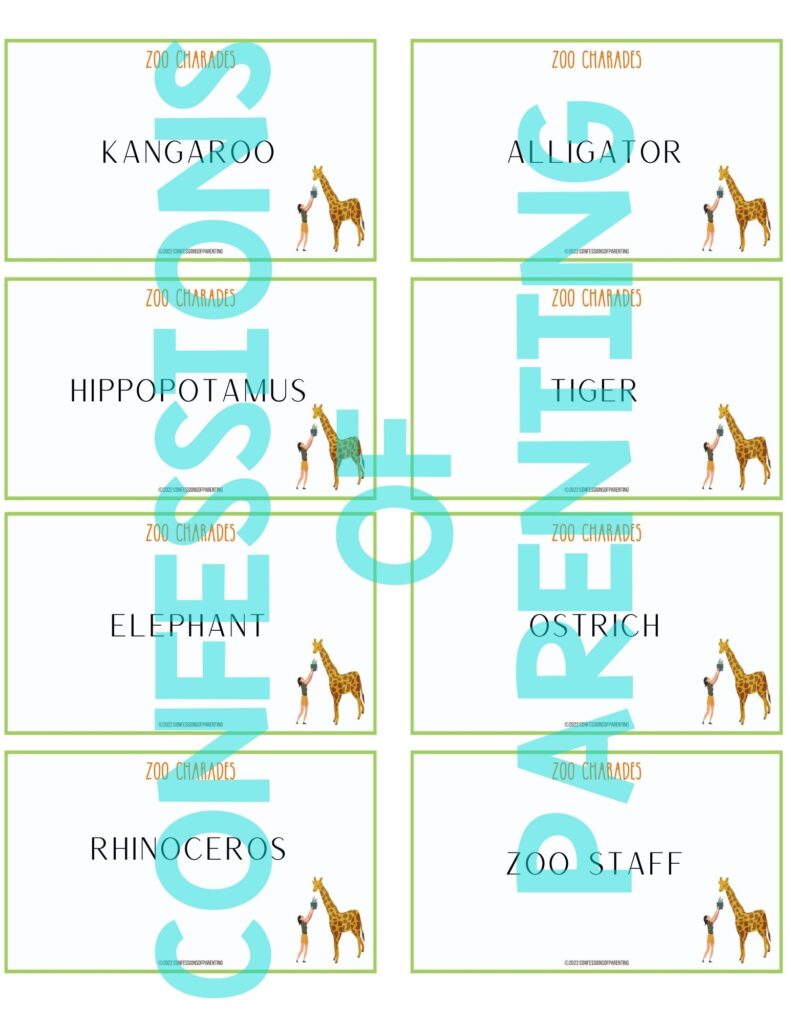 Review the rules of the game beforehand to make sure everyone understands them. This can help avoid any confusion or frustration during the game.
Remember that actors can use their hands to indicate how many words their team should guess.
Don't be afraid to let loose and be goofy when acting out the cards! This is what makes it fun, and it just might help your team guess the right answer!
You'll definitely want to play this again, so it's a good idea to laminate your charades cards to make them last!
Having prizes for the winners can make things extra exciting and fun! I like to give out some favorite treats or small toys.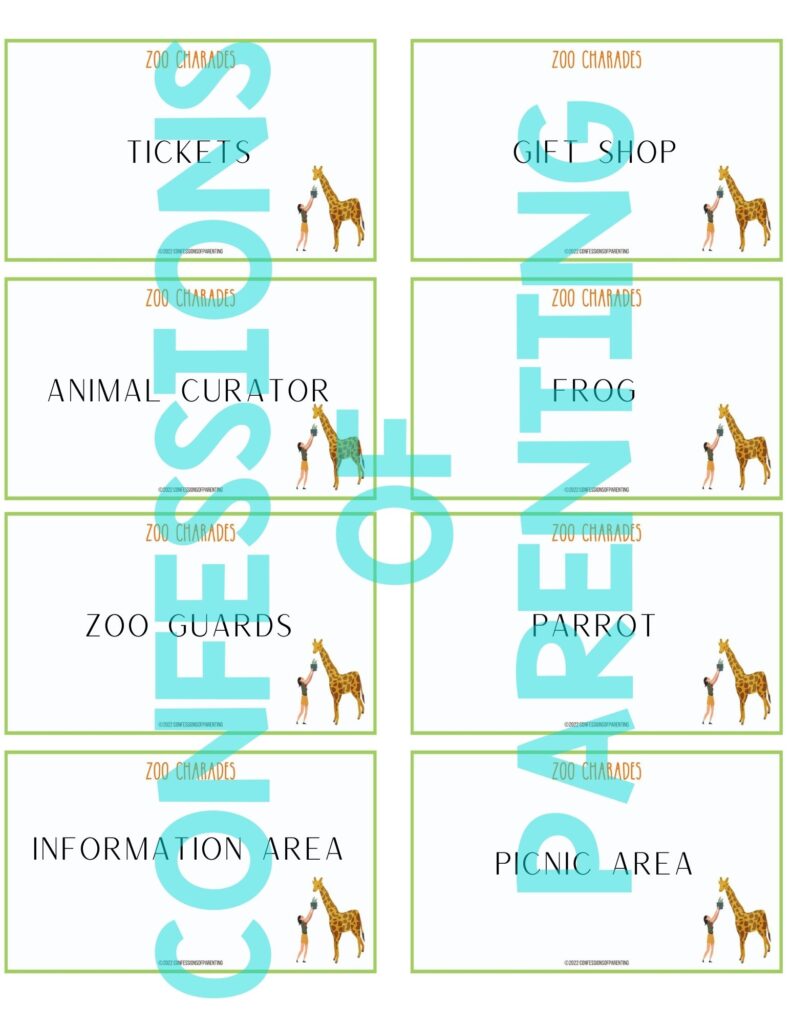 50+ Zoo Charades Ideas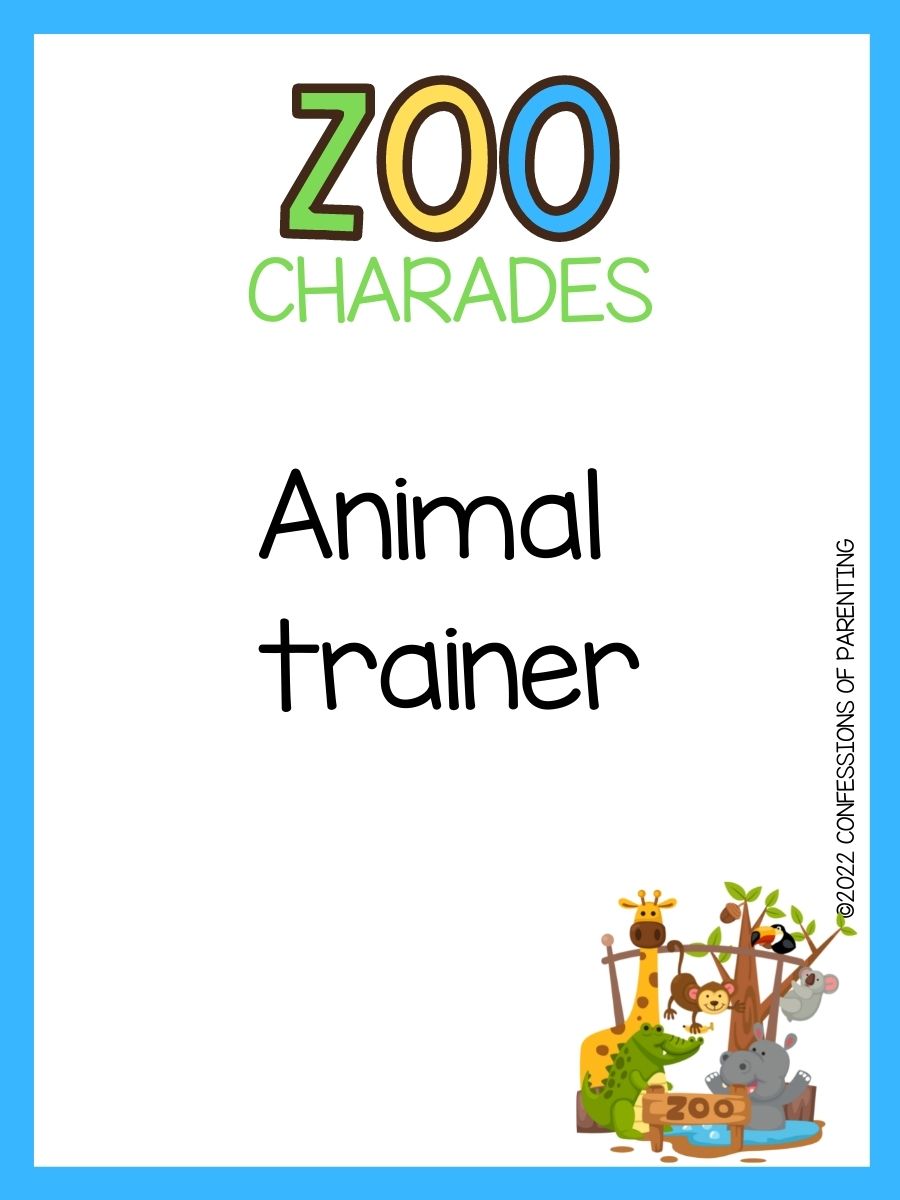 Animal trainer
Jaguar
Zebra
Birds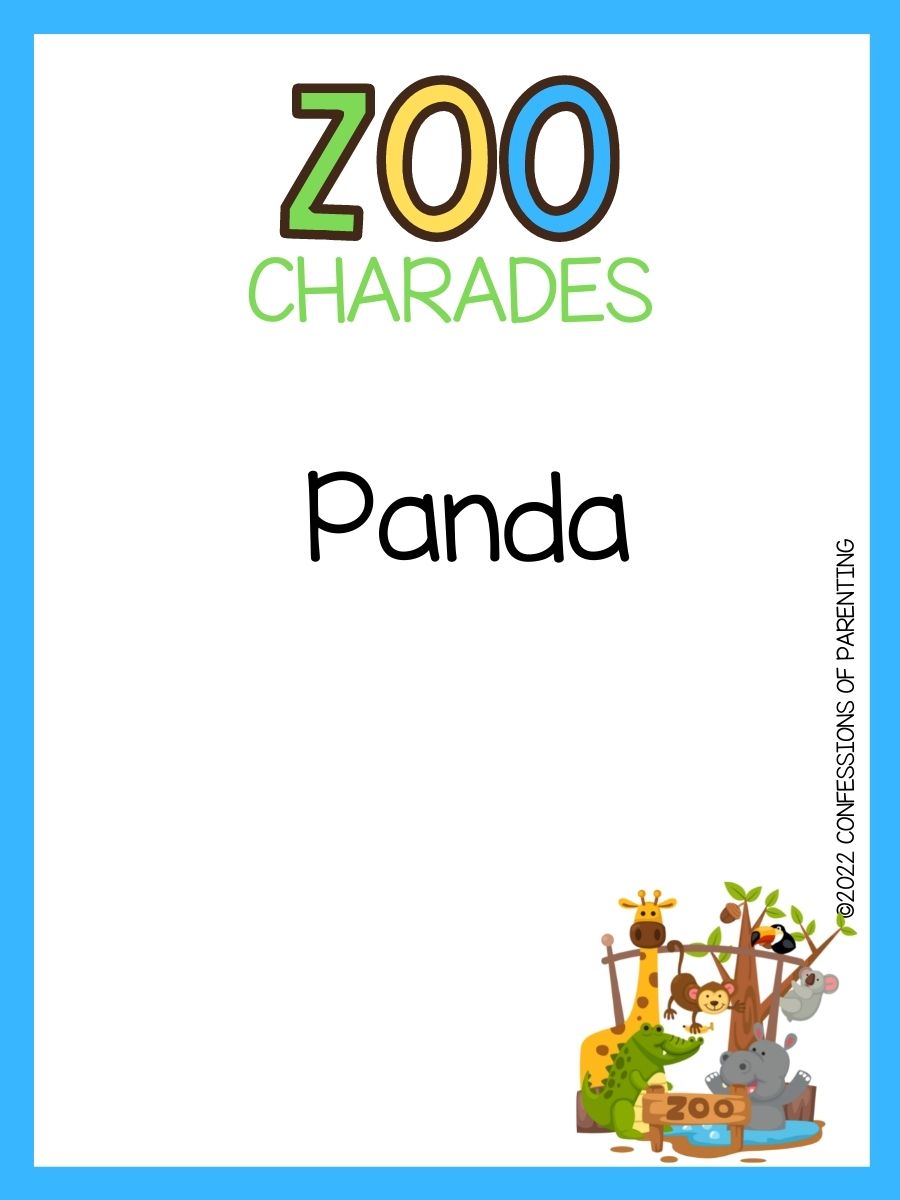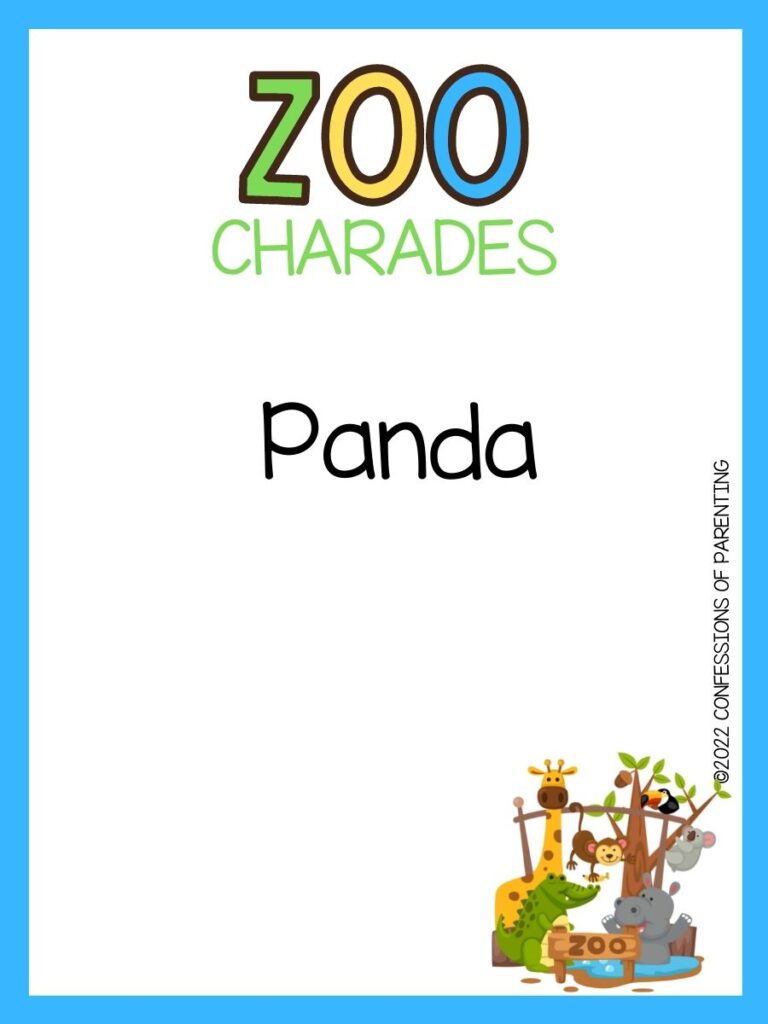 Panda
Brown bear
Sloth hanging on a branch
Tour bus
Kangaroo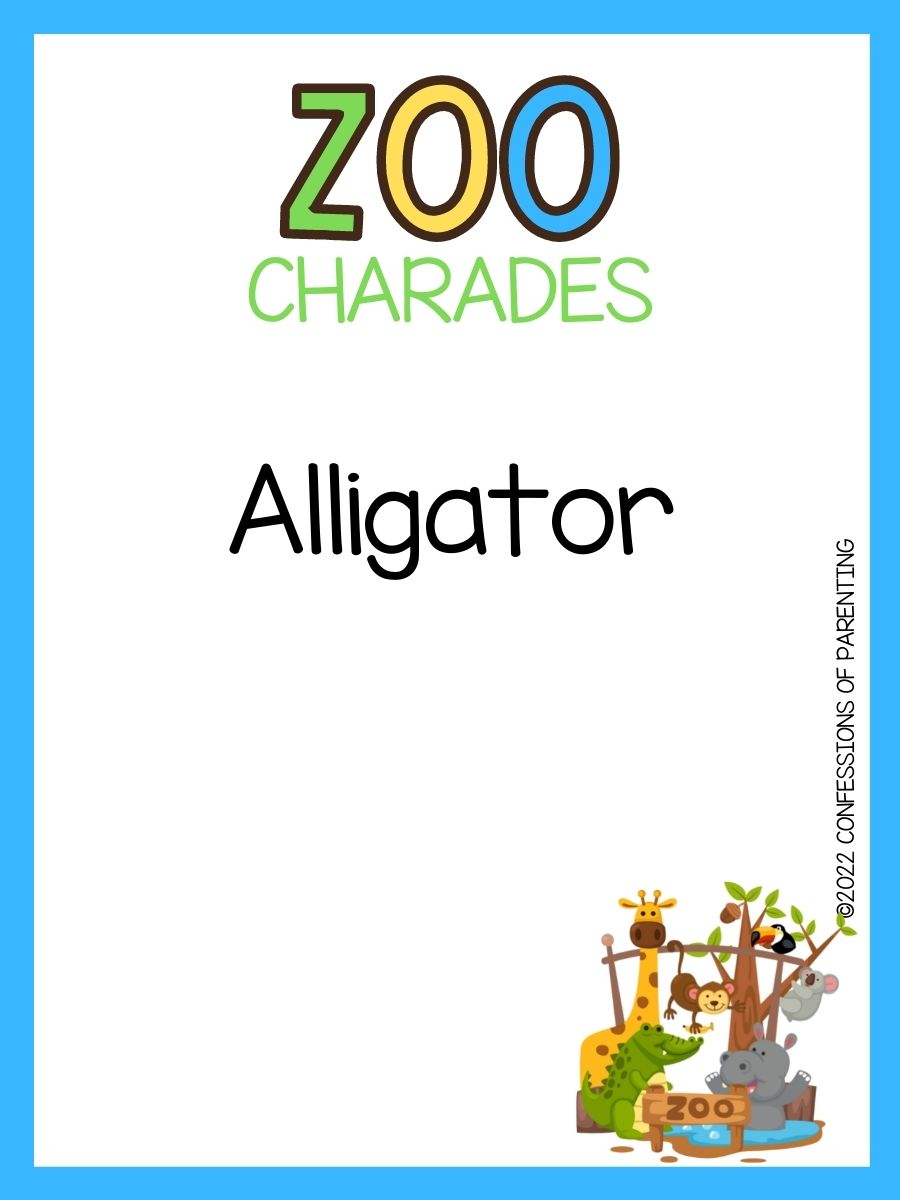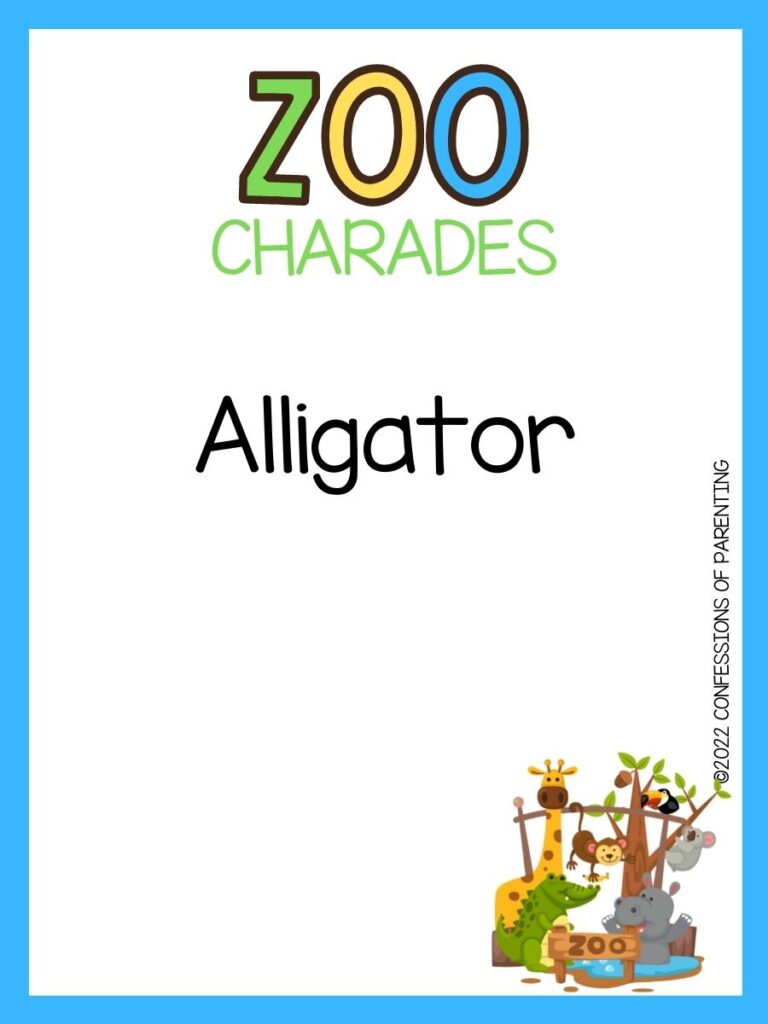 Alligator
Hippopotamus
Tiger
Elephant
Ostrich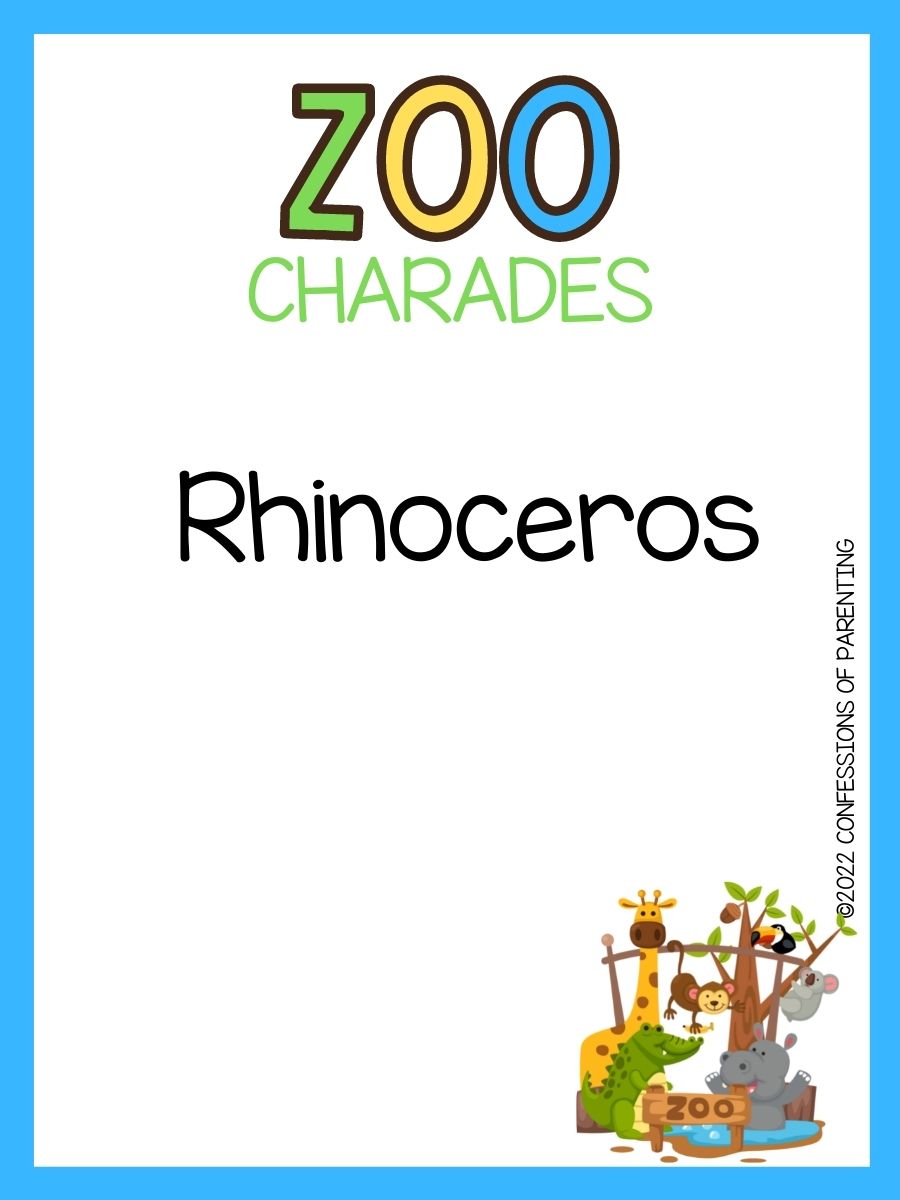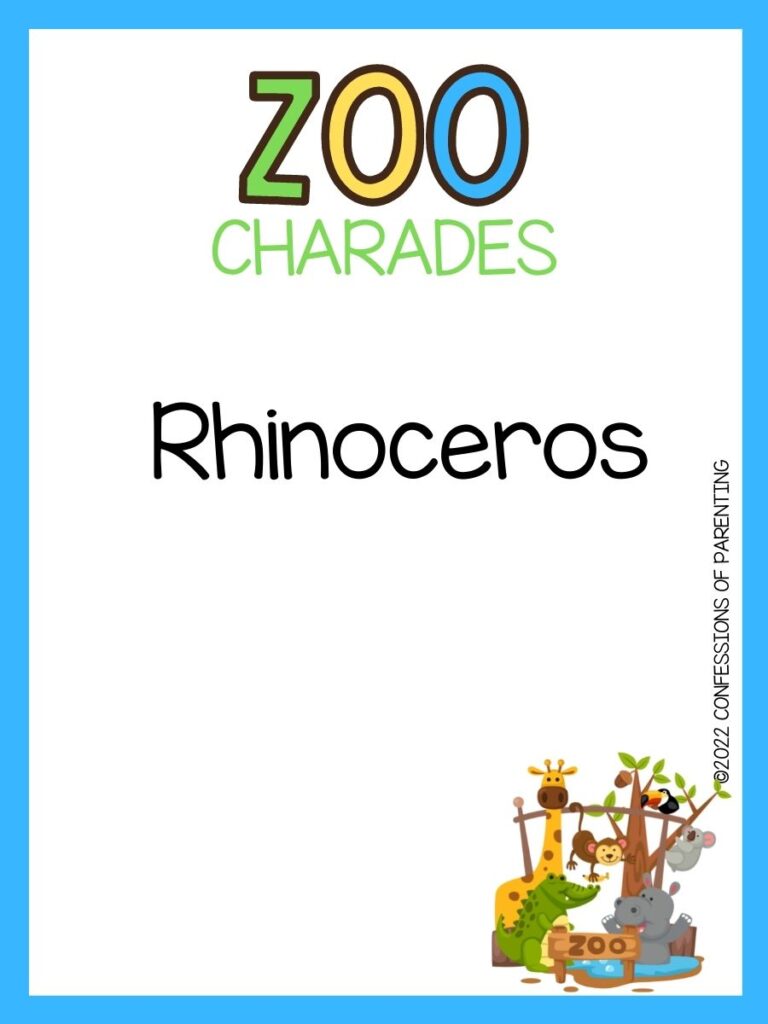 Rhinoceros
Zoo Staff
Tickets
Gift shop
Animal Curator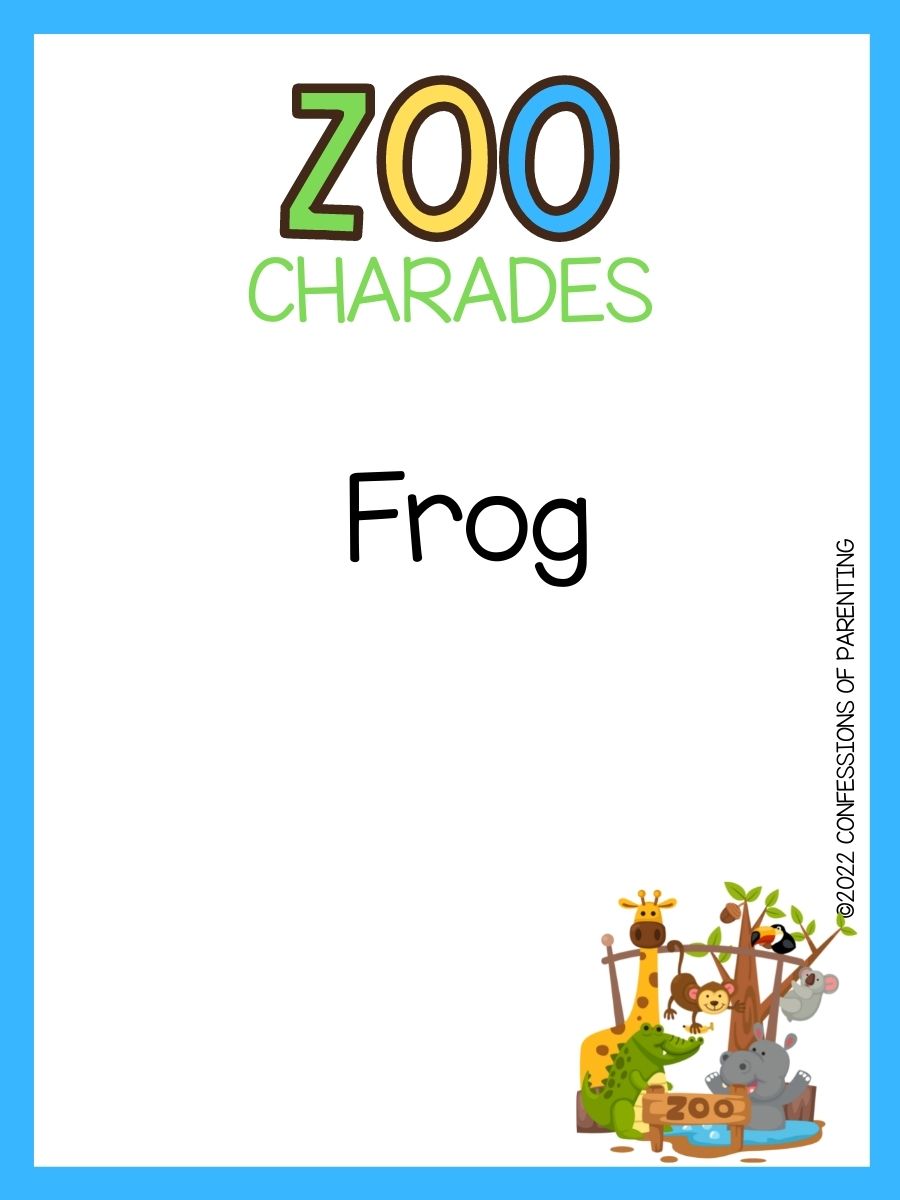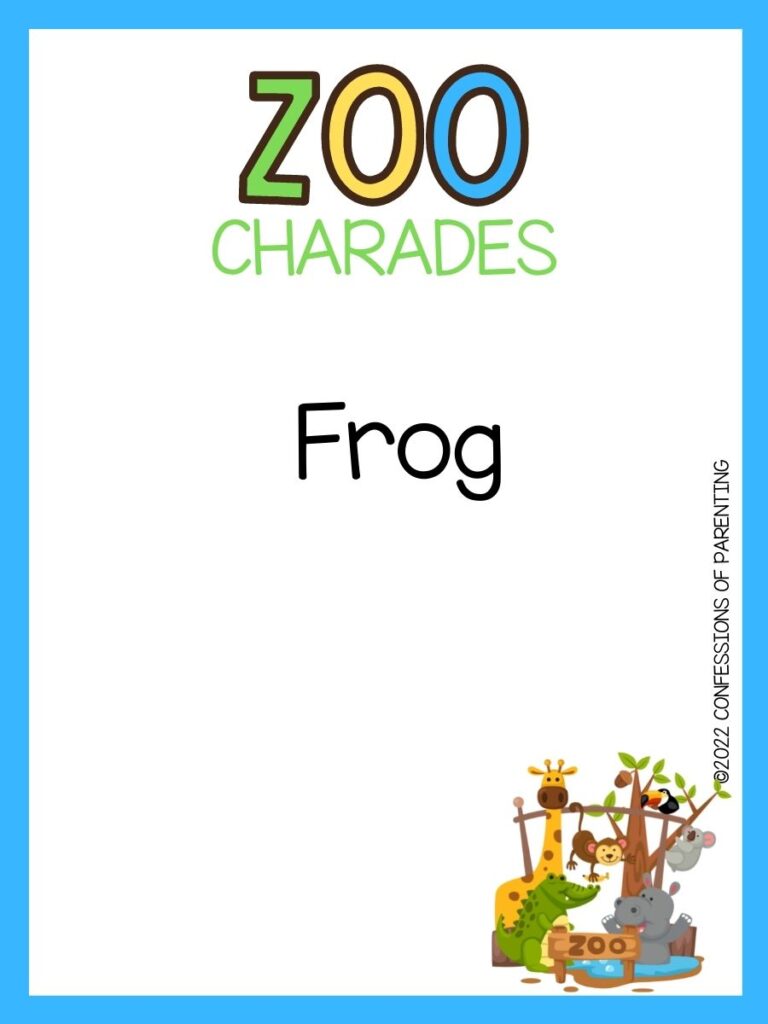 Frog
Zoo Guards
Parrot
Information area
Picnic area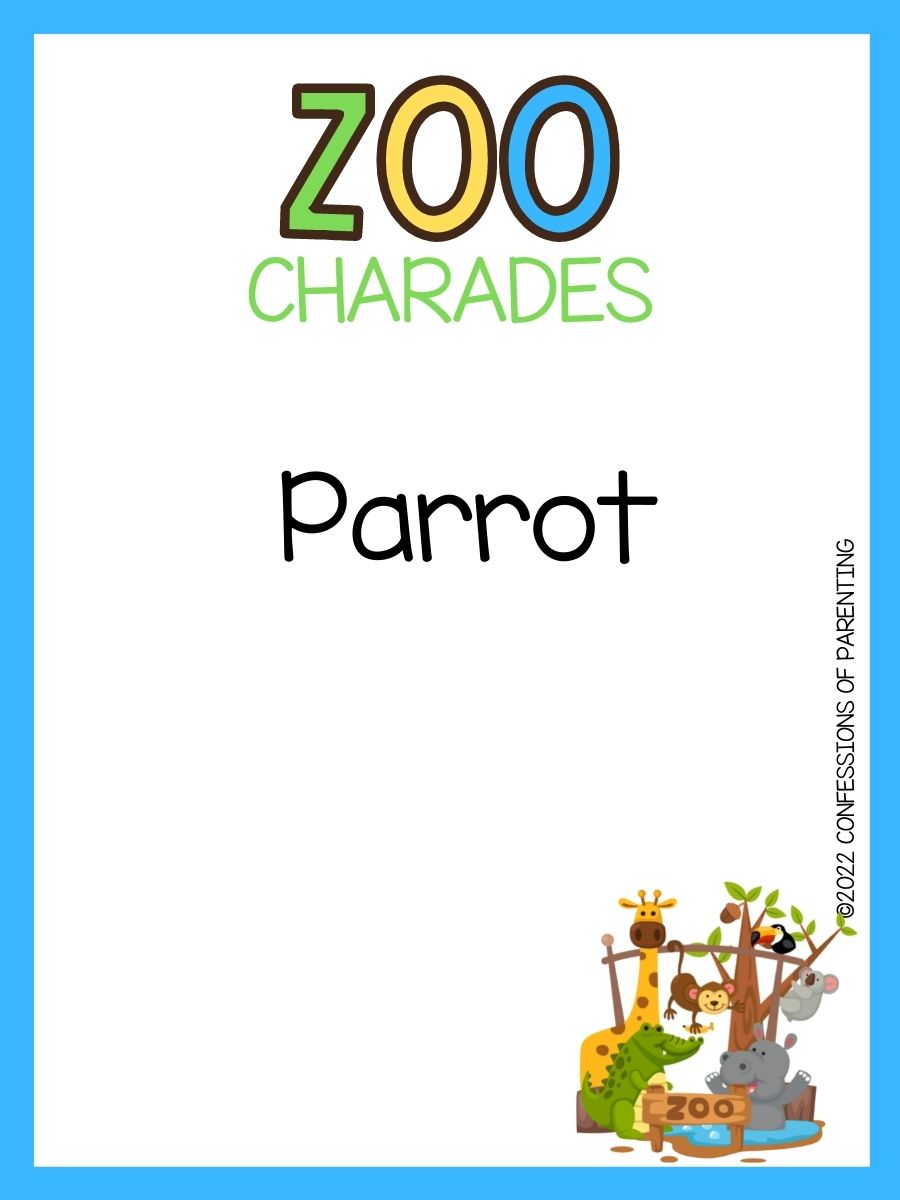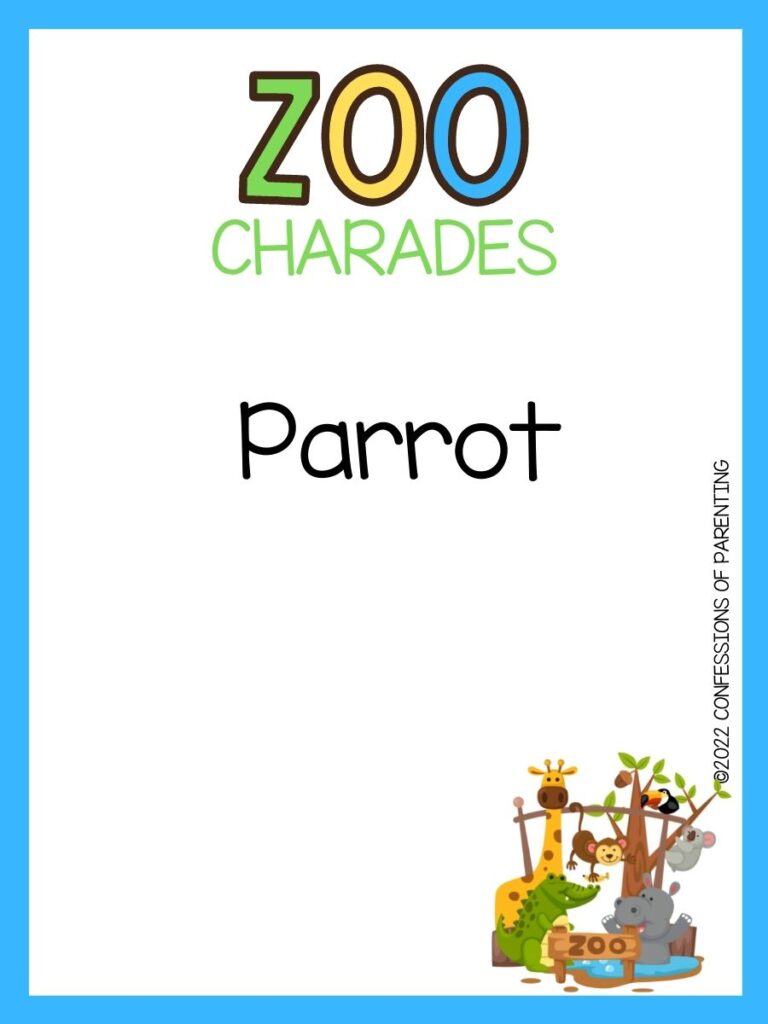 Parrot
Horse
Iguana
Snake
Crocodile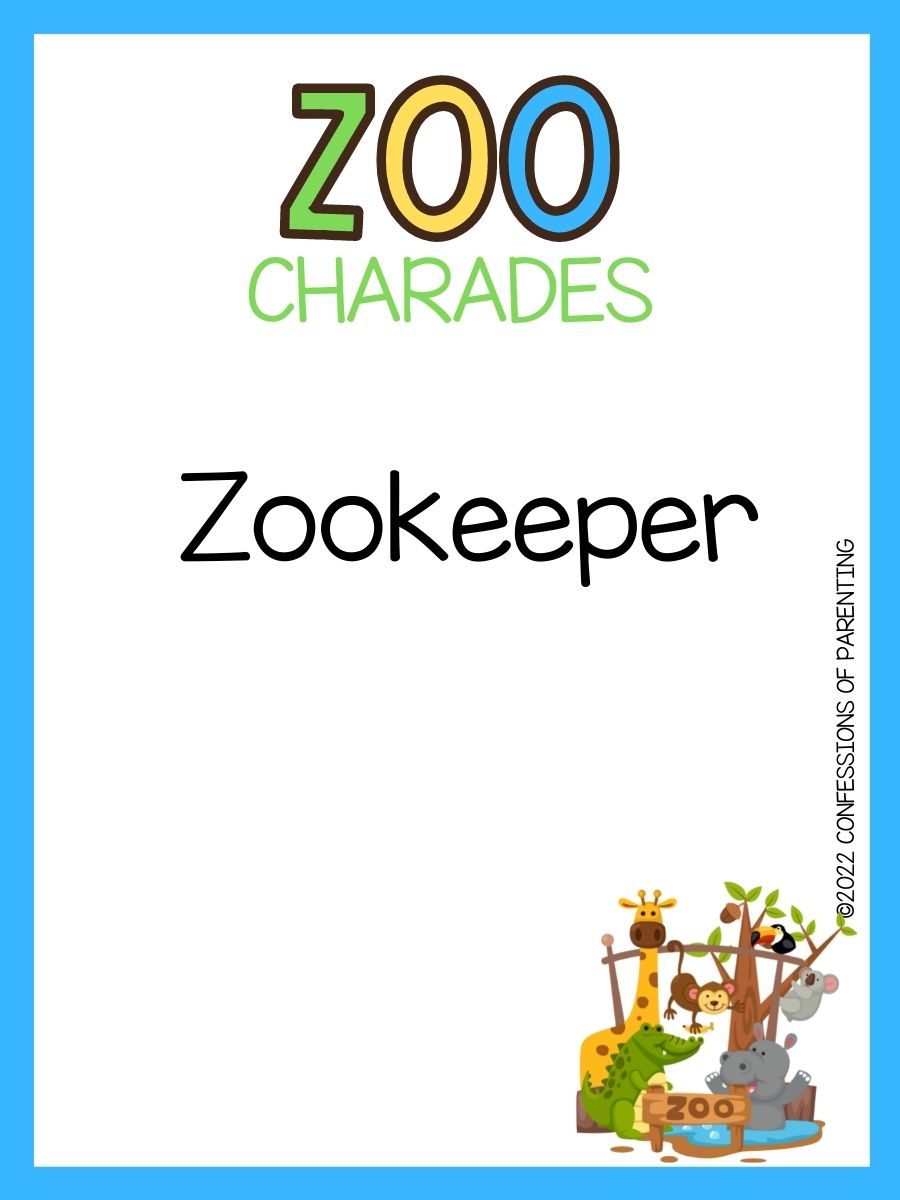 Zookeeper
Leopard
Giraffe
Penguins
Petting the animal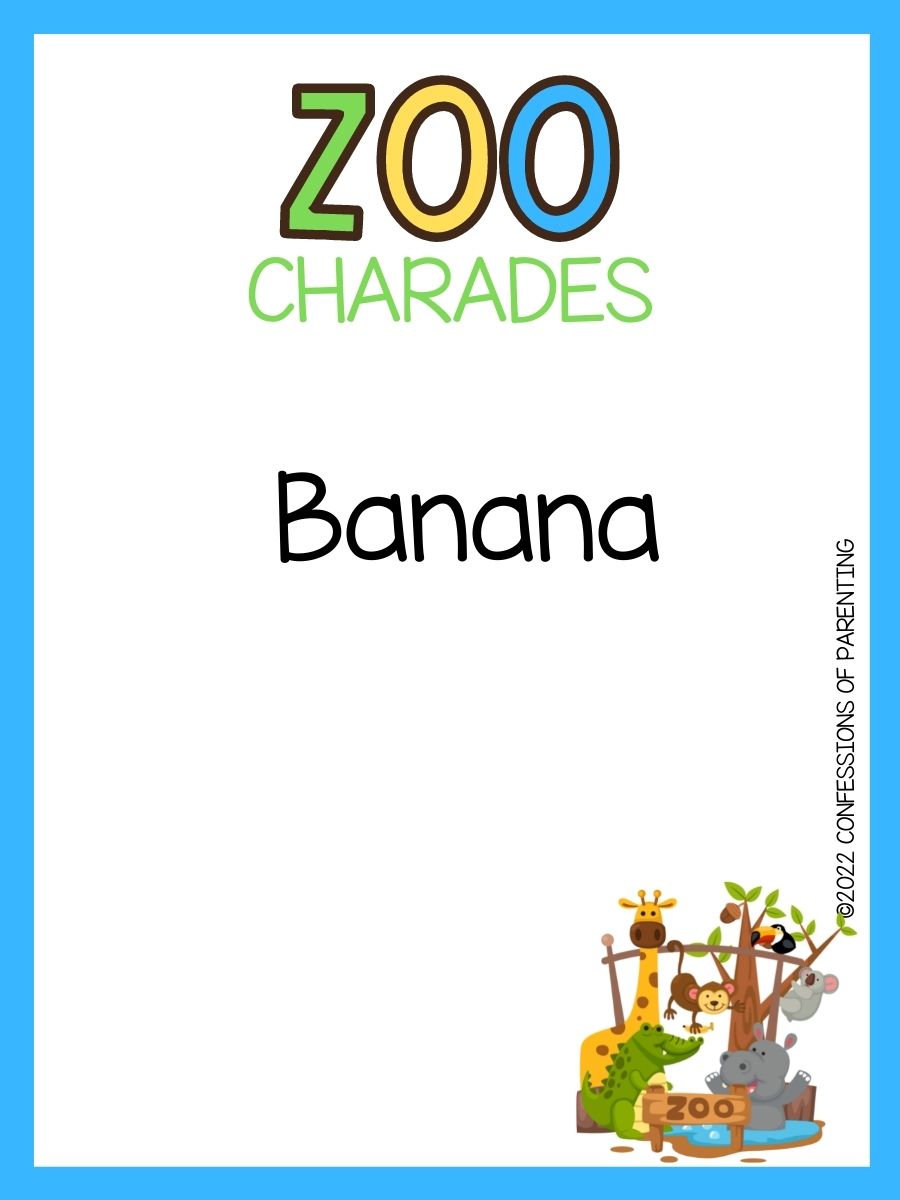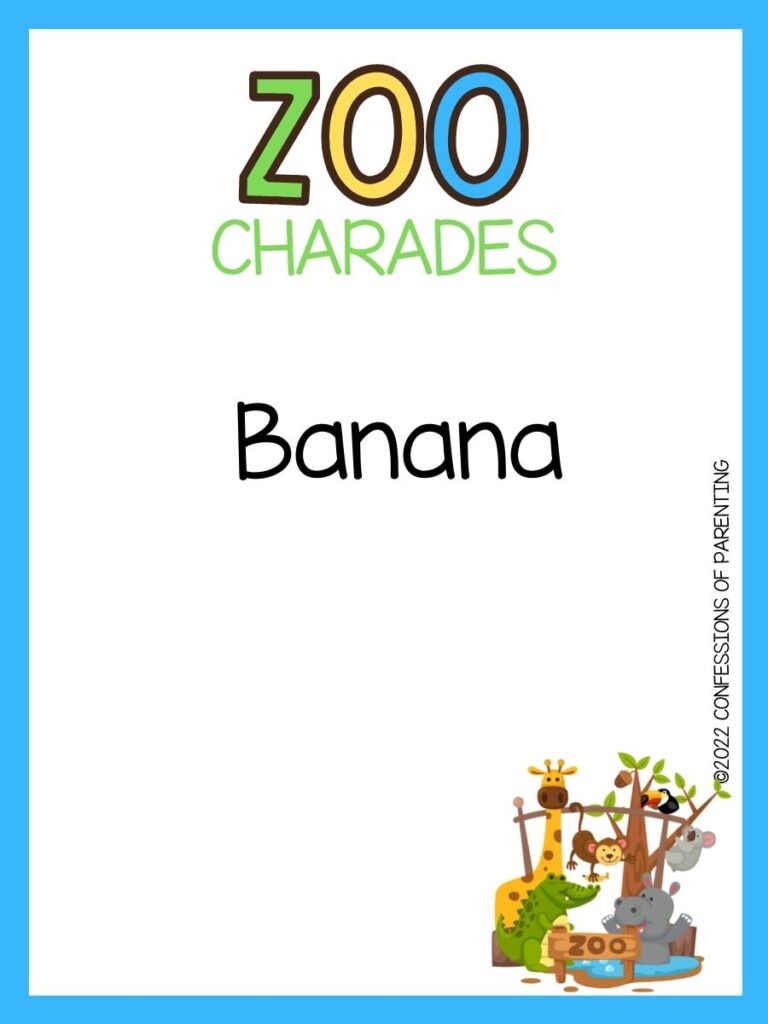 Banana
Species label
Camera
Gorilla
Hot dog stand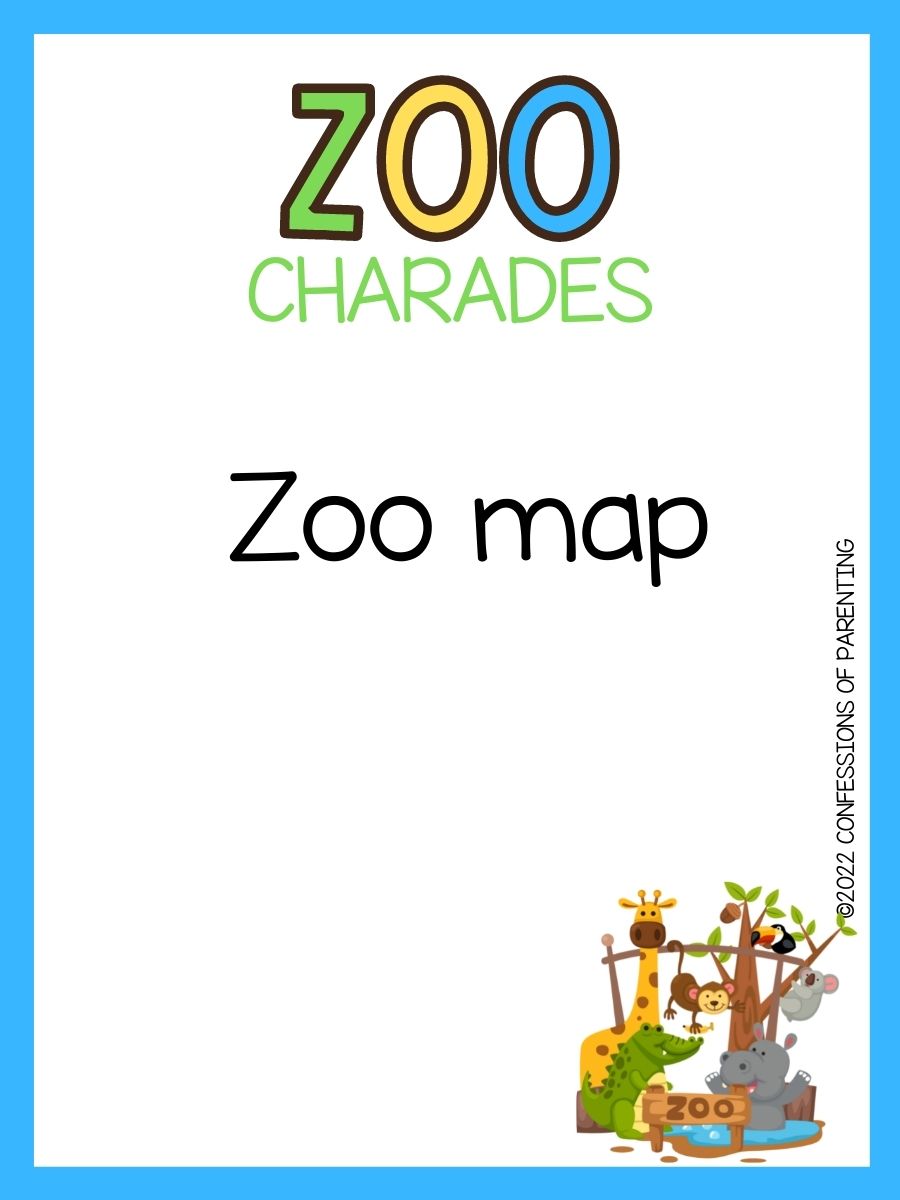 Zoo map
Flamingo
Gift shop manager
Zoo staff
Owl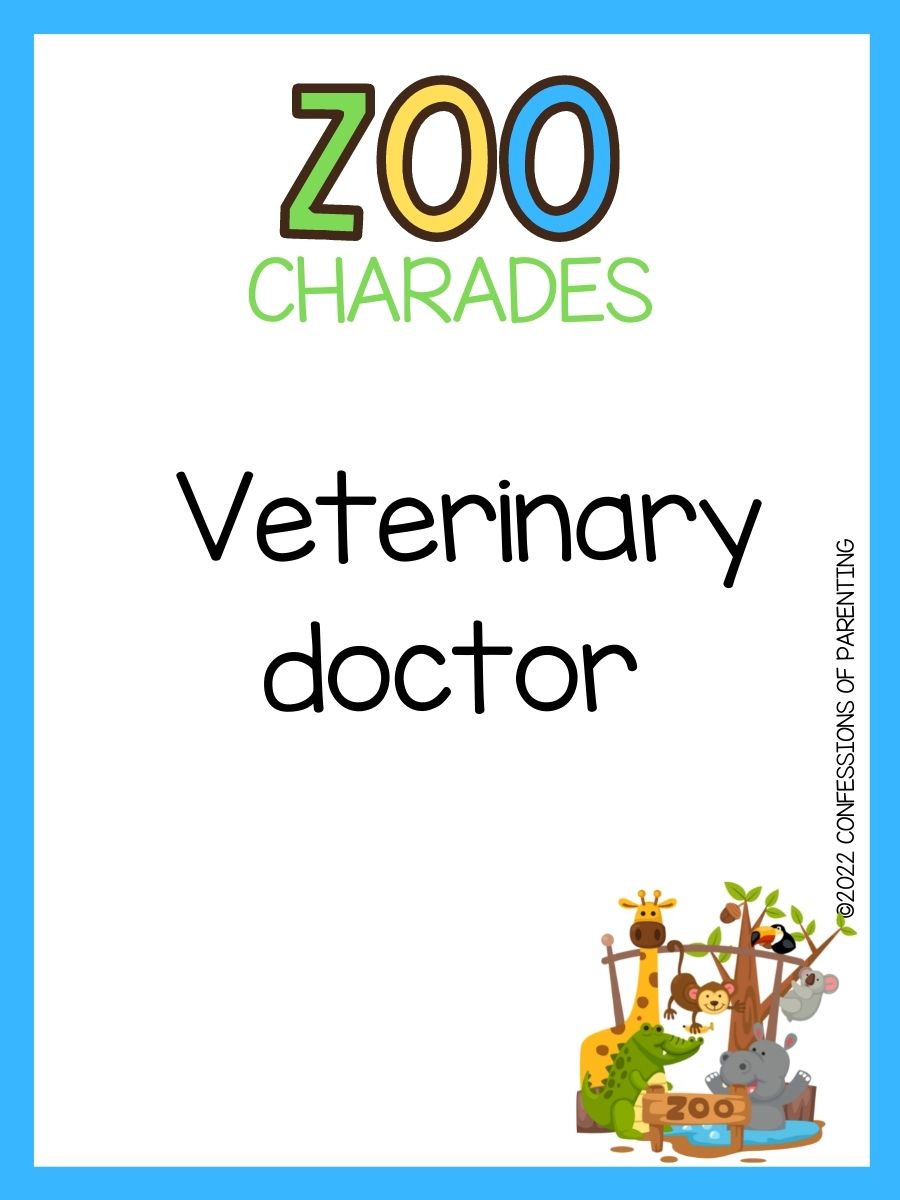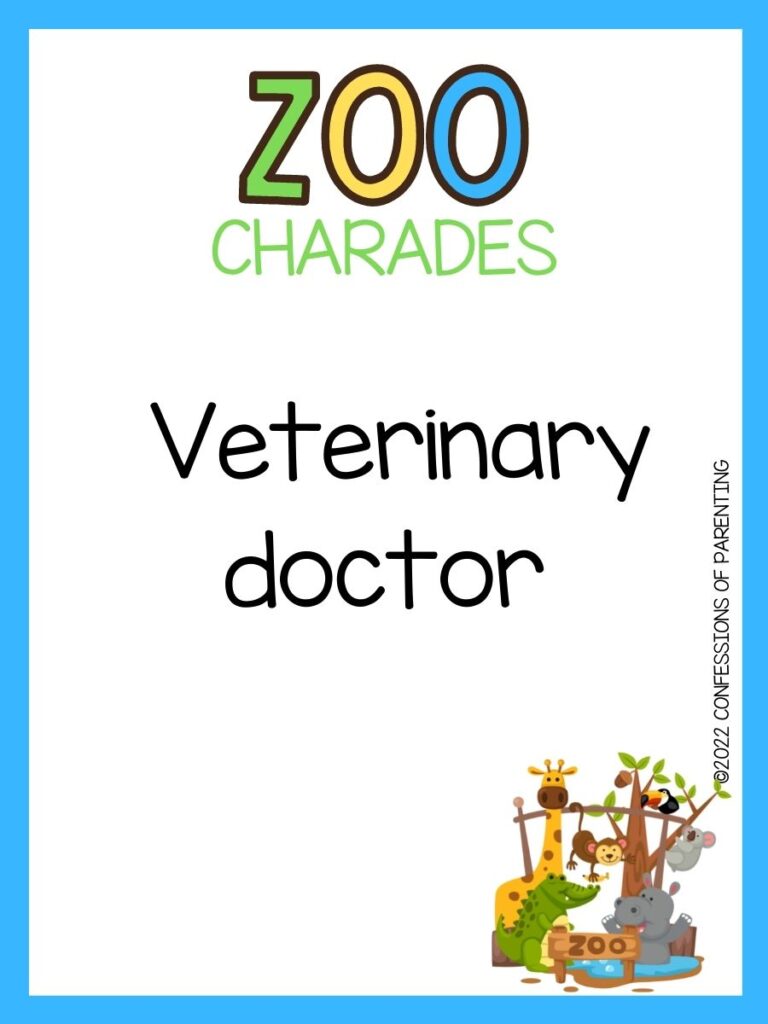 Veterinary doctor
Monkey eating a banana
Deer
Food court
Feed the elephant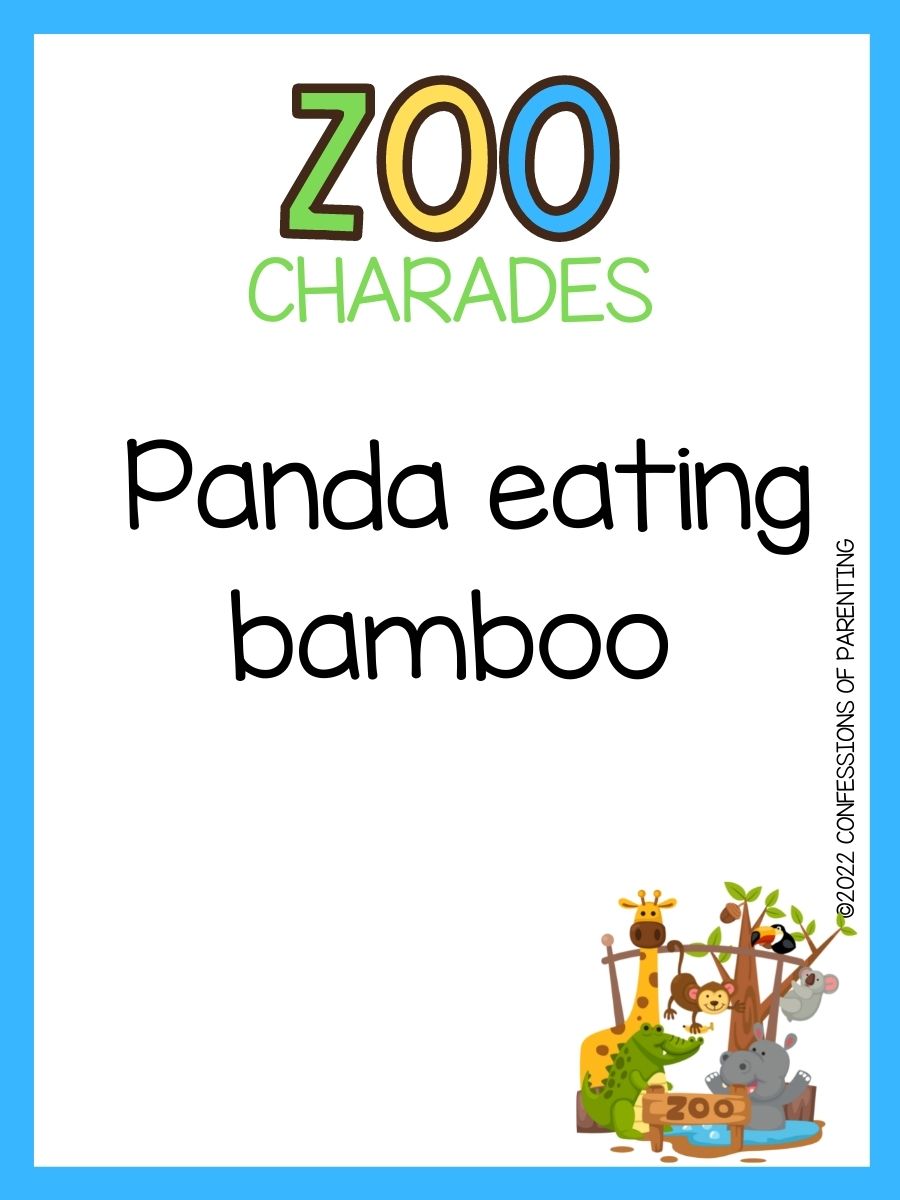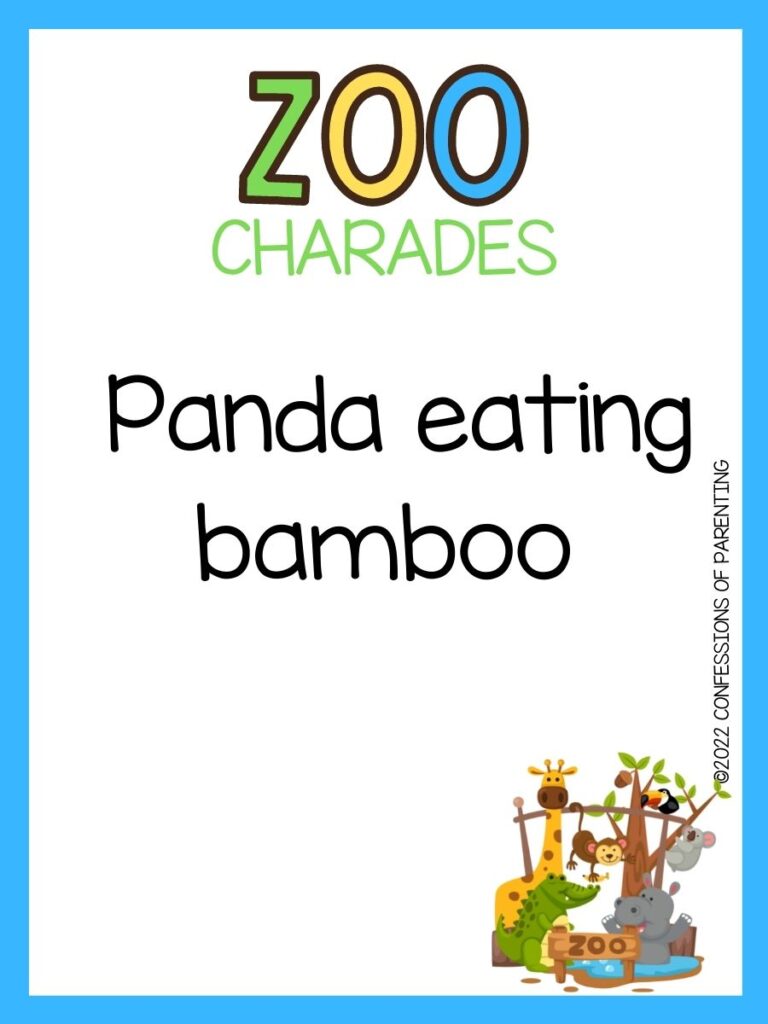 Panda eating bamboo
Janitors
Drinking fountain
Coffee shop
Vending machine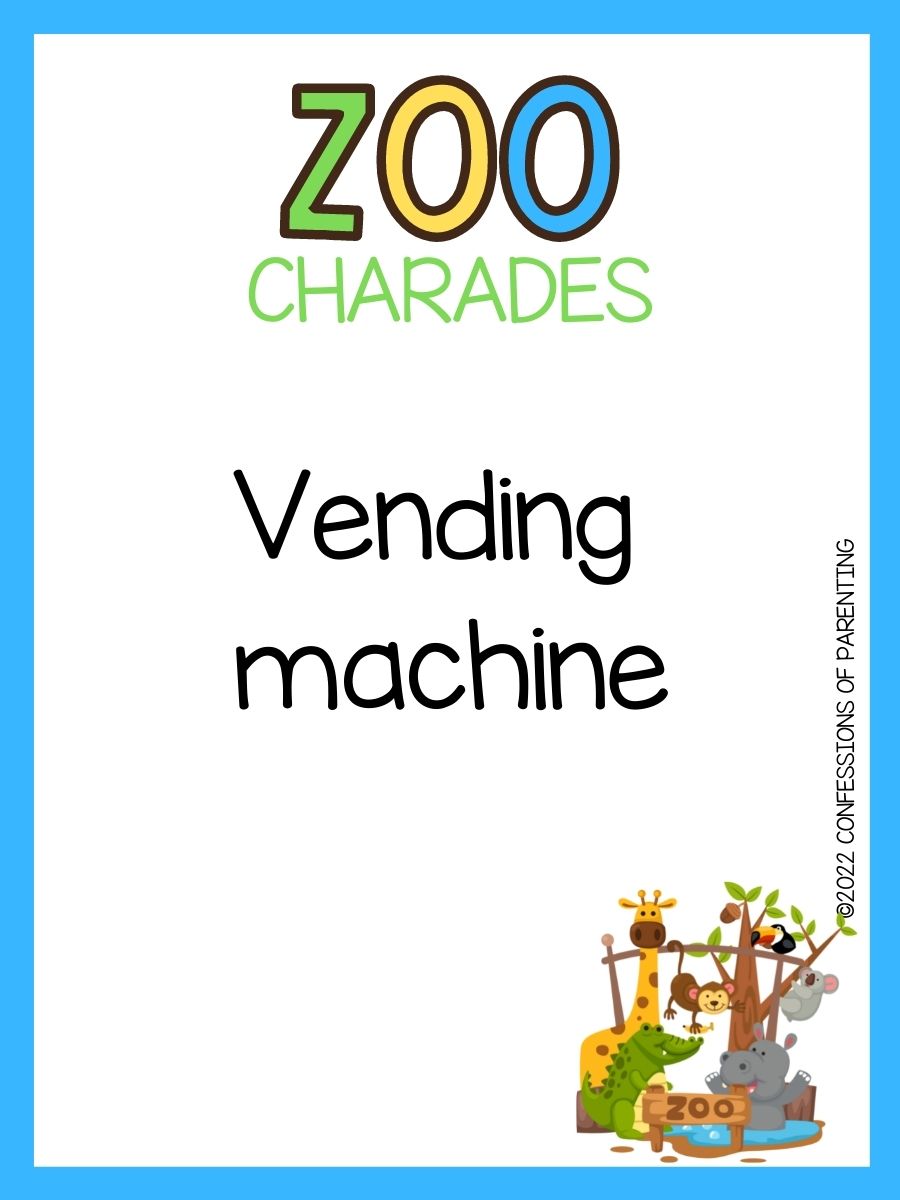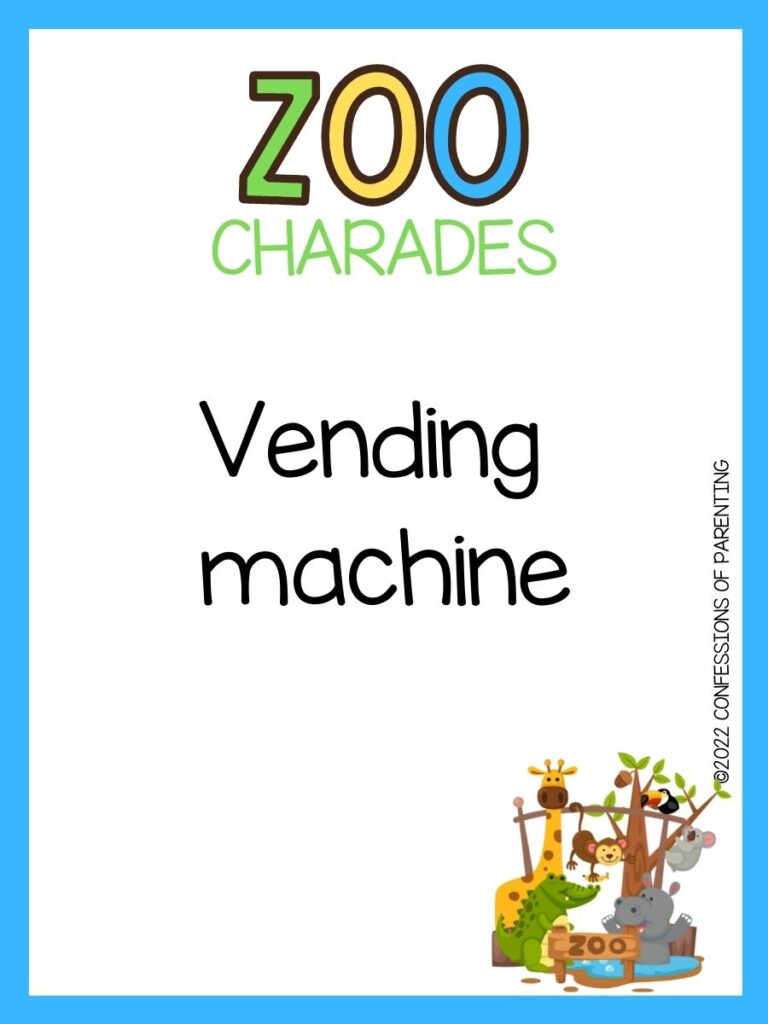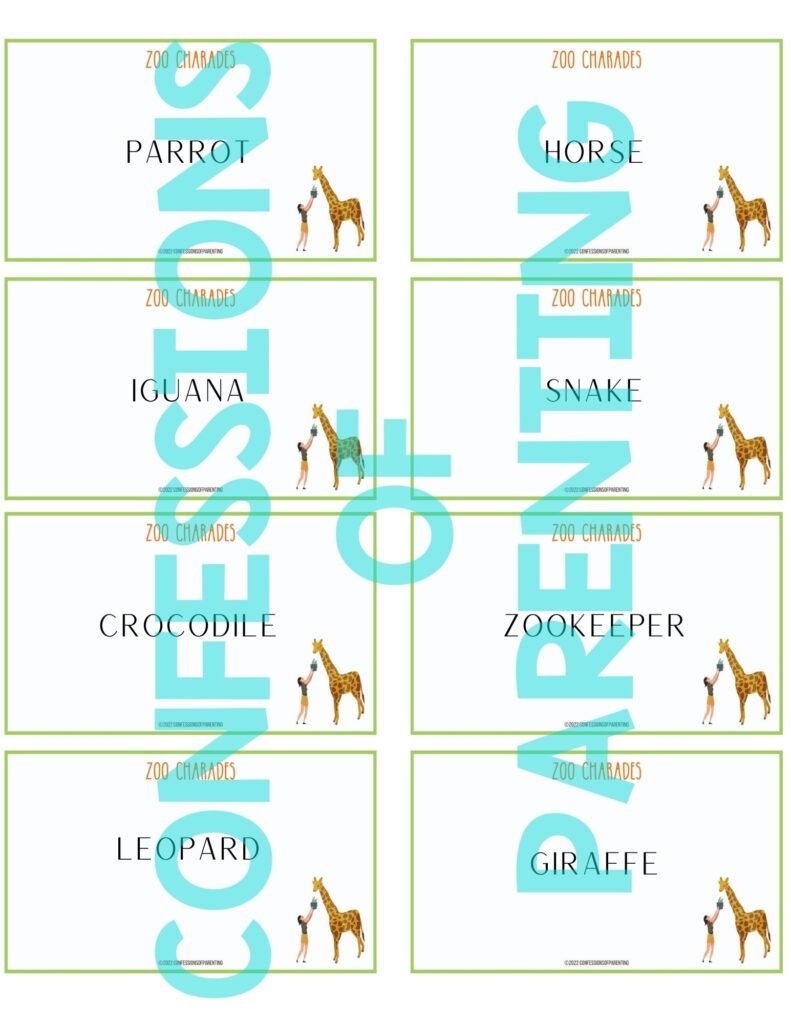 Love Charades? Try these other great charade games!
How Do I access my free printables?
Fill in the form above. You will receive an email in your inbox. If you don't see it check your spam folder! You will then click to confirm your subscription.You will then be redirected to your free download.
How Do I Print a PDF?
You'll need a program that supports PDFs. Adobe Acrobat is a great option. Open the program, click file then print. Select your printer and the number of copies you want to print. Be sure you click double-sided if you want it to print on both sides.
Can I resell these?
You may not resell any printable that you find on our website or in our resource library. You may use them for class parties, at church, at home, or in the classroom. You may get these printed at an office supply store or copy center at your own expense.