Build vocabulary skills while having a blast with these Verb Charades ideas with printable cards! Your kids will love getting a little silly and wild. Just download, print, and play!
Verb Charades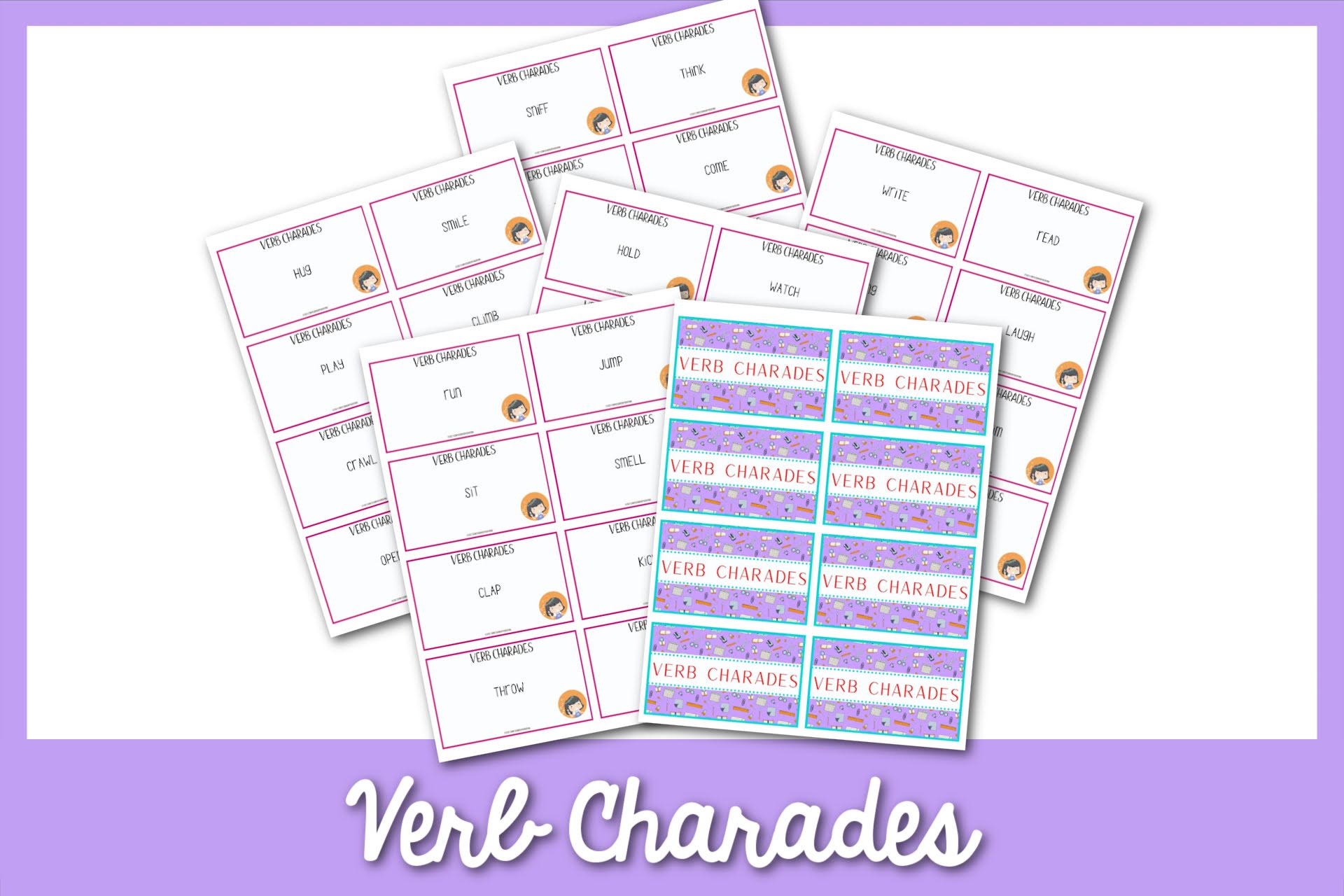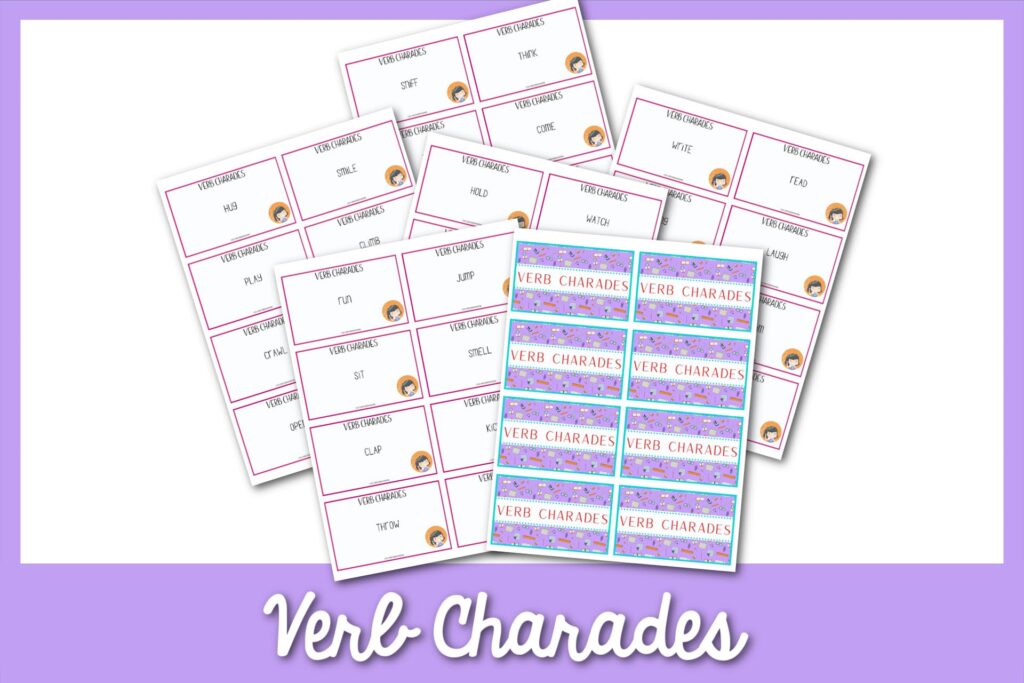 Game nights are a pretty big deal in my house. My whole family loves coming together, getting a little competitive, conversing with one another, and connecting beyond our screens. The kids love taking the opportunity to enjoy being silly as we laugh and play, Charades are one of our favorite ways to do this!
My kids recently played our new Winter Charades game as well as our Reverse Charades and they loved it! I knew I would have to find a new version for them to play – and soon! I quickly came up with this fun Verb Charades game, and let me tell you it is two thumbs up from my kids, me, and all the teachers that are trying to get their kids to learn verbs!
How to Play Verb Charades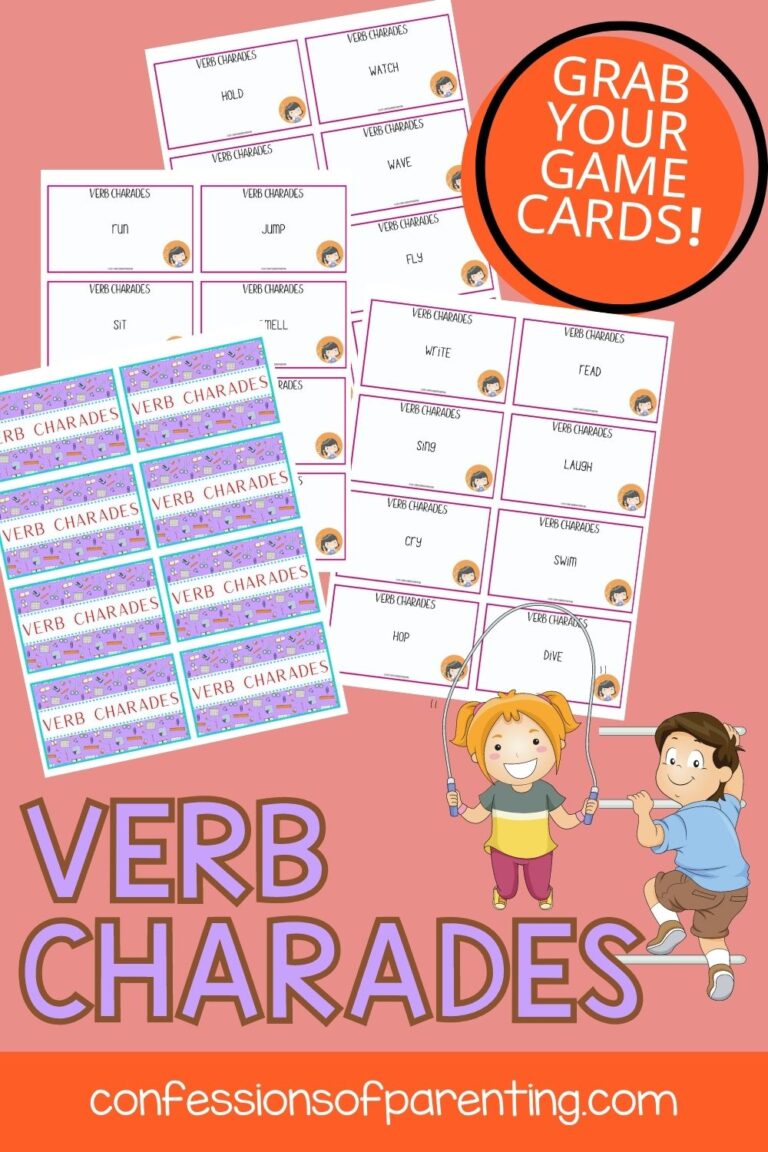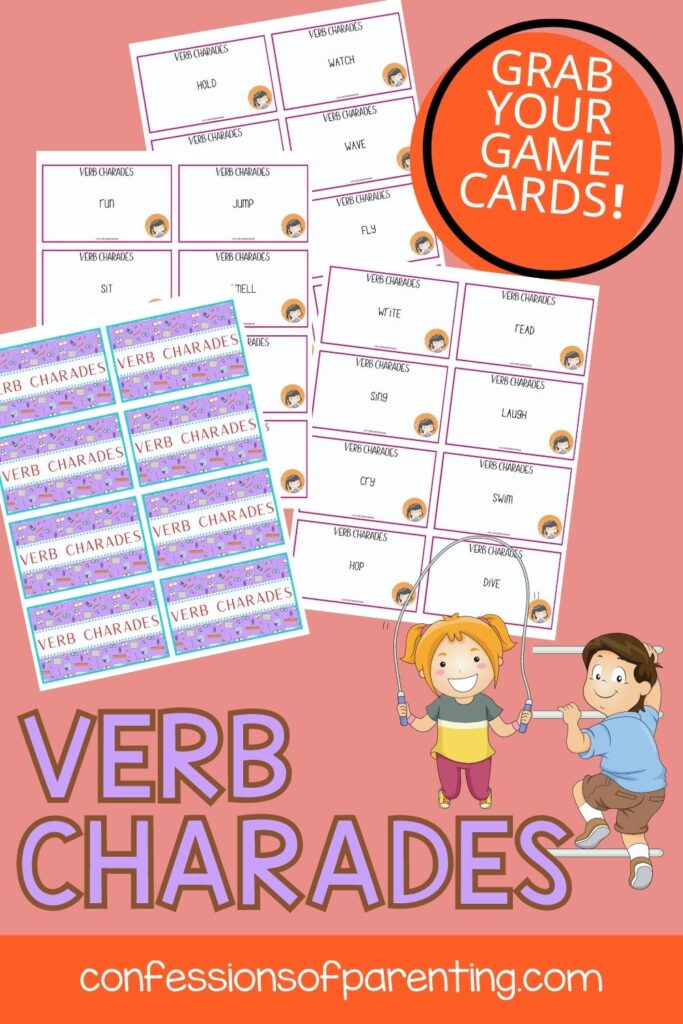 Charades is a great family game because it is so easy to play, but yet so fun for everyone involved! It truly is the best of both worlds. From your curious toddler to your teens, there is fun to be had by all.
To set up the game, simply download the verb charades cards. You will then print out the cards and cut them out. I like to laminate them for added durability. Place the cards into a basket.
To play, start by dividing your group into two teams. If there is a large group playing, it can help speed things up by counting players off. This also helps prevent people from becoming upset for not being picked first or for a certain team. At this time, you can also choose a timekeeper.
Decide on a team to go first. You can simply choose, or the group with the youngest/older player, or the group with the tallest player, etc. can go first. Have that group send up one player to be the first actor.
The actor will pull out a card from the basket and read it silently to him/herself. The time begins and the actor must act out whatever is on the card. Remember, the actor cannot make noises, speak, or gesture to things in the room.
As the actor is miming, the team who sent up the actor will shout out possible answers. If the team guesses it during the allotted time, they will earn a point. Continue playing until you make it through all the cards or one team gets a predetermined amount of points.
Make sure everyone gets a chance to be an actor if they want to.
For younger kids, an older kid or adult from the opposing team can help them read the word and give possible ideas for actions to do.
Things to Have on Hand For Verb Charades
A timer or hourglass is the perfect way to keep track of the time. 60 seconds is the perfect amount of time per round, but you can choose any amount of time.
Ultimate Charades Bundle!
Do you want to Grab the Ultimate Charades Bundle with over 23 themed charades games? Grab it now before the price increases!
Benefits of Playing Verb Charades
My favorite benefit of playing charades is that it brings the family together. Everyone lets loose and gets a little silly. We make such fun memories together when we play games.
Playing games as a family also teaches valuable life skills. For example, your kids learn how to be good sports whether they win or lose. It also teaches them how to follow instructions, be patient, wait their turn, interact with others, and more!
Charades specifically helps build vocabulary. It also helps build confidence being in front of other people.
Verb Charades is a great version of charades as the prompts are verbs. This means it's easy to come up with ideas of how to act it out since they are all verbs. It is also the perfect activity for the classroom!
Verb Charades List
This is the perfect list of action verb charades so that you can get your kids or students acting in no time!
Run
Jump
Sit
Smell
Clap
Kick
Throw
Sing
Hug
Smile
Play
Climb
Crawl
Push
Open
Look
Hold
Watch
Brush
Wave
Clean
Fly
Skate
Dance
Write
Read
Sig
Laugh
Cry
Swim
Hop
Dive
Cook
Talk
Drik
Ride
Cut
Touch
Sniff
Thik
Tie
Come
Build
Blow
Break
Wash
Climb
Hide
Love Charades? Try these other great charade games!
How Do I access my free printables?
Fill in the form above. You will receive an email in your inbox. If you don't see it check your spam folder! You will then click to confirm your subscription. Once confirmed you will be taken to Airtable (a different website) where all our free printables will be waiting for you! It is free to sign up for Air Table!
How Do I Print a PDF?
You'll need a program that supports PDFs. Adobe Acrobat is a great option. Open the program, click file then print. Select your printer and the number of copies you want to print. Be sure you click double-sided if you want it to print on both sides.
Can I resell these?
You may not resell any printable that you find on our website or in our resource library. You may use them for class parties, at church, at home, or in the classroom. You may get these printed at an office supply store or copy center at your own expense.