Looking to add some competition to your Valentine's day? Valentine's Day Scattegories is an entertaining game to play together as a family!
Valentine's Day is one of my favorite holidays to celebrate. I love filling the month of February with love, friendship, and family fun! It's the perfect time to drink lots of pink hot chocolate and play Valentine's day bingo.
To add to our Valentine's day celebrations, I am always looking for fun things to do with my family. After seeing how much my kids loved Christmas Scattergories and Thanksgiving Scattergories, I decided to make a Valentine's Day Scattegories to keep the fun going!
I love how versatile scattergories is because you can play each round over and over with different letters. With 5 themed lists, you can have endless hours of fun!
Valentine's Day Scattergories is an easy way to focus on love and everything related to Valentine's Day. So grab your free Valentine's Day Scattergories printable, your family, and gather around the table loads of fun and lots of love!
What is Scattergories
Scattergories is a classic fun and fast-paced word game. You choose a letter at the beginning of each round and fill out your category list with answers that begin with that letter. You score points by coming up with an answer that no one else has. So put on your thinking cap and get creative!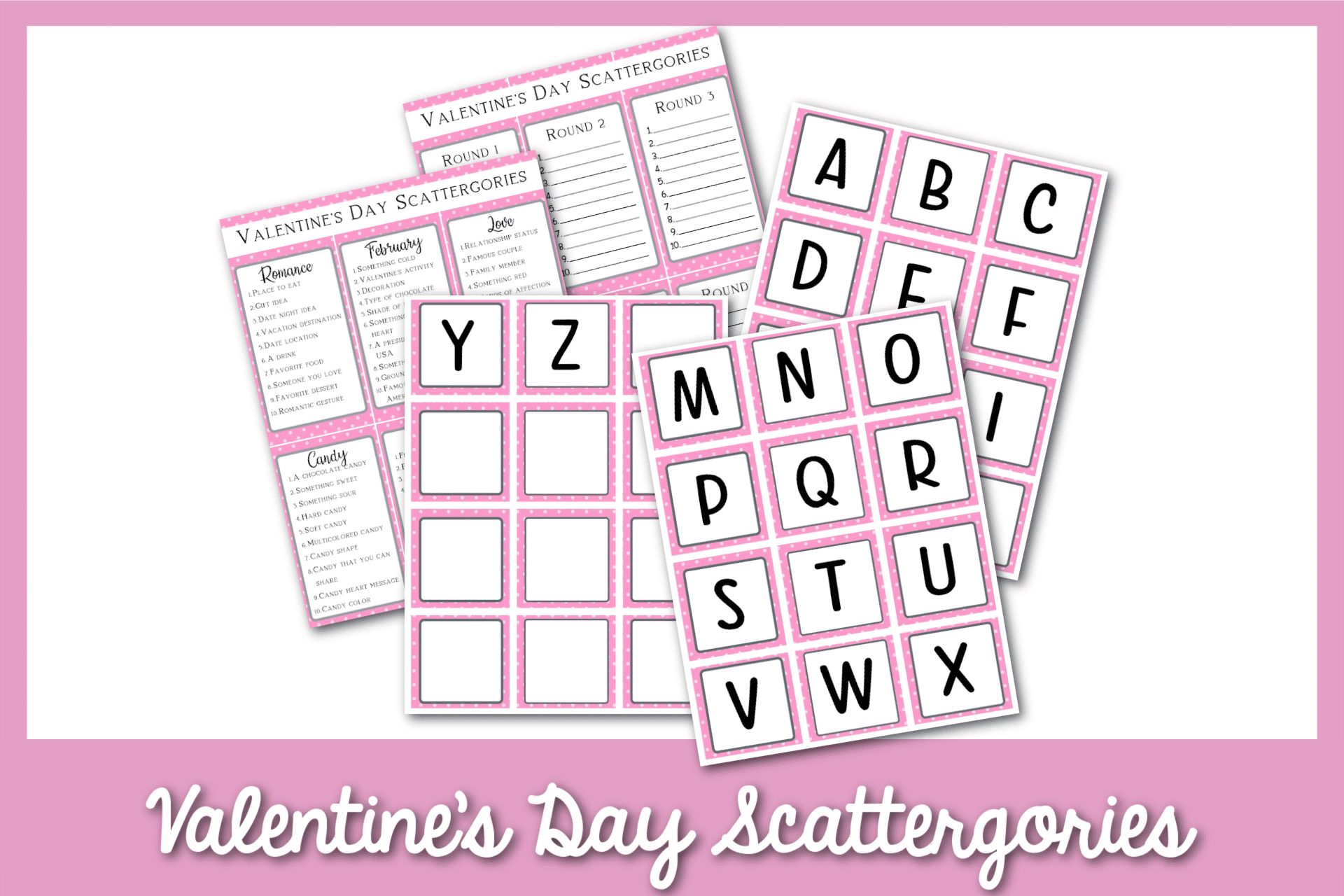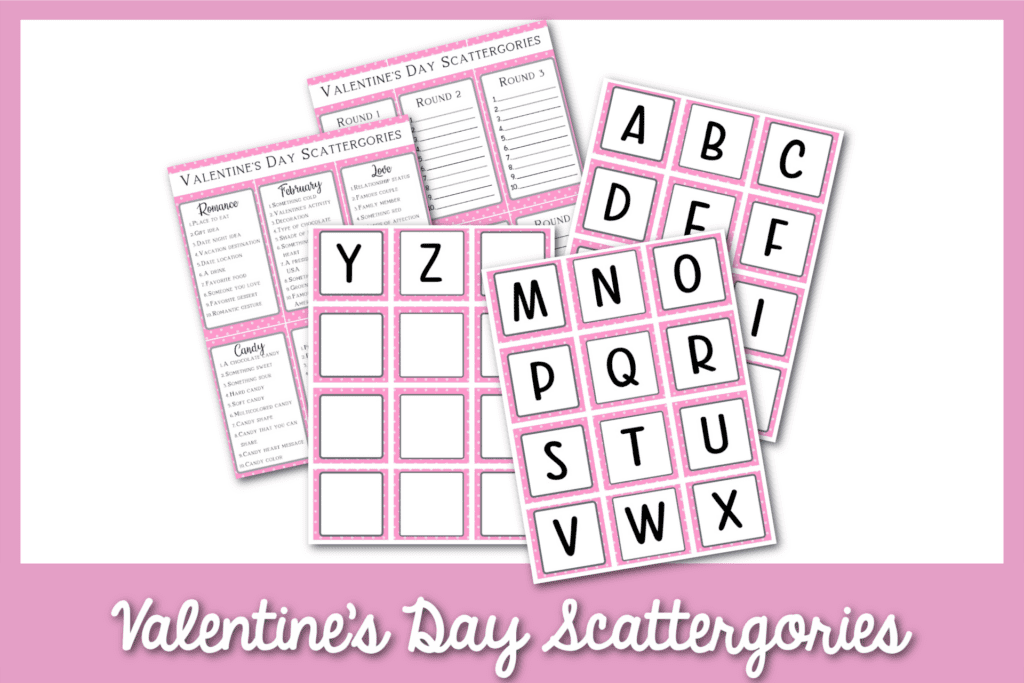 What You Need to Play Scattergories
Printed Valentine's Day Scattergories lists.
A sand timer.
An alphabet die or our printed letter squares.
Your friends and family!
How to Play Valentine's Day Scattergories
Pick one of the 5 lists: Romance, February, Flowers, Candy, or Love. There is even a blank one so you can come up with your own list!
One player rolls the letter die to pick a letter. If you already have traditional scattergories, you can use the letter die that comes with it. Or you can buy some alphabet dice. You can even print our alphabet letter cards and have someone pick a letter from a bowl or hat.
Start the timer and write down words for each category until the time runs out. Each round is typically 3 minutes.
All players will quickly fill out their answer sheets for that round. Your answer must fit in the category and begin with the letter chosen at the beginning of the round.
If you want to, you can even keep score. Once the round is over, have everyone read their answers out loud. If you have an answer that does not match anyone else's answer, you circle it. If someone else has the same answer, cross it out. You get 1 point for each of your circled words. At the top of the page, write down a total score of all your circled answers.
Now it's time to start a new round! You can roll a new letter and use the same list, use the same letter with a new list, or roll a new letter and use a new list.
Rules
The first word of your answer must start with the chosen letter.
You cant use the same word for two different categories.
If you roll a letter that's already been used, roll again to get a new one.
You get an extra point if you use the chosen letter at the start of more than one word. For example: if the letter is H and you answer Honolulu Hawaii for a vacation destination, that would be two points.
Tips for Playing Valentine's Day Scattergories
Young Children
When you play scattergories with little ones it's a good idea to add more time to come up with answers. I also love working together on teams so that you can pair a younger child with an older one or with an adult. Working with a partner takes out the frustration.
Another adaptation I like to make is to create my own list on the blank one that is easier for kids. You can even have them help you make it! It's always more fun when you make the lists together.
When playing with younger children, I also like to use pencils. That way they can easily erase any mistakes that they make or change their answer if they think of something better.
Print a List for Everyone
Print a list for each person that is playing. If everyone has their own set of lists, there is less fighting and you know everyone can easily see the lists.
Valentine's Day Scattergories
Ready for hours of entertainment? Grab your free Valentine's Day Scattergories printable and start having some fun together!
List 1: Romance
Place to eat
A gift idea
Date idea
Vacation destination
Date location
A drink
Favorite food
Someone you love
Favorite dessert
Romantic gesture
List 2: February
Something cold
Valentine's activity
Decoration
Type of chocolate
Shade of pink
Something with a heart
President of the USA
Something you love
Groundhog name
Famous African-American
List 3: Love
Relationship status
Famous couple
Family member
Something red
Words of affection
Act of kindness
An emotion
Something pink
Romantic movie
A friend
List 4: Candy
A chocolate candy
Something sweet
Something sour
Hard candy
Soft candy
Multicolored candy
Candy shape
Candy that you can share
Candy heart message
Candy color
List 5: Flowers
Flower color
Places to buy flowers
A pink flower
Person to give flowers to
A red flower
Gift to give with flowers
Part of a flower
Something green
Place where flowers grow
A white flower
What categories would you add to Valentine's Day Scattergories? Tell us in the comments!
Love Scattergories? Try these awesome games!