If you are looking for an exciting Halloween party game, we have just what you need! Our Halloween Scattergories game is sure to become your family's new favorite! Grab yours today! Just download, print, and play.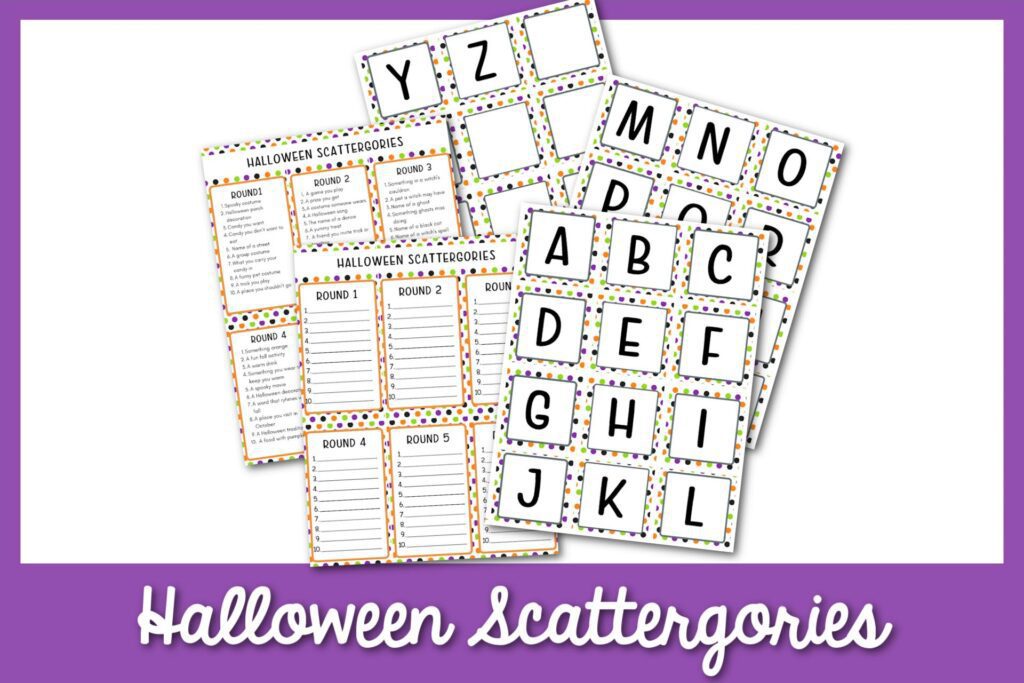 Halloween is one of my family's favorite times of the year! My kids always get excited to start talking about their costumes, putting out Halloween decorations, and watching spooky movies!
We especially love to play Halloween-themed games, such as Halloween Trivia, Halloween Bingo, and Halloween Charades.
I'm always looking for a fun new Halloween tradition, and this Halloween Scattergories game is a huge hit.
We have a blast every time we pull this game out and start playing! I know your family will love it as much as mine does, so don't miss your chance to get this fun and exciting game for your next game night!
One of my favorite things about playing scattergories is that no matter how many times we play it, it's a different game!
With 5 themed lists and 26 letters, you can enjoy this game for hours!
Or, you can play just one or two rounds when you need a quick little game to play.
Be sure to check out our Thanksgiving Scattergories, Christmas Scattergories, and Valentine's Day Scattergories for more exciting holiday-themed fun!
More Halloween Fun to Check out!
Looking for more Halloween fun with friends and family? Don't forget to check out these other great Halloween ideas!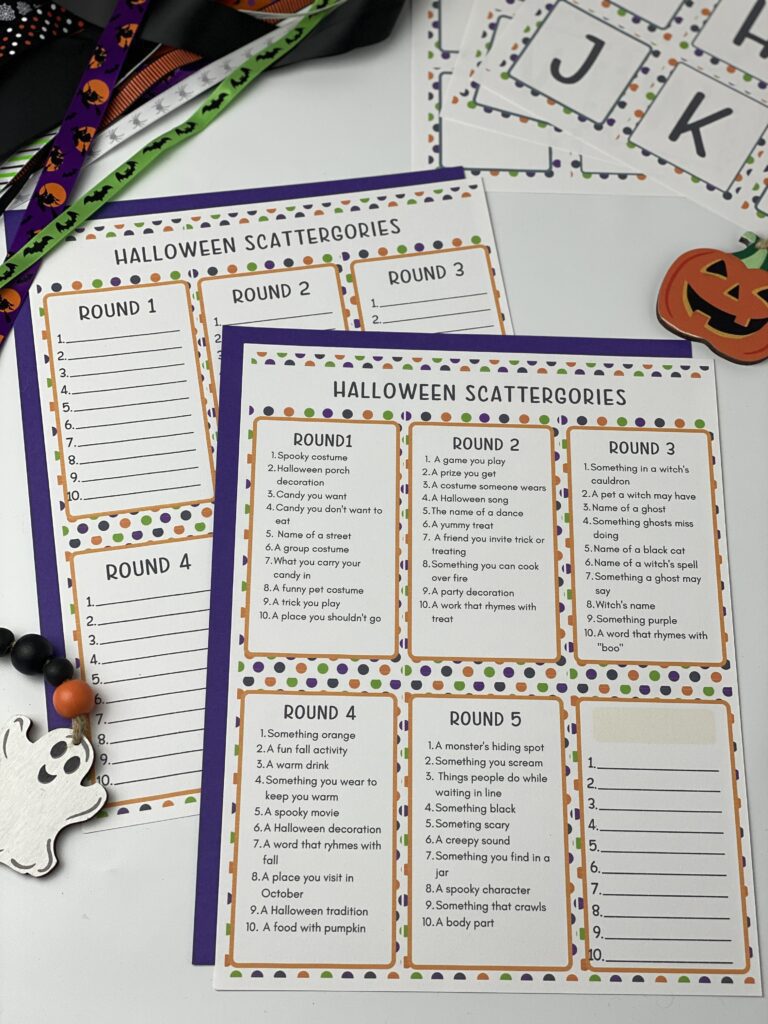 What Is Scattergories?
Scattergories is a fun, fast-paced word game that sparks your creativity and makes you think. You begin each round by choosing a letter and then filling out your list with answers that begin with that letter within a preset timer limit.
Once the time is up, then you go around comparing answers for each question.
If you have an answer that doesn't match other peoples then you get a point.
If it matches someone else's answer then you cross it off.
Your answer must be suitable for the question and start with the predetermined letter.
Add up your points after each round and place it at the top. See who gets the most points!
This is sure to become your family's new favorite game!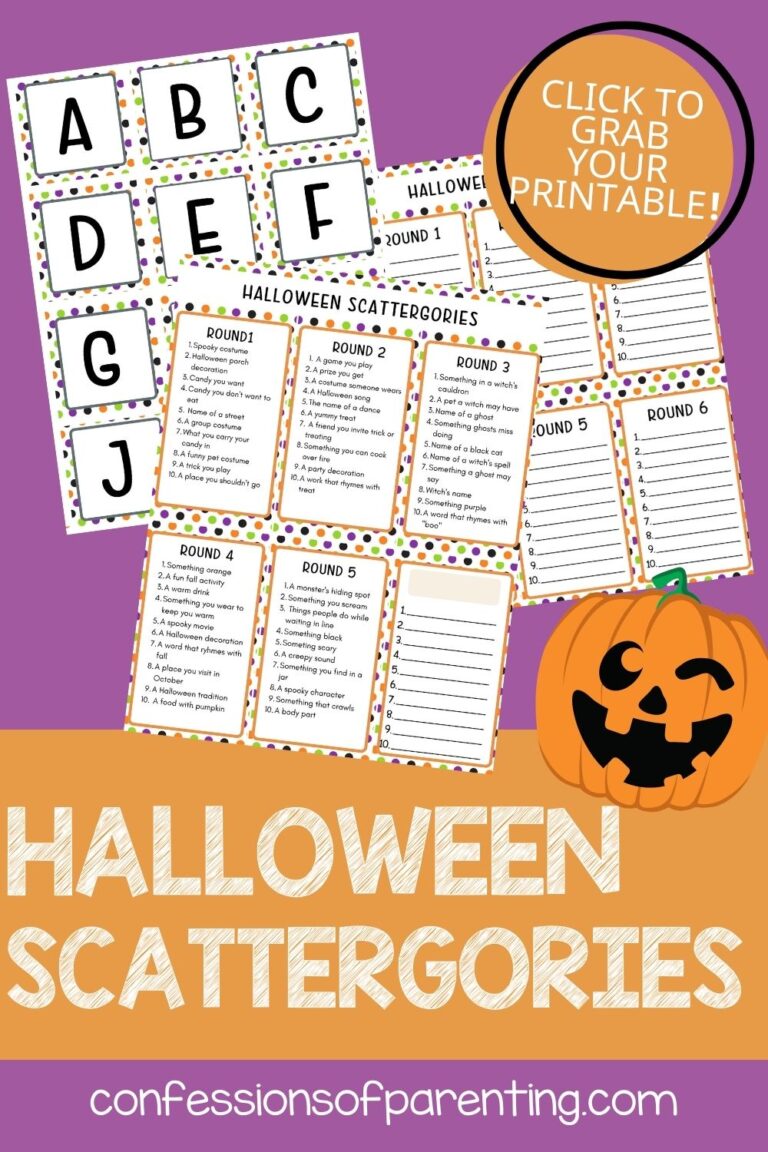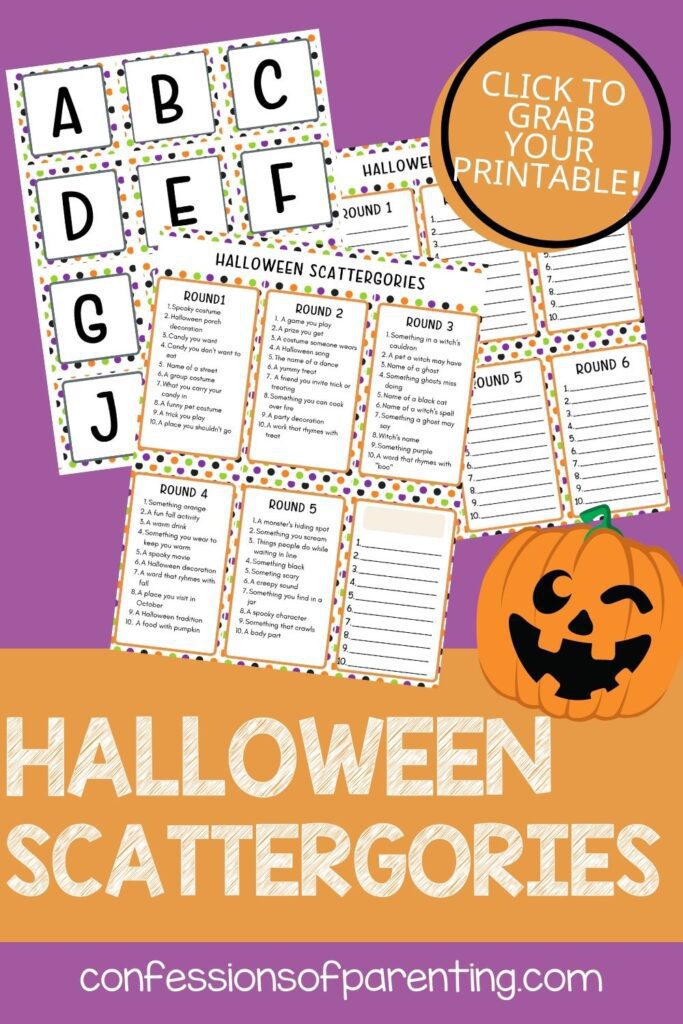 What You Need To Play Scattergories
Printed Halloween Scattergories lists
A timer
An alphabet die or our printed letter squares
Your family and friends!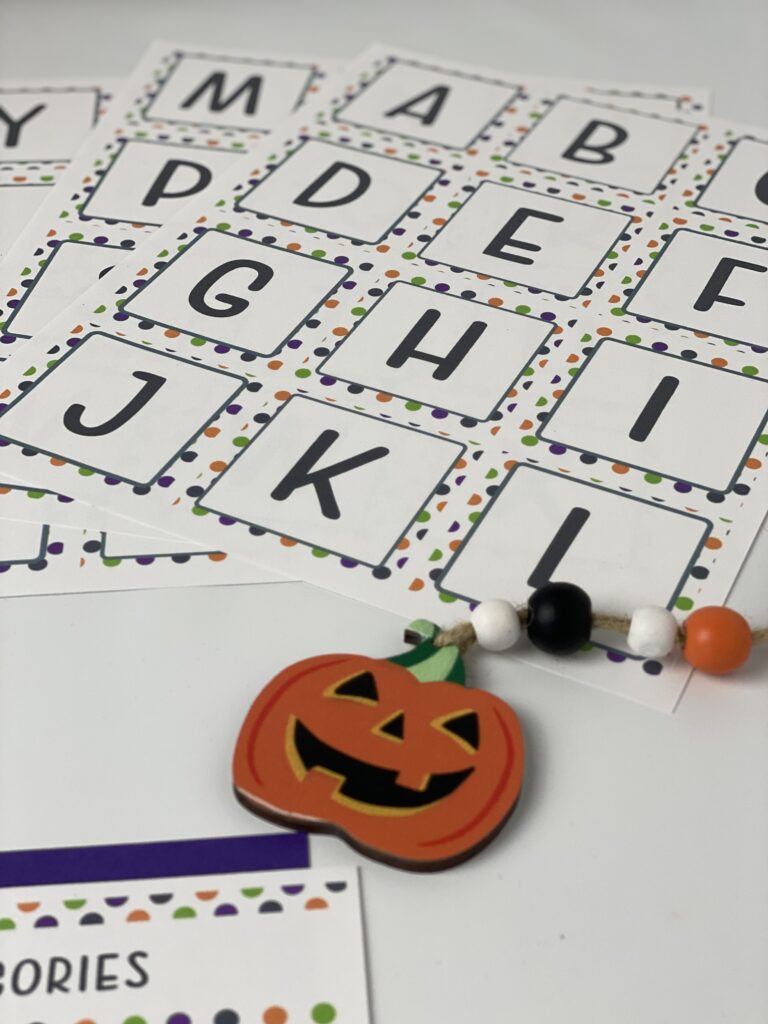 How To Play Halloween Scattergories
Hand out answer sheets to each player, and choose one of the 5 lists: Trick or Treat, Halloween Party, Witches and Ghosts, October, or Haunted House. Or, you can come up with your own list using the blank one we've included!
One player chooses a letter. You can do this by picking one of our printed alphabet letter cards from a bowl or hat, or you can roll an alphabet letter die. If you already own the traditional scattergories game, you can use the die that comes with it.
Start the timer and start writing down your answers for each category until the time runs out. Answers must match the category and start with the chosen letter for that round. Each round is usually 3 minutes.
Once the round is over, it's fun to hear everyone's answers! If you are keeping score, circle any answers that no one else gave, and cross them out if they match someone's answer. Each circled word is worth a point!
You can play as many rounds as you want! Just pick a new letter and use the same list or try a different one!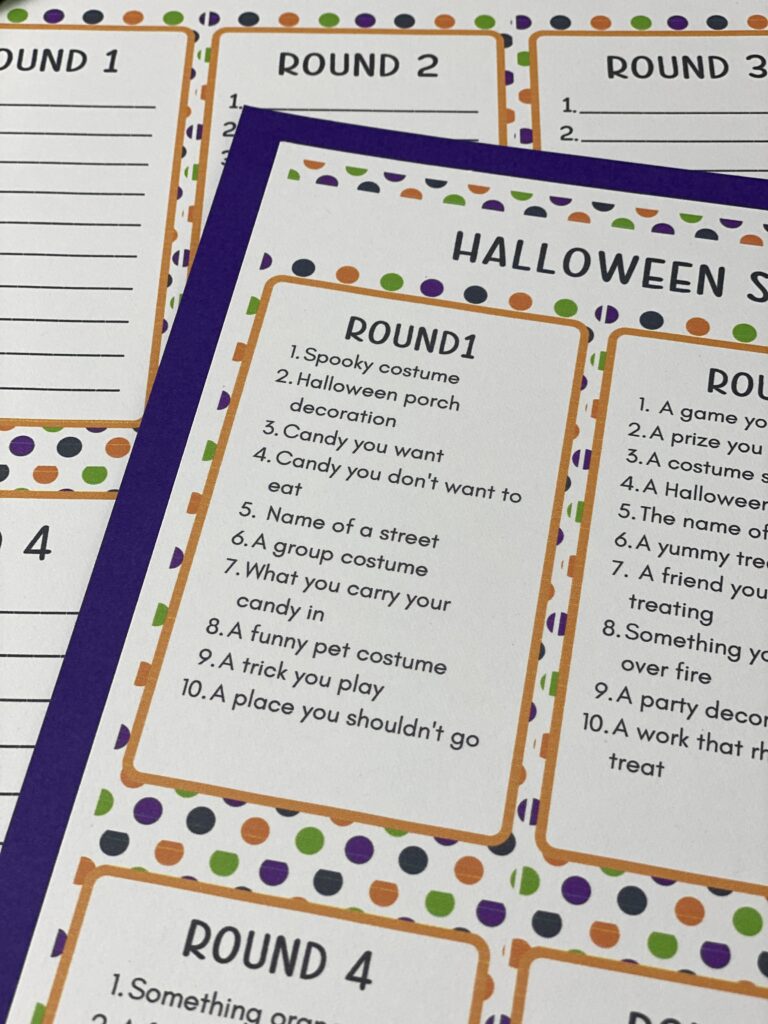 Scattergories Rules
The first word of your answer must begin with the letter chosen for that round.
You can't use the same word for more than one answer in the round.
If you roll a letter that's already been chosen, roll again.
If your answer has more than one word that starts with the chosen letter, you get a bonus point. For example, if your answer is Monster Mash for a Halloween song, you get two points!
Tips For Playing Halloween Scattergories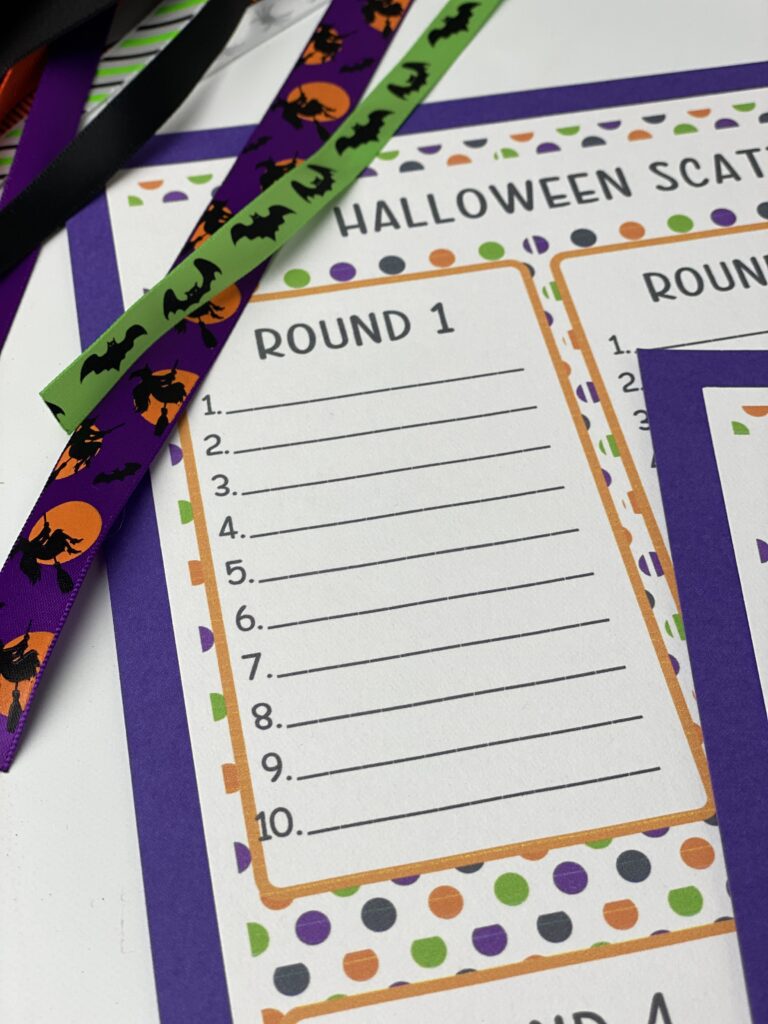 When playing with young children, you may want to allow more time for each round. Or, you can pair younger kids with an older kid or adult to work as a team.
If your category list seems difficult, use the blank list to make up your own list that is easier for young kids. They can use their own list while playing right along with everyone else!
It's a good idea to print enough lists for everyone to have their own. It's so much easier to play when everyone has their own list to read from as they write down their answers!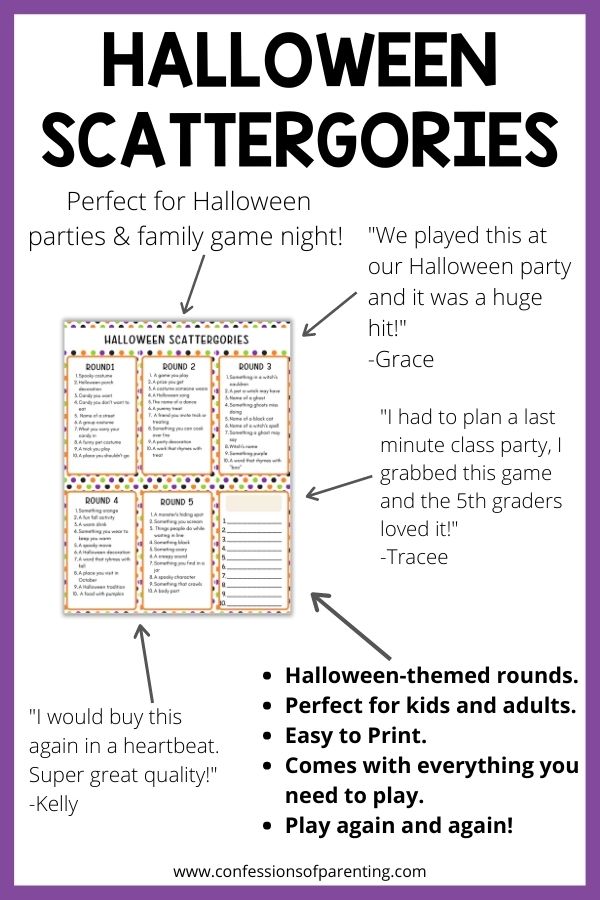 Halloween Scattergories
Grab your Halloween scattergories clues and printable cards right here.
Round 1
A spooky costume
A porch decoration
A candy you want
A candy you don't want
A name of a street
A group costume
What you carry your candy in
A funny pet costume
A trick you can play
A place you shouldn't go
Round 2
A game you play
A prize you might get
A costume someone wears
A Halloween song
The name of a dance
A yummy treat
A friend you'd invite
Something you can cook over the fire
A party decoration
A word that rhymes with "treat"
Round 3
Something in a witch's cauldron
A pet a witch might have
The name of a ghost
Something ghosts miss doing
A good name for a black cat
The name of a witch's spell
Something a ghost might say
A witch's name
Something purple
A word that rhymes with "boo"
Round 4
Something orange
A fun fall activity
A warm drink
Something you wear to keep you warm
A spooky movie
A Halloween decoration
A word that rhymes with "fall"
A place you visit in October
A Halloween tradition
A food with pumpkin
Round 5
A monster's hiding place
Something you scream
Things people do while waiting in line
Something black
Something scary
A creepy sound
Something you find in a jar
A spooky character
Something that crawls
A body part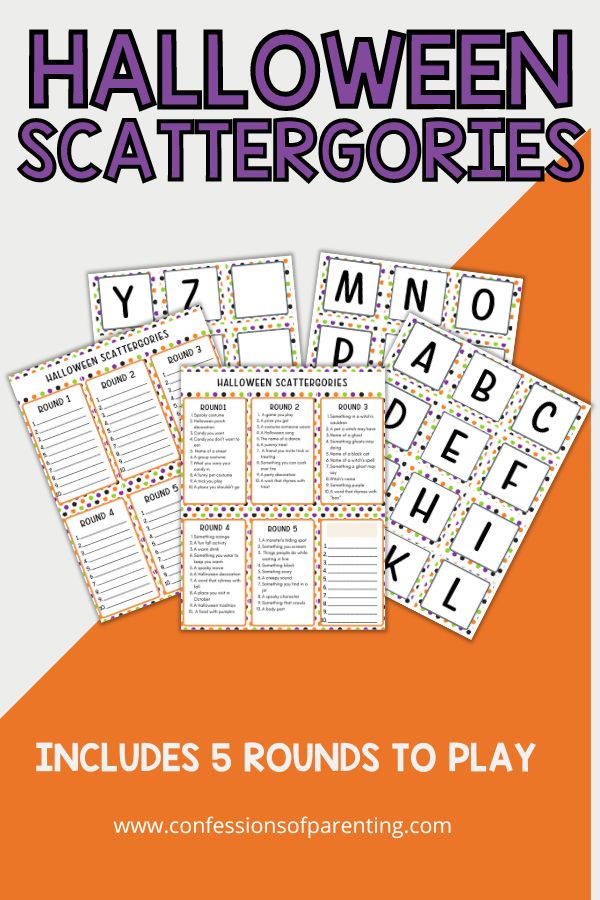 Love Scattergories? Try these awesome games!