Everything looks so wonderful in the Spring! The flowers are growing, there are new animals around, and the trees look more and more green everyday! This Spring Word Scramble is such a great way to celebrate all the new life around you!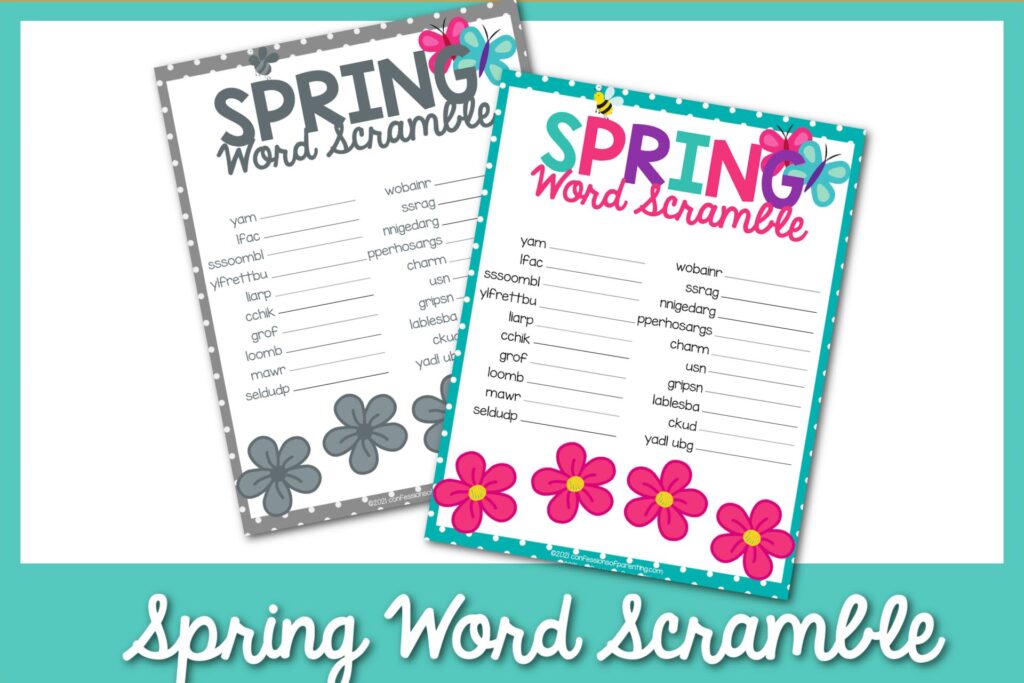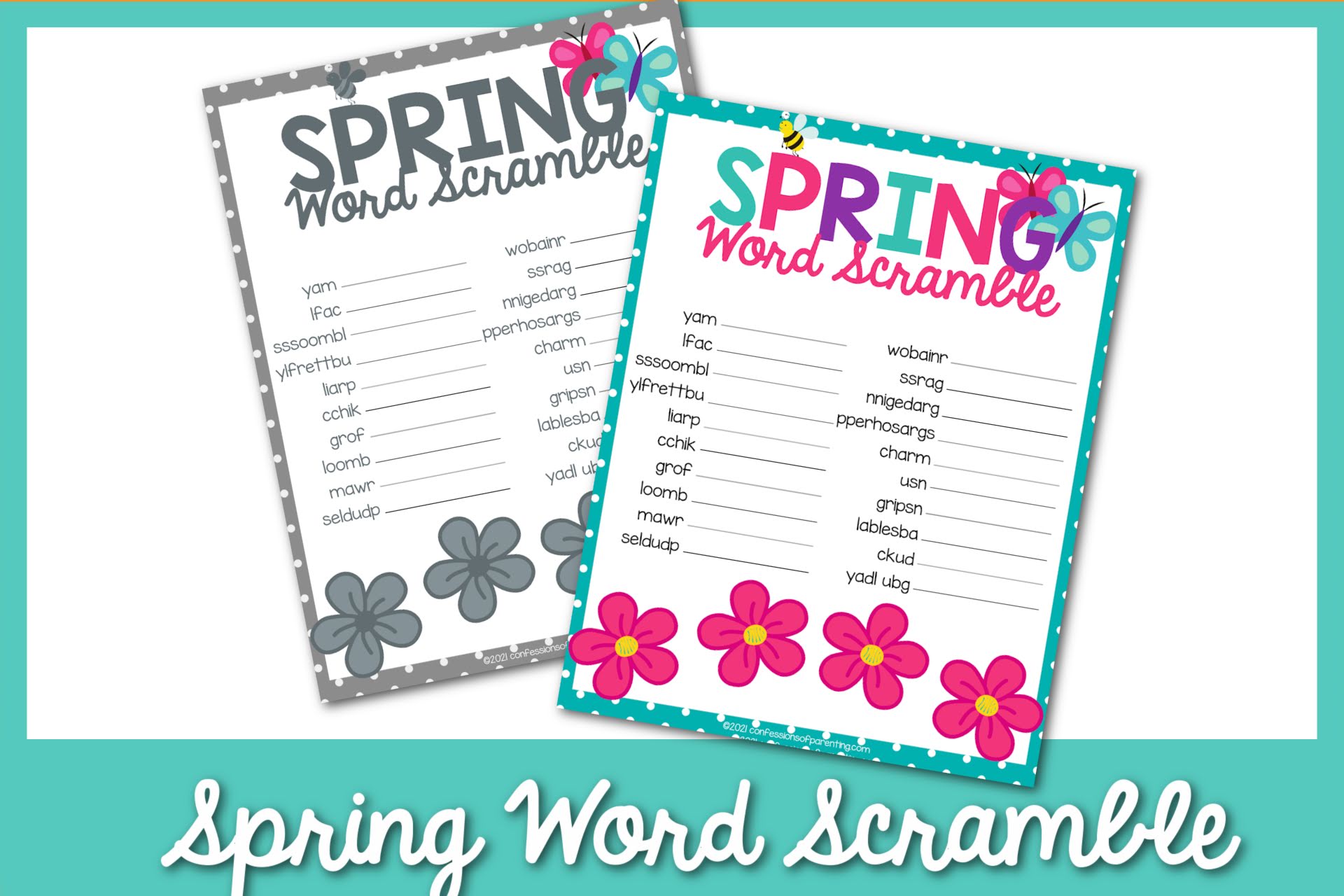 Spring Word Scramble
With so much happening outside, this Spring Word Scramble page is an awesome way to relax on a rainy spring day! It can be played at home, in the classroom, or on the go for all those busy moms out there!
This Word Scramble page includes 20 Spring themed words that are all totally jumbled up! It's sure to keep your kiddos busy for a few minutes at least!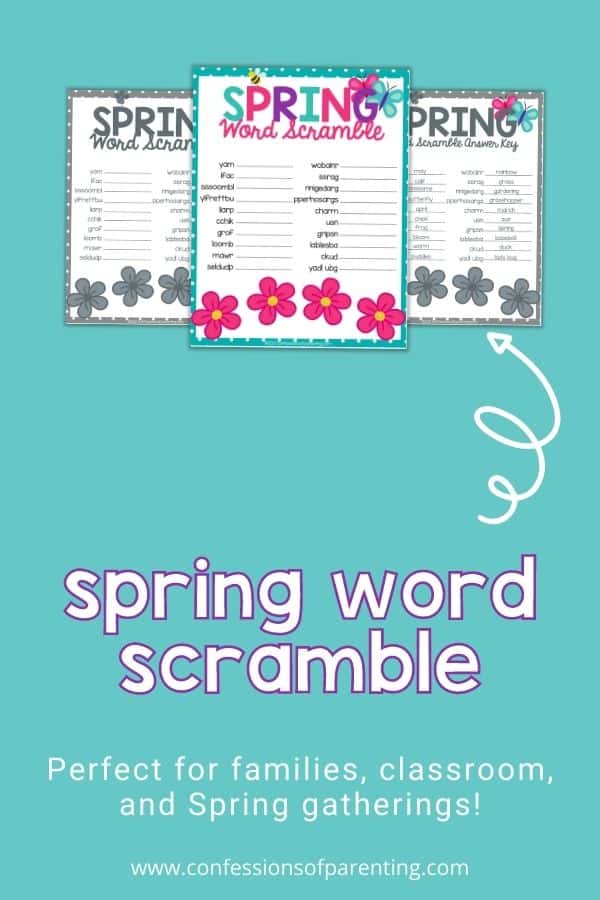 Looking For More Word Scrambles? Try These!
How to Play Spring Word Scramble
Word Scramble games are great to play! Most of you probably know how to play already! This is how you play. There are 20 Spring themed words that are all mixed up. Some are easy to figure out and some are a little harder, but the goal is to unscramble all the words on the page. That's it! It's fun, challenging, and gives your brain a nice stretch!
Benefits of Word Scrambles
There are so many benefits to completing word scrambles! These games aren't just fun, they really help your brain start moving! It doesn't matter how old you are, the benefits of this game are the same across the board! Some of those benefits are:
Get better at problem solving
Practice spelling
Enlarge your vocabulary
Learn patience
Because these benefits are for everyone this same game can be played by your kindergartener, your high schooler, and yourself!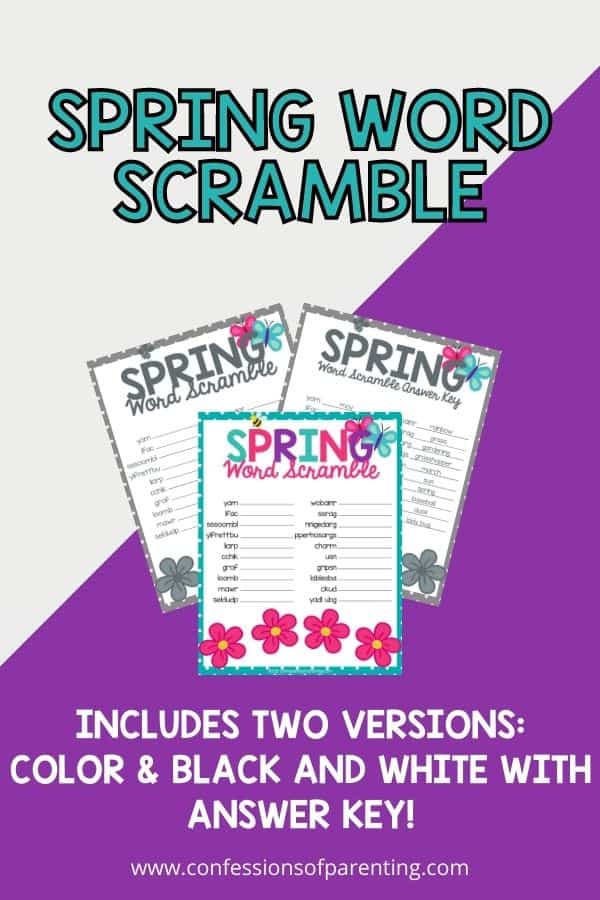 Tips and Tricks for Word Scrambles
You certainly don't need any of these tips and tricks to make this game enjoyable, but if you want to change things up a bit check out the tips below!
Playing with Small Children
Because there is a mix of easy and hard words on this sheet it often works best if younger children have someone older to help them through the hard words. This could be a parent, or a sibling, or whoever. It offers those working together a good opportunity to bond and strengthen their friendship!
Add a Time Limit
If you're looking for a little competition, adding a timer can be lots of fun! You can set the time for whatever you'd like, from a minute to 5 minutes or more. But the name of the game is to figure out as many words as you can before the time runs out. The person with the most solved words is the winner!
Play on Teams
Playing on teams is a great way for families to bond! It also might even the playing field if there are age differences in the people playing! Plus, if you don't know a word there's a good chance one of your teammates does. That's a little less pressure on you! Once you've got your teams all ready to go the first team to get all their words done wins!
Offer a Prize
If you want to add a little incentive to be the winner throwing in a prize is a sure fire way to do that! The prize can be anything you choose, but I'm particularly partial to food! Here are some delicious Spring treat options for you to consider when planning your little competition! The winner(s) gets the first pick!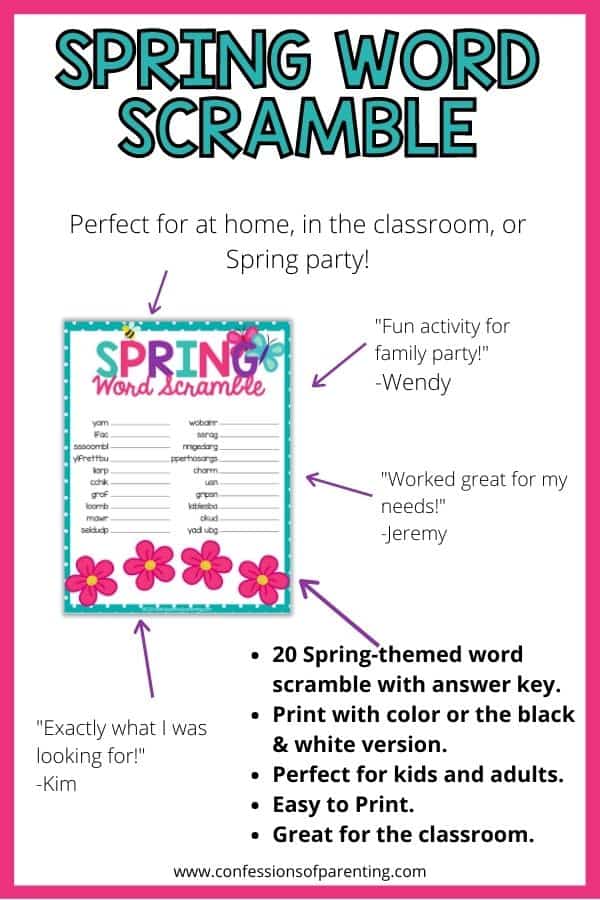 Spring Scramble Words Plus Answer Key
yam
lfac
sssoombl
ylfrettbu
liarp
cchik
grof
loomb
mawr
seldudp
wobainr
ssrag
nnigedarg
pperhosargs
charm
usn
gripsn
lablesba
ckud
yadl ubg
Answer Key:
May
Calf
Blossoms
Butterfly
April
Chick
Frog
Bloom
Warm
Puddles
Rainbow
Grass
Gardening
Grasshopper
March
Sun
Spring
Baseball
Duck
Lady Bug
You Can Never Have Too Many Word Scramble! Grab our whole Collection!
How To Download This Printable
To Get Access To This Free Word Scramble Printable Be Sure You Enter Your Name And Email And Hit "Get It Now!" It Will Be Sent Right To Your Email, So Be Sure That If You Don't See It Right Away That You Check Our Junk, Spam, Or Promotion Folders! You may not sell these or redistribute them in any way. These are for personal, classroom, and church use only.