Welcome the Spring season with this fun Springtime Bingo free printable! Your kids will love exploring the fun and creative pictures this Springtime Bingo free printable has to offer. Spring break has never been easier thanks to Springtime Bingo!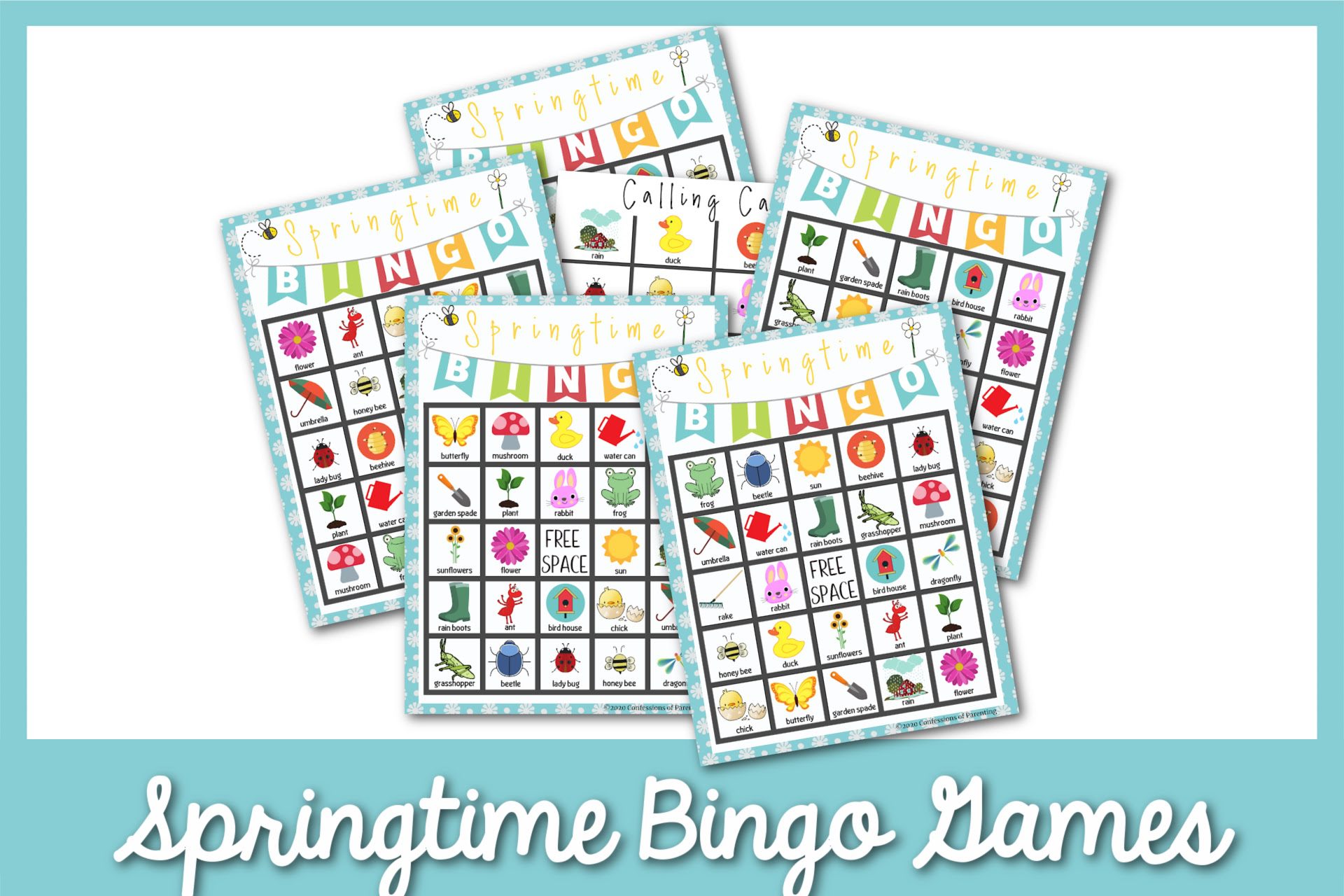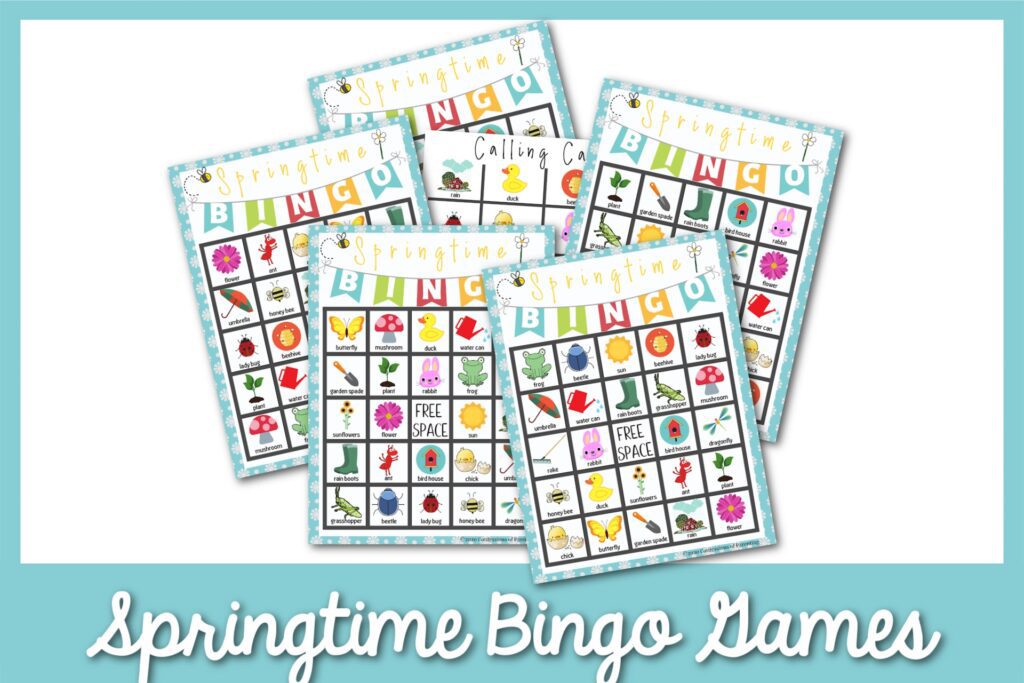 Free Spring Bingo Game
I love spring! It is one of my favorite seasons. I love the new blossoms, rain, and warm weather! It makes me excited to go outside and spend time in the yard and with my kids. But I'll be honest, sometimes I set high expectations for things and then become sorely disappointed later. And I've learned the hard way that it is always better to have a bunch of activities planned to keep my kids busy during spring break. Otherwise, they drive me crazy!
If you are looking for fun things to do this Spring, grab our Spring Break Bucket List and never run out of fun things to do!)
I love having this Spring Bingo on hand because it's always fun and my kids love playing it! In fact, the rules are so easy that after playing it a few times with me they totally understand the rules and can play with each other while I relax or work on something else. Add it to our other fun Spring activities like our Spring color by number or Spring Word Search, Spring Word Scramble, or our list of Running Games for those warmer Spring afternoons.
If the kids love bingo games, be sure to grab our multiplication bingo, our Earth Day Bingo, and our Easter Bingo! Check out all our other bingo games for kids!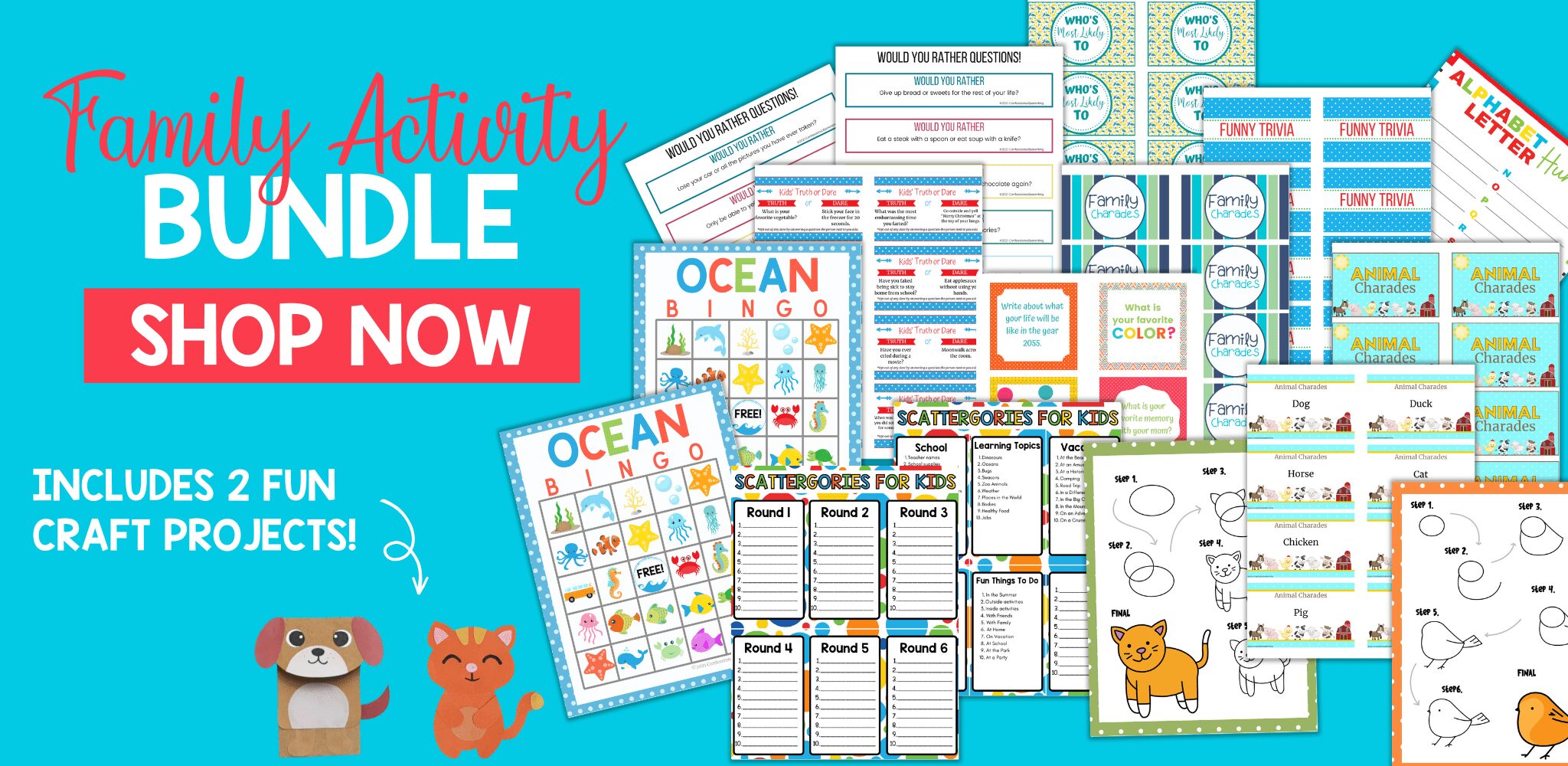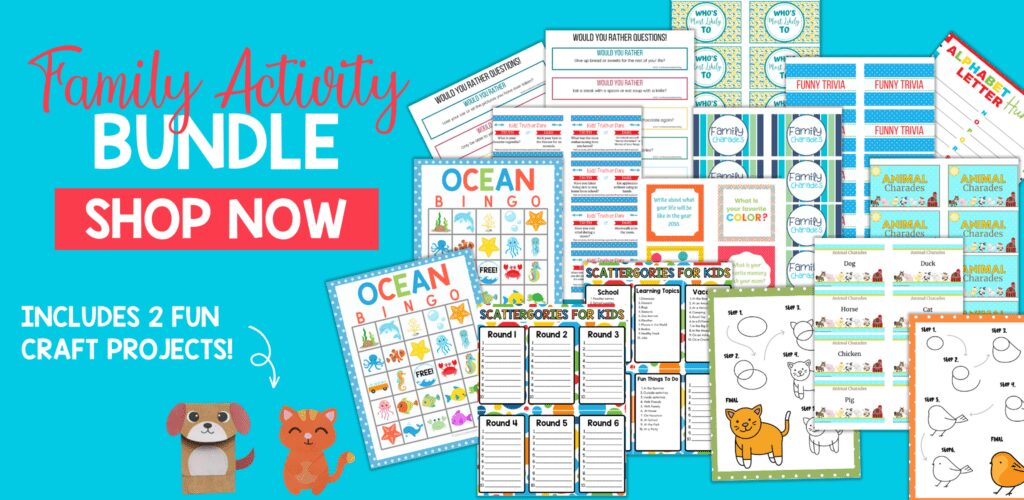 How to Play Springtime Bingo
Whether you're a teacher trying to fill in lesson plans before spring break or a mom looking for an extra activity to keep on hand, this Springtime Bingo is for everyone! It can be played with as many different players as you want and can be played with a variety of ages. The rules are simple and easy to follow.
First, start your game by giving each player a Springtime Bingo card. There are 6 different cards included in this set. You might want to spread these cards out so those sitting by each other don't end up with the same cards!
Be aware that the last page of your free printable is titled "calling cards." These have all the pictures from the bingo sheets. You can cut out each calling card, shuffle them, and place them face-down. You will draw these cards from a pile during the game. If you want to keep things interesting you can pull the cards out of a hat, bowl, or bag!
Next, make sure that everyone has a handful of placeholders or markers to cover their squares with (if you want to be precise, there are 25 squares, so players will need around 20-25 placeholders).
Also, I always suggest that you make placeholders fun! This really adds to the excitement of Springtime bingo. You can use things from around the house such as buttons or candies. If you want more creative ideas, check out my tips and tricks section!
Be sure to have everyone put a marker on their "Free Space!"
Then, use the calling card pile to draw one card at a time. After a calling card is drawn everyone must find where the corresponding picture is on their individual Springtime bingo cards and cover it up with a marker.
Once you fill up a row of 5 horizontally, vertically, or diagonally, yell out "BINGO!" The first person to yell bingo wins!
Helpful Tools We Love When Downloading Printables
Printer– I love my HP+ printer that uses Instant Ink. I love it because we can use as much color ink as you want for one low cost starting at $.99/ month for ink. Try it out for free here!
Cardstock- I always recommend printing on cardstock. This makes it way more durable so you don't have to worry about printing it time and time again.
Laminator / Laminating Sheets- Again, for added durability, grab a laminator and laminating sheets so that you can use this again and again!
Scissors (I seriously love these ones)
Dry Erase Pens- Use dry erase pens so that you can wipe your laminated printable clean over and over again for endless use!
Tips and Tricks for Springtime Bingo
Springtime Bingo is an awesome game and can be played for a long time! But, like everything, if you do it too much you eventually get tired of it. You can avoid this bingo "slump" by using a few of my favorite tips and tricks!
Make it Durable!
If you are planning on using Springtime bingo more than once this season, I highly suggest laminating it! This is a great way to make sure your bingo stays fresh and clean. It looks more professional and it's a heck of a lot more durable. We all know that spills happen, but what about when someone gets excited and accidentally rips their paper? Or when they get so excited about getting a bingo they spit all over the paper? Yeah, it happens. But, if you don't want to laminate, you can also just use a nice cardstock!
Use the Right Placeholders
Like I said before, the key to having a super fun Springtime bingo is to use super fun placeholders! I like going with the theme of whatever bingo I'm playing.
So, for Springtime bingo you could use things like these Flat Spring Marbles! These are definitely my favorite because each marble has a springtime tree on it!
They're supposed to be used for jewelry making, but bingo is a good excuse for them too right?!
Other ideas of what you could use might include these colorful buttons, these fun (and fake!) colorful gems, these cute little butterflies, these little wooden ladybugs, or a variety of treats!
Treat suggestions would include these flower candies, Hersey's Spring Chocolates Mix, Lifesavers, or Easter Hersey's Kisses.
Talk!
If you want to keep things interesting, create conversations as you play. These bingo cards are adorable and have tons of cute pictures. They are bound to spark some memories or thoughts in the minds of your players. Especially if you are playing with younger kids, creating conversations is a great way to keep things interesting, fun, and educational!
Play in Teams
If you are playing multiple times, you can make things interesting by playing in teams! You can do boys vs. girls, adults vs. kids, spring birthdays vs. everyone else! Make it fun and be creative.
Give away prizes!
If your players don't feel motivated to continue playing, raise the incentive by giving away prizes to the winners! You can give away your placeholders (if you have cute ones the players would be happy with those!) or you can give away more valuable and fun things. Remember, you don't have to spend tons of money on this game! Just get what you think would be fun. Some of my favorite suggestions include these Spring pinwheels, a water gun, some sidewalk chalk, or this super fun Waboba Moon Ball (basically its a super awesome bouncy ball!)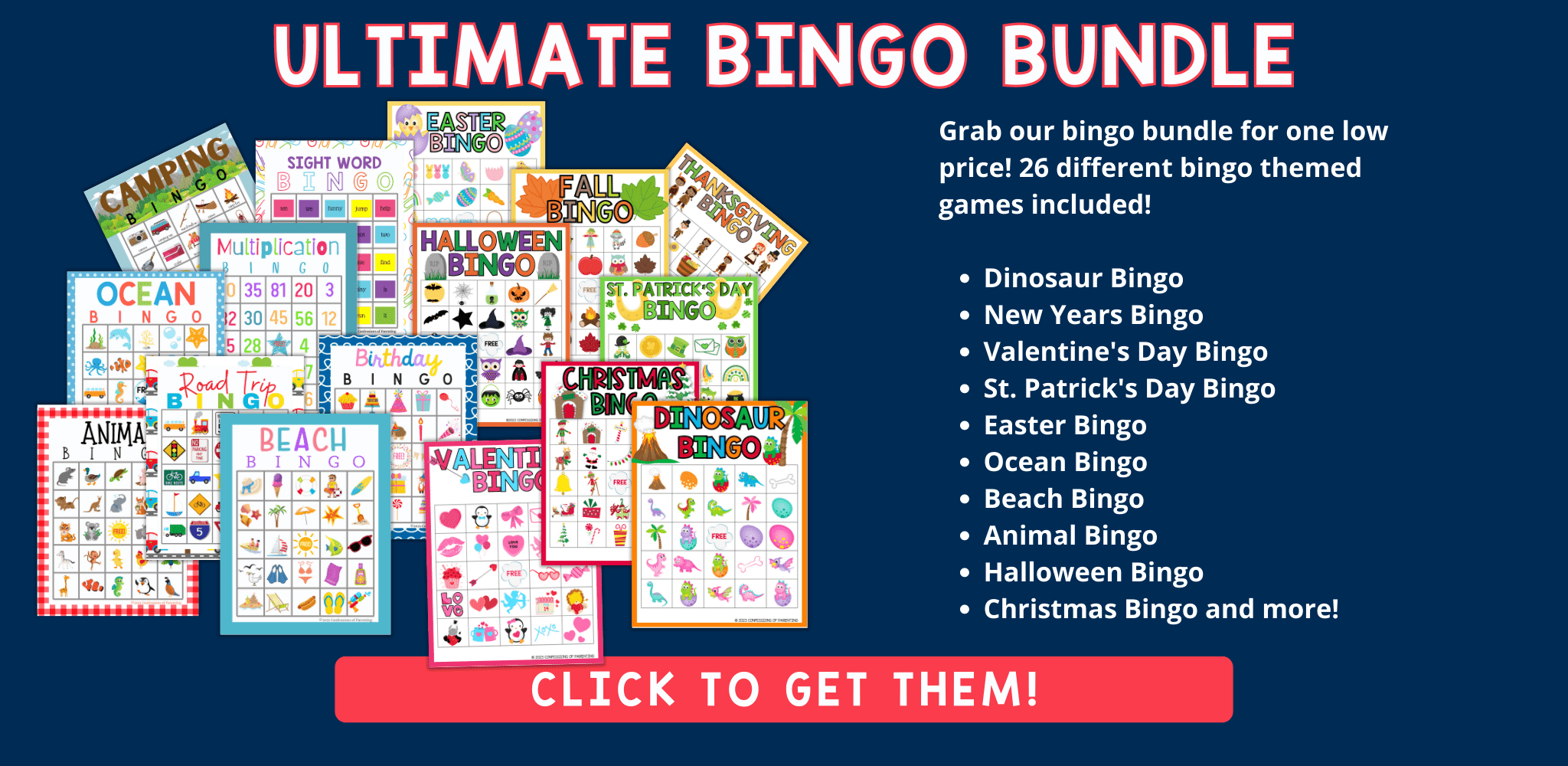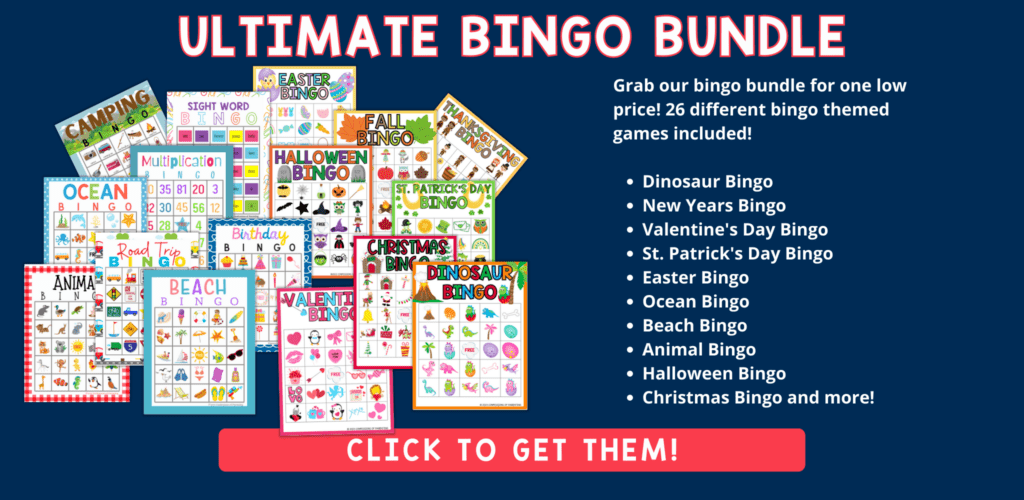 Springtime Bingo Printable Cards Free Printable
Grab your free Springtime Bingo printable today by joining our email list below! Just download, print, and play!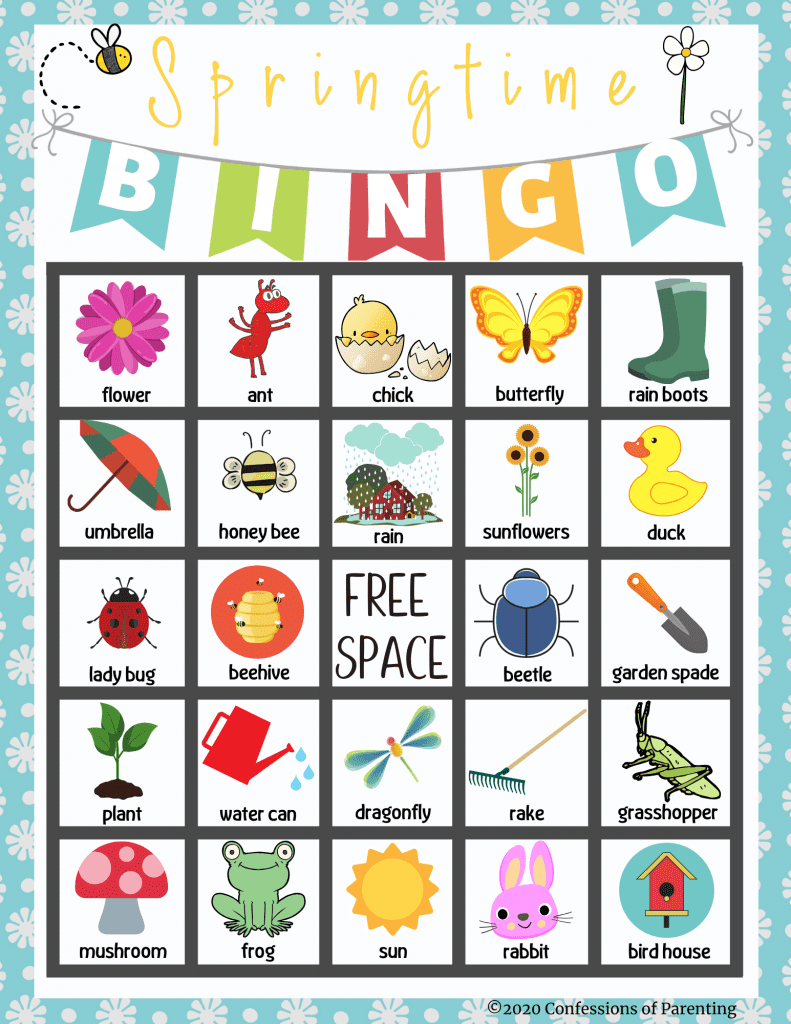 I hope you have fun with this Springtime Bingo free printable! If we missed anything fun, let us know in the comments!
Love Bingo Games? Don't forget to grab these too!
How Do I access my free printables?
Fill in the form above. You will receive an email in your inbox. If you don't see it, check your spam folder! You will then click to confirm your subscription. Once confirmed, you will be sent an email with your free printable.
How Do I Print a PDF?
You'll need a program that supports PDFs. Adobe Acrobat is a great option. Open the program, click File, then print. Select your printer and the number of copies you want to print. Be sure you click double-sided if you want it to print on both sides.
Can I resell these?
You may not resell any printable found on our website or in our resource library. You may use them for class parties, at church, at home, or in the classroom. You may get these printed at an office supply store or copy center at your own expense.