This Winter Bingo Free Printable is a great way to spend winter days inside with your children all teach them things that are associated with the winter season.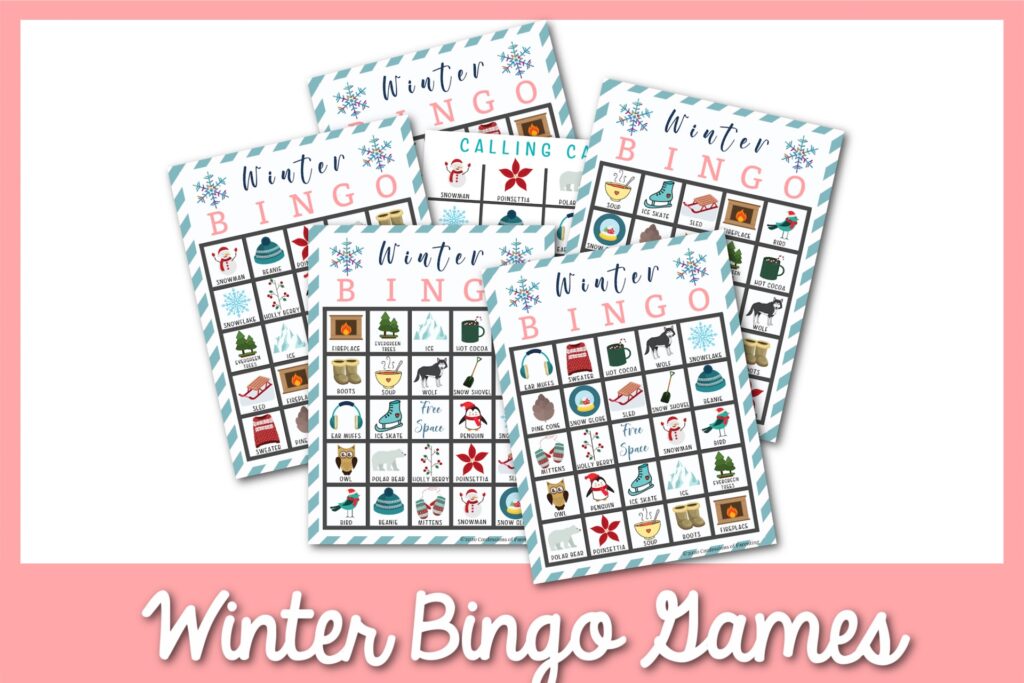 Winter Bingo Free Printable
Don't let the winter weather get you down! Have fun and celebrate all the things that make this season special with this Winter Bingo free printable.
I am always looking for fun games and activities to do with my kids in the winter time. I don't mind a bit of cold weather, but it can get a bit boring staying inside all day all winter long!
That's why I love playing winter bingo with my kids, friends, and family. It's an fun game and it also helps me to expand my kids' knowledge of all things winter! This chilly season is way more than just Christmas and snow and I love showing my kids how fun winter can be with fun games like this Winter Bingo Free Printable.
The simplicity of this game makes it easily adaptable to a lot of different game variations. All ages can play Winter Bingo, and you can play at any birthday party, family game night, church, school, or anywhere really!
If you're looking for some other Winter fun, get your entire family laughing with our Winter Minute to Win It Games, Frost Jokes, Winter Riddles, Snow-tastic Jokes or grab our Winter This or That Questions to get your family talking!
Check out all our other bingo games for kids which include fun options like Christmas bingo cards, New Year's Bingo cards, Birthday Bingo, Multiplication Bingo, and fall bingo!
How to Play Winter Bingo
Like I said before, Winter bingo is so easy to play and understand. I've played with young children as well as with adults. You can play with a huge group or just with 2 people.
In our free printable you'll find 6 unique Bingo cards complete with a free space and fun winter themed pictures in each of the squares. The last page has the "calling cards" with each of the pictures that you can cut out and mix up for your Bingo game. These are the cards you'll use to call out what pictures everyone should mark off.
Sometimes I will be the "caller" and pick out the pictures while everyone plays, but if I don't want to miss out on the fun we take turns picking a card from a bowl or basket.
To start the game, make sure that every player has a Winter bingo sheet. All the cards are different, but if you print more than one set for a larger group you'll want to make sure those sitting by each other have different cards!
After everyone has their Winter bingo card, give them something to cover their squares with. Some classic options are cheerios, M&Ms, buttons, or pieces of paper, but you can also get creative and think of some fun winter themed markers. Check out some fun options in my "tips and tricks" section below!
Put a marker on your "Free Space!"
Use the calling card pile to draw one card at a time. After a calling card is drawn everyone must find where the corresponding picture is on their Winter bingo cards and cover it up with a marker.
Once you fill up a row of 5 horizontally, vertically, or diagonally you have to yell out "BINGO!" The first person to yell bingo wins!
Helpful Tools We Love When Downloading Printables
Printer– I love my HP+ printer that uses Instant Ink. I love it because we can use as much color ink as you want for one low cost starting at $.99/ month for ink. Try it out for free here!
Cardstock- I always recommend printing on cardstock. This makes it way more durable so you don't have to worry about printing it time and time again.
Laminator / Laminating Sheets- Again, for added durability, grab a laminator and laminating sheets so that you can use this again and again!
Scissors (I seriously love these ones)
Dry Erase Pens- Use dry erase pens so that you can wipe your laminated printable clean over and over again for endless use!
Tips & Tricks for Winter Bingo
There are so many ways to play Winter bingo and I admit, sometimes it's hard to keep everyone interested in playing after a while. Especially when you have a wide range of ages playing at the same time. After years of playing Bingo with my friends and family, I've been able to collect a few great tips and tricks for playing bingo and I'll share them with you here!
Use Cardstock/Laminate
Trust me on this one. Print your Bingo set on some great cardstock paper. Whether you have little ones or you'll only be playing with adults, these cards are bound to go through some wear and tear. If you want to keep things nice and durable so that you can keep using your winter Bingo set, don't skip this tip!
I also definitely recommend laminating your Winter Bingo set! I know that laminating can sound difficult or intense, but I promise it's easy and 100 times worth it. This will help prevent rips, tears, and even spills!
Make it Special
Bingo night isn't like any other game night in my home. I love to make it different from our usual routine and turn it into an extra special family night. Sometimes I have fun prizes, or a special treat. Maybe we will all play in our PJ'S!
You could even invite over friends or family to play with you. How fun would it be to set up a cute Hot Cocoa Bar with our free printable tags and have a winter bingo party?!
Be Creative with Your Markers
A great way to keep everyone interested in the Winter bingo game is to use fun and creative markers! There are so many different things that you could use. You could run to any dollar store or Target and get little winter candies. Kids and adults love this because after you play you get a yummy treat! Some of my favorite suggestions for treat markers include these yogurt covered pretzels, mini Hersey's chocolate bars, Hersey's kisses, or hot chocolate flavored M&Ms!
If you are in need of some non-treat options, you can use these adorable snowflake foam shapes, small winter pom-poms, metallic snowflake confetti, or these glass winter flat-back marbles. Just be mindful of what is safe to use if you have some little ones playing with you!
Start a Conversation
If you are playing with younger children, this could be a great time to explain the pictures and talk about how they are related to Winter. It's a new and exciting time of year for them! If you have older children, you can start a conversation about what types of memories they have associated with each picture. This is a great way to keep things fun, interesting, and memorable!
Use Teams
This is a great way to invite some friendly competition to your game. You can play boys vs. girls, in partnerships, or kids vs. adults to see what team can all get bingo first.
If you have little one's I highly suggest pairing them up with an adult and having everyone play in pairs. They won't feel excluded and everyone will get to have fun together!
The Winner Gets a Prize!
Who doesn't love prizes?!This is an especially great way to get teenagers involved and excited to play! Prizes can range from something you already have around the house to some yummy homemade goods! There are so many things you can choose from. I even throw out extended bedtimes, skipping a chore, their pick for dinner or other fun incentives when I play with my kids.
If you want to get extra creative with your prizes, try these fake snowballs, winter Mad Libs, this Snowman Craft Kit, or even this iceberg slime!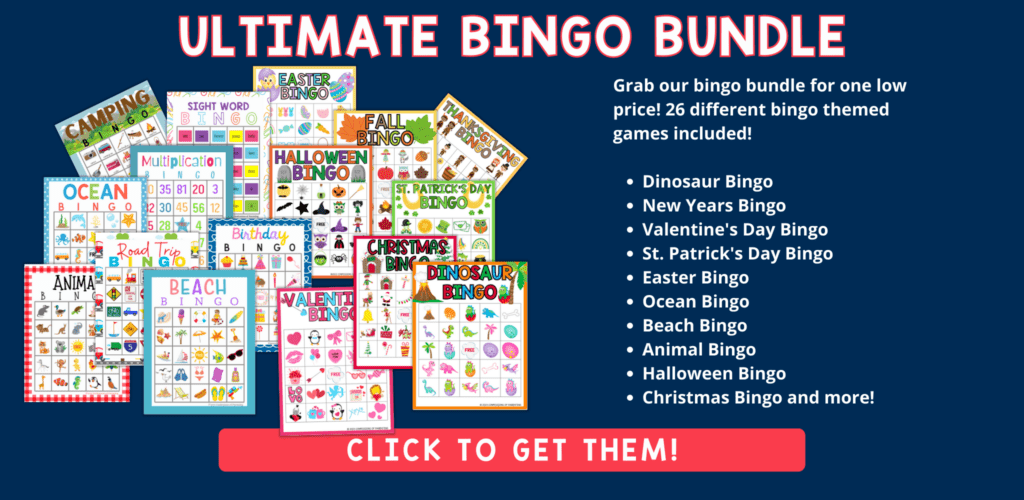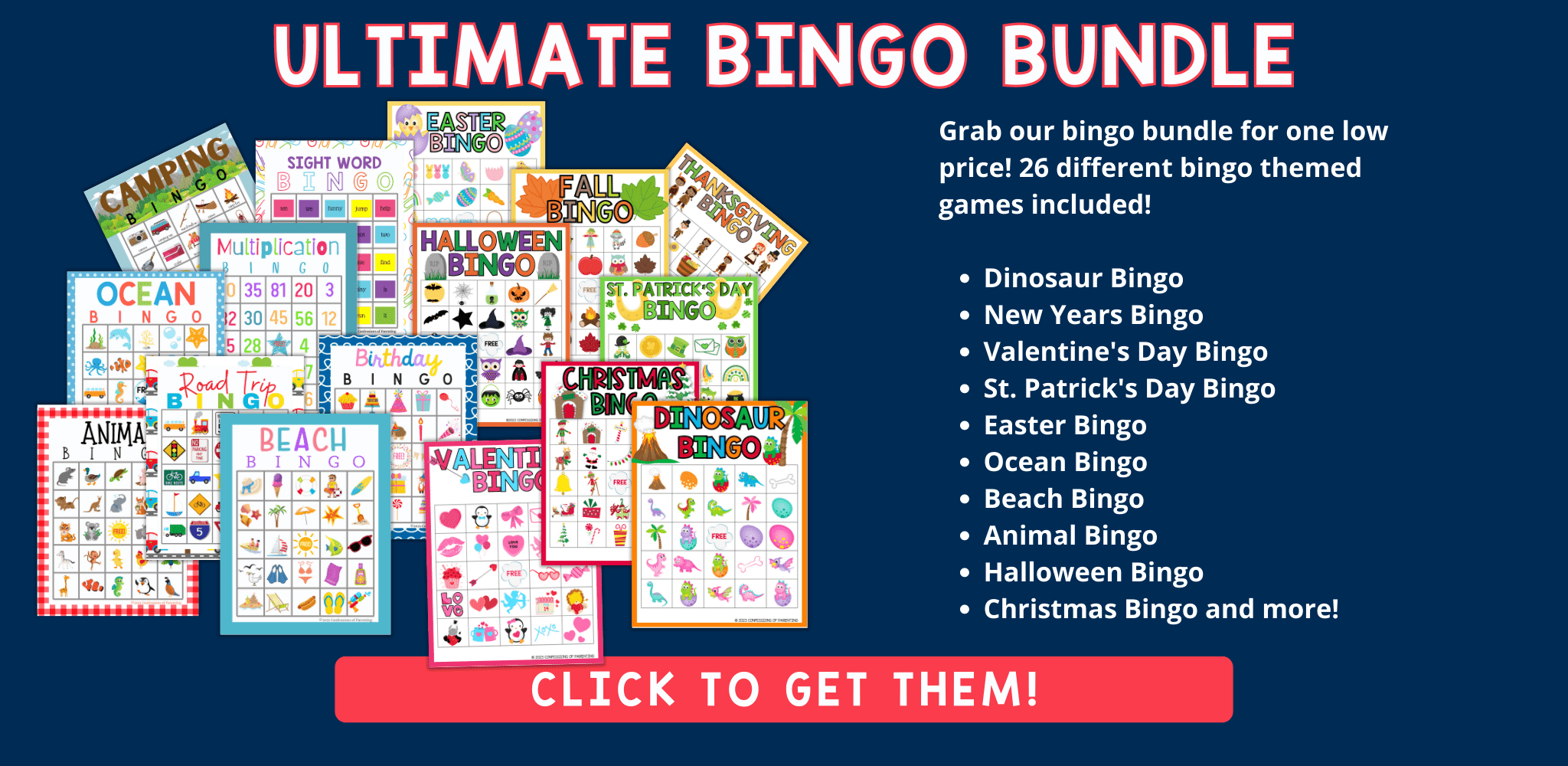 Download Winter Bingo Cards
Grab your free winter bingo by joining our Confessions of Parenting email list below. If you aren't quite ready to join, you can grab it right here!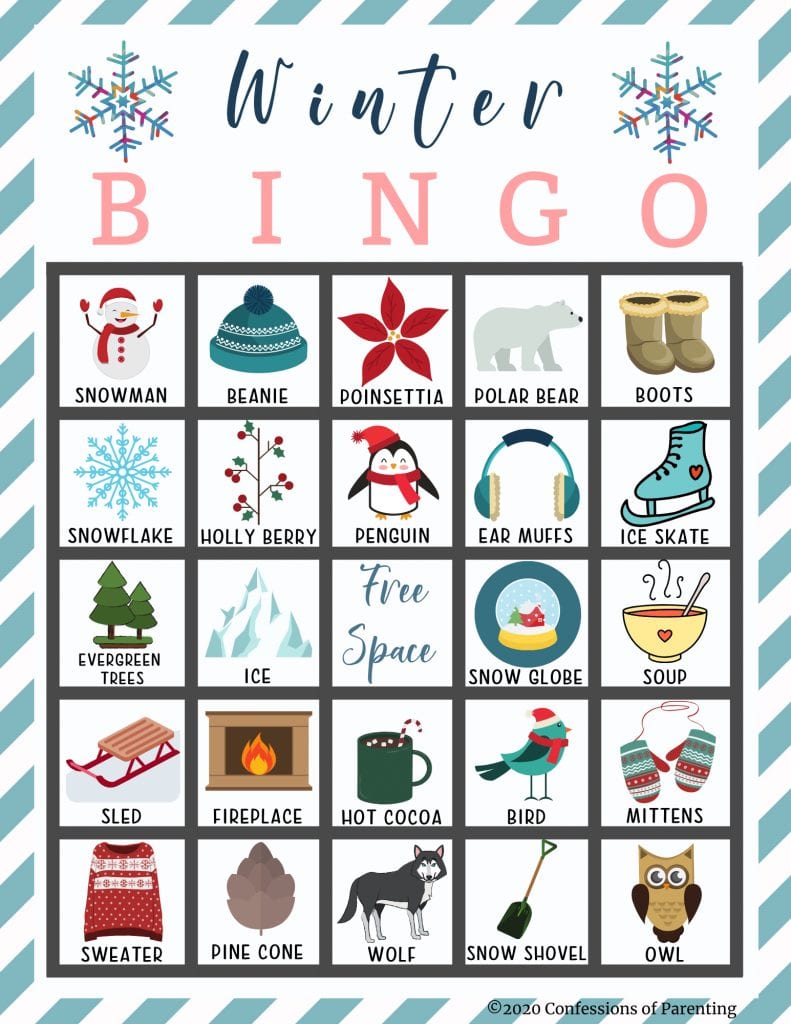 I hope you enjoy this Winter Bingo as much as my family and I do! It's a great way to spend quality time with loved ones and enjoy the Winter season!
Love Bingo Games? Don't forget to grab these too!
How Do I access my free printables?
Fill in the form above. You will receive an email in your inbox. If you don't see it, check your spam folder! You will then click to confirm your subscription. Once confirmed, you will be sent an email with your free printable.
How Do I Print a PDF?
You'll need a program that supports PDFs. Adobe Acrobat is a great option. Open the program, click File, then print. Select your printer and the number of copies you want to print. Be sure you click double-sided if you want it to print on both sides.
Can I resell these?
You may not resell any printable found on our website or in our resource library. You may use them for class parties, at church, at home, or in the classroom. You may get these printed at an office supply store or copy center at your own expense.