Finding the right dollhouse for a two year old can be tricky! There are so many options out there and you don't know where to even start! You want one that they can play with no that won't break, but you also want it to last for years to come. We are rounding up the 20 best dollhouses for a 2 year old that are durable and will last through hours and hours of play!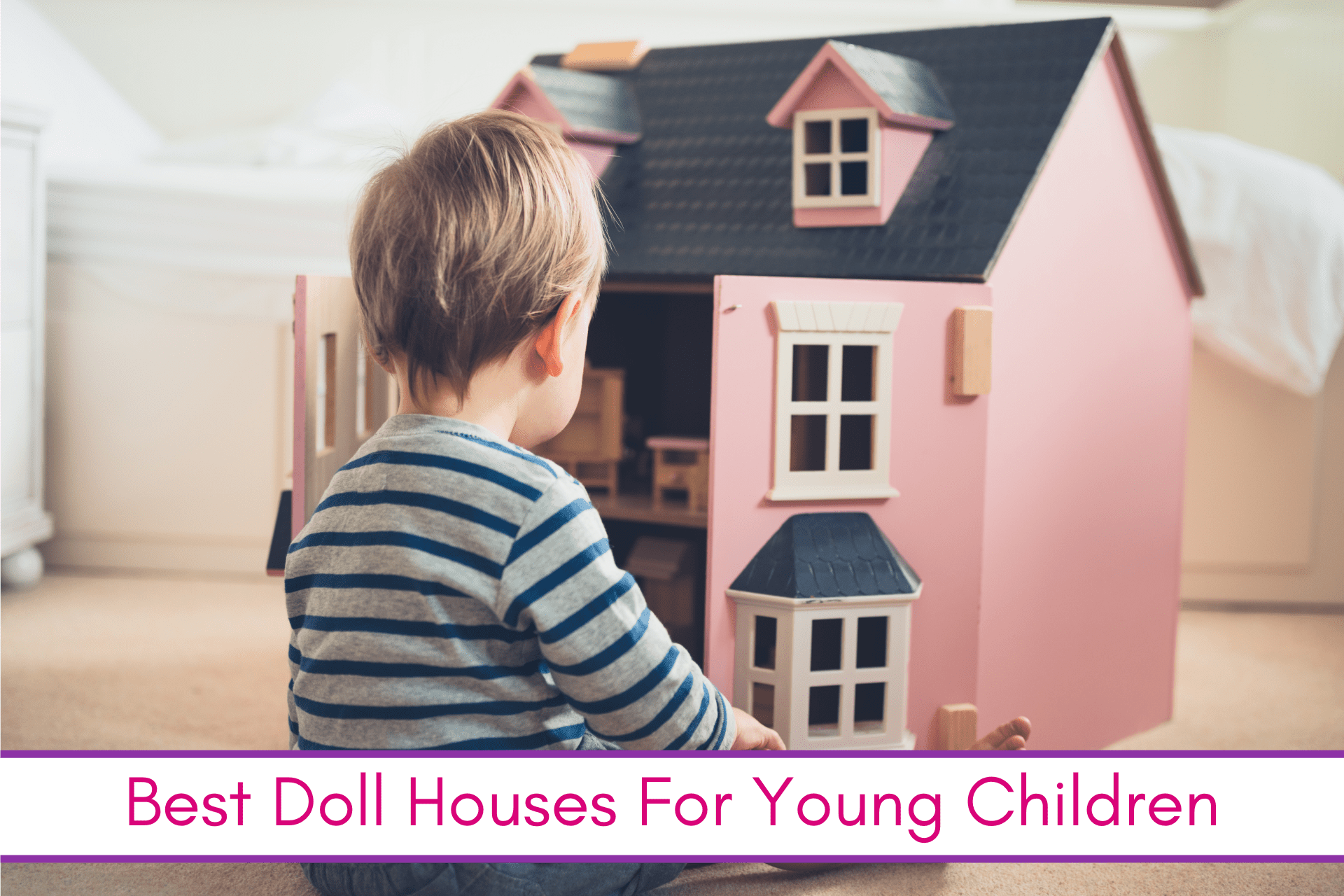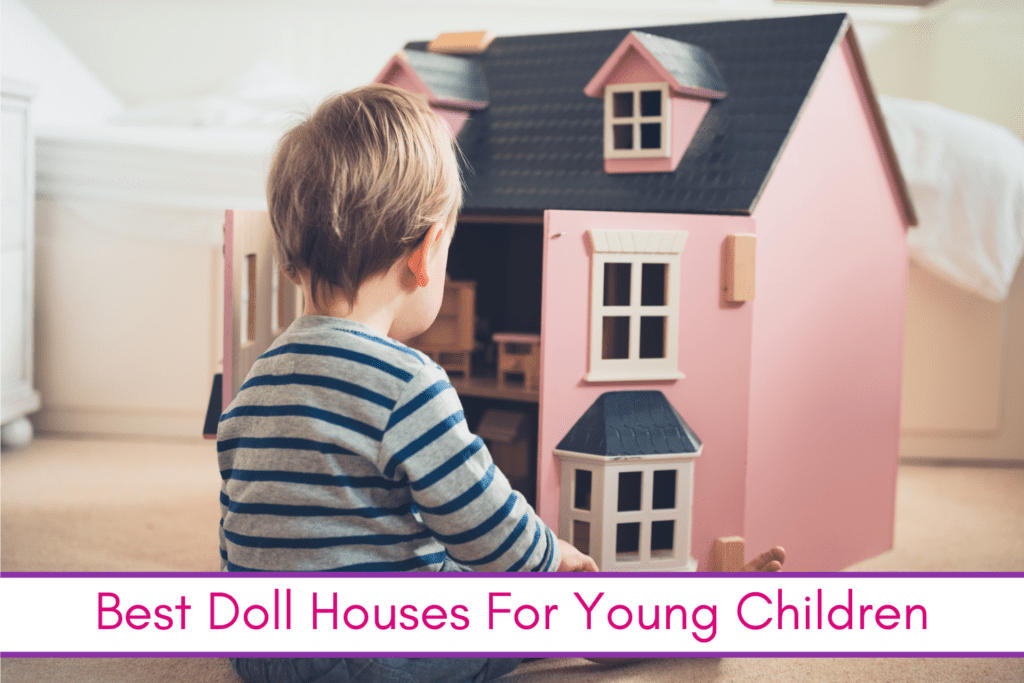 Best Doll Houses for Young Children
Best Overall Dollhouse: KidKraft Wooden Sweet & Pretty Dollhouse with Elevator
Best Deal when it comes to a dollhouse: Melissa & Doug Multi-Level Wooden Dollhouse
Best wooden dollhouse: KidKraft Savannah Wooden Dollhouse
Best Dollhouse splurge: Melissa and Doug Multi-Level Wooden Dollhouse
Best Dollhouses for 2 year Olds
Are you looking for a ready-made product that can be played right out of the box? Then the cozy cottage starter home is the perfect way to start your child's Calico Critters collections.
In this box, you can find the products that include cottage, bell hopscotch, rabbit, kitchen cabinet or stove combination, a comfy bed, and so much more. This is a unique product as it consists of a wide range of features and adorable animal critters.
This will be the classic gift for your kids, and also it consists of some award-winning miniatures. Some of the best features of this home include kitchen cabinet, dining hall, cleaning area, bedroom, two-story house, single-story house, house with garden, and house with a parking lot. We love that this is just the start of Calico Critters. You can easily add new characters as well as fun accessories your kids will love!
The Kidkraft Savannah wooden dollhouse is an elegant gift. It is designed for 3 and above, but can easily get this for a younger more responsible child.
This dollhouse consists of a large six-room mansion, and it is decorated like a true southern mansion. The kids will love this gift because it is fully furnished and also it has handcrafted furniture in the rooms.
The total weight of the Kidkraft savannah wooden dollhouse is 40 pounds, so even as your child grows they will still love playing with this dollhouse.
This dollhouse will need to be assembled.
If your house is filled with multiple children, then this dollhouse is the one for you! This Kidkraft Penelope Dollhouse is four feet tall and it consists of three levels with four rooms. The kids will love this dollhouse. There is artwork both inside and outside of the house that brings the dollhouse to life and really helps your kids' imagination go wild as they play.
It consists of nine accessories that include a bed, chandelier, sofa, lamp, table, stools, bathtub, and toilet. There is also a fun staircase that will help you get from the second to the third floor.
This is one of the most beautiful and best gifts for your kids when looking for a dollhouse. If you have a little girl in your house then she will fall in love with this dollhouse.
They will love playing with it as the front of the house, roof, door, and windows open for even more ways to play. The house is super cute and painted to perfection.
The house consists of 16 pieces of furniture so you can play immediately after opening it from the box. In this dollhouse, the features like wallpaper, removable roof, and opening windows and shutters will make the house a unique gift.
Peppa Pig's dollhouse is the perfect option for 2 year olds. You can experience the sights, sounds, and the family home, and your kids will love playing with it. The dollhouse consists of 7 rooms and 13 accessories which you don't see in other dollhouses out there. The dollhouse consists of some animal creatures. Your kids will absolutely love it.
Be sure you have 2 AA batteries so that all the features and sounds work on this dollhouse. The best part of this dollhouse is that if you want some extra room and accessories, then you can purchase them. The bright-colored rooms and movable features will allow your kid to engage in imaginative play.
If your child loves imaginative play, then this is the dollhouse for them.
The dollhouse consists of three levels and four rooms so that the kids will have even more fun moving their dolls from room to room and floor to floor. The best part of this gift is that it has the cutest porch area and a door that opens and closes. You can find an elevator that will glide you from the first to the second floor.
This dollhouse consists of 15 accessories, and you will get a 12-inch doll that your kids will like as they can even decorate it. The dollhouse will be big and it can even accommodate a 12-inch Barbie doll.
This is considered the perfect roleplay dollhouse and also encourages imaginative role play with friends. It consists of six rooms that include a master bedroom, family bathroom, media room, and kitchen. The rooms have an open layout and has wooden stairs which makes it easy to move from one level to another. The home comes with all the furniture you will need for your kids to be entertained for hours with this house.
The best part is that it consists of 36 accessories and this is the only dollhouse that consists of a large number of accessories. The furnishing of the home will be unique and even consists of household appliances that can be moved according to your children's wishes.
I love how this doll house makes it easy to play on multiple sides of the house and it is easier for each room is easily accessible for small hands.
The Melissa & Doug & Go Wooden dollhouse is considered to be a great dollhouse for small children. You can carry this house while traveling as the pieces won't get separated because they are all attached. In this mini dollhouse, you will find working doors, 11 accessories that include furniture, and also two flexible wooden figures.
The house is designed in such a way that it can be opened fully so that your kids can easily access everything.
We love this as a great wooden dollhouse option.
If you love the Melissa and Doug Dollhouse we just showed you , but want something bigger, then this multi-level house is the one you will want to grab for your child.
This is a perfect wooden dollhouse to gift your child. The house is made of high-quality material and also is easy to assemble. You will find 19 pieces of furniture with a really spacious layout so your child has lots of room to move their dolls around inside the house.
They will love this dollhouse at a young age and for years to come!
Does your 2 year old love Minnie Mouse? This adventurous house will make play time even more fun. The home consists of a four-levels of rooms, and on the second floor, you can find a closet where you can find even outfits.
On the first floor, your kids will become spa owners to expand their play even more. On the fourth floor, your kids will become pet-sitter and they can feed pet food to the pets.
It consists of 12 accessory pieces, and the features included will be a manual elevator, two-sided play, and everything that will make this home perfect. Your little kids will going on an adventure every time they play with this dollhouse.
If you are looking for a budget-friendly dollhouse for your kids, then you will want to look at this option. The great thing about this dollhouse is that it is built to enhance motor skills, cognitive learning, and problem-solving.
There are a lot of things to love about this dollhouse. It comes with the furniture, a frozen pond, and snow-covered trees to make the event more delightful. Your little girls will love this!
Another budget-friendly dollhouse is this Melissa and Doug Take-Along Wooden Dollhouse. This dollhouse is loved by so many as it is made of high-quality material, and it is assembled using precision manufacturing standards. This dollhouse is small enough that you can even take it with you on a caride to help entertain the kids. I absolutely love the locking door with this house. Before purchasing you just want to make sure none of the pieces are too small to ensure your child does not choke on them.
This princess castle deluxe playset will resemble royalty, and also it is compatible with the child's favorite Peppa playsets and figures which is a huge bonus. In this castle, you will find six rooms and two floors and you can decorate it as your child wishes. If your child loves a creative toy, then this princess dollhouse is perfect for them.
When compared to the other dollhouses, you will love how lightweight it is and the fold up design.The best part of this castle is that the children can place all the figures, furniture, and other accessories inside the castle once they are done with the playing. If your kid is a huge fan of Peppa Pig's then it will help them complete the collection.
Dollhouses for boys
If you are looking for the perfect dollhouse for boys we have found some really great options.
This type of dollhouse can be loved by everyone, but it is especially perfect for boys. They will surely enjoy these wooden farm blocks and also it can be played right after you have opened it from the box because it comes full assembled.
This farm block consists of seven realistic animals which are made of plastic, a wooden ladder, and a folding corral.
The amazing part of this dollhouse is that there will be a mini-pad that is attached to this item. The wooden barn farm blocks are made of high-quality materials so it will last longer. It has also undergone various tests to ensure the safety for kids which is a huge bonus.
Boys might really want a dollhouse, bubt are turned off by the pink and purple colors. This Hape Doll Family mansion is the perfect dollhouse for boys and girls.
This cozy dream house is the perfect playset as it will include all the things like a master bedroom, children's bedroom, living room, and so on. It will enhance the creativity level of the children as they can design the house the way they want. The amazing part is that there will be a doorbell that will give a realistic "ding-dong" sound. This dollhouse is your ticket to expanding your kids imagination in no time!
There you have it! The very best dollhouses for 2 year olds! Do you have a favorite we can add to the list? Share with us in the comments!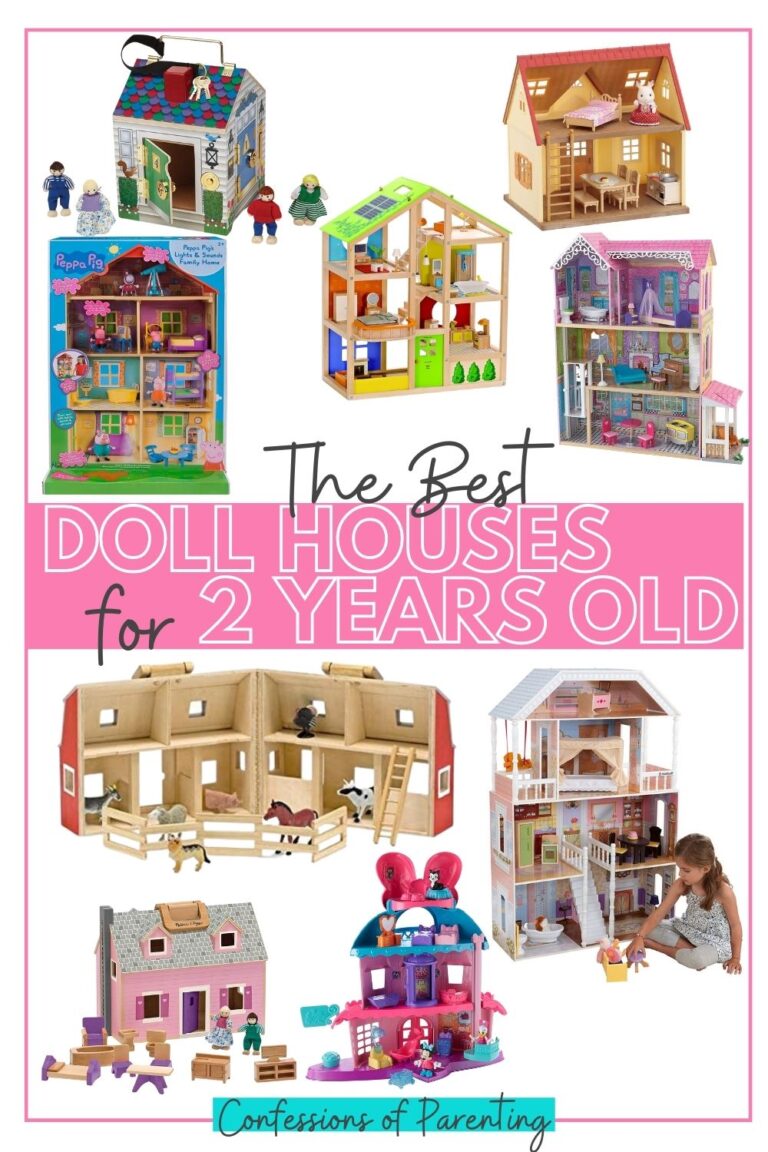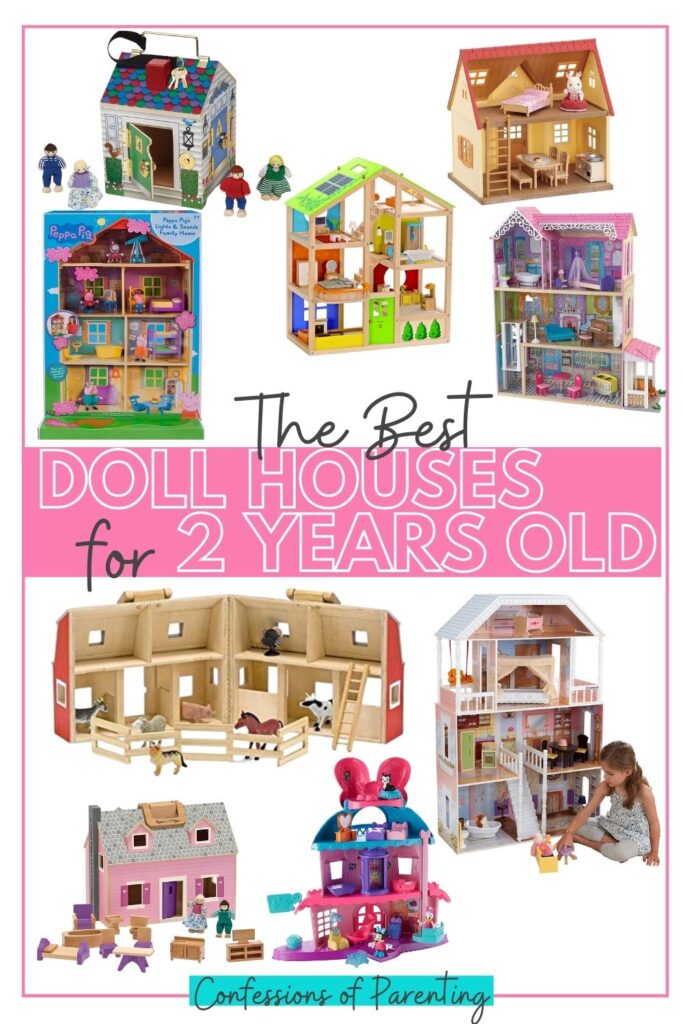 Check out these other great posts!