This breakfast tortilla wrap just reinvented how you do breakfast as you combine all your favorite breakfast ingredients into a handheld on the go meal!
Breakfast Tortilla Wraps- The New Way to Enjoy Breakfast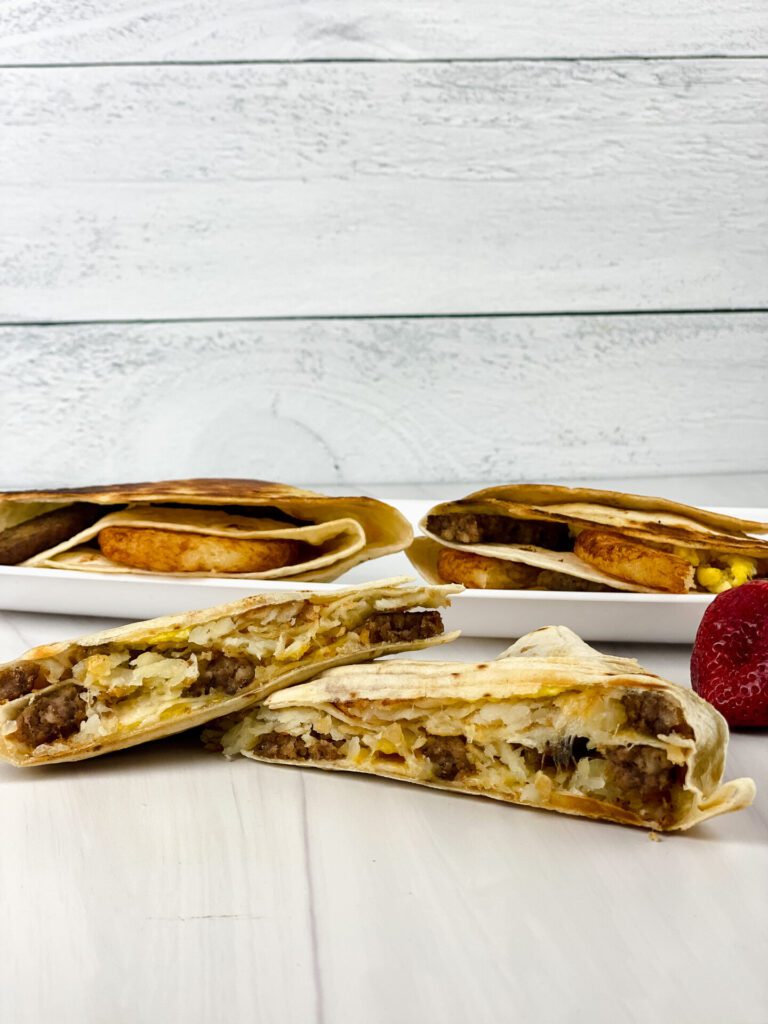 Breakfast at our house is an on-the-go occasion. It seems like no matter what we are always rushing out the door with our breakfast in our hands. Our kids are huge fans of breakfast burritos, but the problem is they seem to always open and stuff is falling out everywhere. This breast tortilla wrap reinvents how we eat breakfast burritos because they are so handy without stuff falling out everywhere!
I love that these are:
Easy to make.
Easy to take with you!
Totally customizable
Super delicious!
This tortilla wrap joins our other favorites, like our apple pie tortilla wrap as well as our pizza tortilla wrap!
Easy Breakfast Tortilla Wrap Recipe
Servings: varies
Prep Time: 10 minutes
Total Time: 15 Minutes
Ingredients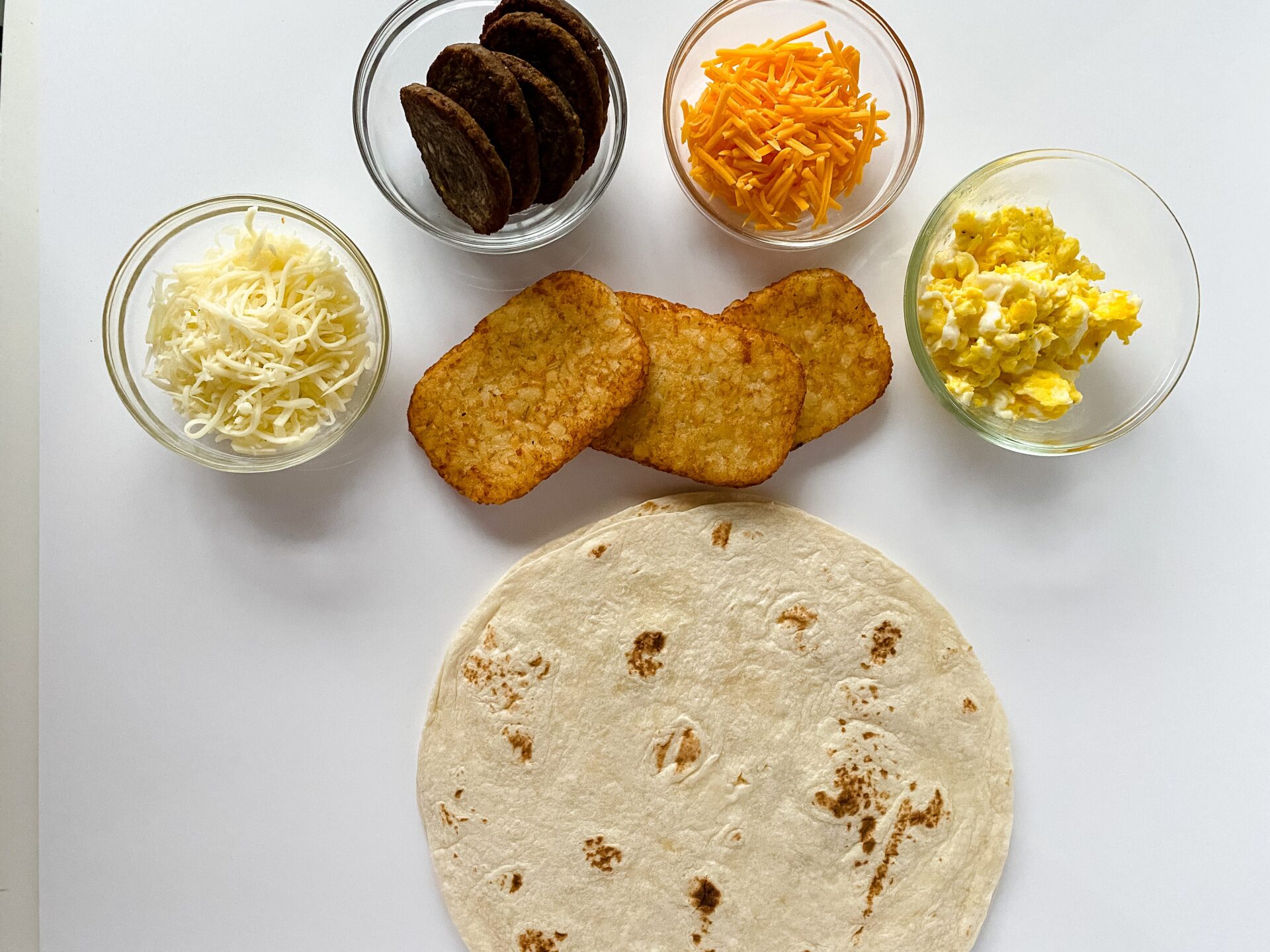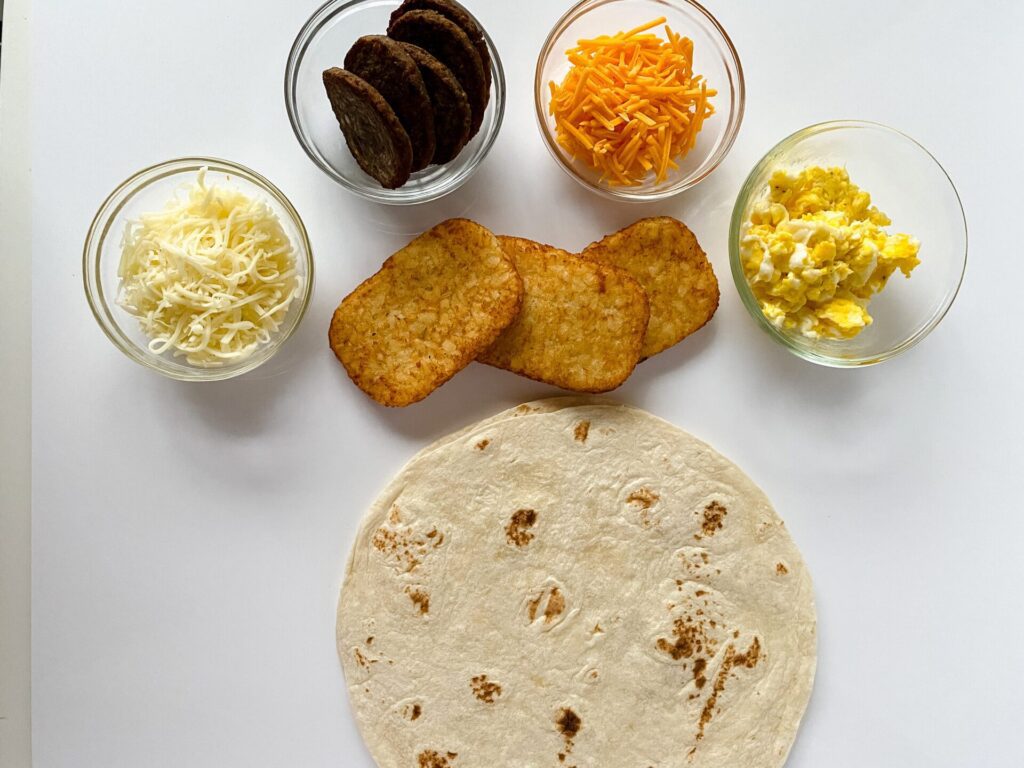 Precooked Breakfast meat of choice
Scrambled Eggs
Precooked Hashbrowns
Large Tortillas
Cheddar Cheese
Mozzarella Cheese
How to make and assemble a breakfast tortilla wrap
* If using a panini maker be sure to preheat it.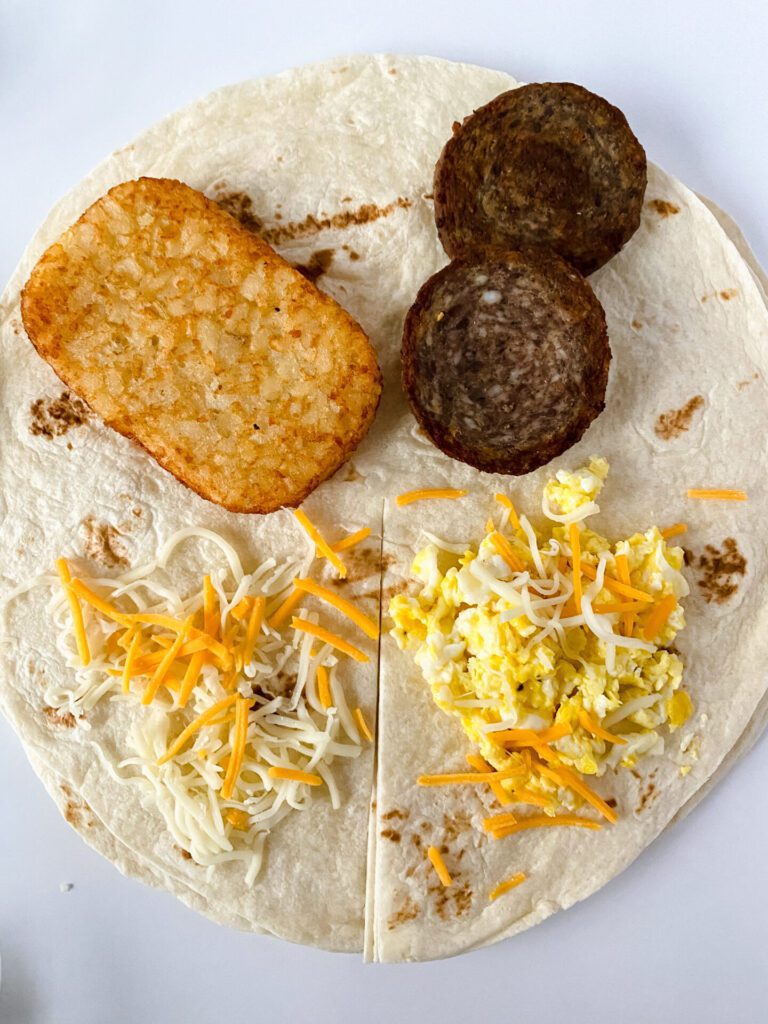 You will want to begin by cooking all your breakfast items. I usually buy precooked items so that I just have to heat them up, minus scrambled eggs. I always make these fresh.
Once your items are cooked, take your large tortilla and cut a slit in the middle of one half of it.
Then visualize your tortilla as 4 separate quarters.
Then you will fill each quadrant either with individual items separated (like in the first picture) or combined together (in the second picture)
Once your breakfast items ar in each quadrant take the first section and fold it over (See picture)
Fold that set down and to the right, then fold down again to complete the fold.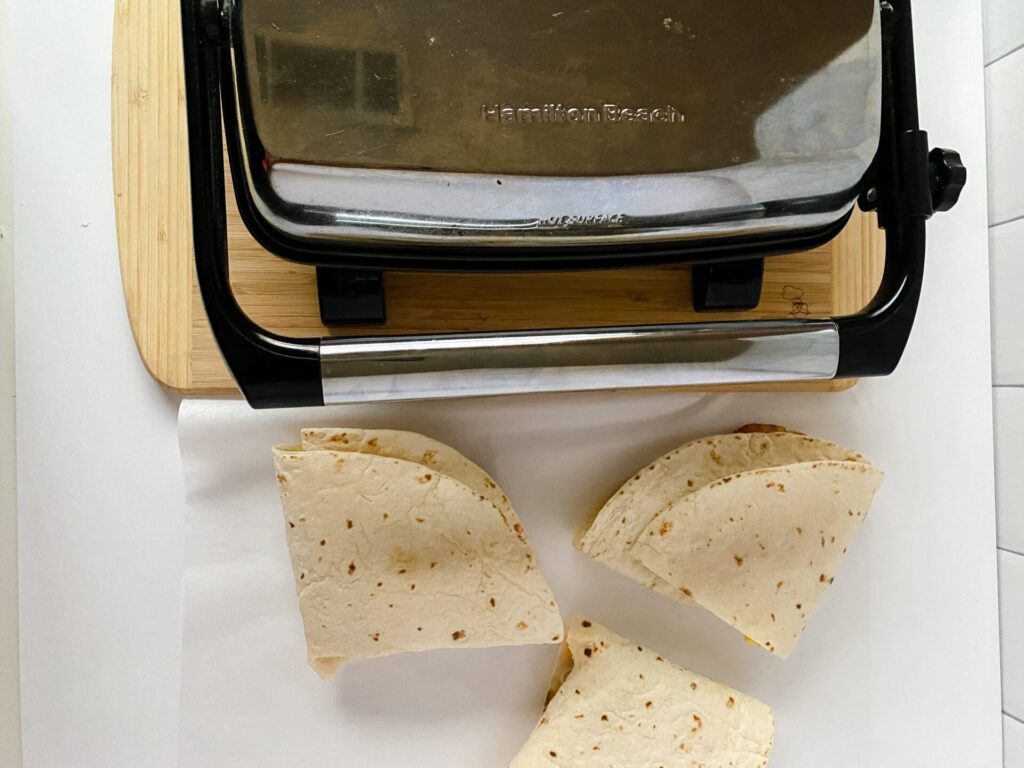 Brush on a bit of butter.
Place your breakfast wrap tortilla on your preheated grill, pan, or panini maker to toast the outside.
Once toasted, but in half and serve!
Tips Tricks and FAQs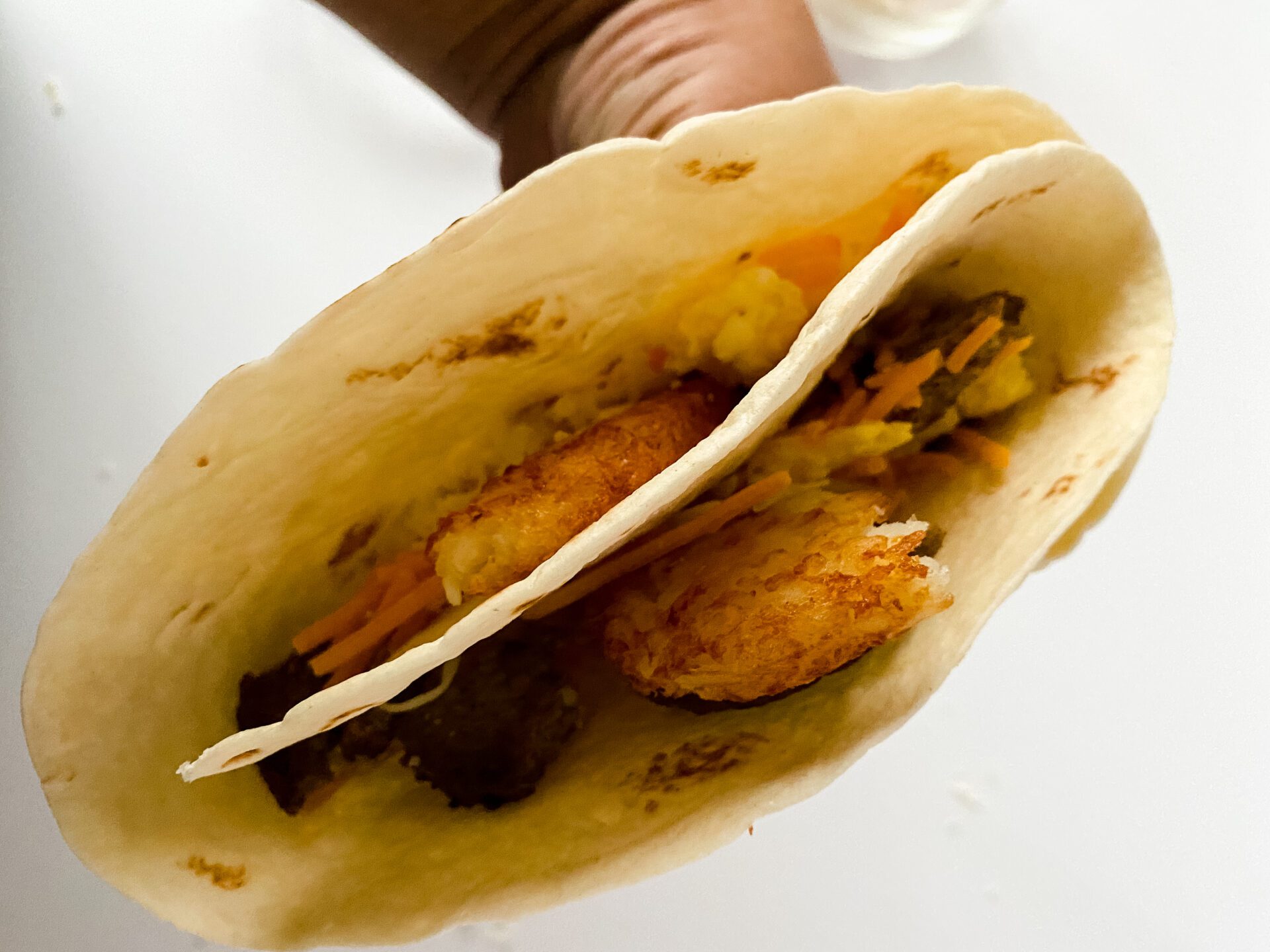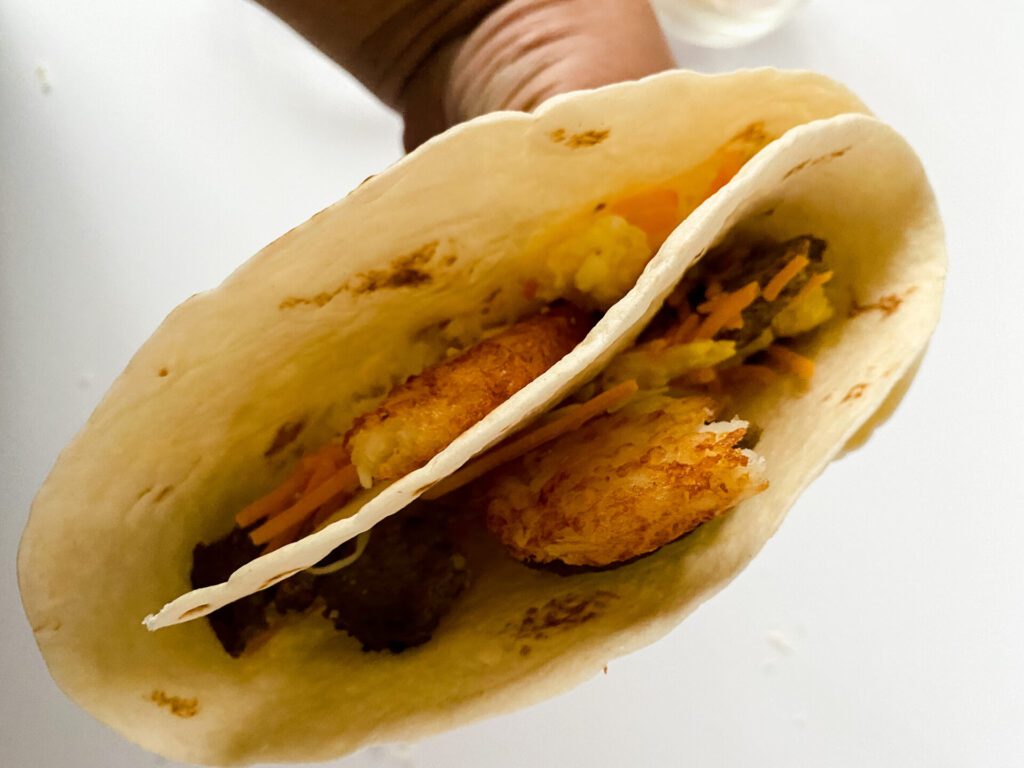 I recommend chopping up all the items in your breakfast wrap and dividing them all among the quadrants. This helps the cheese not fall out because it will start to melt a bit to the other hot ingredients.
Place the scrambled eggs in quadrant 2 or 3 (so not the first folded section, but the one after) this helps them be a little more secure rather than floppy out the side.
What do I serve with a breakfast tortilla wrap?
Really a breakfast tortilla wrap is an all in one meal! We typically serve it with a side of fruit and some milk or juice.
What can I add to this wrap?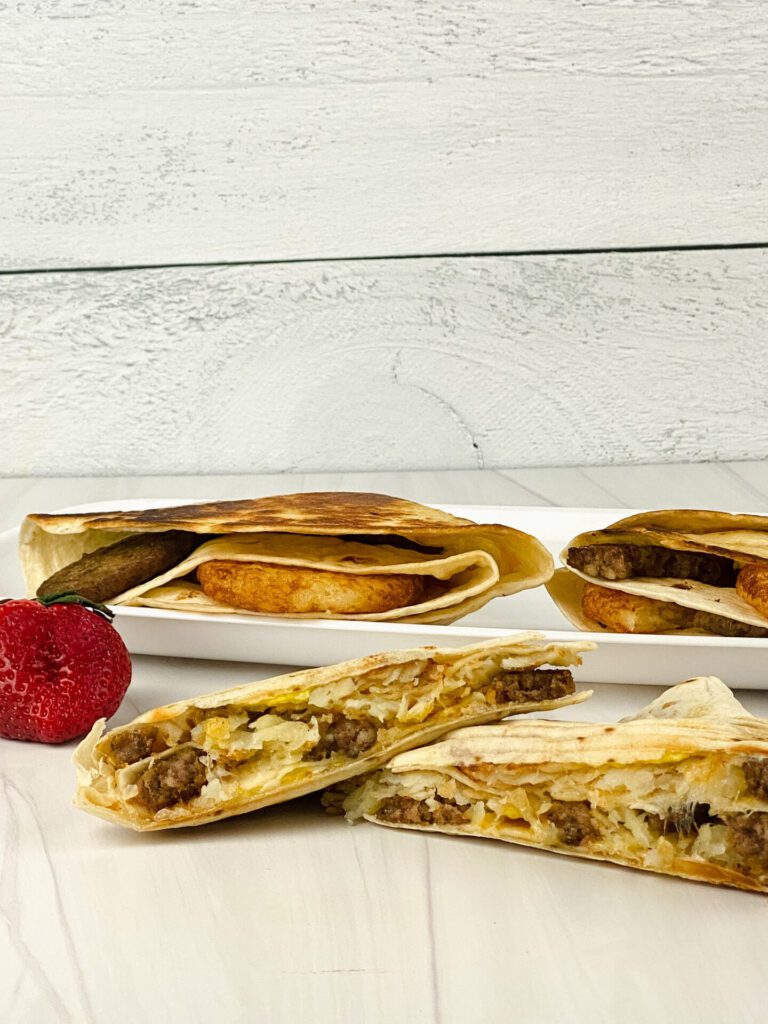 The great thing about these breakfast wraps is that you can add all your favorite breakfast items! Try adding:
bacon
sausage
hashbrowns/ potatoes
Scrambled eggs
cheese
sauteed vegetables
Storage
I have found that these do not store very well. They are best enjoyed hot and crispy. If you want to try and save it for later, I would wrap it and place it in the fridge for up to 2 days.
Love Breakfast? Try these breakfast favorites!
Yield: Serving Varies
Breakfast Tortilla Wraps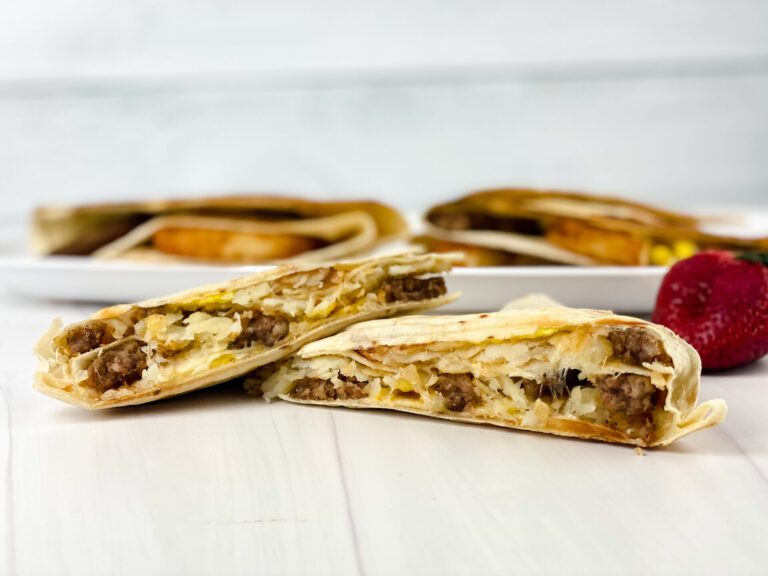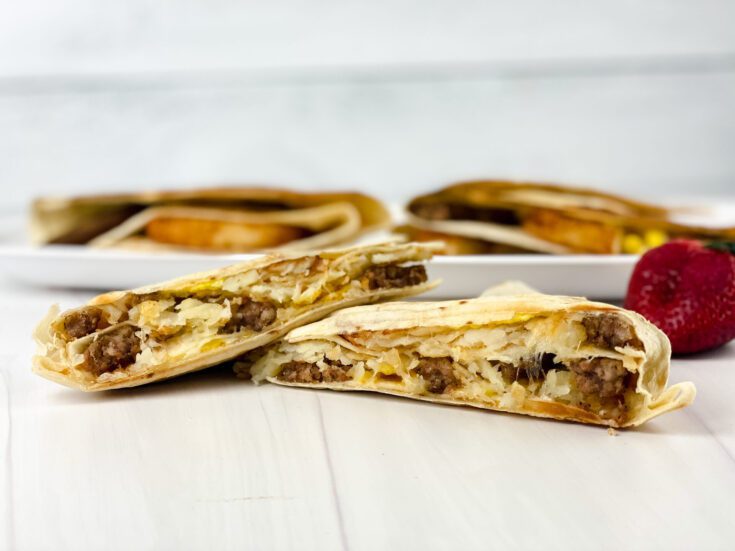 Ingredients
Precooked Breakfast meat of choice
Scrambled Eggs
Precooked Hashbrowns
Large Tortillas
Cheddar Cheese
Mozzarella Cheese
Instructions
Precook all of the breakfast items
Cut a large tortilla in half only on one side of the tortilla.
Imagine that the tortilla is in four quadrants.
Place your topping of choice in each of the quadrants.
Fold over the first quadrants *see photo*
Fold that set over to the right.
Fold down completing the wrap.
Place into a preheated panini machine for a flatter wrap.
Place onto a griddle or frying pan with melted butter for a thicker, but toasted wrap. If using a griddle or frying pan toast on both sides.
Cut in half and serve
Notes
Chop up all of the ingredients and add a little of each topping in each quadrant instead of splitting them up for the ultimate bite
If placing 4 items in the four sections, end with cheese as its less likely to fall out.
Place things that aren't as stable like scrambled eggs in one of the two center quadrants to help hold them in place..
This is best served with whatever your favorite foods are.