These showstopping Christmas Tree Brownie Bites are just what any holiday event needs! And even better, making these Christmas Tree Brownies is shockingly easy!
Christmas Tree Brownie Bites
It's that time of year when sweets are a dime a dozen but my Christmas Tree Brownie Bites are delicious and like nothing you've ever seen!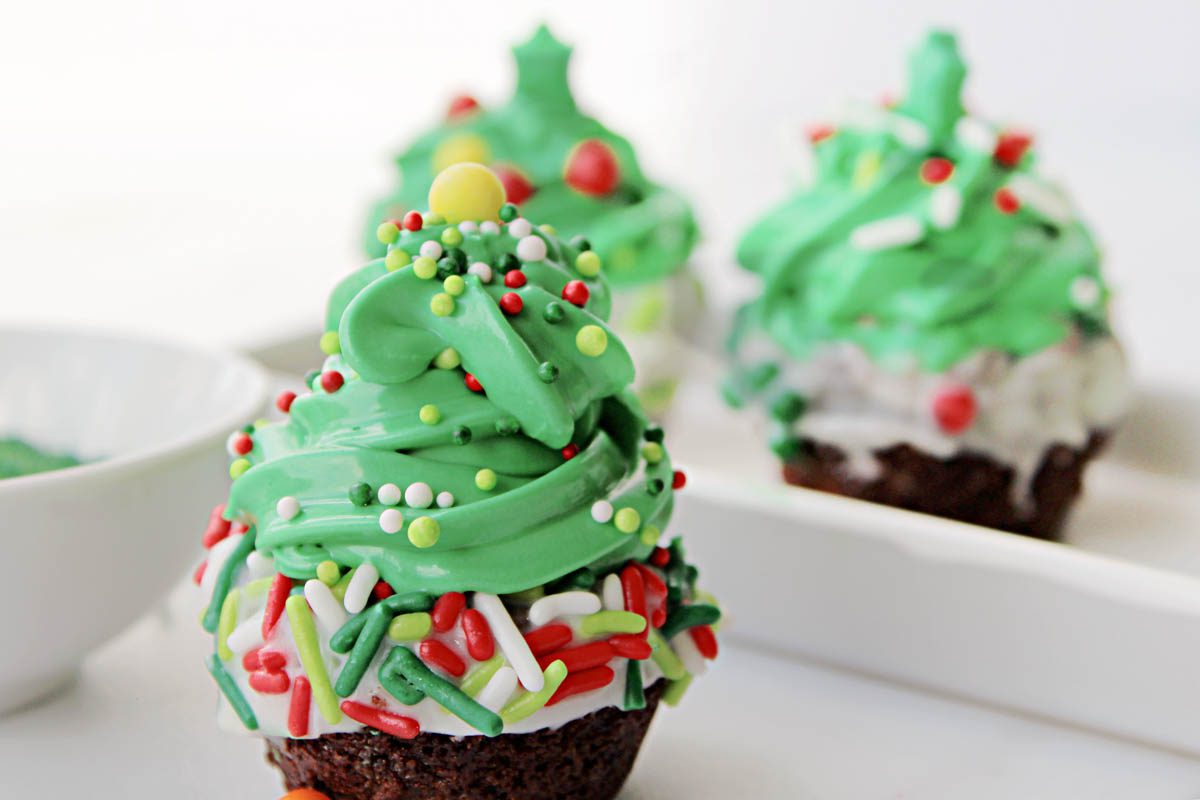 A soft and fudgy brownie with a layer of chocolate and a frosting tree on top? I don't think I can imagine a more perfect holiday treat!
Not only are these bite-sized Christmas tree brownies delicious and cute, but since I use boxed mix and premade frosting these are incredibly simple to make.
But if you do want to make your brownies from scratch for an even better bite, I've got the best brownie recipe too!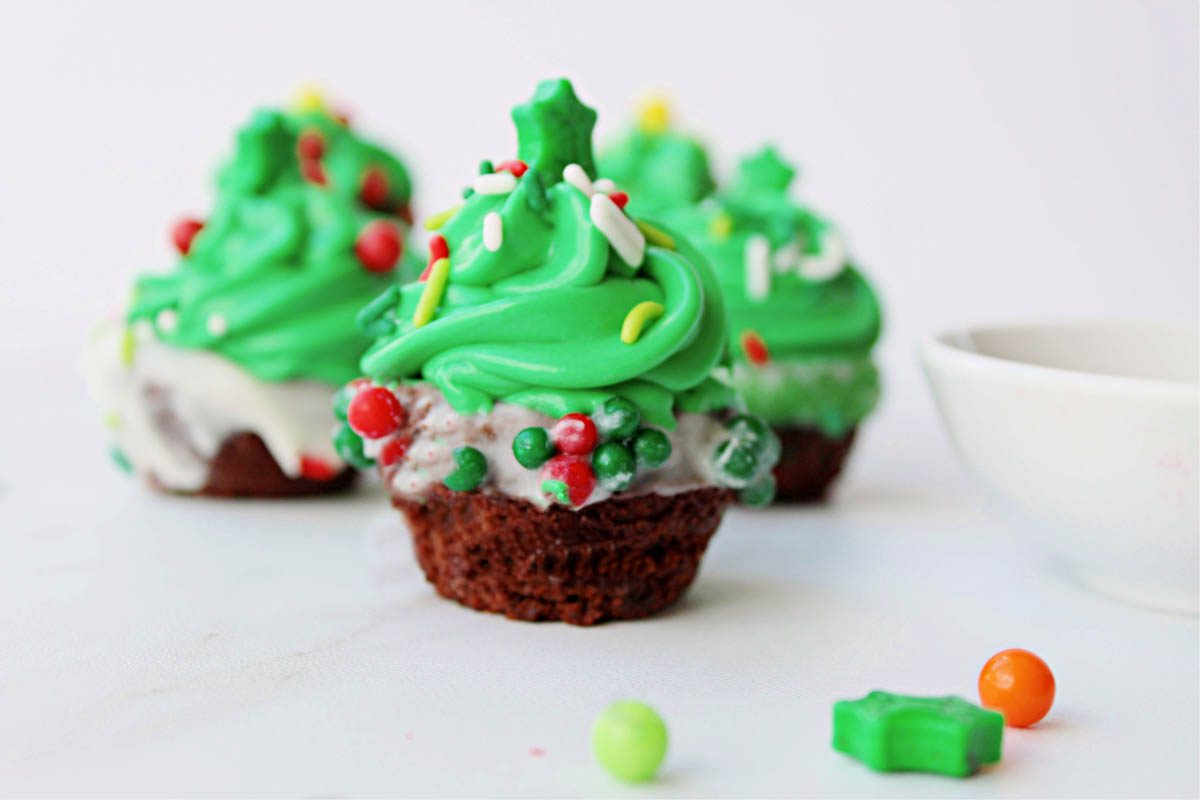 More Christmas idea you'll love 
Christmas Tree Brownies
I love a pretty dessert that looks as good as it tastes, and even though it's only 4 ingredients it always gets the best reviews!
Ingredients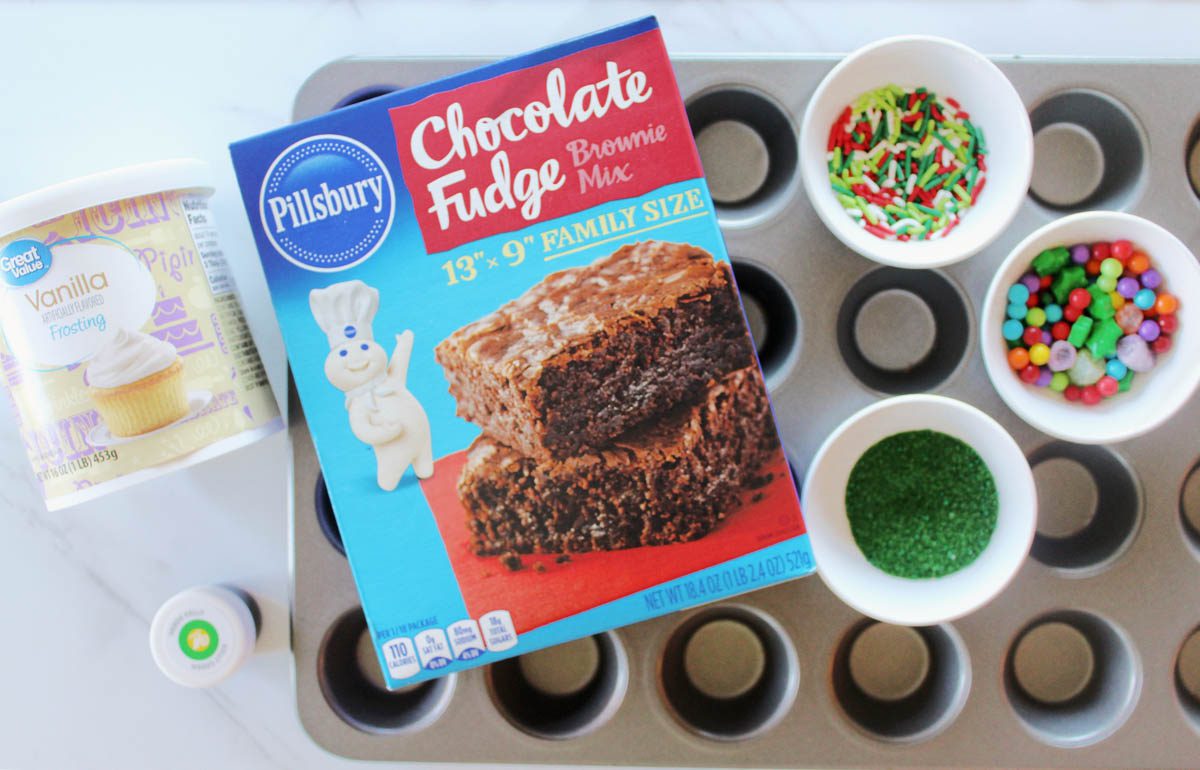 1 boxed brownie mix, 9×13 inch size
1 cup white chocolate, melted
1 container green frosting
Sprinkles & candies, optional for decoration
The Following Tools Will Be Helpful When Making These!
How to Make Christmas Tree Brownies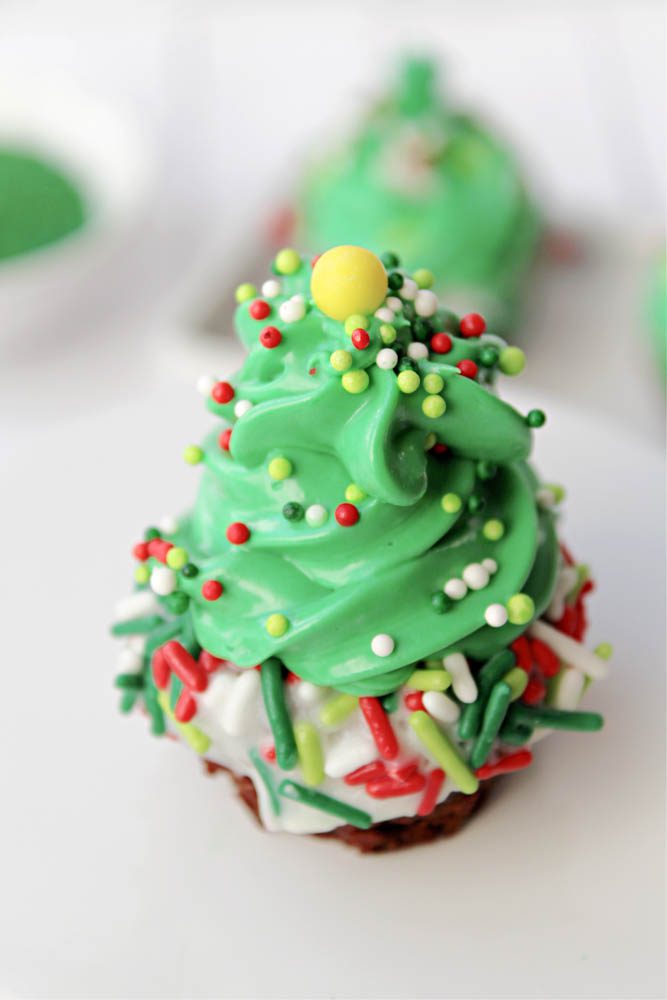 Don't forget to download the full printable recipe below so you can print it out and use it whenever you feel like making this delicious recipe!
To make your Christmas tree brownies bites, first, preheat the oven to 375 degrees.
Next, prepare the brownie batter according to the package's directions. Set the prepared batter aside.
Grab a mini muffin tin and prepare them by spraying with nonstick cooking spray or lining with muffin tin liners.
Fill each well in the muffin tin about halfway full with the brownie batter.
Bake the brownies in the preheated oven for about 12 minutes or until a toothpick inserted into the center comes out clean.
Once baked, remove the brownies from the oven. 
While the brownies are still hot, use the rounded back of a teaspoon to press into each brownie, creating an indent. 
Let the brownies cool in the pan for 10 minutes, then remove and cool completely on a wire cooling rack.
Add the white chocolate to a microwave-safe bowl and heat for 30 seconds at a time, stirring after each, until completely melted and smooth. Set the chocolate aside.
Prepare a bowl or plate with a pile of sprinkles and set it close to the chocolate.
Dip the top of the brownies one at a time in the melted chocolate.
Immediately dip the brownies in the sprinkles so they stick to the chocolate before it sets.
Prepare a piping bag with the tip of your choosing (I like an open star tip here) and fill it with the green frosting. 
Pipe a tree-shaped swirl on top of the frosting and sprinkles and decorate with mini candies and sprinkle "ornaments."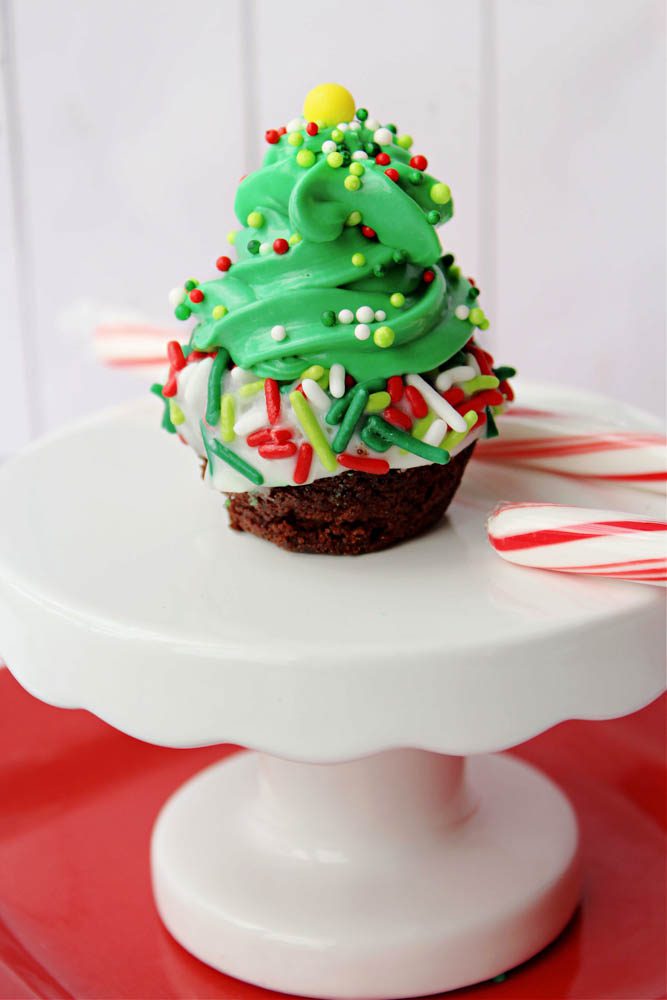 Tips Tricks and FAQs
The best way to make your Christmas tree brownie bites is one at a time. The frosting and chocolate both set quickly, and you want to make sure that you have time to add sprinkles before they set. I like to set up a little assembly line with the chocolate, sprinkles, and piping bag with frosting so I can quickly do each brownie bite without making a giant mess!
Dipping your brownies can take a little practice, but it's so much easier if you use a wide dish instead of a cup. I like to use a wide-mouth bowl or even a plate to hold my sprinkles and chocolate so I can avoid my hands hitting the sides of the dish.
All it takes is some cute Christmas-themed cupcake liners to make these Christmas tree brownies extra special! It doesn't take any extra work to add them, but the festive liners always make my Christmas tree brownie bites look so lovely!
Why aren't my Christmas tree brownie bites holding their shape?
If you are piping your frosting and the tree isn't holding its shape, your frosting is probably a little too soft. This happens a lot with store-bought frosting, but there's an easy fix!
Just stick the frosting in the fridge for about 10 minutes and it should firm up and work perfectly!
Storage
You can store the Christmas tree brownie bites in the fridge or on the counter, depending on the frosting you choose. I'd recommend keeping the bites in the fridge for up to 5 days to keep the definition in the frosting trees.
More Easy Christmas Ideas
Did you make this?
Yield: 24
Christmas Tree Brownie Bites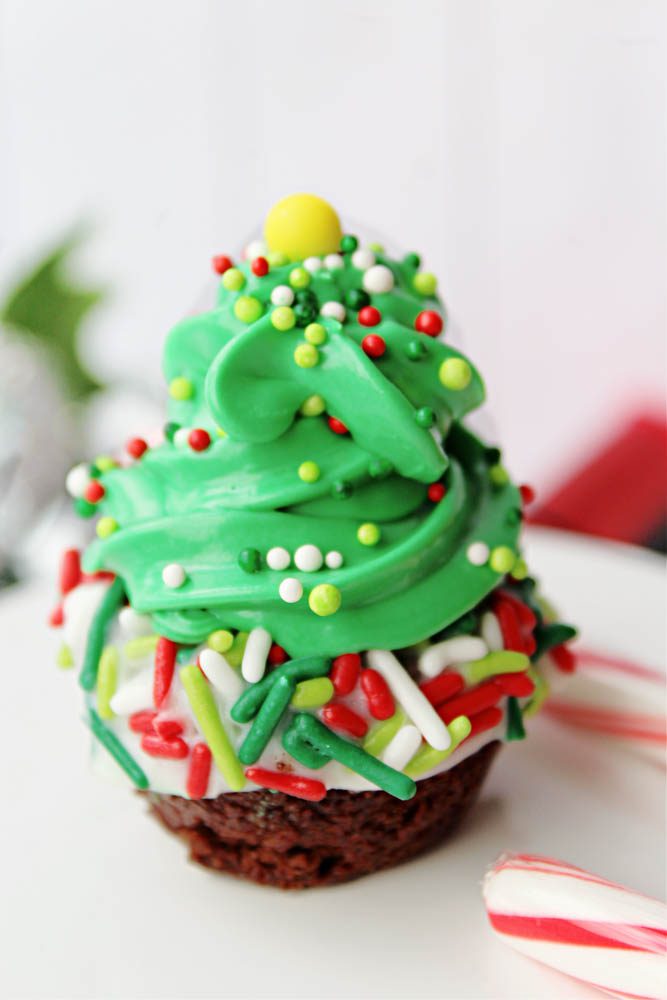 These showstopping Christmas Tree Brownie Bites are just what any holiday event needs! And even better, making these Christmas Tree Brownies is shockingly easy!
Additional Time
10 minutes
Ingredients
1 boxed brownie mix, 9x13 inch size
1 cup white chocolate, melted
1 container green frosting
Sprinkles & candies, optional for decoration
Instructions
To make your Christmas tree brownies bites, first, preheat the oven to 375 degrees.
Next, prepare the brownie batter according to the package's directions. Set the prepared batter aside.
Grab a mini muffin tin and prepare them by spraying with nonstick cooking spray or lining with muffin tin liners.
Fill each well in the muffin tin about halfway full with the brownie batter.
Bake the brownies in the preheated oven for about 12 minutes or until a toothpick inserted into the center comes out clean.
Once baked, remove the brownies from the oven.
While the brownies are still hot, use the rounded back of a teaspoon to press into each brownie, creating an indent.
Let the brownies cool in the pan for 10 minutes, then remove and cool completely on a wire cooling rack.
Add the white chocolate to a microwave-safe bowl and heat for 30 seconds at a time, stirring after each, until completely melted and smooth. Set the chocolate aside.
Prepare a bowl or plate with a pile of sprinkles and set it close to the chocolate.
Dip the top of the brownies one at a time in the melted chocolate.
Immediately dip the brownies in the sprinkles so they stick to the chocolate before it sets.
Prepare a piping bag with the tip of your choosing (I like an open star tip here) and fill it with the green frosting.
Pipe a tree-shaped swirl on top of the frosting and sprinkles and decorate with mini candies and sprinkle "ornaments."