These Copycat Shamrock Shakes take the McDonald's Shamrock Shakes we love and elevate them to the next level by combining vanilla ice cream, milk, and mint to a splendid blended treat the whole family will love that is then topped with whipped cream and a cherry!
Shamrock Shake Recipe
With St. Patrick's Day just around the corner, we are getting in the green food mood with green hot cocoa bombs, lime jello cake, and of course, these fun and easy copycat Shamrock shakes.
These shakes come together so easily (in less than 5 minutes), and are creamy and delicious. Once you make this copycat shamrock shake recipe with the kids you will find yourself making these throughout the year and not just around St. Patrick's Day, I know we do!
More Ice Cream and Popsicle Recipes you'll love
Copycat McDonald's Shamrock Shakes
You will love how easy this copycat McDonald's Shamrock Shake is to make! With 5 minutes of time, you will be enjoying your milkshakes rather than still sitting in the drive-thru.
Ingredients
1 1/2 cup vanilla ice cream
½ cup milk
¼ tsp mint extract or 2 fresh mint leaves
Green food coloring
Maraschino Cherries
Whipped Cream
How to make shamrock Shakes
Add ice cream, milk, mint, and one drop of food coloring to a blender
Blend until smooth
Pour into glasses
Add whipped cream and a cherry
Enjoy
Tips Tricks and FAQs
If you want a thick and creamy shake, use whole milk. If you want to save some calories or you want a thinner milkshake you can use 2% milk. 
Depending on how much food coloring you add will determine how green your milkshake is. You do not need to add any food coloring if you choose. To make this milkshake I usually do about 10 drops prior to blending. 
Add whipping cream, sprinkles, and cherry to be extra festive if you would like. 
Add a chocolate drizzle to the top if you want to give it a chocolate mint flavor. 
Storage
Milkshakes are meant to be enjoyed at the time that you make them. You can freeze them to store for later, but the texture changes a bit and it is difficult to make it smooth again. When this happens you might try to enjoy it with a spoon instead of a straw.
Do I use mint extract or peppermint extract?
Honestly, you can use either one, but if you want the flavor to be as close as you can get to your McDonald's favorite shake then you will want to use mint extract or mint leaves.
Are there variations to this milkshake?
Thicker and Creamier- To make this thicker and creamier you can add ½ milk and ½ heavy whipping cream when you make your milkshake.
Mint Chocolate chip- If you have chocolate mint fans in your house, throw in a small handful of chocolate chips and drizzle the bottom of the glass and then add another drizzle on top of the whipping cream for even more chocolate flavor.
Healthier- For a healthier version, use a reduced-fat/ non-fat milk or a lower calories ice cream. Skip the extra calories as well by not adding the whipping cream.
McFlurry- Grab our Copycat Oreo McFlurry recipe and meld the two flavors together by making a mint McFlurry! You will love it! Just be sure to crush your Oreos first before blending.
Ready for more fun Desserts? Try these!
Love what you see? Leave a comment and don't forget to rate it below! We always love knowing how your recipe turns out! Don't forget to tag me on Instagram @micheletripple to show me your finished product!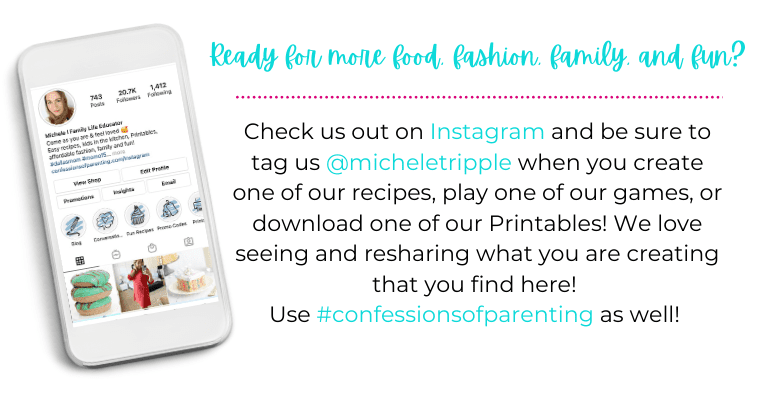 This copycat Shamrock shake will be a hit with you and the kids, especially because it will be ready in under 5 minutes! Your favorite McDonald's treat doesn't get any easier than this!
Ingredients
1 1/2 cup vanilla ice cream
½ cup milk
¼ tsp peppermint extract or 2 fresh mint leaves
Green food coloring
Maraschino Cherries
Whipped Cream
Instructions
Add ice cream, milk, mint, and one drop of food coloring to a blender
Blend until smooth
Pour into glasses
Add whipped cream and a cherry
Enjoy